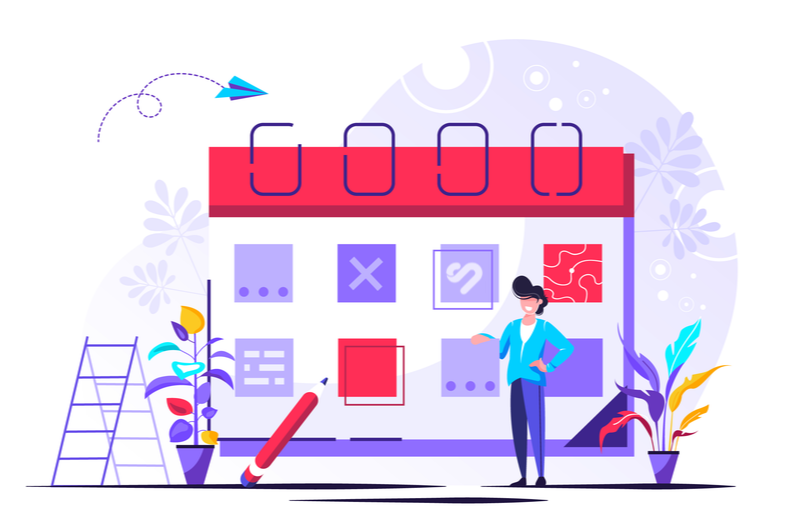 How much of your day do you spend on calendar management?
We hear you, and we know you're way too busy actually managing calendars to research ways you might be able to save time on managing calendars. Plus, it seems like good old organization skills can only get you so far when you're taking on the modern calendar, whether it's for an executive, a conference room, or an entire team.
When you manage an executive's calendar, you become the master timekeeper, the champion responsible for not only pristinely organizing calendars and schedules, but also for optimizing the use of time. We found that using a calendar management tool like Office Otter can save an average of 10 hours/week on redundant scheduling tasks.
You make sure the valuable commodity of time goes into the most efficient, most productive, and most mission-oriented activities.
That's why we came up with a list to make calendar management for executive assistants a breeze. These best practices, tips, tools and strategies supplement your innate skills, save you time and stress, and make creating calendar magic seem effortless.
Want to become a better professional in just 5 minutes?
Page Contents (Click To Jump)
What is Calendar Management?
Calendar management is the systematic process of organizing meetings, events, and tasks with the ultimate goal of maximizing the return on investment you can get from the precious limited resource we call time.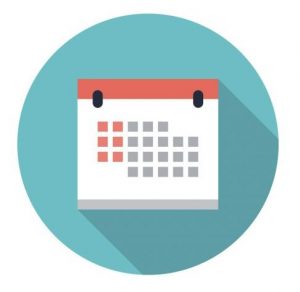 The process incorporates busy but essential work, such as fielding meeting requests and scheduling meetings, and also more strategic long-term work, such as setting an executive's day-to-day priorities and implementing time management best practices.
A key reason calendar management is important can be found in the question posed by Chip and Dan Heath in Decisive: How to Make Better Choices in Life and Work:
"If forensic analysts confiscated your calendar and e-mail records and Web browsing history for the past six months, what would they conclude are your core priorities?"
A well-managed calendar should reflect and enable core priorities. It has the power to impact an executive's daily success as well as their big-picture success. That's why calendar management is one of the most important skills for an executive assistant to develop.
The Benefits of Effectively Managing a Calendar
A well-managed calendar ensures a strategic, efficient, and effective allocation of time. Getting this right lays the foundation for capturing many other business benefits, namely achievement, efficiency, organization, collaboration, and insight.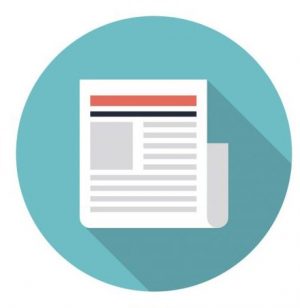 Some of the key benefits include:
Achievement – Calendar management ensures you can properly prioritize key goals (including both your executive assistant goals and also your boss's goals) while still covering everything else.
Efficiency – Establishing a systematic process for calendar management opens up doors for finding automations and tools that unlock time-saving possibilities.
Organization – Centrally managing calendars gives administrative and executive assistants the control they need to best "keep the ship running."
Collaboration – Sound calendar management helps executives allocate time to maintain strong business relationships without missing meetings, double booking, or overlooking opportunities to build key partnerships.
Business Insight – Well-managed calendars aren't just about today and tomorrow. They provide a well-documented record of where time went and for what purpose.
Get all the benefits calendar management has to offer with all the tips, tricks, and tools below. They'll supplement your innate skills, save you time and stress, and make creating calendar magic seem effortless.
General Best Practices for Calendar Management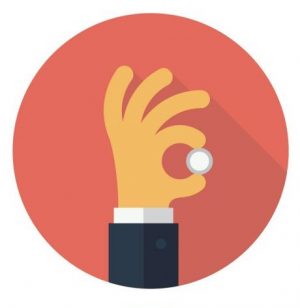 Best Practice #1: Prioritize with a Handy Matrix
Strategically pursue priorities by filtering your exec's time through an Action Priority Matrix. This helps you establish the "ROI" of your exec's time and pinpoint opportunities to balance the time portfolio. Advise against any activities that don't deliver output commensurate with time input.
Best Practice #2: Use Calendars for More Than Just Meetings and Events
Fill the calendar with reminders, deadlines, time off, and blocks of time for brainstorming, exercise, and other wellness and visioning activities necessary for your executive's success.
"An exec's calendar should act as their master diary . . . and centralized place for all major activities and milestones." – Candace (Executive Assistant)
Best Practice #3: Design Your Perfect Coding System
Use labels, folders, or color coding (or all) to create an organizational schematic for the calendars you manage. This makes all calendars easier for both you, and everyone else, to skim for key takeaways. For example, you might create and color code folders for these categories: internal, client, personal, recurring, reminder, and travel.)
"Color code your exec's calendars and create categories to quickly visualize subjects of meetings." – Jennifer (Executive Assistant)
Best Practice #4: Document Your Exec's Priorities
Executives can do their best work when they have EAs ensuring they spend their time on the most important things. (That's why calendaring is a key executive assistant responsibility.) Work with your executive to document and define key priorities. Make sure the calendar reflects those priorities, and even use your documentation as justification for rejecting invitations that do not align.
"Regularly check in with VIPs regarding their schedule to see if any appointments need to be changed or if there are any appointments that may not yet be added to their schedule." – Rachael (Executive Assistant)
Best Practice #5: Set Up Multiple Times Zones
If your exec or key clients spend time in multiple time zones, setting up your Outlook or other calendar with all the relevant times zones will make it easier for you to quickly schedule events without making embarrassing mistakes.
Best Practice #6: Clarify Calendar Roles and Permissions
We've all heard the saying: Too many cooks in the kitchen spoil the broth.  It can also be detrimental to have too many people managing one calendar. Having calendar control and oversight makes managing calendars streamlined and strategic. Make your life easier by establishing and documenting exactly who can accept meetings and add events on your executive's behalf.
If you want everything to go through you, then simply make sure you have a clear process everyone can use to submit requests. You learned how to do this right during all those training courses; make sure nothing stops you from treating calendar management as the formalized process it is.
"If anyone puts anything on the calendar without checking with me first I send them a note letting them know that in the future they need to check with me first and I'll provide available times/dates." – Bijou (Executive Assistant)
Best Practice #7: Allocate Time Just for Calendar Management
Managing time takes time. Give calendar management the time it deserves by planning your to-do lists, daily planner, schedules, and days with blocks of time to take care of scheduling and follow-ups as well as long-term planning.
Best Practice #8: Make Your Life Easier with Tech Tools and Integrations
Do some homework to pick and try out the tech tools, like the options below, that promise to make calendar management easier. Once you've established your tech suite, take a little time to learn about all the features, including integrations with your other work tools. Take some time up front and you'll likely save lots of time down the road.
Pro-Tip: Want to stay informed about all the tech tools that can streamline your EA work? Get The Assist, a free weekly newsletter packed with tech tips, inspiration, and priceless knowledge from EAs like you. Sign up here!
Calendar Management Tools, Software & Apps

This online collaboration tool also provides you with a big-picture view of how all the work, meetings, and events fit together.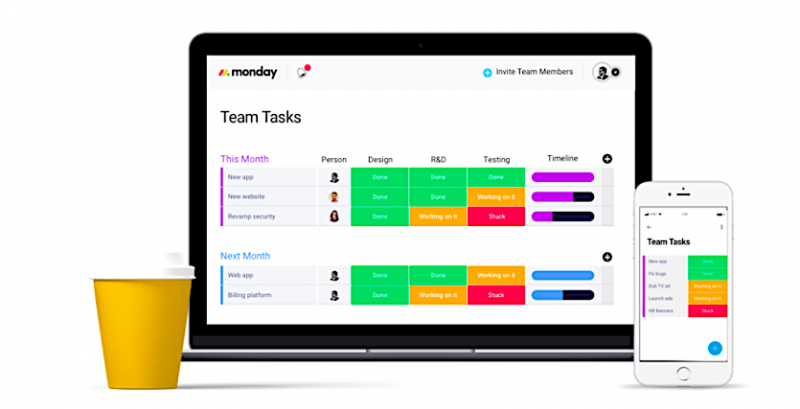 How monday.com helps with calendar management: It gives you visibility into key dates and tasks for all the calendars you manage. Stay on top of everything while also reducing the amount of time you spend on phone calls or scouring emails for information.
Notable Features:
View and relay schedule changes in real time
Use helpful calendar templates
Take advantage of multiple views (including kanban, timeline, and Gantt) to view workloads all the ways you need to.
Pricing: Starts at $8 per seat per month. Free trial available.
The ultimate scheduling tool designed for Executive Assistants and Admins.
How Cabinet helps with calendar management: Cabinet seamlessly integrates with Outlook and G-Suite calendars and supercharges your productivity. Offer times quickly in multiple time-zones and keep track of all the time you're giving out. It's truly magical.
Notable Features:
One calendar to rule them all allows you to easily toggle between execs, calendars, and time zones.
Copy and paste specific availability into emails and texts, block out (and keep track of) time slots for specific people, and get live updates when proposed meetings are accepted.
Keep things running smoothly, with no platform change or additional action necessary from your executive.
Pricing: $50/month (Free month trial)
Clearing out clouded calendars like a ray of sunshine.
How ASAP helps with calendar management: With so many different calendar management platforms it's often difficult to figure out what works best for you and your team. ASAP has loads of articles, downloads, and webinars to help. From all the hidden features of Google Calendar to specific trainings on maximizing your Outlook Calendar.
Notable Features:
Focused trainings for Google and Outlook
Lots of free content around calendar management
Virtual and in person events throughout the year
Pricing: Free and paid options.
Office Otter helps you seamlessly turn to-dos that come up during text, email, and Slack conversations into tasks and calendar items.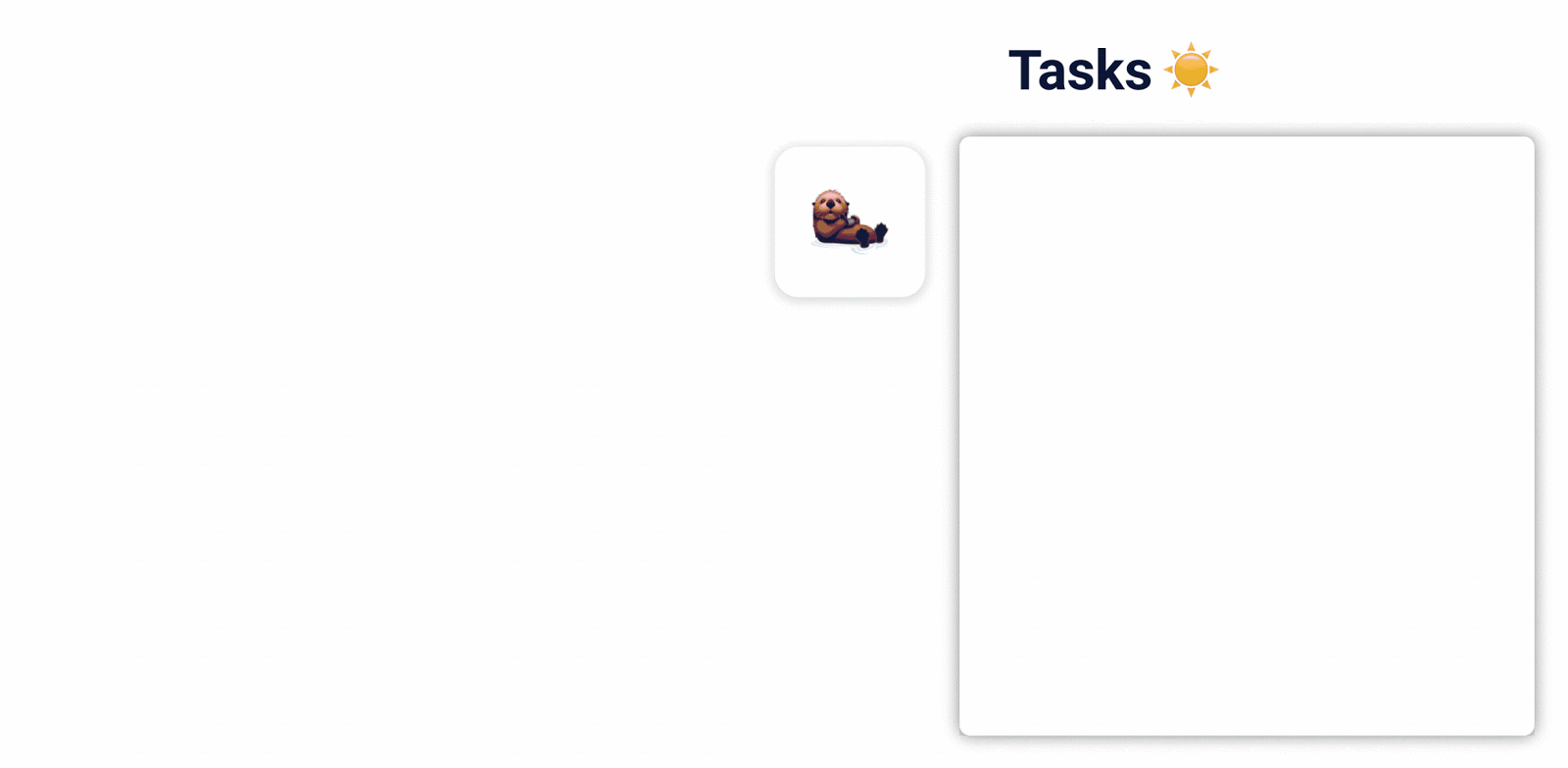 How Office Otter helps with calendar management: Never miss a detail but also save time. You won't have to search through text threads or emails to find that one sentence that gave you the info you need to create a clear calendar alert.
Notable Features:
Prioritize painlessly with built-in features
Turn your "done" list into a detailed report
Integrate with text, email, Slack, and Siri
Pricing: Free basic plan.
Calendly is a priceless executive assistant tool that will help you streamline scheduling so you can have more time to actually spend doing strategic work.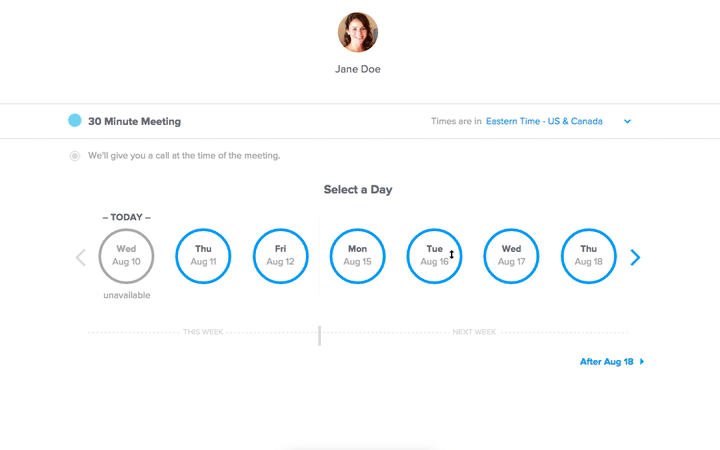 How Calendly helps with calendar management: It helps you quickly and easily find the best times to meet. You can schedule meetings and then get on with your day. (Calendly even has a handy guide for Google calendar tips.)
Notable Features:
Grab links to send in emails or embed right on your website
Add buffer times between staff meetings for necessary breaks
Use the time zone detector to avoid confusion
"Calendly is great if you don't want a preference for what meetings happen when. It's like automated tetris so your slots will get full without breathing room unless dns time is scheduled well in advance." – EA Lusely
Pricing: Free basic plan.
It is a project collaboration tool that helps teams to get work done on time and enabling team members to get a better overview of their work.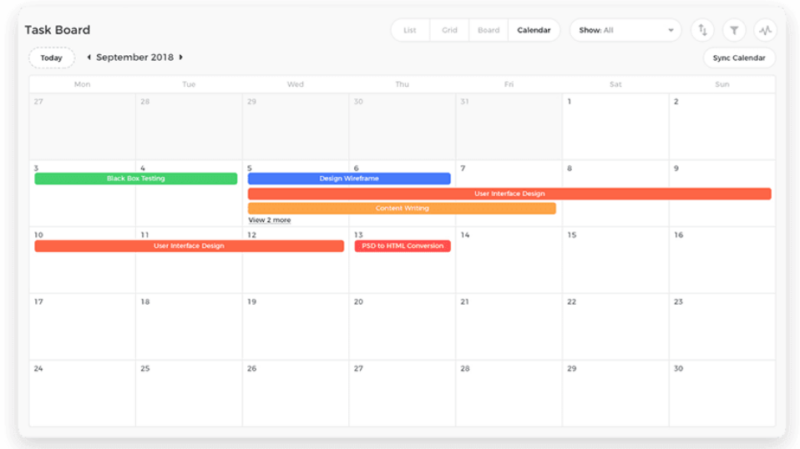 How nTask helps with calendar management: This app lets you to planned and actual dates for the tasks, give priorities, and set status (from not started to task done). Get an overview of all the tasks assigned to you and your team, and manage schedule for your meetings. Stop switching apps to manage calendar for your projects now.
Notable Features:
Easy drag and drop to set schedule
Use in-app calendar or sync calendar with Gmail or Outlook
Integrate with Slack, Zoom and Zapier
Pricing: Free basic plan
Let meeting guests reserve free time on your executive's schedule with the same ease of making an online dinner reservation.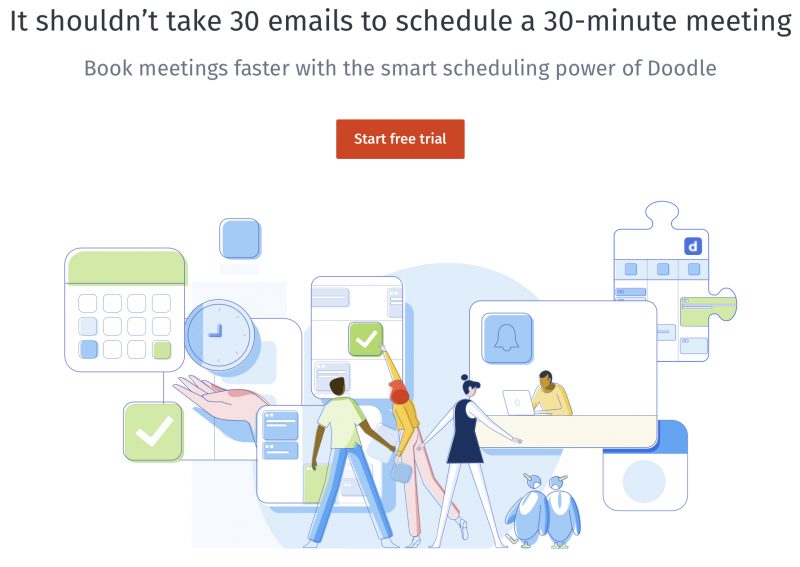 How Doodle helps with calendar management: You no longer have to feel like the Gatekeeper of your boss's schedule. Doodle can be the gatekeeper for you. People can select open times that work for them, and you can skip sending tons of emails.
Notable Features:
Add availability for a month or more to ensure a match
Share availability while keeping calendars private
Guests can reserve times without signing in
Pricing: Free basic plan
Calendar Management Tips & Tricks

Automating Calendar Tasks
Tip 1: Set Up a Zapier Automation to Get Text Reminders for Events
Specify a time and a phone number to send out event reminders via text. This is especially helpful for super-busy executives who get so many email reminders that the default is to ignore.
Learn more here: Get reminders for upcoming Google calendar events via clicksend SMS 
Tip 2: Automate Follow-Ups
Set up automatic email follow-ups so you don't have to spend all your time nudging people to respond so you can lock down dates and move on with your life. Best of all, with ReBump's automation services, the follow-ups seem more friendly than robotic.
Learn more here: Rebump
Tip 3: Collect Bulk Info
Create forms (such as Google Forms) you can send en masse and that will funnel information into a neat little spreadsheet. (You spend less time emailing co-workers
and sorting through responses.)
Learn more here: Google sheets
Tip 4: Use Automations to Connect Unrelated Apps
Use IFTTT to connect apps that usually don't talk to each other. For example, you can send Outlook calendar items to Google calendar or iOS calendar to Google calendar and more.
Learn more here: IFTTT
Tip 5: Turn Emails into Conversations
Spike will transform the way you read and respond to emails. This service funnels emails into a text-like application with a more conversational style. Ultimately, it helps you write clear, friendly, and to-the-point emails that get results and reduce your traffic.
Learn more here: Spikenow
Outlook Calendar Management Tips

Tip 1: Get Granular with Sharing and Permissions
Naturally, you'll want to push for full sharing access of every calendar you manage. Take it a step further by really diving into permissions for everyone else with access. For example, if you want to be the only calendar editor, you can update everyone else's access to "view only."
Learn more here: Outlook tips and tricks you should know
Tip 2: Print Out and Learn All the Keyboard Shortcuts
Every minute is worth saving. When you have every Outlook Calendar shortcut stored in your brain, you can save a minute here and a few minutes there doing simple things like running searches and adding new items.
Learn more here: Top Microsoft calendar tips and tricks
Tip 2 ½: Get More Sh*t Done
Get the Assist to discover even more ways to save time and get more done. This weekly newsletter features new tech, productivity tips, and EA insider secrets every week. Sign up here!
Tip 3: Get Physical
Print out filled-in calendars and distribute to stakeholders each week or even each day to cultivate that extra tactile awareness that helps some people keep track of their schedules.
Learn more here: Print a calendar showing appointments and meetings
Tip 4: Let Contextual Bots Help You Out
Update your settings so Outlook can crawl emails and automatically add things like events, bookings, and reservations. Every automatically added event gives you back some precious time.
"Scheduling straight from email is the best and saves you the work of adding all the folks on an email thread." – EA Lusely
Learn more here: Automatically add events from your email to your calendar
Tip 5: Play by Outlook's Search Rules
Searching within Outlook using the same language you might use to ask another human a question doesn't always get the result you're hoping for. Understand some common expressions (using "mo" for months, for example) to get relevant results for your searches.
Learn more here: Eight quick tips for working efficiently in Outlook's Calendar window (#4 and #5) 
Gmail Calendar Management Tips

Tip 1: Let Google Brief You on the Daily Agenda
Set up a feature that will send you (and the owners of all your managed calendars) via Gmail a daily agenda aggregated from Google Calendar. It's like having a dedicated schedule manager greet you each morning.
Learn more here: Get your daily agenda in your inbox
Tip 2: Work Your Notifications
Don't let default notifications rule your life. Update all your settings to design a notification system that works best for you and your executive.
"Talk about what's coming up on a weekly 1:1. Find out if any of those meetings require any prep time and build that into their schedule. I only look at 3-4 weeks out at a time with them." – EA Bijou
Learn more here: Google calendar tips and tricks
Tip 3: Make Guests Editors
Save time sending emails and updating events over and over again by letting guests edit events themselves. This saves everyone time and also ensures all event guests are always on the same page.
Learn more here: 20 Indispensable Google Calendar Hacks
Tip 4: Find Time-Savers by Syncing with a Time Tracker
Marry your Google Calendar to trackers such as Toggl, RescueTime, and other Google Tables alternatives to quickly understand where time goes and find possible efficiencies.
Learn more here: The Ultimate Google Calendar Guide (#75)
Tip 5: Create Events from Search
When you're logged into Chrome, you can pop event details into your Google search bar to get the option to create an event without leaving your browser or opening more tabs.
Learn more here: Google Calendar hacks
Tips for Managing Multiple Calendars

Tip 1: Create a Master Calendar
Share all the calendars you manage with one master account, so you have the option of viewing everything from one central location.
"I show 5 exec calendars and mine side by side on my desktop throughout the day. Helps me answer questions about availability, know locations for emergency communication and support them with lunch if back today back meetings." – EA Anne
Learn more here: Shared Calendar Apps Create Efficiency For Everyone
Tip 2: Do Similar Tasks for Different Calendars in the Same Time Blocks
Manage all the different calendars at the same time each day by using time blocking for your own schedule. For example, you can block time to handle all the scheduling for all the calendars at once. This helps your brain treat the work of managing multiple calendars as one big to-do.
"I love Outlook and use focus time to block time so that I'm not constantly in meetings." – EA Morgane
Learn more here: Time blocking 101
Tip 3: Verify Everything is Syncing Correctly
When you manage multiple calendars, that last thing you need is a syncing snafu that creates more work you don't have time to do. Regularly verify that all the calendars you manage are syncing appropriately to save stress.
Learn more here: 12 Tips to Manage Your Executive's Calendar like a "Rock Star"
Tip 4: Make Checklists
Managing multiple calendars means you have to repeat the same steps over and over again. Make sure nothing slips through the cracks by formatting your daily and weekly tasks into checklists. You'll avoid missing something important, and you'll always know what you've finished and what you still need to do.
Learn more here: How to Use Simple Checklists to Boost Efficiency and Reduce Mistakes
Tip 5: Include Attachments with Events
When you set up events, attach related documents and information (meeting agendas, background documents, contracts, etc.), even if you think it might not be relevant. When questions come up, you can refer straight to the calendar event to get the info you need instead of scouring an inbox filled with messages about all your calendar.
"Add as much detail as possible to prevent any unnecessary questions that may arise from others. It's better to have it and not need it, than to need it and not have it. Id rather have more details with calendar items and not need them, than to need them and not have the info at hand and have to waste time searching for it." – EA Lauren
Learn more here: How to Manage Multiple Calendars Efficiently
Tips for Effectively Managing an Executive's Calendar
Tip 1: Set Above-and-Beyond Reminder
A reminder 15 minutes before an event is cool and all, but you can better set your executive up for success by putting some thought into each event and coming up with helpful reminders. (For example, you might add a reminder to pack 4 days before a flight or a reminder to prepare a week in advance for a major pitch.)
"Put big commitments in first and protect some time for your Exec to think each week." – EA Amanda
Learn more here:  25 brilliant calendar and schedule management tips
Tip 2: Do Time Audits
During a time audit, you specify a period of time to get serious about tracking your executive's time. When that period is up, you analyze your findings and deliver concrete recommendations with the ultimate goal of process improvement.
Learn more here: Effective calendar management for executive assistants
Tip 3: Check In Frequently
The best way to know you're doing something according to someone else's preferences is to ask. Just asking creates a moment for feedback and improvement that might not exist in the day-to-day hustle. You can check in frequently and efficiently using surveys. Simply start with a customer satisfaction survey template and then update it for your needs.
"Being aligned with executive on their priorities in order to make informed decisions. Communication with exec is key — make sure there are no surprises for them!"  – EA Teresa
Learn more here: Top 15 Customer Satisfaction Survey Templates And Sample Questionnaires
Tip 4: Follow Up After Meetings
Use a simple Likert scale survey to get your executive to rate the usefulness and effectiveness of the meetings they attend each day or each week. Take action according to the data. For example, you might recommend your executive skip the meetings they rate as "not useful at all" or ask other team members to attend and take meetings minutes.
"Communication is key to manage someone else's time.  Only you should touch appointments.  You need to know when they work,  when they like mtgs,  who they need to avoid,  the time wasters." – EA Caroline
Learn more here: How To Effectively Manage An Executive Calendar
Tip 5: Do Weekly Briefings
Set aside a few minutes each week to sit down with your executive and go over the calendar for the next week. Address any questions and concerns so you can both start the next week feeling organized and prepared.
"Review the next day's schedule for everyone whose calendar you manage so that you're well informed and prepared, and regularly look a few weeks ahead so you can be proactive in rescheduling any meetings due to conflicts or changes in priority."  – EA Rachael
Learn more here: The Secrets Of Effective Calendar Management
Calendar Management Tips from Real Executive Assistants Via The Assist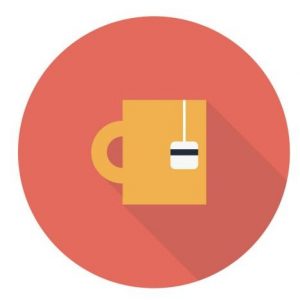 A million thanks and shout outs to all the EAs who shared these tried-and-true calendar management tips with The Assist.
Hold For Tentative Meetings
Marisa offers one of her best practices for scheduling meetings:
"If I offer a time for a meeting, I hold the spot by putting a tentative meeting on the calendar with the title "HOLD: Meeting with Joe Schmoe." I also like to categorize out of office or travel. For weekly one on ones I pay attention to who tends to go over their time and try to leave a 15 min buffer. For sensitive meetings, I am cautious about names listed in the title. If it's an important topic of conversation, I'll put it in the title like this: "Meet with Jane Doe re: contract." Always have the calendar open! If you can have a second monitor, that's super helpful."
Look Ahead At What Is Coming Up 
The Assist subscriber Beth not only color codes her calendar but also recommends to:
"Preview the next 2 weeks every Friday."
Harness The Power Of Deadlines
Anita believes in the power of deadlines by suggesting to:
"Set deadlines for calendaring requests."
Create A System
It also might be a good idea to set up processes for tasks that repeat:
"Create a cadence for recurring meetings. (All 1:1s have Monday and Tuesday for example.)"
Utilize Tools
Reader, Teresa, uses another platform to aid her scheduling:
"I have a separate excel document where I track recurring meetings. It's a good tool to see how much time is dedicated to categories of meetings (1:1's, projects, etc.). We use this as an ongoing tool to help with ensuring the executive is spending their time wisely."
Allow For Breathing Room Between Meetings
Another useful tip from The Assist group:
"I have implemented 25 and 50 minute defaults for meetings, which is helpful."
Factor In Travel
Traveling can also be an important facet of an executive assistant's duties. Tammy notes,
"Block travel time when the boss has an off site meeting. If she's been away on travel, I usually block time in the morning for her first day back in office for any planning, follow up or other that she needs/may want to do."
Have A Backup EA
In case of your unavailability if something does come up, Rachael suggests:
"Give trusted admins access/permission to edit your calendar (or any of the calendars you manage, if appropriate), so that they can make changes on your behalf if you're busy or out of office."
Manage Follow – Ups
For following-up with your executive:
"When scheduling a recurring meeting, I note the last day of the recurrence in parenthesis in the subject line of the calendar invite to remind me to follow-up with the appropriate executive in continuing the recurring meeting and/or create a new series; I attach/copy and past any material associated to the meeting for easy referencing and tracking purposes."
Understand The Reason For The Meeting
Prioritizing meetings can be a lot easier if you take the time to understand the context. Rachael also notes,
"Read all emails to better understand the context of meetings, urgency priority and type of meeting so you can properly outline the agenda on invite."
Communicate With Your Executive
Phyllis praises the importance of communication your your executive:
"You have to create a system with your exec. My ceo puts everything I need to know in the correspondence. Usually its an email to a client that says "lets have a quick (meaning 30 mins) Zoom call to discuss the proposal next week. I've copied our CCO too so that she can join us." I know when, why "the title" for the invite, for how long and who should be on the invite. I usually don't have to ask my CEO any questions to get the invite out."
Account For Holiday Schedules
And lastly, Bijou understands that the end of the year can be a busy time to navigate scheduling with a holiday schedule by stating:
"I add a note for myself in December about all the calendar invites I need to send out for the new year. For instance, I want a meeting with Susan before our leadership meeting 1 week prior and those meetings are not set up for the year yet. Helps me keep track of items like that."
Like these tips?
Tap into a treasure trove of knowledge from successful EAs by joining the Assist community. Sign up to get a new batch of EA tips like the ones above in your inbox each week.
---
People Also Ask These Questions About Calendar Management
Q: How can I improve my calendar management?
Q: How do you manage an executive calendar?
A: Manage an executive calendar well by setting smart reminders, conducting time audits, and following up and checking in frequently to make sure calendar activities are aligning with key goals.
Q: What is the most effective way to manage multiple calendars?
A: The most effective way to manage multiple calendars is to share them all with one master calendar to create a central location for viewing and management. Find additional tips in this guide to calendar management.
Q: What is the importance of calendar management?
A: Calendar management is important because the strategic allocation of time allows teams to reap numerous business benefits, including goal achievement, organizational efficiency, and improved collaboration.
Q: What are examples of calendar management?
A: Examples of calendar management include automating tasks, creating strategic reminders, and optimizing sharing and permission settings.
Q: Is scheduling a skill?
A: Yes, scheduling is a skill, one of the most important calendar management skills sound scheduling can bring goals within reach, make work more strategic, and best of all, save lots of people lots of time.
Q: What are calendar management tools?
A: Calendar management tools are programs and applications that streamline the numerous steps that go into managing a calendar. For example, a calendar management tool like monday.com helps managers collaborate on master schedules while a tool like Doodle can streamline the scheduling process.