Online collaboration tools & software empower employees to work together on projects from anywhere in the world.
At SnackNation, we believe that collaboration and transparency are two key components to the modern workplace experience. Our teams harness the power of the best online collaboration tools to help increase productivity and efficiency.
In a hurry? These are some of our favorite online collaboration tools to help teams manage their projects this year:
Remote working conditions (or aspects of it) have become commonplace in today's workplace. And with this kind of shift, it is more urgent than ever for organizations to leverage the best online collaboration tools to keep their teams on the same page at all times. 
"If you want to go fast, go alone. If you want to go far, go together." -African Proverb
"If you want to go fast, go alone. If you want to go far, go together." Click To Tweet
Thankfully, there is nearly an endless list of such online tools for remote team collaboration available today.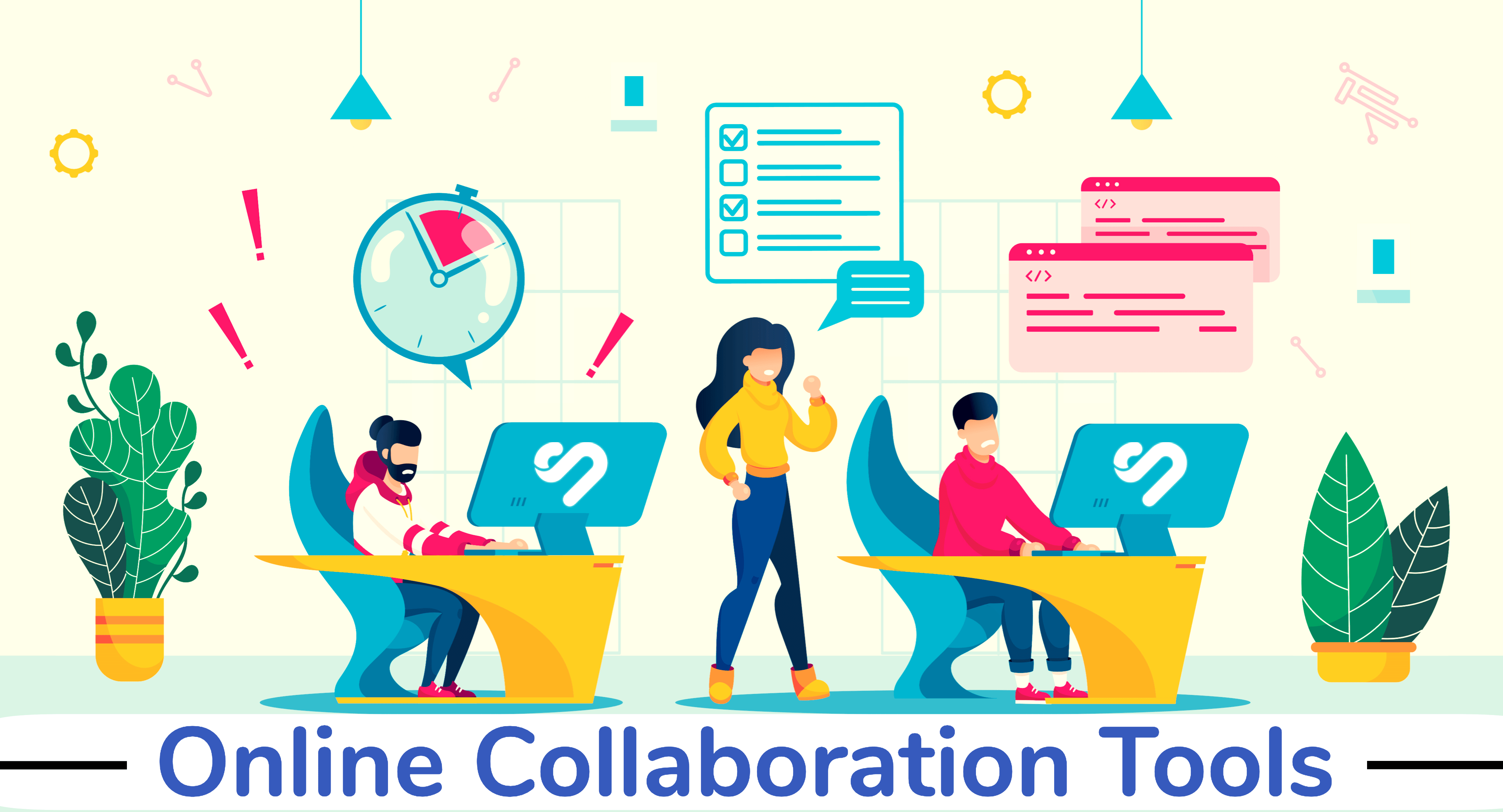 In this guide, we look at some of the tried and true selections that can help boost your team's productivity and remote onboarding experience. 
Online collaboration tools help both remote and in-house teams achieve greater levels of transparency, execute projects better, optimize resources and work together better overall.
There are collaboration tools for just about every aspect or type of business.
Most online collaboration tools support more than one means of communication such as chat, instant messaging, screen sharing, audio/video conferencing, and file sharing.

 
It is important to choose your collaboration tools based on your business needs and budget.
Once you finish reading through our list, you can get additional online team collaboration and employee engagement ideas from The Assist — a free weekly email for professionals full of actionable workplace culture, productivity, and leadership inspo.
"One thing The Assist has helped me immensely with is keeping our company culture alive during this new shift to hybrid work. It is important for us to have a team who is happy and healthy and The Assist has provided tons of options to help make that possible for our team." -Julie P. Executive Assistant, Classcraft
Want to become a better professional in just 5 minutes?
Page Contents (Click To Jump)
Digital Collaboration Tools 
What would it mean for your productivity if you never had to check email, Slack, Salesforce, and Excel just to track down information about one project?
Whether you're working in the office, from home, or from across the globe, monday.com helps your entire team stay in sync. This work operating system (Work OS) keeps all of your work clearly organized on one visual platform everyone can access.
Without any coding skills, you can customize monday.com so that it works best for your team. Automate data entry, workflows, and other repetitive tasks, so you can focus on more meaningful work. Then assign tasks so nothing falls through the cracks.
Plus, we surveyed 1,273 executives that use collaboration tools on a regular basis. And they voted monday.com as their favorite platform.
Pros
Sign up for a free trial without entering your payment details
Download pre-designed templates perfectly suited to your workflows
Get the "bird's eye view" of multiple projects in one convenient location
Check your progress at any time from the mobile app
View your projects in a calendar mode so you never miss any deadlines
Assign new tasks to available team members so no one is overloaded
Automate your workflows without coding
Integrate all of your other apps on one unified platform
Cons
Mobile app can be cumbersome, but they are working on it constantly
More content on advanced concepts
What if you could really do it all in one place?
Wrike is a powerful team collaboration tool that helps you consolidate all your teams (literally ALL of them!), connect them seamlessly, and expand the scope of collaboration in new and exciting ways.
Wrike has unique and extensive customization features that help you configure the platform for your specific needs and growth objectives.
Pros
Rich collaboration features like cross-editing, live document editor &external requester collaboration
Enterprise-grade security(choose your preferred level of protection or add your own encryption keys)
Available as mobile and desktop apps
Integrates with over 400 apps and also offers custom integrations
24/5 to 24/7 award-winning global support depending on the plan
Cons
More features are required to support easy replication of work processes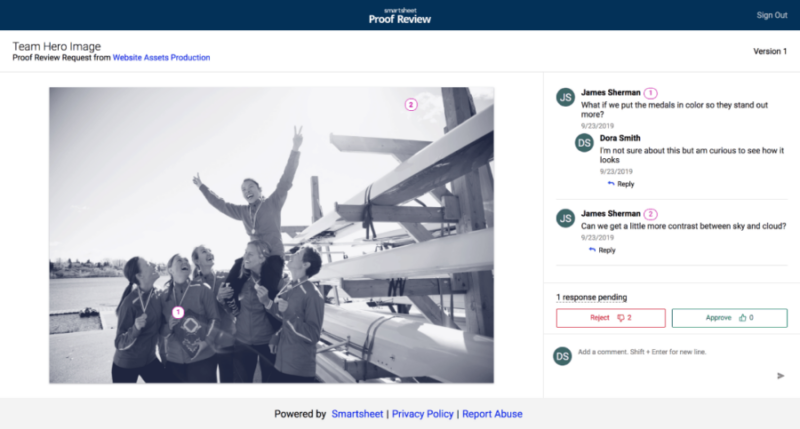 Over 90% of Fortune 100 businesses currently use Smartsheet, according to the blurb. It's a solid team collaboration software tool that delivers full-fledged project management and scaling solutions.
Smartsheet works across the board for different industries (construction, healthcare, etc.) and departments (IT, ops, marketing, etc.). Given it's an enterprise-grade solution, you can expect unmatched safety and security for all your digital assets on the platform.
Pros
Try Smartsheet for free if you want to test-drive before purchase
Feature-rich set of views, workflows, reports, and dashboards, to address all your data needs
Quickly automate hum-drum repetitive tasks
Easily identify and assimilate a project management team, and forecast resourcing needs
Streamline requests and ticket processing so you're always on top
Deliver projects consistently, with full visibility, and at scale
Cons
There are some integration limitations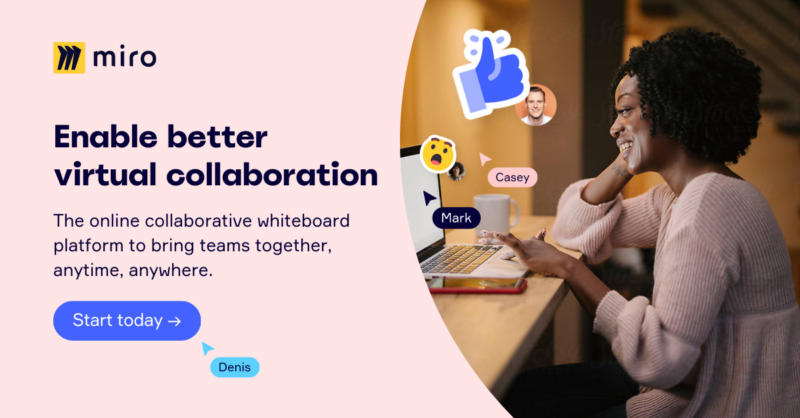 Miro is a visual collaboration platform that empowers people globally to create their best work yet. Miro's infinite online canvas is packed with features and integrations so you and your team can collaborate seamlessly whether you're working remotely, in the office, or in a hybrid setup.
At first glance Miro might seem like just a digital whiteboard, but its capabilities go far beyond that. It's an infinite canvas for your team to connect, collaborate, and create — together.
Pros
100s of pre-made templates for distributed teams
Embedded video, chat, and commenting functionality
Easy screen sharing and presentations
Mouseover collaboration to track collaborators' cursors
Works with your hybrid tech stack with 100+ integrations
Cons
The mobile version has less functionality

Zooming can be jumpy on larger projects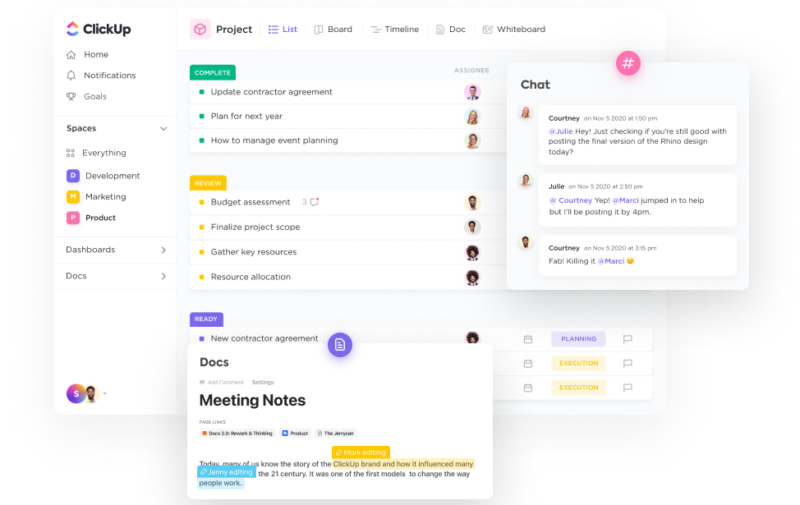 ClickUp is the centralized work hub built for the way today's teams want to work.
By bringing everyone together with context, clear priorities, and visibility with ClickUp—your team can boost collaboration and productivity while saving time to focus on the work that matters most.
ClickUp's flexible Workspace allows teams to break down silos, share information, and see where everything stands at a glance.
With ClickUp, teams gain access to over 100+ unique work tools that replace your disconnected apps or integrate with the ones you want to keep. What's more, seamless collaboration tools in ClickUp make it easy for teams to work better together across all types of work from idea to execution.
Pros
Intuitive UI
Customizable tasks
Advanced automations
Collaborative Docs
Real-time chat
Native time-tracking
Dive in by signing up for FREE to start customizing your own ClickUp workspace.
Cons
Feature-rich environment can make personal use more difficult
Most teams-oriented functionality is behind a paywall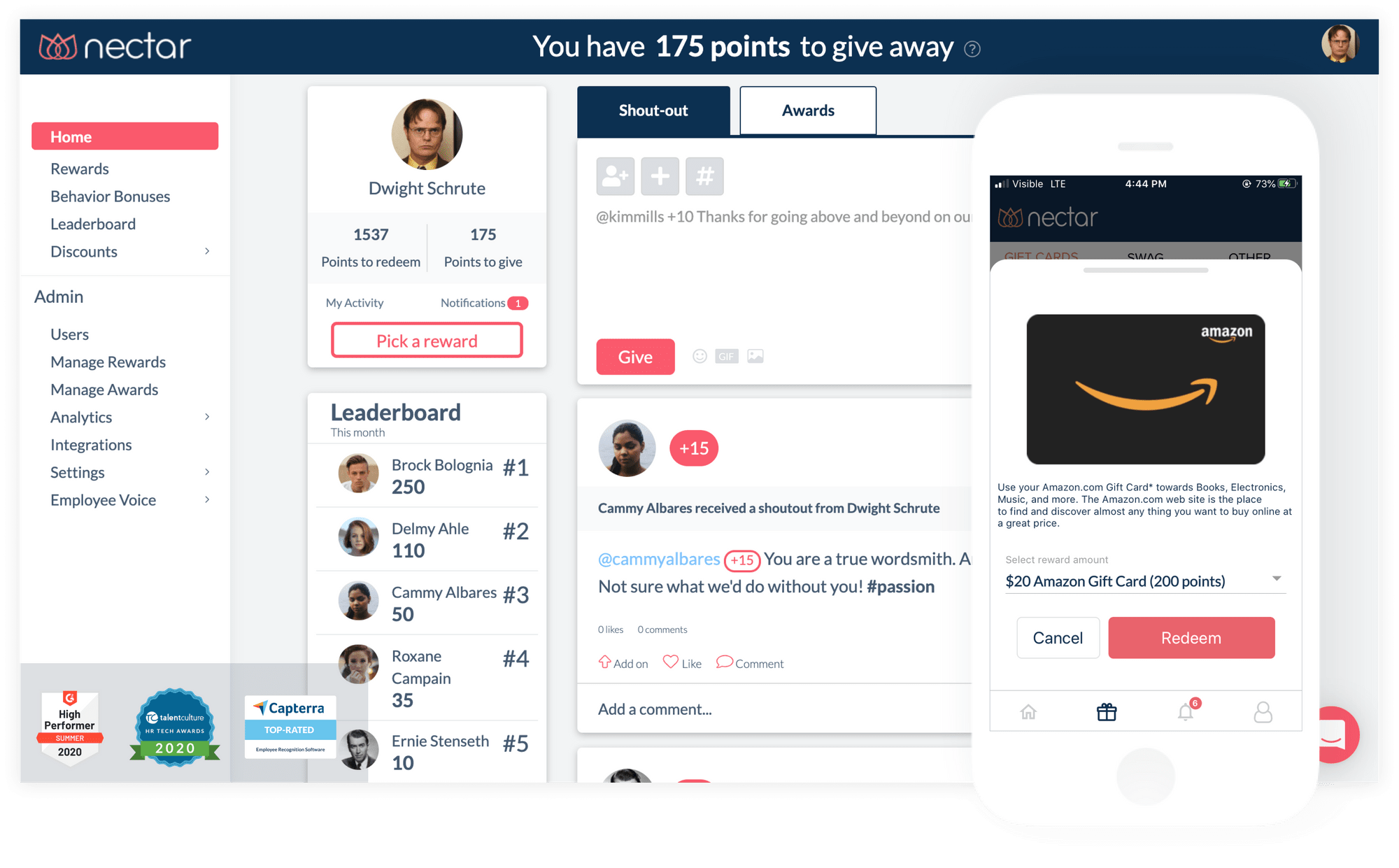 Nectar is an award-winning employee recognition & rewards platform that bolsters online collaboration. It creates a simple, standardized way for organizations to give out recognition, spot bonuses, awards and wellness challenges all within budget. This includes peer to peer recognition as well as manager to direct reports.
With Nectar, you can reinforce great work anytime, anywhere through an interactive recognition feed. Keep morale up, teams connected and promote your company's core values in an online working environment.
Pros
Connects with your other tools like Slack, Microsoft Teams and more to make recognition as seamless as possible
Has a robust rewards engine with hundreds of global gift card options or branded company swag
Has a free tier along with paid plans
Explore pricing and features to find the Nectar plan that best fits your team.
Cons 
Wish there was more functionality on the free tier
Reward options are limited outside of the US, UK or Australia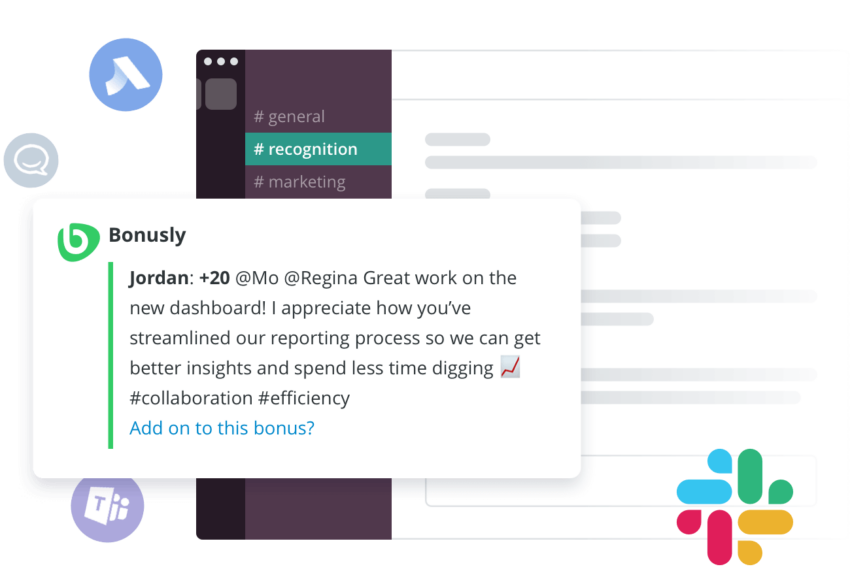 Make visibility a priority this year with Bonusly. This online collaboration platform gives managers, executives, and employees the ability to see and celebrate great work through an easy-to-use interface. Helping to create a culture where recognition is part of your day, Bonusly encourages employees to recognize their colleagues and promotes workplace collaboration.
Using this team collaboration software is a breeze, as it integrates seamlessly into the other online communication tools at your business. You can use it on a daily basis without feeling like you're doing any extra work!
Bonusly's 360-degree recognition also makes teamwork visible to everyone and empowers employees at all levels of your company. You can show appreciation for each other and build stronger working relationships while incentivizing a culture of online collaboration.
Pros
Analytics point out team members' strengths
Make it easy for managers and leaders to gather, understand, and act on employee feedback with fun, lightweight surveys of all types.
Easy onboarding meaning employees can start using it on their first day
Best suited for teams/companies of 100+
Automated custom rewards for employee milestones and completed projects
Cons
No free plan, but they do offer a free trial here
Expanding list of rewards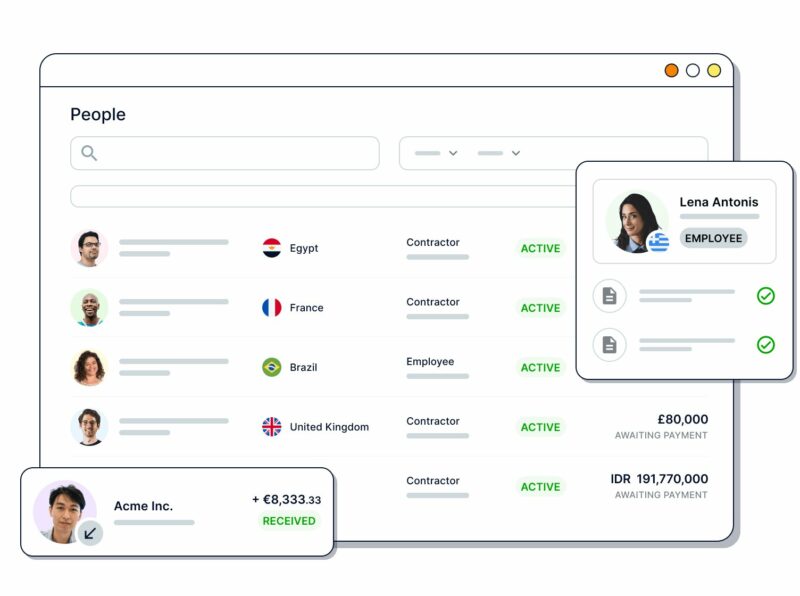 Deel's will help you extract the maximum value from your Slack integration. When your team is already familiar and comfortable with Slack, you won't need to reinvent the wheel to extend its collaboration functionalities.
Unsurprisingly, Deel has consistently seen adoption rates of 92% in existing Slack users within the first week!
Pros
An EOR solution that you can use for hiring, engaging, and paying your international workers
Install the plugins in as little as 30 minutes without needing tech know-how
Maximize efficiency and productivity from the HR perspective with modules that help track time-offs, schedule one-on-ones, develop org charts, pulse surveys, and more
With the "connections" module, you can create lasting bonds between team members by creating relevant interest groups, sparking conversation starters, and doing meetup roulettes
Cons
Deel could do with some improvement in customer support
Learn more about Deel as your team's next collaboration tool for increased productivity, engagement, and support.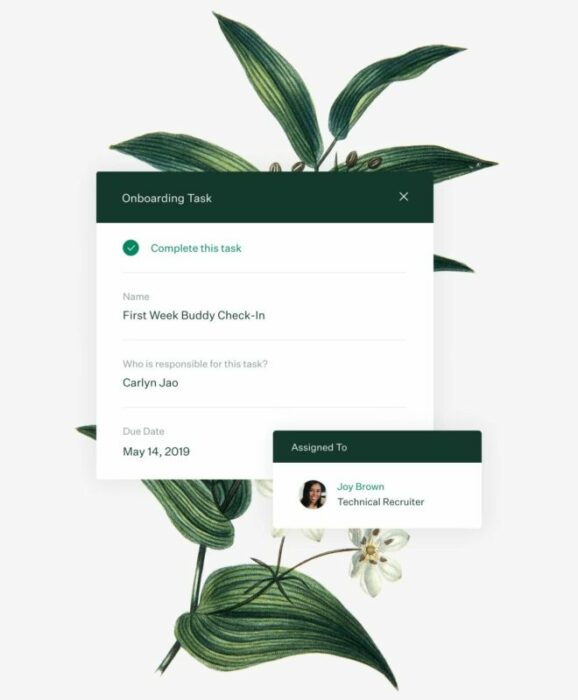 Greenhouse is the ideal choice for recruitment teams who want to boost collaboration, increase transparency, share best practices, and make smarter decisions from rich real-time data.
One of Greenhouse's most outstanding features is ability to access and optimize job listings across over 1000 generic and niche job boards, inclusive of insightful recommendations. But where this software really shines is it's collaboration tools designed for thoughtful team and candidate experiences.
For example, you can capture individual prospect information and send personalized outreach messages at scale, develop organized plans for both recruiters and hiring managers to assess skills and competencies, and even create key attribute scorecards!
Pros
Set up key stakeholders with pre-defined accesses so they're always on top of alerts, notifications, and pending tasks
Centralize communication with team members through @mentions, shared application reviews, and job/offer approvals
Create scorecards to record the key attributes required for consistent evaluation of candidates
Manage prospect data at in-person events with ease using the Events app
Flexibility for candidates to schedule interviews at their preferred time slots
Cons
Navigating their platform takes some getting used to
Overall, Greenhouse is an excellent tool for recruitment teams that want to work closer and improve all-round transparency, visibility, and collaboration. Learn more about Greenhouse!
Team Collaboration Tools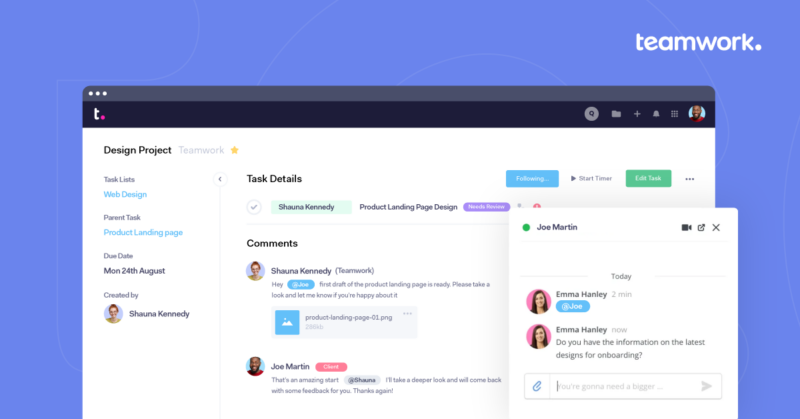 Teamwork was built so you can manage ALL your client work in one platform. From invoicing, to time tracking, to unlimited client access, everything you need to run your client services is in Teamwork.
Teamwork gives you the tools and reports you need to maximize resources and never miss a billable minute again. Get a bird's eye view of every project, from milestones to capacity planning, budgeting and time tracking and more.
Break work and projects into tasks and layers of subtasks – so nothing slips through the cracks and everyone knows what to do and when it's done.
Pros
Signup for a free 30-day trial of Teamwork with no commitments
Teamwork has the growth-focused features like time tracking, custom client permissions, assigning tasks to multiple people and more
A user-friendly learning curve and the essential features (like reports and resource management)
Teamwork has the collaboration, client features and robust flexibility necessary for managing multiple complex projects
Solid functionality so your team can manage large, complex projects without the learning curve and limitations
Collaborate in real-time with your team and clients to get your questions answered and projects delivered on time & on budget.
Cons
UX can be a bit cumbersome, but they are currently working on an overhaul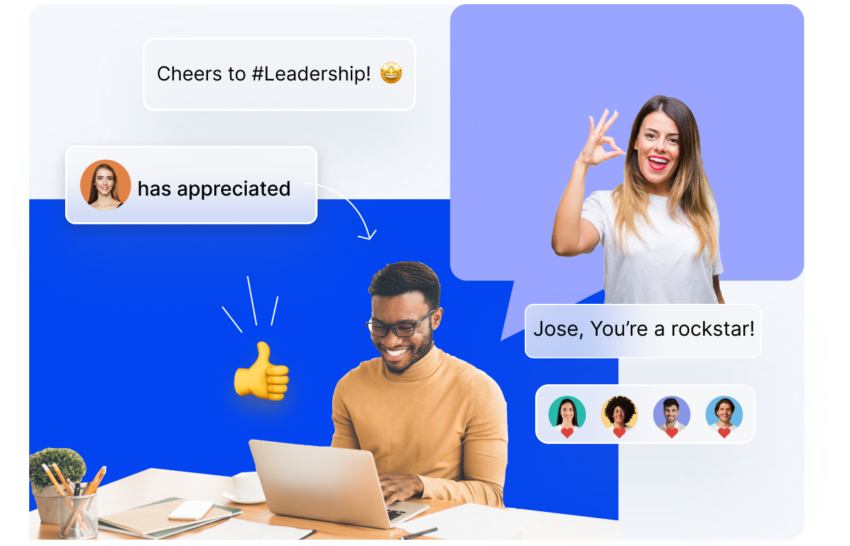 Empuls is a holistic employee engagement solution that aims to improve company culture & bring the entire digital workplace to life.
It helps HR leaders, CHROs, and CXOs to effortlessly execute key activities such as award workflows, budget automation, and industry-endorsed real-time surveys. With many key features such as communication feeds, messaging, and groups, the software equips employees to engage meaningfully with their peers and aligns them with the organization's shared values.
Empuls also enables organizations to constantly measure and analyze the levels of employee satisfaction by keeping track of Employee NPS and thus helping them improve the overall employee experience and drive higher productivity. Explore pricing and features to find the Empuls plan that best fits your team.
Pros
Empuls is self serve & DIY and makes it extremely easy for HRs to get started within a day.
HRs can also start from existing tools like HRIS, Slack, Teams, Gsuite & more seamlessly.
Comes with rich features to engage employees through game mechanics, contests, water coolers, one on one feedback, peer & social recognition, and a wide variety of benefits like rewards & perks.
Good for small & medium size companies
Cons
No free plan, but they do offer a free trial
Expanding list of rewards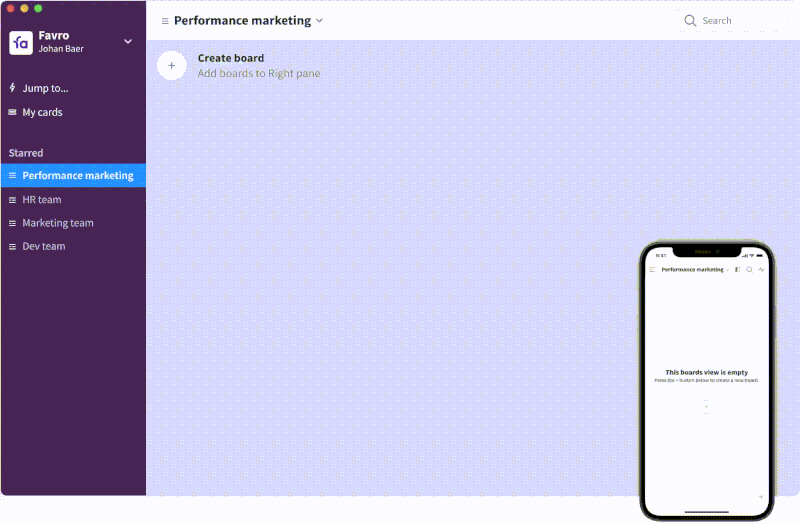 Remote and asynchronous teams face communication challenges that in-office teams don't. With Favro's stopwatch-style timer, teams can track time and see real-time updates from their desktop, web browser, or mobile device.
A virtual dashboard lets them view activity scores, enable optional screenshotting, and set productive and unproductive apps and websites for each member of their team. Integrations with over 30 popular project management, help desk, and HR apps make Favro even more powerful for growing teams. This virtual dashboard has helped Favro assert itself as one of the best collaboration tools on the market. It's easy to use and can be adopted with buy-in from your team.
Pros
Beautiful UI/UX
Simple tracking
Unlimited screenshots
Automated timesheets
Customizable invoices
Easy team payments
Cons
Relies on integrations
If you're looking for just a time tracker, there are free options that don't provide the same features Favro does but are cheaper.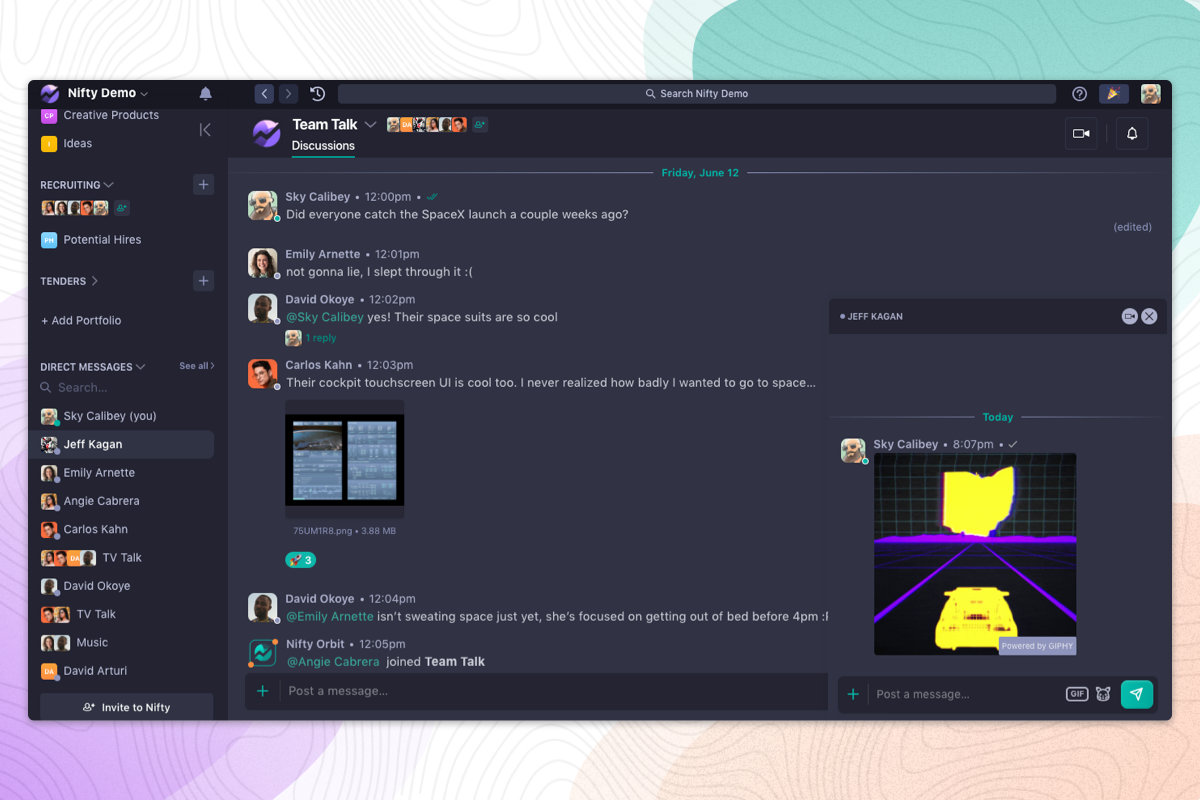 True collaboration is where communication meets action. If you're planning in one place and discussing in another — where is the collaboration truly occurring?
Nifty is the award-winning project management tool that closes the gap between communication and action to serve as the all-in-one remote office you and your team have been looking for. Packed with easy-to-use project management tools as well as direct and group messaging experiences, Nifty is the glue between planning and execution.
Pros
Build roadmaps with Nifty's milestones which are phase-based Gantts that roll up tasks into actionable steps and automate progress as the tasks are completed.
Timeline, Kanban, List, and Swimlane views let teams of all types visualize their work in the way that suits them best.
Tags scale across tasks, docs, and files in all projects to create scalability within the workspace
Built in docs, including a two-way Google Doc, Sheet, and Presentations bring your notes, content, and specifications directly into your workspace.
Overviews, Workloads, and All Tasks give automated managerial insight on project and portfolio health and make managing resources across projects as simple as can be.
Project Discussions and Team Chat give opportunities for group and direct communications
Cons
API in the process of being opened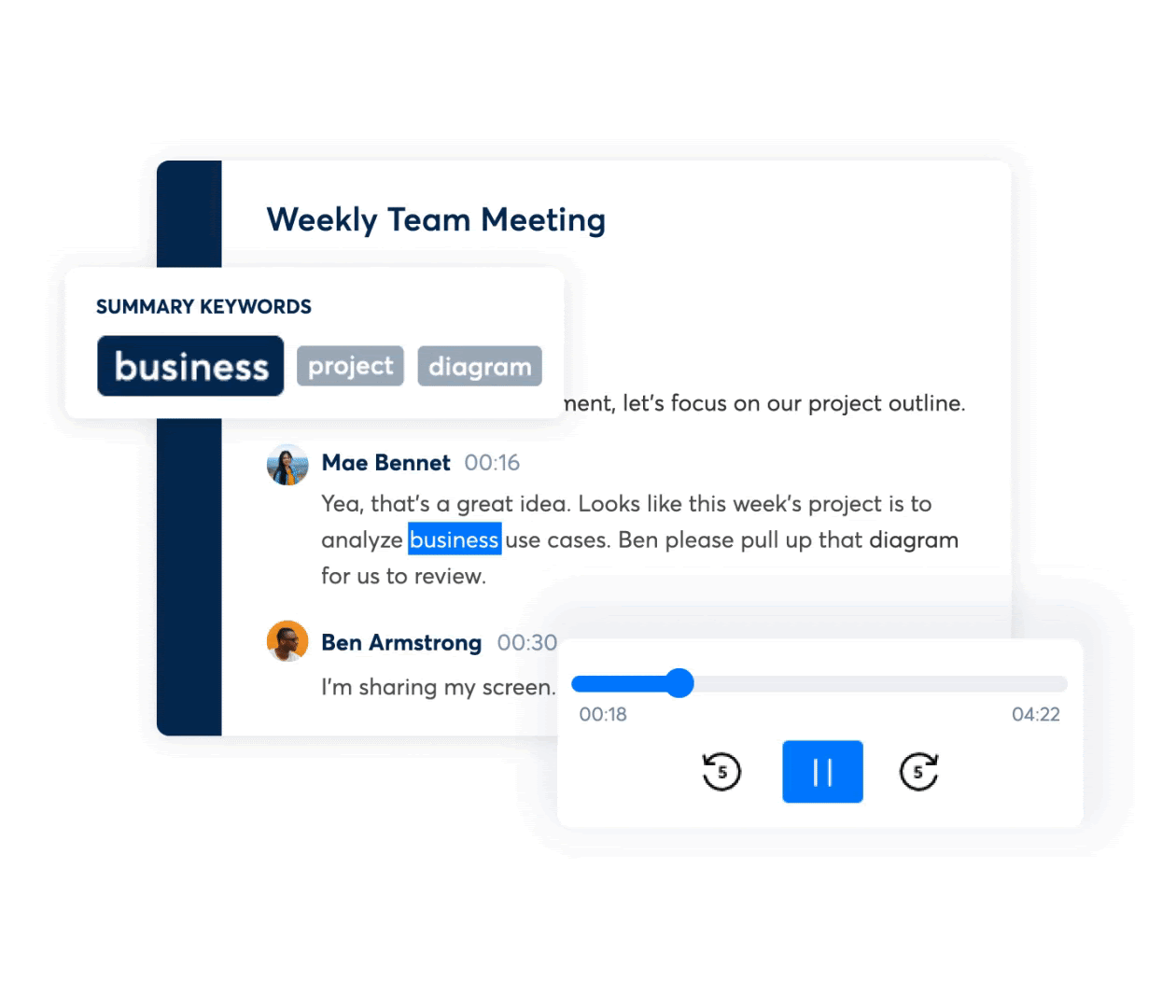 Otter automatically transcribes your audio into text. Text notes full of timesaving ways to search, find, and share with your team no matter where they are. Otter has several integrations with apps like Zoom that make collaboration and remote work faster and more efficient.
Price: Starts at $9.99, billed every month. Learn more on Otter.ai Plan's pricing page.
Free Plan: Yes, with limited usage and features. Get started.
Here are just a few of the things we love about Otter and the one minus we could think of.
Pros
Otter integrated with Zoom making it quick and easy to add live comments, delegate tasks, and action items in real-time
Allow Zoom participants to add photos, audio, and highlights in real-time to create collaborative meeting notes
Get a text summary of your meetings instantly, no waiting for notes to be cleaned up. No delays, no loss in productivity
Search within and across all your transcribed conversations
Cons 
Love that Otter is available on desktop and mobile we wish more of Otter Premiums were available in the free version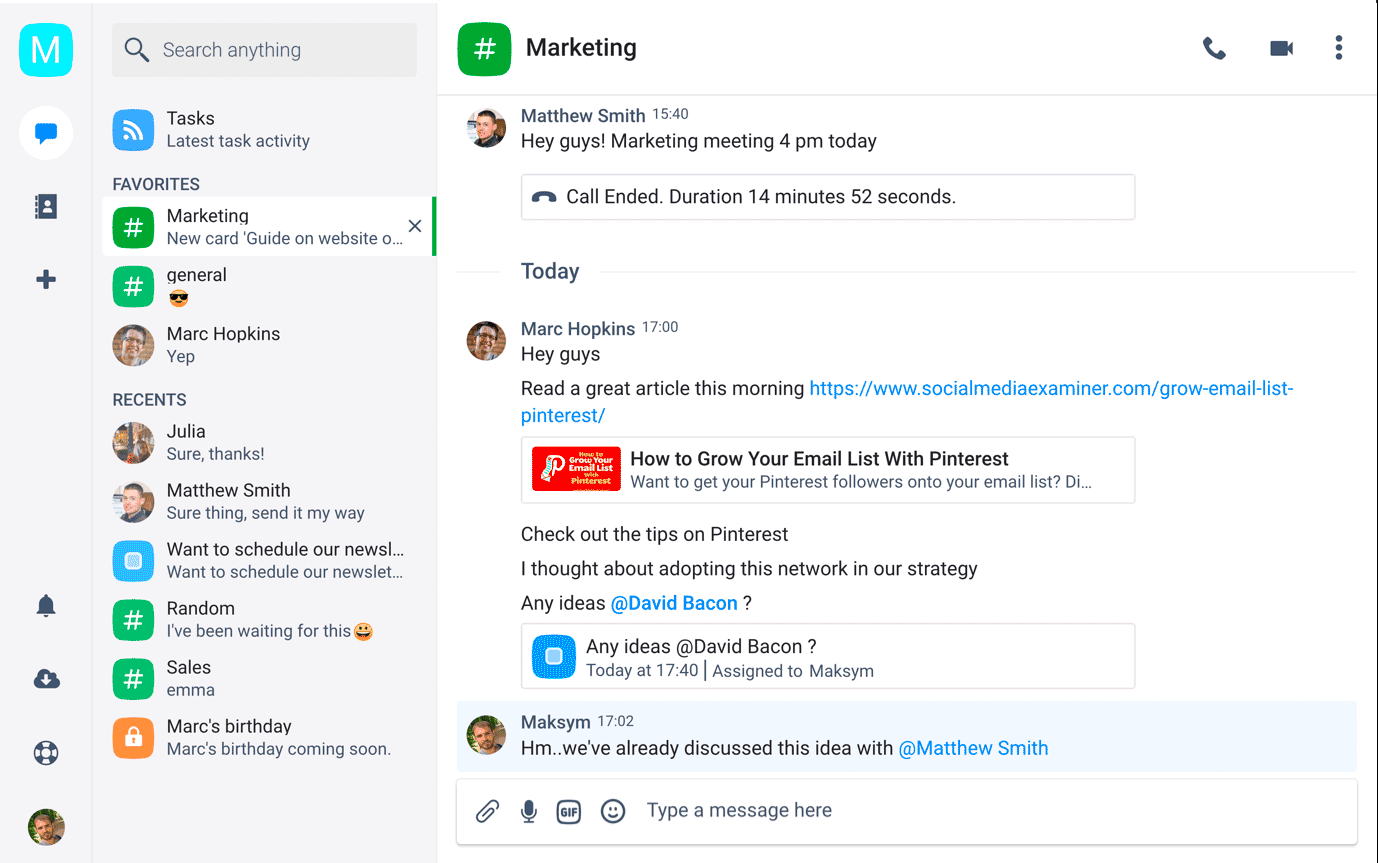 Chanty is a simple team chat solution, with easy-to-use collaboration features, unlimited message history, and workplace apps to enable teams to foster healthy relationships through transparent and accessible communication.
It is a messaging tool that enables your team members to complete projects, activities, or tasks easier and faster. It also helps you consolidate all the information you need in one easy-to-use application.
Pros
Unlimited searchable message history
Inbuilt task manager
Simple and clean interface
Easy-to-start and easy-to-use
Explore pricing and features to find the Chanty plan that best fits your team.
Cons
Limited in custom integrations
Online Communication Tools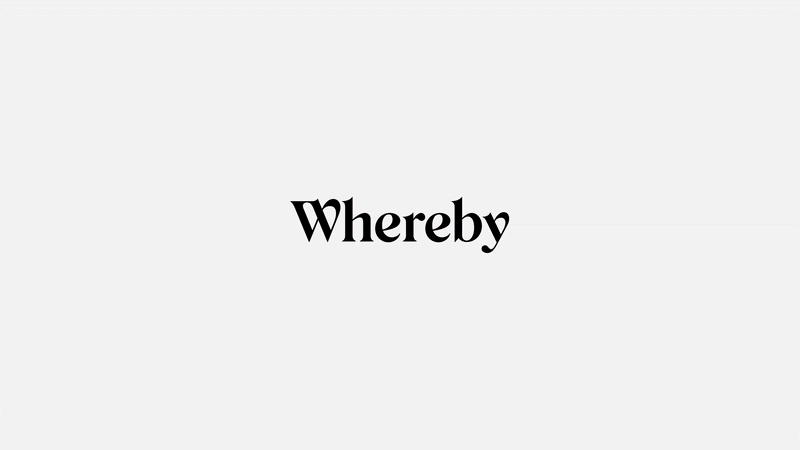 Whereby is the best way to meet over video. You don't need to download an app or any software. Just choose your own personalized URL and meet using your browser – on mobile or desktop – in one click.
Whereby has a range of features to help you collaborate and communicate. Like Breakout Groups, virtual whiteboards with Miro, screen sharing and recording, and integrations with Google Docs, Trello and YouTube.
Pros
Voted 'easiest to use' video tool – start meetings in one click
Host meetings with up to 50 participants
No apps, downloads or installs required
Simple, beautiful design
Encrypted and secure video calls
Personalized meeting room with custom backgrounds and your company logo
Breakout Groups to run classes, virtual events, and workshops more easily
Cons
45-minute time limit for meetings with more than 2 participants on the Free plans
Not as widely known as other video conferencing tools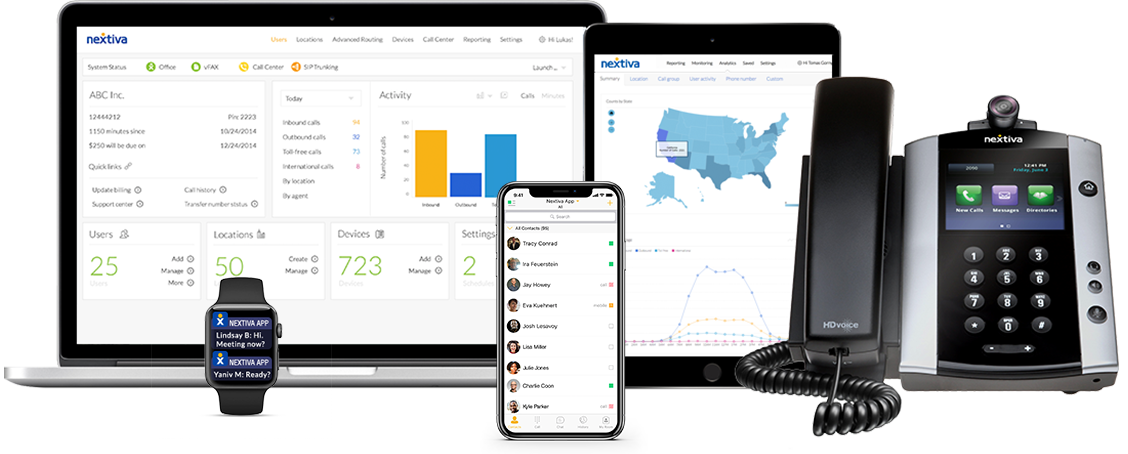 Nextiva brings all the features of traditional business phone systems to companies that work remotely or across multiple locations and time zones. Using just one robust online platform (and one service provider), you can deliver and manage reliable phone service to employees in multiple locations.
Remote and flexible companies traditionally struggle with reliable communications. In fact, LucidChart points to a Zogby Analytics study that isolated information gaps and delays as a top obstacle facing remote workers.
Nextiva helps companies overcome the remote communication barrier. Manage call traffic over the internet, establish a cloud-based call center, and so much more.
Pros
Top rated customer service and free trial period
Reliable cloud-based enterprise Voice over Internet Protocol (VoIP) with zero outages last year
Streamlined control panel and single platform for easy management of phone, email, chat, and SMS
Collects customer insights to supplement business decisions
Security monitoring and protection
Tons of bells and whistles, including automations and integrations
Physical phones available on request
Get a full view of all Nextiva's products and features.
Cons 
Employees may have to change existing phone numbers
May require a light communication and training plan if you're replacing an existing system
Slack is a smart collaboration tool that is available in both desktop and mobile versions. It allows teams to send direct messages to each other as individuals as well as groups. 
You can also organize conversations into various channels for specific initiatives or projects, and integrates with the best Slack apps like Google Docs, Box and Dropbox for a more unified experience.  
Pros 
Hosted in the cloud so no need for costly installations

Messages are fully searchable

Supports private group communication

Allows for external sharing 
Cons 
Has a message visibility limit

Pretty expensive on a per user basis

Is slower to load than other apps such as Flock or Brief

It can be cumbersome to sign into each workspace to communicate with different teams
If you are looking for more comprehensive communication features, then Flock is a great alternative for Slack (above). It is a team communication tool that allows teams to have different channels, as well as individual and group conversations.
Unlike Slack, Flock is much faster with short load times and allows users to search through all messages, URL and files with ease. The tool is optimized to find virtually any search query regardless of its source in the channels. Further, it supports screen sharing, audio and video calls. Flock users can conduct polls, set reminders, share notes, and assign tasks for maximum productivity. 
Pros
Has short load times 

Messages are fully searchable 

Has unlimited message visibility 
Cons 
Has fewer app integrations than Slack

Does not support automated bots
The world's biggest social media network, Facebook, has a team collaboration service – Facebook Workplace – that can serve as a corporate intranet portal. 
The platform has a very user-friendly interface where teams can collaborate through their own portals, as well as through the Facebook Pages, Notes and Docs. On Facebook Workplace, team members can collaborate on tasks via voice/video call and instant messaging. The platform also has machine learning bots built-in to automate certain tasks. 
Pros 
Supports polls to measure employee opinions

Integrates with other systems

Unlimited photo and video uploads 
Cons 
All data is stored on Facebook servers in the cloud, which may be prone to privacy issues.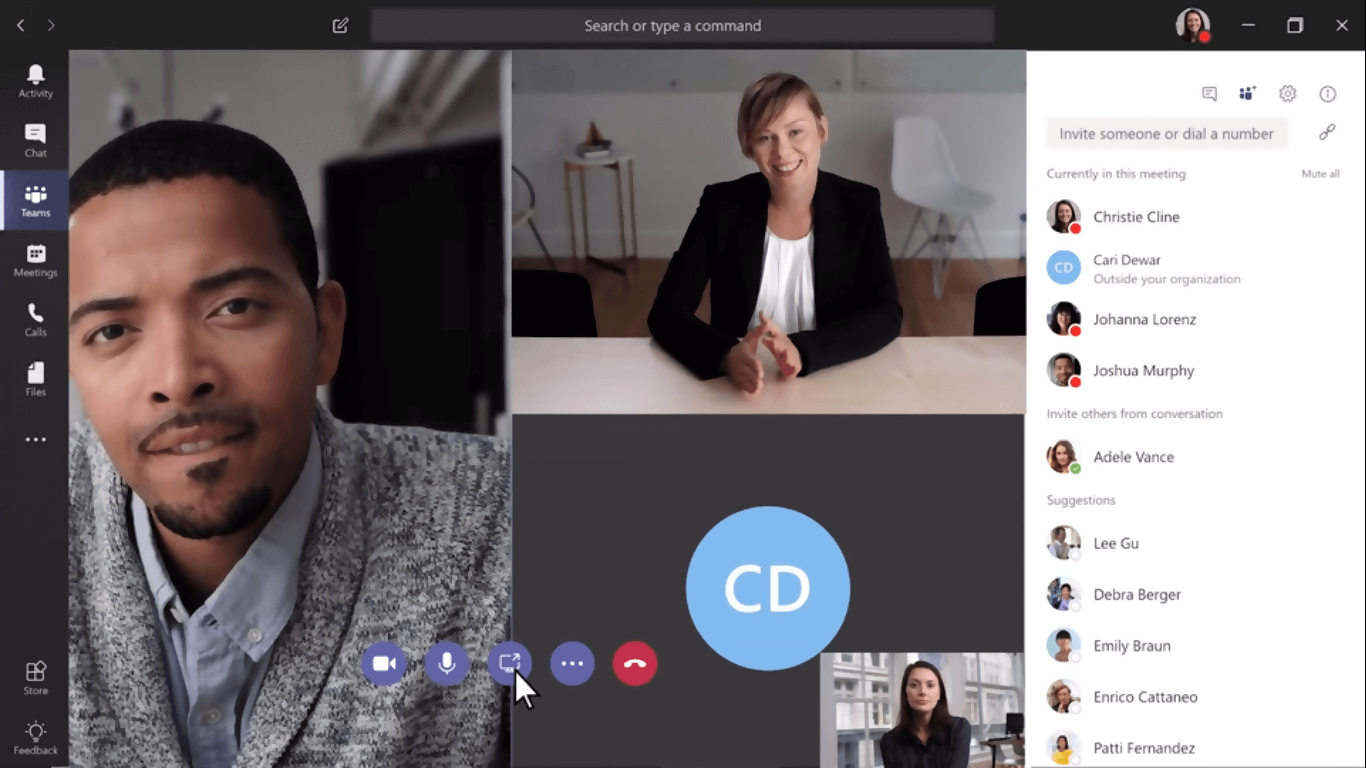 Microsoft Teams is a unified communications platform that merges workplace chat with video meetings, file storage, attachments and app integration. Your teams can host web conferences on this platform, and communicate through audio, video and chat – with both people from within and outside the organization.
Pros 
Cons 
The interface is fairly complicated 

Challenging to start
GoToMeeting is a robust online meeting and video conferencing tool designed to enable businesses to collaborate with their teams, clients, customers, and other businesses in real time via the Internet. 
It is particularly great for international teams and can greatly reduce the learning curve as it also supports screen sharing.
The other handy features of the platform include messaging, group chat, recording, integration with other tools, and a one-click meeting feature that instantly schedules meetings in Google Calendar or Outlook.
Pros 
Intuitive user interface 

Can host large meetings 

Allows users to record meetings so you don't have to attend in real time 
Cons 
Subscription is fairly expensive 

Requires a stable internet connection
Most of us are familiar with Skype. Simply put, it's an online collaboration tool that allows users to communicate with any other Skype user for free via instant messaging, voice, video and screen sharing. 
More importantly, Skype supports conference calls for up to 25 people, which means it can be a very convenient way to bring all your team together for a quick update of project status. 
For more premium features, opt instead for Skype for Business. 
Pros 
The tool is free

You can call anyone in the world who has a Skype account 

Supports screen sharing 

The app is easy to install 
Cons 
Offers no language translation services 

Skype picks up background noises easily 

Sound quality is dependent on bandwidth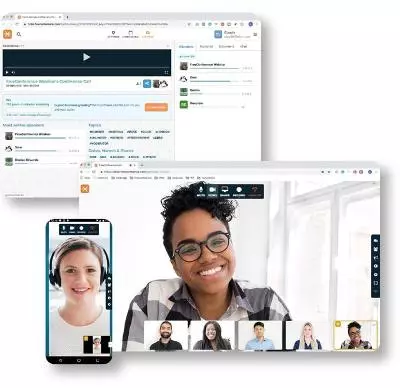 Like Skype, FreeConferenceCall.com is a popular online collaboration tool that allows teams to share files, share screens, video call and discuss tasks. The platform has stable and secure features including team rooms and is easy to use. 
Pros 
Cons 
Only Admins can set up chat groups

Few bugs if any at all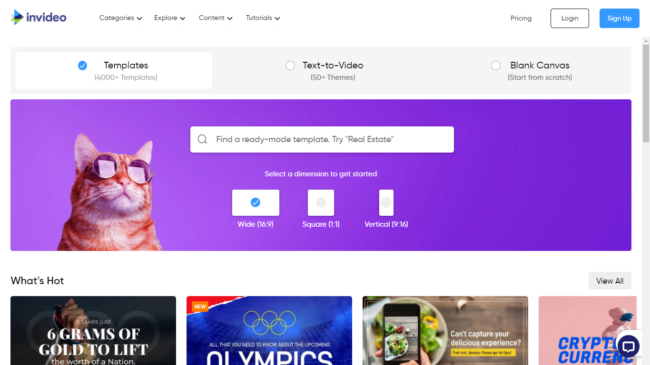 InVideo gives you the scope to easily design videos and share them online while you're in a webinar or video conference. The easy accessibility and editing features on InVideo help you get creative with your data and its portrayal using corporate templates for your video presentation.
InVideo is a social collaboration tool that can be accessed from all the commonly used browsers. Its user-friendly interface helps you figure out what's best for a corporate video and how to share it online on your organization's social media handles and other websites.
Pros 
4000+ handcrafted templates. From numerous meme templates to educational tutorial templates, InVideo covers all possible video creation purposes.
8M+ iStock Media Library and 1M+ Premium Media Library from Shutterstock and Storyblock
A feature to convert the article to video easily
An easy way to cut, trim, crop, create a composite, apply brand presets, etc.
Auto text-to-speech + ability to add your own voice-overs
24/7 live chat support + community of more than 20K creators and marketers
Cons 
Users are allowed to work on one project at a time
Can be accessed only through a browser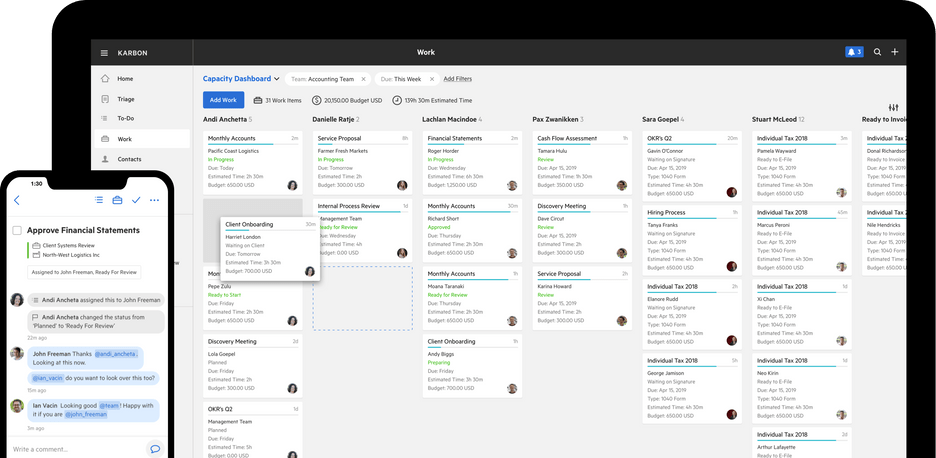 Karon is a work management platform for accounting firms and professional service businesses. It provides a truly collaborative platform to manage workflows, communicate with teams and deliver exceptional client work.
Karbon combines email, internal discussions, tasks and powerful workflows, which gives teams a single place to communicate and collaborate. It is proven to increase visibility and efficiency. In fact, according to a recent survey, the average Karbon user saves more than 10 hours each week.
Pros
Integrated email
Automatically compiled activity timelines
Lots of task automation
Extremely robust and feature-rich
Cons
Designed for accounting firms, so many features aren't relevant to other businesses
No free version (although there is a 14-day free trial)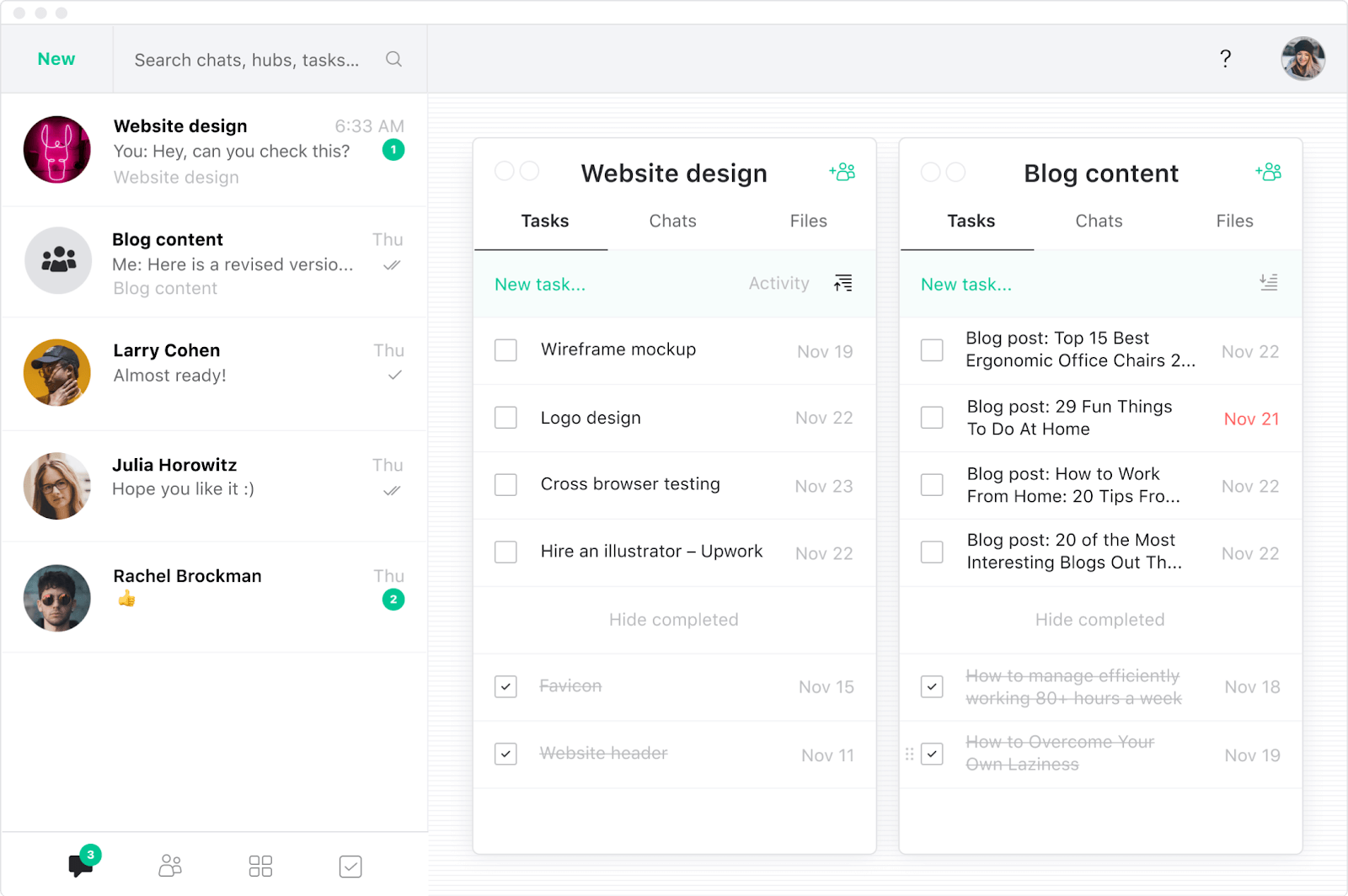 Brief is a team collaboration software tool that boosts productivity by enabling team members to prioritize and focus on important tasks while minimizing distractions. In 2018 and 2019, Brief was featured by Apple among the Apps We Love.
It has an elegant dashboard that combines chat, video, team hubs, to-do lists and file sharing.
Pros
Turn any message into a task with one click
Create hubs that let you organize your teams, chats, tasks and files
Available on the web, desktop, iOS and Android
Has a user-friendly interface
File sharing of any size
Offers exceptional quality video and audio calls through integration with Zoom
Has an elegant dashboard
This tool is free at the moment
Cons
Has few integrations so far
Online Documentation Tools 
This is likely nothing new to you. It is perhaps the most famous documentation tool out there. Google Docs allows multiple people to edit the same file at same time, leave comments, and see changes made by every participant (revision history). 
All you have to do is invite team members to work on a file in Google docs. With that, all participants have a central place to store and share information, take notes, and just seamlessly collaborate and have access to the information they need to get work done.  
Pros 
Cloud based, no installations required 

All changes made on documents are automatically saved to Google Drive so you won't lose them

Multiple collaborators on a document can see changes in real time 
Cons 
Limited features compared to Microsoft Word
This is a virtual collaboration tool that allows teams to create and collaborate on robust internal and client facing documents with built in tracking capabilities. 
Bit has over 50 integrations, and lets you collaborate on interactive documents, track the engagement levels on your documents, and manage your digital content with ease. 
Pros 
Numerous integrations 

Robust templates

Slick interface 
Cons 
Lacks a robust mobile app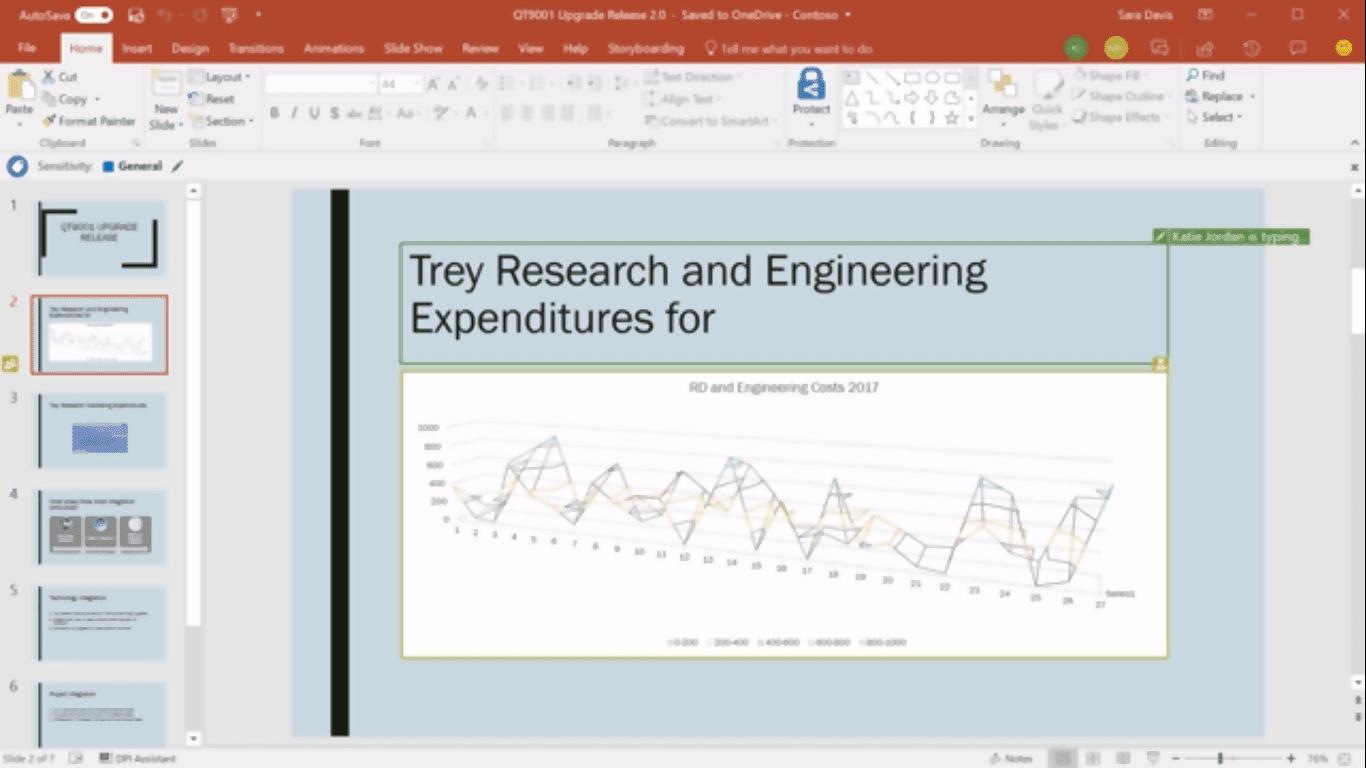 To edit the same document paragraph by paragraph with the rest of your team remotely or from different devices, Office online is the go-to tool. 
Provided that you have internet connectivity, this web version of Microsoft Office allows you to co-author a document in real time, edit and converting PDF documents to Word documents and vice versa, resume reading your word documents where you left off, and send in-line replies to your team by email. And it allows you to do all these from any device, securely and reliably.  
Pros 
It is free 

Works perfectly from both mobile and desktop 

Changes made by collaborators are updated in real time and everyone can see who is making them. 
Cons 
Requires internet connectivity to work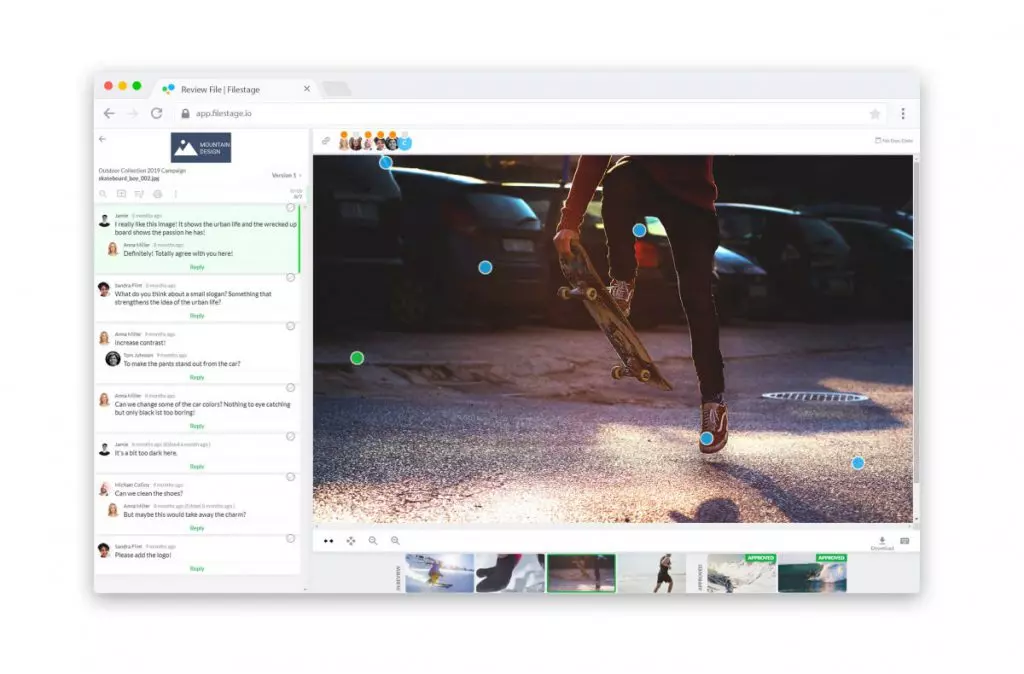 Filestage allows you to easily review content with your team and clients on a clean and user-friendly interface. Manage digital projects while bringing your stakeholders (internal and external) together to collaborate in real time. As an intuitive tool, Filestage allows your clients to feel great about the project review and approval process.
Pros
Manage project members (internal and external) with one platform
All-in-one platform allows you to review videos, images, and documents
Timestamped & documented approval from all stakeholders for active feedback
Cons
Does not offer a mobile/desktop app
Online Software Tools 
Consider GitHub if you are into programming. This development platform owned by Microsoft Corporation allows programmers to seamlessly collaborate and work on the same projects simultaneously. 
On the platform, each collaborator gets a working copy of the code displayed on their computer through the GitHub web-based graphical interface. Any changes made on a project can be reviewed and easily rolled back if need be.  
Pros 
Unlimited private repositories on the tool's free tier

Easy to use and track changes with the Gists feature 
Cons 
Can easily be affected by a security breach

Some great features are locked away behind a SaaS paywall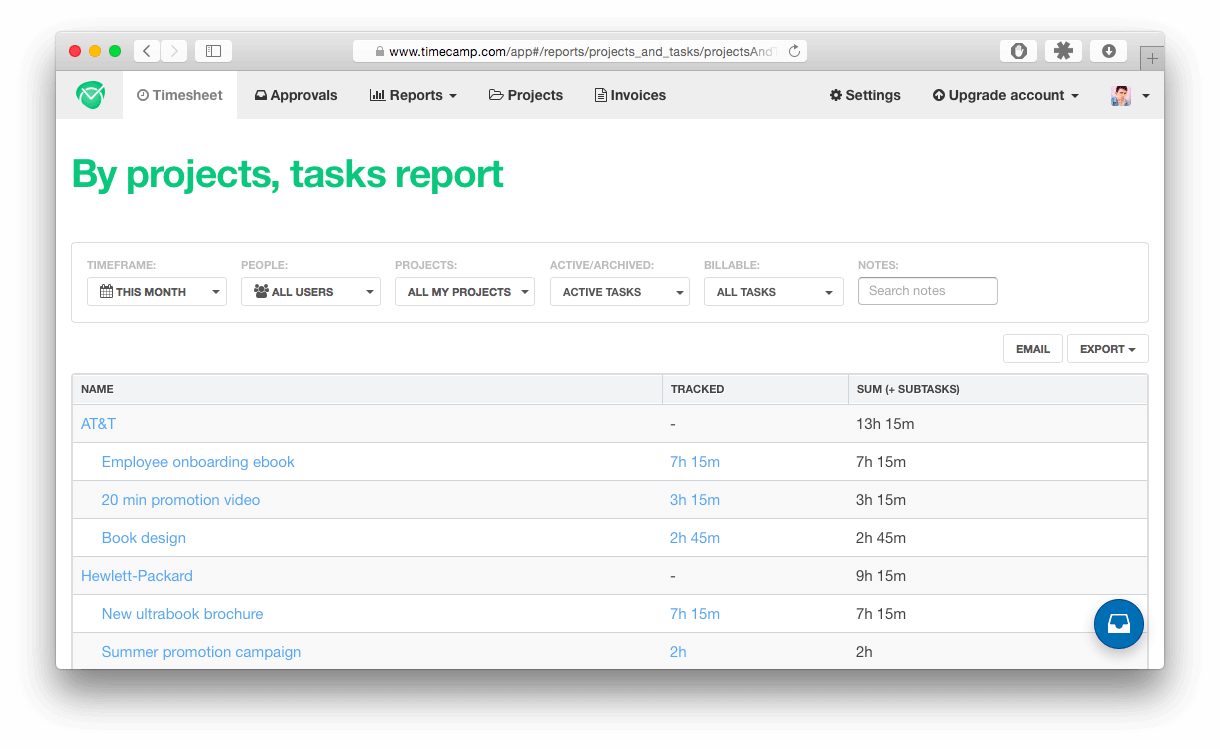 TimeCamp is widely known as an automatic time tracker, but also helps teams and freelancers manage tasks efficiently. Its unique project structure allows the user to add as many tasks and subtasks to the projects, so it's easy to assign hours spent on working for each customer.
The tool offers a wide range of reports, so that managers know exactly how their teams are performing.TimeCamp minimizes time spent on filling timesheets manually. Desktop app works in the background and tracks time for each activity performed during working hours, then it assigns them to the appropriate project. Saves a lot of time for being more creative!
Pros
You can define different billing rates for specific users and groups

Easy to invite your clients to let them keep an eye on time and resources spent for their project
Attendance module allows managers to track employees workdays, leaves, vacations and holidays
Employees can fill their timesheets automatically with activities tracked during work hours
Cons
Some users point the UX is quite outdated

Content generation is an integral part of marketing for any blog, but as video starts to overtake text posts in popularity, you'll need a tool that supports that switch. Enter videvo.net, a tool that gives teams access to 50,000+ free stock video clips, motion graphics, and animated backgrounds. New clips are uploaded daily from qualified contributors all over the web.
This collaborative stock video creation tool even lets you download royalty-free music, sound effects, and Premiere Pro and After Effect templates for free. With its hassle-free licensing, low cost, and near-unlimited amount of clips, your team will be able to produce more videos faster.
Pros
Inexpensive and user-friendly
Unlimited video downloads
Large collection of free stock footage
Up to 4K video quality
Videos verified for YouTube monetization
New clips are added daily
Cons
No free trial
No on-demand options
For designers, AdobeXD makes quite a bit of sense. The software allows for real-time collaboration between team members on design projects.
The solution has a creative cloud that allows others to edit and make any needed adjustments on design in real time. With this solution, teams can design and prototype websites, mobile apps and more in real time. 
Pros 
Replete with great native UI elements

Has a tutorial to help you get your way around 

Very clean interface 

Easy to fill the UI with content 
Cons 
Fairly hard to animate the UI

No CSS export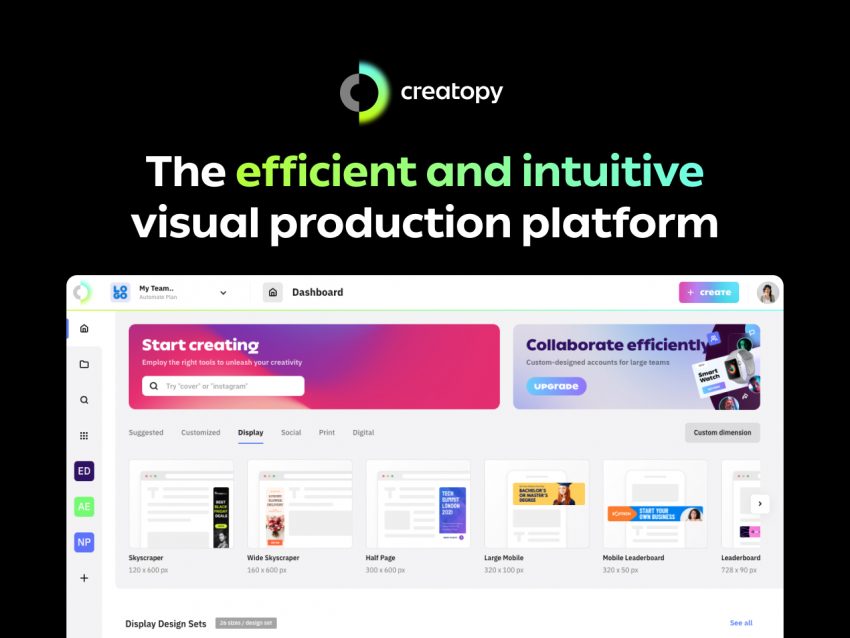 Creatopy is the efficient and intuitive visual production platform delivering a well-crafted experience for communicators. The brand-new platform allows individuals and teams to easily create engaging advertising visuals for multi-channel creative mediums.
Featuring advanced automation capabilities, along with an ever-growing library of templates and visual elements, Creatopy gives communicators the needed tools to spark their creative journey and keep visual content organized and always on-brand.
Plus, with Creatopy, you get an online workspace in which you can create and store unlimited designs and animations. You can also share notes and projects, give feedback, and pass around links, not files.
Pros
Cloud-based collaboration for all stakeholders
Accessible, intuitive interface with a drag and drop editor
Design presets, templates, and original illustrations, available at no resale
No coding or design skills required
Designs can be exported as HTML5, GIF, AMP HTML files
Cons
Requires a stable internet connection
They don't have a mobile app yet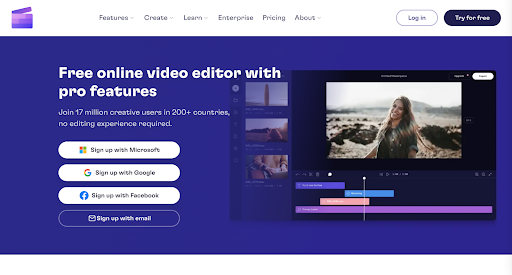 Clipchamp aims to make video project collaboration easier and more convenient for team members, no matter where they are in the world. Anyone with a computer and internet connection can access this free web-based app through a browser.
Teams can upload videos in Clipchamp Sharepages and send the link to colleagues for easy access and real-time online collaboration. They can also take advantage of the Brand Kit feature, which contains a company's brand colors, font styles, typeface, and logos. This helps businesses customize video projects for consistency and brand awareness.
Pros
800k+ library of stock videos, soundtracks, and GIPHY library
User-friendly interface with quick and easy video editing tools
Easy import from Google Drive, Dropbox, Zoom, LinkedIn, and social media platforms
Free 1080 full HD exports
Direct export to YouTube, LinkedIn, and other social media platforms
Unique video link for sharing with team members or for embedding in emails
Ready-to-use customizable templates
170 text-to-speech voiceover characters in 70 languages
Green screen and cloud sync
Affordable business plans
Cons
Video editor is only accessible in Google Chrome and Microsoft Edge-based on Chromium browsers
The mobile app version is only available for iOS devices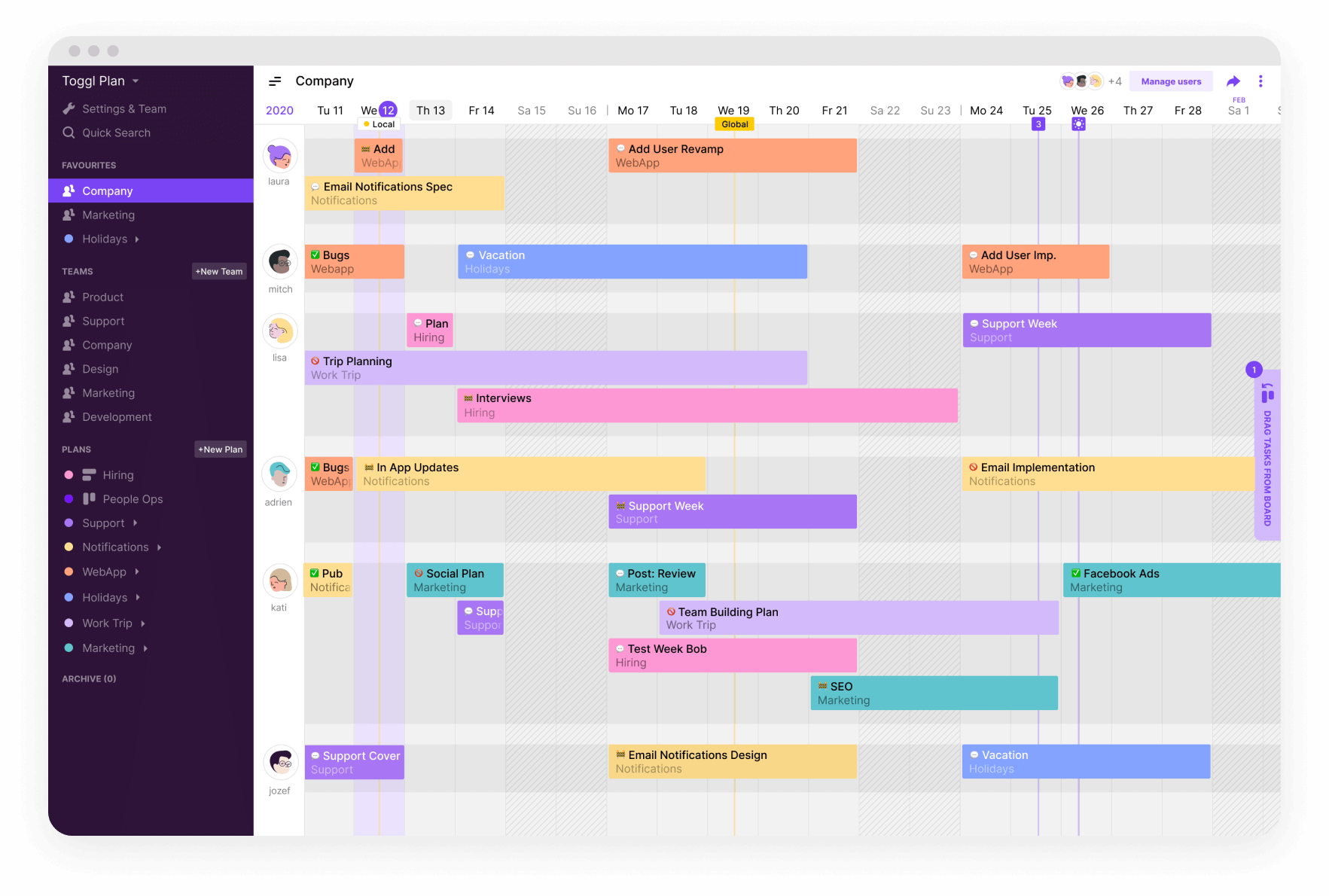 Toggl Plan makes it easy for managers, stakeholders, and team members collaboratively plan and deliver projects. It makes collaboration easy with color-coded visual overviews, making communication transparent, keeping all work related information in one place.
Managers can plan work based on team availability and workloads.
Team members get clear visual cues and notifications about what's coming next. Plus, team members can work together on tasks. As well as, share ideas with task comments and file attachments.
Stakeholders can stay up-to-date without bothering about day-to-day activities with shared timelines.
Pros
Improve work clarity with simple, intuitive, visual overviews
Plan work with high-level or detailed, color-coded project plan timelines
Set milestones and track work progress
Manage team availability and workloads with team timelines
Deliver agile projects iteratively with scrum and kanban boards
Work closely on tasks with other team members. Discuss ideas using comments and file attachments
Manage work better with Google Calendar, Github, Slack and Toggl Time Tracking integrations
Cons
The mobile app doesn't have all the features from the web app. But new features are being added continuously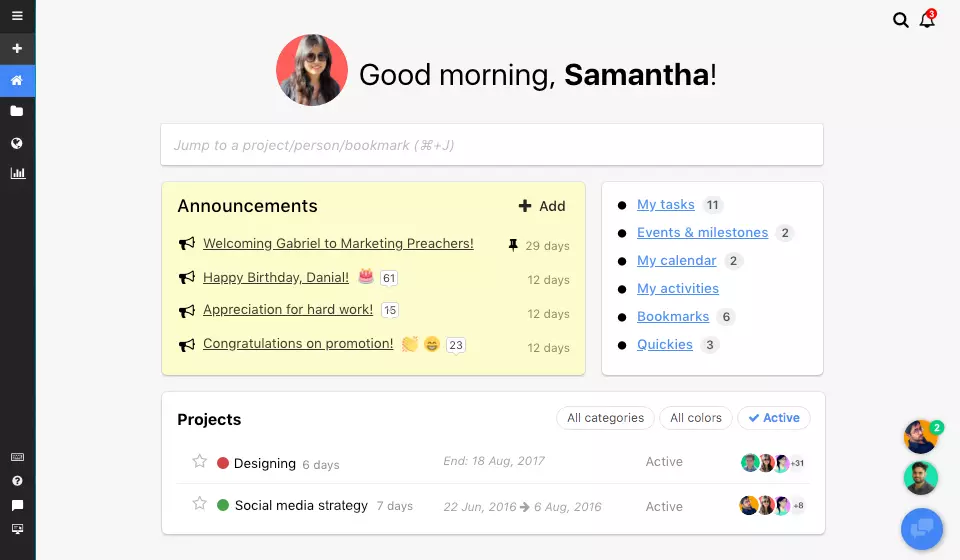 ProofHub is a remarkable project management and team collaboration software. It enables managers to work jointly with their team members to plan and deliver projects spotlessly. You can organize and assign tasks to the team members smartly. The in-built chat app helps you eliminate remote communication barriers.
ProofHub provides you an online workspace where you can organize files, share notes and monitor everyday progress. There's an online proofing tool that helps you review and approve files. Comprehensive Gantt charts help you plan your project effortlessly by placing it into easy-to-understand visual timelines.
Pros
Free trial
Easy to set up and understand
Simple pricing with no per-user charges
Powerful collaboration features
Cons
Limited third-party integrations
Here's one of the most famous project management tools out there. Trello is optimized for keeping tasks organized and lets users create boards or lists that can be assigned to and shared with others.  
Trello is replete with deadline reminders and email notifications, plus; it can integrate with other tools including Evernote, Google Drive, GitHub, and Slack for a unified team experience.
Pros 
It's free

Quick real time updates 

Simple and easy to add new member, create and assign tasks 
Cons 
Difficult to handle large projects

Not the best way to collaborate;

You can choose tools such as Slack

or

Brief

for your real-time communication
For project management, few other tools can beat Asana. The tool is designed to let teams organize, track, and manage their work. It is complete with video calls, project tracking, and handy integrations such as to-do lists, reminders and direct requests as its core features. By updating in real time, it helps project managers run a team of remote employees with ease. 
Pros 
Has a free plan 

Has numerous integrations 

Loaded with plugins to let you modify projects
Cons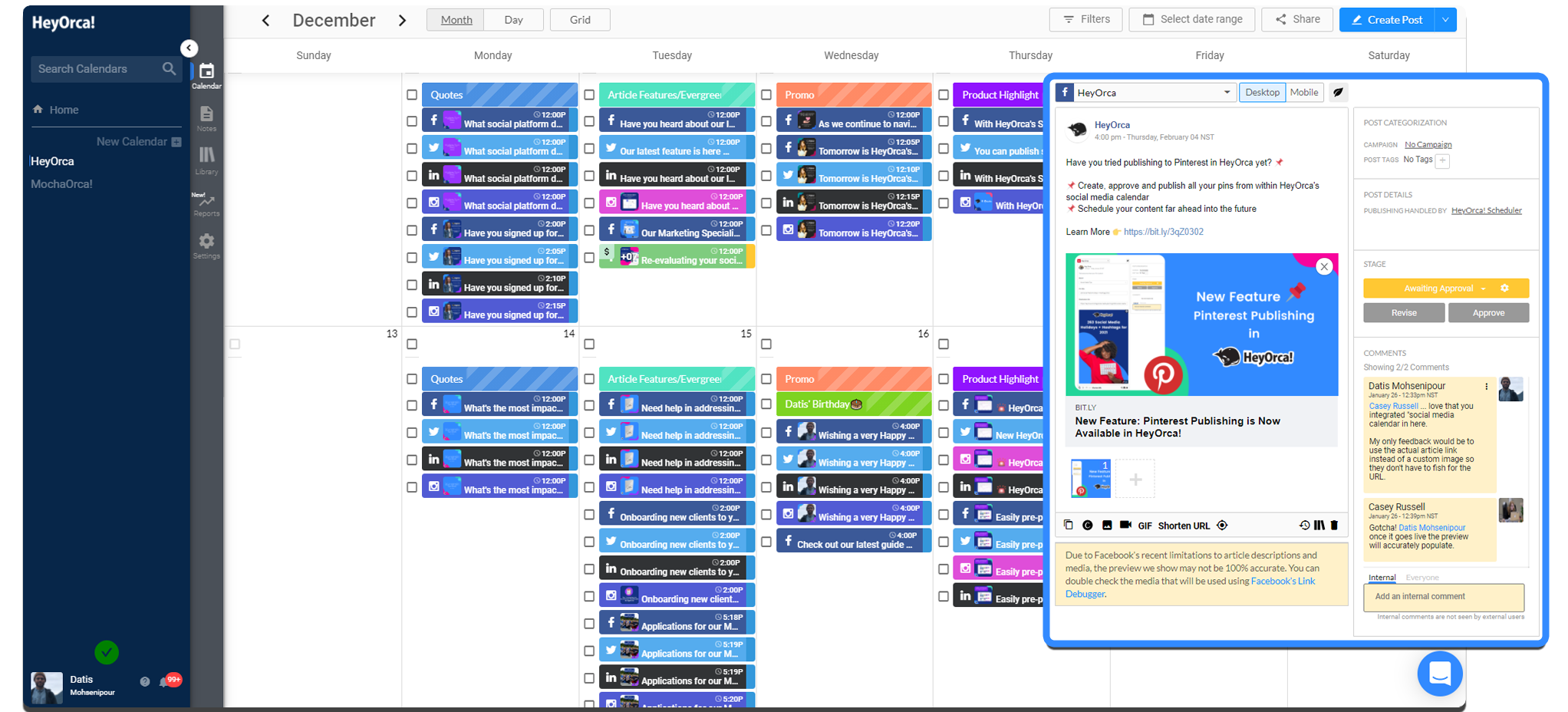 Finally, a collaborative social media management tool designed for agencies.
HeyOrca's social media calendar allows you to effortlessly schedule and collaborate on social media posts, manage content approvals, and report on your results… all in one place.
It's a visual platform built for social media managers that need to collaborate and communicate digitally on content – whether it's with a client or internal team. Here's how Alicia from Conversion Interactive Agency describes her experience:
I love that our content creation and client approvals all happen in one simple, easy-to-use platform. It really opened the door for more direct collaboration with our clients and empowered our team to build stronger relationships with them. HeyOrca's support team is unmatched – any questions or suggestions are addressed lightning fast and they're always friendly and great about following up.

HeyOrca enabled us to make the switch from spreadsheets — a clunky, outdated process, to a completely seamless workflow that enabled our team to work smarter and more efficiently.
Pros
Rated 4.8/5 stars on G2
Very low learning curve
Unique pricing model – every calendar comes with unlimited users, social posts, media storage, support, and up to 10 connected social accounts
Calendar format allows you to easily manage scheduled posts & plan future content
Visual editor shows you exactly how posts will appear on social media while you create
Easily share scheduled posts with clients or managers for approval or feedback
Instantly pull social media reports & share them with clients or management
Cons
No optimal posting times (Coming soon)
No paid post promotions (Coming soon)
Online Data Visualization Tools 
You want somewhere to brainstorm effectively? Jump aboard the MindMeister bandwagon and start doing just that. The tool lets you manage meetings, plan projects and sketch out business plans with your team.
It is the go-to platform for teams to be more innovative as it provides them with the required environment for brainstorming and planning. Users can share their mind maps directly with others in real time or make the mind maps public for everyone to see instead. The platform has numerous templates for organizing work that users can choose from. 
Pros 
Intuitive, easy-to-use interface

Unlimited possibilities for brainstorming 

Multiple colors, themes, and styles for maps

Cloud hosted, no installations needed
Cons 
Requires strong internet connectivity 
Online Note Taking Apps 
Evernote is known as a note taking app. It syncs across all devices to make your notes available on the go, everywhere you go, and has additional features for organizing, archiving and listing tasks. 
With Evernote, your team can easily capture ideas on research and interviews, draft blog posts and eBooks on the go as the ideas emerge, save articles to read later, annotate PDFs, record audio, and save texts, links, and images with ease.  
Pros 
Unlimited space for storage 

Has a robust search engine
Cons 
Paid version is pricey 

It is prone to occasional bugs 
Google also has a note taking tool – Google Keep – that rivals Evernote.
The tool allows you to quickly take and save notes, photos, voice memos, and checklists; and share them with the rest of your team. It seamlessly integrates into the mainstream Google, and lets users set reminders. 
Pros 
Has a beautiful colors that enhance the user interface 

Simple and easy to use

Fast and responsive on both web and mobile
Cons 
Limited way to organize notes

Has limited features, no bullet points or numbered lists
Online File Sharing Apps 
Dropbox is one of the most popular file storage solutions with file syncing and sharing.
For many business owners, we work from our homes, the local cafe, in our cars between meeting. The difficulty with this business lifestyle is having access to everything you want on all of your devices. There are multiple ways to store and share files. One of those ways is by using Dropbox.
Pros
16GB Free storage

Easy to sync files across multiple platforms

You can use the file version history feature to recover and restore deleted and previous versions of files
Cons
Companies need to purchase employee licenses for Dropbox when using it as a business solution

It can sometimes be challenging to find folders or files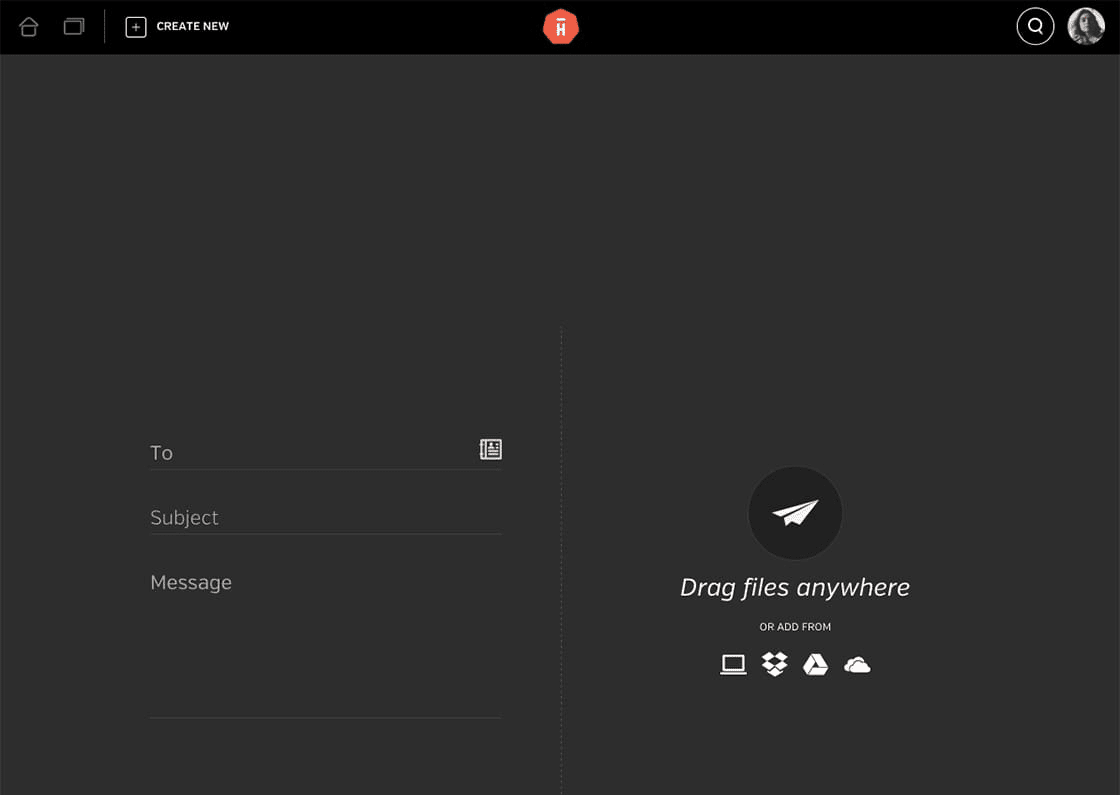 This is a cloud service for sharing large files and obtaining feedback, over a secure channel. The tool allows for digital signing of files and synchronizing them. 
It is loaded with creative collaborative features to make everything easy and seamless, eliminating the need to share files through emails which allow for miscommunications to occur.
Pros 
Unlimited online file storage

Easily sends large files of up to 10gd in size 

Great security features including identity verification 
Cons 
Less interactive support team 

Files shared tend to expire quickly  
If you have a Gmail account then you are definitely familiar with Google Drive, your online storage for saving all your files and sharing them safely with your team(s). Once you grant them access, your team can easily reach the files stored on your Google Drive directory and use them to complete various projects as needed.  
You can invite them to view, edit or leave comments on files stored on the drive, including videos, photos, and documents.  
Pros
Lets you choose the level of interactivity to assign a participant 

UI is intuitive and easy to use

Accessible from both mobile and desktop devices 
Cons 
When using Google Drive, it is challenging to login from other work addresses.
Online CRM Tools 
We also found a tool for your sales reps <smiles>. It's called Salesmate, a sales CRM Software for small and medium-size businesses. 
It has an intuitive and easy to use interface that allows sales reps to be more productive, increases their sales and allow them to engage deeply with customers. 
The solution provides sales reps with the right insights, integrations and data to help them sell faster and deliver more personalized experiences to each customer.
Pros 
Built-in text sender allows for quick sending of promotional messages 

Integrated calling tool, connect with a single click 

Has a great level of transparency 
Cons 
Requires a bit of learning to use properly 
---
People Also Ask These Questions About Online Collaboration Tools
Q: What are online collaboration tools?
A: Online collaboration tools are the web-based platforms and technologies that help teams connect, no matter where they are. These tried and tested tools allow teams to communicate, share project status, delegate assignments, create seamless feedback loops, and so much more.
Q: What can online collaboration tools help with?
A: Online collaboration tools help keep everyone in the loop, even when they're not in the same office or location. The tools provide platforms where everyone can see and communicate about ongoing work. This transparency means everyone has up-to-date information and can work productively and efficiently while feeling connected to their team.
Q: Why should I use online collaboration tools in 2023?
A: You should use online collaboration tools in 2023 because, no matter where you work, these tools will enhance the clarity, transparency, and efficiency of your work and your collaborations. There are also a variety of tools that benefit specific industries and team structures, making it easy to find a tool that feels designed just for you and your needs.
Q: Why is it important to test out team collaboration tools?
A: It is important to do your homework and sign up for a free trial when adopting a team collaboration tool because it allows you to work out the kinks and determine the best strategy for introducing the tool to your team. Kicking things off with an effective onboarding process and maintaining use are key components of driving buy-in from your employees. With the numerous benefits to using a team collaboration tool, it is important o set your team up for success and access the benefits from day one.
Conclusion 
So, there are online collaboration tools for virtually any task in the business environment. And, your team doesn't have to be spread over a wide geographical area to use these tools. In-house teams too can execute projects better, optimize resources, and achieve a higher level of transparency and unparalleled collaboration from the use of these tools. 
If you want to become more efficient and effective in your business therefore, it's time to consider and start using these tools. 
And, perhaps share your experience with us (in the comment section).