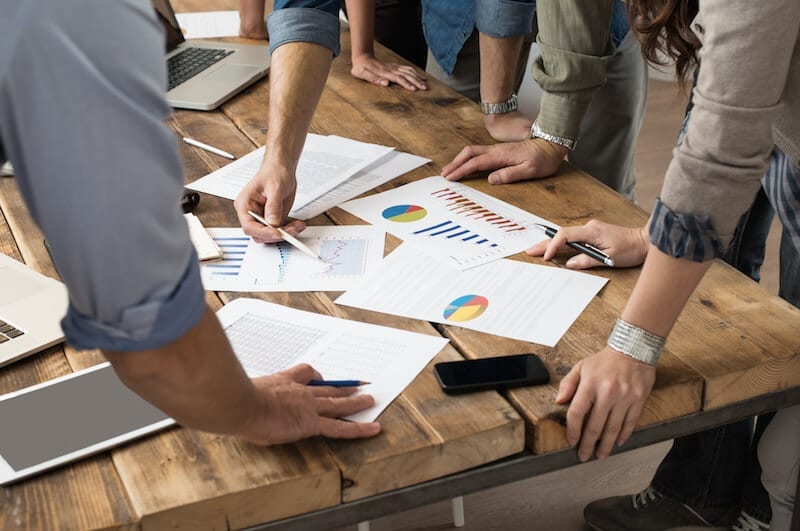 Have you considered kicking off an employee engagement program?
It takes effort, but committing to a proven process up front can help you and your organization succeed with increasing productivity, improving retention, enhancing performance and transforming into a high performance culture.
Pro-Tip: If you like using digital tools to make your life easier, then employee recognition platforms like Bonusly have everything you need. Bonusly makes it incredibly fun and easy for you to recognize coworkers. (And fun + easy = a sustainable long-term recognition strategy!)
Here are eight steps that will put you on the road to measuring and improving engagement at your organization.
Want to improve your employee appreciation program this year?
Yes!
1. Define A Goal For Employee Engagement
There isn't a one-size-fits-all approach to setting a goal for your employee engagement program, and you'll need to get more specific than simply setting out to "improve engagement."
To set a useful goal, tie it to one of three things: (1) improving company culture, (2) managing talent more effectively or (3) creating a high-performance organization. These goals will get results that go beyond simply changing a number on a survey report.
How to Pick a Goal
Your organization's engagement goal will depend on your size, culture and other variables. But we've found it's better to focus on goals associated with business outcomes than to get hung up on a specific engagement score.
For example, many of our clients set goals that address improving company culture, attracting and retaining top talent or creating a high-performance organization. Work with organizational leaders to determine what your highest priorities are for change; that's where you can find a goal for your engagement initiative.
As part of determining priorities, leaders at your organization will need to be honest about what they're willing to invest to make changes to reach those goals.
If culture is a concern, what are you willing to do to improve it?
If culture is a concern, what are you willing to do to improve it? #employeeengagement
Click To Tweet
Answering this question requires setting budgets, identifying specific tactics you're willing to start (e.g. do you want to serve free lunch every day? Offer employees more flexible work arrangements?) and establishing the proper levels of people, time and resources it will take to make these changes.
Communicate Your Goal Carefully
Once you've set a goal, communicate it to the organization, but be conscientious about how you frame it. Saying something like "We want to move our engagement levels from X to Y by the end of the year" is too abstract; it shows you're more concerned about a number than actually making improvements in the workplace.
In the same way, if you say you want 100 percent feedback on a survey before you take any action, you can rush respondents into submitting a rote response instead of focusing on responding honestly.
Instead, share the original goal with employees, not the numbers behind it: You want to improve engagement to improve retention rates, for example, or build a more open, flexible culture to help retain employees.
There will be measurements around these goals, and sharing them is obviously useful: "We retained 95 percent of employees last year, an improvement of 10 percent over the year before."
But simply saying "we must reach 75 percent engagement by the end of the year" puts employees on the spot and gives them no context about how to reach that goal.
Be Flexible
As you become more comfortable with managing engagement, your goal will change. It's a business goal like any other, and as you achieve success you will need to set more goals to keep the momentum going.
You'll need to stay flexible through the process, especially when it comes to larger goals: Engagement is a major change initiative, and building a new culture or improving productivity takes time. You may be constrained by others' timelines; changing health benefits to improve satisfaction, for example, can only happen once a year.
Be patient, look for quick wins and stay flexible to get the most out of the process.
Be patient, look for quick wins and stay flexible to get the most out of the process. #employeeengagement
Click To Tweet
Most importantly – after you implement the changes, gather additional employee feedback to understand its impact!
2. Equip Your Employees With The Right Tools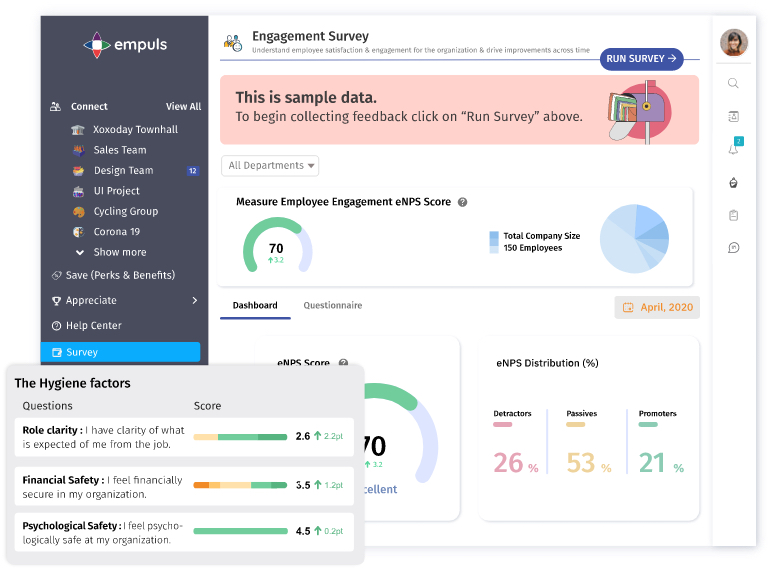 Employee engagement has become a cornerstone to company success. While there are a number of steps outlined in this article, it is very important to provide the best tools for your teams to engage with each other. Providing your organization with a platform that can track and manage employee communication and engagement can go a long way when it comes time to measure engagement.
As a comprehensive employee engagement software, Empuls helps to build a company culture around employee engagement where teams and coworkers can communicate with each other
Communication. Connect employees through interest groups, projects, teams & conversations.
Recognition. Manage employee rewards & incentives.
Feedback. Run engagement & other lifecycle surveys.
Think of Empuls as a digital toolbox with access to all tools of communication without forcing your employees to juggle multiple platforms. Using social intranet, the entire organization can stay connected so when it comes time to measure employee engagement, the framework is already there.
3. Establish Key Metrics And Measurements
Use your goal to identify the factors you'll be measuring as part of your employee engagement survey. The questions are likely to fall into three categories:
Satisfaction: These questions will ask about how employees feel about their job, pay, benefits and so on.
Alignment: These questions will determine whether employees' goals and motivations are aligned with the organization's mission.
Sense of future. It's important to ask whether employees feel they have a future at your organization, especially if you're interested in improving retention.
During this step, you'll also determine the kind of survey you will run. You may be asking questions across different categories with answers on a 1-5 scale, or you might use open-ended questions. Check out the "Art and Science of Employee Engagement" for best practices.
The above are key metrics you will be tracking to measure employee engagement, but what data should you view to ensure your changes are leading to tangible business results? It's true that employee engagement is good in and of itself, but ideally that engagement also leads to harder, smarter working employees and noticeable changes in success metrics. Some metrics you can measure include
Attendance rate: Attendance problems signal a lack of employee engagement, and can cause huge issues for a business.

Average hours worked: Engaged employees are willing to work overtime to complete projects because they see the intrinsic value and delight in the challenge of those projects.

Conversion rate/average sale size: For a restaurant, bar, or retail store, more engaged employees will lead to better salesmanship and more visitor conversions.
For a retail store or restaurant, your POS system may already track these metrics automatically. Other businesses can likely track these with their accounting software or employee management software. If you are having trouble sourcing these metrics, there are tools available to help you determine where you stand regarding employee engagement.
4. Communicate Effectively For Transparency
Communicating clearly and consistently is important at every step of the engagement process, but when you're running an employee survey, it's vital.
Employees may be wondering what will happen to their answers, what exactly is being measured, and whether their responses are anonymous. Communicating effectively throughout the process will help create buy-in from employees, so ensure leaders and managers have the answers they need to keep everybody on track.
As you move through your employee engagement process, be sure to keep your communication lines open. After the survey, employees may feel like communication drops off as leaders try to determine an action plan for the organization.
Keep them informed about the results from the survey and what's coming next; transparency throughout the process will help keep it moving. Use these three guidelines when developing your communication plan.
Communicate Your Goal
Every employee engagement journey starts with a goal. When people have something to aim for, it's easier to ensure all of their efforts are working toward the same end.
No matter what your goal is, communicating it to employees helps make engagement something understandable, as opposed to simply increasing a number on a score sheet.
Tell Them Why You're Doing This
Transparency is the backbone of communication, and you'll need plenty of it as you kick off your engagement effort. Employees will naturally want to know about the process and what they need to do to make it a success.
Unfortunately, leaders and managers sometimes avoid those questions because they don't know themselves how the process works, or because they're afraid of promising too much.
Clarity helps build confidence in the engagement process, and confidence is what you need from employees to make your engagement plan a success. Empower your leaders and managers to share openly and honestly about engagement to create buy-in among employees.
Empower leaders & managers to share openly & honestly about engagement to create buy-in.
Click To Tweet
Don't Overcommit
During the beginning stages of an engagement initiative it can be easy to get caught up in all of the exciting ideas and changes people might come up with. It's a great feeling when employees catch on to the idea of engagement, or when they see how they're empowered to make changes on their own.
Make sure, though, that you're not over-hyping the process. Engagement efforts are not a cure-all, and improving engagement is simply a business process like any other.
Change doesn't happen overnight, and there may be changes that you simply can't sustain or commit to. Keep your communication upbeat and honest about what might change in your organization.
Without effective communication, your engagement efforts aren't going to get the traction they need to build lasting change and success. Before you dive into an engagement initiative, ensure your communication channels are clear, and that you're willing to be transparent throughout the process.
5. Overcoming Roadblocks
Every employee engagement initiative runs into conflicts at some point. Once survey results are revealed and it's time to plan, one of the most common roadblocks is a lack of alignment or trust among leaders who are trying to take the next steps.
Other leaders may suddenly decide there aren't enough resources or enough time to make the changes necessary to improve engagement, or may not feel empowered to make it happen.
This is a critical moment for your engagement program, and one where HR can take a leadership role. Go back to your original goal and remind others of the commitment to positive change.
6. Build An Action Plan
Your survey results show you where your company is now; your goal will provide something to aim for.
Your action plan for getting there will depend on your company's culture, engagement goals, risk tolerance, budget and other variables unique to your organization. Work with department and company leaders to create timelines and accountability for action, being explicit about which tasks belong to which people.
Check out best practices for building an action plan and consider these four steps as you set out to develop your action plan.
Step 1: Revisit Your Strategy
When you had set your engagement program goal and planned your overall engagement strategy, you thought about what you needed to know and why you needed to know it.
Once you have your survey results, you can see how well your goal matches up with reality. All of that information will go into how you shape your action plan.
What new insights did you get about your workplace from your survey?
As you build your action plan, be sure you don't try to do too much at once. It can be tempting to address all the issues uncovered by your survey, but it's crucial that you develop an achievable action plan that doesn't take months to come to fruition.
There will be plenty of time to address all the information you got from the survey; follow the process instead of trying to improve everything in one fell swoop.
Step 2: Follow Established Processes
Crafting your action plan doesn't have to be intimidating. Chances are you already have a normal business goal-setting process in your company, and it's a great framework for building your action plan.
Ensuring your action plan conforms to your company's culture will help make success more likely, so follow some of the processes you already have in place when drawing up your action plan.
Step 3: Work Quickly
When you're making changes in your workplace to improve engagement, act fast. Once you've surveyed your employees, the speed and commitment you give to making change will have a big influence on whether it's successful.
If there's an engagement issue, employees will be encouraged if they see you're committed to making a change — and they'll lose heart if there's no action.
Step 4: Listen to Feedback
Now that you've started making changes, how do you know it's doing what you want it to do? Ask for and listen to feedback — just like you did at the start of your engagement program.
Short pulse surveys get a snapshot of how people are feeling about progress and identify tweaks to your action plan. These pulse surveys can be easily created and completed by your staff without any heavy lifting.
7. Thank Employees
As your action plan gets going, be sure to thank your employees. Thanking them tells them that their opinions are valuable and that you truly appreciate the work they've done to get to this point.
It reminds them that everyone is on this path together, and that you're all ready to move toward improved engagement through the action plan.
8. Focus On Long-Term Success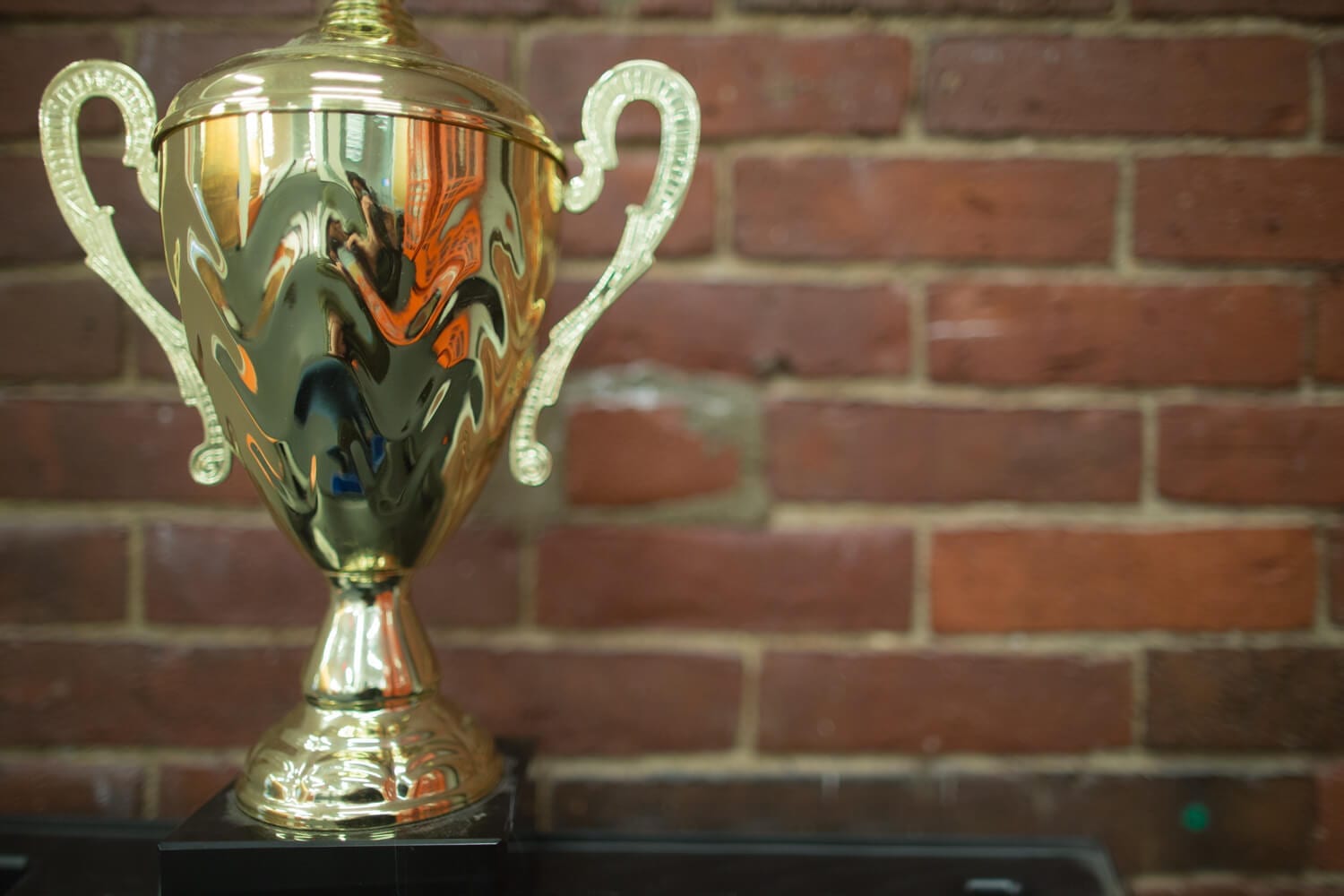 Surveying and measuring employee engagement should never be a one-time event. After all, you'll need to survey them after you put your plan into action to see if it worked.
You may find that it does, or you may find that it didn't go far enough. Your plan may improve engagement in one department or section, but uncover issues in another.
In addition to regularly surveying employees, set up your accounting software or restaurant POS system to continuously track vital success metrics. Compare this data against your survey responses to determine if your changes are contributing to your business goals.
Commit to the process of continuous engagement to ensure your company is the best it can be. Discover how other companies have put these HR employee engagement practices into action.
Get the Seven Steps to Employee Engagement Infographic! Download the Infographic.
Employee Engagement Resources: