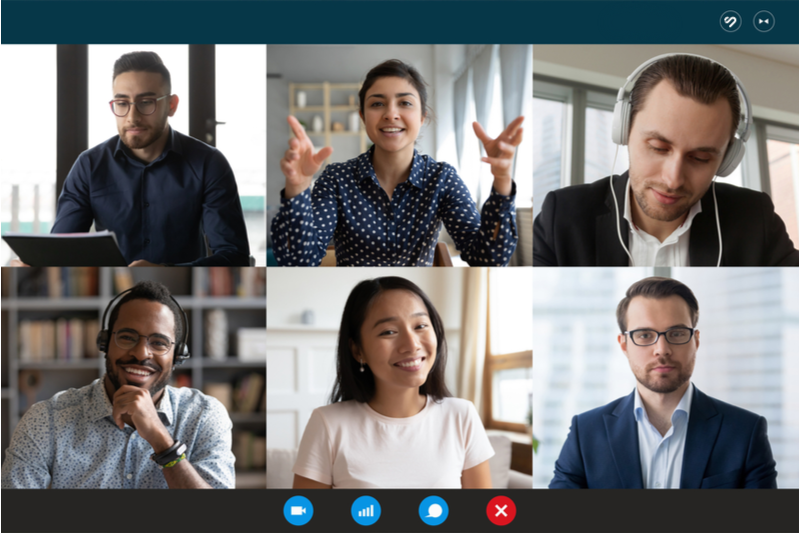 Have you ever pondered the importance of employee engagement?
We're guessing you have at least once, or maybe a million times.
Employee engagement should be an existential consideration for any successful business. After all, your employees' interest, investment, and commitment to their work determine your success.
Get Your Free Guide To Modern Employee Engagement
When an employee feels engaged with a company's work, everything at the company just works…better.
Famed football icon Vince Lombardi once put it succinctly:
"Individual commitment to a group effort — that is what makes a team work, a company work, a society work, a civilization work."
"Individual commitment to a group effort — that is what makes a team work, a company work, a society work, a civilization work." Click To Tweet
Benefits of Employee Engagement
Employee engagement has so many benefits, from creating a strong company culture to delivering better customer experiences; it would be challenging to list them all.
We've isolated the three primary benefits of employee engagement that in turn, lead to other, innumerable benefits:
1) Quality of work. Engaged employees simply put more effort into their work. This leads to optimal productivity and also desirable business outcomes as employees champion company missions and push ideas to be as good as they can be.
2) Commitment to the company. Engaged organizations could enjoy, according to Gallup, up to 59% lower employee turnover. Engaged employees stay where they are longer, contributing their cumulative knowledge and expertise to businesses they value. (And not to mention, healthy retention rates save companies oodles in turnover costs.)
3) Value to company goals. Engaged employees doing quality work create the foundation for any organization's success, whether they're profit or mission-driven.
Want to become a better professional in just 5 minutes?
Page Contents (Click To Jump)
The Importance Of Employee Engagement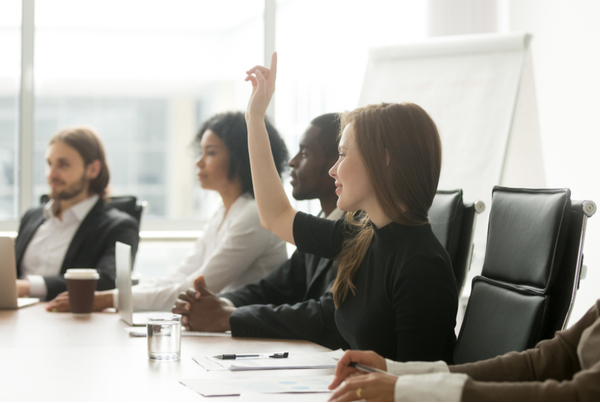 As we said above, employee engagement is crucial for inspiring quality work, commitment, and value in your employees. Engagement simply leads to optimal employee experience.
To illustrate the true importance of employee engagement, let's compare an engaged employee (someone who cares deeply about your business) with a disengaged employee (someone who feels apathetic or even negatively about your business).
Lydia is an engaged employee. She meets all her deadlines and even proposes new projects she wants to take on. She spends her lunch talking to coworkers she genuinely likes and respects. She's been known to surprise everyone with coffee and donuts, just to see her team smile.
Larry is a disengaged employee. He has a lingering project on his to-do list, but he just hasn't mustered the motivation to ask for the clarification he needs to finish. (He doesn't think anyone cares or notices anyway.) He spends his lunch break looking for new jobs. He's been known to delete your emails the moment they appear in his inbox.
As you can see, Larry, the disengaged employee, suffers from a list of pain points:
Low productivity
Low motivation
Miscommunication on projects or no communication on projects
Believing he doesn't matter
A desire to cut his losses and leave the company
So are all the Larrys in the world lost causes? Of course not!
If you have a Larry on your hands, all hope is not lost. Keep reading to find ideas and tools for building and boosting employee engagement below.
Employee Engagement Ideas & Tools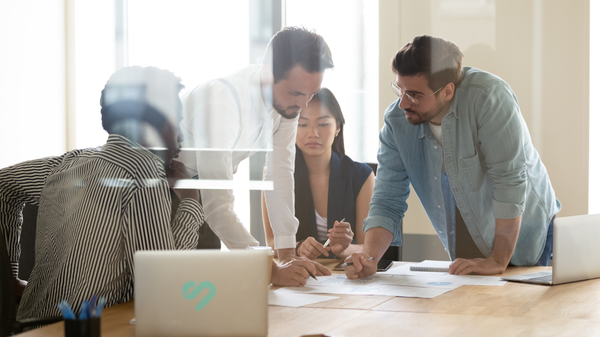 Employee engagement is too large, complex, and often abstract, a concept to focus on alone. Saying you'll "increase employee engagement" doesn't provide much direction, except maybe direction toward frustration.
To work toward your overall goal of increasing employee engagement, you can focus, one at a time on the specific drivers of employee engagement.
We've outlined some of the most impactful drivers below so you can find everything you need to set goals and take action today.
Provide Personal Recognition And Appreciation To Boost Motivation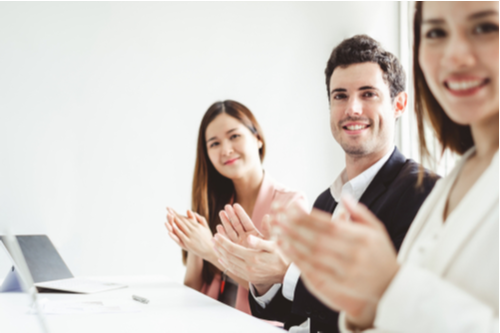 Appreciation and recognition work like rocket fuel for an engaged workforce. Who doesn't love being noticed for outstanding work? Show employees that you appreciate them and they'll return the sentiment with the commitment, dedication, and motivation that ultimately drives your business success.
Recognition tools and techniques to try:
1) Caroo, send unique and personalized gifts to unbox appreciation
2) Nectar, a flexible, cost-effective way to manage employee recognition & rewards
3) Bonusly, a peer-to-peer rewards and recognition platform
4) Empuls, a holistic employee engagement, rewards, and recognition platform
Impact on your employees:
Using tools like these makes it easy to provide the personalized recognition your employees crave whether you're at the office, working remotely, or temporarily working remotely due to the COVID-19 pandemic. Plus, with a rewards program like Caroo employees can redeem based on their specific interests, you can rest assured that everyone is getting what they want.
Additional resources:
Increase Collaboration And Enable Productivity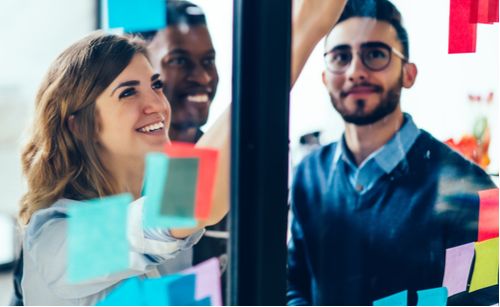 Fostering collaboration among your team members helps employees see how their individual efforts impact team success and business outcomes. Employees who work closely with the people counting on them to meet that deadline or come up with a standout idea are more likely to go the extra mile, putting more discretionary effort into their work to make the team proud.
Collaboration tools to try:
1) monday.com, a comprehensive work management solution
2) Toggl Plan, a project management platform for sharing knowledge and insights
Impact on your employees:
Collaborating in one space, your team's work will run smoothly. You'll produce more, you'll miscommunicate less, and you'll push bottlenecks into the past. Furthermore, employee satisfaction will skyrocket as your team sees the fruits of their labors in your company's bottom line and also in your business leaders' praise.
Additional resources:
Get To Know Your Team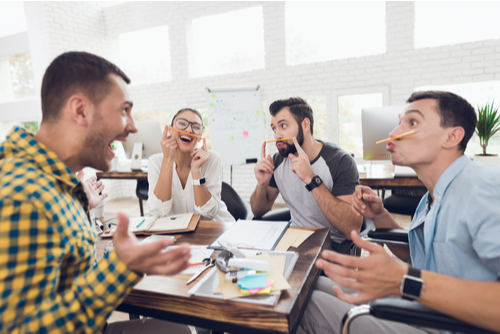 Avoid absenteeism, human resource interventions, and the host of other negatives disengaged employees bring into your work environment by simply getting to know your team.
Don't leave it up to chance; use the tools below to put ongoing, systematic effort into building relationships. As you show employees you care about their well-being, work-life balance, and success, they'll just naturally feel inspired to do their best.
Relationship-building tools to try:
1) QuizBreaker, a tool for creating and sharing team icebreaker quizzes
2) Empuls Community Groups, an engagement tool you can actively interact with colleagues aligned with your interests and get to know them
3) Water Cooler Trivia, a platform for creating trivia about your team
Impact on your employees:
Getting to know your team members personally using these tools will give you insight into what motivates and drives them—just the information you need to achieve new levels of employee engagement. You'll be able to provide meaningful recognition and feedback, and employees will feel the authenticity.
Additional resources:

Host A Team Building Activity Or Event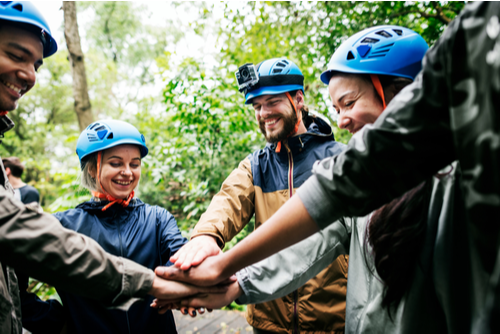 Bringing employees together for in-person or virtual team building helps solidify the connections and group camaraderie people need to feel engaged. These activities and events have the power to forge new connections and even sprout new friendships.
Instead of planning drinks after work or other outings that involve tons of social media and internal communication, you can just make it easy with the tools below.
Team-building tools to try:
1) Outback Team Building, professionally planned and coordinated virtual team building events
2) The Escape Game, a live escape room adventure for your remote team
3) Let's Roam, expertly coordinated virtual game nights featuring trivia and more
4) Go Game, a managed virtual game show to spark team creativity
Impact on your employees:
These events are investments in your team dynamic. When you host an expertly planned team building activity, you're really bringing higher levels of engagement straight to employees and turning friendly teams into engaged teams.
During these events, everyone learns how their coworkers communicate, and eventually, they'll grow more comfortable with and enthusiastic about working together.
Additional resources:
Onboard New Hires Seamlessly Into The Team Dynamic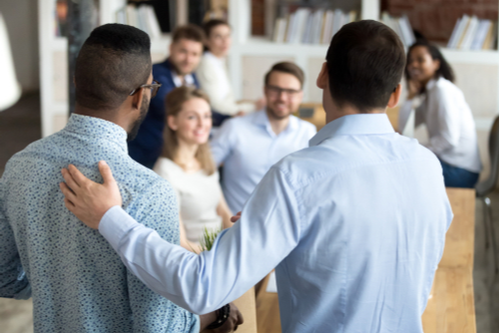 Onboarding provides a prime window for setting new employees up for long-term engagement. Focusing on this engagement driver will help you retain the top talent you've just spent all that time and money recruiting.
Onboarding tools to try:
1) Bambee, a provider of dedicated HR managers
2) Zenefits, software for creating employee training and onboarding
3) Swag.com, a superstore of chic, customizable swag
4) City Brew Tours, the buzz-worthy tour to replace happy hour
Pro-tip: If you are looking for more useful employee onboarding tools, check out SnackNation's updated guide to onbording software!
Impact on your employees:
Onboarding plays a huge role in employee retention and engagement; employees likely decide whether they're going to stick with a job for the long haul within 6 months of starting it.
By using these tools, your employee engagement strategies drive engagement at the very start of a new employee's journey at your company.
Pro-tip: If you do this well at the start, it will save you headaches down the road as satisfied employees will stay longer and you won't have to invest loads of time and effort in damage control and replacement hiring.
Additional resources:
---
People Also Ask These Questions About The Importance Of Employee Engagement
Q: Why is employee engagement important?
A: Employee engagement is important because it affects every aspect of your business. Engaged employees take pride in their work and see company success as their personal success. Disengaged employees often feel disconnected or apathetic about company success and make minimal contributions. Read even more about the importance of employee engagement and how to cultivate it in this post.
Q: What are the benefits of promoting employee engagement at work?
A: The benefits of promoting employee engagement at work include inspiring quality work, earning employee commitment and retention, and achieving their financial and mission-oriented goals with the help of motivated employees.
Q: What is the purpose of employee engagement for company success?
A: The purpose of employee engagement for company success is to inspire employees to do their best work, have their best ideas, collaborate harmoniously with their coworkers, and ultimately, make an impact on a company's success metrics.
Q: Are there tools I can use to boost employee engagement on my team?
A: Yes, there are tools you can use to boost employee engagement on your team. These tools include collaboration tools like monday.com, recognition tools like Assembly, and team-building tools like Let's Roam.
Q: Where can I plan an employee engagement activity?
A: You can plan an employee engagement activity in practically any virtual or in-person environment. Find all the help you need to plan a successful employee engagement activity in this guide.
Q: How do I make a new hire feel a part of the team?
A: You can make a new hire feel a part of the team by perfecting your onboarding process using tools such as Bambee, Swag.com, and City Brew Tours. Find ideas for engaging employees from onboarding and beyond in this post.
Q: How can I improve engagement at my workplace?
A: You can improve engagement at your workplace by increasing collaboration, enabling productivity, and providing personal recognition. Get all the how-tos and tools you need in this employee engagement roundup.
Q: Are there ways to do employee engagement virtually?
A: Yes, there are ways to do employee engagement virtually. For example, you could plan a virtual team building event with Outback Team Building or give employees the virtual recognition platform they need with Assembly.
Q: Is employee engagement important for remote teams?
A: Employee engagement is important for remote teams who may feel isolated from their co-workers and distanced from the missions and goals of the company.
Q: How do I measure engagement with my employees?