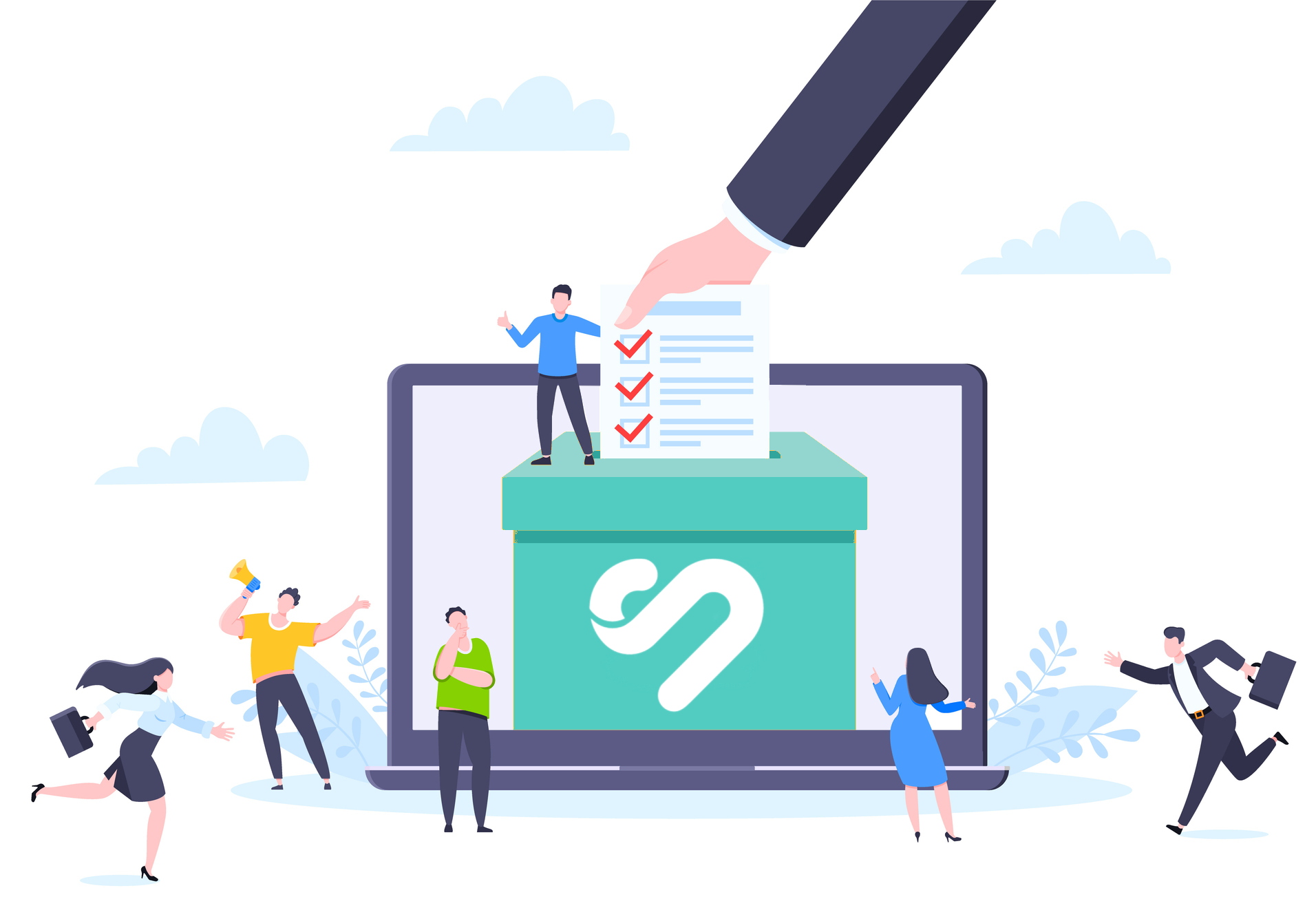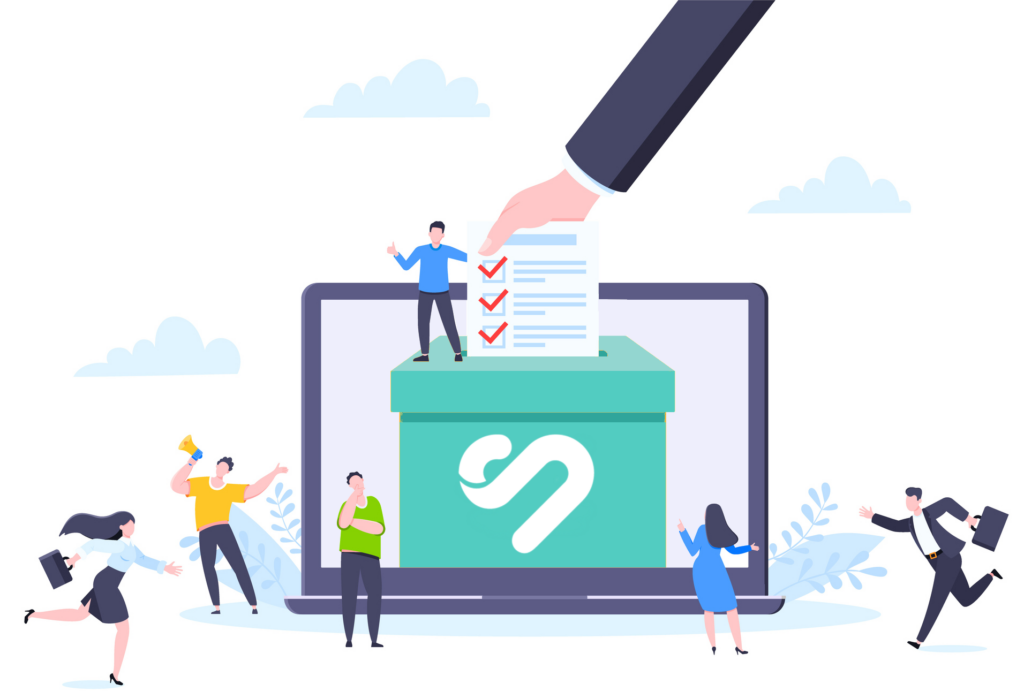 Believe it or not, there was a time not so long ago, when people woke up every day, went to work, and simply took what they got.
Working conditions were mediocre at best, but having a good job was considered a privilege. People needed jobs and the companies were simply trying to make money.
Employee satisfaction measures weren't exactly a priority. Uncomfortable workstations. Long hours. One-size-fits-all benefits packages. Training plans are slanted to advance only certain employees. The goals, needs, and comforts of the workforce were not necessarily on Management's radar.
Can you even imagine?
Fortunately, organizations across the globe got the memo showing that the foundation of long-term employee relationships is… wait for it… happy employees!
Employee survey tools are an effective vehicle for driving change in an organization.
These handy tools help identify your strengths, weaknesses, opportunities, and threats (SWOT) so that you can positively impact your employees' working environment.
In a hurry? These are some of our favorite employee survey tools and systems to use this year:
Good strategies require the right tools to get the job done. Your employee engagement strategies are no different.
Let's take a deeper look into why you need to be polling your employee audience.
---
Want to become a better professional in just 5 minutes?
The Top 11 Best Employee Survey Software Tools In 2023
Best employee survey tool for: Real-time insights
With "Listen", teams get a start-to-finish survey platform with real-time feedback functionality. Employees can get comfortable communicating inside their own social network, complete with surveys, rewards, recognition, and a dash of fun.
Standout features Motivosity offers:
Social Hub

Motivosity creates a digital hangout spot for teams to engage with each other, learn, and make real company changes.
Detailed Data

Dig into the specifics with data that clearly shows your strengths and weaknesses.
eNPS

Use anonymous eNPS (Employee Net Promoter Score) and pulse surveys to understand team satisfaction throughout the organization.
Why we love this employee survey vendor: The ability to customize any survey can make it so much easier to gather the truly valuable information you need to make real changes.
Companies that utilize this employee survey software:
SalesRabbit
University of Michigan
Smoothie King
Tip before you get started: Don't hold onto the information you get for too long. Feedback will come in super quickly so the leadership response should be the same.
Best employee survey tool for: Employee Engagement
WorkTango focuses on the 4 main components of the employee experience – connection, appreciation, performance, and growth. By understanding how your employees truly feel about their roles, leadership, workplace, and more, you can positively impact these four pillars and drive deeper employee engagement.
Standout features WorkTango offers:
Employee Engagement Tools

WorkTango has created a fully-loaded toolkit where they've compiled all their employee pulse survey tools and made them available in one convenient location.
Thrive Index

Gauge the alignment between your employees and your leadership teams and get suggestions on how to improve those relationships.
Employee Experience Manifesto

Stay on top of the shifts taking place and be sure your company's ways of working aren't outdated.
Why we love this employee survey vendor: What's not to love about the all-in-oneness of WorkTango? All your employee engagement needs, are in one simple toolbox.
Companies that utilize this employee survey software:
KIA
The Motley Fool
Habitat For Humanity
Tip before you get started: Be prepared for honest feedback. You may not like what your employees have to say in their survey results, but knowing where they stand is key. Most importantly, acting on the feedback, gives you ample opportunities to show them you're listening.
Best employee survey tool for: Employee Well-being
Gauging employee wellness covers a lot of ground. These attributes can include the employee's job satisfaction, stress level, physical, emotional, and mental health, and other key factors. Understanding how to help employees is much easier when you know where they need help.
Standout features monday.com offers:
Schedule Surveys

Automate survey emails so you never fall behind in your wellness initiatives.
Mucho Monitoring

Track your surveys, the deadlines, whether they've been opened, how many responses have been received, and so many other valuable metrics to help maximize your process.
Why we love this employee survey vendor: Our well-being is at the core of everything we do and affects our everyday lives. Making your employees' overall wellness a priority clearly benefits them and subsequently, boosts your employer ratings.
Companies that utilize this employee survey software:
Tip before you get started: Be sure to include Human Resources in the wellness survey process and planning conversations. Having HR's buy-in helps implement new strategies with minimal delays or pushback.
Best employee survey tool for: Company Culture
Add a little more fun to your employee recognition program by incentivizing simple tasks to get employees more involved. Bonusly's new "Signals" program allows you to collect actionable insights to create a culture of trust and open communication.
Standout features Bonusly offers:
"Signals" for HR, Managers, and Leadership

This breakdown allows you to address only the teams or participants you want, meaning you can customize the surveys with specifics for each group.
Library

Bonusly has a vast collection of ready-to-go survey templates that can be customized to your business, or you can always create your own.
Why we love this employee survey vendor: The automated recognition makes it SO simple for employees to rack up points effortlessly. Plus, get you the feedback you need – all in a few fluid mouse clicks.
Companies that utilize this employee survey software:
Dribbble
North Lawndale College Prep
Ordermark
Tip before you get started: Note the term "actionable feedback." You can't expect employees to be honest in their survey responses if they don't see an action plan after they spill their guts, so be prepared to respond by doing.
Best employee survey tool for: Employee Retention
We've said it before… when it comes to retaining talented employees, people stay where they're happy. Nectar's mission is to help you "create a culture people won't want to leave" by boosting morale, recognition, collaboration, and engagement.
Standout features Nectar offers:
Mad Metrics

Breakdowns by department, team, or individual help to benchmark your recognition activity at multiple levels, and encourage participation where engagement is low.
Team Challenges

Create your team challenges to drive a little healthy competition and get more employees involved (and rewarded).
Managed Milestones

Automating all your employees' milestones means never having to scramble for another promotion gift or work anniversary cake.
Why we love this employee survey vendor: Nectar has identified 6 main factors that "CREATE" a phenomenal company culture, which directly impacts employee turnover. These main ingredients are:
Connection
Recognition
Empathy
Alignment
Trust
Elevation
Companies that utilize this employee survey software:
Redfin
Heineken
Eightfold.ai
Tip before you get started: Be prepared for pushback. People often fear change, but being consistent in your recognition and rewards efforts goes a long way, and makes an equally consistent impact on your retention numbers year after year.
Best employee survey tool for: Company Pulse Check
Creating a culture of consistent feedback keeps everyone "in the know." Employees are clear on how they're performing, the direction of their careers, and the path to get there. You'll be educated on their pain points and how to continuously foster a healthy culture.
Standout features Leapsome offers:
Sentiment Analysis

Going well beyond multiple choice, this feature reads the sentiments of employees' written survey responses so you can read between the lines.
Anonymity

Drive transparent communication through anonymous chats with employees, and discuss their concerns in real-time without needing to know their identity.
Career Development

Combine feedback tracking, performance management, and 1:1s to stay on top of employees' goals and help them reach them.
Why we love this employee survey vendor: You can't possibly know everything your employees are thinking and feeling about their jobs. But with Leapsome's key features, you can actually come pretty darn close.
Companies that utilize this employee survey software:
Tip before you get started: You may believe you have a handle on the pulse of your organization, but before implementing Leapsome surveys, make room for some unforeseen action items to hit your to-do list.
Best employee survey tool for: Employee Recognition
Remember in 2010 when Oprah gave everyone in her audience a brand new car? Well, imagine that same idea, but with Guusto's employee recognition and customer rewards program. The Guusto version would sound more like, "YOU get rewards! YOU get rewards! And YOOOOU get rewards!"
Standout features Guusto offers:
Round-the-World Rewards

Improve your customer experience with global rewards, available in over 160 countries.
Super Flexible

Printable, mobile app, and web-based redemption options to suit everyone's situation.
Scalable

If you're not ready to roll a new program out to the entire organization all at once, you can run a pilot program with a smaller group, then expand it gradually across the board.
Why we love this employee survey vendor: They're all about giving back! Guusto has partnered with the One Drop Foundation, which serves almost 800 million people around the world who don't have access to clean water. Guusto is committed to donating a full day of clean drinking water for each of the gifts that are sent.
Companies that utilize this employee survey software:
Harvard University
Levi's
Toronto Raptors
Tip before you get started: Recognition and rewards programs improve morale and engagement, leading to loyal, long-lasting professional relationships. Check out Guusto's free podcast at 10 a.m. PST every Wednesday to get the rundown to help plan your launch.
Best employee survey tool for: HR Management
Running a business requires a LOT of time and attention. Managing details like onboarding, keeping track of employee benefits and milestones, and scheduling training may not land at the top of your to-do list. Enter… Bambee.
Standout features Bambee offers:
Employee Voices

Employees can anonymously voice their concerns, or publicly praise a coworker in this space.
Report Cards

Monitoring employees' goals vs their performance helps provide effective feedback and targeted guidance to keep them on track.
Document Retention

Maintaining compliance with all the governmental rules and standards is no longer a regularly-scheduled migraine trigger for you.
Why we love this employee survey vendor: Your very own HR professional is included to help get all your policies and procedures in place and guide you through each step, from recruiting to termination.
Industries that utilize this employee survey software:
Manufacturing
Entertainment
Technology
Tip before you get started: Alignment and automation, all in one. But nothing can happen without your information and data records. Gather your employee details and prepare to let Bambee take over your HR responsibilities.
Best employee survey tool for: Workforce Collaboration
Assembly has combined their surveys with their already fabulously automated workflows, to make participation as painless as possible. This combo also ensures you have the best information at all times so you can keep up with the workforce culture.
Standout features Assembly offers:
Pulse Surveys

Keep a finger firmly on the pulse of your organization and learn more about your teams with surveys to benchmark employees' mindsets, wellbeing, and overall happiness.
Real-time Reviews

Impress employees with how quickly you can take action on their feedback since you won't have to wait until all the responses are in to evaluate the replies.
Awesome Analytics

When it comes to business, the common language is "charts and graphs" and Assembly's got some of the best reporting software out there.
Why we love this employee survey vendor: We want to hear your employees shout your company's praises from the rooftops! Ok, maybe that was a tad dramatic. But if your employees won't recommend you as an employer to their friends and family, you need to understand why, and Assembly has a survey for that.
Companies that utilize this employee survey software:
Amazon
HelloTech
Promenade Group, Inc.
Tip before you get started: Know what you want to know. Employees don't need surveys popping up in their workflows, asking irrelevant questions, and wasting their valuable time. Being super intentional in your survey questions makes the answers (and necessary actions) much clearer.
Best employee survey tool for: Employee Experience
From the candidate stage through retirement and exit interviews, Culture Amp covers every phase of your employees' life cycles to ensure the best possible employee experience. Attracting and retaining top talents isn't just a recruiting game. It's a full commitment to your employees, your company's core values, and long-term goals.
Standout features Culture Amp offers:
Manager 180 ° Survey

Allow employees to voice their thoughts, praise, and concerns related to their direct management team.
Pre and Post-Survey Communications

When employees understand why you're collecting the survey information and what you plan to do with it, they're more likely to participate in hopes of being heard.
Commitment to Confidentiality

Confidence is key! You're far more likely to get real, honest feedback when you can ensure absolute confidentiality.
Why we love this employee survey vendor: Culture Amp's fully comprehensive Employee Survey Guide is FREE and walks you through their entire process. It's helpful to know what to consider when designing surveys and all the different options you have to meet those needs.
Companies that utilize this employee survey software:
Tip before you get started: Get a grip on what you're trying to find out. Surveys are only effective when you're gathering relevant information so knowing what you don't know is a great place to start.
Best employee survey tool for: Organizational Improvement
People development and employee engagement are at the core of any company culture. Eloomi offers creative and effective ways to improve all aspects of your organization by ensuring your employees aren't feeling overwhelmed, unheard, and undervalued.
Standout features Eloomi offers:
Employee Engagement Guide

This free guide clarifies every aspect of employee engagement, from the basic definition, to how to measure and improve it.
My360+

Gain 360° feedback with peer reviews for a better overall view of your organization and where it's headed.
Employee Performance Appraisals

Put talent management at the forefront with employee development strategies and solid succession planning.
Why we love this employee survey vendor: This is perfect for the forward-thinking business owner planning a successful future with a loyal and talented workforce.
Companies that utilize this employee survey software:
XXL Sports & Outdoor
Domino's
Harvey Norman
Tip before you get started: Take a minute (or 30) to listen. Your employees will tell you what you need to know if you just ask, so ask how you can help them succeed.
Conclusion
Studies show that happy and engaged employees, simply put, stay where they're happy. It's not rocket science, but it is a key performance indicator in the success of any business. Employee satisfaction is directly related to employee retention and can be measured with simple employee engagement solutions like surveys and questionnaires.
"Present-day employee surveys are used by an estimated 50 to 75% of companies to evaluate and progress organizational health as it pertains to personnel. This may include a focus on topics such as employee engagement, workplace culture, return on human capital (ROHC), and commitment."
These survey tools will help you identify areas to improve upon during the coming fiscal quarter along with ideas to improve your workplace.
---
What Is An Employee Survey Tool?
Employee survey tools are a widely-used marketing strategy, intended to retrieve genuine information from employees on a variety of aspects related to the company. These tools cast a company-wide net to solicit feedback to continuously improve the state of the business from the inside out. The benefits of using employee survey software include:
🛠 Opportunities for Improvements – Employee feedback opens a window into their needs and creates opportunities for you to make improvements within the organization.
😌 Gauge Employee Satisfaction – Get the dirt on how employees feel about specifics like compensation, benefits, work conditions, recognition, leadership, and so much more.
🙋🏽‍♀️ Pulse Check on Company Culture – Get a clearer picture of the company culture to improve engagement and retention strategies.
📥 Anonymity – Employees appreciate the opportunity to express their concerns and opinions without fear of attrition or professional repercussions.
💖 Show You Care – When companies act on employee feedback, they send the message that their employees matter as does their job satisfaction.
To make things even easier, you don't have to reinvent the wheel. This means, that you don't have to create your employee surveys from the ground up. That's right. Some companies specialize in custom surveys to ensure you get the most effective feedback. We've made it super easy for you to get started, with our picks for the top employee engagement survey companies. Go ahead and dive in!
---
People Also Ask These Questions About Employee Survey Software
Q: How often should employee engagement surveys be conducted?
A: Employee engagement surveys should be conducted 4-5 times each year to keep a solid finger on the pulse of the organization.
Q: What do employee survey tools measure?
A: Employee survey tools measure key factors like job satisfaction, trust in leadership, employee commitment, and company culture.
Q: What are employee survey companies?
A: Employee survey companies customize your employee surveys, facilitate their distribution, and calculate the responses in report format.
Q: What are the benefits of using an engagement survey vendor?
A: Some benefits of using an engagement survey vendor are:
You don't need to create your surveys and monitor the timing of their distribution.
You don't need to record, calculate, and create reports of the responses.
Most offer seamless integrations with existing programs like Microsoft Teams, Slack, Google, etc.
Receive notifications when it's time for pulse surveys, lifecycle questionnaires, and performance reviews.
Q: How do I choose an employee engagement survey software?
A: Choose an employee engagement survey software based on the size of your organization, the information you intend to gather from the surveys, ease of functionality, and of course, pricing. Then decide which software best fits your company's needs.
Q: What is a pulse survey tool?
A pulse survey tool is a digital platform that allows you to create, distribute, and review pulse surveys reliably and consistently. Pulse surveys are often short surveys that allow you to "take the pulse" of your organization via a five or ten-question survey that only takes a few minutes to answer. Pulse survey tools allow you to send out surveys with high participation levels and read the incoming data quickly and efficiently.
Q: How do I measure the effectiveness of my engagement survey tool?
A: You can measure the effectiveness of your engagement survey tool by how many people respond, the transparency of the responses, and by measuring your employee retention statistics.