So… it's time to set your business goals and career objectives for the year.
Some of us look forward to this opportunity to start the year fresh with interesting and productive goals. Others may get a little overwhelmed with the prospect of setting goals and crafting action plans.
Shout out to our people!
Setting goals, especially effective goals, is not always easy. In fact, if it's a bit difficult, chances are you're on the right track. When setting a career objective or a professional goal, it's important to dig deep and ask questions that will push you to craft your goals using a critical and strategic lens.

SMART goals help you do just that by providing 5 criteria points to consider when creating goals, whether personal or professional. Keep reading to learn more about what SMART goals are, how to write SMART goals, and most importantly, how to achieve your goals.
Take This SMART Move & Subscribe for FREE Today!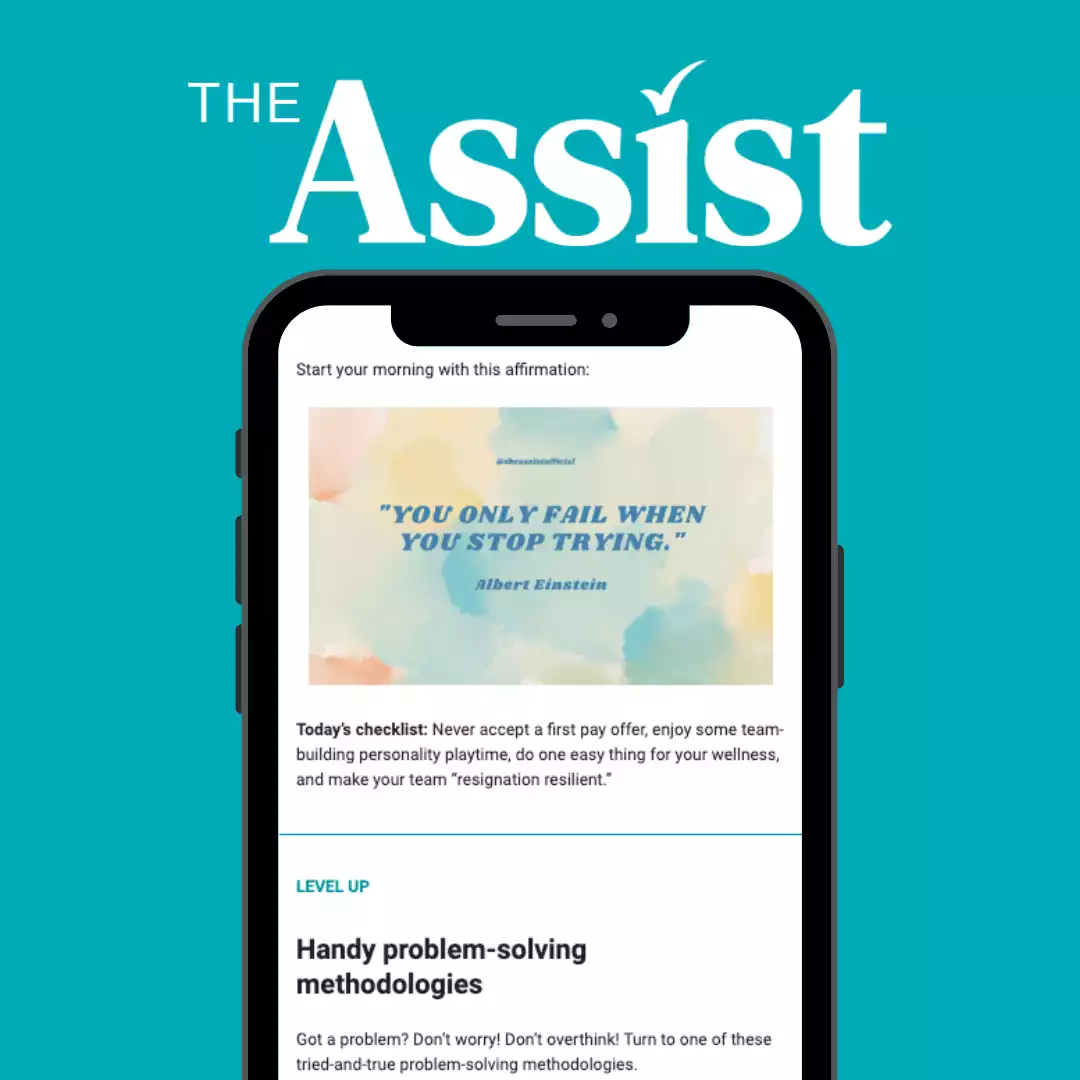 Level Up Your Career In 5 Minutes
⭐️ PRO-TIP: When setting SMART goals, consider creating a visual representation or writing them down in a prominent place. This not only serves as a constant reminder of your objectives but also allows you to track your progress easily. Visualizing your goals can enhance motivation and help you stay on course to achieve them.
🛑 For more tips on goal-setting and growing your professional development skills, subscribe to The Assist for free.

👉 Join 35,658+ Professionals For Free Today!
| | |
| --- | --- |
| | How To Write SMART Goals – 6 Burning Questions 🔥 |
| 1 | |
| 2 | |
| 3 | |
| 4 | |
| 5 | |
| 6 | |
Want to become a better professional in just 5 minutes?
What is a SMART Goal?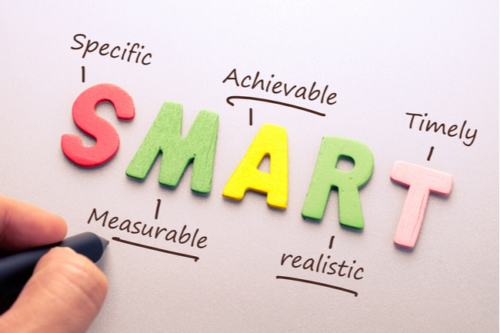 A SMART goal is an objective-setting methodology in which you craft goals to be Specific, Measurable, Achievable, Relevant, and Time-Bound. By creating goals that include each of these five criteria points, you're setting yourself up for success because your goals will be clear, strategic, and most importantly — attainable.
Why Should You Use SMART Goals?
SMART goals ensure that you're not setting lofty or unfocused objectives that will likely result in failure. If your goals meet all 5 SMART criteria points (Specific, Measurable, Achievable, Relevant, and Time-Bound), you're instantly giving yourself a head start in meeting those goals because they are well-thought-out, tangible objectives with a clear success plan. An objective that doesn't account for SMART criteria is more of a wish or aspiration, rather than a realistic goal.
How Do You Write SMART Goals?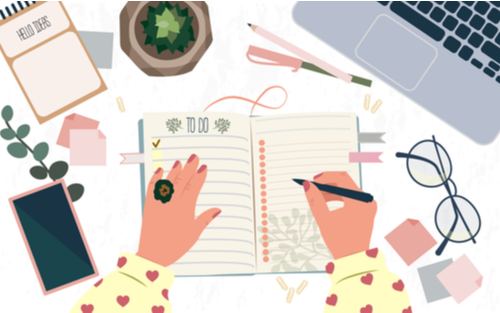 ASK QUESTIONS. Ask yourself questions. Ask your team questions.
What are some key personal and professional goals that will help you and the overall company succeed?
Do you need additional corporate training to accomplish these goals?
The answers to all of these questions will help you set SMART goals. You don't want to just generate ideas or concepts. You want to use those ideas and concepts as a launching pad to dig deeper and create specific and measurable business objectives that will benefit both you and the business.
S

: Specific

Make your goal specific in nature.

You don't want to create a vague goal that leaves room for varying interpretations. Consider the "W" questions when crafting a specific goal– Who, What, When, Where, and Why. Once you identify answers to these "W" questions, you'll have a clear, specific, and actionable goal.
M

: Measurable

Anyone can create a goal, but how do you know if the goal is actually achieved?

What are the metrics for success? Make sure your goal is quantifiable so that you can easily track your progress and set achievement milestones. For example, increasing sales lead conversions by 10% compared to prior year is much more measurable than simply setting a goal of converting leads.
Pro-Tip: If you're an Administrative Assistant, check out our guide to setting measurable goals specifically for Admins!
A

: Achievable

So you have a specific and measurable goal in mind, but can you realistically achieve this goal?

Are there any other teams that are integral to the success of your goal? If your goal is collaborative in nature, do you have the resources needed? Do you have the skills and the bandwidth to fully accomplish this objective? These are all key questions you must ask yourself when crafting an Achievable goal. Depending on the answers, you may need to edit or fine tune your goal so that it is indeed attainable.
R

: Relevant

Does this goal align with overall company goals and will the results directly benefit the company?

If you answer 'Yes' to both of these, then congrats! You've crafted a goal that is Relevant. If the answer is "No," then rework your goal. Start by reviewing your company and/or department goals for the year. Then, revisit your goal through the lens of these overarching company objectives and make the necessary adjustments to align your goal with those objectives.
T

: Time-Bound

Without a set time frame for accomplishing your goal, you're increasing the chance of failure because there is no structure or time constraints in place.

When crafting a SMART goal, it's extremely important to have a target date for completion in order to create a sense of urgency. Keep in mind what you can realistically accomplish by the target date and list out the key deliverables.
Pro-Tip from The Assist: You should also identify milestone dates, including a midpoint check-in, to track how you're pacing against the target completion date.
What are Some Examples of SMART Goals?
1) Weak Goal Example: I will secure new business.
➪ Make it SMART:
Specific: I'm going to fine tune my sales pitch in order to secure contracts with  new clients.
Measurable: The goal is to increase my new business sales by 10% compared to the prior fiscal year.
Achievable: My sales assistant has conducted market research and identified over 250 qualified leads. Our sales strategy team has also released new sales material geared specifically to introducing the business to new clients and offering exclusive sign-up bonus deals.
Relevant: One of the key overall business objectives this year is to grow our new business sales revenue.
Time-bound: I'm aiming to increase my year over year new business sales by 5% within the next 6 months, so that I'm pacing towards 10% (or higher) in increased new business sales by year end.
SMART Goal: By using an improved sales pitch on only vetted & qualified leads, I will secure new business. I aim to increase my new business sales by 10% compared to last fiscal year, with a midpoint check-in to ensure I've reached at least a 5% increase within the first 6 months.
2) Weak Goal Example: I will be a good manager and motivate my team.
➪ Make it SMART:
Specific: I'm going to attend training courses offered by the company to sharpen my Management skills and learn how to better motivate my direct reports.
Measurable: The goal is to take 5 courses related to Management and motivational skills. Once courses are completed and learnings are implemented, I expect to see a lift in team productivity.  Specifically, my team missed a couple key publishing deadlines last year. This year, my team will meet all quarterly deadlines.
Achievable: My company offers an extensive course catalogue on our internal training site. I'm able to browse and select the most relevant courses. I've identified 10 potential courses that are geared towards honing key skills for Managers and motivating teams.
Relevant: One of the key overall business objectives this year is to increase productivity in the workplace. Through effectively managing and motivating my team, I aim to increase my team's productivity levels.
Time-bound: I'm aiming to complete all of my Management training classes within the next 4 months, so I have the remainder of the year to implement my learnings. I will also set mid-way milestone check-in dates prior to each quarterly publishing deadline to ensure we're pacing to deliver.
SMART Goal: I will take 5 training courses in the next 4 months to help boost my Management and motivational skills. By implementing my learnings, my team's productivity levels will increase resulting in our team hitting all 4 quarterly publishing deadlines this year.
3) Weak Goal Example: I will complete the redesign of our company app. 
➪ Make it SMART:
Specific: Our company app interface has not been updated since its' launch in 2010. We've received complaints that the User Interface is not aesthetically pleasing or user-friendly. With the help of our software team,  I'm going to redesign and relaunch our app.
Measurable: The goal is to increase app downloads by 50% compared to last year. A secondary goal is to increase our app rating from 2 stars to 4 stars or above.
Achievable: I have a dedicated resource lead in each department that is integral to successfully redesigning and relaunching the app. My role is to project manage and ensure each team member is hitting required deadlines and contributing quality content. I have previous project management experience that will help me navigate this critical project.
Relevant: One of the key overall business objectives this year is to improve the user experience on our app and improve our app download rates.
Time-bound: I'm aiming to have the internal test app environment live within the next 5 months. This will allow enough time for each department to provide feedback. Final version for all department sign off will be ready by the end of Q3 for an early Q4 launch, just in time for the Holidays.
SMART Goal: With the help of key department stakeholders, I will redesign and relaunch our company app by the beginning of Q4. This new and improved app will result in a 50% increase in downloads compared to prior year and a 4-star or above user rating.
Pro-Tip: If you're an Executive Assistant, check out Mastering the Art of Setting Executive Assistant Goals for additional SMART goal examples and guidance!
How Do You Execute SMART Goals?
1. Write down your goals.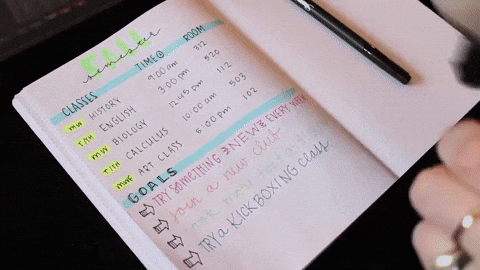 Now that you have these amazing SMART goals in mind, don't let them slip away. Write. Them. Down. Writing SMART goals down helps cement the goals and allows you an additional opportunity to fine tune your goals as needed. Think of writing down your goals as the very first step on your path to tackling and achieving those goals.
We suggest using monday.com because they offer helpful templates to get your started in setting in project-based objectives. They even offer an HR solution where you can conduct performance reviews from beginning to end.
Pro-Tip from The Assist: Start keeping a diary of actions, goals and accomplishments (this will feel like a gold mine when it's time to complete your performance review or ask for a raise). Emphasize actions in your control instead of results outside your direct control. A good example: "I saved the company $20K this quarter because I negotiated with our vendors to cut costs."
2. Track your progress and create regular check-ins for yourself.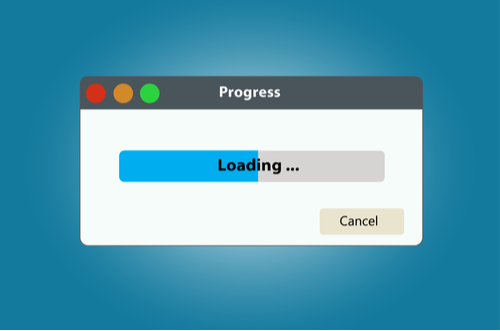 It's far too easy to create your objectives at the beginning of the year and let them sit on a shelf as you go about your routine job responsibilities. Instead, set yourself up for success by tracking progress towards your goals and setting regular check-ins. While they may sound a little daunting, there's no need to start from scratch and create your own progress tracker templates. Take advantage of the plethora of project management tools and platforms available in the market to help you easily monitor progress and set check-in milestones all in one place.
We suggest using Monday.com's platform for project tracking and check-ins because their user-friendly interface will keep you and your team on track to meet your goals. Try using their Gantt feature to plan and track progress, and set milestones for your key projects.
3. Find accountability buddies.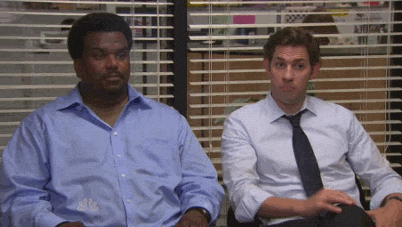 Accomplishing your goals, whether professional or personal, is always easier (and more fun) when you have accountability buddies. Accountability buddies help keep you motivated and on track to achieve your goals. Maybe someone is working closely on a key project with you?
Or maybe you have a mentor in the company who has experience related to one of your goals? These contacts could be great opportunities to fill an accountability buddy role. If you're managing a team, think of yourself as the ultimate accountability buddy for your team members. Try using some motivational quotes to keep your employees engaged and focused on reaching their collective goals.
Pro-Tip: If you're looking for thousands of uplifting professionals to hold you accountable to your goals and professional development, consider joining The Assist fam. Four times week, you'll get tips on how to work smarter, not harder, backed with built in camaraderie.
4. Celebrate your wins.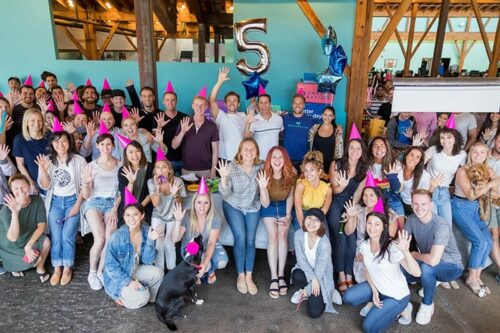 Yes, it's lovely to celebrate the big wins and accomplishments at year end once your goals have been achieved. But it's also important to recognize the wins along the way that led to those accomplishments. Celebrating these smaller milestone accomplishments will keep your team feeling appreciated and motivated to keep up their hard work. With tons of ways to reward your employees for their accomplishments, why wouldn't you want to celebrate the wins and keep your team enthused!
We suggest using Bonusly to recognize your team's wins because they offer a one-stop platform for both employee recognition and employee rewards. Their platform encourages both peer-to-peer and manager-employee shout outs and integrates with existing business technology such as Slack and Workday.
What Are Some Examples of SMART Goal Templates?
This template takes you through the process of transforming an idea or initial goal into a SMART goal by asking pointed questions related to each of the 5 SMART goal criteria points. As you reach the end of the worksheet, you're left with a thoughtfully crafted SMART goal.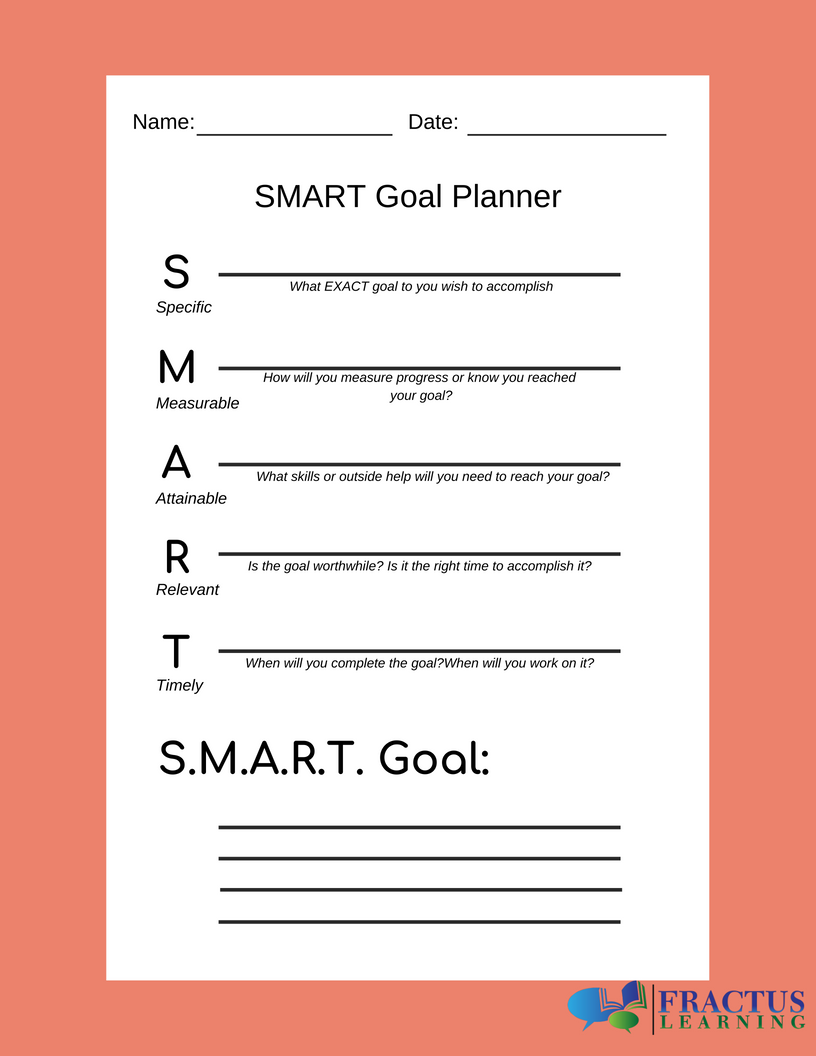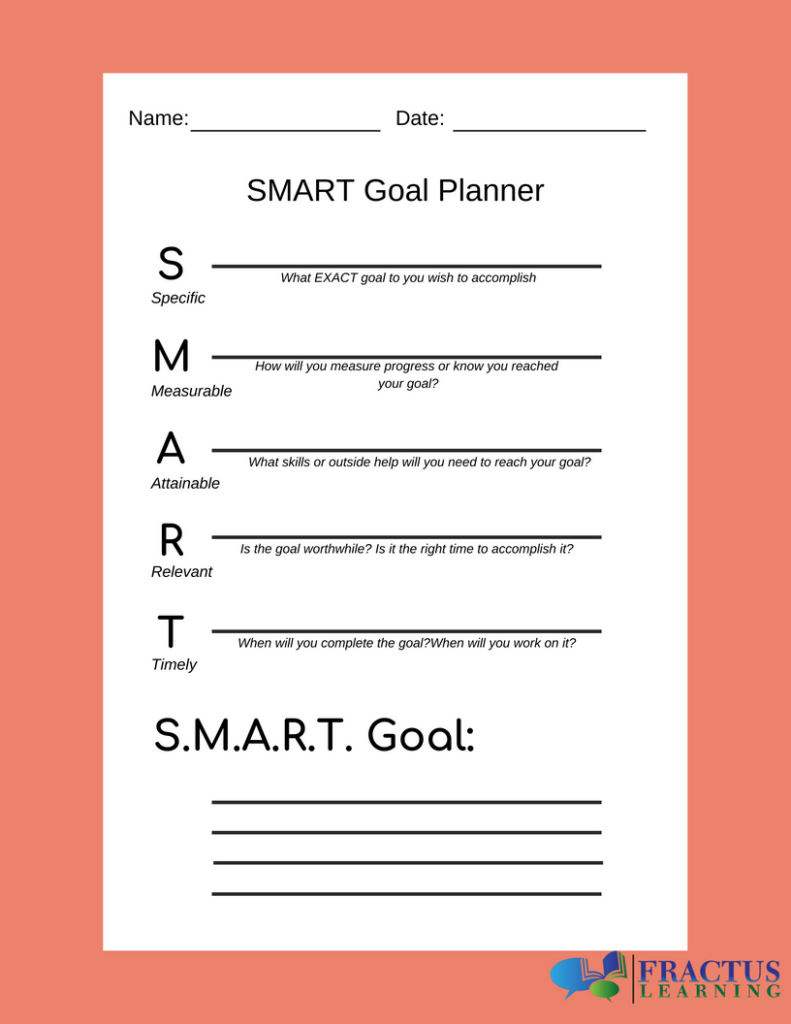 This template is simple, streamlined, and has the bare bones to organize your thoughts to craft a SMART goal. This format of this template works well for both professional and personal goals.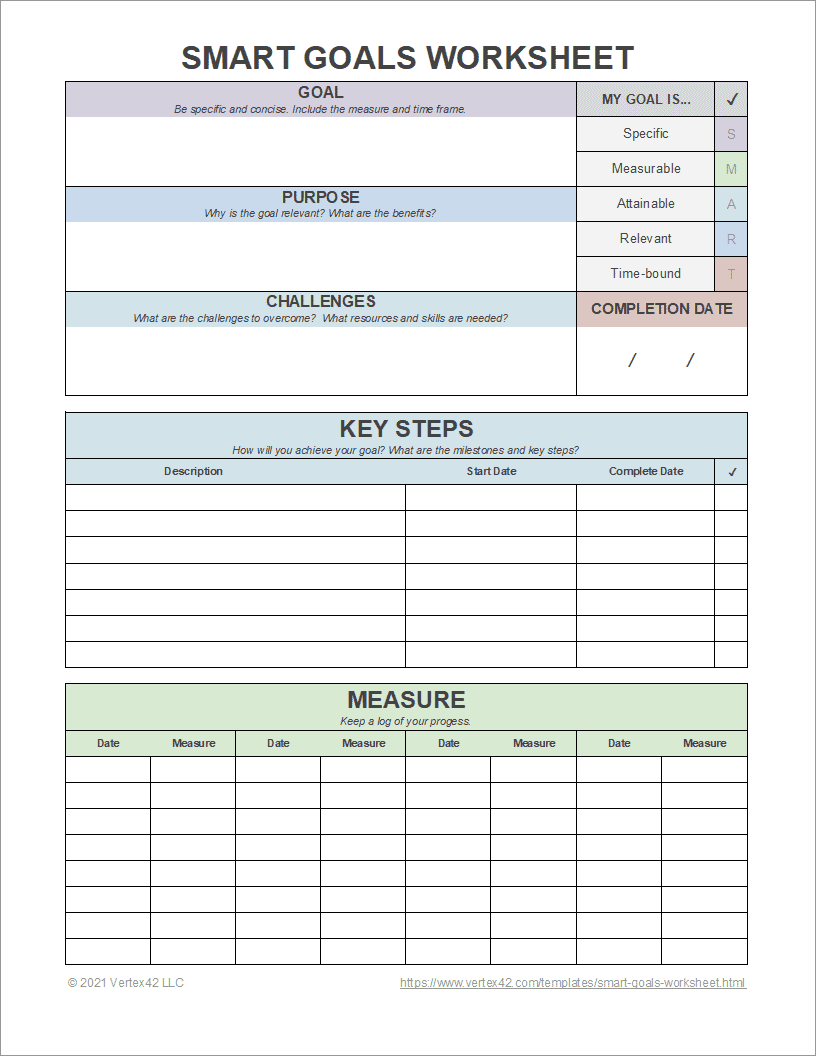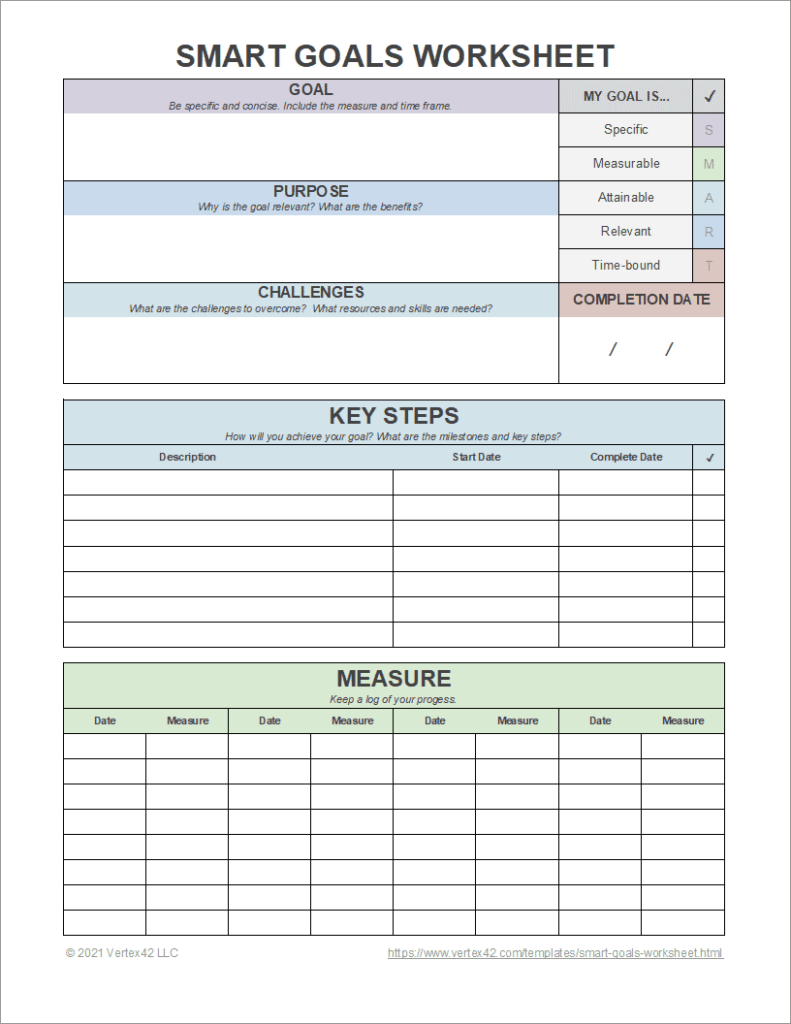 This detailed template is split into three parts. The first part focuses on crafting your specific goal and ensuring it ticks all of the SMART criteria points. The second section takes goal setting a step further by asking you to outline the key steps needed to reach your goal. The last section is all about measurement and provides a data table for you to keep a progress log.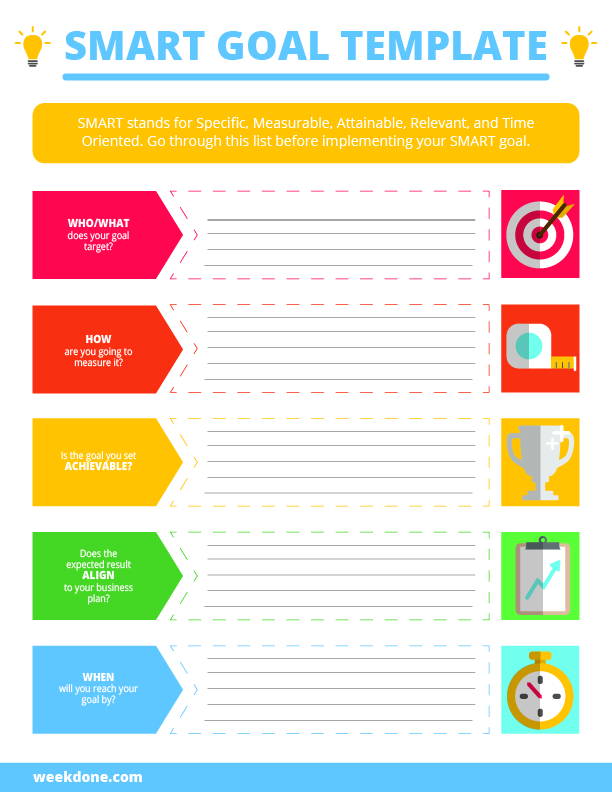 This template is great to use either before you've started crafting your SMART goal or after you've crafted it to double check that your goal does indeed have strategic answers to all the questions raised. You can find similar templates on your company's goal-setting software tool if you want to customize your template or manage tasks electronically.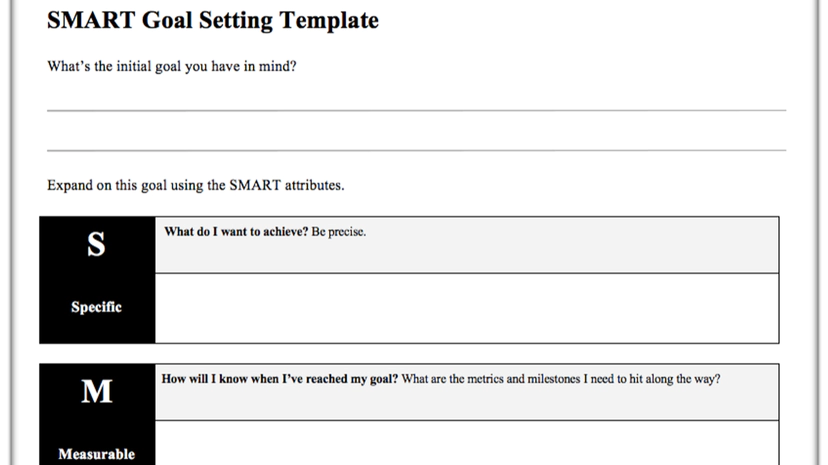 This two page template takes you through the steps of creating a concise and defined SMART goal to start. Then shifts focus to tracking goal progress including action items, obstacles and support that may be needed to achieve this goal. It also includes a milestone section so you can celebrate the wins along the way.
---
People Also Ask These Questions About How To Write SMART Goals
Q: What is the difference between OKRs and SMART Goals?
A: Both SMART goals and OKRs (Objectives & Key Results) are objective setting methodologies that result in structured and focused goals. OKRs typically go a step beyond the SMART goal criteria by doing a deep dive into how progress will be measured and what are the key results that will occur as a direct result of accomplishing this particular objective.
Q: What does the SMART acronym stand for?
Specific
Measureable
Achievable
Relevant
Time-Bound
Q: Why are SMART goals important in personal and professional development?
A: SMART goals are essential in personal and professional development because they provide a clear and structured framework for setting and achieving objectives. By making goals Specific, Measurable, Achievable, Relevant, and Time-bound, individuals can enhance their focus, motivation, and accountability, leading to more successful and meaningful progress in their endeavors.
Q: How can you ensure that a goal is attainable when setting SMART goals?
A: To ensure a goal is attainable in the SMART framework, it's crucial to evaluate whether you have the necessary resources, skills, and support to accomplish it. Additionally, breaking larger goals into smaller, manageable steps can make them more achievable, as it allows you to track your progress and adjust your efforts as needed.
Q: What are some common pitfalls to avoid when setting SMART goals?
A: Common pitfalls to avoid when setting SMART goals include making them too vague or unrealistic, neglecting to set a specific timeframe, and failing to periodically review and adjust your goals as circumstances change. Additionally, overloading yourself with too many goals at once can lead to burnout and decreased effectiveness, so it's important to prioritize and focus on the most critical objectives.