The workplace is becoming increasingly collaborative. As consumers have gotten used to instant gratification, companies have had to adapt to serve customers at an equally rapid pace. The only way to keep up with customer demands, competitors, and technological change is by working together.
However, achieving a culture of collaboration in the workplace is easier said than done.

Some of your teammates may be working remotely, others may be on a flexible, asymmetric work schedule, and some might be in departments that have become siloed. Workplace collaboration is the holy grail of the modern company. With it, business objectives will be met and often surpassed. Without it, your team will struggle to achieve their goals and execute their tasks.
"No matter how brilliant your mind or strategy is, if you're playing a solo game, you'll always lose out to a team." — Reid Hoffman
Click To Tweet
Teams are more dispersed, diverse, and specialized than in the past. This means the challenge of collaboration is more complex than ever — while at the same time, the tools we have at our disposal are also greater than ever before. The bottom line is that workplace collaboration requires a serious plan.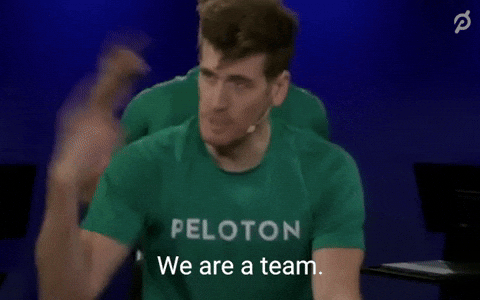 In this workplace collaboration guide, we'll explore how to set up a structure that allows employees to thrive while eliminating any dynamics that don't serve the team. Additionally, we'll go through the benefits, top skills, and most effective strategies for collaboration in the workplace in 2023!
Want to become a better professional in just 5 minutes?
What is collaboration in the workplace?
Collaboration in the workplace is about coworkers and managers using their skills, talents, and even their personalities to complement one another's abilities so that the result of their efforts is greater together than apart.
Put another way, collaboration in the workplace is about finding a way to make the sum greater than its parts. What this looks like in practice are teammates looking for opportunities to support and encourage each individual in their professional journey and common goals.
What are the benefits of workplace collaboration?

 1 

Better problem-solving

When employees are communicating, they come up with novel solutions to complex problems. Knowledge often becomes siloed, but when it's spread out, innovation emerges.
 2 

Increases productivity

When employees collaborate, it develops in them a sense of accountability to the group and a genuine desire to push a little harder and achieve results. Additionally, collaboration in the workplace will help them get unstuck from sticky problems that would otherwise slow them down if they were working alone. This will lead to an increased productivity across the organization as colleagues hit goals and strive to be better each and every day.
 3 

Improves adaptability

Team collaboration massively increases a company's ability to pivot. For example, let's say that your company needs to embrace a new software solution or technology. Some of your employees may be more hesitant to begin using the platform; however, others will quickly embrace it. Through collaboration, they can help the more hesitant group transition faster and understand the benefits of doing so.
 4 

Reduces vertical hierarchies

Job titles can create hesitancy when it comes to employees approaching managers. Of course, job titles are necessary for an organization, but teamwork encourages a more lateral form of leadership. Everyone from the CEO down should be accessible in some way. A hive mind is a powerful thing when to outpace and out-innovate your competition.
 5 

Boosts employee engagement

Teams that work together, win together. When employees feel appreciated and valued, they're more likely to be encouraged, engaged, and excited about their work. This reduces absenteeism and will likely also result in more proactive team members.
 6 

Reinforces recruiting efforts

Having a collaborative workplace is a huge recruitment factor — especially for millennials and Gen Z. When you establish a positive company culture where teamwork is highly valued, you will attract top talent and retain these superstar employees for longer.
Collaboration Skills in the Workplace

1) Empathy
Whether you are working in the same office or you are engaging with coworkers who live across the world, understanding each other is an important part of any working relationship. In today's rapidly changing work landscape, people often feel like they are the only one who can do the job. The real truth is that a healthy working relationship with your colleagues starts with exercising basic empathy toward the.
Listen to their words, treat them like an equal, and realize that the best teams work with each other not next to each other.
2) Communication
It can be hard to effectively communicate when you have a thousand Slack messages flying around, an inbox flooded with unread emails, and a distributed workforce where some employees are fully remote while others are working side-by-side in the office as part of a hybrid work environment. This means that to truly promote workplace collaboration, you have to be able to communicate with your colleagues.
Up and down the company — whether speaking directly to executives or chatting with Summer interns, a healthy organization is based on clear communication. When people know what expectations are and how their coworkers think, that's when you can have a chance at reaching your team's full potential.
3) Organization
As you dive deeper into this topic in your quest to fostering better collaboration at your workplace, you are bound to get bogged down in the "dos" and the "don'ts." To help manage a full plate of responsibilities, projects, and a busy schedule — organization becomes an important north star.
You might be in need of better organization of the office or handling a full stack of remote work software, but whatever your organizational challenge is — handling it will pay off tenfold in the future.
4) Patience
Often when we are truly stressed at work, it will appear that patience can never be found. However, a key part of any collaborative workplace is the ability to exercise patience and to let other employees, clients, and customers enjoy the time it takes to get the job done.
In a perfect world, we would have that project completed, that contract signed, or the demo attended– but we have to keep in mind that business does not often listen to our wants. When managers are flexible and patient, the real work can start to get done in an environment that is much more positive.
5) Self-accountability
The standard definition of self-accountability typically centers around the idea of taking ownership of situations that involve you either directly or indirectly. You may be working on a specific task or overseeing an entire project, but taking responsibility for outcomes (good or bad) will hopefully have a positive impact on the rest of your workplace.
Colleagues will begin to realize that both good work and bad work often has a number of hands touching it, so there are multiple chances to ensure the best product is ultimately created. Collaboration between two coworkers or entire team will benefit from every single individual recognizing that self accountability is an important workplace skill.
Ways To Improve Workplace Collaboration

1. Create a positive work environment
Creating a positive work environment is everything when it comes to workplace collaboration. Emotional safety and support allow employees to express their ideas, connect, and grow together.
Why this workplace collaboration strategy works: It's extremely important that you, as a leader, reinforce employees who encourage others and quickly eliminate any negative or destructive behaviors within your organization. The more positive your work environment becomes, the better your employees will understand each other's strengths and weaknesses and be willing to provide each other proper support.
---
2. Set expectations
Communicate your expectations so employees or team members know exactly what's needed from them. Getting everyone on the same page is critical. Some employees will be new to your industry, for others, it may be their first job, and then, your entire culture could be a shock to them. All of that is simply to say, never assume employees automatically know precisely what you want.
Why this workplace collaboration strategy works: Just like in team sports, teammates in a work environment need to know their role — and how valuable they are to you and the group's overall success. Setting expectations also gives employees a sense of purpose and clear direction.
---
3. Encourage employees to socialize outside of work
Encouraging employees to socialize outside of work breaks up the monotony and routine of the day-to-day workweek. Perhaps more importantly, team members will bond with one another, which will improve their desire to cooperate and show support.
Why this workplace collaboration strategy works: Throw team building activities, icebreakers, work happy hours, or office parties. Any which way you choose to go, the key here is that employees have the chance to see each other purely as humans.
---
4. Use collaboration software
Collaborating as a dispersed team can be challenging. Whether your team is separated by a few desks, cubicles, or thousands of miles and oceans, using online collaboration software makes talking, sharing files, and staying in sync much easier.
Why this workplace collaboration strategy works: Collaboration software and employee engagement programs help you send and receive messages, share documents, get feedback, and discover new information at cyber speeds.
---
5. Encourage brainstorming
Brainstorming sessions are a uniquely powerful collaboration strategy. Encourage your team members to ideate and share their findings.
Why this workplace collaboration strategy works: The main benefit of brainstorming is the collective IQ that stems from sharing challenges and developing solutions. As long as the group remains open, positive,  and emotionally safe for team members to share their ideas, your team will be a winner!
---
9 Workplace Collaboration Resources & Tools
If you are looking to promote better workplace collaboration, it could be a smart idea to make sure you have all the necessary tools and services available to your team to get work done. Online collaboration tools come in all shapes and sizes but all aim to aid distributed teams and help them manage projects more efficiently. We hand-selected a few of our favorites to get you started.
Improving Workplace Collaboration Through Recognition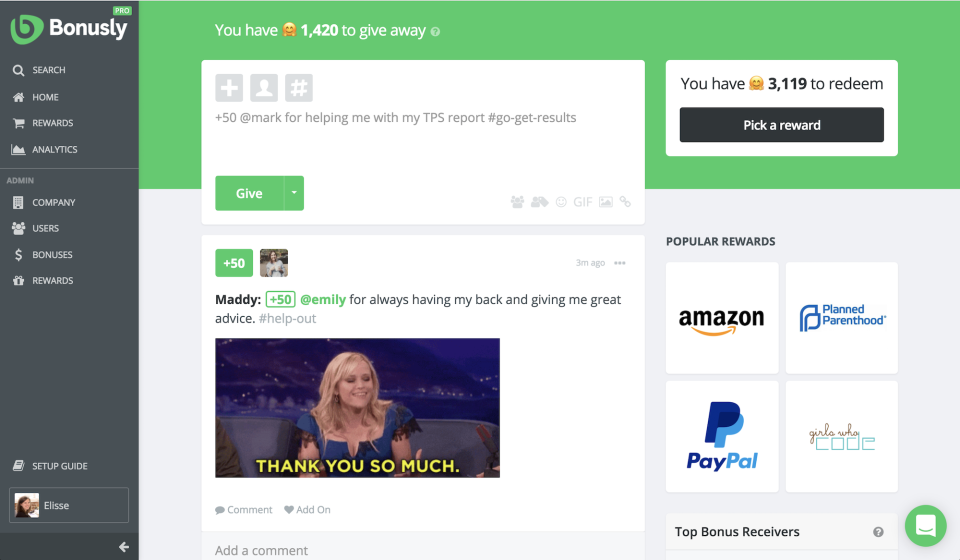 Bonusly is an employee recognition, survey, and incentives solution that facilitates companies in their quest to build a more engaged, thriving culture. This workplace collaboration tool and recognition software is ideal for opening up a channel for employees to communicate and reward each other.
Notable feature: Social feedback portal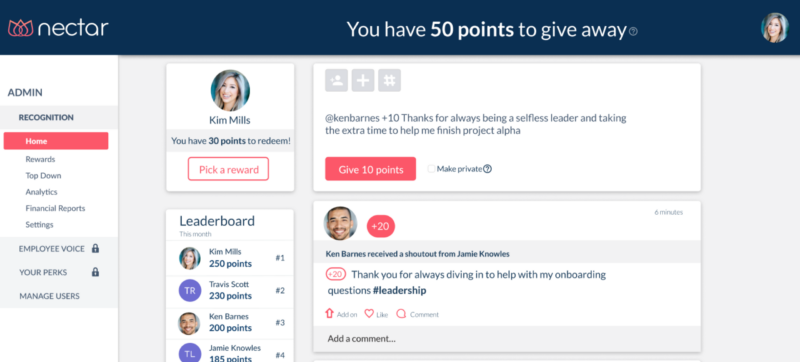 Nectar is the lateral employee recognition tool for boosting positivity in the workplace. Peer-to-peer recognition elevates collaboration around the office and remotely by spreading the good vibes.
Notable feature: Custom swag storefronts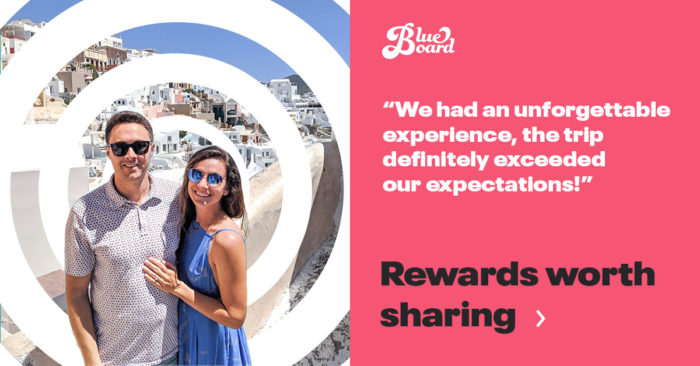 Blueboard is an online collaboration for encouraging collaboration in the workplace. With this unique rewards and recognition solution, employees will be more incentivized than ever to work together on projects and tasks, and ultimately, to get the best results possible as a team.
Notable feature: Real-time insights
Improving Workplace Collaboration Through Team Building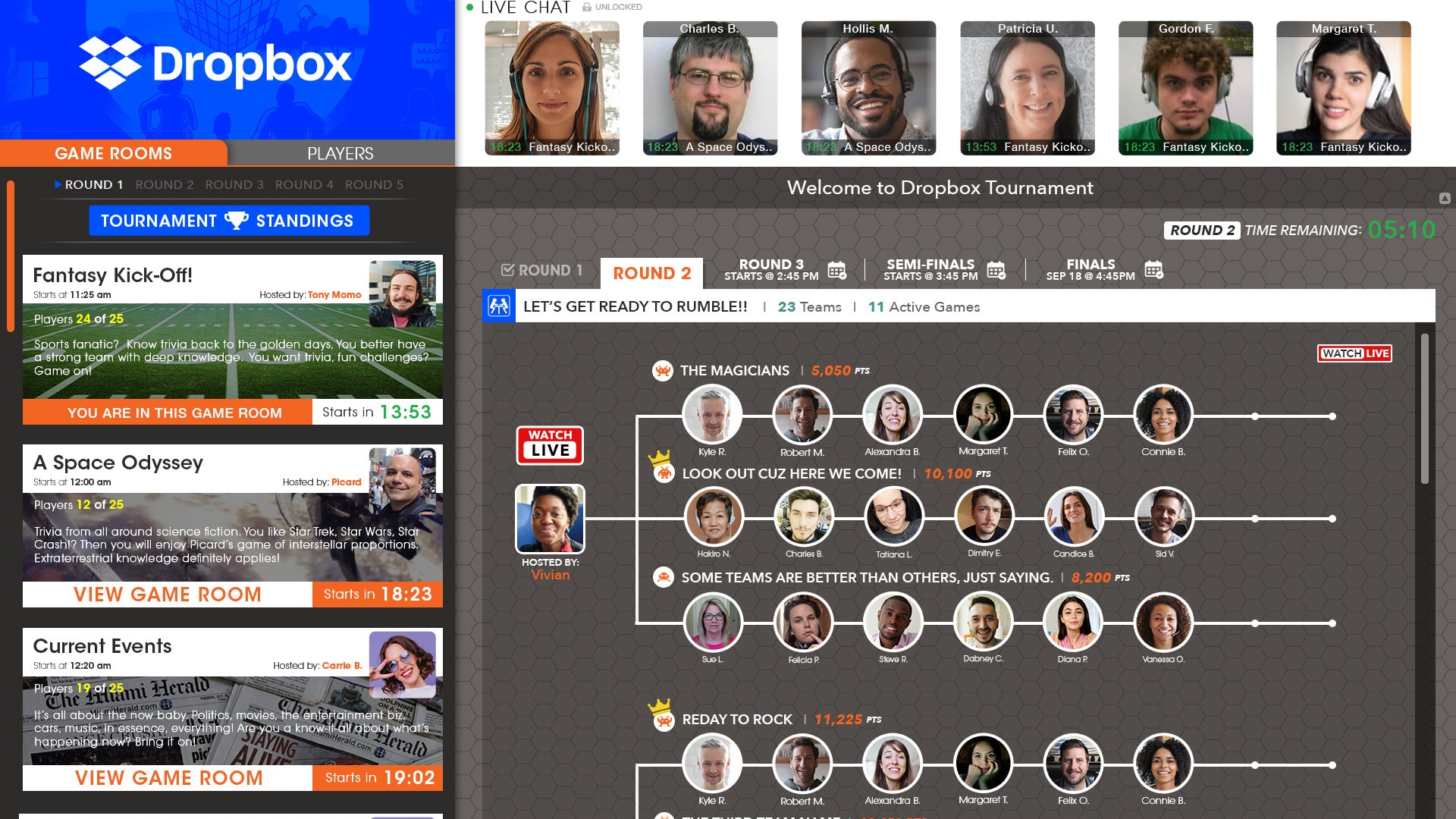 The Go Game is the team building tool for remote and dispersed teams. Virtual team building is the name of the Go Game. With slick video conferencing and standup-comedian-level funny hosts, your team will have a blast, build chemistry, and feel recharged and ready to run through walls!
Notable Game: The Classic Game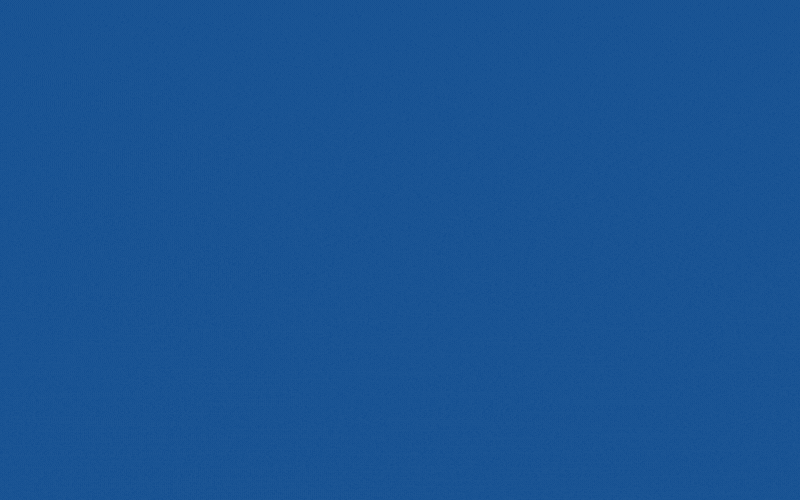 Outback Team Building is the all-in-one collaboration tool that allows you to find out-of-the-box activities that engage and unite every type of team member. The Outback team will even help your team brainstorm activities that tie directly into your company culture and mission.
Notable Game: Wild Goose Chase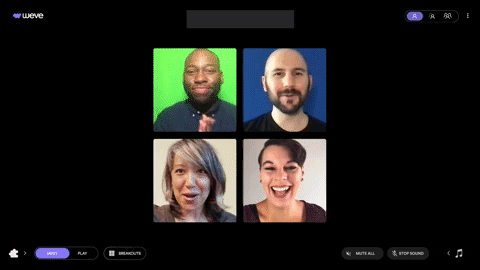 Weve is a workplace collaboration tool designed specifically for team building. Weve derives its name from weaving employee recognition into employees' everyday work routines. With Weve, you can host virtual award shows that can be watched live by up to 10,000 people at once. As a bonus, you can add your own trivia and customized fun facts or other personalizations.
Notable Game: Virtual Escape Room
We played a round of Squad Squabble with our friends at Design Pickle to show you how effective virtual team building can be… Still have no idea how 11 people said "Microwaving Fish" as an answer…
Improving Workplace Collaboration Through Communication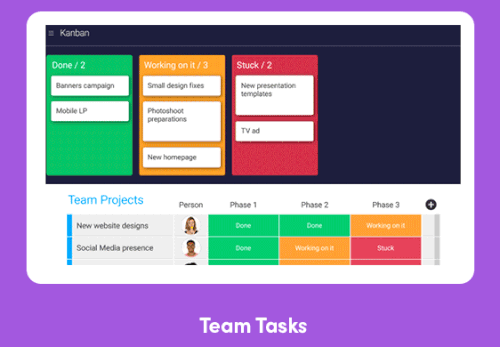 monday.com is the Uber of resource management with real-time project insights, enps-boosting integrations and updates, workflow visibility and analytics, time tracking, automation, and timeline insights. This workplace collaboration tool vastly improves communication by giving you the means to divide tasks, monitor projects, templatize departmental planning, and outline day-to-day tasks. Monday.com is real-world proof of the benefits of collaboration.
Notable feature: Star system for prioritization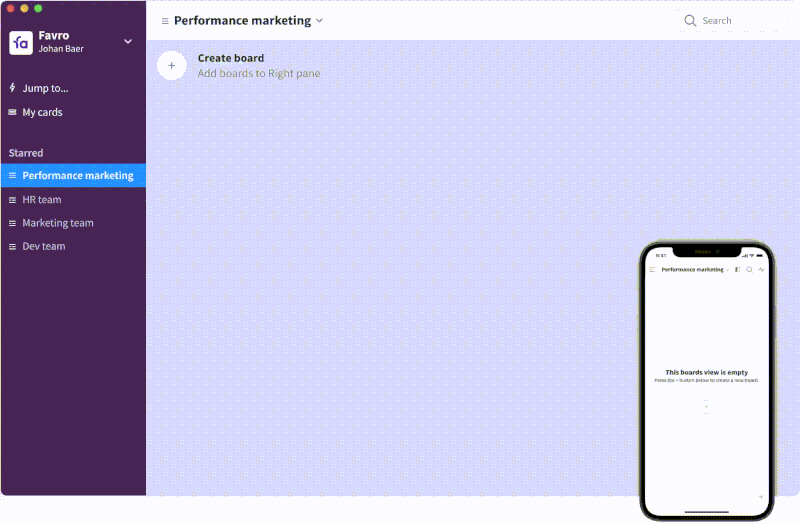 Favro is a cloud-based planning and collaboration platform and communication tool for teams to organize themselves and maximize their productivity. With Favro, you have access to planning boards, databases, sheets, scheduling, and documents.
Notable feature: Cost-to-completion tracking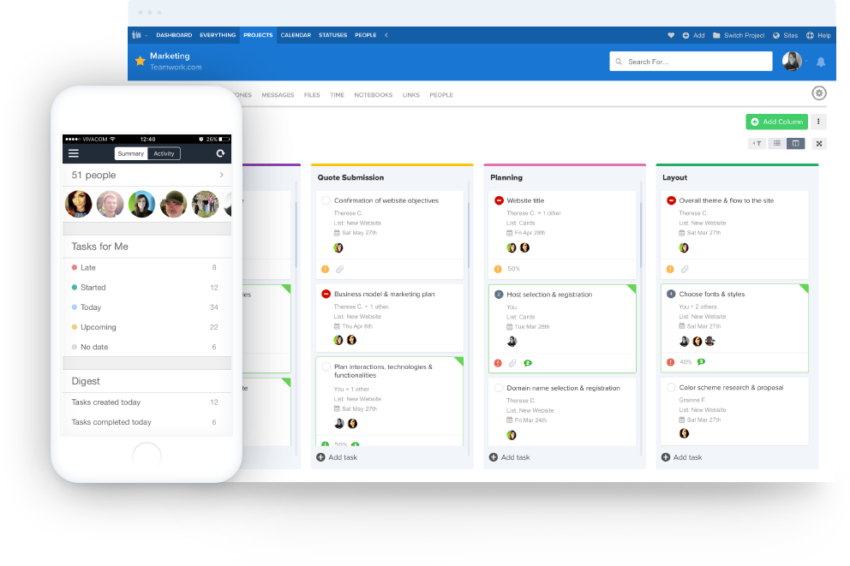 Teamwork is a workplace collaboration platform for managing projects, clients, freelancers, and employees. With Teamwork, you can track each billable minute and deliver every project in a time and cost-efficient manner. Teamwork is perfect for remote teams because it gives your entire team a resource to operate in the virtual workspace and digital workplace and ensure successful collaborations.
Notable feature: Drag-and-drop templates
---
People Also Ask These Questions About Workplace Collaboration
Q: Why is collaboration in the workplace important?
Collaboration in the workplace is important because it boosts problem-solving, employee engagement, retention, communication, productivity, and employee wellbeing. In a world of remote work and remote employees with different backgrounds, collaboration is vital.
Q: What does effective collaboration at work look like?
Effective collaboration at work looks like employees communicating respectfully and openly, sharing ideas, giving feedback, and encouraging one another. In addition, employees will support each other in their projects instead of looking at tasks as competitions.
Q: How do I know if my employees are collaborating?
You will know if your employees are collaborating by the way they interact. Ideally, they will be kind, respectful, and enthusiastic about working together. If they display those types of qualities, there's a strong chance they've learned how to collaborate.
Q: How do I measure workplace collaboration?
You can measure workplace collaboration by the end results. If your team is collaborating they will almost always achieve more than they could individually.