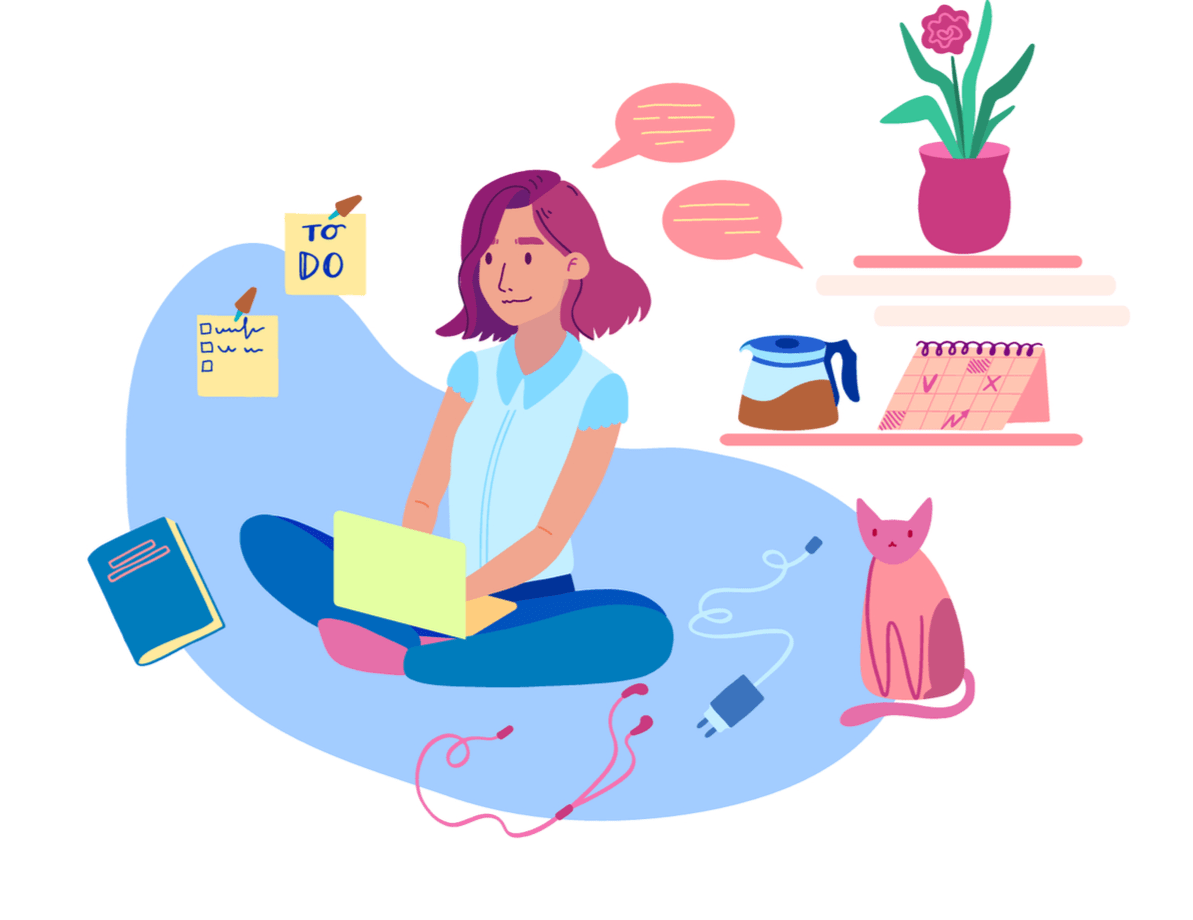 Virtual work software can boost your remote team's success by helping both in-house and off-site teams stay connected on projects regardless of proximity.
These resources provide distributed workforces with the tools they need to collaborate, communicate, and connect. The right remote software can even help you maintain a strong company culture and high employee engagement when your teams must work from home.
If you're wondering why you might need virtual work software, then just consider why you need the other softwares that you use: It makes your life easier.

For example, you could do your taxes (ughhh… don't remind me…) without the help of any platform or accountants, but using a tax software helps you do this complicated task well, efficiently, and in a timely manner.
The best virtual work software is a tool that successfully creates a shared online workspace that remote employees use together to get work done in a virtual environment. The effect of a good virtual work software can increase overall team productivity and streamlines digital communication on a project tenfold.
What is the virtual work software that would help your remote team do their best work?
We've compiled the list below to help you answer just that question. Use this list to find the virtual work software aligned to your goals, budget, and company culture.
Want to become a better professional in just 5 minutes?
Remote Work Software: Employee Rewards
With the switch to a more remote-friendly work environment for companies across the globe, the value of employee rewards and recognition strategies has never been higher. Recognizing good work and appreciating employees with rewards, gifts, personalized awards, and other types of recognition can have a huge impact on the retention of remote employees.
These employee rewards platforms are built to assist teams that want to build employee shout outs, words of affirmation, and other rewards into their team culture.
"A great motivational software to implement for a company"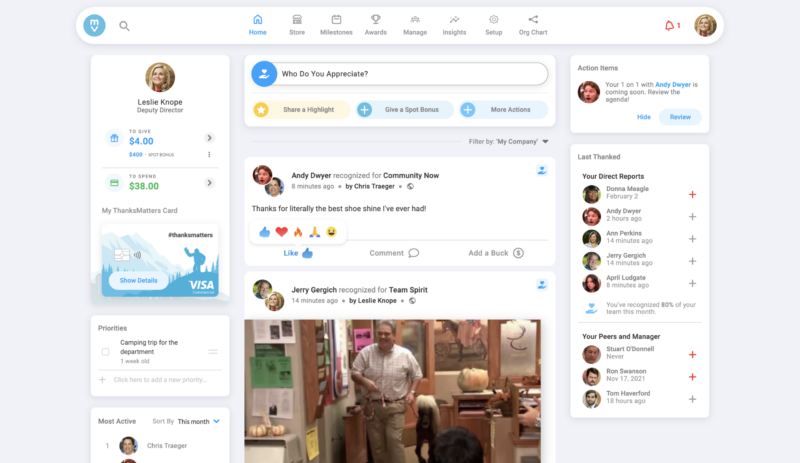 Price: Free basic plan. Visit this Motivosity page for details.
Free trial? You can see how it works via a free demo.
Notable features: 
Employee pulse surveys that gather feedback and measure employee engagement
Goal & challenge creation that sets professional and personal goals with specific milestones and customizable due dates
Performance benchmarking to locate key areas for improvement
Motivosity is a recognition software that helps people feel happier at work by focusing on three of the top drivers of employee satisfaction: feeling appreciated for their work, being part of a community, and having a meaningful relationship with their manager.
What users say about Motivosity:
"Motivosity was an implementations success! It gives us valuable info about the interactions in between teams, and it helps us to recognize our workforce. It helps us to streamline actions for our most valuable asset: our people!"
---
"Reward employees for wins great and small"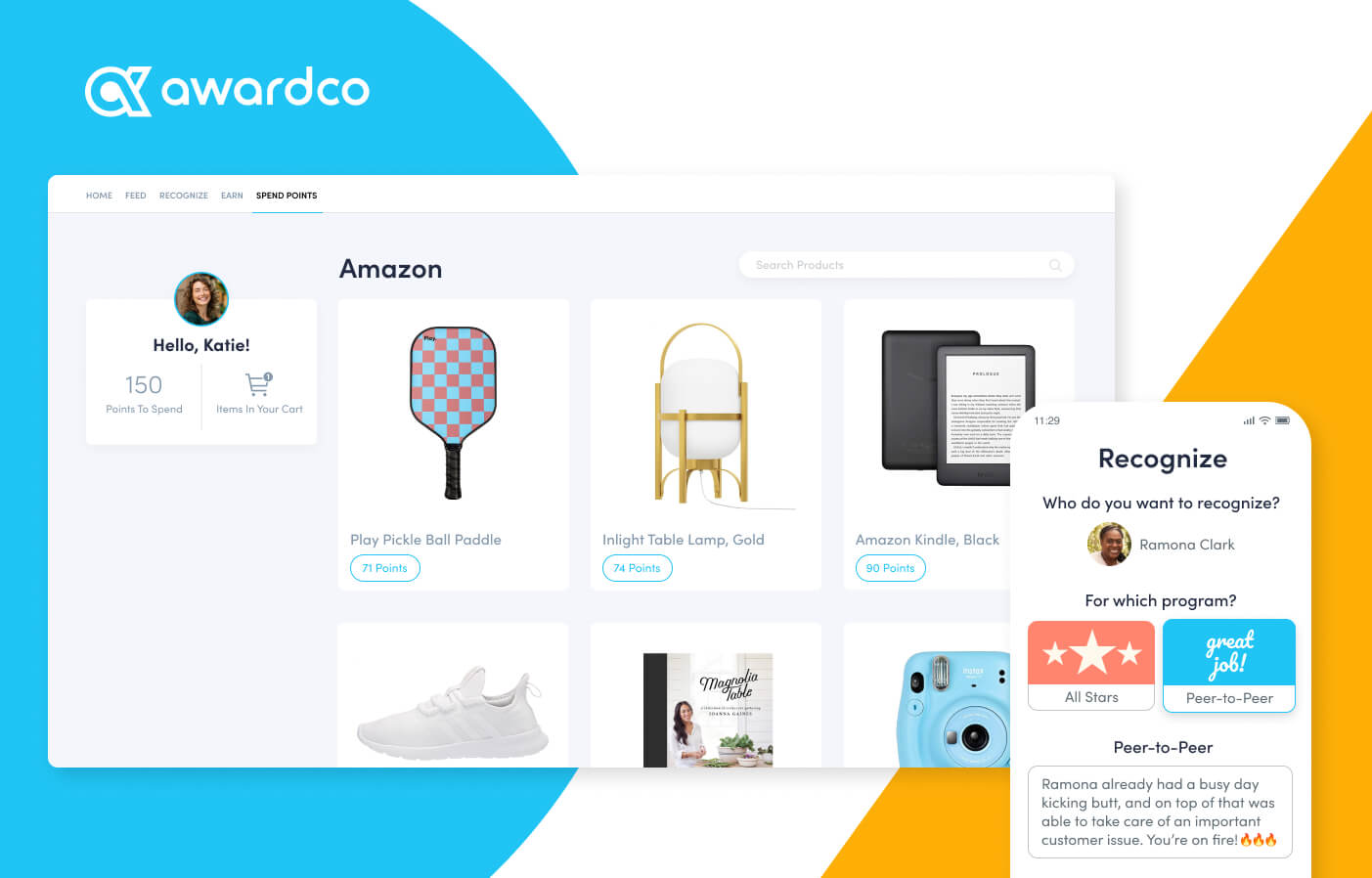 Price: Plans built for your team. Try a short demo to learn more.
Free trial? No, but they offer a variety of pricing options.
Notable features:
Built-in recognition
Distribute cultural rewards
Track anniversaries and birthdays
Manager-to-Peer Recognition
Variety of reward options
Everyone wants to recognize their peers and encourage them to do their best, and Awardco provides the easy-to-use interface they need to do it.
Create the thriving remote work culture you want by giving employees one-touch tools they can use to recognize their peers. Easy-to-use which means your oldest employees and your new hires should have no issue getting ramped up. Awardco recently partnered with Amazon Business, so finding the right reward for your colleague is a no-brainer.
What users say about Awardco:
"Using Awardco has given us the confidence that we've partnered with someone that knows what they're doing," says Anna. "We're not only saving a lot of time, but we're building the confidence of our employees as we express our appreciation to all of them worldwide." -Hertz
---
"Develop a culture of recognition"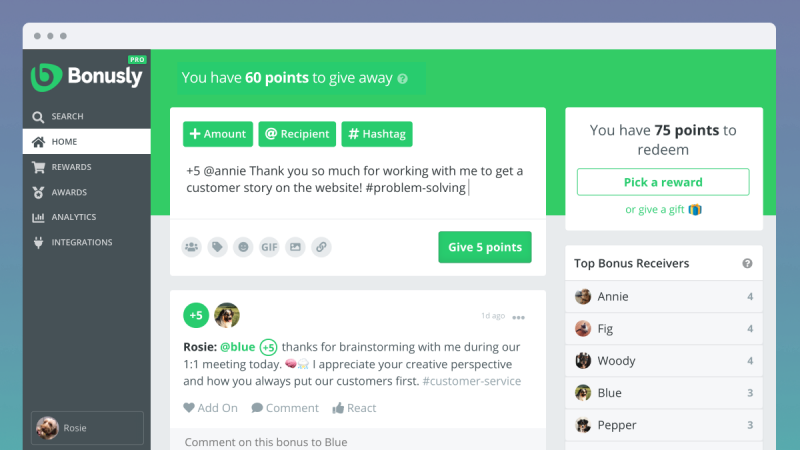 Price: Visit the Bonusly plan page for details.
Free trial? Yes. Get started.
Notable features:
In-platform rewards for culture building
Team-based analytics and reporting
Public reward feeds to create buzz
Bonusly's virtual platform helps companies build thriving remote cultures via employee recognition programs that are both fun and organic.
Bonusly makes it easy to get employees recognizing one another, and it also provides analytics that help company leadership track culture progress and success in real time.
What users say about Bonusly:
"Our team has a lot of fun with Bonusly. Feedback and instant gratification never get old."
---
Remote Work Software: Team Collaboration
Remote collaboration tools are programs designed to help virtual teams get and share information in the most efficient way possible. Most online collaboration tools strive to minimize time-wasting emails and messages by providing interactive interfaces that deliver up-to-date information and offer pristine visibility across distributed teams.
"Bring remote workers together"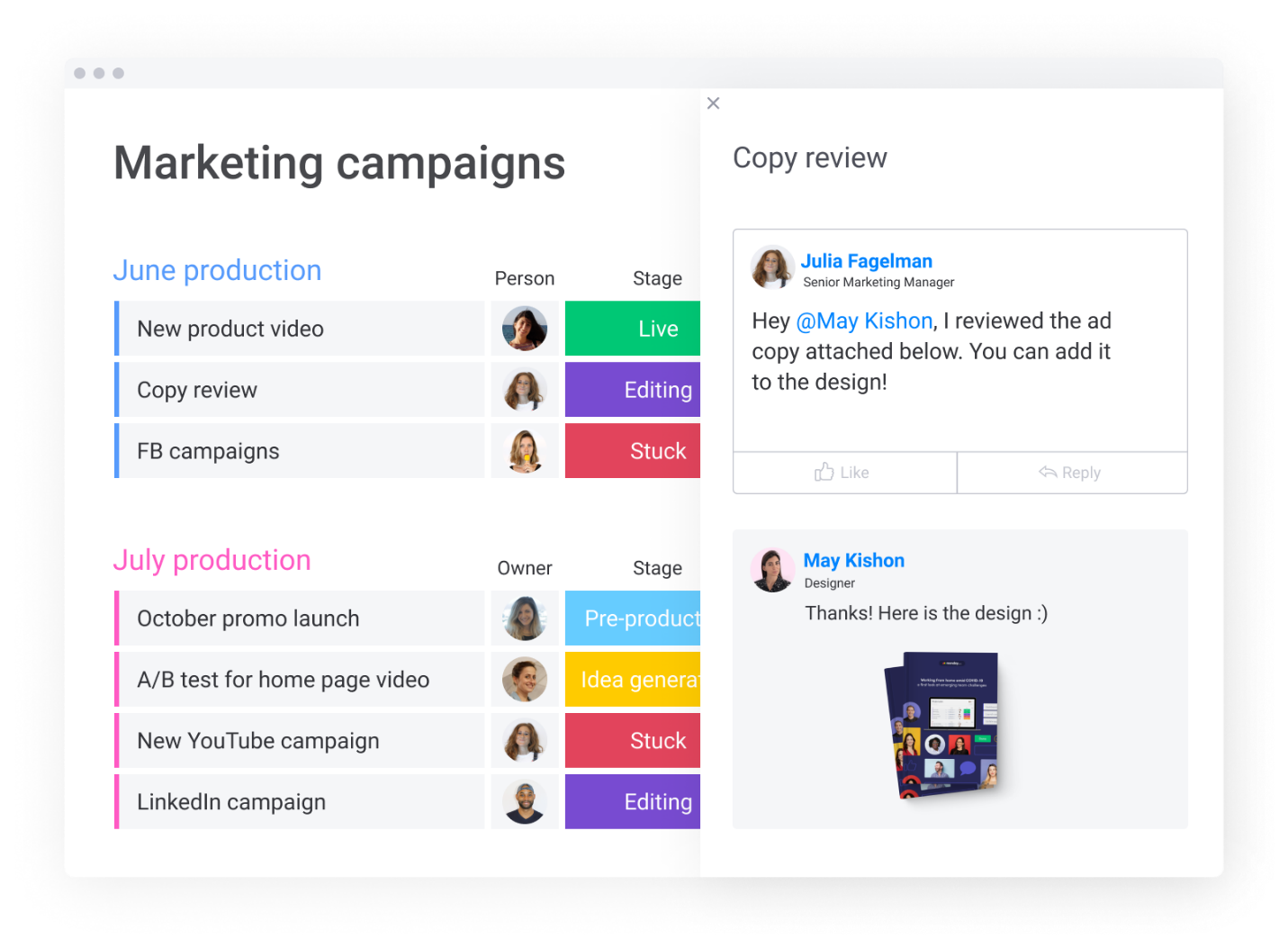 Price: Starts at only $8/seat per month.
Free trial? Yes. Sign-up for a free trial without entering my payment details.
Notable features:
Download pre-designed templates perfectly suited to your workflows
Get the "bird's eye view" of multiple projects in one convenient location
Check your progress at any time from the mobile app
View your projects in a calendar mode so you never miss any deadlines
Assign new tasks to available team members so no one is overloaded
Automate your workflows without coding
Integrate all of your other apps on one unified platform
Whether you're working in the office, from home, or from across the globe, monday.com is an all-in-one platform that makes effortless collaboration your new normal.
With color-coded boards that give you a crystal clear overview of your team's processes at a glance, colleagues will know exactly what they need to focus on to hit their KPIs quarter after quarter. On the other hand, with a real-time source of truth, managers can eliminate bottlenecks before they can delay deadlines.
Say goodbye to data silos, chasing status updates, misaligned goals, disjointed tools, and conflicting priorities. Whether your team members are 2 feet apart or 2,000 miles apart, they won't have to sit in sift through burgeoning inboxes for important information buried at the bottom of long email threads. Or stuck in soul-sucking back-to-back Zoom meetings.
Embrace the shifts in the professional world, and see how monday.com can make working remotely just as easy as working in-house.
What users say about monday.com:
"monday.com gives us the power to run all of our processes, remotely. Our communication and collaboration are as seamless as if we are sitting in the same room."

Patrick Hoban | Co-Founder & CEO, Parvenu
---
"Make managing teams a breeze"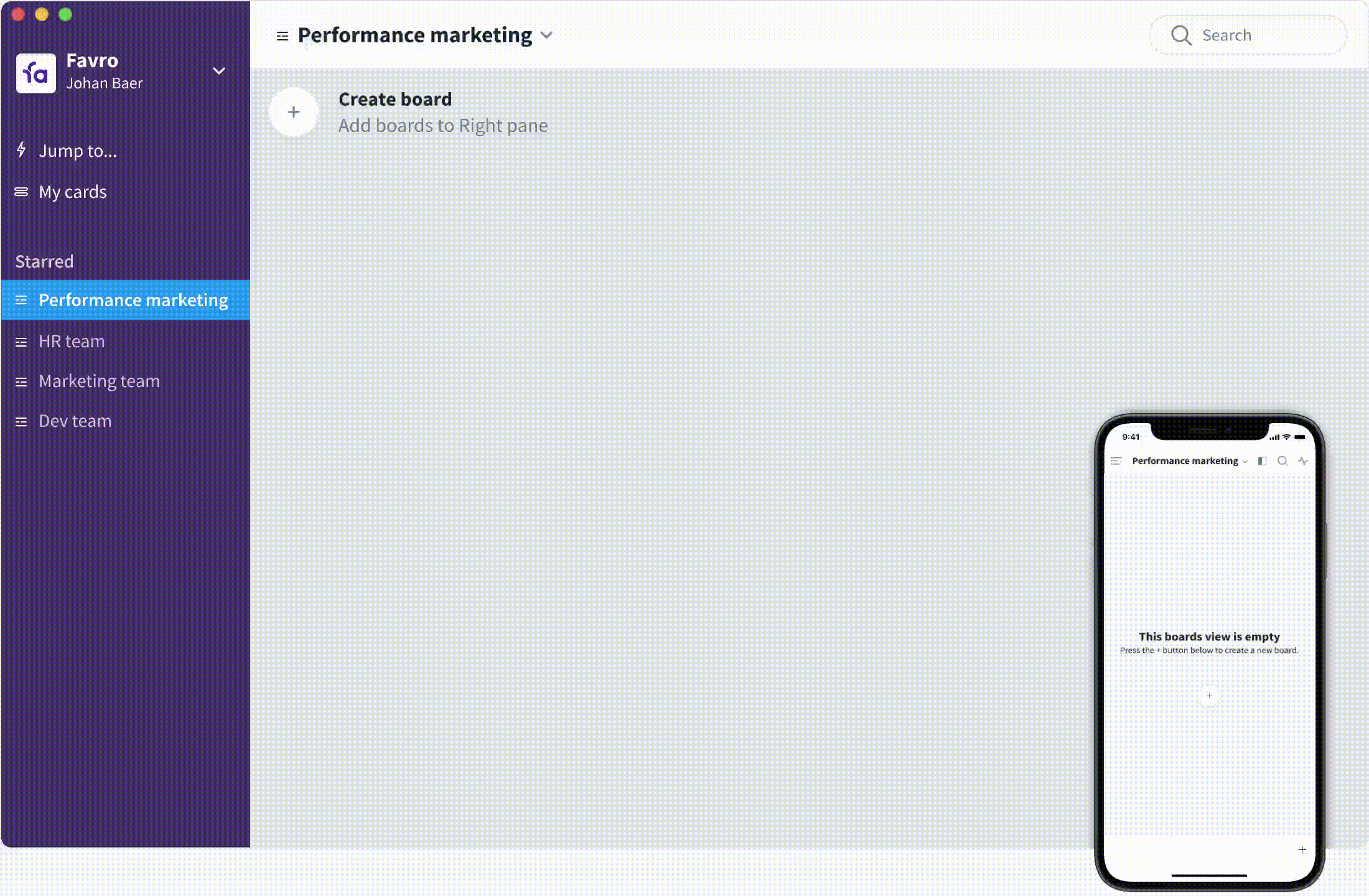 Price: Starting at $12 per user/month (minimum 2 users). Visit the Favro pricing page for more details.
Free trial? Yes, a 14-day free trial.
Notable features:
Built-in time tracking

Customizable invoices

Streamlined reporting
Favro's unique blend of time tracking, proof of work, and invoicing features help remote teams around the globe collaborate better.
With an easy-to-use timer, teams can track time to the second — and switch seamlessly between Favro's desktop, web, and mobile app.
When meetings are hard to come by, asynchronous teams can benefit from Favro's robust reporting features. Project managers can set budgets, create custom invoices, and view activity scores to make project planning easier.
What users say about Favro: 
"The board works very well and has really cool features, I thought it was much better than Trello."
---
"Work together beautifully"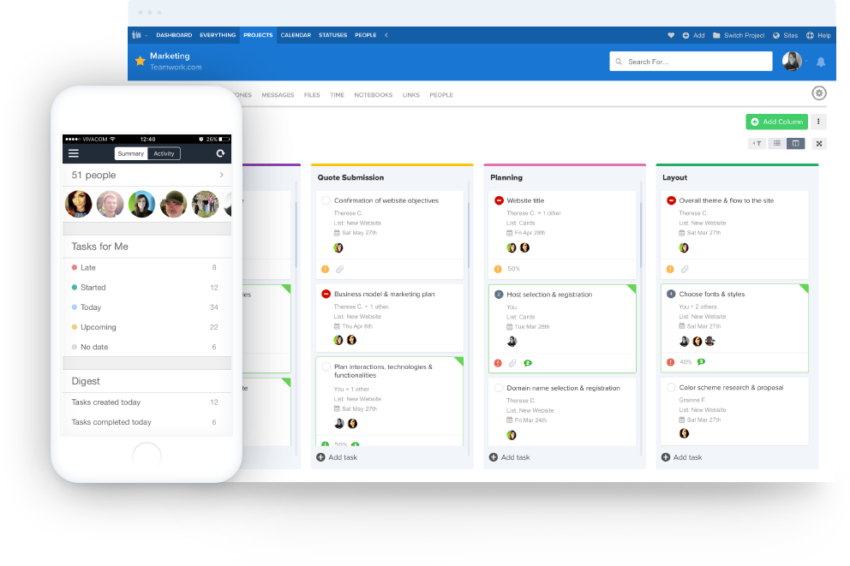 Price: Starting at $10/user per month on the Deliver plan.
Free Trial? Yes! Take Teamwork for a free test drive today for 30 days.
Notable features:
Manage projects, clients, freelancers, and your team in one place.
Get a bird's eye view of every project, from milestones to capacity planning, budgeting and time tracking and more.
Collaborate in real-time with your team and clients to get your questions answered and projects delivered on time & on budget.
Teamwork was built so you can manage ALL your client work in one platform. From invoicing, to time tracking, to unlimited client access, everything you need to run your client services is in Teamwork.
Being part of a remote team can be challenging. But just because you're not in the same room doesn't mean you can't be on the same page.
It doesn't matter if you're working from home or office, Teamwork is a powerful remote working tool that gives you everything you need to stay connected, keep communication flowing, and get full visibility over your project's progress — from anywhere.
What users say about Teamwork:
" It would be impossible to run our business without software from Teamwork. It has transformed the way we work and gives us the flexibility to work remotely from anywhere in the world!" – Tim Cameron-Kitchen, SEO expert and author at Exposure Ninja
---
Remote Work Software: Company Culture
Remote culture building software is a program or platform that companies can use to recreate virtually the bonding aspects of in-person office life. These programs help employees recognize one another, provide helpful feedback, and work together. Most programs also have reporting features that help companies understand if their culture building programs are working.
"Get all the tools you need to engage your remote team"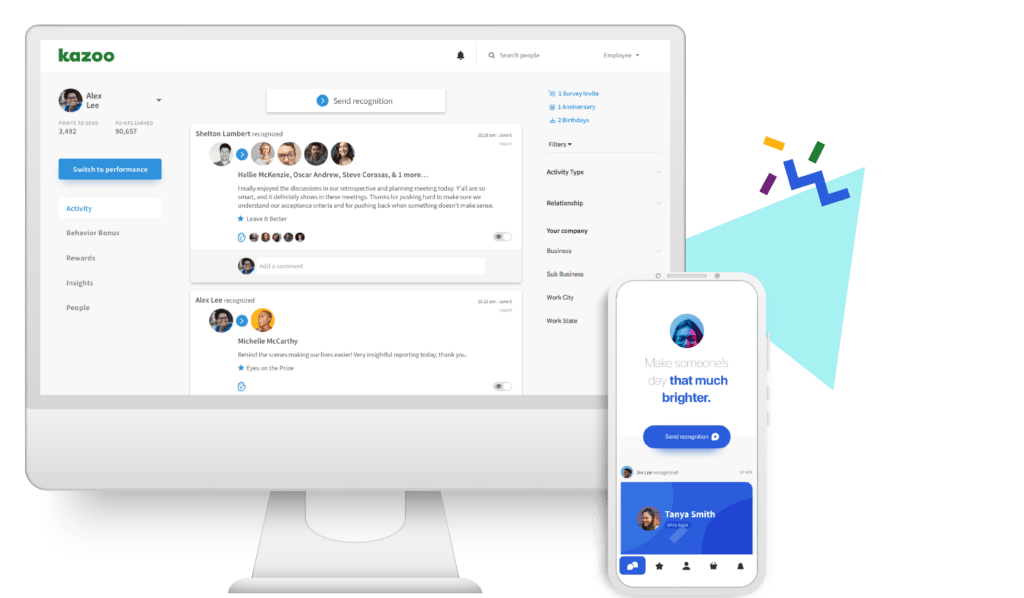 Price: Request pricing on the Kazoo pricing request page.
Free trial? Demo available. Get started.
Notable features: 
Performance management
Peer-to-peer recognition
Engagement surveys
Kazoo helps companies improve employee happiness and satisfaction, even when employees work remotely.
This comprehensive employee experience platform provides all the tools you need to engage remote teams. Use the simple virtual platform to manage recognition, rewards, surveys, insights, and more.
What users say about Kazoo:
"I was part of the team who vetted dozens of vendors before ultimately landing on Kazoo and by the end of our evaluation, it was truly a no-brainer. Kazoo had the features and support we needed and is extremely cost-effective."
---
"Get Mo' done"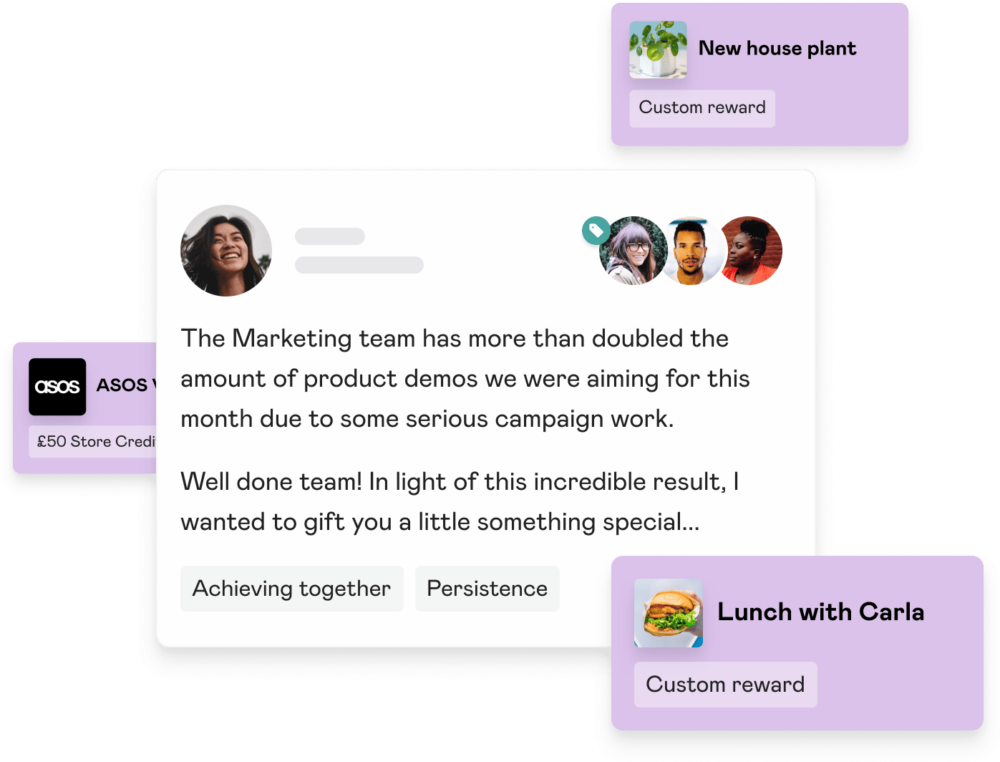 Price: Starting at $4 per user per month. Check out this page for more details.
Free trial? Yes. Demo available. Get Started
Notable features: 
Peer-to-peer nominations that encourage employees to recognize each other on a daily basis
Recognition platform that allows customization of rewards and gifts
Automated "prompts" that encourage employees to share moments
Mo Work is the solution for companies that want to do more than just offer traditional employee rewards and recognition programs. It helps businesses build amazing workplace communities where employees feel appreciated, which in turn leads to a motivated workforce!
What users say about Mo Work:
"In over 11 years, this has to be one of the best tools I've had from an employer."
---
"Rewards and recognition made easy"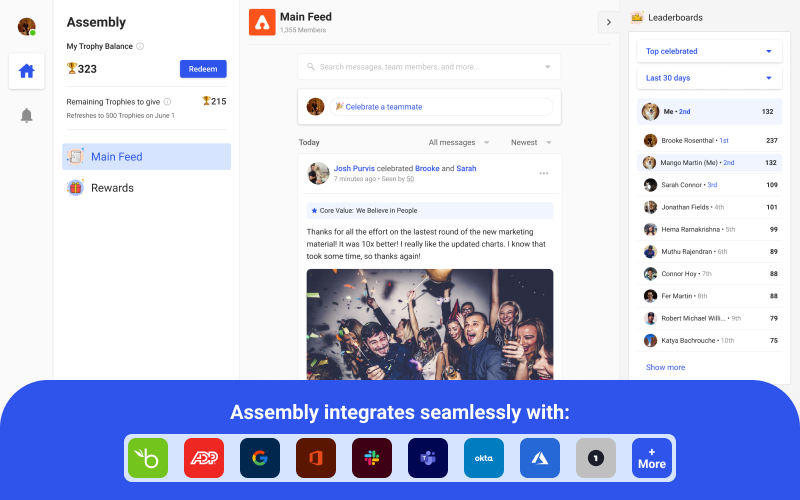 Price: You can start off on a free trial (no credit card required) by scheduling a demo. For premium features, the pricing is based on cost per employee, which is about the price of a bottle of water for each employee ($0-$3 per user each month).
Free Plan? Demo available. Get started.
Notable features:
Social recognition feed keeps peers connected from anywhere in the world
Customizable catalogue allows administrators to curate rewards that fit company culture
Detailed analytics offer critical insight into the state of employee engagement
Assembly consolidates recognition, rewards, and corporate discounts on a single platform, offering HR leaders a streamlined solution to build a powerful culture of recognition.
We particularly love Assembly as a solution for virtual teams, as the platform's interactive social feed lets peers celebrate each other's success anywhere, anytime. Plus, the seemingly endless options for customization give program administrators the freedom to set up a recognition program that's perfectly tailored to your unique company culture.
What users say about Assembly:
"Assembly has been like a 'snowball rolling down a hill' for fostering engagement across our teams. One person sharing recognition is a catalyst for multiple team members to take a moment to recognize their coworkers contributions. That simple act of reacting to a shoutout then inspires those individuals to shoutout someone else, and all of a sudden you have a series of shoutouts flowing in."
---
"Get insights to improve your remote culture"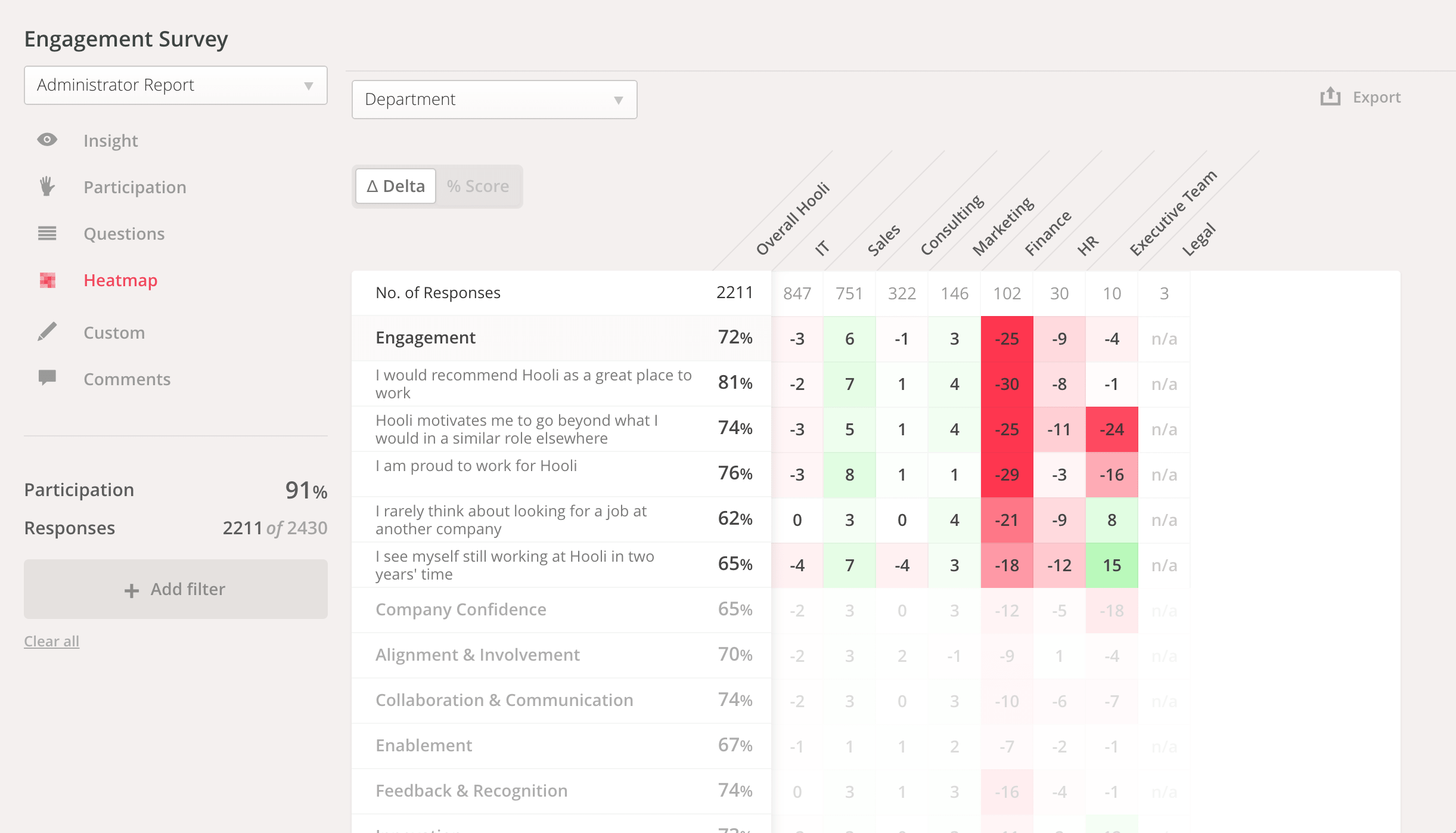 Price: Request pricing information on the Culture Amp pricing page.
Free trial? Demo available. Get started.
Notable features:
Employee engagement data collection
Continuous feedback loops
Leverage research-backed engagement surveys
Culture Amp provides solutions to enhance multiple factors of remote culture building.
You won't be able to see your remote team every day, but you can use Culture Amp to get insights into engagement levels. Use expertly designed surveys to learn how people really feel, conduct effective reviews, and also get the tools you need to take action to enhance your culture.
What users say about Culture Amp:
"I'm so grateful that we as a company are supported and enabled by tools like Culture Amp, because it makes it easier to look after people. We need to know what's important to people, what matters to them and that's where Culture Amp works at scale."
---
Remote Work Software: Project Management
Effective project management is very important for successful remote teams. Knowing which projects to work on, and in what order to work on them, can make all the difference when it comes to long-term goals. With the right project management tools, a distributed team can maintain clear lines of communication, manage each stage of the project lifestyle, and ensure each employee knows what they are contributing.
"Simple, beautiful project planning for remote teams"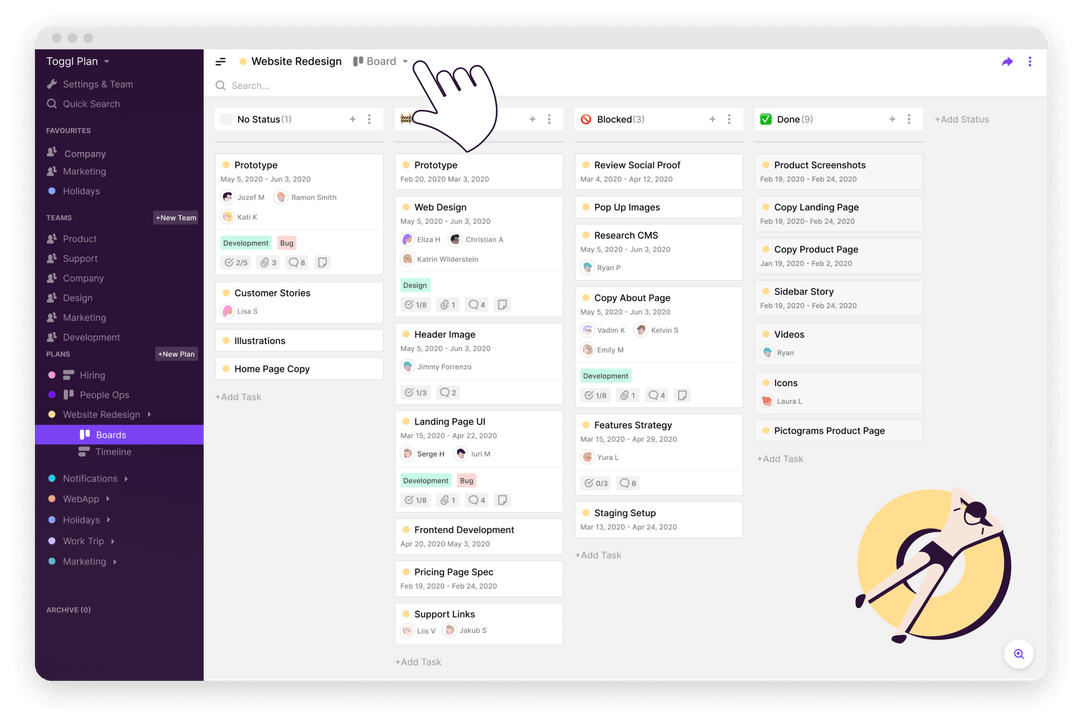 Price: Starts at $8 per user, billed every month. Learn more on Toggl Plan's pricing page.
Free Plan? Yes, for 1 user on their Solo plan. Get started.
Notable features:
Plan projects, set milestones, and track progress with plan timelines.
Work collaboratively on tasks with team members across the world.
Manage team availability and workloads using team timelines.
Toggl Plan is for teams that favor a hands off approach over micro-management. And, that's what makes it a perfect tool for remote teams.
With Toggl Plan, everyone in your team gets a clear overview of what's happening at work and what needs to be done next. Team members can work collaboratively on tasks, discuss task details, and include file attachments.
An intuitive interface means Toggl Plan is easy for your team to get started with, and simple to use everyday.
What users say about Toggl Plan:
"Seriously, you guys have saved me. I need to manage many time-sensitive tasks for myself and other artists. A deadline change? Boom, drag and drop, no morning headache!"
---
"Collaborate on files in one place"
Price: Starts at $360 per month. Visit the Swivle pricing page for details.
Free trial? Yes. Get started.
Notable features:
Tons of integrations
Remote onboarding and training features
Intuitive digital asset management
How much time could you save if you could collaborate with remote teammates and manage digital assets in one place?
Swivle is an online collaboration hub where you can share files with everyone who needs to see them, view everyone's comments, and solicit approvals. Keep your content review and approval processes under control, even when your team is working remotely.
What users say about Swivle:
"Before we switched to Swivle, the organization of our more than 150,000 files was nightmarish. Now, it's easy. Swivle has streamlined processes, allows us to work remotely and efficiently and effectively organize all of our files."
---
"Keep distributed teams in the loop"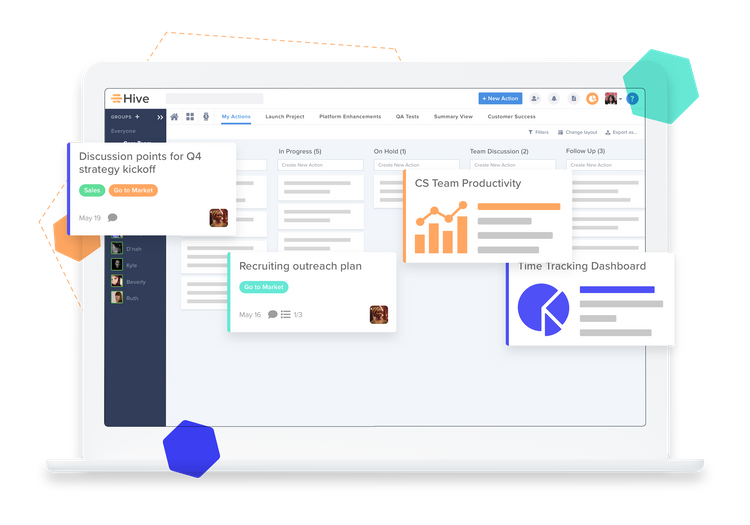 Price: Starts at $12 per user per month. Visit the Hive pricing page for details.
Free trial? Yes. Get started.
Notable features:
Built-in time tracking
Automated workflows for streamlined decisions
Real-time analytics In-platform email features
Hive allows your distributed workforce to collaborate like a completely unified workforce. Using team and company-wide views of projects, remote workers always know exactly what's going on.
When people can always get the information they need, your team can eliminate frustrating email chains and time-wasting meetings.
What users say about Hive:
"I like that I can include photos and videos of projects that we are undertaking, simultaneously. It is a straightforward app and a new-bee can figure it out very quickly."
---
"Align your remote team"
Price: Starts at $8.95 per user per month. Visit the Paymo pricing page for details.
Free trial? Yes. Get started.
Notable features:
Automated calendars
Flexible project component views
Built-in alerts for staying on track
Develop seamlessly engaging remote collaboration processes with Paymo.
Prioritize your tasks, see what teammates are working on, and post updates directly in project boards to provide plenty of context and clarity.
What users say about Paymo:
"We're constantly challenged to find ways to fit all the work in without sacrificing on quality. Paymo helps us keep our finger on the pulse of project performance."
---
Remote Work Software: Work Productivity
Whether it is individual productivity or measuring the productivity of an entire team, the right remote work systems can help make sure your team is running efficiently. These productivity tools are designed to open up lines of collaboration, plan new projects, and give employees the power to get work done without roadblocks.
"Collaborate across your entire organization"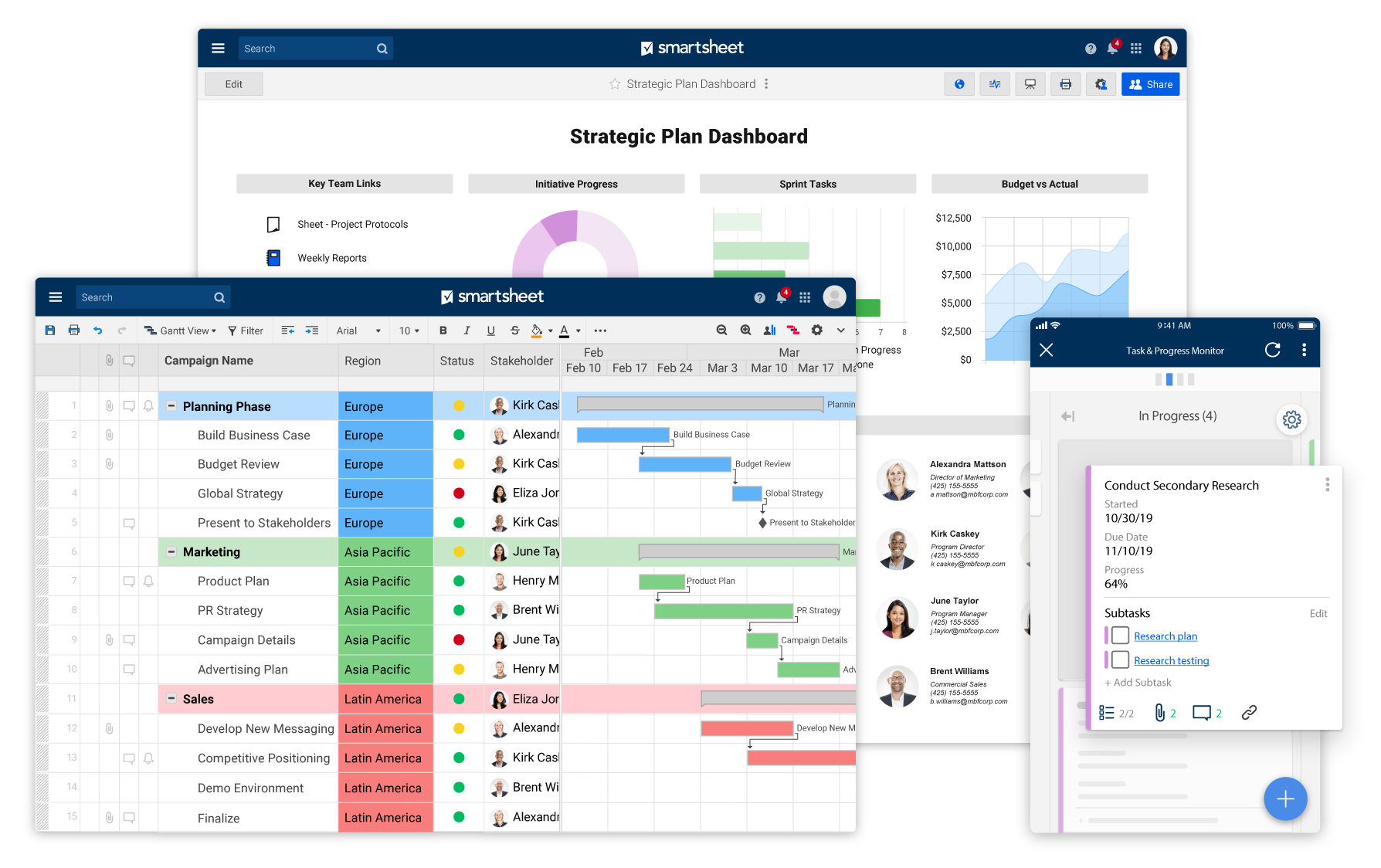 Price: Starts at $14 per month. Visit the Smartsheet pricing page for details.
Free trial? Yes. Get started.
Notable features:
Automation for repetitive tasks
Content review workflows
Centralized team portals
The Smartsheet platform transforms collaboration from just one aspect of work into an all-encompassing driver of work success.
Designed with the flexibility and security enterprise organizations need, this cloud-based remote work platform delivers a single-touch hub for collaborations focused on planning and completing work.
What users say about Smartsheet:
"The efficiencies that we gained from it are incredible. We really saw about a 30 percent efficiency gain from my entire team."
---
"Brainstorm visually with your remote team"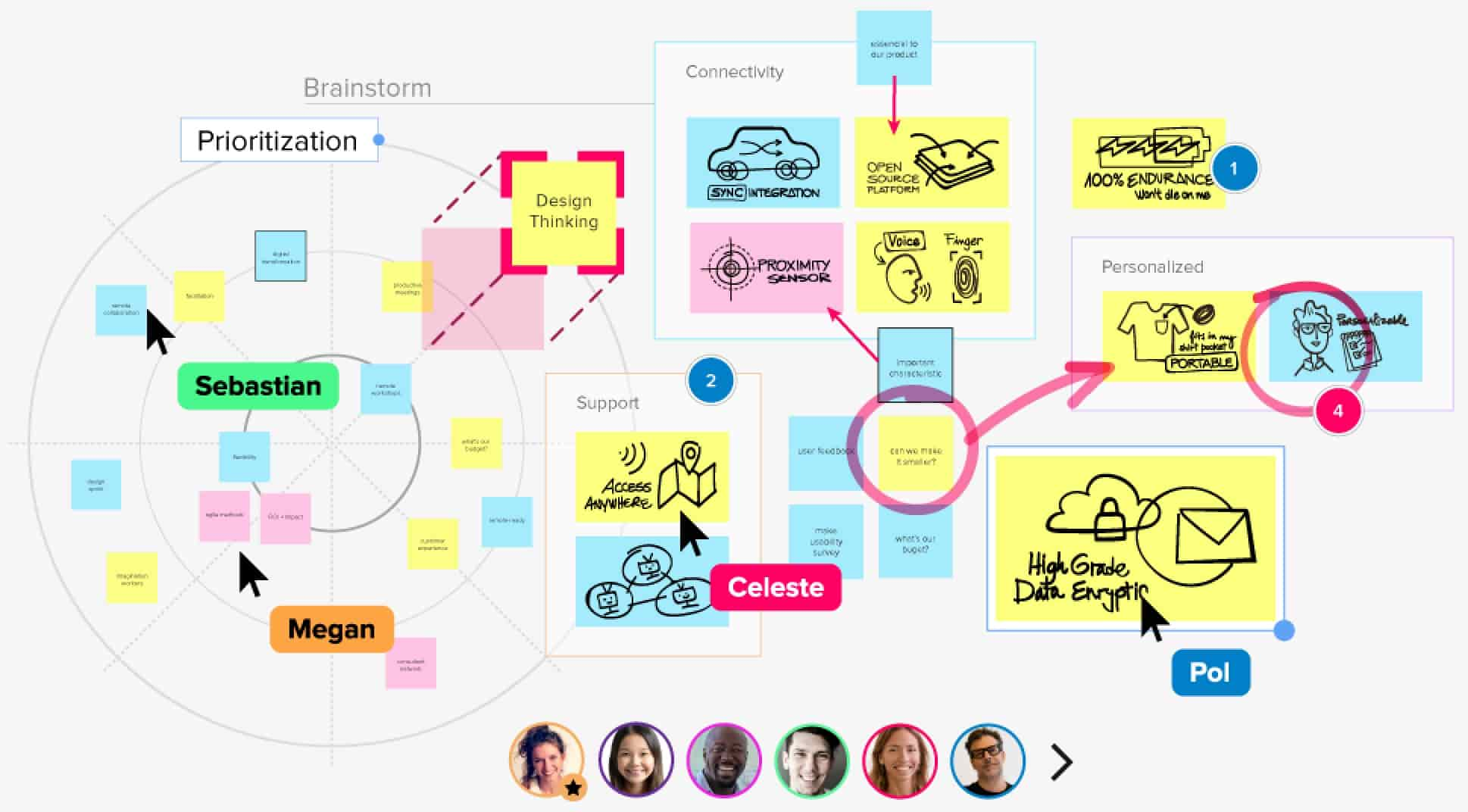 Price: Starts at $12 per user per month. Visit the Mural pricing page for details.
Free trial? Yes. Get started.
Notable features:
Templates for multiple brainstorm and meeting types
Comprehensive integrations
Robust security infrastructure
The best brainstorms come along with tons of visual cues: waving hands, white-board sketches, and lots of sticky notes. How can remote teams have exciting, collaborative brainstorms when they can't be in the same room?
Mural provides a solution to the remote brainstorming problem. This platform features a digital whiteboard teammates can view and update from any location, making remote brainstorms just as creative and collaborative as in-person ones.
What users say about Mural:
"We needed more than a digital whiteboard. MURAL provided a structured way to keep the conversation going. Ultimately, we were able to generate, explore, and engage with more ideas than would otherwise be possible in a short period of time."
Bonus: Online whiteboard platforms like Miro are a great way to create centralized hubs of information and keep everyone on the team in the loop.
---
"Unify engineers and designers"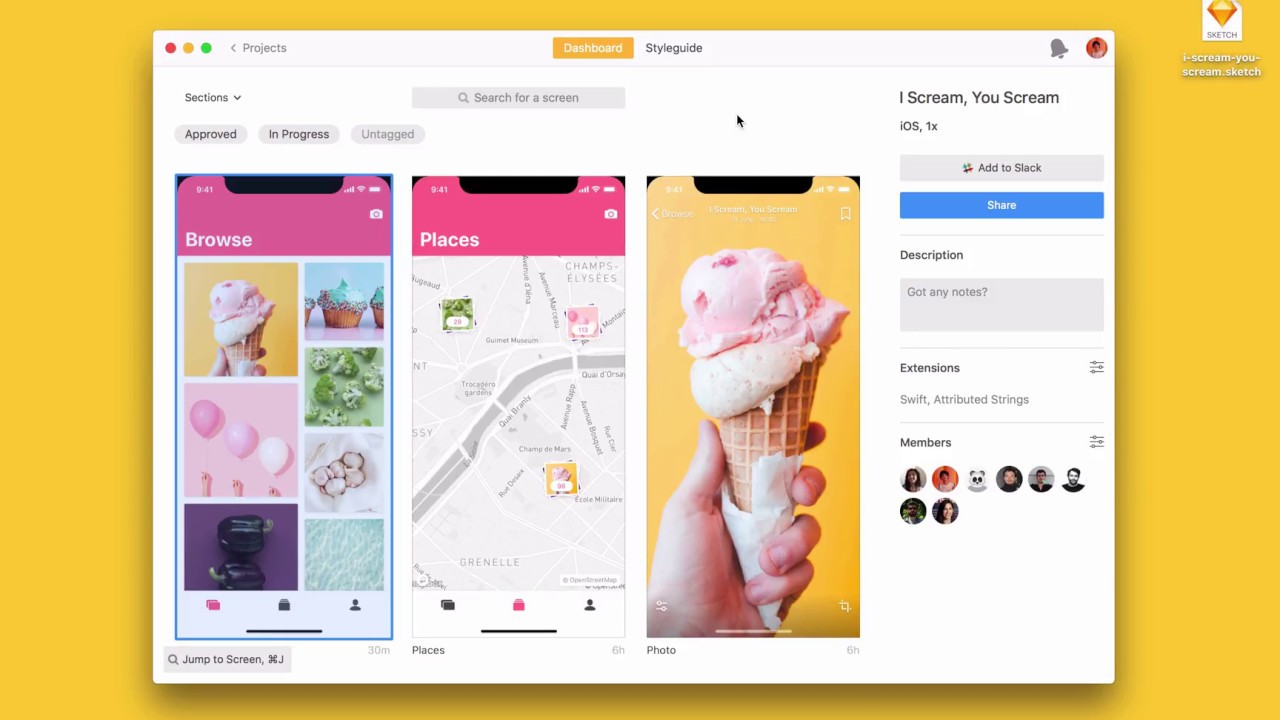 Price: Starts at $17 per month. Visit the Zeplin pricing page for details.
Free trial? Yes. Get started.
Notable features:
Digital styleguide
One-click exports
Sophisticated codebase
Zeplin keeps teams of designers and engineers in the loop. The online platform makes it easy for everyone to see all the latest resources. Plus, there's even a digital styleguide feature that makes it easy to incorporate a standard set of design rules across multiple projects.
What users say about Zeplin:
"I absolutely love how everyone is on the same page for layout, sizing, and colors—it saves me so much time, it's crazy."
---
"Save and access team knowledge"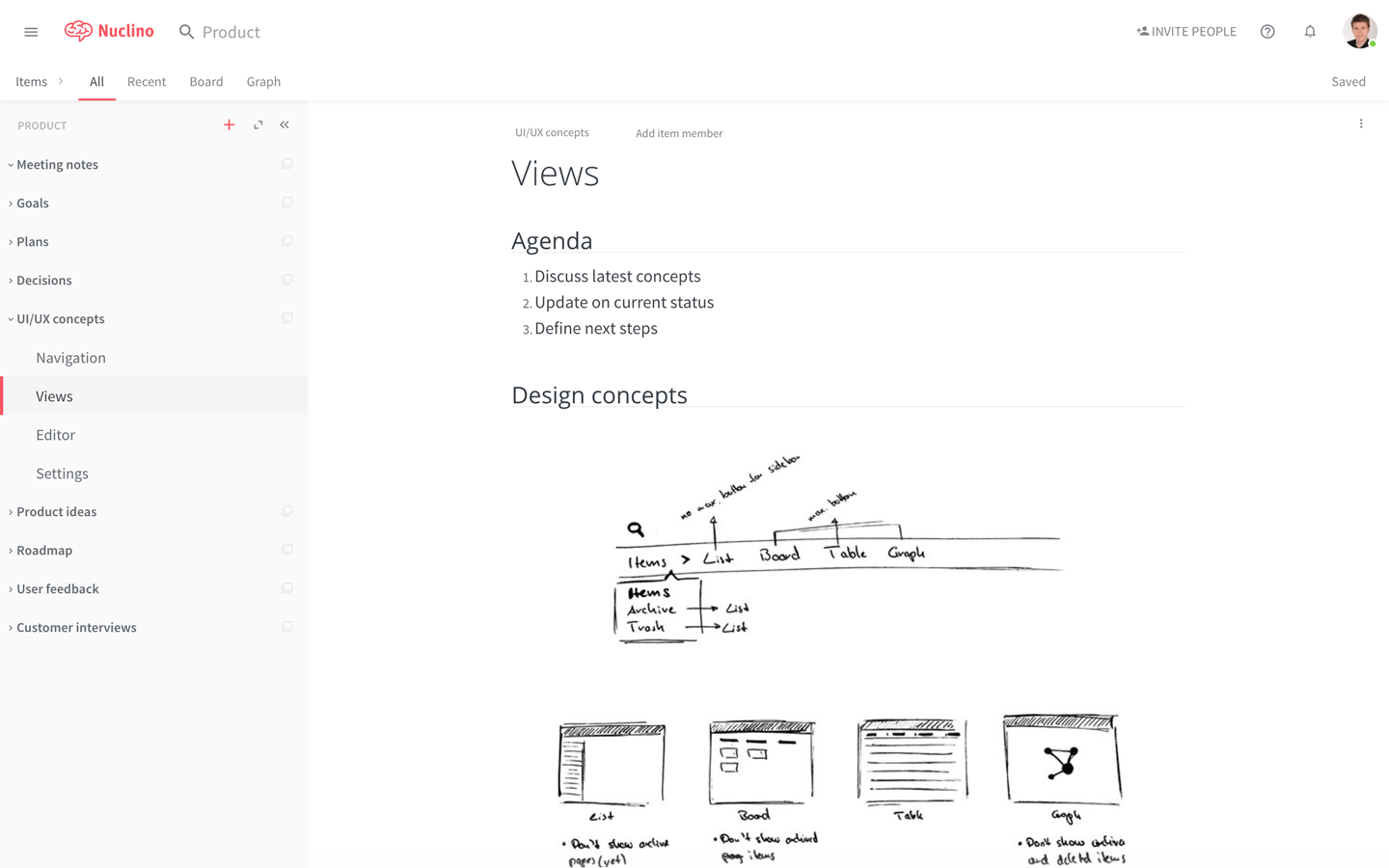 Price: Starts at $5 per user per month. Visit the Nuclino pricing page for details.
Free trial? Yes. Get started. (Free basic plan also available.)
Notable features:
Quick search for easy document scanning
Instant updates
Visual work options
Nuclino calls itself a "collective brain" because it distributes knowledge across your team as though you truly do share a collective brain. This collaborative wiki provides an online home base for documents, notes, and other sources of valuable information.
What users say about Nuclino:
"So @nuclinoHQ looks amazing. Such a smart approach to collaboration . . . "
---
"Find your projects in one place"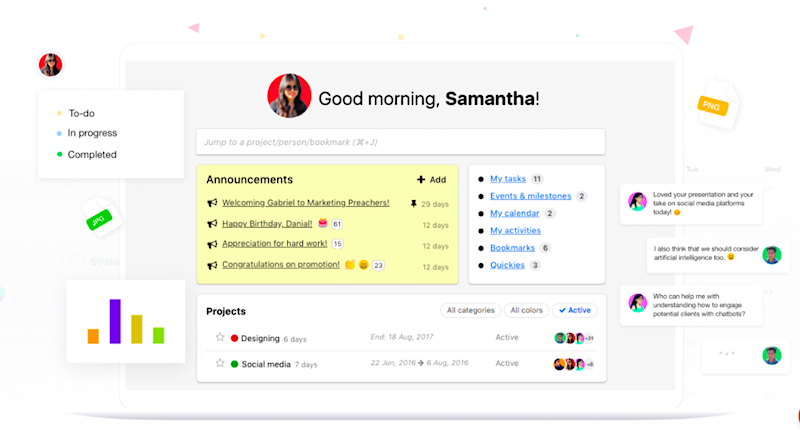 As a leading team collaboration software, ProofHub merges your remote teams, tasks, projects and communications to one easy-to-navigate place. With more and more teams relying on remote work activities, this tool can help them feel connected regardless of proximity.
Notable features:
What users say about ProofHub:
"ProofHub has helped skyrocket my team's productivity. We are spending more time doing things than discussing them. As everyone gets a clear view of their tasks, and their deadlines, they can plan and manage their work without any difficulties."
---
Remote Work Software: Team Communication
Team communication software is usually a platform or program that helps individuals and groups connect. Available software offerings facilitate these communications in a variety of formats, from virtual phone systems to online platforms.
"Keep remote teams reliably connected"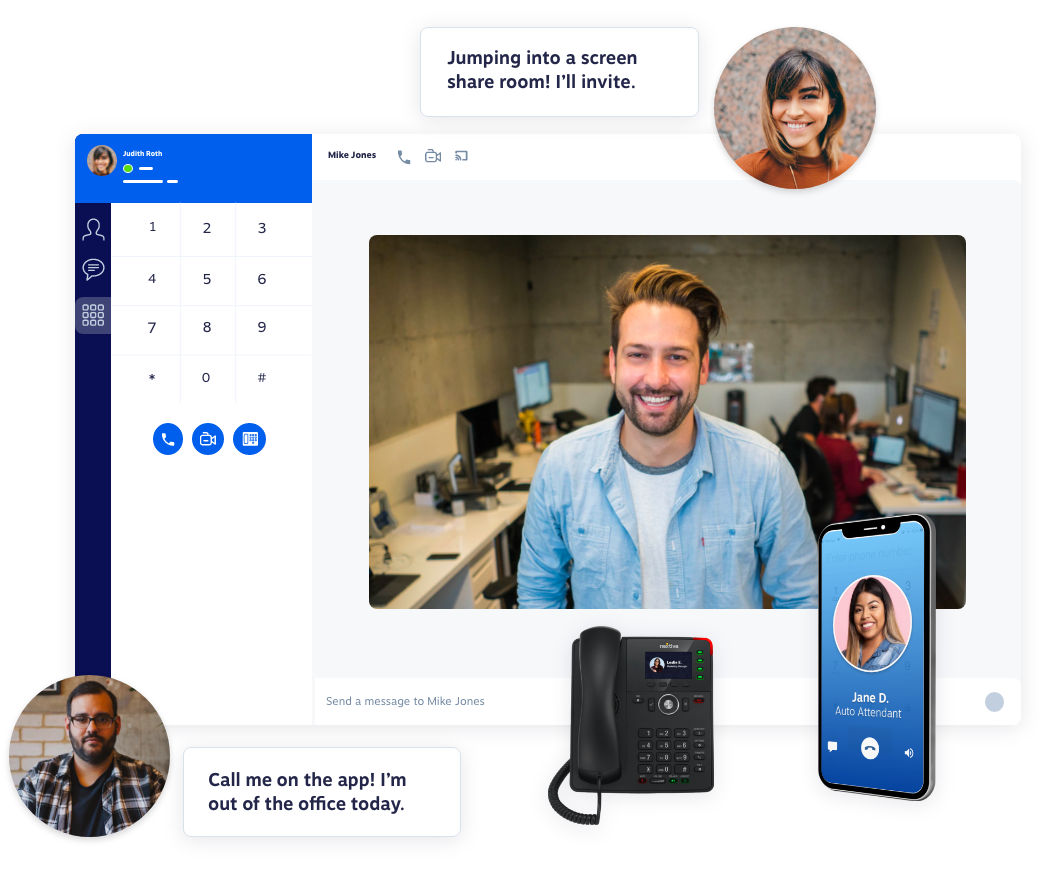 Price: Starts at $20 per user per month. Visit the Nextiva pricing page for details.
Free trial? Yes. Get started.
Notable features:
Supports up to 250 participants (special license required)
Easy-access moderator menu
Call-to-invite feature
Nextiva provides remote employees with all the foundational tools they need to connect. Using just one robust online platform (and one service provider), you can deliver and manage reliable phone service to employees in multiple locations.
Perfectly designed for the modern distributed workforce, Nextiva's Voice over Internet Protocol (VoIP) technology allows people to make clear calls from any location using a computer or a phone.
What users say about Nextiva:
"Nextiva is top-notch. Since starting to work with them, I've encountered legitimately some of the best customer service in any realm. It's outstanding."
---
"Enjoy employee scheduling and communication in one tool"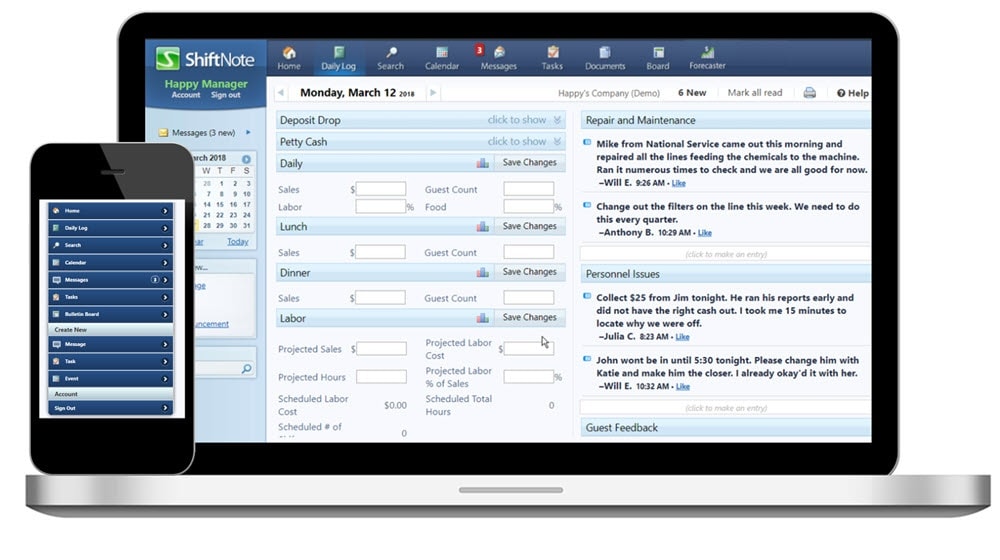 Price: Starts at $34.95 per month. Visit the Shiftnote pricing page for details.
Free trial? Yes. Get started.
Notable features:
One-touch email and text alerts for employees
Interactive calendar and shift swaps
Performance reports and tracking
Shiftnote is an employee scheduling and communication software that works perfectly for remote teams. Create employee schedules, communicate with employees, and manage schedules and workflows all in one convenient application. The added transparency will boost communication and help your remote team stay productive and focused during the week.
Shiftnote helps managers save time on every part of the management process.
What users say about Shiftnote:
"ShiftNote has allowed us to scale our business more easily knowing that all shifts would be covered. Before ShiftNote, we manually recorded dropped shifts and had to communicate with each employee individually. Now, everyone who is available receives a text message automatically and shifts are often picked up within minutes of being dropped. ShiftNote does an incredible job helping us manage more than 100 employees. Without it we would not have been able to maintain our business' growth."
---
"Visually share notes and ideas"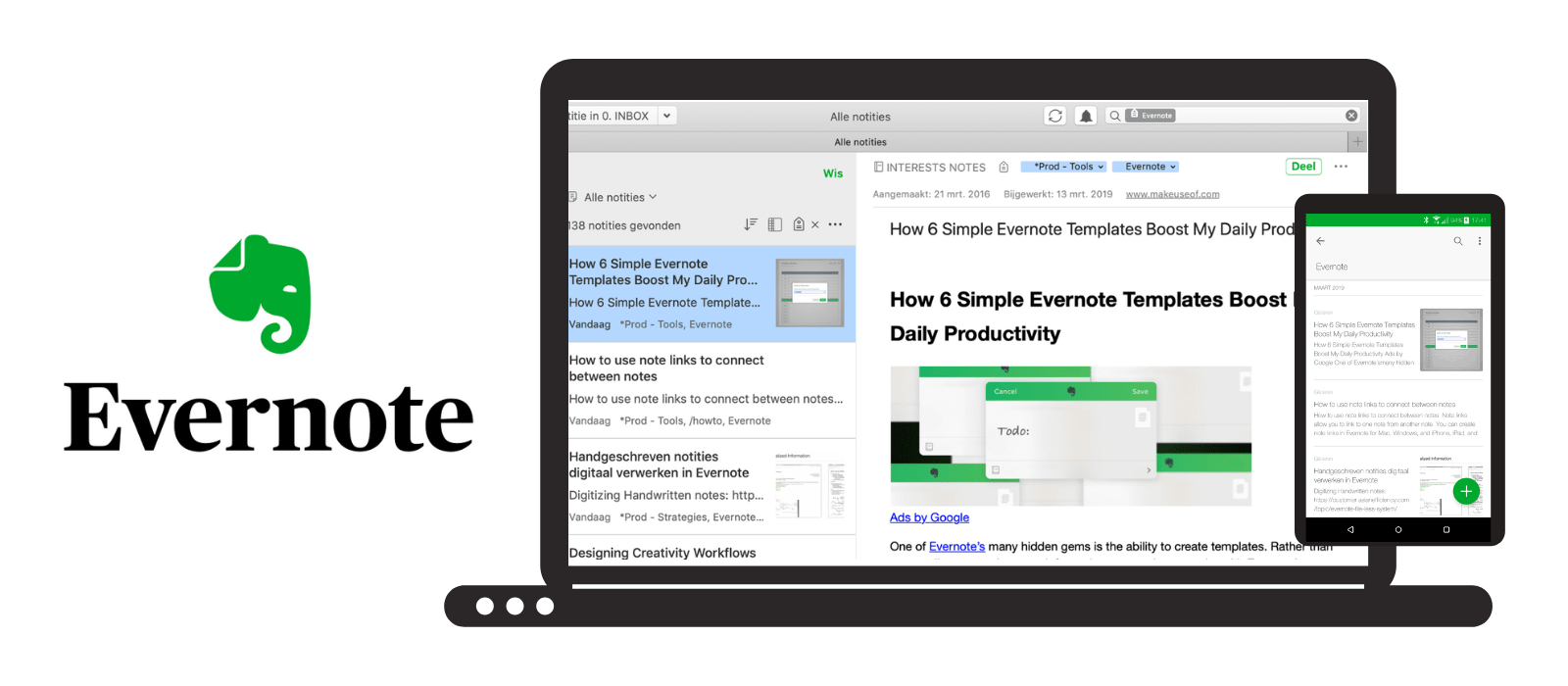 Price: Free basic plan. Visit the Evernote plan page for details.
Free trial? Yes. Get started.
Notable features:
Physical document scanning
Note-taking templates for consistency
Save and incorporate clips from the web
Evernote helps teams better communicate their notes, ideas, plans, hopes, dreams—anything. Collaborative spaces make sure everyone is in sync on current ideas and notes without all the emails and messages.
Evernote gives teams a visual way to communicate with one another, eliminating unnecessary clarifications or misunderstandings.
What users say about Evernote:
"Time is money. We are extremely lean, we need to be efficient and work quickly. We pride ourselves on being organized, and Evernote allows us to live that philosophy."
---
"All you need to provide a unique customer experience"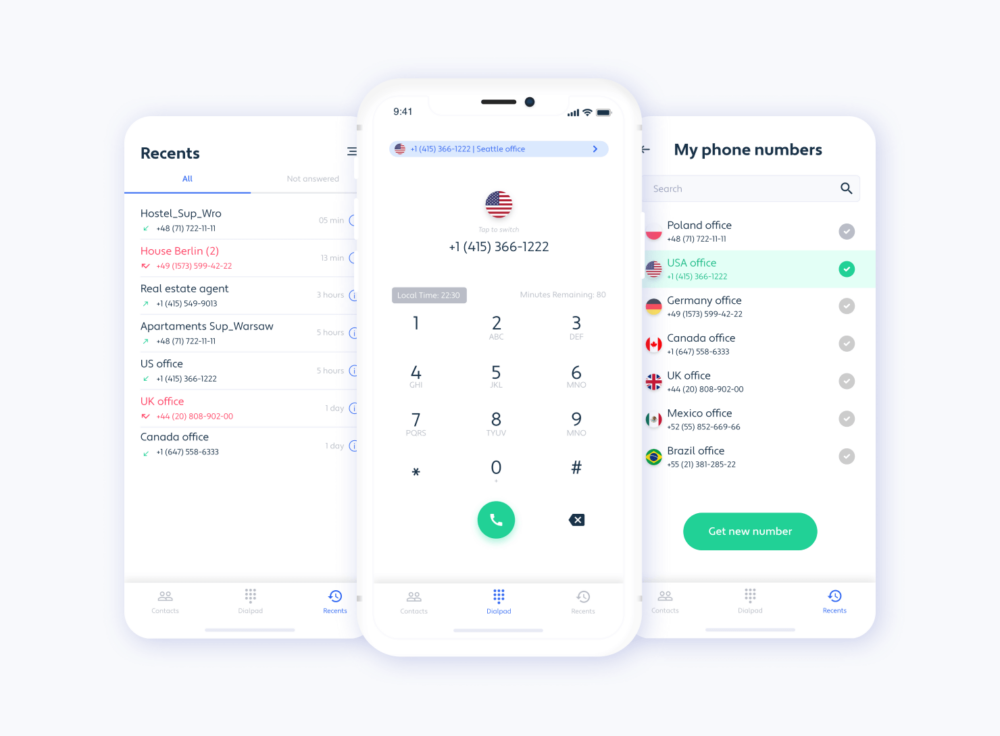 Price: Free basic plan. For this one and other plans, please choose a plan here.
Free trial? Sure, try it now!
Notable features:
Web Call
Customer details before a call
Two-way SMS communication
Channels is the first data-driven phone system. All necessary customer details are displayed before a call with necessary information including the customer's name and their purchase history. A phone system that lets your customers call you directly from your website, completely for free, Channels allows you to invest more time into the client experience.
What users say about Channels:
"Channels is a no-brainer for customer service. It is as quick to implement as it could be and after the switch, we've had less confusion with how to service our customers and keep them happy. Also, amazing customer support!"
---
"Foster organic, project-based communication"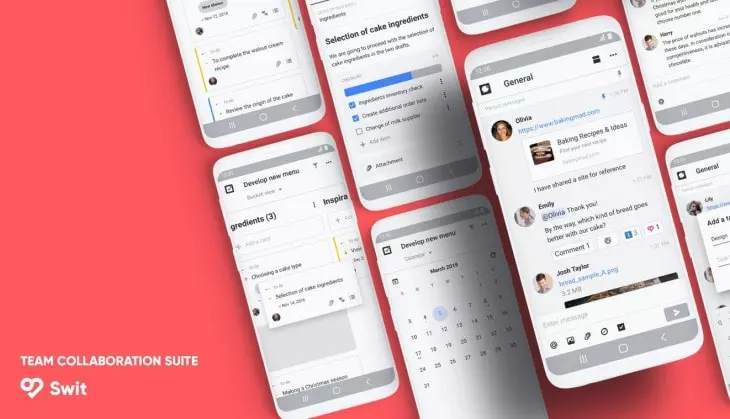 Price: Free basic plan. Visit the Swit plan page for details.
Free trial? Yes. Get started.
Notable features:
Start-to-finish roadmap views
Flexible work views
Chat feature to streamline all communication
Swit helps everyone communicate and stay focused on the important things while completing projects from start to finish.
Manage tasks, communicate with relevant stakeholders, and keep everything on track with timeline views.
What users say about Swit:
"With Swit, I am not only able to work with each and every team but easily communicate and share ideas across different teams."
---
"Visualize your email activity"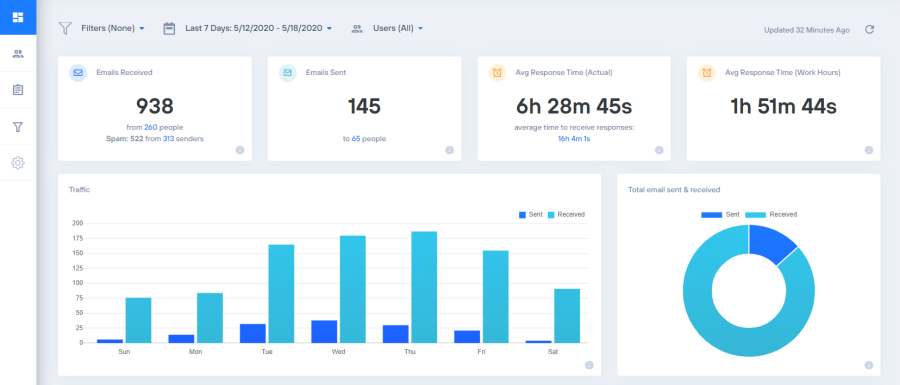 Price: $15 per month / user. Bulk discounts available for 5+ users.
Free trial? Yes. Get started.
Notable features:
Daily email activity reports
Export data to CSV
Calculates your average email response time
EmailAnalytics gives remote team managers the ability to track and monitor employee inbox activity. With so much communication occurring over email, this is a critical tool to keep tabs on employee productivity, enabling managers to rebalance workloads, identify top performers, and optimize productivity.
Among the most useful features is its calculation of average email response time, which is a critical KPI for sales and customer service teams.
What users say about EmailAnalytics:
"I love the tool. I use it to look at patterns in my behavior and those of others. People on the team find it very helpful in terms of figuring out their timesheets. We were talking earlier this month about making cuts to non-essential services because of COVID and EmailAnalytics was one thing we decided to keep."
---
Remote Work Software: Employee Engagement
Remote employee engagement software is a tool companies use to make work-from-home employees feel like they're working together. These programs help companies try out remote employee engagement initiatives and track their success.
"Create engaging onboarding, training, and employee engagement experiences for this new age of remote and hybrid work"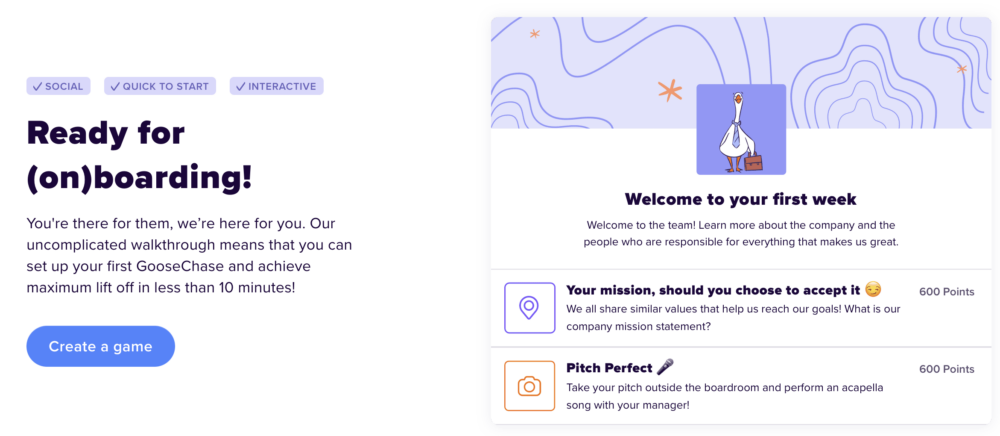 Price: Request information on the GooseChase pricing page.
Free trial? Yes. Get started.
Notable features:
Games are customizable with Q&A, photo/video, and GPS missions
Can be branded with a custom splash screen, images, and external links
Unlimited number of missions per game
Real-time activity feed
In-app organizer-to-player messaging
GooseChase is a virtual platform for building real-world scavenger hunts that will bring team spirit to life, a fun way to support your workplace objectives (whether it be onboarding, ongoing training, or team culture) by breaking them down into approachable – and fun! – challenges. The fire of friendly competition will keep your colleagues engaged and help build culture and camaraderie.
What users say about GooseChase:
"I reached out to GooseChase initially because I wanted to host a virtual anniversary activity for my team. Since then, we've used it for so many socials and even onboarding and annual evaluations. It's become a tool integrated into how I think about all of our HR activities – we've been able to use it in so many ways! It was easy for the team to learn and use, and the photo and video evidence of the fun we've had over the last year is priceless."
---
"Build a remote culture of high-performance"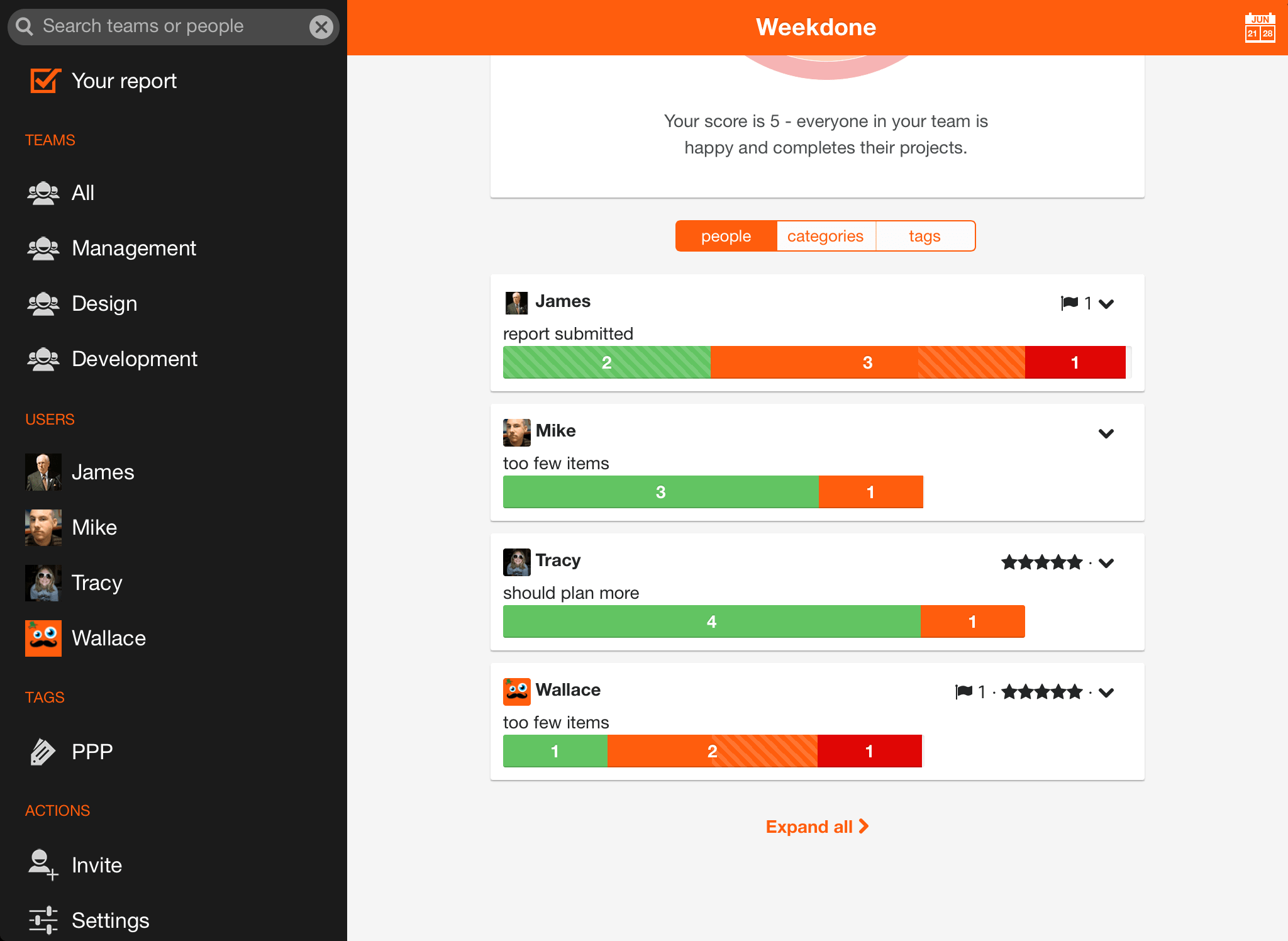 Price: Starts at $9 per user per month. Visit the Weekdone pricing page for details.
Free trial? Yes. Get started.
Notable features:
Long-term goal visibility
In-platform praise and recognition
Measure team satisfaction
Weekdone is a leading company culture software that helps remote teams bond while also being incredibly productive. The platform has settings that help remote employees and managers offer organic praise and recognition.
The peer recognition keeps morale on track while manager praise builds a culture of high-performance.
What users say about Weekdone:
"The clear benefit of Weekdone is that we are more aligned, structured, and people feel more connected."
---
"The go-to solution for people that strive to go beyond"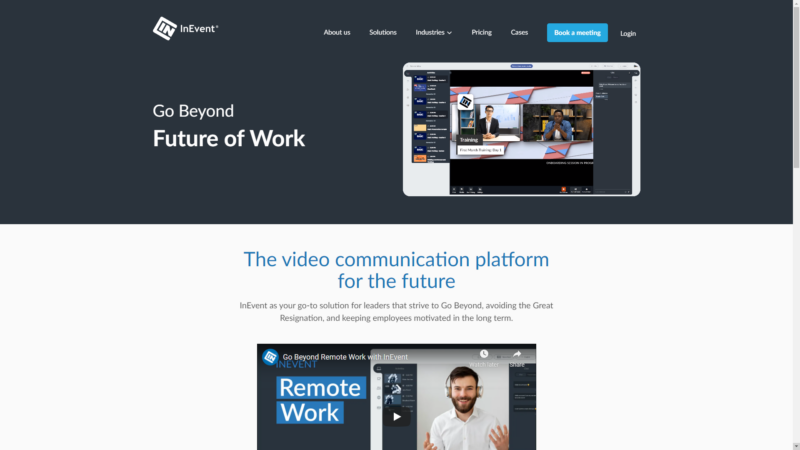 Price: Starting at $2990 per year, but you can check the plans here.
Free trial? Yes, explore your free trial.
Notable features:
1:1 video networking
Virtual lobby with an integrated agenda, useful links, sponsor and group rooms, and on-demand sessions
Attendees tracking and journey
Thanks to the platform´s flexibility and customizable functionalities, you can build a multimedia workplace environment with a permanent link to centralize every team meeting in your company.
You can create multiple rooms and activities for each department and also use our built in file repository for sharing resources and ensuring collaboration. InEvent offers an all-in-one solution for the future of work, the solution you've been waiting for.
What users say about InEvent:
"We needed a solution that could take us into the future, and the future of work feature of InEvent was perfect for that. I liked that the connection between the platform and the employees is guaranteed in every step, they made the platform really interactive, so you can see the huge difference between just giving a talk in another place or talking here and playing with every feature to assure the engagement of the remote work."
---
"Modern & efficient gifting process"

Price: Only pay for the rewards you send. Check out pricing information at WeGift.io.
Free trial? Create a free account or talk to the team to learn more.
Notable features:
Bulk ordering allows users to send gift cards in large quantities
Reward customization for sending personalized messages to recipients
An extensive reward catalog with gift cards that can be redeemed at a variety of stores and retailers
WeGift makes it easy to reward your employees and colleagues with instant delivery of thousands of different rewards from all around the world.
What users say about WeGift:
"WeGift have unlocked a world of possibilities for Vodafone and were exactly what we needed to drive new revenue"
---
"Uncover hidden strengths"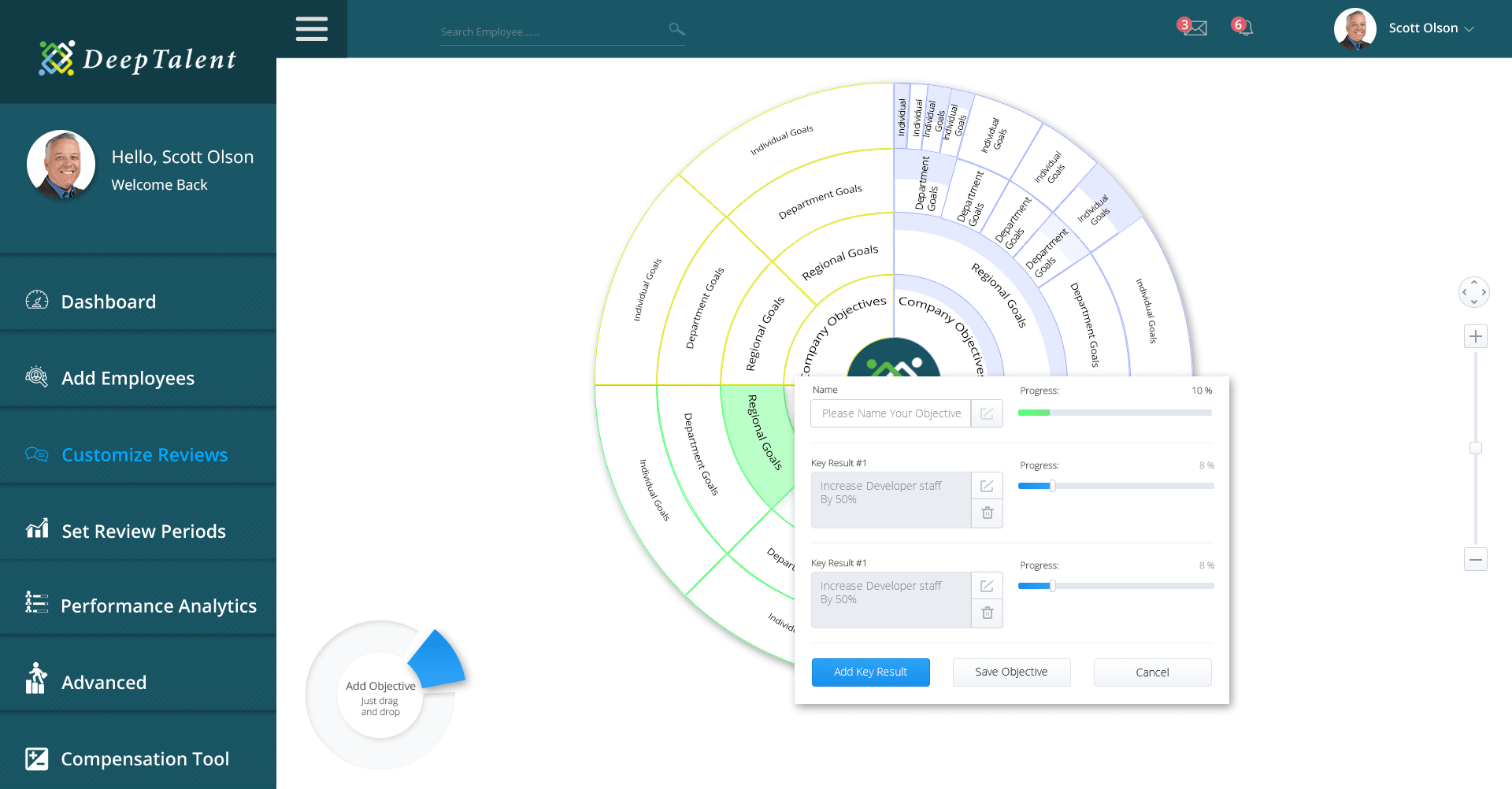 Price: Request information on the Deep Talent pricing page.
Free trial? Yes. Get started.
Notable features:
Talent mapper identifies skills
Goal-based performance tracking
Tools for giving and soliciting feedback
Build your remote culture by understanding your employees' talents and strengths. Deep Talent makes it easy. Use the platform to share goals, give performance evaluations, and detect and leverage key strengths.
---
"Take the guesswork out of remote employee engagement"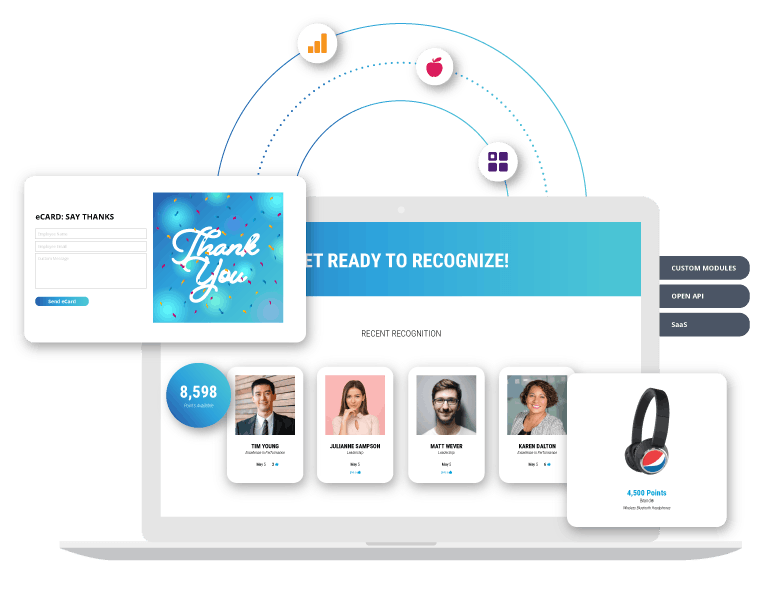 Price: Costs will depend on your budget and goals. Request a quote.
Free trial? Demo available. Get started.
Notable features:
Social wall lets employees share thought and gratitude
Deliver health and wellness tips
Convenient feedback and recognition mechanisms
Levy Recognition is known for designing events and tangible rewards for teams.
These recognition experts developed software that gives you what you need to gather an empirical understanding of remote employee engagement. You don't have to guess or hope that initiatives are working. With Levy Recognition, you can find out for sure.
Use Levy's recognition software to dole out feedback, surveys, and recognition, and then use a robust analytic backend to track success and adjust your programs.
---
"Fast forward team success"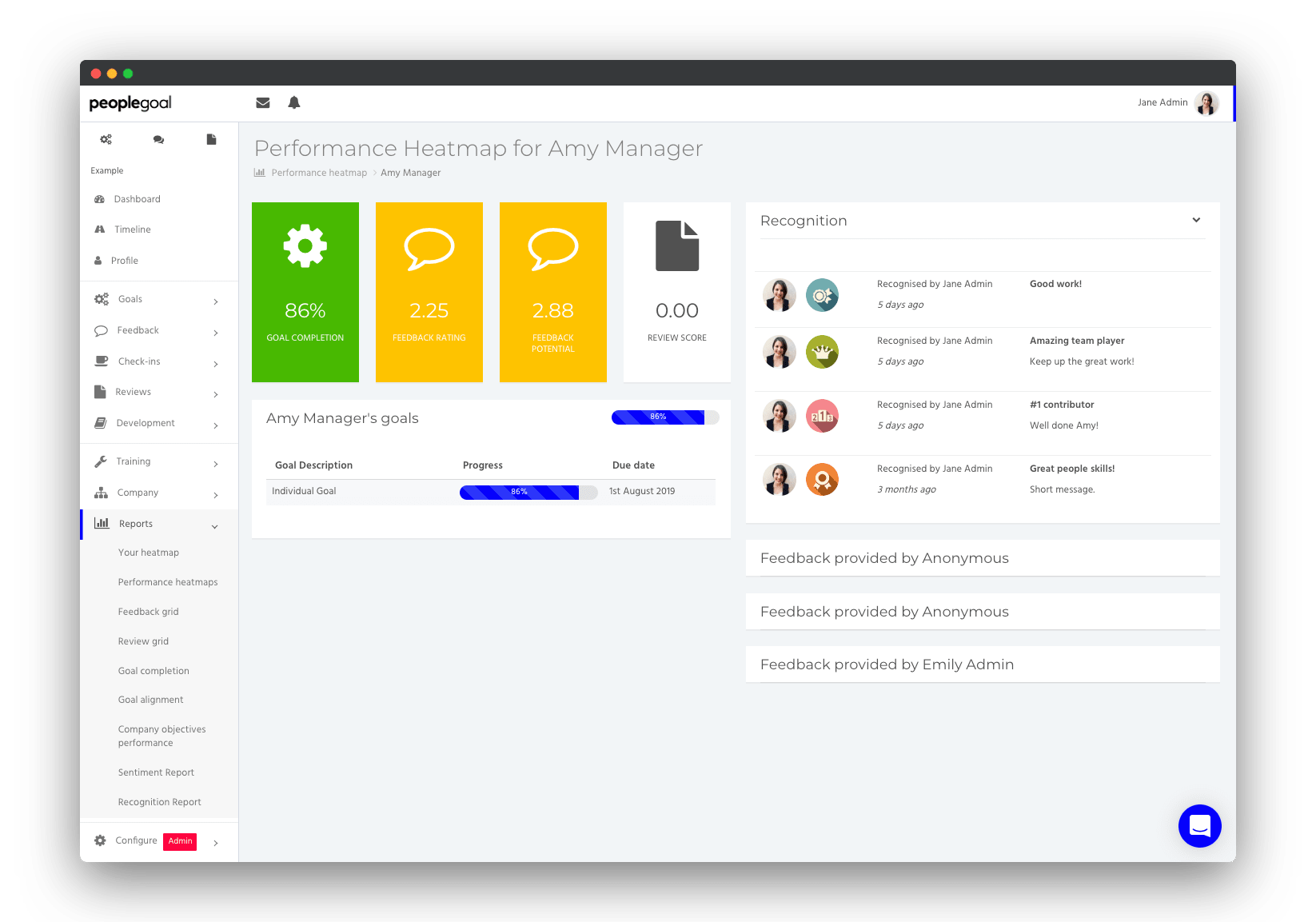 Price: Starting at $3 per user per month. Visit the PeopleGoal pricing page for details.
Free trial? Yes. Get started.
Notable features:
Engagement surveys
Engagement-level reports
Configurable company objectives
PeopleGoal helps companies keep remote employees engaged in the thriving buzz of work no matter where they are. Provide continuous feedback and get the measurement tools you need to take everyone's "pulse" from moment to moment.
With PeopleGoal, you can make sure employees stay aligned to your company goals when you can't see them every day.
What users say about PeopleGoal:
"It's made a real difference having the personalized training calls and guides, and having the responsive support team handy via chat is great for both employees and admins."
---
"Streamline remote employee engagement"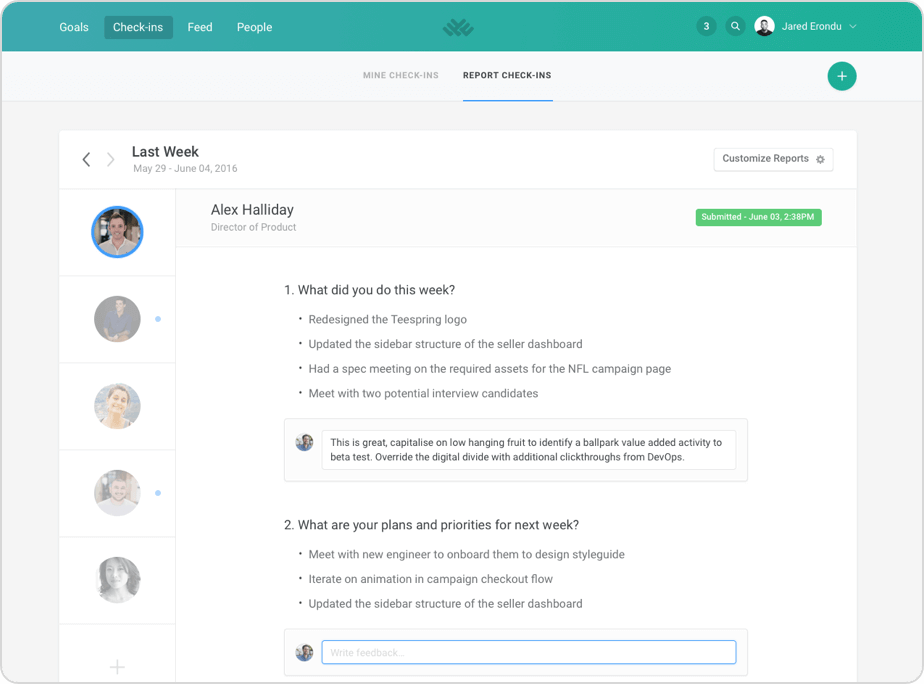 Price: Starts at $9 per user per month.Visit the Lattice pricing page for details.
Free trial? Demo available. Get started.
Notable features:
Streamlined in-platform status updates
Goal setting and tracking
Analytics and real-time insights
We all know what we need to do to keep employees engaged: have weekly one-on-one meetings, set clear goals, give continuous constructive feedback…and the list goes on. Many of these tasks favor in-person work arrangements, so they're especially challenging for remote teams to juggle.
Lattice makes it all easy. Use the app to actually do everything you know you should do to engage your remote employees.
What users say about Lattice:
"I love how Lattice allowed me the ability to review my 5 direct reports in a quick yet meaningful manner – without Lattice, we were all over the place and we all dreaded the review process. Also the weekly one on one function is AWESOME!"
---
Remote Work Software: Virtual Team Building
Virtual team building software is any software companies can leverage to cultivate remote teamwork, a goal that requires continuous attention.
Since face-to-face interactions often accelerate team bonding, companies need to use solid virtual team building strategies and also appropriate software to keep teams strong over time.
"Help teams give each other virtual high-fives"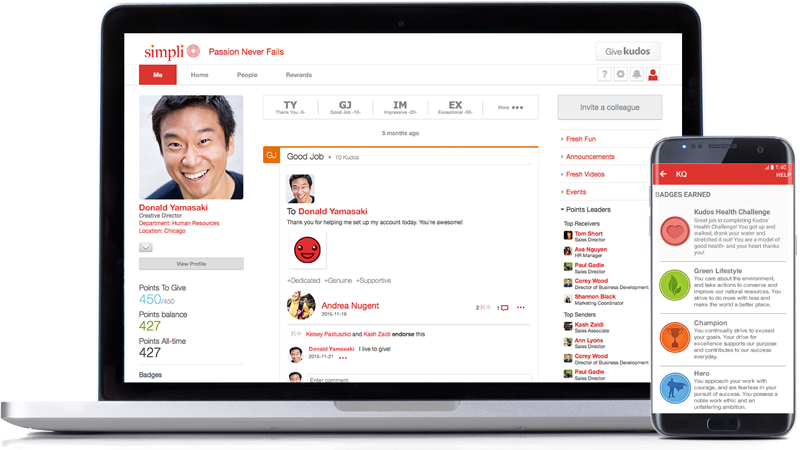 Price: Request pricing information on the Kudos plan page.
Free trial? Demo available. Get started.
Notable features:
Real-time feedback functionality
Built-in social functions for team celebrations
Point-based peer-to-peer recognition
Kudos is a employee engagement software that brings teams together through peer-to-peer recognition.
Grow feel-good team vibes by recognizing and promoting individual and group wins and celebrating birthdays and anniversaries. Remote employees can even thank each other in the app, bonding when they can't physically give each other high-fives.
What users say about Kudos:
"Our Kudos program has transformed how we recognize achievements and celebrate success at Woodie's. It has provided our colleagues with an easy to use and easy to access platform for internal recognition. Since implementing it, we have noticed a significant impact on our thanking culture. It has also provided a private social network with a family feeling and with our values at its centre."
---
"Use in-context collaboration to build virtual team cohesion"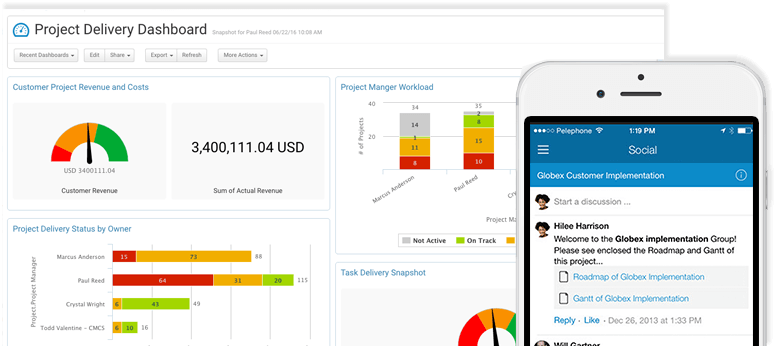 Price: Request pricing on the Clarizen pricing page.
Free trial? Yes. Get started.
Notable features:
Specially designed bots drive team engagement
Configurable user interfaces
In-context collaboration features
Clarizen changes the way teams collaborate on projects that fulfill and exceed business objectives.
The platform's in-context collaboration is especially helpful for virtual team building. Remote communication can be challenging, leading to misunderstandings and frustration. Clarizen's in-context features help teams better understand each other and work better together.
What users say about Clarizen:
"We purchased Clarizen back in 2018 and what Clarizen has given us is the opportunity to view our organization at a higher level, a viewpoint of the entire portfolio. The features and functions of Clarizen tie together different project tools like MS Project, Google Docs & Sheets, excel spreadsheets, email and other functions which were disparate before. Once we were able to cut through the noise and see what the bigger picture looked like, then we could start to focus on even bigger items like business process reengineering or the prioritization of work."
---
"Strengthen virtual teams with mentoring"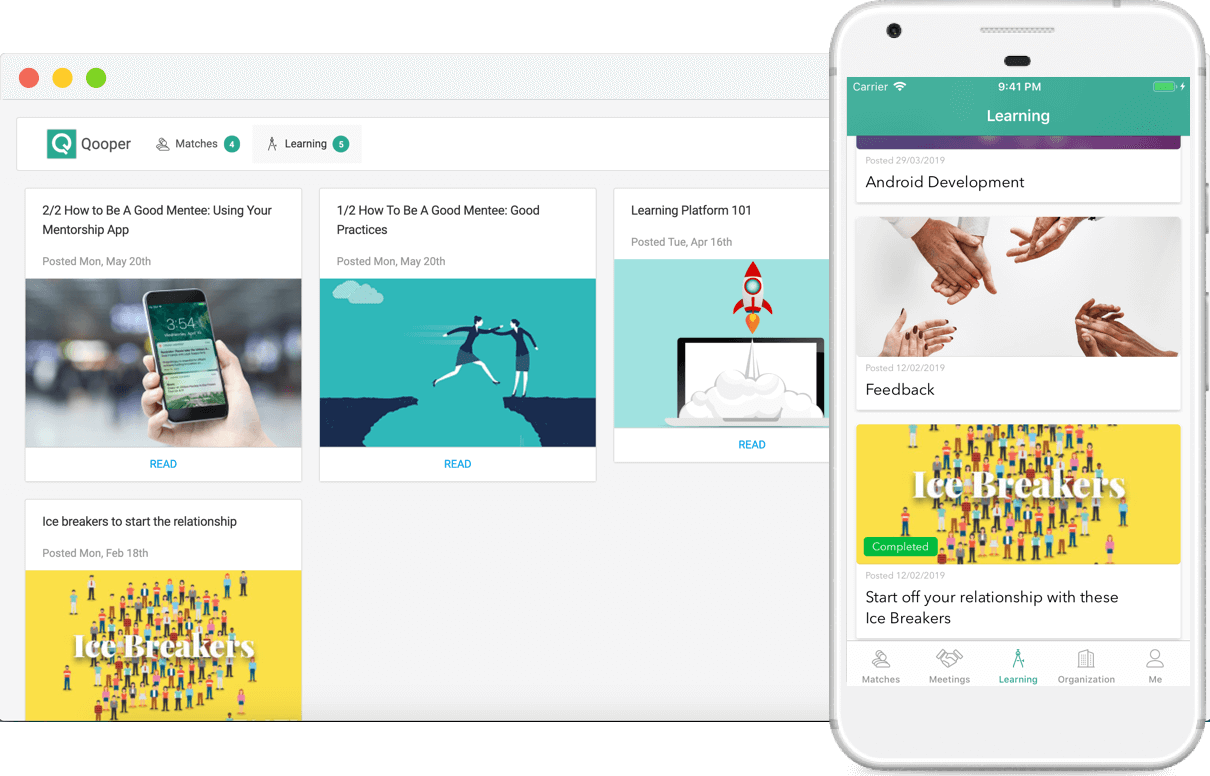 Price: Request pricing on the Qooper pricing page.
Free trial? Demo available. Get started.
Notable features:
Automate team follow-ups and check-ins
Built-in mentoring
Mechanisms for matching mentee-mentor pairs
Qooper enables companies to strengthen virtual teams with comprehensive online matching and mentoring. The platform helps employees connect with and learn from one another, building lasting team bonds and creating meaningful relationships.
The more members of your remote workforce you can get regularly and meaningfully interacting, the stronger your virtual team will be. Plus, mentorship will continue to be an important part of any company culture in the 2020s as more and more companies focus on ways to promote a positive work environment and employee retention.
What users say about Qooper:
"Qooper provides an all-encompassing experience for our program. We are able to deploy a virtual mentorship program worldwide, that encourages both mentors and mentees to participate . . ."
Conclusion
Overall, remote work softwares are designed to help you and your team achieve higher levels of collaboration and productivity.
Did we miss your favorite software for working remotely? Let us know in the comments below!
---
People Also Ask These Questions About Remote Work Software
Q: What is remote work software?
A: Remote work software is a program that makes it easy for off-site teams to communicate, collaborate, and complete work online. View this list of remote work software to find out what solutions are available.
Q: What makes a good remote work software in 2023?
Q: What is the benefit of remote work software?
A: The benefit of remote work software is having a tool to help you best manage the complexities of a remote workforce. There are a variety of platforms available to suit different work styles and work goals. Find a solution that accommodates your needs in this comprehensive remote work software list.
Q: What kinds of remote work software are available?
A: There are many kinds of remote work software available right now. Browse this list to find remote work software designed to bolster collaboration, enable communication, build culture, boost engagement, and strengthen teams.
Q: How much does remote work software cost?
A: The cost of remote work software varies according to your goals and the size of your company. You can see prices for a variety of remote work software in this list.
Q: What tools are used to manage and complete work remotely?
A: Manage and complete work remotely with special software, such as the offerings listed here. These tools deliver intuitive online interfaces that make it easy and enjoyable to work remotely and maintain team cohesion.
Q: How do you engage with your remote employees?
Q: How does remote software work?
A: Remote work software works by putting the tools for successful remote work at employees' fingertips. These tools usually involve an online interface everyone in the company can access. This online hub becomes a de facto office where employees gather, collaborate, and get work done.
Q: What tools can remote workers use to be more successful/productive?
A: Remote workers can use remote software to be more successful and productive. These tools are expertly designed to help remote workers overcome common challenges. There are many kinds of remote work software available, but nearly all of them have features to help keep projects on track and teammates in the loop.
Q: What equipment do you need to work from home?
A: To work from home, most people will need at least a computer, a phone, and a reliable internet connection. To get the best results while working from home, workers can also find a variety of remote work softwares to help them achieve key goals.
Q: Are there free remote work softwares?
A: There are free remote work software platforms that enable peer-to-peer recognition in remote teams. Browse a comprehensive list of free and paid software here.