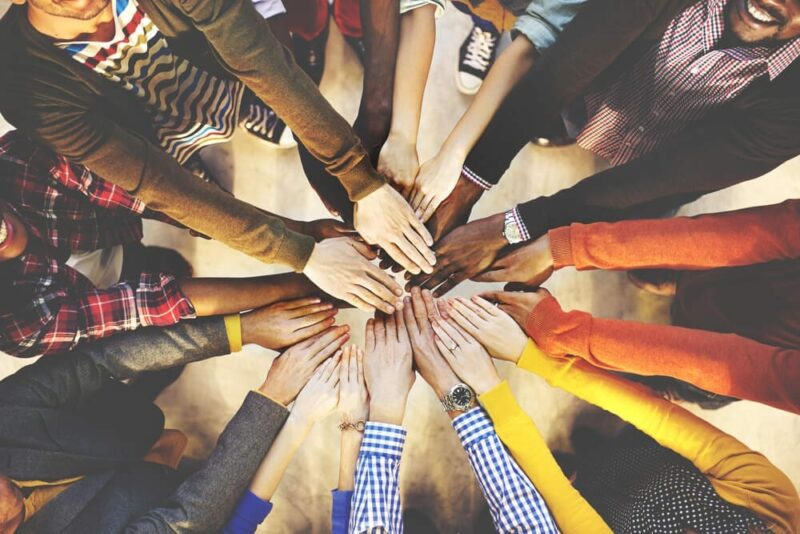 Creating high-performance teams starts with each individual, including the team leaders and management.
Cross-functional collaboration is one of the most powerful tools in team productivity, and has proven to be most valuable in creating many different types of super-effective teams.
When we think of teams, we often think of sports. The success of any team is based on each team member's strengths and contribution. And the fluidity of the plays is driven by the trust they have in every other player to know their assignment. Otherwise, you see communication breakdowns and the team performance suffers.
"The strength of the team is each individual member. The strength of each member is the team." ~Retired NBA Hall of Fame Coach Phil Jackson
Click To Tweet
Try imagining your team as a music group. You've got a guitarist, a drummer, and a lead singer. Each of them has their individual talent and their "tool," and each is a master of using that tool.
Individually, they can all create musical notes and beautiful sounds. But when you combine those talents and tools, that team collaboration creates magic. The sounds become layered and complement one another. The output is bigger and makes a different impact on the listener.
Spot-on team collaboration has won Phil Jackson 11 NBA Championships and a slew of coaching awards. Successful collaboration has also scored Jay-Z and Beyonce a collective 51 Grammys, 3 children, and a combined net worth of $1.8 billion.
Can you imagine what improving workplace collaboration within your teams could do?
Stop imagining and start acting.
Want to become a better professional in just 5 minutes?
What Are The Benefits Of Team Collaboration?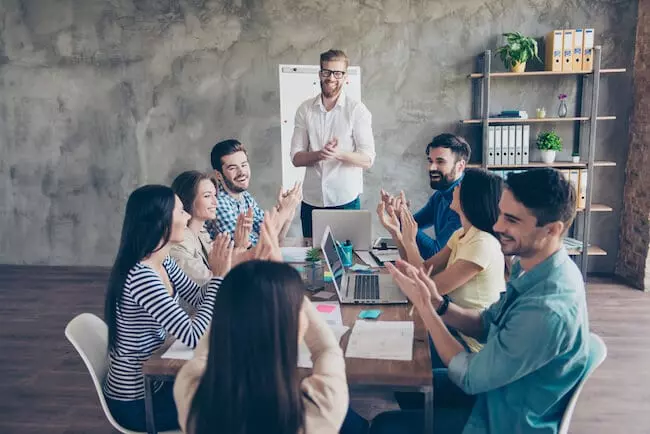 Team collaboration occurs when individuals with varying strengths combine their resources and maximize those strengths to achieve their intended goals. Some benefits of highly collaborative teams are:
➜ Performance Commitment – One study shows that employees are 64% more committed to fulfilling their responsibilities when working on team projects versus their responsibilities.
➜ Skill Development – Each team member brings muscle to the table. Collaborating with colleagues with differing strengths allows everyone to further develop their skillset.
➜ #Oneteam – Team communication breakdowns are less likely to show up in highly collaborative work teams. Sharing information is imperative when working in teams and this file-sharing can actually build relationships and bring your employees closer together.
➜ Boosts Problem-Solving – Having a reliable team around them helps employees develop decision-making and problem-solving skills by expanding their available resources and making teamwork a priority.
➜ Long-Term Perks – Working in strong, collaborative teams amplifies creativity, encourages employee engagement and performance, and ultimately, improves your retention numbers.
Tips On Improving Team Collaboration
  1  

 Send out employee surveys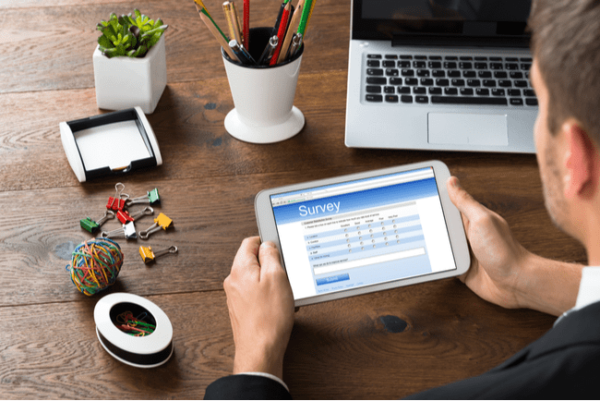 Employee surveys are a perfect way to establish benchmarks in your organizational alignment. They also highlight common interests, limitations, and pain points among your workforce. When you collect information from the masses, you can make effective changes that keep the work family happy.
Why this idea encourages team collaboration: Employee surveys open the lines of communication. They allow employees to express their concerns and give your Management team the insight they need to make positive adjustments.
How to implement: Once you determine what kind of information you want to collect from your team, using an online survey tool like Motivosity can help gather and manage the responses on time.
  2 

 Build a culture of appreciation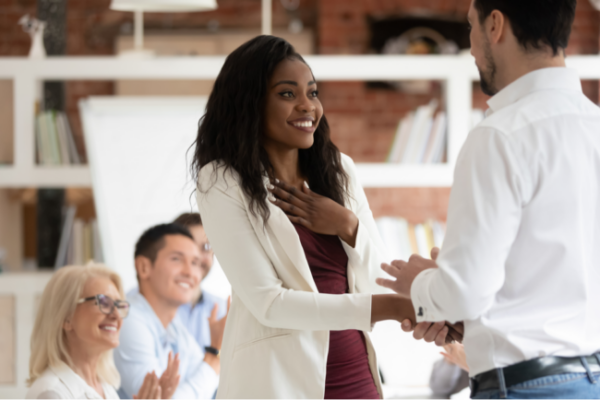 Gratitude is an invaluable currency in your company culture. And when the exchange of currency is high, so are your engagement and retention rates. Acknowledging the strengths and accomplishments of others on the team may just make your organization a pretty great place to work, and word will spread.
Why this idea encourages team collaboration: Exchanging nods, emails, and shout-outs lets employees know they're valued and creates opportunities for deeper engagement. These gestures encourage a cycle of appreciation, which draws employees closer, and allows for organic collaboration.
How to implement: A recognition platform can be used by everyone on your team to foster peer-to-peer recognition. From the smallest favor to the biggest goal, every "thanks" is more than just a word. You can explore some top-rated platforms here:
  3 

 Develop your people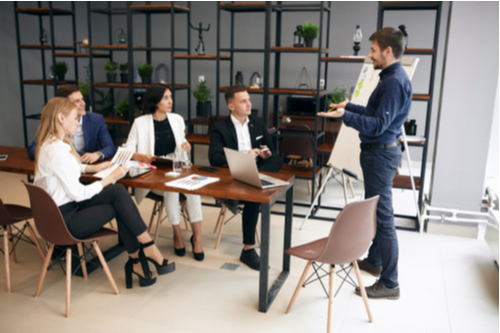 If you don't support your employees' goals and professional aspirations, they'll find an employer that will. 94% of employees claim they'd stay longer at a job if the organization invested in their development. Why not help employees reach their goals and succeed within your organization?
Why this idea encourages team collaboration: No one wants to show up every day to a dead-end job at a company that doesn't see their potential. Your investment in them magnifies their commitment to their job and to the organization.
How to implement: Partnering with a development platform like Empuls creates a clear path for employees' internal growth, and gives you a ton of tracking tools to ensure you're supporting their plans.
  4 

 Develop systems for cross-functional collaboration & communication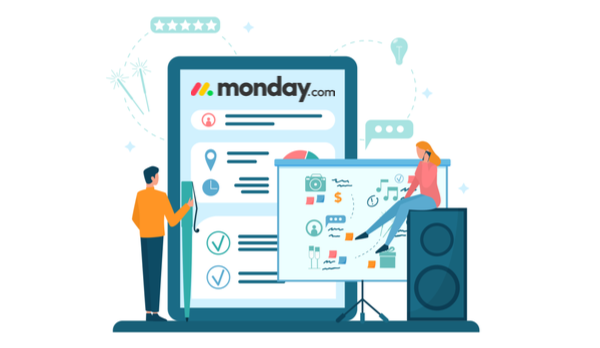 Knowing who does what is a vital element of effective collaboration. Having systems in place so your employees have easy access to their resources removes the silos and creates a clear path for successful collaboration. Defined workflows and responsibilities make it so convenient to connect with the right people within the organization.
Why this idea encourages team collaboration: Improving the efficacy of your systems increases productivity, streamlines processes, and supports engagement across the organization.
How to implement: monday.com covers your entire employee roster under one collaborative "roof." Bring clarity to your company's vision and mission by keeping the whole team in alignment.
  5 

 Celebrate employee milestones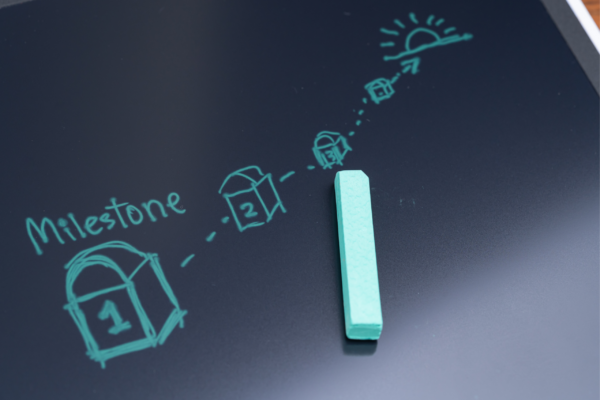 Milestones come in many shapes and sizes, both personal and professional. From birthdays and nuptials, to new hires and decade-long work anniversaries, milestones are important moments to acknowledge in your employees' lives.
Why this idea encourages team collaboration: Milestones matter! Celebrating your employees' personal lives and career wins shows them you care about all of their successes, not just the ones that come out of their workspace.
How to implement: Celebrate your employees' big moments with a personal touch. No matter the milestone, Caroo offers a carefully curated gift box, personalized for any occasion.
  6 

 Set up a rewards program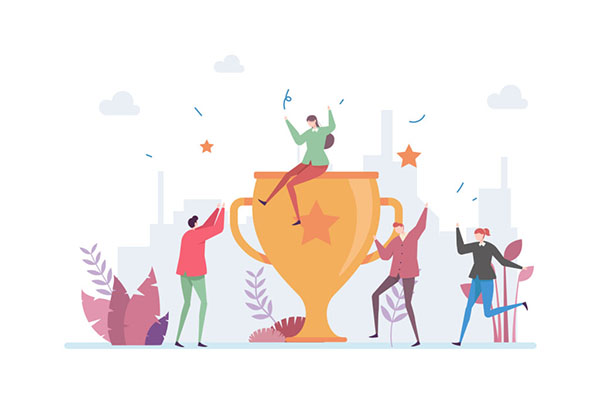 Employee recognition and rewards programs are a must-have in today's corporate culture. These can come in the form of company-wide praise, gift cards for merchandise, non-monetary incentives, and many other perks. Give employees the recognition they so greatly deserve.
Why this idea encourages team collaboration: Having a robust rewards program in place shows employees that you notice and appreciate the hard work they put in. In turn, these rewards motivate and encourage employees to push beyond their limitations and raise the bar on their goals.
How to implement: An employee rewards platform makes it easy with automation and seamless integrations. These tools offer an entire menu of service awards, incentives, and recognition rewards, with a massive selection of merchants to choose from.
  7 

 Bring employees into the recruiting process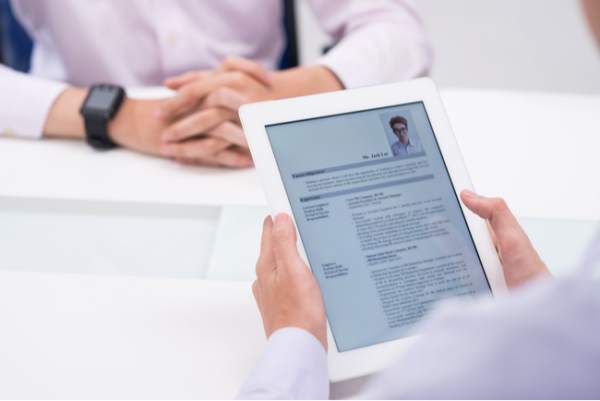 Looking good on paper doesn't mean an applicant is a good fit for the team. Narrow down the pool of qualified candidates, then bring your employees in for a team interview. Give them a little input into which newbie they'll be training.
Why this idea encourages team collaboration: Your existing employees have to work with these new hires, no matter who you choose. Giving them a voice regarding who they feel fits best keeps the team dynamic strong.
How to implement: Bringing in a recruiting service can save you a lot of time thumbing through stacks of resumes or sorting through a ton of emails and LinkedIn profiles. VidCruiter can handle each phase of your hiring process, including booking a group interview.
  8 

 Use a digital whiteboard for real-time collaboration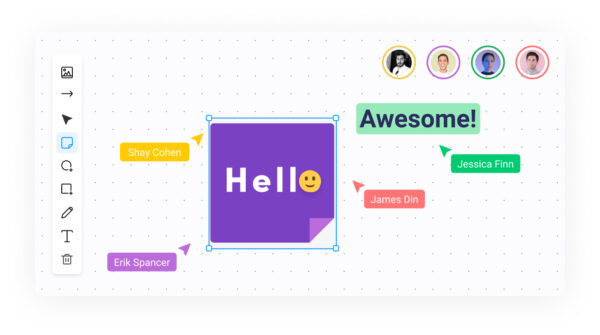 Whiteboards have quickly become a key component of effective corporate communications. This tool allows the entire team to collaborate in real-time, and eliminates any lag or misunderstandings that can hinder employees' creativity.
Why this idea encourages team collaboration: When everyone has access to the same information, in real-time, stored in one central location, there's little room for miscommunications.
How to implement: Using a project management tool can provide whiteboards and all the collaborative work essentials your employees need to maximize their brainstorming sessions.
  9 

 Incentivize employees through gamification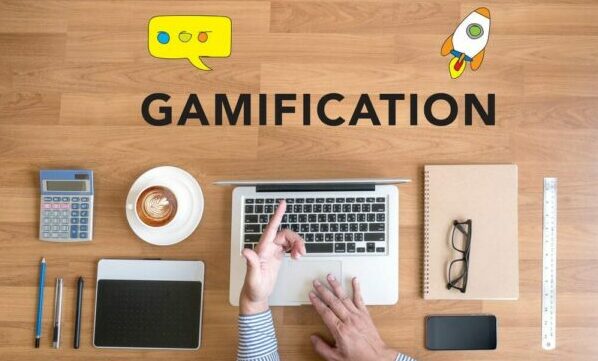 Gaming incentives are a super fun way to get your employees working together towards common goals. Fun strategies for hitting organizational goals like KPIs and profitability targets give employees added motivation and test their problem-solving skills.
Why this idea encourages team collaboration: Gaming incentives create a mutually beneficial and motivating environment, where everyone wins in the end.
How to implement: Launching initiatives like safety and cost-savings competitions, creativity challenges, and charity fundraising events spurs healthy competition within your teams, and gets their collaborative juices flowing.
  10 

 Foster an environment that allows for dissenting opinions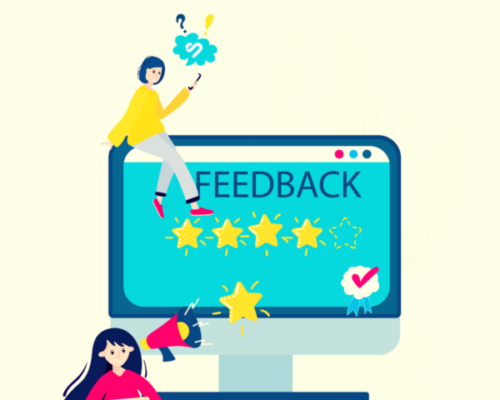 Some of the best ideas, products, and strategies have been forged from diverse, sometimes even unpopular opinions. Encouraging open dialogue on everything from the coffee in the break area to management's performance creates a cycle of authentic engagement. Giving employees a voice and the ability to genuinely impact their work environment improves the culture and supports open communication across the board.
Why this idea encourages team collaboration: Remember that you have a roster full of individuals on the payroll. Fostering a culture where it's safe for employees to have an opinion builds trust within your workforce and allows employees to be comfortable showing up as themselves.
How to implement: Soliciting feedback to capture all the opinions is a great place to start. These can be collected in employee surveys, feedback forums, or face-to-face meetings. Just be sure to listen.
  11 

 Create team performance goals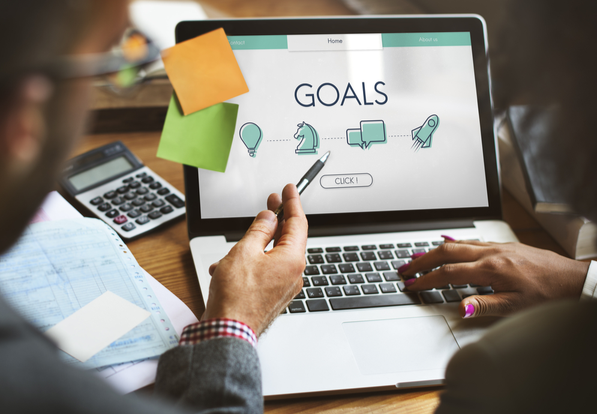 There's always accountability to themselves and their job, but this strategy adds accountability to the collective team. We've already seen the stats showing commitment levels are higher when working towards team goals, so set the bar and let them show you how they crush it.
Why this idea encourages team collaboration: Team performance goals require input and action from each member of the team, so working together is the only way to win.
How to implement: Establishing team performance goals and monitoring their progress is easy with the right tool. There are several employee engagement platforms that keep everyone aligned and informed from start to celebratory finish.
  12 

 Connect with employees on topics outside of work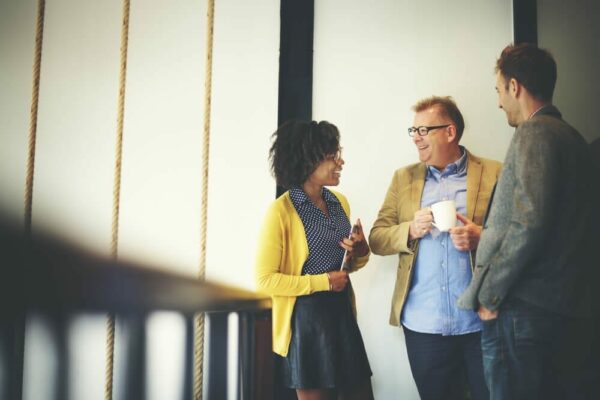 Employees do have entire lives outside of work. Talking about the families, friends, pets, and interests that populate that other dimension helps keep some balance in the workplace. And bonus – you may learn some crazy interesting things about your team members.
Why this idea encourages team collaboration: Taking an interest in how your employees spend their time after they've logged off shows you care about them as a person. Their individuality matters and learning about that side of them can be super enlightening.
How to implement: Set aside time in the weekly team meeting with an icebreaker, start a company blog where employees can contribute their stories and ideas, or launch an internal social media network. If you can't meet face-to-face because of their remote work situation, set up recurring Zoom calls and try video conferencing with employees to check-in and catch up.
  13 

 Build a sense of community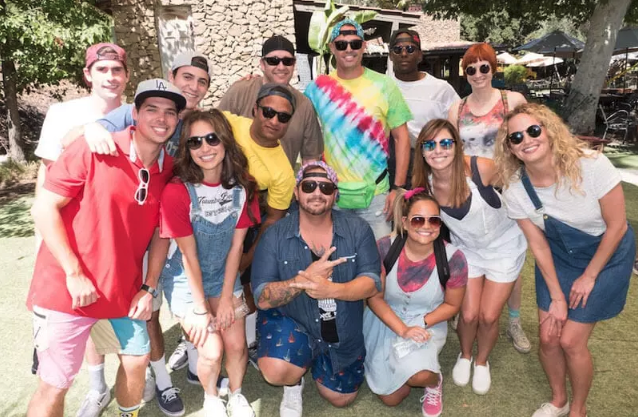 On average, one-third of our lives are spent at work. Nurturing a trusting environment with a shared sense of purpose strengthens the team dynamic and gives employees a safe space to do their best work.
Why this idea encourages team collaboration: Communities work together to support and elevate one another for the betterment of the overall community. There's a strong sense of belonging in this environment and it works the same in business.
How to implement: Have a strong onboarding process in place, schedule regular team-building events, solicit feedback (and act on it), and communicate openly.
High-Performance Team Collaboration Software Options
These team collaboration software tools are designed to bring employees together in ways that improve communication, increase productivity, and positively impact company culture. While these software options vary in their functionality, you should do your research in determining which tools fit your team.
Best team collaboration software for: Cross-functional communication

Having a solid system in place for connecting your employees is necessary, whether they're remote teams or in the same building. Motivosity creates a straightforward path to "who does what" and puts all your employees' most valuable resources at their fingertips. They make it simple to connect with the right people, quickly.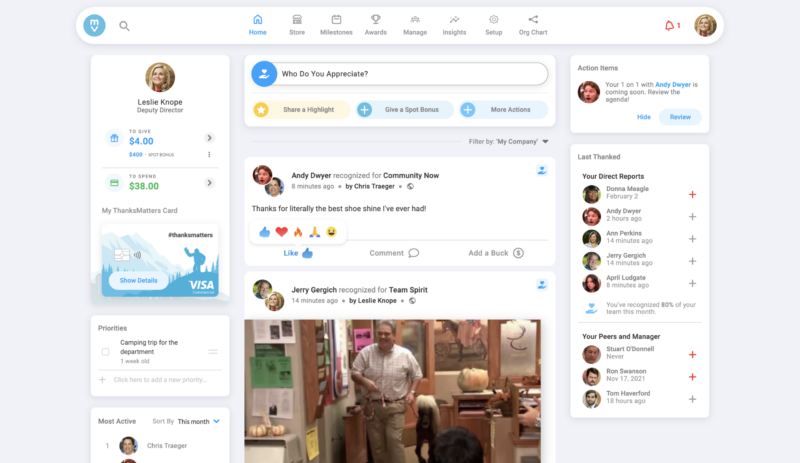 High-performance teams at these companies use this:
University of Michigan
Chick-fil-A
Smoothie King
Best team collaboration software for: Employee surveys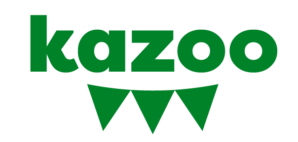 Your employee feedback needs to be actionable and effective, otherwise it's just a waste of everyone's time and energy. Kazoo gets to the crux of your employees' concerns so you can better understand what adjustments to make to continue building a healthy company culture.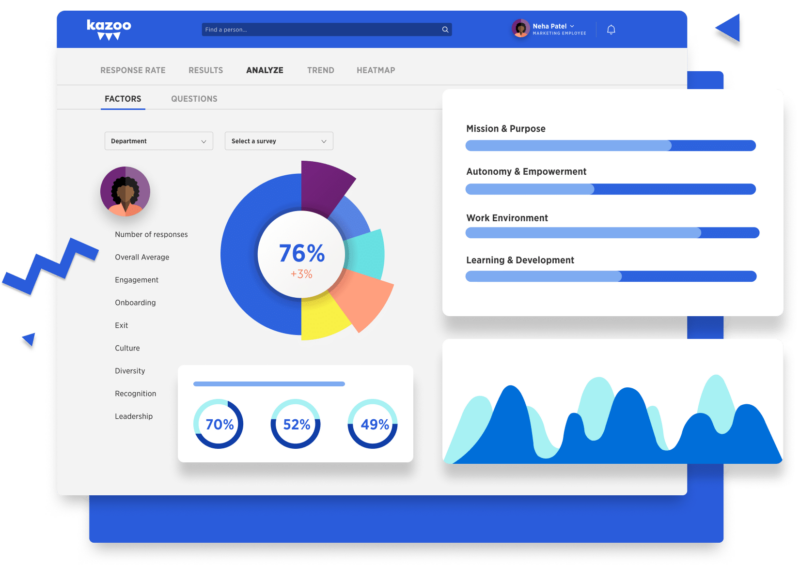 High-performance teams at these companies use this:
Evergreen Home Loans
Patagonia
DealerSocket
Best team collaboration software for: Real-time collaboration

Waiting for responses or updates from colleagues is as unnecessary as wearing snow boots in July. When getting things done is the mission, you want them handled in real-time with no delays. Live collaboration tools are the best way to collaborate efficiently and monday.com understands the assignment.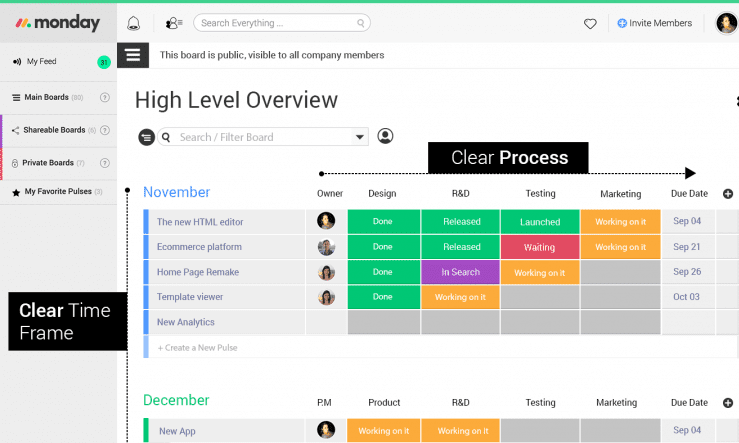 High-performance teams at these companies use this:
Best team collaboration software for: Building a sense of community

CultureAmp believes that investing in your employees is the most important move you'll make and has created a platform to help everyone succeed. Building a strong work community means that everyone understands their roles and is working with a shared sense of purpose and mutual intentions. Collaboration shines brightest in a positive environment, fueled by valued employees.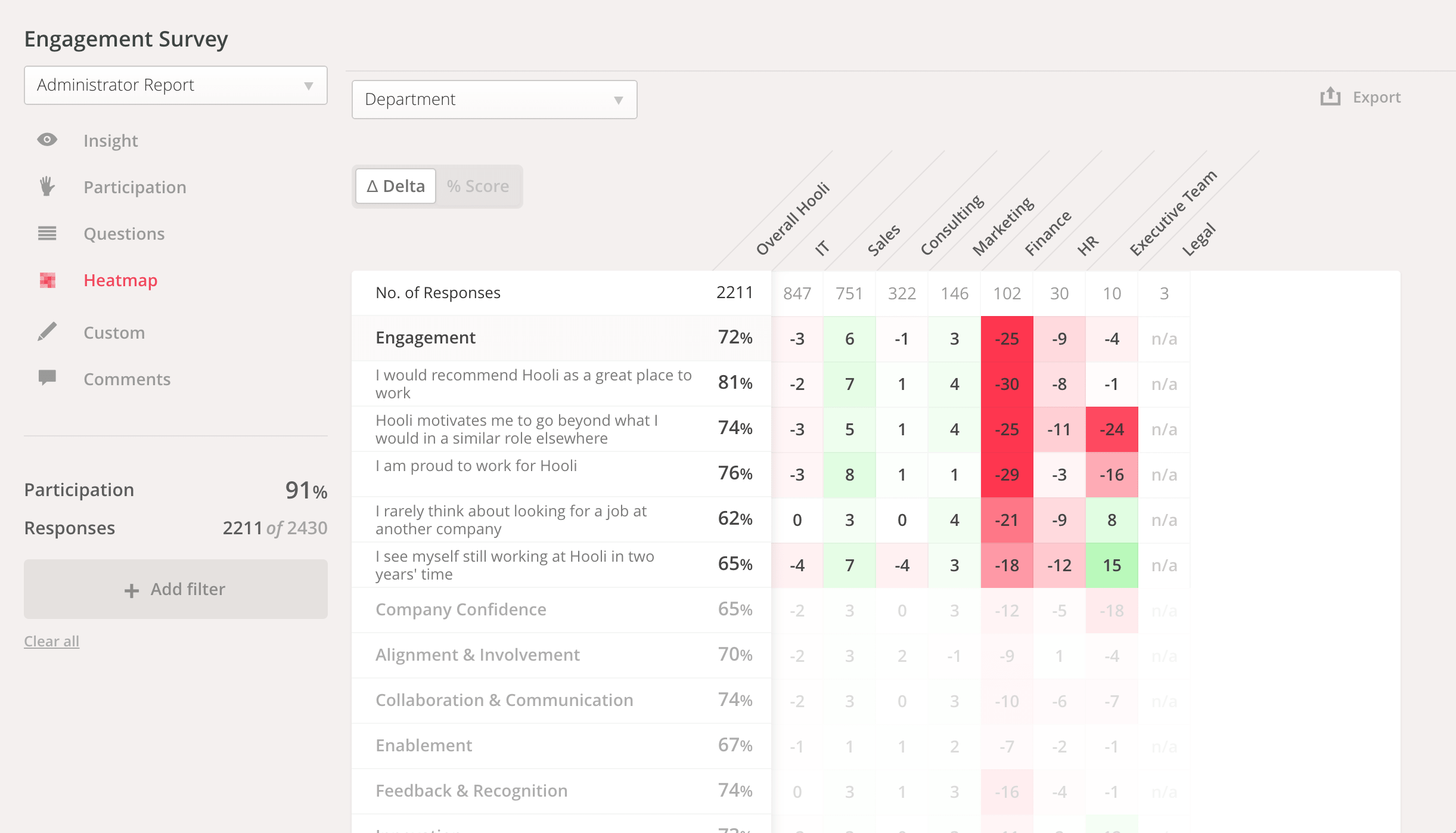 High-performance teams at these companies use this:
McDonald's
SoulCycle
Etsy
Best team collaboration software for: Bringing employees into the recruiting process

There's SO much more to hiring than just matching your job requirements to a candidate's resume. VidCruiter prescreens applicants and vets them before you even need to get involved. They'll check references, verify employment history, and schedule the interview for you and the whole team to choose the best new addition to the squad.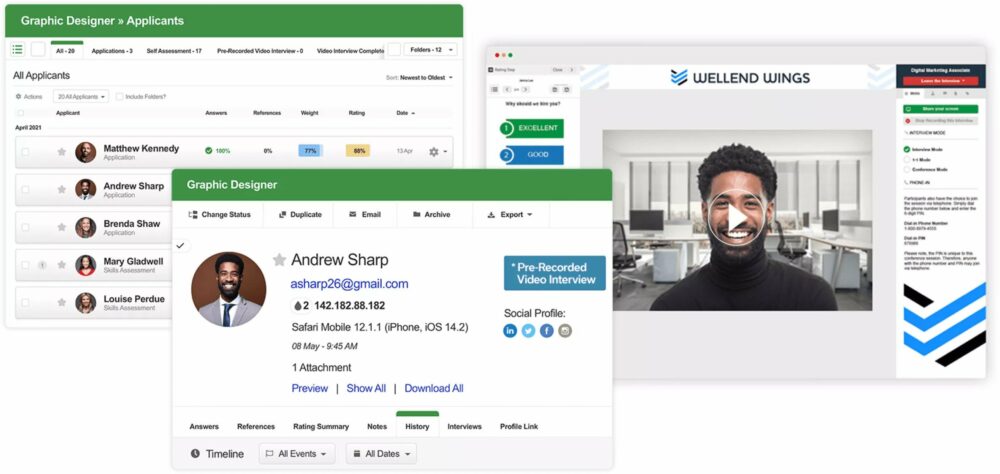 High-performance teams at these companies use this:
Medavie Blue Cross
United Nations
Silver Birch
Best team collaboration software for: Setting up a rewards program

For a major boost to your employee experience and employee satisfaction stats, Awardco offers the best reward options for your team members. Their menu includes gift cards to major retailers, branded swag, tech, and functional gear, travel discounts, event and theme park tickets, and so much more. Choosing their own reward is a perk they can personalize perfectly.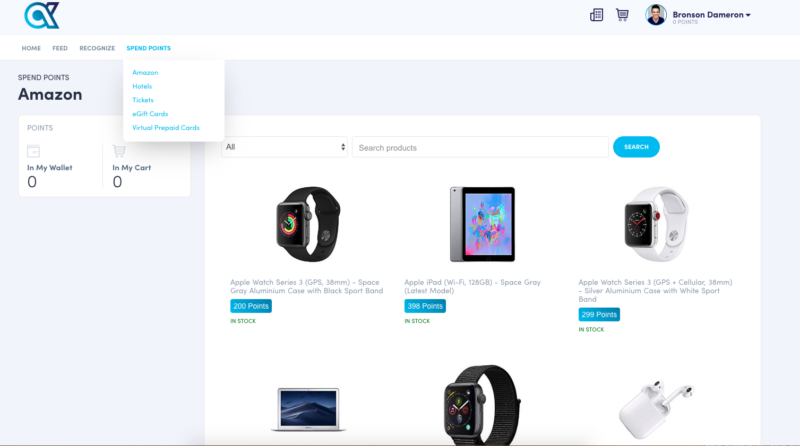 High performance teams at these companies use this:
Paramount
Texas Roadhouse
APTIVE Environmental
Best team collaboration software for: Developing your people

Sapling offers services from onboarding to offboarding, and all the training and development in between. Their automation, workflows, and performance management platform provide everything you need to make sure your employees are confident in their roles and ready to advance when opportunities arise.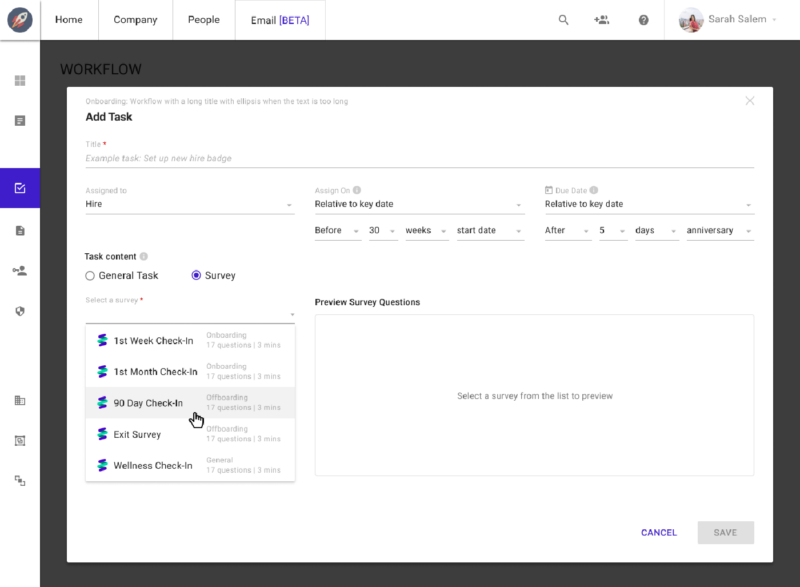 High-performance teams at these companies use this:
Things To Know About Team Collaboration
➤ Why do high-performance teams collaborate so well?
High-performance teams collaborate so well because they trust each other and communicate effectively.
➤ How do you encourage team collaboration in the workplace?
Encourage team collaboration by setting team performance goals, coordinating team-building activities, and having real conversations with employees.
➤ How to foster team collaboration?
Foster team collaboration by using effective communication tools, showing appreciation, and celebrating employees for their stellar teamwork when team goals are met.
➤ How to build team collaboration?
You can build team collaboration by asking for feedback and acting on it, incentivizing project goals, and allowing employees to have a voice in the process when hiring their teammates.
➤ Why team collaboration is important?
Team collaboration is important because your employees all bring different strengths to the group dynamic and you want to capitalize on their varying talents to build successful teams.
➤ How to improve team collaboration?
Improve team collaboration by creating a healthy, balanced work environment, where employees have all the tools and resources they need to be great.