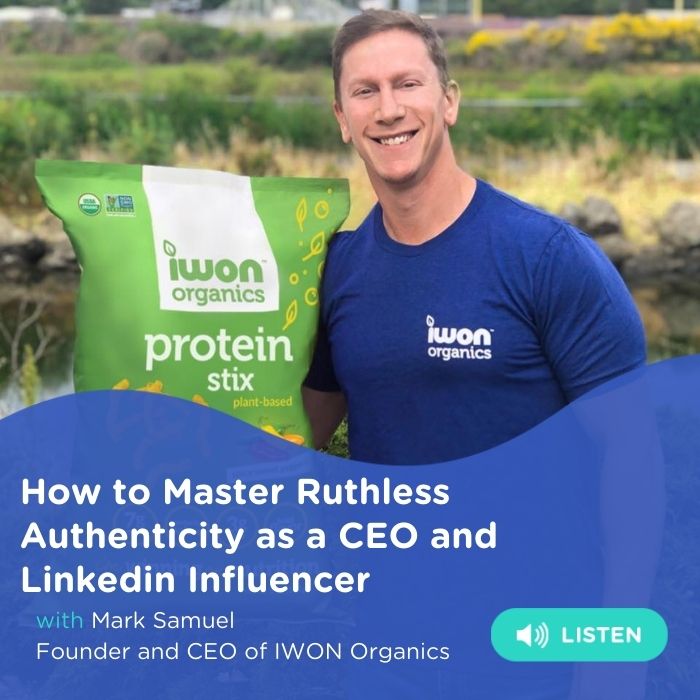 How would we describe Mark Samuel, the founder of the award-winning wellness brand IWON Organics?
Intensely focused, brutally honest, and above all, ruthlessly authentic.
It's this authenticity and his commitment to wellness that has fueled Mark's 17 years as an entrepreneur, launching IWON Organics to promote healthy snacking and successful, long-term eating habits.
Along the way, this same authenticity has attracted thousands to Mark's Linkedin, where he shares every lesson, every win, and every ugly truth about being a founder in the world of CPG.
In this episode, Mark reveals his secrets to achieving optimal focus, dedication, and authenticity as a CEO, with tactical tips for pushing your brand forward.
Links
Connect with Mark Samuel on LinkedIn
Have an idea for the show? Drop us a line! Brandbuilder@snacknation.com.
Join our Exclusive Facebook Group!
What's your biggest takeaway from the episode? Join our invite-only, private Facebook group just for Brand Builder Community members, where you can connect with fellow entrepreneurs and founders, crowdsource ideas, share best practices (or lessons learned), and get your most important questions answered. Join now!
Facebook.com/groups/brandbuilderpod
Brand Builder is produced by Caroo.