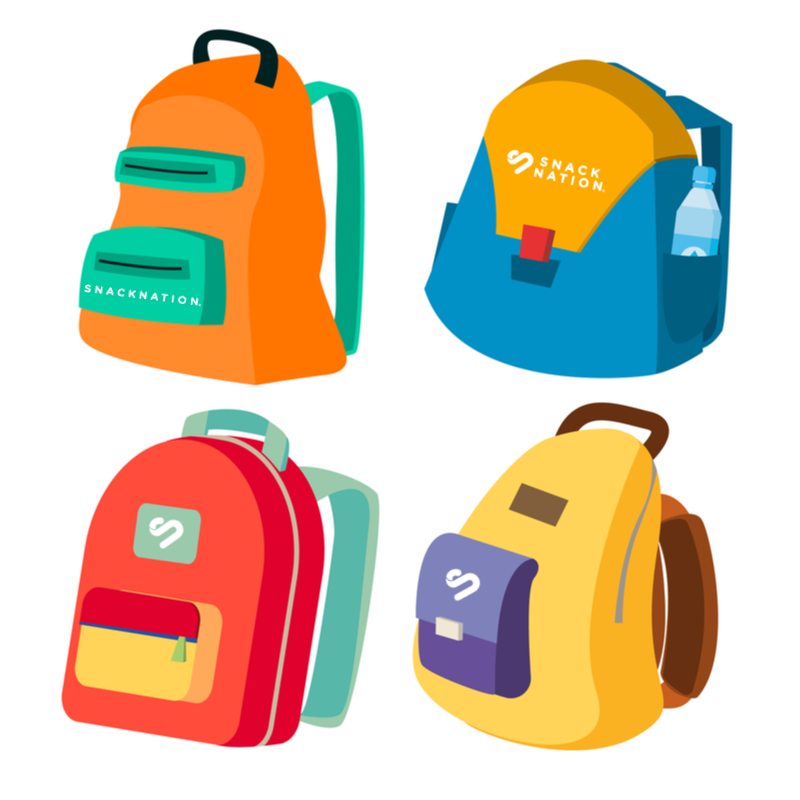 In your granddad's time, men carried briefcases to work and women carried purses. But it's 2023 and for commuters and remote employees alike, it's a better idea to use something a bit more practical.
So ditch the briefcase!
Backpacks are no longer just for students. In fact, backpacks are the new swag of the office. Having that extra hand free instead of hauling around a briefcase is an underrated flex. 
In addition to being hands-free, if you give your employees branded backpacks, they become a walking promo for your company.
There's an overwhelming chance that they'll enjoy the company swag so much that they'll be more than happy to talk about the biz when someone on the street, the plane, or at the coffee shop asks them about it. At the very least, you'll improve your employee recognition AND brand recognition at the same time. 
Whether you run a more traditional business, or maintain a pretty laid back office culture, your team will appreciate quality backpacks that make them feel like the professionals they are.
That's exactly why we've put together a list of the 11 best custom and branded backpacks for employees.
Want to become a better professional in just 5 minutes?
What Makes A Great Custom Backpack For Work?
Quality

— Is it durable and made of superb material?
Gadget-ready — Does it have a laptop holder and other pockets to store technology?
Waterproof

— If an employee gets caught in the rain, will it keep their electronics safe?
Comfort

— Does it feel good on their back and is it ergonomically designed?
Anti-theft

— Are its zippers and pockets secure?
Style

— Is it sleek and stylish to match its quality?
For a branded backpack to make this list, the answer to all of these questions has to be a resounding YES!
With this criteria in mind, these are the 11 best custom and branded backpacks for work.
Pro-tip: The standard production time for most custom backpacks is 15-20 days, but allow extra time for shipping and holidays! Also, be sure to order a sample in advance to double-check that all of the details are exactly how you want them.
11. Mila Backpack
"For creatives"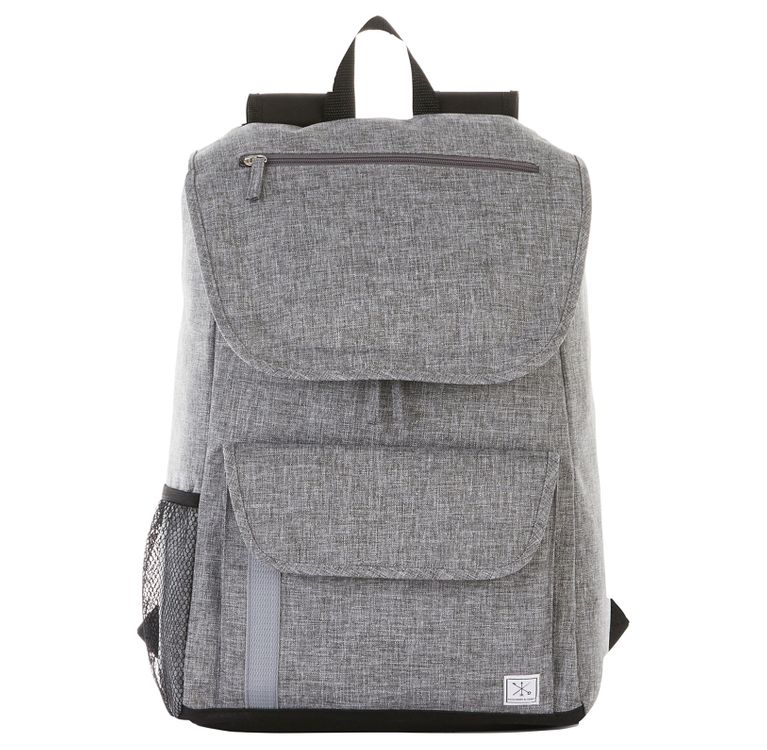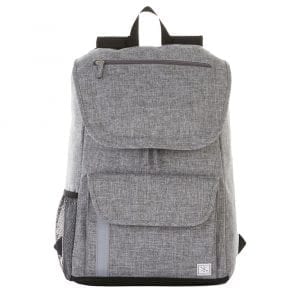 The Mila Backpack scores major style points. This trendy rucksack is fit for the graphic designers, the copywriters, and the rest of the creative department. The Mila features a 15-inch laptop sleeve, a grab handle, side pockets, a zippered main compartment, and padded shoulder straps for comfort. 
Your branding can be imprinted via heat transfer on the top flap and the bottom pocket below the flap! As a bonus, this compu-backpack is in an affordable price range.
Price: $19.63 – $30.49
Minimum Order: 24
Where to get it: Mila Backpack
10. Timbuk2 Authority DLX
"For the high-flyers"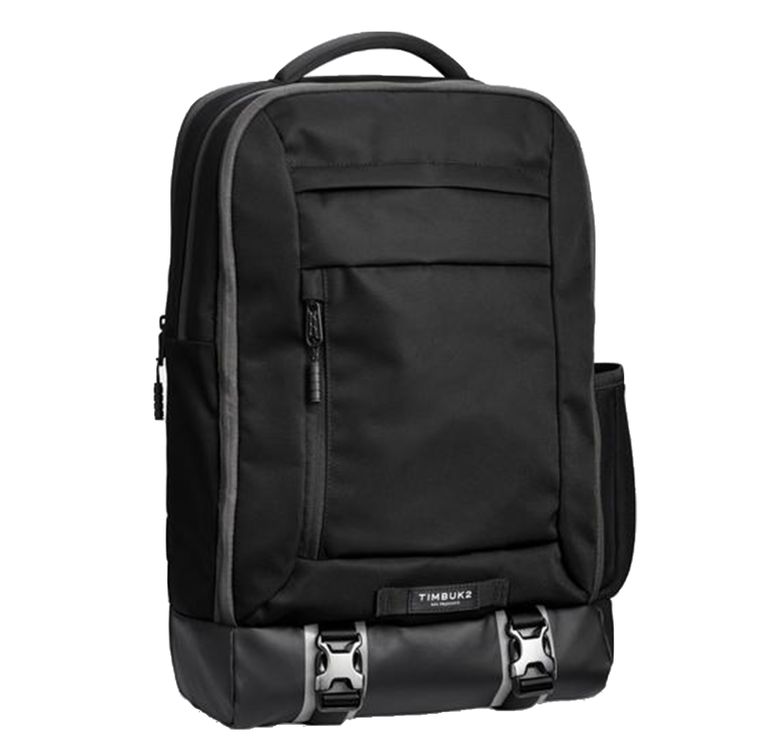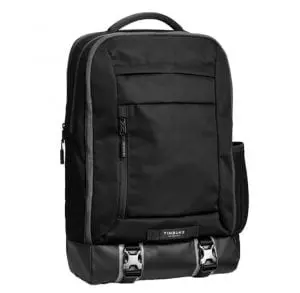 The Timbuk2 Authority DLX is built for the office and the road. With luggage pass-through for attaching to a wheelie companion, padded straps for comfort, and airmesh ventilation, this multi-purpose bag is the ultimate computer backpack for remote workers or employees who simply love to see the world.
The Timbuk2 Authority DLX also boasts a water bottle pocket, enough room for a 17-inch laptop, and reflective material so your digital nomad teammates are always visible at night. Plus, your embroidered company logo will be extra visible everywhere they go. 
Price: $139.93 – $161.50
Minimum Order: 25
Where to get it: Timbuk2 Authority DLX
9. Parc Backpack
"For road trippers"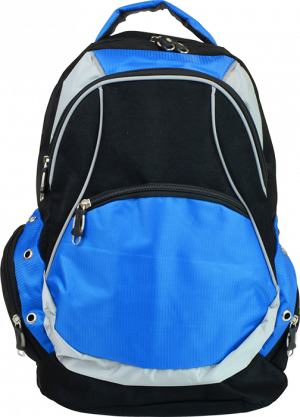 The Parc Backpack is a large full color daypack perfectly suited for road trips, outdoor adventures, and a full day at the office. This branded backpack comes in a zippered, clamshell-style design with magnetic buckles and pockets for drinkware and other essentials and a shoulder-strap hose port for hydration on-the-go.
Additionally, Parc bags are weather-resistant so your employees' equipment will be as safe from the rain as if the pack were a dry bag and the tears of your competitors who weren't gifted swag this cool. It also features a 15-inch laptop sleeve with zippered back-panel access for quick and convenient use. Not only that, but 1% of revenue from this purchase supports the Cotopaxi Foundation, which helps battle poverty in the poorest regions around the world. 
Price: $25.99 to $37.43

Minimum Order: 6
Where to get it: Parc Backpack
8. Ogio Wheelie Backpack
"For hustlers"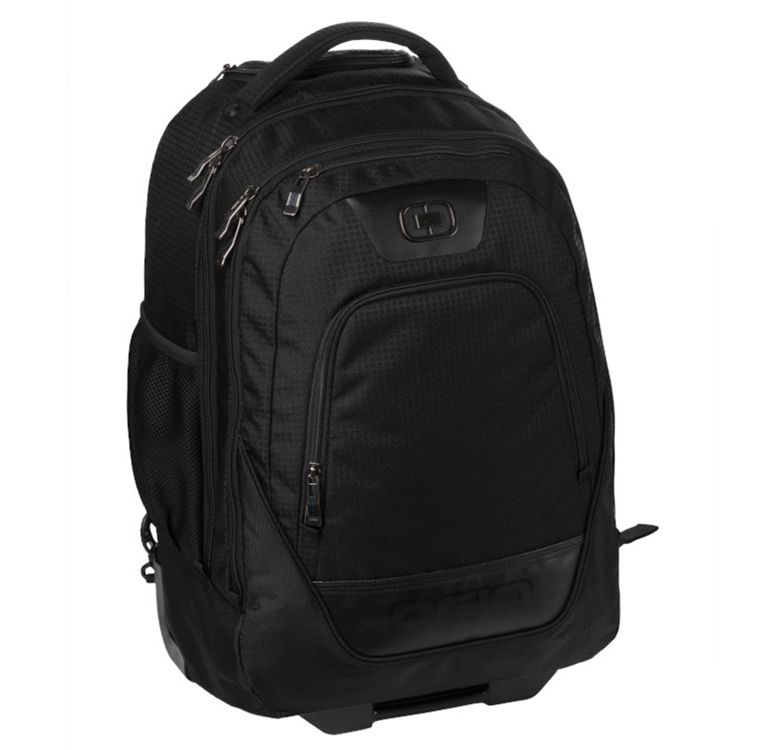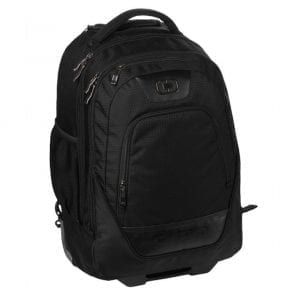 Remember when wheelie shoes were all the rage? Well, the Ogio Wheelie Backpack is bringing that trend back in style. This laptop backpack converts from a rolling backpack that will get employees through the airport and past TSA in no time. Our favorite part about this Ogio is that it's downright cool. It comes in jet black, poly ripstop material with a main compartment. It also has padded laptop and e-reader sleeves, and fleece-lined valuables pockets. Of course, the Ogio is carry-on size and also has in-line skate wheels and a locking retractable handle. 
Price: $91.94 – $100.29
Minimum Order: 12
Where to get it: Ogio Wheelie Backpack
7. Bellroy Classic Plus
"For retro lovers"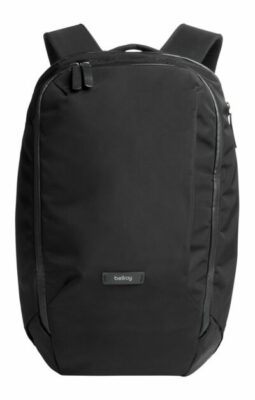 The Bellroy Transit Backpack comes in a cool blue that will remind retro loving employees of their favorite pair of Converse. This streamlined backpack has a vertical front pocket, side pockets for a koozie and drinks, a hidden stretch pocket for phones and other accessories, and it's made from water-resistant polyester ripstop and leather. There's ample room for a laptop as well as other work essentials and the Bellroy offers proper protection against rain and theft. Plus, this leather backpack is also carry-on ready. 
Price: $155.09 to $210.00
Minimum Order: 8
Where to get it: Bellroy Transit Backpack
6. Ogio Shuttle Bag
"For sporty types"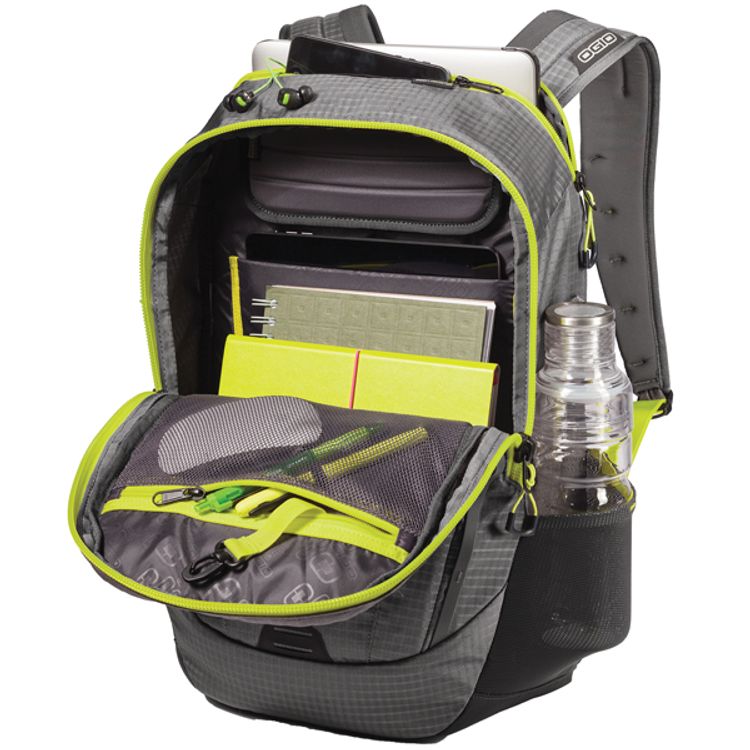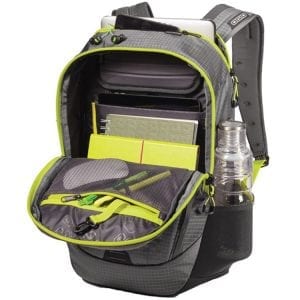 The Ogio Shuttle Bag is ergonomically designed for high-performers. Featuring a padded laptop compartment and a deluxe organizer panel, this sleek work backpack can be embroidered with your company logo to give your employees that extra swagger in their step. The Ogio comes in dark grey, light grey, blue, and black and has a crush-proof Tech Vault to keep your valuables from getting damaged. Ogio fans and reviewers often compare them favorably to High Sierra backpacks for style and praise them for being compact as a messenger bag.
Price: $82.93 – $93.37
Minimum Order: 12
Where to get it: Ogio Shuttle Bag
5. Timbuk2 Division
"For fashion lovers"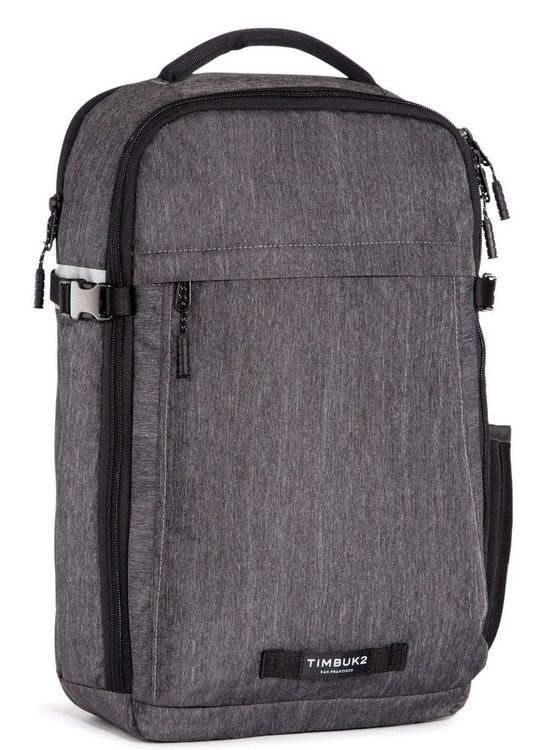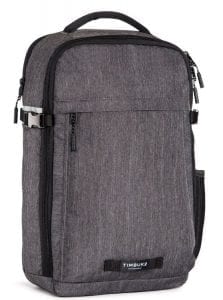 Elegance and style comes from simplicity. Well, that's where the Timbuk2 Division hits the bullseye. This clean exterior hides a high-quality, luxury interior designed to fit books, a 15-inch laptop in its padded compartment, and any other accessories your employees need to do the job. Your logo can be embroidered on the Timbuk2 to raise brand awareness and employee recognition at the same time. 
Price: $112.43 – $131.50
Minimum Order: 25
Where to get it: Timbuk2 Division
4. Timbuk2 Spire 2.0
"For the all-weather pros"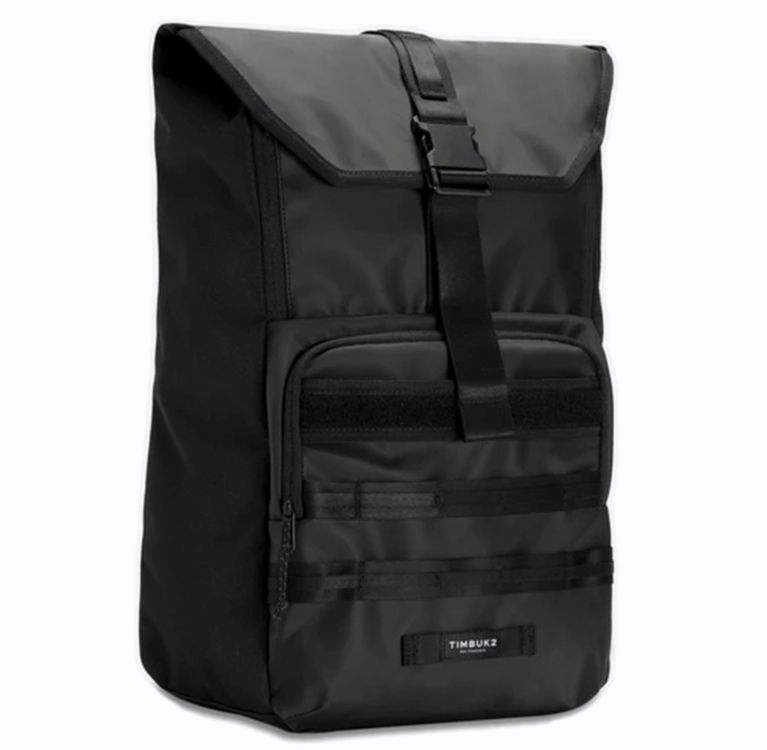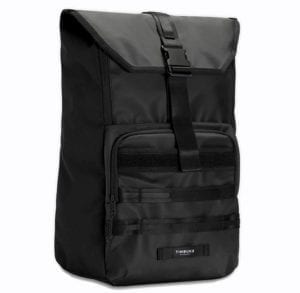 Whether the job is strictly in the office, at home, or going door to door, this weather-resistant, water-repellent backpack is equally suited for rainstorms and sunshine. The Timbuk2 Spire 2.0 can house a 17-inch laptop, has a stretch side pocket for an umbrella or a water bottle, and a front daisy chain, which fits a standard U-lock, carabiners, or keychains. It also has a Napoleon pocket under its front flap and comes in black or grey.
Price: $103.26 – $121.50
Minimum Order: 25
Where to get it: Timbuk2 Spire 2.0
3. Parkland Kingston Backpack
"For eco-lovers"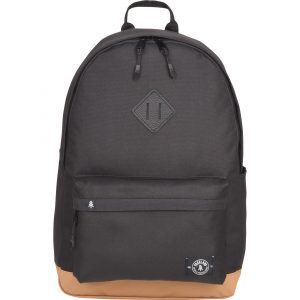 Is being eco-friendly part of your brand? Do your employees care about the environment? If the answer is yes, then you'll be happy to know that the exterior of Parkland bags is made of 100% recycled water bottles. The entire design of the Parkland Kingston Backpack is produced with sustainability and style in mind, featuring multiple exterior pockets, two main compartments, and an interior with an accessories organizer and room for a 15-inch laptop. 
Not only will your employees be seen with the heat-transferred logo on these bags, but they'll also have wearable proof that your company cares about the environment. Additionally, with such a low minimum quantity, it won't cost you an arm and a leg. As an excellent gift for your employees, Parkland frequently beats backpack brand names like Nike, Under Armour, Columbia, Adidas, Jansport, Camelbak, Elleven, Puma, and Carhartt in quality.
Price: $59.99 to $133.90

Minimum Order: 12
Where to get it: Parkland Kingston Backpack
2. Timbuk2 Q 2.0
"For Type A personalities"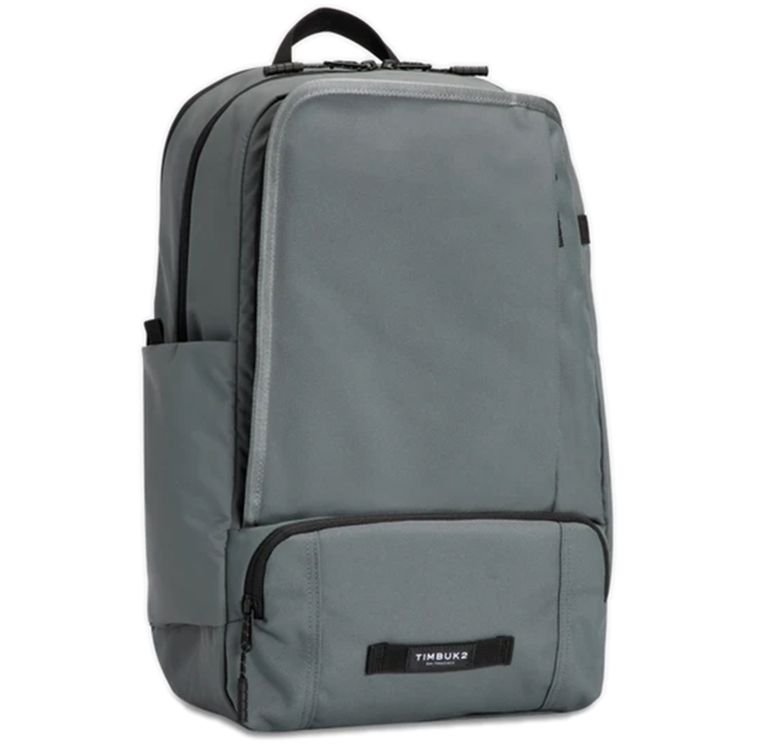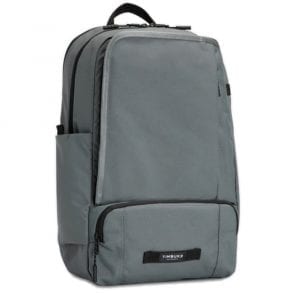 This mid-sized backpack comes with all the pockets and compartments Type A personalities need to stay on top of their game. Your finance department is sure to fall in love with this easy-to-organize giveaway custom backpack. The Timbuk2 Q 2.0 top backpack has an L-zip panel for places to store cards, cords, keys, and pens; a padded front pocket to stash a tablet; a bottom zip pocket for storing a power brick and other mid-sized item; and a large padded main packet that safely fits a 17-inch laptop. 
Price: $103.26 – $191.50 
Minimum Order: 25
Where to get it: Timbuk2 Q 2.0
1. Timbuk2 Division DLX
"For closers"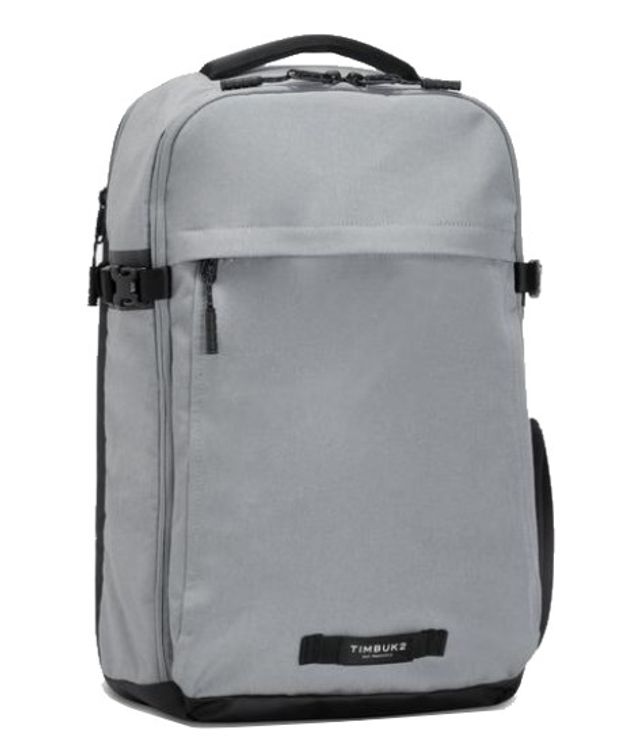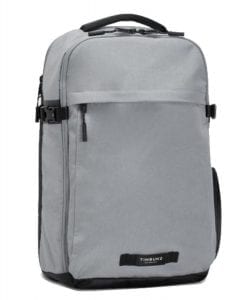 The Timbuk2 Division DLX is perfect for closers. If your company needs to send your sales superstars to seal the deal with a client, there's no better bag for them. This highly organized work backpack has a dedicated rear-access laptop sleeve that keeps computers safe, so the main compartment is free to store electronics, cords, a jacket, and additional tech. The Division DLX also had a luggage pass-through for connecting a wheelie companion, external compression straps for loosening or tightening the bag so it's as comfy as a drawstring backpack, a water-resistant bottom boot in case of any unexpected accidents, and it's checkpoint-friendly. 
Your company logo can be embroidered onto the Timbuk2 Division DLX, which comes in either black or dove grey. For a final word on the DLX, one of the things your employees or teammates will appreciate most about this bag is how sleek, simple, yet effective its design is.
Price: $121.59 – $141.50
Minimum Order: 25
Where to get it: Timbuk2 Division DLX
Conclusion
The best custom backpacks for employees share some common must-haves like padded laptop sleeves, durable fabrics, water-resistance, and plenty of space for storing equipment and gadgets. But style, among other factors, was taken into consideration as we created this list, so your employees will look as great as they feel wearing these custom logo backpacks. 
Promotional items such as custom backpacks and branded water bottles are a brilliant way of boosting employee recognition and brand recognition simultaneously. Custom swag is actually one of the most cost-effective tactics to fill your employees with company pride and receive the priceless marketing bonus that comes from happy teammates. 
As an HR pro, you know how important it is to let your people know you care, so thanks for taking the time to read our list of these carefully selected, top branded backpacks.
When you read the FAQs below, please feel free to reach out to us in the comments section below if you have any questions we didn't answer!
People Also Ask These Questions About Branded Backpacks
Q: What makes a great branded backpack for work?
A: The best branded backpacks for work have a combination of style and functionality such as laptop sleeves, weather-resistance, durability, and carry-on size for flights. 
Q: How can I order custom backpacks in bulk?
A: For example, if you go to Swag, you can choose from a variety of custom backpacks, decide the color, the amount, imprint your logo, and click order. Fortunately, it really is that simple and convenient to buy promotional backpacks in bulk.
Q: What kind of promotional logos can I brand on a backpack?
A: You can embroider or imprint any logo you would like onto printable backpacks as long as it fits the proper dimensions offered by the service.
Q: How can I order branded backpacks for trade shows?
A: Ordering custom logo backpacks for trade shows is easy through companies like Swag, but you want to be sure to order your promo backpacks in bulk. Also, be sure to get a sample ahead of time to check the quality.