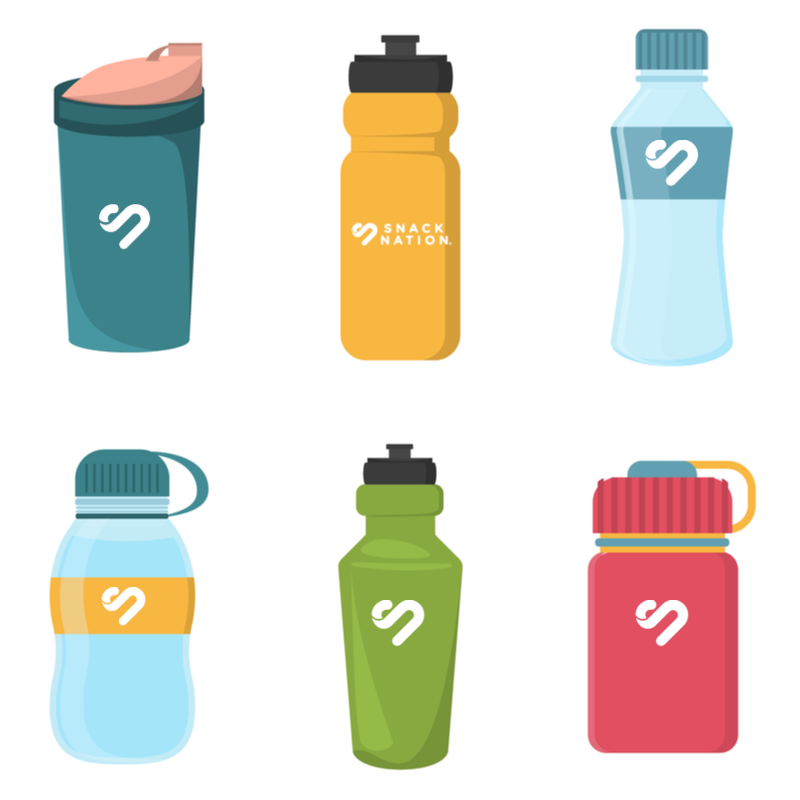 Whether your employees or coworkers are sitting in the office or working remotely in their pajamas, staying hydrated is crucial for their well-being and performance.
However, it turns out 80 percent of Americans don't drink enough water. The average person basically has the water consumption habits of a cactus when left to their own devices. That's where a trusted branded water bottle comes into play…
The number one reason people don't drink enough water sounds kind of silly when you say it out loud: They forget.
You probably don't have a water fountain or clean water at every corner of your workspace, which is why health experts recommend keeping a water bottle nearby whenever possible. Better yet, give your team members custom water bottles, so they can stay hydrated and promote your brand at the same time. Branded bottles of water are also 100% portable, so they become evergreen mobile advertisements.
Plus, you'll definitely score points at the next office party with next level promotional gifts and company swag! Alternatively, you could also gift clients or managers branded drinkware to show them how much you appreciate working with them.
Want to become a better professional in just 5 minutes?
Page Contents (Click To Jump)
What Makes A Great Branded Water Bottle?
Insulated — Does it keep the liquid hot or cool for an extended period of time?
Splash-free and spill-proof — Does it actually hold all of the liquid inside the bottle?
Compact and durable — Is it lightweight and convenient to carry with you?
Eco-friendly — Is it safe for you and the environment? (BPA-free water bottles, etc.)
Beautiful branding — Is it sleek, stylish, and perfect for promos?
Easy to clean — Is it simple to take care of?
For a branded water bottle to make the cut, the answer to these questions has to be YES!
Based on that criteria, these are the 11 best custom and branded water bottles for work in 2023:
Pro-tip: The production time can vary — usually, you'll receive your branded water bottles within a couple of weeks, but keep in mind that holidays may delay your order, so plan 1-2 weeks ahead.
11. Swag Sport Bottle
"For an active lifestyle"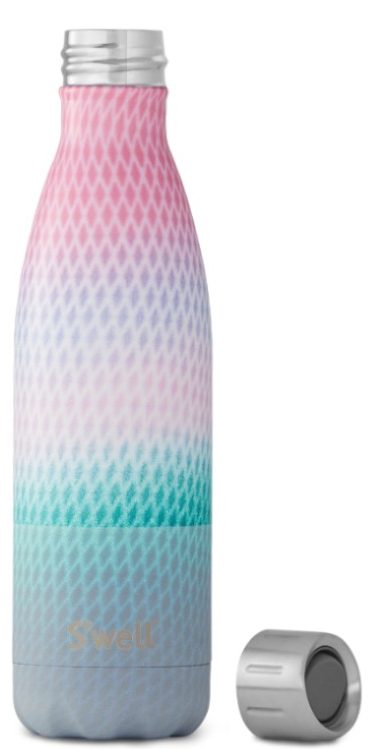 Well, well, well, look what we have here — the Swag Sport Bottle is designed to keep beverages cool for up to 24 hours or hot for up to 12. With copper layering, not only does this stainless steel branded bottle keep beverages insulated, but it's also BPA and condensation-free.
The stainless steel material that makes this custom water bottle durable and reusable, also makes it super easy to digitally imprint or laser engrave your branding!
Price: $11.99 to $55.81
Minimum order: 24
Where to get it: Swag Sport Bottle
10. Asobu Wireless Beat Bottle
"For music lovers"

If your employees or coworkers are the kinds of people who like to march to the beat of their own water bottles, the Asobu Wireless Beat Bottle is designed just for them. Yes, that's right — with this BPA-free speaker bottle hybrid, they can stay hyped on their favorite music and hydrated. The speaker is on top of the vacuum bottle; giving it spectacular sound quality. Plus, it's wireless, runs for hours, and recharges rapidly. To quite literally top it off, the speaker lid is waterproof, so they don't have to worry if it gets wet!
As an added perk, the vacuum insulated copper lined stainless steel body also keeps beverages hot for 12 hours and cold for an entire day! This is surely a branded water bottle that is dressed to impress.
Price: $32.72 to $42.42
Minimum order: 75
Where to get it: Asobu Wireless Beat Bottle
9. Elevate Bottle
"For warm weather"

The Elevate Sports Bottle is meant for cold beverages only, making it perfect for warm weather and outdoor adventures. The screw-on lid is spill-free, so your coworkers can run with this BPA-free plastic bottle in hand without losing a single drop of water. You can also choose a variety of lid colors and easily print your logo and branding on this clear Tritan sports bottle to stand out over your biz competition.
Price: $6.38 to $31.84
Minimum order: 48
Where to get it: Elevate Bottle
Pro-tip #2: Order a sample with your logo/branding on it to ensure that the promotional items look great before mass-producing and shipping custom drinkware bottles in bulk.
8. Asobu Superb Sippy
"For juice and coffee lovers"

Is it a cup? Is it a bottle? What we do know is the Asobu Superb Sippy is great for coffee, juice, and just about any liquid you can think of.
This stainless steel insulated coffee sippy is a cool, fun way of keeping drinks hot or cold for hours. It comes with a durable tumbler, a spill-proof straw lid, and a reusable, flexible silicone straw so employees can sip away like a kid even in the office. Asobu is BPA-free and your branding can either be laser etched or printed on this eco-friendly container.
Price: $17.47 to $26.20
Minimum order: 72
Where to get it: Asobu Superb Sippy
7. Bell Echo Bottle
"For nature lovers"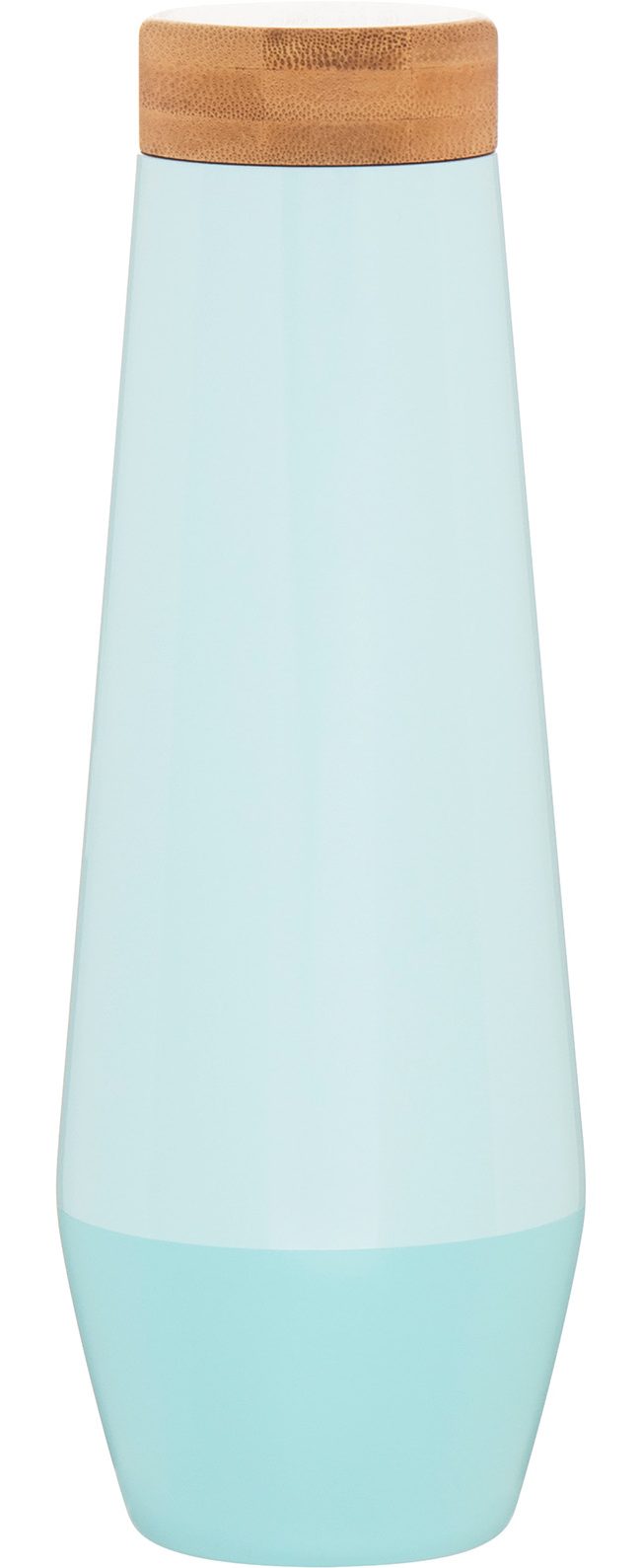 Forget a Camelbak — This stainless steel vacuum-insulated thermal bottle will keep drinks cold or hot all day long. The Bell Echo Bottle boasts an eco-friendly, fully reusable, spill-proof design with a bamboo lid. Functionality aside, the glossy and matte dual-toned finish also gives this branded bottle a sleek aesthetic. Employees can attach a carabiner to wear this stainless steel water bottle on their waist and be the perfect corporate gift.
Price: $17.72 to $42.14
Minimum order: 48
Where to get it: Bell Echo Bottle
6. Que Bottle
"For digital nomads"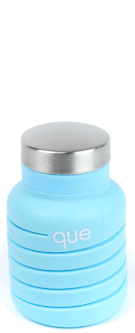 Perhaps the most compact, convenient item on our list, the Que Bottle can be shrunk to half of its original size! This collapsible water bottle uses a patented spiral design to make it our top pick for digital nomads.
Additionally, the durable silicone Que Bottle is BPA-free and plastic-free and it has a wide mouth, so it easily fits ice cubes. Instead of tossing aside single-use plastic water bottles, this is the giveaway gift that keeps on giving. Laser engrave your logo and branding onto the stainless steel cap and turn this promotional water bottle into a mini-billboard for your brand.
Price: $19.18 to $30.14
Minimum order: 48
Where to get it: Que Bottle
5. Asobu Ice 2 Go
"For coffee and tea lovers"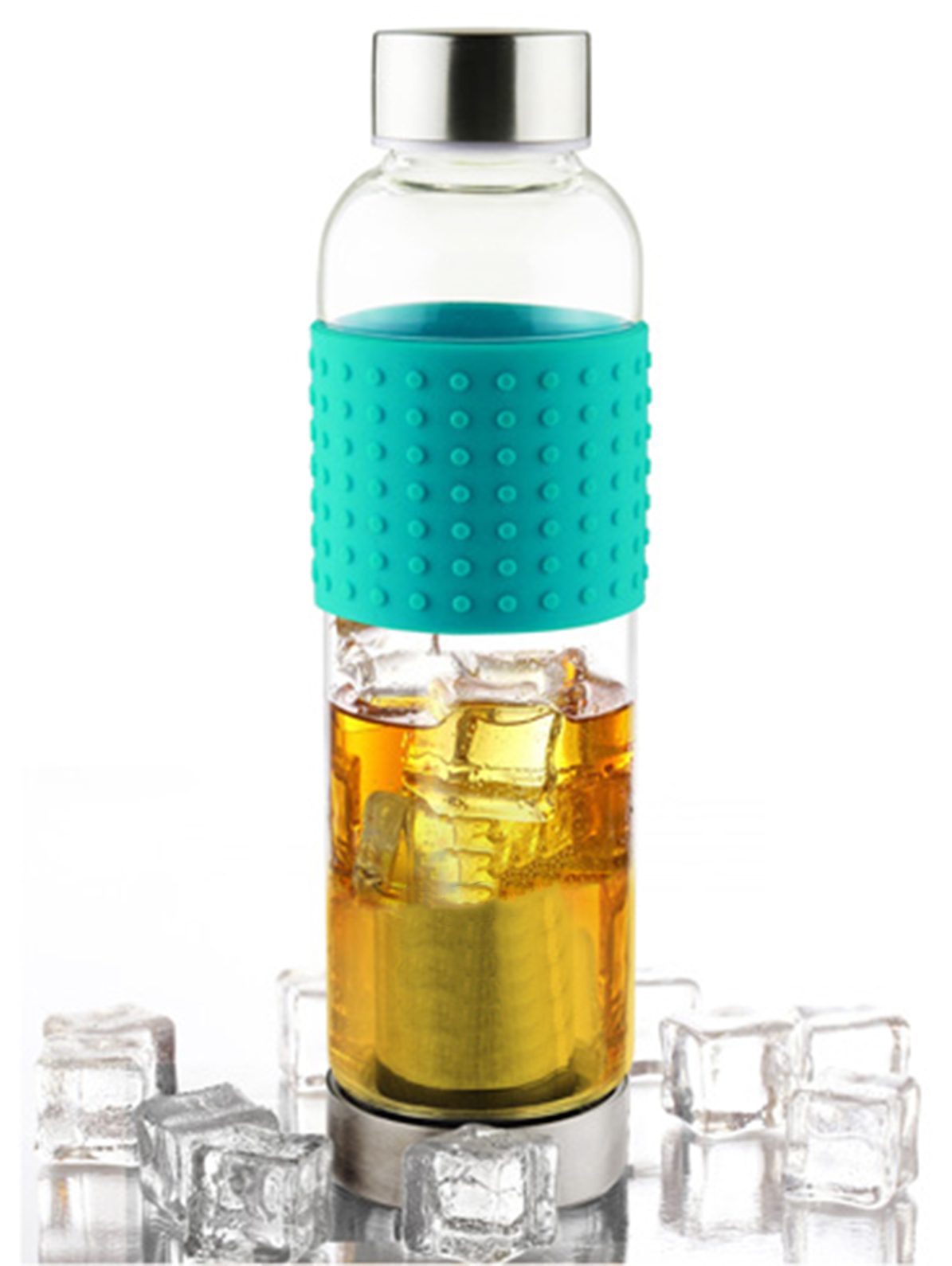 The Asobu Ice 2 Go comes with a stainless steel infuser for loose leaf tea or coffee grounds. Made of heat resistant glass, it's an ideal thermos or an eco-friendly bottle for h2go. This BPA-free custom bottle is perfect for early morning coffee and soothing late night tea! The employees will be more than happy waking up to enjoy their cup of joe in the office. In addition to the other perks, it's also got a silicone sleeve, so it's never too hot to handle.
Price: $13.39 to $22.26
Minimum order: 75
Where to get it: Asobu Ice 2 Go
"For outdoor activities…or wine lovers"

Instead of refrigerating water every few hours, get the employees a 26oz Thermal Bottle. This copper vacuum-insulated bottle keeps beverages cold for an entire day or hot for half a day. Plus, the copper layering keeps this bottle condensation-free, so the S'well won't get their backpacks wet. As a bonus, this BPA-free sports bottle can actually hold an entire bottle of wine, which your employees probably won't mind. The wide bottle mouth also fits ice cubes. Lastly, you can either laser engrave or digitally imprint your branding and logo.
Price: $16.79 to $43.66
Minimum order: 48
Where to get it: 26oz Thermal Bottle
3. UV Sanitizer Bottle
"For germaphobes"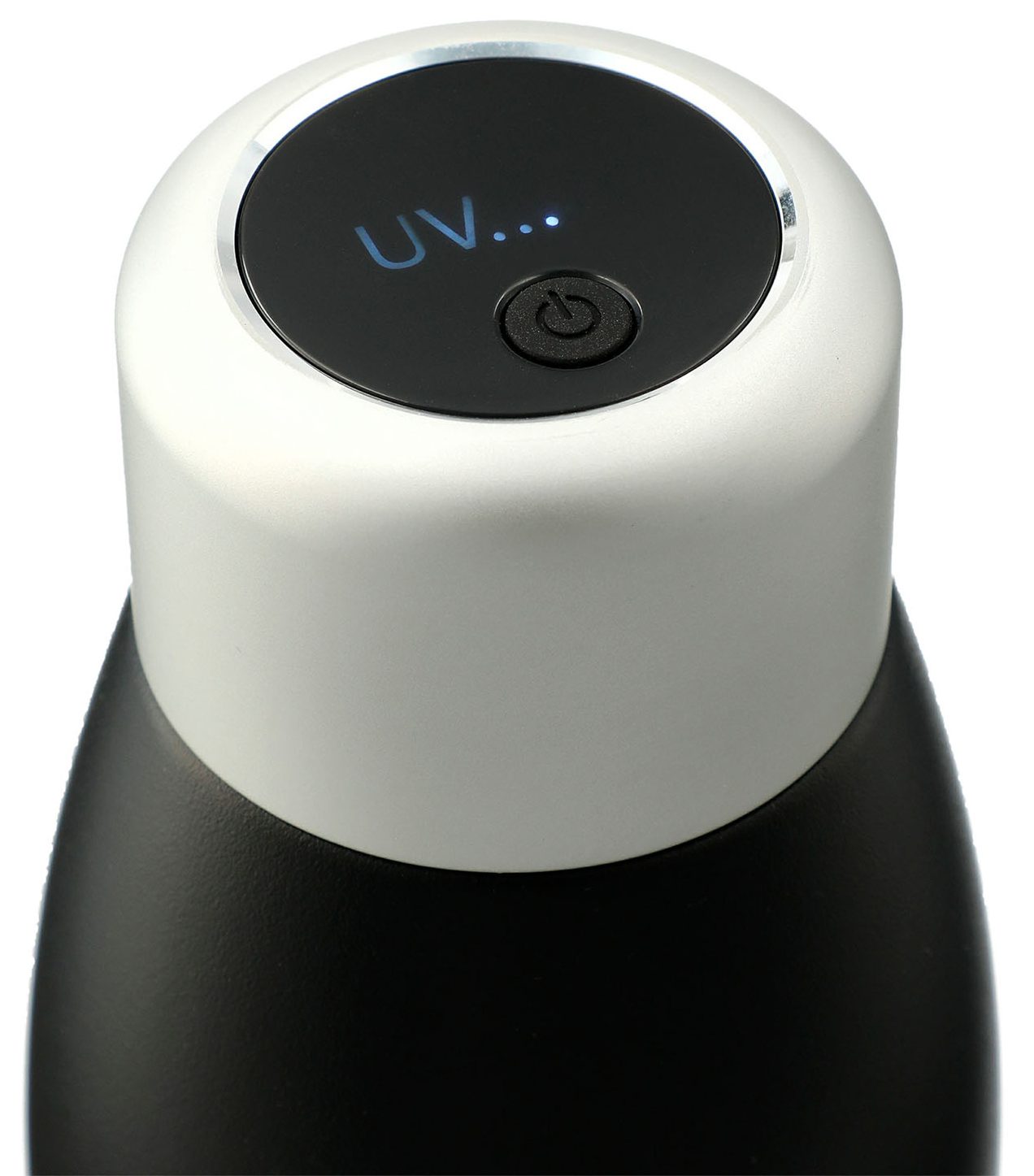 Imagine never having to clean your bottle. Well, imagine no more — the UV Sanitizer Bottle is a self-cleaning water bottle that keeps your water pure and completely odorless. The mercury-free UV bulb sanitizes the interior and it comes with an LCD screen that verifies cleanliness. Each charge treats 30 cycles and the vacuum seal and copper insulation keep beverages in this customer bottle cool for 48 hours and hot for 12! Additionally, the UV Sanitizer Bottle has a screw-on, spill-resistant lid. Your branding is sure to pop on this matte black sports bottle.
Price: $54.54 to $106.28
Minimum order: 12
Where to get it: UV Sanitizer Bottle
2. Bali Bottle
"For remote employees"

Whether your employees are working remotely from Bali or they're in the office daydreaming about it, they will love this custom borosilicate glass water bottle. The Bali Bottle has a bamboo wood lid and a silicone sleeve. These branded water bottles also come in seven different colors, including mint to match the eco-friendly theme.
Price: $15.27 to $19.41
Minimum order: 48
Where to get it: Bali Bottle
1. Miir Insulated Bottle
"For people on-the-go"

This stainless steel vacuum bottle won't be too hot or sweat no matter the temperature of the drink it contains. The wide-mouth opening also makes it easy to fit ice cubes and clean it! The double-wall thermos vacuum insulation technology keeps beverages hot for half a day and cold for an entire day. Whether your employees or coworkers are at a trade show or driving around, the Miir Insulated Bottle will keep them hydrated and repping your brand. It's also BPA-free and leak-proof and fits perfectly in most cup holders and backpack straps. This custom branded bottle comes in black or powder white and logos can be laser engraved or printed on the surface.
Price: $35.45 to $150.51
Minimum order: 12
Where to get it: Miir Insulated Bottle
Conclusion
Employee recognition and appreciation are as important as ever nowadays. Companies aren't simply judged on their bottom line or how great their products and services are. The new flex for a business is for others to see how genuinely happy your employees are. Of course, the ultimate flex is when they're so proud to be a part of your company that your employees want to show off their place of work to the world.
Custom branded water bottles are a way of recognizing your employees for all of their hard work, while also taking care of their health, and promoting the brand.
Another great use for these promotional products is to show your customers and clients that you value their business and are thinking about them as people instead of dollar signs.
So thanks for checking out our list of carefully curated custom and branded water bottles. For a quick reminder of some of the unique drinkware on the list, we included a bottle that comes with a speaker, a collapsible bottle, a self-cleaning bottle, and a spill-proof sippy among other great options.
People Ask These Questions About Branded Water Bottles
Q: What makes the best-branded water bottles for work?
A: For work, you want a spill-proof, condensation-free bottle so employees won't get liquids on important documents.
Q: How long does it normally take to receive an order of branded water bottles?
Q: Are there limits to branding a custom water bottle?
A: The most important factor is branding placement — most customized water bottles have specific parts of the bottle that the logo and other imagery is meant to go on.
Q: What should I look for in a branded glass bottle?
A: The best-branded glass bottles have some of or all of the following features: BPA safe, dishwasher safe, extreme durability, a good top, sipper or opening, and great insulation.