So you want to become an Executive Assistant (EA), but you don't have any directly related experience…

Don't worry—there are ways to become an Executive Assistant even if you're fresh out of school or looking to make a major career switch. Here's everything you need to know about breaking into an Executive Assistant role. 

One of our favorite tools for EA's right now is productivity software monday.com. Test out the free trial period and see what you think!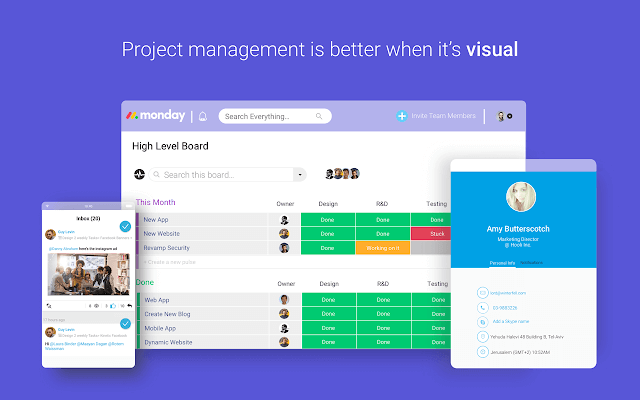 Want to become a better professional in just 5 minutes?
An Executive Assistant Explainer
Role Summary
According to our State of the Executive Assistant Report, "The average Executive Assistant has to be a professional problem solver, a master of organization, a trusted confidant, and a strategic advisor – all rolled into one."
In other words, Executive Assistants wear a lot of hats, and as a result, they enjoy some of the most diverse, exciting, and challenging careers available in the modern workforce. Students and professionals from a range of backgrounds and with a range of skills and interests flock to Executive Assistant positions.
While serving in an EA role, any motivated professional has the opportunity to run businesses and office operations behind the scenes. An Executive Assistant makes key decisions, has a major voice in office operations and politics, and often contributes to a business's strategic direction for years.
Specific Responsibilities
So what specific things do Executive Assistants do to add up to the summary above? Here are some, but certainly not all, of a typical Executive Assistant's responsibilities:
IT troubleshooting

Providing strategic counsel

Managing perks

Implementing processes

Managing payroll

Designing

office layouts

Onboarding/offboarding

Handling communications

Coordinating travel

Planning events
Key Skills
Most Executive Assistants possess some, if not all, of these key skills:
Dogged resourcefulness to get the impossible done

The ability to stay calm under pressure and handle anything that comes along

Tech prowess to correct IT problems and find solutions

Big-picture thinking to become trusted confidants and counsel for executives

Ruthless prioritization to get the important things done

Ironclad discretion to deal with delicate information

Impeccable organization to keep tangible items (supplies, etc.) and work processes in working order

Capacity to multitask strategically to get important things done

Supernatural anticipation to act on issues before they become full blown problems

Emotional intelligence to work effectively with others

Expert-level communication to get key points across in all situations

Speed and decisiveness to do the right thing at the right time

A sense of humor that always puts things in perspective

The ability to network to build and maintain a strong support group

Negotiating skills to make things happen as if by magic

Analytical skills to make decisions in all situations
Salary
According to the United States Department of Labor Bureau of Labor Statistics, Executive Assistants earn an hourly wage of $57,410 (mean).
Hours
According to most reports, Executive Assistants work long, and often odd, hours. These positions don't necessarily come with a clock-in-and-clock-out mentality. Executive Assistants have to be ready and willing to step up whenever duty calls.
How to Become an Executive Assistant When You're New to the Field or Switching Roles

Budding Executive Assistants with little prior experience can find plenty of ways to develop the skills they need to succeed, whether they're starting from scratch or trying to leverage experience from previous positions.
In general, aspiring EAs can began their careers by embodying a service-oriented mentality at all times. That involves:
Learning about the best practices and best resources by signing up for a newsletter, such as The Assist, which delivers new actionable intel and insights each week.

Constantly seeking opportunities to provide assistance and pitching in without hesitation

Always questioning processes and asking how they might be improved

Responding quickly and helpfully to every request

Networking with anyone and everyone by asking associates what they do at the company, what department they work in, what career goals they have, and more

Now let's get into more specific to-do items for EA hopefuls. Aspiring Executive Assistants can explore a variety of networking, training, and development opportunities where they can quickly build an assortment of skills that would otherwise take years of on-the-job experience to gain. Here are some resources and ideas to get you started!
Volunteer to Gain Experience
The job search experts at ZipRecruiter recommend volunteering to build up some experience. Many organizations, especially nonprofits, need administrative help from organized and motivated individuals. You can search for volunteer opportunities on online aggregators, including VolunteerMatch, Catchafire, and Idealist.
If your career is brand-new…
Look for opportunities that include a well-rounded list of responsibilities. This way, you can pick up skills in as many key areas as possible.
If you're hoping to switch roles…
Look for opportunities that fill in some gaps in your experience. For example, if you're already a master at creating presentations, but you have no experience in calendaring or planning business travel, then try to find volunteer opportunities where you'll be managing schedules and travel plans.
Learn the tools and tricks of the trade
Like any other master of a craft, EAs use tools and tricks to improve their work, get more done, and make their lives easier. The more tools and tricks you know about, the more you'll have in your "toolbox," ready to use when the need arises. You can easily learn about new tools, tips, and tricks by signing up for The Assist, a free weekly newsletter designed specifically to help EAs do their best work.

If your career is brand-new…
Try out the tips and tricks you read about and start nailing down the strategies that make sense for you. The more you explore, the faster you'll become an expert.
If you're hoping to switch roles…
Read The Assist to learn how EAs get their best work done and make your own strategy for being the best EA ever when you land that job.
Offer to Help
If you've noticed anyone at work who seems just a little bit too busy lately, then ask if you can take a few administrative tasks off their hands. The person doesn't have to be an executive to help you build the skills necessary to become an Executive Assistant.
If your career is brand-new…
Start by taking on small tasks. Focus on perfecting one task before you agree to take on anything else. This way, you'll be able to master the task without the stress of taking on too much in addition to your other responsibilities. As you help out with small tasks, you'll also learn how long each one takes, and you'll be prepared to determine how much extra work you can reasonable take on.
If you're hoping to switch roles…
Try to offer assistance in the key strategic areas you're most interested in. If you want to focus on business development strategies, then explore how you might be able to help in those areas. Consider offering assistance that truly makes lives easier. You might not be able to contribute groundbreaking ideas during strategy meetings, but you could volunteer to type (and circulate) meeting minutes. That way, you'll be present and paying attention at every meeting, gaining the knowledge you need to contribute more ideas down the road.
Take Training Courses
Accelerate your EA skill-building path with training courses. Courses allow you to build skills, often in short increments of time. Some courses even provide handy certificates you can actually use to validate your skills if you don't have any directly related work experience.
If your career is brand-new…
Find introductory trainings that focus on foundational skills such as the options below.
Chippewa Valley Technical College Associate (Online or In-Person) Degree – Executive Assistant
This top Executive Assistant training selection is perfect for anyone trying to break into the field and gain plenty of relevant resume experience to jump-start a flourishing career. The two-year course helps students transform into well-rounded EAs who know how to manage schedules, facilitate projects, support high-level business people, create presentations, and so much more.
Hawkeye Community College – Executive Assistant AAS Degree Online Courses
This comprehensive training course helps new Executive Assistants pick up skills that might otherwise take several years of work to master, so it's idea for anyone looking to accelerate a career. Plus, the demonstrable knowledge the course provides might even help students land desirable positions. The program includes courses such as, Introduction to Business, Applied Math, Payroll Accounting, and Business Ethics.
If you're hoping to switch roles…
Find focused trainings to help you boost skills in isolated areas.
Eventrix Executive Assistant Course
This convenient online course helps students develop many of the soft skills necessary to be standout Executive Assistants. The program targets communication, time management, boss-related etiquette, and even tips for starting an EA career.
eCornell Critical Thinking Online Certificate Program
All jobs require critical thinking skills, but Executive Assistant jobs take demands to the next level. EAs must constantly employ critical thinking to make key decisions, communicate effectively with everyone, resolve conflicts, manage others' emotions, and so much more. This online course will help anyone with a background in any career build essential critical thinking skills that will be helpful for an EA career.
Attend Networking Events and Conferences
Meeting people in the field you want to work in will prepare you for your new career in many ways. You'll learn about new resources, witness key trends, and make connections that may help you learn new skills or even find opportunities you wouldn't know about otherwise.
If your career is brand-new…
Choose events and conferences that provide introductions to key skills (and key people) relevant to the field.
Be the Ultimate Assistant Two-Day Workshops
These multi-location workshops give hopeful, beginning, and experienced EAs plenty of information to either start or enhance their careers. The workshops are offered at multiple locations and multiple dates; so even though they're offered only in person, these workshops offer a dates and locations that work well for Executive Assistants across the country.
The workshops focus on the classic skills found in well-rounded assistants, including communication skills, organization techniques, problem-solving strategies, and career management techniques. Plus, since these events attract motivated professionals looking to become even better at their jobs, they're perfect for networking and bring EAs at all levels together to learn from each other.
If you're hoping to switch roles…
Choose events and conferences that help you round out your existing skills and become a qualified candidate for any Executive Assistant position.
The Executive Leadership Support Forum
This multi-location, multi-date support forum's planners have this to say about the potential of Executive Assistants: "We believe executive assistants can achieve greatness in their career."
The forum brings EAs at all levels together to talk to each other, offer support, learn new skills, and more.
(PS – Get more sh*t done with The Assist — the #1 free weekly newsletter made for assistants by assistants.)
Already an Executive Assistant? Tell us how you started your career in the comments below!