New ideas for your office layout do not have to be time consuming or expensive! Whether you're moving to a new space or trying to improve an existing one, you can refresh your office by following a few simple tips and tricks.
Sure, it's nice to perfectly recreate all those pictures you found on Pinterest, but if you don't have the resources, don't sweat! The key to hacking your office layout is to arrange the pieces you already have, plus a few inexpensive additions, in a way that enhances your company's culture. Even just putting some extra thought into your office seating plan can make a world of difference to team morale.
So, for example, if your company values collaboration, you could try splitting up those perfectly spaced cubes to create a variety of "work pods" with a few private spaces for deep thought. Whether you are looking for big or small office design ideas you will be sure to find them here – check out Autonomous for some additional ideas!
Are you ready to be inspired? Here are the coolest office layout ideas you can implement without breaking the bank or killing your schedule.
Want to become a better professional in just 5 minutes?
Office Layout Idea#1: The Newsroom
Key Features: Desk clusters, open space, and flexible seating
Perfect for…  Fast-paced work that requires lots of collaboration. This type of setup is perfect for any work where communication is key and there is a pressing need for impromptu meetings. Groups who don't have time to reserve conference rooms and scan schedules when they need to have meetings will benefit from this environment.
Tips and Tricks:
Push together individual office desks to make clusters of both large and small group tables.
Remove cubicle walls and room dividers.
Intersperse the office with comfortable, flexible seating options. Use what you already have and maybe supplement with some bean-bag seats.

Office Layout Idea #2: The Startup
Key Features: Standing cafe tables and couches, plus easy-to-move laptop desks
Perfect for…  Inspiring flexible work habits and free thinking. Any company can borrow secrets from the flexible setup of a typical startup. Plenty of standing working space is key, and it's good to incorporate a few flexible surfaces for placing laptops and iPads. If you are moving into a serviced office you can ask your service provider for assistance in turning your ideas into reality!
Tips and Tricks:
If you're short on budget, brainstorm items you might use to add height to existing tables to turn them into standing desks.
Move a few couches from the break room into the main work area to encourage employees to work anywhere they want. (You can replace the break room couches with traditional desks converted into lunch tables.)
Scatter inexpensive standing laptop desks, like the ones from Ergodriven, around the new workspace. Standing desks are a great option for some employees who do not want to sit all day.
If your company has remote employees who generally work in their own home offices, it is a great idea to create a couple of work stations for when they may need to visit the headquarters.
Office Layout Idea #3: The Library
Key Features: Sheltered cubes and privacy screens, plus lots of nooks and crannies
Perfect for…  Work that depends on uninterrupted focus. Not all kinds of work benefit from a constant buzz of activity. If your employees want quiet time, embrace their needs instead of following the trends of open floor plans.
Tips and Tricks:
Roll standing white boards from your conference room into the main work hub. Employees can roll them in front of their cube doors when they need to focus or make phone calls.
Split group cubes into individual work stations.
Have special "quiet hours" in conference rooms where employees can gather to work quietly together while also taking a break from their desks.
Office Layout Idea #4: The Artist Loft
Key Features: Long galley desks, white boards, and pops of color
Perfect for…  Creative, highly visual work. In the Artist Loft, creators can design alongside each other. White boards lining the office's perimeter encourage the free flow of ideas; even if people aren't working on the same projects, they can find inspiration in each other's sketches.
Tips and Tricks:
Push together individual desks to form long horizontal rows.
Gather white boards from conference rooms and put them in the main work area. Sometimes a white board can get the creative juices flowing.
Print and frame graphics designed by the company and place them around the office to add color and inspiration.
Office Layout Idea#5: The Innovation Lab
Key Features: Inspiration boards, idea banks, and lots of casual meeting spaces
Perfect for…  Offices where colleagues push each other to dream up the next big idea. Serving clients, creating projects, and doing anything else that benefits from innovation (everything!) are all activities perfectly suited for an office layout that encourages ideas and idea exchanges.
Tips and Tricks:
Place 1-2 privacy screens around clusters of desks to create inviting, half-open and half-closed meeting spaces.
Place chalkboards or write and wipe boards around the room where you can post a new thought-provoking question each week. (This doesn't just get ideas flowing; it can also produce viable projects.)
Create idea banks. On a table, set out some bowls and small pieces of paper, plus lots of writing implements. Have employees make tent signs listing problems they're trying to solve at work. Invite other employees to put ideas (anonymous or tagged) on the pieces of paper and drop them into the bowls. This makes even introverted employees comfortable with sharing ideas.
Office Layout Idea #6: The Light-Filled Office
Key Features: This office is flooded with synthetic, natural light and happy workers
Perfect for… Offices that need to be updated, and office managers with small budgets. By simply letting in more light, adding mirrors, and switching out light bulbs, you can access untapped sources of light throughout the office. A great open office layout idea for small offices.
Tips and Tricks:
The Office Designs blog recommends swapping out overhead bulbs for brighter models and even bringing in some lamps.
Take down blinds. Even when they're rolled up, they can block some refreshing natural sunlight.
Add more mirrors to reflect the natural light you are Place mirrors directly across from windows if possible.

Office Layout Idea #7: The Multi-Environment Office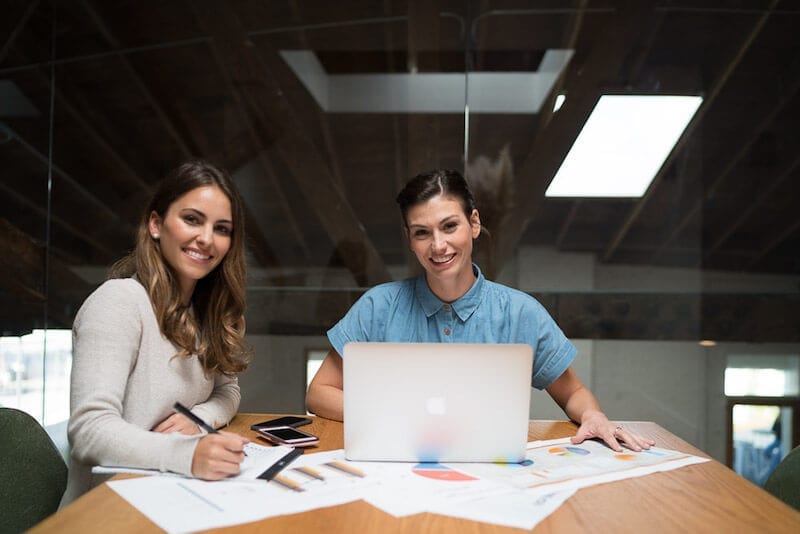 Key Features: A variety of workspaces to suite a variety of employee preferences
Perfect for… According to a case study from Work Design Magazine, letting employees select their own work environments enhances a sense of belonging across the office. Not to mention, it can encourage collaboration between employees and even across entire departments.
Tips and Tricks:
Use simple materials, like decorated wooden frames, to convert open areas into smaller, customized workspaces.
Demarcate work areas with cool floor panels or carpets.
Choose one simple or inexpensive element to create a distinct "look" for a workspace without completely closing it off from the rest of the office. The designers of the office featured here made beams from palettes to create the look of a greenhouse.
Office Layout Idea #8: The Recharge Office
Key Features: Office spaces dedicated to recharging. (We're not talking about cell phones; we're talking about places where employees can have some truly quiet time to relax.)
Perfect for… Any office where work is demanding and surveyed employees cite feeling stressed. According to K2 Space, recharge rooms are one of the key office trends of 2018.
Tips and Tricks:
Use simple room dividers to create eating and meeting spaces in the office, and convert break rooms, conference rooms, and even closets—essentially any room with a door—into breakout spaces.
Add large bean-bag seats to make people feel cozy.
Post meditation posters on the walls to help people relax.
Office Layout Idea#9: The Motivational Office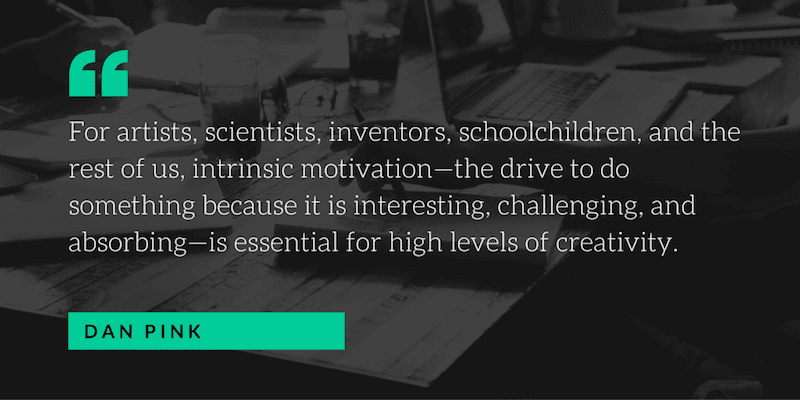 Key Features: A few eye-catching accent walls with motivational words.
Perfect for… Inspiring employees! And it doesn't take many words to do this. This perfect wall at Bumble's LA Office says everything employees need to know in a day: Make the first move. Additionally, this option is perfect if you have little to no budget. Getting some words on a wall is way less expensive than purchasing new furniture and a great way to motivate employees.
Tips and Tricks:
A search for custom wall decals on Etsy yields tons of results. You're sure to find a vendor who can match your aesthetic, and many offer made-to-order services so you can get the words and the size you want.
Are there any artists in your office? If you have permission, have them artistically paint or spray paint words on the walls. If the landlord is not okay with this, use a piece of quality poster board.
Figure out what letters and sizes you need, and ask employees to each take responsibility for creating one letter. Many styles will come together to create something that reflects your culture.
Office Layout Idea #10: The Pride-Filled Office
Key Features: Brand colors and elements scattered throughout the office
Perfect for…. Companies who have just rebranded or are looking to reinforce brand principles. This is another budget-friendly idea, as it doesn't require purchasing furniture, unless you have lots of cash to spend having custom-branded slipcovers made for the lounge room sofa.
Tips and Tricks:
Office Principles recommends something as simple as painting an accent wall with one of your brand's colors.
Frame and hang printouts of your mission statement or company values.
Create a logo wall. Print and frame the current and past iterations of your brand logo to create a gallery wall.
Office Layout Idea #11: The Team-Planned Office
Key Features: It depends on what your team decides! In a study published by the Journal of Experimental Psychology. Applied, researchers found that employees displayed better attention to detail, information processing, and information management when they had input in office design ideas.
Perfect for… Small offices with tight-knit teams.
Tips and Tricks:
Have everyone at the company provide ideas for an overall layout. This is a great way to get some feedback from the people who will be spending time in the environment.
Let each employee decorate their own desk. Personalization is key.
If you have the budget, pass out catalogs and Sharpies, and give each employee a spending limit. This will make it easy for employees to get what they want. Plus, giving them a few cohesive design brands to choose from means everything will look good together.
Office Layout Idea #12: The Problem-Solving Office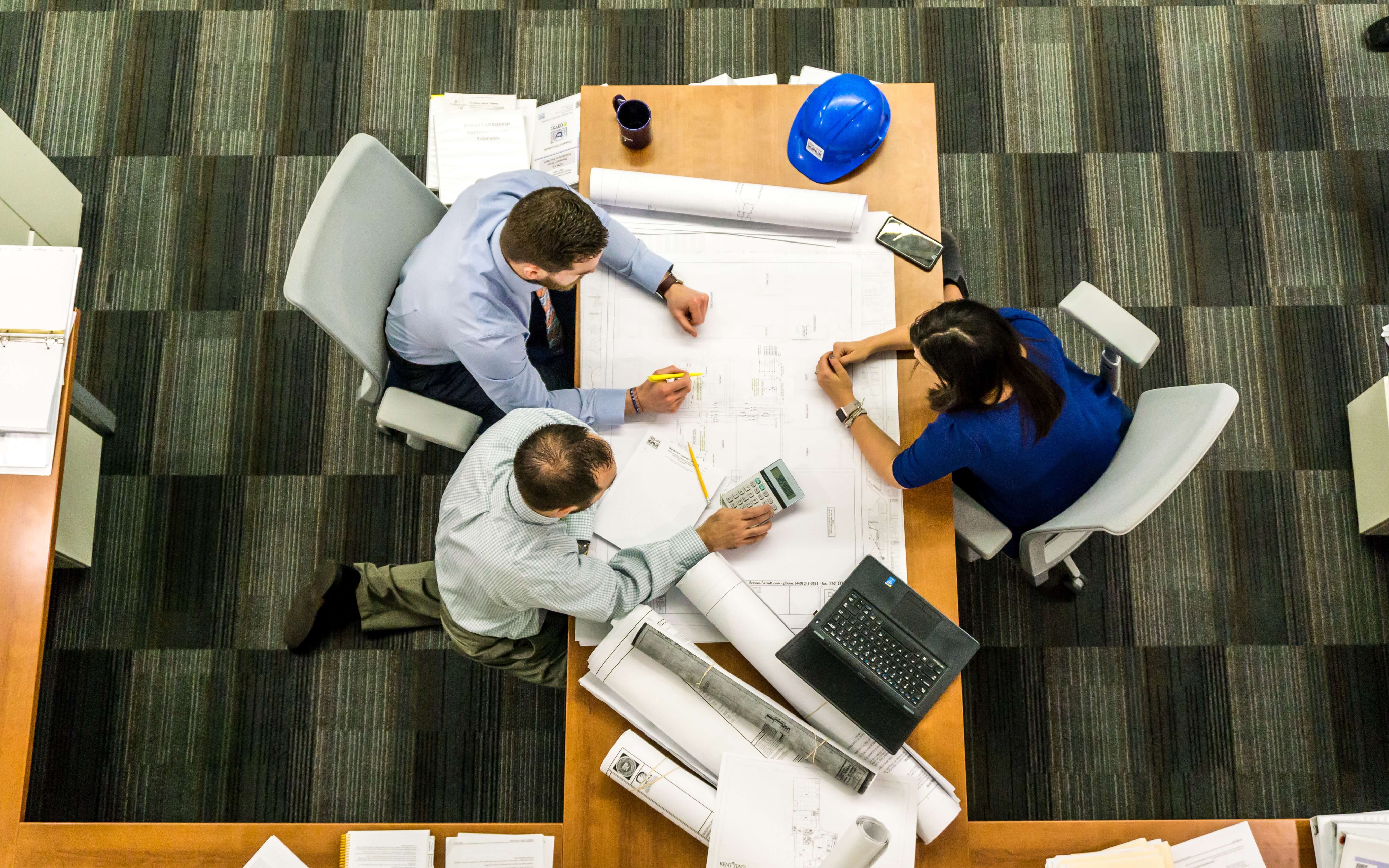 Key Features: Lots of small and flexible meeting rooms
Perfect for… Companies whose clients and customers demand out-of-the-box thinking.
Tips and Tricks:
WiderFunnel Vancouver used core values as inspiring themes for a variety of "huddle" rooms. For example, they have a Maverick room featuring sketches of famous mavericks, such as Steve Jobs.
Scatter homemade problem-and-solution posters throughout the office to remind people of the power of persistence. They don't have to be fancy as long as they're inspirational!
Office Layout Idea #13: The Grown-Up Classroom
Key Features: Lots of writing spaces and flexible seating options
Perfect for… Developing employees by engaging in both work-related and non work-related learning.
Tips and Tricks:
Bring in folding tables and chairs so employees can easily gather around the white board for an impromptu presentation.
Paint a few walls with dry erase paint so employees can easily explain their ideas and generate concepts. (Even the idea of writing directly on the wall can open up a person's creative thinking.)
Rearrange desks so people are facing in a variety of different directions.
Office Layout Idea #14: The Social Office
Key Features: Cozy common areas and desks arranged to encourage face-to-face interactions
Perfect for… Employee happiness and retention. A recent Gallup poll shows that people want workplace friendships and that forming said friendships enhances performance.
Tips and Tricks:
Bring desks up to eye height. According to this article in Quartz, socializing is so much fun at bars because everyone, whether they're sitting or standing, is at the same eye level. Boost up your desks to encourage spontaneous office conversations.
Rearrange desks so people are facing each other. This may seem awkward at first, but eventually, everyone will be more comfortable with one another.
Push together a few old tables and add some lifts to pull together a long bar table where people can stand around and chat. (Of course, you can also purchase bar tables and stools if you have the budget.)
Office Layout Idea #15: The Fit Office
Key Features: Lots of small private and open spaces for people to move and stretch
Perfect for… Offices full of active and energetic people who get restless from too much sitting.
Tips and Tricks:
Add privacy screens next to employee desks, but leave a space big enough for a yoga mat. Encourage people to use the space for their daily sun salutations.
Clear out a few office corners to make open, Crossfit style gym spaces. You don't need to stock them with equipment unless you want to; just put up a sign and a few fitness posters to get the idea across.
Mark the floor with brightly colored duct tape to section off "fitness zones."
What are your office configuration ideas? Let us know your favorite types of office layouts in the comments. 
Office How To's Resources: