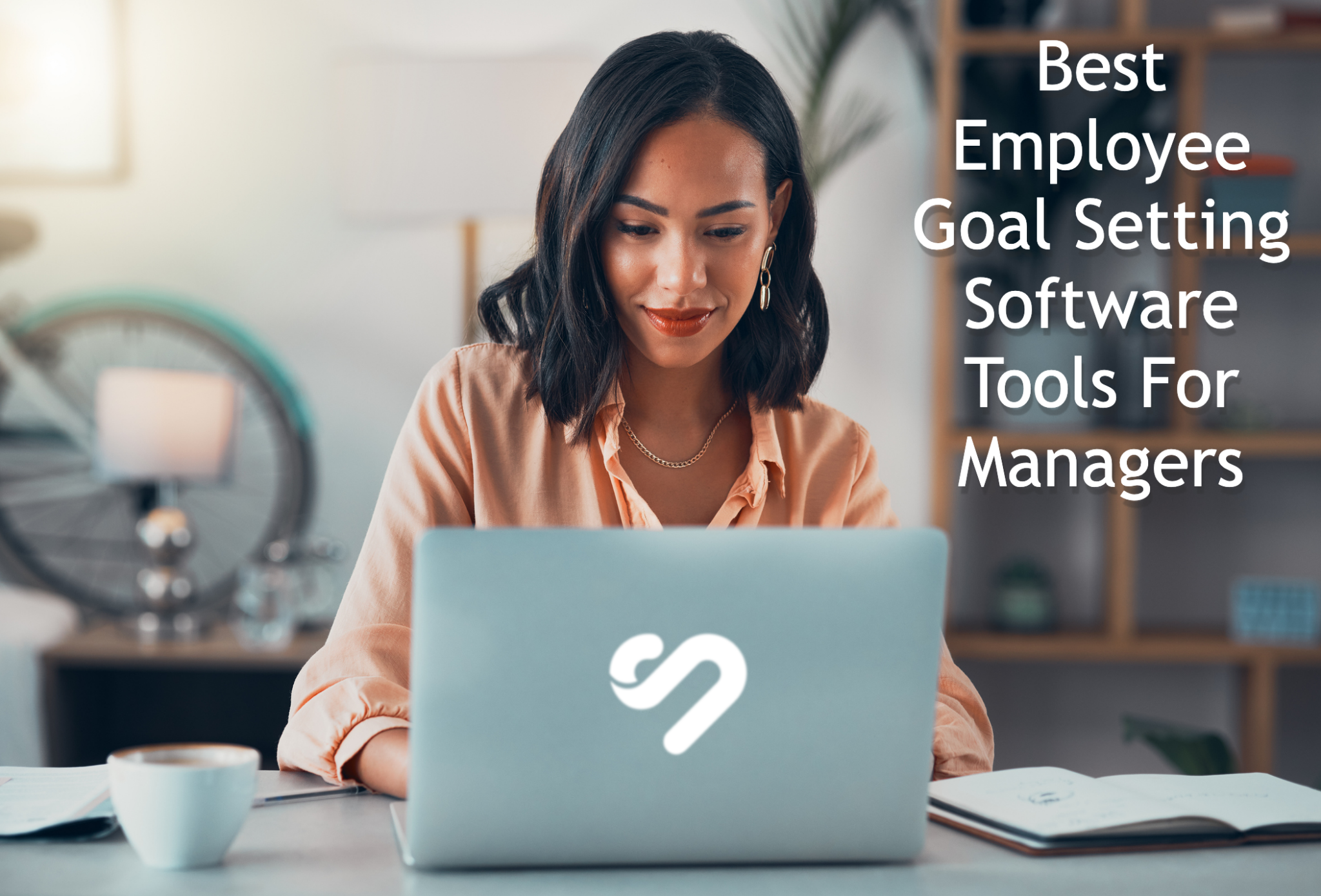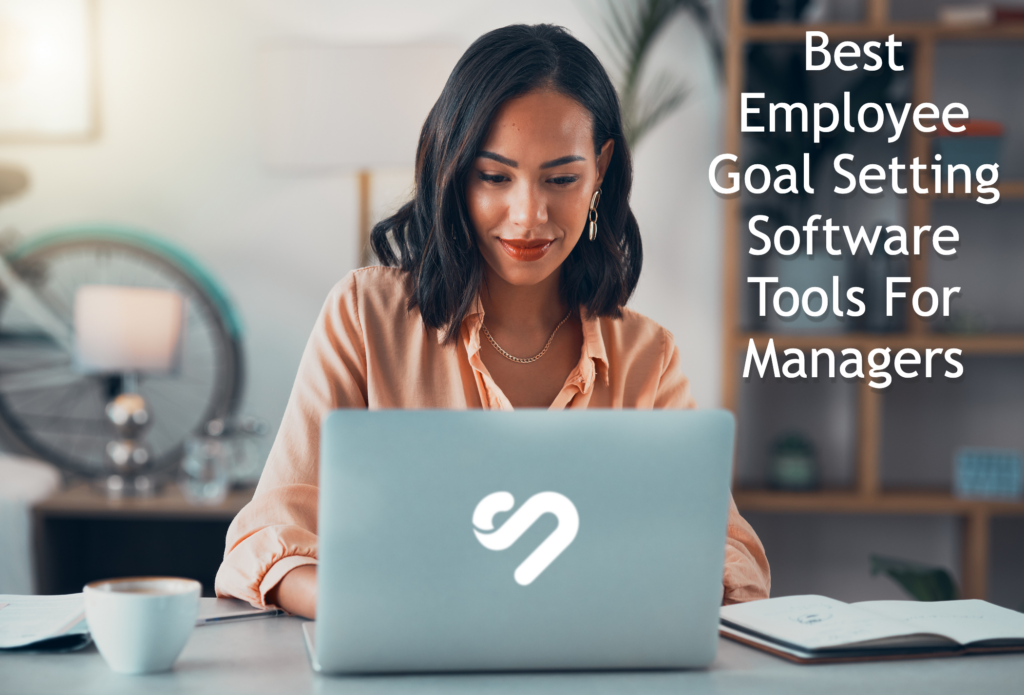 In today's rapid-fire corporate environment, employee goal setting is one of the most vital components of an organization's success — especially because, with increased velocity, adapting on the fly is even more challenging.
To manage employees in the office and remotely, you have to set clear personal and professional goals, align on what those are, track progress, and create a comfortable situation where managers and employees both feel safe to give feedback.
If these steps are taken, employees and the organization will benefit as they work towards a unified vision. Employee goal setting software tools for managers can help your company and teams optimize performance, get results, and win together.
Fortunately, we've carefully curated a selection of the top employee goal setting software to make your final choice easier and ensure your needs are met.
In this article, we'll take a closer look at the best employee goal-setting software tools for managers, along with their benefits and features.
So without further ado, let's pick out the perfect employee goal-setting software for your organization!
Want to become a better professional in just 5 minutes?
Page Contents (Click To Jump)
What Is Goal Setting Software?
With the help of goal-setting software, individuals and teams can set ambitious objectives, create strategies to reach them, observe their progress along the way, and cheer on their successes.
This special computer program or app offers a structured and systematic method for defining goals so that you can be sure to hit your targets. Setting objectives has never been easier than with goal setting software.
It provides an array of features to make your life simpler, such as making and categorizing goals, establishing benchmarks and deadlines, attributing duties, and even keeping track of progress using data visuals like graphs or charts. If you work in a team on shared ambitions this kind of software can also be useful; it offers collaboration tools so that everyone involved stays up-to-date while holding each other responsible through notifications or reminders.
By leveraging goal-setting software, individuals and organizations can unlock their potential for increased productivity, focus, and motivation.
---
Why Is It Important For Teams To Use Goal Setting Software Tools?
Setting objectives and goals is made easier with software tools, offering a plethora of advantages to teams. For example, utilizing goal-setting software tools can help teams set tangible objectives and outcomes, thus allowing for better clarity and alignment as they strive to complete their tasks.
Additionally, goal-setting software is an incredibly useful tool for teams, as it provides a centralized hub to collaborate through the assignment and tracking of tasks. This system ensures that all members are on the same page while avoiding any miscommunication or confusion.
---
The Benefits of Using Employee Goal Setting Software Tools
Using employee goal setting software tools has a nearly incalculable effect on organizations that choose to harness these platforms. Some of the main perks of these people management hacks include:
👩🏽‍💻 Improved Accountability
Goal setting software massively boosts visibility, which in turn lets team members and managers see their deadlines and deliverables.
📈 Data-Driven Decision-Making
Perfect for data visualization, most goal-setting software enables task tracking and makes identifying gaps and areas to improve abundantly clear, which keeps management from having to second-guess their own judgment.
⏳ Saving Time
The vast majority of goal setting software programs allow you to automate certain elements of goal tracking and reporting. This greatly reduces the need for menial tasks and administrative focus, equating to precious resources going towards higher leverage activities.
---
10 Employee Goal Setting Software Tools For Teams 
Best employee goal setting software for: monday.com is the ideal employee goal setting software tool for S.M.A.R.T. goals.


monday.com is a goal-setting and employee productivity software, with an extensive library of more than 200 fully customizable templates that simplify teamwork and collaboration. This productivity tool allows you to centralize all of your work, resources, processes, and files into one all-inclusive platform, breaking down silos and opening company-wide cross-department collaboration.
How monday.com helps teams set achievable goals: monday.com's easy-to-use automation and real-time notifications give you a clear picture of work and tasks that need to be completed. This goal-setting tool will help managers increase their confidence in their decision-making and scale workflows to evolve with their objectives.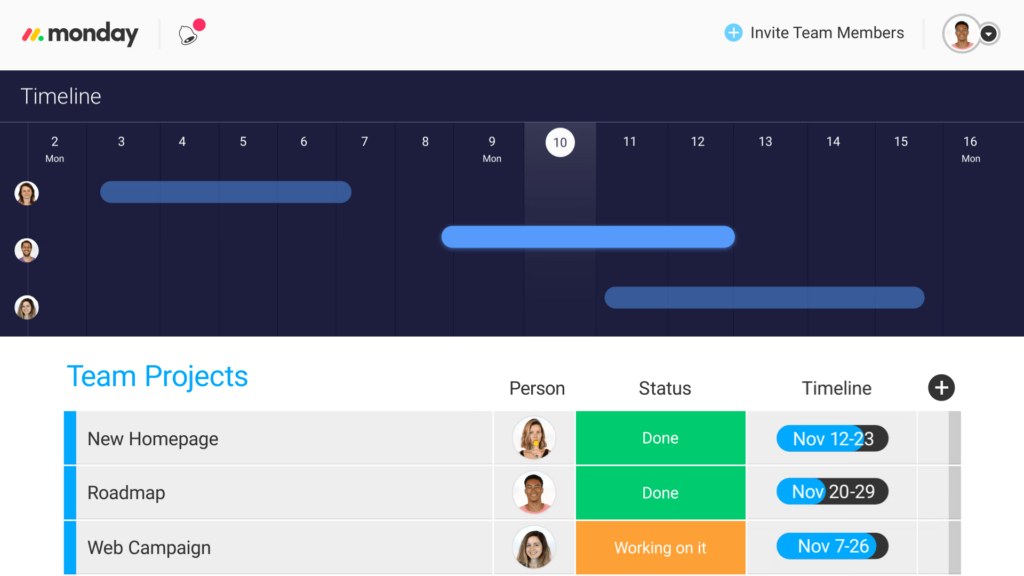 Standout Features 
Gantt charts — Horizontal bar charts that illustrate a project's planned schedule and its tasks or events over a specific period.
Kanban boards — Visual strategy where a board made up of columns and cards is designed to break down a project into actionable components, increasing manageability.
Timelines — Visual representations of your projects to show who is working on which parts of it and when it is expected to be finished.
Companies that use monday.com:
"monday.com is ingrained in our work-life and has become an essential operating system at Nissan." — Nissan North America
Optimize your organization across all levels and departments with monday.com!
Best employee goal setting software for: Miro helps teams master asynchronous work.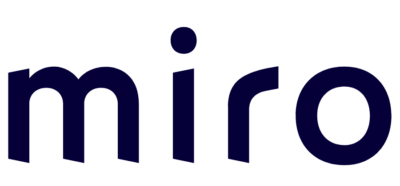 Miro is an employee goal setting software that helps remote and in-person teams build visual presentations, plan sessions, and manage and track progress. This asynchronous tool also lets you generate ideas, discuss, and build plans regardless of location and distance. Part of what makes it so exceptional for managing distributed teams and setting goals is that on Miro you can determine workloads, swiftly make adjustments, and draw dependency lines.
How Miro helps teams set achievable goals: Miro enables your team to visualize timelines and plan projects from start to finish. On top of that, Miro allows integrations with Jira, Confluence, and many other incredible applications.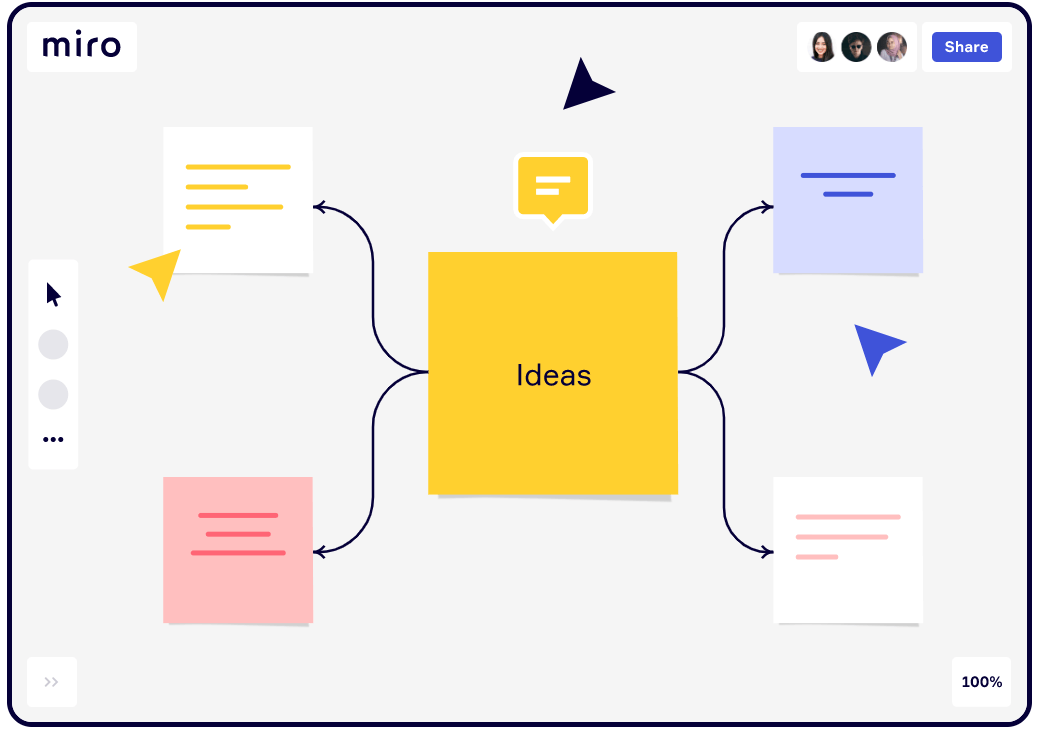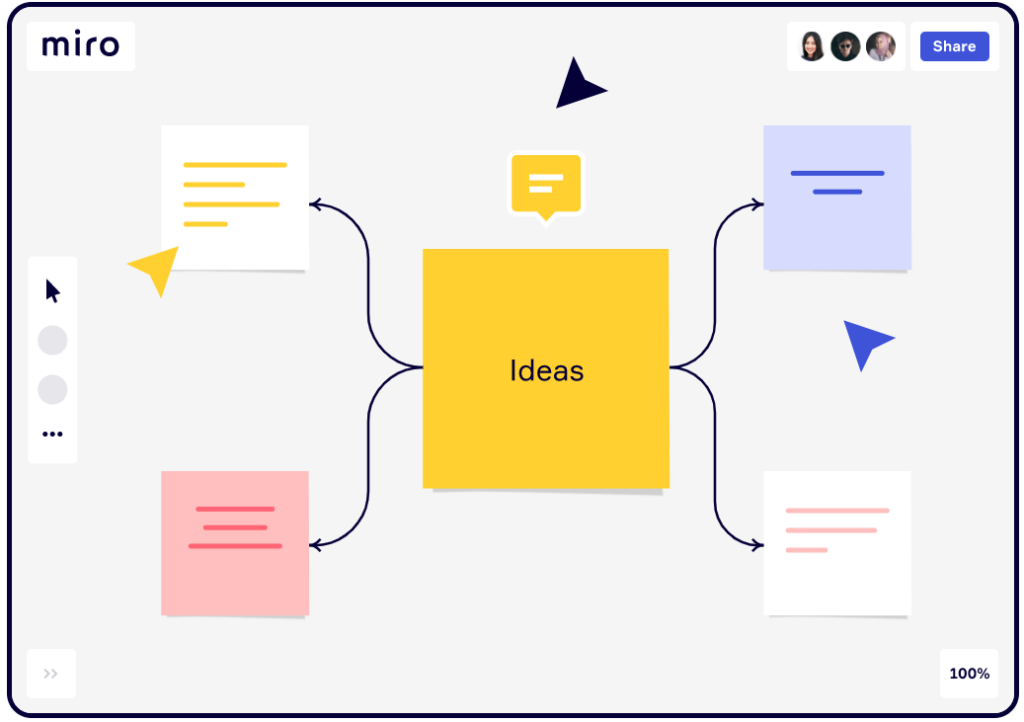 Standout Features 
SWOT analysis — This feature helps organizations identify and evaluate the Strengths, Weaknesses, Opportunities, and Threats regarding a project or business.
Gantt chart — Miro offers visual project management tools that illustrate the start and finish dates of tasks, along with dependencies and time to completion in a horizontal bar chart format.
Strategic planning templates — These pre-designed frameworks give structured formats for outlining goals, strategies, and action plans to complete objectives.
Companies that use Miro:
"Miro is an excellent choice for remote brainstorming sessions by utilizing a variety of tools; you can enhance the brainstorming process with virtual whiteboards, video conferencing, and a wide range of templates, such as mind maps, flowcharts, and SWOT analysis."
Maximize your dispersed team's potential with Miro!
Best employee goal setting software for: ClickUp is perfectly suited for coordinating sprints and boosting company-wide agility.

ClickUp is a milestone software and employee productivity tool designed for creating trackable goals that align with short-term objectives and the big picture. ClickUp makes it easy for employees and managers to reach their goals by holding them up against measurable targets, clear timelines, and coordinated progress tracking.
How ClickUp helps teams set achievable goals: ClickUp helps you track progress with monetary, numerical, true/false, and task targets. Tracking sprint cycles, setting OKRS, giving out weekly employee scorecards, and meeting other important team goals can all be executed within the ClickUp ecosystem.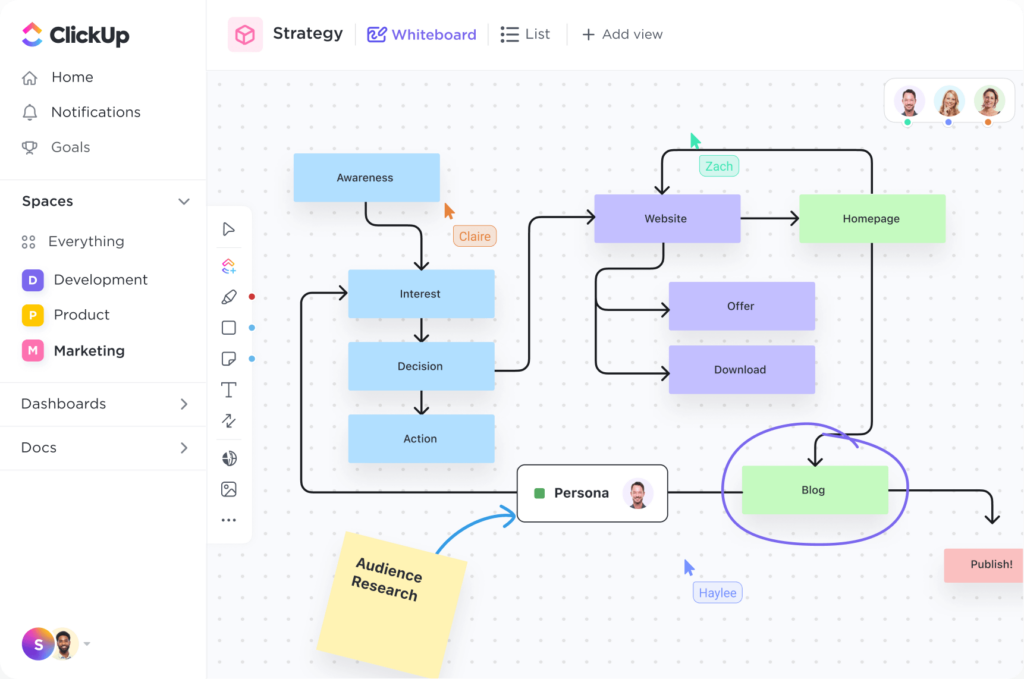 Standout Features 
Automations — ClickUp helps you create programmed rules and processes to eliminate the need for hands-on administration and management, leaving time for more human interaction and relationship-building.
Pulse reports — Pulse reports provide regular, data-driven, concise reports that offer info and insights about the performance of individuals and their overall feelings surrounding the company and the projects they're working on.
Time tracking — ClickUp records and monitors time spent on projects and tasks, which makes billing, timesheets, and project management much more accessible.
Companies that use ClickUp:
"We are able to customize and automate ClickUp to suit each specific initiative, which has increased our team's capacity exponentially." — Stanley Security
Track your team's progress and maximize productivity with ClickUp!
Best employee goal setting software for: Motivosity is the go-to goal setting platform for motivation and optimal productivity.

Motivosity is the ultimate employee motivation hack. Managers are empowered to better coach their team and master the interpersonal side of their role (whether they are executive assistants, salespersons, or something else entirely).
Motivosity assists your team in hitting new highs with integrated management training, which is reinforced by weekly collaborative one-on-ones. This people management software optimizes your priorities so your team can have maximum effectiveness and impact.
How Motivosity helps teams set achievable goals: Motivosity engages and encourages employees by giving them continuous access to feedback and enabling them to give feedback of their own. Employee appreciation is also seamless on this employee recognition platform.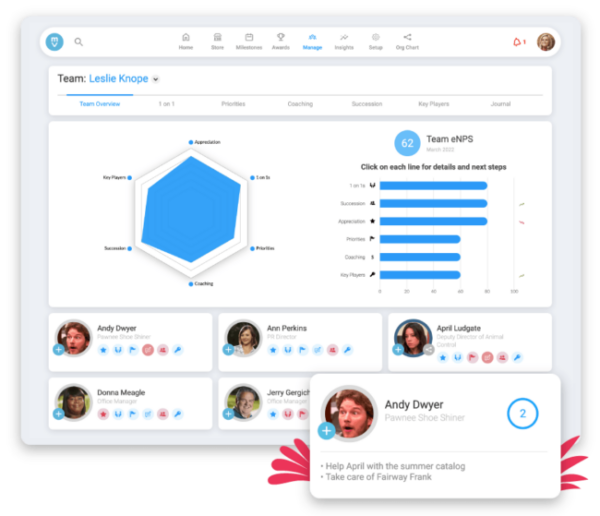 Standout Features 
Manager-to-peer recognition — This feature allows managers to reward and recognize employees for their dedication and hard work.
Peer appraisals — Motivosity lets peers provide feedback and recognition, leading to a culture of openness, trust, and respect.
Engagement tracking — You can closely monitor company-wide employment engagement, leveraging surveys to measure it directly and to track changes over time.
Companies that use Motivosity:
"Motivosity is a great way for me to recognize my direct reports, my peers, and my leaders. It is simple to use and fun."
Motivosity is a great way for me to recognize my direct reports, my peers, and my leaders. It is easy to use and fun.
Keep your team motivated with Motivosity!
Best employee goal setting software for: WorkTango is perfectly suited for creating feedback loops and creating a company culture of continuous learning.

WorkTango keeps business and individual goals and OKRs transparent and aligned. With this employee engagement company, you can create goals across all levels and departments and customize them to match your business using a variety of methodologies.
How WorkTango helps teams set achievable goals: With WorkTango, you can track goal progress and risk status, make updates and add comments as updates happen, regularly inform other team members and boost accountability, and filter and view goals by status to get a grasp on how things are coming along.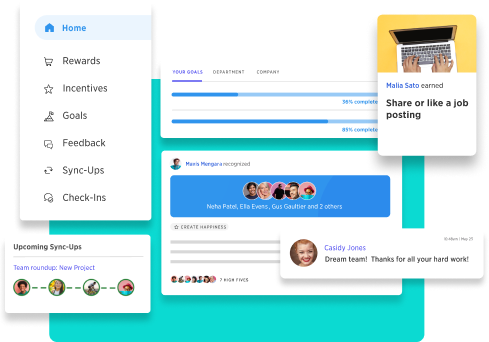 Standout Features 
Learning management system — WorkTango enables you to quickly create feedback surveys, generate detailed reports, and track employee progress.
Activity tracking — This feature lets companies analyze their company culture in real-time with regularly updated analytics and insights.
Custom surveys — WorkTango gives you the ability to effortlessly gauge employee sentiment and recognize company trends and performance management.
Companies that use WorkTango:
Allianz
DoorDash
Accruent
"The customer service I get from them is awesome. They are always eager to help me use the tool better, introduce new features, and make sure I'm getting the most out of my subscription."
Get your teams on the same page with WorkTango!
Best employee goal setting software for: Leapsome automates administrative management tasks and improves organizational rhythm and feedback, paving the path to success.

Leapsome aligns the entire company behind a singular focus and mission by letting you track and collaborate on goals across your organization while increasing transparency. Now, regardless of your process and framework, you can reduce quarterly admin and get your team moving full-steam ahead by establishing recurring goal cycles with fixed timelines.
How Leapsome helps teams set achievable goals: Leapsome helps teams take a major leap forward by engaging goal collaborators. Instead of simply tracking, team members and managers can give feedback, boost morale, and make constant adjustments. Generating a goal tree that highlights ownership and dependencies on the road to success and aligns individuals and teams is straightforward with Leapsome.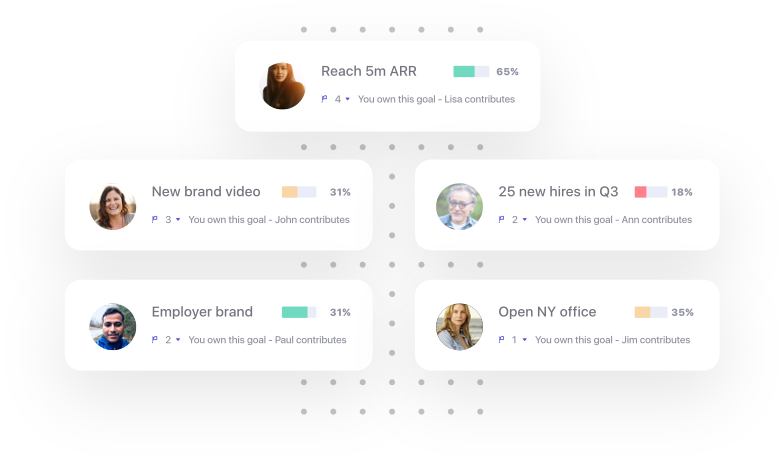 Standout Features 
Progress updates — receive automatic updates and tracking reminders.
Sync 1-on-1s & reviews — keep tabs on individual goal progress during 1:1 meetings and performance reviews.
Customize visibility — individual team members, teams, and the entire company can share and see goals at all levels.
Companies that use Leapsome:
"I love the friendly setup of the platform and the simplicity of use. Mostly, I use it for the praising of colleagues and it does solve many challenges regarding giving positive feedback and having a mood boost."
Leap over obstacles with Leapsome!
Best employee goal setting software for: Trello is the ideal solution for automating workflows and getting a clear look at the bigger picture.


Trello unites teammates, tasks, and tools under an easy-to-use all-in-one employee management platform. This productivity powerhouse is simple, flexible, and effective, with cards, lists, and boards to assign, delegate, and manage who does what and by when.
How Trello helps teams set achievable goals: Trello makes everything from weekly sprints and annual planning easy to tackle. The timeline view keeps the tasks on schedule while giving you a clear look at what's coming and what might also present itself as an obstacle along the way. With Trello, you can remove unexpected impediments and maximize productivity.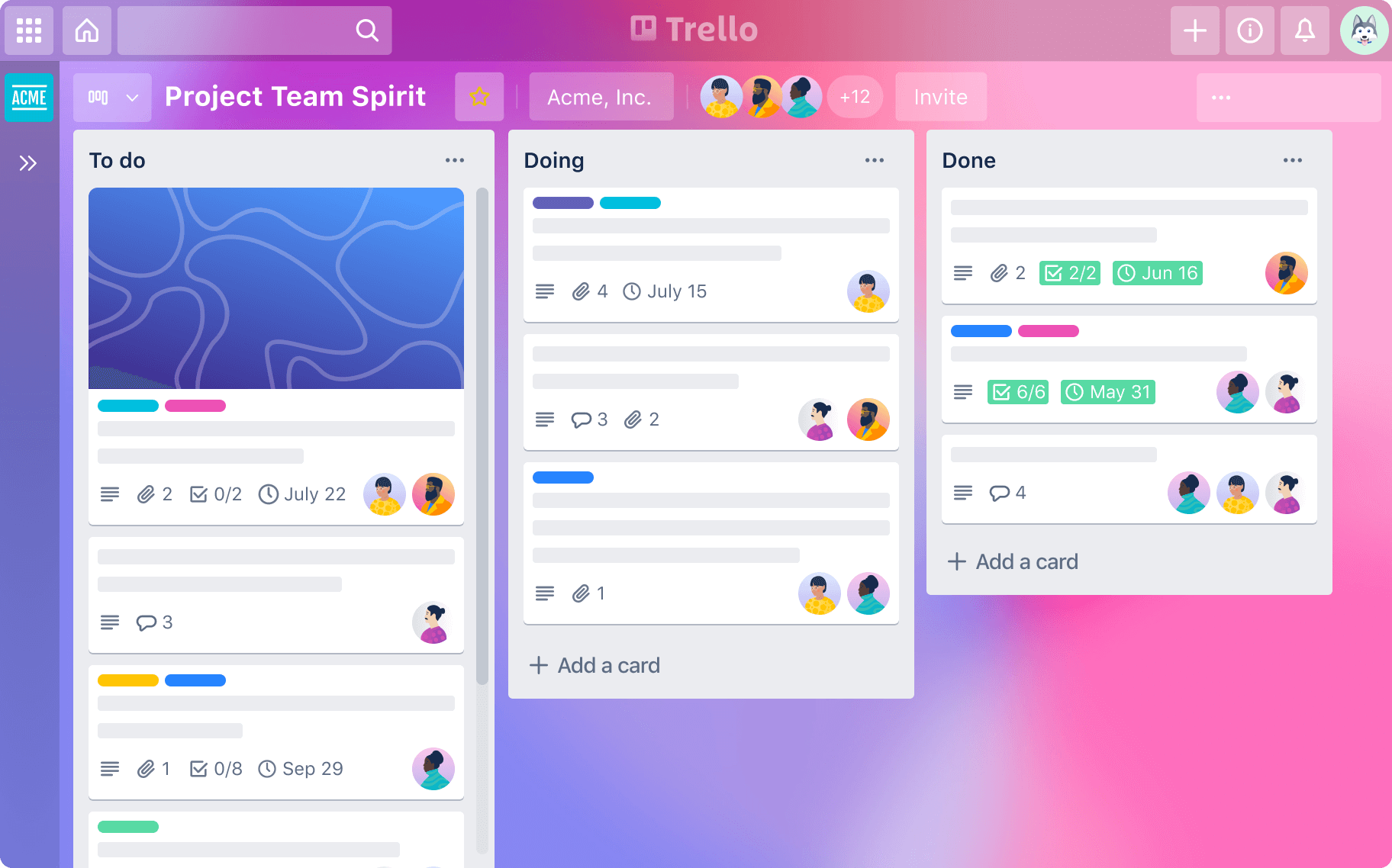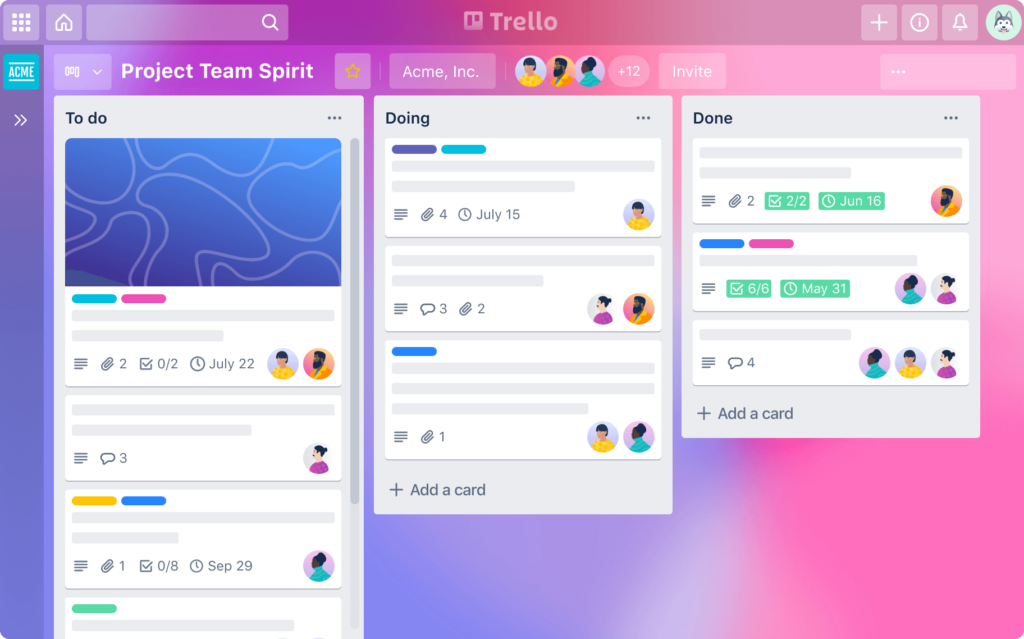 Standout Features 
Advanced checklists — Map out the granular and the grand details of tasks using Trello's advanced checklists.
Automations — Trello allows you to set up rules that are triggered by a particular action, buttons that run an action on a card, due date commands coordinated by impending deadlines, and calendar commands set according to calendar intervals.
Dark mode — This intelligent feature reduces eye strain, which means employees and managers can work for longer without feeling as taxed and overwhelmed.
Companies that use Trello:
"As an HR professional, I have used Trello for several recruitment and selection projects. This project management tool is very easy to use and has helped me stay focused and organized on project goals."
Gain clarity and momentum with Trello!
Best employee goal setting software for: Improving employee work-life balance while maintaining high performance.

This daily digital planner helps managers keep employees calm, steady, and focused on the tasks at hand — and the ones coming down the line. Sunsama integrates with Asana, ClickUp, Jira, Trello, and loads of other useful tools and applications so you don't have to choose and can drop, drop, and import tasks from one program to another.
How Sunsama helps teams set achievable goals: Sunsama makes setting time aside for emails, following up on Slack messages, and syncing calendars convenient.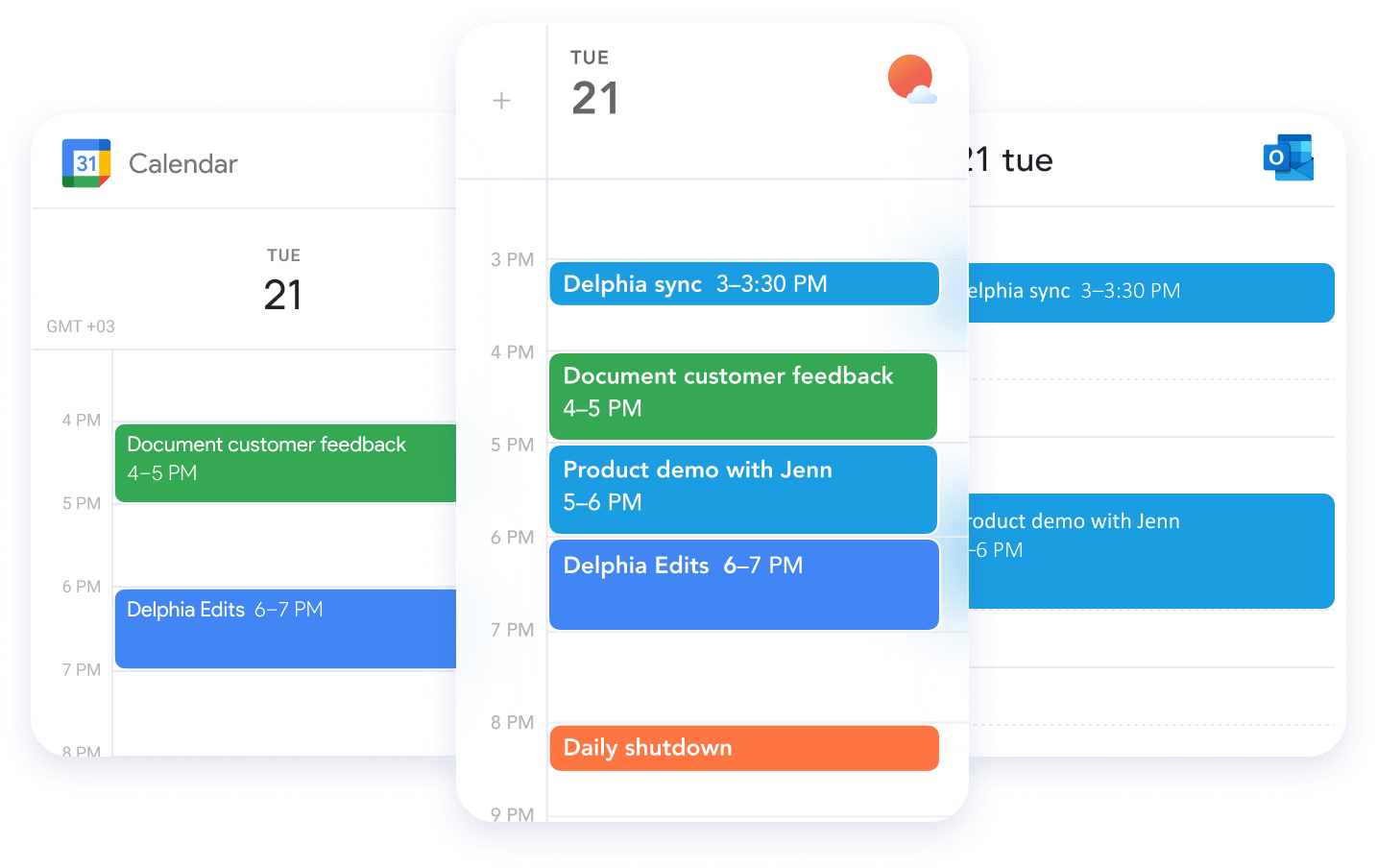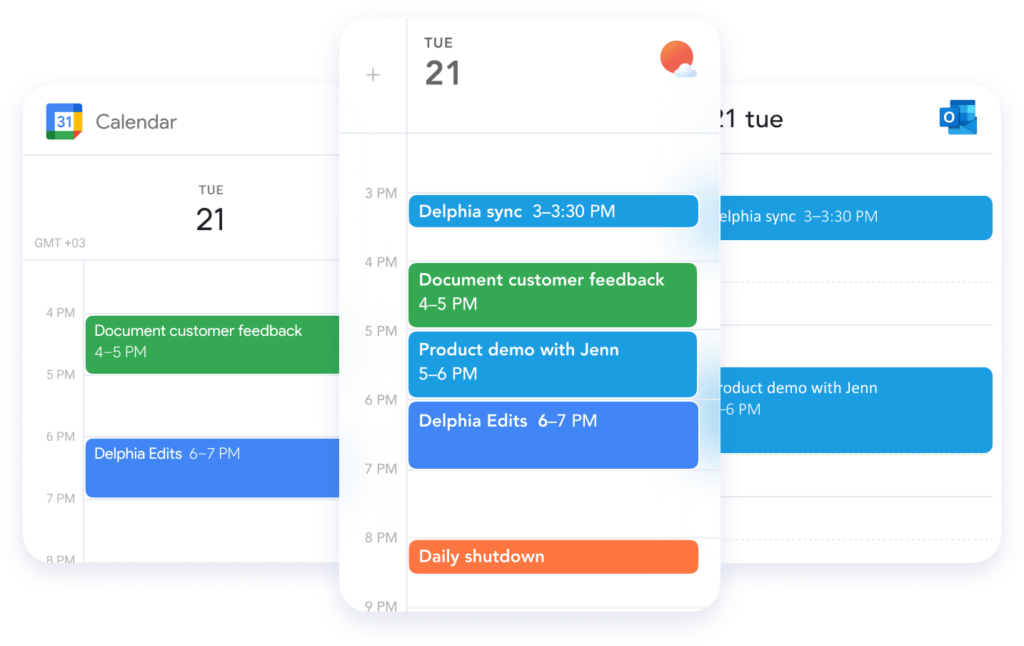 Standout Features 
Analytics — Gain an in-depth understanding of how employees are spending their time at work and which activities are most effective.
Auto-scheduling — Automate your tasks and sync schedules directly to your calendar.
Weekly review and planning — Determine weekly goals and objectives and track ongoing progress.
Companies that use Sunsama:
Asana
Zapier
The New York Times
"I have many aspects and areas of my life; Sunsama helps me to manage all of them. The interface is clean and easy to use; I like the Kanban for your life philosophy that the team has going for it."
Help your team members plan their days with Sunsama!
Best employee goal setting software for: Goals.com is the premier employee goal setting software tool for sales managers.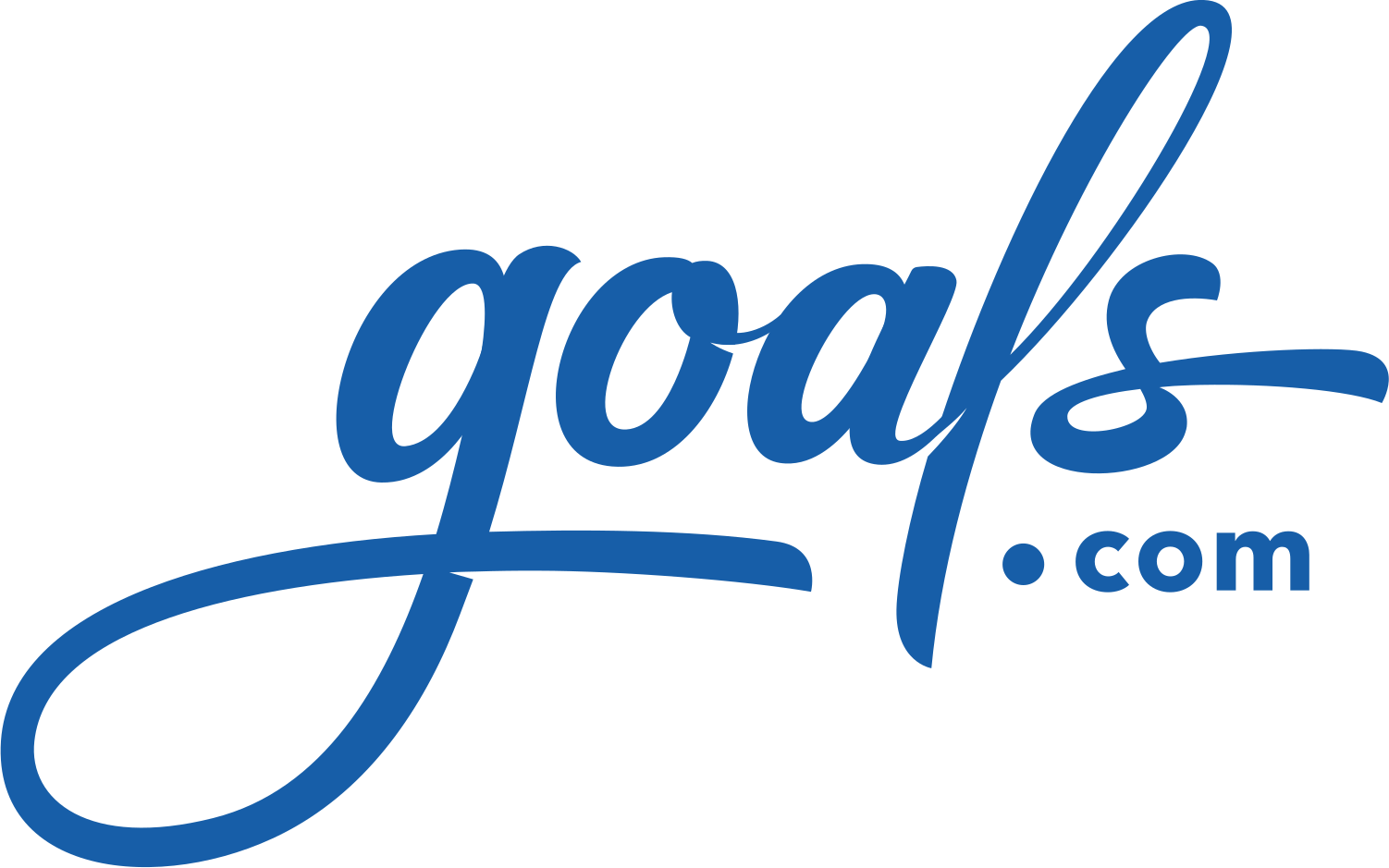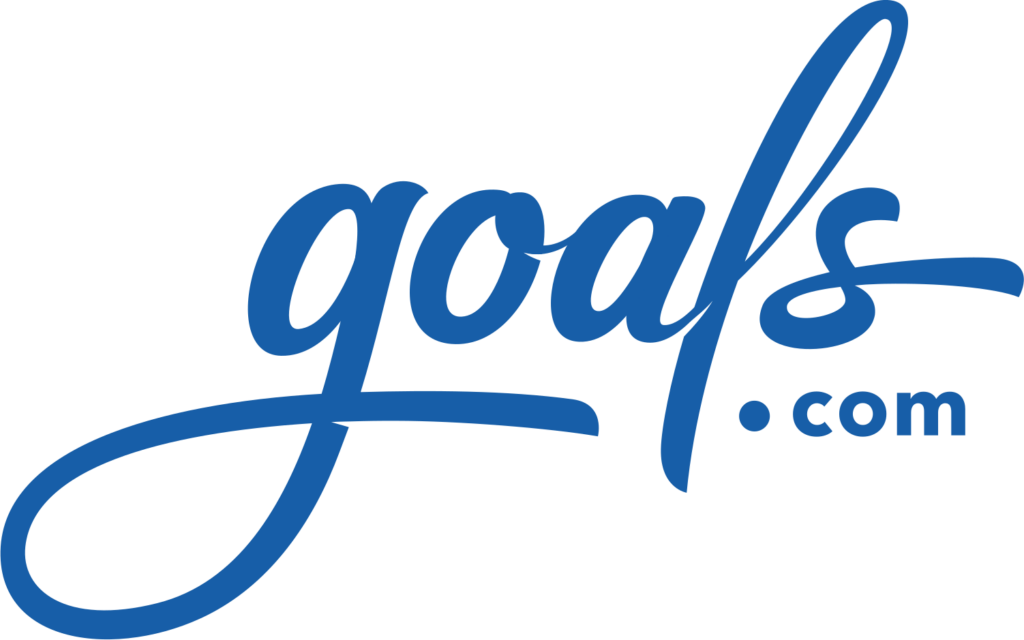 Goals.com is far and away the most sales-centric goal setting software on this list. Its refreshingly simple interfaces and tools support sales pros and other employees as they work through leads, close their sales, set goals, track their progress, stay motivated, and reach targets needed to unlock incentives. Goals.com aligns team members across your organization to achieve their sales goals and drive massive business results.
How Goals.com helps teams set achievable goals: With peer-to-peer recognition, performance bonuses, sales contests, and much more, Goals.com is a robust CRM designed to encourage and inspire top-tier performance. Plus, it offers easy access to customer contacts and notes, making interactions and outreach that much more fluid.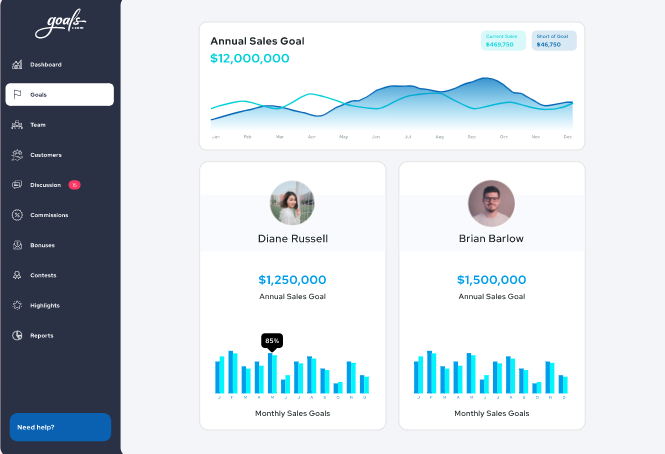 Standout Features 
Automated sales reports — Automate monthly, quarterly, and annual sales reports provided to sales leaders.
Track commissions — Save time and boost performance with automated real-time commission tracking.
Dashboards — Sales goals and performance is pushed to the forefront, increasing productivity and clarity because each sales pro knows exactly how they are stacking up relative to their goals.
"It has a neat distribution of information, and tasks, divided into sprints, and makes use of OKRs. Since it is in the cloud it has no access issues and is very secure. Team collaboration is easy and effective."
Try out Goals.com to hit your marks!
Best employee goal setting software for: Weekdone is great for knowing what to work on and when to work on those tasks so that each week, managers and employees stay right on track.

This OKR software is renowned for exponential improvements to its users' performance. Between OKRs and weekly planning, team members will be able to align organizational activities and maximize followthrough. All it takes to access OKRs is just a click or two and you can customize them to replicate your organization and hierarchy.
How Weekdone helps teams set achievable goals: Weekdone helps teams establish their priorities and see what's really important. What enhances Weekdone's credibility as a leader OKR platform is that allows managers and employees to share weekly plans, progress, and roadblocks, as well as to connect with each other and ensure that team members have a voice across all levels and departments.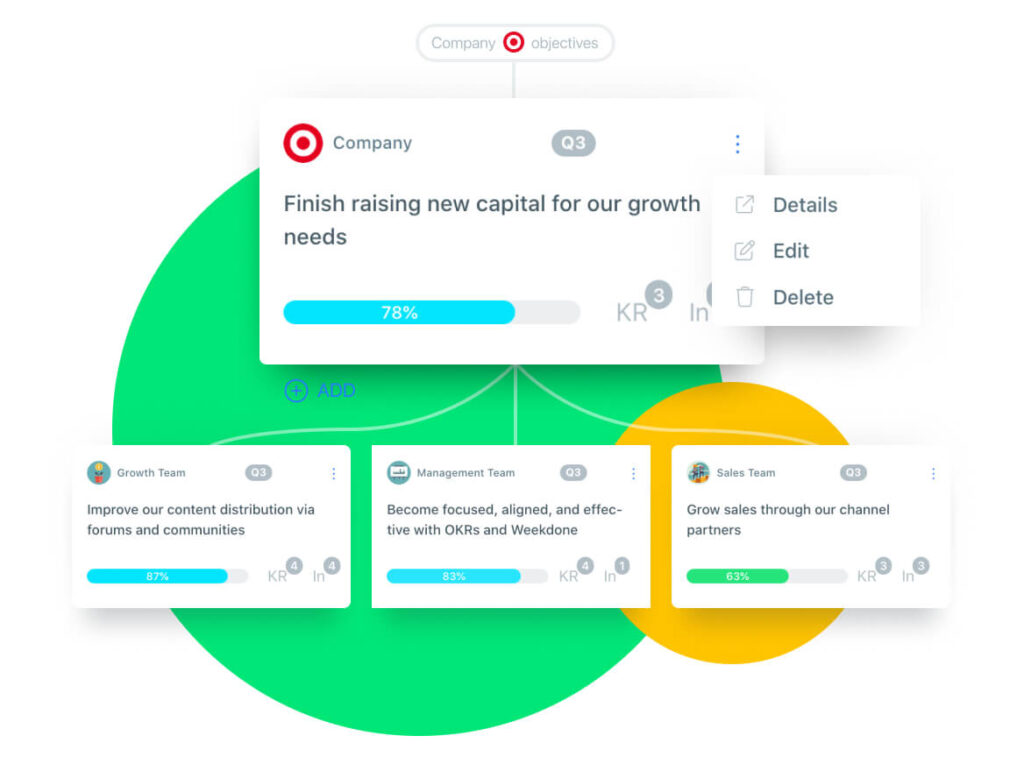 Standout Features 
Pulse surveys & check-ins — In just a minute or less, you can quickly pinpoint how employees and team members are feeling via a 5-star rating system — and you can customize your criteria to focus on anything from energy levels to engagement, wellness, and satisfaction.
  Meeting prep & 1:1s — Guide your team with private, personalized one-on-ones and templatized meeting preparation.
  Weekly planning & reporting — The Team Compass feature tracks status reporting and recurring team progress.
Companies that use Weekdone:
AppDynamics
Fluke Corporation
PerfectMind
"I love the immediate feedback I get as I'm creating OKRs. Weekdone tells me immediately if I'm on the right track or if I need to be more specific, and lets me organize my initiatives properly."
Wrap up each week the right way with Weekdone!
---
People Also Ask These Questions About Employee Goal Setting Software
Q: What is the best tool for goal setting?
There are a variety of goal-setting tools available; however, the best one largely depends on your team's particular preferences and needs. Most of all, your goal-setting tool has to align with your business goals and cannot be overly difficult for employees to adopt.
Q: How do I choose the right goal-setting tool for my team?
Choosing the right goal-setting tool for your team should come down to identifying your team's goals, determining your team's size, considering ease of use, looking at the level of customization, checking pricing and value, and examining integrations.
Q: How much does an employee goal-setting software tool cost?
The cost of an employee goal-setting software tool depends on several factors, including team size, pricing model, and features. Some software tools have a freemium model, while others are based on subscription models.
Q: What types of goals can I set in an employee goal-setting tool?
Employee goal-setting tools can help with many types of goals. Having said that, these goal-setting tools are typically used for learning and development goals, performance goals, team goals, innovation goals, diversity goals, and strategic goals.