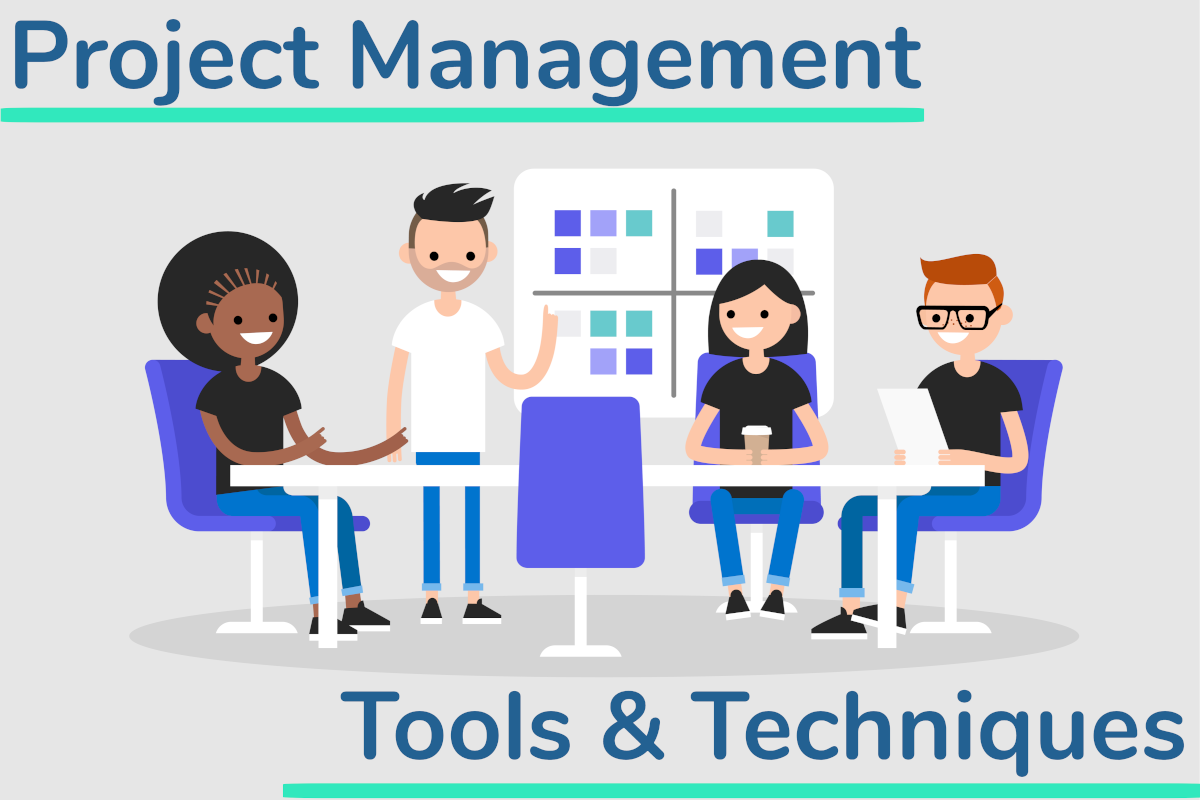 The right project management tool could make your team an unstoppable machine of efficiency and productivity.
But how exactly do you find the right project management tool–a tool that seems designed to meet your unique needs and preferences?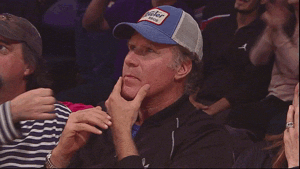 Project management tools come in all shapes and sizes, but they all do one key thing: Help you organize and manage tasks to get your best work done on time, every time.
In a hurry? These are some of our favorite project management tools & systems for teams to use this year:
Think about your to-do lists. They make it easy to remember what you have to do, so you don't have to risk forgetting critical steps or using your valuable brain power recalling tasks.
Project management tools and techniques do something similar for project work. Organizing your steps, priorities, and workflows using a project management tool empowers you to focus on doing your best work—instead of spending time regrouping on what you need to do on any given day.
We know you're busy managing projects, so we've made it easy for you to find a tool that will accommodate your needs.
Our top choices are broken down into the following sections:
Note: Some of these project management tools feature all or many of these capabilities; we've simply grouped the tools according to their most notable strength.
Want to become a better professional in just 5 minutes?
Project management tools to manage multiple projects
These tools can help teams organize multiple complex projects while still making work streamlined and simple.
Project management has never looked so good.
monday.com makes every aspect of project management—from planning to tracking progress—an engaging and visually pleasing experience. It brings all the work organization tools you could ever need into an intuitive, attractive interface that's a joy to use.
Most project management platforms tend to be really good at one/two things and don't offer a complete solution. This is where monday.com stands above the rest and is considered a Work OS that lets you manage any aspect of your work with dozens of integrations and automation.
Why we love monday.com for project management:
It's sustainable.
A lot of us have tried organizing our work with the best intentions. We slave over spreadsheets and Gantt charts until everything is planned to a T.
Then something strange happens: We never want to look at those solutions again. They look boring, and they can become difficult to understand as you expand projects.
A tool like monday.com, a tool people actually want to use, increases the likelihood that your team will follow through with their best-laid plans.
We surveyed our SnackNation community to find out what they love about monday.com–here is what they had to say:
"Easy to assign and view tasks and also provides real time communication and updates."
"monday.com has helped every department in our company become more organized and improved communication within the teams."
"Automations are amazing. It can do everything."
Standout features on monday.com:
Templates to accommodate a variety of project types
Big-picture views of multiple projects in flight
An app that makes it easy to check in on progress anywhere and any time
Deadline views that make it easy to see what's pressing
Collaborative capabilities, including team assigning and messaging
Automations are easy to set up without any coding
Integrations bring your data from multiple apps into one unified platform
monday.com pricing:
Similar project management tools to monday.com: 
Wrike embraces (and makes it easy for users to execute) the tenets of the Agile Movement, including collaboration and communication.
Why we love Wrike for project management:
It helps users transform how they work as they complete work. 
Using Wrike helps people complete work while also getting experience in using research-based efficiency techniques.
Standout features on Wrike: 
Dynamic request forms help with information discovery
Custom workflows replace status update emails
Dashboards provide big-picture views of work
Comprehensive templates allow you to launch any kind of project
Proof tool makes soliciting and providing feedback a breeze
Free basic plan
Other plans $9.80 – $24.80+ per user per month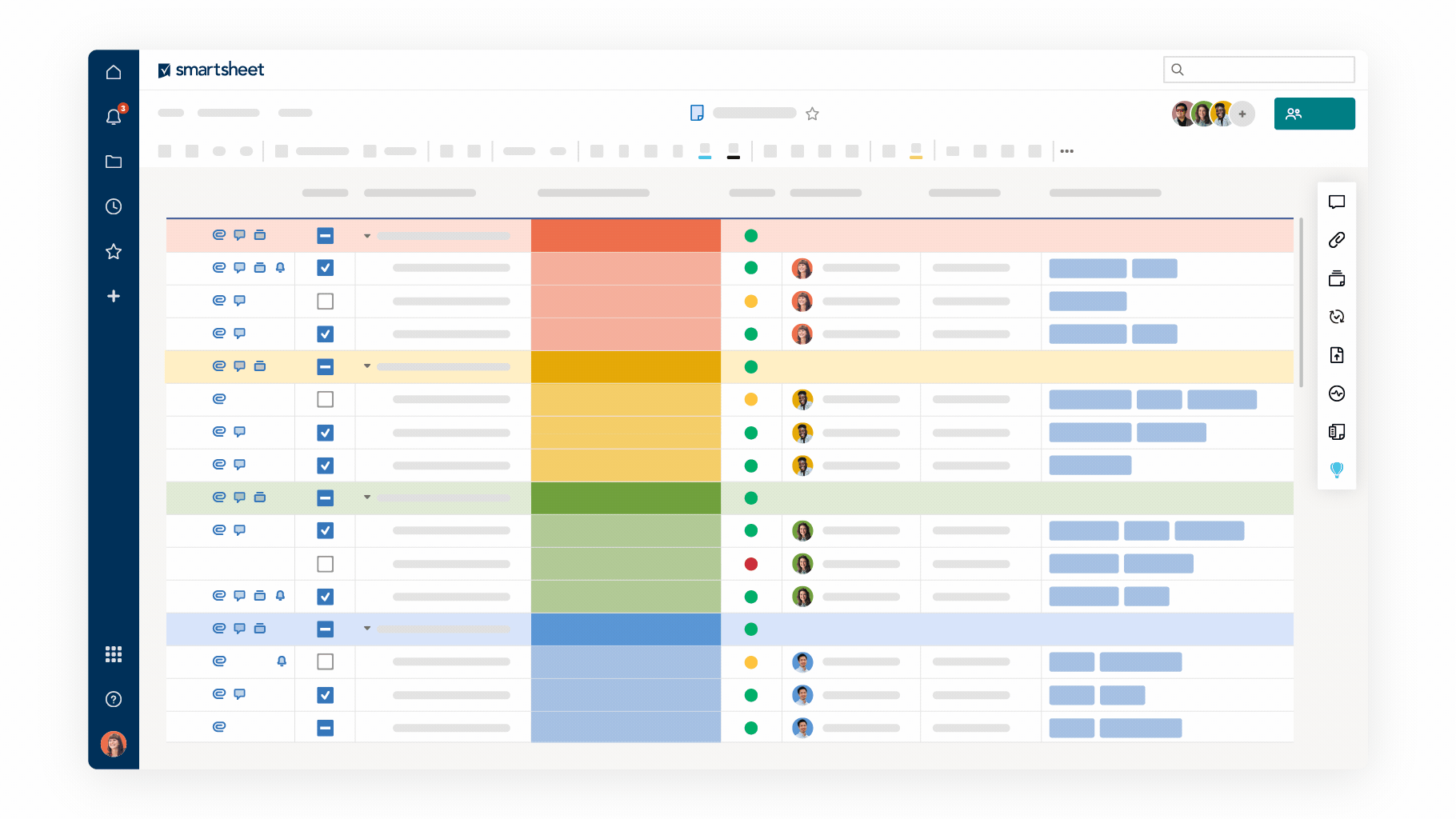 Smartsheet is a robust work management platform ideal for project management and process development at scale. Over and beyond solid project management features, Smartsheet will also help you connect your teams, automate workflows, manage your resources, and secure your digital assets.
Why do we love Smartsheet for project management:
Smartsheet delivers the goods if you're looking for an agile project management tool that's purpose-built for scaling. It's an all-in-one solution that will help you manage your people, tasks, processes, and workflows from one secure platform.
Standout Features on Smartsheet:
Clean, easy-to-use, and intuitive interface, making project management a breeze.
Pre-built workflow templates to create weekly status requests and due date reminders.
Build easy-to-navigate apps using Smartsheet and external content like Tableau dashboards or Google Docs without code.
View and respond to approval requests from the desktop/mobile app, email, or messaging apps like Microsoft Teams and Slack.
Smartsheet Pricing:
Smartsheet has multiple pricing options to choose from depending on your needs:
Free forever version perfect for one user and two editors.
Paid plans start at $7 per month per user, billed yearly, for a maximum of 10 users.
Business plan at $25 per month per user, billed yearly.
Custom enterprise pricing — contact Smartsheet for more information.
Similar project management tools to Smartsheet: 
Teamwork is an enterprise project management platform designed to manage ALL your client work. From invoicing and time tracking, to unlimited client access, everything you need to run your client services is in Teamwork.
As a truly comprehensive platform, it gives you the tools and reports you need to maximize resources and never miss a billable minute again. Get a bird's eye view of every project, from milestones to capacity planning, budgeting time tracking, and more.
Why do we love Teamwork for project management:
It's the all-in-one team project management platform made for client work. 
Teamwork gives you the tools and reports you need to maximize resources and never miss a billable minute again. Get a bird's eye view of every project, from milestones to capacity planning, budgeting and more.
Collaborate in real-time with your team and clients to get your questions answered and projects delivered on time & on budget.
From PM essentials like project templates, task management and custom fields to wish list favorites like time tracking, billing and assigning cards to multiple team members, Teamwork has you covered.
Standout Features on Teamwork:
All-in-one management for projects, clients, freelancers, and your team in one place
Track every billable minute and deliver every project on time and on budget
Run your client services business with the advanced features and flexibility you need to grow
Track every detail by breaking work and projects into tasks and layers of subtasks so nothing slips through the cracks
Communicate with colleagues and clients in real-time without having to switch platforms with a built-in, integrated chat
Skip the learning curve and start immediately with Teamwork's pre-built templates
Teamwork Pricing:
Deliver from $10/user per month
Grow from $18/user per month
Similar project management tools to Teamwork: 
Zoho Projects is hands-down one of the best project management tools out there, especially when you stack up its large array of features and ease of use against its affordable pricing. Zoho is also flexible enough to accommodate teams of all sizes and specific industry verticals like real estate, education, and more.
Why do we love Zoho for project management:
It removes the noise so you can focus on the essentials.
Zoho is purpose-built for simplified project management from the ground up. Think task management, task automation, time tracking, mobile access, reporting, blueprints, team collaboration, integrations, and anything else you may need from a project management solution in one place.
We especially love those thoughtful touches like the drag-and-drop interface for automation so you can easily string together a new process without having to know how to code.
Standout Features on Zoho:
Gantt charts to visualize project plans, track your schedules, and chart deviances.
Log billable and non-billable hours with the timesheet module and generate invoices using Zoho invoice.
Drag-and-drop interface to easily design simple or complex workflows for task automation.
Integrates with both Zoho and other third-party apps if you want to expand the functionalities and get a bigger bang for your buck!
Zoho Pricing:
Zoho has multiple pricing options depending on your unique needs:
Free for up to three users.
Premium plan at $5 per user per month.
Enterprise plan at $10 per user per month.
Similar project management tools to Zoho: 
Miro is a visual collaboration platform that empowers people globally to create their best work yet. Miro's infinite canvas is packed with features and integrations so you and your team can collaborate seamlessly whether you're working remotely, in the office, or in a hybrid setup.
Why do we love Miro for project management:
Miro is your team's visual platform to connect, collaborate, and create — together.
It's an intuitive, visual source of truth. Yes, at first glance Miro might seem like just a digital whiteboard — but its capabilities go far beyond that.
You'll realize quickly that the platform doubles up (and how) as a project management software. That means you can manage complex projects and their stakeholders with confidence, and align processes between cross-functional teams in one collaborative workspace.
So whether you're planning a big picture overview with the Bull's Eye Diagram Template, assigning tasks with the Action Plan Template, or getting input from everyone with the Dot Voting Template, Miro is your all-in-one project canvas.
Tap into Miro's extensive project management template collection to move projects forward, bring people together, and solve bottlenecks that stand in the way of success. Your team (and browser tabs) will thank you when you have a single source of truth for timelines, updates, feedback rounds, and, most importantly, the work itself.
Standout Features on Miro:
Centralized Kanban boards, Gantt charts, RACI matrices, and user story maps in a visual hub for reference throughout the project.
Built-in communication features including board video recordings to cut down on meetings and provide crucial context to your team.
Interactive meeting tools and features like a Voter, Timer, digital sticky notes, and live cursor tracking.
Miro Pricing:
Miro has four pricing options:
The free plan is free forever, but is limited to three boards
Starter package, priced at $10 per user per month
Business package, priced at $20 per user per month
Enterprise package, available at a customized price
Similar project management tools to Miro: 
ClickUp is the centralized work hub built for the way today's teams want to work. By bringing everyone together with context, clear priorities, and visibility with ClickUp—your team can boost collaboration and productivity while saving time to focus on the work that matters most.
Why do we love ClickUp for project management:
ClickUp is the collaborative productivity platform that brings your work, tools, and teams together.
Work today can feel more disconnected than ever before as work apps continue to multiple and more organizations shift to hybrid working models. That's why ClickUp makes it easy for you to bring all your work, teams, and tools together in an all-in-one collaborative work hub.
ClickUp helps teams of all sizes work better together in a single place that empowers them with the tools they need to do their best work.
With ClickUp, you can track project progress at a glance, streamline workflows to save more time, and quickly surface key information, insights, and context for all your work.
Standout Features on ClickUp:
Advanced automation to streamline your team's workflows and save you time
Data-driven dashboards to visualize and track progress with real-time reporting
Customizable tasks to break down projects of any size into actionable items
Collaborative docs that make it easy for your team to stay aligned from strategy to execution
ClickUp Pricing:
ClickUp has multiple pricing options. These are the two main types…
Similar project management tools to ClickUp: 
Hubstaff is an industry-leading time tracking and proof of work app for web, mobile, and desktop. With a time clock, optional screenshotting, and built-in invoicing features, managers can lead more efficient remote teams. Integrations with 30+ apps make Hubstaff a powerful project management, customer support, and HR tool.
Why do we love Hubstaff for project management:
The all-in-one work time tracker for managing field or remote teams.
Most project management tools allow managers to organize and assign tasks in Kanban boards, Sprints or Gantt charts. But what good is dividing work into subtasks if they can't track how long each task takes?
Hubstaff helps leaders see what their teams are working on, what tools they're using, and how long it takes them to complete tasks. When it's time for budgeting and planning, they'll have the data they need to set realistic project costs and goals.
Standout Features on Hubstaff:
Time tracking to help manage productivity
Proof of work so that nothing is lost during a busy project
Keyboard and mouse activity tracking to provide insights into where employees are spending their time
Invoicing and payments to streamline finances
Hubstaff Pricing:
Starts at $7 per user/month.
Similar project management tools to Hubstaff: 
Nifty is the do-it-all collaboration and management tool that allows you to run Agile, Scrum, Waterfall, Six Sigma, or whatever term you'd use to describe your team's workflow! Nifty is the easiest PM tool on the planet that can be as simple as a priority tracker or a decked-out portfolio management tool.
Why do we love Nifty for project management:
It is the glue between planning and execution. 
Nifty is the award-winning project management tool that closes the gap between communication and action to serve as the all-in-one remote office you and your team have been looking for.
You no longer have to live in a world where all of your tools clutter up your screen as you try to manage planning new projects while executing existing ones. Nifty lets you get down to business in one project management playground.
Standout Features on Nifty:
Milestones bundle tasks into larger initiatives that automate progress updates based on task completion
Project Discussions and Direct Messages means you can run your entire workflow in Nifty
Google Docs, Sheets, and Presentations can be created or edited within Nifty
My and All Tasks make it easy to see what needs to be done today, tomorrow, and the next day
Overview and Workloads give insights based on projects and teammates to identify resource bottlenecks well before they arrive
Mobile Apps takes your management and messaging on the go
Nifty Pricing:
Free forever plan up to 2 active projects
Paid plan starts at $39/month for the first 10 team members
Similar project management tools to Nifty: 
Work doesn't have to be dull, boring, or tick in a checkbox.
Toggl Plan brings a fresh perspective to project management with a focus on macro-management and getting things done. It has simple, drag-and-drop features that help you plan work, track progress, and manage your team.
Why do we love Toggl Plan for project management:
It gives clear directions.
Toggl Plan gives your team clear visual overviews about what's happening and what's coming next. It comes with customizable timelines and boards that can be tailored to match your workflow. Plus, it makes collaborative work easy by using task comments and file attachments.
All this comes together to help your team stay on top of work and get things done.
With its simple, drag-and-drop interface Toggl Plan makes it easy for your team to get started and keep it up-to-date daily.
Here's what teams using Toggl Plan say:
"One of the things I like about Toggl Plan is that you don't have to jump in and be fully committed, it's a tool which can grow with you."
"Before Toggl Plan, things were a lot more chaotic. I think it added a lot of structure to the business that we didn't have before. When it was introduced to the company, it changed things around."
"Seriously, you guys have saved me. I need to manage many time-sensitive tasks for myself and other artists. A deadline change? Boom, drag and drop, no morning headache!"
Standout features of Toggl Plan:
Improve work clarity with simple, intuitive, visual overviews.
Plan work with high-level or detailed, color-coded project plan timelines.
Set milestones and track work progress.
Manage team availability and workloads with team timelines.
Work closely on tasks with other team members. Discuss ideas using comments and file attachments.
Toggl Plan Pricing:
Premium plans start at $8 per user, per month.
Similar project management tools to Toggl Plan: 
Consider Shift the one app to rule them all.
If you're sick of tabs, windows, countless bookmarks, and constant shifts between your human resources interface to approve time-off requests and your time-tracking application to enter your hours, then this mother-ship tool might be exactly what you need.
Use it to access and seamlessly switch between all your favorite applications.
Why we love Shift for project management:
It minimizes brain clutter. 
It might seem easy, but just recalling the application you need to perform a specific task, finding the right link, and remembering your login information can drain your brain of the valuable processing power it needs to make important decisions.
When you can access and switch between everything you need in one place, you'll be able to redirect some of the mental energy you spent navigating toward actually doing project work.
Standout features on Shift: 
Support for as many accounts as you want
Connect with Slack and just about any app you can think of
Unified search for finding information across all accounts
Streamlined design makes shifting between tasks easier than ever
Extensions provide flexibility as your needs change
Shift pricing:
Other plans $29.99 – $99.99 per year
Similar project management tools to Shift: 
Paymo designed its platform to address the common reasons projects fail.
Paymo gives teams everything they need to plan and complete projects that exceed client expectations. Use Paymo to do everything from keeping clients happy through project transparency to collaborating effectively with all contributors and stakeholders.
Why we love Paymo for project management:
It's a one-stop shop.  
Paymo allows users to conduct every piece of project management (team tasks and schedules) and also tasks associated with project management (invoicing and client communication).
This centralized project management helps you streamline work, keep track of everything, and deliver amazing results to clients and customers without ever getting close to that peak stress threshold.
Standout features on Paymo: 
Guided start and finish times help keep projects on track
Task budgets match tasks with appropriate hour levels
Calendars automate resource allocation when people take time off
Alerts make it easy to give appropriate attention to milestones
Task views allow sorting by deadline, project, or priority
Free basic plan
Other plans are $10 – $16 per user, per month
Similar project management tools to Paymo: 
The Hive platform provides the kind of radical work transparency modern companies need to boost productivity and work better together.
Plan projects in multiple ways according to your preferences, and see team and company-wide views of projects.
With all project information living in one place, you can see work like never before. You can isolate patterns that give you ideas for strategies to strengthen your business.
Plus, when everyone can easily stay informed on key projects, you can enjoy:
Fewer emails
Fewer meetings
Less miscommunication.
More productive work time
Why we love Hive for project management:
It gives workers autonomy. 
Project management tools and techniques can make some personalities feel trapped by mandated processes and therefore unmotivated to do their best.
Hive, however, allows teams to choose the project management structure that works best for them. Providing the centralization managers need to optimize productivity while still giving teams the flexibility they need to perform their best.
Standout features on Hive: 
Time-tracking functionality makes project tracking and billing easy
Automated workflows streamline decisions
Analytics portfolios provide real-time insights that lead to enhanced efficiency
Email management feature provides access to Outlook or Gmail inboxes within the platform
Action templates make it fast to recreate high-performing tasks and workflows
Free trial period
Plans start at $12 per user, per month
Similar project management tools to Hive:  
Some one-line tasks can be deceptively complex.
Example: Have site content approved.
This is one line, one to-do, but checking it off might involve several substeps and several stakeholders.
Gain helps make tasks like these as simple as they should be.
Why we love Gain for project management:
It makes complex tasks as easy to complete as simple ones. 
Gain provides a platform where people can simultaneously view content, leave feedback, and send approvals. Tasks that used to require tons of emails and meetings can be reduced to a few simple steps.
Standout features on Gain: 
Password-free access provides all stakeholders with frustration-free viewing
Automated reminders nudge clients for approvals
File organization makes handling multiple accounts easy 
Schedule and publish posts straight to Facebook, Twitter, LinkedIn, and Instagram
Realistic previews let clients view content exactly as it will appear
Similar project management tools to Gain: 
Project management tools with time tracking
Tools with time tracking allow users to enter hours and leaders to visualize time spent on tasks and projects. This simplifies billing and also enhances long-term strategic efficiency planning.
Asana is a project management tool as satisfying and usable as a to-do list.
Why we love Asana for project management:
It's accessible to non project managers. 
Some project management tools have complicated views and features that might make non project planners cringe.
Asana, featuring intuitive views and controls, appeals to everyone and anyone who plays a role in a project.
Standout features on Asana: 
Automation features simplify workflows
Workload views demonstrate task burden across team members
Board view mimics sticky note planning
Forms allow you to standardize requests
Task dependencies provide transparency
Free trial period 
Free basic plan
Other plans $10.99 – 24.99+ per month
Mavenlink helps separate teams conduct unified project work without overdosing on team communication tools.
Why we love Mavenlink for project management:
It helps bring people together. 
Great bosses know how to keep people informed and make priorities clear. Mavenlink helps you run a remote team by allowing members to conduct unified project work without overdosing on communication tools.
Standout features on Mavenlink: 
CRM integration feature keeps work seamless
Resource management helps you plan projects with confidence
Task progress view makes it easy to gauge the health of projects
Collaboration features keep everyone in the loop
Business intelligence features help you leverage data to make key decisions
Free trial period
Other plans $19 – $39+ per month
Similar project management tools to Mavenlink: 
Time is money. This phrase may be cliche, but in the world of agency work and billable hours, it rings 100% true.
Productive caters to agencies looking to maximize profitability by streamlining work.
Why we love Productive for project management:
Real-time profitability views remove surprises. 
Productive enables leaders to view hourly costs, fixed prices, overhead costs, and salary details—all to get the hard evidence they need to monitor and adjust workflows to achieve the best outcomes.
Standout features on Productive: 
Data migration brings key information into one platform
Multi-currency capabilities simplify working with international clients
Multiple language capabilities ease communication challenges
Sales pipeline view lets you understand, prioritize, and optimize deals
Deal-to-project conversion saves time spent duplicating entries
14-day free trial period
Standard plan $12 per user, per month
Similar project management tools to Productive:
Nutcache's project management model leverages expertise on how teams work together to help teams work more efficiently together.
Why we love Nutcache for project management:
It focuses on teamwork. 
With features focused on enhancing collaboration, Nutcache's interface fosters the asset any project needs to be successful: strong teamwork.
Standout features on Nutcache: 
Visual board makes it easy to track and manage tasks
Alerts nudge teams about key deadlines
Billing features make invoicing painless
Cumulative flow diagrams display project progress
Permissions give each team member Nutcache's project management model leverages expertise on how teams work together to help teams work more efficiently together.
Free trial period
Plans $6-$12+ per user, per month
Similar project management tools to Nutcache: 
ProWorkflow features all the tools you need to wrap your head around projects and stay on track until they're complete.
Why we love ProWorkflow for project management:
Excellent support. 
Customers rave about ProWorkflow's support team and services. These features ensure teams can get the most value from their experience.
Standout features on ProWorkflow: 
Dashboard provides a big-picture view
Timesheets simplify time tracking
Workflow by views, categories, and groupings
Templates speed up project launch
File sharing eliminates the need for other tools
Free trial period
Plans $10 – $30+ per user, per month
Similar project management tools to ProWorkflow: 
This tool doesn't force you to choose between agile or waterfall methodologies. With a flexible project view, teams of all shapes and sizes can find the tools they need.
Why we love ProjectManager.com for project management:
It is a great value. 
ProjectManager.com's suite doesn't just include task management software, but also robust resource management tools to keep your project, time, and finances on the right track.
Standout features on ProjectManager.com: 
Variable project views, including Kanban, Gantt, and Task Lists
Collaboration tools like chat and ticketing
Reporting is easy with real-time dashboards to show your progress
Integrations with over 400 productivity tools
Starts at $15/per user, per month (minimum of 5 users)
Similar project management tools to ProjectManager.com: 
Project management tools with Gantt charts
Before interactive tools existed, many project managers used Gantt project organization charts. Many modern tools still leverage the time-tested principles of Gantt charts in their interfaces.
This online project management tool, as its name suggests, uses classic Gantt charts as the foundation for their work strategies.
Why we love GanttPro for project management:
It lets teams view everything. 
Using GanttPro, teams can track changes, view comments, see deadline updates, and more. With all this information at their fingertips, teams always know where projects stand.
Standout features on GanttPro: 
Templates make planning a snap
Cloud format allows people to check in any place and at any time
Sharing features help keep clients in the loop
Real-time comments eliminate needless meetings
Workload feature helps balance assignment distribution
GanttPro pricing:
Similar project management tools to GanttPro: 
This solution features an intuitive platform that puts the productivity-boosting capabilities of Gantt charts at everyone's fingertips.
Why we love TeamGantt for project management:
Task dependencies eliminate confusion. 
When you're planning work, it may be challenging to document that some tasks are dependent on other tasks without over-complicating workflows.
With built-in features for detailing task dependencies, TeamGantt overcomes this common project management challenge.
Standout features on TeamGantt: 
Drag and drop functions make updates fast
Intuitive interface appeals to non project managers
Availability views help managers assign work
Exportable reports come presentation-ready
Timelines let you compare planned and actual deadlines
Free basic plan
Other plans $39.50 – $62.25+

Similar project management tools to TeamGantt: 
This platform offers interactive Gantt charts to manage workflows with drag-and-drop functionality making you more productive.
Why we love nTask for project management:
It brings your project team to a single page.
The nTask project management app gives you the ability to assign tasks, manage workflows, budget tracking and collaboration on a single platform.
It gives you detailed management features to make your projects a success with milestones, financial summaries and real-time updates.
Standout features on nTask:
Multiple Views for tasks including calendar, list, grid and Gantt.
Import and Export Projects in just a click
Timesheet reporting management
Task dependencies and milestones for task detailing
Financial Summary improves your decision-making
Premium plan starts at $2.99/user per month.
Business plan starts at $7.99/user per month.
Similar project management tools to nTask:
Project management tools to manage scope
Leaders who want to manage scope need to view projects and workflows in a variety of different ways so they can see what's working and also determine what to do next.
Celoxis's robust solution appeals to project managers who want to get work done as well as visionary leaders who crave tools they can leverage to maximize company growth.
Why we love Celoxis for project management:
It has a practical financial focus. 
Company leaders can use Celoxis to track day-to-day budget progress, but they can also view factors—such as revenue forecasting—relevant to long-term strategic planning
Standout features on Celoxis: 
Widget and layout options provide comprehensive customization
Drill-down charts make it easy to isolate performance variables
Project request queue brings in requests from multiple sources
Automatic email alerts keep you on top of workflows
Revenue forecasting enhances business strategy planning 
Cloud-based plans cost $25+ per user per month
On-premise plans have a one-time cost of $450 per user
Similar project management tools to Celoxis: 
You're good at multitasking and juggling without ever letting the ball drop.
We know you're on top of projects, but Scoro can help your projects run better than you ever thought possible.
Why we love Scoro for project management:
It consolidates workflows. 
If you've ever daydreamed about having just one streaming service that includes all your favorite content, then you already understand the value of Scoro.
Scoro brings multiple aspects of project management under one roof to simplify your life.
Standout features on Scoro: 
Customer relationship management features handle the burden of contact management
Reporting features demonstrate progress toward KPIs
Project views allow you to separate billable and non-billable work
Financial management features automate invoice reminders
Meeting scheduling allows you to link key project information to relevant invitations
14-day free trial period
Other plans are $26 – $61 per user per month
Similar project management tools to Scoro: 
Project management tools to monitor progress
Progress monitoring can be especially helpful for teams serving clients or working in companies with a growth mindset. These tools help make progress something visual and, if necessary, adjustable.
Backlog caters to projects involving developers and coding—factors that tend to add complexity to project management.
Why we love Backlog for project management:
It gives everyone what they need. 
Project managers and stakeholders get a big-picture view of progress while developers communicate to stay on the same page about code-related matters, from versions to bugs.
Standout features on Backlog: 
Bug tracking makes developer issues easier to resolve
Task management allows for subtasks and checklists
Version control cues developers to work on only current code
Emoji-enabled messages make collaboration fun and personal
Jira and Redmine importer facilitates seamless integrations
Free basic plan
Other plans $35-$175 per month
Similar project management tools to Backlog: 
Picture all your tasks for all your projects, scattered haphazardly across your to-do list. With Pipefy, you can turn those tasks into one streamlined workflow.
Why we love Pipefy for project management:
It removes "what to do next" syndrome. 
Real-time prioritization can take hours away from project work.
When you use Pipefy, you always know what to do next, and you can prioritize and optimize work.
Standout features on Pipefy: 
Automation capabilities allow you to set conditions and automatically trigger tasks
Email templates make critical communication quick and easy
Connections integrate project-relevant processes
Database feature provides a secure way to store project information 
Public forms allow external stakeholders to share project information and requests
Free basic plan
Other plans $9 – $18+ per user per month
Similar project management tools to Pipefy: 
Certified General Data Protection Regulation (GDPR) compliant, Easy Project makes managing work like a project management ninja easy for anyone.
Why we love Easy Project  for project management:
It makes complex processes easy to use. 
Easy Project integrates the best project management processes into a user-friendly tool that allows users, even non project managers, to leverage expert techniques to improve their project work.
Standout features on Easy Project: 
Mobile capabilities support on-the-go work
Integrated tools make every stage of project management efficient
Portfolio features enable centralized planning
Agile features give projects radical flexibility
Workflow views demonstrate project progress
Plans range from $6 to $24 per user per month
Similar project management tools to Easy Project: 
This comprehensive tool helps teams bring all their work into one management tool so they can view it, optimize it, and improve performance exponentially.
Why we love Workfront for project management:
It provides visibility. 
Workfront provides the tools teams need to get work done, but it also gives leaders views on how work is happening. Using the information available within Workfront, leaders can innovate ways to consolidate company practices and make processes better for everyone.
Standout features on Workfront: 
Demand management tools keep work on track
Resource management enables intelligent assigning
Collaboration tools reduce meetings and emails
Work-anywhere interface empowers remote employees to stay informed
Approval flows make complex processes easier
Price available on request 
Similar project management tools to Workfront: 
Conclusion
We hope one of these project management tools helps make your work more collaborative, effective, strategic, and fun.
If you're still having a hard time with your decision, then simply think about the questions below to arrive at an answer.
What are project management tools?

A) Tools that help you organize your project work 

B) Tools that help you optimize your project management skills 

C) Tools that help you keep track of deadlines and priorities 

D) All of the above 

Answer: D – All of the above. 

TL;DR section – you know who you are
Why are project management tools important?

Answer: They empower you to focus on work and seamless communication with your team to get more done on time. 
What is our top choice for a project management tool?

The SnackNation FB community has spoken (thank you!)… monday.com has been voted their favorite project management tool and is also the collaborative work tool that we use at SnackNation. 
People Also Ask These Questions About Project Management Tools:
Q: What do we really need in a project management tool?
A: Project management tools will give you much more control over your workflow and allow you to track the progress of every task that you are juggling. Every project management software is designed to solve a different time bottleneck.
We have ideal solutions if your answer is scope visibility, multiple project management, progress transparency, time-tracking, or Gantt charts.
Q: What factors should I consider when choosing a project management tool?
A: This question has endless answers. We recommend starting with the basics and evaluating tools by their overall strengths, pricing models, and key features.
Q: Where can I find the best project management tools list?
A: When researching different project management tools it's a good idea to consider your specific requirements and the features you need. This will help you narrow down the options and find the best fit for your needs. You can also explore more than one review website to make sure you are getting an accurate look at each tool. SnackNation recommends testing out your choice before committing to a long-term plan to ensure you can get proper buy-in from your organization.
If you're still having a hard time with your decision after this, then consider going with a top-rated tool, one with a well-rounded portfolio of functions and features, such as monday.com.
What project management tools do you use? Let us know in the comments below.