Picture this.
The doorbell rings. Delivery!
You retrieve the package (with that kid-at-Christmas kind of feeling) and carefully unbox the contents. Inside you find an elegant, carefully selected mixology set. Pardon me?
When did cocktails cross over into the world of home delivery?!
In case you didn't know either, apparently, the answer is sometime in early 2020. Right around the same time the world went into lockdown. Coincidence?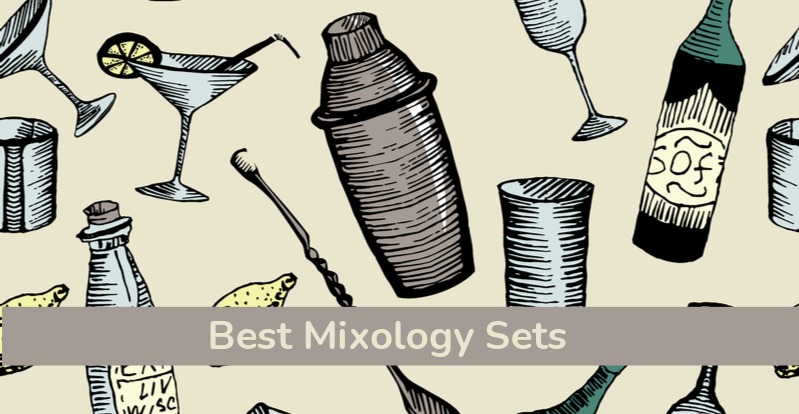 One craft cocktails company in Austin, Texas redirected their business model in March of 2020 and began offering delivery services for some of their craft products and tools. In the initial ninety days of offering, their orders increased by 594%!
"The hottest bar of the last two years has been the home bar."
Click To Tweet
We're becoming master mixologists from the comfort of our own homes and this trend isn't winding down. People are rethinking what and where they drink and "at home" is increasing in popularity as the venue of choice.
Almost everything is at our fingertips these days, so alcohol delivery was bound to catch up eventually. Even gift giving has seen a surge in mixology bartender kits, mixed drink gift sets, cocktail samplers, and other at-home essential bar tools. We're improvising and adjusting to the constantly changing requirements of this ongoing pandemic.
Why should we stop letting those clinks bring us together just because we can't lean on the same bar?
Whatever your vision, we've got you. Find the perfect mixology kit below and get your group together for some creative cocktails and conversations.
Want to become a better professional in just 5 minutes?
List of Mixology Sets For Virtual & In-Person Cocktail Parties
"In between drinks, learn, mingle, and of course… sip."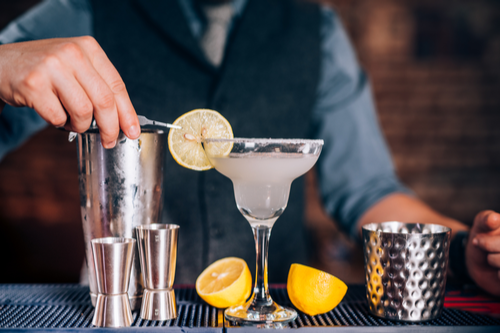 This cocktail set can be customized as an instructional class or hosted by a master mixologist. Learn what flavors pair best and put the team's creativity to the test. Book the date and time, make a quick trip to the nearest grocery store for a few necessities, and you're all set.
Best mixology kit for: Virtual happy hour
What makes this mixology set memorable: Planning a virtual mixology party for larger groups sounds impossible. This mixology class takes care of all the details so you can sip and share with up to 500 members of your team.
Learn more here: Mixology Making Class with Cocktail Set
"Learn to craft cocktails like the pros."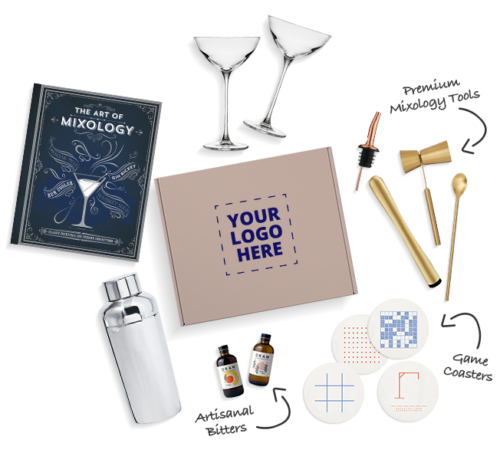 This magical menu of mixology mastery is a one-stop shop for all your virtual team building needs. Here you can find options to educate and entertain all experience levels, from novice to expert-level cocktailing.
Best mixology kit for: Virtual team building
What makes this mixology set memorable: From trivia and cocktail contests, to mocktails and masterclasses. All your virtual mixology needs, in one place, with one goal – bringing your teams together.
Learn more here: Cocktail Masters Kit
"We have two passions: making cocktails and watching people drink them."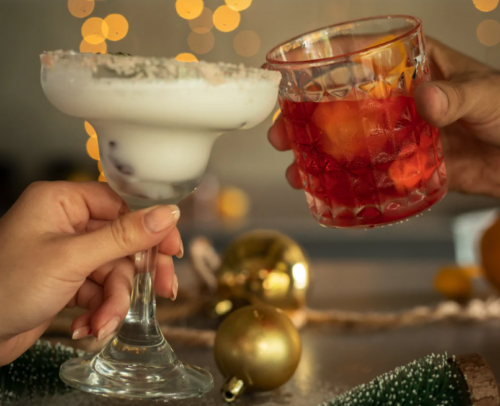 Tequila tastings, Old Fashioned makings, virtual distillery tours, and then some! Learn a little, laugh a lot, with trivia and some craft cocktail edutainment.
Best mixology kit for: Virtual Happy Hour
What makes this mixology set memorable: Skip the shopping lines and have all the ingredients delivered to your remote employees' front doors. From there, you're just a Zoom call away from a full mixology experience.
Learn more here: Craft Cocktail Mixology Set
"This is not your average trivia game."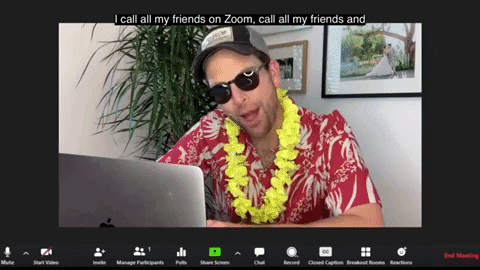 Strengthen your teams and your trivia knowledge with this dynamic duo. Whether you're all back in the same building or you're managing a hybrid team, there's a customizable combo here to fit your needs.
Best mixology kit for: Virtual Happy Hour
What makes this mixology set memorable: These are the social moments that build better connections and improve company culture. With creative cocktails in one hand, and tricky trivia in the other, your virtual event is sure to be unforgettable.
Learn more here: Virtual Happy Hour (Cocktails + Trivia)
"Everything you need to get the party started."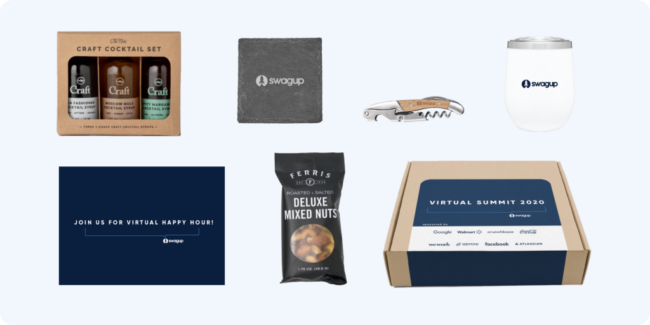 Looking to throw a going away party for a remote team member? No problem! These fantastically fun cocktail kits are packed full of everything you need. Let the farewell fun begin!
Best mixology kit for: Virtual Going Away Party
What makes this mixology set memorable: This cocktail kit can be shipped to each employee so you can all share your well wishes and toast your parting member with a farewell drink. And don't forget the snacks! Gotcha covered there too.
Learn more here: Happy Hour Swag Pack
"Because it's always happy hour somewhere!"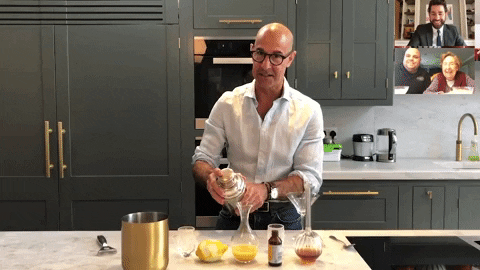 This mixology class can be combined with some fun food challenges like a snack competition or a best tailgating food recipe share. Or decide on the drinks you want to make then make the best foods that pair with your creative cocktails. Remember, you're in charge of the shopping list!
Best mixology kit for: Virtual team building
What makes this mixology set memorable: Bringing your own ingredients gives your team the ability to really get creative with their favorite cocktail recipes. There's always that one sleeper that surprises everyone with a sneaky, secret ingredient. Who will be your group's shocking underdog?
Learn more here: BYO Ingredients Mixology
"As elegant as it is functional."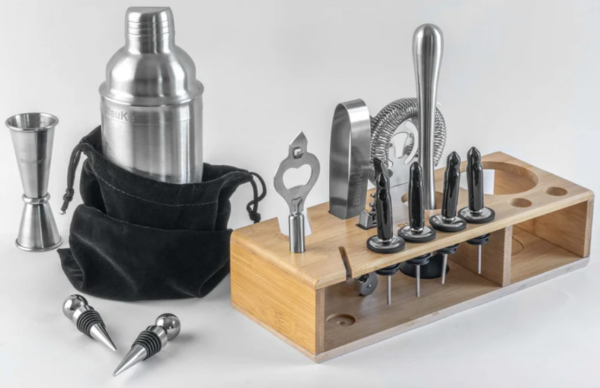 This mulit-piece cocktail mixing set is one part functional and two parts stunning. The quality stainless steel material and gunmetal finish are professional and classy. Complete with bottle opener and muddler, this bartending kit is a great milestone gift for your cocktail-loving colleague.
Best mixology kit for: Milestone Gift
What makes this mixology set memorable: Your employees can shake, stir, muddle, and mix till their heart's content with this thoughtfully crafted gift. Displayed in a beautiful bamboo stand, this bar tool set is a must-have for your amateur bartender's bar cart.
Learn more here: 17 Piece Mixology Set
"A bartender's spice cabinet!!!"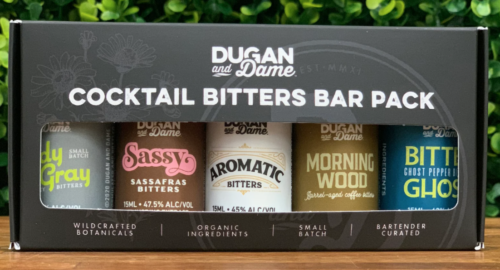 Sassy, savory, spicy, and everything in between. This pack of five custom bitters makes a great cocktail set gift for the at-home bartenders on your team. Maybe even pair them with a few mini-liquor bottles for sampler gift bags for the whole squad.
Best mixology kit for: Holiday party
What makes this mixology set memorable: From Old Fashioneds to Dark 'n' Stormys, these bitters are the perfect addition to your team member's cocktail creations. And if they need a little inspiration, there's a QR code included for some creative cocktail recipe ideas.
Learn more here: Cocktail Bitters Bar Pack
"Organize with style"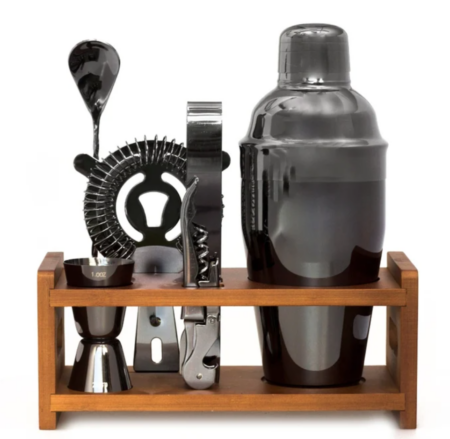 The beginners' version of the 11 piece set shown above, this bartending set is just as fabulous. Included are a cocktail shaker, strainer, double jigger, bar spoon, ice tongs, and a corkscrew. All the basic barware for adding to or beginning a new bar set collection, beautifully organized in an elegant wooden stand.
Best mixology kit for: Virtual Birthday
What makes this mixology set memorable: All the necessities for opening, measuring, stirring, shaking, and straining. Perfect for the semi-professional bartender in your group.
Learn more here: Bartending Set For Beginners
"Sophisticated flavors made from real ingredients, you can feel good about what you're drinking."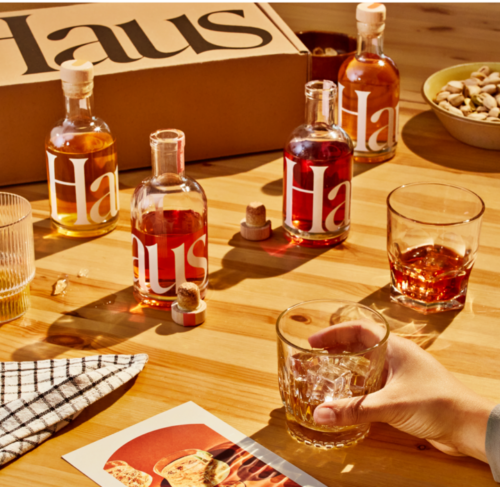 With alcohol content hovering somewhere between wine and whiskey, this is a perfectly sippable sample kit. Over ice, spritzed, or splashed with a mixer, these apértife samplers are the high-quality, feel-good bartender kit your team didn't even know they needed.
Best mixology kit for: Holiday party
What makes this mixology set memorable: This cocktail set pleases all the senses. From the carefully sourced ingredients (listed on the label), to the recycled packaging, these are a natural and thoughtful gift. And the flavor options are so varied, you get a little taste of everything.
Learn more here: Apéritif Kit
"Master mixology from the comfort of your home bar."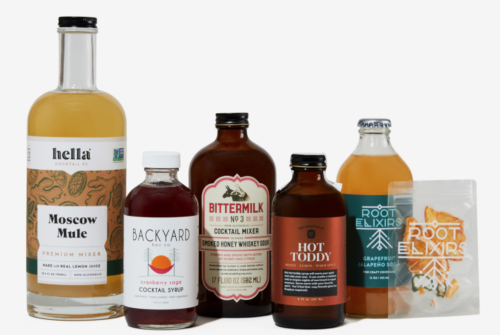 Not a box of typical, off-the-shelf flavors. This cocktail mixology set delivers all the mixers, cocktails, and garnishes your team needs to concoct a whole menu of lively libations.
Best mixology kit for: Virtual Happy hour
What makes this mixology set memorable: One the best cocktail mixology set gift ideas, period. All the necessities for a classy, sassy virtual happy hour, with a little splash of heat.
Learn more here: Cocktail Mixology Set
"Team building activities never tasted so good."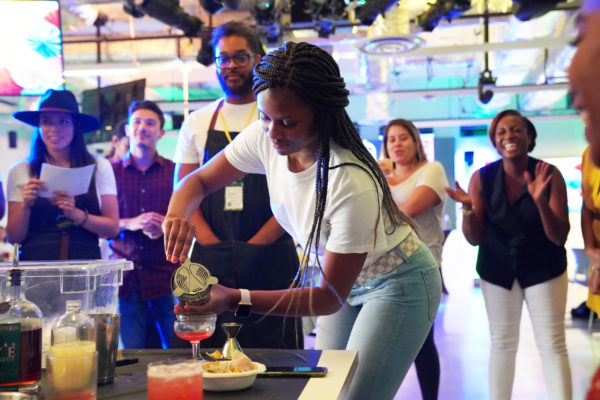 When it's time to migrate back into the office, why not do it with a little flare? Healthy competition over some tasty libations is a win in all the team building columns.
Best mixology kit for: Team building
What makes this mixology set memorable: This cocktail competition is a great way to break the ice when bringing your remote teams back together. Instead of the usual coffee and donuts kind of meeting, set up a fantastically fun cocktail competition to boost morale and bring them back in style.
Learn more here: Shaken & Stirred: Cocktail Competition
Conclusion
Mixology kits are here to help bridge this isolation gap.
Keeping your remote teams engaged requires flexibility and creativity. As the need for virtual team building is on the rise, the options for facilitating also continue to grow. You can plan a hosted cocktail class, complete with trivia and a quirky mixology expert. Or maybe you're looking for some thoughtful gifts for the novice bartender on your team.
Happy hours are the age-old way of blowing off steam after work and letting loose a little with our coworkers. Birthday drinks, toasts for the latest big promotion, milestone celebrations. So many moments have been memorialized with the clink of a glass.
A lot of us are still working from a home office that's in close proximity to the aforementioned home bar. While this environment is often more relaxed and flexible, we are also more isolated and independent. We may not even realize that we're lacking those general interactions throughout the day that keep us connected and bonded with our team members.
Hybrid teams share similar challenges. These connections are critical for maintaining positive morale and productivity levels of your employees. Gone are the days of leaving the office and meeting up for a mixed drink (or three) around the corner. We're adapting the typical happy hour at our favorite pub to a more virtual, at-home version now.
---
People Also Ask These Questions About Mixology Sets
Q: What are mixology kits?
A: Mixology kits are kits containing items to make cocktails from home.
Q: Do mixology sets come with alcohol?
A: Some mixology kits do come with alcohol, depending on the specific product and the shipping location. If you are looking for sets with both alcohol and alcohol-free options, check out this list.
Q: What comes in a bartender set?
A: What comes in a bartender set are items like shaker tins, mixing spoons, spouts, cocktail strainers, wine stoppers, liquor pourers, and unique mixers for cocktail recipes.
Q: How do I order the best mixology set for my next happy hour?
A: To order the best mixology set for your next happy hour, just scroll up and check out the fantastic list of options we've reviewed for you.