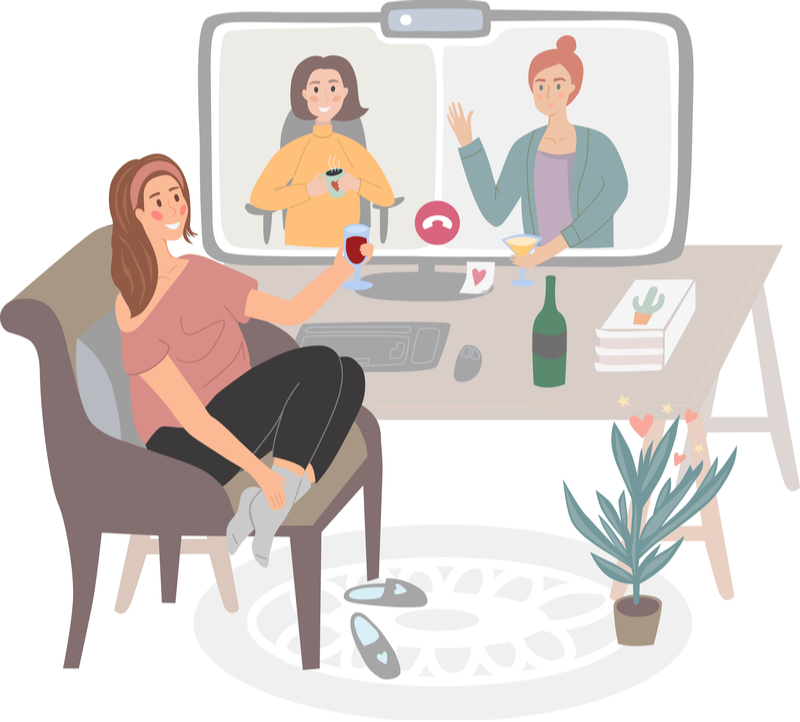 Here's to maintaining bonds across all distances.
Here's to the camaraderie and everlasting bonding.
Here's to the virtual happy hour!
A virtual happy hour is truly an amazing thing, an event people only dreamed of hosting just a few decades ago. According to Encyclopedia Britannica, the dream of video conferencing has been alive since 1927, but it has been only in the last few decades that we can communicate via video whenever we want, from practically anywhere we want.
Take full advantage of our magical modern technology by hosting a virtual happy hour. Make it as fun and memorable as possible with a selection from one of our ideas below.
Note: All the ideas assume you'll use a video conferencing solution of your choice.
P.S. You can get additional remote virtual happy hour and other employee engagement ideas from The Assist — a free weekly email trusted by thousands of professionals, full of actionable workplace culture, productivity, and leadership inspo.
Page Contents (Click To Jump)
Virtual Happy Hour Games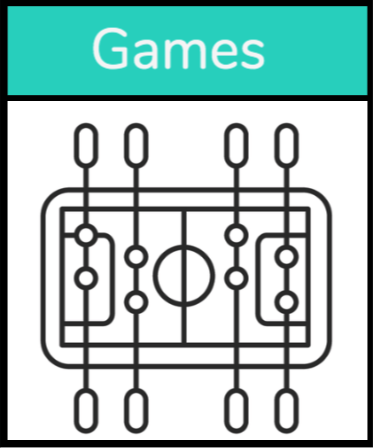 ---
Paid Virtual Happy Hour Games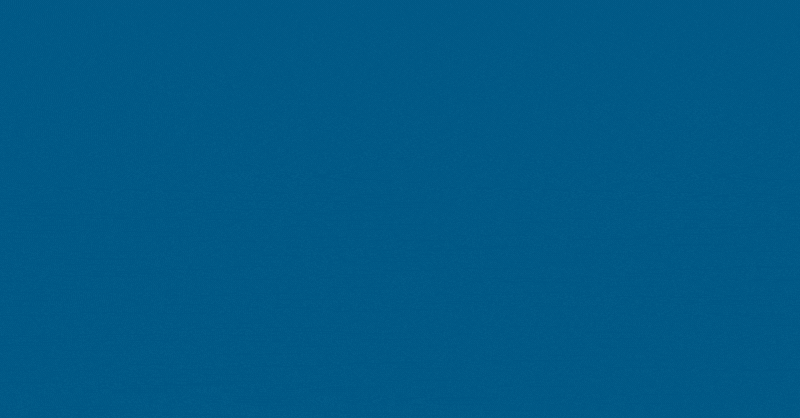 Turn to these pros when you need to pull off a flawlessly fun virtual event for groups up 1,000. Outback Team Building will take care of all the details to completely immerse your virtual happy hour guests in events such as:
💎  Virtual Escape Room (Jewel Heist): Solve a "virtual" heist with your team of quick-witted detectives as you complete online puzzles, riddles, and virtual trivia. This virtually-hosted activity is ideal for groups that love solving complex-problems and aren't afraid of a little friendly competition.
🕵️‍♂️  Virtual Clue Murder Mystery: Join forces with some of the best detectives in your group to crack the case before time runs out. This virtual murder mystery activity transports you to the scene of the crime at the mansion of millionaire, Neil Davidson. Can you find the clues, solve the puzzles, and catch the culprit before it is too late?
🎗 Virtual Do-Good Games: Each unique challenge in this virtual game competition is aimed to "do good" and make a difference for people in need. After completing each challenge and winning a certain number of points, they will be converted into actual donation dollars to a charity of your choice. Talk about a win-win — contributing to a good cause while team building!
🧠  Virtual Team Pursuit: Bond with your team through a variety of fun and engaging challenges that will test your mental, physical, and mystery skills! The team with the most points when time is up wins, so get your game faces on, dust off the ol' thinking cap, and get to it!
🍹 Happy Hour Trivia: Enter the local watering hole known as "Hamish McDuff's" and enter into a challenging and fun trivia competition at a virtual pub. Complete with a wacky and hilarious Scottish pub owner as your host, they'll lead you through an unforgettable happy hour to find out who knows their trivia and who is better left sitting at the bar.
To learn more about the other happy hour activities provided by Outback, check out their full catalog here.
Swap out the hassle and logistics of planning an afterword happy hour with a virtual happy hour experience that teaches your team to whip up delicious cocktails over a shared video call.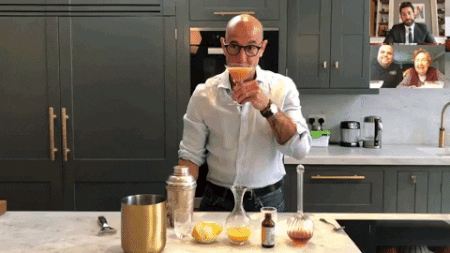 Sign your team up with Confetti will deliver custom cocktail kits to your employees' homes to create a virtual happy hour event that is an interactive online experience that will leave your team feeling appreciated.
Standout features:
Pick out cocktail options to add to your event's menu including a theme
They will deliver the selected team building cocktail kits to your employees' homes the day of the event
An experienced mixologist will host the event, explaining how to mix the drinks and offering tips on the best way to make/enjoy premium cocktails
Great for employee appreciation events, virtual birthday parties, and prospecting new clients
Tip: Mocktail options are also available for those wanting a non-alcoholic drink!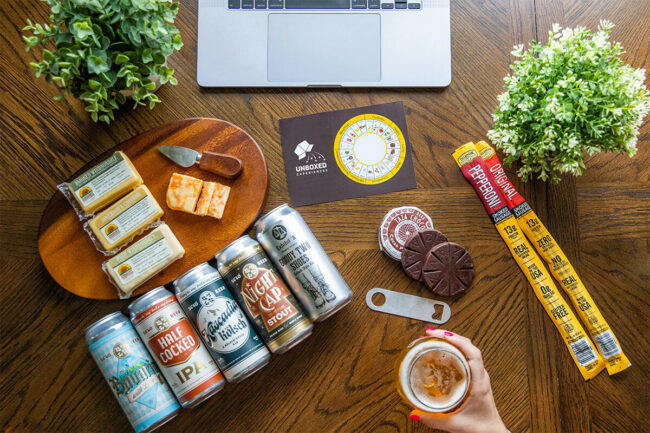 Empower yourself with the skills you need to be your very own at-home master of flavor experiences.
Unboxed Experiences will teach you the art and science of beer-and-cheese tastings. You'll learn how to appraise beer like a pro and also find its perfect cheese partner. This beer tasting activity can be worked into the entertainment at your company's upcoming virtual holiday party as a stress-free way to get people engaged.
If you're really hands on, Unboxed Experiences can even walk you through the ins, outs, and nuances of home brewing.
Learn more about this virtual happy hour activity with the experts at Unboxed Experiences.
Pro-Tip: Enjoy a special summer-themed beer and cheese pairing event with the Summer Getaway Beer & Cheese Pairing Experience. This seasonal tasting kit comes with light and refreshing beers to match perfectly with gourmet cheeses. You can even make your own summer shandy with some craft lemonade included in every tasting kit! This box is one of our favorite ways to get away on your own personal summer vacation at home.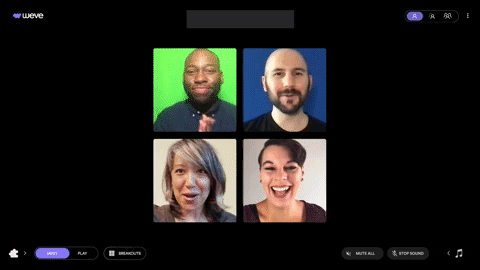 When The Go Game is in charge of your virtual happy hour, it will feel like your favorite, most charming friend is hosting your event.
Their expert approach to virtual events doesn't just lead to fun; it also encourages "authentic connection, spontaneous interaction, and creativity."
During each experience, expert event hosts lead and listen, finding and feeding conversational sparks every chance they get. They'll keep the event on-pace, making your guests laugh as you recreate famous works of art (kind of), flow-through buzz-in rounds, and so much more.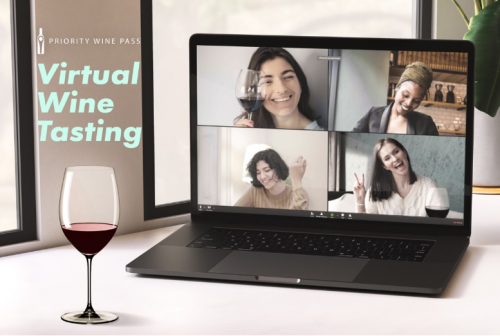 Enjoy a virtual wine tasting with friends and let Priority Wine Pass take care of all planning and logistics so you can relax and enjoy the experience. There are more than 40 world class wineries to choose from with knowledgeable hosts to lead your event. It's perfect for a virtual birthday party, corporate event, or any wine lover in you life.
They will help you choose a winery and will coordinate shipments that is tailored to your group and budget. The winery will then provide a zoom link for all the participants. Their vast experience will ensure that they will match you with the perfect tasting experience.
Priority Wine Pass also offers craft brewery virtual tastings, cocktail kits, and many other specialized virtual experiences on their website.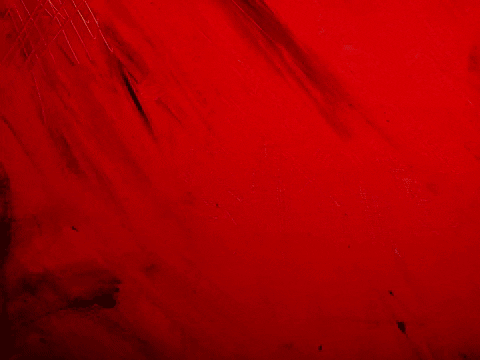 This Happy Hour Printable Playable Bundle is a collection of 4 fun drinking games that are perfect for getting to know new people or breaking the ice at parties. The games are designed to be played virtually, so they're perfect for a happy hour over Zoom, Google Hangouts, or any other video chat platform.
The games are easy to learn and fun to play, and they're a great way to get people talking and laughing. They're also perfect for virtual happy hours since they don't require any special equipment or setup. Just print out the PDFs, grab a drink, and you're ready to go!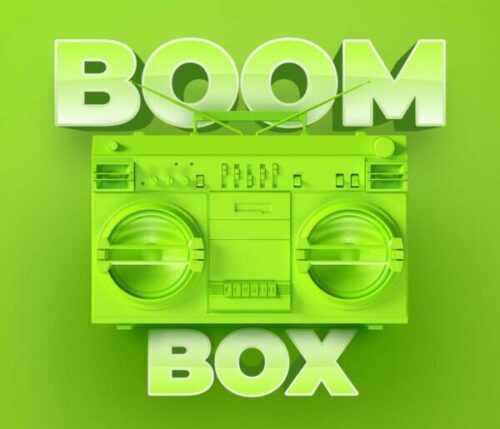 Turn the music up! Audiophiles, band geeks, and diehard music fans – it's your time to shine in this interactive game of Boom Box, where you'll complete an assortment of puzzles and musical trivia about your favorite albums, songs, and bands. Categories include album art recognition, name that tune, finish that lyric, and more!
👉 Sign up for free to see all of our options and start planning your event today!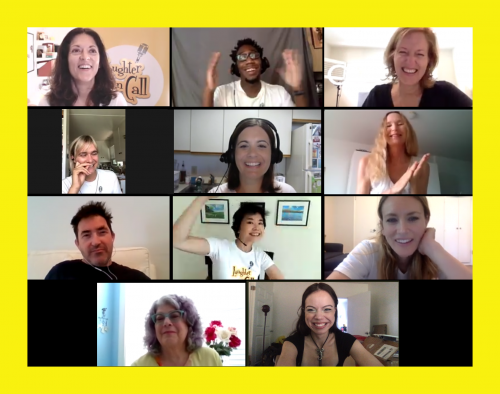 It's common knowledge: We all have a little something called "Pandemic Fatigue," and we miss interacting–and laughing– with our fellow humans. Even the The New York Times recently published a piece stating, "Doctors, nurses and therapists have a prescription for helping all of us to get through these difficult times: Try a little laughter."
Fear not, Laughter On Call is here to ignite your team with joy and connection.
They bring professional comedians to your virtual office events who invite everyone to participate. Founder and CEO Dani Klein Modisett started Laughter On Call after her mom was diagnosed with Alzheimer's. She saw first-hand how the power of laughter has the ability to change lives. Half Stand Up, half Improv, these sessions get even the most introverted in the room contributing, creating a laugh out loud experience where everyone is engaged.
There's never been a better time to celebrate the people that have kept your company thriving and send a message that it's ok to laugh, in fact it's the key to resilience and innovation!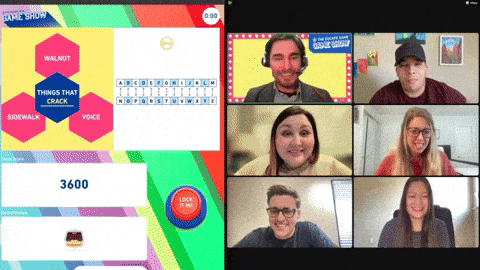 The Escape Game and is a one-stop shop for virtual events to plan for groups of all sizes. They offer team-building events online, at 24 retail locations across the US and they can also come to you. The games are super fun, the hosts are enthusiastic, and booking is surprisingly simple.
They have hosted hundreds of thousands of players from companies of all sizes.
🤔  Virtual Escape Rooms | In these virtual escape rooms you are playing an actual brick-and-mortar escape room live over a Zoom. You'll direct a guide that is in the room through the experience. Players also have access to a digital inventory of clues and other nifty tools. With multiple themes including a prison break, a submarine expedition and an art heist, your team is sure to find the right fit. Note: Perfect for groups of 4 – 500.
📺  Puzzle Game Show | Fast-paced, funny and great for teams that aren't super tech-savvy. Just jump on the Zoom link and a host will lead your team through a series of game rounds like Puzzle Pyramid, Phrase Craze and Code Breakers. Large groups are split into teams that will compete for the top spot on the leaderboard and game show glory.
❓  Mystery Games | For groups of 15-1000+, The Escape Game's Mystery Games are both collaborative and competitive. Teams of 7-8 "secret agents" race to solve a crime first. Participants will review evidence, crack codes and connect the dots, all leading to a big "aha" moment. Our favorite themes are The Art Thief theme and Rogue Scientist. Mystery Games are available 100% online or they can bring the competition to your office or off-site.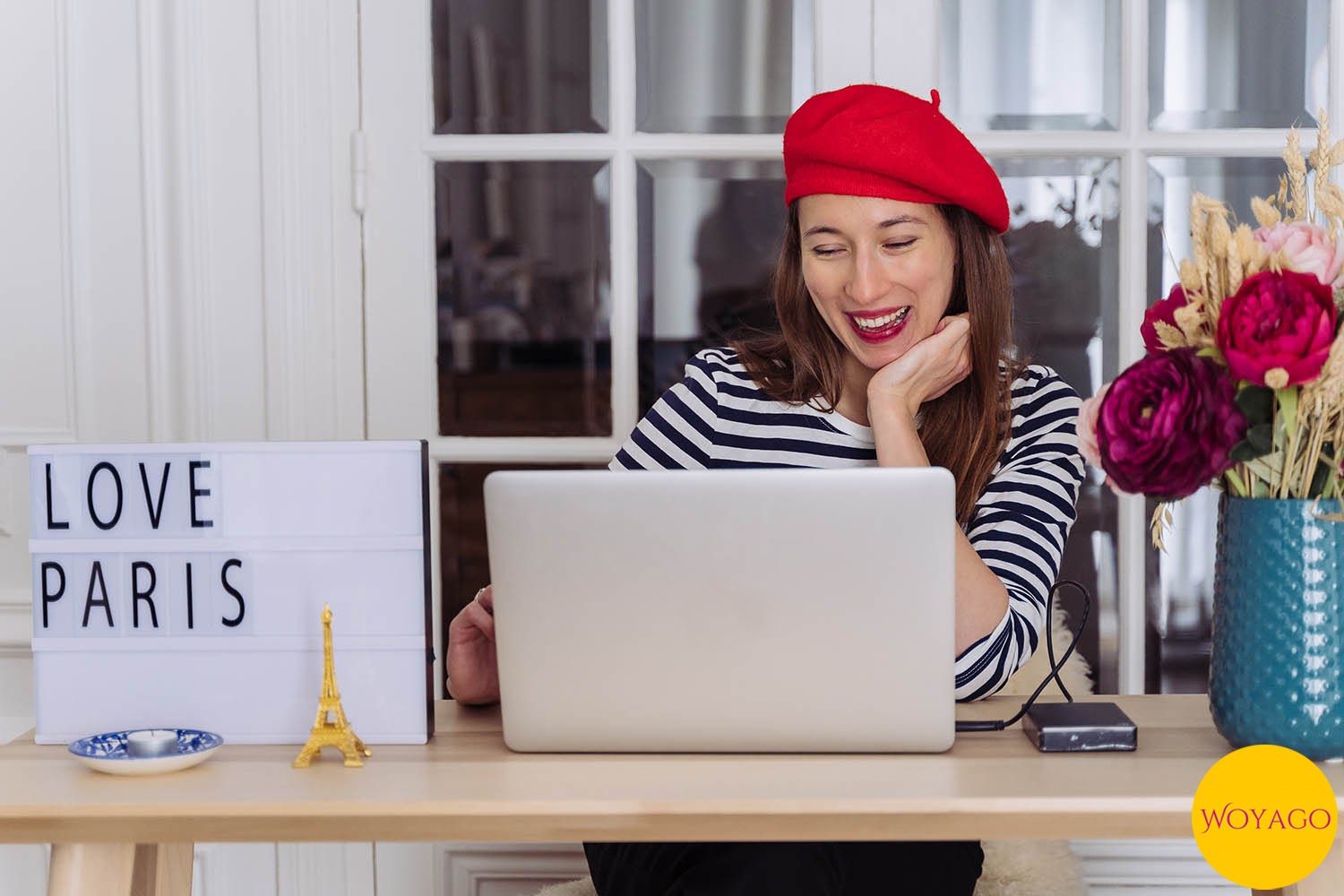 Buy your friends another round in The City of Lights!
From French vocabulary contests and Parisian trivia games to a hilarious lesson in local icebreaker questions, Woyago's hosts combine storytelling with activities that will engage and delight your group.
Woyago also offers cheese and wine delivery timed to arrive before you enter the chat.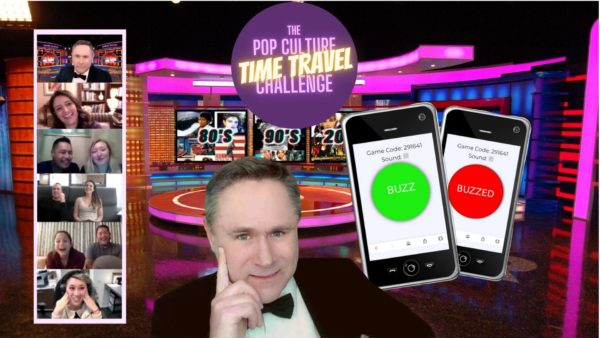 Do you know your decades trivia??
Well, it's time to find out with this virtual experience that is perfect for happy hour. Whip up a delicious happy hour drink, sit down with your coworkers, and see just how much you remember from some memorable decades in a trivia game show experience. Meet your game show host, join the scoreboard, grab your buzzer, and flex your knowledge of:
The groovy 70's 🕺
The rocking 80s 🤘
The jammin' 90s 🎸
To plan your next happy hour take a short quiz to get your time machine up and running.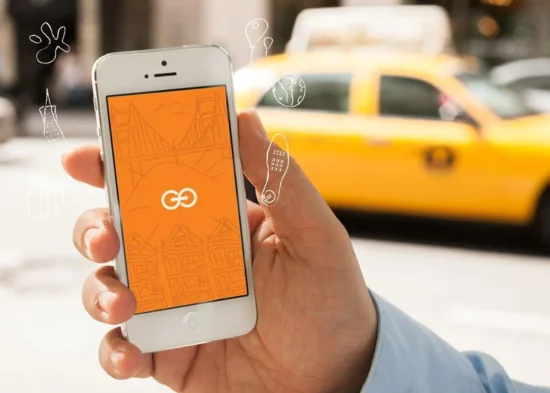 Treat your happy hour guests to a scavenger hunt they'll never forget. Go Game makes it easy to do the impossible: Create a fully remote scavenger hunt without any physical components.
The app even has features (such as scores, photo challenges, and quizzes) to boost engagement during the hunt.

Take your happy hour out of the bar and into the…ice cream parlor? Seriously! The Ice Cream Float Experience is a non-alcoholic option that still feels like a rollicking happy hour. Before the event, each of your guests will receive an Ice Cream Float kit with all the ingredients and materials they'll need to participate.
During this 30-ish minute virtual experience, a guide will entertain your guests while leading them through the process of making ice cream—using a couple nested zip bags of all things! In order for the ice cream to freeze, guests will shake their ingredients until frozen, backed by a fantastically fun soundtrack packed with popular favorites like "Shake Your Groove Thing."
The experience wraps up with ice cream float making (choose from root beer, orange soda or cherry soda) and a hearty, "Cheers!"
Pro-Tip: Is your workplace big on work/family balance? This is one of those activities that employees can get their families involved in. Kids especially love shaking up their ice cream, and your guests will appreciate having time to hang out with their families during the work day. For more details — talk to the virtual event pros at Unboxed Experiences.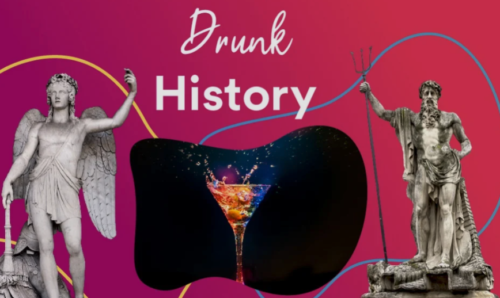 This virtual happy hour event will have your guests competing in virtual trivia, drawing games, and drinking games. In this safe-for-work version of the popular TV show, participants are tasked with retelling the story of a historical event without consulting the internet or any other reference. Do you remember the Boston Tea Party? Or the story behind Abraham Lincoln's Hat? You will after this hilarious blend of memory, comedy, and maybe an adult beverage or two. Learn more at Let's Roam and let us know in the comments below which historical event you covered!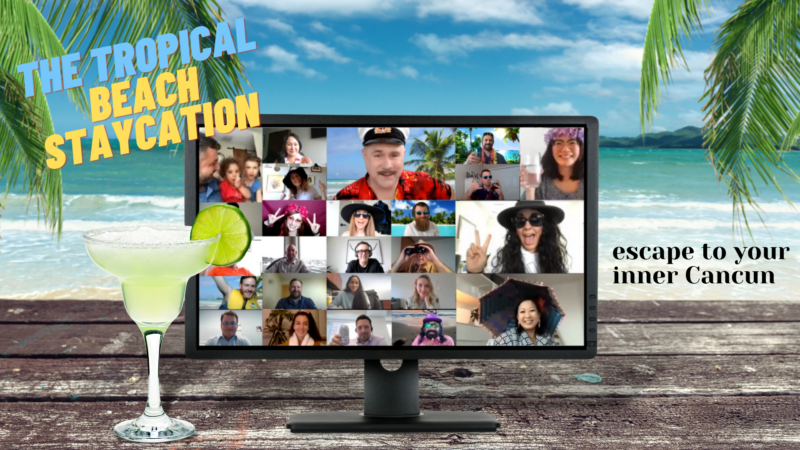 Board a virtual yacht as you and your colleagues escape to your "inner Cancun" to relax, bond, and maybe even go on a tropical team building adventure.
With ocean soundscapes and delightful vacation destination footage, your coworkers will compete in a variety of vacation-themed activities including:
Knowledge of travel destinations
Vacation-themed movie trivia
Name that tune of summer pop hits
They might even participate in an ultra-funny cabana-wear contest! Learn more by filling out this short questionnaire.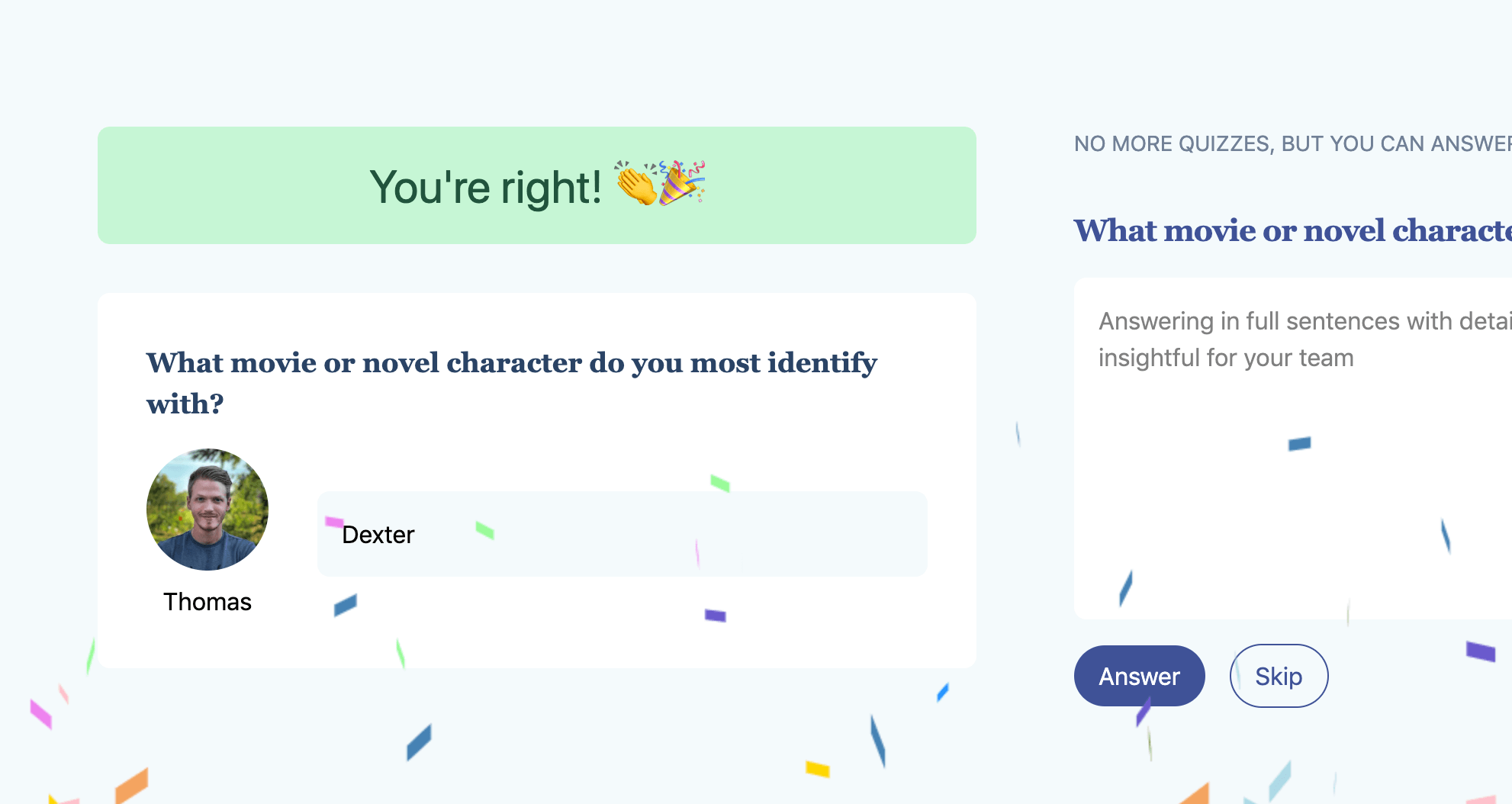 All through school, we took quizzes to help us retain and absorb knowledge about academic subjects. QuizBreaker helps you learn and absorb knowledge about your friends and co-workers.
Use this platform to create and distribute quizzes that highlight fun facts about your happy hour guests. You'll get to know them better and maybe even learn a few things no simple conversation would have revealed.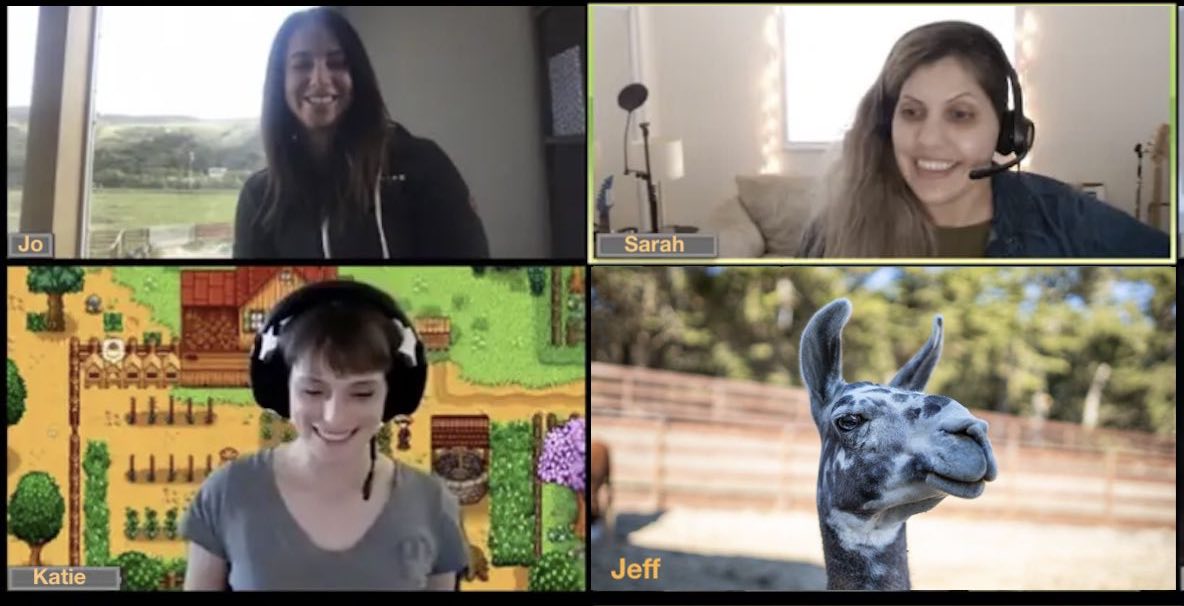 Treat your virtual happy hour guests to a surprise that practically guarantees laughs: A goat guest star. Sweet Farm's "Goat-2-Meeting" initiative lets you choose the farm-life feature that works best for your event.
Simply have a goat make a cameo during your event or take an entire virtual tour of the farm.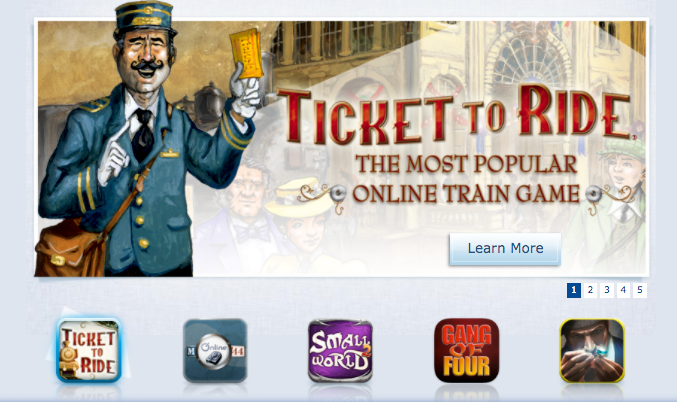 Quality artwork and immersive play structures make Day of Wonder's online games thrilling for everyone.
Pro-Tip: Use "Command + D" to bookmark this list – we update it often with new content. 
Free Virtual Happy Hour Games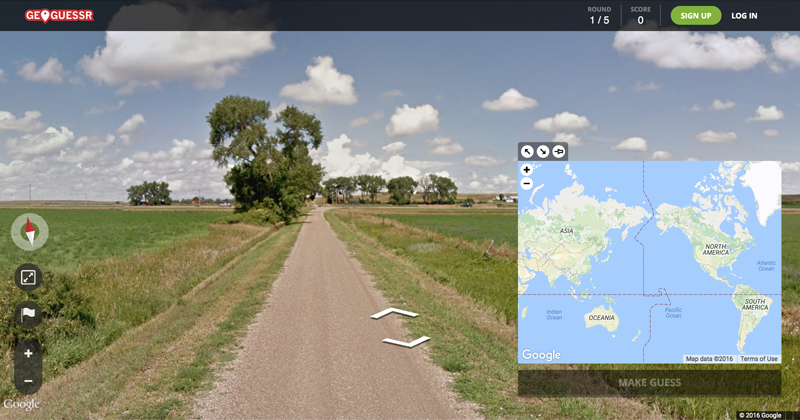 Get away from it all…kind of. This game presents you and your happy hour guests with pictures from places around the world. You drag and drop an icon to guess where on the map you think the picture was taken.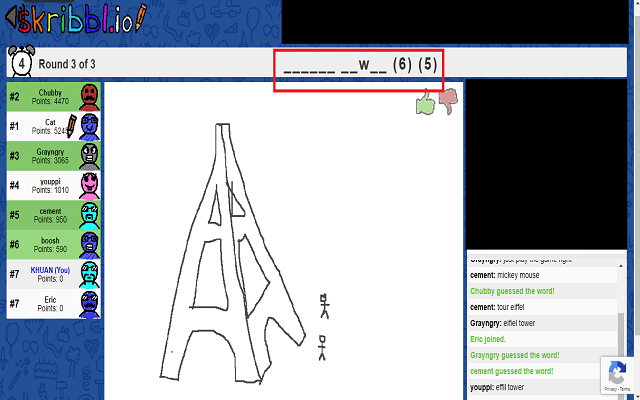 This no-fuss interface makes it easy to play a classic drawing and guessing game. Simply read your word, create your drawing, and hope the other guests can guess what is.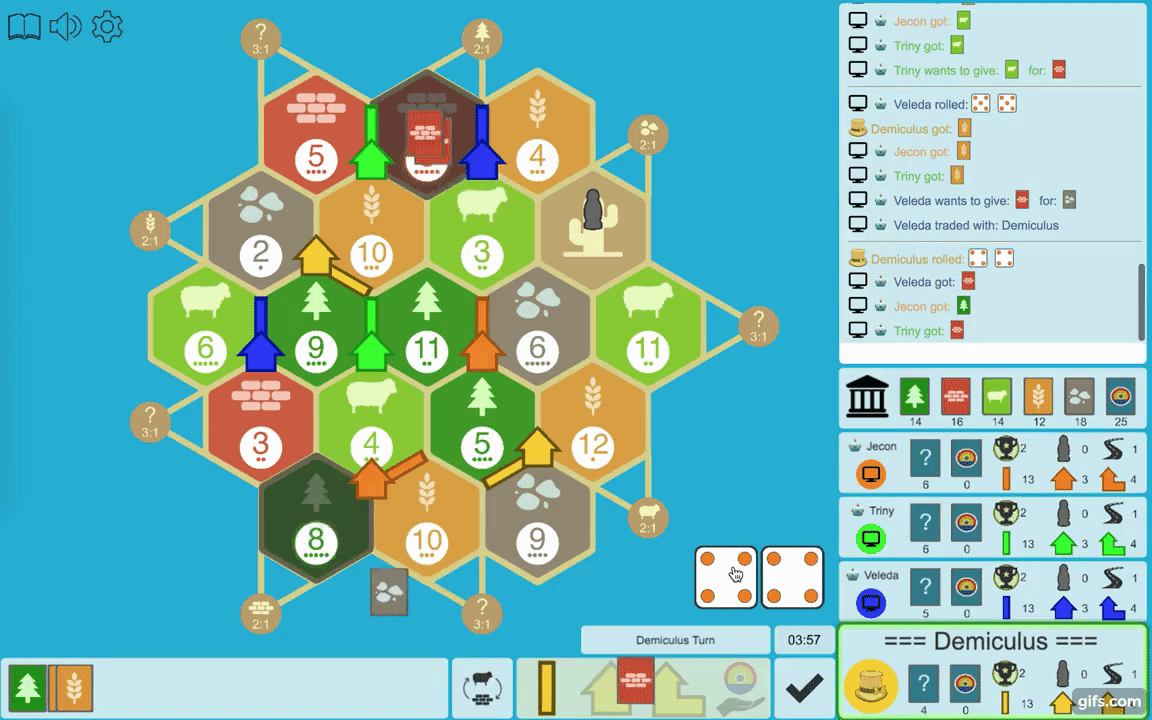 Inspired by the beloved board game Settlers of Catan, this free online game will have your happy hour guests creating settlements and roads, using finite resources to create the best-possible world.
Pro-Tip: Take this virtual happy hour game to the next level with a curated one-of-a-kind employee care package through Caroo!
Use this site to enter a world of gaming nostalgia, complete with Oregon Trail, Super Mario Brothers, Tetris, and more. Play these games for free online.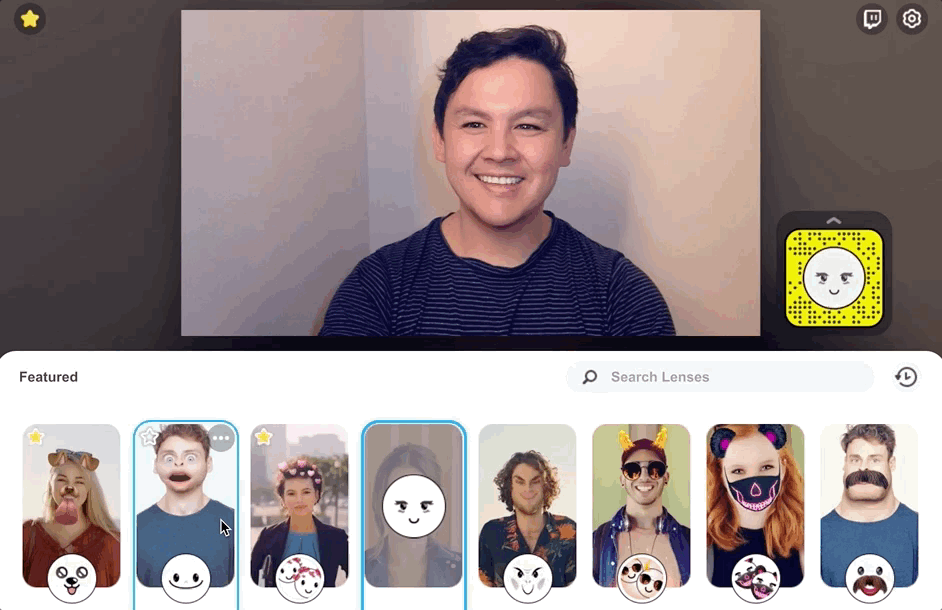 This isn't a game per se, but it offers just as much fun. Download this tool to add hilarious overlays and effects to your video feeds.
6) 
Scattergories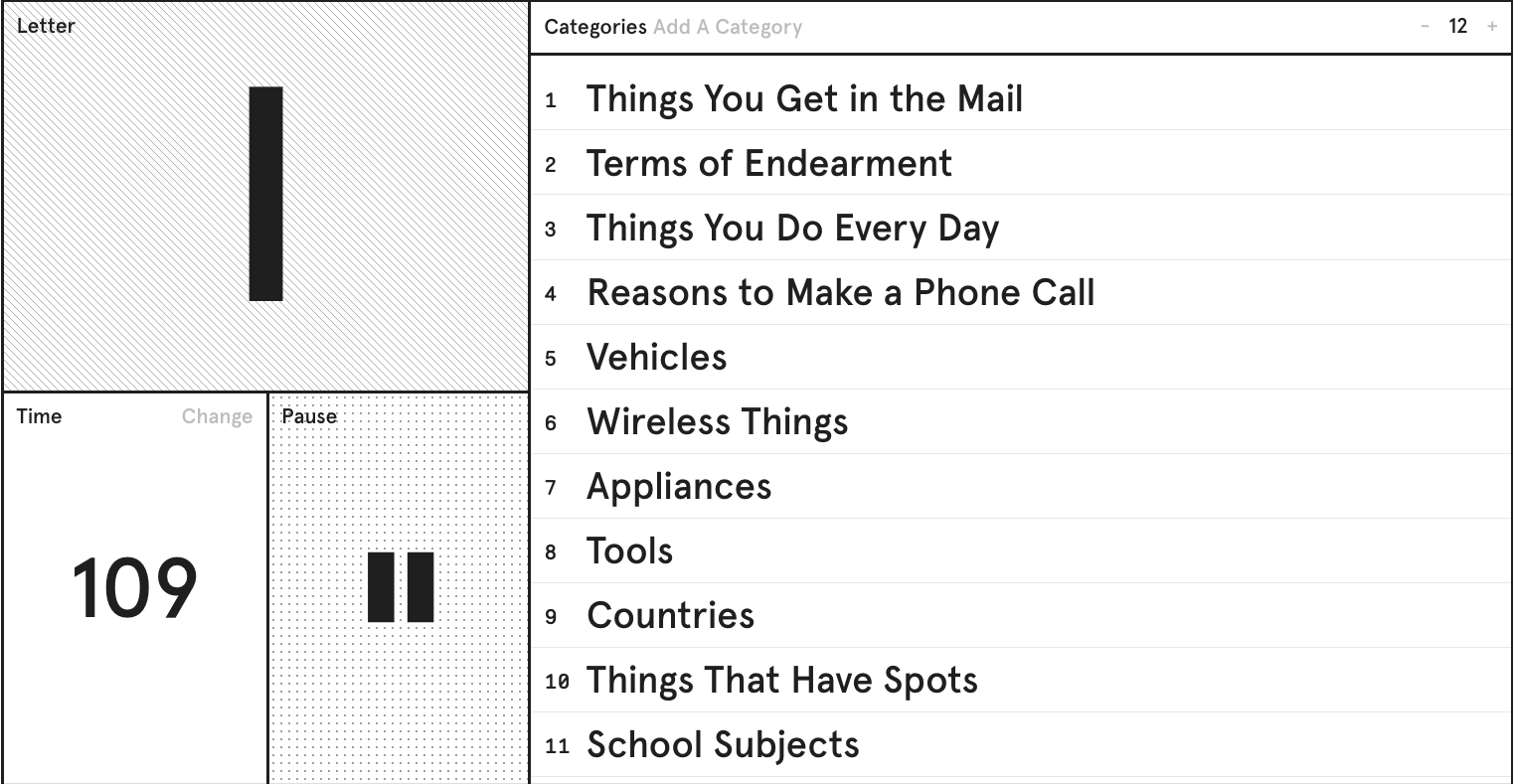 Use Swallgarfo's Scattergories list generator or the iOS Scattergories app to play this classic game of category chaos.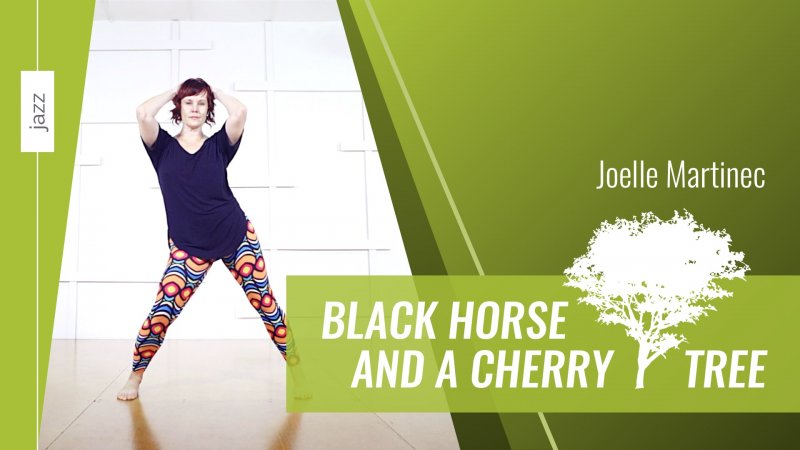 Tighten up your moves or just goof off by screen-sharing a free dance lesson.
Virtual Happy Hour Themes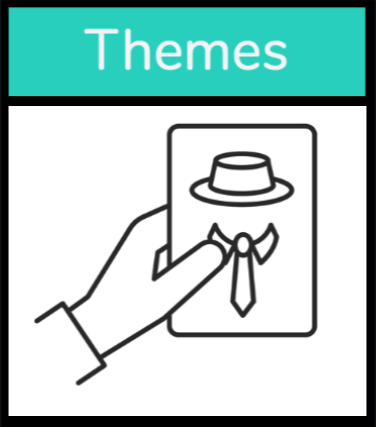 ---
"Show" Club Virtual Happy Hour Theme
Leverage the classic book club model to mindfully discuss all the shows your friends and co-workers are watching on Netflix, Hulu, or other streaming platforms.
Components:
Themed icebreaker: Use IMDB to find a fun fact about the show you're discussing.
Modified book club questions
---
There's Been A Murder Virtual Happy Hour Theme
Cue The Office theme song… Michael Scott enters… "There's been a murder…"
In all honesty, Michael was actually on to something! Solving a virtual murder mystery can be a great way to spice up your next virtual happy hour event.
Tips and Tricks:
Ask the virtual murder mystery experts at Outback Team Building to help customize a unique experience using tidbits of information from the players woven directly into the story.
---
Future Decades Party Virtual Happy Hour Theme
Host a happy hour dedicated not to celebrating past decades, but to celebrate what attendees think future decades will be like.
Components:
Discussion prompts (to circulate in your event invitation):
What future decade are you from?
What did you have for dinner?
What are you drinking?
What's your favorite hobby?
What do you do for entertainment?
What kind of vehicle(s) do you travel in?
---
Trivia Virtual Happy Hour Theme
Who doesn't love trivia? Even people who think they don't probably do, maybe just a little bit. (Jeopardy isn't the #1 game show of all time for no reason, after all.)
Tips and Tricks:
Ask Let's Roam to deliver a history- or Disney-themed trivia night.
---
Playwrights and Thespians Virtual Happy Hour Theme
Select a classic play to act out (in part or in full) with your buds. (Be sure to do the casting beforehand.)
Components:
A classic play to read for free online via Readprint.com or the Playscripts Free Reads Corner.
Method Acting Activity
Have your guests become a character…and try to act just like them. Act for the first half of your happy hour and then spend the last half guessing who everyone is supposed to be.
Pro-Tip: Select a unifying theme to make the guesses easier. (E.g. Actors, historical figures, famous inventors, famous authors, politicians, etc.)
Food and Beverage Pairing
Deliver a full flavor experience during your happy hour with a classic food and beverage pairing.
Pro-Tip: Sure, there are how-to articles for doing one of these yourself, but nothing comes close to bringing in the pros.
Pull in some experts, like the folks at Unboxed Experiences.
---
Island-Themed "House Hunters" Virtual Happy Hour Theme
Tell everyone to put on their real-estate agent hats. Ask everyone to find the perfect exotic island vacation for another guest at your happy hour. Each "real estate agent" must present their assignee with three properties. (Anyone can take a "pass" if they don't like the options. People get points and bragging rights when they make a "sale.")
---
Virtual Escape Room Virtual Happy Hour Theme
How can you possibly host a virtual escape room? The Escape Game makes it possible.
Investigate a physical room by using a game guide—wearing a live camera—as your eyes and ear. Your happy hour guests will never forget it.
Here's a quick 1-minute video of what your Virtual Escape Room would look like:
---
Fancy Pants Guessing Game Virtual Happy Hour Theme
Send your guests fake invitations to different formal events (charity gala, royal wedding, awards dinner). Ask everyone to show up to the virtual happy hour dressed appropriately for the event on their invitation. Everyone has to guess what event everyone else was invited to based on their outfit. This makes any virtual holiday party a blast from the moment you log on!
Pro-Tip: Feel even more connected with everyone at your event by sharing some party snacks or late-night snacks everyone can make.
---
"I've Got a Secret" Virtual Happy Hour Theme
Inspired by the vintage game show, I've Got a Secret, this happy hour idea will have your guests guessing one another's secrets. To play, simply ask everyone to arrive prepared with one secret and one clue. Take turns asking questions and guessing the secret.
---
Cocktail "Surprise" Party Virtual Happy Hour Theme
Keep the theme of this happy hour secret. Ask everyone to send a list of 10 items in their fridge. Randomly select 5 items from the list. When you start the virtual tasting, tell everyone they have to make a drink using those 5 randomly selected items, plus alcohol if they want and one other extra ingredient of their choice.
---
Poetry Reading Virtual Happy Hour Theme
Ask everyone to arrive with a:
A published poem they loved
A poem they wrote, inspired by the poem they love
Spend happy hour reading the poems and guessing which one is "real" and which one was made up by your friend.
---
Virtual Happy Hour In-A-Box Theme
Looking to really WOW your virtual team? Go beyond the screen and send an expertly-curated Happy Hour Box straight to their doorsteps!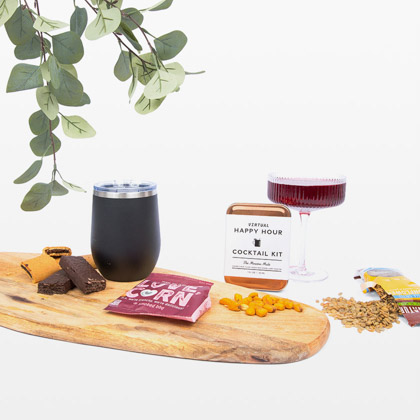 Filled with everything you need to have a fun-filled happy hour including a premium cocktail-making kit, an insulated wine tumbler and even a team-building activity to help you and your employees break the ice. And for every box you send, you'll be donating meals to Feeding America!
---
Art Appreciation Virtual Happy Hour Theme
Everyone comes with fun facts and links related to a piece of art they want to discuss.
Components:
An art appreciation activity can be a great way to spark discussion:

---
Music Discussion Virtual Happy Hour Theme
If your group gravitates toward music rather than art, then simply ask everyone to come prepared with fun facts and links related to a piece of music they want to discuss.
Components:
Music discussion questions:
How did this piece make you feel?
Did you hear any specific instruments?
Can you describe what you liked or disliked about it?
Virtual Happy Hour Ideas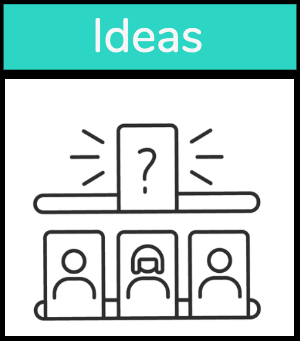 ---
Charades Virtual Happy Hour Idea
Get everyone laughing as they act out words or phrases and hope the others can guess what they're doing.
How-to:
Have volunteers pick a word or phrase
The volunteer may give everyone 1) a category and 2) a word count
They act out their word or phrase—without speaking—until someone guesses it or they give up
---
Simon Says Virtual Happy Hour Idea
Most people either loved or hated this game as children, but no one can deny, it gets big laughs.
How-to:
Have brief interludes (5 minutes) of "Simon Says" every 15 minutes or so
Crown someone "Simon"
"Simon" tells everyone what to do using the official command structure: "Simon says…
If they speak a command without saying "Simon says" first, then anyone who follows that command is "out"
---
Poker Virtual Happy Hour Idea
Add new dimensions to poker night by playing virtually. Instead of laying your cards out on the table, you can hold them in front of your camera. (Studying "poker faces" during a video call will also make a fun social experiment.)
Pro-Tip: Bicycle cards has some basic instructions to help you get started.
---
Two Truths and a Fiction Virtual Happy Hour Idea
Hack the classic "two truths and lie," but swap in embarrassing true and fictional stories for truths and lies.
How-to:
Ask everyone to come prepared with three embarrassing stories—two true and one fictional.
Take turns sharing the stories and guessing which stories are true and fake.
---
Lip Reading Virtual Happy Hour Idea
You know those awkward moments during video calls when someone's audio cuts out, but they keep talking anyway? Turn it into a happy hour game!
How-to:
Every 15 minutes, mute someone's audio
Shout a code word, like freeze or cayenne, to signal a game is starting
Ask the muted person to keep talking while everyone else tries to guess what they're saying
---
Throwing Shade Virtual Happy Hour Idea
This low-key happy hour has only one rule: Everyone must wear sunglasses the entire time.
How-to:
Just tell everyone to wear their sunglasses. It's that easy.
---
Create and Tell Virtual Happy Hour Idea
Let your happy hour guests show off their inner crafters, artists, or chefs.
How-to:
Simply ask everyone to grab something they made, a scarf, a painting, a sandwich—anything to show off during your happy hour.
---
Cuddles and Cocktails Pet Virtual Happy Hour Idea
Make an already fun virtual cocktail party even more fun by inviting everyone to bring their pets along for the show.
How-to:
Simply tell your guests you expect their pets to make an appearance. (If they don't have pets, then they can bring anything else they want to show off.)
---
Silly Accents Virtual Happy Hour Idea
How-to:
Just have everyone choose an accent to keep up throughout the happy hour. The laughs will just flow naturally.
Virtual Happy Hour Topics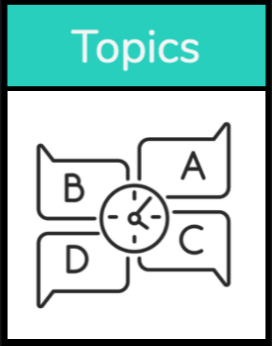 ---
Virtual Happy Hour Topic: Forever Dinner
Introduce it: What dinner would you eat for the rest of your life? Explain why.
Optional follow-up questions:
How do you know you won't get sick of it?
How will you mix it up if you do get bored?
---
Virtual Happy Hour Topic: Talents
Introduce it: What is your real greatest talent? (Even if you don't often use it!)
Optional follow-up questions:
When did you realize you were good at it?
How do you feel when you use your talent?
What types of professional and fun things does your talent help with?
---
Virtual Happy Hour Topic: Present Excitement
Introduce it: Why are you excited to be alive right now?
Optional follow-up questions:
What's the most exciting aspect of it?
How do you think people 30 years ago would answer that question?
How do you think people 30 years from now will answer that question?
---
Virtual Happy Hour Topic: Your "Instruction Manual"
Introduce it: What would be the most important rule in your "instruction manual?"
Optional follow-up questions:
Why is that the most important thing?
Do you know anyone who already knows this?
---
Virtual Happy Hour Topic: Passions
Introduce it: What would you spend your time doing if you never had to worry about money again?
Optional follow-up questions:
Do you think you'd ever get bored of it?
What's the longest amount of time you've ever spent doing this?
Other than financial freedom, what might help you spend more time doing it?
---
Virtual Happy Hour Topic: Ideas
Introduce it: What's the best idea you've ever had?
Optional follow-up questions:
What makes it the best?
Have you shared it?
Do you ever plan to pursue it? Why or why not?
---
Virtual Happy Hour Topic: Future Technology
Introduce it: What interesting technology do you think we'll have in the future?
Optional follow-up questions:
How far in the future will this technology come out?
How could it change the world?
Who do you imagine inventing it?
---
Virtual Happy Hour Topic: Future Fashion
Introduce it: What do you think your grandchildren, or just kids in the future, will wear to school?
Optional follow-up questions:
Would you have liked to wear this to school?
What will adults say about this fashion trend?
Is it a classic or a passing trend?
---
Virtual Happy Hour Topic: Music
Introduce it: What's the best band or composer in the history of music and why?
Optional follow-up questions:
Do you imagine anyone will be able to top them?
What makes them so wonderful?
How did you discover them?
---
Virtual Happy Hour Topic: Experiences
Introduce it: What have you done that would shock or surprise your past self?
Optional follow-up questions:
What would your past self say about this thing?
Do you remember a moment when you changed from the person who would be shocked to the person who would do that thing?
Virtual Happy Hour Tips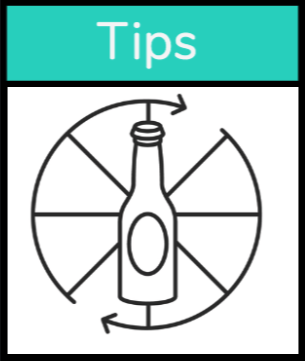 ---
1) Send Snacks
Send a surprise SnackNation snack box, packed with delightfully delicious health- and energy-boosters. The perfect snacks can really tie an in-person event together, and they do the same thing for virtual events, adding a sense of ceremony and celebration.
2) Send toast-worthy treats
Have festive drinks and gourmet treats delivered. Try champagne jelly beans, a sparkling rose, or a custom stemless wine glass for their next virtual wine event.
3) Keep the happy hour to one hour or less
Of course, you should read the room and continue the event if people are engaged. However, a general 60-minute cap should help you keep your guests' attention.
4) Give people outs
About 45 minutes into the event, simply ask how everyone is doing on time. People may need to exit the event, but a video call makes it hard to read and pick up on physical cues that signal someone is trying to say their goodbyes.
5) Get everyone participating
Again, you should always read the room, but if it seems like someone is engaged but unable to find an entry point into the conversation, then give them a hand by asking a question. (Morgan, what do you think?)
6) Test your tech beforehand
No one likes the awkward downtime at the beginning of the virtual meeting waiting for the technology to work. taking even five minutes before the virtual happy hour can set you up for an event that people won't stop talking about.
7) Send official invitations
Include the event length and a brief outline and description, especially if you will be playing games or discussing specific things.
8) Take RSVPs
Headcounts matter as much for virtual events as they do for in-person events. Your guest count changes the flow of your conversations and determines what kinds of games you can play.
9) Send reminders
Virtual events can be easy to forget about since they don't involve travel time or, in many cases, even changing clothes. Make your guests' lives easier by sending event reminders several hours before happy hour.
(PS – Get more sh*t done with The Assist — the #1 free weekly newsletter made for assistants by assistants.)
People Also Ask These Questions About Virtual Happy Hour
Q: How do you organize a virtual happy hour?
A: Organize a virtual happy hour in four easy steps:

Pick your video conferencing platform.
Make a guest list.
Choose a focusing theme or game, like one of these.
Send your invitations.
Q: How do you make a Zoom happy hour fun?
A: Make a Zoom happy hour fun and memorable by selecting a theme or game to give your event personality and also to focus everyone's attention. This post explains how to host an art appreciation happy hour, a lip-reading happy hour, a retro-gaming happy hour, and so much more.
Q: What do you say on a Zoom happy hour?
A: There are plenty of interesting icebreakers to say during a Zoom happy hour. For example: What is your real greatest talent? Find an entire list of things to say during a virtual happy hour in this post.
Q: What is a virtual cocktail party?
A: A virtual cocktail party is a video meeting where people enjoy beverages, snacks, and engaging conversations. Alcohol is generally optional; a virtual cocktail party's defining feature is socializing.
Q: What makes a virtual happy hour successful?
A: Memorable moments and quality time make a virtual happy hour successful. If you have a great time as the host, and you can see your guests smiling, laughing, and engaging with one another, then you can call your happy hour a hit. Learn how to host an engaging virtual happy hour here.
Q: How do I know if people enjoyed my virtual happy hour?
A: You will know if people enjoyed your virtual happy hour by considering:

How many people engaged throughout the entire event
If people smiled and laughed during the event
If people thank you and say they had fun
If you, as the host, had fun
If you want to know for certain if people enjoyed your virtual happy hour, then send a quick one-question (anonymous) poll after the event to find out.
Q: How many people can participate in a virtual happy hour?
A: Up to 300 people can participate in a virtual happy hour if you work with a premium vendor, such as The Offsite Co.
Q: How can I make a virtual happy hour for work fun?
A: Make a virtual happy hour for work fun by selecting one of the themes, games, or premium event vendors featured in this post. Also remember a thumb rule of virtual happy hour fun: Don't forget to have fun yourself!
Q: What are some games that we can play during our virtual happy hour?
A: Some games you can play during your virtual happy hour include charades, guessing games, and code break. Find a full list of virtual happy hour games and themes here.
Q: What are virtual happy hour themes?
A: Virtual happy hour themes are topics and activities that give your event personality and also focus everyone's attention. Some virtual happy hour themes include Future Decades and Art Appreciation.
Q: What are some ideas for a virtual happy hour?
A: Some ideas for a virtual happy hour include a cuddles and cocktails pet happy hour or a silly accents happy hour. Find a full list of virtual happy hour ideas here.