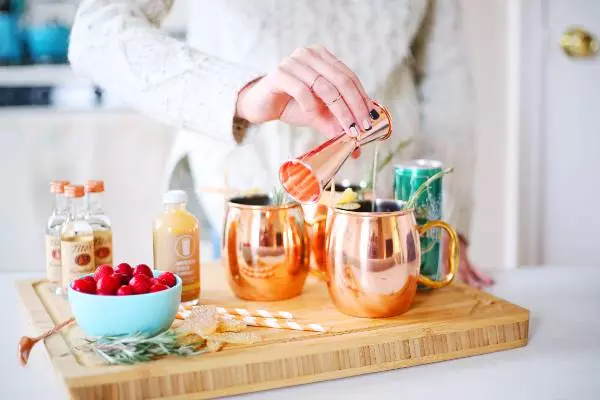 A cocktail, especially a good cocktail kit, can be more than a drink.
It can be an expressive accessory that gives the world a little taste of your personality or your particular state of mind.
Just consider all the iconic characters associated forever in our hearts and minds with their favorite cocktails: James Bond and the Vesper Martini. Don Draper and the Old Fashioned. Carrie Bradshaw and the Cosmopolitan. The Dude and the White Russian.
Now imagine what it would feel like to pick out your own signature cocktail in time for your next virtual happy hour.
". . . In terms of emotional comfort, it was our belief that no amount of physical contact could match the healing powers of a well-made cocktail."
Click To Tweet
Are you ready for your close up and a healthy, jovial toast? Grab your muddler, your shaker, and your mixology chart.
Use these virtual happy hour cocktail kits to host an event where you and your friends can show off your favorite beverage-based accessories in style while putting the cherry on top of your best and worst business days.
Pro-Tip: Use "Command + D" to bookmark this list – we update it often with the latest and greatest cocktail kits for 2023!
23 Best Happy Hour Cocktail Kits For Delivery
"No Bartender. No Problem."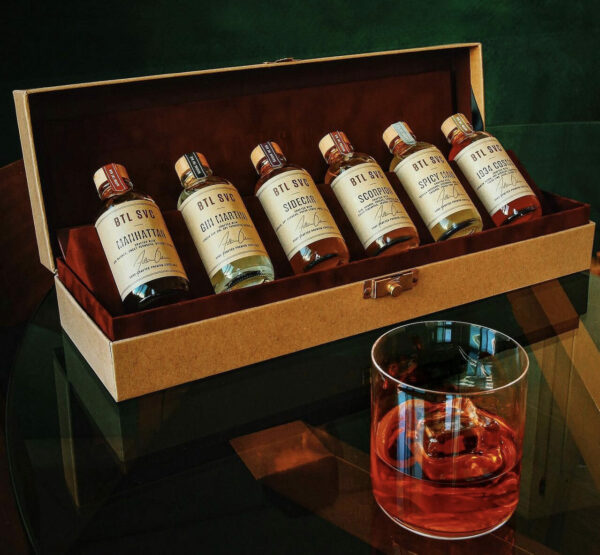 BTL SVC Box Sets are perfect for happy hours, staff cocktail parties and smaller events. And, they make for great gifts too. Delivered in a premium display case, they are available in 4 bottle and 6 bottle formats. So, whoever you chose to send these award winning, perfectly balanced cocktails to, you'll be sure to create a sophisticated and inviting cocktail experience.
Why we love this cocktail kit: It will make an event as simple as your next virtual team building feel like the best event of the year. Best of all, it requires no bartender.
Price: Ranges from $80-$110
Where to find it: BTL SVC Box Sets
"Looks like someone sent you a cocktail."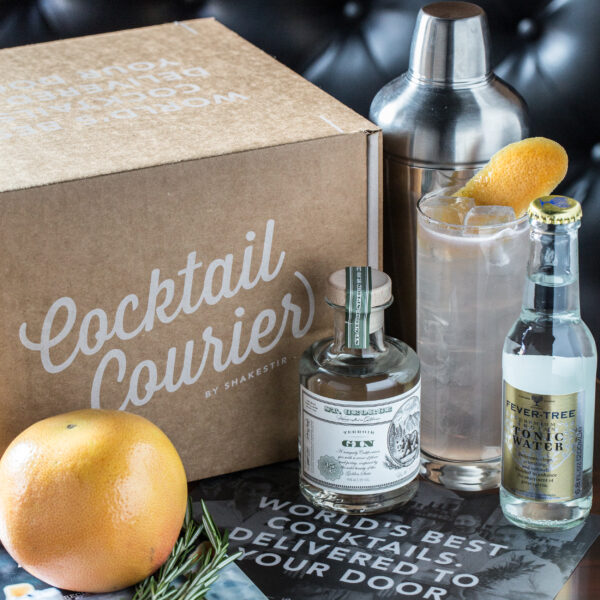 This happy hour cocktail kit is perfect for hosts looking to upgrade their upcoming event with an easy-to-send cocktail service via Cocktail Couriers. Guests just have to select the cocktail kit of their choice and enter the gift code. Voila, the ingredients (including alcohol) will show up on everyones' doorsteps before the event.
Choose from new spins on classic cocktails including:
🥃 BBQ Old Fashioned
🍹 Tropical Crush
🌶 Feliz & Fuego (Non – Alcoholic)
Plus many more!
Why we love this cocktail kit: It allows you to mix up bar-quality drinks without having to prep anything. They even send the alcohol so you don't have to raid your liquor cabinet looking to participate in your upcoming happy hour.
Price: $55 per person
Where to find it: Cocktail Couriers
"Make any day a star-studded soiree."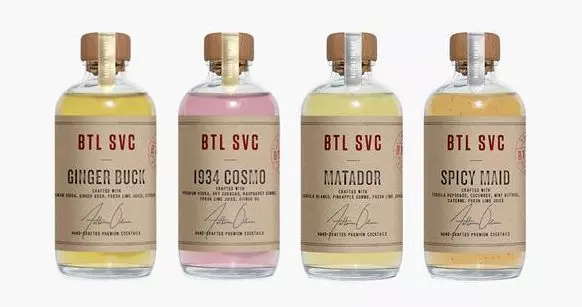 This 4-bottle ready-to-drink cocktail set packs all the delights of the party of your dreams. The vivid flavors will engage your senses and take you far, far away.
The Ginger Buck (sometimes called a Moscow mule) with it's spicy ginger and zesty lime flavors, will transport you to a late-winter gala. The Matador, all pineapple sweetness, will take you to a yacht party in Spain. The raspberry bite of the Cosmo will remind you of sunny rooftop gatherings. Finally, the Spicy Maid will invite you to a beach-front birthday party with its invigorating mix of mint, cucumber, lime, and cayenne.
Why we love this cocktail kit: It can make an event as simple as your next virtual team building feel like the event of the decade.
Price: $80
Where to find it: The Celebration Collection
"Consider it your go-to happy hour readiness kit."
Your co-workers message you about a Zoom happy hour in just fifteen minutes. You can't possibly swing it on such short notice. You'll need to—wait! You have a happy hour care package that has everything you need to be ready, to be perfectly prepared, for happy hour at a moment's notice.
This happy hour kit includes snacks, champagne flutes, sparkling white tea, and conversation starters. Just add some hard stuff, and you're all set for a good time.
Why we love this cocktail kit: This care package isn't just about the drinking part of your happy hour. It helps you complete your event with snacks, icebreakers, and accessories as well.
Price: $165
Where to find it: Happy Hour Celebration
Caroo donates meals to families in need for every box delivered. *$1 helps provide at least 10 meals secured by Feeding America on behalf of local member food banks.
"When you need more than hot sauce to spice things up."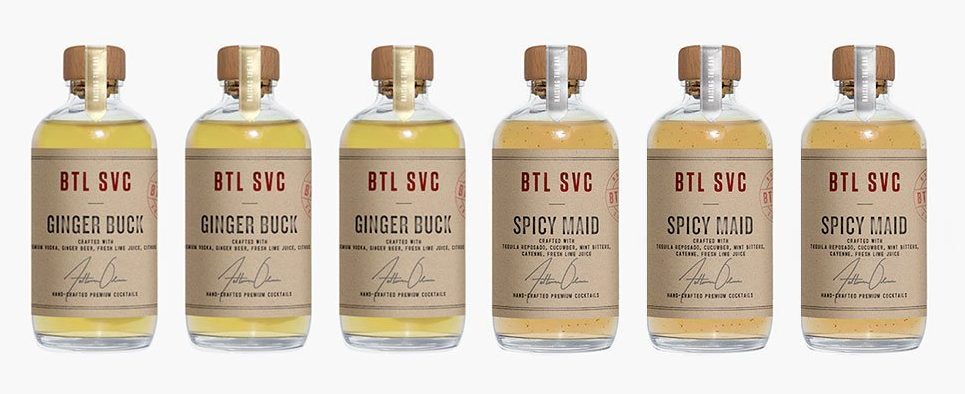 This set of cocktails calls to anyone with spice in their soul. This 6-bottle set features 3 each of the Ginger Buck and the Spicy Maid, both blended to awaken the fire within. The Ginger Buck features a spicy bite of ginger laced with sweet citrus. The Spicy Maid captures the freshness of mint and cucumber and the invigorating heat of cayenne.
Why we love this cocktail kit: This set of cocktails is like a delicious wake-up call. Much like a cup of steaming hot coffee, these cocktails provide just the right blend of flavors and sensations to make you kick off the dust and open your eyes to new experiences.
Price: $110+
Where to find it: The Spicy Collection
"All smoke, no fire."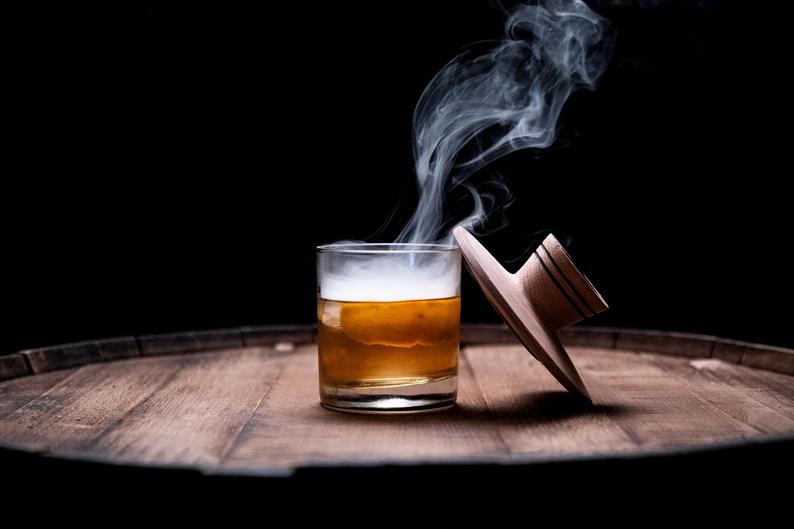 This cocktail kit will delight those who love savoring drinks around a campfire. Whether you love the way birchwood smoke mingles with your favorite single-malt scotch or you enjoy balancing sweet ingredients with a hint of smokiness, this cocktail smoking chimney kit has you covered.
It allows you to quickly and easily smoke the cocktail or beverage of your choice, conjuring new flavors and coating everything with an irresistible hint of woodsmoke.
Why we love this cocktail kit: It allows at-home mixologists to quickly and easily experiment with the art of cocktail smoking. You no longer have to brave the big crowds and long-lines to get that smokey, satisfying flavor you crave.
Price: $84.99
Where to find it: Cocktail Smoking Chimney Kit
"The only tropical sting you'll actually want to get."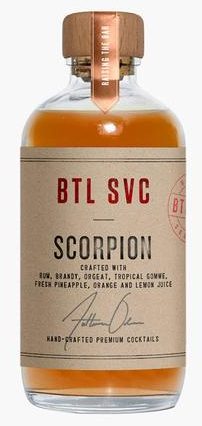 This vibrant citrus-forward cocktail builds on a long tradition of lovingly crafted tiki cocktails mid-century Americans just couldn't get enough of. Spanish brandy and white rum smolder while orange flower, pineapple, orange and lemon flavors pop. The end result is the perfect combination of sweet and sultry that's equally enjoyable on a beachy paradise or your living room couch.
Why we love this cocktail kit: This festive cocktail has enough energy and flavorful depth to lift your spirits when you need a beach vacation but you have time for only a cocktail hour.
Price: $12+
Where to find it: BTL SVC – Scorpion
"Add some spirit to your evening."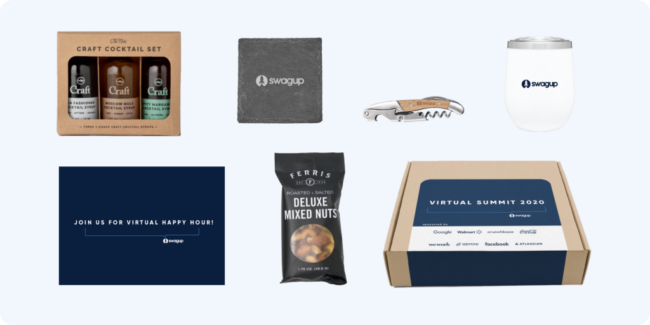 People love to try out a new cocktail after working a long day or before going out on a Friday night. Yet, they don't always have the ingredients (or the inspiration) to whip up a craft cocktail of their own. Luckily, the Happy Hour Swag Pack provides a curated selection to give your recipients the mixology experience with everything they need to shake, stir, and serve like a pro.
Whether you're a master mixologist or dabbling in the art of crafting cocktails, this pack will make all your liquid dreams come true.
Why we love this cocktail kit: This craft cocktail set contains a number of cocktail accessories that you would not necessarily buy yourself but would love to use to make an at-home cocktail. This kit includes mini cocktail syrup, a coaster set, a tumbler, mixed nuts and more.
Price: Contact to get personalized results
Where to find it: Happy Hour Swag Pack
"Iconic cocktails for iconic toasts."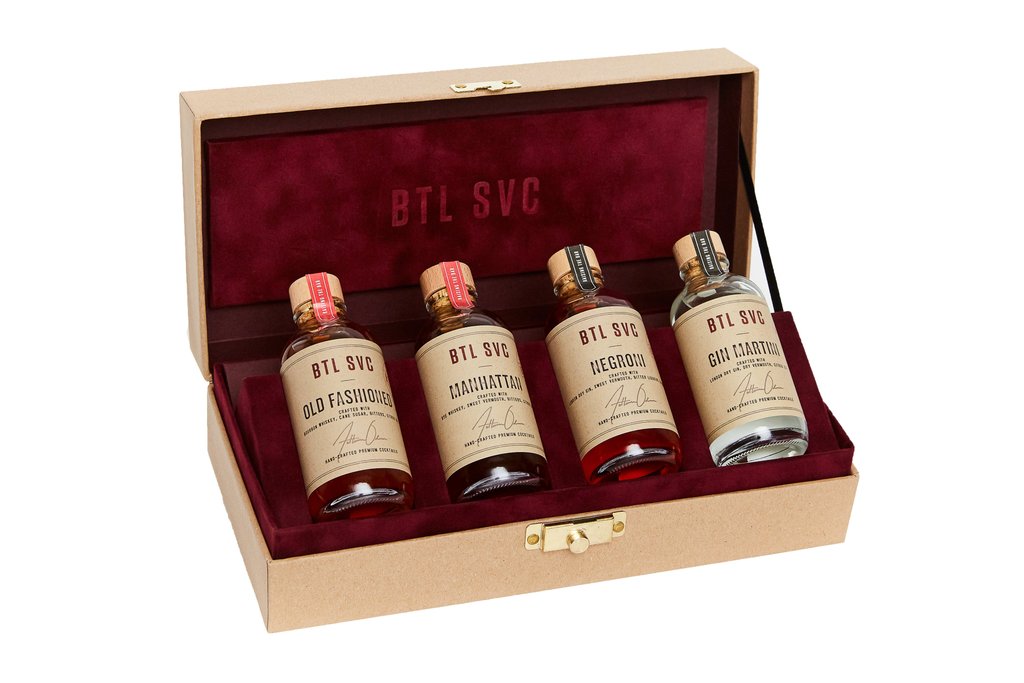 This is the ultimate 4-bottle set of small-batch craft cocktails, featuring all the most drool-worthy, crowd-pleasing best-sellers: the old fashioned, negroni, gin martini, and manhattan. This set makes drinking at work more stylish and more tasty than ever before.
Why we love this cocktail kit: Each cocktail possesses a masterfully executed and defining range of flavors and colors. The negroni will tempt your taste buds with sweet vermouth and a burst of citrus. The old fashioned sings with cane sugar and smooth bourbon. The gin martini has the snap of juniper and dry Vermouth. Last but not least, the manhattan bursts with rye whiskey and angostura bitters.
Price: $80
Where to find it: The Classic Collection
Why stop at just one drink!? This custom cocktail making kit comes with everything you need to make 3 delicious handcrafted drinks. What's more, the accompanying mixology class will teach you all the fundamentals you need to make a cocktail out of (practically) anything!
Why we love this cocktail kit: No booze? No problem! Non-drinking participants can customize their kits to be non-alcoholic. You can also expand your bartender's toolkit with a fun jigger & shaker set or metal stirrer (included as an upgrade!)
Price: Start building your own experience to get an instant quote with custom pricing!
Where to find it: Cocktail Kit + Virtual Mixology Class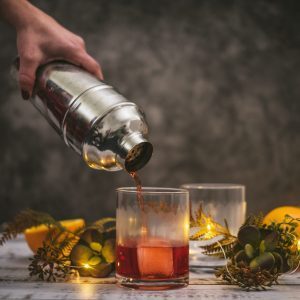 Priority Wine Pass works with expert mixologists to put together custom cocktail themed kits that are ideal for any day of the week. Any holiday large or small is the perfect excuse to enjoy a themed cocktail kit. Whether it's a St. Patrick's Day kit, a guacamole and tequila/margarita kit for Cinco de Mayo, or a festive 4th of July kit, they have you covered.
Custom snacks that relate to each theme are also a great addition to the package. Of course you don't need a holiday as an excuse to order the kits, as the sangria and wine kit launching next month is always a good idea. For the whiskey lovers, enjoy a virtual tasting with Slo Stills of their handcrafted spirits, or try out the mixologist experience.
Why we love this cocktail kit: Priority Wine Pass is in the business of tailoring your experience to your exact needs. They can even include custom print material, promo items, food pairings, or any additional items you request they source. You dream it and Priority Wine Pass will deliver.
Price: Prices vary depending on cocktail kit ordered
Where to find it: Priority Wine Pass
"To enjoy the mother of all margaritas."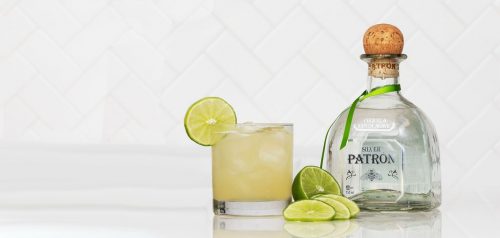 You may think you've had a margarita before, but this cocktail kit with alcohol will introduce you to the ultimate margarita, a perfectly balanced, perfectly smooth creation—the only margarita you'll ever want to drink again. Sweet homemade agave, zesty lime juicy, and smooth-pouring Patron team up to make this cocktail the one all others look up to.
Why we love this cocktail kit: The simplicity of the margarita can be deceptive. Everyone thinks they can make one with a plastic bottle of mix and some bottom-shelf tequila. This cocktail kit opens your eyes to what a margarita could and should be.
Price: Book for accurate pricing
Where to find it: Margarita Kit
"Craft a bourbon cocktail with an unforgettable punch."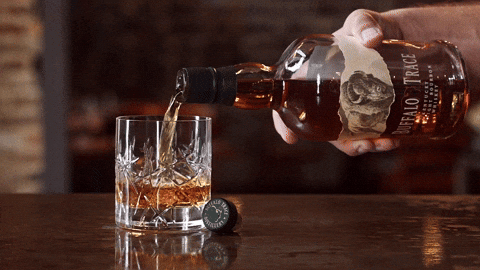 The centerpiece of this cocktail kit is a bottle of bourbon, a liquor that tastes as smooth as syrup and still has all the smokey complexity you would expect from a distillery with over one hundred years of experience.
A typical tasting includes icebreakers, an overview of bourbons, how to nose, and how to taste. After the event, tasting notes for the bourbons sampled will be sent by email to all the participants.
Why we love this cocktail kit: It includes a mixologist's dream spread of ingredients and equipment you need to make one of your all-time favorite cocktail recipes. (Best of all, you won't even need to raid your minibar.)
Price: Starting at $100
Where to find it: Bourbon Tasting
"A chance to warm up by the fire (and with a cocktail)."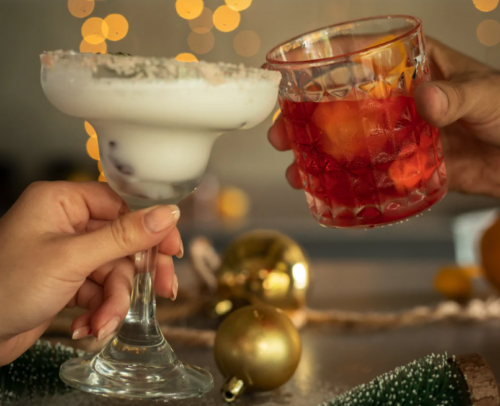 This cocktail kit helps you and your guests ring in the New Year with a virtual happy hour full of delicious winter-themed drinks. Each person will receive a shipment that includes 2 of the following cocktails:
Boozy Grinch Punch: Lemon-Lime Kool-Aid, agave, pineapple juice, lemonade, Sprite, vodka
Cranberry Old Fashioned: 2 oz of quality bourbon whiskey, 1 oz of cranberry juice, 1/2 oz of honey, 3 shakes of bitters, orange peel for garnish
White Christmas Margaritas: silver tequila, agave, lime juice, coconut water, canned coconut milk, coconut rum, sprigs of rosemary and dried cranberries for garnish
Drunk Jack Frosties: vodka, Blue Curacao, lemonade, club soda, lemon wedge, white sanding sugar
Mistletoe Mules: vodka, lime juice, ginger beer, pomegranate seeds, 2 crushed candy canes, plus two whole candy canes for garnish
Why we love this cocktail kit: It enables you to create not one but two delicious holiday inspired cocktails to enjoy during your virtual happy hour.
Price: $95
Where to find it: Holiday Cocktail Kit
"Brew a cocktail that happens to be made of barley, hops, and yeast."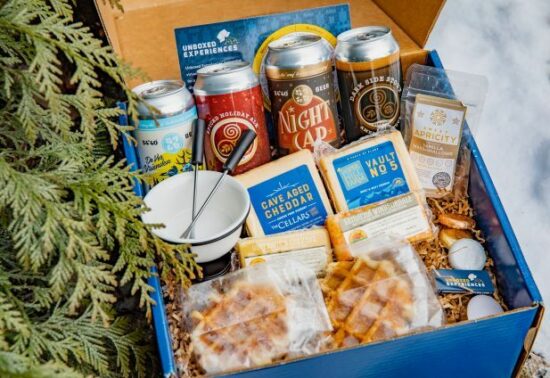 Looking for something besides cocktails? Unboxed Experiences has you covered with these changing seasonal beer boxes. A craft beer lover's dream come true, each tasting kit comes with special craft beers brewed for each new season, such as Oktoberfest beers to enjoy in the fall and Irish Stouts to drink on St. Patrick's Day.
Why we love this cocktail kit: Every kit is delivered to the homes of your guests and each event is led by an experienced live event host. Plus, your group will stay engaged as everyone learns how to expertly pair complex beers and gourmet cheeses during your virtual happy hour.
Price: Price varies per box
Where to find it: Seasonal Beer & Cheese Boxes
Not a cocktail person or a beer person? That's okay. There are plenty of other styles of virtual alcohol tasting you can enjoy such as virtual whiskey tastings and virtual wine tastings.
"Time to class things up!"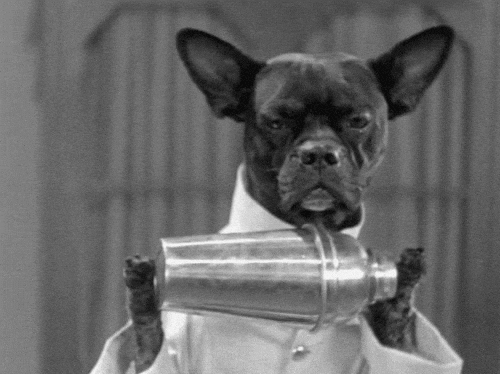 This combines the usefulness of a cocktail kit with a virtual experience where you and your colleagues will learn about making the perfect martini from a martini-making expert. The host will teach you more about this classic beverage, lead an activity, and help you make up to 3 different martinis. Upon receiving this kit, you will get the ingredients and instructions for three different martinis:
Espresso Martini
Dirty Martini
Dry Martini
Why we love this cocktail kit: It provides a flavorful departure from the fruity and soda-based cocktails we're used to. This cocktail is rooted in the ol' fashioned
Price: Request custom pricing here
Where to find it: Make Your Own Martini
"Raise your glass to a Maui sourced cocktail delight."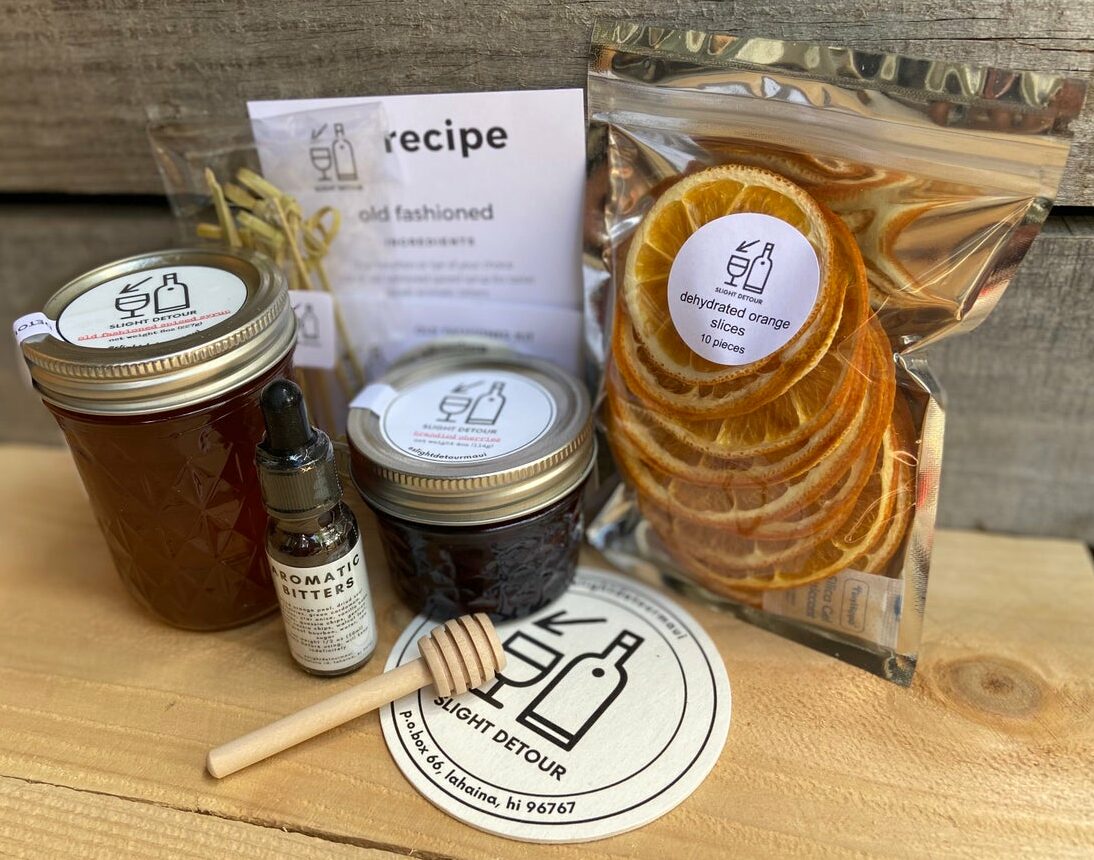 This cocktail kit with alcohol includes absolutely everything you need, including a spiced syrup jar, cherries, handmade bitters dropper bottle, dehydrated oranges, a coaster, and more. There's even a recipe card with easy-to-follow instructions and other recipe ideas. Pull up a barrel, dust off those faceted cocktail glasses, and turn on the player piano.
Why we love this cocktail kit: It turns any kitchen into a full-service bar where the drinks are legendary and the laughter flows freely.
Price: $30+
Where to find it: Old Fashioned Craft Cocktail Kit
"Ginger is the spice of life."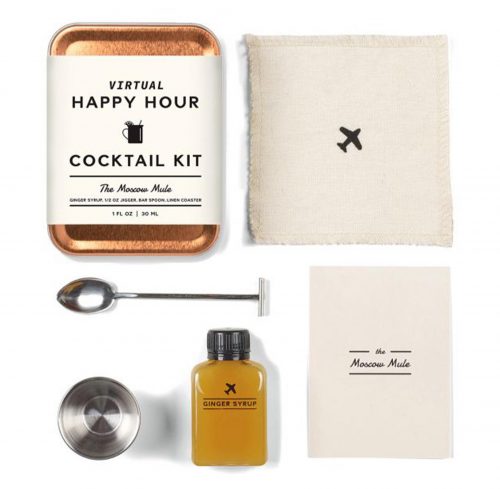 Turn any guest of honor into the toast of the town during the next virtual birthday party you host or attend. The combination of vodka and spicy ginger syrup will dazzle your guests and tie your party together. Make sure to garnish with a slice of lime!
Why we love this cocktail kit: This Moscow Mule cocktail kit provides quality ingredients in a stylish portable tin. You'll have just as much fun making the cocktail as you will drinking your creation.
Price: $26.01+
Where to find it: Moscow Mule Cocktail Kit
"Unbox the perfect cocktail party."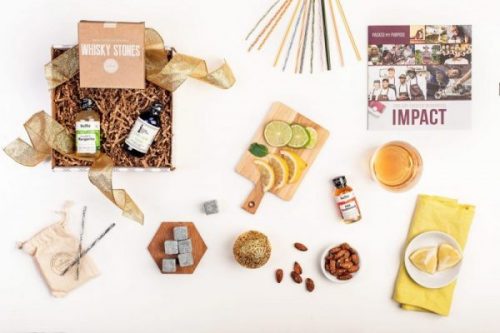 A treasure-trove of cocktail mixers and accessories the amateur mixologist or ambitious host in your life will love. Make the perfectly sweet, yet tart, margarita. Craft the perfectly balanced old fashioned. Mix up a fresh take on the gin and tonic with small-batch lime leaf tonic.
Why we love this cocktail kit: It's the perfect cocktail party in a box. Just incorporate your choice of premium spirits to this alcohol-themed gift set, and it's go time.
Price: $58.00
Where to find it: Craft Cocktail Lover Box
"Muddle, stir, and shake with a mixologist's flair."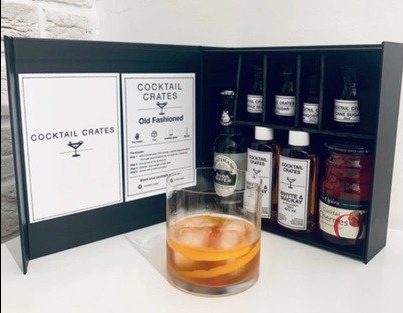 Designed by master mixologists, each crate brings you ingredients for fresh new cocktails featuring internationally beloved flavor sensations. Unbox your crate, grab your bar tools and garnishes, and prepare your taste buds for a treat. Past cocktail creations include the refreshing mojito and the notorious Long Island iced tea.
Why we love this cocktail kit: This randomly rotating selection of supplies can give any event, including your next virtual holiday party, the festive touch you and your guests crave.
Price: £41.99 GBP+ / month
Where to find it: Cocktail Crates London
"The Sidecar makes a perfect drinkable sidekick."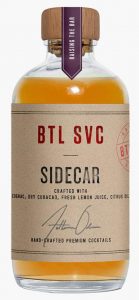 Take one sip of this smooth, practically glowing, orange elixir and you might just get the deliciously covert feeling of sipping booze in a speakeasy. Heady cognac and dry curacao are softened by a dash of fresh lemon juice and lemon oil. It's refreshing, it's sophisticated, and it looks damn good in your favorite cocktail glass. (It even looks stunning over Zoom.)
Why we love this cocktail kit: You might have to wait at a bar for 30 minutes to get this kind of perfectly crafted sidecar. Thanks to BTL SVC, you can have a pristine batch just waiting for you to pull the stopper.
Price: $12+
Where to find it: BTL SVC – Sidecar
"When you need to mix things up."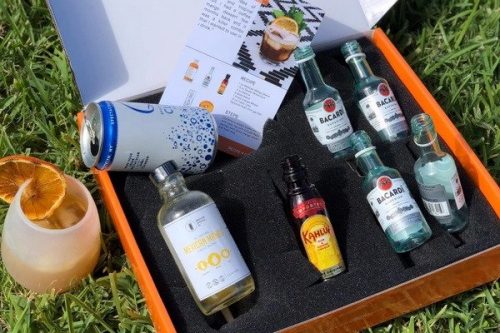 Find your next flavor adventure in a glass, whether you're gifting, planning your next virtual party, or just treating yourself. This cocktail kit includes mixologist-approved recipes and ingredients for cocktails that will excite your senses and satisfy your thirst for something new. Explore new creations like the Uzumak and enjoy classic comforts like the peach fizz.
Why we love this cocktail kit: Delicious flavors and hands-on mixing give anyone thirsty and homebound, going through bar withdrawals, something sweet and refreshing to look forward to.
Price: $40.99+ / month
Where to find it: American Cocktail Club
"The perfect cocktail kit comes around the size of your cell phone."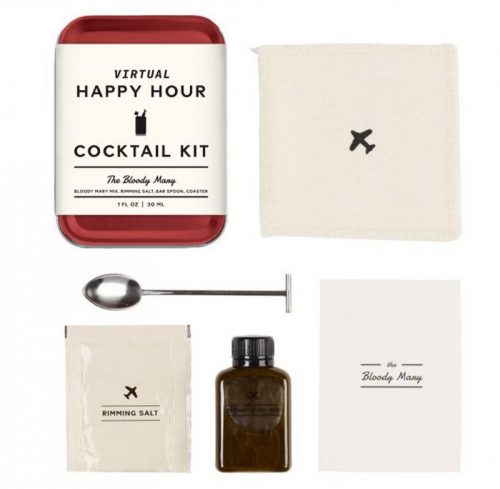 This compact cocktail kit holds more than you might think is possible: flavorful mix, rimming salt, a bar spoon, a recipe card, and even a linen coaster because recipients deserve nothing less. All you really need to add is your own liquor and a fresh stalk of celery, or a skewer of fried chicken and pickles if you're really hard core.
Why we love this cocktail kit: This small discreet cocktail kit for delivery means you have everything on hand to whip up the perfect cocktail, any time. Forgot to buy drinks for your virtual trivia night? This kit has you covered.
Price: Contact for personalized results
Where to find it: Crafty Cocktail Kit
"Make every drop of whiskey a tasty adventure."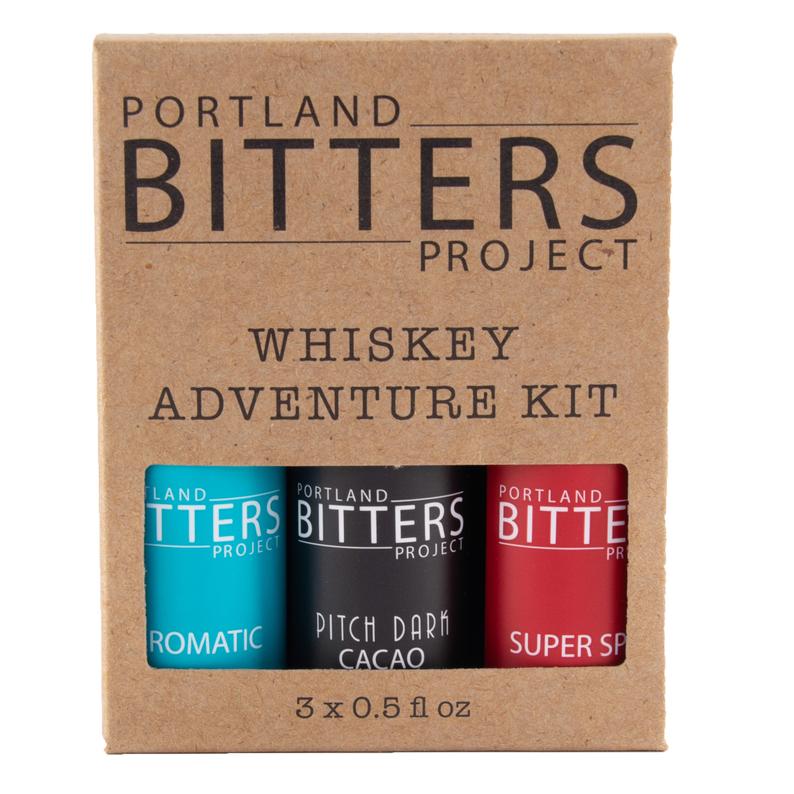 As any cocktail connoisseur will tell you, a few drops of flavorful bitters can transform familiar flavors into eye-popping new sensations. This cocktail kit will have you transforming your favorite whiskey into a olfactory feast with the aromatic bitters, a sultry sip with dark cacao bitters, and a sensuously spicy elixir with super spice bitters.
Why we love this cocktail kit: This mixology set allows drinkers to create delicious concoctions without any mixology skills or even much effort. Just pour in a few drops of bitters and dive into the smells and flavors of your enhanced beverage.
Price: $24
Where to find it: Portland Bitters Project Whiskey Adventure Kit
---
People Also Ask These Questions About Virtual Happy Hour Cocktail Kits
Q: What is a happy hour gift box for employees?
A: A happy hour gift box for employees is a fun and unique way to show your gratitude for their hard work. It's a great way to say "thank you" for a job well done, or to simply let them know that they are appreciated. This type of cocktail gift box typically contains a variety of goodies, such as snacks and drinks, that are perfect for enjoying during a break or after work. It's a thoughtful way to show your employees that you care about their well-being and want them to enjoy their work.
Q: Can happy hour cocktail kits be delivered?
A: Yes, happy cocktail kits can be delivered. You can find many such kits in this list.
Q: How much does a virtual happy hour cocktail kit cost?
A: Virtual happy hour cocktail kits cost anywhere from $12 to $100+.
Q: What comes in a happy hour cocktail kit?
A: A happy hour cocktail kit usually includes delicious mixers, implements, garnishes, and depending on where you live and the relevant regulations, premium liquors.
Q: How long does it take to ship a cocktail kit?
A: Some cocktails kits can be shipped the same day that you order them while others require a standard 7-10 day shipping window. Check your cocktail kit proprietor's terms of service to find out for certain what shipping window you should plan for.
Q: Where can you find happy hour cocktail kits?
A: You can find a variety of happy hour cocktail kits from the vendors listed in this post, including BTL SVC and Cratejoy.