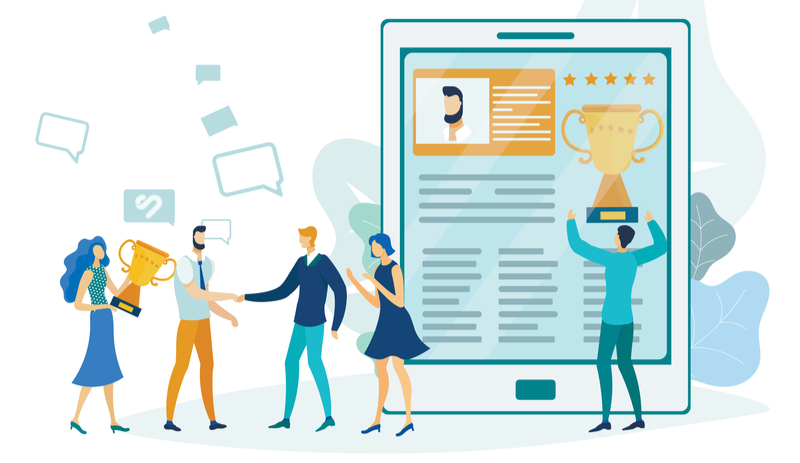 Employee reward systems help companies recognize their employees' hard work and results by encouraging them with gifts, praise, and both money and non-monetary incentives.
This type of employee recognition structure allows employers and managers to reward their team in whatever way best motivates each individual.
"Business productivity increases by 31% when employees are happy." — Harvard Business Review
An employee reward system is designed to increase workplace engagement, improve employee retention and satisfaction, boost collaboration, and reduce absenteeism.
In a hurry? These are some of our favorite employee reward systems & platforms:
To remain competitive, organizations are having to implement strategies and systems that maximize employee happiness, wellbeing, and productivity. That's why employee reward systems are in extremely high demand.
But setting the right one up the right way is easier said than done. To help you get it done, check out our comprehensive guide to employee reward systems in 2023!
Want to become a better professional in just 5 minutes?
Page Contents (Click To Jump)
What is an Employee Reward System?
An employee reward system is a platform or recognition program for helping employees master their work habits and set themselves up for success. Many employee reward systems enable peer-to-peer recognition so that the organization isn't merely incentivizing from the top down.
In addition to increased well-being and satisfaction, these platforms also help with cross-department collaboration and self-management.
| | |
| --- | --- |
| | How to Implement an Employee Reward System |
| Step ① | Identify the goals and objectives you want the reward system to cater to. |
| Step ② | Figure out which employee behaviors you want to reinforce. |
| Step ③ | Establish key performance indicators on an individual and group level. |
| Step ④ | Pick out the rewards you think will best fit and nurture your company culture. |
| Step ⑤ | Properly introduce, explain, and rollout the employee reward program to employees. |
What Makes Up an Employee Reward System?
1. Peer To Peer Recognition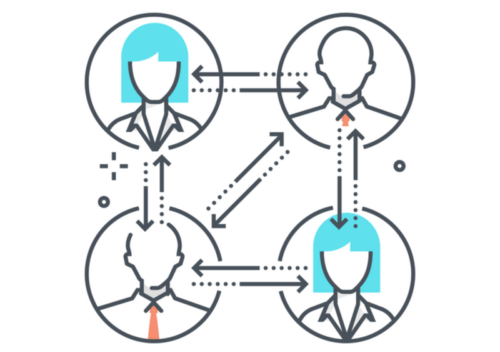 Peer-to-peer recognition is as important as manager-employee recognition. When employees feel appreciated by their coworkers, their performance is positively affected and productivity increases. This also improves company culture and aligns employee behavior with that of the organization they work for.
Companies promote peer-to-peer recognition as it has proven to increase employee retention and decrease staff turnover. Peer-to-peer recognition fosters an atmosphere of gratitude and acknowledgment and a sense of belonging and initiative which build strong teams and ensure smooth workflow.
Pro-Tip: If you like using digital tools, we recommend exploring the following employee reward system platforms for your team:

Awardco – An easy-to-use peer recognition and rewards platform to keep teams connected.
Bonusly – Send and receive recognition straight from Slack or Teams. No need to login to yet another software.
Nectar – Create real meaning for every employee and every celebration with personalized employee rewards that wow.

P.S. Each of these tools offer a free trial which will allow you to test out each type of employee reward system 🙂
2. Performance Management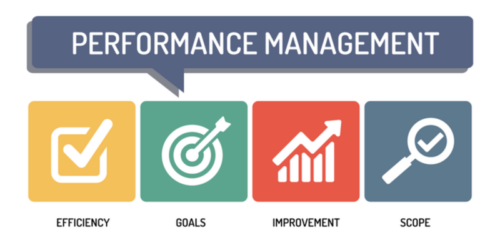 Performance management is an approach used to assess employee performance. A performance-based reward system is linked to how much individuals contribute to the company, add value to it, and meet the assigned objectives. Platforms like WorkTango make it easy to create and visualize performance goals to drive connection, innovation, and employee growth with a continuous performance management system.
This boosts productivity as employees feel more motivated and thrive in an environment that focuses on rewarding them for their performance.
3. Rewards Points
A point-based reward system like Bonusly is used to compensate employees for their hard work. Staff members earn points for completing tasks and meeting objectives which can be exchanged for a gift, a day off, or another benefit.
For many companies, the point-based reward system is important and successful since it allows them to monitor the performance of their employees; thus addressing any potential issues or hindrances that may notice. Reward points are a useful employee engagement practice that positively impacts the workflow and the environment of an organization.
4. Social Recognition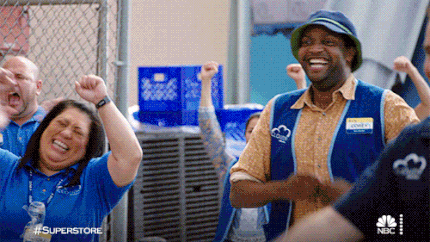 Social recognition is a non-monetary employee recognition and reward system. From a simple "Thank you" to a shout-out during staff meetings, social recognition allows employees to feel valued for their work.
It's important since it increases employee retention, boosts employee morale and engagement, and has an overall positive effect on the company as a whole. You can try out a reward system for employees to kickstart your social recognition program.
5. Online Collaboration / Remote Work Communication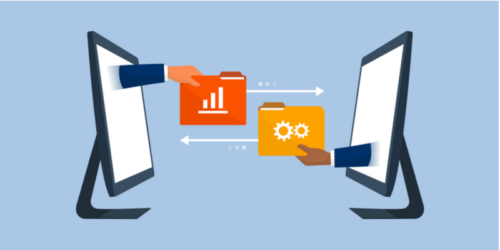 Online collaboration and remote work communication are critical components for keeping teams well-coordinated and connected no matter how far apart they might be.
Staying in touch with each other is imperative in order to complete their best work. Many companies are now integrating their employee reward program into the collaboration tools they use on a daily basis. It shouldn't matter if your colleague is down the hall or on the other side of the world, they deserve to be rewarded for their continued effort.
Not to mention with your reward system baked right into the communication tool that your employees use every day, you can feel confident that your staff will be able and willing to use it on a daily basis. You can also test out a "freemium" workplace tool to try this employee reward system example with a smaller team before expanding it to your entire organization.
6. Soliciting Feedback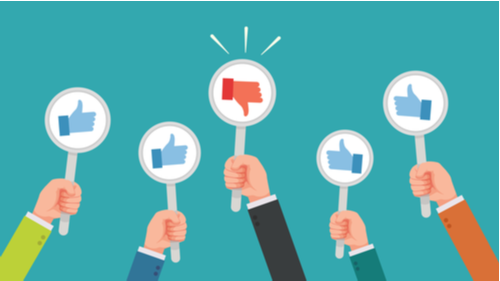 Feedback is vital to improve, adjust, or maintain work standards. The best way to ensure positive work habits remain and various challenges can be overcome is through feedback.
Soliciting feedback allows employees and coworkers to take control of their professional development. If you are having trouble picking the right questions for your next survey, you can always take a pre-existing employee engagement survey and use it to build out the perfect feedback form for your team.
Managers setting up their employee rewards programs are not done after a day or a week. The most successful programs are continually improved upon through trial and error, gathering insights, and making changes to maximize effectiveness.
👉 Get Your Free Employee Engagement Survey
Employee Reward System Platforms + Real-Life Examples
Bonusly is the ultra-convenient, gamified employee recognition software tool designed to increase employee productivity, retention, and collaboration.
"Bonusly has been a game-changer. It's quickly become an essential part of our success in working remote and creating more visibility around small wins!" — Lindsey Kampmeier, VP of People & Culture at Ordermark
This employee reward system has been used by:
Ordermark
Chobani
Baremetrics
Invision
ZipRecruiter
Why we love this workplace reward system: With peer-to-peer recognition built around company values, instant messaging, and an international reward catalog that features swag options, gift cards, cashouts, and donations, your employees will know they are appreciated. Additionally, Bonusly helps automate celebrations for work anniversaries, birthdays, and new hires. One of the most telling signs of effectiveness is Bonusly's extremely high participation rates over extended periods of time. Once employees and managers start using this recognition tool, they don't stop using this fluid reward system.
Motivosity is a one-of-a-kind employee experience platform that helps you build strong employee communities, develops leadership teams so they can add to the experience, rewards your brightest through recognitions and rewards, and provides in-depth people analytics to make data-driven decisions.
"I love the news feed home page where we can share impactful stories that are happening in our work! We don't always see each other face to face, but it brings us closer by seeing what others are posting." – Melanie K., Career Preparation & Support Program Director, Individual & Family Services.
This employee reward system has been used by:
Toyota
Adobe Workfront
University of Michigan
Bosch
Chick-fil-A
Why we love this workplace reward system: Motivosity comes packed with features that your employees are sure to enjoy and engage with. We especially love how Motivosity provides ample training resources for management teams so they can bring out the best in their employees.
Nectar is the HR platform for rewards, social recognition, swag management, employee discounts, and cross-department synchronization.
"This is a very quick, user-friendly way to recognize members of your organization without it being a burdensome process. I like the hashtag options to associate the recognition with one of our company's core values as well." — Amy Martin, Sales Executive at Interum
This employee reward system has been used by:
Diversified Insurance
XANT
SSUI
Heineken
Why we love this workplace reward system: Nectar fosters appreciation and deeper connections throughout your company. Coworkers can earn and redeem rewards based on company culture and values.
Rewarding your employees couldn't get any easier with WorkTango!
Employees are spoilt for choice with thousands of products and gift cards, redeemable rewards (tickets, hotels, events!), pay-it-forward charity options, and more.
"Overall, very positive so far. We've only been partnered with WorkTango for a few months, but the team has been absolute rock stars in supporting our strategy during COVID-19, and we look forward to seeing the platform continue to evolve and grow." – Michael M., Talent & Organizational Development Manager, Insurance.
This employee reward system has been used by:
Allianz
DoorDash
Rexall
Accruent
HUB
Why we love this workplace reward system: WorkTango makes it a breeze to engage, inspire, and retain your brightest and most talented employees. We simply love how easy it is to set up expedited global delivery of rewards and secure both virtual and prepaid gift card delivery.
Caroo is the premier employee care platform for rewarding the superstars of your organization!
"We thought Caroo was a fun way to connect our team while giving back. For each curation sent to our Alkamists, a meal was donated to Feeding America, totaling 614 meals!" — Adrianne Court, Chief HR Officer at Alkami Tech
This employee reward system has been used by:
Amazon
Alkami Tech
Network of Executive Women
Boot Camp Digital
Why we love this workplace reward system: Caroo's Concierge service allows you to customize the best possible employee experience, with better-for-you snack options, productivity tools, swag, and much more. Additionally, Caroo has donated almost 18,000,000 meals to Feeding America!
Assembly is a pay-per-use workplace engagement and management tool for culture-building and peer-to-peer encouragement. Positive company cultures will elevate your organization and boost happiness, satisfaction, productivity, and instill values!
"We've been honestly surprised at the positive impact Assembly made in team camaraderie. The unique insight into who is positively impacting their colleagues and ultimately the company has been invaluable!"— Farbod Shoraka CEO at Promenade Group, Inc.
This employee reward system has been used by:
Coca-Cola
Apploi
HelloTech
Quest Nutrition
Perforce
Why we love this workplace reward system: Assembly helps peers easily and conveniently celebrate each others' birthdays, work anniversaries, and promotions with badges and customizable rewards to support company culture. This employee rewards system also allows for seamless integrations with other platforms designed to facilitate communication and engagement.
Blueboard is an experiential recognition and rewards platform for the modern workplace. You can show appreciation to the big talents and the hard workers at your organization by giving them experiences like skydiving, pottery classes, and cooking classes.
"All the other platforms we looked at were outdated and old school – focused on "points" and monetary rewards to cash in for a blender. We wanted the ability to provide our employees with a memorable experience that they'll never forget, and that they get to share with loved ones. Very easy decision, the competition in this space doesn't compare."  — Courtney S, Senior Director, Talent Management at Accolade
This employee reward system has been used by:
Accolade
Glassdoor
GoPro
Salesforce
Why we love this workplace reward system: Blueboard is the perfect VIP experience gift for those special employees or coworkers who make your organization thrive. Now, you can easily give them the time of their lives and a memory that they'll connect back to you forever. Plus, Blueboard has a 5-star Concierge experience to help you customize every detail!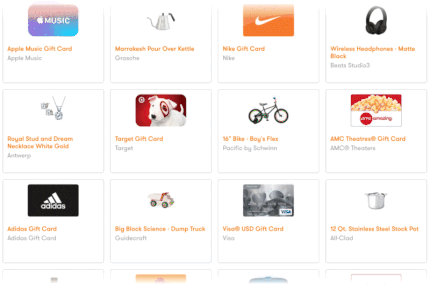 Fond is an all-in-one workplace rewards and recognition platform for managers and employees to incentivize and celebrate each other's best efforts.
"Fond's customer service has really raised the bar and met every single expectation. Everyone at Fond has been amazing. They truly collaborate with us to develop new solutions and tailor the platform to our needs." — Lareese Pike, Manager of Administrative Services, Exeter
This employee reward system has been used by:
Members 1st
Lyft
Marqeta
Delta Dental
Exeter Finance
Why we love this workplace reward system: With the ability to access exclusive corporate discounts, redeem rewards, and provide social recognition, teams will be more tight-knit than ever. Plus, employee reward programs are uber-flexible, given that employees and coworkers can exchange points for experiences, gift cards, swag, donations, and other point-based rewards.
Employee Reward System Examples

Employee reward system examples are strategies used by managers, team leaders, HRs, and culture committees to recognize employees for excellent work at their organization through all types of rewards.
There are several ways to reward employees in this day and age since the workplace is a rapidly evolving space. Regardless, these examples are intended to celebrate staff members and contribute to a more positive work environment.
1. Point Reward System For Employees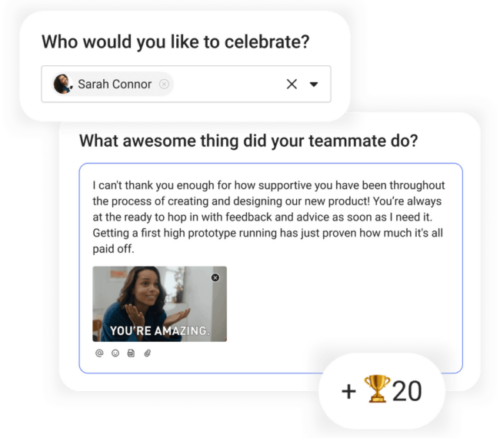 A point-based reward system harnesses the power of peer-to-peer recognition via an online tool or software that encourages them to shout out good work via a public platform.
Not only can the rest of the organization see these digital messages, but they can also use the points to redeem them for real-world gifts, rewards, and experiences.
Why this is an effective reward system for employee motivation: Once adopted by the entire team, it can help introduce recognition on a daily basis with managers not having to run the entire program themselves.
Try this: There are all sorts of point reward systems available, so it is important to conduct your research, try one out, and select the program that best fits your team. For some top-rated point-based platforms, explore the chart below:
2. Company Reward Programs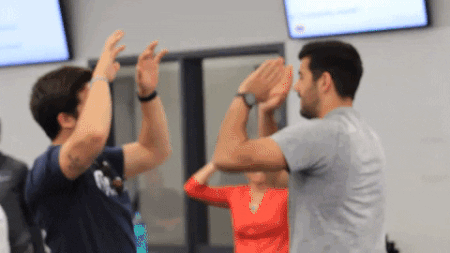 When an individual at your business is succeeding or going above and beyond the call of action, it becomes vitally important to recognize them for their contribution. A company reward program puts the power in the hands of management who can gift an individual employee a personalized reward "from the entire company."
Picture a designer at Google who creates a particularly impactful Google Doodle — this could warrant direct recognition from Google management. While not as personal as a direct award from a manager to their employee, this reward system example provides a perfect opportunity for the entire company to showcase their appreciation for excellent work.
Why this is an effective reward system for employee motivation: It provides employees an additional incentive to think outside the box and make a splash when it comes to doing their job.
Try this: Using a reward preferences survey or sheet, the company can learn insights into the ways that their employees like to be recognized and what gifts/rewards they gravitate towards.
3. Reward Programs for Employees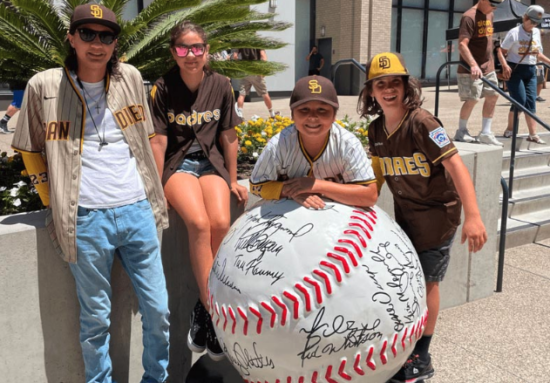 These reward examples center around the strong relationship between team managers and their staff. Since they work closely together (whether in the same office or remotely) the manager can identify opportunities when recognition is warranted and potentially long overdue.
These rewards often reflect a more personalized or customized nature based on an employees' interests or hobbies. If the manager is recognizing the combined work of the entire team, then the reward can become a team bonding event, lunch or dinner, or a gift that everyone on the team takes home.
Why this is an effective reward system for employee motivation: It can help to boost the morale of team members when they feel that their managers know that their contributions to the team do not go unrecognized. It also can help provide background for end-of-year bonuses, yearly raises, and promotion opportunities.
Try this: If you are a manager looking for reward program ideas, check out Awardco.
4. Corporate Rewards Programs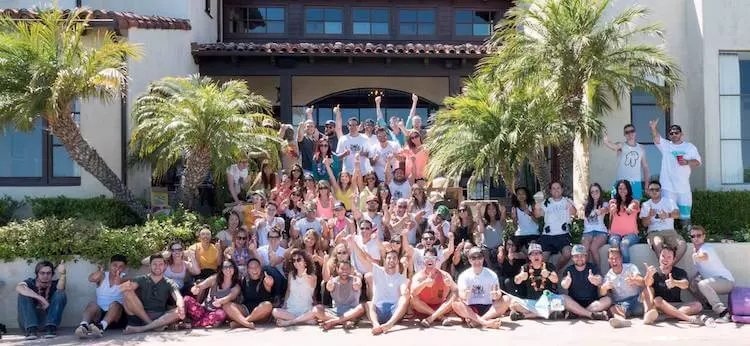 Corporate rewards programs allow the company or organization to celebrate an entire team or department with a new experience that will not soon be forgotten. Whether it is HR, the Marketing team, engineering, design, sales, or another department, management can celebrate their contributions via a corporate rewards program.
This can include a company-paid happy hour, offsite, team bonding experience at a game or event or any fun ideas that reward the team.
Why this is an effective reward system for employee motivation: It impacts more than just one of two people while giving the entire department or team a chance to relax, enjoy themselves, and look back at their success.
Try this: You can also use this reward scheme with distributed teams by sending remote employees a gift, company stipend, or a voucher to enjoy a new experience in their area!
5. Workplace Rewards Programs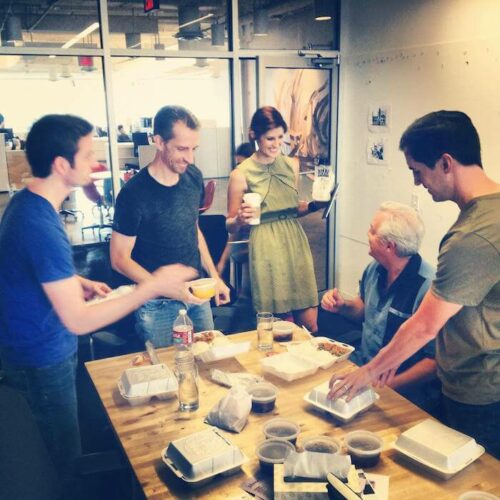 Workplace rewards are perks and lifestyle benefits that your organization can provide to staff members who all work together in the same environment. Since more and more teams are now switching to a hybrid workplace model, the time spent together is even more valuable.
This can make it a good idea to reward employees on a day that they are all together with a company-pad lunch, a swag bag, or employee care package, or any reward that can be given out in person.
Why this is an effective reward system for employee motivation: It allows managers to see the smiles on their employees' faces when rewarding them in person for a long list of reasons. Plus, it can offer managers a chance to add verbal recognition which can also go a long way with team members.
Try this: You can work with a corporate gifting or swag company to curate one-of-a-kind curations of team gifts to give to each employee.
Benefits Of Implementing an Employee Reward System

1. Increased productivity
Productivity is what earns employees their paychecks. An employee reward system provides the infrastructure to incentivize and motivate team members.
2. Better company culture
The right employee reward system can reinforce your company values and give a framework for your culture to flourish. If kindness and encouragement are important to you, then an employee reward system helps facilitate those values.
3. More collaboration
Between built-in communication tools and positive reinforcement, peers will find themselves wanting to collaborate more frequently — and they'll have every reason to.
4. Better retention
Better collaboration and communication means a tighter network. The more your employees strengthen their bond with one another, the more enjoyable work will be and the more they'll want to hang around!
5. Fewer work silos
Work silos often occur when there isn't the proper infrastructure to help one department communicate with another. Employee reward systems help eliminate silos by allowing employees from one department to easily communicate with their coworkers which ultimately can impact employee satisfaction.
6. Happier employees
Employee reward systems give employees the boost they need to get through the occasionally dreary workday. Everyone wants to feel special, noticed, and cared about. An employee reward scheme ensures nobody slips through the cracks in the workplace.
7. Improved relationship with coworkers
Employee reward systems remind teammates to encourage and uplift each other. These culture-building platforms improve relationships between coworkers by giving extra opportunities for them to recognize one another.
8. Follow the values of your business
Following the values of your business is made easier with employee reward systems. Once you have defined the values you want to promote, you can even optimize your employee experience within the platform based on them.
Conclusion
Employee reward systems are deliberate approaches for recognizing and rewarding employees for helping companies meet their goals. These workplace reward systems boost employee morale, increase worker retention, reinforce company culture, and majorly increase productivity. To resolve any unanswered questions about company rewards programs, check out our answers to some of the most commonly asked questions on this topic.
---
People Also Ask These Questions About Employee Reward Systems
Q: What is the first thing to do when setting up an employee reward system?
The first thing to do when setting up an employee reward system is to define your values so you can customize the employee experience around them and foster those values. If you need more information, check out our guide to employee reward systems in 2023.
Q: What are the types of employee reward systems?
Some types of employee reward systems include monetary reward systems, employee recognition programs, employee assistance programs, and non-monetary reward systems.
Q: How much does it cost to set up an employee reward system?
Setting up an employee reward system can cost quite a bit or very little, depending on the platform. Some employee reward systems charge a flat fee, while others charge for usage.
Q: How do you create an employee reward system?
To create an employee reward system, it's best to leverage an existing platform that easily integrates with many of the tools you currently use in the workplace.
Q: What are some examples of effective employee reward systems?
There are many different ways to build out the perfect reward system for your employees. Some people will respond differently to face-to-face recognition while others like to receive gifts, public praise, or incentives. One common approach is to use a point system. Under this system, employees earn points for meeting specific goals or completing certain tasks. These points can then be redeemed for rewards, such as gift cards, days off, or other prizes.
Q: How can you use an employee reward system to motivate your staff?
By providing incentives for employees to reach certain goals, you can encourage them to work harder and be more productive. However, it is important to design your employee reward system carefully. If the rewards are too small, they will not be effective. On the other hand, if the rewards are too large, you may end up spending more money than you can afford. You should also make sure that the goals you set are realistic and achievable. Employees that feel like they can never reach the targets you set, will quickly become discouraged. With a little planning, an employee reward system can be a powerful tool for motivating your staff.