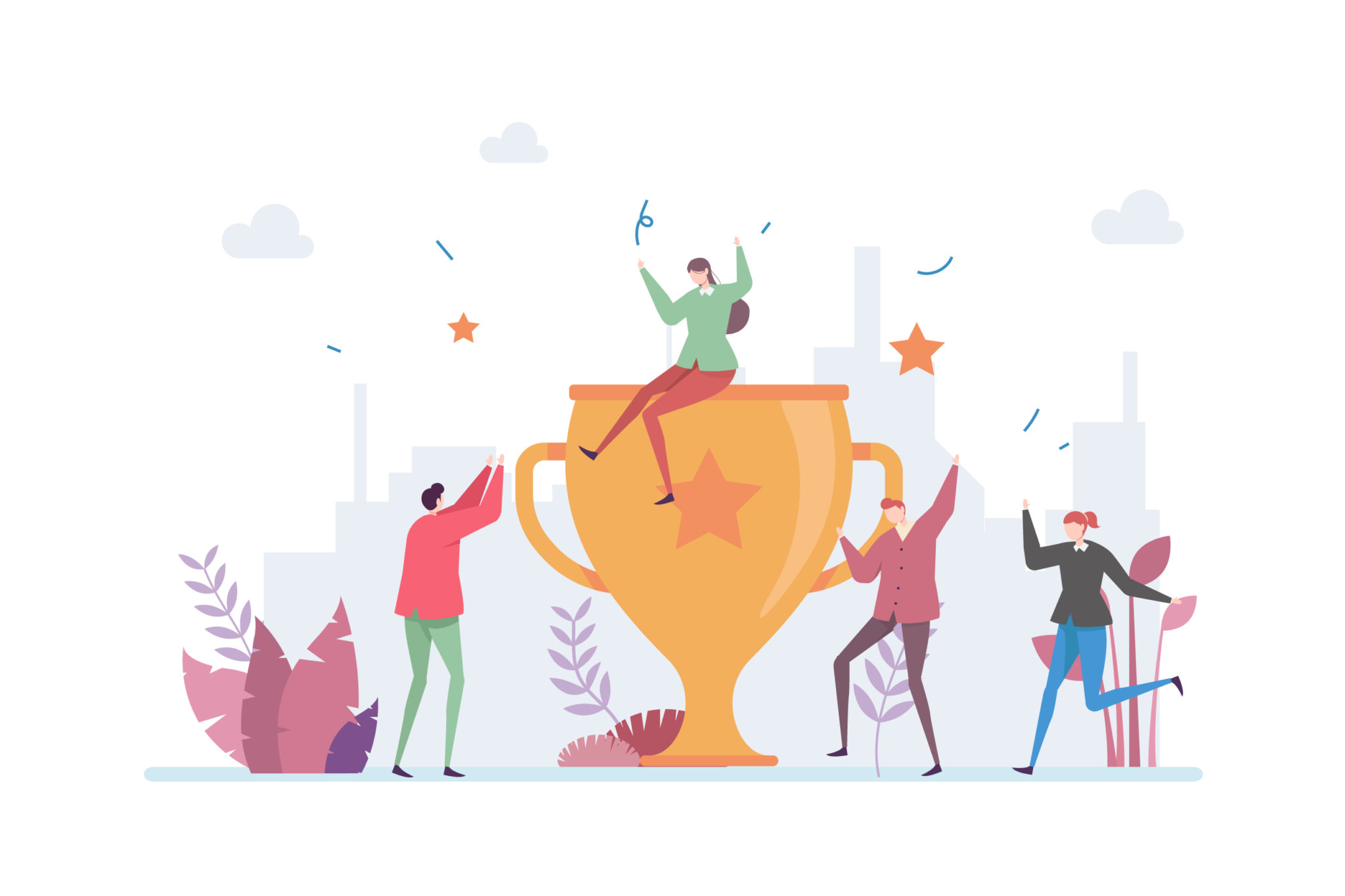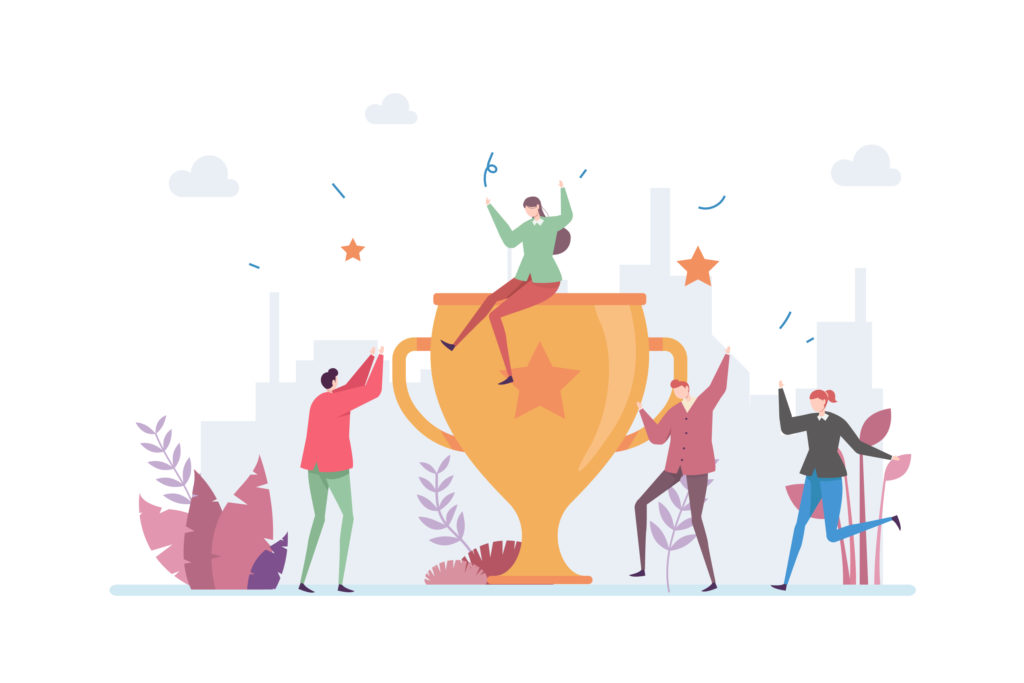 Gone are the days of providing your employees with their weekly paycheck and expecting that alone to be the singular motivator for strong job performance. In an ever-evolving work environment, it's more important than ever to offer your employees attractive non-monetary incentives.
"I've learned that people will forget what you said, people will forget what you did, but people will never forget how you made them feel." – Maya Angelou
Most employees may not remember the exact amount on their Holiday cash bonus check. But ask them about the group trip the team took last summer or the gift they received for their good work, and odds are they can go on and on about these topics because they have an emotion embedded in those experiences. Non-monetary incentives are a fantastic way to reward and motivate your employees.
In a hurry? These are some of our favorite non-monetary incentive rewards & platforms:
Let's go ahead and learn more about what non-monetary incentives are and how they can help your business.
Want to become a better professional in just 5 minutes?
Page Contents (Click To Jump)
What are non-monetary incentives?
Non-Monetary incentives are non-cash perks or benefits provided by an employer to an employee. Examples of non-monetary incentives include extra time off, work flexibility, and experiential rewards.
Employees are looking to companies to provide them with an exceptional work environment and culture that encourages them to grow personally and professionally. Non-monetary rewards allow your company to do just that and more.
Non-monetary incentives benefit companies and employees in several ways, including the following:
Now that you have a solid idea of exactly what non-monetary incentives are and their benefits, let's dive into 12 incentive ideas you can implement for happy, motivated employees!
1) Non-Monetary Incentive: Public Recognition and Praise
Public recognition and praise are key to employee well-being, employee motivation and employee retention. This vital non-monetary incentive ensures that your employees feel recognized for their accomplishments and appreciated for their crucial contributions to your company.
For many remote employees, the line between work hours and personal time has blurred as kitchens and bedrooms became office space. Many employees may be working additional hours or have taken on increased responsibilities, so it's more important than ever to ensure these extra efforts are recognized.
👉 Free Download: Employee Reward Ideas PDF
How to Implement This Non-Monetary Employee Incentive
Public Recognition with WorkTango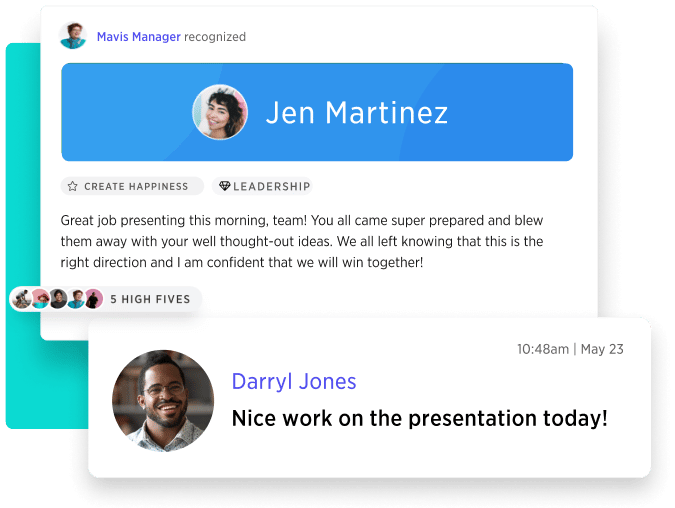 According to WorkTango, 2 out of 3 employees feel under-appreciated. WorkTango is an amazing employee recognition software that is looking to change that stat and help companies ensure their employees feel valued.
WorkTango's 360 recognition and reward platform allows for feedback from not only an employee's manager or senior leaders, but also, from their peers which encourages every employee to participate.
Team Rose & Thorn Sessions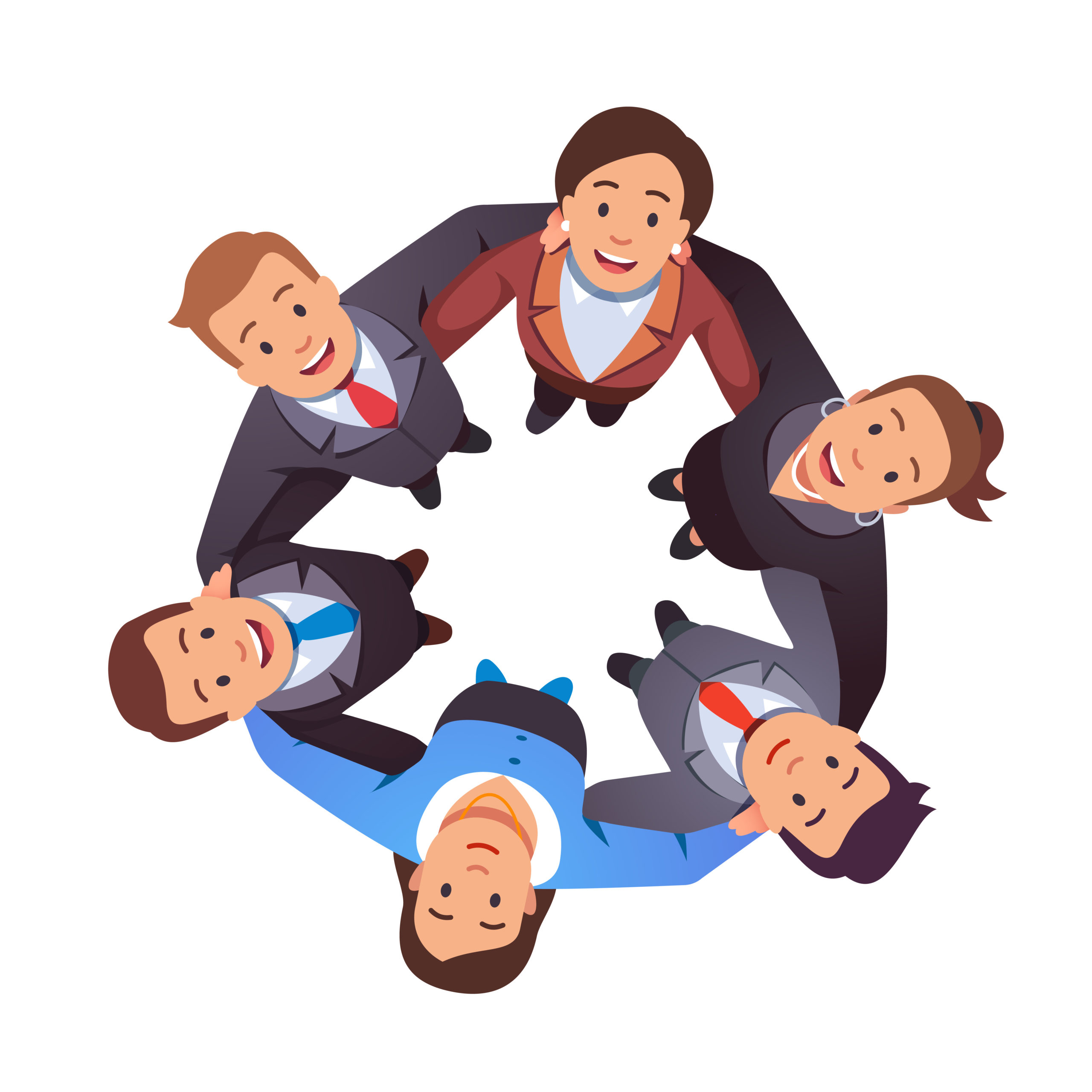 Another employee recognition idea is hosting a monthly Rose & Thorn session with your team. This provides your team with an opportunity to take a step back from their daily grind and reflect on their past month. During the session, ask each employee to share both a positive work experience or interaction from that month (their Rose) and a negative experience or hurdle that they'd like to improve (their Thorn). This forum offers your employees a chance to have their voice heard and can also help identify if your team may be experiencing commonalities with their Rose and Thorn topics.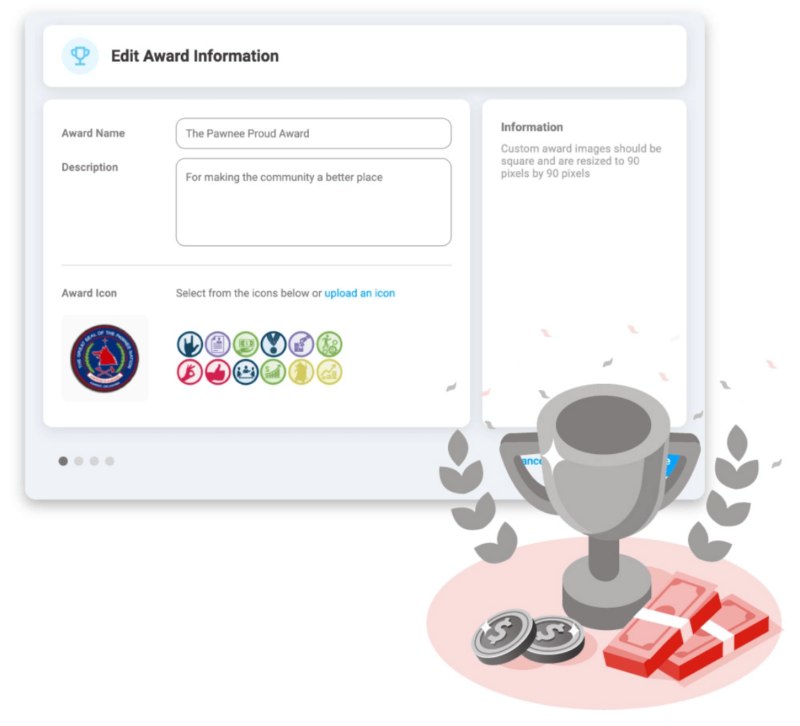 Think back to when you were in grade school and your team took home the giant championship trophy. How cool was that?
Even as an adult, there's just something about a trophy that immediately fills you with a sense of pride. Whether it's to recognize a specific accomplishment or to celebrate a significant work anniversary, a trophy is a great way to reward and recognize your employees.
With a digital trophy, coworkers can comment on the feed, send in their praise and congratulations, and even send their own award points to join in on the reward! To try out this reward idea, explore using a recognition platform like Motivosity.
👉 Free Download: Employee Reward Ideas PDF
2) Non-Monetary Incentive: Physical/Tangible Gifts
Which do you remember opening on Christmas morning — A $20 bill from Grandma? Or the bike you've been begging your parents for? Tangible gifts for employees are a unique opportunity for personalized and meaningful engagement to incentivize and reward employees. Unlike monetary compensation, a tangible gift is something your employee can physically touch and interact with.
How to Implement This Non-Monetary Employee Incentive

If your employees are anything like us, they probably have an ever-growing list of items added to their Amazon wishlist that they are eyeing with anticipation. This type of non monetary compensation makes it easy for you to reward them by checking something off their Amazon wishlist!
An easy way to send gifts to your employees without all the guesswork! Plus, some rewards services like Awardco integrate directly with Amazon Business so you can even have employees redeem recognition points for access to the entire Amazon catalog. That is only millions of items!

With the large-scale shift to remote work due to Covid, many companies have been forced to think outside-the-box to come up with engaging virtual office party ideas. But, why not look inside the box as well?
Caroo has just what your team needs to curate the ultimate remote happy hour experience, including a cocktail kit, a wine tumbler and even a party horn!
Gift for their office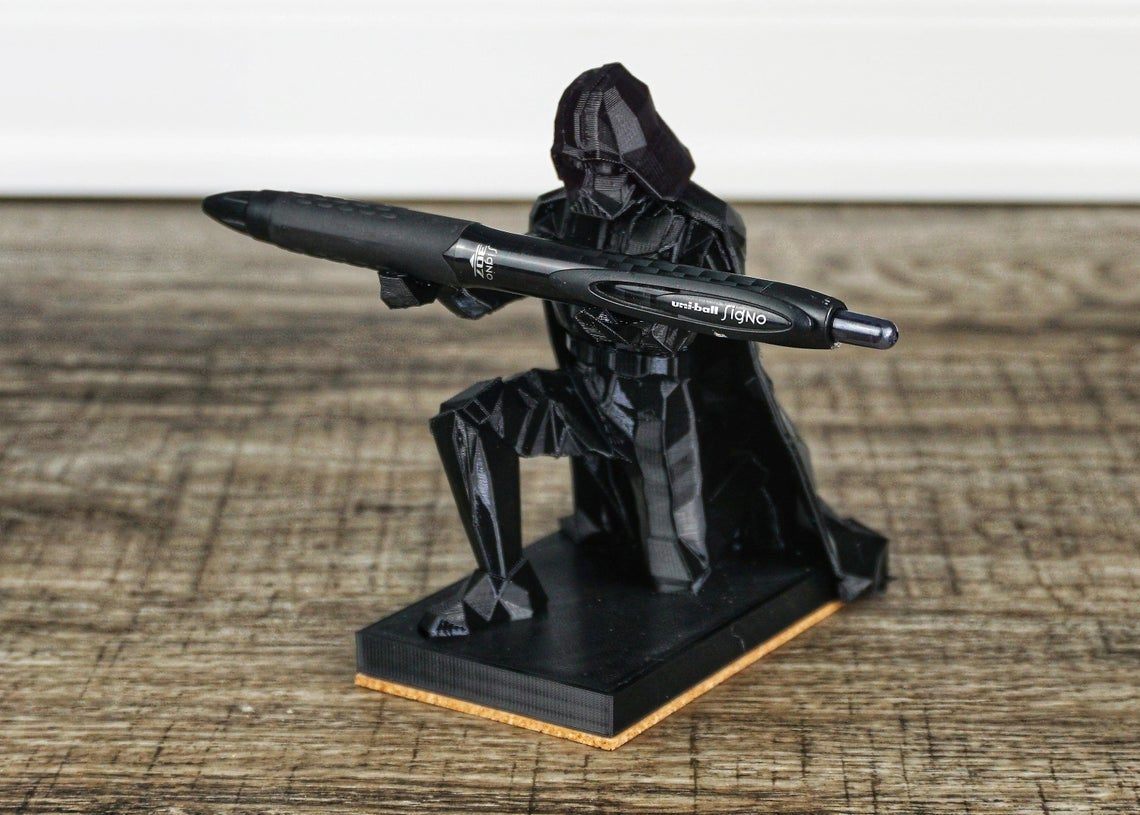 Whether your employee's workspace is in the company office, or located in their bedroom while working from home, having a dedicated and functional workspace is crucial for employee productivity. In addition to functionality, it's nice to personalize the workspace as well with a high-quality office gift. You know your employee best, so why not send them the perfect add-on for their office space? Some ideas include:
3) Non-Monetary Incentive: Experiential Rewards
Experiential gifts are another fantastic non-cash reward to offer your employees. Experiential rewards provide employees with an experience in lieu of a monetary or physical gift. For example, did your team finish a project ahead of schedule? Reward them with a virtual game night which bolsters team bonding and provides a memorable experience.
How to Implement This Non-Monetary Employee Incentive
Lunch for the entire team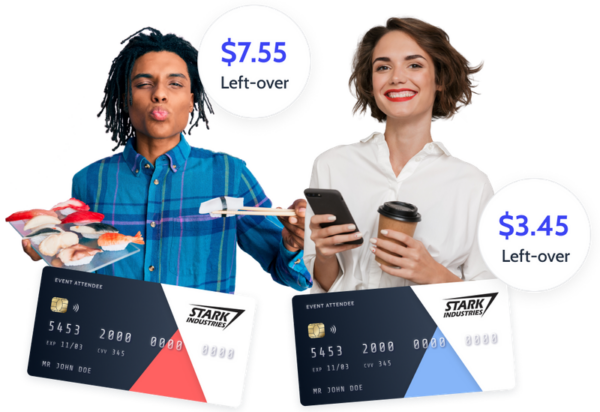 This experiential reward checks off two valuable goals in one delicious event.
First, it rewards employees for their hard work by sending them a tasty lunch for them to enjoy at work. Secondly, it encourages the team to all eat lunch together and detach from work for a few short minutes so that coworkers can relax and bond with each other over a plate of good food.
This non-monetary reward also works for distributed teams since you can send digital lunch cards to all of your remote employees to order something for themselves!
Social impact built into every non-monetary reward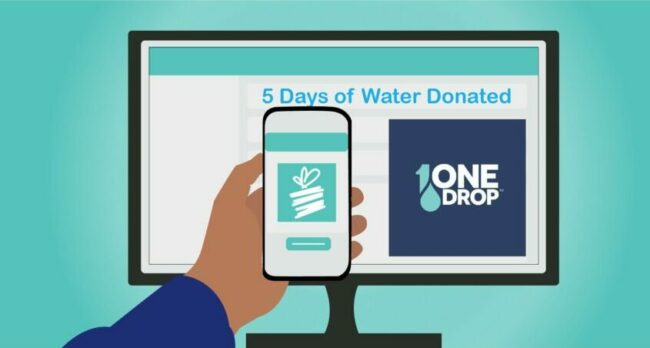 Sending a non-monetary gift can go a long way. However, sometimes making a larger impact can go even further.
At Guusto, they believe in building purpose into the core of their company. With this in mind, they've teamed up with the One Drop Foundation to donate 1 day of clean drinking water for every Guusto gift sent. Also, instead of redeeming your Guusto gift for a merchant gift card, you can donate the funds to any charity of your choice.
Nearly 800 million people in the world lack access to clean water, so they've teamed up with the One Drop Foundation to donate 1 day of clean drinking water for every Guusto gift sent.
4) Non-Monetary Incentive: Flexibility at Work
Flexible working is a non-monetary incentive that has been on the rise as companies have adopted remote work this past year. One of the many remote employee perks includes a shift in company mindset to allow employees more flexibility than a strict 9 to 5 framework has historically provided. Providing your employees with this flexibility shows a high level of trust and faith in your employees' capability to get the job done without micromanagement.
How to Implement This Non-Monetary Employee Incentive
Work From Home Days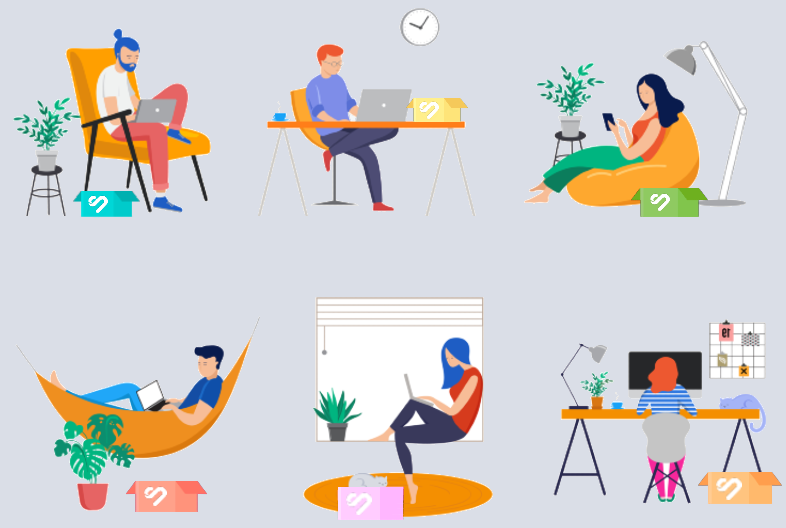 As many companies will likely transition back to in-office work from remote work during the latter half of this year, it's important to not forget that employees can in fact be productive when working from home. Offering your employees some flex days where they can work from home instead of commuting into the office is a great intangible, non-monetary incentive that will bolster employee job satisfaction.
Half-day Fridays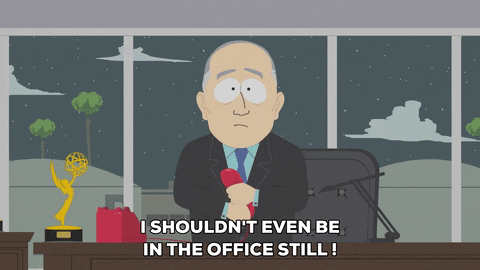 Half-day Fridays are a great non-monetary incentive to offer your employees as it allows them the flexibility to check some items off their to-do list in the AM yet still enjoy the rest of the afternoon off the clock. This can also be a fun way to reward team members for a job well done or team members who have been burning the midnight oil that week.
Schedule Autonomy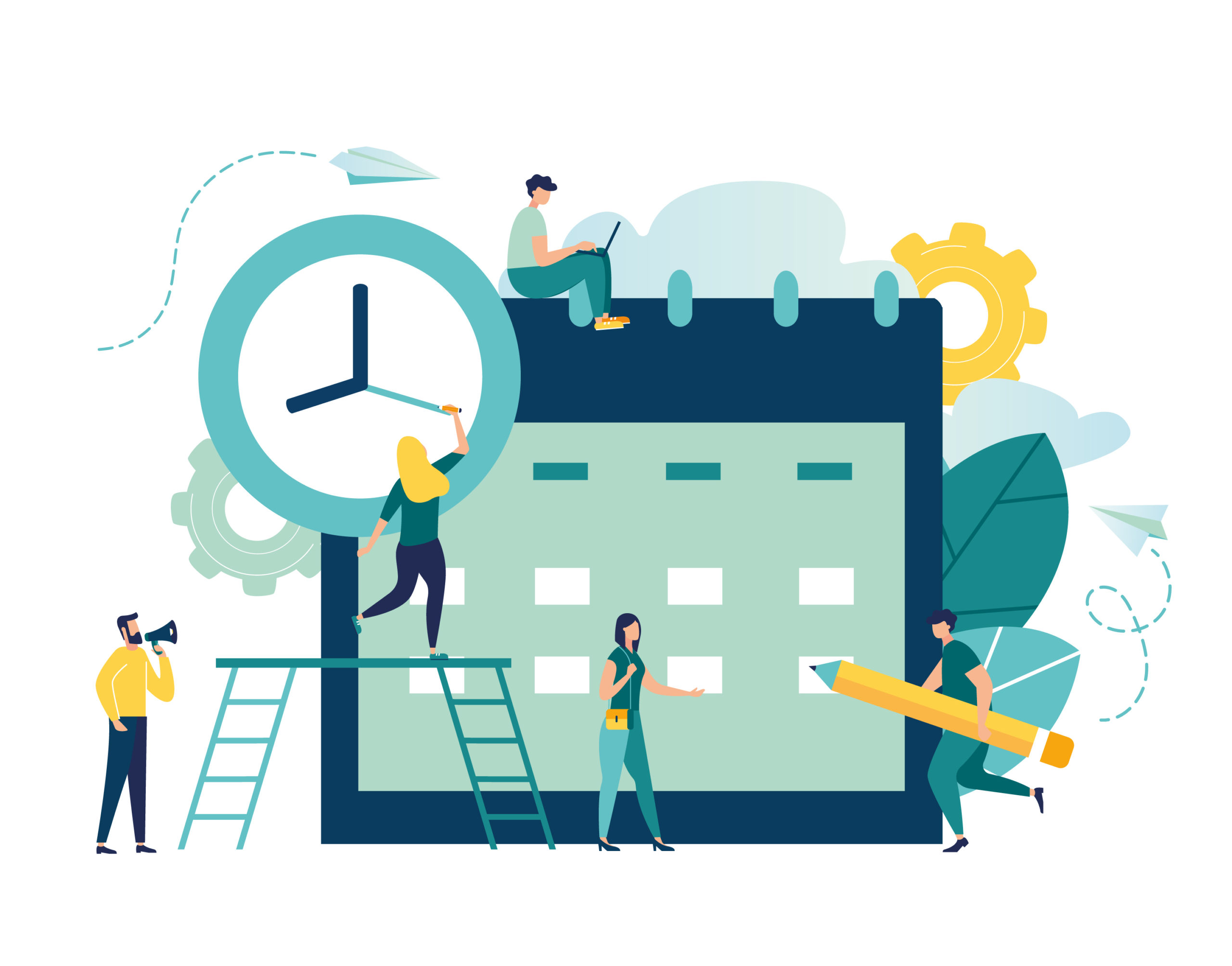 Instead of setting strict time blocks or daily outlines for your employees, allow them to arrange their workday on their own and prioritize their projects as they see fit. Of course, it's important to keep the chain of communication open and be sure that your employees understand their overall weekly objectives.
However, it's just as important to ensure your employee feels empowered to set their own daily schedules and manage their workload accordingly. Encourage the team to keep their calendars up to date for visibility and scheduling purposes.
👉 Free Download: Employee Reward Ideas PDF
5) Non-Monetary Incentive: Additional Time Off
Additional time off is another awesome employee perk that can keep your team feeling rejuvenated and appreciated. Additional time off is any time off you offer to your employees aside from their accrued vacation days or sick days.
How to Implement This Non-Monetary Employee Incentive
Summer Fridays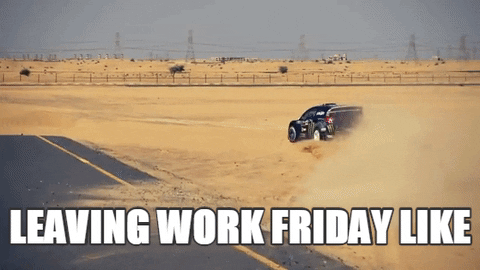 The sun is shining. The beach is beckoning. Why not give your employees just what they want on a beautiful summer afternoon? Implementing Summer Fridays is an easy, yet impactful, non-monetary incentive to offer your team. They'll be sure to thank you for this work life balance perk when they're digging their toes in the sand with a drink in hand.
Birthday Day Off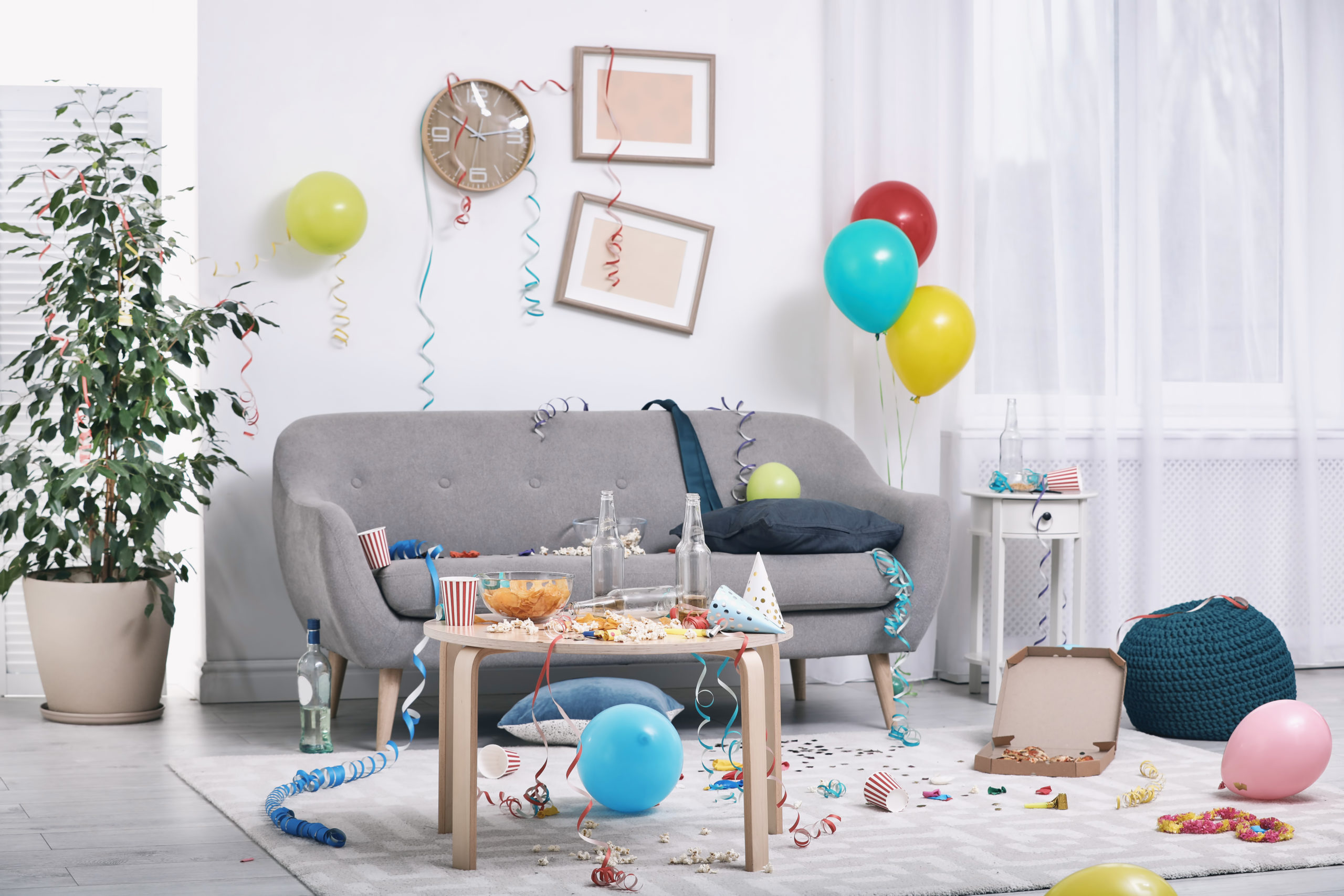 If you ask someone what they're looking forward to on their birthday or how they want to celebrate, chances are going into the office doesn't rank very high on that list. Show your employee that you appreciate the important moments in their lives and that taking a day off to celebrate themselves is both encouraged and supported.
6) Non-Monetary Incentive: Words of Appreciation
"I know nothing in the world that has as much power as a word." – Emily Dickinson. Our words carry weight and impact the feeling of those around us, especially in the workplace. A simple thank you can go a long way in boosting your employees' happiness. Expressing words of appreciation for your top talent employees is a way to highlight individuals who excel in their role and can help increase long-term employee retention.
How to Implement This Non-Monetary Employee Incentive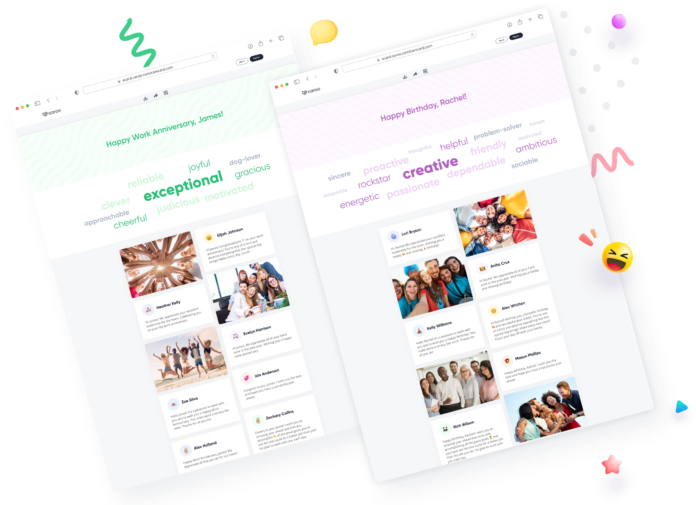 This ecard from the team is a new spin on the signed card from the team. Apart from the fact that this ecard is easy to set up and send to your entire team, it also offers another level of customization that other greeting cards do not offer.
Along with the signed messages from their team members, your lucky colleague will also be able to enjoy memorable photos, a meaningful word cloud built by their team, and even an accompanying gift from the Caroo catalog.
Completely FREE to set up, CareCards are a new way to show appreciation without breaking the bank.
Hand-written Note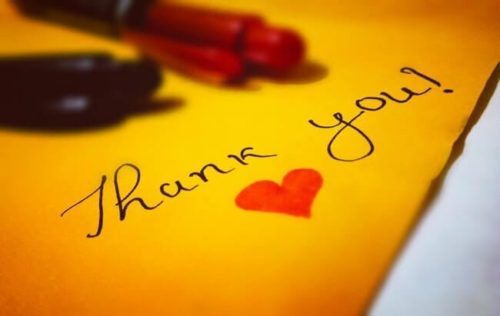 We live in a world where almost everything is done electronically. Kick it old school and write your employee a hand-written note expressing your appreciation and your gratitude. It doesn't have to be Shakespeare—one or two sentences will do. The personalization of writing a note shows your employee that you're willing to take time out of your day to thank them and makes them feel like a valued and respected member of your team.
Team Email Shout Out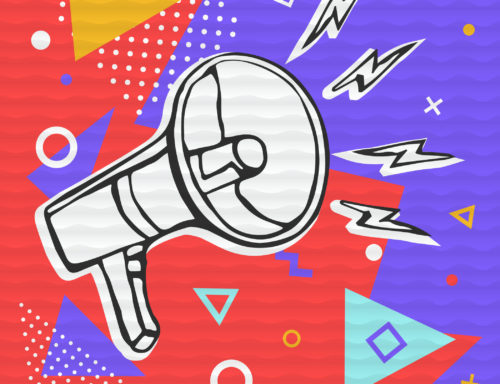 Providing words of appreciation to your employee in a 1:1 setting is important. However, acknowledging their accomplishments in a more public manner is another prime example of an effective non-monetary incentive. Rather than sending them a thank you email directly or another kind of spot bonus, consider sending out an email to the full team highlighting that individual's hard work or accomplishment. This not only makes that employee feel appreciated but can push other team members to put more effort into their work in hopes of being the topic of that next team shout out.
7) Non-Monetary Incentive: Opportunities to Volunteer
We're all aware of the importance of employee engagement and that high levels of engagement can lead to spikes in employee happiness and retention. 2020 has been a year full of challenges and turmoil, but it has also been a year of reflection as well. Social, racial, political and justice issues have all come to the forefront of both personal and professional dialogue.
Providing your employees with an opportunity to volunteer and give back to the communities in which they live is a meaningful non-monetary incentive that increases employee engagement and pride.
How to Implement This Non-Monetary Employee Incentive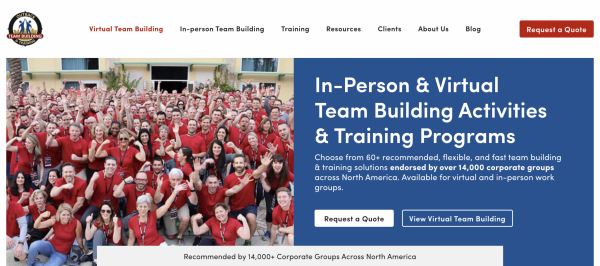 Outback Team Building offers a range of services including team building, training courses, and coaching programs. A subset of their team building offering includes some wonderful volunteer opportunities. Working together towards a common, charitable cause is a great way to encourage team bonding and to empower your team to make a difference.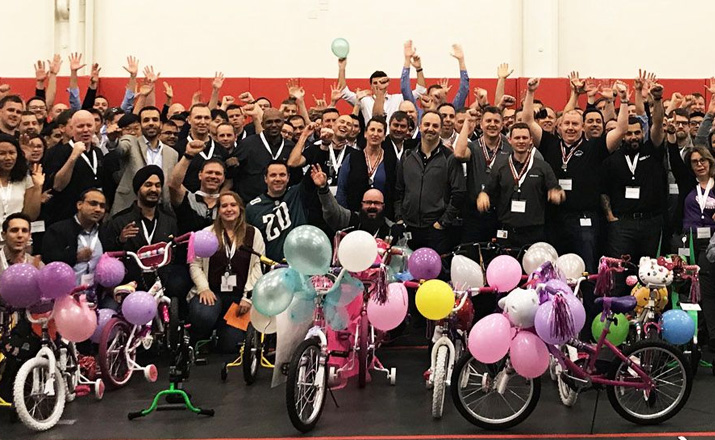 One example of an amazing volunteer opportunity is participating in a Charity Bike Build-a-thon. This is a great hands-on volunteer event in which your team will build and decorate bikes for a local children's charity in your area. Your team members are supplied with everything they need for a successful and smooth event.
8) Non-Monetary Incentive: Professional & Personal Development Training
Providing employees with access to professional and personal development training opportunities is a vital branch of any employee incentive program. Whether the courses are in-person or virtual, you're investing in a people-first culture at your company through these types of development offerings.
How to Implement This Non-Monetary Employee Incentive
Training Courses

Have you noticed your employees asking a bunch of questions about PowerPoint or Excel? Investing in offering training courses helps arm your team with the tools they need to succeed and to further grow in their roles. Aside from software training, consider offering Human Resource training courses, such as Managerial or Objective setting seminars.
Personal Development Training Day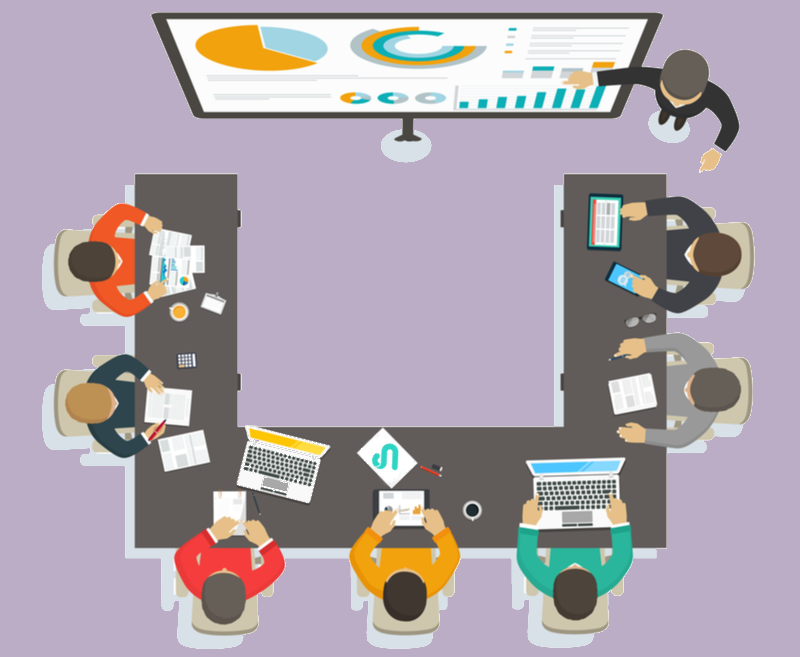 Remember that slightly overwhelming yet excited feeling you'd get from high school career days? Personal development days are kind of like the adult version of that. Personal development days are a great way to show your employees that you believe in developing and nurturing their unique interests and skill sets.
9) Non-Monetary Incentive: One-on-One Time
Fun group office activities are great, right? But sometimes a one-on-one experience can be much more significant and meaningful to an employee. Investing in one-on-one time keeps an open dialogue between you and your employees, which helps to build trust amongst your team and ensures no one feels out of the loop.
How to Implement This Non-Monetary Employee Incentive
Schedule a 1-on-1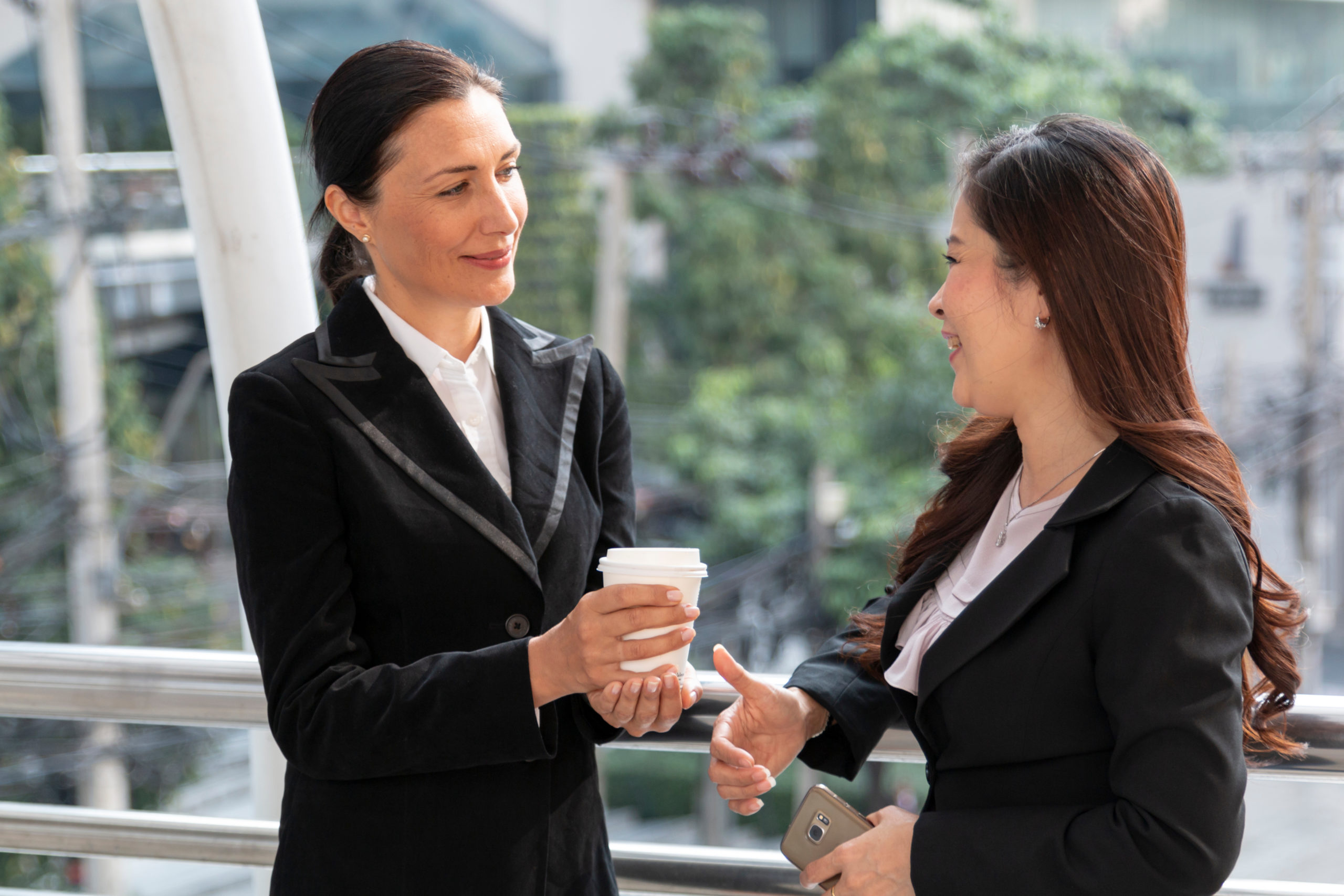 If you lead a smaller team, consider adding weekly or bi-weeky one-on-one meetings between you and each member on your team. This provides your employees with a set time and forum to discuss hot button items, while also providing you with a chance to provide feedback on job performance or upcoming projects in the queue.
Fun Activity Outside The Office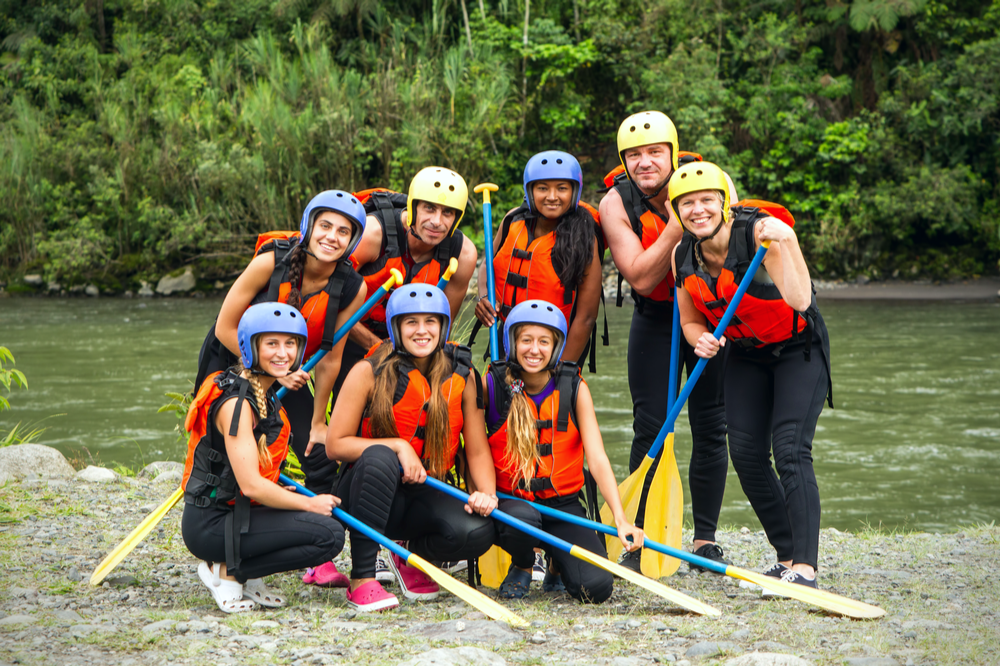 The past year has been all about virtual team building opportunities, but at this point everyone is eager to step out from behind the glow of their computer screen. Take your employee out to enjoy a delicious dinner or lunch. Or try a creative activity like a pottery class, mixology lesson, or paint night.
10) Non-Monetary Incentive: Mentorship Program
There are a ton of team building activities and programs to choose from, but having a mentorship program has profound benefits. Senior employees get to nurture budding talent in the company and junior employees benefit from the learning opportunity — who doesn't love a win-win?
How to Implement This Non-Monetary Employee Incentive
1:1 Mentoring Plan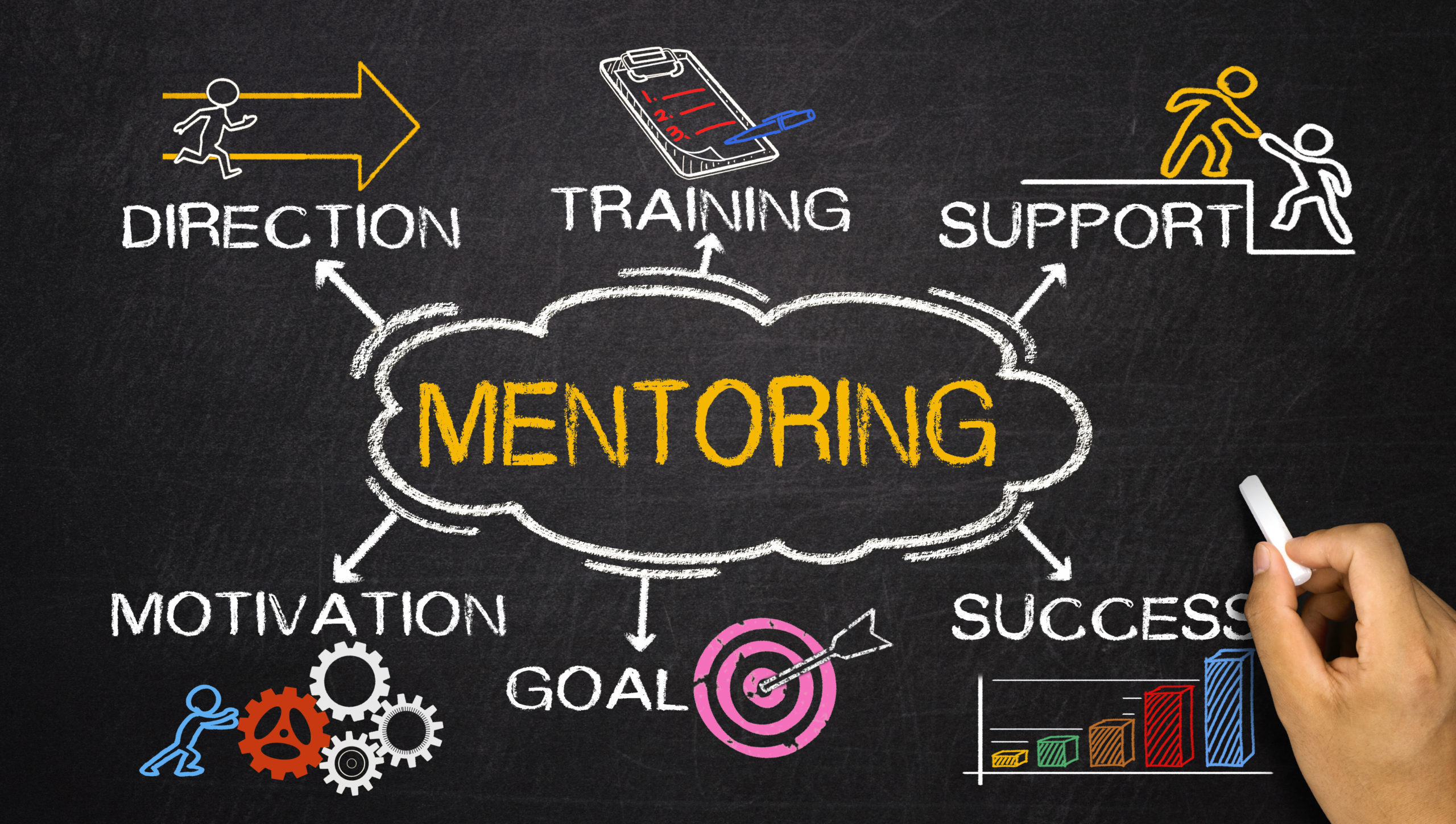 A great way to begin implementing a mentorship program at your company is to start small with 1:1 mentor matches. Try pairing up junior and senior team members, or pairing up employees from different departments who share common interests or career goals.
Job Shadowing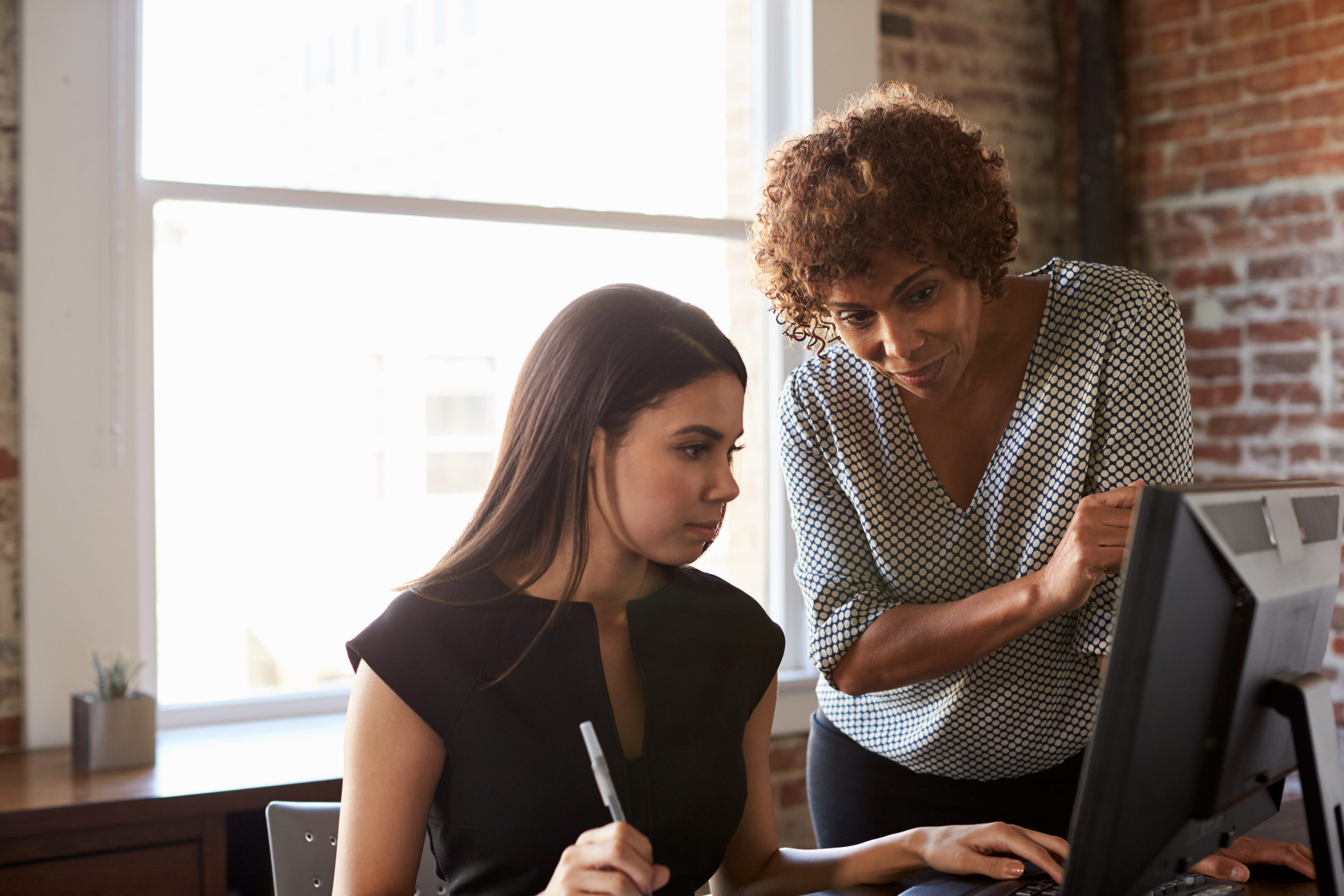 Allow employees to peek behind the curtain into various roles at your company. Job shadowing is an effective way to expose your employees to the responsibilities and day to day tasks that come with specific job positions. Perhaps your employee is interested in taking the next step in their career at your company.
Partnering them with someone who has experience in that next-step role shows that you're encouraging their professional development and may keep that employee at your company as opposed to searching externally.
Mentoring Circles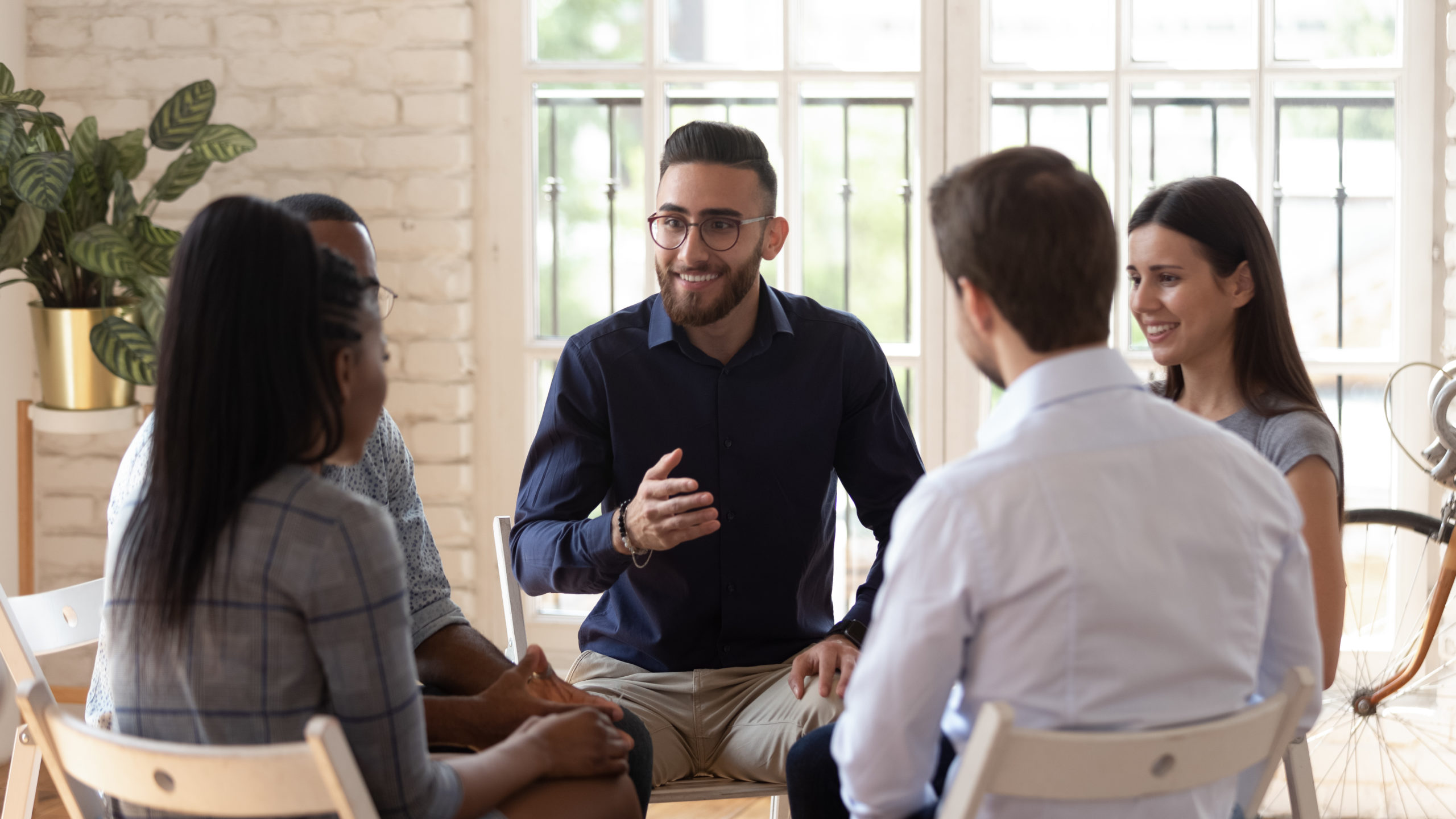 Developing mentoring circles creates a welcoming space for like-minded employees to encourage and educate each other. A great place to start is implementing a women's leadership mentoring circle where senior female executives can mentor women in more junior roles so they can share their experiences and knowledge to empower the next generation of company leaders.
11) Non-Monetary Incentive: Give Them More Autonomy
No one loves a helicopter boss micromanaging every move. Showing your employees that you trust them and their capabilities is a crucial non-monetary incentive that will keep your employees accountable and productive.
How to Implement This Non-Monetary Employee Incentive
Create a Culture of Accountability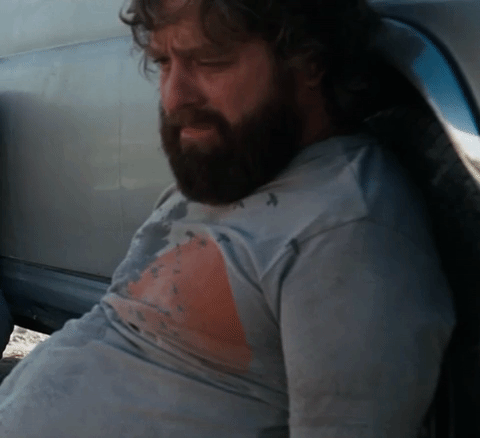 Every employee should feel empowered to excel in their job function in an autonomous fashion. Be sure to provide your employees with the tools and training they need to succeed and then allow them to use those tools. Accountability in a work environment motivates employees to feel true ownership of their projects and tasks. Allow your employees to fail forward and grow from their missteps.
Ask For Employee Opinions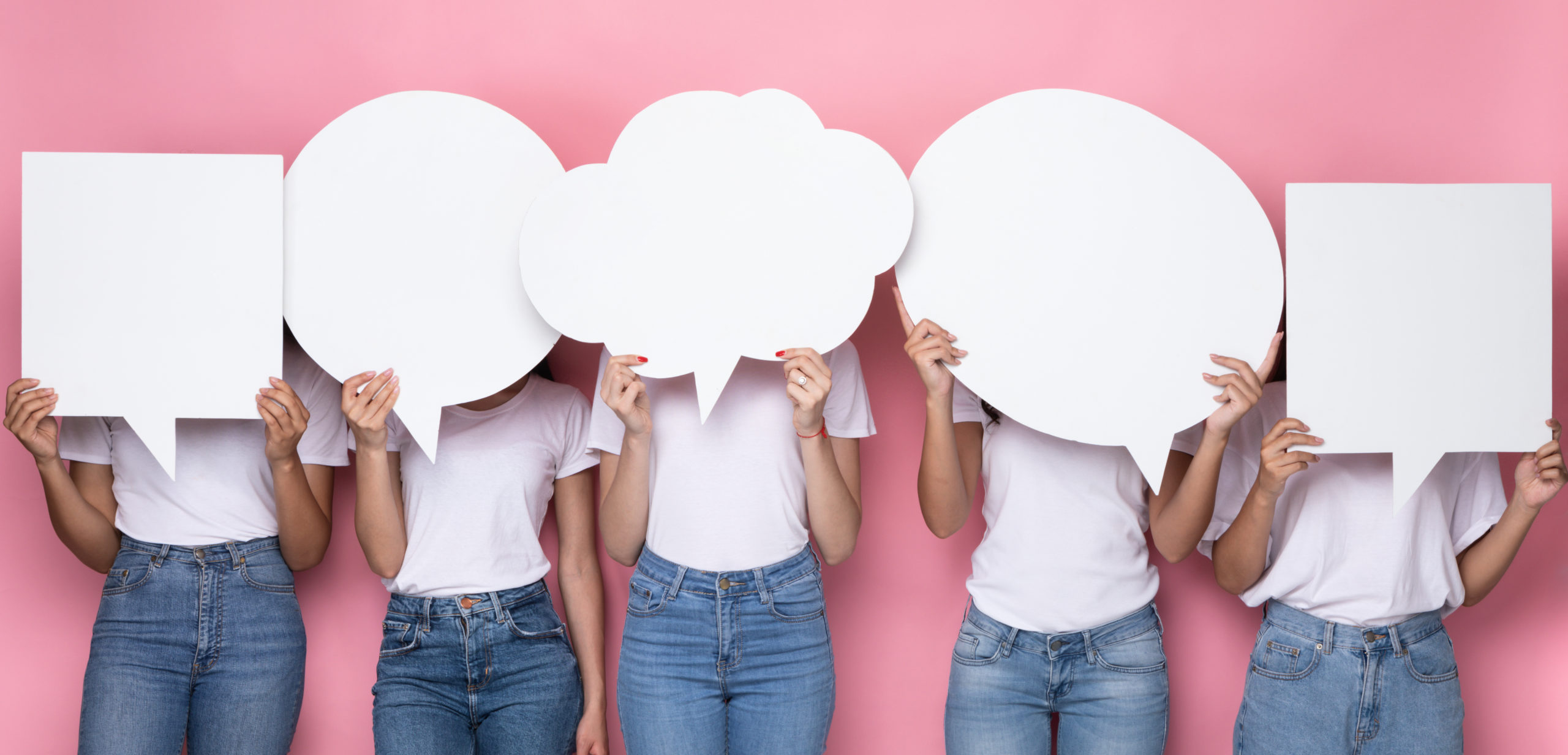 Having a forum for your employees to voice their opinions and be truly heard is another way to increase overall employee engagement and job satisfaction levels. Some employees may be a bit more timid than others, so creating designated opportunities for your employees to vocalize their ideas can lead to company creativity and a better work culture.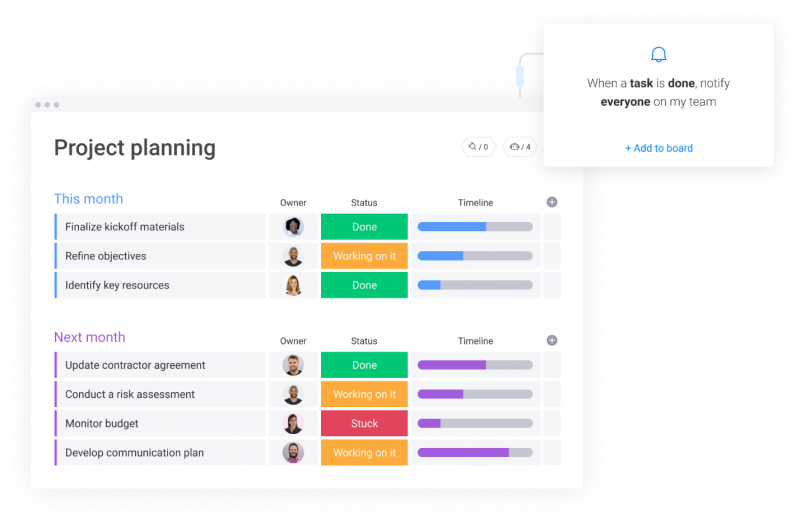 monday.com is an innovative project software management system that can help provide your team with the tools and structure needed for success. With a user-friendly platform, this workplace software creates a space for your employees to connect and collaborate to meet project goals.
12) Non-Monetary Incentive: Fringe Benefits
Fringe benefits are another prime example of non-monetary incentives that serve as a team motivator to incentivize your employees. Fringe benefits are essentially additional perks provided to your employees outside of financial compensation. For example, offering an employee wellness program at your company. There are a myriad of fringe benefits you could offer your employees, so let's check out a few options below.
How to Implement This Non-Monetary Employee Incentive
Gym Membership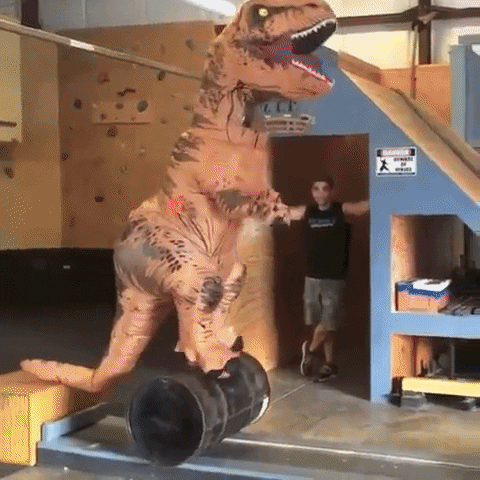 Offering a wellness program that includes a reduced price or no cost gym membership keeps your employees both happy and healthy. It also shows your employees that you care about their overall well-being, and not just their output at work.
Commuter Incentives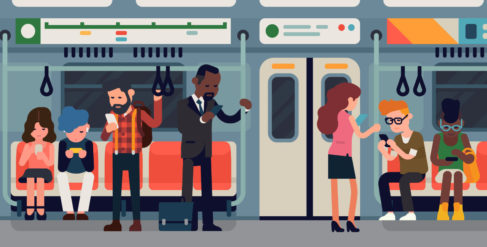 Everyone hates being stuck in traffic during those peak commuter hours. Incentivize your employees to take public transportation options or start a co-worker carpool and reward them with perks for doing so. Not only does this help your company's carbon footprint, but it's the perfect fringe benefit for employees looking for alternate means of commuting.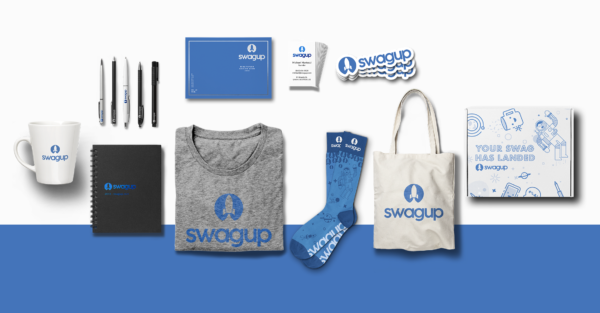 Who doesn't love receiving some company swag?
SwagUp offers a ton of product branding options for your company. From notebooks and shirts to water bottles, they can help curate the perfect swag for your team. You even have access to a personalized dashboard to track your swag and easily reorder any popular items. Branded swag is a great way to boost employee morale. Go ahead and encourage your employees to rock those company t-shirts during that next VC call.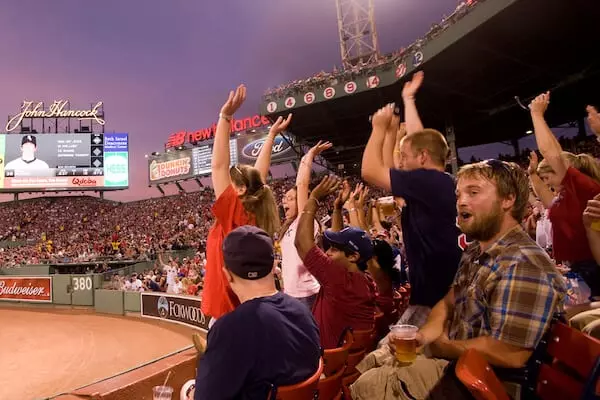 Blueboard offers an array of experiential rewards but here are some of our faves:
Send employees to experience a relaxing and rejuvenating personal massage. What better way to recognize hard work or top performers than to treat them to an afternoon of relaxation and pampering?
Have them journey through a local foodie tour where they have the opportunity to taste their way through the city. Your employees are sure to feel appreciated as they bite into a decadent dessert or sip on a delicious craft cocktail.
Surprise them with an unforgettable trip. After over a year of living in a Covid-restricted world, everyone is certainly more than ready for a long overdue getaway. Blueboard can help you find the perfect trip package to reward your employees.
Free Meals at Work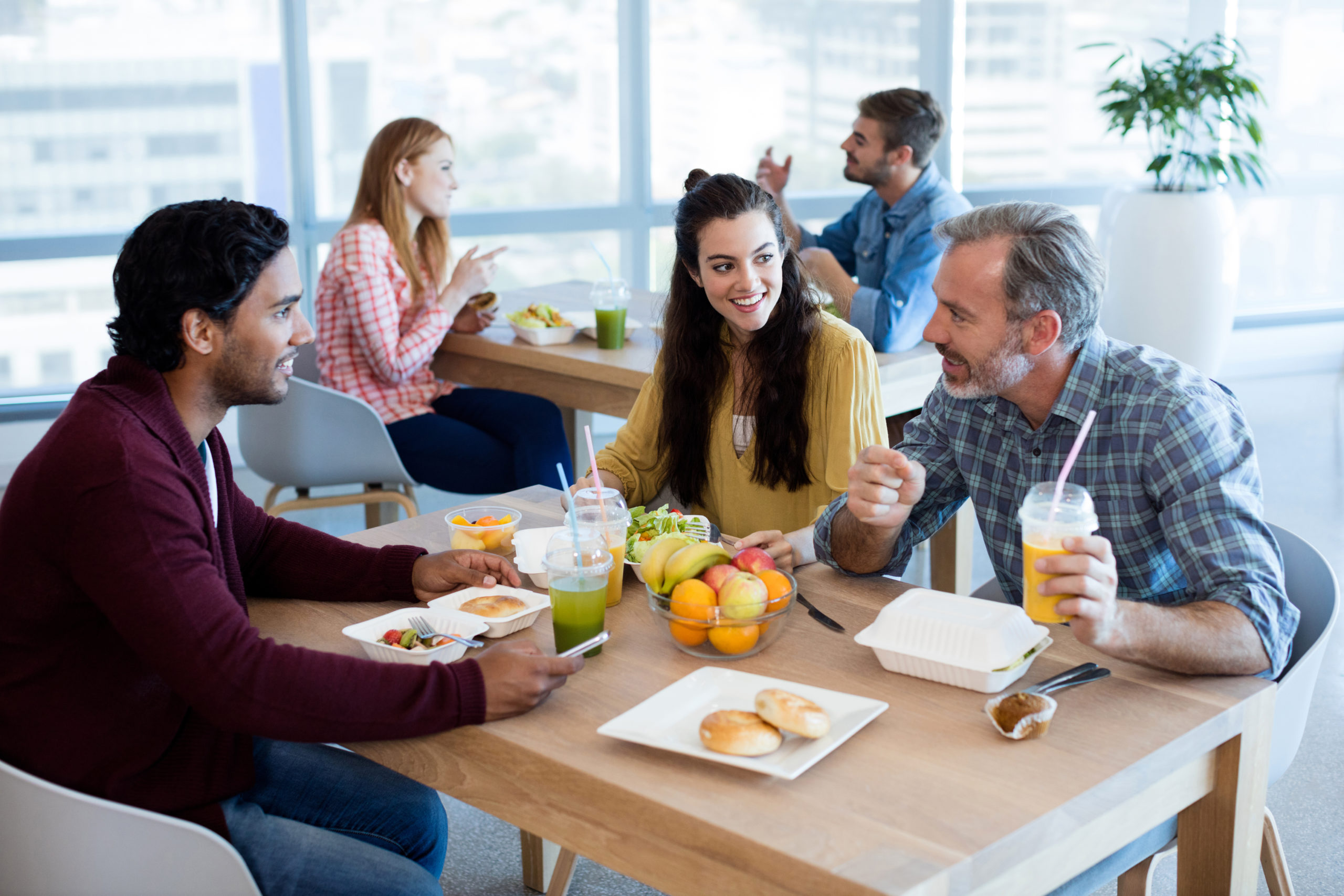 You can only eat so many turkey sandwiches in one week. Help your employees mix it up and incentivize them with free breakfast and/or lunch in the office. This is a simple incentive that's easy to offer your employees, but can go a long way in enhancing team morale.
---
People Also Ask These Questions About Non-Monetary incentives
Q: What is the difference between monetary and non-monetary incentives?
A: Monetary incentives are cash or financial compensation provided by an employer to an employee, typically in addition to their salary. Non-Monetary incentives are non-cash perks or benefits provided by an employer to an employee.
Q: What is an example of a non-monetary incentive?
A: Flexible working hours and experiential rewards are just a couple example of non-monetary incentives. Check out our article to deep dive into these non-monetary incentives and many more.
Q: Are monetary incentives better than non-monetary incentives?
A: While monetary incentives may initially help recruit talent, non-monetary incentives help to improve company culture, employee job satisfaction and in effect, long-term employee retention.