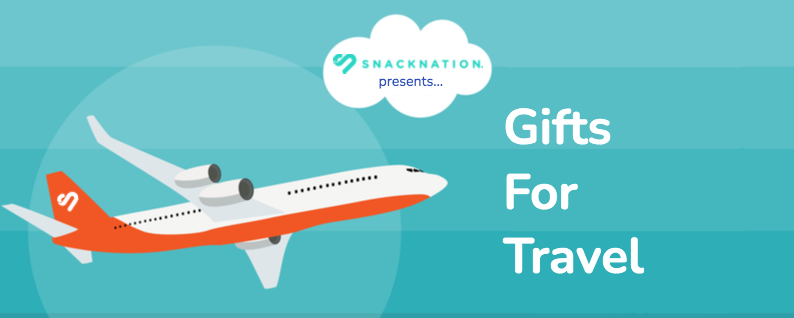 In spite of the pandemic, the global tourism industry reached 1.54 trillion U.S. dollars in 2020 and is projected to rise to 1.7 trillion U.S. dollars this year.
As travel bans and lockdowns are lifted, expect to see a flood of travelers going any and everywhere they can afford to. The pent-up demand is real.
This also means that gifts for travel are one of those items that you can pretty much guarantee will actually be used by whoever you give them to.
"Travel is fatal to prejudice, bigotry, and narrow-mindedness, and many of our people need it sorely on these accounts. Broad, wholesome, charitable views of people and things cannot be acquired by vegetating in one little corner of the earth all one's lifetime." — Mark Twain
The best gifts for travel usually do one of several things extremely well:
Help people capture travel memories
Help make travel safer and easier
Help make travel more enjoyable
Our favorite travel gift ideas inspire, organize, or make trips even more memorable. Whether your friend, coworker, or employee is heading on an adventure across Europe or to somewhere far-flung and remote, we've got something to aid them along the way.
Check out these 19 digital nomad-approved gifts for travel in 2023!
"It's all about the memories"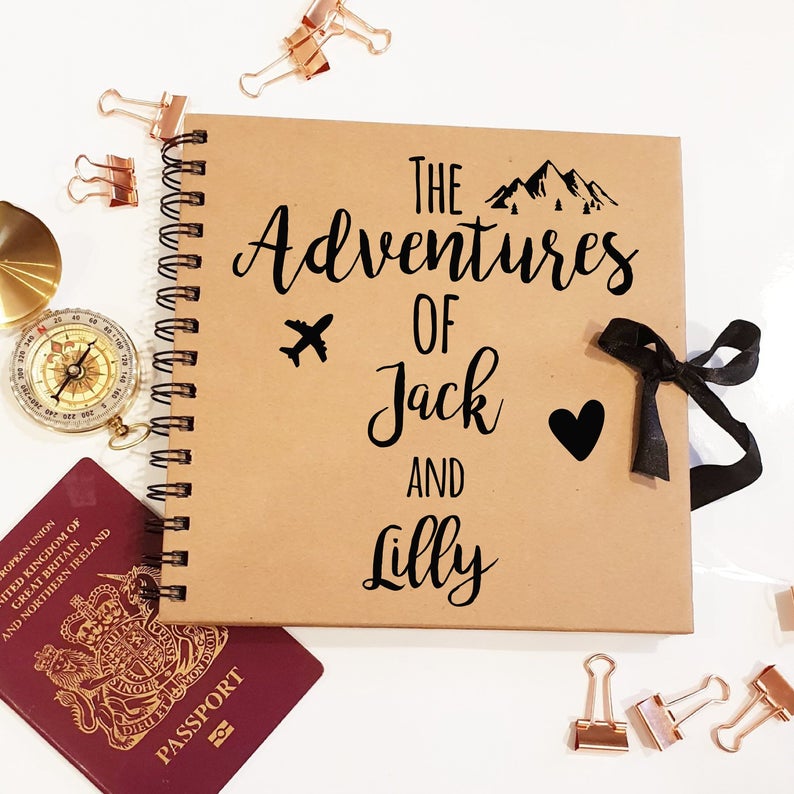 What it is: This handmade personalized scrapbook is highly customizable, giving you a choice of colors, fonts, text, and designs — including your own!
Why we love this travel gift: Traveling is really for the experiences and the memories. The Personalized Travel Scrapbook lets you capture every precious moment forever in the pages of this high-quality book. Speaking of pages, it comes with 40 of them with 80 sides in total for memory keeping and it's available in two sizes — 8×8-inches or 12×12-inches.
Price: $18.60
Where to find it: Personalized Travel Scrapbook
"Flavorful, fun & travel-friendly"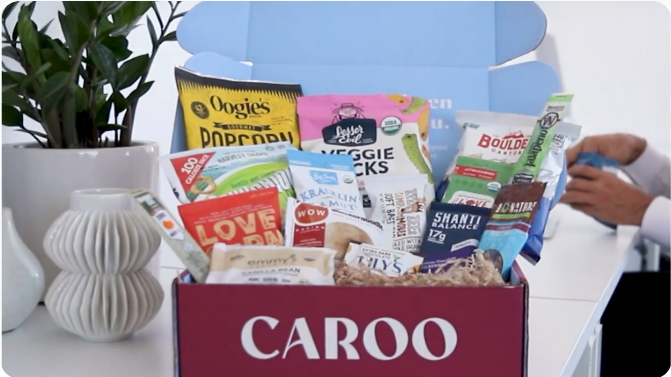 What it is: The Snacks + Essentials Box is the perfect food gift box for travel-friendly delights and a bottle of vino.
Why we love this travel gift: Every better-for-you snack included in Snacks + Essentials was selected based on whether or not it checked off three key criteria — first, is it insanely delicious? Is it outrageously addictive? And is it healthy enough that all that snacking is still sustainable for the body? The answer for each chosen snack is YES! YES! YES!
Price: Starting at $24.95
Where to find it: Snacks + Essentials
"For memory's sake"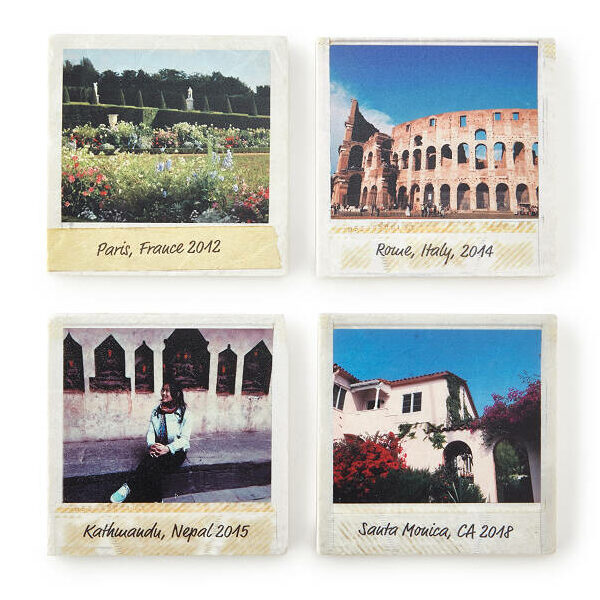 What it is: Nostalgia is a bittersweet sensation, but now, you or your giftee can just enjoy the sweet part of it. The Custom Travel Photo Coasters remove the bitter by letting you print your travel memories onto tumbled marble squares with cork backing!
Why we love this travel gift: Ever taken pictures at Petra? What about Montmartre in Paris? Snapped a few images at the Pyramids in Giza? Or maybe a simpler time with family at the lake? Now you can immortalize the good times.
Price: $65 to $70
Where to find it: Custom Travel Photo Coasters
"Especially for the digital nomads"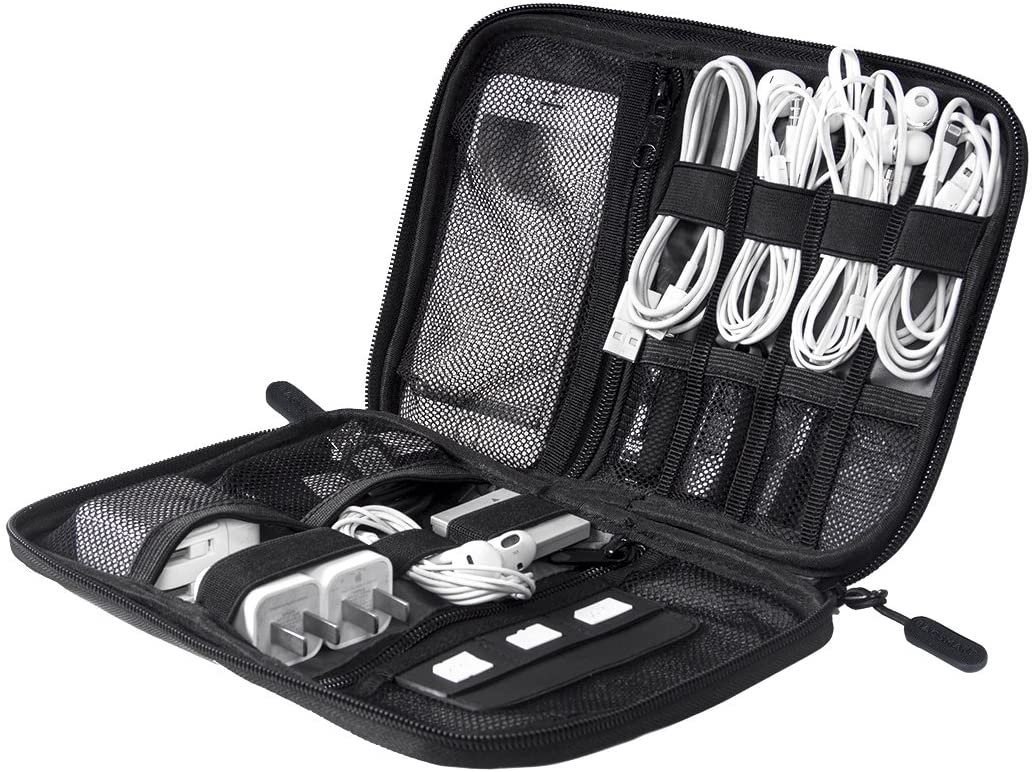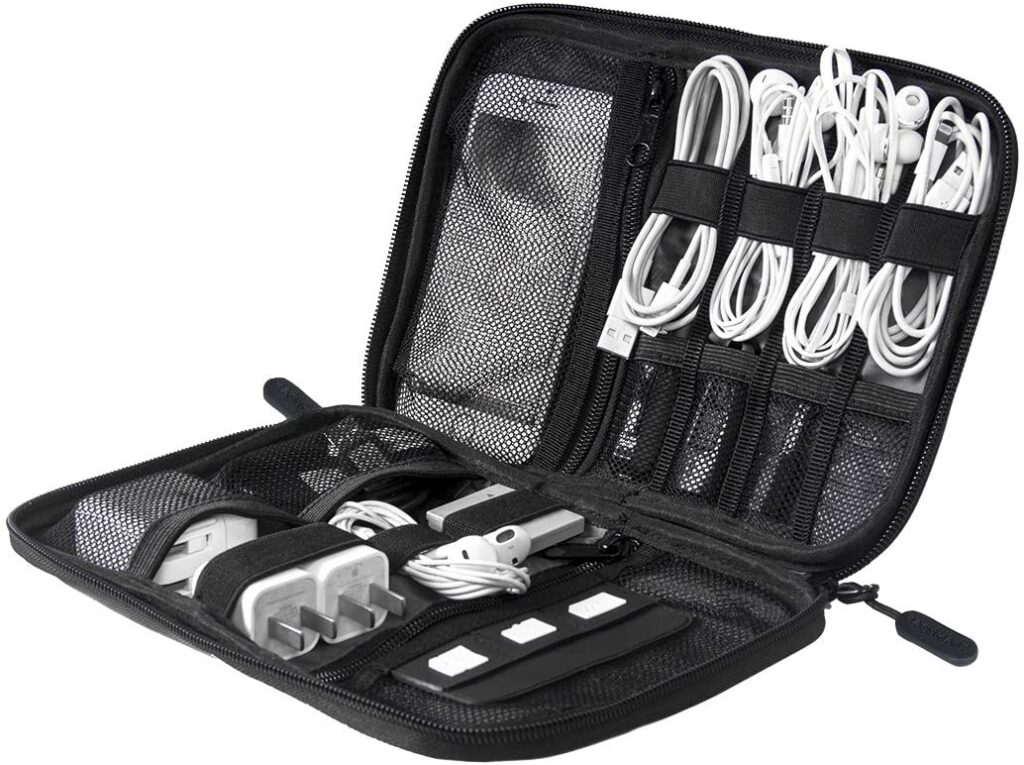 What it is: The Electronic Organizer is a heavy-duty, water-repellent nylon-molded case designed to keep items and accessories scratch-free, dust-free, and safe from other damages.
Why we love this travel gift: Perfect for digital nomads and remote workers, this organizer is compact and easy to travel with. It also has multiple zippered pockets ranging in size to help your digitally nomadic friend keep their gadgets and devices neat and ready for action.
Price: $13.99
Where to find it: Electronic Organizer
"For giving memories a soundtrack"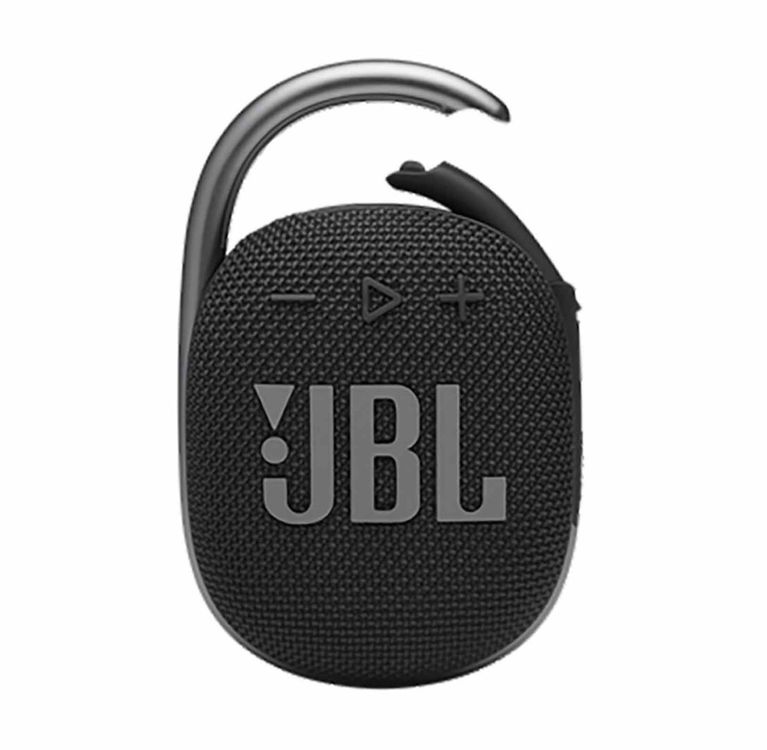 What it is: The JBL Clip 4 Speaker is a portable, waterproof Bluetooth speaker that just happens to be the perfect gift for backyard barbecues, office parties, and bringing life to any occasion you can think of — okay, besides funerals. But you get what we mean.
Why we love this travel gift: This great gift will add music and energy to the lives of your coworkers, friends, employees, and loved ones. The ergonomic oval shape also makes it comfortable for them to carry with them anywhere they go.
Price: $79.84 to $85.19
Where to find it: JBL Clip 4 Speaker
"A flexible body leads to a flexible mind"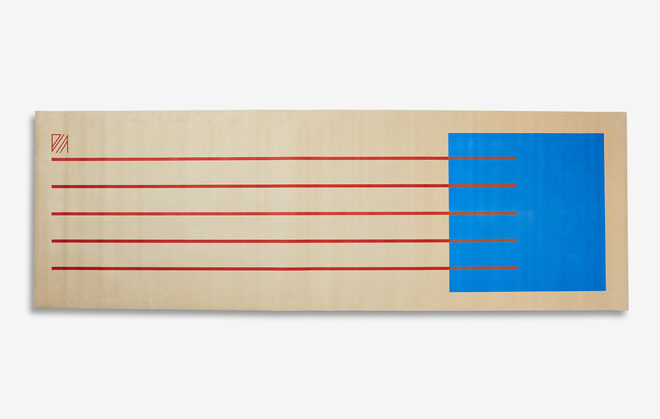 What it is: The Travel Yoga Mat is made of soft microsuede fabric with eco-friendly recycled rubber backing.
Why we love this travel gift: This yoga mat is ideal for remote employees and distributed teams looking to get a workout on the go!
Price: $58
Where to find it: Travel Yoga Mat
"Hot fun in the sun"
What it is: The Summer Speed Up Pack is curated to help whoever receives it make the most of those sunny summer days we wait all year long for!
Why we love this travel gift: This warm weather-inspired pack features a soda pop bottle for the freshest hydration, a mini wireless charging pad for on-the-go productivity and connectivity, insert cards, and a lightweight cap for protection from UV rays.
Price: $47.02
Where to find it: Summer Speed Up Pack
"Untethered for unlimited freedom"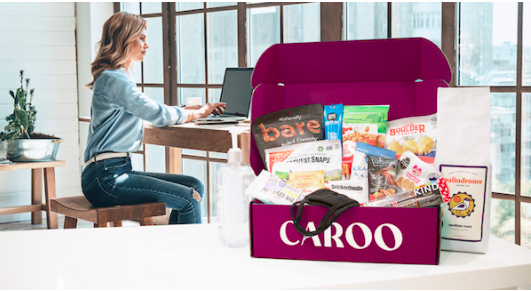 What it is: Sometimes it's good to get unplugged. That's what each carefully curated item in the Unplugged Box is selected for.
Why we love this travel gift: This rejuvenating travel kit comes with fragrant candles, a reusable mug, a tumbler, and nutritious goodies.
Price: Starting at $24.95
Where to find it: Unplugged Box
"Just-for-them travel"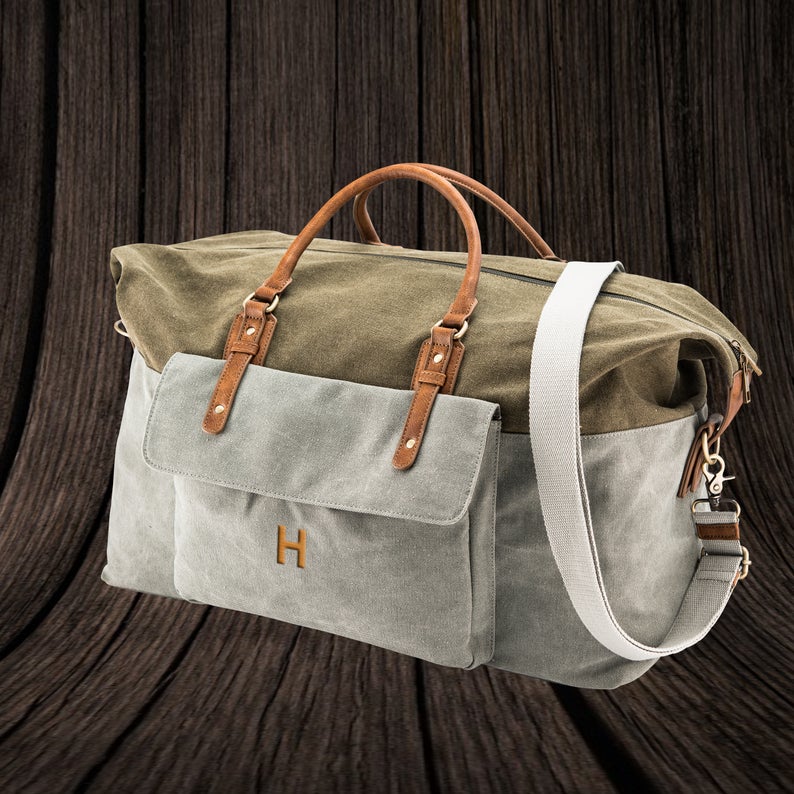 What it is: The Personalized Travel Bag is a sleek and stylish way to travel. If you're looking for a going away gift, a retirement gift, or a sabbatical gift idea, this travel-friendly carry-on will make their journey more pleasant.
Why we love this travel gift: This personalized travel backpack is spacious, stylish, and perfect for citizens of the world!
Price: $32.99
Where to find it: Personalized Travel Bag
"For tidy travel"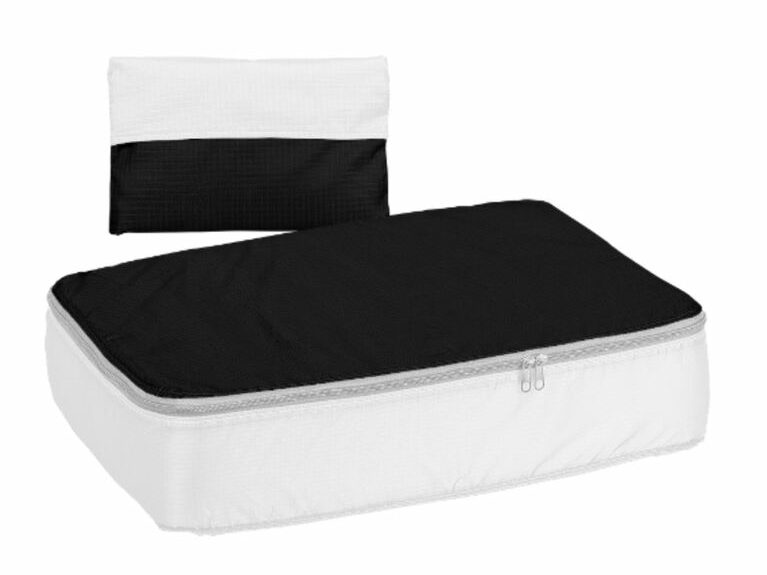 What it is: The Packing Cube uses lightweight ripstop nylon to keep belongings, toiletries, and other accessories organized and handy for you or your globetrotting friends.
Why we love this travel gift: This jetsetter's best pal will help place everything within reach, so you don't have to rely on memory and can instead focus on making new ones.
Price: $10.77 to $20.65
Where to find it: Packing Cube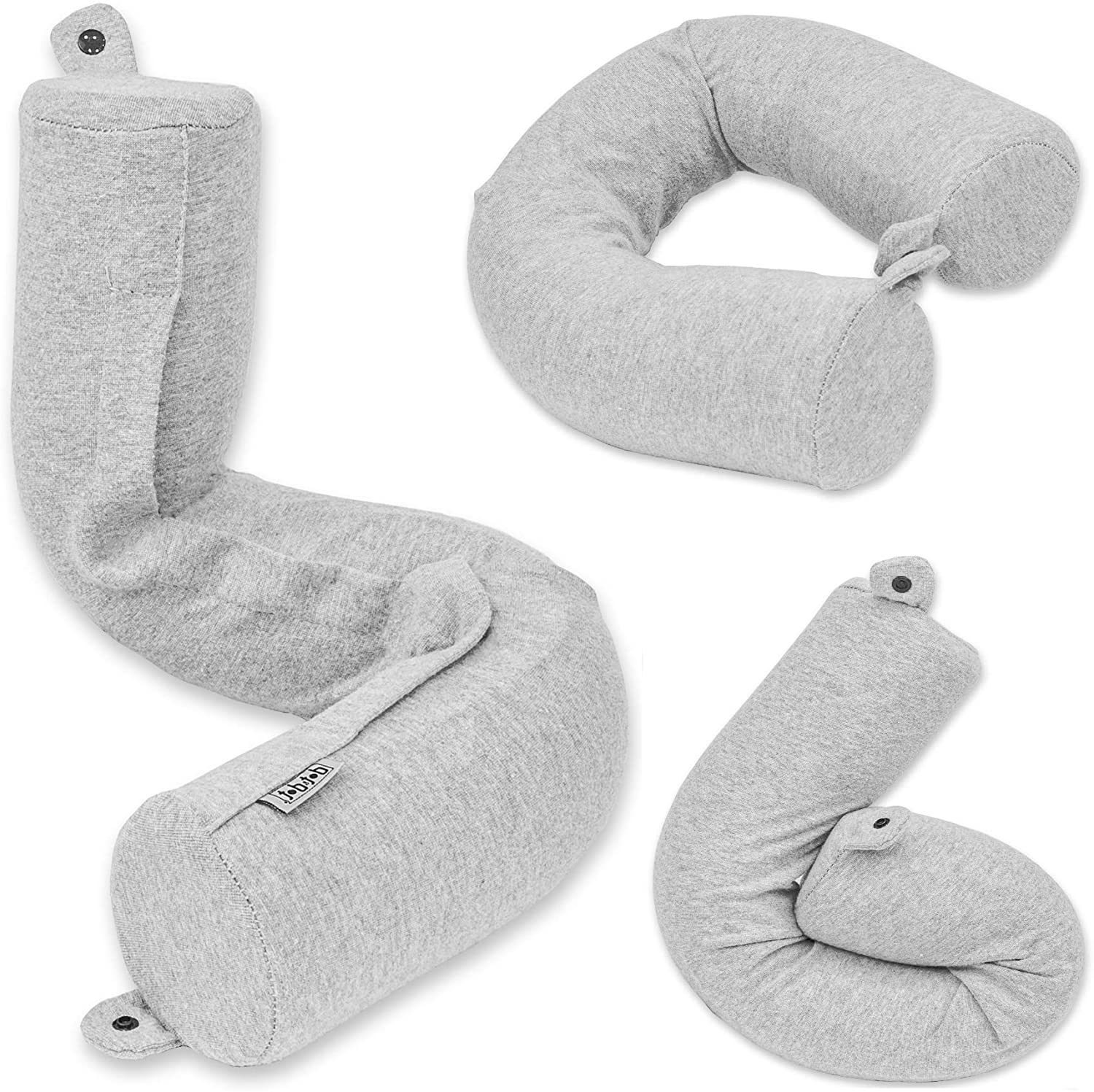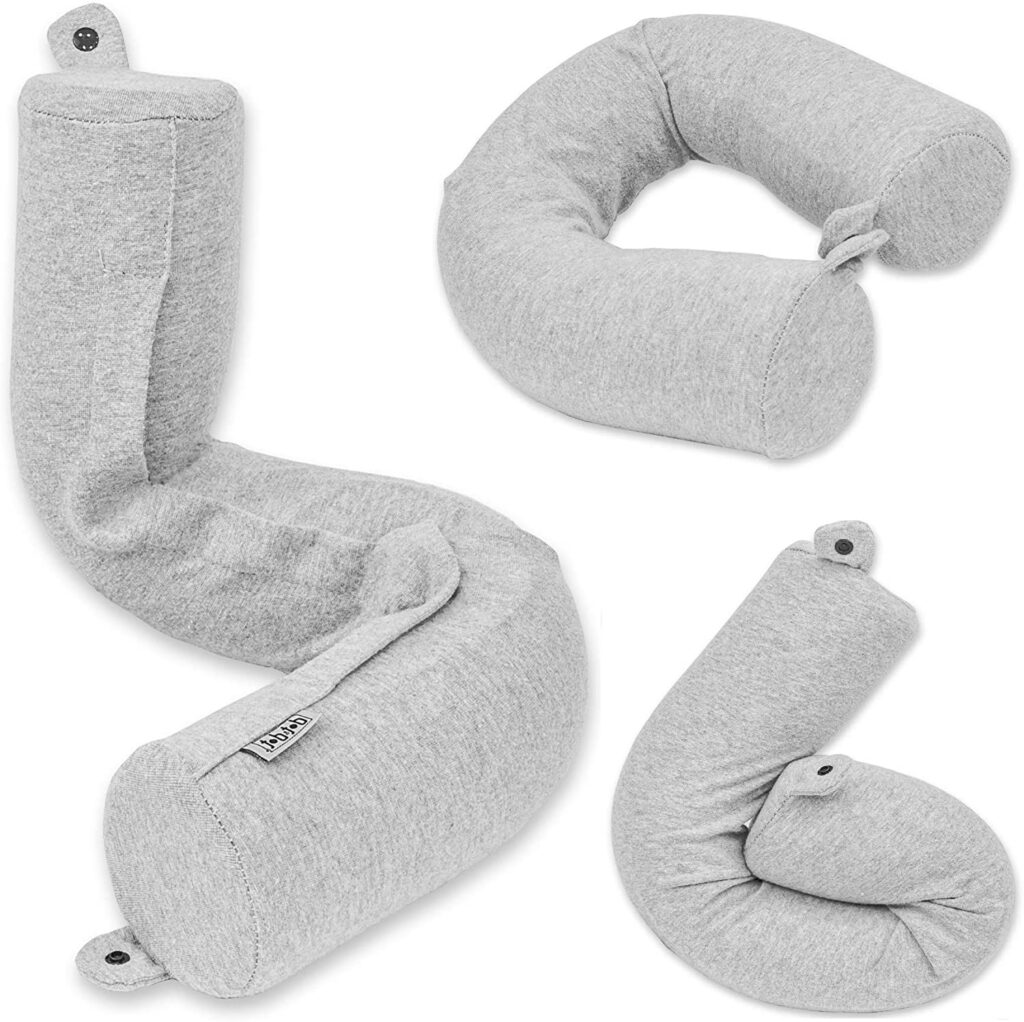 What it is: The Twist Travel Pillow provides neck support in a way that traditional travel pillows can't. This pillow twists and contours into a shape custom-fitted to you or whoever you decide to give it to!
Why we love this travel gift: Now, economy and any seat on the plane will feel like first class. We dare say that even those who have trouble sleeping on airplanes, may finally be able to catch some much-needed Z's on long flights.
Price: $24.99
Where to find it: Twist Travel Pillow
"A taste of the world"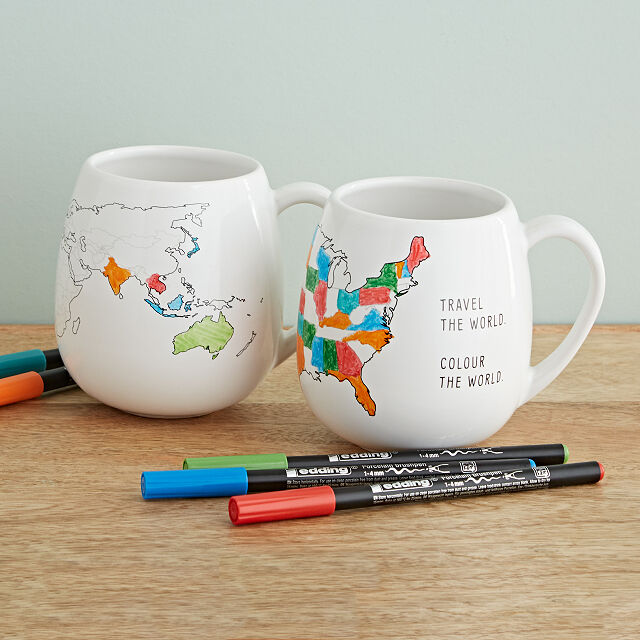 What it is: The Color Map Mug allows you to plan out your next destination or remember where you've been as you sip away.
Why we love this travel gift: By coloring the countries you've been to or the countries you intend on going to, you can color-code your adventures!
Price: $20 to $25
Where to find it: Color Map Mug
"A drinkable disc"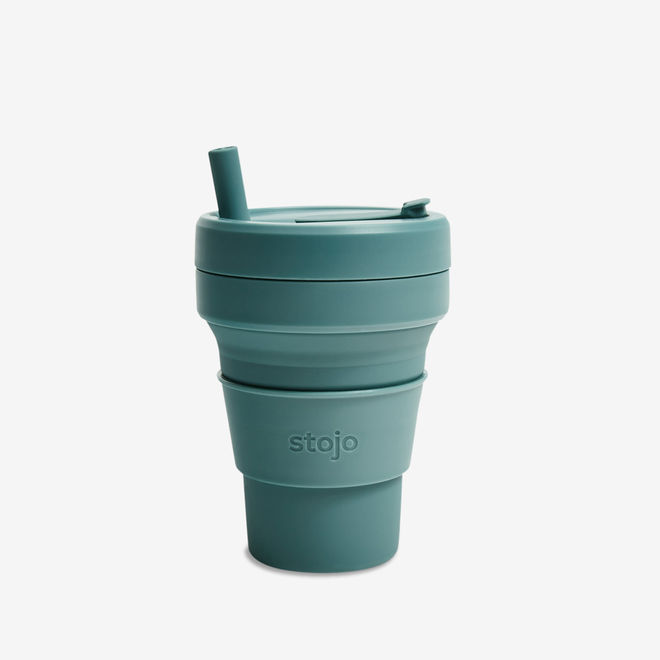 What it is: The Collapsible Travel Mug is a compact, portable water bottle made from dishwasher-safe silicone and polypropylene. In fact, this TSA-friendly material is what allows you to collapse the mug into a couple inches of disc with a straw, lid, and a sleeve.
Why we love this travel gift: This BPA-free tumbler holds smoothies, water, and any other healthy drink you can imagine putting in it. Because it's collapsible it won't take up much space in a bag, making it extra travel-friendly.
Price: $20
Where to find it: Collapsible Travel Mug
"Especially good for hikers and photographers"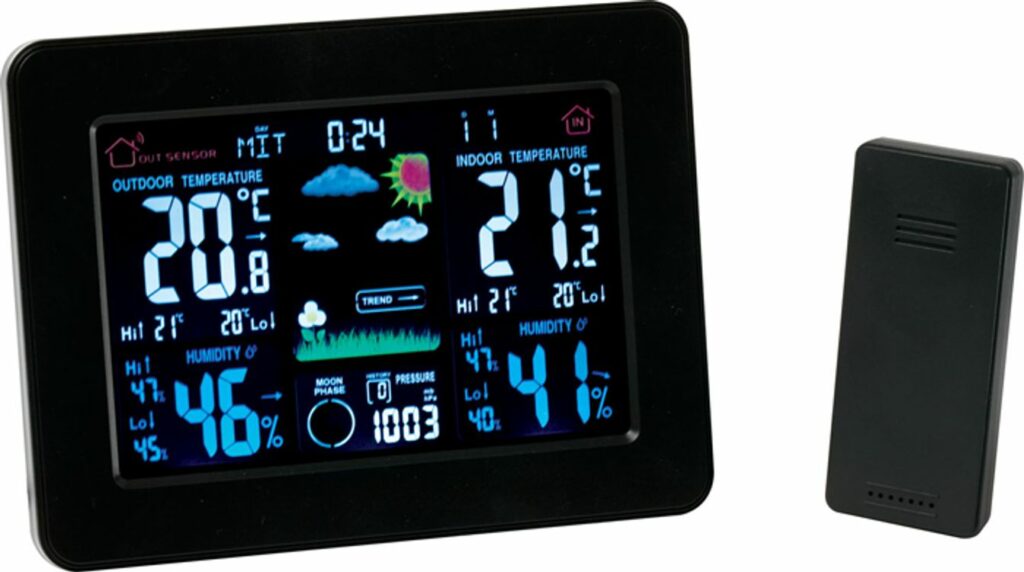 What it is: The Weather Station is like having a live-in weatherperson that you never have to feed. Halfway kidding — but seriously, the Weather Station provides every bit of info you need about indoor and outdoor conditions, including the weekday, time, date, humidity, and much more!
Why we love this travel gift: If you know any shutter bugs, the Weather Station might be the perfect gift for them. Photo hobbyists and enthusiasts will appreciate knowing the weather conditions because of how important lighting is for their craft. This makes this an excellent piece of travel gear for a Father's Day gift, a thank you gift, and an equally great Christmas gift. Plus, it even has a moon phase indicator to measure high and low tide, which can be useful for surfing, among other activities.
Price: $56.60 to $78.69
Where to find it: Weather Station
"For mapping out their next adventure"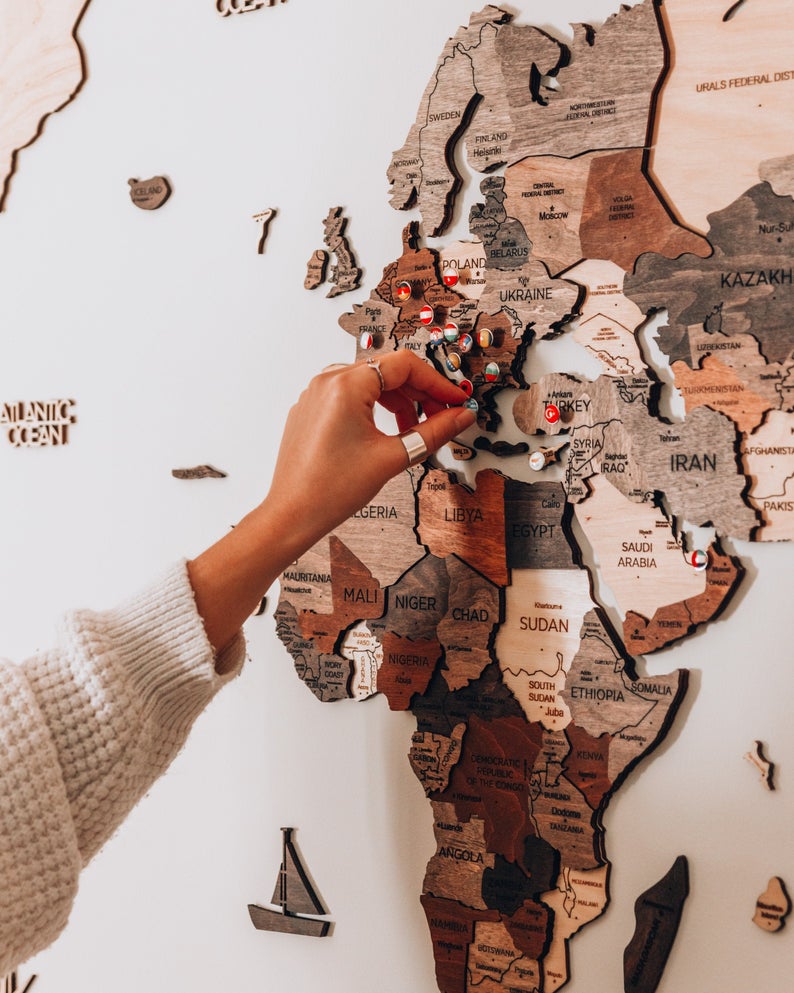 What it is: World Map War Art is a 3D wooden world map to add some international flare to your wall decor.
Why we love this travel gift: This travel-themed centerpiece is made of durable birch plywood with artful engravings. While this map is minimalistic, it has more than enough detail to satisfy the wanderlust in you. Additionally, you can personalize it and it does come with push pins so you or the recipient can mark checked-off travel destinations.
Price: $39.20
Where to find it: World Map War Art
"The salve for wanderlust"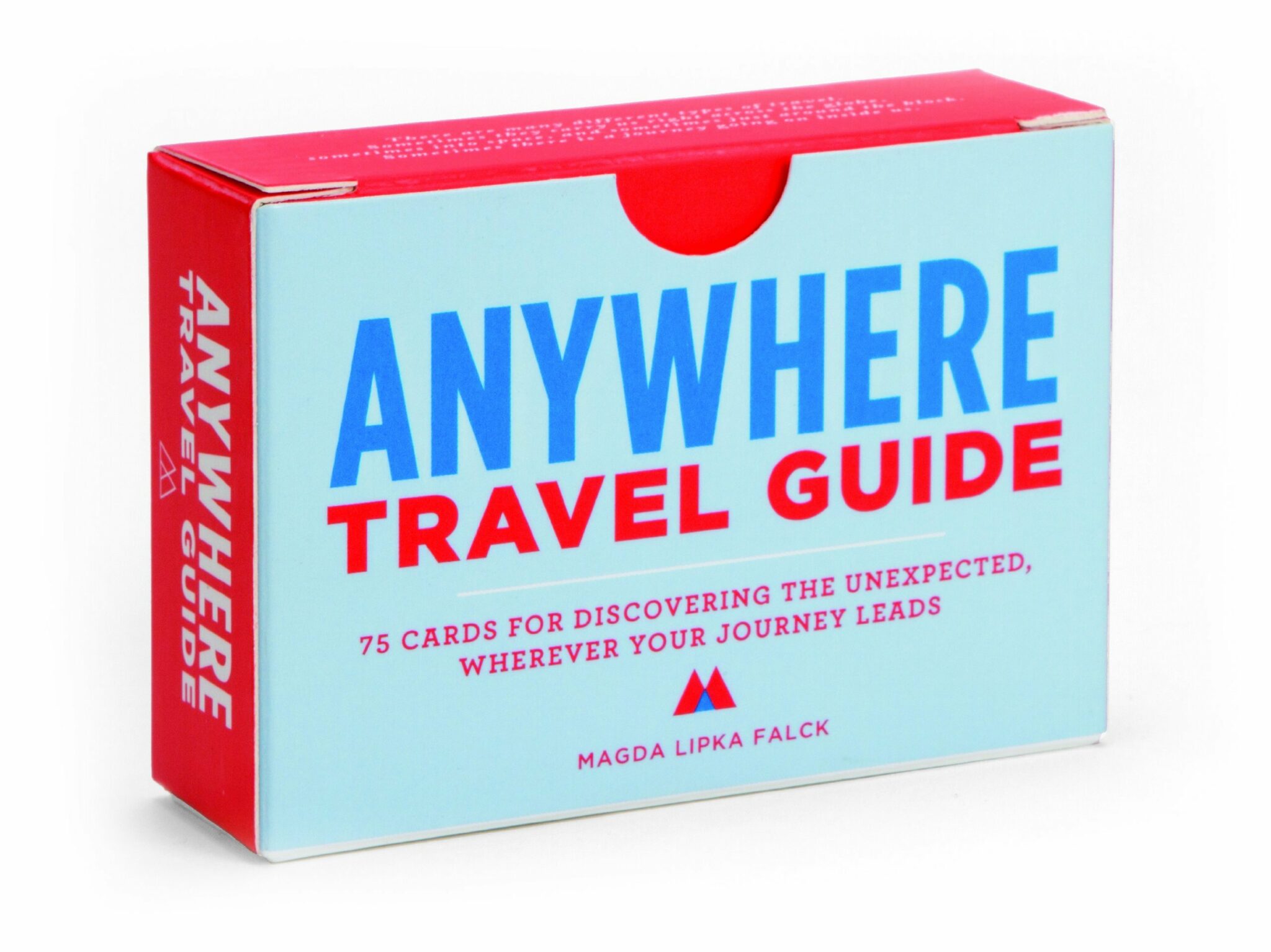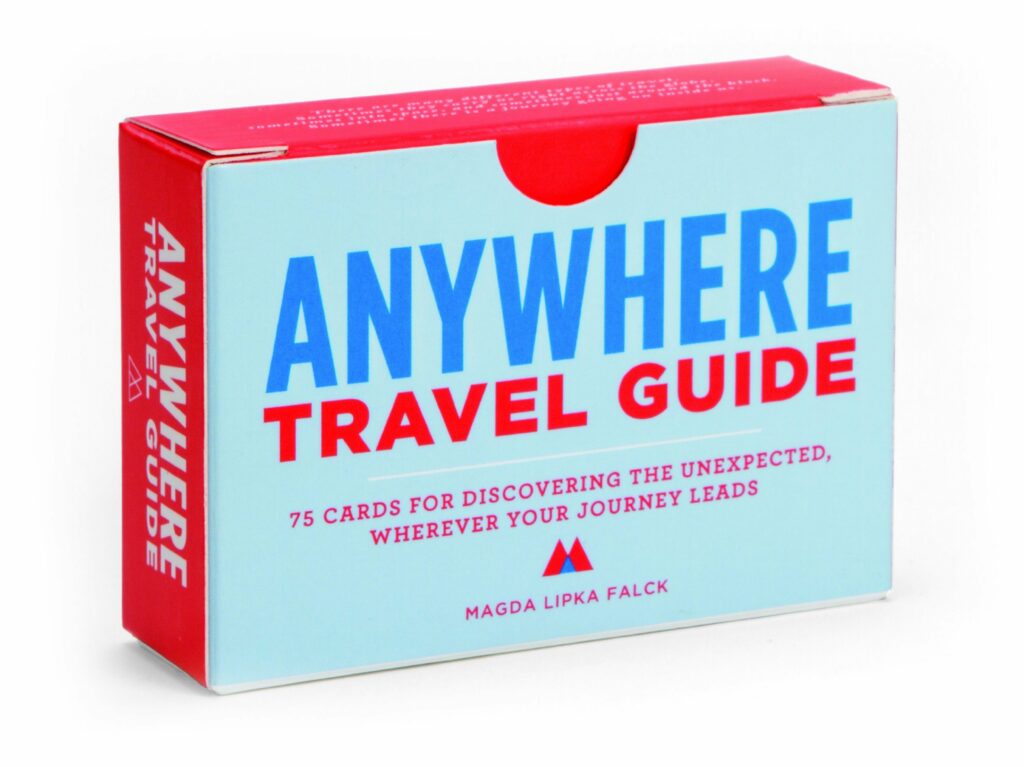 What it is: The Anywhere Travel Guide is a 75-card deck to give you or your giftee an idea of where and what to do next.
Why we love this travel gift: Between a combination of silly prompts and solid steps to take, whoever gets this fun travel gift will be encouraged and excited for their next adventure. Sometimes, traveling just requires a little creativity about what to do — here's the answer!
Price: $11.66
Where to find it: Anywhere Travel Guide
"To chronicle an unforgettable U.S. roadtrip"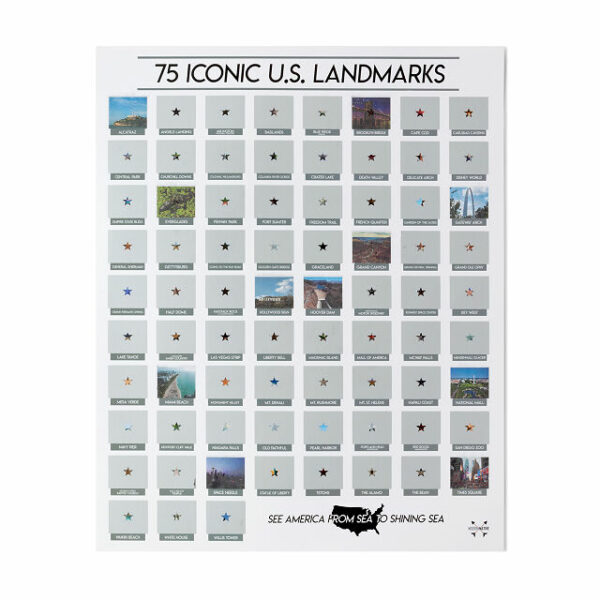 What it is: The U.S. Landmarks Scratch Off Poster is all about recording those American bucket list destinations one scratch at a time!
Why we love this travel gift: Whether you're exploring the Red Woods, getting happily lost in the seemingly extraterrestrial landscape of Joshua Tree, or being mesmerized by the neon lights of the Vegas Strip, this laminated scratch-off poster will help you document every step of your adventure!
Price: $35
Where to find it: US Landmarks Scratch Off Poster
"Life can be a picnic after all"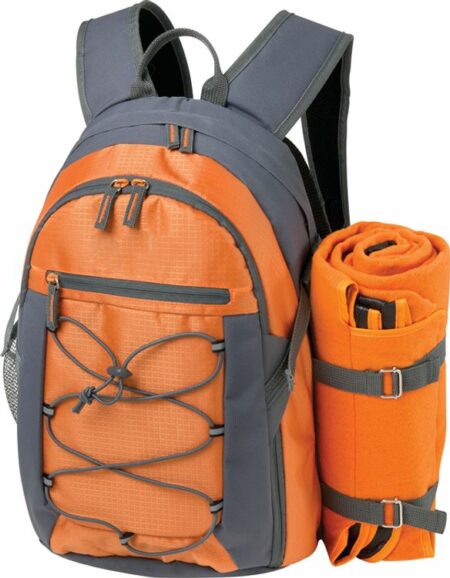 What it is: The Picnic Backpack comes with two stainless steel knives, forks, spoons, two 9-inch plates, two plastic wine glasses, a cutting board, a bottle opener, a cheese knife, and a salt and pepper shaker. Of course, a picnic wouldn't be complete without a fleece blanket.
Why we love this travel gift: The Picnic Backpack has a top carry handle and air mesh padded shoulder straps for ease-of-carry during those fun day treks.
Price: $79.29
Where to find it: Picnic Backpack
"The ultimate work life balance hack"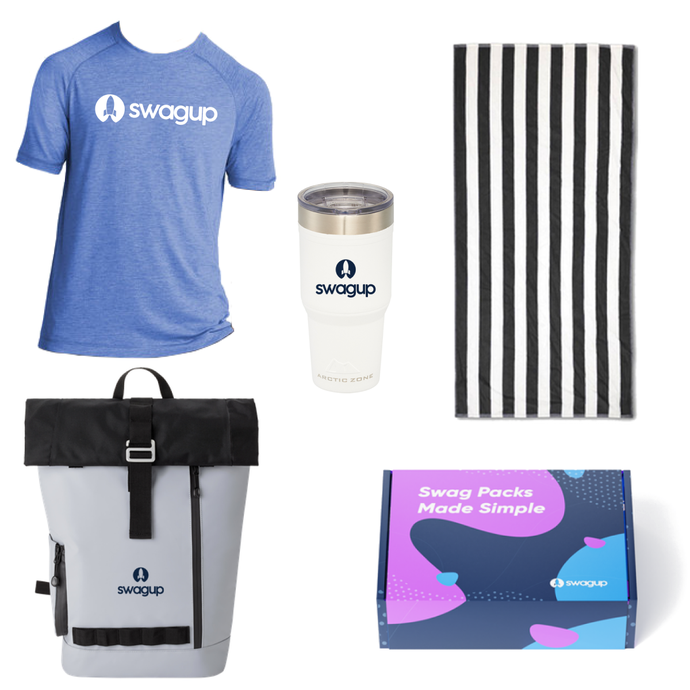 What it is: The WFA Freedom Pack is, as the name suggests, designed for the Work From Anywhere crowd. Go ahead and renew that passport because you'll be ready to go worldwide with this travel kit!
Why we love this travel gift: Work life balance and locational freedom is the new flex. With a lightweight sport tee, a Turkish cabana stripe beach towel, a thermal copper tumbler, and a waterproof cooler backpack to carry these items in, the WFA Freedom Pack is bringing balance back.
Price: $153.47
Where to find it: WFA Freedom Pack
Want to become a better professional in just 5 minutes?
People Also Ask These Questions About Gifts For Travel
Q: What is a good travel gift?
A good travel gift is anything that makes travel easier, more comfortable, and more convenient. For example, some common travel gifts are portable chargers, passport holders, sleep masks, luggage tags, kindles and other e-readers, toiletry bags, and travel books.
Q: What are some useful gifts for travel?
Some useful gifts for travel are items that help travelers create and capture memories, store items, make plane flights easier (such as eye masks, noise-canceling headphones, neck pillows, etc.) or keep electronics charged (such as adapters, solar chargers, etc.). There are plenty of other important uses for travel gifts, but these are a few of the main ones.
Q: How do I choose a gift for travel?
Choose a gift for travel based on who it's for, how much you're willing to spend, and what it can be used for. The best travel gifts are practical, above all.
Q: How much should I pay for a gift for travel?
A gift for travel can cost anything from fifty dollars to a few hundred dollars or more. While there isn't a set amount, the key is that the travel gift feels thoughtful.
Q: Can I send gifts for travel to multiple addresses?