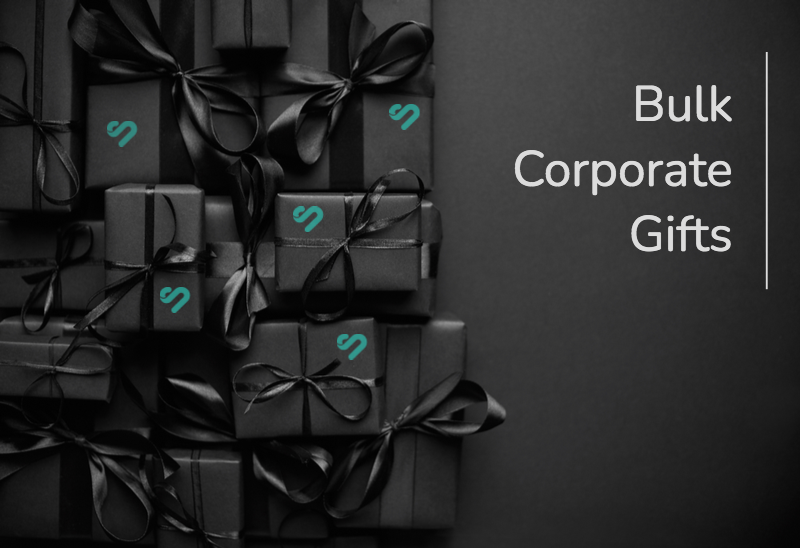 In the era of the super employee, it's important to find gifts that match the incredible work they do. 
However, picking out a unique gift for dozens, hundreds, or even thousands of individual employees, clients, or customers isn't always feasible.
So what's the alternative?
You probably wouldn't get on a plane if your pilot had only studied photography and said flying was just a hobby, right?
Likewise, corporate gifting is a big responsibility, so ideally, you want a specialist to ease you through it.
That's where a bulk corporate gifting solution comes into play.
"Customers will never love a company until the employees love the company." — LoveWithFood.com
Working with a bulk gift fulfillment service has several benefits, including customization, high-end quality, and the ability to send to multiple addresses with ease that helps to streamline the gifting process.
They help to automate bulk and large order gift-giving, while making the individuals within your company feel recognized and appreciated.
Check out the 21 best bulk corporate gifts for automated gifting from companies that excel at fulfilling large orders!
Best Bulk Corporate Gifts From Caroo
"For gifts that keep on giving"


Caroo is the first software-enabled employee care platform which focuses entirely on curating and delivering the healthiest and best snacks, gifts, and team building experiences directly to employee homes. The Caroo Concierge features custom curation and on-demand sourcing to create tailor-made gifting solutions.
Anyone looking for gifts that delight, but also energize, recipients.


• Feeding America donations included with each box
• White glove concierge provides custom gift curation
• Proprietary culture assistant technology makes thoughtful gifting a breeze

Trackable shipping for 10 - 10,000 boxes

Automatic address collection and easy reordering
For every box delivered, Caroo donates to Feeding America and their local network of food banks.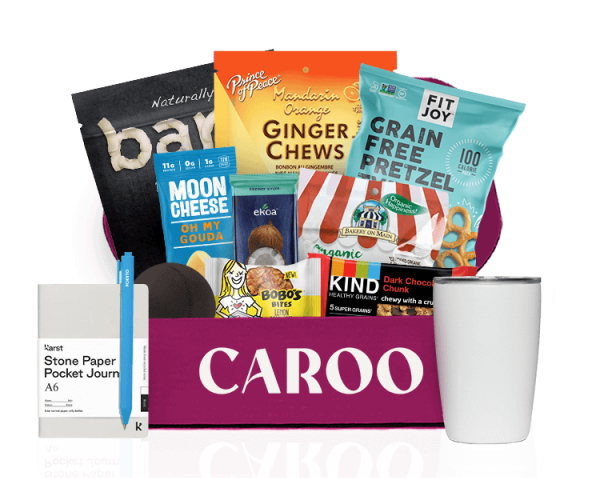 What is it? The Mindfulness Box is a curated mix of the healthiest, most enjoyable snacks such as Ginger Chews, Grain-free Pretzels, Kind Bars, Moon Cheese, and several other delicious treats. On top of the energizing snacks, the Mindfulness Box also comes with an environmentally-friendly stone paper journal and a stainless steel coffee mug!
Price: $49.95 to $57.95
Where to get it: Mindfulness Box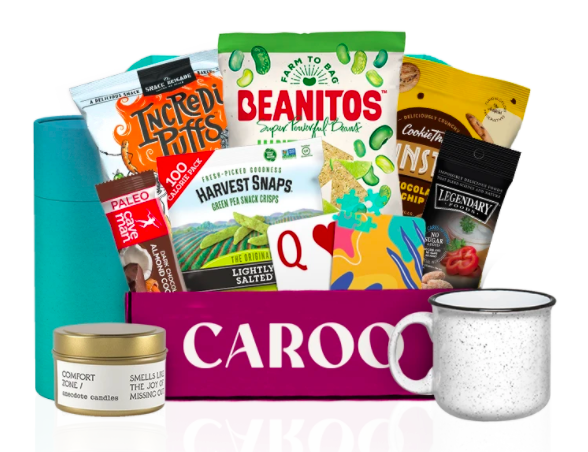 What is it? The Unplugged Box is the employee gift box for total rest and relaxation. The primary focus of this curated gift is entertainment, which is why the Unplugged Box includes a Coffee & Cedarwood Candle, a gradient puzzle, a deck of playing cards, an enamel mug, a rejuvenation activity, and snacks from major health food brands like Beanitos and Harvest Snaps.
Price: $49.95 to $57.95
Where to get it: Unplugged Box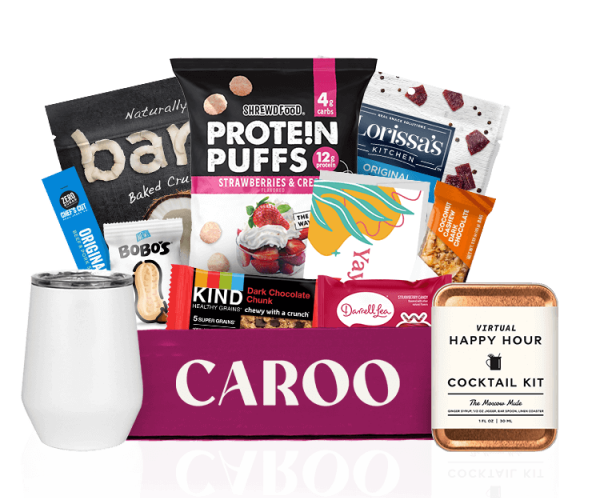 What is it? The Happy Hour Box is the perfect corporate gift idea for company celebrations and work anniversaries. This corporate snack gift box comes stocked with protein puffs, Kind Bars, a Virtual Happy Hour Cocktail Kit, and other delectables to infuse in-person or virtual conferences with a little extra fun.
Price: $49.95 to $57.95
Where to get it: Happy Hour Box
Best Bulk Corporate Gifts From SwagUp
"For an automatic increase in swag"  
SwagUp is a branded swag platform purpose-built to serve the needs of the emerging hybrid workplace. Through SwagUp, companies can design, automate, and distribute custom swag to employees and others around the world.
Anyone who wants to easily deliver entire packs of one-of-a-kind swag.

• Inventory management feature saves stress and storage
• Swag shops enable internal purchases
• In-house team offers professional design services

Refunds and replacements available. See the policy.

Domestic and international. Individual and bulk options available. Items usually arrive within 2-3 weeks.

Yes, via apps and integrations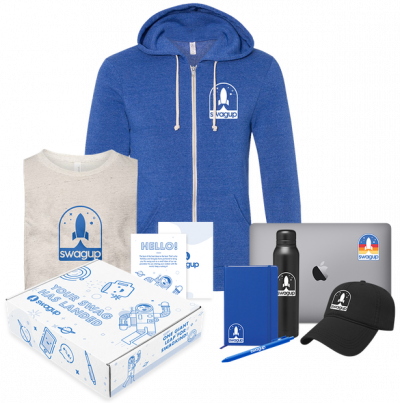 What is it? The SwagUp Pack is the namesake, premier swag pack made to give remote workers and clients everything they need to be comfortable in their home office. This bulk corporate gift idea comes with die cut stickers, a minimalist soft touch gen, an H2Go Silo, a soft touch journal, a Silicon Valley unisex hoodie, a classic dad hat, a custom mailer box, insert cards, and a USA-made soft tee!
Price: $109.27
Where to get it: SwagUp Pack
What is it? The Sample Pack is a slight twist on the SwagUp pack. This bulk employee recognition bestseller includes a bi-band journal, die cut stickers, a soft touch pen, an H2Go Silo, insert cards, custom mailers, a triblend unisex tee, and Sock Club Custom Knit Socks.
Price: $75.45
Where to get it: Sample Pack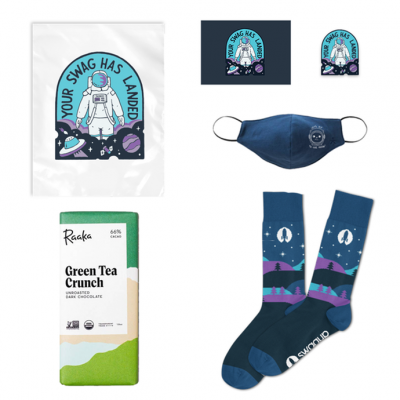 What is it? Care Package Lite takes the basics of a care package to another level. Whether you're in the middle of a pandemic or basking in the golden years, this bulk gift package prioritizes safety first. Care Package Lite comes with die cut stickers, custom mailer bags, Raaka Brooklyn Chocolate, insert cards, and a Known Supply Eco Mask.
Price: $37.69
Where to get it: Care Package Lite
Best Bulk Corporate Gifts From Swag.com
"For custom swag solutions"  

Swag.com is the go-to swag site for office managers and executive assistants at startups and tech companies who are looking for high-quality, curated, and highly customizable promotional products.
In addition to their amazing products, Swag.com is on the cutting edge in their space with patent-pending color detection software that matches company logo colors to the relevant color in the Pantone color ID system and "Swag inventory," which keeps companies up-to-date on current promotional items to avoid last minute scrambles around work anniversaries and upcoming events.
Anyone looking to add their own designs to a massive range of products people actually want.


• Distribution portal streamlines shipping to any location
• Instant quotes
• Fully custom swag options

Refunds available. Read more on their FAQ page.

Flexible options; time varies based on production.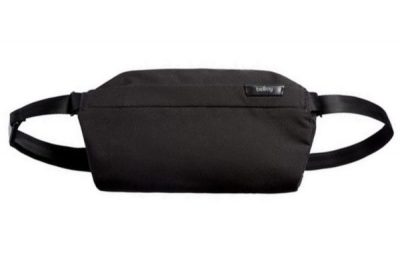 What is it? The Bellroy Sling is a hands-free compact bag for carrying essentials and accessories on the move. Featuring an easy-access front compartment, a soft-lined main compartment, an expandable self-compressing gusset, padded paneling for extra comfort, and water resistant material, the Bellroy Sling is well-suited for working from a coffee shop in the city or using as a carry-on during a working vacation.
Price: $100.09 to $104.91
Where to get it: Bellroy Sling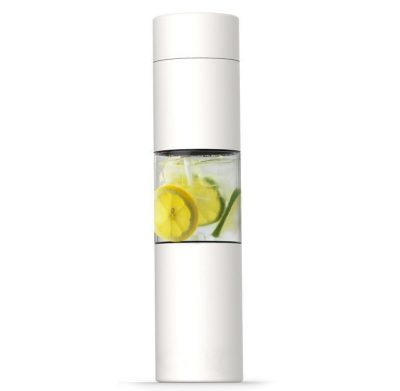 What is it? The Asobu Flavour U See is a 16 ounce flavor-infusing beverage bottle. Simply fill the clear middle section with any flavor, add water or tea, and enjoy. In addition to the possibility of easily imprinting the Asobu with a logo, this custom branded promo tumbler is double wall insulated, stainless steel, spill-proof, BPA-free, and super chic.
Price: $23.47 to $32.36
Where to get it: Asobu Flavour U See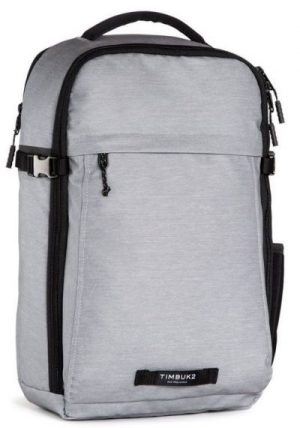 What is it? The Timbuk2 Division is cool on the outside, nerdy on the inside. This luxe backpack has an internal organizer for phones, pens, and other gadgets. Plus, it has a main compartment with a laptop sleeve, an airmesh ventilated back panel, a removable sternum strap, a side stretch pocket for a water bottle (maybe even the Asobu Flavour U See), rear access to the laptop pocket, and the option to embroider your company logo to better market your brand.
Price: $112.43 to $131.50
Where to get it: Timbuk2 Division
Best Bulk Corporate Gifts From Blueboard
"For amazing experiences employees won't forget"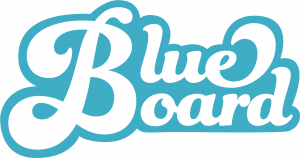 BlueBoard is a recognition platform centered around high-touch concierge services and hand-curated experiences. The Blueboard team believes that employees don't feel special when they aren't rewarded. That's why this Great Place to Work award-winning company set out to change the way organizations demonstrate employee appreciation and build rapport through amazing team-building experiences.
People who want to make memories to last a lifetime

• Experiental rewards
• In-house and outside experiences available
• Personal concierge service to plan and handle logistics


Varies depending on items and quantity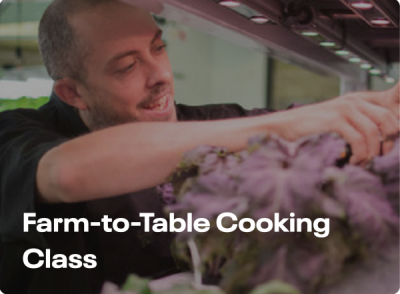 What is it? In the middle of the pandemic and even in the brighter future of a post-pandemic world, more and more people will continue looking for self-sufficiency. That's why the Farm-to-Table Cooking Class teaches your employees or clients how to whip up incredible meals with the most natural and organic ingredients! The shift towards a hybrid workplace has already started, so imagine how happy your employees will be knowing how to cook delicious food just a few steps away from their home office.
Price: Learn more about pricing options by booking a demo today
Where to get it: Farm-to-Table Cooking Class
What is it? Sip Grapefully is a luxe wine both subscription, which ensures your employees will enjoy the same flavors of top sommeliers and connoisseurs delivered straight to their residence.
Price: Learn more about pricing options by booking a demo today
Where to get it: Sip Grapefully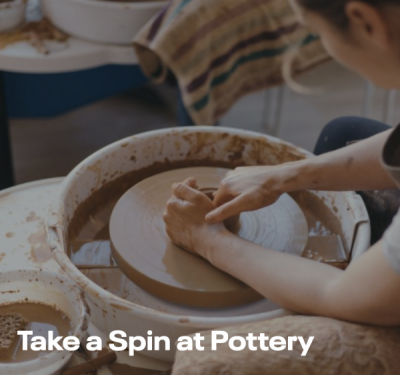 What is it? Take A Spin At Pottery Class supplies coworkers and employees with all the clay and tools they need to — well, give pottery class a spin. The best part about this bulk employee gift idea is that the instructions are virtual, so they can take it from the comfort of their home.
Price: Learn more about pricing options by booking a demo today
Where to get it: Take A Spin At Pottery Class
Best Bulk Corporate Gifts From Cratejoy
"The all-in-one gifting marketplace"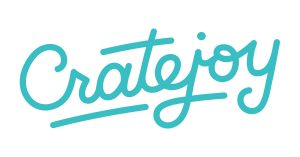 Cratejoy is the all-in-one gift curation platform built to help executive assistants and office managers find the perfect subscription box full of unique items. Within the Cratejoy gifting marketplace, you'll see an option for every personality type and interest an individual could possibly have.
Anyone who wants to offer desirable corporate gifts in a subscription box format.

• Large catalog of boxes and themes
• Easy to support small businesses with unique gift options

Returns and refunds available based on merchant

No, but single-quantity ordering is available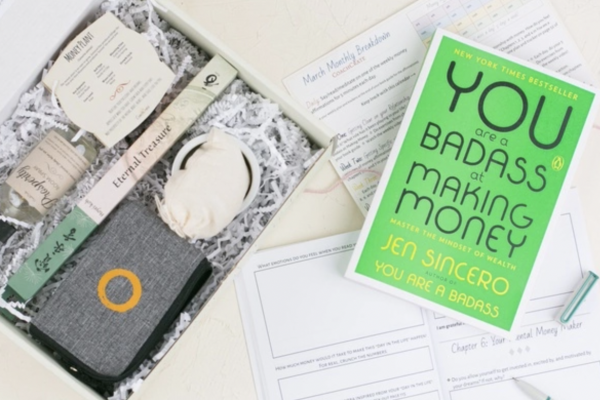 What is it?  CoachCrate is the monthly personal development box designed to help employees and coworkers flourish at their jobs and in life. Every month, this automated gifting idea promotes growth and presents fun new challenges, tips, and tricks. Additionally, CoachCrate comes with 2 to 4 online coaching videos, 3 to 6 relaxation, productivity, and well-being items, and additional coaching content in the form of exercises, audio files, or coaching calls.
Price: $42.75 / mo
Where to get it: CoachCrate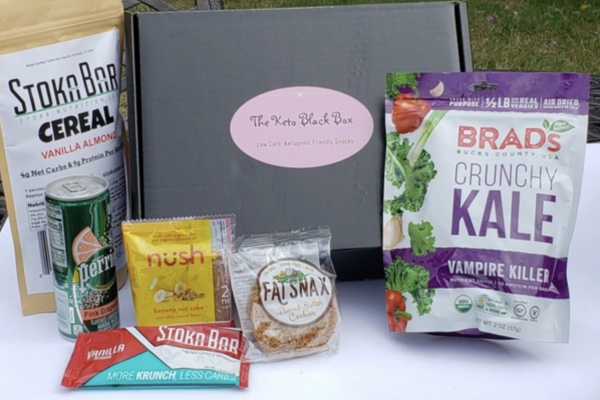 What is it? The Keto Black Box is the keto-centric, low carb snack box with a collection of 8-10 snacks or the Work Week box, a 5-snack pack. These high-quality keto treats can be catered even for specific needs and dietary restrictions like veganism, vegetarianism, and allergies.
Price: $38 / mo
Where to get it: Keto Black Box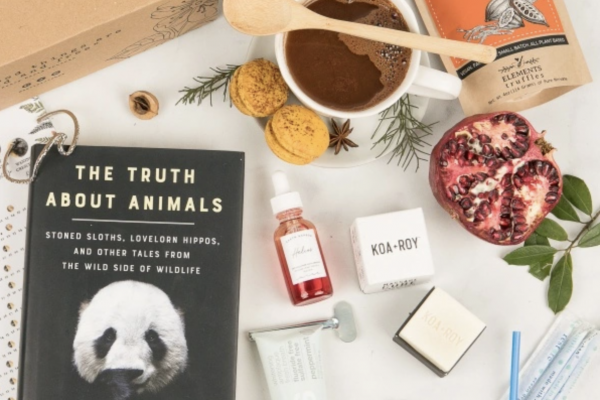 What is it? If your company has an eco-friendly purpose or you know your coworkers, employees, or clients are passionate about the environment, this bulk corporate gift is the answer for what to give them. Earthlove is the eco-luxe lifestyle box, which includes 6-8 eco-conscious products ranging from wildcrafting, tea, snacks, aromatherapy, apothecary, gardening, beauty, home decor, apparel, and more! Each monthly gift box has a guaranteed value of $120+.
Price: $54.95 / quarter
Where to get it: Earthlove
Best Bulk Corporate Gifts From Amazon
"For endless options, uber-convenience, and hyper-fast shipping"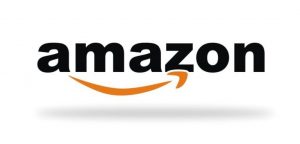 Amazon is the world's largest e-commerce marketplace with virtually any product a mind can imagine. On top of a wide variety of items to choose from, Amazon offers world class shipping speeds and other logistical advantages, which allow you to easily track exactly where your order is as it starts its route.
Finding unique corporate gifts on their large e-commerce store.

• Fast and efficient shipping
• Large library of options means
• Save items to your cart for easy shopping


UPS ground and expedited options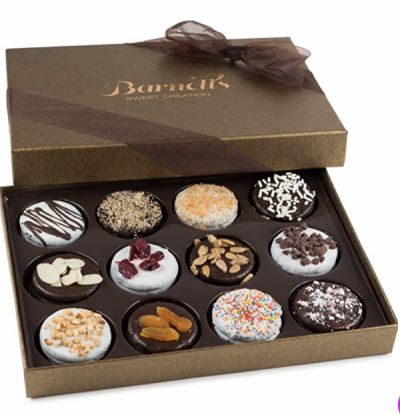 What is it? Barnett's Chocolate Cookie Gift Basket comes with twelve decadent gourmet chocolate covered sandwich cookies. This delicious hand-crafted dessert gift basket is perfect for anyone with a sweet tooth. Plus, every cookie box comes in a variety of must-try flavors so your employee, coworker, or client can celebrate any event from Valentine's Day to retirement parties with a different treat.
Price: $46.99
Where to get it: Barnett's Chocolate Cookie Gift Basket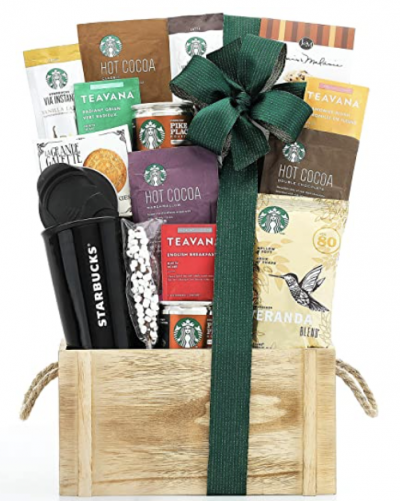 What is it?  The Wine and Teavana Starbucks Gift Basket is perfect for tea, coffee, and wine lovers. Imagine how much more pleasant the day will be for your employees with premium roast Starbucks coffee in the morning, Teavana teas in the afternoon, and wine to pair with dinner! Additionally, you can send a personalized note to give this promotional gift a heartfelt touch.
Price: $64.95
Where to get it: Wine and Teavana Starbucks Gift Basket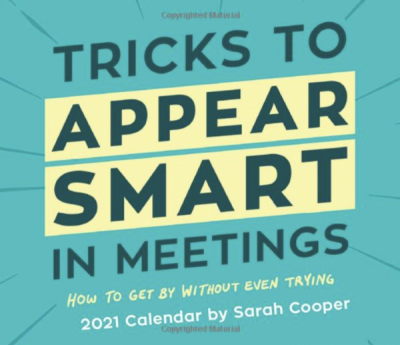 What is it? The Meeting Tricks Calendar is a silly, playful, yet strategic business gift designed to help your employees master their meetings. For instance, the recipient of this fun corporate gift idea will learn strategies for appearing to be in tune even as they zone out, how to apply buzzwords in the right context, how to create incredible presentations, and many other tricks.
This desk accessory also includes tear-off pages, day/date reference on every page, and a recyclable plastic easel for a good-looking desk display.
Price: $14.39
Where to get it: Meeting Tricks Calendar
Best Bulk Corporate Gifts From Etsy
"For worldwide mom-and-pop shopping"  
Etsy is the e-commerce one-stop shop for handcrafted and vintage items. Whether you're looking for custom face masks and safety gear or a cute picture frame, Etsy's got the goods.
Anyone who wants to find customized, often hand-crafted, gifts that aren't available anywhere else.

• Business model empowers individual entrepreneurs
• Many sellers accept unique personalization requests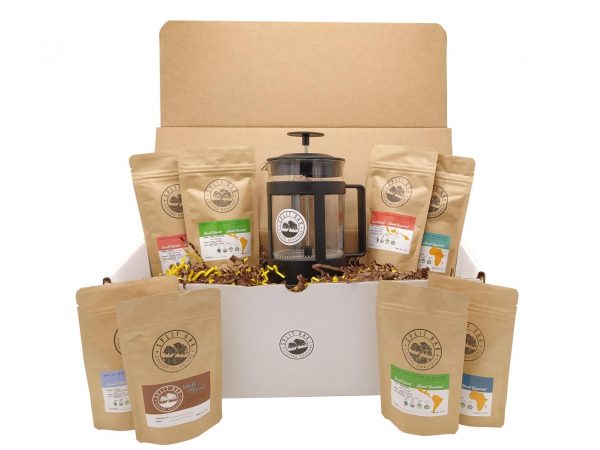 What is it? The Coffee Gift Box is the all-in-one deluxe corporate gift box for coffee lovers. This high-end client appreciation gift comes with a French press and coffee from around the world, including fresh-roasted Guatemalan, organic Sumatran, hand-roasted artisanal Mexican, organic timor roasted, nona espresso from Africa and South America with a hint of strawberry, chocolate and cherry Fall blend, and Colombian medium roast coffee!
Price: $33.99
Where is it: Coffee Gift Box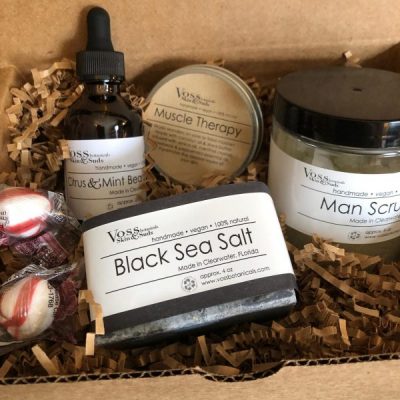 What is it? Men have a secret: They love a little R&R and pampering, too. That's why the Man Spa Gift Box was created just for them. The Man Spa Gift Box includes essential oil-infused sugar & sand scrub, citrus & mint 2-in-1 beard oil / after-shave tonic, a black sea salt artisan face and body bar, and peppermint & arnica muscle therapy gel.
The extra fun part about this boss-level executive gift is that you can actually choose from a wide range of naturally-sourced scents if you feel inclined and the ingredients are free of any synthetics or toxins. Additionally, this unique bulk Christmas corporate gift only uses cruelty-free products with zero animal testing.
Price: $41.50
Where is it: Man Spa Gift Box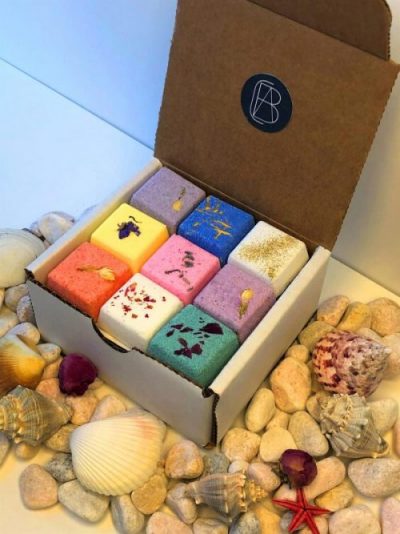 What is it? Bath Bombs Gift Set is a luxe employee gift complete with 27 mini bath bombs. Each bath bomb is aromatherapy-infused with organic ingredients like coconut, almond, pure essential oil, and flower petals to refresh and rejuvenate coworkers, clients, and employees.
Price: $18.07
Where is it: Bath Bombs Gift Set
People Also Ask These Questions About Bulk Corporate Gifts
Q: How do I send corporate gifts to multiple addresses?
A:  Step 1 — Choose a vendor
Step 2 — Establish a time frame
Step 3 — Identify what you want to send (gift box, swag, gift items, etc.)
Pro-tip: Ask for price breaks to get a discounted rate
Step 4 — Collect employee information (names, addresses) / use Google Sheets or Excel and have them submit info
Step 5 — Do a quality check with a sample
Step 6 — Place orders with vendor
Step 7 — Track orders
Step 8 — Send a satisfaction survey
Q: What are the benefits of ordering corporate gifts in bulk?
A: Some of the benefits of ordering corporate gifts in bulk include: discounts on large orders, affordable pricing, reduced stress by avoiding last minute orders and saving time, happier employees and clients, and same day arrival for gifts.
Q: Can I customize a bulk order of corporate gifts?
A: Absolutely. Many companies like Swag.com, SwagUp, and Caroo actually make customizing a bulk order of corporate gifts and promotional items incredibly easy.