Hello! We're thrilled you stumbled onto this luxury corporate gift ideas list!
Luxury corporate gifts are the go-to for impressing or showing that supreme level of service to industry contacts, vendors, clients, and employees.
Typically, this type of business gift can cost a few hundred dollars to thousands. The goal of a luxury corporate gift is to build and improve relationships between individuals and organizations. 
Sending multiple gifts to executives can get complicated. Work with one of these top-rated gifting platforms to help make the process easy:

Imagine corporate party favors and employee appreciation gifts, but on another super-luxe level.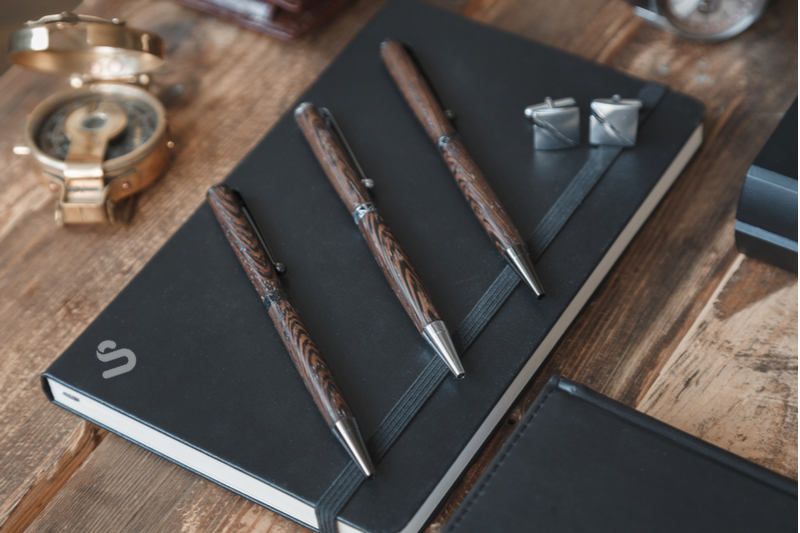 To give you some ideas, this article includes:
Premium corporate gifts
Luxury business gifts
High end client gifts
VIP client gift ideas
Ultra-luxe corporate gifts
And (most importantly) where to get them.
Check out this comprehensive list to wow bosses, CEOs, executives, VIP clients, board members, and other high level people with gifts that match their status!
Pro-Tip: Use "Command + D" to bookmark this list – we will continue to update this list with the best premium corporate gifts throughout 2023!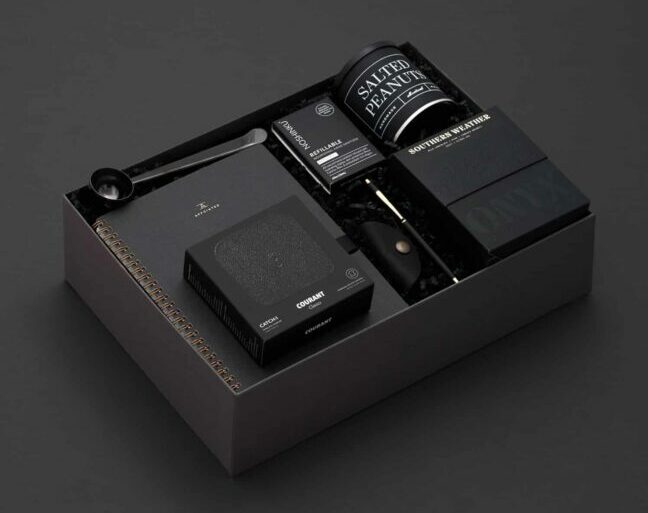 Whatever theme or event you're celebrating, Teak & Twine can curate a gift just for you. Work with a dedicated gifting professional who will handle everything from start to finish like sourcing products for the ultimate luxe gift, adding branding, and all shipping logistics.
The Teak & Twine team has worked on everything from sleek client gifts to high-end self-care kits. Feel confident you'll be sending memorable, high-quality gifts your VIPs will love!
Plus they have a range of branding options like subtle embossing logos on products or an all-black packaging suite, so you'll be able to add custom logos but keep all the luxe vibes.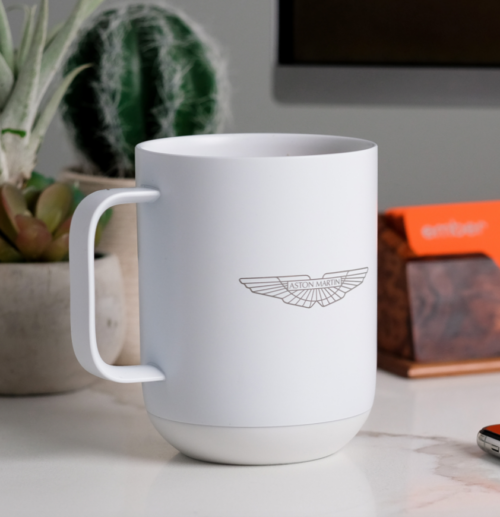 No wonder corporate gifting is important! The Self-Heating Mug from Ember is about as swaggy and cool as it gets. This smart mug gets its name by allowing people to choose the precise temperature they want their drink!
This premium corporate gift ensures that their drink turns out just right — never too hot or too cold. Additionally, it's easy to clean, has a built-in battery, a charging coaster, auto sleep feature, safe temperature range, and can be controlled with a smartphone. Last but not least, this mug can be personalized!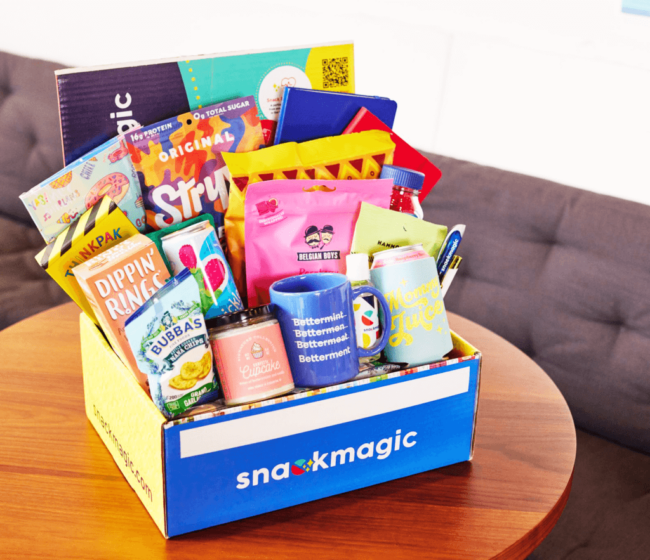 This snack collection is a tantalizing collection of treats and delights designed to spoil executives, employees, and clients in the best way! The Snack Attack Box comes with a savory-sweet nut mix, gluten-free raspberry gummy fish, award-winning goat milk caramels, vanilla shortbread cookies, and much more.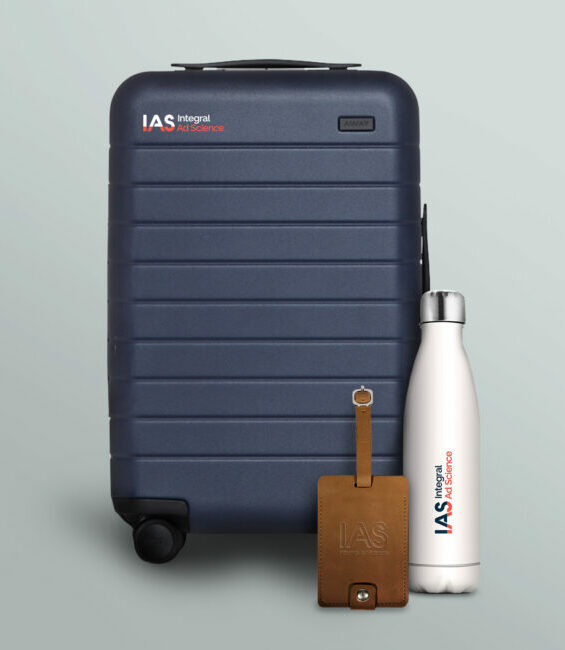 Send something that is one-of-a-kind! To set up your next luxury gift order, work with the curation experts at Teak & Twine to build a luxury gift box from scratch. With a dedicated account manager, you can create the perfect luxury kit with high-quality items that will let your recipient know that you mean business!
Choose from a growing catalog of premium gifts to select items that your recipient will love — from travel gifts to lifestyle items they will use daily. You can even add tasteful branding to these high-quality products like embossing your logo on a leather luggage tag or insulated water bottle.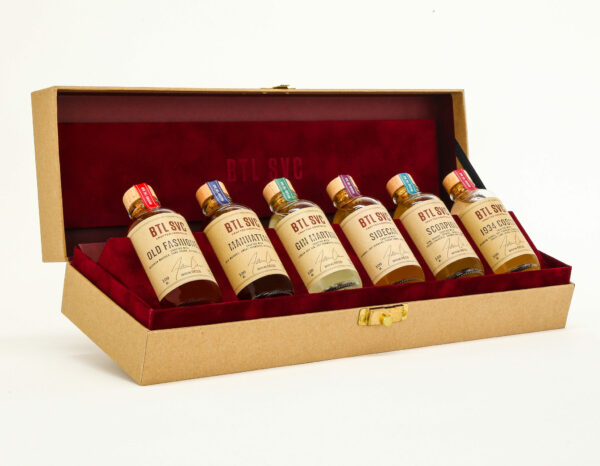 The BTL SVC Custom 6BTL Box Set presents an attractive collection of award-winning, perfectly balanced ready to serve cocktails. The beautiful premium display case provides a sophistication to any home bar and is an ideal gift for anyone who appreciates bar quality cocktails.
This Box Set includes six premium quality, hand-crafted, ready to serve cocktails which you can select from amongst their wide variety of options to customize your box set.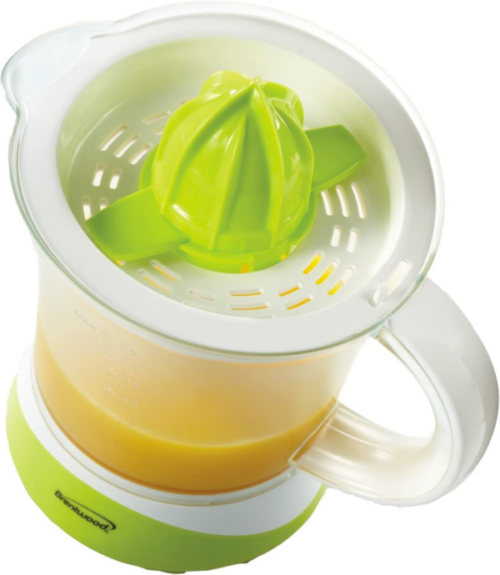 The Electric Citrus Juicer gives the owner of this gift the ability to make fresh-squeezed juice whenever they want. For the health-conscious, this gift is great for helping them get their daily dose of Vitamin C and get each drop of juice they can from their fruits. Additionally, the strainer catches the seeds and pulp.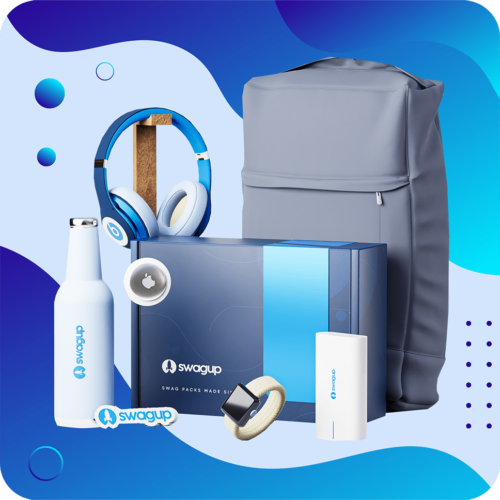 The Tech Lovers Box isn't just for techies, but it could very well turn someone into one. Packed with premium tech gadgets such as a Bluetooth speaker and Tile tracker, it's no wonder why it's a best selling luxury gift.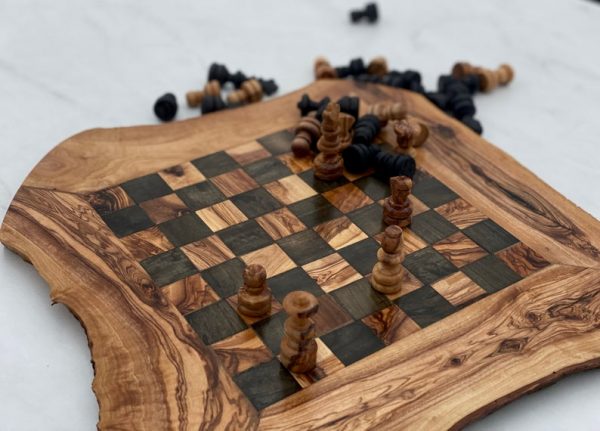 Chess set sales skyrocketed after Netflix came out with the Queen's Gambit. People realized how freaking cool chess actually is. There are loads of reasons why this timeless deluxe gift is used to draw parallels to the businesses world and other aspects of life.
In fact, if you are looking for the perfect gift for your CEO or other executives, consider how they have to maneuver strategically in all their decisions. More than likely, you'll see part of what makes them elite is that they have mastered strategic thinking and implement it in real time!
Each piece of wood is uniquely shaped and textured so the set feels just as much like a collectible as it does a game.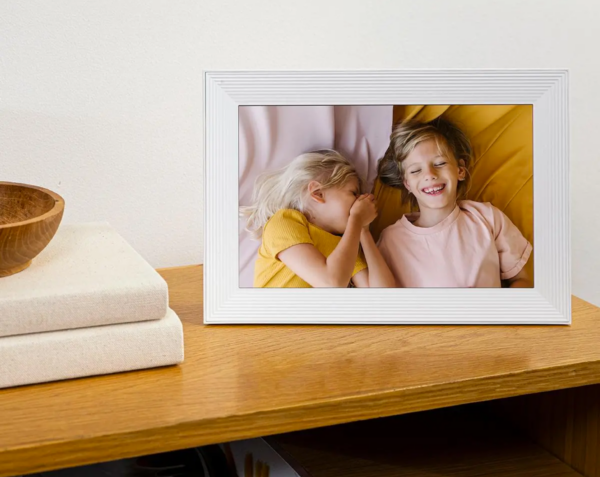 The Digital Picture Frame is perfect for sentimental individuals who cherish their happiest memories! This bestselling digital frame allows them to share photos that display using a digital photo album.
Additionally, the Aura frame boasts a stunning high-res display, plus smart features like photo pairing, automatic color calibration, and free unlimited cloud storage.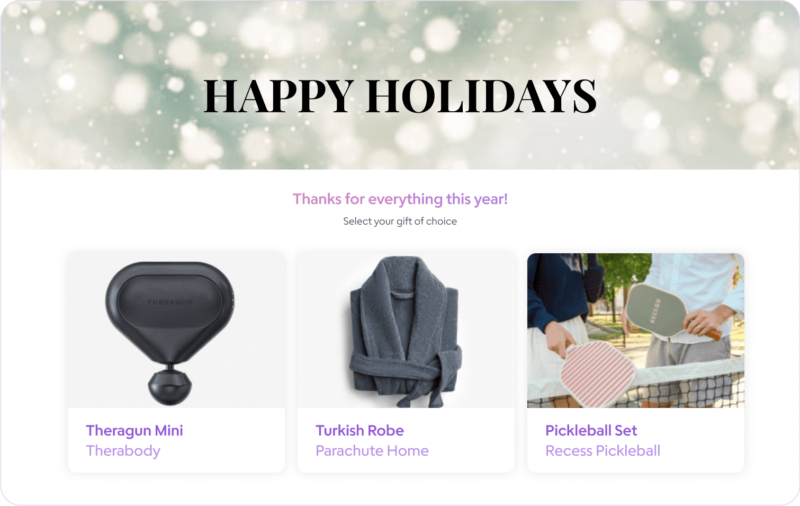 The corporate gifting experts at Goody offer you the chance to build a custom collection of high end corporate gifts that will impress your employees this holiday season.
You stock it with swag or non-swag items from Goody's collection of thousands of products. Then let your recipient choose whichever gift they want in a branded digital store.
It's like having your own gift shop right at your team member's fingertips. A few clicks and your employees are on their way to opening up their next gift box!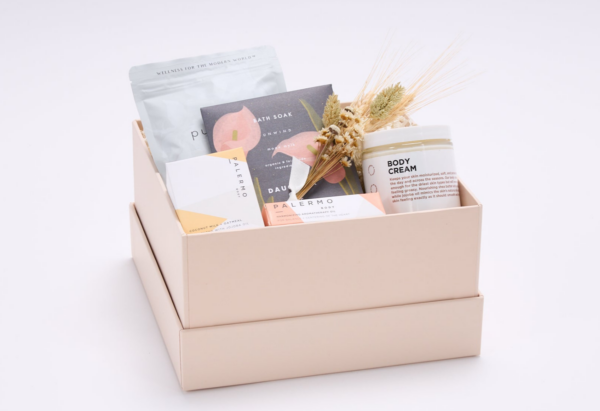 The Luxury Bath Box is a relaxing reward for hardworking executives, CEOs, and coworkers who deserve a relaxing gift! This luxe gift box brings all-natural bath products into the comfort of their home including bath soaks, body cream, and more.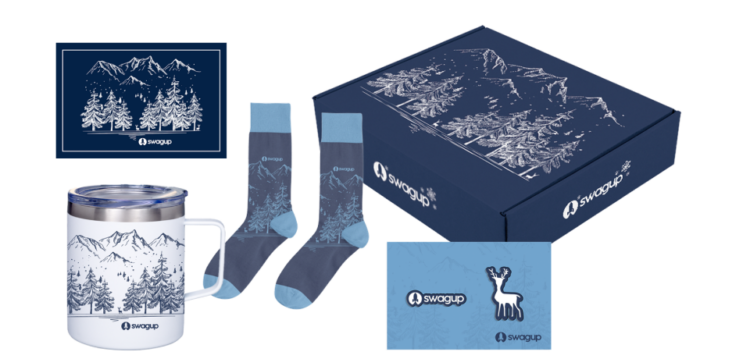 Celebrate the end of the year with a luxury gift box filled with holiday items from luxury brands. This premium corporate gift can be customized to include your company's logo or branding, making it not only unique and memorable, but a perfect gift to say thank you to clients, employees, or customers. Best of all, a luxury corporate gift box is sure to be appreciated and remembered long after the holiday season has ended.
Not to mention, these winter-themed gift boxes come in all sorts of shapes and sizes with different combinations of premium items.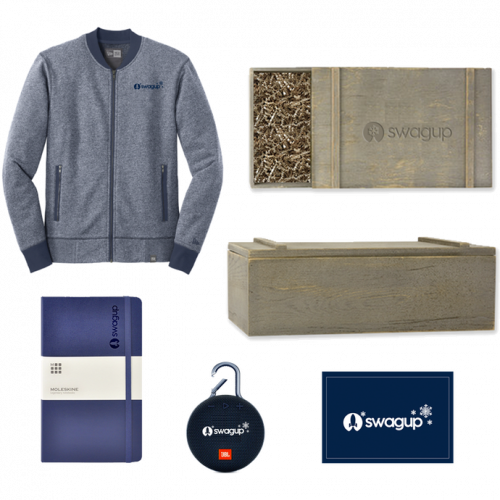 The Elite Pack is all about the presentation. That's right! The recipient of this promotional item will look, feel, and perform their best in meetings and their day-to-day life. Whether you intend for the Elite Pack to impress a client or an employee, this premium corporate gift will certainly do the trick.
This luxe corporate subscription package includes a New Era French Terry Bomber, a classic hardcover moleskine, a vintage wooden box, JBL Clip 3, and insert cards!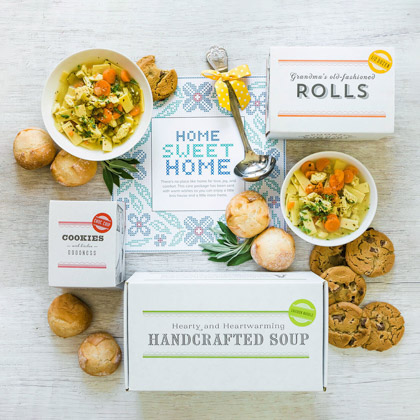 Help your colleagues and clients get in touch with their senses this holiday season as they stock up on awesome holiday goodies. The Home Sweet Home is a great gift box idea for recipients who like to curl up on a cold winter day and enjoy a bowl of handcrafted soup with some delicious rolls on the side. It also includes a half dozen chocolate chip cookies for dessert!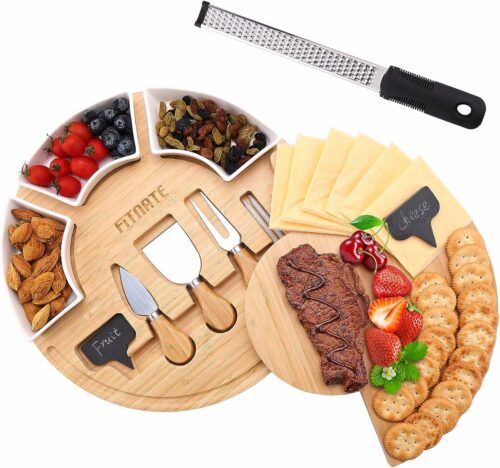 The Swivel Cheese Board is a compact wedge, which transforms into a multi-tier server for appetizers and cheeses. It also includes a stainless steel cheese fork and two knives that easily fit in the drawer of the bottom tier!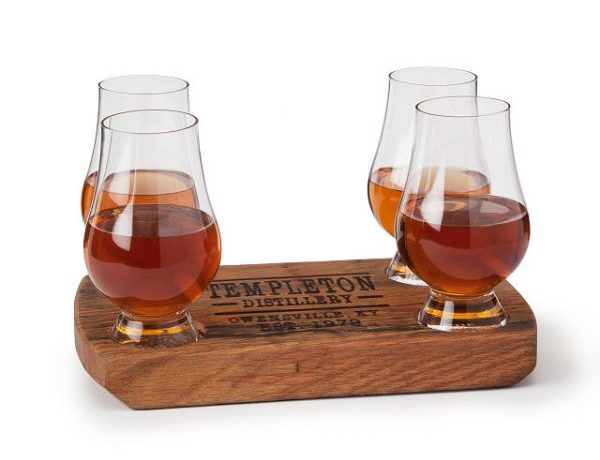 For the bold, the Bourbon Barrel Set offers up the finest spirits. Made from reclaimed bourbon barrels, this alcoholic corporate gift infuses drinks with the subtle flavors of vanilla, caramel, and the aromas of oak and smoke.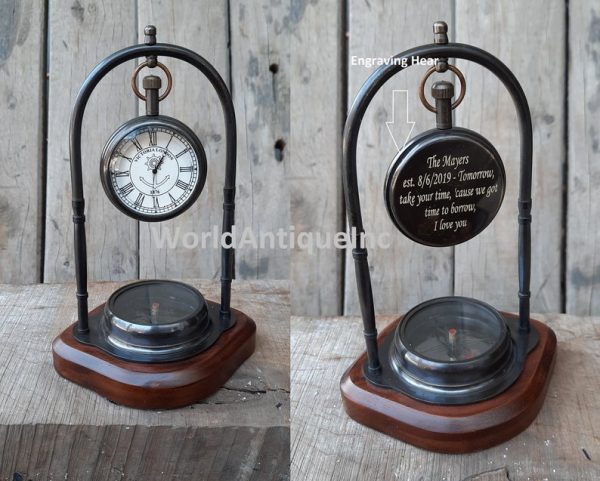 The Engraved Clock is a compass designed table clock that's absolutely perfect for a boss' setup. This personalized brass clock is enormously popular for its chic, minimalist appeal.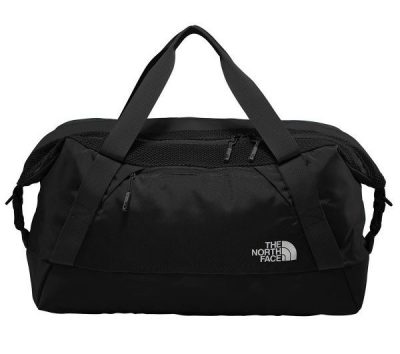 The North Face Duffel is the luxury way to keep workout gear and other accessories organized. This extra large, spacious duffel has two zippered main compartments to separate dirty and clean clothes, a fleece-lined pocket, an interior slip pocket for electronics, duffel handles, a cross-body shoulder strap, and room to be customized with your embroidered or screen-printed company logo! Swag.com offers a huge catalog of gift ideas for vip clients that you can order with customized branding to really stand out!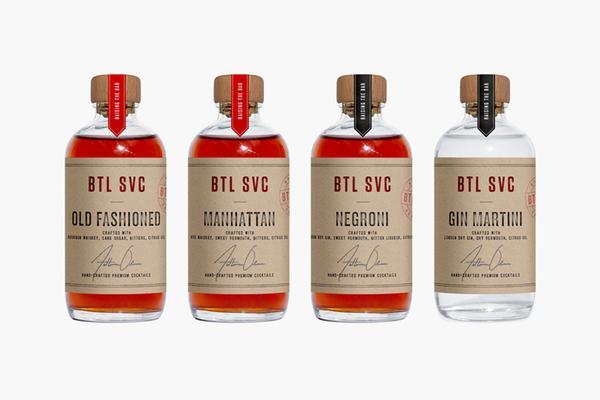 The 4 Bottle Classic Collection is a fun way to get a variety of professionally made top shelf alcohol. The Classic Collection includes 2 1934 Cosmos, 2 Matadors, 2 Ginger Bucks, 2 Spicy Maids, 2 Old Fashioneds, 2 Manhattans, 2 Negronis, 2 Gin Martinis, and several other flavorful and balanced drinks!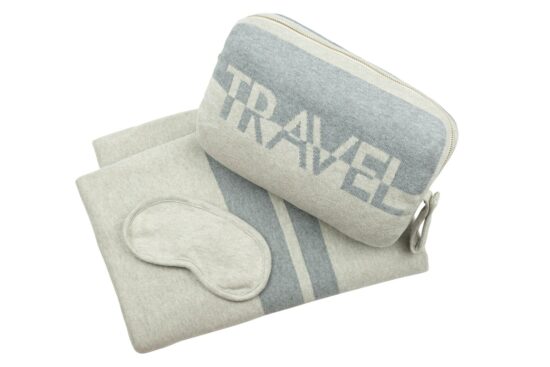 As travel picks back up, the desire to do it safely is top of mind. However, comfort is right up there, so why not jetset in style and luxury? The Cotton Travel Set makes every seat feel like first class. Whether your clients, executives, or employees are on a business trip or taking a vacation, they'll enjoy how much more comfortable the journey is.
This travel set includes a 100% cotton 40×60-inch blanket, an eye mask, and a compact pouch they neatly fit in, which can double as a pillow!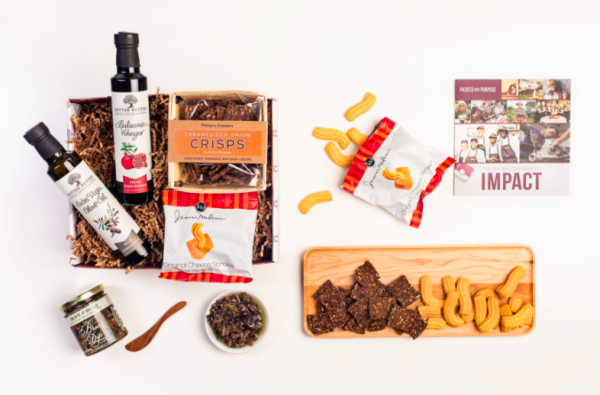 The Artisanal Appetizer Board is the high end client gift you've been searching for — especially if said client has an appetite for the good life. This subscription package includes southern-style spicy and savory crisp cheese straws, caramelized onion crisps, peppery extra virgin olive oil, pomegranate-infused balsamic vinaigrette, savory herb and olive bread dip, and a maple wood serving board with teak oil finish and a teak wood spreader.
The Artisanal Board also supports sustainable farming, small-batch producers, and many other great causes!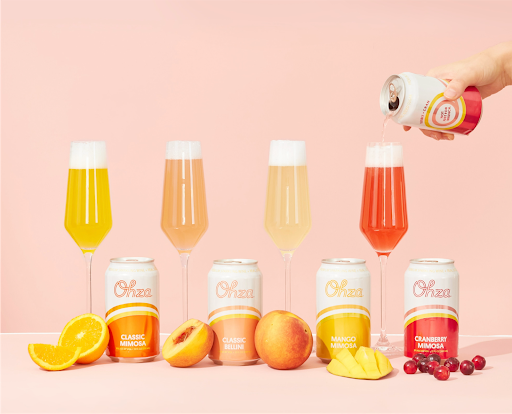 Carefully mixed with premium sparkling wine and real fruit juice, Ohza offers the classic mimosa and sangria recipes everyone knows and loves but with 80% less sugar and 60% fewer calories than one made at home or ordered at the bar.
Shipped straight to your door and with over eight flavors to choose from, Ohza makes for the perfect gift or stocking-stuffer this holiday season. For a limited time, receive a free 4-pack plus free shipping with any order.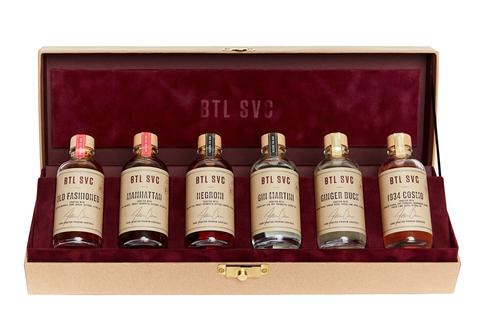 The Custom 6 Bottle Set is an amazing way to mix and match cocktails! This uber customizable gift will put warmth and happiness in your clients and employees, which is sure to make them think fondly of you and your company. Choose from Cosmos, Matadors, Spicy Maids, Ginger Bucks, Manhattans, Old Fashioneds, Negronis, Gin Martinis, and other drinks!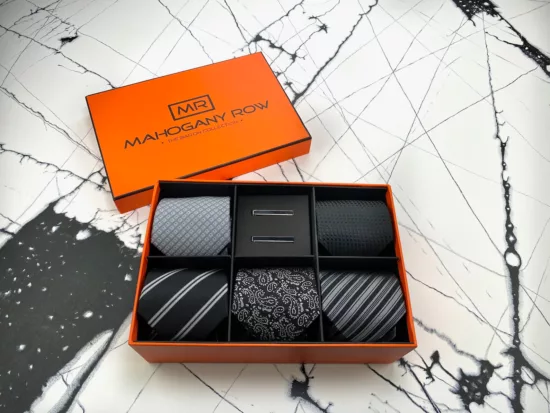 Decision fatigue is real. That's exactly why Steve Jobs and Zuckerberg wore more or less the same outfit each day. High-performing business people are flooded with choices. To help with that, the Luxury Necktie Gift Set comes with a collection of matching men's neckties, pocket squares, tie clips, and cufflinks every month. This curated necktie box is a great gift for managers and sharp-dressing employees alike!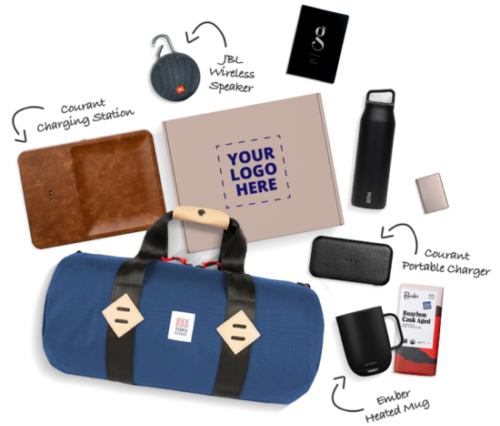 Make any client feel like a superstar with this luxury gift. Loaded with high end gifts like a Bluetooth speaker, fancy self heating mug, and a deluxe bag to sport, recipients will feel like they're on top of the VIP list.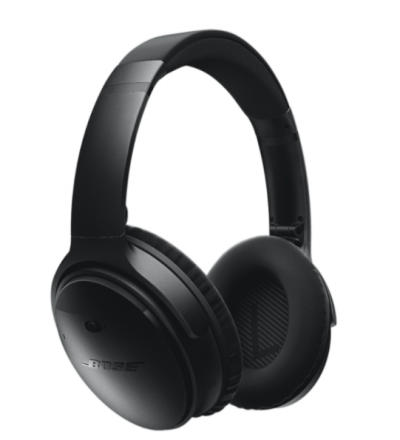 The Bose Wireless Headset is made with world-class noise cancellation materials. Plus, direct access to voice-controlled Google Assistant and Amazon Alexa will make the recipient of this luxury corporate gift idea feel like Tony Stark when he talks to his A.I. Jarvis! The Bose Wireless Headset also allows nearly an entire day of listening before it runs out of energy and every 15 minutes of charge adds another 2.5 hours of run time.

The Caroo gifting platform enables clients, customers, and employees the chance to select their ideal gift from an expansive catalog of care packages, corporate gifts, premium treats, technology, and more.
This gifting service tracks all the behind-the-scenes data to that managers can customize order size, item categories (wine, electronics, gift baskets, etc.), price range, office roles, time frame, recipient type, and a number of other factors. Additionally, each premium corporate gifting box goes to help feed families in need.
Caroo donates to Feeding America and their local network of food banks for every box delivered. To date, Caroo has assisted in providing more than 17 million meals!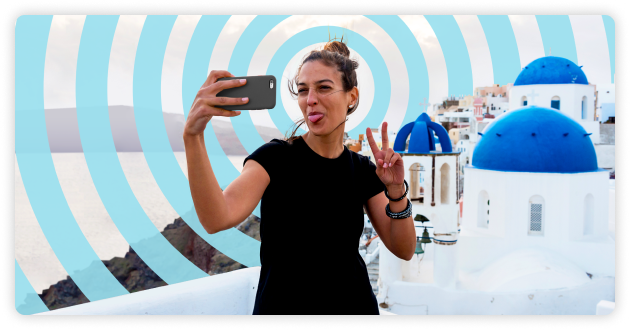 It is no secret how valuable your employees are to your business. So why not treat them to a luxurious weekend getaway or memorable family outing? With Blueboard, you can coordinate, plan, and deliver a five-star experience that they will not soon forget. Their rewards platform handles the entire process from start to finish so you can sleep soundly knowing that your employee is on the experience of a lifetime. The vast Blueboard catalog offers weekend trips, international destinations, bucketlist-worthy activities, and a whole lot more.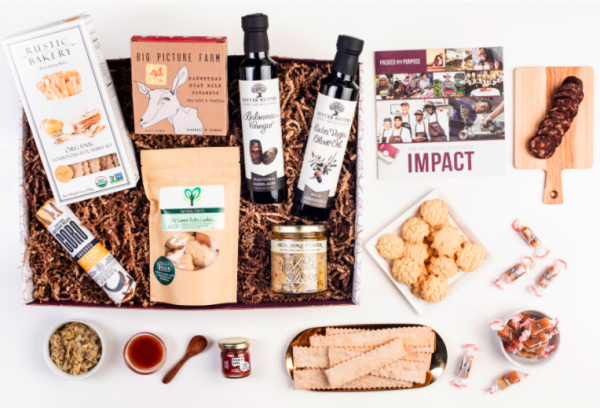 The Gourmet Dinner Party is here to leave a lasting impression. Executives and CEOs often close the biggest deals around the dinner table. It's even better when they can host the dinner. That's where the Gourmet Dinner Party comes into play.
This gorgeous luxury gift box features pepper-infused extra virgin olive oil, barrel-aged aromatic balsamic vinegar, savory artichoke and caper bread dip, hint of ginger and garlic classic salami, Meyer lemon shortbread cookies, rose water-infused plum jam, sea salt and vanilla goat milk caramels, crispy grey sea salt olive oil flatbread crackers, and more!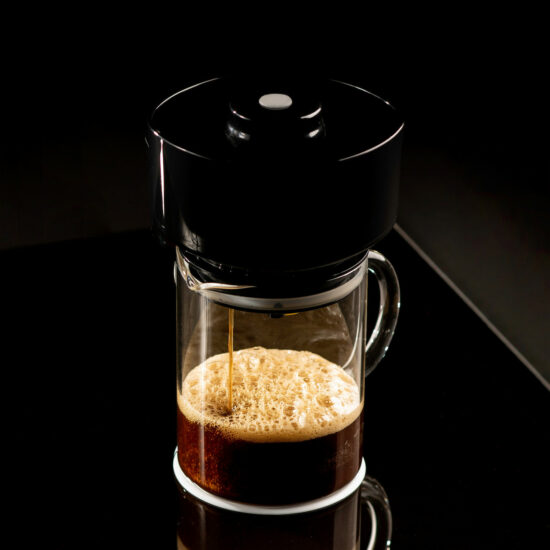 This modern way to brew coffee  gives coffee drinkers the best of modern luxury and comforts. The Coffee Air Brewer uses pressure and air making for an exceptionally smooth drinking experience. The brewer is rechargeable and makes up to 100 cups in per charge and each 14oz cup can be enjoyed hot or cold.
This coffee brewing system is easily rechargeable so you do not have to worry about having to constantly plug it in. The recipient of this gourmet coffee gift simply adds grounds, pours in boiling water, and after 30 seconds, stir and press button to brew.
People Also Ask These Questions About Luxury Corporate Gift Ideas
Q: What are some good luxury corporate gift ideas in 2023?
A: Some good luxury corporate gift ideas for 2023 tap into the hybrid workplace trend of spending part time in the office and part time working remotely. However, the gift doesn't necessarily have to be work-centric. For example, a luxury corporate gift could be a bluetooth speaker, a gift basket, a decanter, leather portfolio, gift cards, or a power bank.
Q: How much should I expect to spend on a high-end gift?
A:  High-end gift can range from hundreds of dollars to thousands of dollars, but the important aspect of luxury gifting is that you keep functionality in mind.
Q: What goes in a luxury corporate gift box?
A: A luxury corporate gift box can include a wide variety of items, including electronics, wine, or items related to common professional hobbies like golf or gardening.
Q: Can I put a logo on a luxury gift?
A: Absolutely. In fact, Swag.com and a number of other custom gifting sites make it as easy as dragging and dropping a logo onto the gift and hitting the order button.
Q: What kind of gift should I send a VIP client?
A: A VIP client is usually going to receive the most expensive, high-end gift you can afford. The key is to ensure that there's at least an indirect return on investment for that particular gift. For example, if you spend $500, ideally that client spends $1,000 or even $10,000 during the process of working with your company.
Q: Can you hire high end executive gifts to send to the entire executive team?
A: Yes, you can work with many corporate gifting services to schedule your gift order to send directly to your executive team. Whether you want to give the presents to them in the office or send them directly to their doorstep, it is very easy to plan everything ahead of time. The most important thing is to select high end gifts that your executives will want to keep! They can be picky people, so taking the time to research and send the same or different gifts is valuable time spent.