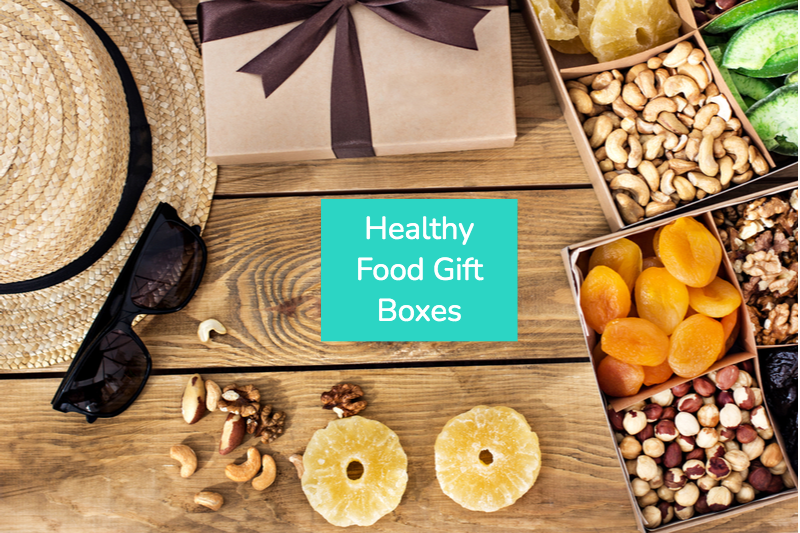 Gift boxes are time-tested gifts that offer up a wide variety of items and treats to make every assortment feel like it has been curated specifically for you!
In fact, many of the brands that create gift boxes and baskets offer a range of healthy gifts to choose from, which allows you to totally personalize these packages for the health conscious individual you have in mind.
"Eating healthy food fills your body with energy and nutrients. Imagine your cells smiling back at you and saying: "Thank you!"." – Karen Salmansohn
Click To Tweet
After all, your health is your wealth, so what's more precious than a healthy gift box?
While wine and cheese and other luxe gifts are great, these thoughtful presents are designed to be enjoyable and boost health at the same time.
Let's jump right into this list of the 23 best healthy food gift boxes in 2023!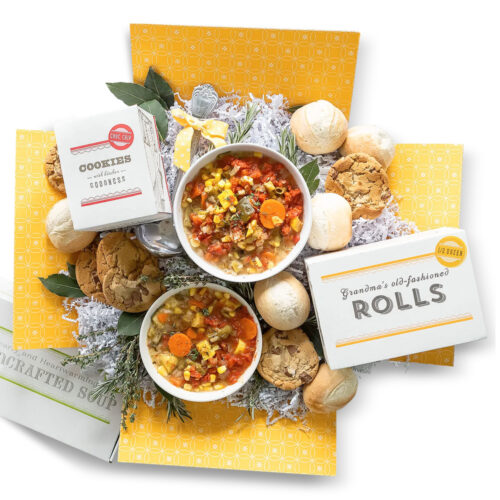 A healthy, inclusive care package! If you send it as an eGift, your recipient can choose their cookie and soup flavors.
Notable item: Includes a soup ladle!
Price: From $78.49
Where to get it: Vegan Gluten Free Soup & Cookies Gift Box
"Work hard, play hard"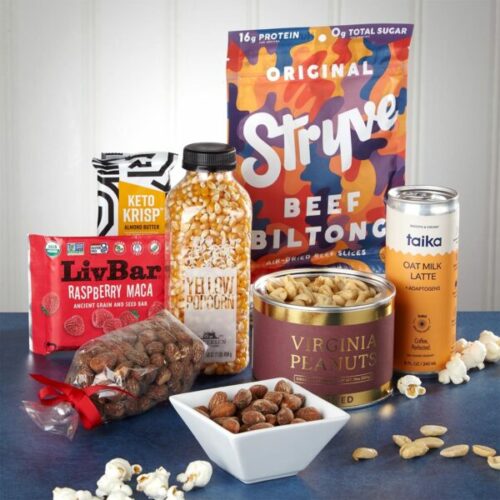 The gift set includes two extra-large salted Virginia peanuts and hickory smoked almonds. A bottle of yellow popcorn from Idaho, all-natural, gluten-free Raspberry Maca LivBar, Keto Krisp Almond Butter Bar, Stryve Beef Biltong Slices and a Taika Oat Milk Latte.
This is a great gift for someone who cares about a healthy lifestyle but also appreciates the finer things. The Health Nut Gift Set contains snacks that are organic, high-end, and ethically sourced.
Notable item: Taika Oat Milk Latte
Price: $59.00
Where to get it: Health Nut Gift Set
"For replenishment"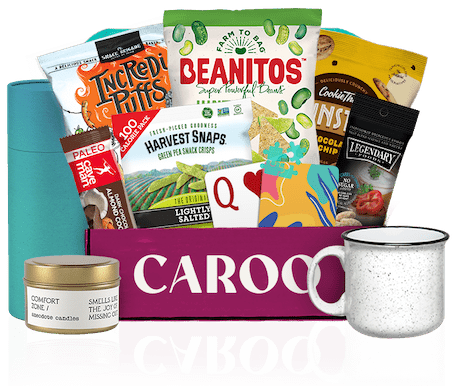 Sometimes the healthiest thing to do is to unwind and unplug for a bit. That's exactly why the Unplugged Box is such a hit among employees and coworkers! This fun care package idea helps employees recharge whether they're working from home or want to bring a snack into work every other day to make them last.
Featuring a cedarwood candle for great scent and better vibes, an enamel mug, and energy-boosting snacks among other treats, the Unplugged Box is curated for peace of mind and a satisfied stomach.
For every box delivered, Caroo donates to Feeding America and their local network of food banks.
Notable item: Almond Coconut Paleo Bar
Price: $48.95 to $57.95
Where to get it: Unplugged Box
"It's what the body craves"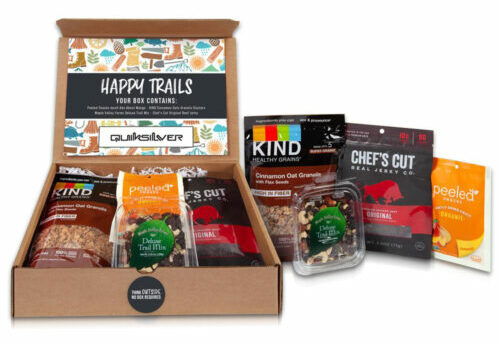 Perfect for hikers and campers.. These healthy snacks are both wholesome and taste great. The Happy Trails Snack Kit includes trail mix, granola, beef jerky, dried fruit, and more. Great for employees who are always on the go go go!
Notable item: Chef's Cut Original Beef Jerky
Price: Starting from $53
Where to get it: Happy Trails Snack Kit
"To get the treat without the caveat"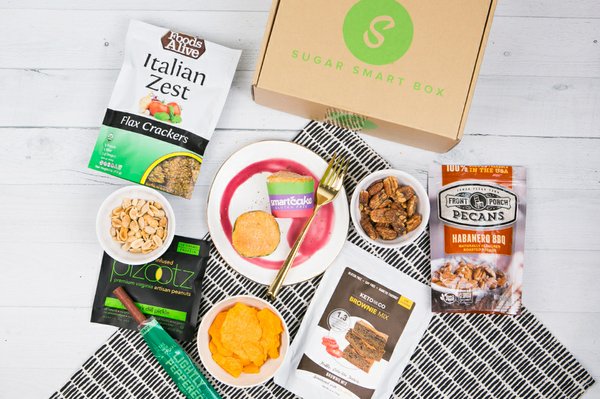 If you happen to notice a certain employee has a sweet tooth, this appreciation gift can satisfy those saccharine and junk food cravings with a healthy low-sugar twist. The Sugar Smart Box has less than 5g of sugar per serving, which makes it keto-friendly and safe for individuals with diabetes.
Snack boxes include over-baked parmesan crisps, cheddar and sour cream protein crisps, roasted edamame chips, habanero BBQ pecans, collagen nut butter, protein chips, bars, and much more!
Notable item: Pizza-flavored Protein Crisps
Price: $27.95 / mo
Where to get it: Sugar Smart Box
"For veggie-fueled gains"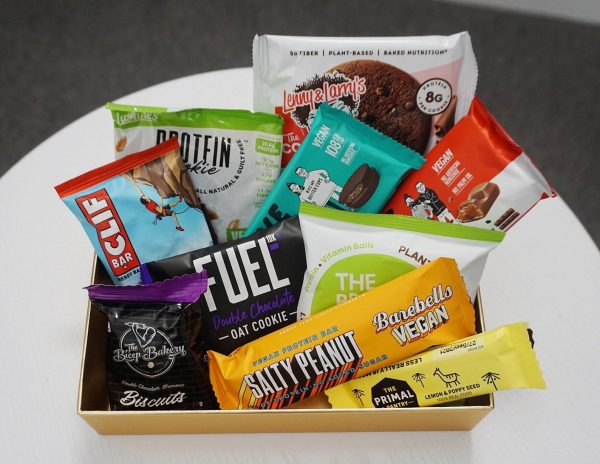 The Vegan Plant Protein Box is the high protein vegan snack box designed to taste great and combat the stigma that it takes meat to see big gains! This healthy snack gift box comes with Bicep Bakery protein cookies, Clif Bars, Protein Ball Company crunchy balls, Lenny & Larrys protein cookies, Love Raw, Justine's nut butter, and other muscle-building vegan treats.
Notable item: Bicep Bakery Protein Cookies
Price: $28.61
Where to get it: Vegan Plant Protein Box
"For all-natural tastiness"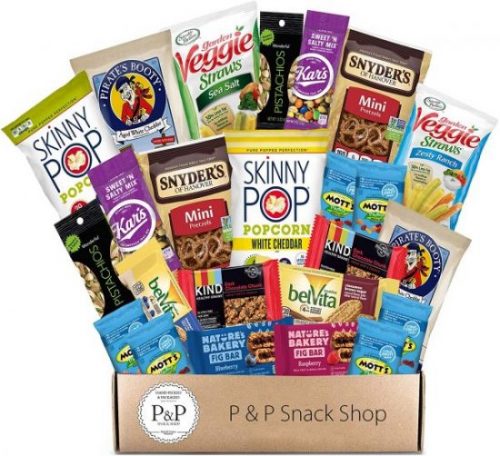 The Non-GMO Snack Box is filled with healthy, nutritious non-GMO snacks from top health food brands! In a world full of genetically modified foods, this mix of treats delivers on a different promise — to be clean, natural, and real.
The Non-GMO Snack Box comes with 30 snacks, including nuts, popcorn, pretzels, fruit snacks, cereal bars, and more. This curated gift box is rated just as highly for its flavors as its nutrition.
Notable item: Skinny Pop Popcorn
Price: $39.95
Where to get it: Non-GMO Snack Box
"For staying in the game"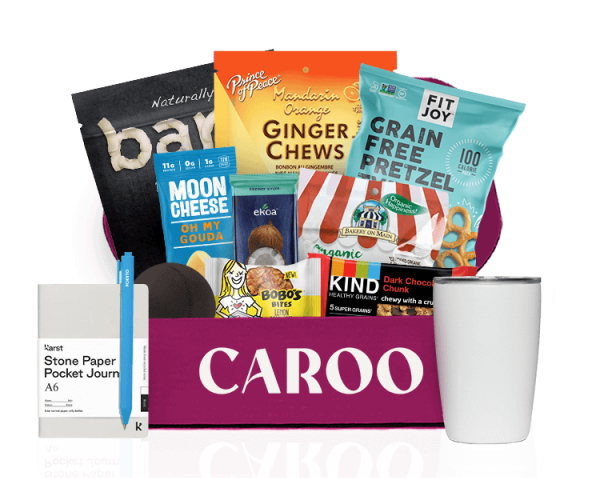 Every item in the Mindfulness Box is purposefully chosen to help employees and clients alike stay fresh, energized, and optimize their happiness. Each box comes with ginger chews, Kind Bars, and several other healthy snacks along with productivity tools.
Notable item: Ginger chews
Price: $48.95 to $57.95
Where to get it: Mindfulness Box
"For chewy yumminess"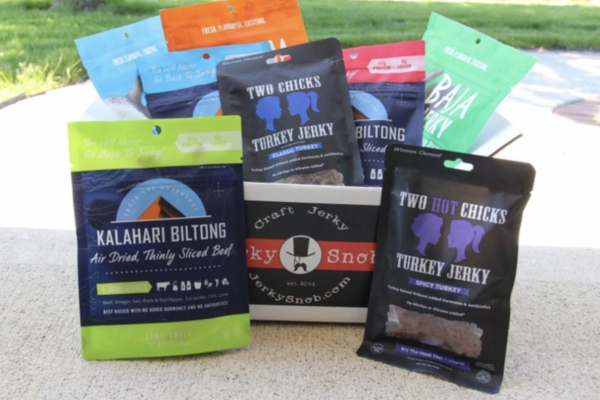 The Jerky Snob is the MSG and nitrate-free snack box that comes packed with a new batch of artisan, healthy jerky every month! From turkey jerky to beef jerky, from spicy to sweet, this mouth-watering, protein-packed employee gift is sure to hit the spot.
Notable item: Two Hot Chicks Turkey Jerky
Price: $15 / mo
Where to get it: Jerky Snob
"For vitality"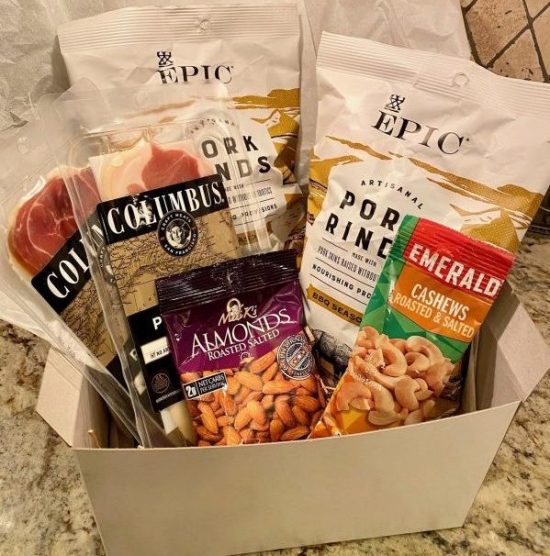 The Whole30 Low Carb Snack Box is perfect for anyone on a keto or paleo diet. This particular healthy care package is curated especially to help with fitness and feelings of wellness.
The Whole30 Low Carb Snack Box offers fine dining or barbecue joint level deliciousness depending on which snack your employees or coworkers dig into first! Whether they start with the 2 packages of nitrate-free prosciutto, roasted and salted almonds, the cashews, or 2 packages of Epic BBQ pork rinds, they'll be in for an undeniably tasty time.
Notable item: Nitrate-free prosciutto
Price: $20
Where to get it: Whole30 Low Carb Snack Box
"For straight-from-the-tree goodness"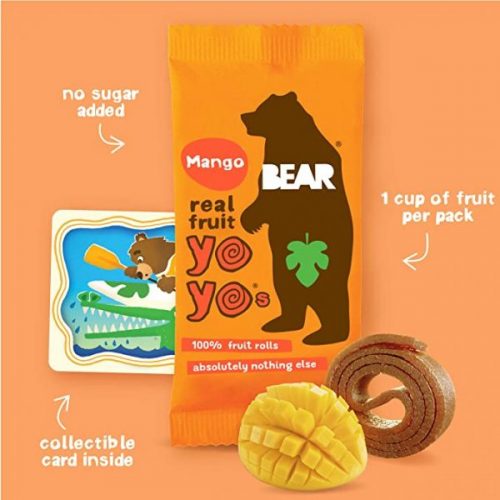 Mango Fruit Snack Rolls comes with 30 packs containing 2 tantalizing, tangy rolls in every one. These fruity rolls are kosher, vega, paleo, gluten-free, non-GMO, and most importantly, all-natural so your employees can safely enjoy them! In fact, Mango Fruit Snack Rolls are gently baked to keep the minerals, vitamins, and fiber packed in without the need of preservatives, gumming agents, and any other additives.
Notable item: Mango Fruit Snack Rolls
Price: $26.72
Where to get it: Mango Fruit Snack Rolls
"For conquering the day"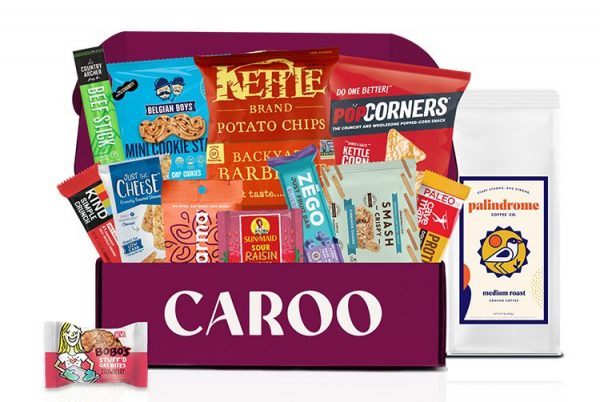 The Snacks + Coffee Box is a great wellness gift for employees or for any other occasion. The truth is, this wonderfully nutritious corporate gift package is custom curated for boosting energy, alertness, and that ready-to-conquer the world feeling.
Snacks + Coffee Box features 12 snacks including chips, protein-packed jerky, a 12-ounce package of premium blend ground coffee, and more!
Notable item: Paleo Protein Bar
Price: $34.95 to $41.95
Where to get it: Snacks + Coffee Box
"For a custom curated idea"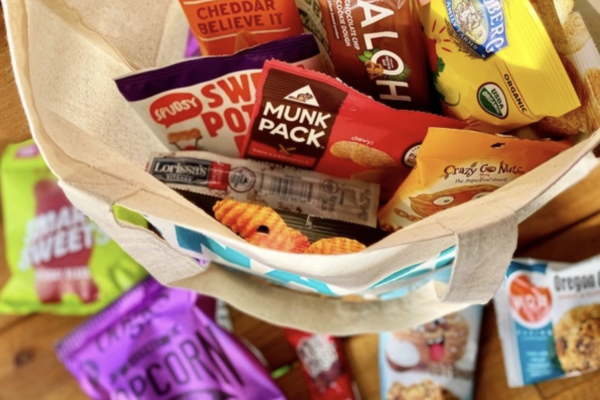 The SnackSack is a thoughtfully curated corporate gift box idea with four different custom options! Every month, this tasty bunch of nutritious treats includes 11-15 unique gourmet snacks based on seasonal flavors and themes. Now, here's the fun part: depending on your employee, coworker, or client's preferences, you can choose between Classic, Vegan, Gluten-Free, and a mix of Vegan and Gluten-Free packages.
Notable item: Munk Pack
Price: $24.00 / mo
Where to get it: SnackSack
"For banana lovers and vegans"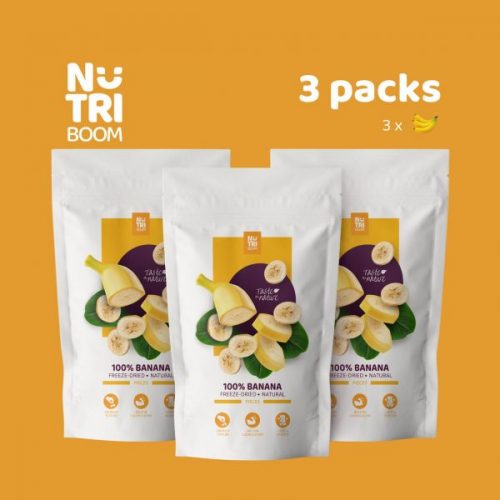 Freeze Dried Banana Snacks are 100% fruit and 100% delicious! This healthy gift basket idea comes with 3 full packs of freeze-dried banana bites. Plus, the freezing method keeps the minerals and vitamins intact unlike other drying methods. A nice snackfor kids that working moms can feel great giving to their children as a mid-day snack while they are busy working from home.
Notable item: Freeze Dried Bananas
Price: $25.09
Where to get it: Freeze Dried Banana Snacks
"For movie-style munching"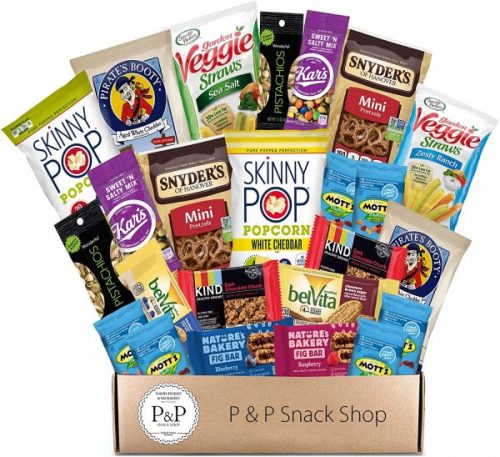 The Pop Box is the best gift for trade shows or welcoming new employees because of the wide variety of top branded snacks it features. This 30-count healthy snack box includes popcorn, cereal bars, fruit snacks, pretzels, and nuts. Additionally, the Pop Box is perfect for retirement parties and other celebrations because of its range of options!
Notable item: Skinny Pop Popcorn
Price: $39.95
Where to get it: The Pop Box
"For getting into that perfect headspace"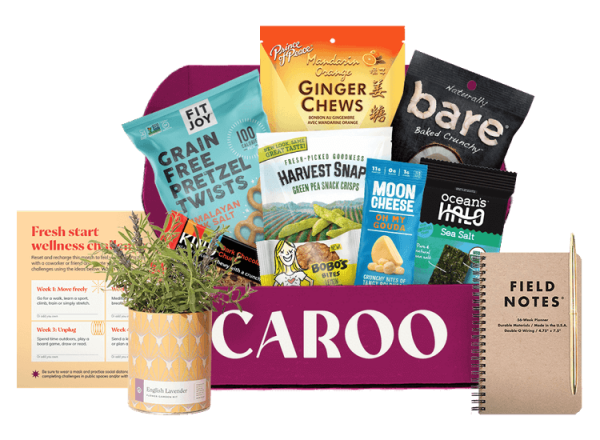 The Fresh Start Box adds positivity and wellness to your employees' days. This nourishing nutrition package improves mood and productivity by including Harvest Snap pea chips, salted seaweed snacks, ginger chews, moon cheese, coconut treats, and more. Also available in larger sizes if you are looking for office snacks in bulk!
Notable item: Harvest Snap pea chips
Price: $48.95 to $57.95
Where to get it: Fresh Start Box
"For allergy-friendliness"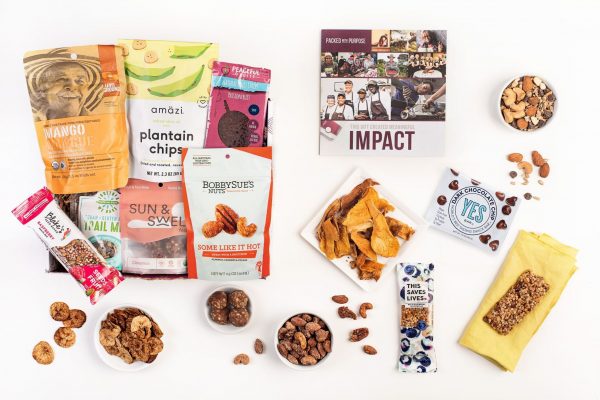 Gluten-Free Healthy Treats is the signature box of scrumptious delights like salted olive oil plantain chips, energy bars, organic passion fruit strips, all-natural dried mango, gourmet nut mix, and many more mouth-watering treats.
This allergy-friendly snack gift box also features raspberry seed-based bars, and cinnamon nut and fruit snack bites. Each purchase supports fair trade, animal welfare, and more!
Notable item: All-natural passion fruit strips
Price: $54.00
Where to get it: Gluten-Free Healthy Treats
"For extra encouragement"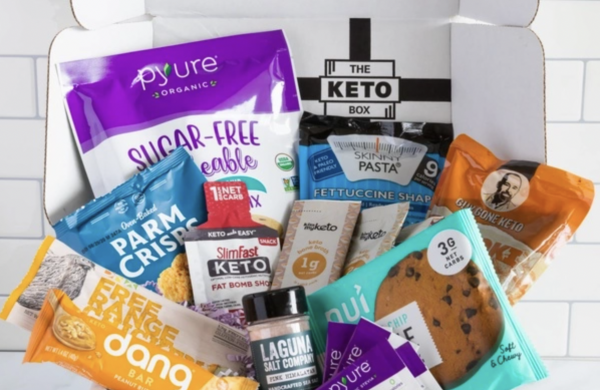 The Keto Monthly Box is the keto-friendly snack pack designed to save your employees money and time looking for something to satisfy their cravings. With more than 10 low carb snacks in each box, the recipient of this thoughtful gift also gets a 20-minute consultation call with a keto coach after box number two. Regardless if they are starting their keto journey or a long-time keto fan — this box will not disappoint.
Notable item: Dana Bar
Price: $34.00 / mo
Where to get it: The Keto Monthly Box
"For love at first bite"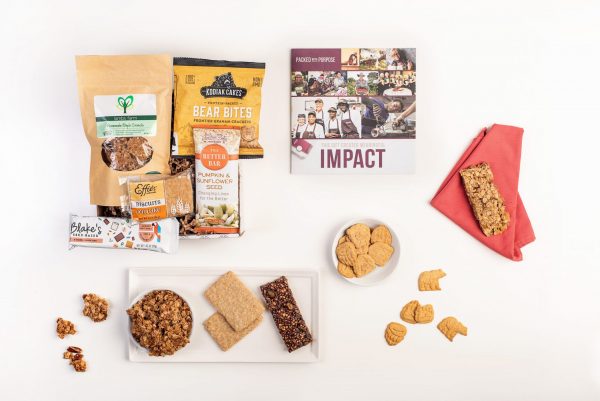 Healthy Snacks, Petite is the protein-packed, energy-boosting snack box your employees never knew they needed. Every box supports wildlife conservation, employment for disabled individuals, and much more, but the main reason people fall in love with Healthy Snacks, Petite are the actual snacks it comes with.
This coworker appreciation food gift basket features sweet granola with hints of caramel, all-natural granola bars with pumpkin seeds, sunflower seeds, and oats, s'more snack bars, protein-rich honey graham cracker bites, and handcrafted oat biscuits.
Notable item: S'more Snack Bars
Price: $26.00
Where to get it: Healthy Snacks, Petite
"For mega chocolate lovers"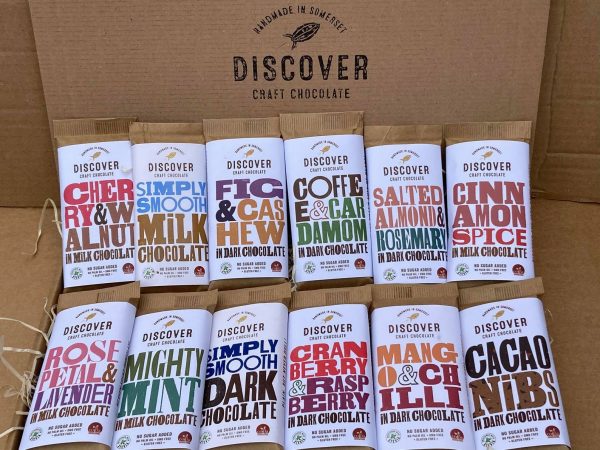 Gluten-Free Discover Chocolate is the ultimate chocolate lover's dream! This luxurious, healthy food gift box comes with a wide range of dark chocolate items including cocoa nibs, cranberry and raspberry, coffee and cardamom, mango and chili, simply smooth dark, fig and cashew, and salted raspberry and almond. Even people who follow the strictest of diets can benefit from a little chocolate on occasion. Might as well enjoy the best of the best gluten-free chocolate bars.
Additionally, Gluten-Free Discover Chocolate features several milk chocolate treats like rose petal and lavender, cinnamon, simply smooth milk, mighty mint, and cheery and walnut.
Notable item: Rose petal and lavender milk chocolate
Price: $40.07
Where to get it: Gluten-Free Discover Chocolate
"Because health is wealth"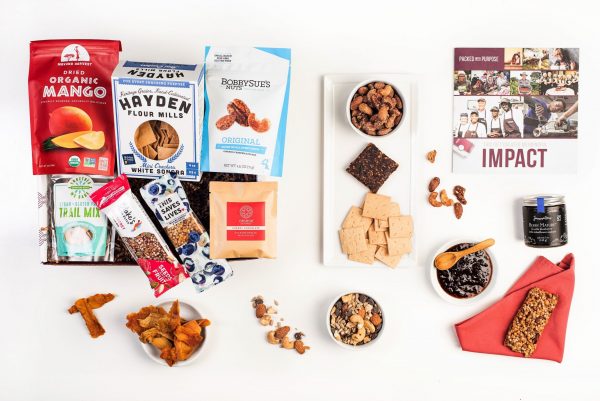 With more than seven keto and diabetic-friendly snacks in each box, the Good For You Goodies will give your employees or coworkers the pleasure of a cheat meal without the guilt!
Some of the low carb treats featured in the Good For You Goodies appreciation gift box include drink mixes, protein bars, pumpkin seeds, seaweed snacks, healthy cookies, and much more.
Notable item: Blake's Seed Based Bars (profits support underprivileged youth)
Price: $60
Where to get it: Good For You Goodies
"For snackers"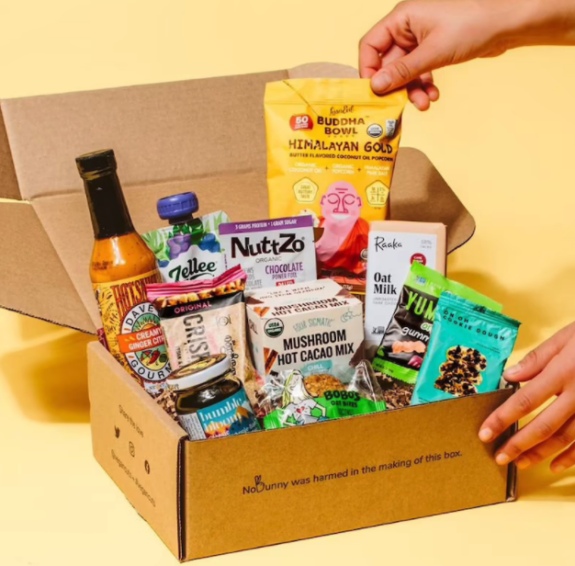 With over fifteen snacks packed into this vegan snack box, the lucky recipient of this corporate food gift will be stocked up with some of the highest-quality vegan snacks on the market.
Discover new vegan options with this taster box of the highest-rated packaged vegan snacks that will keep you full and energized throughout the day. Yum!
Notable item: Hungry Buddha Keto Bar
Price: $39.99
Where to get it: Vegan Snack Favorites Box
"For green, clean, healthy living"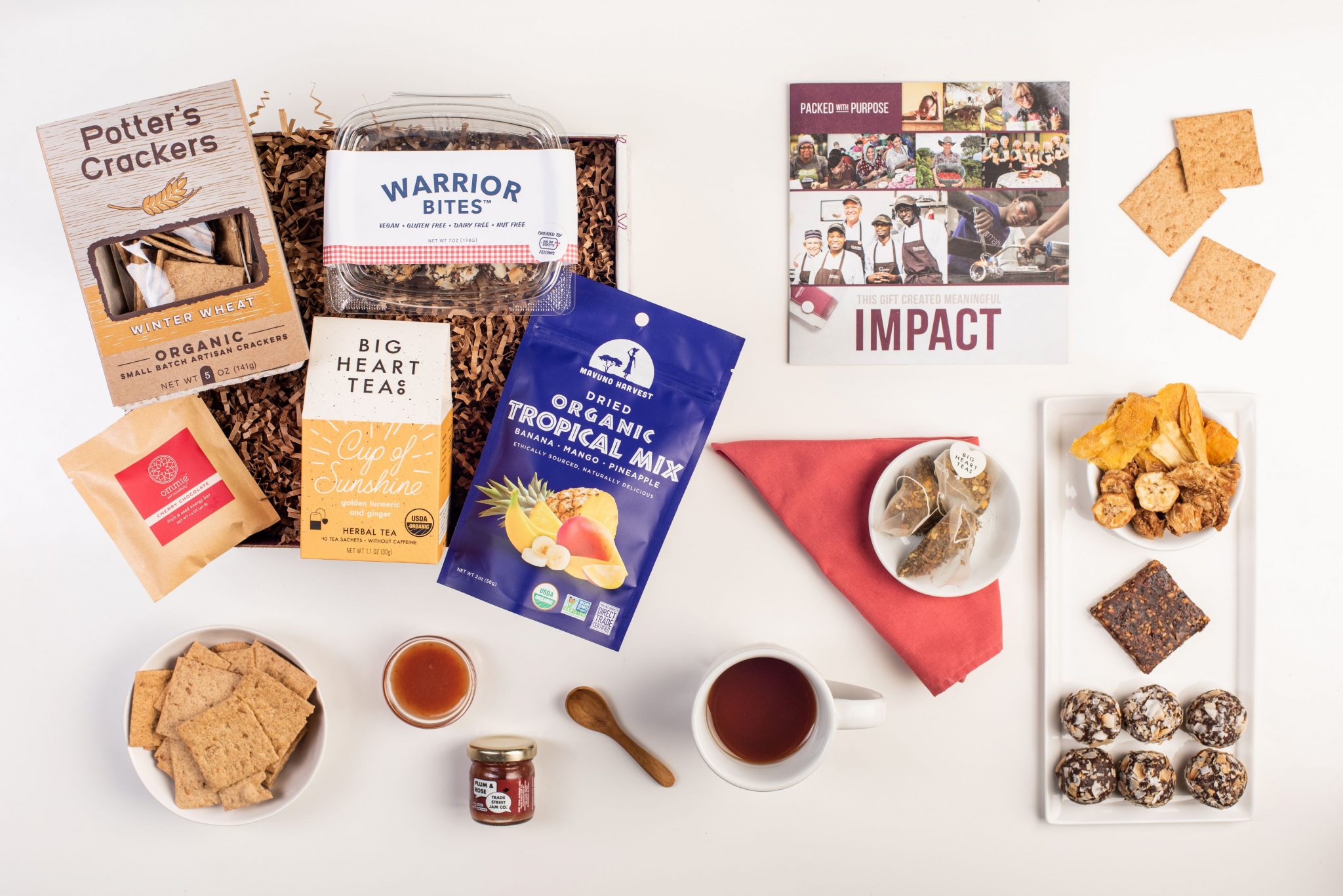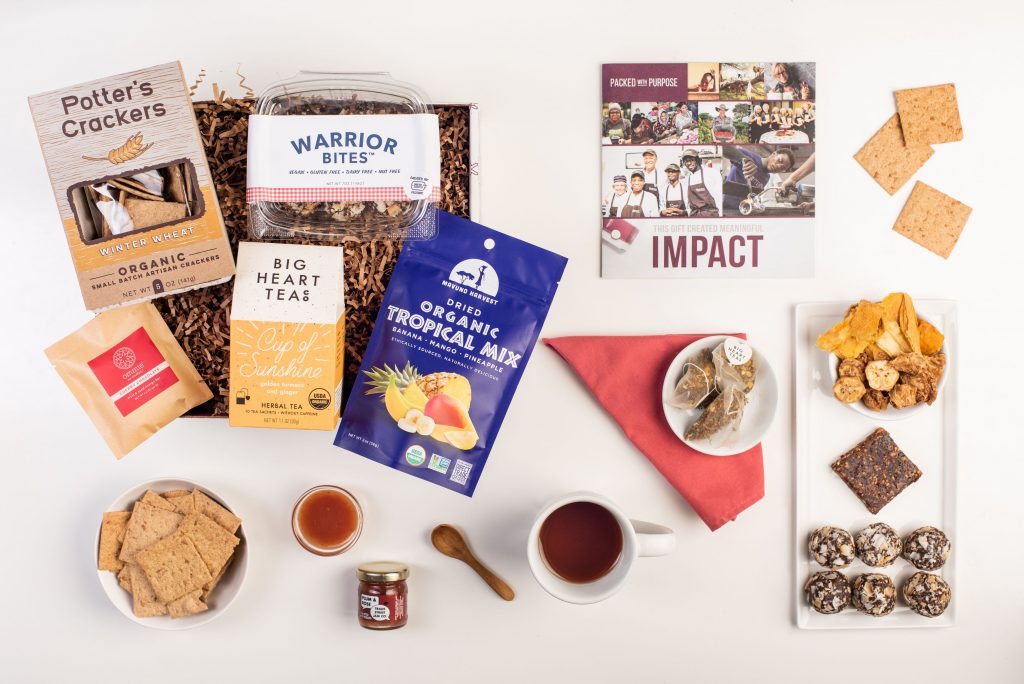 The Nut-Free & Vegan Healthy Delights is the perfectly delightful assortment of organic, all-natural, eco-friendly treats! This better-for-you snack box features chocolate coconut snack bites, organic dried mango, banana, pineapple tropical trail mix, winter wheat artisan crackers, a cherry chocolate seed bar, small batch rose plum jam, anti-inflammatory ginger, turmeric, and cinnamon-infused tea, and a teak wood spoon.
Plus, this healthy gift box supports small batch, minority producers, and veterans.
Notable item: 6-Pack of Chocolate Coconut Energy Bites
Price: $72.00
Where to get it: Nut-Free & Vegan Healthy Delights
---
People Also Ask These Questions About Healthy Food Gift Boxes
Q: Where can I buy food gift boxes?
A: Food gift boxes are becoming increasingly popular and many sites offer them. However, there are a few companies that focus specifically on food gift boxes like SnackNation and Caroo.
Q: What's usually in a healthy food gift box?
A: Healthy food gift boxes usually include foods that are meant to provide nutrition and flavor such as protein bars, protein chips, and other options curated to be vegan, keto-friendly or any other diet an employee might stick to.
Q: Can I send food gift boxes to multiple addresses?
A: Yes, food gift boxes can be sent to multiple addresses. Just make sure the company you are ordering from is able to fulfill that order.
Q: How can I send food gift boxes to my employees?
A: There are several ways to do this. One is to send the food gift boxes directly to their address. The other is to order in bulk and deliver them personally in the office.
Q: What kinds of food gift boxes can I choose from?
A: Food gift boxes are usually curated for a specific theme. As an example, SnackNation and Caroo offer food gift boxes based on certain events like Black History Month, Valentine's Day, Father's Day or based on certain goals like getting a "fresh start" or getting "unplugged."