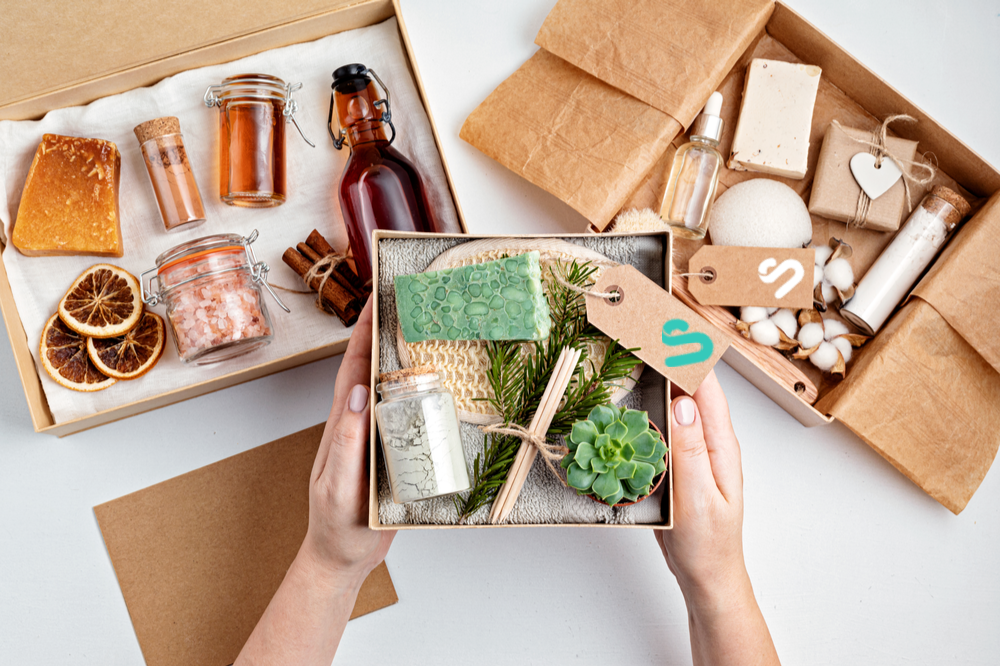 How do you like to show people you care?
For some, words of support and inspiration do the trick. Others are all about clever gift ideas. Some even choose to get their feelings across with the gift of time.
However, the savviest gifters choose care packages, which combine some, if not all, the sentiments and strategies above into one neat bundle bursting with positive feelings.
Care packages are shippable boxes or gift baskets packed with an assortment of items that show your appreciation, including hand-written notes, gift certificates, wholesome snacks, and even toys and games.
All the items work together to deliver an impact far greater than the sum of any care package's parts: the priceless feeling of being supported, nurtured, and loved. Showing you care is well worth the time and effort it takes.
"Never be so busy as not to think of others." – Mother Teresa
You don't have to be Mother Teresa to have an impact on others. You too have the power to make people — your employees, family members, friends, and co-workers — feel the sincerity of your caring. Just check out the care package ideas below, curated for a variety of uses and occasions.
---
Want to become a better professional in just 5 minutes?
Page Contents (Click To Jump)
Healthy Food & Snack Packages
Snack care packages and snack gift boxes are healthy food collections of energy-boosting snacks that show recipients how much you care about their well-being.
They say: "I've got your back."
Sugary cakes and rich snack foods would give them seconds of pleasure, but substantial snacks, like dried fruit and jerky, best serve their long-term wellness goals.
"Mind breaks are the new lunch breaks."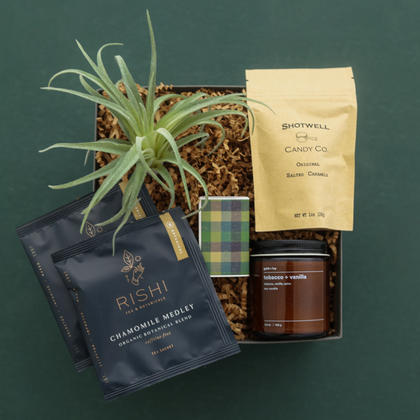 Both the quarantine lifestyle and remote work come along with plenty of distractions. The mindfulness essentials packed into this thoughtful care package show that you understand, you get it, and you are here to help. The items and fortifying snacks help employees remain calm, focused, and productive throughout the workday.
What makes this care package unique?
It empowers employees to start positive self-care habits — mindfulness and healthy eating — not just immediately after receiving this box but also far into the future.
Price: Explore the gifting platform for custom pricing
Where to find this: Mindfulness Box
"They're not just snacks; they're edible joy."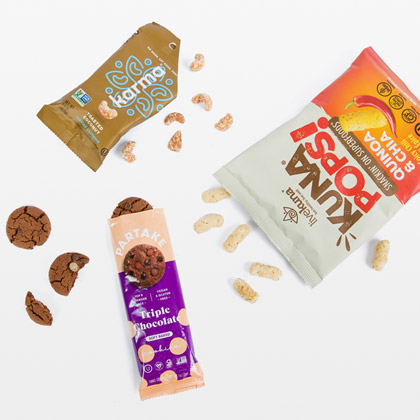 This care package comes bursting with a variety of fan-favorite healthy snacks that give recipients wholesome energy to fuel whatever they want to do. This box has enough delicious snacks to keep them going for days.
What makes this care package unique?
This expertly curated snack selection is unmatched in its delicate balance of flavor, nutrition, and novelty. This assortment will introduce snackers to fun new flavors they'll want to enjoy every single day.
Price: $26.95+
Where to find this: 15 Snack Box
Pro-tip: Round out the snack selection with their favorite beverage: coffee or wine.
"Unleash your inner snacking snob."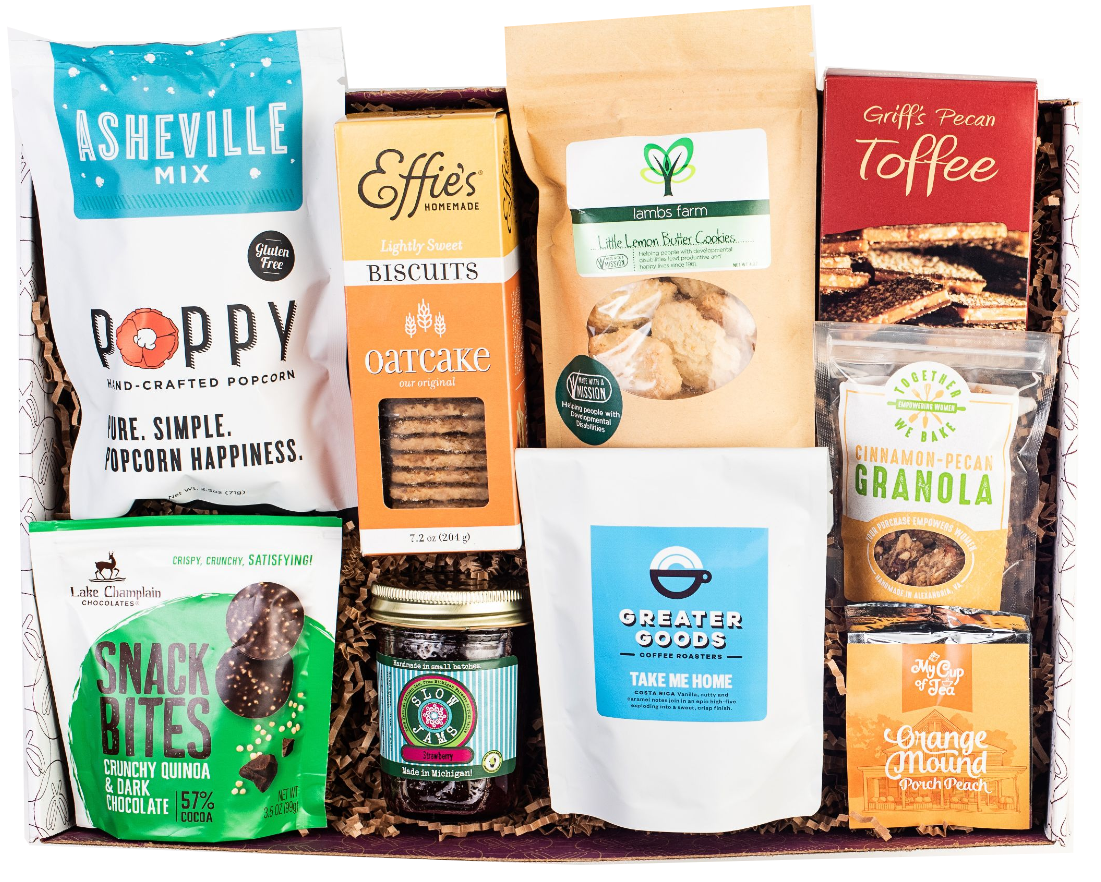 This care package provides premium versions of your favorite bare necessities: caffeinated beverages and wholesome snacks. Rich dark coffee, sweet and spicy chai, and herbal tea complement an array of snacks like dark chocolate quinoa bites and handcrafted popcorn.
What makes this care package unique?
It provides all the ingredients for a delightfully health-conscious tea party. Soggy, cheese-stuffed tea sandwiches have no seat at a table laden with wholesome delights like fresh strawberry jam and oat biscuits.
Price: $82.00
Where to find this: Energizing Delights
"Snack your way through the flavor spectrum."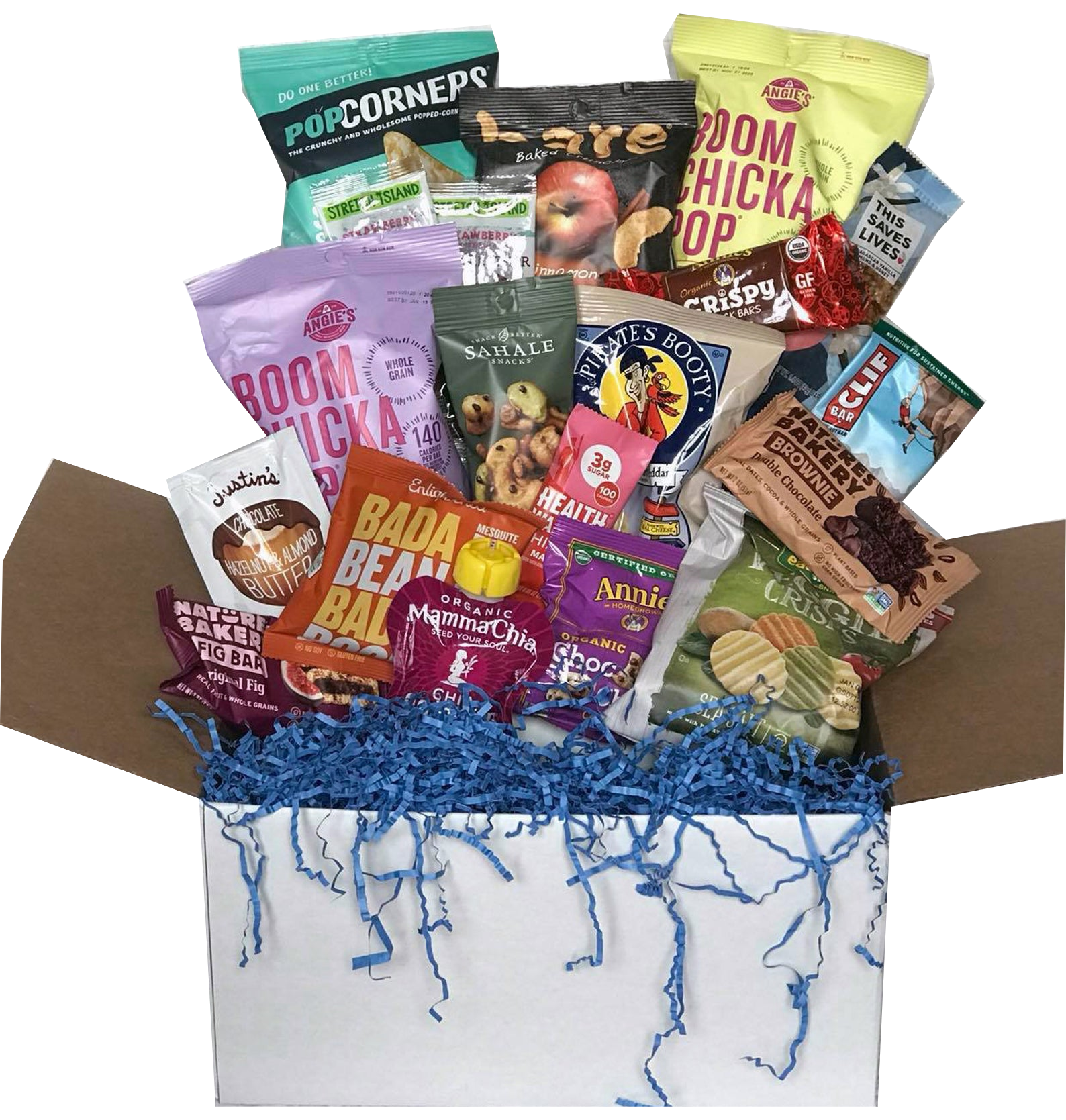 Enjoying this care package will feel like taking a comprehensive tour around your favorite grocery store. Practically every aisle is represented in this delicious loot: protein bars, cookies, candy, peanut butter, salty snacks, gourmet nut mixes, and so much more.
What makes this care package unique?
It makes offering a hodgepodge of everything feel united around a purposeful theme. Covering the savory nibbles as well as the healthy sweet treats, its delicious variety and bounty will make people feel they have the entire snacking world at their fingertips.
Price: $34.50+
Where to find this: 20 Healthy Snacks Box
---
Quarantine Care Packages
Quarantine care packages are the bond-maintaining tokens of affection you can send to people you don't get to see as often as you'd like due to physical distance or pandemic-safe social distancing practices. Designed to feed employee engagement and social connection, these packages demonstrate your caring and also provide goodies and essentials people need to feel better and feel safe throughout these strange times.
"Work that work from home routine."

Sending this package is like boxing up the best of the company kitchen and sending it out for remote employees to enjoy. It comes packed with all the healthy office snacks and goodies workers need to not only work effectively from home but also to work comfortably and happily from home.
What makes this care package unique?
It gives those previously unaccustomed to working from home a little bit of familiarity in the form of comforting snacks they once shared together in the office.
Price: $26.95+
Where to find this: Work From Home Wellness Box
"Open the box and open your mind."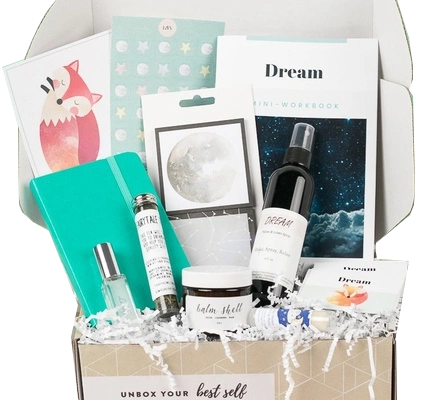 This box comes packed with essentials that were specially selected by a therapist to reinvigorate feelings of mental wellness. It includes cognitive behavioral therapy workbooks and activities as well as feel-good items, such as candles and bath bombs.
What makes this care package unique?
It doesn't just provide a "Band-aid" solution to help people feel better for now. By promoting scientifically sound psychological interventions and habits, this work from home care package may help people develop lifelong skills in mental resilience.
Price: $19.99
Where to find this: Mind Wander
---
Food Care Packages
Food care packages are gift baskets filled with a variety of food items. They can range from basic snacks and drinks to more elaborate meals, depending on the budget and preference of the giver. Food care packages provide convenience for those working remotely or in distributed teams as they can be sent virtually anywhere and provide instant gratification when received.
"To let them know you're always there."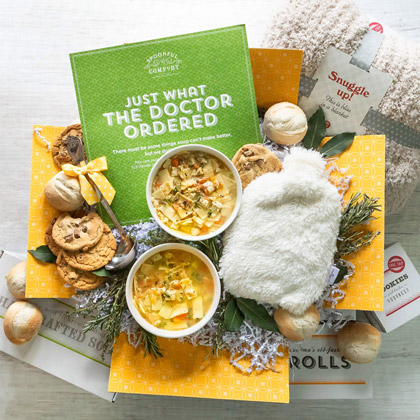 This generous car gift set includes everything they'll need to enjoy a cozy night in, including delicious soup, dinner rolls, cookies, a serving ladle, a cable-knit blanket, and a fuzzy hot/cold pack. 
What makes this care package unique? 
The soup is perfect for a hearty meal or to keep them warm on a cold night. The dinner rolls are perfect for dipping in the soup or for sopping up any leftover sauce while the cookies are a delicious treat after a long day. In addition, the blanket is soft, cozy, and perfect for snuggling up on the couch. 
Price: $195
Where to find this: The Total Care Package
"Comfort food redefined."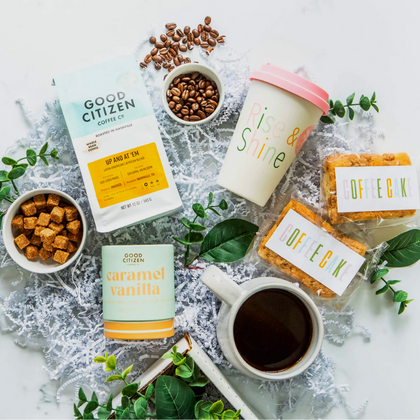 This care package includes everything needed to enjoy a delicious cup of coffee and a sweet treat, all from the comfort of your own home.
What makes this care package unique?
This gourmet coffee is perfect for early risers who want to savor the flavor of real, freshly-brewed coffee. The sugar cubes add a touch of sweetness, while the cinnamon coffee cakes are a delightful treat. The insulated tumbler ensures that your coffee stays hot all morning long. 
Price: $95
Where to find this: Coffee + Pastries
"Popcorn is always the answer!"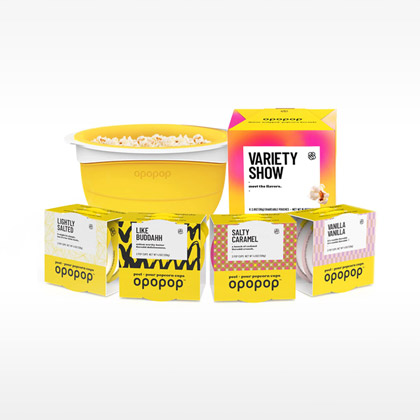 For the aspiring popcorn aficionado, this gift set has everything they need to get started on their popcorning journey. The popcorn popper is BPA-free and dishwasher safe for easy cleanup, while the four flavored kernel packets are all gluten-free and non-GMO. 
What makes this care package unique?
For a little something extra, there's also a packet of chedapeno popcorn kernels and a box of five flavored cake pops. So whether recipients are looking to add a little flavor to their popcorn or want to try something new altogether, this food care package has them covered.
Price: $76
Where to find this: Popcorn Aficionado Gift
---
Care Packages With Alcohol
Care packages with alcohol are gifts with alcohol that come packed with all the ingredients you need to have a happy hour, a virtual alcohol tasting, or even just a little self-toast to a week full of little work-day victories
"Unbox the essence of your favorite winery."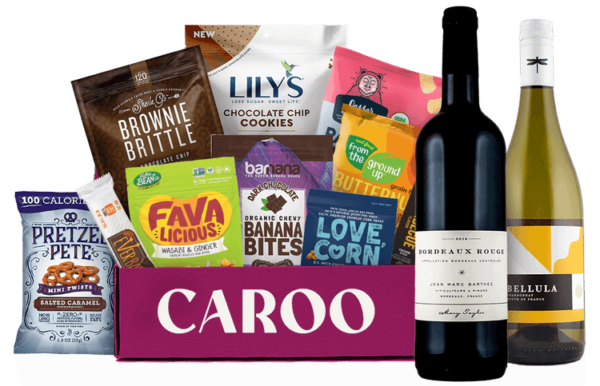 This care package hits the spot for anyone with a passion for eating and drinking. It comes packed with your choice of red wine, white wine, or a non-alcoholic sparkling beverage as well as a variety of real-food snacks with that special winery tasting-room flare.
What makes this care package unique?
Consider it a trip to a winery in a box. Even if you enjoy all the goodies in the comfort of your own home, you can imagine you just selected the wine after a delightful tasting and ordered the snacks from the winery's snack bar.
Price: $61.95+
Where to find this: Sips & Snacks Box
"Embark on the no-mileage California wine tour."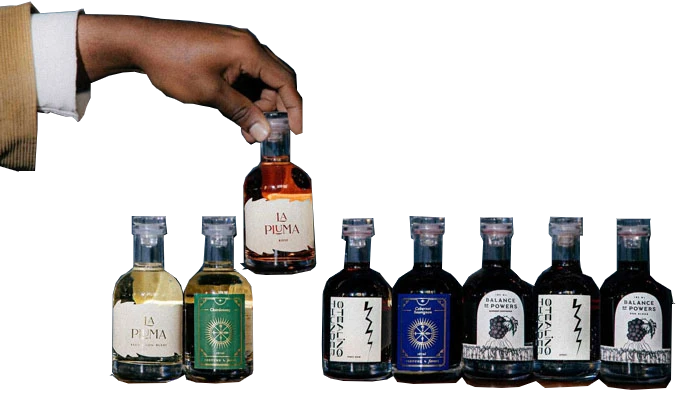 This care package provides a delicious spotlight of California wines, all poured into tasting-ready 187ml bottles. Explore each wine's flavors by savoring one perfect non-commitment glass and then moving on to the next. You'll get a comprehensive selection of both reds and whites, including Game Theory Cabernet Sauvignon, Fortune Favors Chardonnay, and La Pluma Sauvignon Blanc.
What makes this care package unique?
It provides a travel-free tour of California's wine landscape. Enjoy a comprehensive sampling of wines from tip to tip of this massive state without logging any actual mileage.
Price: $65
Where to find this: California Wine Mixer
"Embrace your inner homebrewer."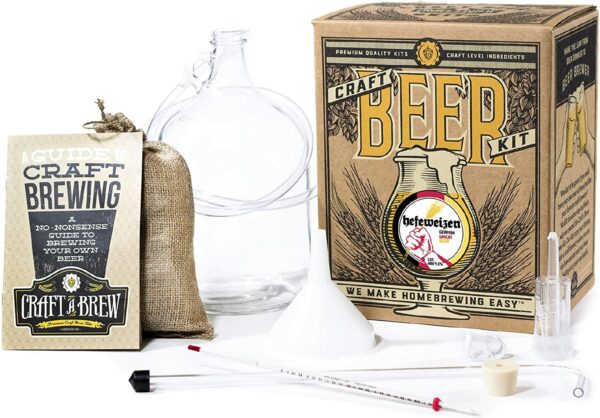 Designed especially for the adventurous DIY drinker, the kit includes ingredients and equipment to brew over 2 gallons of your own rich, frothy brew. Designed to help first-timers and hobbyists alike get the most of their beer experience, this beer maker starter kit teaches you about the art of brewing.
Plus, it includes a Craft a Brew Guide to Craft Brewing to help novice brewers learn the ways.
What makes this care package unique?
It provides transformation on multiple levels. Your home will turn into a brewery, water will become beer, and you will graduate from "average citizen" to "homebrewer."
Price: $49.99
Where to find this: Make Your Own Beer Kit
---
Care Packages For Students
Care packages for students are boxes filled with the comforts and conveniences of home. They can be sentimental, filled with warm messages and homey reminders, or also deeply practical, filled with things first-time college students may have forgotten to pack.
No matter what kind you choose to send, you can rest assured that the student in your life will be grateful you thought about them.
Pro-tip: Add a gift card for the campus coffee shop to any of these ideas.
"Long-distance support for your favorite student."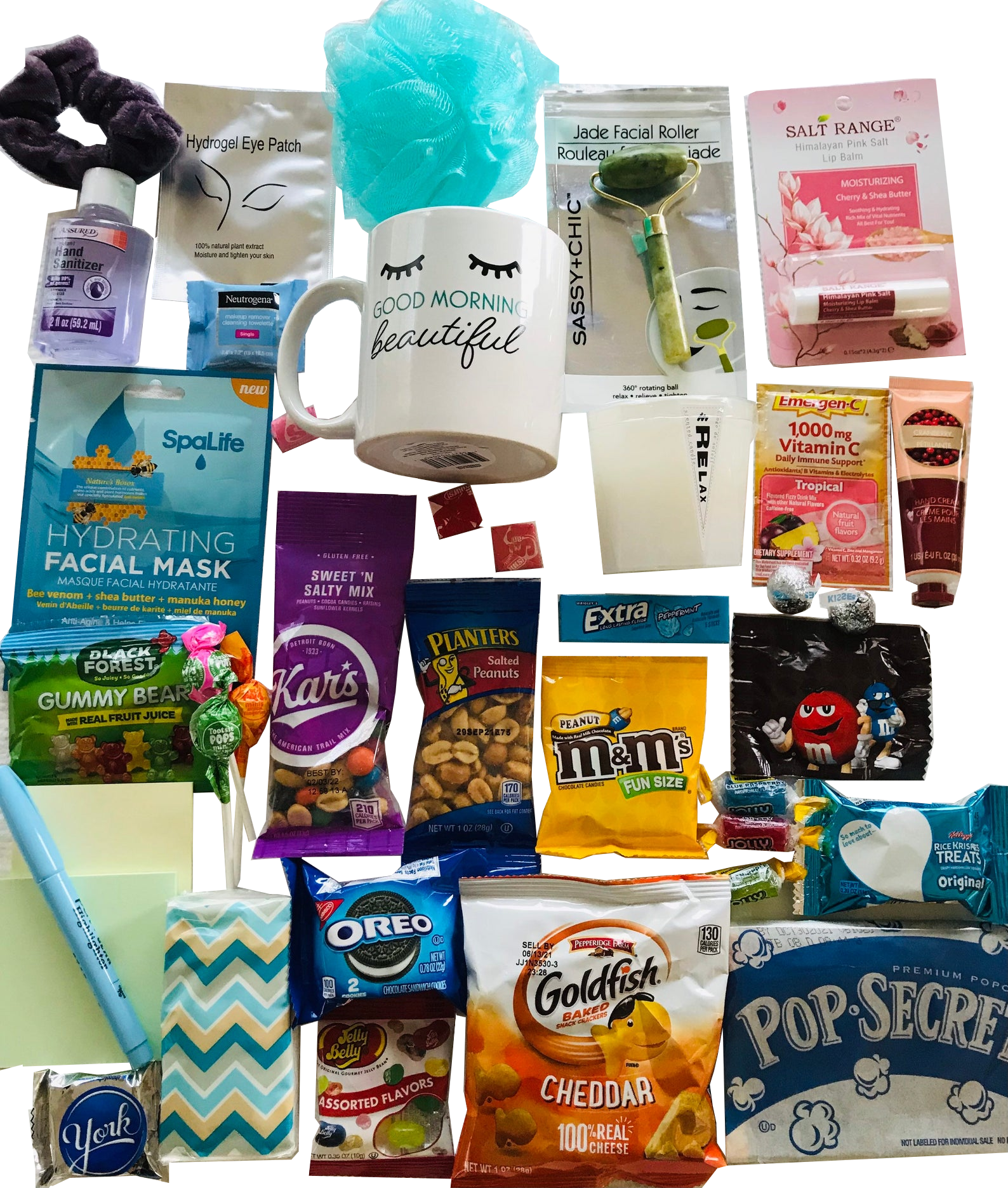 This college care package contains wellness essentials, like vitamin C tabs and hand sanitizer, and also nice-to-have pampering supplies, like a hydrating face mask and a facial roller. It even has essential study fuel, including a go-to mug and filling grab-and-go snacks.
What makes this care package unique?
It provides a little pampering and a little support in one. This survival kit gives students, especially those studying for final exams or cranking out big projects, plenty of energy for work but also some things they need to enjoy a little equally essential downtime.
Price: $26.99
Where to find this: Student Survival Kit
"Support their extra-curricular explorations."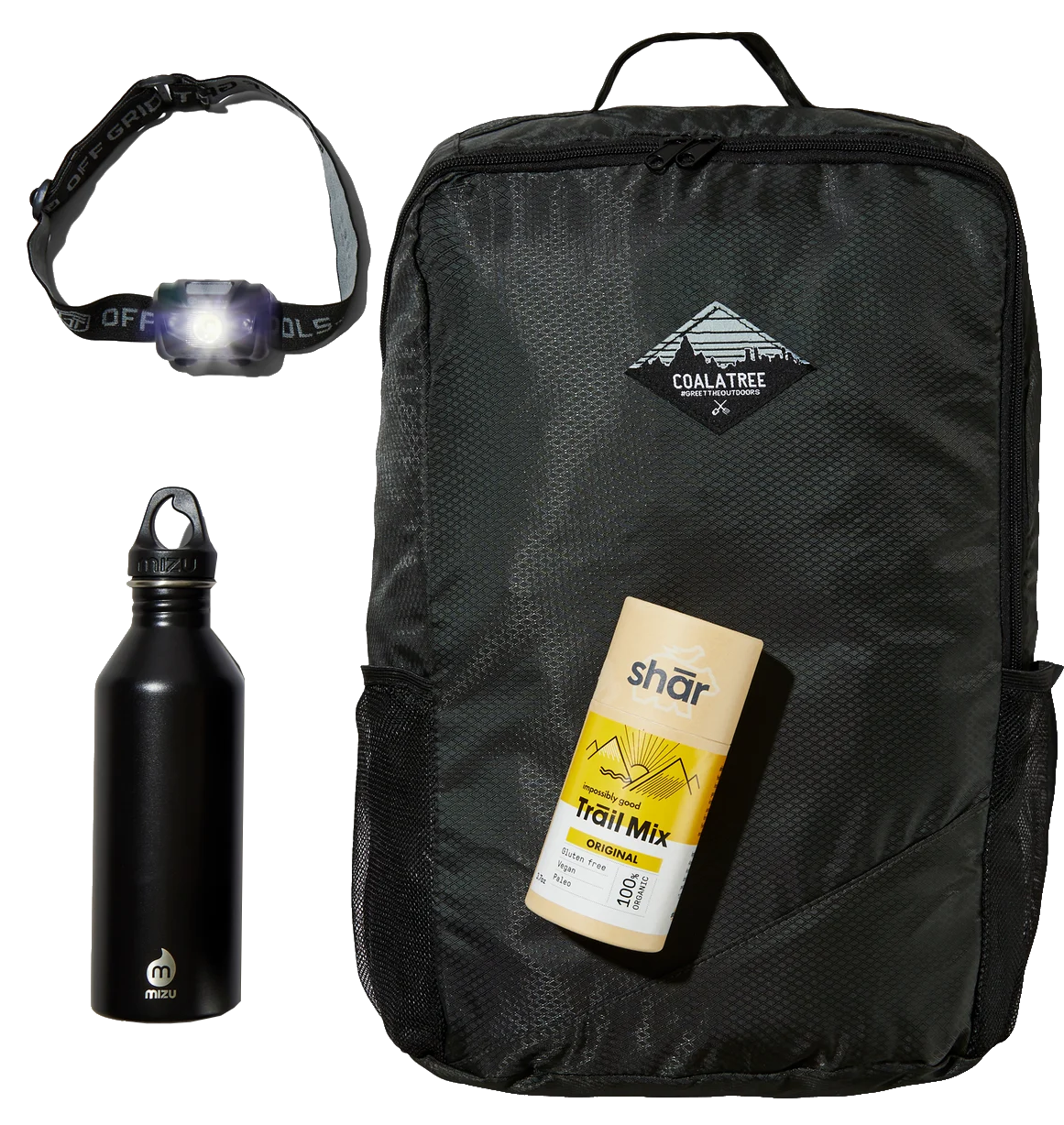 You've seen those classic portraits of adventurers and explorers. They're always wearing bulky packs that might make them tip over if they lean just a little too far. By giving the student in your life this care package, you're really giving them the freedom to explore without being weighed down. It includes a miraculously compact backpack that holds a ton of gear and comes complete with a handy headlamp, a must-have water bottle, and a delicious trail mix.
What makes this care package unique?
So many student care packages are themed around buckling down and studying or surviving dorm life. This pack reminds students that getting out and exploring is just as important as grinding away at the books.
Price: $55
Where to find this: Explore Care Package
"Send them a little bit of at-home caring."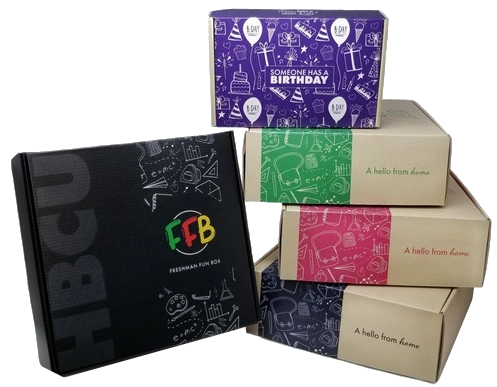 Designed to help parents and caregivers nurture and support students from afar, this one-time or subscription-based care package features items to help students do anything from studying and snacking to cleaning and playing.
What makes this care package unique?
It fulfills both the sender and the receiver. While all care packages accomplish this in a sense, this box is particularly special as it helps parents provide all the nurturing they long to give while helping students remember and appreciate all the strength of their at-home support network.
Price: $69.99+
Where to find this: Freshman Fun Box
---
Self-Care Packages
Self-care packages are curated gift boxes filled with items that make people feel good.
Some packages focus on wellness and mindfulness while others emphasize relaxation and pampering. Self-care means different things to different people, so there's really no wrong way to practice it or help others practice it by sending a care package.
"Empower them to step away from the screen."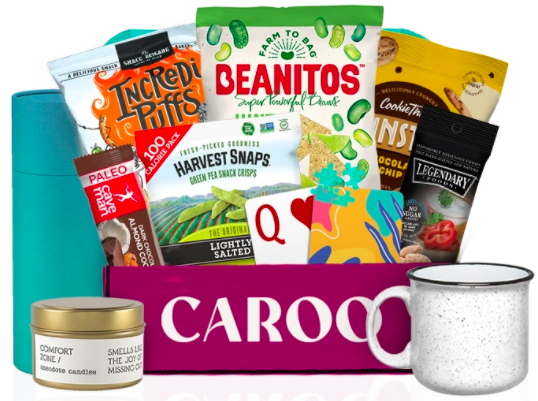 This employee gift was designed to help people step away from "it," whatever "it" happens to be for the person in question. It could be the stresses of childcare, the pressure of a deadline, or just general burnout.
Even the most stressed person can make time to light the candle, savor the snacks, and take just a few short minutes for themselves.
What makes this care package unique?
It's really symbolic permission to unplug for a second. In a fast-paced, increasingly virtual world where the lines between office and home and work and fun are blurred, just taking a few minutes of quiet reflection can feel like a luxury and a novelty.
Price: $57.95+
Where to find this: Unplugged Box
"Grant permission to pamper."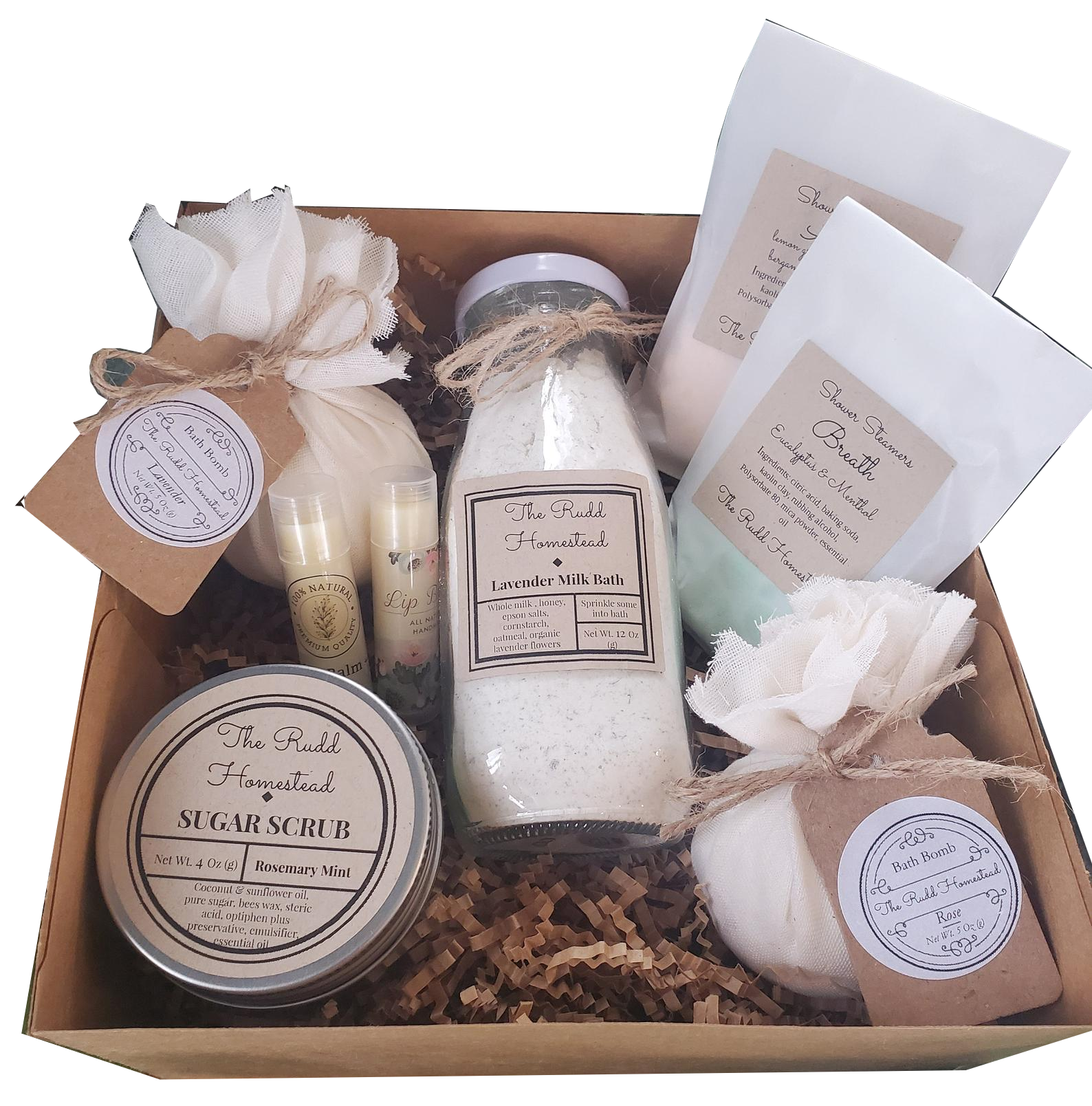 This care package provides all the essential ingredients absolutely anyone needs to wash all their cares away. Deliciously scented bath bombs and shower steamers will soothe the senses, cleanse the mind, and leave users feeling refreshed and maybe even like new.
What makes this care package unique?
Everyone has to shower and bathe. This care package allows people to turn a daily chore into a special moment of pampering and rejuvenation.
Price: $45
Where to find this: Pamper Gift Box
"A trip to the spa, minus the trip."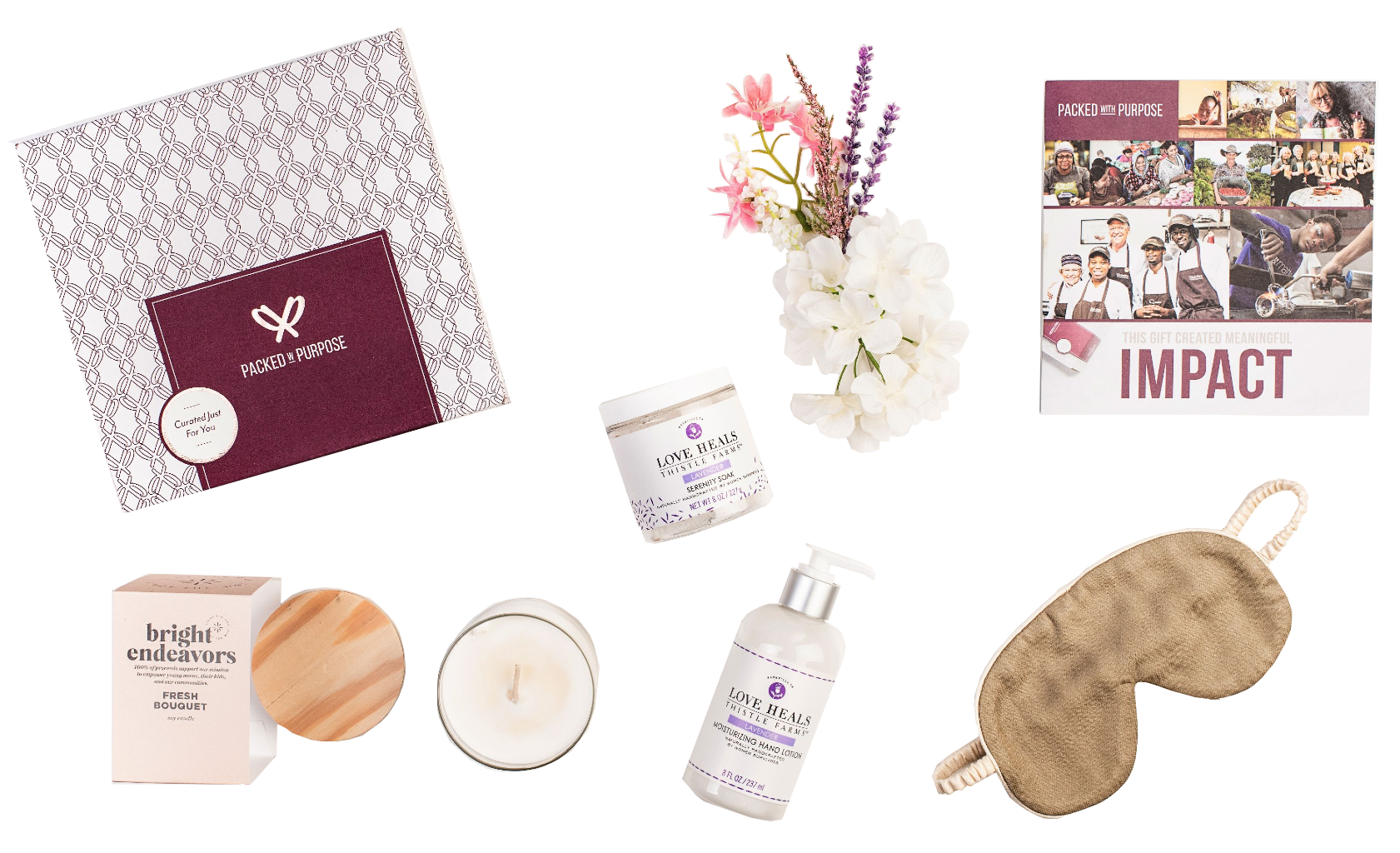 Many people love the idea of the premium pampering offered at day spas but then arrive and find they can't relax the same way they do at home. This care package offers the best of both worlds. Premium spa and skincare products, including a silk eye mask and bath salts, are packed up and delivered to give anyone's home a touch of the spa experience.
What makes this care package unique?
This spa gift box includes products sourced from organizations that support meaningful causes, including providing safe housing for survivors of trafficking, prostitution, and addiction. So while users nurture themselves, they can feel grateful that the box also supports others.
Price: $109
Where to find this: Deluxe Spa Day
---
Care Packages For Military
Care packages for military service members are collections of items that combat the stress, pain, and homesickness caused by separation and empower recipients to tap into their reserves of bravery and purpose. These packages cultivate feelings of comfort, love, and inspiration.
"Kindling for stronger connections."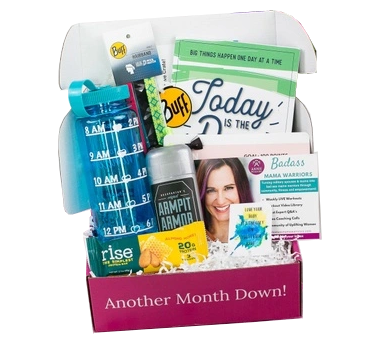 This package was designed to help military spouses through the unique challenges they'll face before, during, and after deployment. Items, such as memory calendars and books about love, help spouses connect with and care for each other from afar.
What makes this care package unique?
It includes tons of creative ways for separated military spouses and partners to connect beyond the standard recommendations of writing letters and sharing pictures. It will inspire a relationship exploration that helps couples strengthen their bonds in times of separation.
Price: $33.99+
Where to find this: Brave Crate Box
"To share or not to share."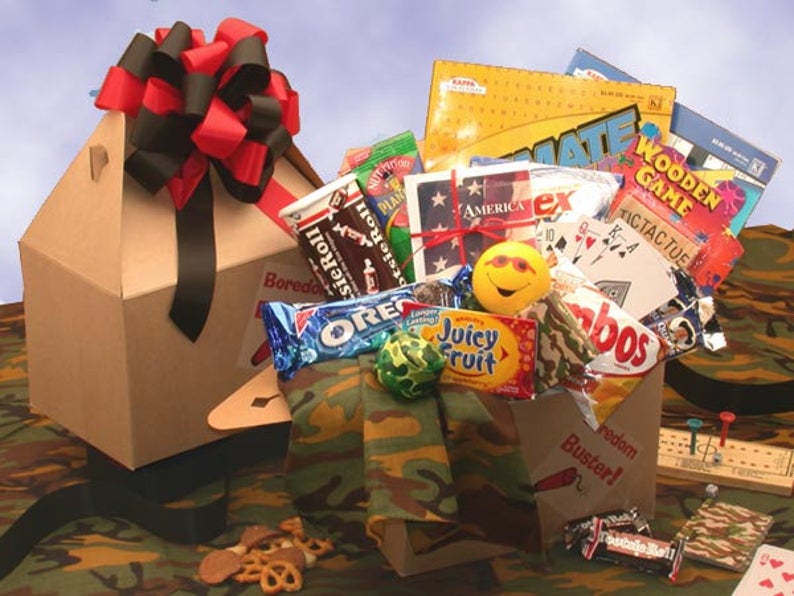 This care package includes crowd-favorite comforting snacks and also brain teasers and games to help emotionally drained and stressed service members keep their thoughts occupied as they navigate new situations and environments without the usual comforts of home.
What makes this care package unique?
It's a care package for just one person, but the game supplies, especially the playing cards and dice, give service members what they need to invite new colleagues to play a few games that will, with hope, turn into plenty of strong bonds.
Price: $40
Where to find this: Military Care Package
"Feed a hero's hunger."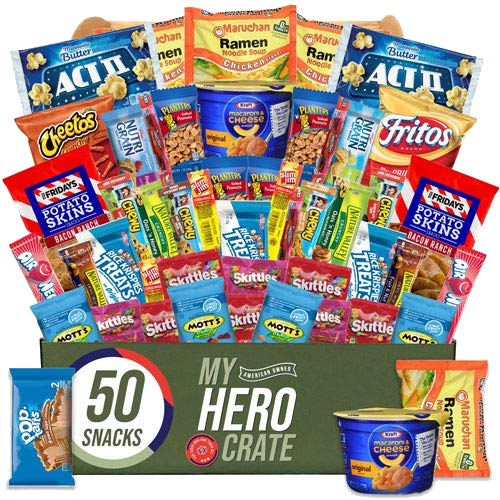 This package comes packed with a hero-sized helping of hearty snacks, like nuts and granola bars, that will keep recipients satisfied between meals. Best of all, there's even enough to share with new friends.
What makes this care package unique?
It's the next best thing to having access to a pantry at home. It's really like sending the comforts of a stocked kitchen to anyone hungry for home.
Price: $39.99
Where to find this: My Hero Crate
---
Get Well Care Packages
Get well care packages are those that include rejuvenating and healing items and other tokens of the sender's support. They say: "I'm here to help you get back to whatever wellness looks like to you right now."
They'll appreciate all the thoughtful items, but just knowing they have your support might be all they need to feel better immediately.
Pro-tip: Encourage holistic wellness all the time with these wellness program ideas.
"Wrap them up in chocolatey comfort."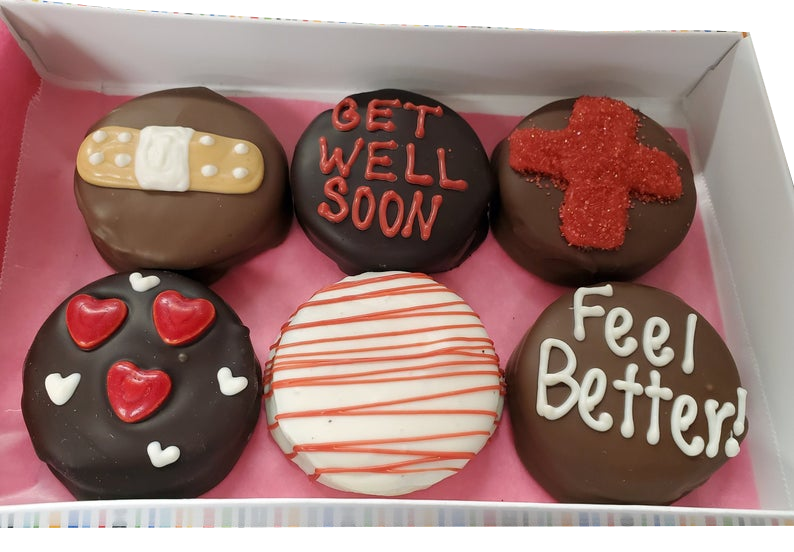 Anyone with a sweet tooth will drool for this crowd-pleasing gift box featuring delicious chocolate-dipped chocolate sandwich cookies piped with inspiring and uplifting messages.
Comfort food is a powerful thing. Favorite flavors we've enjoyed throughout our lives on different occasions can — when we're down mentally or physically — take us back to happier times and remind us to hope for and to fight for better times ahead.
What makes this care package unique?
It takes the classic chocolate sandwich cookie you can get practically anywhere and wraps it up with a layer of chocolate topping and a heartfelt message. Recipients get flavors they love with the added pleasure of personalization.
Price: $19
Where to find this: Get Well Soon Chocolate Dipped Oreo Gift Box
"Everything but the hug."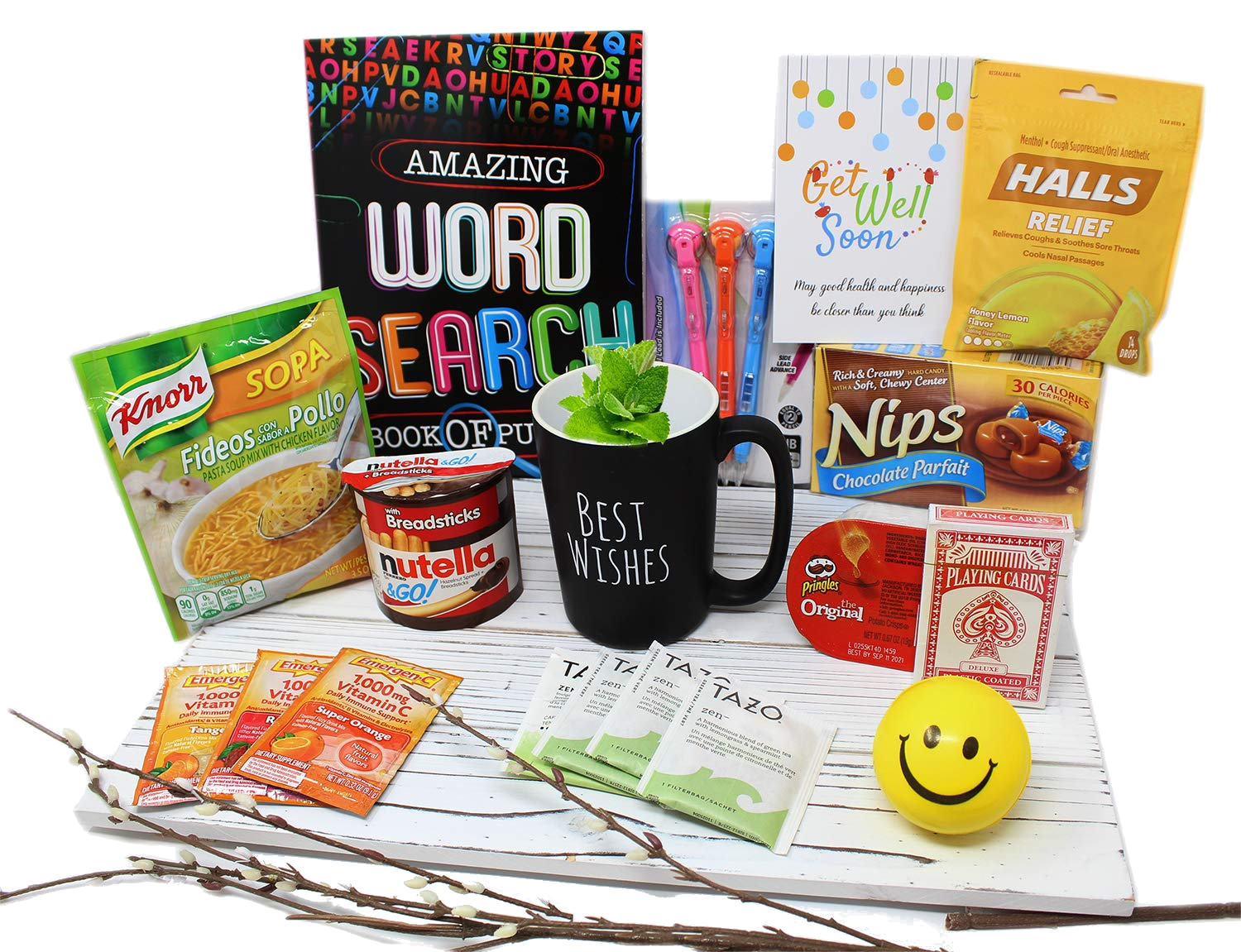 This package comes with tons of goodies to make life more interesting to those who are bedridden or experiencing limited mobility. Comfort-food favorites uplift the spirits, card games, and word searches stimulate the mind, and herbal teas and vitamin C supplements invigorate the senses.
What makes this care package unique?
This little pick-me-up is comprehensive, taking into consideration a full range of get-well needs and pleasures people need to start feeling better. You can also add a personalized get well soon message in a handwritten note from the entire team!
Price: $54.98
Where to find this: Get Well Soon Box
"Capture the healing power of simple pleasures."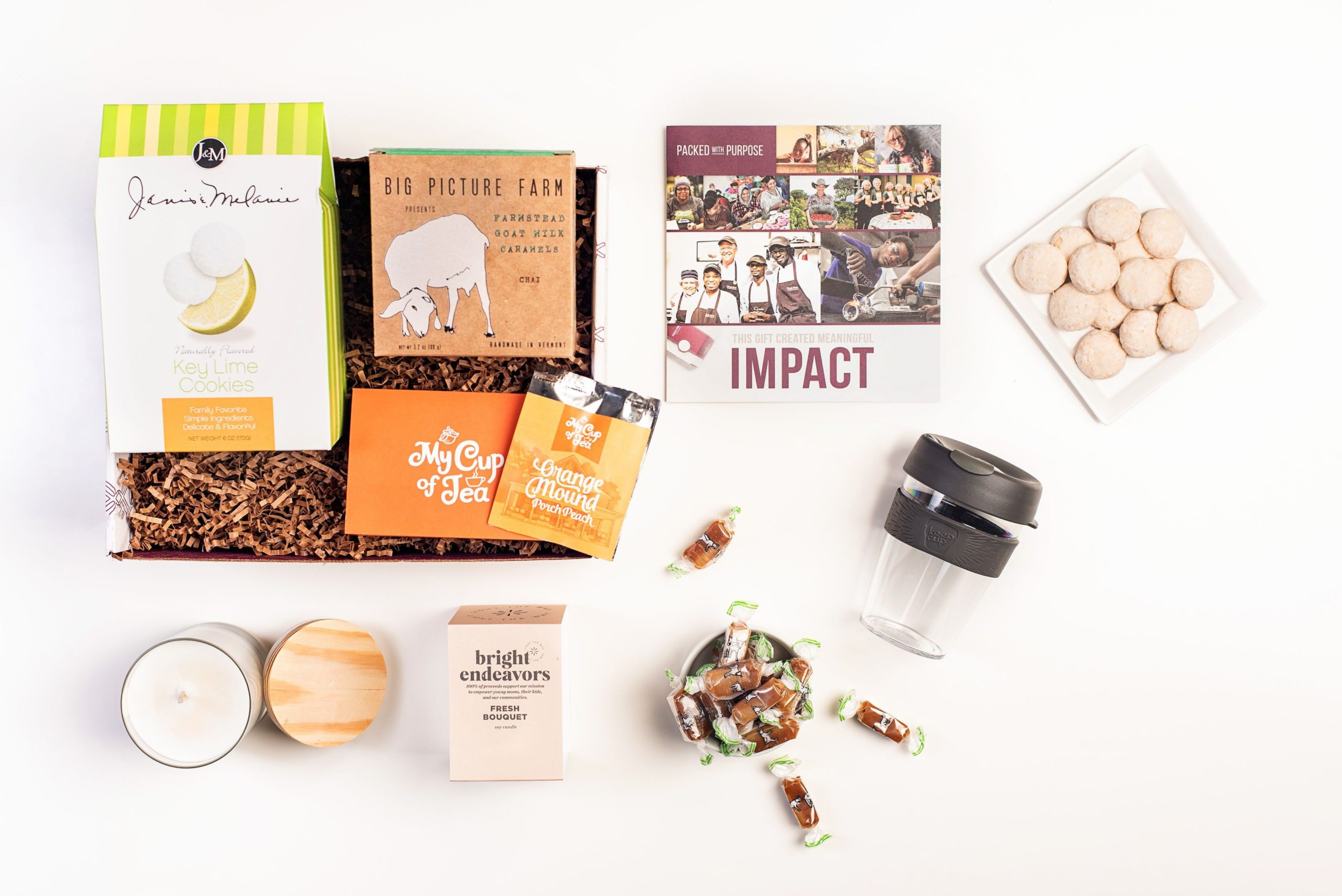 This uplifting care package comes with goodies to brighten anyone's day, even those feeling down. It features a fragrant soy candle, scrumptious goat-milk caramels, refreshing teas, and other feel-good items.
What makes this care package unique?
It provides get-well essentials that don't call too much attention to the illness or condition. These items can serve as a comforting bridge back to feeling good.
Price: $85
Where to find this: Relax & Unwind
---
Care Packages For Friends
Care packages for friends are those that put the spotlight on fun, connection, and bonding. Brighten your best friends' day by sending them supplies for the perfect happy hour or movie night. Select an assortment of gifts for coworkers that show how much you care. You can even maximize your care package's impact by setting aside some time to make the bonding happen.
"Just as good as clinking glasses."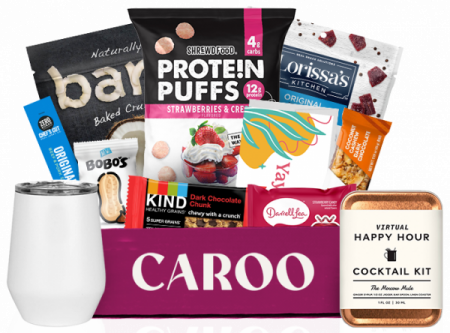 Everyone knows that a good happy hour isn't just about what you eat and drink, but also how much connection you cultivate. This care package helps happy hour guests do it all — maximizing deliciousness with a snack sampler and a cocktail kit while also boosting the bonding factor with greeting cards and icebreaker activities.
What makes this care package unique?
It captures perfectly the sentiment that it doesn't matter where you do happy hour as long as you do it with people who delight you. This package might even lead to happy hours more memorable than any you spent at the corner bar.
Price: $57.95+
Where to find this: Happy Hour Box
"The movie experience is a state of mind."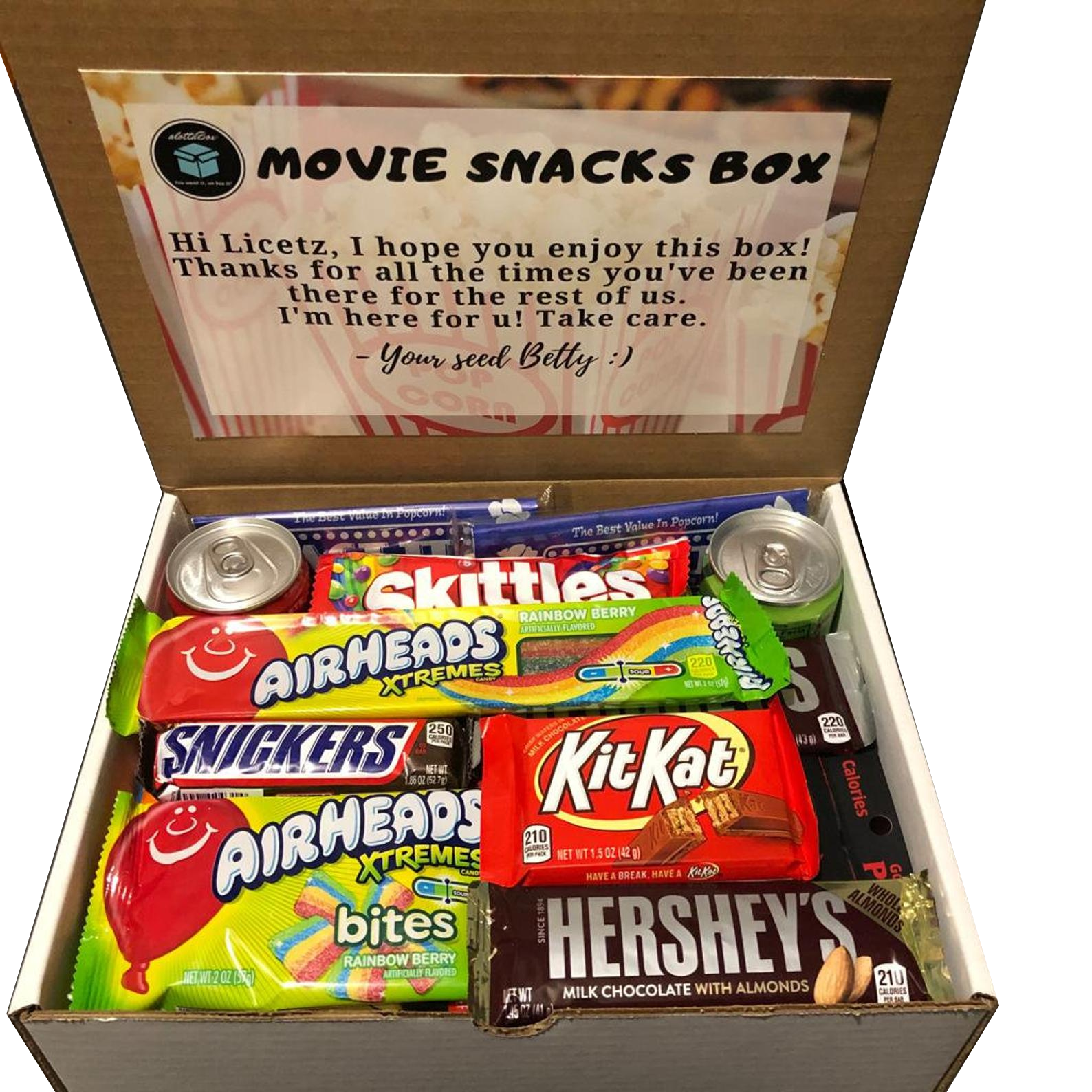 Cozying up to enjoy a good movie is the perfect low-key way to relax and regroup. This care package makes it even more enjoyable to participate in a little cinematic therapy. It comes packed with snacks that will make anyone's home cinema feel as epic as a real theater.
What makes this care package unique?
It amplifies the restorative qualities of simply watching a movie, making the entire experience more enjoyable, more rejuvenating, and more relaxing.
Price: $24
Where to find this: Movie Night Care Package
"A working nomad's toolkit."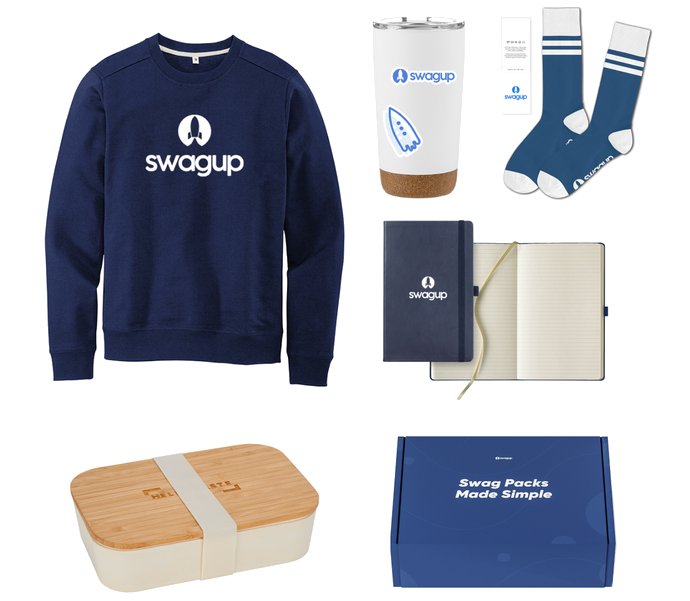 Sure, you can toss everything you need to do a little work into any old bag, but with this care package, you have everything you need to do your best work and to do it in style. Featuring a wear-anywhere sweatshirt, a compact lunchbox, and an insulated tumbler, this care package provides the modern worker with the agility to take their ideas absolutely anywhere their heart desires.
What makes this care package unique?
The perfect way to reward your employees while also demonstrating trust, this pack provides convenient items, but it also helps open recipients' eyes to new possibilities. Maybe they can purchase that train ticket and take their 9-to-5 show to the rails for a day.
Price: $24+
Where to find this: Work-From-Anywhere Swag Kit
---
Birthday Care Packages
Birthday care packages are birthday resources, not to be confused with birthday presents. Care packages give the lucky birthday celebrant the tools they need to make the most of their special days, providing far more birthday utility than the average present.
"A box of birthday wishes."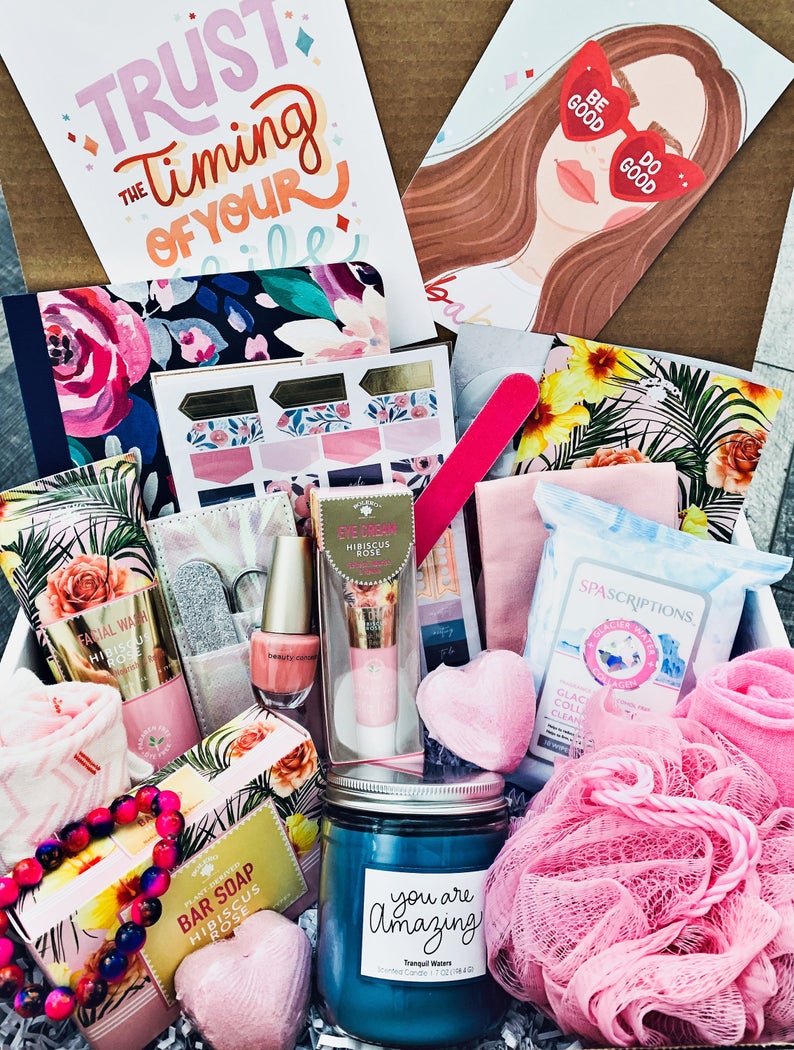 The perfect compliment to any virtual birthday party, This care package serves one key purpose: helping that special birthday someone absolutely spoil themselves. Birthdays are supposed to be fun, but they can get a little overwhelming for those who forget to take some time off just for themselves. This box reminds them to be just a little bit selfish.
What makes this care package unique?
It can be used before, during, or after the birthday celebration and still accomplish its goal of helping maximize birthday fun.
Price: $33+
Where to find this: Birthday Care Pack
"Make a birthday wish with every shake."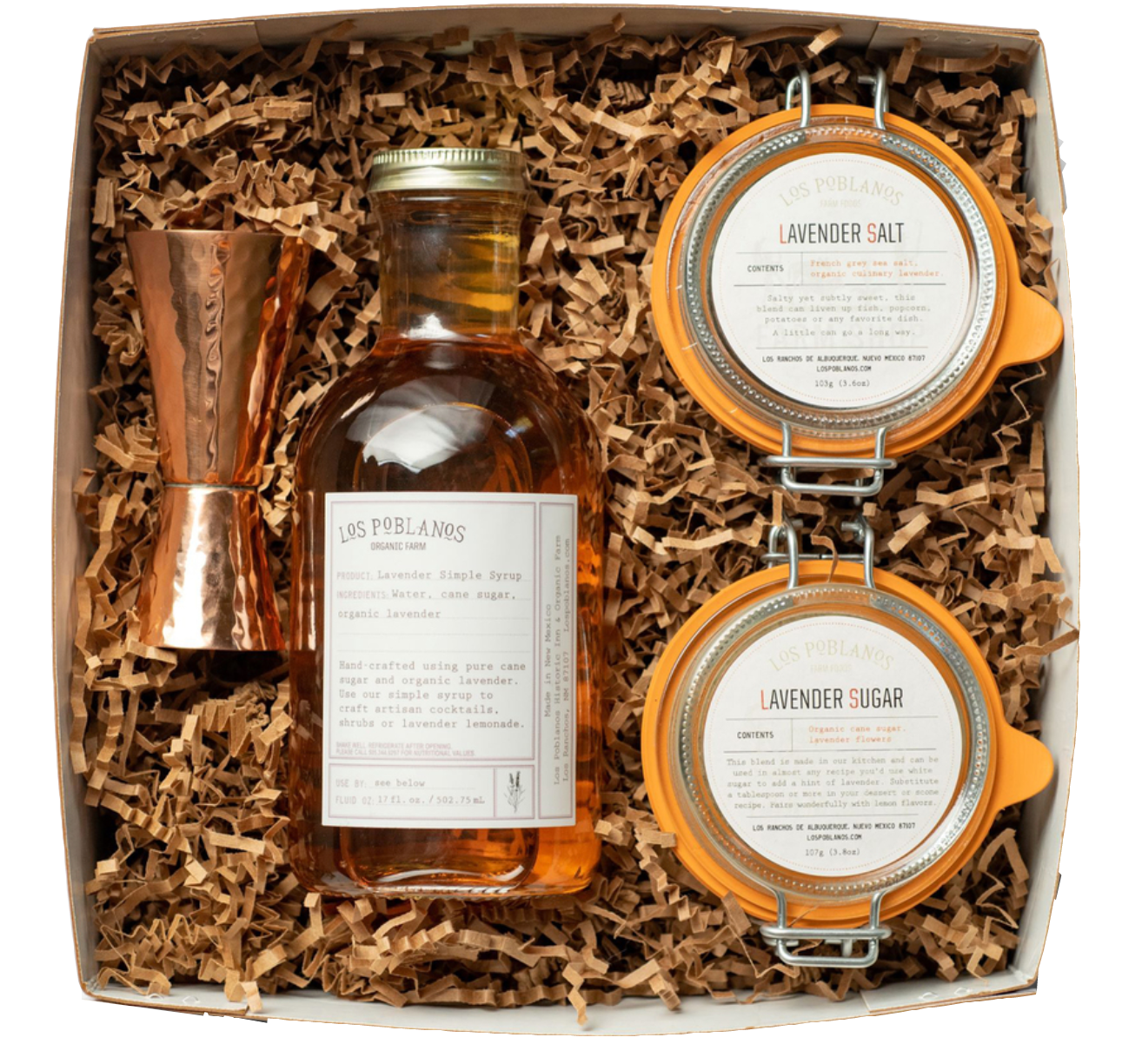 Birthday celebrators get to craft their own special-day cocktail using the ingredients and tools in this set. Lavender sugar, salt, and simple syrup perfectly complement their choice of alcohol or non-alcoholic mixer.
What makes this care package unique?
It says: It's your party, and it's coming straight to you. Recipients don't have to head to the bar to start the celebrations. With this care package, they can kick off the fun whenever they feel like it.
Price: $70
Where to find this: Campo Cocktail Gift Set
30) Birthday Bash
"Pack up the life of the party."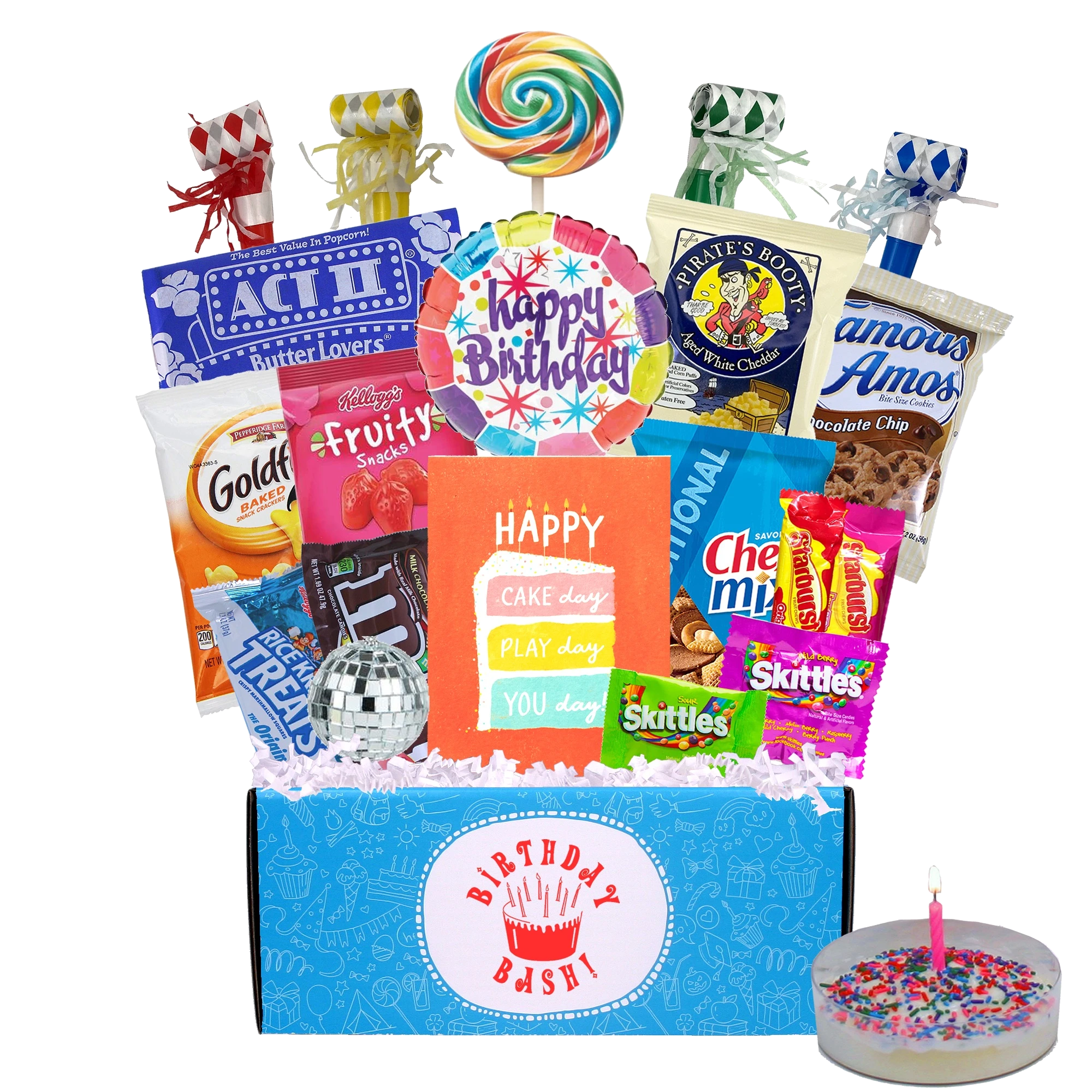 Maybe you can't always be there for the party, but you can always send the party to them. This celebratory care package boasts tons of festive goodies, including a must-have birthday cake mix that bakes upright in the microwave.
What makes this care package unique?
Snacks, toys, and decorations truly create a complete party in a box. Recipients don't need to add anything or do anything. All they need for their birthday bash is right here.
Price: $36.97
Where to find this: Birthday Bash
---
Holiday Care Packages
Holiday care packages are the festive boxes packed with themed snacks, treats, and decorations that add an extra special touch to annual celebrations. They're ideal for those times you can't be together on special days no matter how much you would love to. By sending one of these care packages, you and your friends and family members can still commemorate special occasions together.
"Have a box of cheer."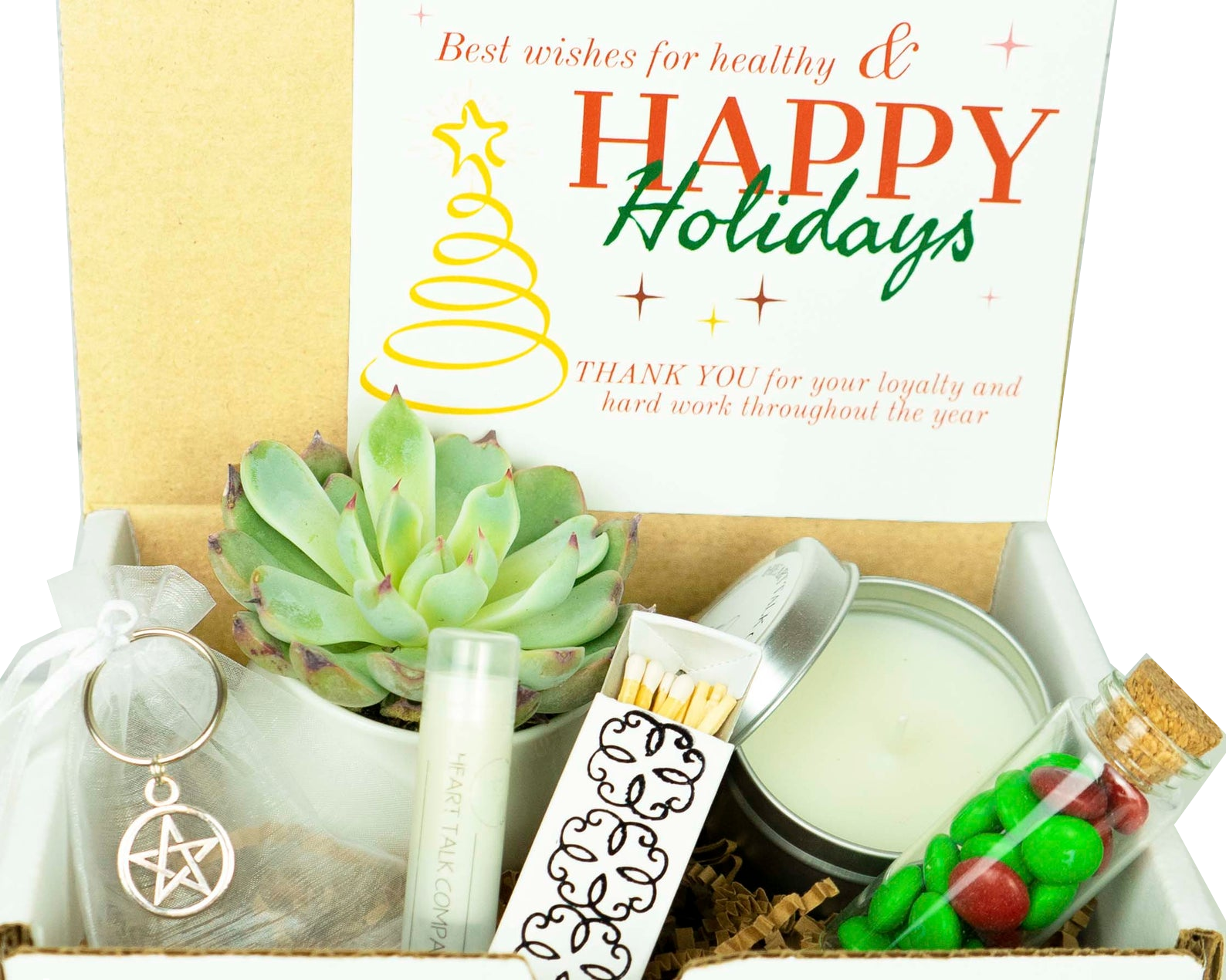 The perfect pairing for a virtual holiday party, this tastefully festive care package features classic gifts dressed up with holiday flare. A lusciously scented candle, a mini succulent, designer matches, and pristinely packaged holiday candies come dazzlingly arranged in a personalized box.
What makes this care package unique?
The presentation — including the super-premium packaging you get inside and outside the box — adds a festive edge to the perfect gift.
Price: $35.99+
Where to find this: Christmas Care Package
"Feed the Halloween spirit."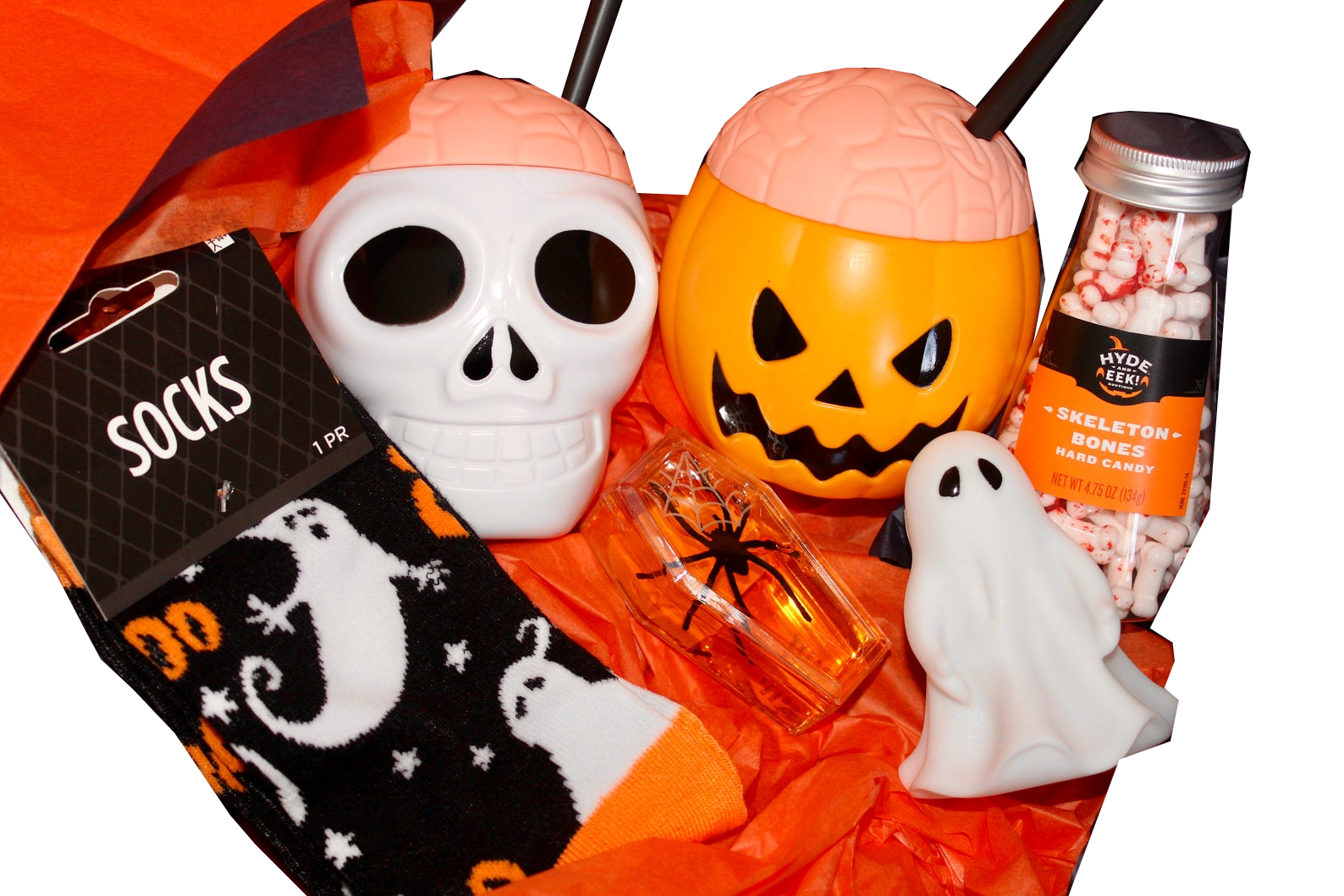 Perfect for trick-or-treaters both young and old, this care package features an assortment of fright-night thrills for spirited celebrations. Snuggle into your spooky socks, take a sip from your skeleton cup, and savor all the surprises this special night brings.
What makes this care package unique?
It captures the fun-loving spirit of Halloween with an assortment of creative gifts that show this holiday is about more than just candy.
Price: $50+
Where to find this: Halloween Care Package
"Show them you're there in spirit."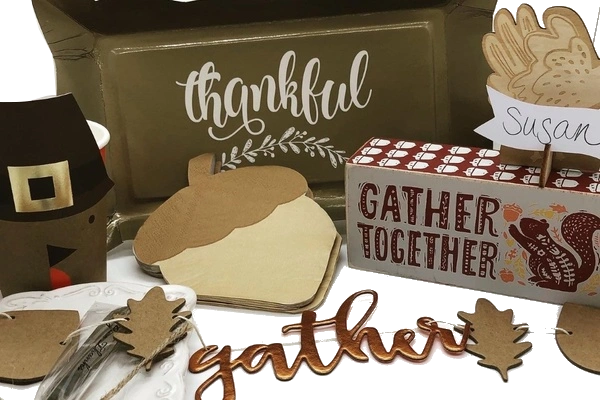 This care package will be any Thanksgiving host's secret to throwing the perfect festive party. It includes party supplies and decorations, such as themed plates and napkins, that bring plenty of personality to the holiday table.
What makes this care package unique?
It can turn any average table into a holiday tablescape. In just a few seconds, these decorative accents create a heart-warming look and feel of festivity.
Price: $35.42+
Where to find this: Thanksgiving Care Package
---
People Also Ask These Questions About The Best Care Packages
Q: What do I put in a care package?
A: You can put general feel-good items, including snacks and games, into a care package, or you can choose a theme to guide your selections. Find plenty of pre-assembled care packages ready for purchase here.
Q: How do you send a care package?
A: Sending a care package is as easy as selecting one of these pre-assembled packages. The trusted vendors will take care of the shipping and logistics.
Q: How do you make your own care package?
A: You can create your own care package by ordering an assortment of items to be shipped to you for repackaging and distribution. You can also work with one of these vendors to select a customized assortment that can be shipped directly to your recipients.
Q: What should I put in a care package?
A: Put a variety of feel-good items — including snacks, games, hand-written notes, and holiday decorations — into a care package.
Q: Can you send alcohol in a care package?
A: Yes, you can send alcohol in a care package. Find some care packages with alcohol in this list.
Q: How much does a care package typically cost?
A: A care package typically costs $25 – $100+. They will generally range in price depending on what kind of items you are looking to include in a care package for friends or family. You also will want to factor in the cost of sending one box or multiple packages which will also consider where the packages are being sent.