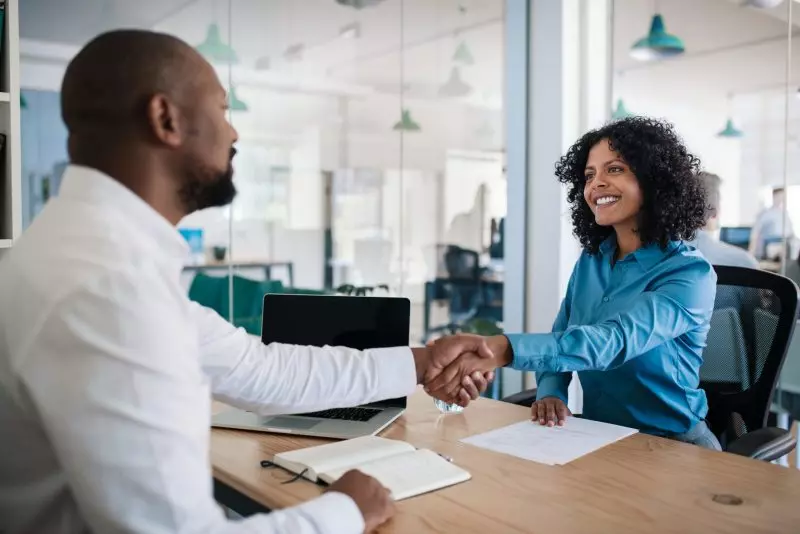 Human Resources. Consider those two words for a minute. What do they mean to you?
To us, they speak to the art of nurturing and managing your team members in ways that lead to the best results for them and for your small company. Human resources (HR) is all about doing the best for your people, from the moment they respond to a job posting to their 25th work anniversary and beyond.
HR helps you find the right people to work for you. It helps you keep those people engaged and happy. It helps you implement the policies, infrastructure, and benefits that set your people and your company up for success.
P.S. Stay in the know with all things HR by getting the free email newsletter HR professionals can't get enough of.
Want to become a better professional in just 5 minutes?
Page Contents (Click To Jump)
Why Is HR Important For Small Businesses?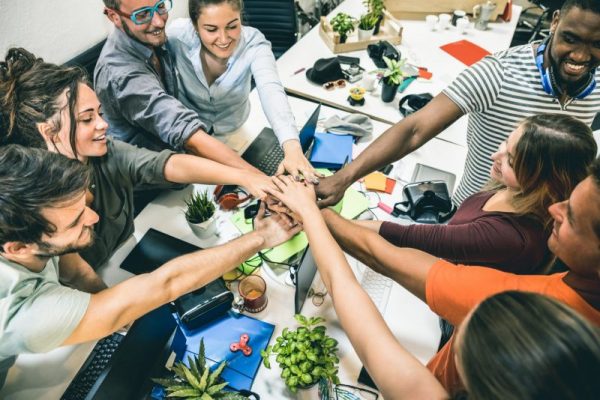 What is small business HR?
Small business HR is the art of strategically leveraging limited human assets to achieve the best possible results. Properly executed HR initiatives can help small business owners achieve success by helping them tap into the full potential of their most valuable resources.
As the late author Sir Ken Robinson said, "Human resources are like natural resources; they're often buried deep. You have to go looking for them, they're not just lying around on the surface. You have to create the circumstances where they show themselves."
Unleash the full potential of your human resources with the tips and tools below. Once you're done doing that, you may want to check out our list of HR newsletters for additional resources.
We might dare to ask: Why isn't HR important for small businesses?
To put it in the simplest possible terms: HR is important for new business owners because it sets up your employees, and therefore your company as a whole, for success.
HR is the force that drives the processes, workflows, policies, and expectations that determine how people do their work and how people enjoy doing work at your company.
Here are just a few examples of what HR does for small businesses:
1) HR helps small businesses maintain compliance with relevant labor laws.
Why is this so important? The United States Department of Labor (DOL) enforces over 180 federal employment laws and requirements, which vary from state to state and change as often as 75 times per year. (Take a peek at one subset of these laws, OSHA laws, to get just a hint of the complexity of maintaining perfect compliance.)
An HR professional—such as the ones you can find through Bambee—specializes in understanding these laws and helping you operate according to all the relevant guidelines. They can even help you properly handle an IRS audit if and when that happens.
2) HR helps small businesses grow.
With an HR infrastructure in place, you can maintain scalability in your hiring, training, retention, and personal development programs. (Otherwise, as you grow, you might have to first scale up your HR department before you can find and retain staff for other key business areas.)
3) HR helps small businesses maintain optimal efficiency.
When employees and company owners take on HR tasks, they often waste time just trying to figure everything out. Using HR services such as Zenefits will make HR more efficient so other strategic priorities don't fall through the cracks.
4) HR helps small businesses find and keep the right people.
An HR department or robust recruitment service, such as ZipRecruiter, can revolutionize a startup's hiring process and onboarding process. This means you can find the new people you really need to grow your business while also boosting the retention of your current employees.
HR Basics & Compliance For Small Business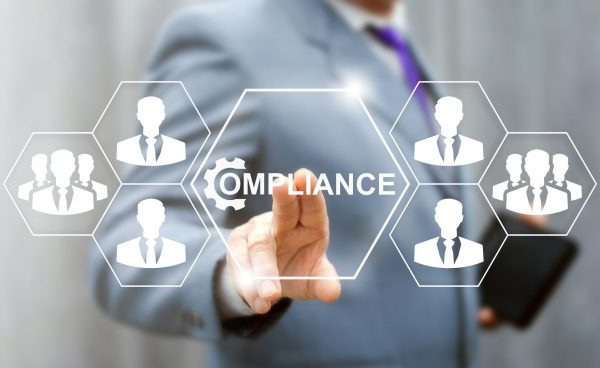 So what are some foundational HR tasks every small business should check off the list immediately?
Excellent question!
Payroll. Set up payment methodologies and infrastructure and also define and document your payroll processes. Paying employees, and doing so on time, is probably the most basic expectation every single employee at every single company shares. Getting this process right is therefore fundamental to your operations, especially since mistakes can drain your time, money, and sanity.
Employee benefits. Select an employee benefits package with adequate perks and healthcare offerings. This is critical as the details of your benefits, and also the administration of said benefits, will help you both attract and train employees. Some studies suggest that more than half of all potential employees consider benefits and perks central to their decision to accept a job.
Compliance. Read, understand, and comply with all the relevant laws and regulations in your location of business.
Licenses and permits. Make sure you have obtained official authorization to engage in all the relevant functions of your business.
Hiring. Iron out the hiring process, create templates for job descriptions and job postings, define requirements for creating a new job, and establish candidate requirements, including testing protocols and background checks. Nail down these hiring nuances in your company's early stages, and you'll be able to grow seamlessly and painlessly down the road.
Timekeeping. Decide if and how to track time using helpful time-tracking tools such as NiftyPM. You'll need to communicate this protocol to employees as it will heavily influence their experience and day-to-day workflows.
Policies. Write attendance and absenteeism policies, vacation policies, termination policies, and more—the list could go on and on. Documenting and making transparent these policies will save you headaches and provide much-needed guidance as you encounter the vast range of situations that arise in the course of running a small business.
Employee Relations. HR is vital in maintaining positive relationships between employees and the organization. They handle employee grievances, mediate conflicts, and ensure fair treatment. HR professionals are responsible for implementing policies that promote a healthy work environment and may organize employee engagement activities and recognition programs.
HR Advice & Tips For Small Businesses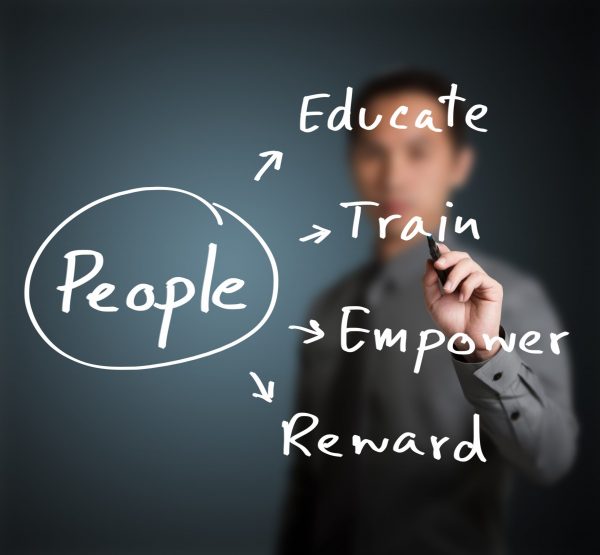 After you have your core HR infrastructure set up, you can try layering on some extra options to boost your company culture and make your employees' experience as good and organized as possible.
Processes. Establish and document the protocols for training, performance management, performance reviews, employee engagement, and more. Having these processes standardized and documented will help you grow your team and also build on the knowledge and expertise of your employees.
Employee files. Create and manage files with sensitive employee information, such as performance reports, disciplinary actions, W-4 forms, and payroll details. These files are important as they provide all the information you and anyone else may need to access in the future to justify actions or, in the worst case scenario, provide information to lawyers.
Employee handbook. Create documentation that makes clear and transparent all the processes and protocols you've established.
Tip: Use monday.com to create a living handbook you can update automatically.
HR Tools & Software For Small Businesses
"Dedicated HR experts at your fingertips"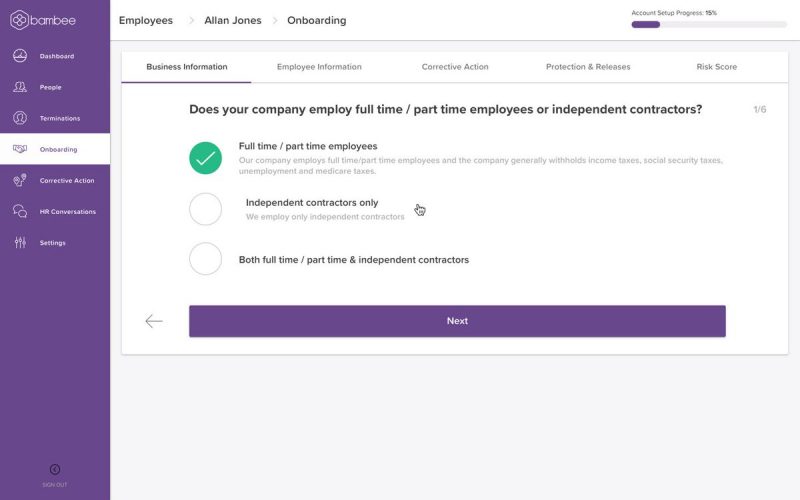 What role does this software play for your small business?
A must-have HR tool, Bambee provides your small business with a skilled professional to handle your human resource management. For example, your professional might help you understand and comply with regulations or develop a work from home policy and remote employee onboarding checklist.
What impact will this software have?
Bambee will free up your time to focus on growing and managing your business. And while you focus on long-term priorities, you'll enjoy peace of mind that the nuts and bolts of your HR administration are in good hands.
Learn more here: Bambee
"Top-notch HR administration in the cloud"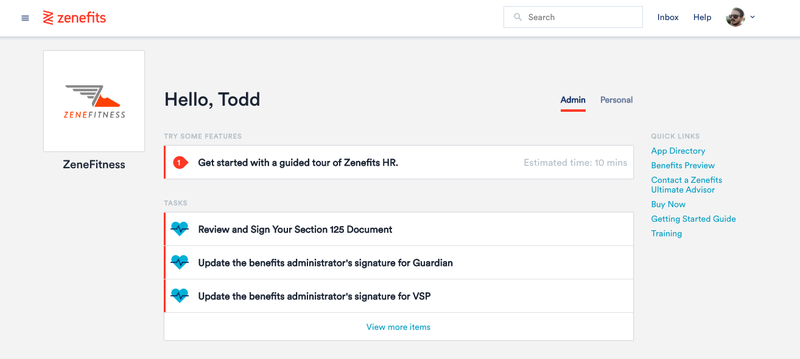 What role does this software play for your small business?
This HR software makes everything easier. Whether you're outsourcing benefits administration or entering a hiring sprint, you can count on Zenefits to streamline the process.
What impact will this software have?
Your processes for hiring and onboarding will be more efficient. Plus, using this resource will enable you to provide your new hires and dedicated employees with an enhanced experience across every HR touchpoint.
Learn more here: Zenefits
"Find the people who will make your business"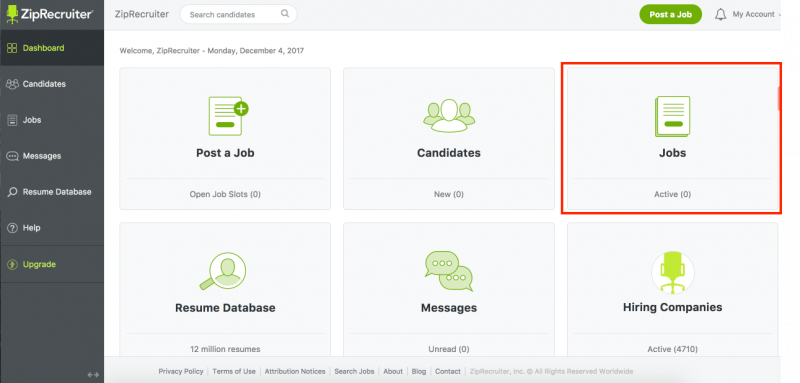 What role does this software play for your small business?
ZipRecruiter works like a specialized HR team focused on making recruiting more efficient, more strategic, and more inclusive. This user-friendly platform makes it easy to post jobs, find the perfect candidates, and make better hiring decisions.
What impact will this software have?
When you use a tool that optimizes your hiring process, it also optimizes your workforce, filling your company with more highly qualified candidates who are committed to making your business a success.
Learn more here: ZipRecruiter
"Engage candidates and employees"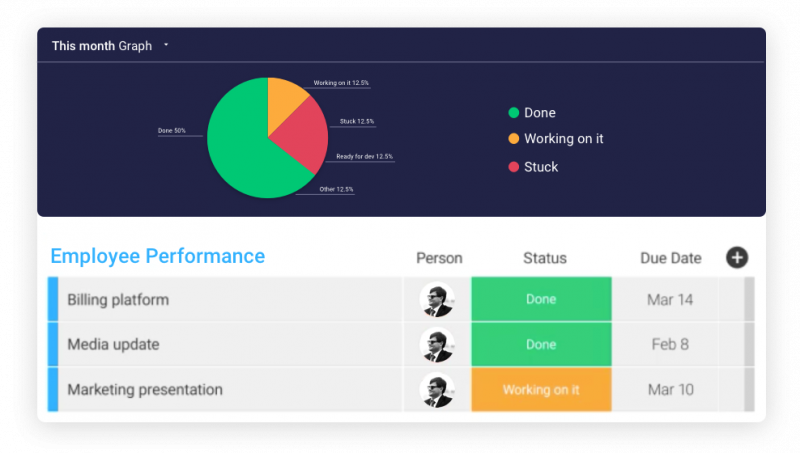 What role does this software play for your small business?
This comprehensive virtual workplace solution allows HR specialists to communicate and coordinate on a variety of tasks, from automating new employee communications to tracking employee development performance.
What impact will this software have?
This software makes it easy to document HR processes and keep stakeholders in the loop as your company grows.
Learn more here: monday.com
"Employee check-ins without meetings"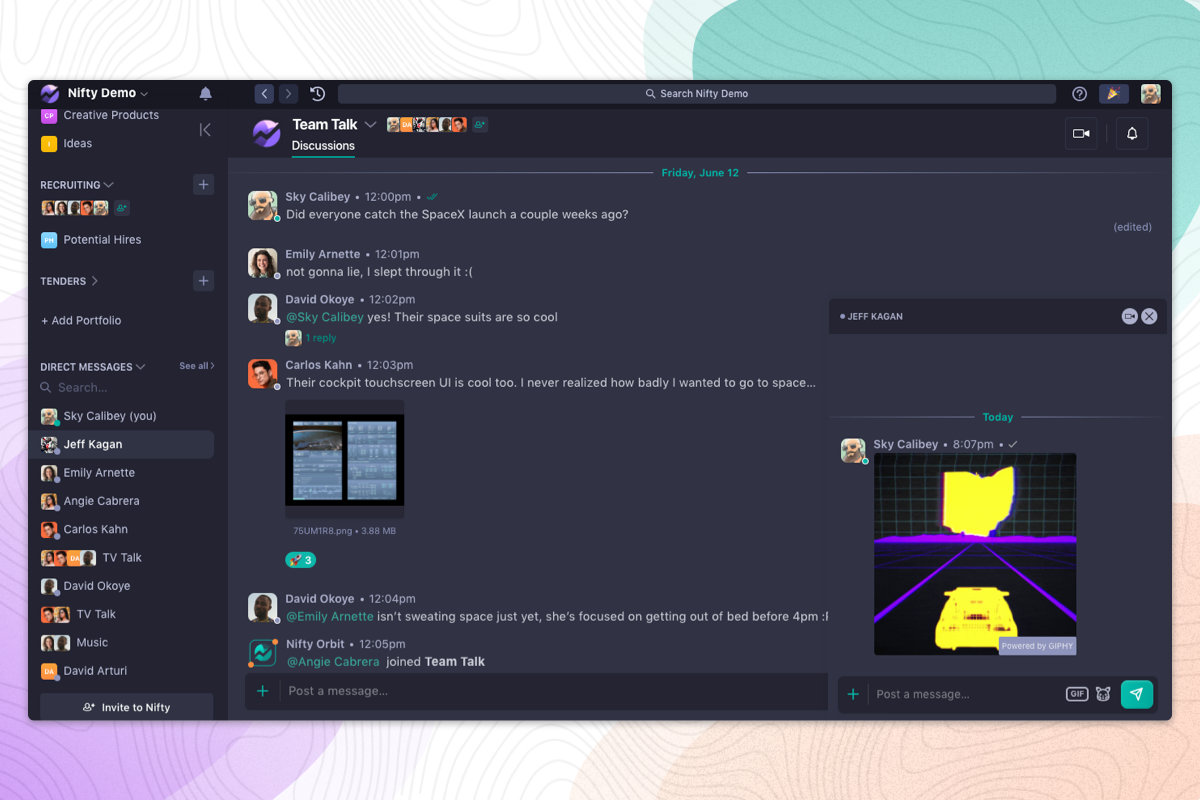 What role does this software play for your small business?
This software helps teams automate HR functions. Using just one platform, HR specialists can check in on employee progress via time-tracking and milestones without ever scheduling a single meeting.
What impact will this software have?
This tool helps give HR teams the information they need to help employees do their best work while also saving time on endless meetings.
Learn more here: Nifty
"Make your company culture stand out"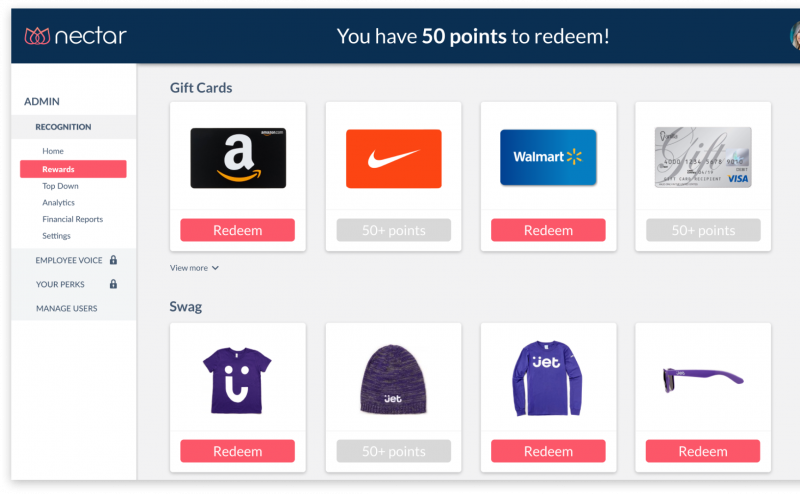 What role does this software play for your small business?
This software can bolster your company's culture by empowering employees to recognize one another for great work.
What impact will this software have?
HR managers won't have to design, implement, and manage peer-to-peer recognition programs. This helps your recognition program run itself so HR experts can focus on other priorities and critical HR responsibilities.
Learn more here: NectarHR
"Reinforce your values"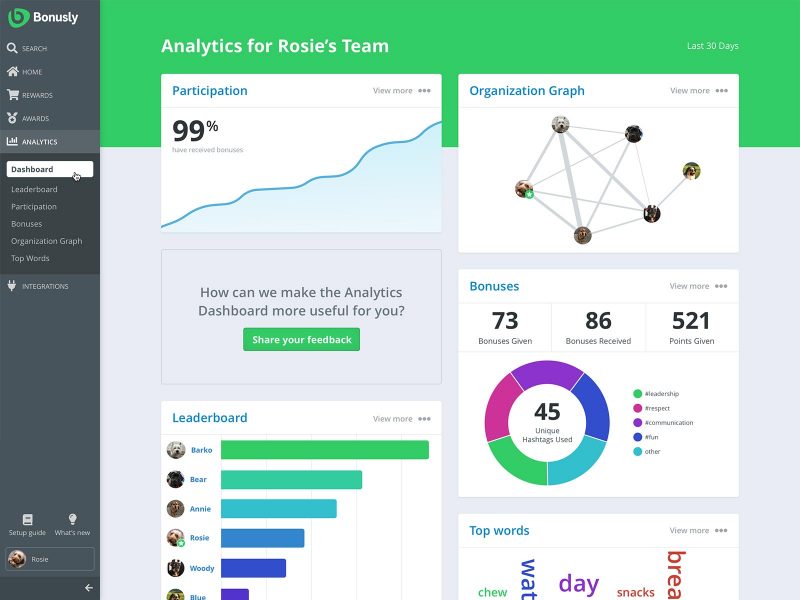 What role does this software play for your small business?
This platform makes it easy to create a culture of recognition that also broadcasts the values and work ethic that define your company.
What impact will this software have?
Receiving rewards and watching others receive awards may drive messages about your values home better than any orientation or communication.
Learn more here: Bonusly
"Hiring software easy for any owner or operator to use – with the power to make the right hires."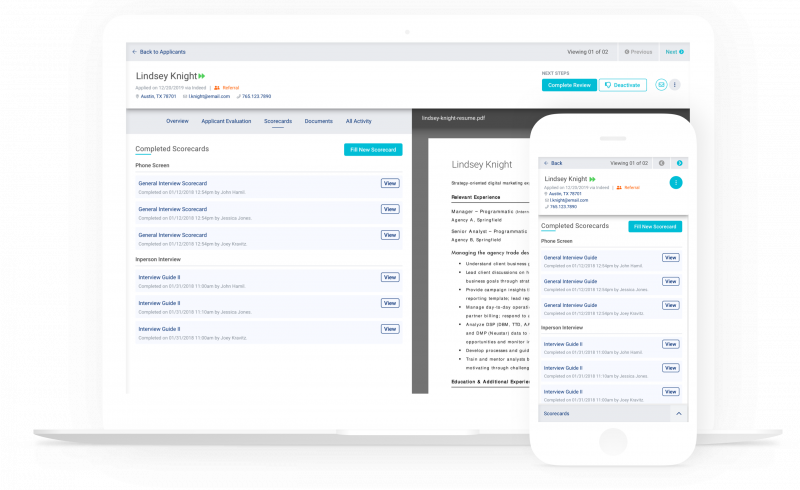 What role does this software play for your small business?
CareerPlug was built on a proven hiring playbook that helps small businesses attract, evaluate, and hire the right applicants. Even if you're not an HR pro, you can create an attractive job posting in minutes, automatically publish jobs to the major job boards, and easily evaluate and compare candidates so that you end up with the right people in your roles.
What impact will this software have?
CareerPlug saves small business owners and operators time and money without sacrificing the quality of hires. Great candidates don't last long on the job market, which is why CareerPlug allows you to identify your best candidates and move them through your hiring funnel quickly before your competition scoops them up first.
Learn more here: CareerPlug
"Administer incentives and benefits with ease"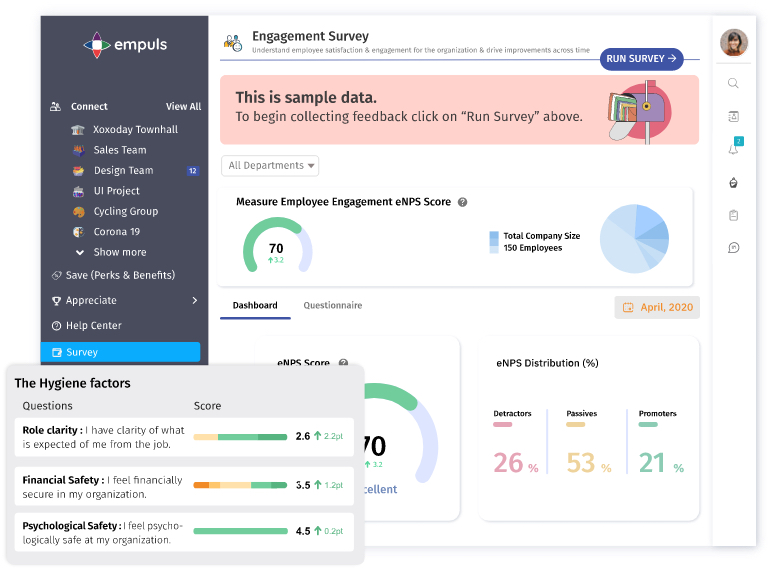 What role does this software play for your small business?
This tool allows you to bring the management and handling of incentives and benefits in-house while also bringing enhanced efficiency, scalability, and value to your employees.
What impact will this software have:
It will keep your employees feeling happy and recognized as you can use this simple platform to make sure everyone is getting the perks they deserve.
Learn more here: Empuls
"A superstore of customizable items employees will love"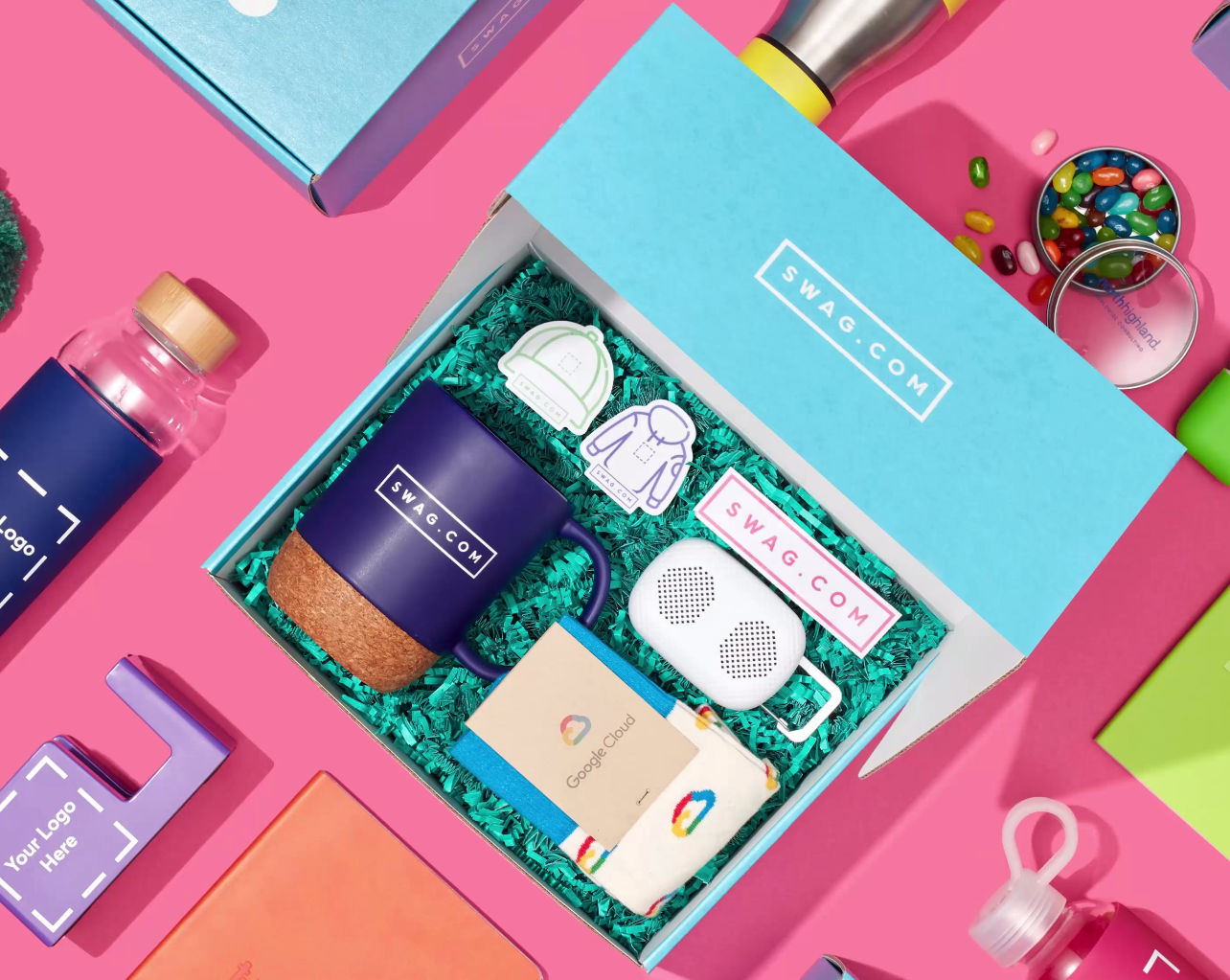 What role does this software play for your small business?
It provides you with a wealth of meaningful swag options you can pick and choose for every kind of event, holiday, or celebration.
What impact will this software have?
You'll never again have to go through the trouble of finding swag items, tracking down quotes, and managing shipping. Using this go-to resource, you can easily find, order, and ship customized swag items for every occasion.
Learn more here: Swag.com
"Branded boxes filled with premium swag"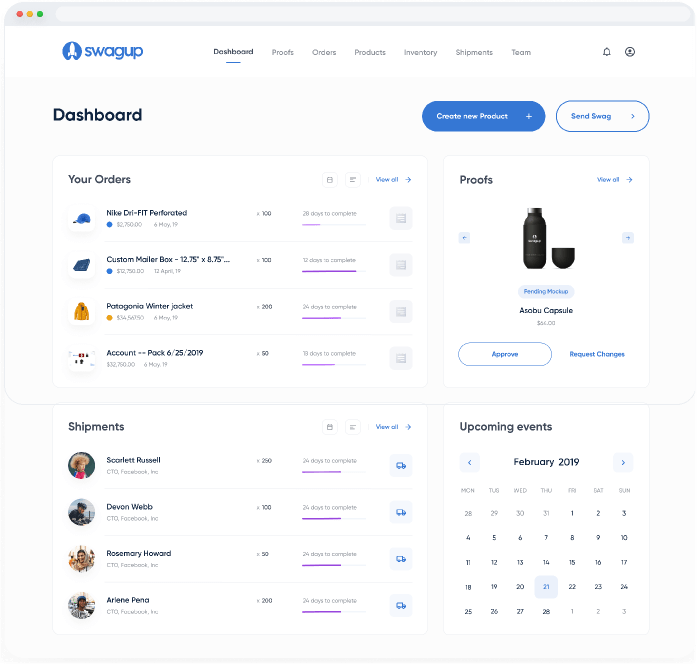 What role does this software play for your small business?
It helps you treat your employees to the swag that they want while also beautifully representing your company brand.
What impact will this software have?
SwagUp's clothing and branded desk accessories will help your team feel unified, even if they're working in distributed offices.
Learn more here: SwagUp
Pro-Tip: If you are looking for more tools for your small business, check our our curated guide of the Best HR Software Platforms For Managers!
---
People Also Ask These Questions About HR For Small Businesses
Q: What does HR do in a small business?
A: In a small business, HR can help keep operations efficient, strategic, and also compliant, which is critical because labor laws are complex and vary from state to state.
Q: Does a small business need human resources?
A: Yes, small businesses need human resources for support in maintaining scalability, following relevant employment laws, and defining and refining processes, such as hiring and performance management processes.
Q: Can an owner be HR?
A: A business owner might be able to handle some HR tasks in the early stages of a company's development. However, dedicated HR staff—with deep knowledge of labor laws and process development—help ensure optimal growth and success while also freeing owners up to focus on strategic initiatives.
Q: How do I set up an hr for a small company?
A: Set up HR for a small business by hiring an internal team or using tools and software to outsource essential HR functions.
Q: Are there HR software solutions that I need for my small business?
A: There are HR software solutions that can help you streamline and improve how you manage your small business. For example, Bambee can help you maintain compliance, Zenefits can streamline your perks administration, and Nectar HR can help you refine your company culture.
Q: Where can I find HR software tools?
A: You can find HR software tools, as well as other tips and tricks for your business, in this small business HR post.