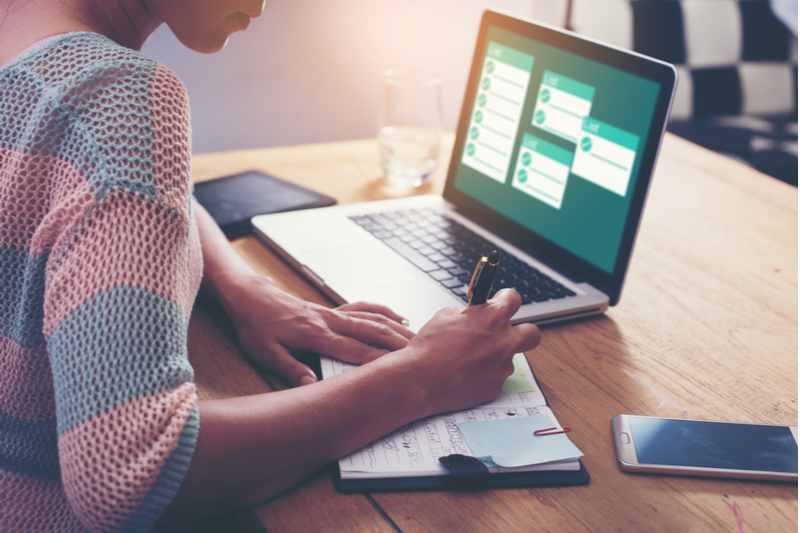 Onboarding remote employees is different from onboarding onsite employees. Let's say remote onboarding is to onsite onboarding as…spoons are to forks or vacuums are to mops.
These things have many similarities, but subtle variations in their designs allow them to achieve different goals.
A checklist specialized for onboarding remote employees works toward the specific goal of having happy and engaged virtual workers.

In a hurry? These are a few hand-picked tools for upgrading your recruiting and onboarding process:
Successful remote onboarding checklists…
Set virtual employees up to overcome the challenges associated with remote work.
Help remote employees build valuable connections to teammates outside the office.
Introduce employees to a range of communication and productivity tools.
Bolster employee excitement and engagement from afar.
Do these sound like benefits you want for your new remote employees? Our 6-step remote onboarding checklist will help you get there.
Want to become a better professional in just 5 minutes?
Page Contents (Click To Jump)
Phase 1: Recruiting Remote Employees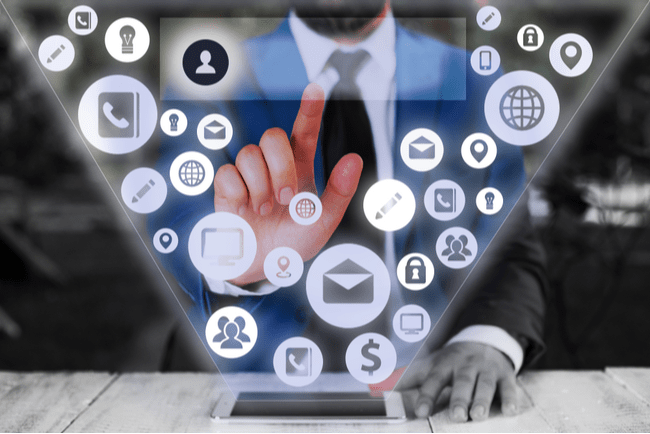 Goal 1 – Provide crystal-clear messages
Your website, job descriptions, and interview processes should leave remote (and really all) employees with a clear sense of what your company wants in a role and also who you are as a company—your missions, values, culture, and people.
Get Your Free Remote Onboarding Checklist Here
How to achieve it:
Have multiple people review prospective employee touchpoints according to these guiding questions:
Is the message clear?
Is the message accurate?
Is the message conveying what we want it to?
Touchpoints to review:
Interview questions. You should have some questions specific to remote roles. For example, how do you like to organize tasks in a remote work environment?
Job descriptions. Be transparent about what remote means at your organization. Is the position fully or partially remote? Are the hours flexible or structured?
Your company website, especially your About Us and Recruitment pages. Here are a few examples of career pages that hire remote employees frequently for inspiration: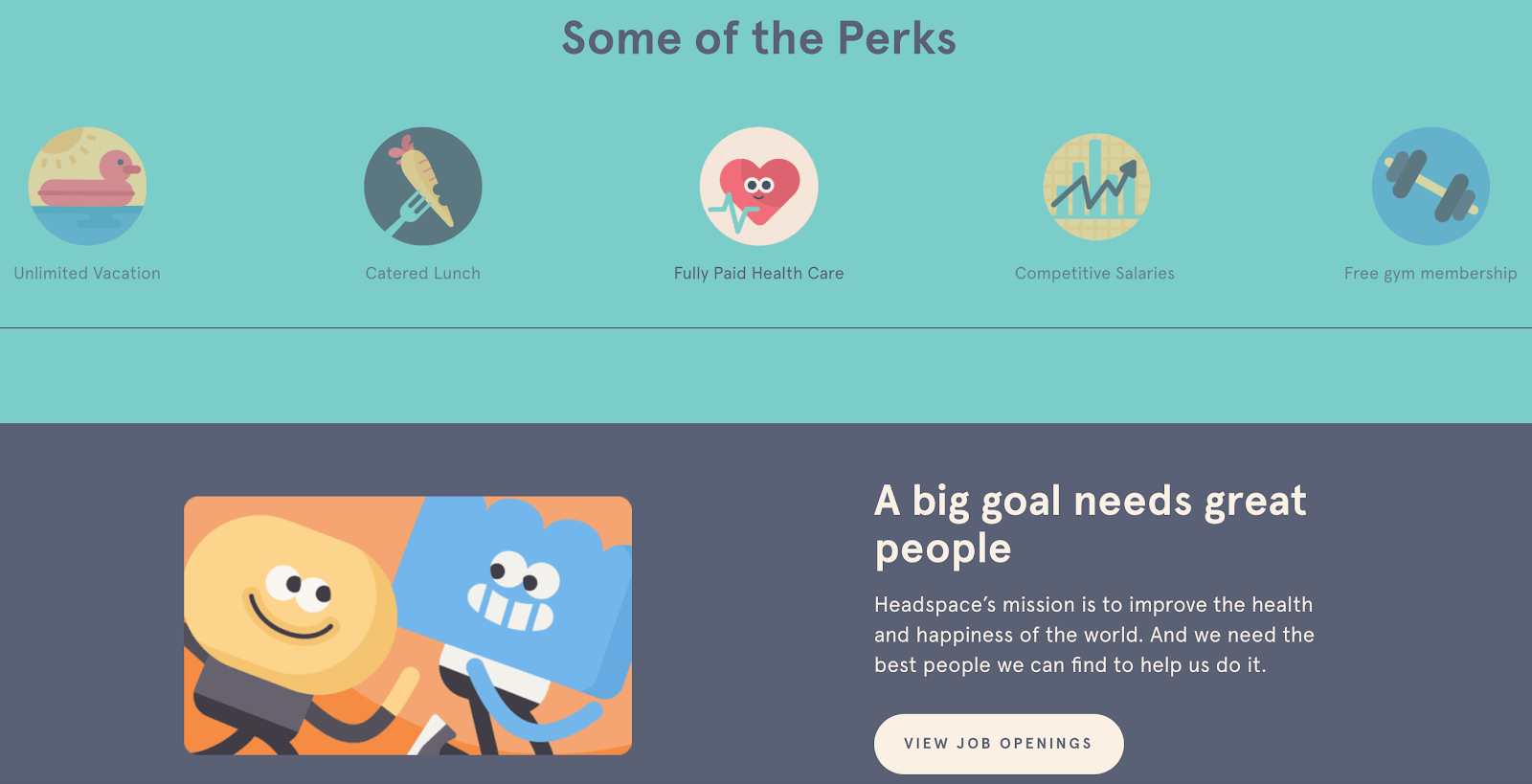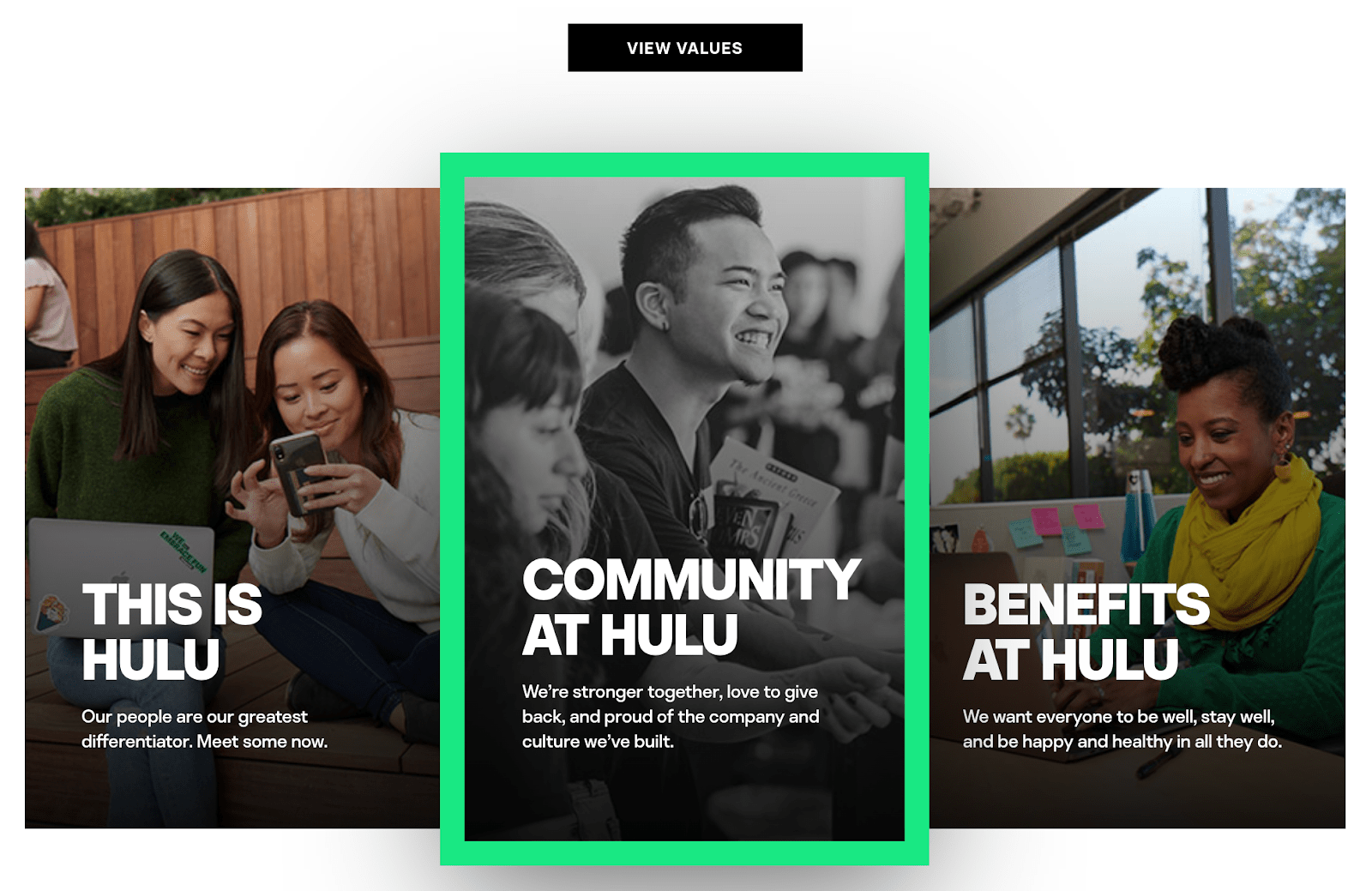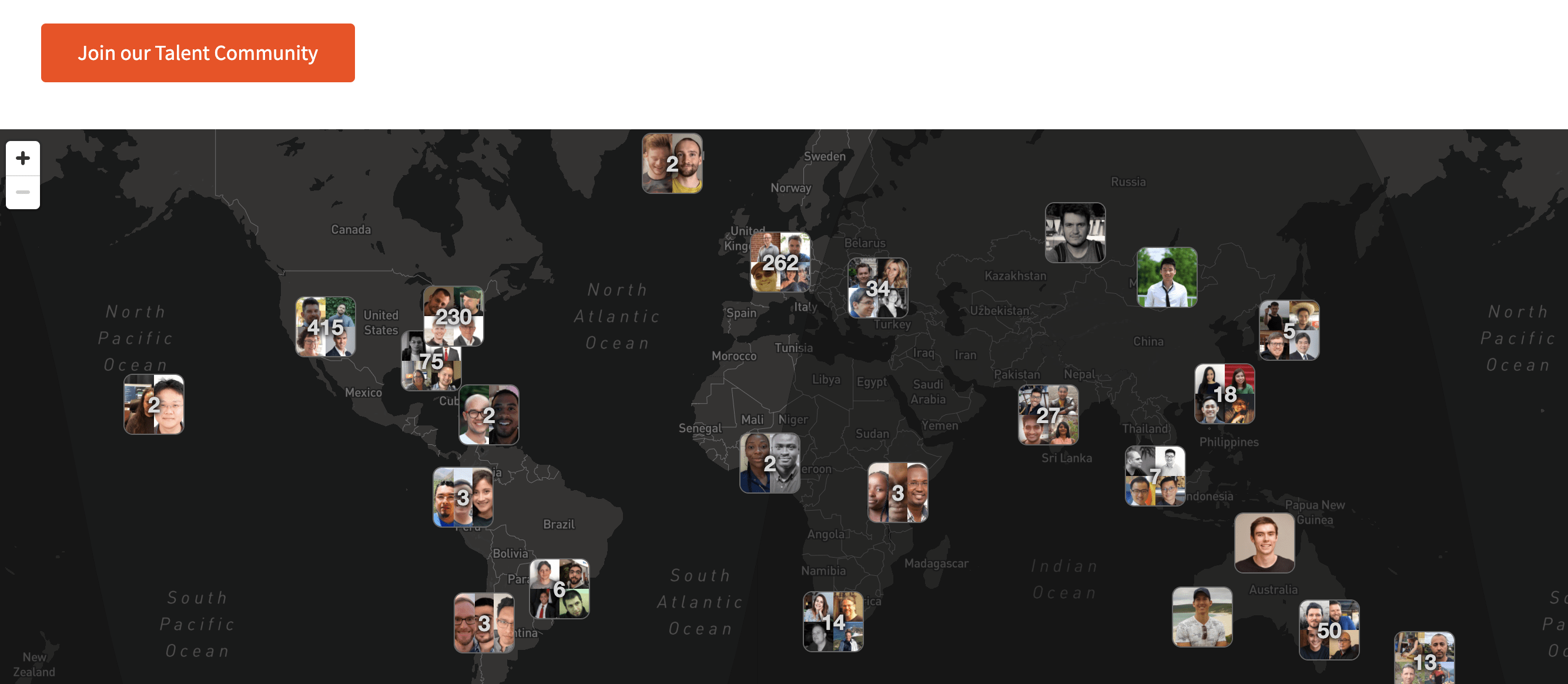 Goal 2 – Look for remote culture compatibility
Group dynamics can make or break remote teams. See how prospective employees handle the tools and processes your remote workforce uses. Good vibes in a classic interview setting do not necessarily guarantee quality remote work interactions.
Pro-Tip: Working with the remote onboarding experts at BambeeHR can help to define and clarify your virtual onboarding plan so that your new hires are set up for success from the moment they accept their offer letter to their 5 year work anniversary.
How to achieve it:
Conduct interviews remotely, using the best conferencing tools.
Set up remote meetups with key teammates, also using your wfh productivity tools of choice.
Introduce prospective employees to future on-site and remote collaborators.
Give prospective employees a task or test so you can see how they work.
Here's what the team at Time Doctor told Remote about giving prospective employees a little test:
"After the interview, we give everyone a small project that takes two or three weeks to complete. We don't necessarily care if they succeed, but we want to see if the person is someone we enjoy working with, can handle working remotely, and we want to see how they approach the task."
Get Your Free Remote Onboarding Checklist Here
Phase 2: Offering Remote Jobs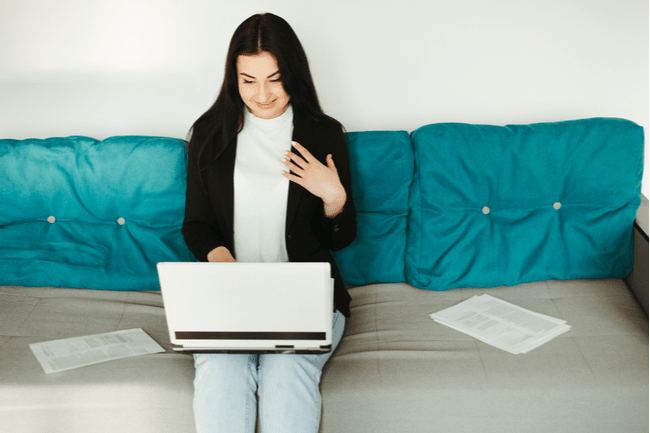 Goal 1 – Outline work logistics and expectations
Off-site employees can sometimes feel they're working in a vacuum. Clear expectations give them solid benchmarks for their performance, even when they're not receiving the casual feedback (smiles, high fives, and "nice jobs" in passing) we take for granted in office environments.
How to achieve it:
Incorporate all remote work details in the offer letter.

The offer letter may be your last chance to

prevent surprises

before prospective remote employees officially join the team.
You can start with a standard offer letter template and

add or update language

to cater to remote employees.
Here are some things to include:
Vacation and time-off policies.

Clearly state the company-wide vacation and time-off policy
Sick policies.

Remote employees may feel they can't take sick days since they're already at home. Being clear from the start can help your new employee make the right decision.
Equipment/work-space expectations.

What do you provide (computer) vs. what do they provide (internet)?
Onsite requirements.

Will the employee have to join any mandatory meetings or events?
Remote employee reporting.

Do remote employees have to report their hours or track key performance indicators?
Goals 2 – Have new employees fill out all the essential paperwork
Since you don't have to wait for remote employees to arrive at the office to hand them a stack of forms, you can get this relatively easy task out of the way shortly after the offer-letter signing. This gives new remote workers plenty of time to fill things out. (Plus, they won't be distracted by boring logistics when that first day arrives.)
How to achieve it:
I've never delivered onboarding documents virtually before.
Work with your Human Resources department to virtualize every single document in a typical new-hire packet.
Here are some usual elements

:

Tax forms
Applicable legal forms
Job contract
Offer letter
Job description
Company organization chart
Company directory, preferably with the recruit's immediate team information highlighted
Employee handbook
Policy documentation, if not included in handbook
Process documentation, if not included in handbook (E.g. how to request vacation time)
Employee information form (social security and key identification information)
Banking form for payroll/direct deposit
Retirement plan enrollment forms
Health plan enrollment forms
Select an online documentation resource for delivering and collecting the paperwork. Some options include:
We have some virtual documents, but the onboarding user experience could use some work.
Consider developing a company intranet to deliver new-hire paperwork and also manage other insiders-only information.
Collect all the documents into a packet or module, even if it's in PowerPoint, Box or a Google Drive folder.
The virtual workplace experts at Boldly told Remote why they love their intranet:
"We have built an intranet or what we call 'our Digital Vault' with onboarding videos, guides, and a knowledge base. It's also a place where we post company news, video updates, and team insights. The onboarding is of course accompanied with video Skype meetings to go through the materials 'in person' but the Digital Vault provides the ability for new team members to learn at their own pace, and to revisit the content, and review procedures whenever they have a question!"
Phase 3: Early Onboarding for Remote Employees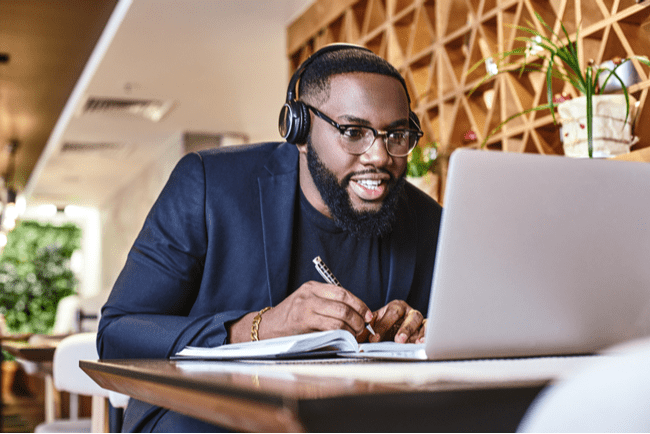 Goal 1 – Get employees excited
Before the official start date, many employees may be busy and emotionally drained by wrapping things up at their old jobs, so you don't want to use too much of their time. Luckily, many methods of getting your future teammates excited take up little or no time. We wanted to outline some steps you can take in the first few days to build up this excitement and start their tenure on the right foot.
Get Your Free Remote Onboarding Checklist Here
How to achieve it:
Ask all employees why they love working at your company.
Select a few quotes from the new hire's immediate team to pull out in an email or card. Post all the other comments on your online career page or intranet (This to-do has multiple benefits!)
Ask 2 or 3 future teammates to schedule a virtual coffee meetup with the new employee.
Invite anyone who participated in the interview process to send the new employee an email or note explaining why they're excited to have them on the team.
Ask someone from company leadership to write a welcome letter. Even if you use a standardized template, update a few lines to address the new hire's special skills and talents.
Pro-Tip: Try sending your new remote employees their welcome letter inside a personalized first day kit for a truly memorable experience!

You can work with SwagUp who will ship welcome kits straight to remote employees' homes to open on their first day!
Goal 2 – Answer questions
New hires waiting on the first day often have tons of questions swirling around their heads. Unfortunately, they usually don't yet know anyone at the company to talk to.
How to achieve it:
Create a Slack channel, an intranet page, or create a simple Google Doc.

Invite new employees to submit their questions.
Check the questions once a week.
Add the answers you know and route the others to the appropriate teams.
Keep all the questions and answers live. Eventually, new employees might just be able to find their questions in this handy resource.
You can compile these Q & A's and include them as part of your onboarding document folder for future hires.
Cheyenne Wolf Dodd from our State Of The Executive Assistant FB group shared their process with us for onboarding remote employees:
"We are a comms firm so we make it a priority to have as much internal comms as possible. We start with a lot of 1:1s after HR 1:1s to get paperwork complete, every team member jumps in to go over a portion of technical training. We use a shared doc and sr. employees sign up for which session they would like to assist in training with (usually something they feel passionate about and excel at) and jr. employees will help make the transition into client teams by allowing them to shadow calls, video meetings etc.

100% the first few days are chaotic and I own their schedule for the first week to make sure they are getting the training, 1:1s and shadowing they need while schedule headshots, pulling their bio etc. LOTS of video calls and email :)"
Goal 3 – Deliver essential information
Information overload does exist, but remote employees tend to feel under-informed or disconnected. Giving them plenty of information will add a sense of security and legitimacy to their new career path.
How to achieve it:
Here's another case where a company intranet can be incredibly helpful for posting and sharing information. You can also make all these elements available in your favorite cloud solution.
Some essential information to include:
Their email address, along with access details for your company's email service.
An itinerary or calendar for the first day, at least.

If you have scheduling information available for the first few weeks or months, share it.
A checklist of assignments and goals for the first week, at least.

Again, the more of these goals you can provide up front, the easier it will be for remote employees to wrap their heads around their new career.
A list of company resources, remote work softwares, and applications, along with login information or passcodes.

This includes company-wide communication hubs as well as value-add learning resources and benefits portals.
Goal 4 – Help remote employees set up their workspaces
Fine-tuning this process will save both you and your remote workers lots of frustration. A remote employee onboarding process should always be flexible and constantly evolving as your company grows.
How to achieve it:
If you require employees to provide some equipment, send them an interactive survey checklist (Google Forms is one free solution) to confirm their needs are met.
If you provide the equipment, then make sure your shipping and verification processes are water-tight and well-documented.
A basic process involves:
Creating a remote employee equipment checklist, for example:

Phone
Computer
Printer
Router
Office supplies
Desk
Desk chair

Shipping everything
Verifying delivery
Verifying setup
Verifying proper operation
Here are some additional questions to help you think through your processes:
Do you have an inventory management system to tag and track company-owned equipment?
Will you be shipping from on-site storage or shipping directly from your supplier?
Do you have a team capable of making deliveries and helping with setup?
Pro-Tip: Regardless of what equipment you provide, always have remote employees test your video conferencing software in their home office.

These tools could be the only way remote employees get face-to-face connections. Help them identify and correct any deficits in internet connectivity or CPU before they start working.
Phase 4: Welcoming Remote Employees on Day 1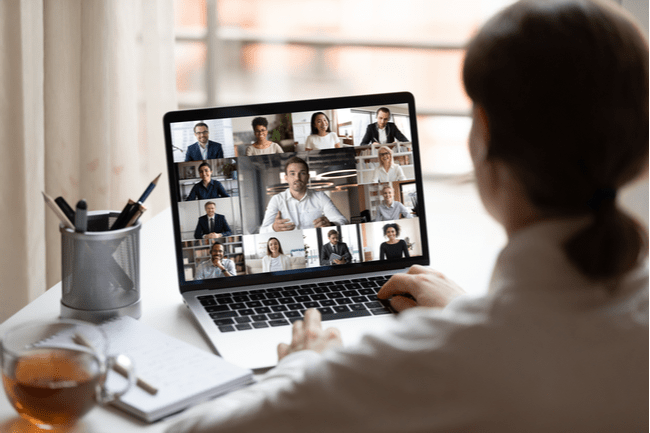 Goal 1 – Make new employees feel like part of the team
Being part of a team motivates employees to succeed. Remote employees won't be able to absorb on-site team vibes, but you can still let them know they're one of you.
How to achieve it:
Have the team make a welcome video. Get inspiration, and also a resource for making your video, from the team at Vidyard.
Have the new employee make an introduction video, if they want to. Send them a list of questions to answer. Bonus points if you have a team that can add graphics and effects.
Roll out a comprehensive program that includes various elements of this onboarding checklist with Zenefits. The Zenefits software and mobile app allows for new hires to remotely learn more about your organization, connect with colleagues, quiz them on the essentials and more to create an overall culture and organization introduction. New hires will be prompted to complete different types of challenges and tasks like snapping photos, taking videos, answering questions, providing feedback, scanning QR codes and more.
Pro-Tip: The team at Zenefits will help you get your program setup for you so implementation is a breeze, and the program can run completely automatically to give a personalized feel to each new hire you bring on. Program duration is flexible but best results see a program targeting the new hire's first 90 days. Best for companies over 100 employees.
Send an invitation to an in-person event. Even if that event is months away, remote employees will love to know when they'll get to meet their coworkers face to face.
Send them swag, such as apparel and office supplies, customized with your company's brand, colors, and logos.
Goal 2 – Inspire them to do their best
Inspiration can come in many different forms and the best leaders know that. Understanding what your newly hired remote employee needs from you to motivate them will help to maximize work productivity and build virtual team engagement.
How to achieve it:
Have company leaders or top performers (including your most recent employee of the month) tell their stories and share experiences in a Ted-talk style video or a blog post.
Provide information about growth potential for their specific position or the company in general. If someone was promoted from the new hire's position, have that person discuss their growth experience.
Supply videos, web pages, or other documentation that details your company's mission, vision, core values, and more.
Goal 3 – Introduce new employees
When it comes to improving remote employee happiness, introductions and announcements could be the most important elements of the entire onboarding process. Remote employees don't have as many opportunities to step in and introduce themselves during the first day at the office. You need to have processes in place to make sure they meet plenty of people.
Get Your Free Remote Onboarding Checklist Here
How to achieve it:
Managers should schedule morning and end-of-day meetings.
Remind managers to be more available than usual.
Introduce new employees to their mentor or buddy.
Schedule at least one meeting with the entire team.
Create a "remote branch" of your office.

Find a free wall and dedicate it to posting pictures (and contact information) of remote workers at their desks. This wall will constantly remind onsite employees about their unseen teammates.
Have new hires answer some get-to-know you questions and create a quiz  to encourage veteran employees to learn all about their new friend.
Provide a virtual office tour. As CultureiQ says, this can help "reduce feelings of isolation."
Goal 4 – Discuss goals and deliverables
You've probably already given remote employees some assignments and goals by the time you reach this phase, but now it's time to discuss those items in depth and give employees a chance to ask questions.
How to achieve it:
Make sure employees have a list of regular tasks, goals, stretch goals, and key performance indicators.
Invite them to add goals that excite them.
Answer all their questions.
Create an interactive checklist or task board for transparency.

This provides transparency and keeps managers from feeling a need to check in constantly.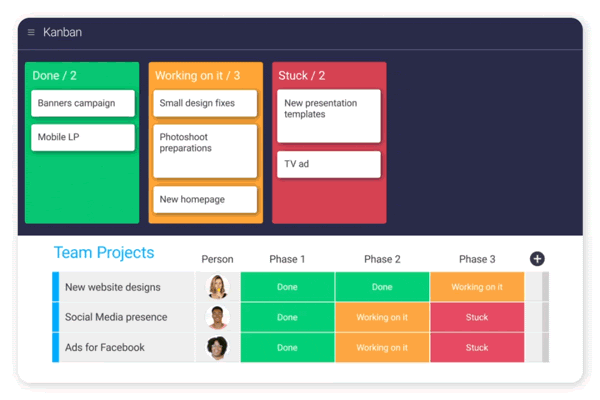 Phase 5: Onboarding and Orienting Remote Employees in the First Weeks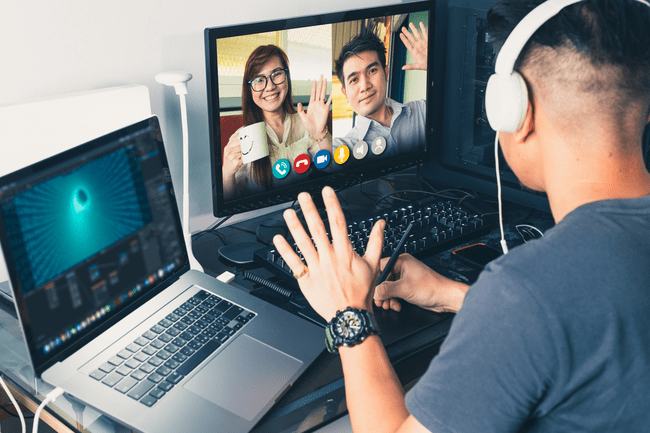 Goal 1 – Help new employees build relationships
Solid work relationships boost retention and job satisfaction. The rules still apply to remote employees, but the game is a bit different.
How to achieve it:
Continue regular manager check-in meetings—a long-term must-do for all employees.
Randomly pair the new employee with people across the company for virtual coffees. (If your company uses Slack, then the Donut integration makes this task easy.)
Have them complete a co-worker scavenger hunt.

Give new employees a clue that describes a coworker. (I hold the company record for meetings scheduled in a week.)
When the new employee solves the clue, they message the co-worker described to get the next clue, and so on.
Have all your teams give a quick video introduction and Q&A session.
Goal 2 – Immerse them in important work
Don't let remote employees be out of sight and out of mind. Involve them in as many projects as possible.
How to achieve it:
Ask managers to bring new employees into crisis/urgent projects and other problem-solving events.

This gives new employees a chance to show off their skills and feel like a necessary part of the team.
Get Your Free Remote Onboarding Checklist Here
Phase 6: Ongoing Remote Employee Team Building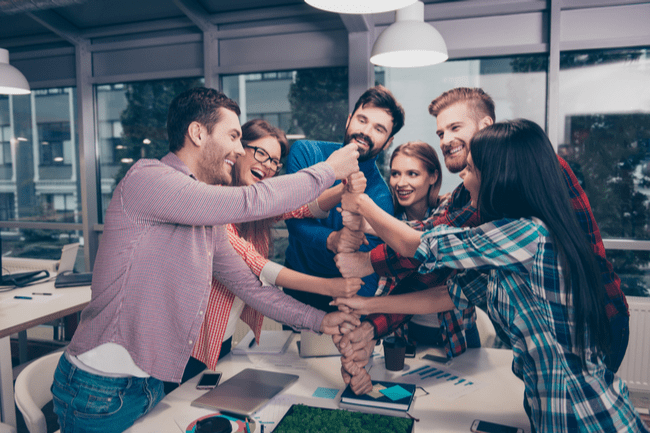 Goal 1 – Make ongoing remote team building a permanent part of your company culture
Don't let activities for your remote employees dwindle after the initial rush of onboarding. To stay engaged, these employees will need ongoing virtual contact with the rest of the team.
How to achieve it:
Commit to an ongoing rotation of remote team-building activities.
Create a volunteer remote team-building committee to make sure plenty of activities happen and to track engagement.
Goal 2 – Measure remote employee happiness and satisfaction
Satisfied, engaged remote employees—that's the ultimate goal of all this onboarding. Find ways to measure the success of your onboarding program so you can celebrate achieving your ultimate goal or make changes to get there.
How to achieve it:
Gather and respond to remote employee feedback.
Hand out our employee-facing version of this onboarding checklist to see if you've really met all your goals.
Create a survey to let employees give open-ended, anonymous feedback on every aspect of their onboarding experience.
Take all the responses seriously and incorporate them into your onboarding and team-building programs.
Pro-Tip: Make it a whole lot easier to connect with your new remote employee by sending them an expertly curated care package for their next meeting. The Icebreaker Box will help get everyone excited to kickoff the video call in style with a number of activities for welcoming your new employee the right way.
Goal 3 – Celebrate the completion of onboarding
The completion of onboarding provides plenty of reasons to celebrate. If you've met all your goals, new remote employees will know tons of people, understand multiple aspects of your company, and have a wealth of important projects under their belts.
Get Your Free Remote Onboarding Checklist Here
How to achieve it:
Decide what the end of onboarding looks like at your company. For example, is the new employee "fully onboarded"…
After 6 months, no matter what?
After they've completed 3 high-level projects?
When they complete an exam or test project?
Celebrate it in a way that suits your company style.
Virtual ice cream party
Delivery of gifts and swag
In-person party
Remote happy hour
Bonus: Remote Onboarding Softwares and Resources
Treat remote employees to unforgettable work-from-home kits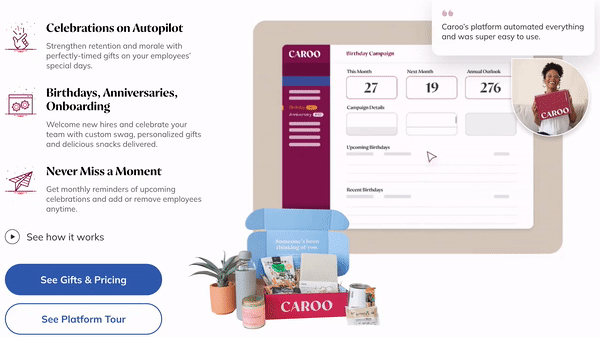 Remote employees should not have to miss out on company swag. These work-from-home kits make it easy to deliver classy swag to your new employees. Video calls and words of recognition do wonders, but the tangible qualities of a nice gift help bring remote workers into the fold. Start spreading the remote love.
Give remote employees dedicated HR attention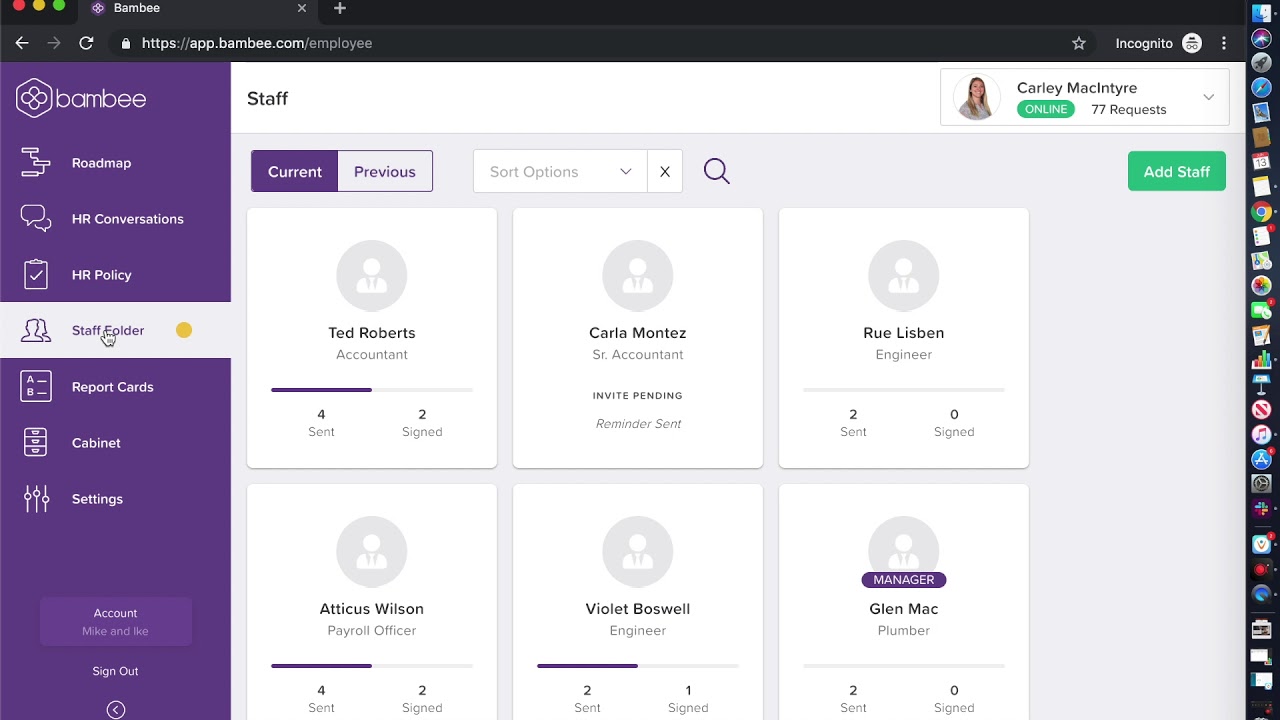 Bambee provides companies with remote human resources (HR) managers. If your on-site HR team is swamped or if you don't have one, this dedicated professional could save you loads of time and stress during the onboarding process. They'll make sure you cover all the details you didn't even think of. Get HR help for remote employees.
Celebrate your remote employees' first accomplishments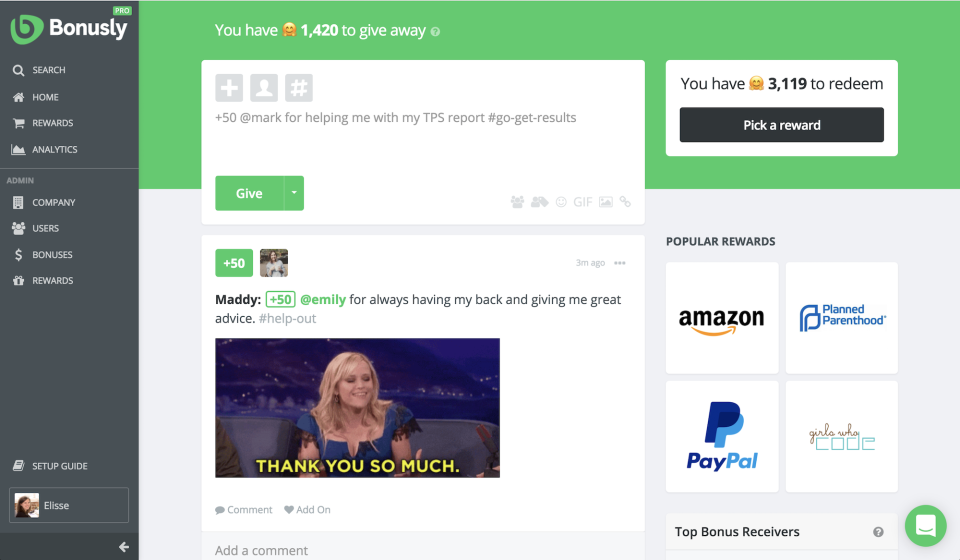 Use Bonusly to dole out recognition as your new remote employees complete their first projects and achieve their first goals. Easily scale the recognition to the accomplishment, providing a small token for a regular task and a custom reward, such as lunch with the CEO, for a major win. Start recognizing remote employees.
Get remote employees up to speed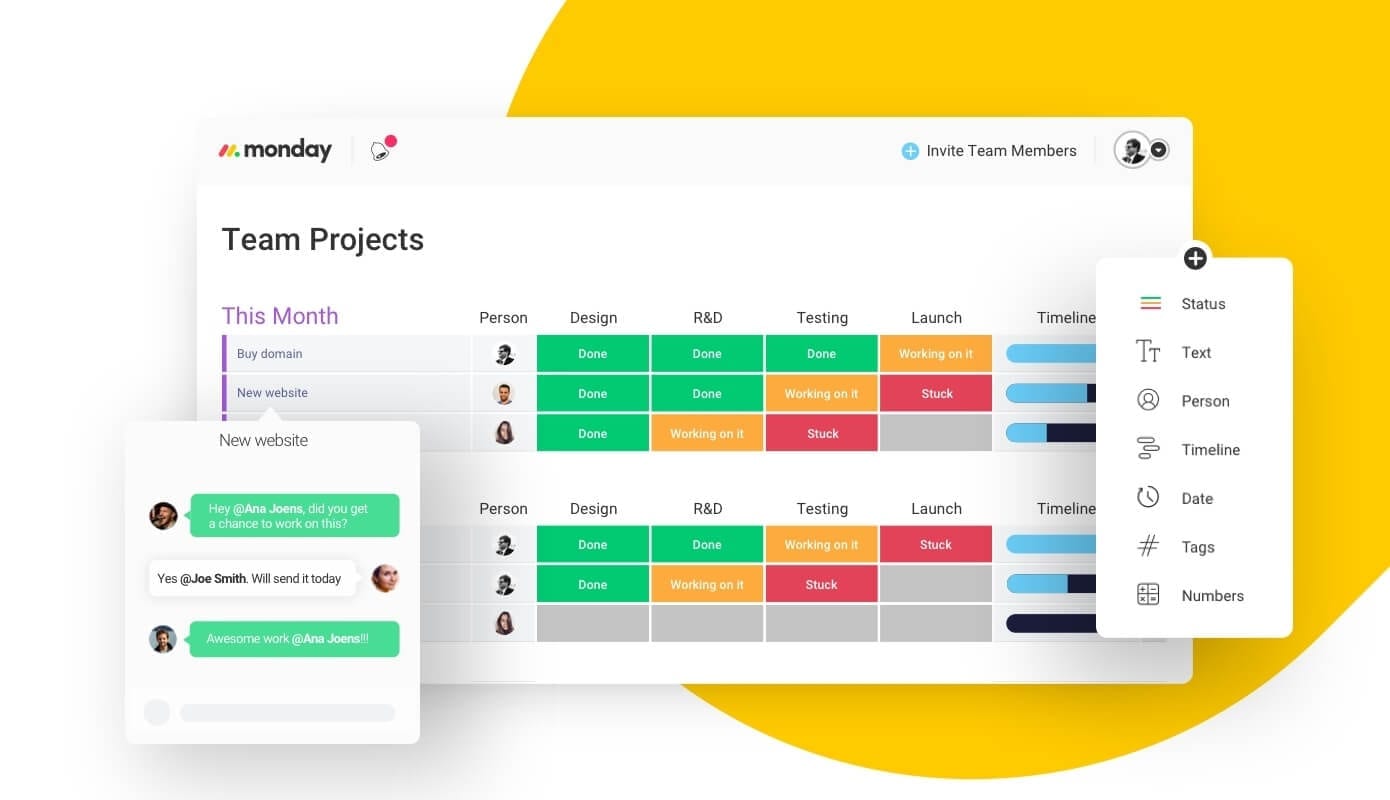 monday.com's virtual environment makes it easy to teach new remote employees about key projects and also get them involved immediately. Add new employees to a project and assign them a few tasks. They'll love contributing and feeling in-the-know, thanks to this thriving interface. Get new remote employees happily involved.
Reward and recognize new remote employees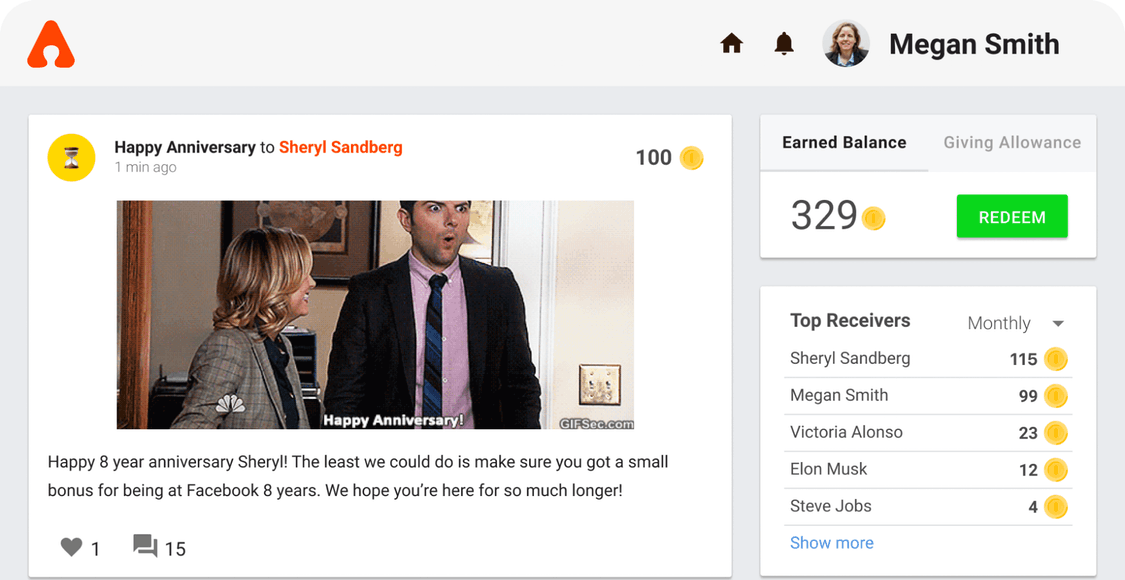 Use Assembly to get new employees in on your company's recognition program. Just visiting the friendly, intuitive platform will help new employees feel like part of the team. They can browse past recognition to see what your company values and, with just one touch, recognize a new teammate that answered a question or provided needed help. Encourage recognition from day one.
Welcome new remote employees with a virtual scavenger hunt icebreaker
Use GooseChase to build your own video scavenger hunt that allows remote workers to get to know their team in a fun way – beyond the usual "Where are you from? How many siblings do you have?" Ice-breaker questions. You can still include those, but why not also see their best Elvis impression or Thriller dance moves at the same time?
Give remote employees a reliable communication tool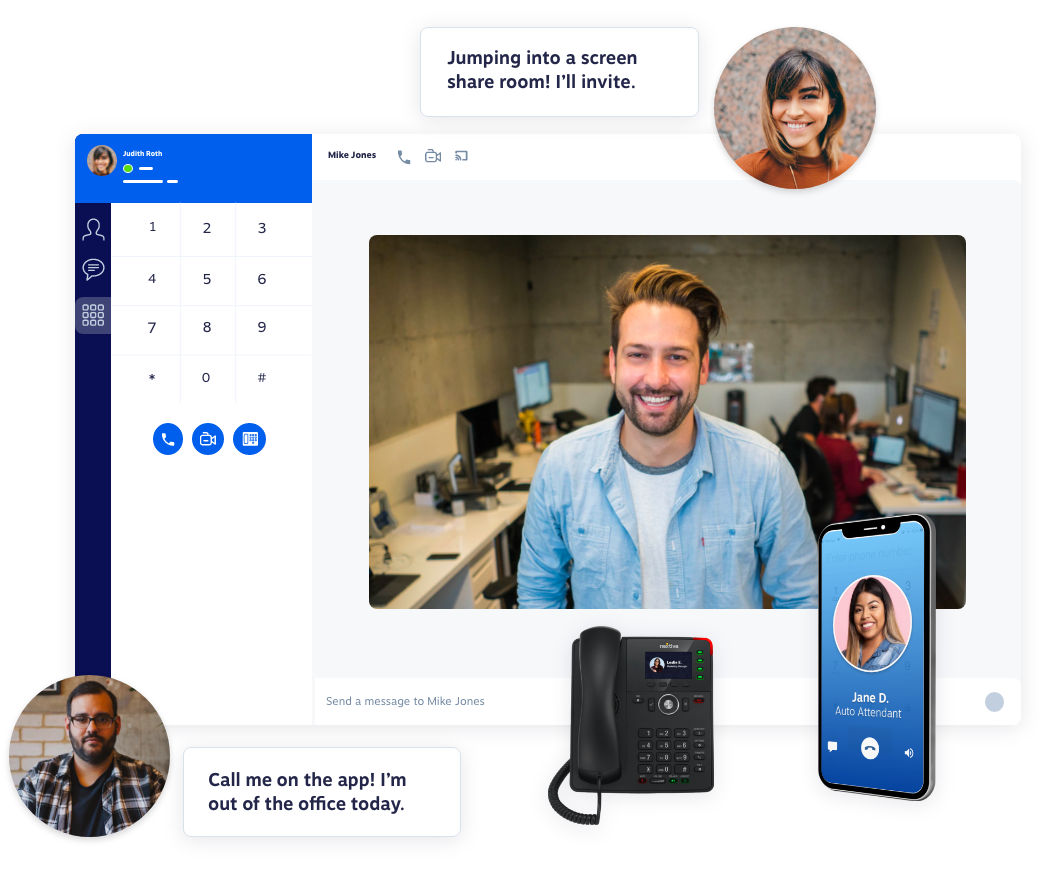 Remote employees will love using Nextiva's Voice over Internet Protocol (VoIP) technology to make clear calls from their computer or a phone console. Communication technology serves as a bridge for remote workers. If it breaks, they can easily feel disconnected and isolated. Nextiva makes sure that never happens. Connect your remote employees.
Get Your Free Remote Onboarding Checklist Here
Notes from the Field
The human resources experts in our State of the Office Manager and State of the Executive Assistant Facebook groups have tons of collective experience in onboarding remote employees. A big thanks to everyone for both groups for providing these field-tested tips!
Really help new remote employees understand your company culture.
Share everything you can think of: employee handbook, presentations, company value literature, and photos and videos featuring bosses and virtual team members.
Find a reliable courier service.
This service will be extremely helpful as you're setting remote employees up with technology and sending them other physical items.
Talk to new remote employees a lot.
Be prepared for phone conversations, video meetings, and more. This helps distributed teams get more comfortable with each other and also the work. One group member explains why:
We have spoken everyday [. . .] sometimes up to an hour. [. . .] she walked in straight to the Incident command center ready to perform.
Use all every type of technology you have to connect.
This includes messaging tools, screen-sharing tools, video chatting services, email, and even the classic telephone.
Get everyone to pitch in with the new employee's training.
Look beyond your human resources departments and your usual training. Everyone in your company has skills and expertise, and they'll be more than excited to share their knowledge with the new team member. You can also consider investing in a remote training software that can help to fill in the cracks and provide a good record of what steps your training requires.
Remember: Shadowing is not just for on-site teams.
Video calls make it easy for new employees to "hang out" with new co-workers as they go about their business on a typical day.
Steal ideas from speed dating.
Download some speed-dating questions for a fast-paced get-to-know you session.
Ask the new employee questions while other teammates watch.
Sometimes the best virtual onboarding ideas are the ones you find from other hiring managers!
Get Your Free Remote Onboarding Checklist Here
People Also Ask These Questions About Onboarding Remote Employees
Q: How is onboarding a remote employee different than on-site?
A: Onboarding a remote employee is different from on-site onboarding because, to put it simply, remote employees are far away. It takes special processes to set up remote workers with technology and equipment, to collect all their paperwork, and to make sure they feel connected and valued by their new team. Learn how to overcome these differences in this checklist for onboarding remote employees.
Q: What is the best way to organize a remote onboarding plan in 2023?
A: The best way to organize a remote onboarding plan is in a checklist format that clearly outlines the phases of onboarding (we created a free one for you here) and what you need to accomplish in each phase. A simple sequential checklist helps you get going immediately without wondering where or how to start.
Q: Do virtual employees benefit from a remote onboarding experience?
A: Virtual employees benefit from a remote onboarding experience that leaves them informed about the company, inspired to work, and united with their distributed team. The onboarding process is crucial to establishing those feelings and avoiding remote isolation and information poverty.
Q: Where can I find a remote employee onboarding checklist?
A: You can find a remote employee onboarding checklist here. It will walk you through the 6 phases and associated goals of remote employee onboarding.
Q: Can I use a software to help with onboarding a virtual employee?
Q: What makes for a successful remote employee onboarding experience?
A: A successful remote employee onboarding experience should result in satisfied, engaged remote employees. The best experience leads new employees through multiple engagement funnels, including setting goals, meeting lots of people, diving right into work, and learning about the company.
Q: How do companies normally onboard remote employees?
A: Companies normally onboard remote employees using the same—but digitized—process they use for on-site employees. The more we learn about remote work, the more we realize off-site employees need a specially designed onboarding process that helps them overcome their distance and communication challenges. Find a process checklist specifically for onboarding remote employees.
Q: What is remote onboarding?
A: Remote onboarding is the process of logistically, mentally, and emotionally getting new employees started on a path to success at your company.
Q: What is the onboarding process for a new remote employee?
Q: How would you onboard a remote employee?
A: Onboard a remote employee by catering your standard onboarding processes to accommodate unique remote needs. Keep the process focused and successful by using a checklist to make sure you're reaching key goals in every step of the process.
Get Your Free Remote Onboarding Checklist Here
There you have it! The complete checklist to onboarding a remote employee. What has been your experience with remote employee onboarding? Share in the comments below.