Embarking on a leadership journey is enriched by the fundamental tools found within leadership books for women.
In this realm of empowerment and enlightenment, gender becomes irrelevant to strong leadership, as literature becomes a wellspring of invaluable insights awaiting exploration.
Our Recommended Resource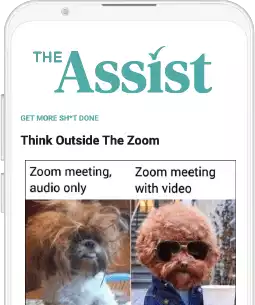 Become A Better Professional In 5 Minutes
The Assist is a free, enjoyable weekly email offering actionable tips for leveling up in your career and gaining leadership skills. It's like that reliable friend you turn to for work and life advice, sending advice 4x a week to hardworking female leaders like yourself.
❤️ Why we love this resource:
Boost confidence and get daily motivation.
Discover valuable resources to grow your leadership skills.
Enhance professional growth and girlboss mindset through actionable advice.
👉 Join 49,658+ Leaders For Free Today!
Whether a seasoned entrepreneur chasing a competitive edge or an aspiring female leader seeking guidance, prepare for an inspiring journey. These leadership books echo your dedication, fierceness, and elegance, reflecting your remarkable qualities.
Get ready to be captivated by the remarkable world of leadership literature tailored to the bold and fabulous female leader within you.
Want to become a better professional in just 5 minutes?
Page Contents (Click To Jump)
20 Best Leadership Books for Women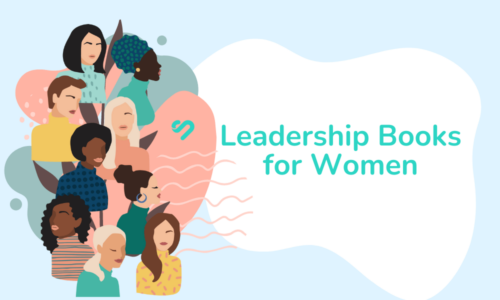 We've handpicked these empowering must-read leadership books and business books for women that are like chatting with your best mentor over a cup of coffee, offering insights that'll supercharge your leadership journey.

The odds are stacked against women, more so when it comes to climbing corporate ladders. In "She Thinks Like a Boss," Jemma Roedel encourages women to fight the odds and claim their rightful place - at the top. Tired of watching men outpace you at work? Struggle to assert yourself in meetings? Find it challenging to lead a team? This is your guide to ditching doubts, overcoming fears, and mastering essential leadership skills. Think like a boss and become an inspirational female leader.

❤️ Why we love this leadership book for women leaders: Roedel equips readers with vital skills and insights to enhance their confidence, communication, and managerial abilities. She empowers women to acknowledge their worth, defeat imposter syndrome, and command the respect they deserve.

⭐ Key Takeaways:

Overcome fears and assert yourself.
Master communication and negotiation skills.
Defeat 'imposter syndrome' and build confidence.




Buy Now

The iconic Brené Brown does it again with her New York Times and Wall Street Journal bestseller, "Dare to Lead." This book is a treasure trove of wisdom for anyone regardless of their position on the professional ladder. Through intelligent insights and Brown's distinct tell-it-like-it-is style, she teaches readers how to step up and show vulnerable, courageous leadership, ultimately transforming how we perceive power and potential. Simply put, it's an exhilarating deep dive into the heart of brave leadership.

❤️ Why we love this leadership book for women leaders: "Dare to Lead" empowers readers to not just lead, but to lead daringly, courageously, and authentically. Brené skillfully combines research and real-life narratives to teach us empathy, connection, and the fearlessness needed to become the best leaders. As a bonus, you can listen to her Dare to Lead podcast, which is an extension of this book.

⭐ Key Takeaways:

Power becomes infinite when shared.
Skill-building around empathy, connection, and courage.
Brave leadership is a set of learnable skills.




Buy Now

Imagine igniting a movement, inspiring millions, and even finding your purpose at work - all by simply starting with 'why'. This is the stand-out idea in Simon Sinek's influential book, "Start with Why: How Great Leaders Inspire Everyone to Take Action". This isn't just any old book about leadership, it's a leading guide for a paradigm shift in thinking and communicating that's shaking up the world.

❤️ Why we love this leadership book for women leaders: Not only is it a captivating read, but it provides invaluable advice on innovative thinking, increasing profitability, and building loyalty with customers and employees. Undeniably, the best ideas are the simplest ones - and Sinek proves this in spades.

⭐ Key Takeaways:

Understand 'The Golden Circle' concept.
Learn why starting with 'why' is crucial.
Realize the power of purpose in business.




🛑 Leadership Pro-Tip from The Assist: Don't be afraid to speak up and assert your expertise at the table - showing confidence in your abilities can help overcome unconscious bias and make your voice heard. 🛑




Buy Now

In her power-packed book, Lydia Fenet dishes out empowering advice, all gleaned from her impressive career at Christie's. From mastering the art of negotiation to nailing the perfect poker face, she gifts readers valuable career insights and extraordinary tips on how to become a successful, confident, and powerful leader in any sphere of life.

❤️ Why we love this leadership book for women leaders: This illuminating read transcends the typical self-help discourse, offering actionable advice that has proven successful in Lydia's remarkable career. It's about learning to sell, but also about claiming and wielding your very own power in any room.

⭐ Key Takeaways:

Unleash your 'Strike Method'.
Master the art of negotiation.
Own your power via authenticity.




Buy Now

"If You Want Something Done: Leadership Lessons from Bold Women" by Nikki Haley is more than just a bestseller. It's a phenomenal tribute to powerful female leaders throughout history – the fighters, the rebels, the impactful trailblazers. Haley takes you on her remarkable journey, intertwining tales of her rise with those of formidable women leaders, inspiring all aspiring leaders regardless of gender or background.

❤️ Why we love this leadership book for women leaders: This book takes you from Haley's first steps in South Carolina to her tenure as a US ambassador, teaching you to face adversity head-on. Imbued with her own experience of strong female leaders, it's an enlightening powerhouse of motivation.

⭐ Key Takeaways:

Perseverance trumps adversity.
Leadership requires boldness.
Progressiveness is non-negotiable.




Buy Now

"The Little Black Book of Success: Laws of Leadership for Black Women" is more than just a book. Penned by three accomplished black female executives, this splendid guide isn't just about reaching the top; it's about owning the game. With a laser focus on self-confidence, effective communication, collaboration, and courage, it's going to have you dodging hazards like stereotypes and self-victimization like a natural.

❤️ Why we love this leadership book for women leaders: Ever craved a mentor who actually gets you? This one's got you covered! It's a treasured mentor and an unwavering champion for women of color, at any career level, bringing an understanding of our unique, powerful identities.

⭐ Key Takeaways:

Learn to play the power game and win.
Rise above stereotypes and self-victimization.
Unleash true leadership: confidence, effective communication, collaboration, and courage.




Buy Now

Embrace a fresh, empowering roadmap to leadership with Monique Tallon's "Leading Gracefully: A Woman's Guide to Confident, Authentic & Effective Leadership". Challenge the status quo notion that leadership requires a masculine approach. Instead, explore how inherent feminine qualities can forge a powerful and effective leadership style. With practical exercises and personal stories, this book helps you navigate your leadership journey.

❤️ Why we love this leadership book for women leaders: Monique Tallon intricately weaves pragmatic exercises, personal stories, and insights from prominent women in different industries, providing readers with a solid pathway to harness feminine strengths for powerful leadership. This innovative book equips you with self-confidence, authenticity, and effectiveness which are invaluable tools needed in the modern workplace.

⭐ Key Takeaways:

Embrace your unique feminine qualities in leadership.
Overcome the dreaded "Imposter Syndrome."
Break gender bias to ascend career heights.




Buy Now

"Lead Like a Woman: Gain Confidence, Navigate Obstacles, Empower Others" delves deep into the fundamentals of women's leadership. Authored by Deborah Smith Pegues, a Fortunate 500 executive, the book is a manifestation of her leading experiences. Pegues encourages women to see their unique feminine attributes as strengths and focuses on the elimination of 12 damaging habits for progress.

❤️ Why we love this leadership book for women leaders: This isn't your standard "how to be a leader" discourse. It's specific to women, highlighting the modifications needed in thoughts, habits, and style that can elevate their leadership game.

⭐ Key Takeaways:

Develop faith in personal and relational skills.
Discard unproductive tendencies.
Cultivation of a transformative organization.




Buy Now

Get ready to conquer your workplace with "How Women Rise: Break the 12 Habits Holding You Back from Your Next Raise, Promotion, or Job" by leadership gurus Sally Helgesen and Marshall Goldsmith. This amazing duo uncovers 12 detrimental habits that women unconsciously foster, and surprisingly, these same habits prevent them from reaching their desired career milestones. It's not a doom and gloom story, but an enlightening journey that guides women to unlock their full potential.

❤️ Why we love this leadership book for women leaders: Expertly weaving deep insights with practical advice, "How Women Rise" teaches women to thrive when navigating the corporate ladder by shedding fatal habits.

⭐️ Key Takeaways:

Identify harmful habits impeding career growth.
Learn to delegate and own your credit.
Realize the potential of your network.




Get more FREE leadership tips by subscribing to The Assist, a free 4x weekly email newsletter—by women, for women—to help you become a better professional in just 5 minutes.




Buy Now

Discover the ideal guide for future female leaders with Julia Boorstin's masterpiece, "When Women Lead: What They Achieve, Why They Succeed, and How We Can Learn from Them". Drawing from interviews with over 60 successful women CEOs and leaders, Boorstin strategically mobilizes her experiences as CNBC's Disruptor 50 franchise creator and TV reporter. This engaging work masterfully uncovers the secrets behind women's success.

❤️ Why we love this leadership book for women leaders: In "When Women Lead", Boorstin lays out the roadmap to leadership success, underlining the spectacular impact of feminine attributes like deep empathy, adaptability, and inclusive strategy-making in the world of business.

⭐ Key Takeaways:

Role of empathy in leadership.
Importance of adaptability to change.
Significance of integrating diverse viewpoints.




Buy Now

Step into the world of effective leadership with "The Making of a Manager" by Julie Zhuo. This insightful book offers a fresh perspective on transitioning into a management role, providing actionable advice and relatable anecdotes that resonate with women aspiring to lead. Gain practical strategies and newfound confidence as you navigate the dynamic landscape of leadership through Zhuo's engaging and empowering narrative.

❤️ Why we love this leadership book for women leaders: This book shines as a guiding light for female leaders, offering relatable insights that resonate with their unique experiences. Through Zhuo's candid storytelling and actionable advice, the book fosters a strong sense of empowerment, making it an indispensable resource for women navigating the complexities of leadership.

⭐ Key Takeaways:

Balancing friendship and authority.
Navigating uncertainty with adaptability.
Empowering teams through clear communication.




Buy Now

Dive into the empowering narrative of "Lean In: Women, Work, and the Will to Lead" by Sheryl Sandberg, a transformative book that encourages women to embrace their ambitions and shatter glass ceilings. Sandberg's candid insights and actionable strategies provide a roadmap for women to navigate their professional paths with confidence and resilience, making it a must-read for those striving to thrive in leadership roles.

❤️ Why we love this leadership book for women leaders: Based on her viral TED Talk and experience as Meta's COO (previously called Facebook), Sandberg invites women to challenge conventional norms and unleash their full leadership potential.

⭐ Key Takeaways:

Embrace ambition unapologetically for career advancement.
Forge supportive partnerships and mentorship networks for growth.
Challenge gender biases to foster workplace equality and progress.




Buy Now

Embark on a transformative journey through the pages of "Thrive" by Arianna Huffington, a compelling guide that redefines success and well-being for women leaders. Huffington's profound insights and personal advice from her time as the co-founder of The Huffington Post, lead readers toward a harmonious blend of achievement and self-care, igniting a new perspective on leadership.

❤️ Why we love this leadership book for women leaders: This book's roadmap to prioritizing health, mindfulness, and purpose serves as an invaluable compass for women aiming to excel in their professional lives while nurturing their inner selves.

⭐ Key Takeaways:

Prioritize well-being for holistic leadership success.
Embrace mindfulness to enhance decision-making and resilience.
Reevaluate traditional notions of success for greater fulfillment.




Buy Now

Immerse yourself in the collective wisdom of "In the Company of Women" by Grace Bonney, a dynamic compilation that celebrates the journeys of diverse female leaders, from makers to entrepreneurs. Bonney's curated conversations and portraits offer an inspiring tapestry of insights, shedding light on the resilience, innovation, and unique paths that women navigate on their leadership quests. While reading these empowering stories, readers are empowered to forge their paths, guided by the experiences of remarkable women who have left their mark on various industries.

❤️ Why we love this leadership book for women leaders: This book stands as a rich tapestry of inspiration, offering a diverse range of voices that resonate deeply with female leaders.

⭐ Key Takeaways:

Diverse women share insights on entrepreneurial journeys.
Discover power in authenticity and creative perseverance.
Forge paths through candid advice and inspiring narratives.




Buy Now

Uncover the insights within "How Remarkable Women Lead" by Joanna Barsh and Susie Cranston, a dynamic exploration of the distinctive leadership styles that empower women. This book unveils the unique qualities that shape female leaders and offers actionable strategies for achieving success while staying true to oneself. Delve into the multifaceted journeys of remarkable women, gaining a fresh perspective on leadership that resonates with aspiring female leaders across all spheres.

❤️ Why we love this leadership book for women leaders: Set apart by its in-depth exploration of diverse leadership styles, this book goes beyond stereotypes. The book's rich blend of narratives, insights, and actionable strategies offers a holistic approach, celebrating authenticity and empowering women to carve their paths in leadership.

⭐ Key Takeaways:

Unveils diverse leadership paths: authentic, impactful, unconventional.
Navigates challenges with collaboration, resilience, and self-awareness.
Empowers women to redefine success, break boundaries, and lead boldly.




Buy Now

Embark on a confidence-building journey with "The Confidence Code" by Katty Kay and Claire Shipman. Delve into the fascinating exploration of how confidence shapes the paths of women leaders, backed by insightful research and engaging anecdotes. This book equips women with actionable strategies to overcome self-doubt and unlock their full potential in the world of leadership.

❤️ Why we love this leadership book for women leaders: "The Confidence Code" by Katty Kay and Claire Shipman stands out for its look into the psychology of confidence, offering women a roadmap to unlock their authentic leadership potential. This book's blend of research, personal stories, and practical tips creates a dynamic guide that addresses the critical link between self-assurance and successful leadership, setting it apart as an essential read for women aiming to conquer their ambitions.

⭐ Key Takeaways:

Demystifies confidence: learn, embrace, and amplify your strengths.
Unveils confidence gap, and strategies to nurture self-assured leadership.
Science-backed insights empower women to conquer self-doubts, and excel.




Buy Now

Discover the transformative journey detailed in "More Than Enough" by Elaine Welteroth, a captivating memoir that transcends traditional leadership narratives. Welteroth's story resonates as a testament to breaking barriers and embracing authenticity as a woman leader. Through her candid voice and experiences, she ignites a spark within women to navigate their paths with audacity and celebrate their unique identities in the realm of leadership.

❤️ Why we love this leadership book for women leaders: "More Than Enough" by Elaine Welteroth distinguishes itself by offering a raw and personal perspective on the journey of a young woman of color breaking ground in leadership roles. Welteroth's blend of memoir and motivational guide creates a powerful narrative that highlights the intersectionality of challenges and triumphs, resonating deeply with aspiring female leaders from diverse backgrounds.

⭐ Key Takeaways:

Navigates unique challenges: identity, authenticity, and self-discovery.
Urges women to shatter norms, pursue unconventional paths.
Unveils the journey from uncertainty to unapologetic leadership.




Buy Now

Step into a paradigm-shifting exploration with "The Likeability Trap" by Alicia Menendez, a revelatory guide that dismantles societal expectations for women in leadership. Menendez delves into the intricate web of perceptions and challenges that female leaders face, offering empowering insights to navigate this complex terrain authentically. Through thought-provoking analysis and candid narratives, the book propels women to break free from the confines of likeability and embrace their voices as strong, impactful leaders.

❤️ Why we love this leadership book for women leaders: This book stands out for its fearless exploration of the intricate balance between being assertive and likable for women leaders. Menendez crafts a compelling narrative that exposes the nuanced challenges women face and provides a roadmap to escape the confines of societal expectations, empowering them to lead authentically and unapologetically.

⭐ Key Takeaways:

Unveils biases: impact of likability on women's leadership.
Empowers women to navigate authenticity and leadership challenges.
Provocative insights to redefine success, and break societal molds.




Buy Now

Gain invaluable insights from "Women and Leadership: Real Lives, Real Lessons" by Julia Gillard and Ngozi Okonjo-Iweala. This impactful book delves into the authentic experiences of accomplished women, offering practical wisdom that transcends the conventional norms of leadership. With candid stories and actionable advice, the book empowers women to navigate challenges, foster resilience, and make their mark on the leadership landscape.

❤️ Why we love this leadership book for women leaders: "Women and Leadership: Real Lives, Real Lessons" by Julia Gillard and Ngozi Okonjo-Iweala stands out as a groundbreaking work that draws insights from the lived experiences of prominent women leaders. This book goes beyond generic advice, offering practical strategies derived from authentic stories that inspire women to conquer barriers and navigate their distinct leadership paths.

⭐ Key Takeaways:

Empowers women with real-world leadership journeys and strategies.
Challenges gender biases, fostering inclusive and impactful leadership.
Diverse stories drive resilience, progress, and authentic leadership.




Buy Now
People Also Ask These Questions about Leadership Books for Women

Q: How do leadership books for women differ from general leadership guides?
A: Leadership books for women offer a tailored perspective that addresses the unique challenges and experiences faced by women in leadership roles. They delve into gender-specific obstacles, empowerment strategies, and narratives, providing insights that resonate with female leaders on topics such as confidence, self-care, work-life balance, asking for a promotion at work, and breaking through barriers.
Q: Can reading leadership books empower women to break through glass ceilings?
A: Absolutely, reading leadership books can be a powerful catalyst for women to break through glass ceilings by offering insights, strategies, and relatable stories that inspire and equip them for the challenges ahead. These books provide guidance on overcoming obstacles, fostering resilience, and embracing their potential, ultimately enabling women to shatter limitations and rise to leadership heights.
Q: Are there leadership books that provide actionable strategies for building confidence and assertiveness?
A: Yes, there is a range of leadership books that offer practical advice and actionable strategies specifically designed to help women build confidence, assertiveness, and a strong leadership presence. These books often delve into techniques for overcoming self-doubt, effective communication, and navigating workplace dynamics, providing a comprehensive toolkit to enhance women's leadership capabilities.
Q: How can leadership books help women navigate work-life balance and career progression?
A: Leadership books play a vital role in assisting women with work-life balance and getting into leadership positions by offering insights into effective time management, prioritization, and boundary-setting. They also guide aligning personal and professional goals, enabling women to make informed decisions that promote their growth while maintaining a healthy balance between their professional and personal lives.
Q: Do these books offer advice on networking, mentorship, and building professional relationships?
A: Absolutely, women's leadership books frequently provide valuable advice on networking, mentorship, and cultivating strong professional relationships in the work environment. They offer insights into building meaningful connections, leveraging mentorship opportunities, and developing effective communication skills, which are crucial for fostering a supportive and influential network that can propel women's career advancement.