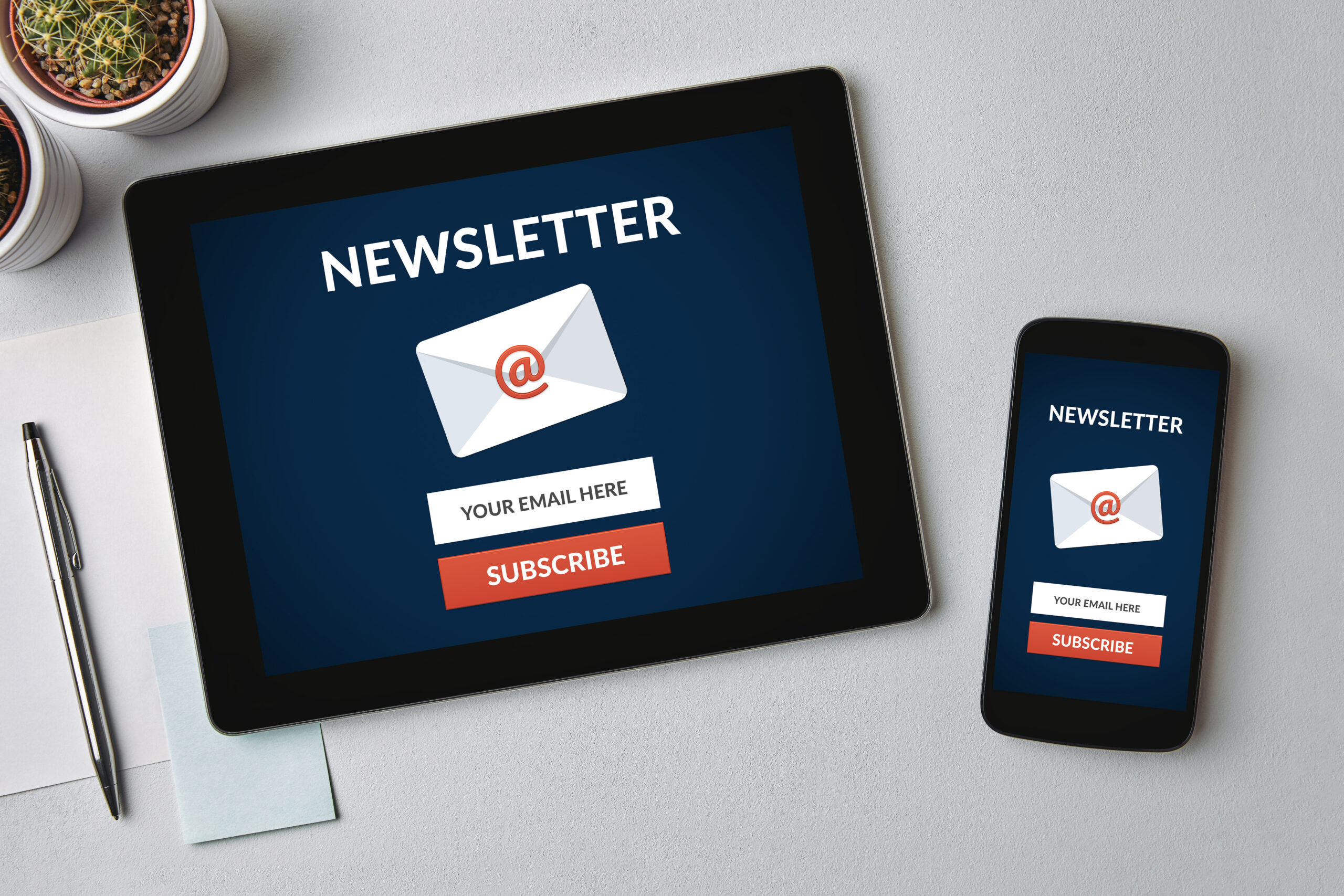 Check your inbox. How many emails are spam or email marketing messages you don't remember signing up for? Probably more than you'd like to admit. Now, imagine getting emails that are actually helpful, push you to grow, and keep you informed. The best newsletters do just that by delivering business news, trends, and motivation directly to your inbox.
"Without continual growth and progress, such words as improvement, achievement, and success have no meaning." – Benjamin Franklin
Without continual growth and progress, such words as improvement, achievement, and success have no meaning.
Click To Tweet
While email newsletter subscriptions weren't exactly around during Ben's lifetime, I'd like to think he'd be a huge fan of the platform. It's easy to fall into a stagnant routine and run on auto-pilot mode throughout your work day. A good business newsletter should help you grow and make progress toward your professional and personal goals.
But with so many popular business newsletters out in the market today, how do you find the newsletters that work best for you and your professional interests?
We did all the hard work for you and scoured the internet for the best business newsletters that are guaranteed to keep you informed, motivated, and successful.
In a hurry? Here are our top free email newsletter picks:
Bookmark our list of the top 16 best business newsletters you should be reading!
Want to become a better professional in just 5 minutes?
Page Contents (Click To Jump)
"Your Shortcut to Professional Success"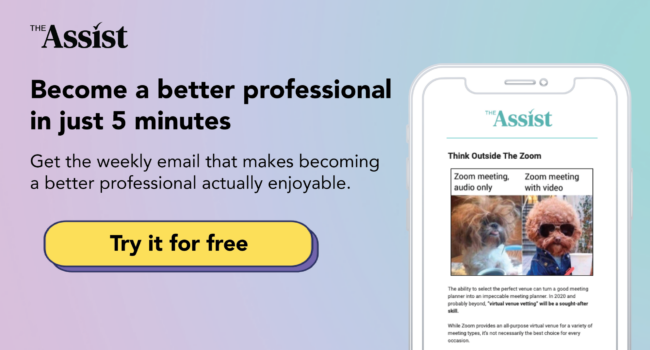 I'm going to be honest here… Some business newsletters can be a bit dry. If you're looking for a business newsletter that actually makes professional growth fun, then The Assist is the newsletter for you. From tips on how to prioritize your well-being, to reducing stress at work, or even just a funny meme that can give you a much-needed morale boost, The Assist has your back when it comes to business & professional tips.
Some of their latest issues included segments about the importance of mental wellness, how to tackle your inbox like a pro, and productivity tips on keeping employee engagement levels high. Whether you're just starting your business career or you're a veteran manager, The Assist delivers relevant and valuable insights directly to your inbox each week.
Why we love this business newsletter: This free newsletter really does have something for every professional looking to continually learn and better themselves. We love that their newsletters contain super helpful tips that not only help your work life, but have positive effects on your personal life as well!
When to expect it? Expect the Assist to bless your inbox every Tuesday, Wednesday,  Thursday, and Saturday AM. You can also customize the frequency at any time.
Where to sign up: Click here to subscribe to The Assist!
"Relatable Stories & Tips from Real HR Professionals  "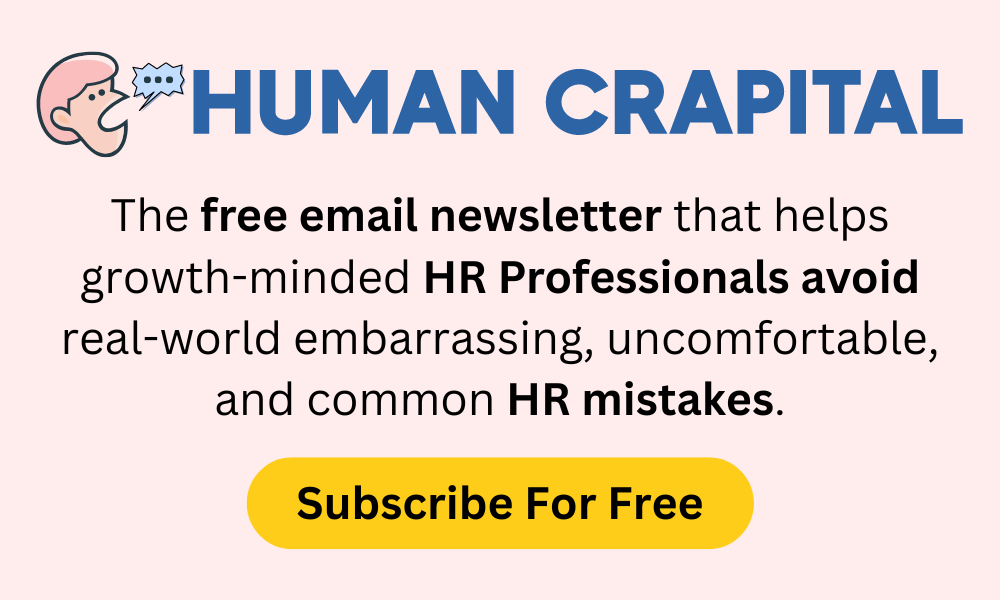 Human Crapital delivers highly relatable and quality content based on experiences from real HR Professionals.
Aimed to help create a safe community for people to vent and learn, this free weekly newsletter gives guidance and actionable tips on how to handle all types of situations you're likely to face while working in HR, from the mundane to the insane.
Why we love this business newsletter: Sometimes, the best way to learn is through experience. With Human Crapital, you're learning from thousands of other HR Pros who have essentially been there, done that. It doesn't try to hide the ups and downs of being in HR, and it's written in an extremely digestible and witty way.
When to expect it? Weekly on Wednesdays.
Where to sign up: Click here to subscribe.
"Actionable Business & Investing Insights"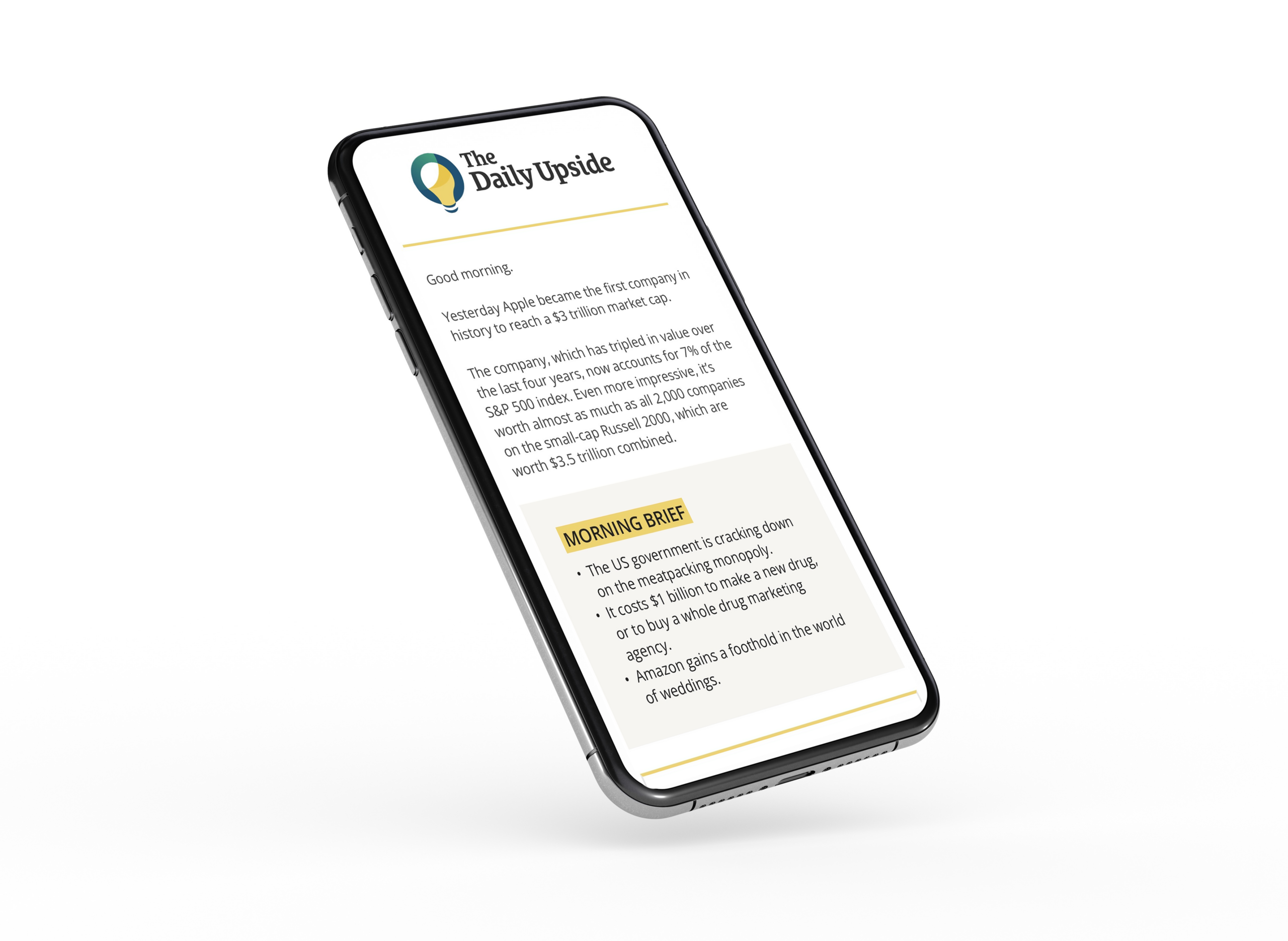 The Daily Upside was founded in 2019 by a team of former investment bankers, scholars, and journalists, to share its knowledge with individual investors using insight and wit.
The financial newsletter delivers curated stories and engaging content with a side of charisma to help investors understand the companies and trends that shape the business world. The Daily Upside is free and already trusted by 275,000 subscribers, including managing directors and principals at some of Wall Street's largest institutions.
Why we love this business newsletter: We love that The Daily Upside takes an unbiased approach and leaves out the confusing jargon to provide clear and concise news that can be read in only 5 minutes. It's clear, concise, and they don't take themselves too seriously.
When to expect it? Every weekday before the markets open. Plus, The Daily Upside offers a Weekend Deep Dive where they unpack complex business trends, giving you domain expertise in an easy-to-understand voice.
Where to sign up: Click here to subscribe.
"Morning Brew: The Perfect Blend"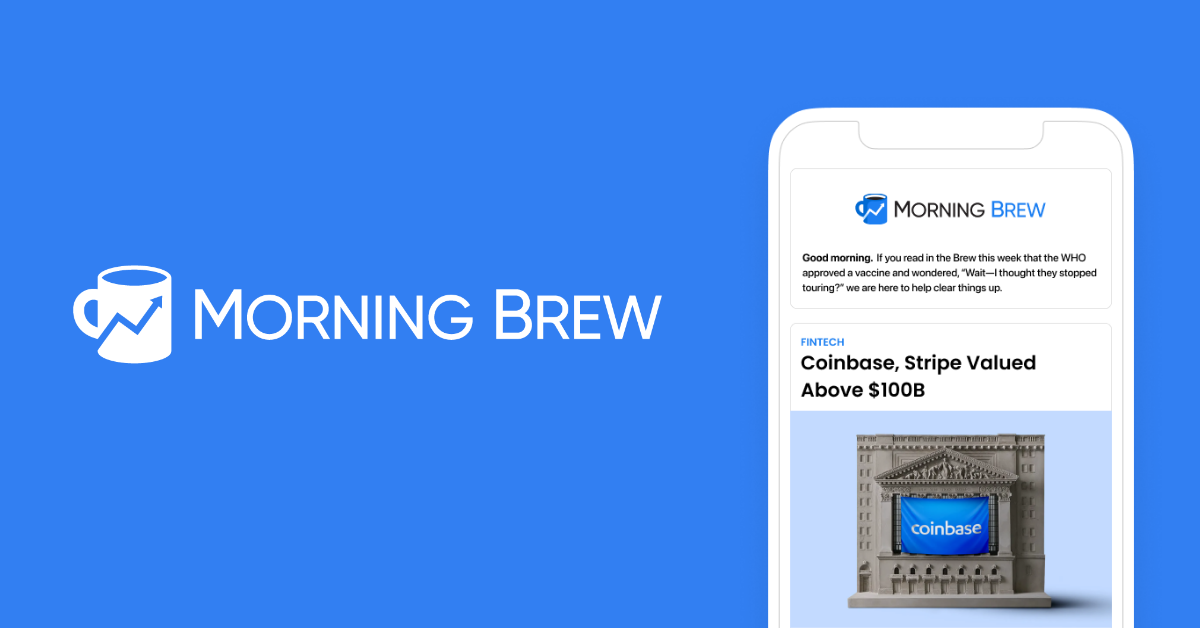 Get the perfect blend of news topics delivered daily to your inbox for free. Morning Brew provides a cohesive yet succinct newsletter that covers topics ranging from more traditional business categories like Finance and Tech News to the lighter side of news like Entertainment and Social Media Trends.
Morning Brew is a daily newsletter that keeps you in-the-know about all of the latest and trending news, both business & otherwise, in an informative yet witty manner.
Why we love this business newsletter: We're big fans of staying informed and saving time. Morning Brew is one of the best morning newsletters because it does just that by delivering a roundup of the most up-to-date and relevant news directly to your inbox each morning.
When to expect it? As the name hints, each morning.
Where to sign up: Click here to subscribe.
"Peek into the future of Big Tech"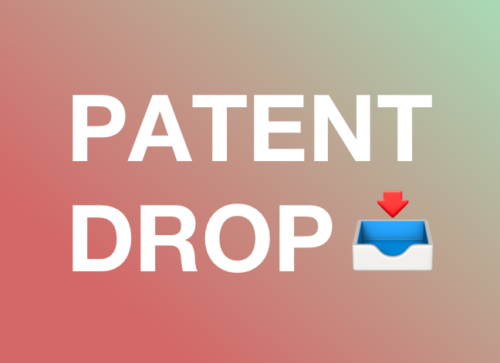 If you are looking to impress your colleagues with your cutting-edge knowledge of the latest developments in technology, look no further than this free newsletter. Patent Drop's team of investigative journalists scour 100+ patents a week from the U.S. Patent & Trademark website to deliver expert analysis on how big tech companies are shaping multiple domains — think future of healthcare, electric vehicles, and AI. Delivered twice weekly, this free newsletter is the source of truth for over 34,000 industry leaders. Sign up today and thank us later.
Why we love this business newsletter: Patent Drop offers digestible insight into the latest developments in technology so we can be aware of what the future may hold.
When to expect it? Every Monday and Thursday.
Where to sign up: Click here to subscribe.
"Your weekly dose of work-life balance"

Away from Desk is all about learning to professionally and personally grow away from your desk and remind you of what you're capable of. Career Coach Em provides you with useful tips for your professional and personal life in a fun, lighthearted tone. Reading this newsletter is like a warm hug and a cup of coffee, just what every morning needs.
In each issue you'll find this newsletter packed with personal lessons from Emily, a useful tip or 2, some resources she is loving, music recommendations to jam and focus on, a dose of gratitude, and a Q&A section from subscribers.
Why we love this business newsletter: All things career, confidence, and work-life balance. What more could you want?! The Away from Desk newsletter is a great resource for busy professionals looking for some balance in life, as well as ways to be better professionals. With lots of guides, tips, and resources, this newsletter is also great for people new to the workforce or those looking to change career paths. Emily is a career coach that has excellent interview and negotiation tips, so you'll be sure to find content surrounding those areas of expertise in the away from desk newsletter.
When to expect it? Weekly newsletter, every Wednesday.
Where to sign up: Click here to sign up for Away from Desk.
"Women Making Power Moves"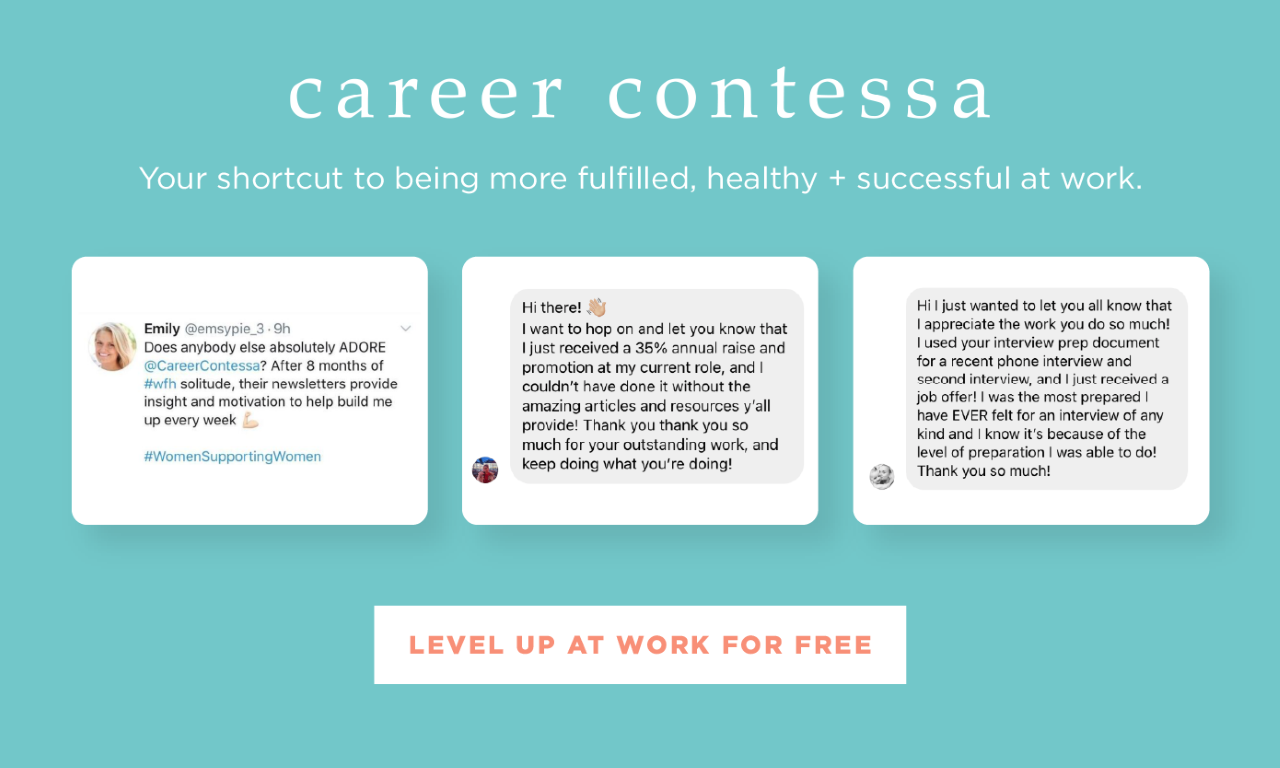 Career Contessa helps working women be more fulfilled, healthy, and successful at work — something we can totally get behind, considering that women make up more than half of today's workforce.
From negotiating a raise to determining your next career move to navigating a toxic workplace, Career Contessa helps you overcome your career challenges and offers you a better way forward with expert advice, downloadable resources, 1:1 career coaching, skill-building courses, and even a weekly podcast.
Why we love this business newsletter: We really like that Career Contessa works toward removing traditional barriers to career development. Whether you're job searching, negotiating your salary, advancing in your role, or navigating other career development topics, they have you covered.
When to expect it? Weekly, every Sunday.
Where to sign up: Click here to subscribe.
"Release your Inner Wolf of Wall Street"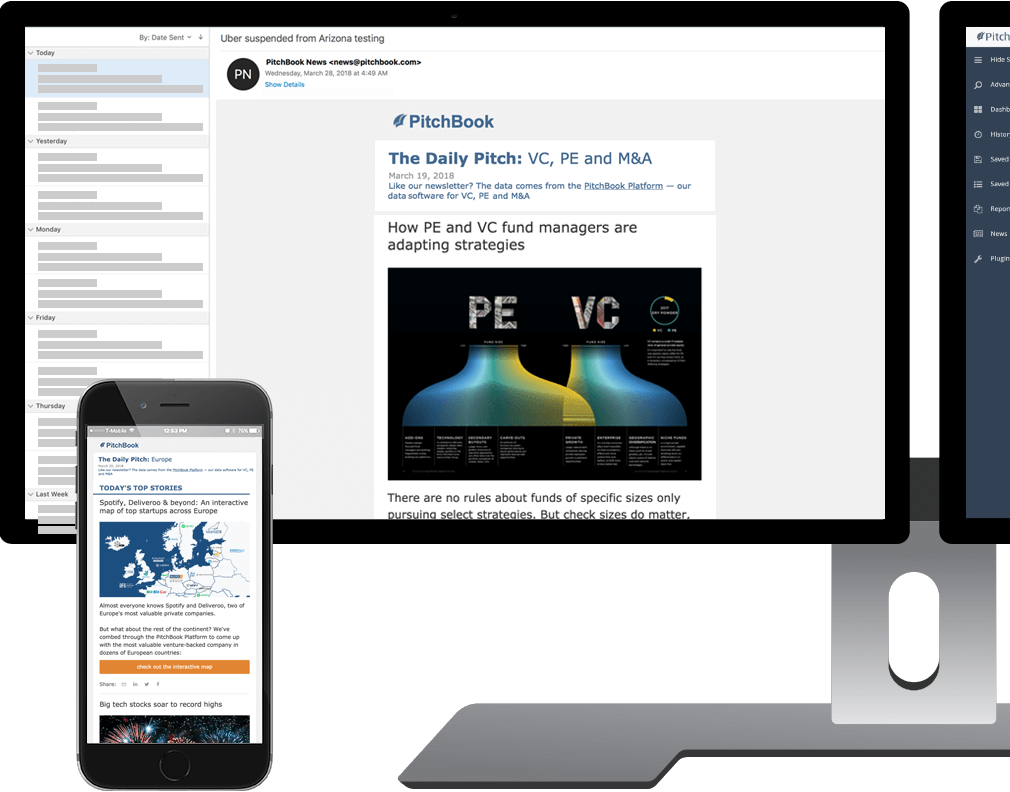 The Daily Pitch is PitchBook's newsletter offering powered by their data software platform focused on VC (Venture Capital), PE (Private Equity), and M&A (Mergers & Acquisitions). PitchBook is one of the leading sources for private capital market news, analysis, and trends.
With over 960,000 subscribers, this popular newsletter keeps you informed on the ever-evolving and in the know worlds of VC, PE, and M&A. Their newsletter includes Today's Top Stories, Recommended Reads, and updates regarding VC/PE deals and Corporate M&As, making it a must-read for entrepreneurs.
Why we love this business newsletter: It can be extremely difficult to stay ahead of emerging trends and breaking news as it relates to the world of finance. The Daily Pitch compiles business news on not only the top players in the field, but promising startups or small businesses as well. In addition to their newsletter, they also have an online blog and a weekly podcast that dives even deeper into these topics and more!
When to expect it? Daily newsletter.
Where to sign up: Sign up here to subscribe.
"The Psychology Behind Work"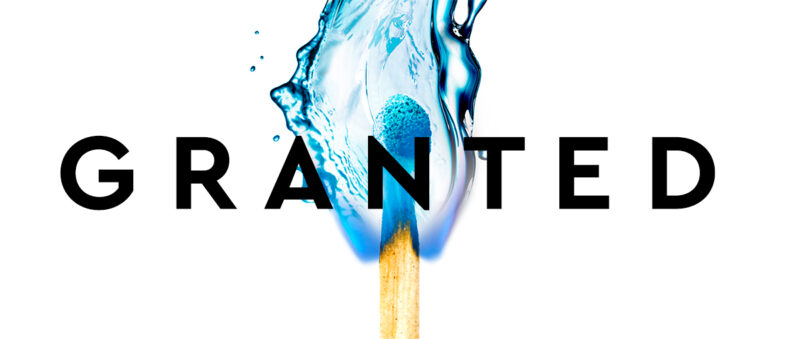 Adam Grant, an organizational psychologist at Wharton and New York Times bestselling author, offers a unique business newsletter that provides monthly insights on the psychology behind motivation in the workplace and how to find meaning in both your work life and personal life. With over 100,000 subscribers, Granted tackles relatable business/work topics such as the importance of rest and how to reason with the unreasonable.
In his most recent issue, he shares footage of his recent TedTalk where he provides guidance on how to stop languishing and start rediscovering your flow, which at this point in the pandemic, many of us are struggling to do. If you're more of an auditory learner, check out Adam Grant's extremely popular podcast called WorkLife where he dives even deeper into these hot topics.
Why we love this business newsletter: This newsletter reads less like a traditional business newsletter and more like exchanging emails with your super intelligent, yet super down-to-earth friend. We love that he's not afraid to tackle the hard questions or discuss the more intangible aspects of what motivates us, both in business and in our personal lives. His newsletter encourages his readers to self-reflect and push themselves to grow.
When to expect it? Monthly newsletter.
Where to sign up: Click here and enter your email address to subscribe.
"The Thrive Hive"

With over 182,000 subscribers, Arianna Huffington's curated newsletter has quite the following and for good reason. Founder and CEO of the Huffington Post, as well as Thrive Global, Arianna Huffington shares her thoughts on the latest events, and cultural & business topics each month with a focus on how we can collectively thrive. Her newsletter is filled with some great content marketing centered around inspirational advice on how to make the most of your work and personal life and truly thrive in both.
Her most recent issue highlighted the importance of fostering a culture where individuals can learn from their mistakes. This applies not only to work culture where employees need to feel comfortable learning from their mistakes, but also in everyday life where forgiveness and compassion can encourage people to grow from mistakes as well.
Why we love this business newsletter: We love reading Arianna Huffington's opinions and advice on key business topics because her insights are spot on, relevant, and actionable. For example, her August issue centered round the importance of mental health and creating healthy habits and boundaries as it relates to technology. With so many professionals feeling the effects of burnout and screen fatigue, it's more important than ever to highlight topics like this and Thrive's newsletter is doing just that.
When to expect it? Monthly newsletter delivered at the top of each month.
Where to sign up: Click here to sign up for this monthly newsletter.
"Elevate Yourself to Unlock Your Full Potential"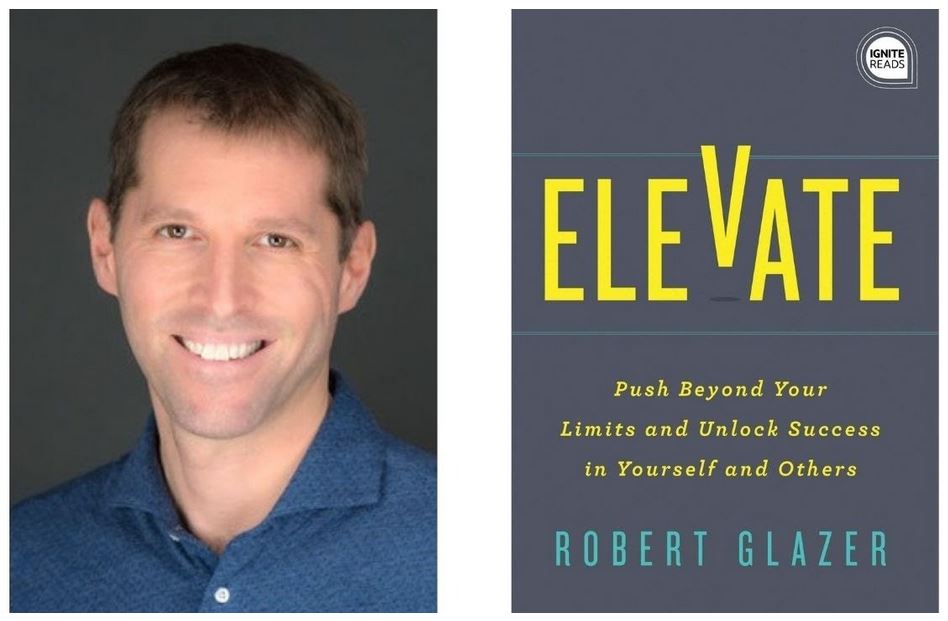 Robert Glazer, founder and CEO of Acceleration Partners, and bestselling author, shares weekly thoughts centered around work culture, leadership, entrepreneurship, and unlocking your highest potential. Each week, Glazer speaks to successful CEOs, authors, and leading voices in the business community about how they have found and sustained success. For example, in a recent #Elevate podcast, Glazer speaks with Alex Liebearound founder & CEO of Morning Brew (Sound familiar?
This business newsletter is #2 on our list). They discuss how Alex made the decision to take a leap of faith and go all-in on Morning Brew and the importance of creating space for creativity in both our work and personal lives. Elevate is a great fit for small business owners or online business owners looking to reach their full potential.
Why we love this business newsletter: Each week you get the pleasure of hearing not only Robert Glazer's thoughts on business and personal growth, but the stories & advice from top leaders and tastemakers in the industry. We also love that this newsletter is delivered in podcast format so you can listen on the go! If you're looking for motivation to push yourself, tap into your inner entrepreneur and elevate your thinking, then definitely check this successful newsletter out.
When to expect it? Weekly newsletter.
Where to sign up: Head over to LinkedIn's site to subscribe.
"Jumpstart Your Friday"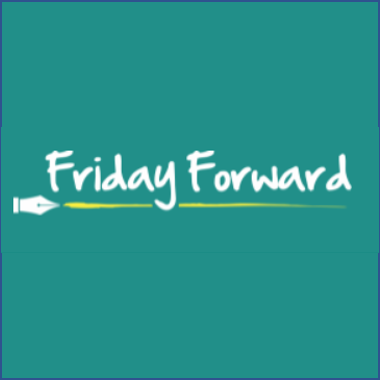 Maybe you're onboarding a remote employee and thinking of ways to welcome them to the team. Or maybe you're in HR and looking for new tools or skills to sharpen your competencies. In addition to this weekly podcast, Elevate, Robert Glazer curates Friday Forward, a weekly newsletter where he shares his thoughts on professional development & leadership, including how to successfully lead a team and keep them (and you) engaged.
Friday Forward began as an internal memo that Glazer sent his Acceleration Partners each Friday morning with the hopes of keeping his employees motivated to reach for success in their personal and professional lives and reach their full potential. As interest grew beyond his employees, he decided to share his Friday motivational newsletter with the public.
Why we love this business newsletter: We love that this newsletter was created to motivate and inspire passion for leadership, growth, and self-reflection & improvement. Friday Forward has remained true to this format, providing their readers with thought-provoking newsletters packed with the best content. Some recent topics include how to successfully delegate (hint: google the 85% rule), how to distinguish important vs. urgent tasks, and the importance of having the freedom to fail.
When to expect it? Weekly newsletter delivered every, you guessed it…Friday.
Where to sign up: Join the over 200,000 subscribers by clicking here.
"🎵 Do the Hustle"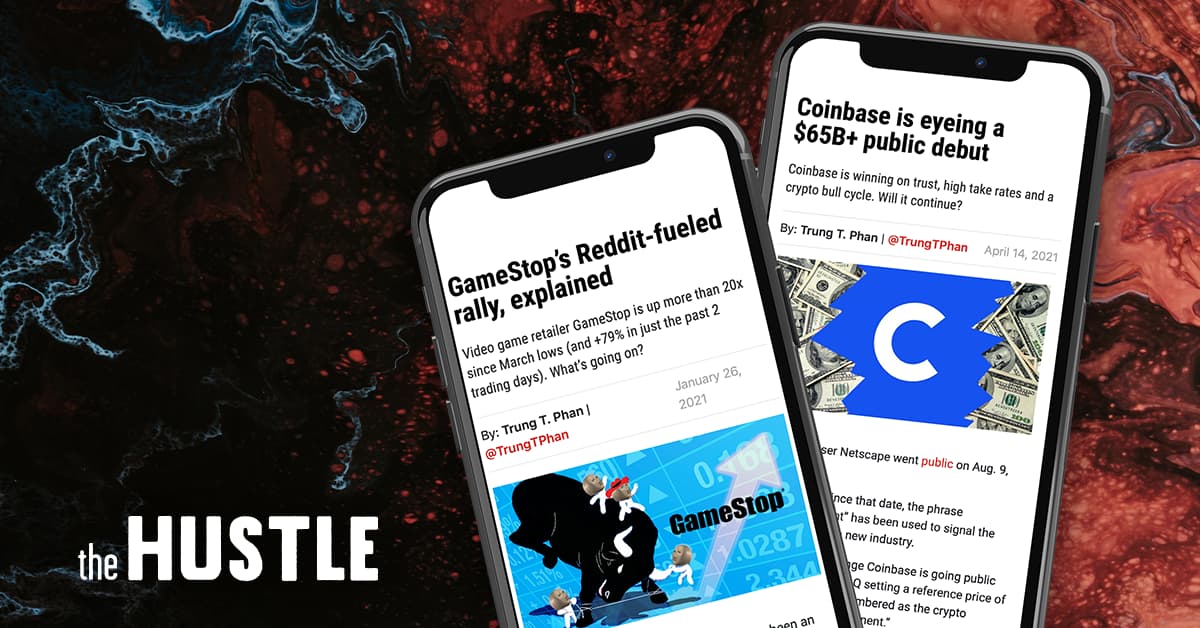 The Hustle's mission is relatively straight-forward: Help their readers make smart business decisions, quickly. Every single day, we're bombarded with news and information, making it difficult to sift through the noise and stay up to date on business news and trends.
The Hustle helps cut through that noise by being a HubSpot for key business & finance updates that are delivered in a digestible newsletter format to over 1.5M readers each day. Their newsletter covers topics such as emerging tech, business trends & startups, and finance resources that help their readers stay informed and empowered.
Why we love this business newsletter: We love that the Hustle compiles business & finance news stories that are highly relevant for motivated entrepreneurs and casual readers alike. While most of their newsletter content is centered around business/finance news, they end every newsletter on a lighter note by sharing interesting or funny tidbits from Around the Web and a Meme of the Day.
When to expect it? Daily cadence.
Where to sign up: Hustle over to this site to subscribe!
"Hungry? Try some Brain Food"

Farnam Street's Brain Food may just be the perfect office snack, even if that office also functions as your bedroom. Featured in Forbes, The New York Times, The Economist, and Wall Street Journal, Brain Food is an extremely popular newsletter for good reason. Brain food is the brainchild of Shane Parrish, a former financial officer.
In each issue, Parrish shares insights and ideas related to living your best life (at work and at home). Topics range from book recommendations to philosophical musings to thought-provoking quotes. Brain Food's goal is to share with its readers essential ideas that others have successfully developed and deployed in their lives.
Why we love this business newsletter: We love that Brain Food strives to live up to its name. We're all super busy individuals with a never-ending list of personal and professional opportunities. It can be easy to get lost in that list. Brain Food challenges its readers to take a step back and explore their curiosity and think critically about the 'why' behind the everyday.
When to expect it? Every Sunday – pairs perfectly with a lazy Sunday afternoon.
Where to sign up: Click here for some Brain Food.
"See Things a Bit More Clear-ly"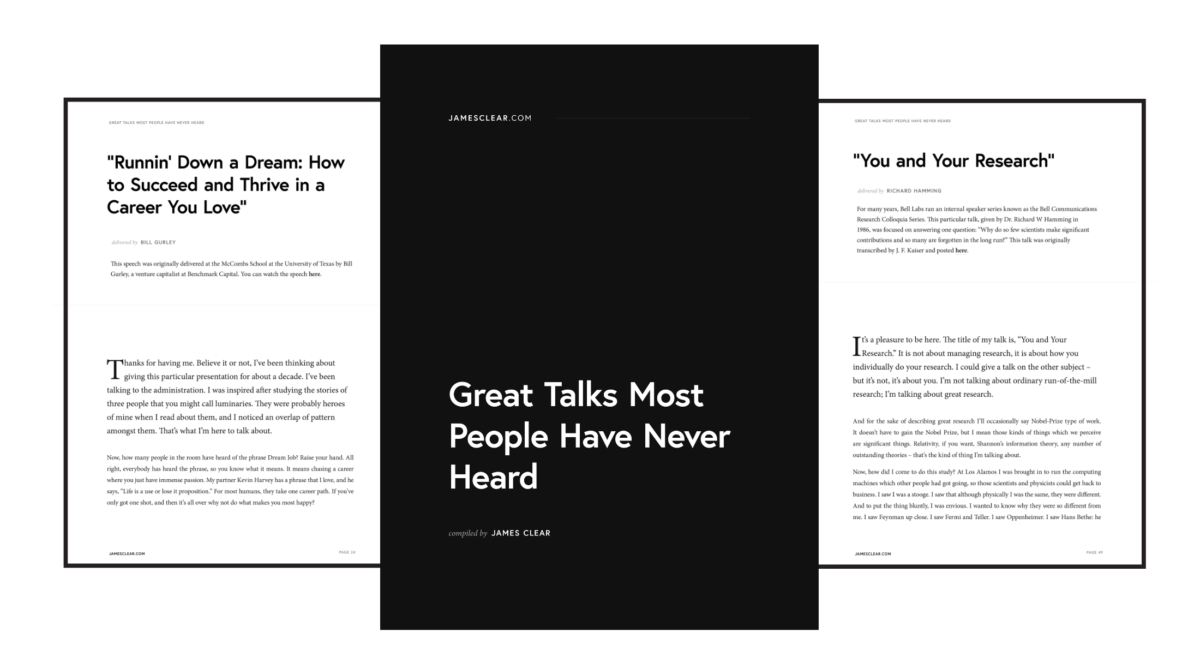 We're closing out our top ten list with my personal favorite, James Clear's weekly 3-2-1 newsletter. Author of the NY Times bestseller, Atomic Habits, James Clear shares a few of his thoughts, quotes from others, and a question for his readers centered around a different topic each week.
With over 1 million subscribers, Clear's newsletter aims to find great ideas that are actually usable and can be applied to make life better. Lofty goals for a newsletter, but Clear does not disappoint. Recent newsletter topics include how to measure success, the importance of healthy mindsets, and how to focus on what matters.
Why we love this business newsletter: We love the format of Clear's 3-2-1 newsletter: 3 short ideas from the author, 2 quotes from other sources, and 1 actionable idea or question for the readers to reflect on. It's short and sweet, taking only a few minutes out of your day. Yet, the topics and content are quite powerful and likely to leave you pondering far beyond the time it takes to read.
When to expect it? Weekly newsletter published every Thursday.
Where to sign up: It's easy as 3-2-1. Sign up here.
"Disruptive HR leaders to unite!"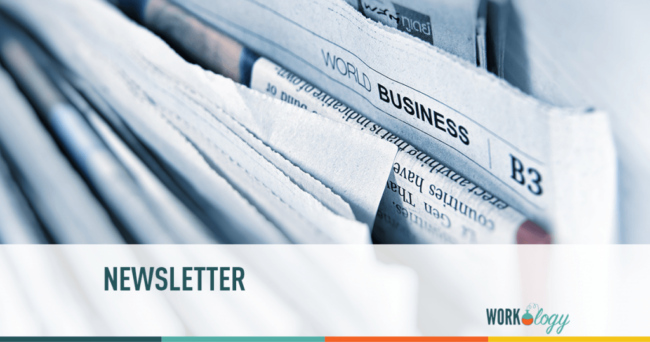 The Workology newsletter is a must-read for anyone interested in the world of work and employment. Each issue is packed with insightful articles, news stories, and tips on topics ranging from leadership and workplace culture to career development and recruitment.
What sets the Workology newsletter apart is its focus on practical, actionable advice. The writers and contributors are experts in their fields, and they share their knowledge and experience in a way that is accessible and relevant to professionals at all levels. Whether you're a seasoned manager or just starting out in your career, the Workology newsletter is an invaluable resource that will help you stay informed, inspired, and ahead of the game.
Why we love this business newsletter: Subscribing to the Workology newsletter comes with a host of exciting perks that will keep you up-to-date and well-informed in the ever-evolving world of HR. Not only will you gain access to exclusive case studies and practitioner-focused information, but you will also have the opportunity to earn HRCI and SHRM recertification credits through webcasts and courses. Additionally, the newsletter offers a curated selection of the best HR resources on the internet, tailored to your specific area of interest and job title. And as a member of the Workology community, you'll be invited to attend special events and receive discounts on products and services. With all these insider benefits, the Workology newsletter is an essential tool for any HR professional looking to stay ahead of the curve.
When to expect it? Weekly newsletter.
Where to sign up: Click here to sign up for this weekly newsletter.
People Also Ask These Questions About Business Newsletters
Q: What makes a Business newsletter good?
A: A good business newsletter is concise, cohesive, and informative. Authenticity, reliability, and predictability also help to create an effective newsletter. The readers should feel like they can trust the newsletter & its' sources. They also expect to receive the newsletter at a set frequency and delivered in a consistent format.
Q: What are the benefits of signing up for a Business newsletter?
A: There are 2 huge benefits of signing up for a business newsletter. 1. It saves you time: Rather than wasting time scouring the internet for the latest business news and trends, subscribe to key business letters that do that research for you. 2. It keeps you informed: Subscribing to good business newsletters will keep you up to date on the latest news so that you can continue your professional growth and make smarter business decisions.
Q: What kind of content goes into a Business newsletter?
A: Typical business newsletter content includes the latest news, emerging business trends, finance news, productivity tips, advice, and interviews with industry leaders.
Q: What are the best newsletters for professionals?
A: Depending on your professional field and areas of interest, it's important to find the newsletters that best fit your needs. Maybe you work in HR and need advice on HR outsourcing or the onboarding process. Or maybe you're a team leader who needs guidance on how best to recognize and reward your employees. In these scenarios, you'd want to find a newsletter that covers topics such as HR news and team leadership.