Whether we boil, press, steep, pod, cold brew, or drip, sipping some form and flavor of coffee has become a growing necessity in our good morning routine. There are just as many reasons for indulging in it as there are methods for extracting the beautiful, brown, bean's nectar.
Wait… do we actually need a reason to drink coffee?
Silly question, of course not!
There are countless reasons, however, why coffee gift box ideas are perfectly personal for the latte lovers on your shopping list. With options like samplers and tasting boxes and coffee of the month clubs, it's a gift that keeps on giving.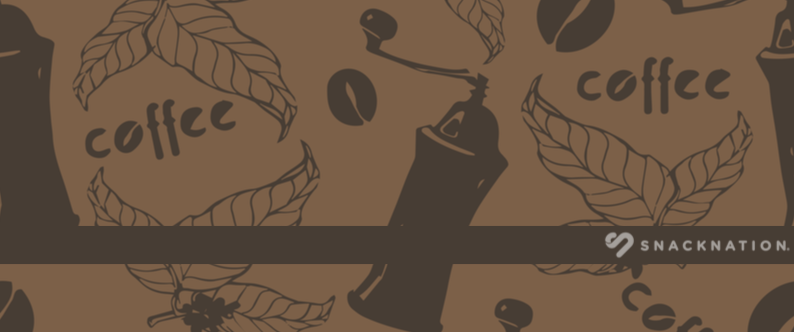 Coffee gift boxes offer quality coffees and related items, with varieties your bean lovers didn't even know they needed yet. Exploring these options may just lead them to their new favorite moment of each day.
Enjoying a cup of coffee is something 62% of Americans do daily. Actually, on average we consume two to three cups per day and we do it pretty much anywhere when you think about it.
Although the majority of coffee is consumed in the mornings and at home, a lot more conversations are being had, meetings are being held, and deals are being sealed over some good coffee these days.
Whether they're whole bean grinders or they scoop and drip, these fantastic coffee gift ideas deliver way more than just coffee.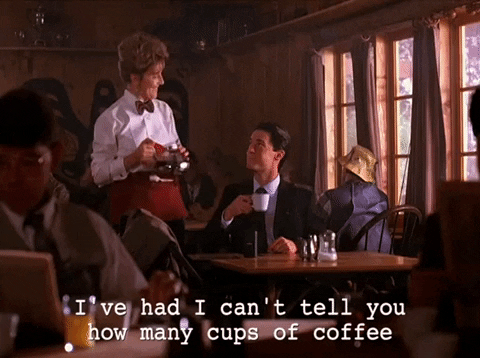 We found some great self-care combos, deluxe extras, and customizable curations, all with one thing in mind… the almighty bean. Whatever the holiday or occasion, find the perfect coffee lovers gift box below for the coffeeholics on your list. And while you're shopping, go ahead and grab one for yourself!
Want to become a better professional in just 5 minutes?
List of the Best Coffee Gift Boxes
Each box delivers the gift of healthy snacks and delightful coffee to your colleague while helping to feed families in need.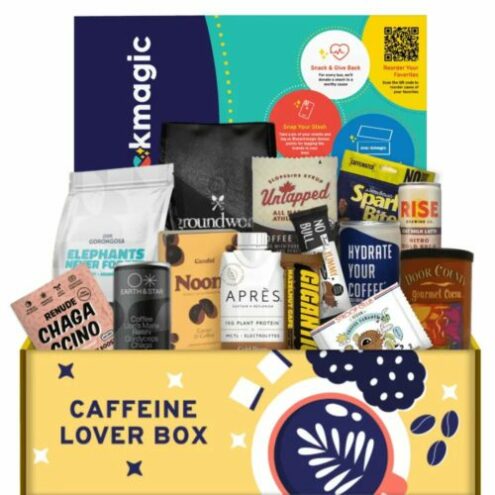 Each box is packed with a bag of premium ground coffee to keep her energized and a dozen tasty treats to curb her sweet and salty cravings. Whether a single purchase or a monthly coffee subscription, this gift box can be sent to the office or to your colleagues working remotely.
What makes this coffee gift set unique? With a monthly subscription, you can give a little to your coworker while also giving a little back to the community.
This coffee gift box is best for: Coworkers
Price: Starting at $25
Start brewing: Snacks & Coffee Box
A coffee, tea, and self-care combo, with a sweet and succulent twist.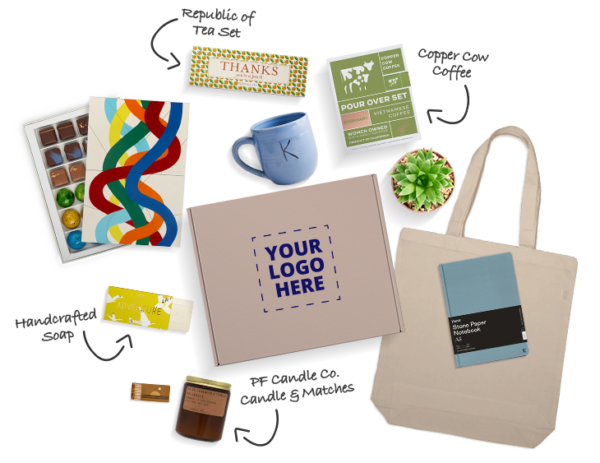 An aromatic candle, fancy soap, a monogrammed mug with coffee and tea, and premium chocolates for that sweetness mentioned above. And by a "succulent twist," we mean an actual live succulent. So cute!
What makes this coffee gift set unique? Gratitude comes in a multitude of forms and this box delivers just that with so many unique and thoughtful items.
This coffee gift box is best for: Birthdays
Price: Get a customized quote for the coffee lover on your gift list.
Start brewing: Coffee Lover's Gratitude Box
Perfect for the coffee AND cocoa lovers on your holiday shopping list.

Hot coffee at 8 am, hot cocoa at 8:15 pm… yep, sure can! Two ceramic coffee mugs, some beautifully rich coffee, and hot cocoa – complete with marshmallows – will definitely keep her warm and cozy.
What makes this coffee gift set unique? This is a great holiday gift idea for friends, family, coworkers, or even for your Secret Santa surprise.
This coffee gift box is best for: Holidays
Price: $34.99
Start brewing: Starbucks Coffee Gift Set
The perfect gift basket for a coffee break anytime.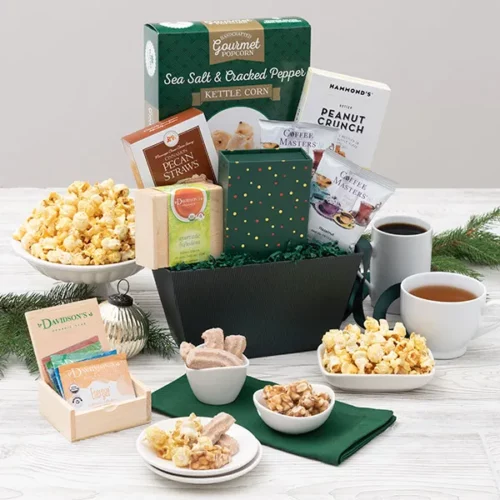 Columbian and hazelnut coffees and a tea sampler, paired with gourmet treats like cinnamon pecan straws and peanut brittle, make this an all-around sweet gift idea for welcoming a new employee.
What makes this coffee gift set unique? The single servings mean they don't have to share and can enjoy these little breaks all for themselves with this tasteful coffee sampler box.
This coffee gift box is best for: New employee
Price: $39.99
Start brewing: Coffee Break Gift Basket
Beans for DAYS!
This gift box delivers a delightful variety of eight whole bean coffees, for a new and different flavor each day, and then some. Also included is a French press coffee maker, sure to thrill any true coffee connoisseur.
What makes this coffee gift set unique? This coffee gift box is about so much more than just the coveted caffeine. It's a thoughtful and organic gift that true coffee lovers will undoubtedly appreciate.
This coffee gift box is best for: Coffee Lovers
Price: $39.99
Start brewing: Coffee Gift Box With French Press
You can never go wrong with a gift of coffee and sweets.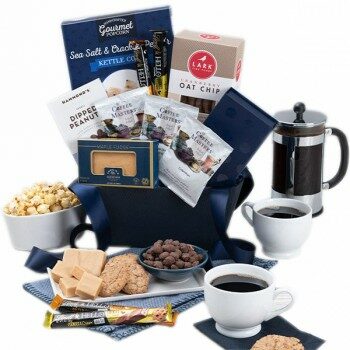 She'll open this gift box to find several decadent coffees, as well as a variety of gourmet treats. Both sweet and savory snacks to pair with her coffees like double-dipped peanuts, maple fudge, and sea salt and cracked pepper kettle corn.
What makes this coffee gift set unique? The title may be a little misleading, in that there's likely more than just "a few" of her favorite things included in this unique coffee gift.
This coffee gift box is best for: Work Anniversaries
Price: $149.95
Start brewing: A Few of Her Favorite Things
Only the top 1% of beans are chosen for this above fair-trade coffee gift.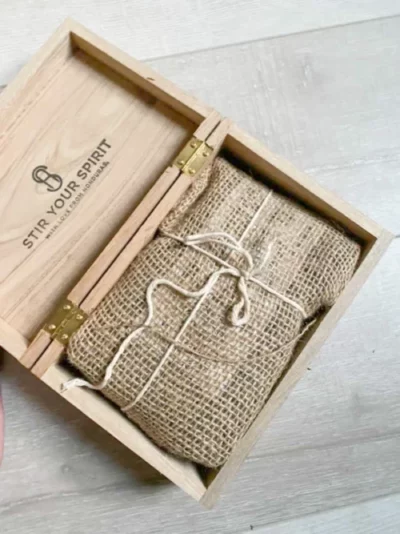 Impressive from the inside out. The artfully scribed wooden box holds a bag of the freshest organic Honduran coffee.
What makes this coffee gift set unique? These organic coffee beans are responsibly and sustainably farmed and shipped "from crop to cup in record time" for optimal freshness.
This coffee gift box is best for: Colleagues
Price: Starting at just $49.00
Start brewing: Luxury Coffee Gift Box
Small batch coffee from the Americas.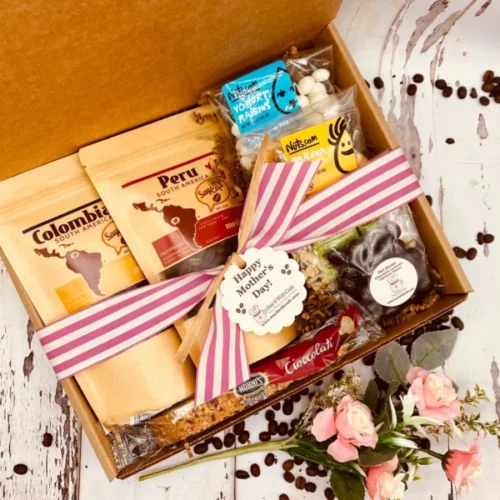 A customizable care package for all coffee pallets. From whole bean to drip press, Puerto Rico to Peru, there's a brew for every bean lover.
What makes this coffee gift set unique? This care package can be perfectly labeled for your gift giving occasions, whether a birthday, Mother's Day, or just because.
This coffee gift box is best for: Coffee Lovers
Price: As low as $32.00
Start brewing: Coffee Care Package
A cozy care package that oozes kindness.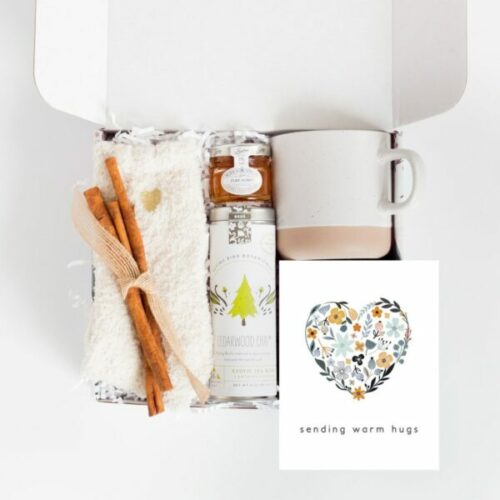 Even the box is beautiful. Branded with the statement "Someone Is Thinking Of You," it holds calming contents like soft, fuzzy socks and a beautiful mug for cozying up with chai tea, complete with cinnamon sticks and honey.
What makes this coffee gift set unique? You can further personalize by adding items like an aromatherapy candle, bath bombs, and herbal tea for a more extensive self-care gift of kindness.
This coffee gift box is best for: Birthdays
Price: $46.00
Start brewing: Tea Gift Box
Few things bring a sense of peace like a good cup of coffee and a good book.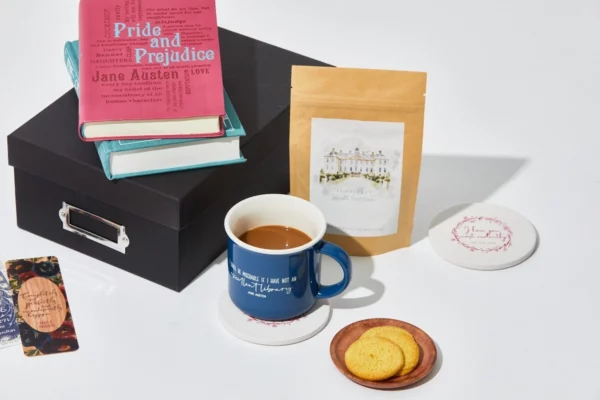 Your literary lovers will adore this combination. The items in the boxes are themed based on the classic book chosen and include things like the specialty coffee of the month, several reading-related items, and a bookmark for their full classic novel.
What makes this coffee gift set unique? There are so many customizable options for this gift including the genre and the type of hot beverage. It's available in children's classic tales with hot cocoa or tea as well.
This coffee gift box is best for: Monthly Subscription
Price: Under $41.00 per month with a subscription
Start brewing: Coffee and a Classic Book Box Subscription
When her love for coffee is about the bean AND the buzz!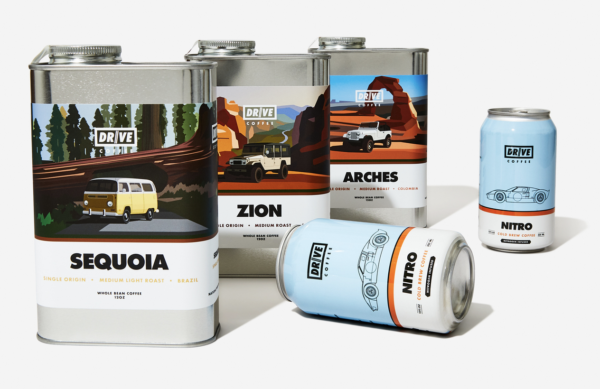 Single-origin beans with a NOS button from some of South America's expert coffee countries. A variety of whole beans and high-octane cold brews to curb all her caffeine cravings.
What makes this coffee gift set unique? When coffee fuels her day, high quality beans packaged in unique fuel tins are too perfect to pass up.
This coffee gift box is best for: Work teams
Price: $55.00
Start brewing: Turbo
When you want a gift that's truly packed with purpose.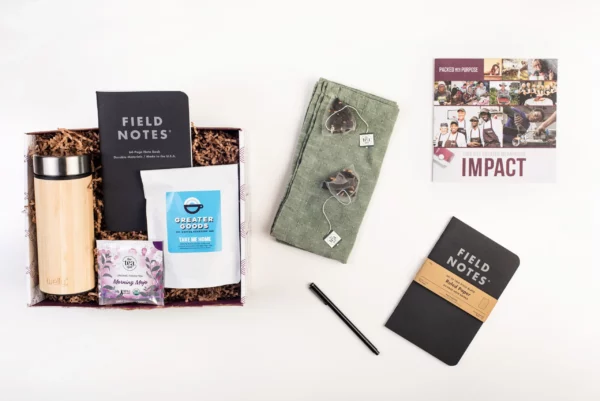 The recyclable box is bursting with feel goods, like a bamboo tumbler that supports access to clean water. There's also a notebook to collect all their new ideas that helps build schools in underfunded countries.
What makes this coffee gift set unique? Each item is sourced from purpose-driven creators with their environmental, social, and economic impact at the core of their products.
This coffee gift box is best for: Retirement
Price: $82.00
Start brewing: Everyday Exploration
A medley of beans to please any mixed bag of bean lovers.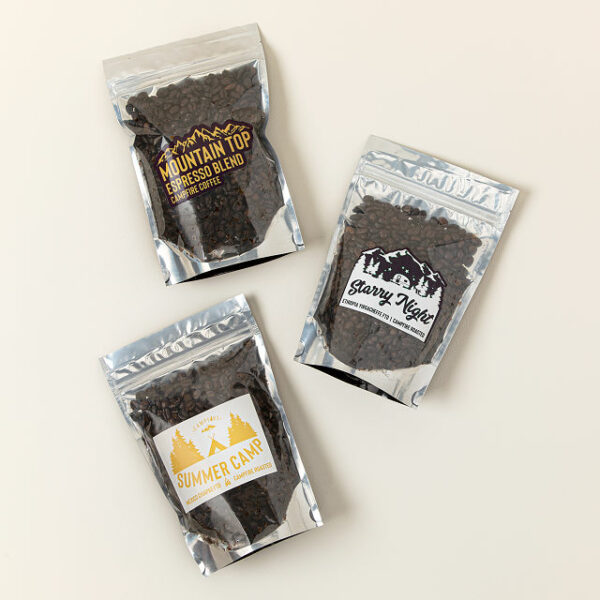 Three breeds of beans, all slow-roasted over open flames by expert coffee roasters, for a smooth, cozy, campfire-y cup of coffee.
What makes this coffee gift set unique? This coffee sampler kit is infused with pure, woodsy, Pacific Northwest, flavors.
This coffee gift box is best for: The office
Price: $20.00
Start brewing: Campfire Roasted Coffee Kit
What Should I Include in a Coffee Gift Box?
Here are a few coffee gift box ideas for making your own care package for friends, employees, family members, or whoever you know who loves a nice cup of coffee. While there are more ideas out there, these ideas are a good place to start when crafting your own DIY coffee gift set.
1. Coffee
True coff-a-holics will always appreciate the gift of having a(nother) cup anytime they choose.
---
2. Sugar
One lump or two? Some of us may be more like four. Don't judge, we like what we like!
---
3. Flavored Syrup
A smoothe hint of vanilla or hazelnut may just be the little extra something she needs in her day.
---
4. Cookies or sweet treats
Tasty bites like pastries or biscottis pair perfectly with a cozy mug of comfort.
---
5. Tea or Hot Chocolate
Variety is the spice of life. She may love her morning coffee but the option to switch it up with a nice cup of tea or cocoa in the evening is priceless.
---
6. Coffee Mug or travel mug
Gotta have a vessel for the java juice!
---
7. Coffee Storing air-tight container
Espresso and coffee lose their flavors when exposed to air. Keeping their caffeine contained ensures a fresh cup each time.
---
8. Coffee Grinder
Whole beans don't just magically turn into grounds when the bag opens.
---
9. Cold brew maker
For those who like a hot cup in the morning and a cold brew in the afternoon.
---
10. Spoon
The cup swish moves to mix the sugar and cream usually ends in a spill so a spoon for stirring is always a helpful little tool.
---
Conclusion
One thing that's clear when it comes to coffee. We like variety. According to the National Coffee Association
"More than 40% of Americans bought types of coffee (e.g., new brand, roast, or type of beans) they had never tried before during the pandemic, and nearly one third tried to replicate a favorite coffee shop beverage at home."
All GREAT reasons to put coffee-themed gifts on this list for coffee drinkers! Look at you, being so thoughtful and considerate of your friends and colleagues!
Aside from just appreciating the taste, coffee's caffeine makes us feel energized and is an obvious benefit. When it comes to women's health and fitness, caffeine earns bonus points for also helping to boost metabolism up to 11% and the fat-burning process up to 29%.
In fact, the overall health benefits of coffee may be in close competition with its taste when it comes to the uptick in popularity. In addition to its help with weight loss, coffee contains valuable antioxidants, anti-inflammatory properties, and nutrients like magnesium and potassium. Coffee consumption can also lower the risk of some heavy hitters like type-II diabetes, heart disease, Alzheimer's, and Parkinson's.
On the softer side, it's also been proven to enhance our moods and decrease depression. There's a whole vibe that comes from that warm, rich, moment of bliss when the perfectly blended brew hits your lips.
---
People Also Ask These Questions About Coffee Gift Boxes
Q: What is included in a coffee gift basket or box? 
A: Some items included in a coffee gift basket or box are whole bean and ground coffees, complimenting sweets, healthy snacks, and mugs. For more ideas, check out this guide.
Q: What are the benefits of sending out coffee gift boxes for my employees? 
A: Some of the benefits of sending out coffee gift boxes for your employees are less concerns regarding food aversions and 62% of Americans are coffee drinkers so the odds are in your favor that they'll love it.
Q: What are some unique coffee gift basket ideas? 
A: Some unique coffee gift basket ideas combine coffee with books, cozy self-care items, and bean-related items like a French press or grinder.
Q: How much do coffee gift boxes generally cost? 
A: Coffee gift boxes generally cost anywhere from $20.00 and up, depending on the contents and quality.