You've probably heard the old saying "People do business with people they like, know, and trust." This doesn't just apply to customers or investors, but it's also relevant to client and employee satisfaction and retention.
Creating and maintaining authentic connections with the people who make your business thrive is more important now than ever before. Enter…corporate gift baskets.
We've scoured the internet and hand-picked our top suggestions for the best corporate gift baskets, (bags, boxes, and bins) to be sure your gestures of appreciation are memorable and leave a lasting impact. Whether you're looking for food gift baskets, gourmet snacks, swag packs, or corporate gift ideas, we've made it easy for you to find the best business gift baskets, all in one place.

There's no denying that the "usual" ways of working have dramatically changed in recent years. In today's hybrid office environment, it can be a challenge for your teams to feel as connected and appreciated. But no matter where you're physically working, keeping your work family united is critical.
What better way to let them know they're valued than giving a thoughtfully curated gourmet gift basket. In one tasteful bundle you can highlight their efforts and show that you not only notice, but more importantly, you genuinely care.
Making your team aware of their value to the organization clearly promotes a healthier, happier culture.
Scroll down to check out our top suggestions for the 20 best corporate gift baskets to cover a multitude of your business gifting occasions and boost workplace morale.
Want to become a better professional in just 5 minutes?
"A perennial favorite with sweet and savory options."

This basket explodes with treats from Godiva and Lindt chocolate to bacon habanero snacks and smoked Gouda cheese spread. There's more than 15 snacks to unwrap.
This corporate gift basket is best for: Client and employee milestones, holiday gifts & just saying thank you.
Why we love this: This "classic" corporate gift basket lives up to its name.
Price: $89.95
Where to get it: The Classic Gift Basket
"It's classic for a reason."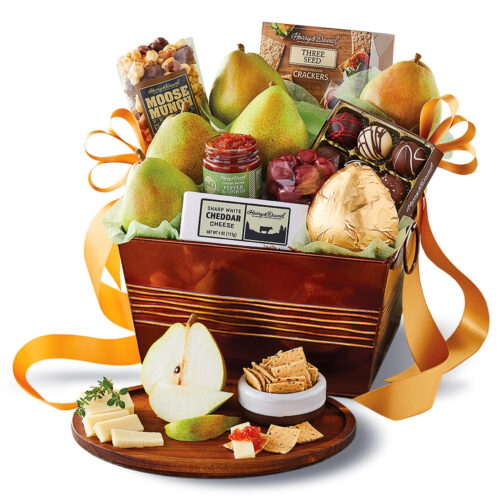 Brimming with premium pears, Moose Munch® popcorn, and Harry & David's signature pepper & onion relish (plus a bunch of other gourmet goodies), this basket is sure to delight.
This corporate gift basket is best for: Thank you gifts, Sympathy, Anniversary, Welcome (or any occasion).
Why we love this: The mix of sweet and savory flavors offers something for everyone.
Price: $69.99
Where to get it: Harry & David – Classic Favorites Gift Basket
"A sophisticated selection that leaves an impression."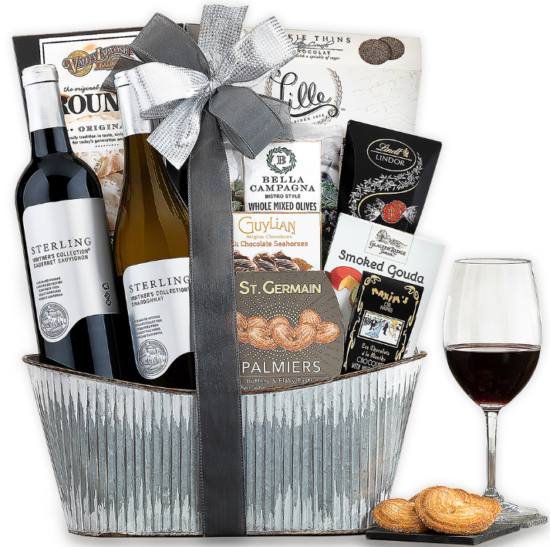 A premium pick of cab sauv and chardonnay from Sterling Vintner's handcrafted collection with gourmet goodies makes a perfect holiday "thank you" with a splash of class.
This corporate gift basket is best for: Showing appreciation to valued clients and partners for Christmas or New Year.
Why we love this: Its sweet and savory treats pair perfectly with red and white wines.
Price: $89.95
Where to get it: Sterling Vintner's Duet Wine Basket
"For adding burst of colors!"
This beautiful arrangement is perfect for celebrating any special occasion! It includes a mix of daisies, yellow balls, roses and purple Veronia, all sourced from sustainable and eco-friendly farms.
This corporate gift basket is best for: New clients and customers
Why we love this:  The colorful hues are sure to brighten any office or workspace, making it the perfect way to show your appreciation to clients and employees alike. It makes a great gift basket for clients and a wonderful addition to any office or home décor.
Price: $84
Where to get it: Celebration Bouquet
"For those who need extra pampering"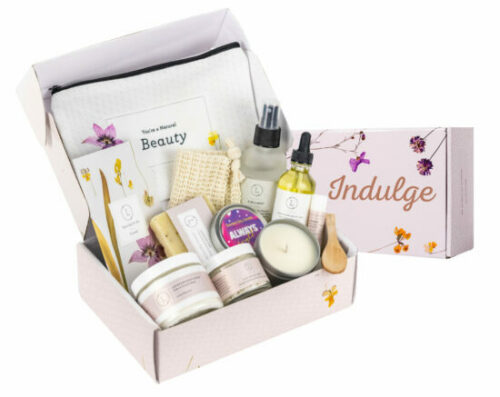 This collection of all-natural products has everything needed for a luxurious spa day at home, including a clay mask, lip balm, shower mist, soy candle and more.
This corporate gift basket is best for: Anniversaries & Milestones
Why we love this: Your recipient will love pampering themselves with these indulgent products, and they'll appreciate that you went the extra mile to find something so special and thoughtful.
Price: See Boxes and Pricing for more details
Where to get it: Spa Day Essentials
"This is the ideal gift for any special occasion, or no occasion at all."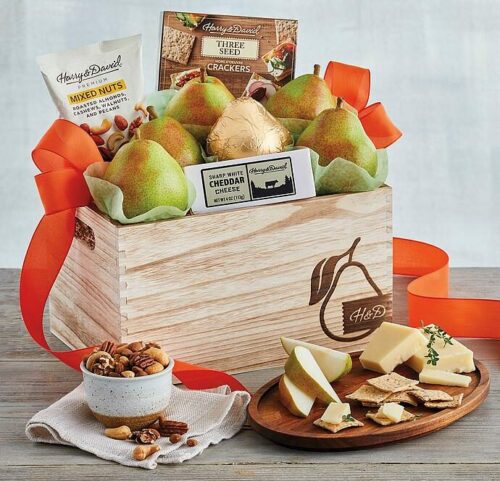 If you're looking for a gift option that's full of edible elegance to celebrate mentionable milestones like anniversaries and retirements, this luxury gift definitely has you covered. Not only are the contents tasty and healthy, but they're also swankily packaged for that added "Wow" factor.
This corporate gift basket is best for: Anniversaries & Milestones
Why we love this: Who doesn't love to customize? There are several upgrade options, including gourmet caramel popcorn and a wine list complete with tasting notes and pairing recommendations, so you can be sure to pack a ton of variety and gratitude into your basket. This gift basket for clients is sure to impress!
Price: $49.99+
Where to get it: Classic Signature Gift Basket
"For the art lover"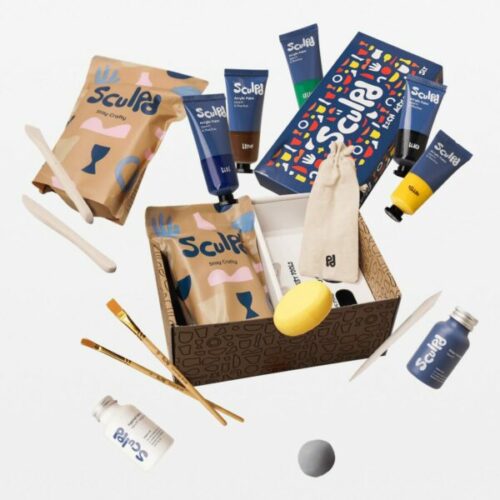 This fun and easy-to-use set comes with everything needed to create a beautiful and one-of-a-kind piece of art. Recipients will simply use the included clay to hand-build their masterpiece, then paint it with the gorgeous pastel hues included in the set.
This corporate gift basket is best for: Holidays, Anniversaries, and Milestones
Why we love this: This gift is a great way for recipients to relax and express their creative side – plus, they'll end up with a beautiful work of art to display in their home or office!
Price: Pricing depends on units ordered, click here for more information
Where to get it: Pastel Pottery Kit
"When people feel valued, they add value exponentially."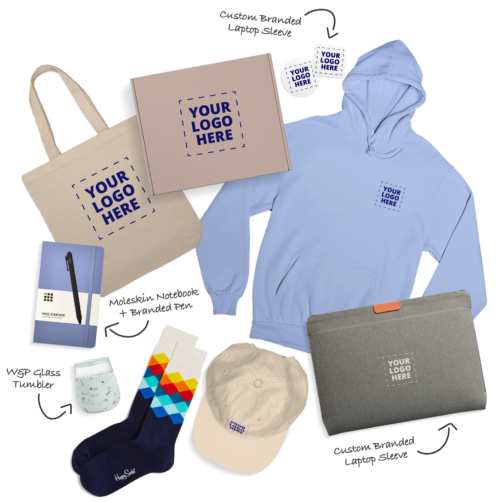 For great gifting opportunities outside the arena of snacks and sweets, look no further. This is your one-stop-shop for everything from care packages with company branded swag, to personal massages and "office socks."
This corporate gift basket is best for: Remote employees returning to the office
Why we love this: There are so many fun, quirky, and customizable options to make your returning employees feel safe, welcomed, and appreciated. While new apparel is perfect for some, others may enjoy the Moleskin notebook, glass tumbler,  or branded laptop sleeve to adorn their space. This welcome back gift will put a smile on your employees face while swagging them out with a number of high-quality company items.
Price: Take a short quiz to get personalized results
Where to get it: Welcome Back To The Office Care Package
"We can't think of a sweeter way to express your gratitude."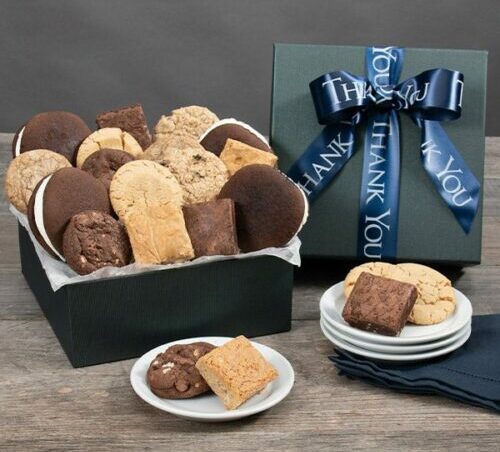 This elegant gift box is bursting with eight different baked goods, from chocolate chunk brownies and whoopie pies, to oatmeal raisin cookies and more, sure to satisfy any sweet tooth. Sixteen total treats to help launch a sweet start to your new business relationships.
This corporate gift basket is best for: New clients and customers
Why we love this: Wrapped up in a beautiful "Thank You" bow and complete with a personalized card, your new clients or customers can't help but feel they're in the right place. And bonus – all their products are Kosher OU-D certified.
Price: $39.99
Where to get it: Bakery Treats Thank You Gift Box
"Artisanal snacks and goods for those that love the finer things."

If you're looking for something with a little extra "umph" for the more prominent names on your list, your search is over. This stylish and functional bundle of treats of suitable for the VIPs, the CEOs, and the other MVPs on your gift-giving roster. We're talking thoughtfully curated, high-quality items to not only let them know you appreciate them, but that you truly celebrate their contributions.
This corporate gift basket is best for: Holidays, Anniversaries, and Milestones
Why we love this: From a JBL wireless speaker and portable charger, to a mug that doesn't let your coffee get cold, the quality of this gift bag speaks volumes and your giftees deserve a quality gesture of appreciation.
Price: Take a tour of the gifting platform to get personalized results
Where to get it: VIP Treatment
"Swag should be fun."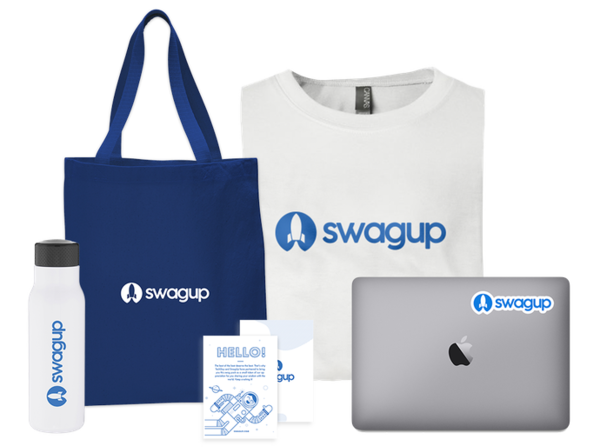 Giving your branded swag to the newbies leaves a welcoming and lasting impression. Plus, no complicated and tedious ordering process. Just a few quick clicks to build your swag packs, upload your company logo, customize your shipping, and voila! Your swag, simplified.
This corporate gift basket is best for: Ordering in bulk for new employees, customers, and clients
Why we love this: Whether it's a new contractor, intern, or vendor, buy in bulk and welcome each new player to the game for under thirty bucks. This customized Starter Pack is perfect for so many of your corporate gift-giving needs. Can you say swag-a-licious?
Price: $29.79
Where to get it: Corporate Starter Pack
"Say Happy Birthday, celebrate a company merger, or send your love."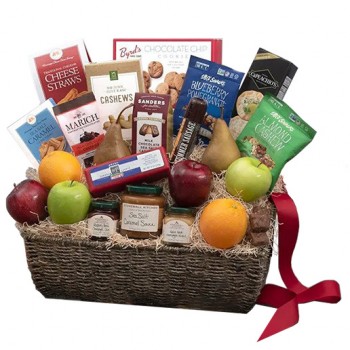 From fresh fruits and jams to sausage and cookies, this gift basket for clients pretty much has it all. There's a little something for every palette and it's all presented in a charmingly curated basket that just oozes appreciation. Complete with gift wrapping and a personalized card, you can be certain to say AND show how much you appreciate them.
This corporate gift basket is best for: Anniversaries & Milestones
Why we love this: Mustard, crackers, and trail mix – OH MY! This jam-packed basket (pun intended) provides an impressive variety of snacks and treats, sure to satisfy everything from sweet to savory, and lets your giftee know just how much you value them.
Price: $209.95
Where to get it: Fall Harvest Basket
"Chocolate and cocktails – what could be better?"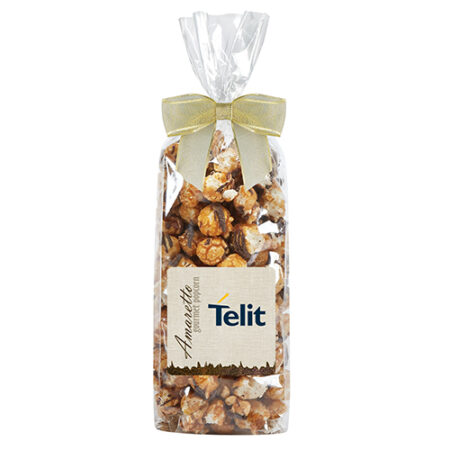 Gourmet popcorn alone can induce salivation like Pavlov's dog, but these thoughtful thanks-yous certainly have the boozy drizzle to make your gift-giving sizzle. Savory 8 oz. bags, in your choice of 3 alcohol-inspired flavors and branded with your company logo, this office snack is sure to bring smiles to the table.
This corporate gift basket is best for: New and existing clients, customers, and employees
Why we love this: Custom labels and colored bow options allow you to personalize the bags and really make these treats your own for a perfect non-alcoholic happy hour-ish snack.
Price: $7.51+
Where to get it: Boozy Popcorn Bag
"This gift basket makes a generous gift that no one can resist!"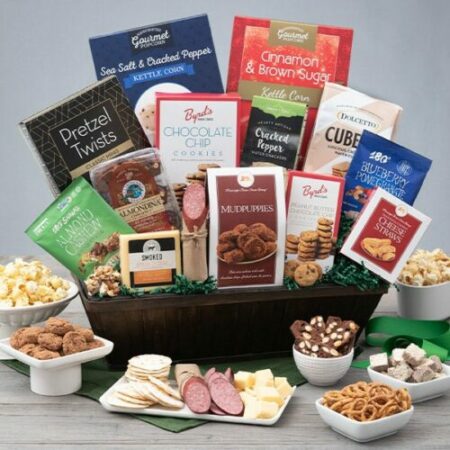 Customizable for your corporate gifting needs, this basket boasts three size options, each packing more and more deliciousness into its stylish wooden crate. This executive gift basket weighs in at over fifteen pounds and holds thirty-five decadent and delectable gourmet goodies.
This corporate gift basket is best for: Holidays
Why we love this: With premium Belgian chocolate truffles, kettle corn, and so much more, there's something for everyone in each hand-packed basket. Your holiday business gifting, made easy.
Price: $74.99+
Where to get it: Snack & Chocolate Gift Basket
"An ideal, and delicious, gift for all sorts of occasions"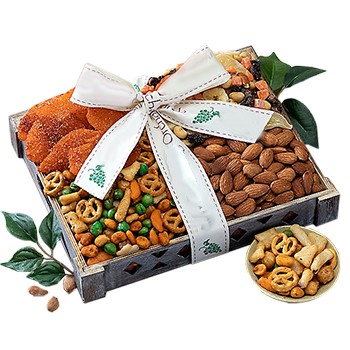 For something more on the savory side, this tray expresses your appreciation in a tastefully overflowing box, loaded with chile lime mango slices, nuts, and gourmet mixes, sure to satisfy the crunch craver in us all.
This corporate gift basket is best for: Holidays
Why we love this: The combination of heat and sweet with salt and crunch makes this a great choice for any holiday gifting reason or season.
Price: $89.95
Where to get it: Gourmet Crunch Mixed Nuts Tray
"Delight the savory snack fan in your life"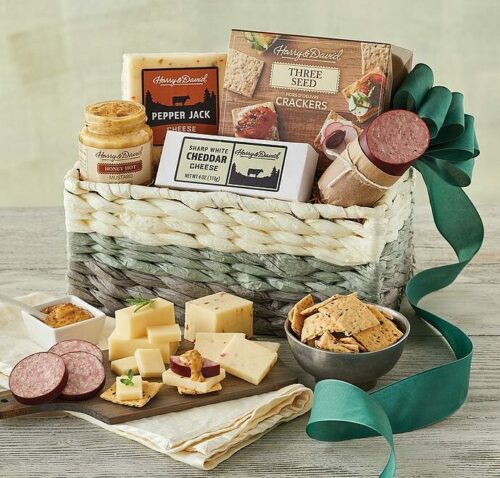 Wrapped in woven seagrass, this company gift basket boasts a hearty helping of exclusive eats. With multiple sizes to choose from, your new clients will unmistakably understand how much you appreciate their business relationships.
This corporate gift basket is best for: New clients
Why we love this: This is a mini charcuterie board in a basket. Who ever said meats and cheeses can't be fancy?
Price: $49.99+
Where to get it: Meat & Cheese Gift Basket
For a real "job perk."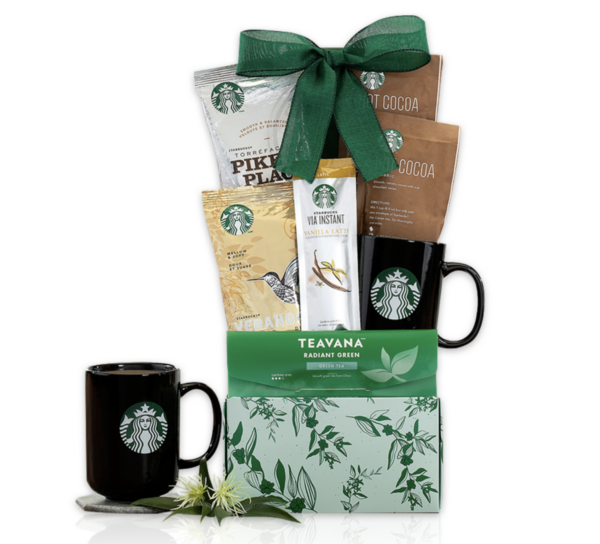 A charming collection that includes milk chocolate hot cocoa, Starbucks Verona and Pike Place roast coffee, green tea, vanilla latte VIA coffee and a Starbucks mug.
This corporate gift basket is best for: Saying thank you (or increasing productivity!)
Why we love this: The keepsake mug will keep you top-of-mind with your recipients when they brew up some deliciousness at the office or at-home after a busy day of work.
Price: From $63.53
Where to get it: Starbucks and Teavana Assortment Gift Basket
"Rudolph nose what makes a great gift!"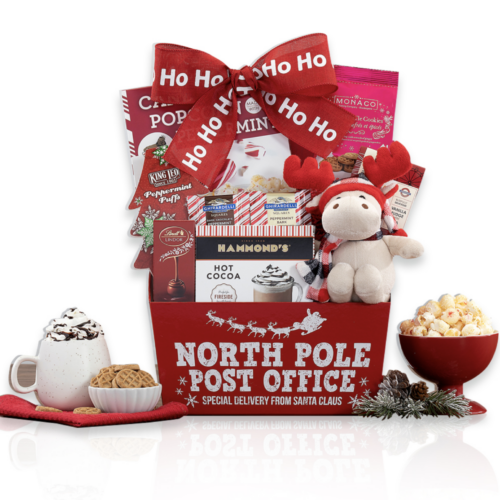 Deliver joy this holiday with lovable plush reindeer surrounded by hot cocoa, King Leo mint puffs, candy cane popcorn, Lindt Lindor milk chocolate truffle balls, spiced waffle cookies, Ghirardelli chocolate squares and vanilla fudge with sea salt.
This corporate gift basket is best for: Sweet tooths and kids of all ages.
Why we love this: Each item in this care package is holiday themed to warm hearts this winter.
Price: From $45.45
Where to get it: Reindeer and Sweets Gift Basket
"A cut above the rest!"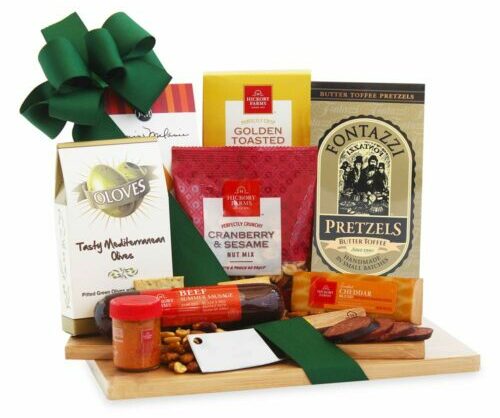 More than just a gift basket, this selection of gourmet sweet and savory snacks, including salami, hummus and bacon habanero bites comes with a bamboo cutting board and cheese knife.
This corporate gift basket is best for: Clients or employees
Why we love this: After the snacks are gobbled up, they'll remember your culinary keepsake gifts!

Price: $34.61
Where to get it: Cutting Board Collection Gift Set
"Choc full of good stuff!"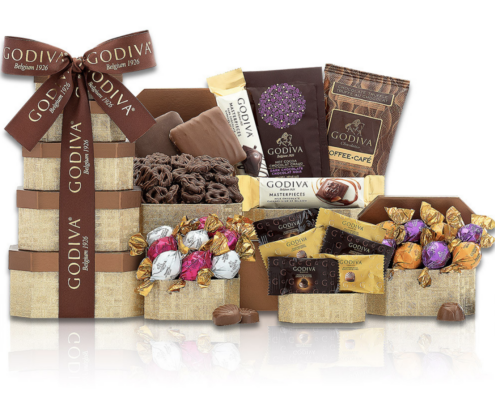 Unwrap 5 gift boxes filled with gourmet Godiva truffles, milk and dark chocolate covered graham crackers, chocolate truffle coffee, milk chocolate caramel and dark chocolate ganache bars, hazelnut milk chocolate, dark chocolate pretzels and hot cocoa (oh my!)
This corporate gift basket is best for: Year-round gifting for any occasion or recipient.
Why we love this: Sophisticated sweetness at a nice price.
Price: From $50.00
Where to get it: Godiva Chocolate Gift Tower
---
Conclusion
In 2011, Oprah Winfrey claimed that she had spoken to nearly 30,000 people on her show at that time and all 30K of them had one thing in common – they all wanted to feel validated. Everyone simply wants to be seen and appreciated, no matter the arena.
Feeling unappreciated at work is one of the main reasons people check out of their current roles and in turn, tap into their options in the job market. According to O.C. Tanner,
 "Showing recognition to your employees "can neutralize the negative effects of isolation, disconnection, and burnout, especially in difficult times. It connects employees to their organization's purpose, their personal and team accomplishments, and each other."
Whether you're preparing to welcome your remote employees back to the office in style, or you've got some monumental milestones coming up that deserve recognition, we've been happy to present our favorite gift basket ideas for all your corporate celebratory situations. There really are so many choices and opportunities to be creative and really have some fun with this.
If you needed any more convincing, let's outline the benefits to sending out curated corporate gift baskets.
Benefits To Sending A Corporate Gift Basket
1. Improved Company Culture
O.C. Tanner revealed that 70% of the employees they surveyed said that personalized gifts of recognition are more meaningful to them. When you personalize acts of gratitude toward your employees, clients, associates, and peers with more than a "good job" and a pat on the back, you reinforce those relationships and actually improve the overall culture of your company.
2. More Engaged Employees
Individual corporate recognition is directly linked to increased loyalty and improved engagement and morale. You're investing in your business when you acknowledge the effort and contributions of the people. And in turn, when your team feels appreciated, their performance, motivation, and output will reflect that. It's like getting a gift for giving one.
3. Strong Personal Connections
You don't have to be the CEO of a multi-billion dollar global conglomerate to get in on this gifting game. You don't need a fancy title nor a corner office to tell Kyle in Accounting congratulations on his big promotion or to show Maggie in Purchasing that you remembered her ten year anniversary with the department. Whether it's birthday gifts, a new baby, retirement, coming back to the brick and mortar office, the holiday season, a promotion, or landing a big contract, there are so many opportunities to show your sincere gratitude in a gift.
4. Customization Is Key
Branded or personalized items are also fantastic ways to customize your message of gratitude. By choosing these unique gifts, you let members of your team know that their time and contributions are appreciated and necessary, but also that they're respected as individuals. In the realm of corporate appreciation, being rewarded with snacks and gear instead of more work isn't typically frowned upon.
---
People Also Ask These Questions About Corporate Gift Baskets
Q: What is a good way to say thank you to a client or customer?
A: A good way to say thank you to a client or customer is to give a customized gift basket they're sure to appreciate and will leave a lasting impression.
Q: What generally goes into a corporate gift basket?
A: A corporate gift basket can include anything from gourmet cheese spread and personalized snacks to helpful tech gadgets and company branded swag. Choose items that best represent your business as well as celebrate your relationship with them in a great way.
Q: What are some types of gift baskets for sending to a client?
A: There are a number of gift baskets with different themes including expertly curated artisanal meats and cheeses, essential oils, wine and whiskey samplers, even personalized yoga gear.
Q: How much does a corporate gift basket normally cost?
A: A corporate gift basket will generally range from $20.00 up to $250.00, depending on the size, quality, and contents.