Video interview software platforms are booming — and for good reason.
In a hurry? These are some of our favorite video interview software platforms this year:
Over the last several years, the hybrid workplace became more commonly accepted by employers and a lot more mainstream. Remote work and remote interviews are routine for many companies now as opposed to being the anomalies they once were.

The ability for hiring managers, recruiters, and CEOs to effectively reach job seekers anywhere on the planet with a few clicks is appealing. Video interviewing software platforms have made the recruiting pool global instead of regional in many cases.
In addition to breaking down geographical barriers, these remote interviewing platforms are helping time-constrained recruiters and hiring managers get to know job candidates at their convenience.
Top 5 Best Video Interview Software Platforms For Conducting Virtual Interviews In 2023
Click To Tweet
Based on several key criteria, including reviews, the opinions of our trusted friends in HR, and overall value, we've narrowed down our picks for the top 5 video interview software platforms for conducting virtual interviews in 2023.
So without further ado, take a look and find the video interview solution that best fits your needs!
Want to become a better professional in just 5 minutes?
What is video interviewing software?
Video interviewing software is a tool that helps businesses conduct interviews remotely. This type of software typically includes features like recording and playback, live streaming, video conferencing, and candidate screening. Video interviewing software can be used for a variety of purposes, including conducting initial job interviews, following up with candidates after an initial meeting, and assessing candidates during the hiring process.
Additionally, this type of software can help businesses save time and money by eliminating the need for travel. Video interviews are a valuable tool for any business that is looking to improve its hiring process.
Who typically uses video interviewing software tools at work?
Video interviewing software is typically used by Human Resources departments when conducting initial interviews with job applicants. However, it can also be used by managers when interviewing candidates for specific positions. Additionally, many companies now use video interviews as a way to connect with employees who work remotely.
Top 5 Best Video Interview Software Platforms For Hiring Managers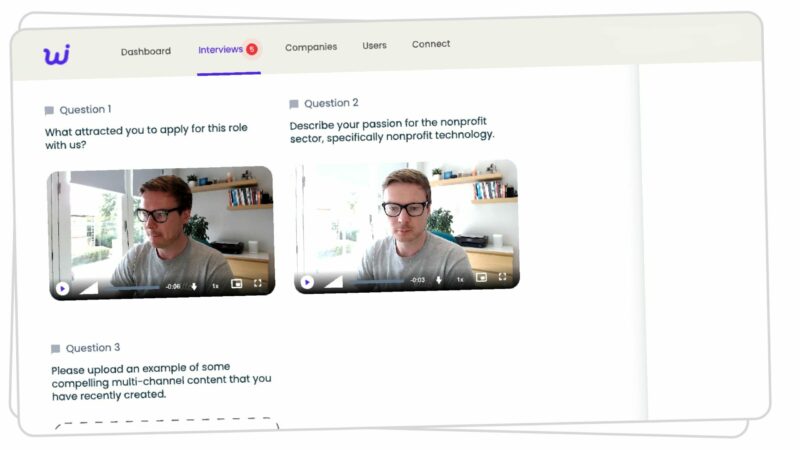 Willo is based upon the belief that every candidate deserves a fair chance at landing their dream job. That's why their team has built a platform that makes it easy for businesses of all sizes to connect with great talent.
Willo streamlines the entire hiring process, from posting jobs to scheduling interviews to making offers, so you can focus on what's really important: finding the right fit for your business. Best of all, the video interview platform is completely flexible and accessible, so you can use it however you see fit.
Whether you're a tiny HR team at a small business looking to expand your team or a large corporation looking to fill hundreds of positions, this HR tool can help ease the burden on your hiring professionals. Transform your hiring process today with Willo.
Small to medium-sized businesses
Notable Features
➤ Interoperability
Because Willo is fully browser-based, you do not have to download any software or app. Additionally, Willo works smoothly even on slow data connections.
➤ Assessment Management
Willo helps smooth out the virtual interview process through assessment management. We know how difficult interviewing can be. Willo helps you find the right fit for your team by managing candidate assessments.
➤ Job Board
Willo can function as your organization's job board, enabling you to post and pre-screen candidates so the best of the best end up sitting across the other side of the video call!
Pricing: Free to $75 per month

With Spark Hire you can screen candidates more efficiently. You don't have to worry about coordinating scheduling or getting everyone in the same room. All you need is a list of questions and an internet connection.
With this office management tool you can review the completed video interviews at your convenience from anywhere in the world.
You will be able to interview significantly more people in way less time and get more insight into what candidates are like compared to a simple phone interview. Candidates also have the ultimate flexibility to answer your questions on their own time.
This makes SparkHire an ideal solution for busy hiring managers who want to make sure they're seeing the best-qualified candidates.
Medium to large-sized businesses
Notable Features
➤ Interview Evaluation
Spark Hire allows you to rate and comment on interviews, tag interviews for easy filtering, document rejection reasons, and send rejection emails.
➤ Interview Collaboration
This feature lets you brand your shared interview landing page, anonymize candidate information, get real-time notifications when videos are being watched, and collect reviews from hiring managers without requesting them to log in.
➤ Video Messaging
Host and share branded videos, empower your recruiting team to stand out, track and get notified when video messages are viewed, and leverage video in all phases of the recruiting process.
Pricing: Starting at $149 per month with custom pricing depending on which features you want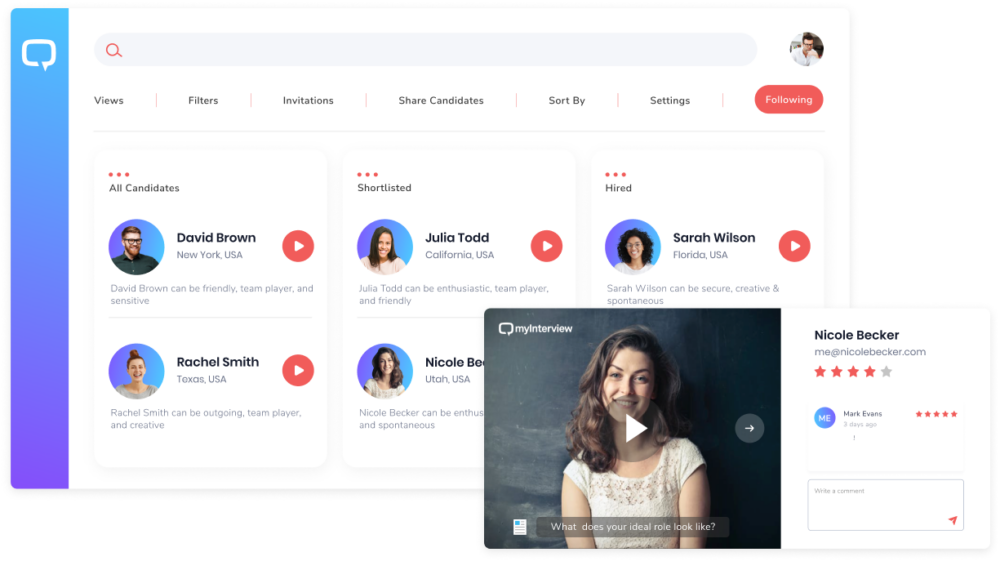 myInterview is an asynchronous video interviewing platform that is changing the way companies hire. With myInterview, candidates create videos to introduce themselves, share their qualifications and experience, and express their personality. This allows hiring managers to get to know the candidates in a more personal way and identify the best hire for the job.
myInterview is easy to use and sharing your impressions and getting feedback from colleagues is as easy as pressing play.
Over 1,000,000 candidates have already used myInterview to get hired by companies like Ocado, Facebook, Six Flags and Chick-fil-A. If you're looking for a better way to hire, try myInterview today.
Medium to large-sized businesses
Notable Features
➤ Automated Shortlisting
Say goodbye to wasting time on interviews that are a bad fit. myInterview Intelligence uses artificial intelligence and machine learning algorithms to find the right candidate quickly.
➤ Task Management
myInterview's task management feature helps you and your team of recruiters build strong hiring habits and know when to tackle tasks as well as what tasks you need to jump on next.
➤ File Sharing
myInterview makes file-sharing as easy as attaching and sending CVs and whatever other info you need to forward — and it stores them in one simple solution.
Pricing: Free to $359 per month (or custom)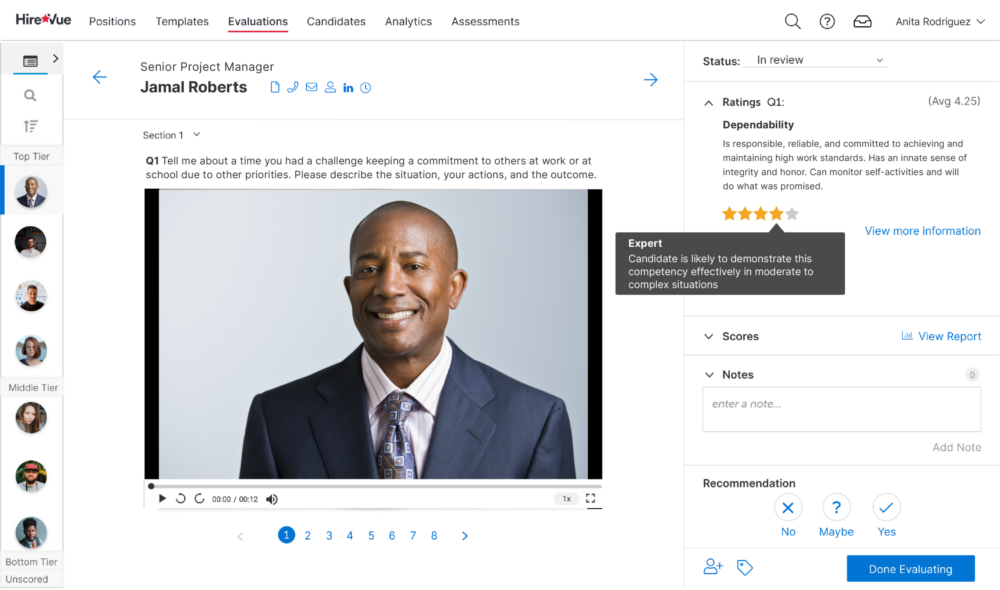 HireVue is a talent experience platform designed to automate workflows and make scaling your hiring efforts easy. Improve how you engage, screen, and hire talent with text recruiting, assessments, and video interviewing software.
With HireVue, organizations can identify top talent faster and more accurately, then improve quality of hire, time to fill, and diversity hiring outcomes — all while reducing recruiting costs by up to 50%.
Trusted by over 1,000 of the world's leading organizations including IBM, Hilton, Unilever, Deloitte and many more. HireVue is the future of talent acquisition. Schedule a demo today to see how HireVue can help your organization scale hiring.
Notable Features
➤ Text Recruiting
No need for a cluttered inbox. Text recruiting cuts through the noise and connects you directly with potential candidates.
➤ Conversational AI
HireVue offers text-powered recruitment, enabling your team to hire 4x faster by, in their words, taking candidates from "Hi" to "Hired."
➤ Interview Builder
HireVue boasts a structured interviewing tool, with an automation tool that serves up job-related competencies, templates, structured interview questions, and evaluation guides for any job role.
Pricing: $35k (for 2500 to 7500 users)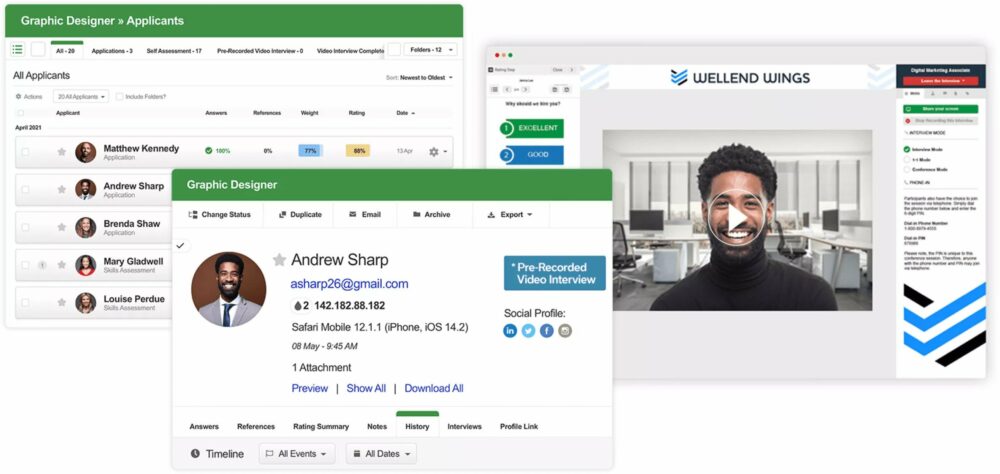 VidRecruiter is an end-to-end hiring platform that helps you manage the entire recruitment process in one place. With VidRecruiter, you can filter and screen candidates, schedule interviews, and check references, all in one place.
The platform also includes a pre-screening tool to help you identify the best candidates for the job. And with the built-in scheduling tool, you can easily schedule interviews and keep track of your hiring process. Whether you're looking to hire for a small company or a large corporation, VidRecruiter can help you find the best talent for the job.
All sizes of organizations
Notable Features
➤ Applicant Tracking System
Looking for a better way to manage your hiring process? Look no further than an Applicant Tracking System (ATS). This powerful software enables you to streamline your recruiting efforts and make data-driven decisions that will help you hire the best candidates. With the easy-to-use interface, you can quickly post job openings, identify and track qualified candidates, and schedule and conduct interviews. And seamless automation features make it easy to keep your hiring process running smoothly.
➤ Structured Interviews
Digital structured interviews provide a fair and equal candidate experience to help identify the correct person for the role. With centralized information, hiring managers can conduct compliant interviews and increase the validity of the next hire by up to 65%.
➤ Skills Testing
The online competency testing tool is used to properly determine a candidate's fit, allowing you to assess technical skills long before onboarding, simulate your workplace environment, use pre-built templates, and host other assessments within the platform.
Pricing: Freemium to custom quote
---
People Also Ask These Questions About Video Interview Software
Q: What are the different types of video interview software?
A: There are several different video interview software platforms available on the market today. Each platform offers its unique features and capabilities, making it important to choose the right one for your specific needs. For example, some video interview software platforms allow applicants to record themselves in advance, while others provide a live video feed. Other features to consider include the ability to schedule interviews, share documents, and receive real-time feedback. With so many different options available, it is important to take the time to find the video interview software that best meets your needs.
Q: Which software is best for online interviews?
A: The criteria for selecting the software best for online interviews include:
Audio and video quality: The software should provide clear audio and video for both parties. Poor quality can lead to misunderstandings, frustration, and miscommunication.
Ease of use: The software should be easy to set up and use. Complicated interfaces or software that requires technical know-how can lead to delays and confusion during the hiring process.
Security: Confidentiality is paramount when dealing with sensitive data such as personal information or trade secrets. Ensure that the software offers end-to-end encryption and secure storage facilities.
Cost: The software should be affordable and provide value for money. Some software may be expensive, and not necessarily offer better quality or features.
Compatibility: Ensure that the software is compatible with your existing HR software and systems.
All of the best video interview software tools listed above in this article score highly in these features. Another important thing to keep in mind is your budget and specific use case for determining which software is best for online interviews. We recommend that you make a list of the features, rank them, and discuss openly with the software interview apps that you are comparing.
Q: How do I choose the right video interviewing software for my company?
A: When it comes to video interviewing software, there are a few key factors to consider to choose the right option for your company. One important factor is the quality of the video and audio. This is particularly important if you plan on using the software for client meetings or presentations. You'll want to make sure that the video and audio are clear and sharp, with no lag or static. Another factor to consider is the ease of use. You'll want to choose a platform that is easy to navigate and use, with a user-friendly interface. Additionally, it's important to consider the price of the interview tool. Some video interviewing platforms can be quite costly, so you'll want to make sure that the price is within your budget. Ultimately, the best way to choose the right video interviewing software for your company is to carefully consider your needs and compare different options side by side. By taking the time to do your research, you can be sure to find a platform that's perfect for your business.
Q: Are there video interview software platforms you can use on your phone?
A: Yes, there are many different video interview software platforms you can use on your phone. The key question is to narrow down what features you need for your video interview platform to have.
Q: How much does digital interview software normally cost?
A: Digital interview software can cost a fairly wide range, depending on the pricing model. Oftentimes, SaaS companies will charge you a monthly, quarterly, or annual subscription.
Q: Which apps are best for video interviews?
A: There is a variety of video interviewing apps. Determining the best one is highly dependent on your needs as well as your organization's requirements. Typically, however, a video interviewing app should at least provide high-quality video resolution, crisp audio, chat features, and a multitude of other features such as screen-sharing.