Being really good at office management means being able handle a wide variety of tasks and responsibilities.
This is further complicated with the trend towards remote working and many Office Managers are leaning on virtual tools to help them achieve their goals. Office management software platforms are designed to help make your life easier and free up precious mental real estate so that you can keep knocking off to-do-list items.
The title "Office Manager" might as well be changed to "Jack (or Jill) of All Trades."
What is office management?
Office management is managing and improving the logistics within an office in order to support all the employees within that organization. As an Office Manager, you are expected to do more than most in the office. You're the scheduler, financial advisor, overseer, office shopper, and so much more.
Keeping all of these roles manageable is dependent on one key factor: the office management tools and software you use. How do you know which tools are the most effective, though?
These 22 best office management software systems & tools will make your life as an office manager a complete breeze.
Want to become a better professional in just 5 minutes?
Best Office Management Software & Tools
Best for: Workforce Communication & Collaboration
Revolutionize your workforce communication with monday.com. With this online collaboration tool, you can run all your projects in one place. Color-coordinated and very visual, monday.com allows you to make work boards for projects, assign work, and chat with team members. The whole team will be able to understand and appreciate the scale of whatever project they're working on.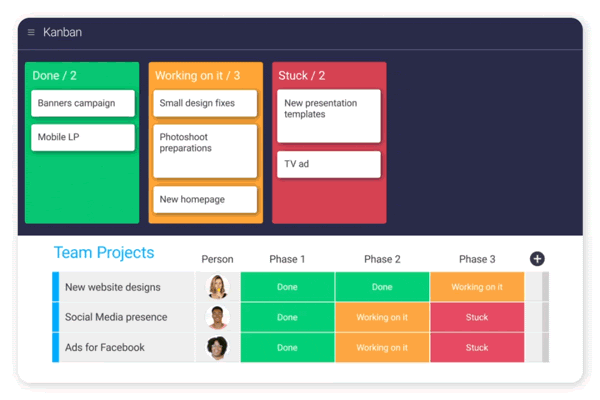 Why we love this office management software: This management tool offers endless personalization and tons of options. A team of any size in any industry can improve their communications and collaboration with monday.com.
Companies that use this software for office management:
Notable features:
Customizable boards for assigning work and tracking projects.
Collaborative workdocs for group brainstorms or meeting minutes.
Seamless integration of other softwares and workplace tools (like Slack and Gmail) for ease of use.
Track timelines, budgets, and goals with instant charts, graphs, and other visuals.
monday.com is ideal for teams who want to keep all their information in one place. You can communicate and collaborate with ease (and a little bit of flair).
SnackNation is a work-from-home friendly environment. We have teams that work together almost exclusively in a remote setting. We've found that monday.com is the best platform to keep everyone on the same page and also provide a space for collaboration at the highest level regardless of proximity. They have a great free trial and would recommend checking them out here.
Best for: Employee Recognition
Kazoo is a robust employee experience platform that allows for goal tracking, live chat, active feedback, and incentives. Kazoo also features an employee recognition platform that's ideal for strengthening your office culture. Employees can send compliments, receive rewards, and directly feel the benefits of their hard work.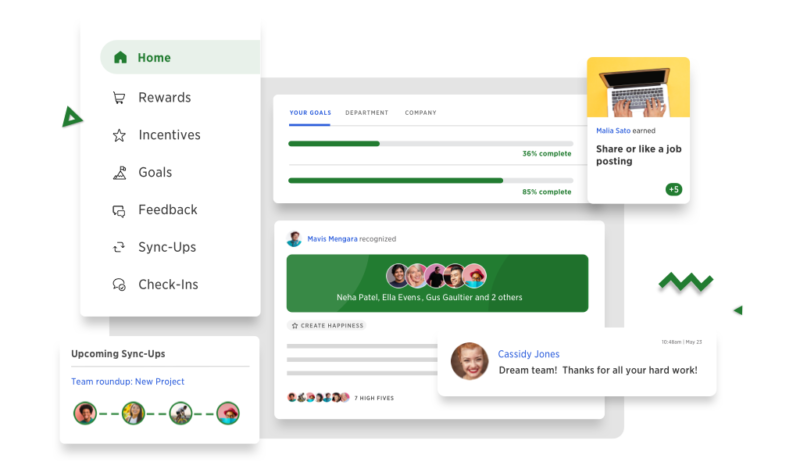 Why we love this office management software: Kazoo makes it easy to create a strong work culture while recognizing and retaining your all-star employees.
Companies that use this software for office management:
Kia
Hitachi
Kaiser Permanente
Notable features:
A team-wide social feed focused on sharing gratitude and recognition.
Celebrate team members' accomplishments both at work and at home with special presentations.
Reward points for employees that unlock gifts, experiences, and charitable donations.
Learn about your employees with data that tracks their rewards and recognitions.
Kazoo's employee recognition system is music to our ears. Get Kazoo and show your employees how much they're valued.
Best for: Healthy Snack Delivery
The human body needs fuel. Everyone knows that. But did you know that stocking the break room with healthy snacks could improve productivity? According to a study performed by office supply giant Staples, one in two employees reported leaving the office at least once a day for a coffee or snack run. Some reported leaving the office as many as five times a day.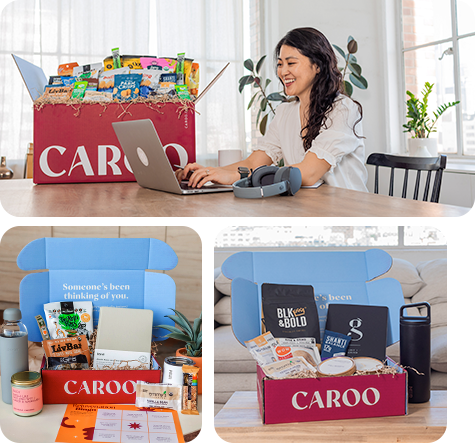 By providing healthy snacks for your workers, you are reducing the amount of time spent outside the office and, therefore, help your team boost their productivity. Plus, it definitely wouldn't look bad on your part to be the guy or gal who started getting snacks delivered to the office.
Want to give Caroo a test drive?
You can try out Caroo as your preferred option for snacks in the office and through work-from-home snack boxes:
👔  Get snacks for the office
🛋  Get snacks for employees working from home
Best for: Remote Employees
Remote is a service custom-made for our current era—with Remote, employees across the world can be kept organized and unified. Remote offers help with hiring, onboarding, payroll, and more. Plus, Remote deals with many of the issues that can arise when hiring abroad.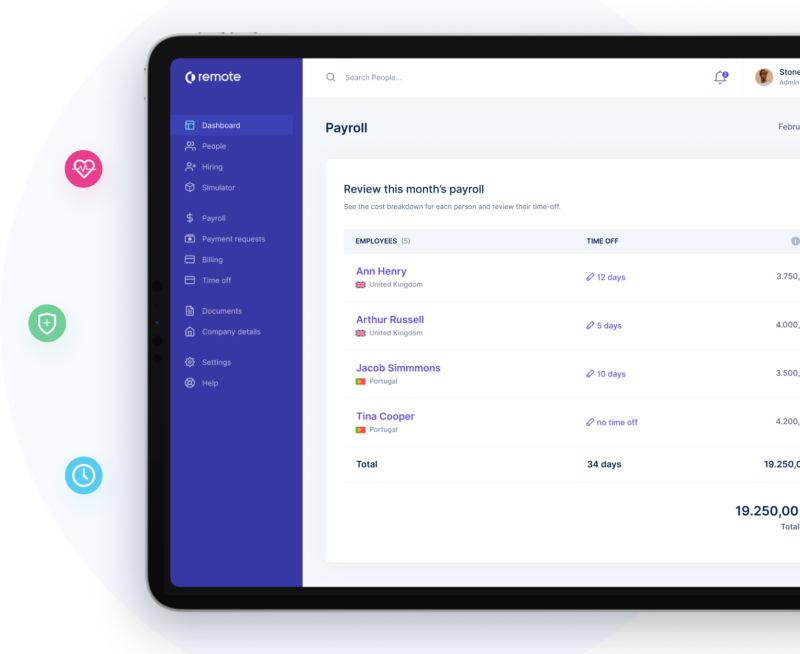 Why we love this office management software: With this manager tool, your team, no matter how large it is or how wide it is spread, will feel connected and cohesive.
Companies that use this software for office management:
GitLab
DoorDash
HelloFresh
Notable features:
Provides employer of record services for global hiring.
A system for onboarding, paying, and managing global contractors.
A centralized payroll management guide to keep you compliant with any international labor laws.
Remote relocation assistance.
With Remote, the world is shrunk down to a single office management tool. You can work with the best employee for the job, regardless of where on the planet they live. Get started today to set up your remote team for success.
Best for: Employee Rewards
Awardco is an employee rewards system that focuses on optimization, automation, and customization. Recognize and reward your employees to create a positive company culture, increasing retention and employee satisfaction.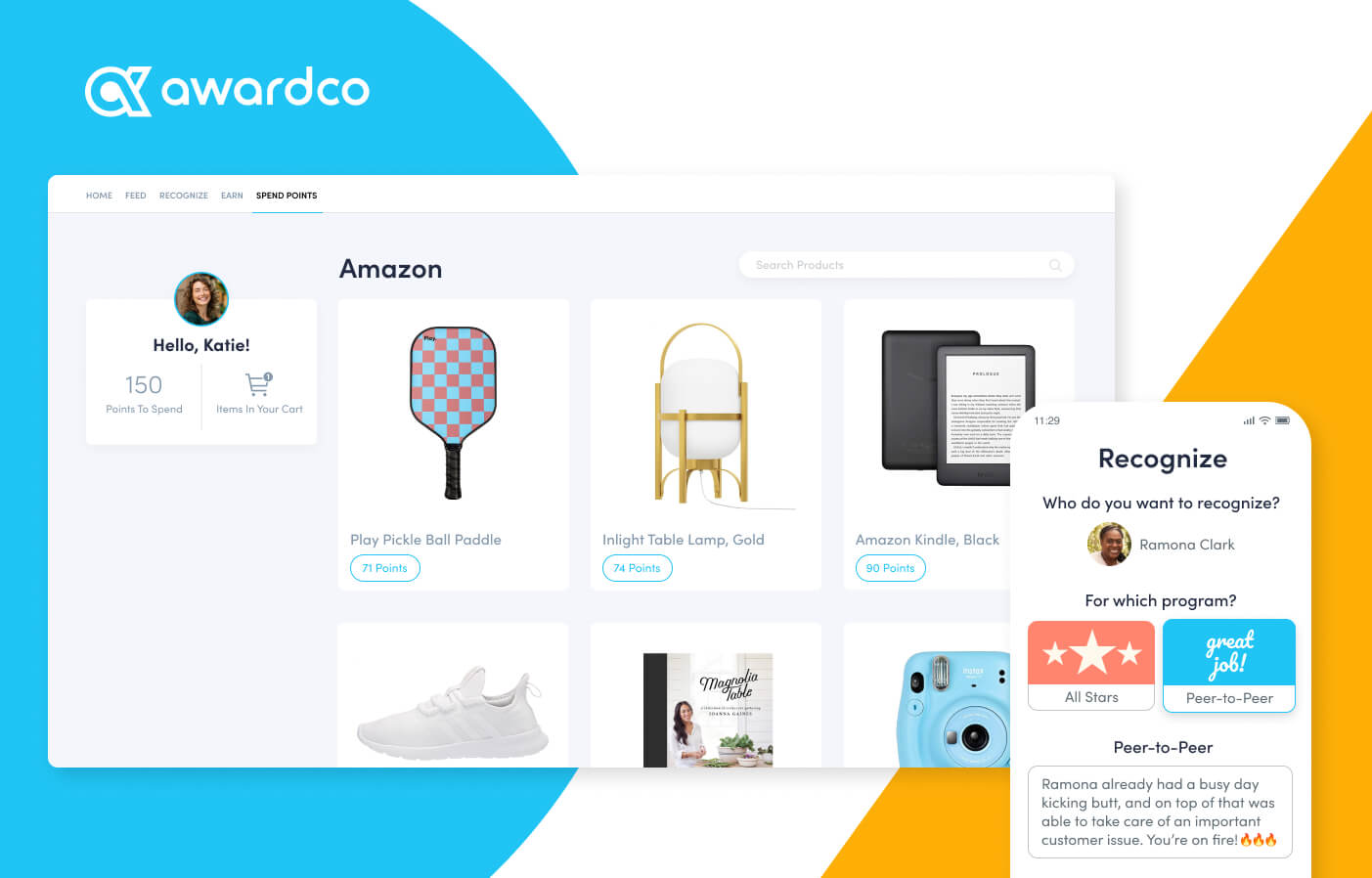 Why we love this office management software: By focusing on the who, what, and why behind each gift, Awardco allows you to give gifts that matter.
Companies that use this software for office management:
Ford
Hertz
Blue Cross Blue Shield
Notable features:
Access to the world's largest reward network, with literally millions of events, products, gift cards, and trips to choose from.
Specialty personalized gift boxes for holidays and milestones.
A flexible, fun employee incentive program.
Worldwide distribution and management.
Awardco allows you to give your way, with rewards that are specially tailored to your employees and core values.
Best for: Payroll Services
Say goodbye to piles of receipts and endless time sheets—with OnPay, you can efficiently run your payroll and HR from a single online platform. OnPay is equally effective for a local business with a few employees or a corporation with hundreds of workers across the globe. Plus, the low price point (only $36 plus $4 per employee per month) makes this a no brainer for those looking for payroll assistance.
Why we love this office management software: By simplifying payroll and HR, OnPay allows you to focus on your company's mission with no distractions.
Companies that use this software for office management:
Futurus
Business.com
Everest Lending Group
Notable features:
Full-service payroll.
Automated tax systems that ensure you're paying your employees correctly and compliant with federal, state, and local laws.
Self-service for your employees to find old paystubs, tax forms, and other crucial information you need for tax reporting and tax credits
HR tools like offer letters, e-signing, and online W-9 forms.
Automatic and updatable PTO charts.
OnPay saves you time and money on payroll, so you keep concentrating on what your company does best—whatever that might be.
Best for: Employee Gift Cards
Motivosity is all about showing your employees they're valued. With easy, automated gifting from beloved brands like Starbucks, Nike, Apple, Uber, and many more, you can reward your team anytime and anywhere. This all encompassing employee engagement tool can offer a variety of employee rewards that can be customized to your team.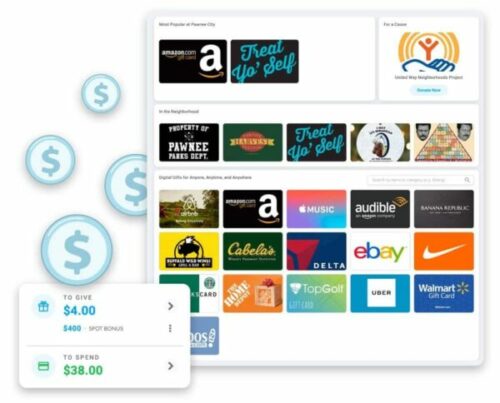 Why we love this office management software: Motivosity allows you to easily shower your team members with much-deserved rewards.
Companies that use this software for office management:
KPMG
Chick-fil-A
Cotopaxi
Notable features:
Send digital gift cards with the click of a button.
Send rewards anywhere in the world without logistical issues.
Keep track of employee redemptions and engagement.
Recoup any unclaimed rewards so no money is wasted.
Join Motivosity for a simple, smart way to recognize your employees and coworkers.
Best for: Employee Benefits
Rippling offers extensive HR and IT solutions for the modern workplace. Especially impressive is their benefits administration system, which keeps all your benefits information in one place while automating much of the tedious busy work.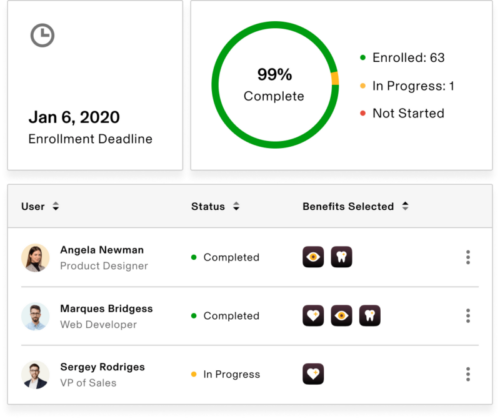 Why we love this office management software: With medical, dental, 401K, and more all compiled and efficiently handled by Rippling, you can show your workforce that their health and wellbeing are a top priority.
Companies that use this software for office management:
Notable features:
Quote comparison and benefits enrollment right in the Rippling app.
Transfer pre-existing coverage to keep things running smoothly.
Automatic enrollment of new hires.
Hundreds of templates to personalize your team's benefits experience.
Rippling makes it a breeze to enjoy the benefits of benefits. Schedule a 30 minute demo to learn more.
Best for: Employee Engagement
Fight disengagement and create a sense of office culture with Empuls—even if your employees will never meet in person. Empuls brings the team together with social media, messaging, and rewards for an experience that you can personalize to your office's feel.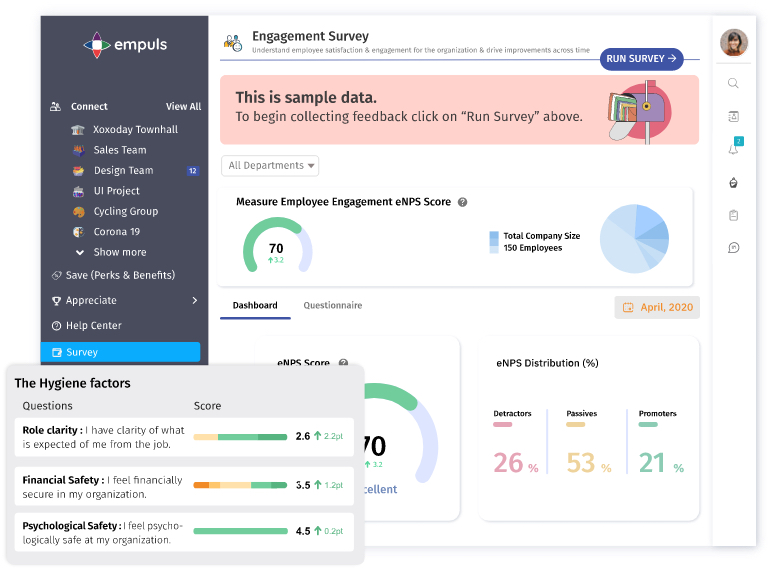 Why we love this office management software: Empuls organically and holistically improves your employees' experience from their first intake call to their farewell party. As a trusted employee engagement software, you can finally have the capabilities to see how your employees are doing in real-time.
Companies that use this software for office management:
Pepsi
Freshworks
ShareChat
Notable features:
A simple-to-use team social media for conversation, posts, and engagement.
Approachable engagement surveys to help you diagnose company issues.
Automated rewarding to keep your team motivated.
A robust recognition system that builds an empowering office dynamic.
We're not being impulsive when we tell you Empuls works. Change your work culture for the better by getting your employees on Empuls.
10) The Scrum Board
Best for: Fast Progress
Known mostly as a management tool for software companies, scrum is a project management style that helps companies quickly adapt to change and minimize unnecessary lag.
Created in 1993 by Jeff Sutherland, scrum has helped the small car companies to governmental organizations achieve their goals well before deadlines. In other words, scrum is the ultimate office management system. The process is characterized by:
One to two week sprints in which a project milestone is achieved,
Daily stand-ups that monitor all of the elements of a project
A scrum board, which traces where exactly each department is in relation to the project's completion
Constant evolution of project goals to meet the needs of the consumer
Best for: Workplace Management
SwipedOn is the ultimate flexible workplace management solution trusted by over 7,000 workplaces globally. The system automates visitor and employee sign and features a dedicated employee sign-in app, QR code sign-in and is fully customizable per location whether your business has one or 1,000 locations.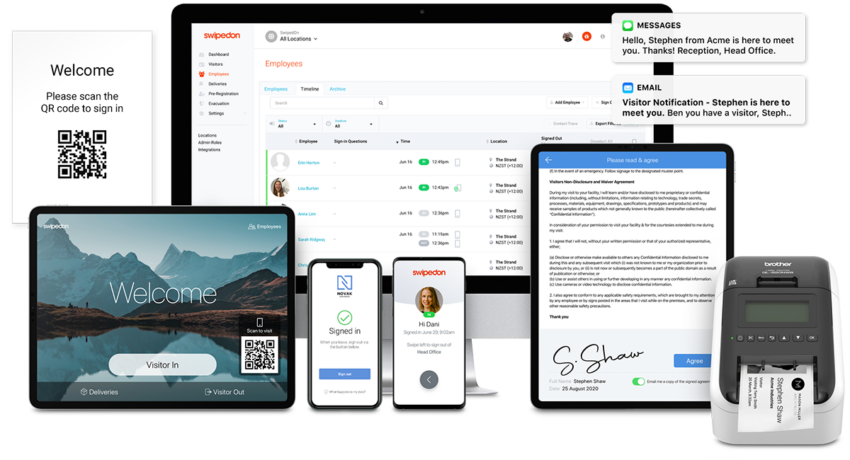 In an age where data privacy, compliance and risk of infection are a focus for protecting businesses, SwipedOn is more important than ever for office management.
Notable features:
Contactless sign-in app
Easily accessible records of all individuals who have been in the building,
Instant notifications
Evacuation management
Secure data storage
Contact tracing at the touch of a button
Health screening questions to prevent potentially high risk individuals from entering the workplace.
This office management system is easy to set up, easy to manage and easy to use making it a must-have tool for making your life a breeze. Get started with a free trial and see first-hand why 7,000 companies globally trust SwipedOn.
Best for: Performance Management
Kallidus combines a sharp user-experience with a people-first mindset to create a one-of-a-kind onboarding software. Kallidus improves the experience for new employees and HR alike, with automated services removing much of the tiresome, tedious admin work.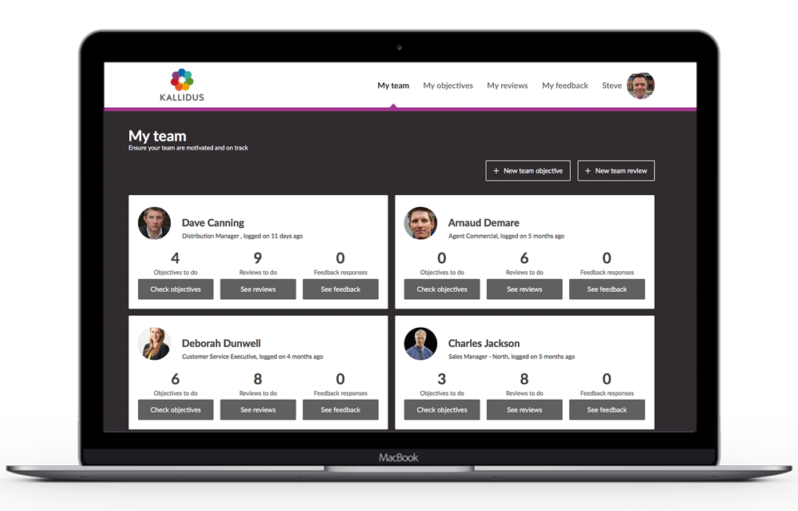 Why we love this office management software: Onboarding with Kallidus ups the convenience factor while still allowing your company to bring a personal touch and introduce the team culture.
Companies that use this software for office management:
Aston Martin
Legoland
Baxters Food Group
Notable features:
A personalized introduction to teach new hires about the company history and culture.
Easy and efficient document upload and e-signature system to streamline onboarding.
Create individualized employee records for ease of bookkeeping.
Automated IT set-up.
Bulk onboarding for fast-growing teams.
Get a new employee started off right by using performance management software Kallidus.
Best for: Recruiting
ClearCompany is a talent management system that expands and speeds up your recruiting process. With over 16 years of experience, ClearCompany can help your business efficiently hire top-tier new team members. ClearCompany can also assist you once your new members are onboarded, with performance management and engagement techniques.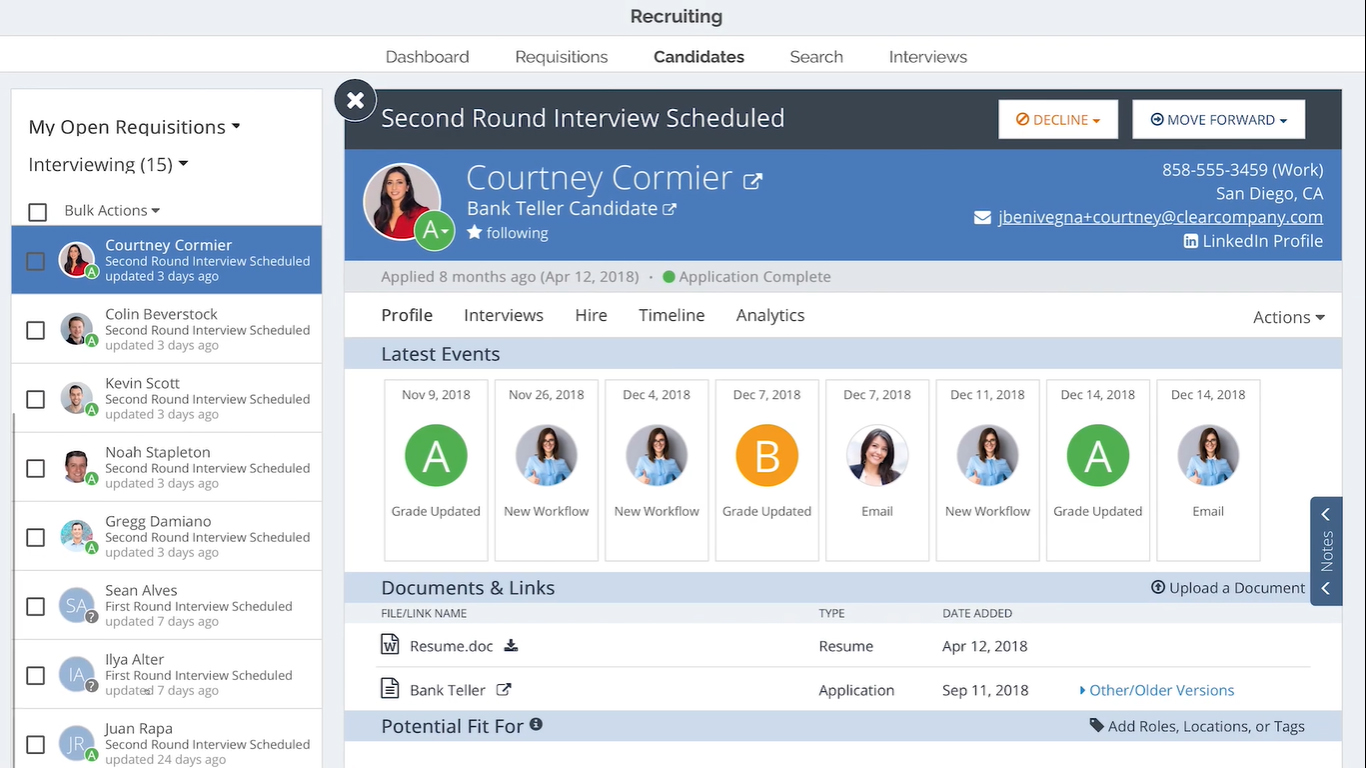 Why we love this office management software: ClearCompany is well-rated for a reason—it uses clean UI and sophisticated software to help you top-to-bottom with your recruiting.
Companies that use this software for office management:
Chick-fil-A
Answer Financial
Children's Miracle Network Hospitals
Some of ClearCompany's best features include:
An applicant tracking system to help you keep all your recruiting information in one place.
Access to advanced interview scheduling, candidate messaging, offer letter management, and more.
A user-friendly, comprehensive paperless onboarding system.
Recruiting is the key to your company's future growth and success. Don't leave anything to chance—use ClearCompany for a speedier, more comprehensive recruiting process.
Best for: Workflow Management
Ideal for both massive remote companies and smaller companies trying to stay organized, Sapling connects your team, favorite tools, and data in one convenient, highly customizable space. Whether you're mapping the team for easy informational access or getting assistance with this season's hiring, you can't go wrong with Sapling.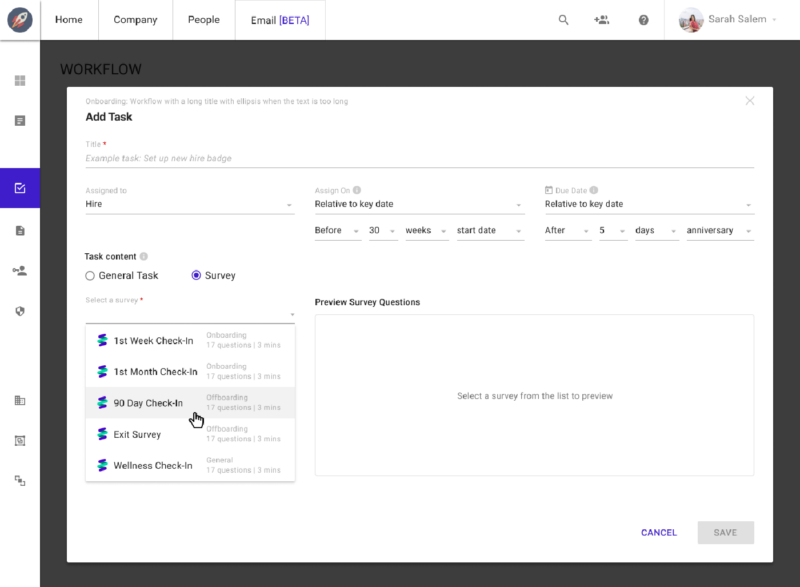 Why we love this office management software: Along with offering great services of their own, Sapling's integration of other useful employee management systems makes this software indispensable.
Companies that use this software for office management:
Warby Parker
Figma
Webflow
Notable features:
Integration of office management tools like Lever, Workday, Kallidus, and many more.
Personalized profiles for every member of your team.
Team family trees to keep the office cohesive, no matter where everyone is actually working.
Automated help with both onboard and off-boarding.
A customizable feedback system with surveys, insights, and data-tracking.
Sapling makes it easy to help your team grow. Join Sapling to get organized and manage your team's workflow better than ever.
Best for: Customer Service
Hiver is a customer service software built for Google Workspace. With Hiver, you can seamlessly manage, track and collaborate on customer queries to deliver empathetic customer service.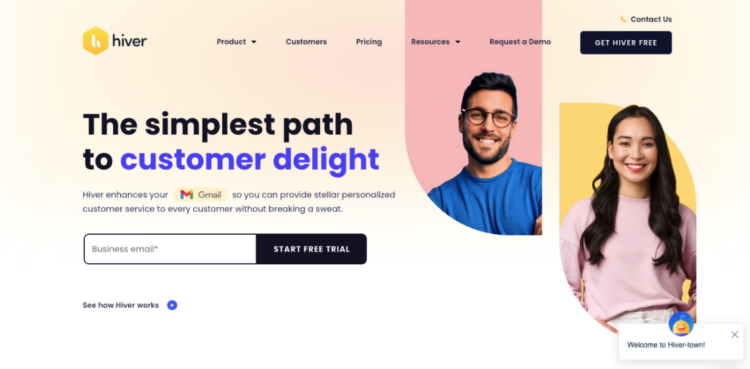 Why we love this office management software: The best part about Hiver is that it works on top of Gmail, so you don't have to learn another software. Support teams can get started with Hiver in minutes.
Companies that use this software for office management:
Flexport

Harvard University

HubSpot

Vacasa
Notable features:
Assign customer queries in a single click and track their status in real-time.
Provide real-time personalized support to website visitors using Hiver's live chat.
Have contextual internal discussions around customer queries using Hiver's notes. This helps your team avoid sending more internal emails.
Track the quality of customer service you provide through analytics.
Automations make it easy to take care of repetitive everyday tasks.
So, if you're looking for an easy-to-use, intuitive tool to deliver great customer service, check out Hiver to learn more.
Best for: Customer Relationship Management
No matter if you're a B2B or B2C business, you will have clients. Keeping track of them all can seem like an insurmountable task. Luckily, Insightly, a customer relationship management (or CRM) system makes the process easy.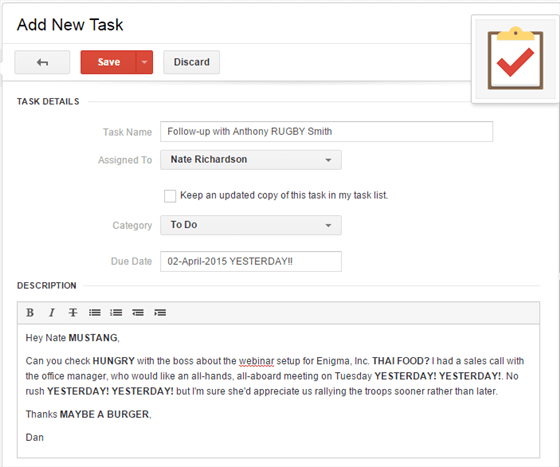 Like most CRMs, Insightly organizes all of your clients and helps you manage projects.
But Insightly also does a lot more.
For one, it detects all of the social media accounts associated with your client's email address. It also has a lot of useful integrations to applications like Evernote and Dropbox. With Insightly, all your information is in one place, making running your business a complete breeze.
Best for: Invoicing
For office managers, the one thing that can be depended upon is invoices, and lots of them. Keeping tack of all of them either requires a degree in finance, an overly complicated filing system, or Due.com.
Due.com is the easy answer to all of your invoicing needs. Due.com is dedicated to fast and accurate invoicing — which will make it so that you have piece of mind when handling your finances. This online invoicing platform helps you manage every step of the invoicing and payment process.
Notable features:
Clean and easy-to-read invoice templates.
Time tracker capabilities.
Invoice trend tracker.
Best for: Communication
Being the tech giant it is, one would expect Google to have the business market cornered. With Google Meet, it definitely does. Like Skype, there is a free version of Google Meet, but it has some limitations. For example, you can only videoconference between two screens.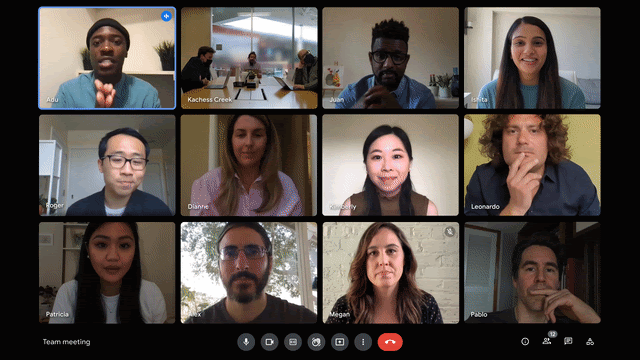 With the Business upgrade, which costs five dollars per month per user, you can have unlimited videoconferences between unlimited amount of screens. That also includes screen sharing, so any presentation you give doesn't have to be completely in-house.
Has your company launched a new product? Google Hangouts for Business takes care of that too. By holding a public hangout, you can share your product with industry leaders and other interested parties. Plus, the video can automatically upload to your YouTube account, making new product announcements a breeze.
Best for: File Sharing
Google continues to impress with Google Drive, a cloud storage center that can store virtually any file type. The best part? You can invite team members to collaborate on documents and see their changes in real time. No more waiting a day and a half for a file.
Work in real time with your coworkers on projects without having to constantly save your documents and send them via email.
With Google Drive, you can work together to make the company more productive. Google Drive is also free, but more storage is included in the Google Apps for Business price.
Best for: Ordering
A surprisingly time-consuming part of your job is probably ordering products for the office. Whether it's new printer ink, note pads, or matching company jumpsuits, Amazon Business has got you covered. Need those three-ring binders in time for Friday's meeting? Not a problem. With Amazon Business, you get free two-day shipping.
As an Amazon Business customer, you also have access to creating multiple accounts, making it easy for other employees to purchase products, but also requires you to approve the charge before it goes through. On top of that, you have access to business-only products and pricing with Amazon Business. Basically, Amazon Business is your one stop shop for all things office-related.
Best for: Social Media Management
While you might not be the social media manager for your company, it is still good to be able to monitor what is being posted on your brand's social media pages. That's where a social media management software like Hootsuite becomes useful.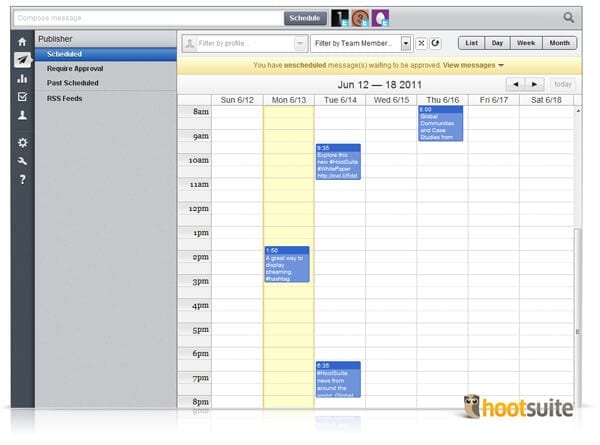 With Hootsuite, you can schedule posts for over 35 social networks, find out what people are saying about your brand, track how well posts are performing, and increase your social reach by finding other social media outlets that might interest your audience.
The best part?
You can leave most of the number crunching to your marketing manager. All you have to do is check in using Hootsuite's multiple user feature.
Best for: Project Management 
ProofHub is a cloud-based project management software to help project managers and their teams deliver projects as per the deadlines and budget. It brings together your team members, projects, and clients at a central place and comes with amazing features that make collaboration among remote workers a breeze.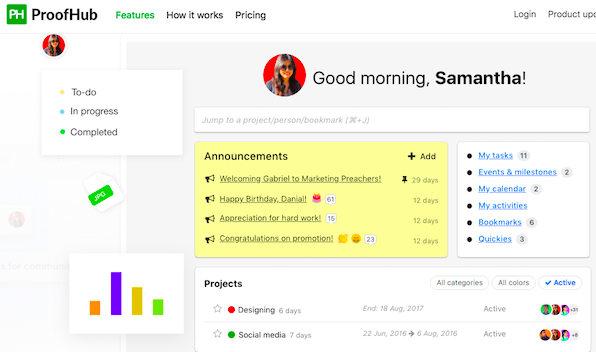 Its features include task management, online discussions, notes, online Proofing, multiple Timers, Gantt Charts, Calendar, reports, files, and third-party integrations. In addition to this, it also allows you to access Freshbooks, Google Calendar, iCal, Box, Dropbox, Google Drive, Onedrive, and Outlook within its interface. It's a great way to keep all your scattered files in one place. And, the native mobile app ensures that you can carry your work and your projects along wherever you go.
Best for: Visitor Management 
Ever faced this situation: You need to do something in the back of the office and at the same time you are stuck in the reception area waiting for an important visitor or delivery?  Never again! With Greetly you can virtually be in two places at once.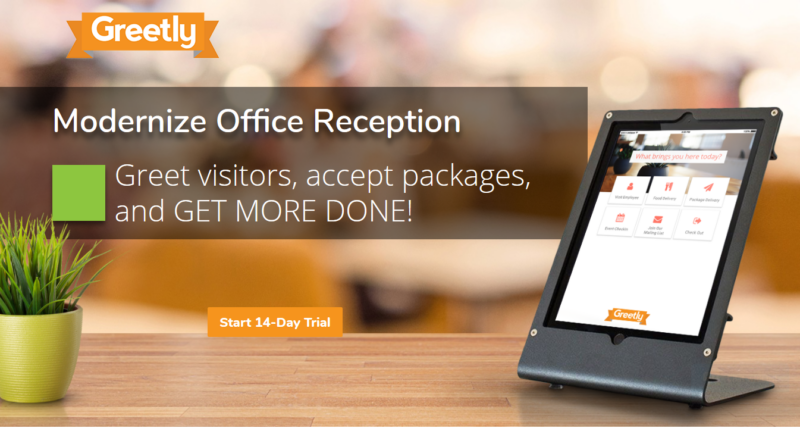 Greetly is a visitor management system that allows guests to check themselves into your office. You or your coworkers will be instantly notified by voice call, text message, email, Slack, Hangouts or Teams notification when their 10 am appointment, lunch order, important package or other visitors arrive. It can also capture visitor photos and legal document eSignatures and print visitor badges. With a ton of integrations setting up and managing Greetly is a snap. Free yourself up with Greetly.
Wearing multiple hats can be tricky, but using the right tools can make a huge difference in making your life as Office Manager easier and more organized.
What's your favorite office management tool? Let us know in the comments below.