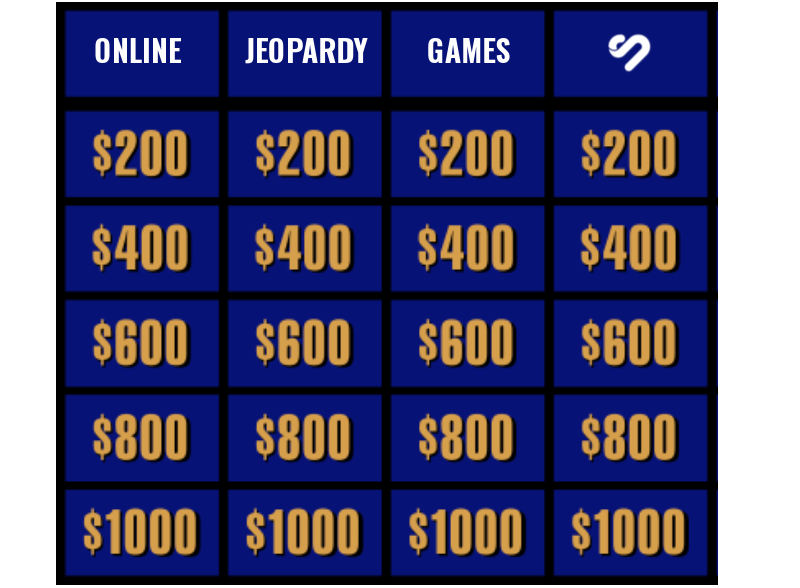 If you're planning a virtual team building, a Zoom happy hour or just trying to have fun with some friends, you're probably on the hunt for the best possible activity to get everyone involved. Search no longer—we've got the answer.
Or, at least for this game, we've got the question… What is Online Jeopardy?
The beloved TV game show Jeopardy has been airing on NBC since the 1960s. America's favorite quiz show, Jeopardy has been challenging and delighting audiences for decades. The long-lasting appeal of Jeopardy is its unique structure and brainy atmosphere.
Plus, in the words of famed host Alex Trebek, "Learning something new is fun."
"Learning something new is fun." - Alex Trebek
Click To Tweet
The spirit and unique form of the game has now been adapted to the digital world and is ready for your whole team to play, whether together in the office or at their remote workplace.
Read on to discover the perfect online Jeopardy game for groups to play in 2023.
Want to become a better professional in just 5 minutes?
What Are Online Jeopardy Games?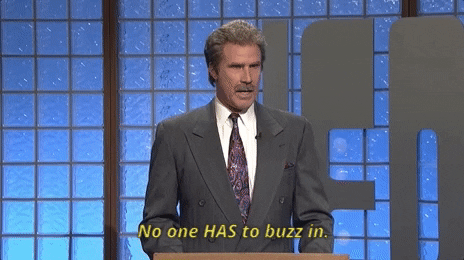 An inverse of traditional trivia games, Jeopardy presents players with an answer and it is up to the contestant to come up with the question. For example, the answer "He was a president famous for his stovepipe hat" would be answered with the question "Who is Abraham Lincoln?"
The game is run through multiple rounds, with the worth of each question increasing during Double Jeopardy. Plus, Daily Doubles and Final Jeopardy allow players to put their money where their mouth is with a risk-based wagering component.
Online Jeopardy games take the iconic Jeopardy template and gameplay and bring it directly to your computer screen.
Whether you're choosing a hosted Jeopardy event for an office of 100 or enjoying a DIY Jeopardy night as a Zoom icebreaker with your small team, online Jeopardy games are a surefire way to bring a friendly competitive atmosphere to your office!
How To Play Jeopardy Online
  1   Choose your Jeopardy game from the list of awesome options above.
  2   Set a date and time for the game and send a calendar invite to all participants.
  3   Make sure everyone has a Zoom link and is logged on.
  4   Either let your host take over, or take the time to explain the rules once everyone is online.
  5   Start playing!
10 Best Hosted Online Jeopardy Games
Check out these hosted online Jeopardy games to up your employee engagement.
1) Social Hour Jeopardy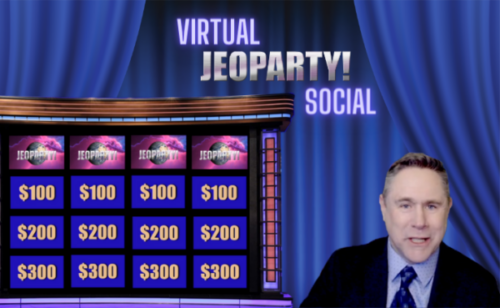 Upgrade your virtual social hour with a little healthy competition, Jeopardy-style. While everyone is unwinding with a beer, glass of wine, or snack on the couch, they can think and laugh along with their team members during Social Hour Jeopardy. With a slick game show feel and a professional host, this game for 4-100 employees splits your workers into small teams, allowing them to work together. Plus, with built-in social time between rounds, your team will grow together while enjoying a spirited game.
What makes this a fun online jeopardy game: Built around teamwork, Social Hour Jeopardy allows team members or friend groups a chance to collaborate over something fun. Plus, by leaving the event entirely in the hands of your hosts, your entire team can focus on enjoying the game while taking a breather after work.
Learn more: Social hour Jeopardy for 200, please
2) Holiday Jeopardy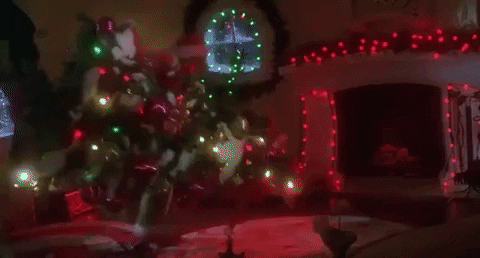 Everyone is sipping eggnog beside their Christmas tree. Or the whole team is prepping turkeys while waiting for the big game. Or your coworkers are decked out in red, white, and blue, with fireworks right around the corner. Whatever the holiday, holiday Jeopardy is a great virtual team building event to launch you into a break or long weekend. Plus, the professional host allows everyone to cut loose and enjoy themselves instead of stressing about organization and rules.
What makes this a fun online jeopardy game: The holidays are a time to celebrate what matters to you and take a much-deserved break. A team building event before everyone takes off is a surefire way to keep the team culture going strong. Plus, with a Pride-centric version, holiday Jeopardy allows you to support your LGBTQ+ team members while bringing your office together during Pride Month.
Learn more: I'll take holiday Jeopardy for 200, Alex
3) Sports Jeopardy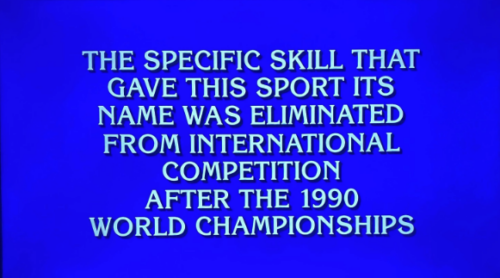 If you've got an office full of sports aficionados, why not put their knowledge to the test with Sports Jeopardy? This online group game gives your team the chance to prove who has the greatest breadth of sports knowledge… as long as they can get their answer in under the clock!
Plus, this office trivia game is fully customizable, allowing you to focus on whatever aspect of sports you want. A general knowledge battle? A soccer-centric game? A deep dive into the 1955 World Series? All allowed! Whatever you think will get your team involved and interested works in Sports Jeopardy.
What makes this a fun online jeopardy game: Touchdown! Goal! Other sports terms! Sports Jeopardy brings the focus to a beloved hobby, allowing your team member's personalities to shine through.
Learn more: I want to say… What is sports Jeopardy?
4) Movie Jeopardy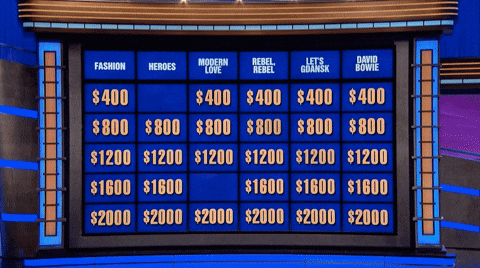 "You feeling lucky, punk?" Or maybe, "Do you want the truth?" Or could it be, "Why'd it have to be snakes?" These famous questions from movies bring up another important question… who wants to play Movie Jeopardy?
This movie trivia game will have your office film aficionados going head-to-head, trying to outquote and outquip each other at every turn. With a variety of game types, including a voting-based comedy game, Movie Jeopardy will provide an entire afternoon of curated, hosted fun.
What makes this a fun online jeopardy game: With friendly competition for film lovers and casual watchers alike, Movie Jeopardy is a low-pressure, high-fun online virtual event. You'll be saying "Hasta La Vista, boredom!"
Learn more: Oh! I know this one. What is Movie Jeopardy?
5) American History Jeopardy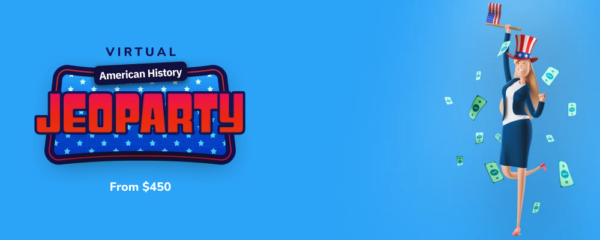 Oh say can you see, by the computer screen's blue light… a patriotic, America-themed version of Jeopardy! Your team will dive into American history, with questions about famous figures, memorable historical events, state-specific trivia and so much more!
Perfect for President's Day, the Fourth of July, or just a regular Thursday, America-themed Jeopardy will have teams go head-to-head in a hosted virtual spin on the beloved game show Jeopardy. Plus, with a recommended playtime of 45 minutes, you can enjoy a relaxing virtual game show without cutting too much into work time.
What makes this a fun online jeopardy game: Perfect for both history buffs and workers who sort-of paid attention in social studies class, America-themed Jeopardy is an easy way to get your office engaged and involved—no stars and stripes required.
Learn more: For today's Daily Double—America History Jeopardy
6) Decade Jeopardy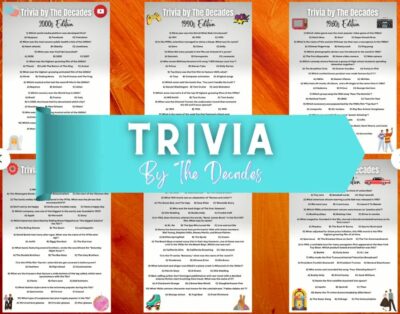 Whether you were born during the space race, the dot com bubble or the social media era, you'll be able to rep your birth decade (and test your knowledge of the rest) with Decade Jeopardy. With questions based on each decade from the 1950s to the 2000s, you can challenge your team with an entertaining trivia game around our recent (and not so recent) past.
This is also perfect for playing on a budget or for those who like control—all you're purchasing are the questions, with the MC duties and Zoom set-up falling to you and your team. This allows you to pick and choose which questions you like and control the length (and competitiveness) of the online trivia game.
What makes this a fun online jeopardy game: From Gen X to Gen Z, anyone can get involved with Decade Jeopardy. Plus, with the power to control the parameters of the game, you can create an activity that will best enhance your specific team's culture and personality.
Learn more: I'll take Decade Jeopardy for 300!
7) Star Wars Jeopardy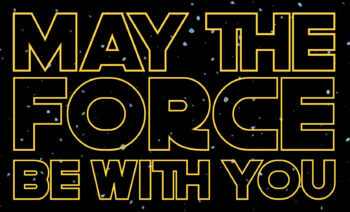 Whether you're seated in the same spaceship or playing from a home office far far away, Star Wars Jeopardy is a top choice for your office's hybrid team building. With a mix of different game types, both Jedi masters and Star Wars Padawans can get involved and get into the game. Plus, with the game's focus on collaboration and colleague recognition, your office will be in Alliance all night.
What makes this a fun online jeopardy game: Star Wars is one of the most beloved franchises of all time and every office is sure to be harboring a few super fans. Star Wars Jeopardy will give them a chance to shine while encouraging everyone to get out of their comfort zone and feel the Force.
Learn more: This IS the Star Wars Jeopardy game you're looking for.
8) Harry Potter Jeopardy
Whether you're in Gryffindor, Slytherin, Hufflepuff, or Ravenclaw (or even a Muggle), you can get your team shouting quotes and feeling the magic with Harry Potter Jeopardy. This curated and hosted Harry Potter trivia game will put your Hogwarts knowledge to the test while giving your team a chance to unwind and laugh along with a variety of game types and social minigames.
What makes this a fun online jeopardy game: Harry Potter is another one of the most beloved franchises of all-time, and this online game will allow book-lovers and movie aficionados to duel it out while hanging out. That sounds pretty Rad(cliffe) to us.
Learn more: The office chooses the Harry Potter Jeopardy, Mr. Potter.
9) Name That Tune Jeopardy

Whether you're the office rap aficionado, the 80's rock lover, or the pop music cheerleader, you'll enjoy Name That Tune Jeopardy. Hum, whistle, or sing-along while you try and guess the right song. Plus, with rounds like 'album art recognition' and 'finish the lyrics', the game will stay fresh for the entire hour-long Zoom game.
What makes this a fun online jeopardy game: Name That Tune Jeopardy combines music and games, two of the top ways people across the world bond and share themselves. This hosted game will allow people to let loose a little within the confines of a structured, competitive experience.
Learn more: What is "Name That Tune"? for 300.
10) Pop Culture Jeopardy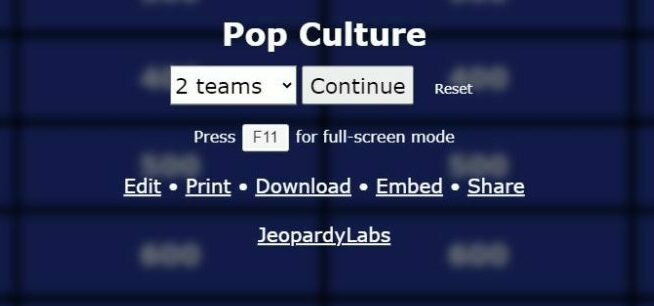 If your office is plugged into the latest trends, films, and all things pop culture, then Pop Culture Jeopardy is a must-play for your office. With a mixture of cultural categories, like Netflix, TikTok Dances and Texting, people from all sides of cultural knowledge will be brought together. Create as many teams as you like and get this cultural contest going. Plus, this self-hosted version of Jeopardy gives one of your coworkers a chance to show off their inner game show host!
What makes this a fun online jeopardy game: This free Jeopardy game is immediately ready for play—just input the number of teams and get going. That makes it perfect for a quick mental health break or a self-led team building activity.
Learn more: I'll bet $1000 on Pop Culture Jeopardy!
5 Best Free Online Jeopardy Games
While a paid, hosted online Jeopardy game can get the office or your group bonded, there are plenty of fantastic free options for you to consider! Below are five free ways to use Jeopardy to encourage your team to connect over fun facts and quizzes. 
1) Stream an Old Episode of Jeopardy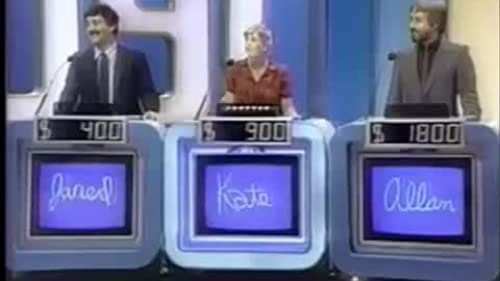 If you're looking for some Jeopardy fun, why not leave it up to the masters? You can use Teleparty to share old episodes of the original Jeopardy show. Guess along with the brilliant contestants or just sit back and enjoy Alex Trebek's banter and calming presence.
Team members can create an icon and nickname, plus use the chat feature to guess (or joke) along with the show.
What makes this a fun online jeopardy game: This more passive option allows your friends or team members to take a break, relaxing with a little game show time. However, Teleparty brings enough of a social aspect to make this event feel like a way for your team to connect.
Learn more: Get watching at Teleparty
2) Run Your Own Game of Jeopardy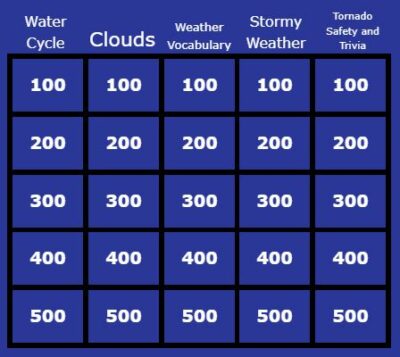 Whether you want to fully create your own Jeopardy game or use one of the millions of user-generated quizzes, Jeopardy Labs is a one-of-a-kind resource for virtual trivia. With the ability to create your own game, you can choose categories and questions that fit your team's interests. The Jeopardy game can even be about your brand and its values!
What makes this a fun online jeopardy game: The opportunity to create a Jeopardy game all your own gives you total freedom, from who hosts, to how long you play, to what questions are asked. This allows you to make the perfect event for your specific team or group.
Learn more: Get playing with Jeopardy Labs
3) DIY Zoom Jeopardy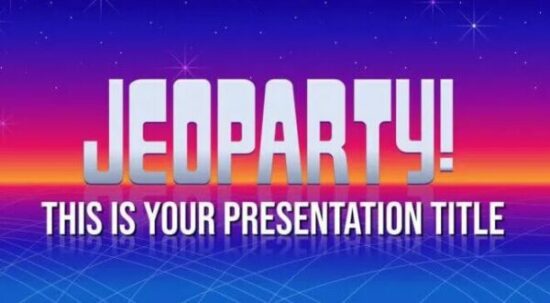 If you really want to take control of your team building activities, create your own Jeopardy game on Powerpoint or Google Slides. You make the theme, you pick the questions, and you bring the fun! With DIY Jeopardy, you get to curate the game to fit your team. Plus, keeping everything to a single Zoom can help prevent tech issues for less tech-savvy offices.
What makes this a fun online jeopardy game: DIY Zoom Jeopardy shows that sometimes simpler is better. You keep all the thrills of Jeopardy but get to control the parameters. Plus, you'll be able to show off your stellar deck styling skills.
Learn more: Get started with these templates
4) Sporcle Night

Sporcle is a fantastic website with over one-million user-generated quizzes on every and any topic you can think of. For a virtual game night, you can either screen share a quiz and have the whole team work together, or let each player do the quiz separately and compete for the best score. With a Sporcle night, you can quickly hop between the many short quizzes, giving everyone a chance to show off on the topic they're most knowledgeable about.
What makes this a fun online jeopardy game: Simple to set up and endlessly entertaining, Sporcle can provide hours of entertainment for your team.
Learn more: Get playing at Sporcle
5) Jeopardy the Board Game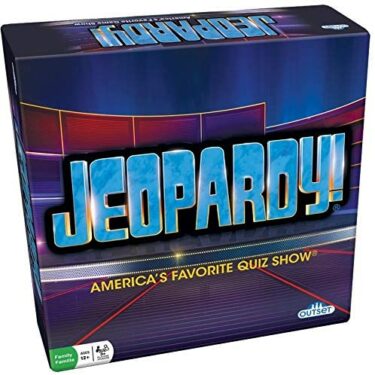 Okay… this one might be cheating. But Jeopardy the Board Game combines our favorite game show with the joy of a tabletop game. Available on online retailers and stores, Jeopardy the board game has everything you need to have fun at work with a trivia competition. With play money, card stands, a game board and of course lots and lots of questions, Jeopardy the Board Game will pit your office against each other in a race for the most (fake) cash. Save this one for when everyone's back in the office, however—it's a board game, after all.
What makes this a fun jeopardy game: Jeopardy the Board Game lets you relive the classic game show anywhere. Plus, there's something special about sitting around a table and competing face-to-face (to face-to-face).
Learn more: Buy it here
---
People Also Ask These Questions About Online Jeopardy Games
Q: What are the benefits of playing Jeopardy online?
There are many benefits to playing jeopardy online with your team. It's a great chance to unwind and relax, while also improving team culture and dynamics through collaboration and competition.
Q: What are some fun categories to add to my online Jeopardy night?
Some fun categories to add to your online Jeopardy night include sports, pop culture, or history. Also, use your company's purpose and product to inform categories, or take a poll of your coworker's interests to inspire you.
Q: Why should I have a host for my online Jeopardy game?
Having a host for your online Jeopardy game allows you to focus on enjoying yourself and getting to know your team members. Plus, a host will keep the game fun, fair and running smoothly.
Q: Where can I find Jeopardy questions to play online with friends?
To find Jeopardy questions to play online with friends, check out some of the above options, especially the free online Jeopardy games. Or, pick one of your favorite topics and invent the questions yourself.