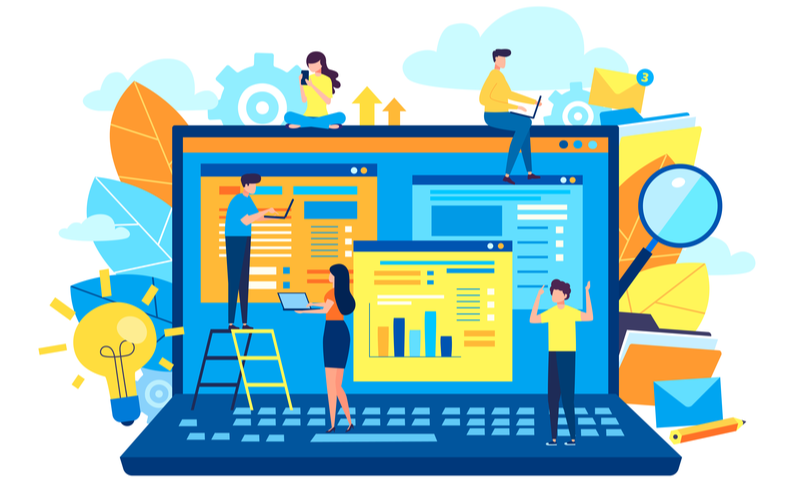 Have you ever felt like there just isn't enough time in the day to get all of your work done?
Well, it turns out that you're not alone. Over the years, studies have shown that somewhere in the range of 50 to nearly 80 percent of Americans feel overwhelmed.
As you well know, checking emails can become a job of its own. Stack everything on top of it and it's easy to see why so many people experience big time pressure. Getting extra organized, setting priorities, and streamlining processes can help. However, the best move to make is developing workflows.
"Workflow is understanding your job, understanding your tools, and then not thinking about it anymore." — Merlin Mann
What is a workflow?
A workflow is a visual diagram of a predefined, structured set of activities that produce a specific result. In a sense, this methodology is designed to produce consistent and scalable output through rules, dependencies, and requirements.
What is automated workflow management software?
Workflow Software is a systematic approach to managing and executing business processes. The main goal of this particular type of software is to fully automate day-to-day tasks and make the lives of managers easier, so they are freed up to focus on growth and innovation.
How can an automated workflow management software improve your productivity?
Workflows improve the odds that a process is repeatable and time-efficient. However, the benefits of workflow management software go far beyond these first two perks to include:
Reducing risk by decreasing delays, which in turn cuts costs
Lessening management intervention
Increasing access to information and improving collaboration
Helping with task delegation and accountability
Setting and keeping timelines
Managing and storing documents
Improving visibility and communication
Freeing time and energy to focus on growth and strategy
Providing an easy-to-follow work audit trail
Now, since we're already talking about tools that can save you time and energy, we've saved you a little more by compiling a list of the 11 best workflow automation and management software platforms in 2023.
Pro-Tip: Use "Command + D" to bookmark this list – we update it often with new content.
As you'll see, each software has different strengths and some amazing perks, so check them out to figure out
Want to become a better professional in just 5 minutes?
"For visual learners and organizers"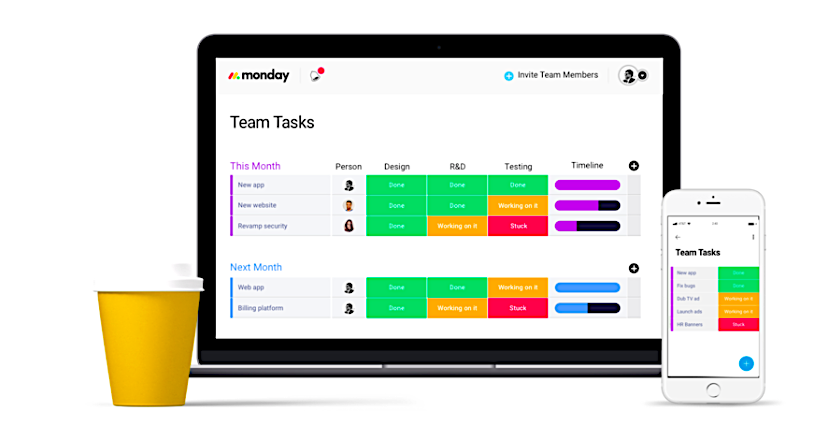 monday.com is a color-coded workflow and CRM hybrid software to manage all projects, ad campaigns, video production, and to check for bugs and other quality assurance.
3 Standout Features:
Activity logging
Execution board
Visual progress display
monday.com includes many other amazing features to streamline and automate workflows and improve scalability like email updates, motivational tools, PipeDrive integration, tags and keywords, surveys, and time tracking for each project.
Additionally, monday.com regularly adds new functionalities like they did recently with 20 customizable status colors, limited board permissions mode, mentions, and an updated desktop app.
Pricing: Free Trial and then $8 to $16+ depending on the size of your business
"The all-in-one project management system"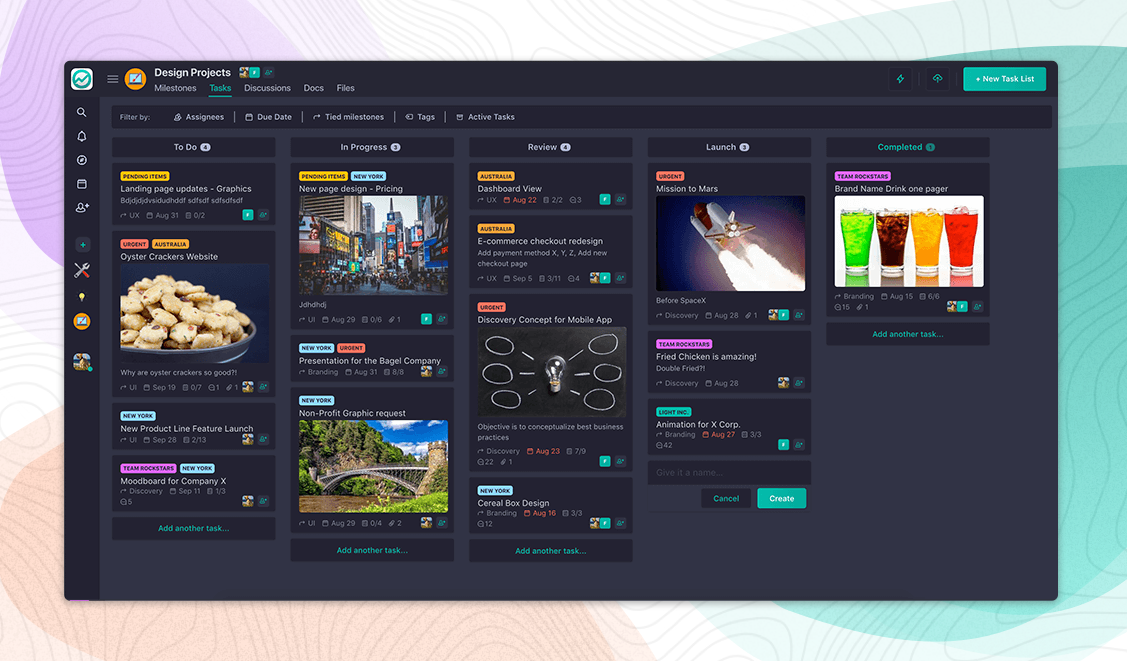 NiftyPM is an easy-to-navigate project management software to help managers effortlessly plan, monitor, and execute their strategies.
3 Standout Features:
Automatically assign members of your team based on the status of a task.
Update project reporting automatically across your workspace by simply completing tasks related to your project's initiatives.
Invite all members of a project to a document to get everyone on the same page quickly and easily.
NiftyPM also includes reporting, document and file sharing, time tracking, and task-setting. This incredible platform is fantastic for upping accountability and encouraging each team member to do their best work.
The project portfolio management side of the platform gives you total insight into this centralized workspace and ensures end-to-end task completion.
Pricing: Free plan for up to 2 projects and then $39- $124+ depending on the size of the business or team
"For staying in the flow online and offline"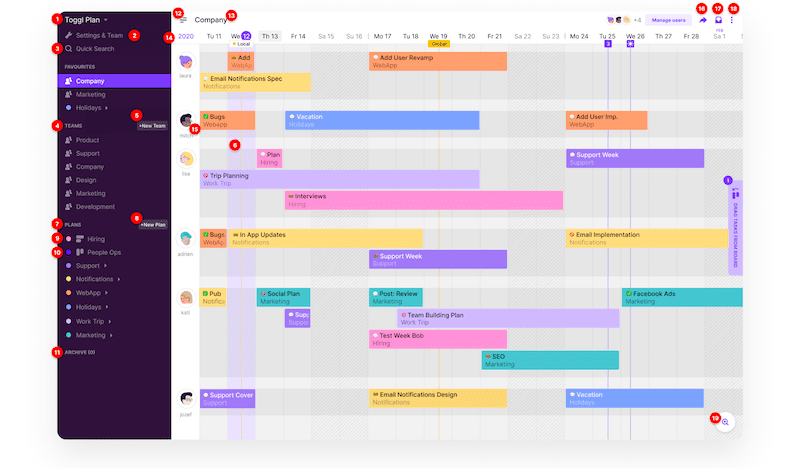 Toggl Plan is the ultimate time tracking app that enables complete oversight into workflow. It can be used as a web-based or mobile app to automate workflow online and offline.
3 Standout Features:
Automatic data backup every 12 hours
Open source integrations
Detailed charts and graphs
Toggl Plan is a favorite for consultants, freelancers, and small to medium-sized businesses. This uber-effective employee engagement software also features single-click time tracking, scalable cloud storage, detailed reports, and a super simple, clean interface.
In fact, it even has a series of functionalities that are designed specifically for clean, transparent reporting such as billable rates, time audits, time rounding, and saved reports so you can review daily, monthly, or yearly info.
Pricing: 14-day free trial and then free for 1 user – $13.35 Per user per month [Business Plan]
"For planners"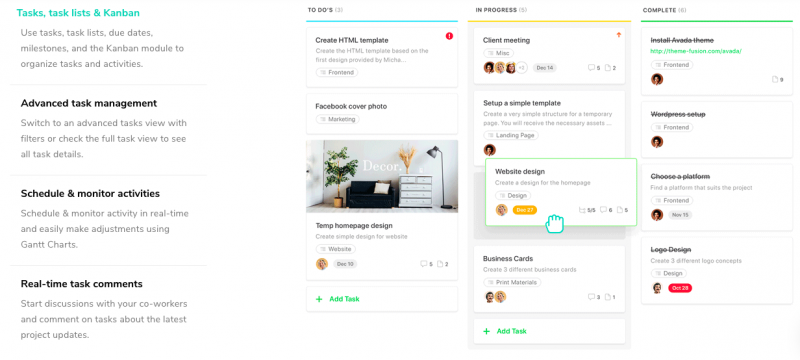 Paymo is the perfect management software for keeping up with client billing and external details as well as internal matters like task management and team scheduling.
3 Standout Features:
Gantt charts and Kanban boards
Invoicing add-ons
Mobile companion apps
Paymo also boasts several other exciting functionalities such as time tracking, budgeting, and resource scheduling and leave planning. This project management tool offers an all-in-one solution for small to large businesses and it integrates with Slack and Google Apps along with hundreds of other platforms.
Additionally, you can have immediate access to a meta task board, project templates, timesheets, time sheets, invoices, estimates, expenses, employee onboarding, training materials, leave management tools, schedules, and set recurring tasks.
Pricing: Free trial and then $9.95/month small office to $ 12.79.month business
"For the best of all worlds"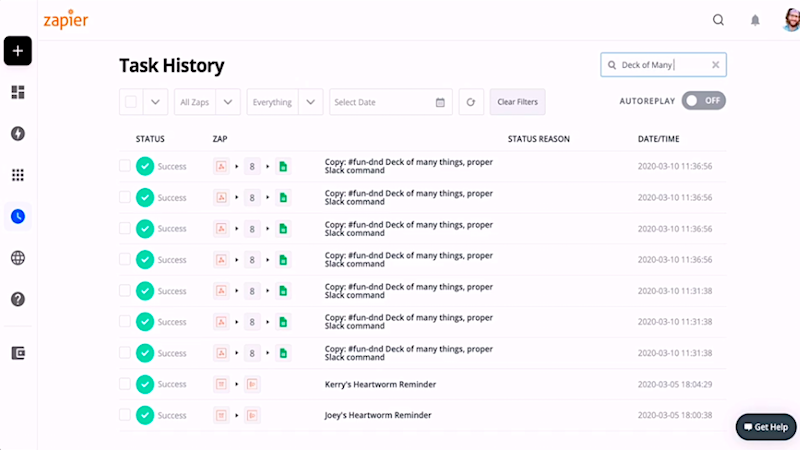 Zapier is the best workflow management tool for integrations with literally thousands of possible integrations at your disposal. On average, its estimated Zapier saves each customer 20 hours per work, which is part of the reason this hyper-effective automation platform is winning awards left and right.
3 Standout Features:
Ongoing API maintenance
Online developer portal
Preset triggers and actions
Zapier syncs with Google Calendar and enables fully automated workflows for maximum productivity with minimal effort! The primary benefit of this tool is how easy it is to combine multiple apps and actions into one seamless platform.
Pricing: Free to $599 /month billed annually depending on the size of your business
"For teams of all sizes"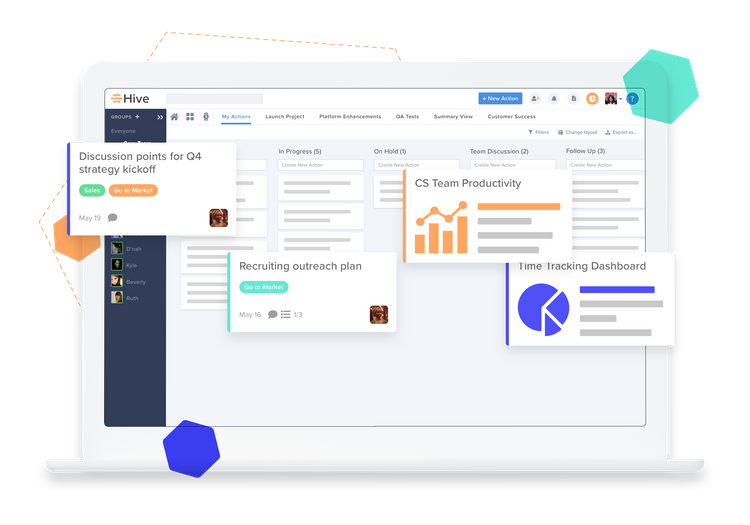 Hive is a cloud-based project management platform built for small, medium, or large size teams, who need to chat, share files, and automate tasks. In fact, Uber, Starbucks, Google, and Essence all use Hive in their day-to-day operations to boost their efficiency. Native email, resourcing, group messaging, and file sharing helps to bring all aspects of professional life together on this SaaS platform.
3 Standout Features:
Kanban board
Group messaging
Workflow templates
Hive gets its name most of all from the way it seamlessly integrates both apps and team members to get everything and everyone working together to achieve common goals. With multiple task views, 100 app integrations, automated task management, Gantt charts, Dropbox and Google Drive storage, your team will be set up to win with Hive.
Pricing: Free trial and then $ 12 per user/per month
"All-in-one project management and team collaboration software"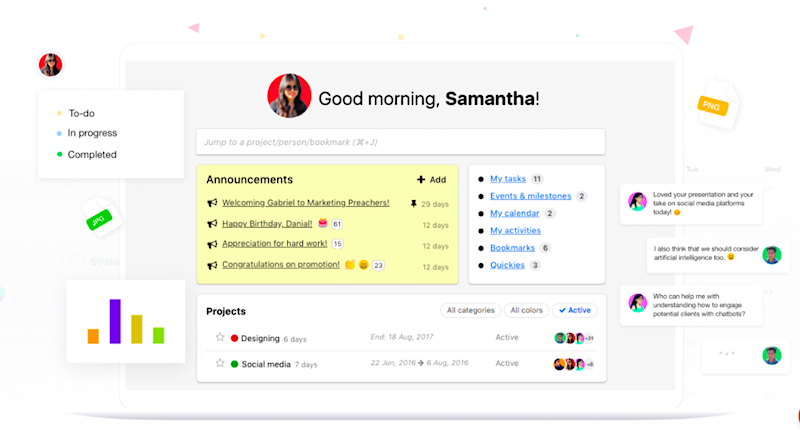 ProofHub is a cloud-based online project management solution that helps teams across multiple industries collaborate, manage their resources, manage tasks, and monitor progress. One of the reasons why it is so beloved is that its interfaces are simple yet it offers loads of features and integrations!
3 Standout Features:
Custom workflows and Kanban boards
Project timeline and Gantt chart
Group chat and online discussions
ProofHub uses these standout features and many others, including chat rooms, notes, Gantt charts, calendars, to-do lists, timesheets, and milestones to give project managers all the tools they need to ensure the strategic vision is executed. Plus, ProofHub is available as a mobile app for both iOS and Android users so they can keep up with the latest updates from anywhere.
Pricing: Free trial and then $89/month billed annually depending on the size of your business
"For remote teams"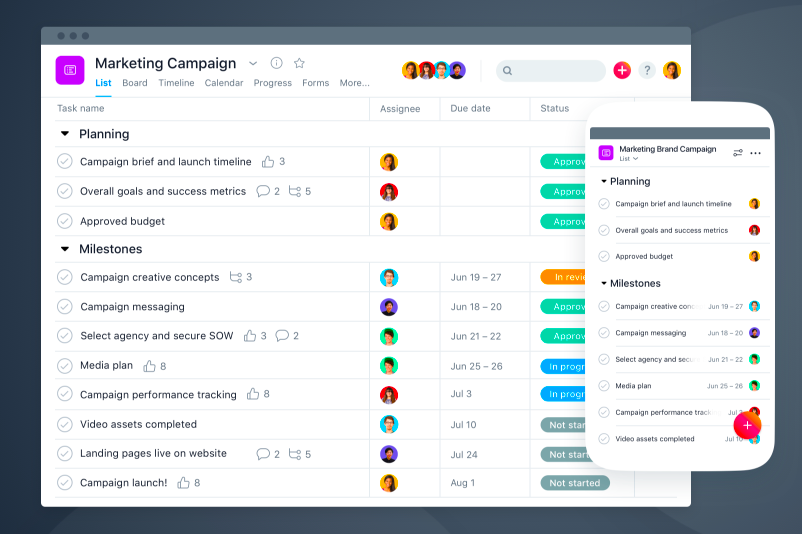 Asana is a user-friendly business process management (bpm) and remote work tool to help teams execute on strategic goals. Nearly 80,000 organizations are subscribed to Asana across 190 countries. What makes Asana one of the leading project management solutions is that it allows users to combine and customize tasks, create groups, gain followers, and receive instant notifications.
3 Standout Features:
Electronic signatures
Meeting management
Employee activity monitoring
Asana helps teams meet their deadlines, communicate, collaborate, and manage multiple projects simultaneously. Some of the other most-used features include custom templates, dashboards, automatic notifications, reporting, and file-sharing of up to 100MB per file.
Asana automates workflows via mobile devices, tablets, laptops, smartphones, and virtually any tech a remote employee might be working off of.
Pricing: Free to $24.99+ depending on the size of your business
"For project planners"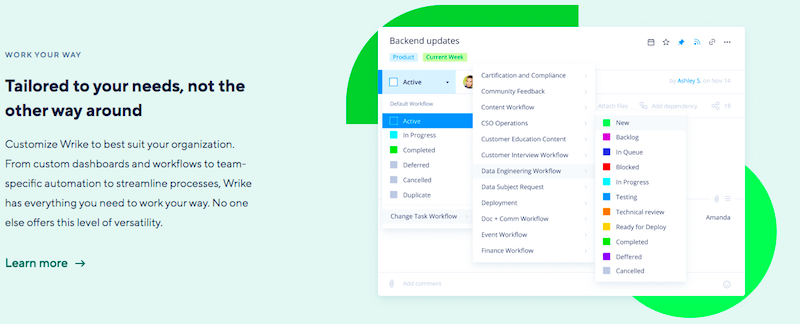 Wrike is a work collaboration solution for project managers, which enables teams to operate with consistency, efficiency, and pace. It offers sleek and simplified workflows, instant messaging, and project planning tools that are used by more than 20,000 businesses and two million users around the world.
Gantt charts, Kanban boards, enterprise-level security, and integrations with more than 400 applications including the Adobe Creative Cloud, mean that Wrike is here to stay among the best of the best workflow management software.
3 Standout Features:
Role-based permissions
Sub-tasks
Real time reporting
Wrike is easily one of the best platforms for project management with a list of hundreds of other functionalities, some of which include reporting and statistics, asset management, calendar management, Google and iCalendar integrations, budget tracking, configurable workflow, data encryption and backups, file version control, forms management, and resource management. Wrike is arguably the most versatile workflow automation solution on this list.
Pricing: Free to 24.8$+/month depending on the size of your business
"For smooth clicking workflows"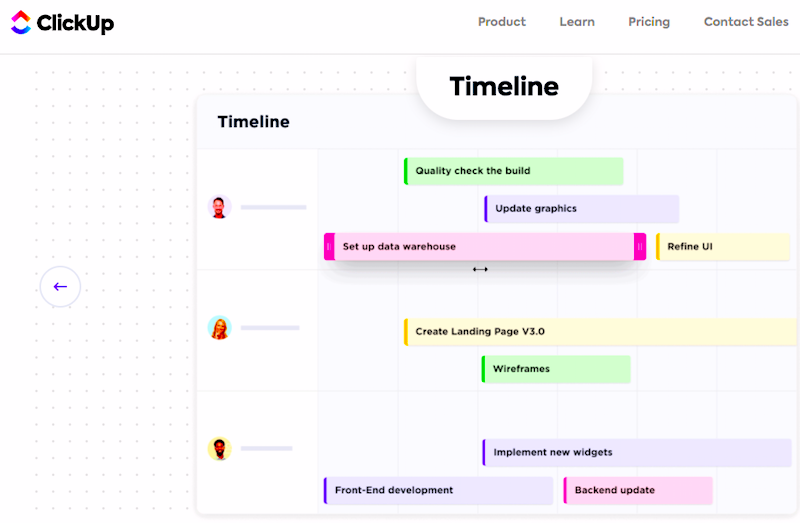 ClickUp is a management software that allows users to click through custom workflows effortlessly and automate them. This powerful all-in-one solution offers time tracking, estimate creation, notes, labels, and a wide variety of integrations. ClickUp also enables users to utilize calendars, goal tracking, and several other features to remove friction from the workflow.
3 Standout Features:
Image mockups
Bug tracking
Testing and QA management
ClickUp helps users by offering client management, custom prioritization and statuses, Chrome-like tabs, comment assigning, 3 different views, file sharing, email notifications, seamless multi-tasking, project roadmapping, risk management, white labeling, and total workflow automation.
Additionally, ClickUp helps to organize invoicing and billing and offers mobile time tracking, overtime calculation, vacation and leave tracking, and timesheet management — all of which improves accountability and can even aid the finance department in the long run.
Pricing: Free trial and then $5/month
"The ultimate collaboration board"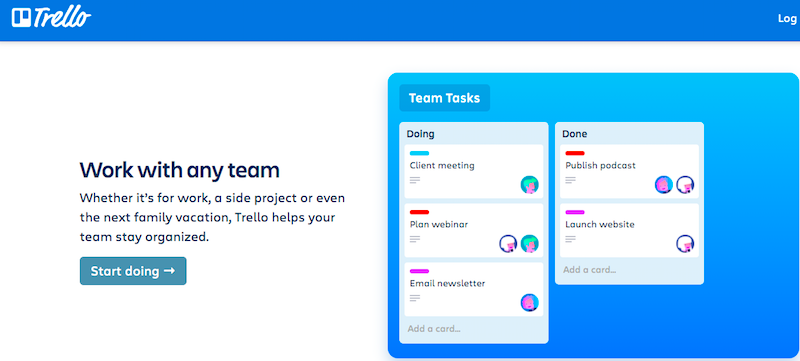 Trello is the virtual way of bringing your entire team together! This collaboration app uses a board and card system to break down projects into bite-sized bits so getting through even the most challenging problems will feel like a breeze. Trello has a wide range of collaborative tools to majorly increase communication, provide updates, and boost coordination in real time.
3 Standout Features:
Card records archive
Data filters
Drag-and-drop editing
Trello changes the game by affording team members an array of collaborative and project management functions including both public and private communication channels. In fact, this solution takes it a step further and helps the entire team stay in sync by alerting them via their device and email about any changes in the system.
One of the most popular Trello features is a streamlined voting system which aids teammates in supporting and voicing disapproval of a project or particular action. Trello has so many other amazing features that it's hard to know what to even begin with. However, we could also count individual and group assignments, progress meter checklists, and information backups and retrieval among the things that make this software platform hyper-effective.
Pricing: Free to $17.5/month depending on the size of your business
People Also Ask These Questions About Workflow Automation and Management Software Platforms
Q: What is the importance of workflow automation software?
A: Automating workflows is critical for a number of reasons. For starters, workflow automation improves speed, precision, and efficiency. Organizations often struggle with unifying their internal and external communications, which in turn slows work down and becomes a project of its own. Workflow then becomes largely dependent upon human memory and that's ultimately when important items fall through the cracks. Workflow automation software clears up mental space to allow employees to focus on non-automated tasks, saves costs via increased productivity and visibility, improves accuracy and communication, reduces redundancies, and improves the final product.
Q: How much does workflow management software cost?
A: Workflow automation software can range from a few dollars a month to hundreds if not thousands depending on the size of your organization. However, many workflow management software offer free trials so you can see how they can help your organization at zero initial cost.
Q: What are the types of workflow software?
A: Each industry requires different types of software that can handle a variety of functions and automations. Whether you're looking for a way to share files and organize documents, or create tasks, create invoices, there's a workflow automation software that can help. However, the best type of workflow software combines all of these functions into one easy-to-navigate interface. If a lot of your work involves collaborating with clients, many workflow software solutions help facilitate a B2B relationship.
Q: How do you create an automated workflow process?
A: It usually takes just a few critical steps to establish an automated workflow. First, you have to analyze which tasks can and should be automated. Oftentimes, these tasks are repetitive processes, costly, and prone to human error. Secondly, define business goals and think through how automation would help achieve the particular tasks required to reach the goals and desired metrics. The next step is picking out the right software with ease of use and then to teach employees how to use the workflow automation software. The last step is to make sure that the workflow is changed according to the KPIs as they are continually being measured. In fact, the final step is perhaps the most important because it allows you to analyze whether or not the objectives are actually being met.
Q: How does workflow automation improve productivity?
A:Workflow automation improves productivity through lowered need for physical labor, less handling of products, reduced workflow cycles, increased visibility, reduced bottlenecks, improved employee satisfaction, strengthened external and internal communications, and decreased human error.Workflow automation also aids with more efficient task management through dashboards, calendars, and a variety of other tools. Above all, workflow automation software boosts productivity most with increased communication, accountability, and KPI tracking.
Q: What are the best apps for workflow automation?
A: The best apps for workflow automation are versatile, easy to navigate, and usually have strong interoperability so you can combine the most effective parts of many systems. Monday.com, NiftyPM, Toggl Paymo, Zapier, Hive, Asana, Wrike, ClickUp, Trello, and ProofHub are great examples of workflow automation apps that integrate well with others and have distinct features of their own.
Q: Where can I find workflow automation tools?
A: Fortunately, there are thousands of workflow automation tools. However, you always want to be sure to check for ratings and reviews to ensure that the software functions well and is worth the expense.