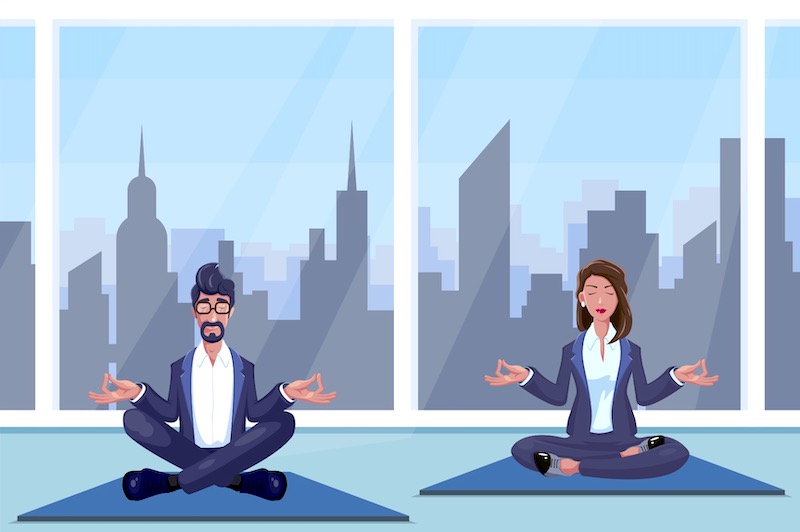 For companies looking to get an edge, workplace wellness has become an essential part of their strategy. With a large push from Gen Z and millennials entering the job market, it's become increasingly clear that emphasizing mental health and wellbeing helps companies attract and retain top talent, while boosting their bottom line.
"The average return on investment of workplace wellness programs is $3.27 for every $1 spent because of reduced healthcare costs." — Well Steps
We've teamed up with Tarin Calmeyer, Chief Wellness Officer at Remote Team Wellness to create this comprehensive workplace wellness guide, where you'll learn everything you need to know to implement a workplace wellness action plan. Check it out!
In a hurry? These are some of our favorite workplace wellness programs and services to provide to employees:

Want to become a better professional in just 5 minutes?
Page Contents (Click To Jump)
What is Workplace Wellness?
Workplace wellness refers to optimizing a workplace for the employee health, happiness, positivity, and all-around well-being of the employees and everyone else involved in your organization. Making workplace wellness more than a buzzword requires deliberate effort, thoughtfulness, and planning. However, boosting employee satisfaction also raises every other metric.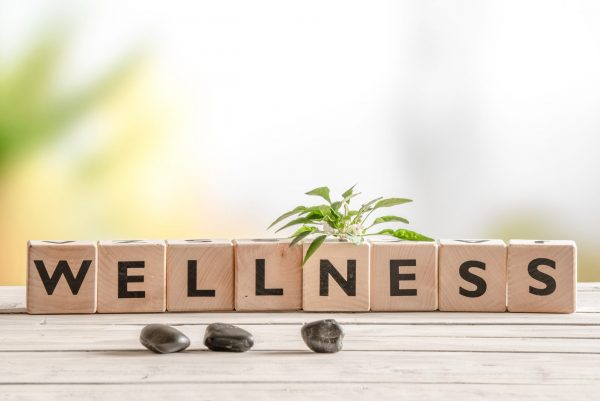 "Employers save on average $5.82 in lower absenteeism for every dollar spent on employee wellness programs." — Indiana Department of Health
A recent Gallup poll even found that over-stressed employees are 300% more likely to leave their jobs.
"Workplace wellness is about fostering an environment which ensures that your employees feel supported, connected and engaged in their work tasks and beyond, it is a commitment to a culture of health and wellbeing within the workplace."

-Tarin Calmeyer, Chief Wellness Officer at Remote Team Wellness
Why is Workplace Wellness Important?
Workplace wellness is important because company culture scales for better or for worse. One of the most incredible things about workplace wellness is that it's self-perpetuating. Put another way: Happy employees boost their coworkers' morale, which makes the work environment more positive and so on.
Pro-Tip: Create a shame-free environment in which employees feel comfortable taking full advantage of their vacation time and other days off.
Employees spend an average of 50 hours per week on the job — or half their waking hours. For work to be sustainable in the long-term, wellness has to be thought of as being just as critical as the work itself.
"Aside from its direct impact on workplace culture, resources and productivity, prioritizing workplace wellness is essential to every business' bottom line as elevated healthcare costs are the biggest single risk most employers face. The simple fact is: healthy employees cost you less."

-Tarin Calmeyer, Chief Wellness Officer at Remote Team Wellness
What Are The Benefits Of a Successful Workplace Wellness Program?
The benefits of workplace wellness are:
Lower costs
Increased productivity
Less employee burnout + higher retention
Better communication + improved workplace morale
"Even if you were to look past the immediate, fiscal benefits of implementing wellness programs like reduced healthcare costs, you'd still find a plethora of long-term benefits that are almost unquantifiable, from overall improvement in team health habits to heightened attention and creativity from team members. The benefits for taking care of your employees are truly endless if you are willing to invest in your people."

-Tarin Calmeyer, Chief Wellness Officer at Remote Team Wellness
How Do You Measure Workplace Wellness?
The best way to measure a workplace wellness program is to see an increase in employee satisfaction. A fairly good way of gauging this is to create an environment in which employees feel safe and comfortable giving feedback. Ask for them to fill out surveys, have meetings, and do whatever it takes to keep your finger on the pulse of their satisfaction. Any time spent doing this is time well spent.
Pro-Tip: Some simple ways to boost employee wellness include paying for fitness memberships, creating outdoor seating areas and quiet spaces, as well as providing biometric fitness trackers, yoga mats, and water bottles to encourage consuming more water.
Another great way to tell if the workplace wellness program is effective, is if you notice decreased signs of employee burnout. For example; fewer missed deadlines, less turnover, higher energy, stronger engagement, and good body language are all positive signs.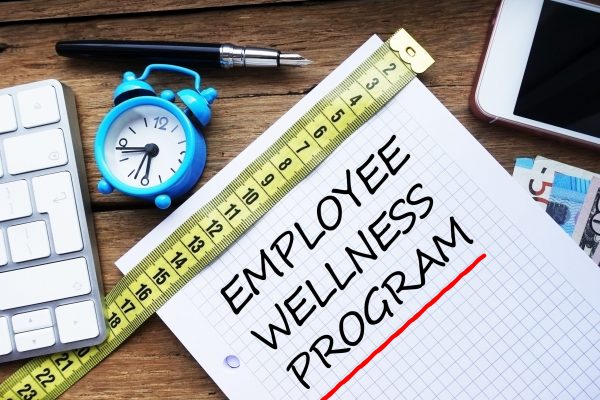 "The effectiveness and success of any wellness program is largely dependent on your program objectives. What do you want to achieve with your program? Whichever solution you choose, starting with the end in mind to best measure success. The more comprehensive your wellness strategy, the greater the return on investment. "

-Tarin Calmeyer, Chief Wellness Officer at Remote Team Wellness
What Are Workplace Wellness Incentives Used For?
Workplace wellness incentives can be used to boost the mood, positivity, and morale of the team, decrease errors and reduce expenses associated with human error, increase retention and save on the cost of high turnover.
Additionally, workplace wellness incentives reduce stress, unhealthy risk factors, and increase productivity.
What Are Some Workplace Wellness Incentives To Maximize Employee Participation & Retention?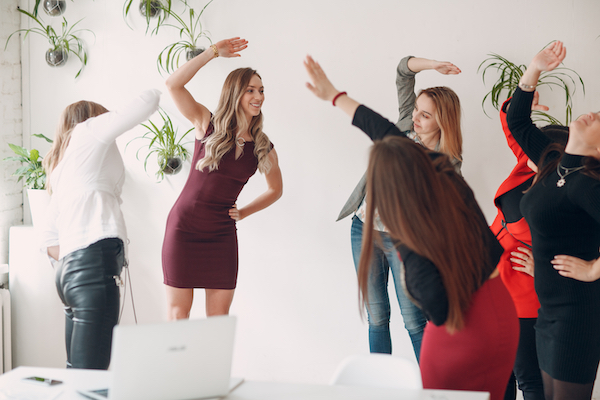 A few examples of workplace wellness incentives to maximize employee participation and retention include:
Team-building activities
Half-days or 4-day work weeks
Incorporate employee recognition software
Offer gifts and custom swag
Give employees a monthly stipend
Provide wellness activities (virtual wellness classes, etc.)
Send employee care packages
Make it safe to take mental health days
Promote cross-department learning and synergy
Full health insurance
Pro-Tip: Maximize workplace wellness activities by setting goals like weight loss, cutting out smoking via smoking cessation programs, getting more sleep, drinking more water, or hitting fitness targets like running a half-marathon.
Examples of Workplace Wellness Incentives
1. Relieve Stress and Get Laughing!
"With shared laughter workers can feel they are all 'in it together.' This helps create a team spirit and relieve stress." – Tony Lan, The Economist
More research has been emerging highlighting the benefits of laughter for our mental health and wellbeing, also showing us that a happy workplace is a productive one. What better way to help your employees feel better than to engage in 30 minutes to an hour of downright fun?
SnackNation Pick: Laughter On Call is a company with a mission to create connection through shared laughter. Over the past year they have brought their virtual events to over 100 remote, hybrid and in-person companies – in some cases connecting teams around the world.
With services like their "Happier Hour," Laughter Training Workshops, and Laughter Gym, Laughter On Call brings in their team of compassionate and inclusive professional comedians to engage your employees in games inspired by improv and stand-up comedy and teach useful comedians tools to improve communication.
Here is what a recent client said after organizing a stress-relieving session:
"It's been a challenging time in so many ways but the 30 minutes our team spent with Laughter On Call made that all melt away. It was so wonderful to see our team smiling and laughing and having fun together. So rejuvenating and spirit lifting!" – Bristol Myers Squibb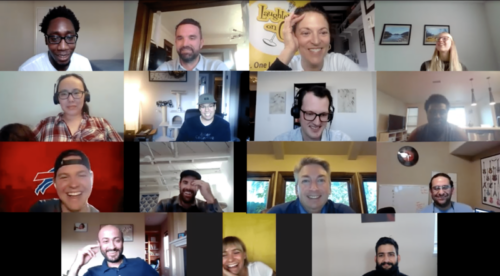 2. Start a Monthly Virtual Wellness Program
If your team is working virtually, there are still plenty of ways to help them feel better! Trying a virtual-first corporate wellness solution will actually give your team access to a much greater variety of wellness experts and sessions, than from any traditional corporate wellness provider that's only in one location. Virtual corporate wellness programs are the simplest solution to implement, and also the easiest wellness program for your staff to engage and stick with, as they can engage from the privacy of their own space.
SnackNation Pick: Remote Team Wellness. Simply join their monthly wellness Zoom calls and the Remote Team Wellness teams will do the rest. A monthly virtual wellness program is the perfect way for teams both remote, and in-office to get well, together. We've personally seen this company in action, and it's amazing.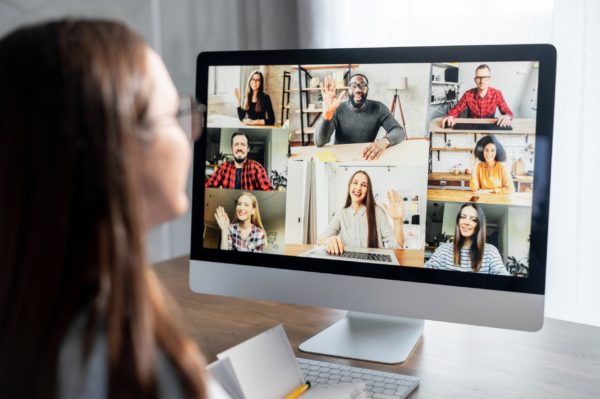 3. Gifts / Snacks
Gifts and snacks are a simple gesture for celebrating an employee's hard work and achievements. Snacks are always a good option because everyone needs to eat and it's a chance to introduce your employees to tons of cool new brands and to invest in their physical health! Plus, low cholesterol, healthy snacks can help combat chronic disease and decrease the risk of heart disease.
SnackNation Pick: You can offer a variety of snacks, so there's something for everyone to enjoy through Caroo's curated snack boxes. Every food snack box comes with top health food brands and unique gifts.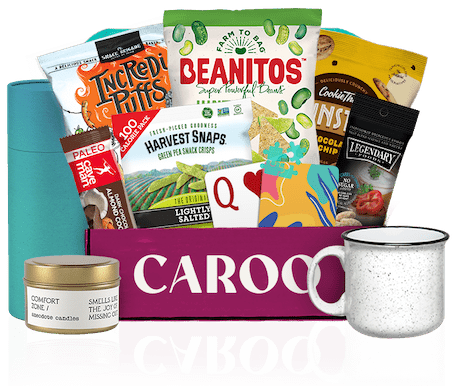 4. Experience Outside of Work
Experience outside of work gives employees a chance to show and see a different side of themselves and others. In fact, customized experiences are an amazing way to build team rapport and smash monotonous routines. Whether your employees are immersed in a virtual activity or are experiencing something new together outside of work, this will help them also love and appreciate each other's individuality.
SnackNation Pick: Many companies offer fun experiences for employees, but Blueboard is one of the best at it. This employee recognition and incentives platform provides carefully curated in-person and virtual experiences for any occasion. Activities range from virtual watercolor classes, golfing, drone photography, and wine tastings, all the way to home cooking and pottery classes. Blueboard covers pretty much any hobby and interest out there!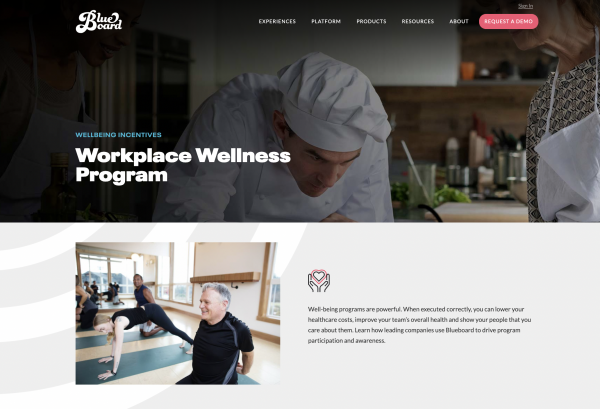 5. Bring a Chief Wellness Officer Onto Your Team (Without Hiring!)
Did you know that you can now make wellness a priority with a dedicated team member to lead your wellness initiatives in-house, without recruiting, hiring and committing to paying a large salary? That is where a Chief Wellness Officer comes in. Get the best of both worlds by utilizing their unique skill-set without having to go through a lengthy hiring process.
SnackNation Pick: Remote Team Wellness' Chief Wellness Officer program sources and vets a senior-corporate wellness expert that will join your team part-time to lead company wellness initiatives from the inside. CWO services include monthly challenges, daily wellness content, a #Wellness team chat channel, private dedicated office hours for employees, and a full-day virtual retreat per quarter managed by your new CWO at no extra cost!

6. Host a Virtual Event
The pandemic has given the world a glimpse of the future. By that, it's hastened the transition to a remote or at least a hybrid workplace. In order to succeed in the workplace wellness department, companies have to be prepared to meet the demands of an increasingly untethered workforce. So how do coworkers remain connected throughout the world? One answer is virtual events. Virtual events can include online puzzles, team-building exercises, workshops, and really, anything that brings everyone together. Even if ninety percent of the office is there in-person, virtual events are particularly important for making those remote contractors feel a part of the team.
SnackNation Pick: With more than 60 team-building and training solutions to choose from, Outback Team Building is easily one of the most trusted for virtual events designers in the world. They help companies host in-person team building activities, virtual team building activities, and group training and development programs. In addition to being well-suited as a planner for virtual, in-person, and hybrid work environments, Outback takes custom proposals and curates events based on location, group size, and budget, among other factors.

7. Physical Workout Plans
What do many of the most successful people have in common? They start their day with a workout. Working out is a momentum-building habit designed to amplify every area of an individual's life. The expression "health is wealth" is true, so giving your employees an organized workout plan is one of the best gifts of all.
SnackNation Pick: Nectar is the ultimate rewards platform! This incredible recognition solution provides a card that allows team members to compete and participate for points to exchange for real world benefits. Now your employees or coworkers can see gains in and out of the gym!

8. Hold a Virtual Wellness Retreat Your Team Will Love!
Start your teams' wellness journey with a one-off virtual wellness event that not only unites your team and gets them feeling great, but also helps you judge which types of wellness sessions resonate most with your colleagues. A well-executed virtual wellness retreat can include a multitude of topics pertaining to wellness, from nutrition and emotional intelligence to sleep, burnout and interactive movement and fitness sessions led by top specialists in their fields.
SnackNation Pick: The experts at Remote Team Wellness conceptualize and coordinate rewarding virtual wellness events that range from a half-day virtual retreat to a month-long virtual event series that combine live wellness sessions taught by some of the world's most talented teachers.  Join innovative companies like Facebook, L'Oreal, Coface & App Group to give your employees a break from remote work they'll love. Learn more at RemoteTeamWellness.com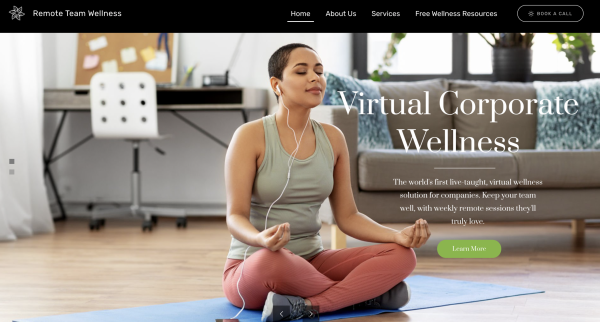 9. Mental Health & Spiritual
Experts are becoming increasingly aware of the link between mental, spiritual, and physical wellness. Employees do their best work when they are taken care of on all three levels. Fortunately, with wearable technology and smartphones, the physical and mental aspects can be measured and turned into fun competitions or a team-wide event.
SnackNation Pick: When it comes to using technology to improve mental and physical wellbeing, Bonusly is an excellent pick. Bonusly's intuitive recognition app features wellness challenges that can be redeemed for real-life rewards. Employees will love the social recognition that creates a more collaborative space for them to work on their mental health.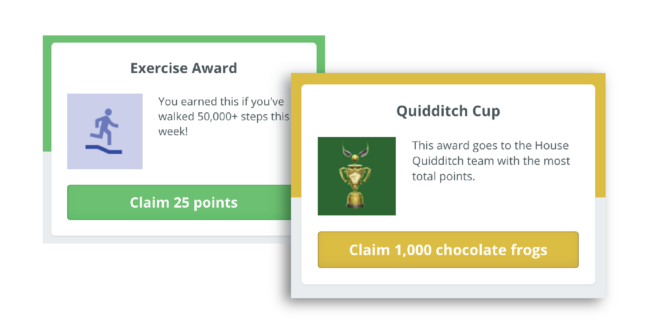 10. Work Competitions
Work competitions are a way of bringing teams together and promoting cooperation in a fun, healthy manner. This type of worksite wellness category could include activities like Office Olympics (Dunder Mifflin style), steps competition, or trivia.
SnackNation Tip: Whenever your company is considering having a work competition, it's important to think about how it will promote unity and build rapport in the office. Even if it's online, make sure to use a platform or software that encourages communication amongst coworkers.

11. Office Fitness Challenge
An office fitness challenge is an exciting way to get people moving and feeling healthier and happier. For commuters, challenges could include participation in yoga or crossfit classes if your facilities allow or they could be participation in online classes if your employees are remote workers.
SnackNation Tip: Corporate wellness companies like Let's Roam gives companies the perfect platform to offer their employees scavenger hunts, virtual game nights, and custom events. The scavenger hunts and custom events are a solid opportunity to mix games with fitness activities so your employees can break a sweat effortlessly — or so it'll seem!

12. Take Your Team On A Vacation 
Planning an incredible wellness team retreat in a tropical location can be a great way for your team to detox from the corporate world for a few days and enjoy some time together outside of the office.
SnackNation Tip: Take your team to Mexico with Remote Team Wellness! The team at RTW actually moved their office to Mexico and have partnered with the country's top tour operator to offer full-service in-person team retreats. From arrival to departure their team will handle everything for teams of 5-150. Imagine waking up in paradise for energizing team breathing exercises on the beach followed by a home-cooked Mexican breakfast at your private villa with all the awesome people you've been working remotely with for the past year! Get a free proposal here.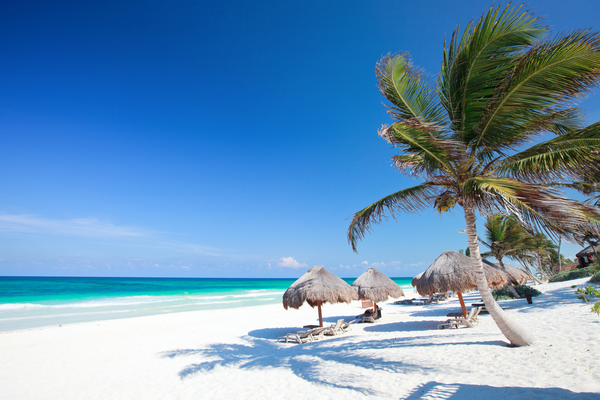 13. Charity Drive / Walkathon
Charity Drives bring the whole office together around a single cause. In fact, if you go this route, you could even let your team pick out the cause they want to support. Your employees might want to participate in a walkathon or perhaps the next trending thing like how planking blew up a few years back. A Charity Drive extends way beyond just physical wellbeing by boosting mental and spiritual wellbeing.
SnackNation Tip: Letting employees pick a cause they are passionate about will get them highly motivated and engaged. If someone on the team has a relative struggling with a disease, rally around them! This is a huge opportunity to show you and your team care about each other.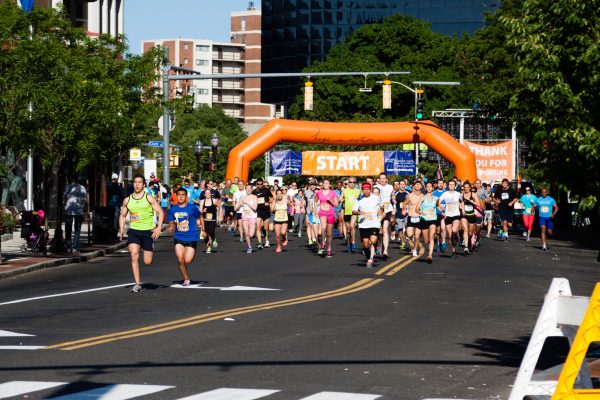 14. Program for People to Talk to Others (Employee Assistance Programs)
Employee Assistant Programs are absolutely critical for workplace wellness. Many factors can lead to feelings of isolation. Conversely, there are a lot of amazing programs and services to facilitate community.
SnackNation Pick: As the mental health platform Lyra points out, paying special care to your employees' mental wellness, reduces turnover, absenteeism, health care expenses, and productivity. Lyra helps employers look introspectively at their practices and find avenues to give their employees the support they need.

15. Promote Ways to Incorporate Exercise Via Commute
One of the smartest ways to focus on workplace wellness is to incorporate it into your already busy employees' routines. If your employees live within walking or biking distance, encourage them to bike or walk, which could become yet another cool competition!
SnackNation Tip: In addition to biking to work, encourage employees to walk to lunch and park as far from the building as possible. Every step counts. To make it easier, The Go Game focuses on team-building and gamifying movement!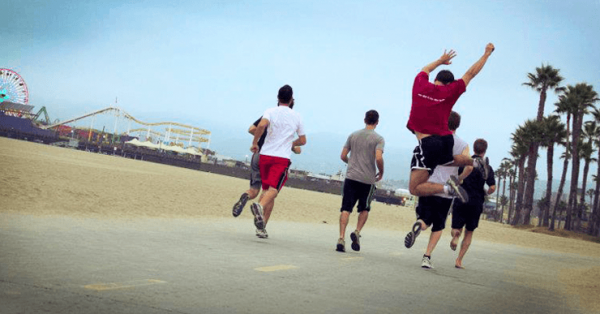 16. Create a Culture of Wellness, Wherever Your Team Is Located
Creating a culture of wellness may sound like a new concept, but more and more companies are dedicating time, money, and resources to make sure their workforce is happy, healthy, and well-supported to succeed.
SnackNation Tip: You can start without any cost by sending newsletters, leading by example, giving time off or recognizing team members who are maybe in need of a break and other fun DIY projects.
"This is an unprecedented time in the world, as we all know, but it's also an incredible opportunity to take better care of your team and see massive ROI as burnout, stress and changes are at an all time high. Never before have corporate wellness companies seen engagement and adoption as high as the numbers we're seeing right now, and that, to me, says that employees care more about, and truly need these services, so it's a really great time for you to focus on building more wellness into your team's workday."

-Tarin Calmeyer, Chief Wellness Officer at Remote Team Wellness
17. Healthy Lunch Options
They say bodies are 90% made in the kitchen, 10% in the gym. In other words, healthy eating goes a long way towards achieving a healthy lifestyle and body. Whether you order custom curated snack boxes to be shipped to your employees' homes or you stock the company kitchen with healthy ingredients, your workplace wellness will increase majorly from this.
SnackNation Tip: Seek out a local business that offers a wide array of healthy lunch options, which is also a way to give back to the community.

People Also Ask These Questions About Workplace Wellness
Q: How do you get company buy-in for a workplace wellness program?
A: Getting company buy-in for a workplace wellness program requires pointing out the benefits financially and culturally. Executives will appreciate how impactful a wellness program is on employee retention, among other factors. From an employee buy-in perspective, there are a few keys, including: management participation, implementing policies, proper funding for the best equipment and incentives, and verbal communication about goals.
Q: How much does a workplace wellness program typically cost?
A: A workplace wellness program can range anywhere from $100 per employee annually to $1,000 or more.
Q: Are there free ways to promote wellness at work?
A: There are many free ways to promote wellness at work. It could be as simple as setting up basic equipment around the office or encouraging employees working from home to take workout breaks at intervals throughout the workday. Something as simple as encouraging employees to walk to lunch and giving them a long enough break to take their time would certainly do the trick. Wellness initiatives and physical activity even boost employee engagement.
Q: What department usually manages workplace wellness?
A: Workplace wellness can be managed by human resources, upper management, or employees if they feel safe to take the initiative in that regard.
Q: Is a wellness program a company perk or a benefit?
A: A corporate wellness program should be a mandatory part of every company. The benefits for both employees and the company itself are massive. A Wellness program boosts happiness, satisfaction, sense of unity, employee well-being, and positive workplace culture.
Q: How do I know that my company needs a wellness program?
A: Every company needs a wellness program, but some obvious signs your company is in dire need of one include employees missing deadlines, experiencing fatigue, and generally, being unenthused about their work. A worksite wellness program promotes healthy behaviors, which result in health outcomes and health benefits.