Can loyalty be bought? Traditional wisdom says no…
But what if traditional wisdom has got it all wrong?
As it turns out, customer and client loyalty can be bought.
"80 percent of consumers say they are more likely to do business with a company if it offers personalized gifts." — Instapage
One of the best ways to turn leads into clients and promote your brand is by running a business giveaway. Arguably the biggest reason to do a giveaway is the fact that they are an easy tactic to generate buzz surrounding your brand.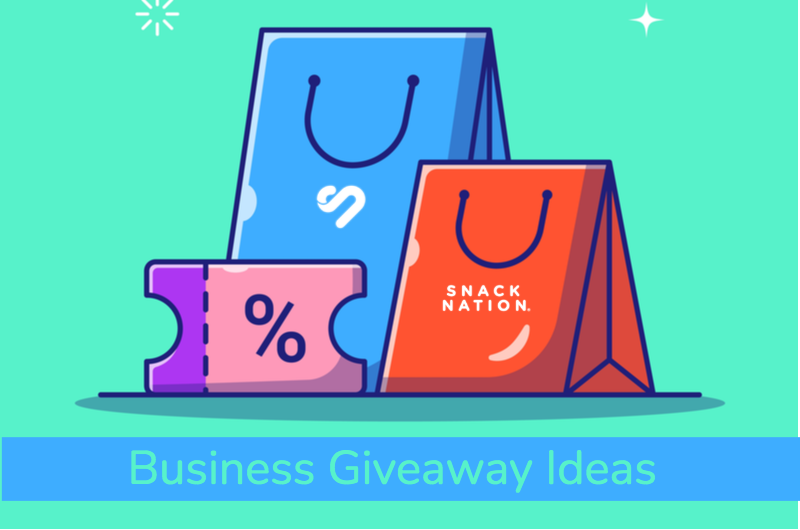 Some of the benefits of business giveaways include:
Social and email growth – Your following will naturally increase as more and more people learn about your corporate giveaway promotion
Boost to web traffic – You can set up your corporate giveaway to include an online submission form that will help your potential clients and customers access your website and learn more about your business
Increased sales – With this rise in traffic to your site and boost to your brand, you may see a bump in initial sales with an overall increase as more and more people keep your business top of mind
Boost to brand awareness – Even for the participants who do not win the business giveaway, they will now have a stronger connection to your company and brand
The truth is, business giveaway promotions have been around for quite a while, but we've got some especially good ones for this year.
Look no further than our comprehensive list of the best business giveaway ideas, items, and gifts to successfully promote your company in 2023!
Want to become a better professional in just 5 minutes?
Page Contents (Click To Jump)
Business Giveaway Gifts and Items
"A little bit of luxury goes a long way"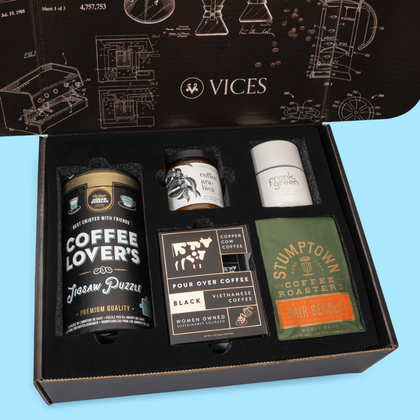 The Luxury Coffee Experience is the ultimate way to relax and unwind. This special bundle is packed with all the essential ingredients to ensure an indulgent moment with every cup. Clients, customers, and soon-to-be-customers will enjoy this sophisticated care package just as much as your employees will.
Why this is a good promotional giveaway item: This business giveaway idea includes signature coffee, a beautiful mug, and a candle that fills the air with an exquisite and subtle aroma–the perfect addition to any home interior or work office setting.
Price: $160
Find it here: Luxury Coffee Experience
"For crushing conferences"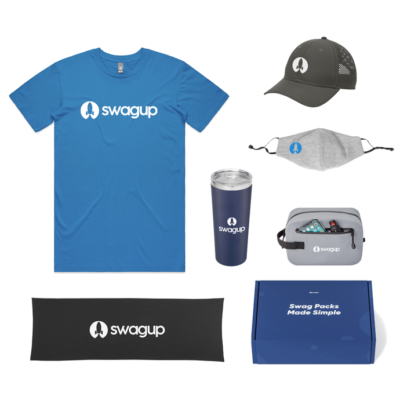 The Conference Swag Pack is the perfect giveaway for conferences, trade shows, and exhibitions. Every item included in this carefully curated care package is made to make working from anywhere easier and more fun!
Why this is a good promotional giveaway item: This custom swag box features a cotton tee, an eco mask, a waterproof toiletry case, a custom mailer box, an eco cooling fitness towel, and a perforated cap to keep heads cool, calm, and collected.
Price: $93.06
Find it here: The Conference Swag Pack
"To keep up the brand love"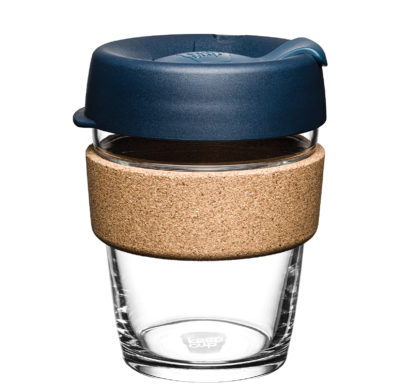 The KeepCup Brew Cork is a reusable barista-style cup. Instead of simply saving the turtles by ditching the plastic straws, you can feel even better by ditching the whole disposable cup in favor of this uber-stylish, eco-friendly mug.
Why this is a good promotional giveaway item: Featuring a natural cork band, a drafted vessel for easy pouring, and durable tempered glass, the KeepCup Brew Cork is a business giveaway item your customers are sure to enjoy for a long time to come. Additionally, the KeepCup is shock-resistant, non-toxic, and dishwasher safe for easy cleaning. Most importantly, Swag can print your logo onto it effortlessly.
Price: $32.28 to $37.41
Find it here: KeepCup Brew Cork
"A marketer's marketer"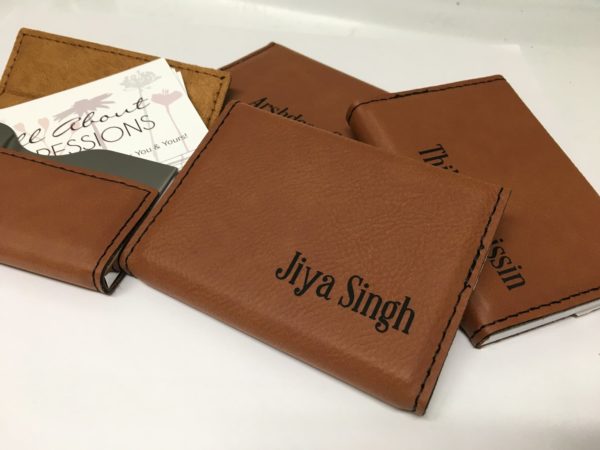 The Personalized Business Card Case is a faux leather business card with a magnetic closure. This water-resistant business accessory will keep your clients' cards safe and well-protected.
Why this is a good promotional giveaway item: This business giveaway idea can be monogrammed or engraved to add a little extra brand awareness or a personal touch!
Price: $13.95
Find it here: Personalized Business Card Case
"For cheerful future customers"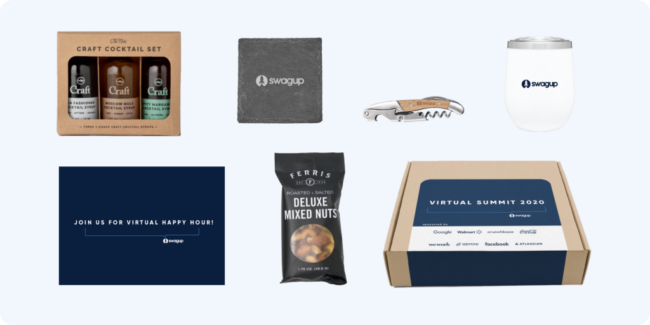 The Happy Hour Box is the corporate giveaway carefully curated just to bring a smile to your potential customers' faces and to create brand advocates.
Why this is a good promotional giveaway item: The Happy Hour Box dazzles and delights with a cocktail kit, a party horn, a greeting card, amazing snacks, and a wine tumbler.
Price: Contact for pricing details
Find it here: Happy Hour Swag Pack
"For a taste of your terrific service"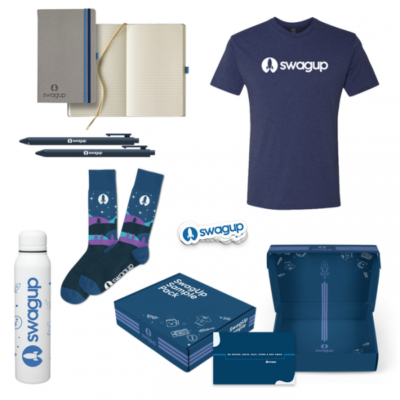 The Sample Pack is the perfect giveaway for offering your potential clients and customers a sample of what it's like working with you!
Why this is a good promotional giveaway item: This trade show gift features a bi-band journal, custom knit socks, a triblend unisex tee, die cut stickers, a soft touch pen, an H2Go Silo, and much more.
Price: $76.31
Find it here: The Sample Pack
"The R&R two-for-one"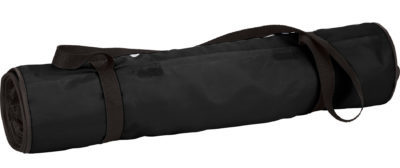 The Roll Up Beach Blanket is ideal for a beach day or a working vacation. Potential customers will become fans of the business as they lay out under the sun!
Why this is a good promotional giveaway item: This easy-to-roll-up branded beach blanket includes a pillow and a convenient carrying handle. Plus, you can use heat transfer to add your logo to it!
Price: $23.99 to $57.98
Find it here: Roll Up Beach Blanket
"Easy carrying for happy customers"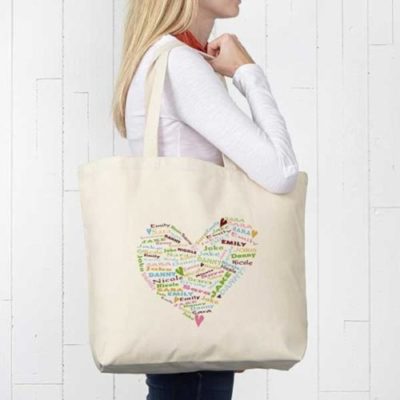 The Personalized Canvas Tote is the branded bag that'll leave an impression on your clients and everyone who receives it.
Why this is a good promotional giveaway item: This custom branded tote has an easy-to-personalize inside pocket, a square bottom big enough to lay a laptop flat in, and rope handles for comfortable carrying.
Price: $29.95+
Find it here: Personalized Canvas Tote
"For affirmations and manifesting"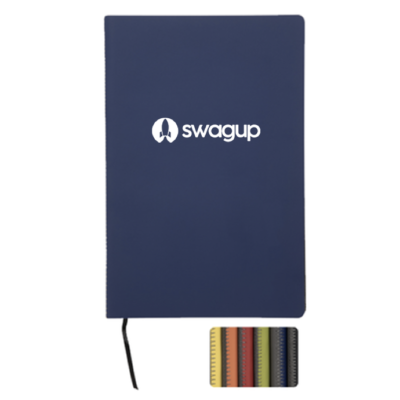 The Orlando Two Tone Journal is the compact writing journal for busy professionals. The great thing about doing a giveaway involving the Two Tone is that everyone can make use of a high quality pad.
Why this is a good promotional giveaway item: The Orlando Two Tone Journal is the stylish grey stitched journal that will help turn recipients into fans of your brand as they write down their affirmations, lists, and goals!
Price: $104.81
Find it here: Orlando Two Tone Journal
"For clean, conscious living"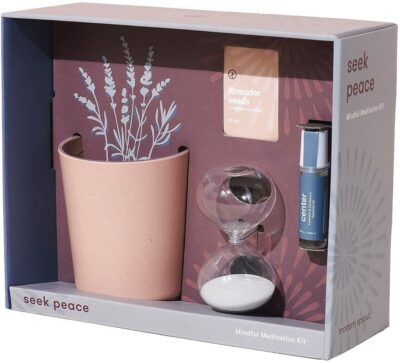 The Mindfulness Box is the consciously-crafted snack box for healthier living and totally satisfying munching and crunching!
Why this is a good promotional giveaway item: This food giveaway idea features a gel pen, a stress ball to keep customers from turning into stress balls, a stone pocket journal, a tumbler for hydration on-the-go, and incredible snacks.
Price: $48.95+
Find it here: Mindfulness Box
"Post-pandemic pen perfection"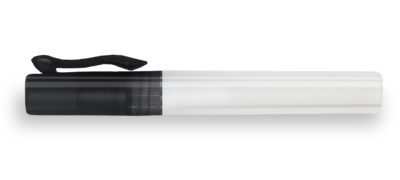 The Sanitizer Spray Pen is a smart way of letting potential customers know that you care about their safety and well-being. This is an especially good giveaway idea for conferences and business conventions.
Why this is a good promotional giveaway item: In the age of pandemics and beyond, we've all learned that perhaps there really isn't such a thing as being too clean. The Sanitizer Spray Pen is one of the most convenient life hacks for cleanliness.
Price: $1.29 to $1.66
Find it here: Sanitizer Spray Pen
Business Giveaway Ideas & Games
12. Social Media Post Challenge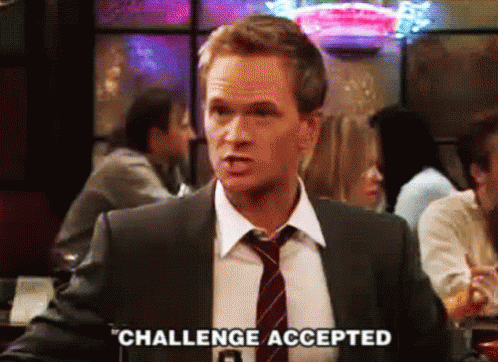 The Social Media Post Challenge is a clever way of getting all of your brand's social media followers engaged. Host any number of challenges like a caption contest or trivia and always be sure to have them use a branded hashtag and mention you in order to help boost awareness. The best caption wins the grand giveaway!
13. Run a Contest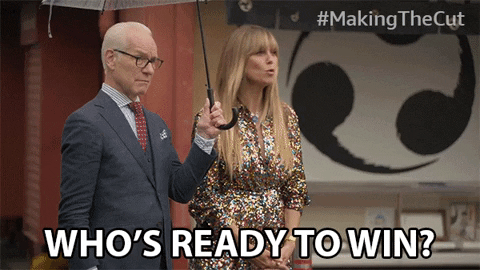 To take the Social Media Post Challenge a step further, run a poll on your facebook page and other social network pages to see what type of competition your followers want to participate in. After you assess all the ideas, take the best one, run with it, and give your followers a chance to win something extra special in a social media giveaway.
14. Spin the Wheel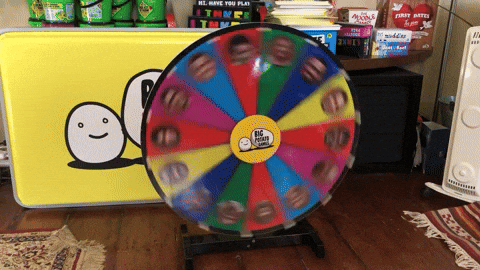 Spin the Wheel is the casino style game of luck. Sometimes it's alright to ditch the thinking games and give participants a literal chance to win. Simply set up a wheel and let them spin it for free swag. Offer them some of the swag straight from this list in exchange for their email and a survey answer or two.
15. Spot the Difference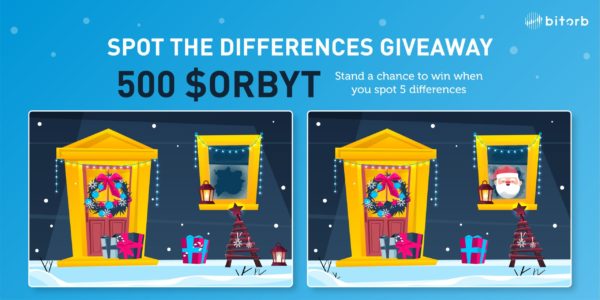 Photo Courtesy of BitOrb
This is particularly useful if your business offers graphic-heavy products or services. Design agencies, for instance, would have no trouble putting this contest together. And it provides the perfect opportunity for your team to show off their skills. The person who spots the most differences could win a coupon code for money off or even a free design session. You could also use this as a fun way to test out a new landing page in real-time!
16. Give a client an experience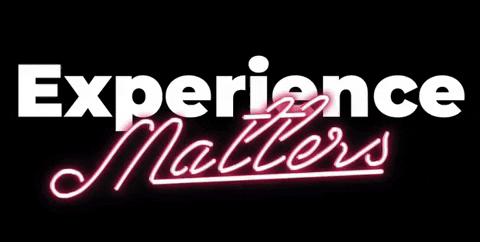 Give a client, customer, or potential customer the work experience of a lifetime with BlueBoard. Run this experiential giveaway on social media to maximize brand exposure!
17. Send Out A Questionnaire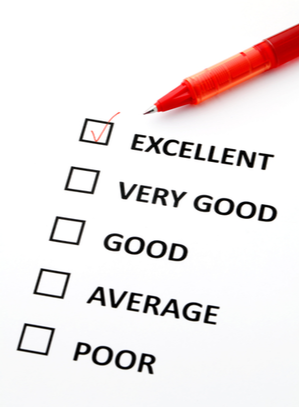 This questionnaire can be rebranded as a good way to connect and listen to your clients and customers so that you want to continue to do better and address issues. Of course, it's wise to send a reward for feedback to your email subscribers. In fact, this is a great chance to unveil a new product if you have one!
18. Raffle
Run an online raffle where the winner gets a big prize. A raffle is a great giveaway idea because it's super-sharable — and you may get some word of mouth marketing and referrals as well from people telling their friends and family. Be sure to use a sweepstakes randomizer and add transparency so participants know the winner wasn't simply hand-picked.
19. Collaboration with a local sports team – Free tickets for new customers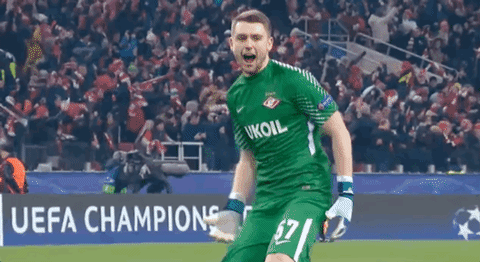 The idea behind this corporate giveaway promo is for you to collaborate with a local sports team as a way of building brand awareness in your community. You can sponsor a night at a game or give out items at the game. Or you can potentially give free tickets to an upcoming game for qualifying existing customers.
20. Exclusive Event Invite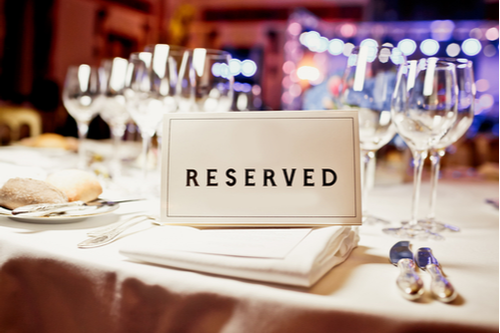 Offer tickets to a popular play, an award dinner, or perhaps a widely known speaker who you know your audience would get value out of listening to. Remember, any type of performance can work. Concert tickets, anyone?
21. Newsletter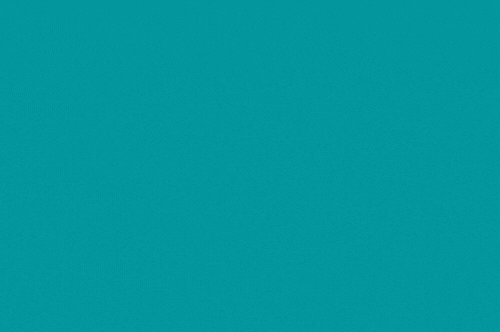 If you already have an awesome newsletter, run a promotional giveaway in which people answer riddles or fun questions. You could also hide a clue in the newsletter and give the ones who solve it a chance to win the grand prize.
People Also Ask These Questions About Business Giveaway Ideas
Q: What are some good business giveaway ideas?
A: Good business giveaway ideas can be physical objects or experiences. The key to a good business giveaway idea is that it excites your target audience enough to generate brand awareness. That's the ultimate win-win.
Q: What are the most popular social giveaway ideas for work?
A: The most popular social giveaway ideas for work are usually simple items like totes, gift cards, and water bottles, which is why it's easy enough to stand out with custom and personalized gifts.
Q: How are business giveaway ideas useful for my company?
A: Business giveaway ideas are useful for your company in several ways. Benefits can include increased customer loyalty, increased brand awareness, and a boost in sales.
Q: How do I personalize promotional giveaways?
A: Many companies actually specialize in manufacturing, packaging, and shipping personalized promotional gifts. Use one of them and then simply promote the giveaway on all of your company channels.
Q: How do I order business giveaways items in bulk?
A: Ordering business giveaway items in bulk is easy enough with the right company. Be sure to check that whoever you purchase the gifts from also deals with shipping to take the burden off of you.
Q: What is a fun business giveaway idea?
A: A fun business giveaway idea can range from an experience to a gift box. The important thing is to know your audience and give them something entrants will enjoy.