Your team works hard to help your business succeed. Many businesses are built by tiny pieces, with a large team contributing bit-by-bit.
This can make it hard for your employees to see the individual impact they have and the good they do for your business.
That's why it's important to keep morale high and your employees engaged with frequent employee shout outs for their great work.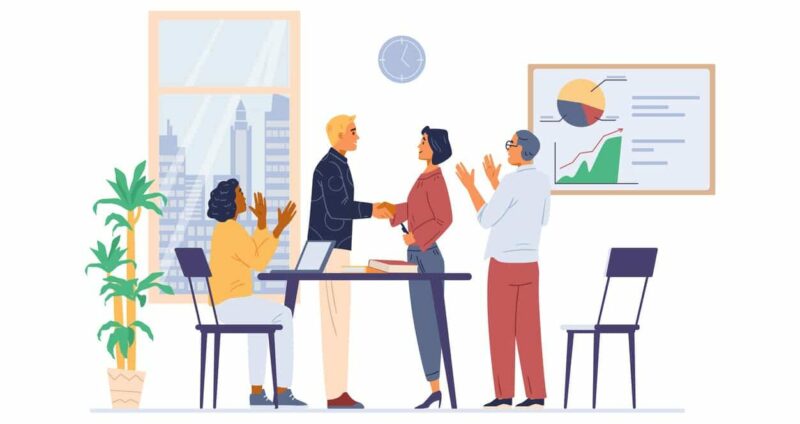 An employee shout out is a way to thank individual staff members or entire teams for the hard work they do. In fact, shout outs can go a long way toward making your team members feel appreciated—according to Survey Monkey, 63% of employees who receive recognition are unlikely to see a new job and 82% of workers consider recognition to be an important part of their happiness at work.
According to Survey Monkey, 63% of employees who receive recognition are unlikely to see a new job and 82% of workers consider recognition to be an important part of their happiness at work.
Click To Tweet
Get your team motivated, increase retention, and keep employee engagement high with personal shout outs! Read on to gain some work-approved employee shout out ideas for giving thanks to your coworkers in 2023!
Here are some top rated tools you can use to make shout outs a part of your daily recognition program:  

---
What is an employee shout out?
An employee shout out is a way to show your team members, whether individually or as a group, that you appreciate their hard work.
A shout out can be based on a single big win, for ongoing progress, or just because you feel like they deserve it! There are also countless ways to deliver a shout out: privately, publicly, in-person, online, with a gift… you just need to decide what will be the most impactful way to give your employees a well-deserved shout out for their good work.
Employee Shout Out Examples
There are plenty of reasons to shout out your coworkers. Here are a few of the top examples of times you can and should give your team members some well-deserved kudos and recognition.
  1  

"The Big Winner"

Every now and then, you get the big win. You land a new client, or you nail the presentation, or you crush your earnings goal—whatever the reason, use these big moments as a chance to shout out and celebrate hard work.

Tip for implementing this shout out example: You can use a suggestion box as a great way to accept notations for your "Big Winner". A feedback tool like Motivosity can make it easy for employees to log on and submit their nomination with no pen & paper needed.
  2 

 "The Slow and Steady"

While big wins deserve praise, so do the quiet, everyday tasks that fill up the majority of our office lives. Give one of your dependable, hardworking employees a shout out for the less showy work they are constantly excelling at.

Tip for implementing this shout out example: This shout out might be better to award on a one-on-one basis. You can reward them at a weekly touchpoint!
  3 

 "The Quick Draw"

Quality is always more important than speed. But when one of your coworkers manages to do an assignment well and fast? That deserves some praise.

Tip for implementing this shout out example: You can pair an employee shout out with a digital gift card, dinner on the company, or weekend activity for them to try out in their free time. Kudos offers these kinds of rewards via a platform that curates a vast library of gifting options.
  4 

 "Above and Beyond"

While your whole team is likely working hard, there's often one worker who is consistently doing that extra something to make their work stand out while creating a huge difference at the company. Don't let this amazing job go unnoticed—shout them out at every opportunity you get.

Tip for implementing this shout out example: For the rockstar of the week, month, or quarter — think about how often you would like to share this shout out. A truly impactful shout out is one that the entire company can recognize as a deserved reward.
  5 

 "Just Because"

Sometimes no reason is the best reason of all. Your team is constantly doing their best, and reminding them how much you appreciate their effort is never a waste of time.

Tip for implementing this shout out example: Try encouraging peers to join in on a reward. You can open up the floor for a few minutes at a Friday team meeting to send out "Just Because" shout outs or open up a thread on your company's employee reward platform.
15 Employee Shout Outs For Work
There are a myriad of ways in which you can shout out your team members and cowroers. Here are 14 great ways for you to show appreciation at the office, whether you're in person or fully remote.
1) Staff shoutout e-card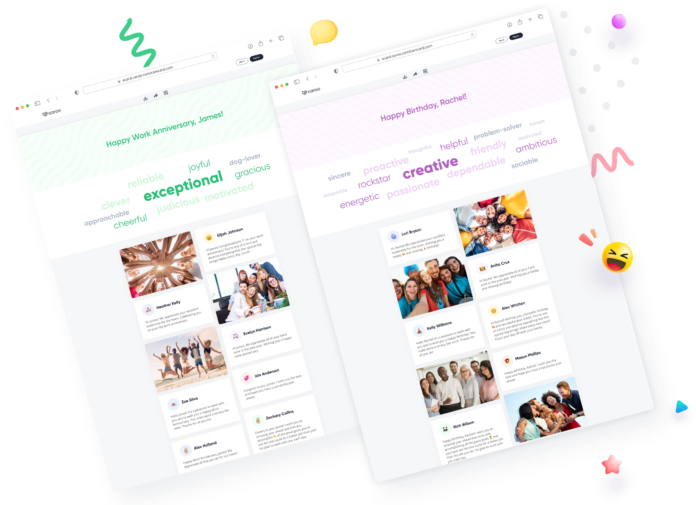 An e-card calling out an employee's hard work is another way you can shout out a job well done. Everyone on the team can electronically sign the card and add a little note to add a personal touch before the e-card is deposited in your coworker's mailbox. This is especially effective for remote work teams, as it allows everyone to sign the card and be involved (without the need for a dozen stamps). Plus, no paper waste!
Why employees will love this: A personalized card signed by their entire team for a specific reason will make your coworker feel valued. 💞
2) Social recognition feed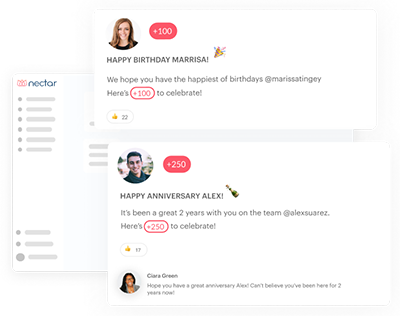 One great way to shout out your employees is using a social recognition feed, which is often part of an employee recognition software. These intranets work like social media, but only for your office or team! These social recognition feeds are a fantastic place to celebrate a job well done, call out individual accomplishments, or even give points through your recognition software's rewarding program.
Why employees will love this: An instant way to share and receive shout outs, social recognition feeds bring the connectivity and thrill of social media to a smaller, more intimate scale.
A recognition platform can be a solution for organizations that are looking to build employee shout outs into their culture. Since they encourage other employees to hop in and congratulate others, they can create a workplace where recognition is doled out daily.
Here are some top-rated tools you can explore for your org: 
| | | | | |
| --- | --- | --- | --- | --- |
| | | | | |
| | Bonusly is a recognition and rewards program that allows employees to send small, public bonuses to each other to recognize everyday wins and successes. Users can easily redeem bonus points for a wide variety of gift cards, donations, and other personalized prizes! | | | |
| | Motivosity is a leading rewards program that makes it easy for enterprises of all sizes to recognize their employees at scale with unique and personalized rewards, incentives, and experiences (in-home and out-in-the-world). | | | |
| | Nectar is a global program that consolidates employee rewards and recognition processes into one easy-to-use solution. With Nectar, employees can recognize each other, redeem rewards, access exclusive corporate discounts, and measure success. | | | |
3) Company newsletter
A newsletter, whether it be digital or on paper, is a great way to keep everyone on your team abreast of all the latest company news. That includes the big picture—like upcoming goals and recent company successes—and the nitty gritty, like when and where the next office potluck is. The company newsletter is also a fantastic place to recognize your coworker with a public shout out! A shoutout section can even be a running feature in the newsletter!
Why employees will love this: Shoutouts in the company newsletter is a public, formal way to appreciate your employees, giving them a chance for attention and their name in print.
4) Digital gift card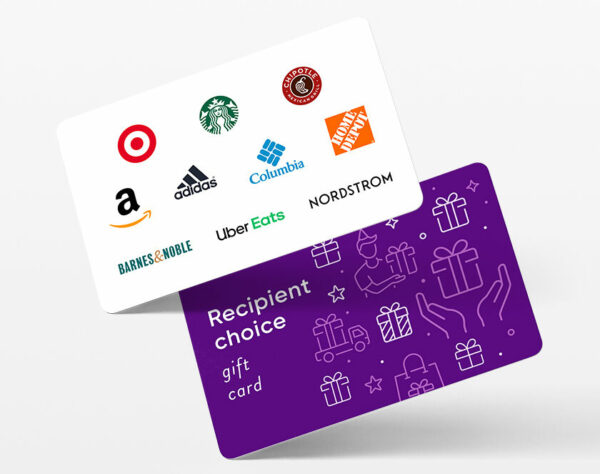 While a shout out is nice, adding a reward to go along with it can make it extra meaningful. You can reward your employee with no shipping necessary thanks to digital gift cards! Use a company like Caroo to send great gift cards from top brands to your team members.
Adding a note to call out why you're awarding them makes this even better. These gift cards don't expire and remain entirely online, cutting out shipping fees and paper waste.
Why employees will love this: A special gift card to celebrate a work accomplishment will brighten your employee's day and increase their office engagement.
5) Employee nominations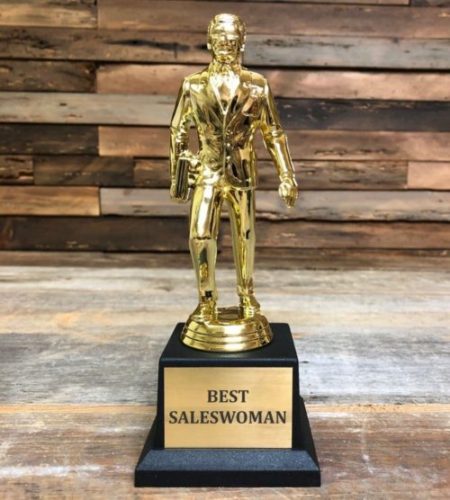 You can go a step farther with your shout out by turning your recognition into an employee nomination! Whether you want to run a Most Valuable of the Week, an Employee of the Month, or give out end-of-year awards, employee nominations are a unique way to shout out your most hardworking team members. You can pick the winner yourself or have an office wide vote to determine the winner. Plus, adding incentives, like a tangible reward or physical trophy they can take home will only sweeten the deal.
Why employees will love this: Who doesn't love an award? Recognizing your employees through employee nominations will encourage your best employees while motivating your entire team to reach that level.
Pro – Tip: Here are some funny employee awards we got from the folks at Bucketlist (employee engagement tool):

Snack Attacker – person who always has the best snacks
Best Pet Cameo – pet that always shows up on Zoom
Tiesto Award – The resident DJ who is always playing the hottest tunes
6) Reward them with a gift box!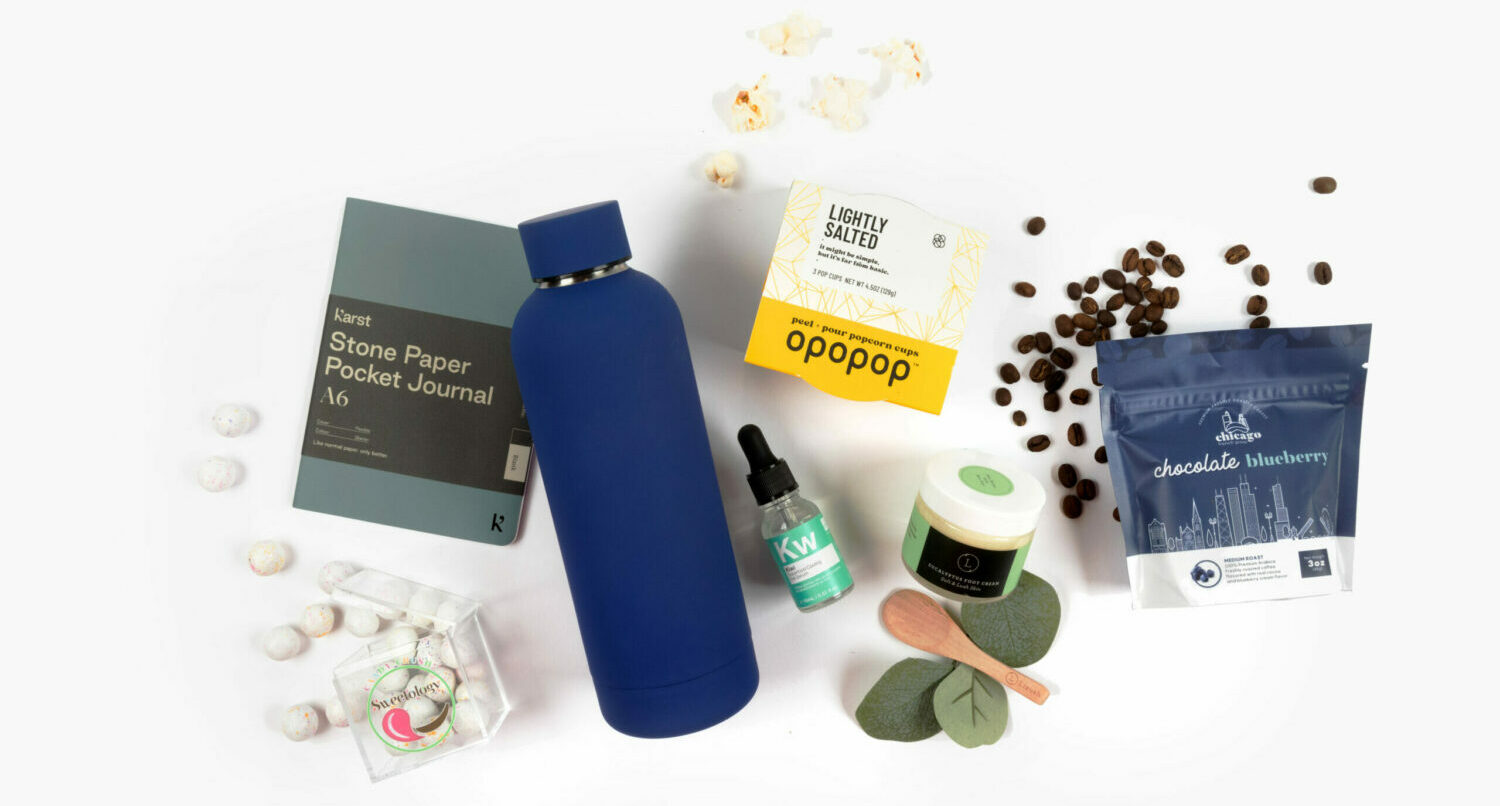 Give your staff a special shout out with a dedicated care package filled with premium corporate gifts! The Caroo gift marketplace offers employees the chance to online shop and pick the gift box that they love the most.
You can also filter your results based on the gifting category to find the right items for your team. Add employee addresses and Caroo will ship directly to their doorsteps. It's that easy!
Why employees will love this: Unboxing a little appreciation lets your team members know that they deserve this shout-out. Plus, a few treats or high-end goods can be enjoyed at home, in the office, or wherever your employees work. Check out the Caroo marketplace to start your next shout out!
7) Post on social media

While in-office recognition is valuable and important, sometimes you want the whole world to know.  That's why shouting out an employee with a LinkedIn post can be a powerful way to show the value of their hard work and boost their morale. Your employees' entire professional network will be able to see your shout out, which can be hugely valuable for your employee.
Plus, all the likes and engagement the post generates will give others a chance to back-up your claim and show your employee some much-deserved love.
Why employees will love this: This is a way to put positive attention on your hardworking employee past the realm of the office!
8) Birthday or anniversary celebration
Your employee's birthday or work anniversary can be expanded to be one big shout out for their hard work at the company. Don't just celebrate the milestone—use the day as an occasion to acknowledge and praise their many accomplishments and what makes them a special part of your team.
You can even invent themed team games centered around this team member to really make it a celebration to remember.
Pro – Tip: Using a tool like Bonusly is a great way to increase participation for distributed teams since coworkers can log on, congratulate their colleague, and send them a digital gift to celebrate their big day!
Why employees will love this: By transforming your employees' birthday or work anniversary into a general celebration and opportunity for praise, you'll make this exciting day even more memorable. Plus, by encouraging employees to join in on the celebration, you can get the entire team to support this milestone!
9) Breakroom shout out board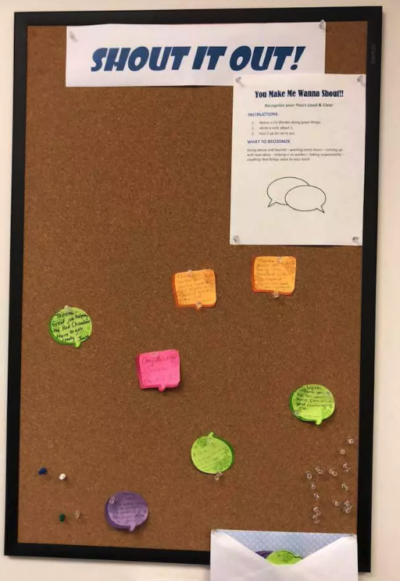 When showing gratitude, sometimes simple is better. That's where the breakroom shout out board comes in. Place a whiteboard or bulletin board in your office break room and use it as a dedicated space for employee shout outs! Anyone can come up and write a nice message, thanking their coworkers or team for a job well done or a special kindness. This will create a happier workplace where staff feels values at their job for their contribution to larger company goals.
This will generate an ongoing culture of appreciation in your office, which will pay dividends for overall office happiness and productivity. Plus, you can invite your resident office artist to use part of the white board for the Doodle of the Week! If your team is fully remote, don't worry—there's plenty of virtual whiteboards and communal spaces that can become your online office shout out board.
Why employees will love this: Proving your team a low-pressure way to give and receive shout outs will create a more friendly, confident office and work environment.
10) Shout out with snacks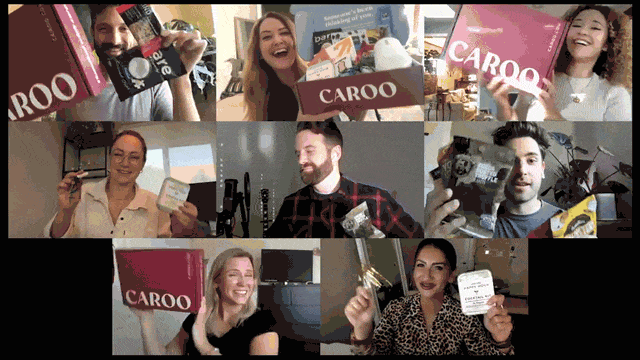 This is definitely the tastiest way to shout out a team member—by rewarding them with a delicious snack pack sent right to their home! Companies like Caroo can help you reward and shout out your employees with the gift of unique, customizable snack boxes. Full of healthy snacks, these boxes will be a hit in any household.
Plus, you can add a personalized note to explain why they're getting the snack box and how much their contributions mean to you and your company. Or, to make it extra special, send them a snack or treat you already know they love!
Why employees will love this: A personalized shout out with a bunch of tasty treats will be a surefire hit with any employee. You can order a Work-From-Home Snack Box to send to all of your employees no matter where they work!
11) #Gratittudewall Slack channel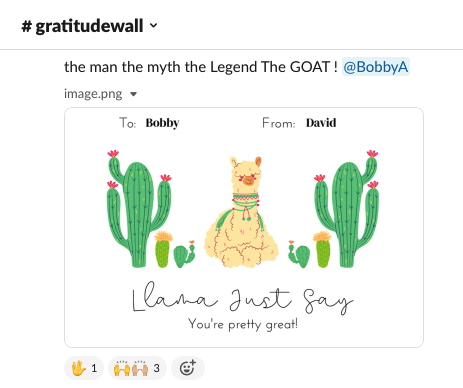 Slack is a great tool for office communication, allowing coworkers to instant message in groups organized by department, team, or project. Slack is also useful for giving positive feedback and shouting out your hardworking team members! Don't just drop compliments into random Slack channels—create one Slack channel specifically dedicated to shout outs and appreciation… the #Gratitudewall!
This can be a place for your entire team to give each other much deserved shout outs and praise. It also keeps all that kindness in one place, allowing team members to refer back to the #Gratitudewall when they need a boost.
Why employees will love this: Using existing office tech in surprising, positive new ways will give your employees a chance to give and receive meaningful peer-to-peer shout outs.
Hey! Are you looking to upgrade your employee recognition program?

In just a few minutes, you can discover your unique workplace personality for FREE and unlock insights into the types of recognition that matter most to you (and your team).

With RecognitionDNA, we can stop wasting $$$ rewarding employees in ways that don't matter, and start recognizing them in ways they will actually care about.

Learn My Workplace Personality
12) Employee showcase during team meeting

One way to highlight an exemplary performance is by shouting out an employee personally during a team meeting. By calling out their name, describing how their performance was noteworthy, and giving the team a chance to applaud or add-on is a powerful employee recognition idea. If you're all virtual, this shout out will be just as meaningful if delivered from a video camera during a team-wide video call.
Why employees will love this: An in-person shout out in front of the whole team will be a special, memorable way to appreciate your employee through public recognition.
13) Office award ceremony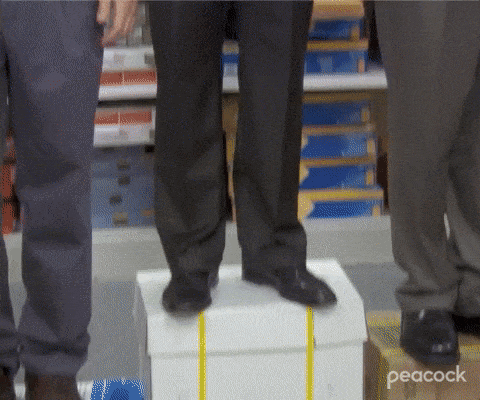 Shout out your employees with a live award ceremony to celebrate their successes. Whether it's in the office at the end of the week, over Zoom, or at a local bar or restaurant, an office award ceremony will bring the whole team together and make them feel celebrated. The awards can be serious, fun, or a little bit of both!
Even simple staff shout outs and acknowledgements can make an employee feel special. You can also work this award ceremony into a larger employee appreciation day!
Why employees will love this: A light, entertaining award ceremony will put the whole team in a celebratory mood while still giving them the spotlight and shout out they deserve.
14) Handwritten thank you note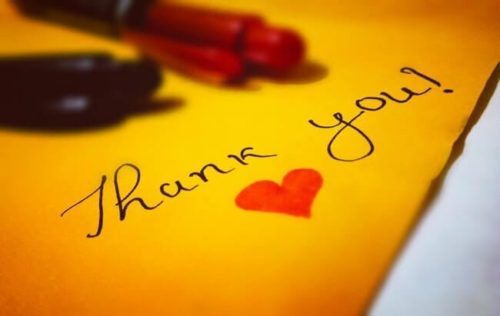 A simple, classy choice, a handwritten thank you note is a personal way to appreciate and shout out your employee. While sometimes you want to publicize your praise, a personal note can be a meaningful way to make your employee understand how much their hard work means to you and the company.
Why employees will love this: A shout out with a personal touch, your employees will cherish this handwritten thank you note.
15) A private meeting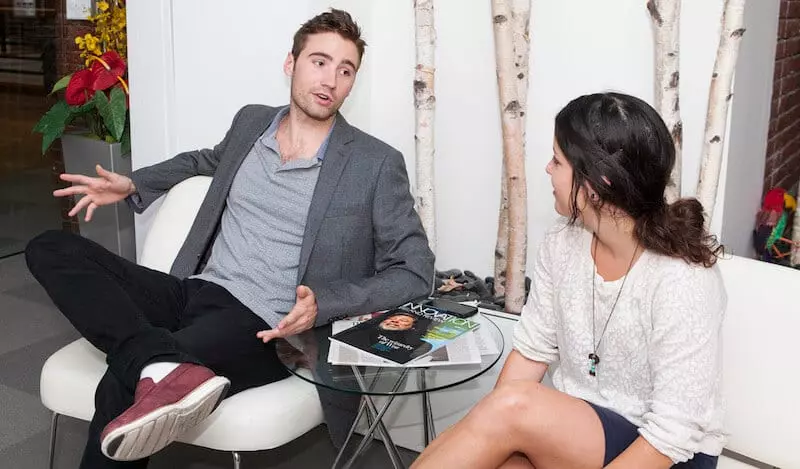 A one-on-one meeting to personally thank your employee for their great performance can make a huge impact on your employee. It is also a great opportunity to speak with them and see what their goals are for their future with the company and to see if there are any ways you can help them reach their potential. You could even learn something that'll boost the rest of the team's engagement and results!
Why employees will love this: A one-on-one meeting to receive praise and chat will be an exciting opportunity for your employees, whether the meeting is in-person or virtual.
---
People Also Ask These Questions About Employee Shout Outs
Here are answers to commonly asked questions about employee shout outs.
Q: What are the benefits of sending out a company wide shout out?
The benefits of sending a company wide shout out is it informs the entire office of a special accomplishment. This gives an extra boost to the employee or team in question and motivates everyone else in the office!
Q: How do you give an employee shout out?
You can give an employee shout out in many ways. You could call out their accomplishments during a meeting, send them a card or gift, or place a message on a shared team board. The choice is yours!
Q: What are some employee shout out examples?
Some employee shout out examples include writing your employee a special note, thanking them publicly during a team meeting, or sending them a thank you snack box.
Q: How do you thank someone for a shout out at work?
You can thank someone for a shout out at work by writing them a note, thanking them in person, or buying them a small gift.
Q: How do you create an employee shout out board?
If you're in-office, you can create an employee shout out board by buying a white board or bulletin board and putting it in a shared space. Get the team started by writing a few shout outs of your own! If you're all virtual, create an online shout out board with a special Slack channel or page on a team intranet.