When it comes to building a solid workforce, employee rewards and recognition rank not-so-surprisingly high on the list of perks that attract quality job-seekers.
Does your business have an employee recognition and reward program in place to attract and retain top talent?
Maybe your existing system isn't keeping up with your growing business.
In either case, your left-click on this page was not a mistake!
In a hurry? These are some of our favorite platforms to send rewards to your employees:
There are some important questions to ask when launching a new employee rewards system (or revitalizing an outgrown one). If you're brand new to the conversation, your first question may be simply… what are employee rewards and recognition (or R&R)?
R&R programs essentially allow everyone in the organization the opportunity to recognize other employees' efforts in a timely manner and on a regular basis. These systems reward teamwork and shine a spotlight on your top performers and those who go the extra mile.
We've got the breakdown on employee recognition ideas and exactly why an effective rewards program is so necessary for a happier, healthier workplace culture.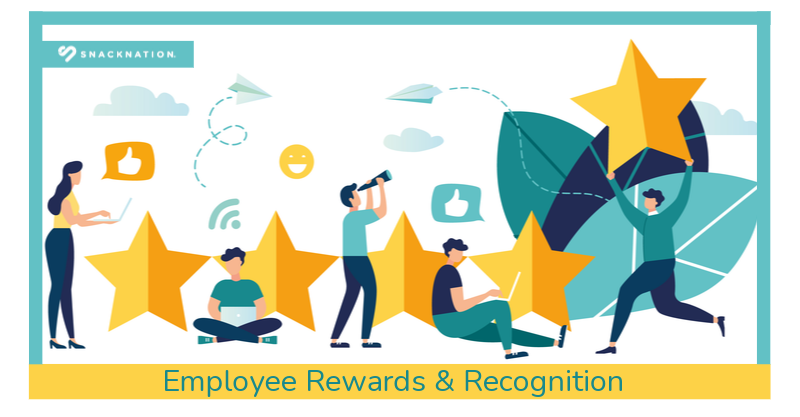 For the 411 on everything R&R and the positive impact they make on your employees and your ROI, don't stop here!
What are employee rewards and recognition?
Employee rewards and recognition are gifts or accolades given to employees to express how much their individual contributions are noticed and genuinely appreciated. These go beyond the birthday cakes, work anniversaries, and age-old employee-of-the-month plaques.
Typically, these rewards are given as a direct reflection of employee performance, therefore, recognizing their great work.
👉 Get Your Free Guide To Modern Employee Recognition
Differences between employee rewards and recognition
  1   Rewards are tangible.
Rewards are usually a physical token of some kind. Award certificates, gift cards, and swag bags are all examples of tangible rewards.
  2   Recognition can be given at any time.
Praise doesn't require pregaming. Acknowledging an employee's hard work can be dished in just a few words at any moment.
  3   Rewards are tied to performance.
Employees are rewarded for reaching certain milestones or achievements. Meeting the monthly sales goals or locking down a big new client are perfect examples of reward-worthy accomplishments.
Want to become a better professional in just 5 minutes?
Employee Rewards and Recognition Program Examples
  1 

 LogicMonitor

Facing an acquisition, LogicMonitor understood this also meant exponential personnel growth. They needed a recognition program that could integrate with their current program and continue to scale with them.
Platform they use: WorkTango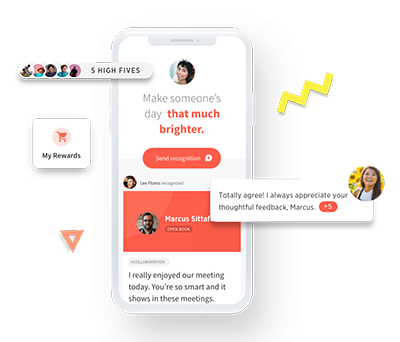 "From creating Incentives to running analytics to receiving or sending points and redeeming rewards for the user, the platform is useful, intuitive, and rewarding." ~Gillian Calley, Learning & Development Business Partner
Impact: Engagement on the platform and recognition nominations have dramatically increased and their overall employee experience has been improved as a result. With WorkTango, you can create a culture of recognition via employee rewards, recognition messages, and milestone awards.
  2  

Lemonade Stand

Lemonade Stand is a full-service digital marketing agency and the creator of Yalla, a team management and collaboration platform.
With a commitment to cultivating a strong company culture, Lemonade Stand was looking for strategies to support their growing team while maintaining close bonds between colleagues.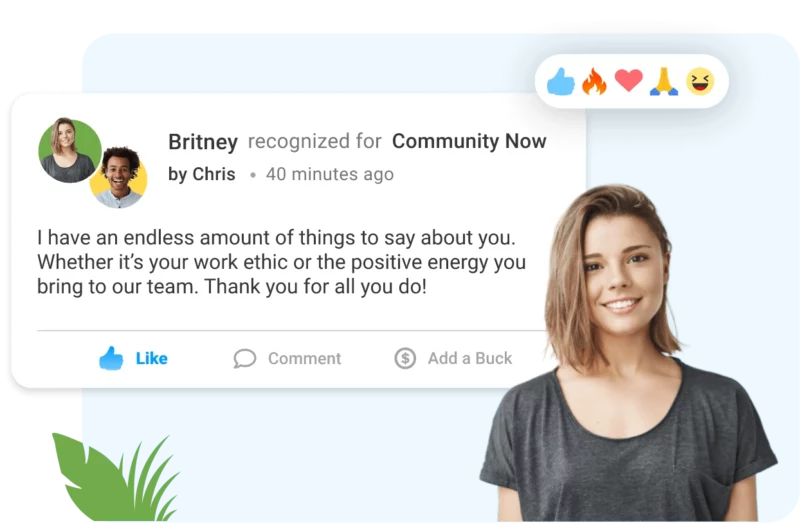 "Motivosity has been really fun, especially for new members coming on to be able to instantly become a part of the team and feel recognized and appreciated." ~Amanda Dunn, Head of Culture
Impact: While Lemonade Stand struggled to build out its own home-grown recognition program, it decided that Motivosity could help them achieve their engagement goals while ensuring their company values and culture were not drastically changed. After implementing this platform, employee buy-in skyrocketed! About 90% of their employees are active in Motivosity. With so much participation, they are taking more steps to develop robust rewards and recognition programs in the workplace.
👉 Get Your Free Guide To Modern Employee Recognition
  3 

 Chobani

In 2016, with over 2000 employees, Chobani acknowledged that their top-down recognition program wasn't effectively rewarding their workforce. There was no peer-to-peer recognition or bottom-up employee appreciation, which severely limited the entire concept.
They needed a more timely and inclusive platform for their employees to be able to engage and participate in as well.
Platform they use: Bonusly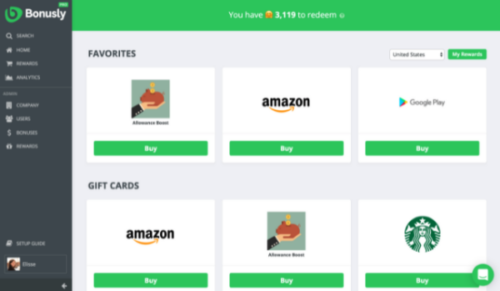 "Our employees wanted frequent recognition, and the program empowers them to recognize each other. Having the ability to recognize someone immediately is the most valuable part of Bonusly." ~Andrew Schrader, Manager, Human Resources
Impact: In 2017 – its first full year of implementation – there were over 63,000 recognitions recorded. That's an average of almost 175 per day, every single day of the year!
  4 

 Peter Piper Pizza
Despite expanding to 48 locations, Peter Piper Pizza was determined to preserve the familial atmosphere that the company was founded on.
However, they recognized the need to formalize their rewards and recognition program to ensure consistency across all team members and locations, which is why they incorporated BucketList as their go-to rewards and recognition platform.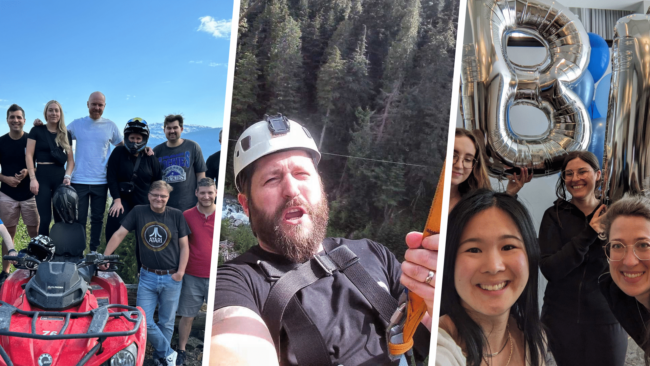 "Seeing managers recognize not only their staff, but staff in other departments is super refreshing. You don't always get to hear recognition from a manager so directly, but having it in real time, 'Thank you for what you did, great job, and keep up the good work' has been amazing for morale all around the company." — Julianne Silletti, First Bank Human Resources Assistant
Impact: By centralizing its efforts with Bucketlist, Peter Piper Pizza successfully standardized its recognition program, resulting in a more cohesive and connected workforce, with rewards added on a daily basis.
  5 

 TaylorMade

TaylorMade's reward program was antiquated, to put it mildly. They were only able to offer a limited selection of items to their employees and managing a global workforce was a logistical nightmare. They needed a program with more options that could deliver to ALL their employees, especially after the shift to a more remote workforce. With that in mind, they decided to create an employee recognition program that fit their company's needs.
Platform they use: Awardco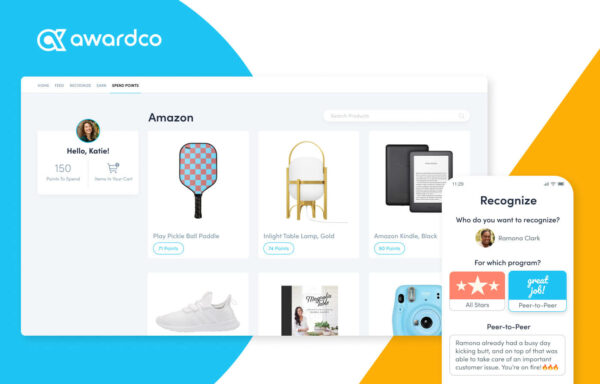 "Awardco is the perfect platform for our employee recognition program. It supports our unique employee culture and community." ~Rosie Scannell, Global HR
Impact: Their employees now have millions of rewards to choose from that are delivered right to their doors. The upgrade in TaylorMade's R&R program has refocused their HR group and revitalized the entire culture.
  6 

 Tidelands Health

Tidelands Health is the largest healthcare provider in coastal South Carolina, with four hospitals and 60+ outpatient locations. With a goal to increase employee engagement at their company, Tidelands looked at a variety of places to upgrade their recognition program and continue to improve their company culture.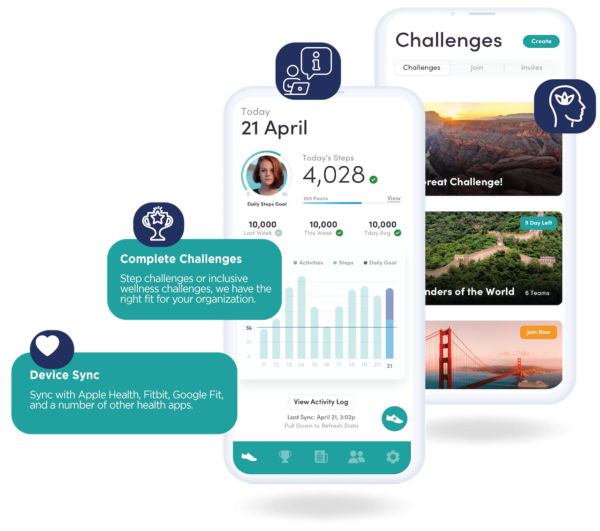 "Employees being excited about their points and being able to choose something that is important to them contributed to increased satisfaction." ~Jeremy Stephens, Assoc. VP HR
Impact: After implementing Terryberry's 360 Recognition Platform, Tidelands Health saw a strong boost in employee engagement levels across its network. Employee surveys detailed the switch from an outdated recognition program that overly relied on gift cards, to a more holistic program via Terryberry that staff members liked using. The results from their surveys after one year on the program overall engagement increased by nearly 10%. Survey results also found that buy-in from senior management also drastically increased since the CEO and other C-suite execs felt they could now contribute to the recognition program despite feeling out of the loop before the program was adopted.
  7  

Punch

Punch is an award-winning company that manages and works with pubs and bars to provide top-tier hospitality to patrons.
Their corporate office had been looking for a solution to their stale employee rewards and recognition program that had become too costly, time-wasting, and ineffective.
After putting together an internal focus group, their HR manager received feedback that the recognition scheme needed to be more flexible, personalized and consistent.
Platform they use: Mo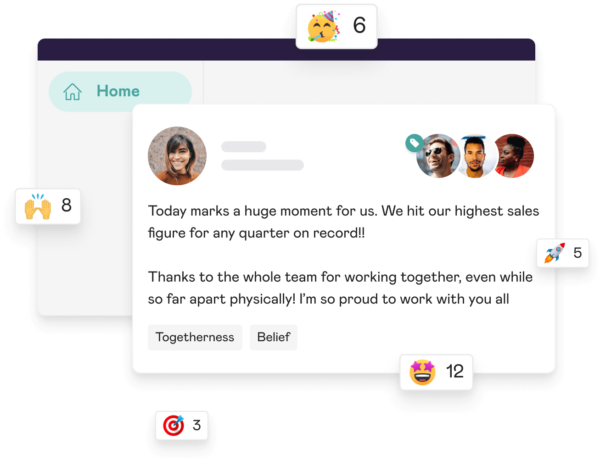 "We have a fun, family like culture here at Punch and I knew straight away that Mo was the best fit and the platform I was pitching for" ~Claire Hanson, HR Business Partner, Punch Pubs

Impact: Mo offered a level of personalization that the Punch family was looking for. HR was able to learn the system, set it up for their employees, and train everyone with ease. The adoption was very organic and contributed to an uptick in employee participation. Not to mention, the employees loved the customized rewards that Mo built into their company-specific program. Punch managers can choose from a wide range of employee recognition rewards that match a recipient's interests – from alcoholic/non-alcoholic treats, a new house plant, gym/spa day passes, to boxes of chocolates/snacks, and lots more.
  8 

 SHRM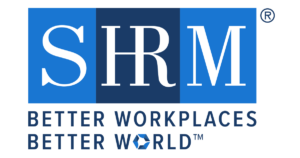 As an HR-centered company, emphasis on the "H" is extra important when it comes to attracting and retaining the best employees. At SHRM, their intention was to integrate a recognition platform that assured inclusivity so that ALL their employees could be rewarded and empowered.
Platform they use: Nectar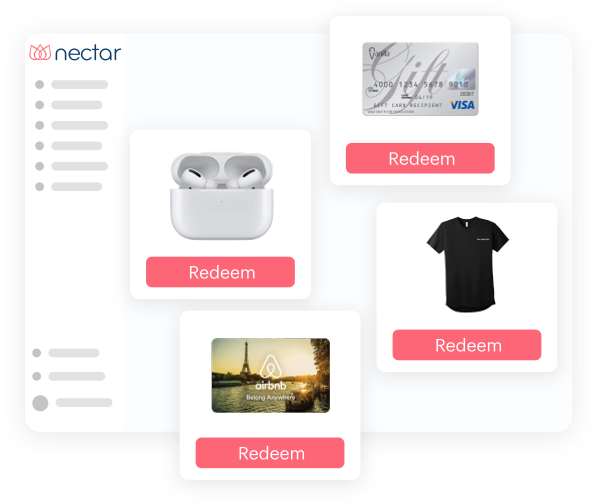 SHRM is thrilled with Nectar's ability to "provide 360-degree recognition and performance management so nobody in the company ever feels like they're just a number."
Impact: Together with Nectar, SHRM has created a program that both challenges and rewards employees, while keeping everyone connected.
  9 

 Bark

Bark's online safety platform plays a crucial role in protecting children on the internet. Before the pandemic, over half of Bark's team, including co-founders, already worked remotely.
While this enabled a smooth transition to full remote work during the pandemic, Bark's leadership faced the challenge of effectively engaging and motivating employees. To tackle this issue, Bark decided to adopt Cooleaf, a solution that helped streamline engagement for their widely distributed team of 140 full- and part-time employees.
Platform they use: Cooleaf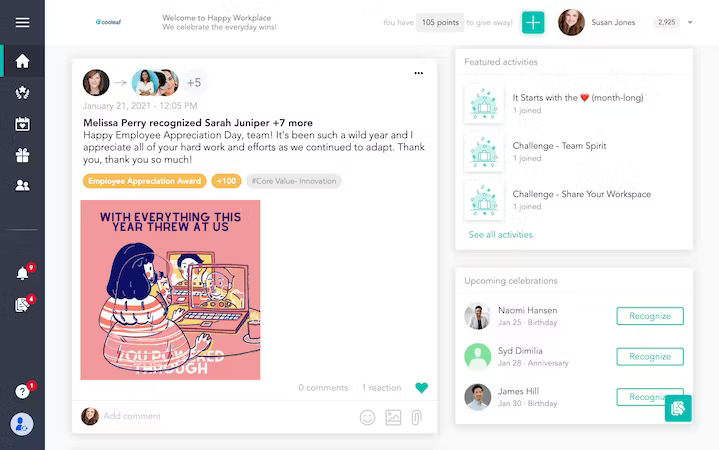 "Anything we can do to show our appreciation to our team is worth doing. Cooleaf makes this possible in a way that's such a low lift for me, and it's so much more than just a shout-out." — Dara Freedman, SPHR, Director & Head of People and Culture, Bark
Impact: Bark fosters a supportive and positive work environment for its team through gamified recognition and appreciation initiatives. By placing a visible emphasis on providing an exceptional employee experience, team members never doubt the value of their contributions. Cooleaf effortlessly enables this, going beyond mere shout-outs to create a truly impactful experience.
  10 

 Google

Google is winning BIG in this department because they opted for a solid offense very early on.
They were dabbling in rewards and recognition programs long before they hit everyone's home page, and have stayed ahead of the game ever since. They wanted to ensure employees across the organization were already happy at work instead of having to play from behind the 8-ball to improve satisfaction.
Platform they use: Caroo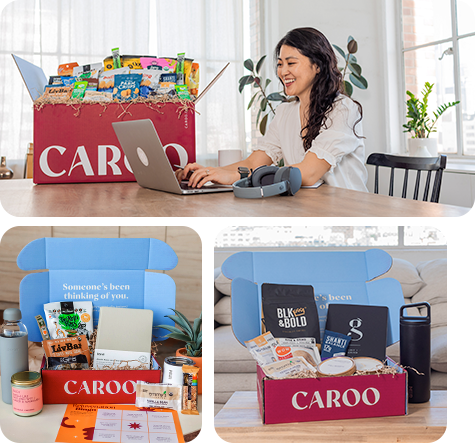 "Employees will end up happier if you give them an experience—something personal and nonfinancial".
Impact: Google has increased its productivity by 12% by focusing on its employees' ongoing happiness, not just periodic pockets of appreciation.
  11 

 Spotify

Leapsome has labeled itself a "people enablement platform" and that's just what Spotify was looking for. The features they offer are all-inclusive and gave Spotify the full 360 employee management and rewards platform they were missing.
Platform they use: Leapsome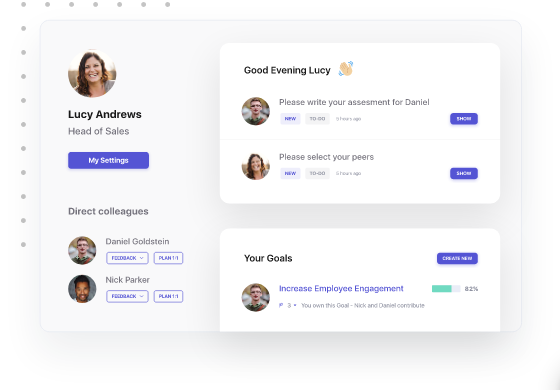 Spotify is so pleased with Leapsome's platform, they rate it 4.9 out of 5 on G2.
Impact: Spotify scored the top spot in Newsweek's list of "America's Most Loved Workplaces" in 2021, so they're definitely doing something right!
  12 

 Sodexo

As Amazon and other digital marketplaces began taking over the world, Sodexo's tangible gift cards were becoming more of a logistical nuisance than a rewarding experience.
Their workforce needed a platform with features that could cater to the individuals, despite their wide global reach.
Platform they use: WeGift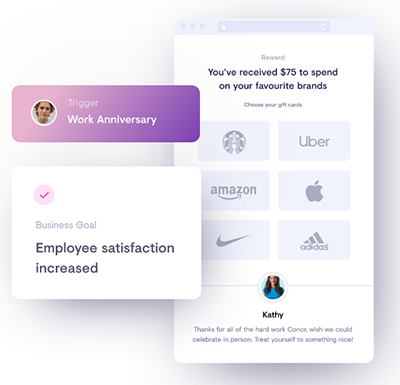 "Through its team, technology, and the power of open-value rewards, WeGift Connect has revitalised our e-voucher card offering." ~Ben Jones, Partner and Affiliate Director, Sodexo
Impact: FORTUNE Magazine has honored Sodexo on their "World's Most Admired Companies" list for 11 consecutive years – third overall in 2021 – so they've clearly established and maintained their attractiveness.
Importance of Employee Rewards and Recognition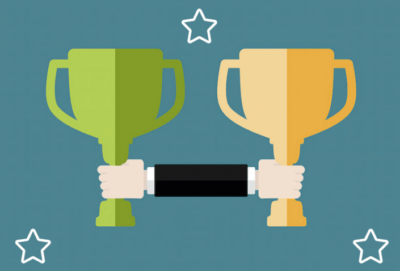 ➤ Promotes a Trusting Culture
Rewarded employees report feeling a deeper level of trust in their employers. This creates stronger bonds, exemplifies your company values, and drives a healthy culture.
Why this matters: A rewarding company culture increases employee motivation and employees' productivity. The ripple effects pay immeasurable dividends.
---
➤ Happier Employees
Employees who feel appreciated for the time and energy they pour into their jobs are simply happier. Happy employees are more engaged and motivated, which helps perpetuate a positive company culture.
Why this matters: Your employees are the heartbeat of the company so paying attention to their well-being will help you continue to attract (and retain) quality team members.
---
➤ Increased Employee Retention
A work environment where people are seen and appreciated creates a workforce of satisfied employees… who stay. Lowering turnover automatically increases your ROI on your rewards program.
Why this matters: Improving retention reduces your costs associated with repeatedly recruiting, onboarding, and training new employees, so you'll actually save money
👉 Get Your Free Guide To Modern Employee Recognition
What are the different types of rewards and recognition?
1) Social Recognition
Social recognition gives a voice to every employee, at every level, in every location. The ability to reward coworkers, regardless of positional ranking, allows for more frequent and timely recognition.
2) Employee Benefit + Perks
Offering exclusive benefits and perks as recognition is a great alternative to monetary rewards. Ideas like getting to work out of the corner office for a week, discounts on entertainment, or free lunch once a week for a month are all sweet little extras that don't have a major cost impact on your bottom line.
3) Monetary Reward
SHOW THEM THE MONEY! You don't have to actually hand them an envelope of cash though. Monetary rewards come in many forms, like gift cards, extra shares of company stock, or a bonus investment dropped into their 401(k).
4) Non-Monetary Incentive
These reward types provide an opportunity to humanize your recognition. An extra vacation day, experiential rewards, their photo on the Employee Wall Of Fame, and social media shout-outs are more personal and less transactional than monetary options.
5) Spot Bonus
Immediate rewards. These are usually monetary gifts, dished out as spontaneous recognition for an employee's stellar actions or accomplishments. A spot bonus can be a versatile way to deliver recognition at a moment's notice.
6) Large Company Goal Achievement
Reaching (and ideally exceeding) your larger company goals means that a cluster of team and individual goals must be met. Celebrating those smaller goals fuels motivation that leads to blowing the roof off the big ones.
Conclusion
High-performing employees are all motivated by something in their jobs. That something could be personal financial goals, positional success, or maybe even philanthropic visions. But what about the benefits (and we're not talking about the health coverage and 401(k) match)?
You obviously want the most qualified people working for your organization. But how do you attract that caliber of candidates? Even bigger… how do you keep them?
SHOW them that they matter!
Your top employees deserve to know they're valued. Thank-you notes are nice but they don't do much for the relational connections needed throughout your workforce. R&R can bridge those gaps, improve the culture, and provide a whole lot of work-life satisfaction for your employees.
---
People Also Ask These Questions About Employee Rewards and Recognition
Q: What can organizations do to recognize and reward employees?
A: Organizations can recognize and reward employees with gift cards, spot bonuses, social media kudos, experiential gifts, and a variety of non-monetary incentives.
Q: What are the effects of giving rewards to employees?
A: The effects of giving rewards to employees are happier employees, better retention records, and they create a trusting culture of gratitude.
Q: How do I know if my employee rewards and recognition programs are successful?
A: You'll know if your employee rewards and recognition programs are successful by the level of employee engagement in your chosen program and when you can identify less absenteeism and turnover in your workforce of more motivated employees.