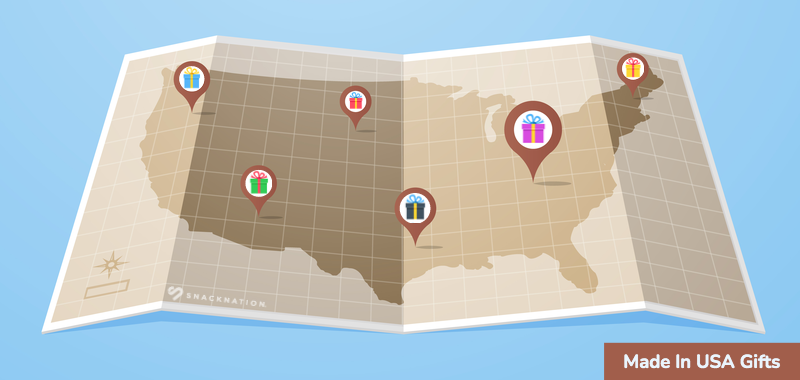 Finding gifts made in the USA is surprisingly tricky. An insane amount of goods are made in China and other countries where the cost of labor and manufacturing is much less expensive.
However, during the pandemic and the subsequent trade wars, shipping delays on products became more frequent and often, orders from overseas wouldn't arrive at all. That's when consumers really began connecting the dots about exactly how much of their purchases were coming from overseas. Studies in the U.S. are showing that the source of your goods can play an impact in consumer habits. According to Small Business Trends,
"60% of consumers would pay 10% more for products made in America."
Because of a renewed interest in American-made products, the demand has been met with companies pivoting their manufacturing to the United States. As a result, there's also been an uptick in the quality and variety of products made in the USA.
We've compiled a list of the very best gifts made in the United States, so with each purchase you'll be boosting fair working conditions, U.S. employment, and the environment, among many other things!
Figure out your next homegrown American-crafted gift to support businesses and jobs in the United States of America.
Want to become a better professional in just 5 minutes?
List of American Made Gifts For All Occasions in 2023
"Explore and connect anywhere."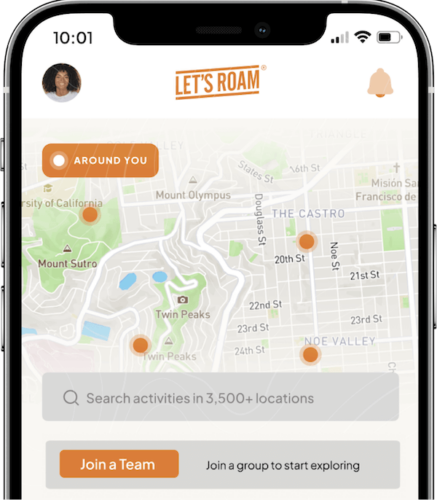 The full-time adventurers at Let's Roam uncovered the must-sees and hidden secrets in 3,500+ cities in the United States and worldwide. During each scavenger hunt, teams earn points for every challenge they complete and discover their city in a new light using their award-winning mobile app.
Why we love this American made gift: Plan in advance or the day of. No appointment needed and ultimate flexibility in the app. This gift will help you experience the United States in a new light. Perfect for a date night, exploring a new city with family, or hosting a friend in your city. The different activities and themes keep things fresh all at your fingertips.
Price: Starting at $12.99 per person
Where to get it: Let's Roam Scavenger Hunts
"An entire library of options."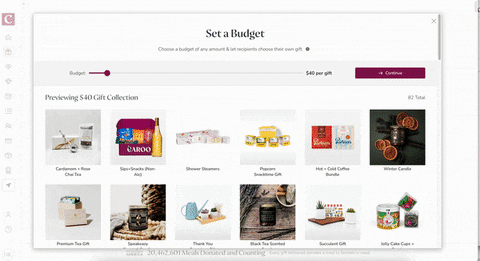 This gift idea lets your recipient log into the gifting catalog and select the gift of their choice! All you have to do is set a budget, send over the egift link, and let them take it from there.
Why we love this American made gift: With corporate gifts ranging from gift boxes to sweets and snacks, there really is nothing to stress about!
Price: Starting at $25
Where to get it: Let Them Choose
"A sweet little gift box."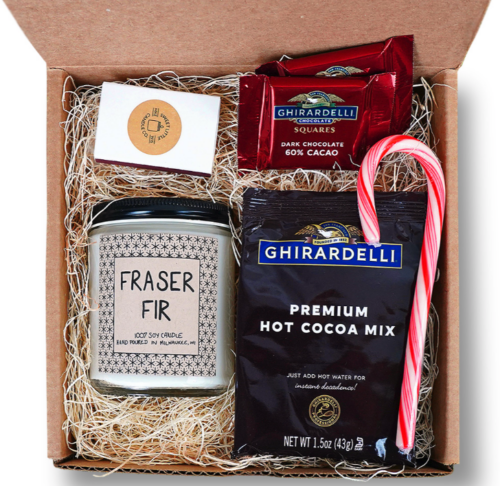 Unboxing the holiday candle gift box is a joy! Includes a soy candle, matches, candy cane, cocoa packet and Ghirardelli chocolates.
Why we love this American made gift: The scented candle is handmade in Milwaukee, WI. Choose from 9 heavenly candle scents when ordering, or send as an eGift and let your recipients choose their favorite.
Price: $26.50
Where to get it: Holiday Handmade Candle Gift Box
"Feeding America one snack box at a time."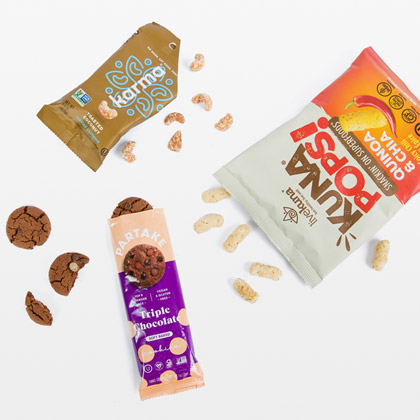 The 15 Snack Box is the better-for-you snack box, packed full of bars, chips, sweets, and jerky from top brands! These premium snack boxes can be sent straight to the homes of your employees, coworkers, friends, family, and clients.
Why we love this American made gift: Enjoying 1,000s of snacking options that are made in the USA and supporting these small businesses represents the American spirit at its finest.
Price: Starting at $25 + Free Shipping
Where to get it: The 15 Snack Box
"The ultimate eco-friendly gift."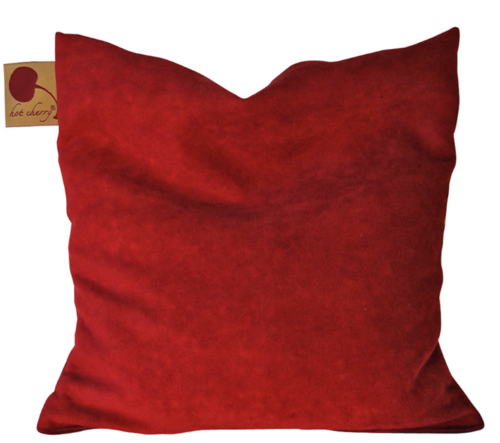 Hot Cherry Pillows are not just USA made, they're ultra-sustainable and amazing! Made from upcycled crushed cherry pits, they heat up in the microwave or cool down in the freezer for muscle relief, cozy warmth or a refreshing chill.
Why we love this American made gift: It comes wrapped in an eco-friendly pie box with an elegant ribbon and gift tag.
Price: $38
Where to get it: 10" Square Pillow in Ultra Suede
"An American twist on a French delicacy."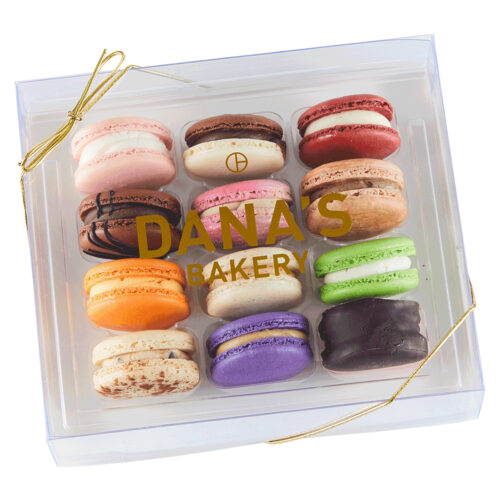 They'll enjoy an assortment of classic American macaron flavors including S'mores, Chocolate Molten, Cookie Dough, Fruity Cereal, Strawberry Shortcake, Birthday Cake, Peanut Butter and Jelly, Café Mocha, Red Velvet fresh from Dana's Bakery.
Why we love this American made gift: These tasty macarons are made with almond flour and are gluten-free.
Price: $36
Where to get it: Variety Pack of Macarons – 12 Count
"For DIY deliciousness in a kit."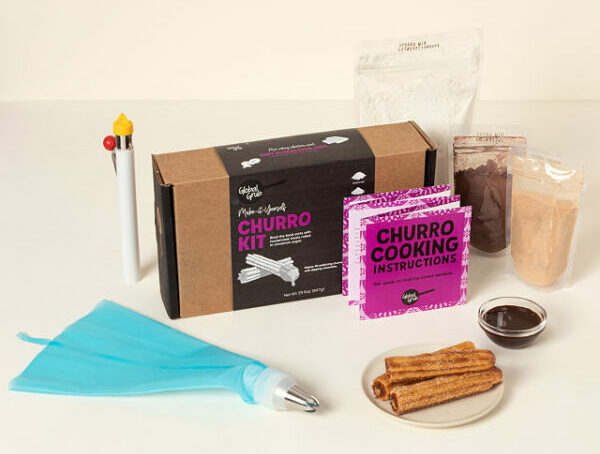 Make Your Own Churros Kit is as American as it gets — by celebrating the cultural melting pot that makes this country so special! Churros, a Mexican dessert, took the southwestern United States by storm and is equally ready to take the workplace by storm as an employee or coworker gift.
Why we love this American made gift: This amusement park treat combines the fragrance of cinnamon, sugar, and fried dough. From the classic food carts straight to the door, these DIY goodies come with enough materials to create 40 mouthwatering desserts using sweet toppings, dipping chocolate, and premade batter mix. Plus, this DIY churro set comes with a reusable piping set and a deep-fry thermometer.
Price: $42
Where to get it: Make Your Own Churros Kit
"For living in good spirits."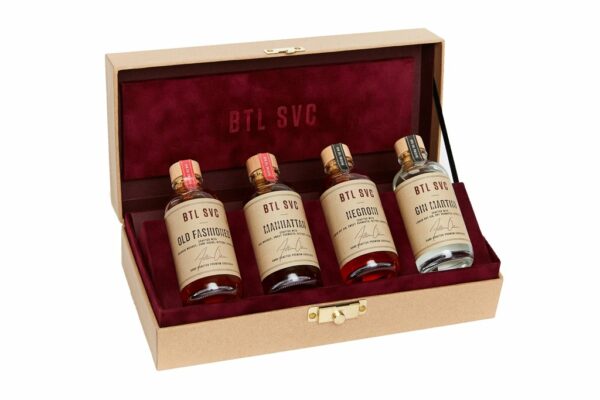 The 4-Bottle Collection is the peak of American handcrafted spirits. Made from the finest ingredients, the 4-Bottle Collection is essentially like having a bartender slinging drinks right in front of you — except that the finished drink is ready before you can blink!
Why we love this American made gift: There are many collections to choose from, including the Classic, the Celebration, and the Silver Collection. Each of them comes with a mix of masterfully made drinks such as Old Fashioned's, Manhattan's, Negroni's, Gin Martini's, Ginger Buck's 1934 Cosmo's, and Spicy Maids, among other spirits. Celebrate retirement the old-fashioned way by busting out a bottle or four!
Price: $80
Where to get it: 4-Bottle Collection
"Thanking them the American way."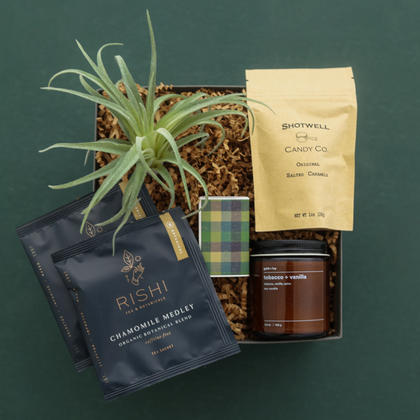 Gifts of Gratitude is an American made, American curated, and American packaged gift. This carefully curated employee care package comes with a fragrant candle and matches, a stone paper journal, a tea set, handmade soap, and a multitude of productivity-boosting games and activities.
Why we love this American made gift: This USA-made thankfulness gift is perfect for employee appreciation, client appreciation, onboarding new employees, and much more. Alternatively, it's a good idea for showing distributed teams that you are thinking about each and every member!
Price: Take this 60-second quiz to get personalized results
Where to get it: Gifts of Gratitude
"Keeping food and drinks cooler than a polar bear's toenails."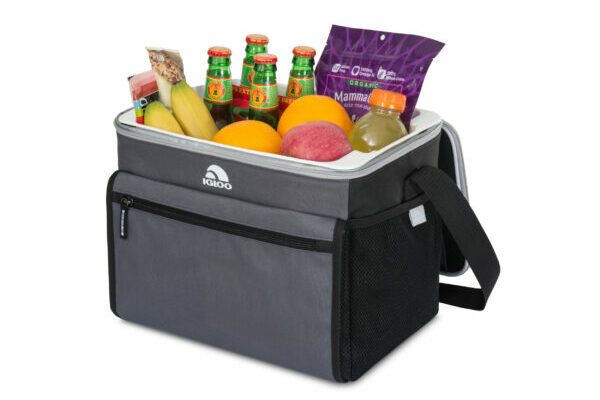 The Igloo Maddox Cooler is the perfect solution to all your outdoor needs. It's got an antimicrobial lining and 24-can capacity, which means it'll hold everything you need for those long days at work or on the go. Whether they are looking for an office gift or something to enjoy on the weekend, a high-quality, insulated cooler can be a versatile item for anyone.
Why we love this American made gift: This cooler will keep your food cold, fresh, and delicious all day long! It also includes an adjustable padded shoulder strap so you can carry it around easily. Plus, it comes in different colors.
Price: $36.89 to $50.74
Where to get it: Igloo Maddox Cooler
"The most divine of the Golden State wines."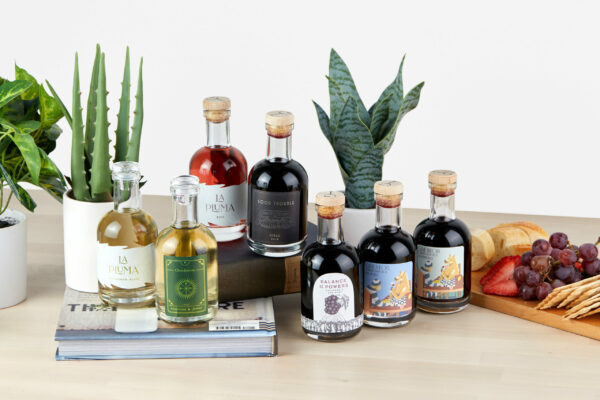 The California Wine Mixer is an assortment of the boldest wines the Golden State has to offer. In fact, the classic collection has sold out more than a handful of times and has such enormous popularity that it's hard to keep up with the demand. The best part is that you or your friends, family, employees, and coworkers, can get a taste of the California dream delivered straight to the doorstep.
Why we love this American made gift: The California Wine Mixer features 8 of the finest wines, including a dry, mouth-watering Central Coast sauvignon blanc, an earthy pinot noir, and two cabernet sauvignons. Get ready to break out the wine glasses!
Price: $65
Where to get it: California Wine Mixer
"For tailgating the Big Game."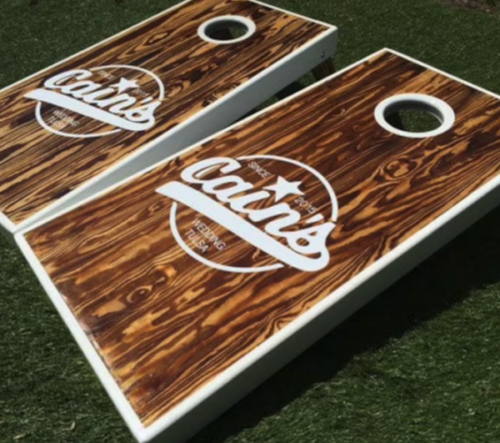 The custom cornhole set is extremely solid and will help your bags land and stay right on the sweet spot. This set is made of sturdy wood and will not warp, splinter, or crack over time.
Why we love this American made gift: Not only is this weather-resistant cornhole set fun, but it is also customizable! Your boards will look fantastic with a unique long-lasting design of your choice printed directly into the wood. The classic tailgating game just got a whole lot better!
Price: $299
Where to get it: Custom Cornhole Set
"The very best vinyl rack around."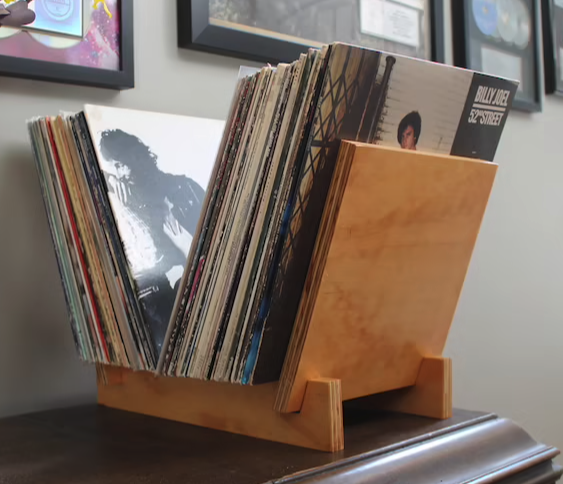 The Vinyl Flip Rack is a handmade in the USA storage rack — with a musical twist! As vinyl has continued to make a comeback, there's a good chance some of your employees, friends, family, clients, or coworkers own a few albums. Now, they have an easy way to store and display their vinyl records!
Why we love this American made gift: The Vinyl Flip Rack comes in your choice of several colors and different staining tents. As for size, it has a 15-inch base and is 19 inches tall end-to-end, without records, making it large enough to hold 60-70!
Price: $45
Where to get it: Vinyl Flip Rack
"Because some people deserve a little spoiling."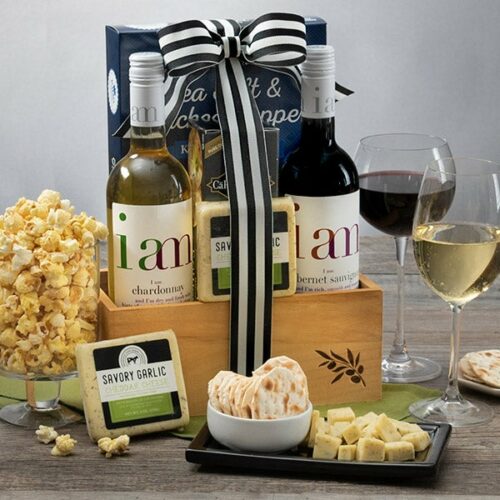 This Gourmet Indulgence Gift Crate is the perfect way to show coworkers and employees that they deserve something extra special. With one bottle each of Cabernet Sauvignon and Chardonnay wine, smooth cheese, kettle corn, and water crackers this indulgent gift will be sure to delight. It's just what they need after a long day at work.
Why we love this American made gift: This American-made luxury gift is also an ideal gift for clients. Another good use for it is to give it away for a virtual office party, so each recipient can entertain their own "invitees."
Price: $99.99
Where to get it: Gourmet Indulgences Gift Crate
"For the ones you love most."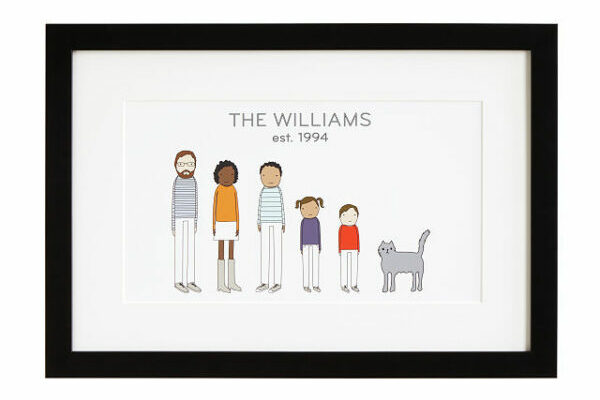 The Personalized Family Print is a customizable American-made gift that allows the recipient to enjoy an image of their family. They can choose skin tones, clothing, hair, and color to create a beautiful lineup.
Why we love this American made gift: Printed on an acid free matboard, this USA made gift is perfect for employees or coworkers who hold their families near and dear to their hearts. Additionally, the Personalized Family Print is a great gift for your own loved ones during the holiday season as well!
Price: $80 to $150
Where to get it: Personalized Family Print
"A fragrant fresh start to the day."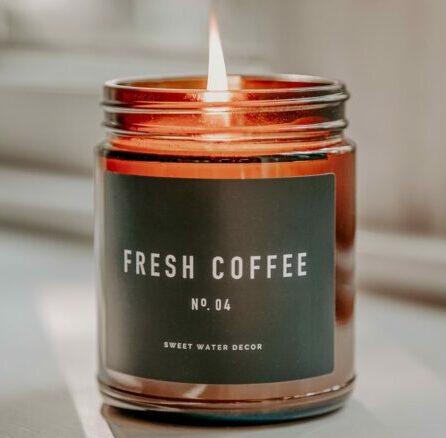 The Fresh Coffee Candle is the fragrant morning brew candle for coffee lovers! These soy-based, kosher candles are hand-poured and burn for more than 40 hours.
Why we love this American made gift: This USA-made gift comes in a variety of fragrances, including caramel creme, mocha latte, sugar cane, kona coffee, citron peel, and rum cream!
Price: $20
Where to get it: Fresh Coffee Candle
"Smooth skin for the win."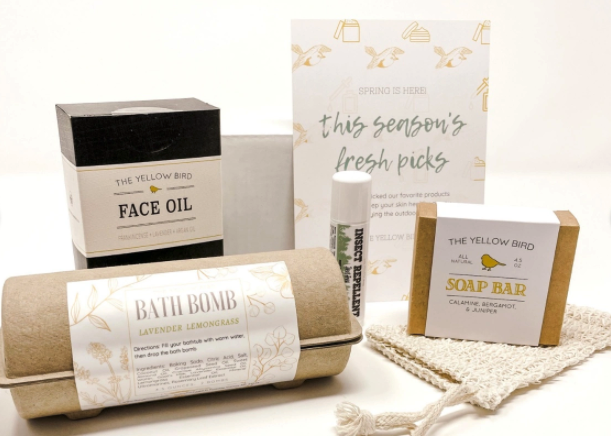 The Yellow Bird features all-natural skincare and hair care products. This quarterly subscription gift box comes with everything your boss, clients, employees, or coworkers need to have smooth, slowing skin.
Why we love this American made gift: This made in the USA gift is perfect as a Mother's Day gift or a surprise for the hardest working mom's in your life. Every product is made of all-natural, full-sized products that even the most sensitive skin can handle.
Price: $8.50 / mo
Where to get it: The Yellow Bird
"Make it more decadent."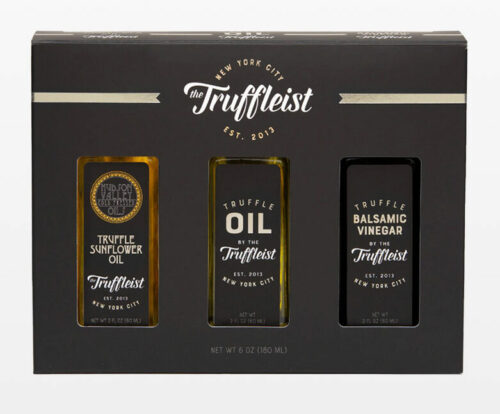 This set includes three different truffle-infused oils, each one perfect for adding a little something extra to any dish. The set makes a great gift for any occasion, and is sure to be a hit with any foodie.
Why we love this American made gift: Truffle sunflower oil is ideal for salads or as a dipping oil, while truffle olive oil is perfect for drizzling over pasta or using in sauces. For a sweet and savory finishing touch, the truffle balsamic vinegar on grilled meats or vegetables is just perfect. This surely makes an impressive and unique American gift!
Price: $43
Where to get it:  Oil + Balsamic Trio Set
"Concentrated goodness to level up your morning."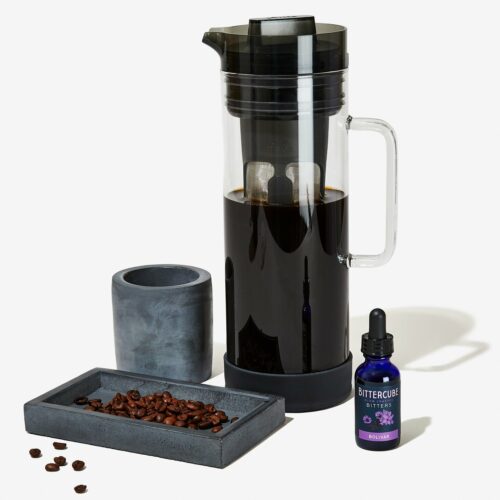 Concentrate Cold Brew Box is a large-format carafe that enables coffee lovers to brew 4-6 glasses worth of coffee concentrate or tea simultaneously. Each batch can last up to two weeks in the fridge if drank at a moderate rate. On top of that, a smart filtration system allows full contact during the brewing process along with rapid cleanup.
Why we love this American made gift: This American-crafted gift is made of heat-resistant glass, a non-slip silicone base, and is dishwasher safe! Simply brew with this gift set, fill the stainless steel mesh filter with grounds, add cold water, and let it chill in the fridge overnight.
Price: $55
Where to get it: Concentrate Cold Brew Box
"A utility you'll actually want to use."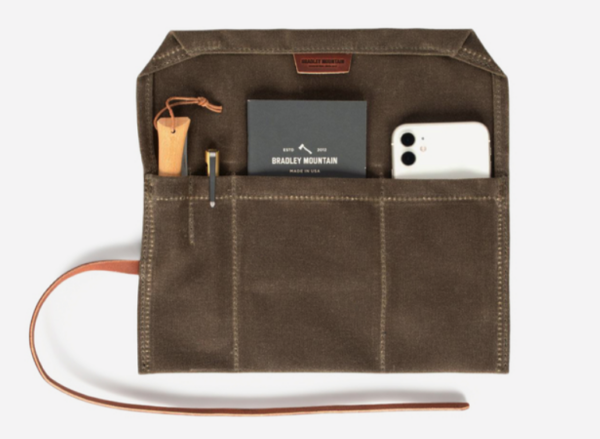 The Utility Roll is an incredible gift for minimalists! This made in the USA gift is perfect for storing pens, knives, small tools, and other essentials.
Why we love this American made gift: This compact eco-friendly storage accessory comes in a heavy waxed canvas with thick leather accents. However, what makes it great for minimalists and digital nomads is the fact that it folds and rolls into a tightly wound bundle.
Price: $32
Where to get it: Utility Roll
"An American classic way to spend time."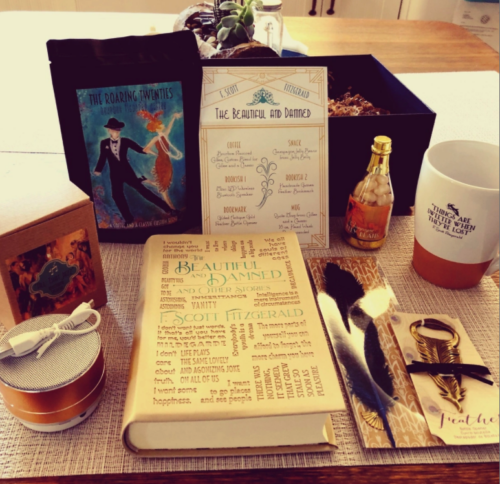 Coffee and A Classic is the ideal way to dive nose deep into a classic book while enjoying a beverage and specially selected treats for book worms. This Made in America gift can be customized by choosing the size, genre, and size preference.
Why we love this American made gift: This perfect-for-book-lovers gift includes two bookish items, a bookmark, a beverage, and a classic novel. Additionally, you can choose whether or not you want the book to be for adults or a children's classic instead, making this a great made in the USA gift for working parents!
Price: $39.89 / mo
Where to get it: Coffee and A Classic
"Perfect for some R&R."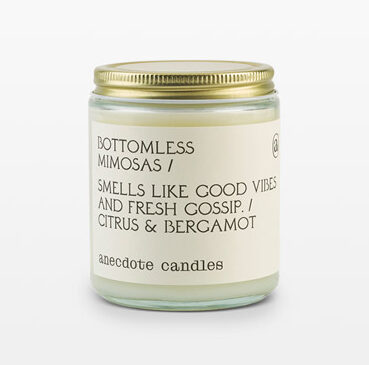 This unique made-in-America gift comes in a beautiful glass jar, and it emits a lovely citrusy fragrance that will make any room smell amazing. Plus, it has an impressive burn time of up to 50 hours!
Why we love this American made gift:  You can reuse the jar over and over again, so it's both eco-friendly and stylish. The bottomless design means you'll never have to worry about dripping wax or stubbing your fingers – simply light it and enjoy the fantastic fragrance. 
Price: $36
Where to get it: Bottomless Mimosa Candle
"For an extra sweetness!"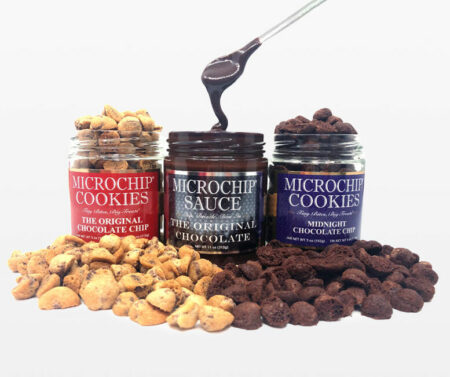 There's nothing quite like a classic chocolate chip cookie – unless of course, you add a gooey, fudgy chocolate sauce to the mix! The Cookies + Chocolate Sauce set is the ultimate gift for any chocoholic.
Why we love this American made gift: The Cookies + Chocolate Sauce includes a jar of original microchip chocolate chip cookies, a jar of midnight chocolate chip cookies ( perfect for those late-night cravings), and a rich and delicious chocolate sauce. This set will have recipients in pure chocolate heaven!
Price: $62
Where to get it: Cookies + Chocolate Sauce
---
People Also Ask These Questions About Gifts Made In The USA
Q: What are the best gifts made in the USA?
A: The best gifts made in the USA are high-quality, arrive in a timely manner, and are relatively affordable even compared to their foreign-made counterparts. Some common American-made gifts include cutting boards, glassware, cast iron skillets, leather wallets, t-shirts, totes, American flags, cookware, hot sauce, skincare products, lotion, and much more.
Q: How do I know if the gift was made in America?
A: You can tell if a gift was made in America primarily by depending on the company who created it being transparent. Of course, many states require manufacturing info to be clear, which helps sell the products anyways. Some major American manufacturing states include New York, Ohio, Colorado, Michigan, Kentucky, Massachusetts, Wisconsin, Oregon, Pennsylvania, and many others.
Q: Are there gifts made in the US under $50?
A: There are plenty of gifts made in the US under $50. The most important thing to consider is that you don't sacrifice quality, but many US-made gift ideas are unique, fun, and entertaining for $50 or less.
Q: Can a gift made in the US be personalized?
A: Yes, a gift made in the US can be personalized. Usually, the company you purchase it from will state on their website whether they do or do not offer personalized or customized gifts.