You can give these "one size fits most" gifts to practically anyone in your life no matter how well you know them. You can give them to your mother or your father and also your boss or your employees. What are these versatile goodies, you ask? They're gifts with alcohol.

Celebratory, consumable, and often perfectly personalized, alcohol gifts are the boozy boons to all your gifting plans, especially when you're having a hard time making those plans. Need a last-minute gift for the boss? A fine single malt Scotch whisky should do the trick. Forgot Valentine's Day again? A gift set for a custom cocktail based on your relationship vibes makes the perfect gift.
We propose a toast to alcohol, a gift when no other may be found, or as F. Scott Fitzgerald wrote in The Beautiful and Damned, "Here's to alcohol, the rose-colored glasses of life."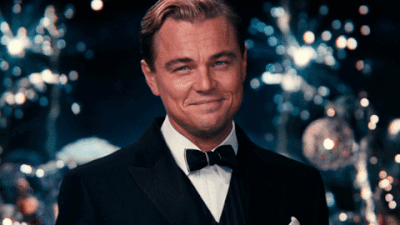 Get all the best alcohol gift ideas you need below, even if you happen to be shopping for yourself. You deserve a treat too after all. (Like a DIY gift basket for getting out of bed today.)
"Let them choose their booze."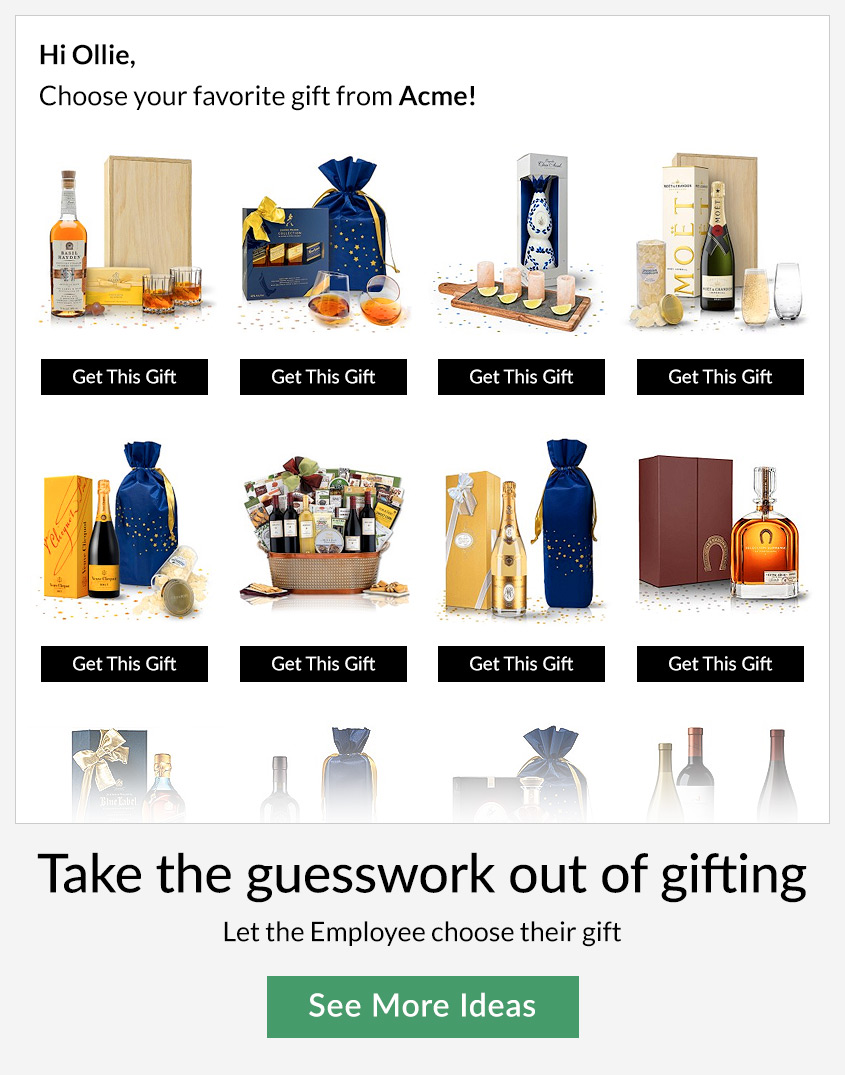 Sending alcohol is tricky – you have to really know your recipient. Until now! The Pick Your Poison eGift Collection lets you send a link or email to your recipients, they choose their favorite option, enter their preferred shipping address, and we take care of the rest.
Why we love it: Each collection features a nice variety of wine and liquor, and exclusive gift sets you can't find anywhere else.
Price: You choose your budget range (starting at $30-60 per recipient)
Where to get it: Pick your Poison (eGift Collection)
"Sip neat or on the rocks."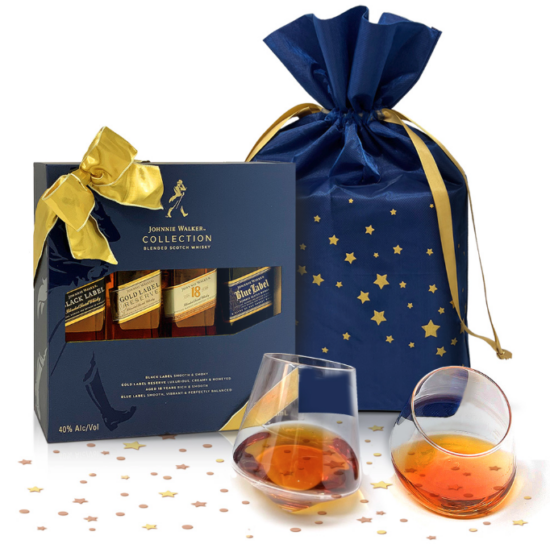 They'll receive 200ml each of Johnnie Walker Blue Label, Black Label, Platinum Label and Gold Label Reserve with a set of 2 Sempli rocks glasses in a gorgeous velvet gift bag, with your greeting card.
Why we love it: A classy and luxurious gift box for any whiskey aficionado who will love to relax after work with a nice glass of Johnnie Walker.
Price: $179.99
Where to get it: Johnnie Walker Sampler and Rocks Glasses Gift Set
"Nothing brings people together like good tequila."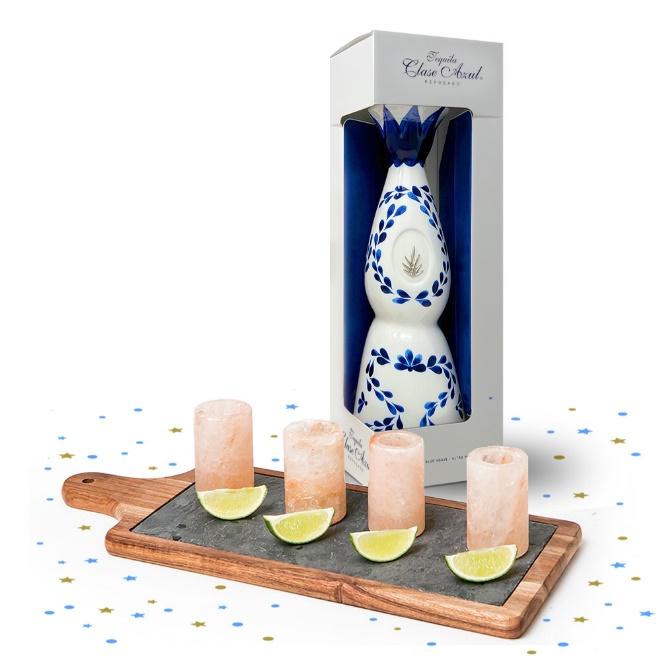 They'll receive a 750ml bottle of Clase Azul Reposado, four hand-made shot glasses carved from the finest quality, food grade Pink Himalayan salt, and a complementary greeting card.
Why we love it: For many years, tequila connoisseurs have praised Clase Azul Reposado for its superior taste and stunning handmade decanter. Your recipient will be blown away when they receive this beautiful set.
Price: $233.99
Where to get it: Azul Reposado Tequila & Sea Salt Shot Glasses Gift Set
"Keep it classy."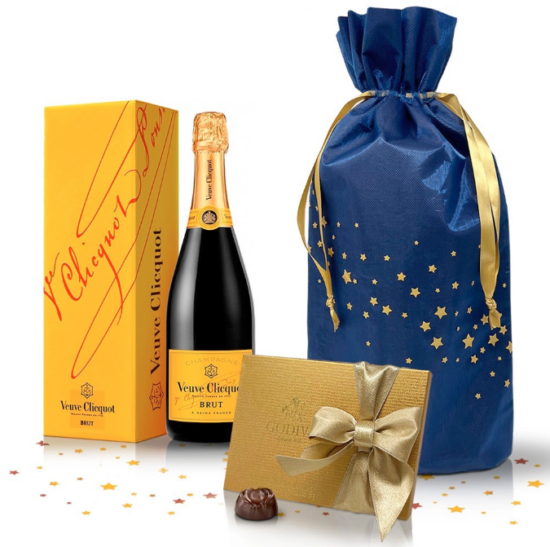 Cheers! World famous Veuve Clicquot paired with Godiva truffles in a gorgeous velvet gift bag, with your greeting card is a cause to celebrate.
Why we love it: It celebrates a wonderful pairing: champagne and chocolate! Not to mention it gives them a reason to pop some bubbly to celebrate the end of another year.
Price: $100
Where to get it: Champagne & Godiva Chocolate Truffle Gift Set
"Celebrate Good Times. Come On."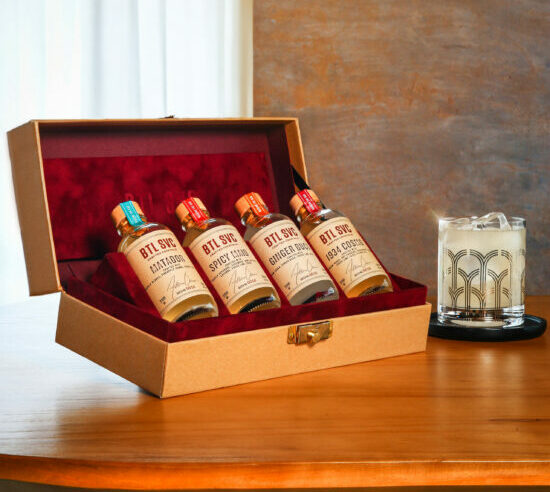 This four bottle ready-to-serve cocktail set packs all the delights of the party of your dreams. The vivid flavors will engage your senses and take you far, far away. The Ginger Buck, commonly referred to as a Moscow Mule, with its spicy ginger and zesty lime flavors, will transport you to a late-winter gala. The Matador, all pineapple sweetness, will take you to a yacht party in Spain.
The raspberry bite of the 1934 Cosmo will remind you of sunny rooftop gatherings. And, the Spicy Maid will invite you to a beach-front party with its invigorating mix of mint, cucumber, lime, and cayenne.
Why we love it: It transposes what could be an average drinking at work experience with a speak-easy vibe that's utterly delicious and undeniably memorable.
Price: $80
Where to get it: BTL SVC Celebration Collection
"Keep it classy."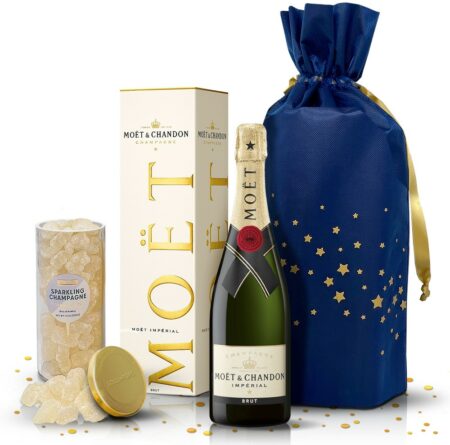 This set combines a bottle of Moët & Chandon Champagne with delicious champagne gummy bears and a personalized card.
Why we love it: A classic New Year's gift that gives them a reason to pop some bubbly the next time they feel like celebrating! This alcohol gift also comes in an elegant gift bag to send out at any time of the year.
Price: Starting from $99
Where to get it: Moet and Champagne Gummies
"Eat your drink!"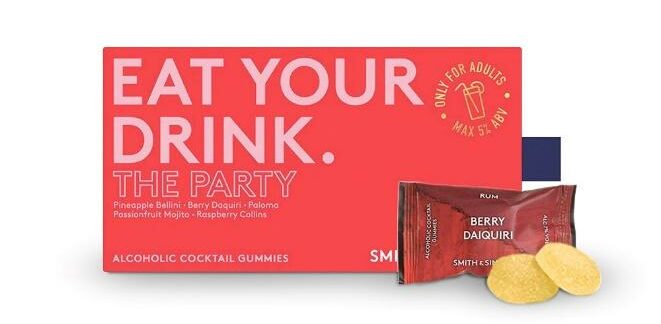 This unique and exciting gift includes a selection of ten alcoholic cocktail gummies made at a boozy 5% ABV! Simply rip open the packaging, remove the gummy, and allow the product to rest on the palate. Then consume in two bites for a real burst of flavor. Features flavors like Pineapple Bellini and Passionfruit Mojito.
Why we love it: Surprise and delight your recipient as there's a good chance that they've never tried these unique little treats! You can also add your logo to the box or fully customize it to match your brand! Perfect to give away at your next holiday party or company event.
Price: $27.99
Where to get it: Smith & Sinclair Alcoholic Cocktail Gummies Selection Box – The Party
"Are these bottles better than a bartender?"

Choose from a variety of BTL SVC's 6-bottle assortments. Try the Summer Collection to get sweet refreshing Cosmos and spicy Matadors. Get the Original Collection to sample all the greatest hits, including the Old Fashioned, the Manhattan, and the Negroni.
Why we love it: It infuses what could be average drinking at work experience with a speak-easy vibe that's utterly delicious and utterly memorable. (Best of all, it requires no bartender.)
Price: $110
Where to get it: 6 Bottle Collection
"The bar's always open when it comes in a bottle."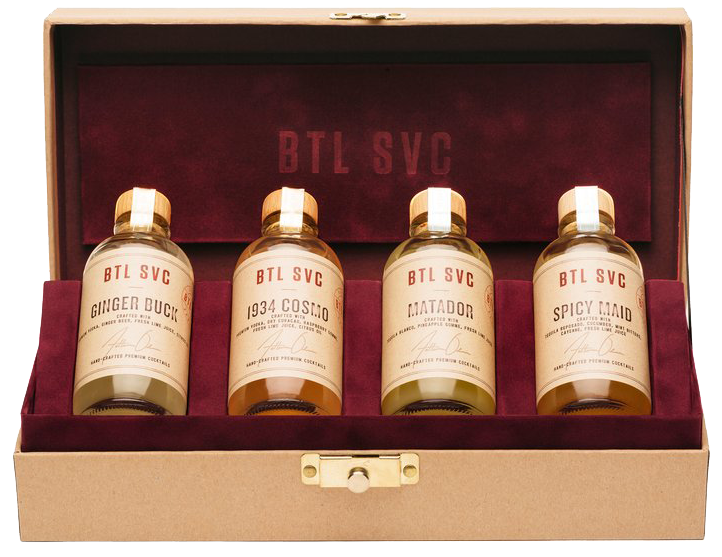 This set features 4 pre-mixed bottle cocktails of your choosing. Get the Celebration Collection to enjoy sips like the sweet Cosmo or the spicy Ginger Buck. Try out the Dutch Collection to get your fill of classic Negroni's and Gin Martinis.
Why we love it: It allows you to fancify your virtual alcohol tasting even if you don't know what a muddler or a cocktail shaker is.
Price: $80+
Where to get it: 4-Bottle Collection
"Sip + Snack is the new Netflix + Chill."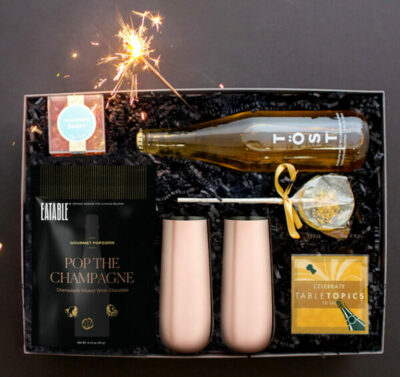 Unbox a rich bistro experience. Sips + Snacks come with healthy packaged snacks inspired by your favorite charcuterie flavors, plus all the scrumptious alcoholic or non-alcoholic sips you need to wash everything down.
Why we love it: It's basically a virtual happy hour readiness box or even a great gift for the next going away party.
Price: Starting at $24.95
Where to get it: Sips + Snacks
"Taste the nuance of Washington state's mountainous terroir."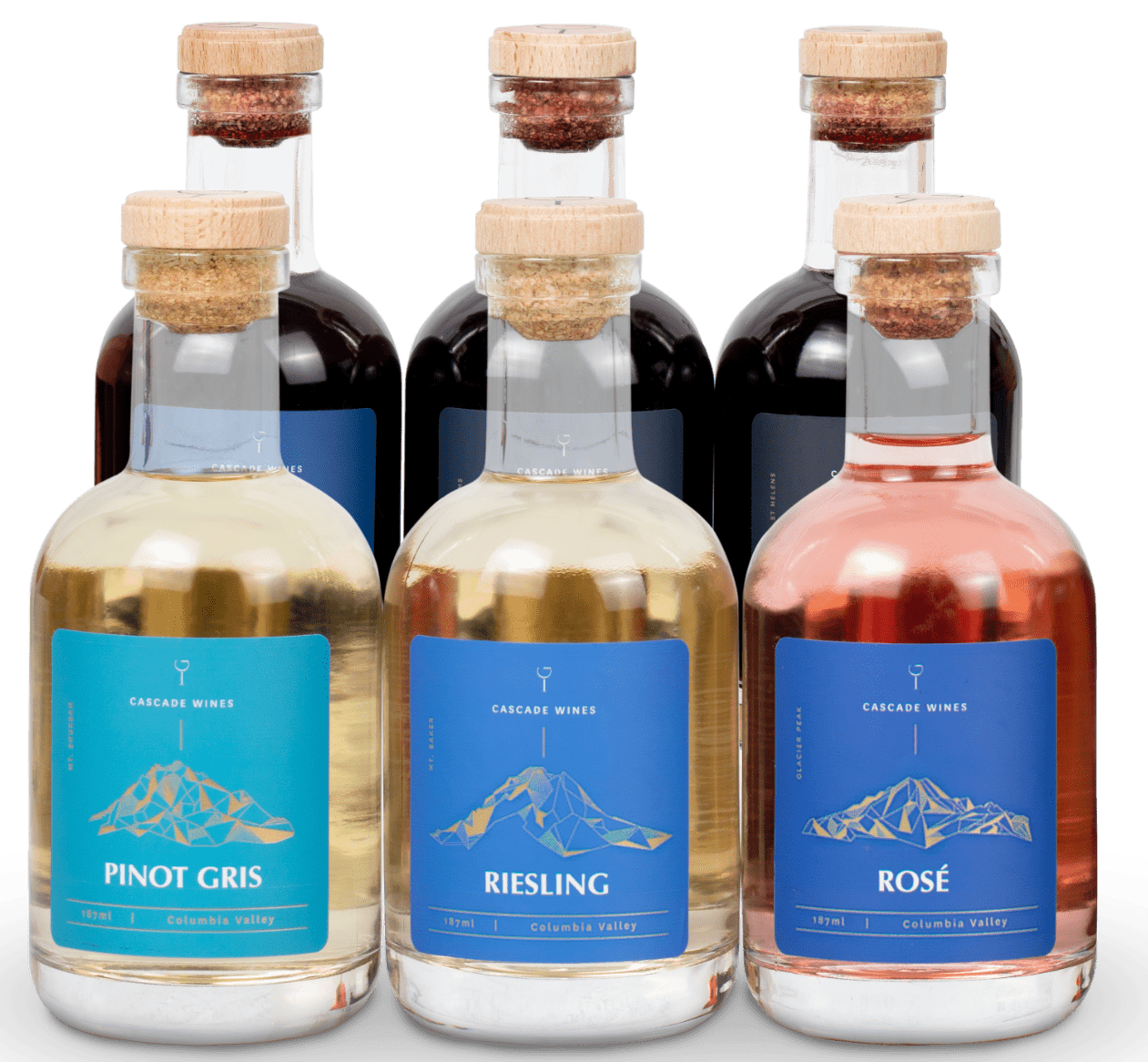 Explore the sparkling gems of Washington state's fabled wine country. This kit includes a drinkable tour of the crisp and fresh flavors of the Pacific Northwest. Sip a lightly and flowery Riesling before moving on to a deep dark Cabernet Franc.
Why we love it: The 187-milliliter bottles are perfect for hosting DIY wine tastings or even casual happy hour breaks when you need to have fun at work.
Price: $49
Where to get it: The Cascade Collection from In Good Taste
"If you want something done right, do it yourself."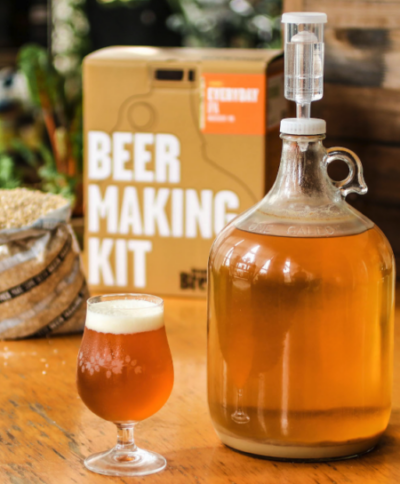 The kit includes all the ingredients and accessories for you to start your own brew at home. Simply choose your beer style and get cooking!
Available brews: Mosaic Single Hop IPA, Simcoe Single Hot IPA, Cascade Single Hop IPA, Afternoon Wheat, American Pale Ale, Everyday IPA, Chocolate Maple Porter, Bruxelles Blonde.
Why we love it: Anyone passionate about beer would love to make it their own. You can control the style, strength, and taste.
Price: Starting from $48
Where to get it: Brooklyn Brew Beer Making Kit
"A whiskey gift for true connoisseurs and flavor explorers."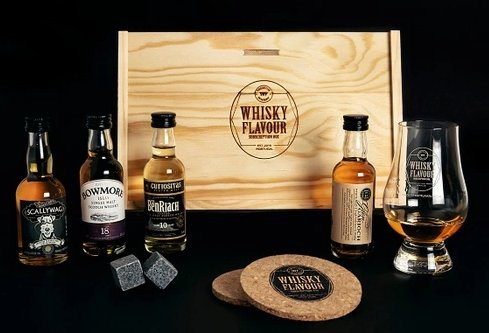 Whiskey lovers will appreciate that this box doesn't just include miniature tasting bottles of delicious whisky. It also includes everything you need to do your tasting experience justice: a properly shaped Glencairn glass, marble ice cubes, and snacks selected to bring out flavors.
Why we love it: You can give it on its own as a perfect last-minute gift or dress it up with a decanter, shot glasses, and some whiskey glasses to make the perfect Mother's or Father's Day gift.
Price: $71.60+
Where to get it: WhiskyFlavour
"Find out if you can handle the sweet heat of a Texas cocktail."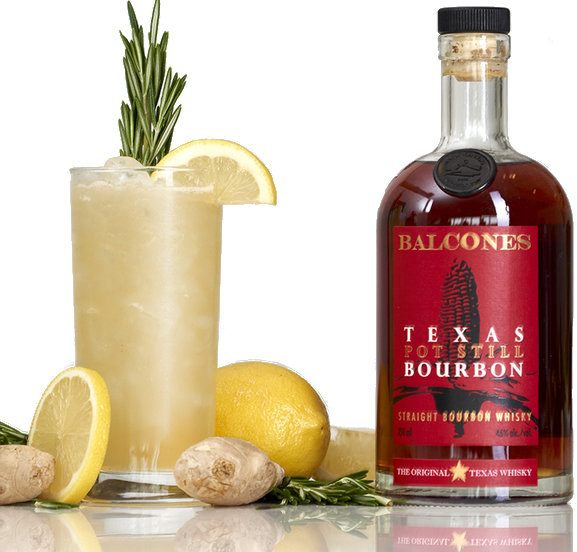 You get a bottle of sultry Texas bourbon and also a pre-mixed bottle of all the accouterments (namely a sweet and spicy blend of lemon juice, rosemary syrup, and ginger beer) you need to create the perfect cocktail.
Why we love it: This unique gift goes the extra mile to ensure a delicious experience by including ingredients along with detailed instructions and even measuring tools.
Price: $61.91
Where to get it: Balcones Bonfire
"Don't get bored with your old cocktails. Get bitter instead."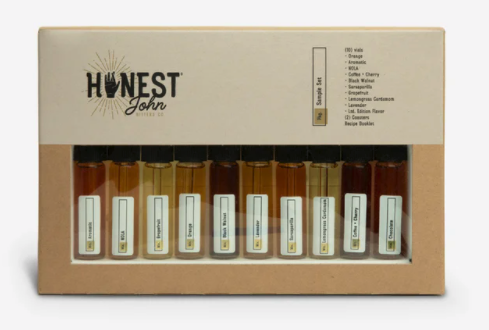 Add a few drops of these bitters to any beverage you want, such as straight cognac or even a fruity liqueur, to infuse it with new flavor and depth. Experiment with a variety of flavors depending on your mood and the occasion. Try aromatic or citrusy, or maybe even try a combination of all the flavors.
Why we love it: They help you refresh and reimagine old flavors. Use them in conjunction with a happy hour cocktail kit to offer a range of flavors that rival any bar's offerings.
Price: $39
Where to get it: Bitters Sampler Set
"A one-way ticket to Margaritaville."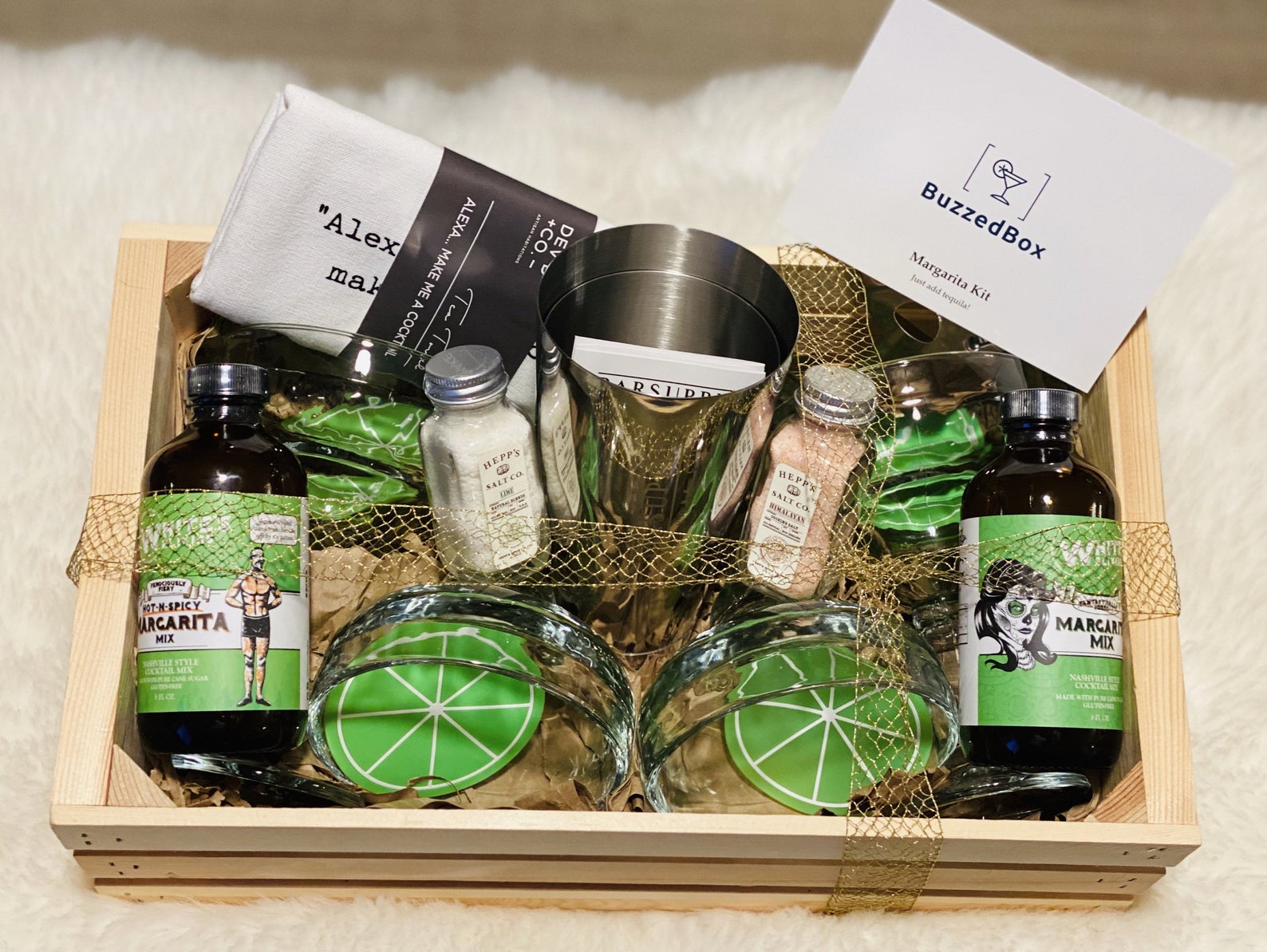 Don't be intimidated by the art of the margarita. You too can make the perfect concoction with this gift box and the tequila of your choice. It includes everything you need to convert your home bar into the perfect margarita station. It includes delicious elixirs, rimming salt, and bar accessories, including a stainless steel shaker and a bar towel.
Why we love it: You can personalize the bar towel with fun quotes, like, "I keep trying to make protein shakes but they keep turning out as margaritas."
Price: $54.99+
Where to get it: Margarita Box
"Discover even more wines for wine lovers to love."
Enjoy 8 mini bottles of wines too wild to make it onto the average grocery shelves or restaurant wine lists. Sample an intense Souzao from Portugal, a rich Barbera from Italy's Piedmont region, or even a juicy Rosé of Sangiovese that pops with bright citrus flavors.
Why we love it: Finding a new favorite wine from this assortment will feel like finding a new band and being among the first to realize how awesome it is. These wines might just be the life of your next office party.
Price: $65
Where to get it: Wild Child Wines
Pro-tip: Don't agree that wine is the best alcohol? Check out these craft beers, beer gifts, and tasting ideas.
"The best gifters know when to call in the experts."

This is the service you need if you're looking for a wine gift that's beyond perfect for your intended recipient. Consider it your little secret to providing the most thoughtful gifts for employees, best friends, and family members.
Caroo's concierge service allows you to build and send 50 or more fully customized wine gift boxes. A team of experts will help you turn your requirements into smile-inducing gifts.
Why we love it: Customized packaging and thoughtfully selected beverages and goodies provide a special personalized gift feel and a lasting impression.
Price: Take a tour of the Caroo gifting platform
Where to get it: Wine-Themed Gifts
"Wine not have it your way?"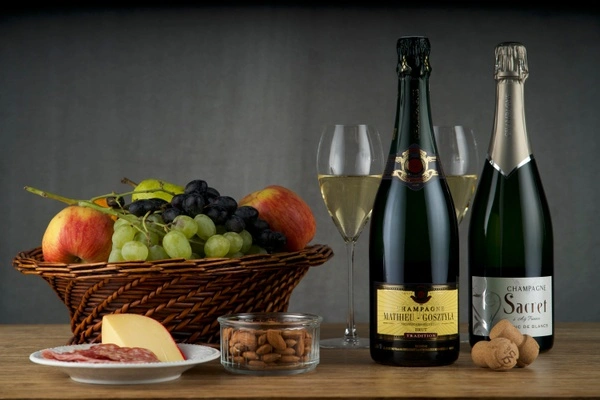 Think of this as far more than a box; it's a wine selection service. Each box comes packed with wines lovingly chosen by wine experts for you specifically based on your flavor preferences and the current season.
Why we love it: You get the high-end benefits of fine wine and a sommelier service at a fraction of the price.
Price: $99+
Where to get it: Club Cuvée
"California wines know how to party."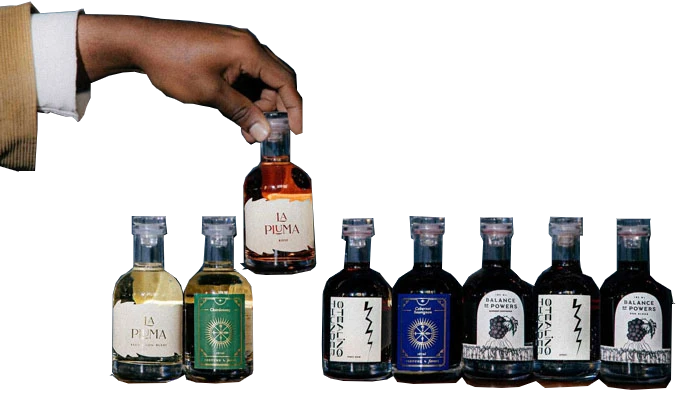 With this set of mini sampling bottles, you don't have to go to California's wine country. It comes straight to your front door. Taste varietals from several California wineries, including Game Theory Cabernet Sauvignon, Fortune Favors Chardonnay, and La Pluma Sauvignon Blanc.
Why we love it: One set allows you to sample wines from multiple renowned California wineries.
Price: $65
Where to get it: California Wine Mixer
"Put your own modern spin on classic gin."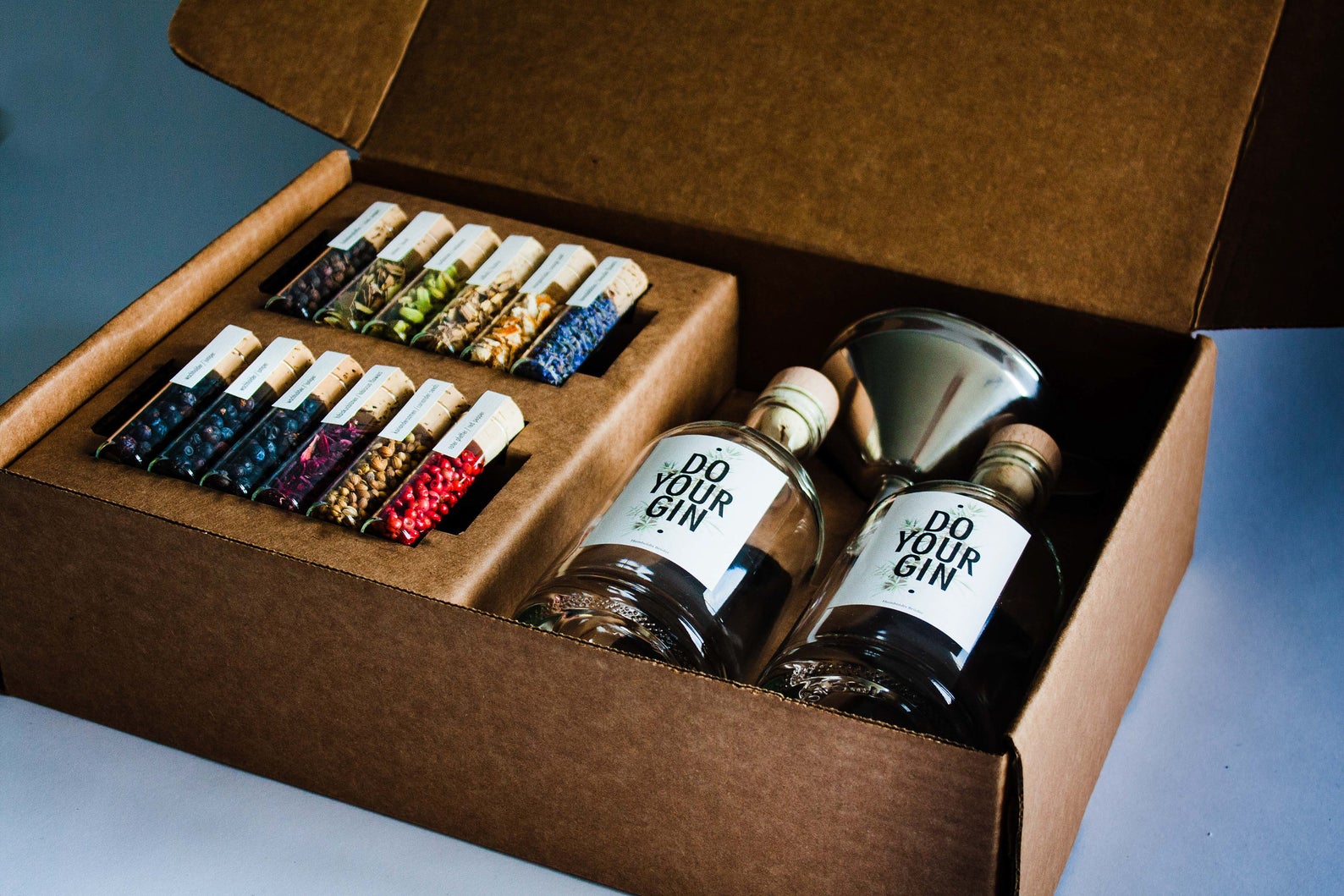 In the Prohibition days, a little bathtub gin was all the rage. Now you can make gin the right way, and this kit will help you out every step of the way. It includes botanicals, implements, and flavor bases that empower anyone to whip up some signature smooth gin to show off at the next party.
Why we love it: It includes an extensive list of botanicals that put exciting flavor possibilities at your fingertips. Mix things up with things like green cardamom, laurel leaves, cubeb pepper, and hibiscus flowers.
Price: $59.90
Where to get it: Do Your Gin Gin Making Kit
"The juicy result of a bar fight between a strawberry, a lime, and a sprig of rosemary."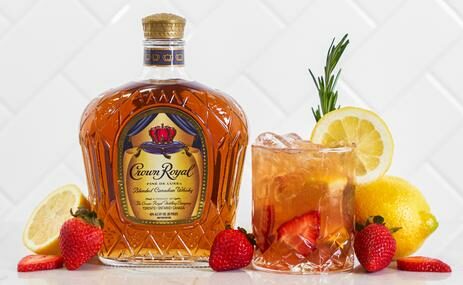 These cocktail ingredients come primed for the fun part. The mixing and the shaking. The heavy lifting — the juicing, the squeezing, the muddling, and the seed-straining — has already been taken care of. You simply need to measure out some Crown Royal, shake it up with your pre-mixed blend of juices and syrups, and then also enjoy it with good company.
Why we love it: The combination of berries and rosemary makes a pleasing flavor combination appropriate for summer gatherings and even your virtual holiday party.
Price: $34.66
Where to get it: Host a virtual happy hour while making your very own Strawberry Rosemary Smash
"Unlock a cozy winter experience"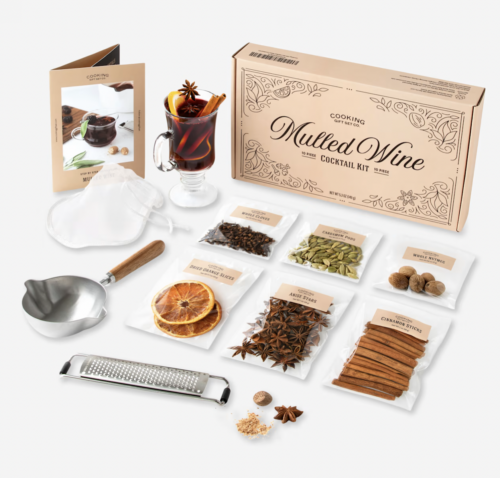 With the Mulled Wine Cocktail Kit, you'll have everything you need to make batches of cozy and comforting mulled wine at home. Curate custom blends of mulling spices, citrus fruits, and other strong flavors for a mix that's uniquely yours.
Why we love it:  These precision spices have been carefully measured to give you enough for infusion into at least eight bottles of wine. The included recipe cards will help lead you through crafting the ultimate mulled wine combination that's sure to tickle taste buds at any holiday event.
Price: $50
Where to get it: Mulled Wine Cocktail Kit
"A club that gives you access to the world's finest winemakers."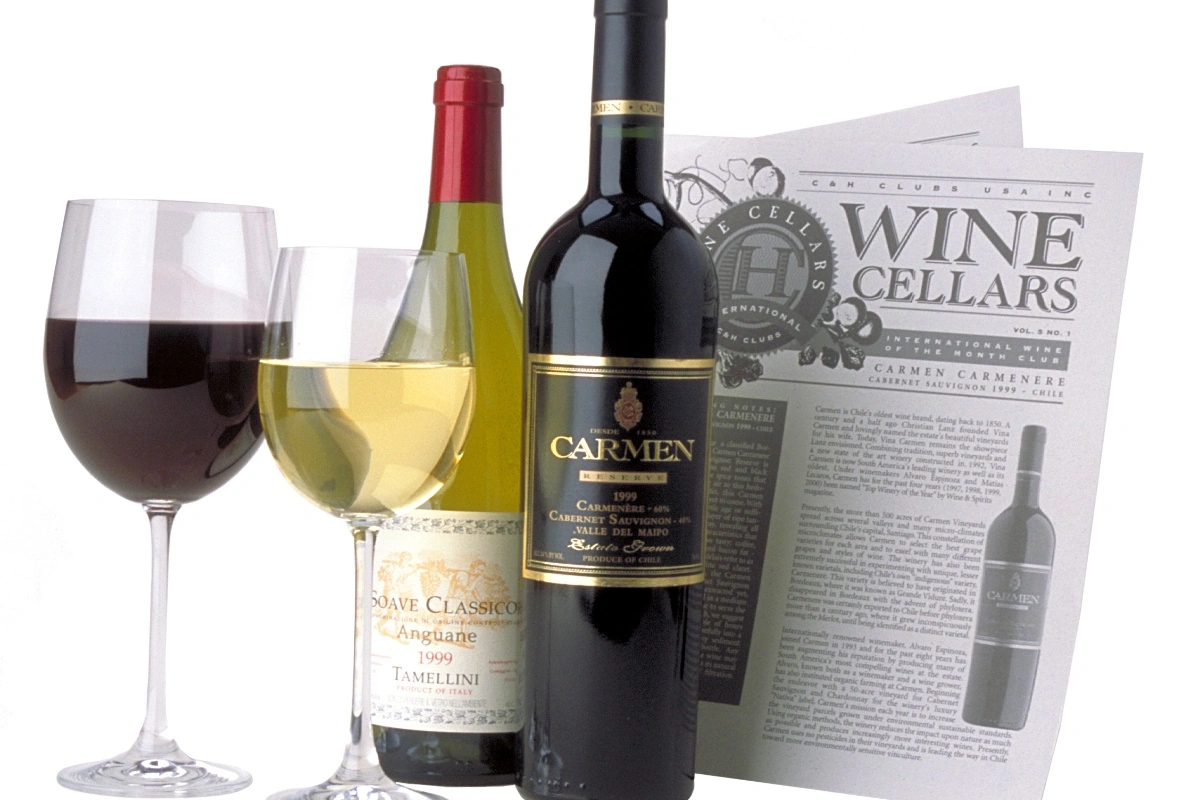 This wine box doesn't just offer wine; it offers an international flavor experience. Boxes include choice bottles from boutique vineyards plus engaging information about each wine as well as its maker. Learn about the people and processes behind your wines and also what foods bring out their flavors.
Why we love it: It enables you to do seemingly impossible things, like experiencing the wine flavors of the world during a virtual wine tasting you enjoy in your living room.
Price: $39.95+
Where to get it: The International Wine of The Month Club
"Effervescence is the key to happiness."

Pop open this bright and bubbly prosecco and let the aromas and the flavors take you on a journey. Stroll through a citrus grove, bite into a fresh green apple straight from the vine, and get lost in a tangle of sweet honeysuckle blossoms. Each sip is a little vacation.
Why we love it: Every aspect of it — the sweet aroma, the nuanced flavor, and even the beautiful bottle — delivers an experience.
Price: $16.99+
Where to get it: La Marca Prosecco
"This fruit-forward crowd-pleaser is just a pour away."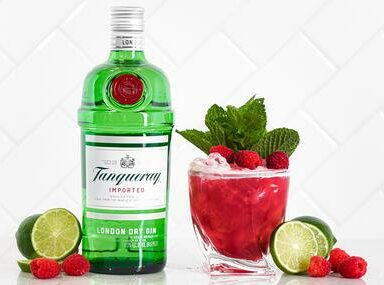 Get all the essential ingredients for a London-famous bramble cocktail. Sweet and deliciously refreshing, this cocktail features raspberry puree, lime juice, fresh mint, and a splash of dry gin.
Why we love it: The inclusion of raspberry puree creates a smooth cocktail with a pleasing weight and texture.
Price: $34.88
Where to get it: Tanqueray Raspberry Bramble
"Tasting is believing."

Jack Daniel and Johnnie Walker would be shocked to take one sip of this whiskey and learn it's zero proof. It doesn't seem possible. It has all the rich, tongue-warming flavor of whiskey and none of the alcohol. They may even wonder what shocking truths you'll tell them next. That a man cave isn't actually a cave?
Why we love it: It's the perfect option for non-drinkers — one that even whiskey lovers can enjoy.
Price: $25
Where to get it: Zero-Proof Whiskey
"Omne trium perfectum." (Everything that comes in threes is perfect)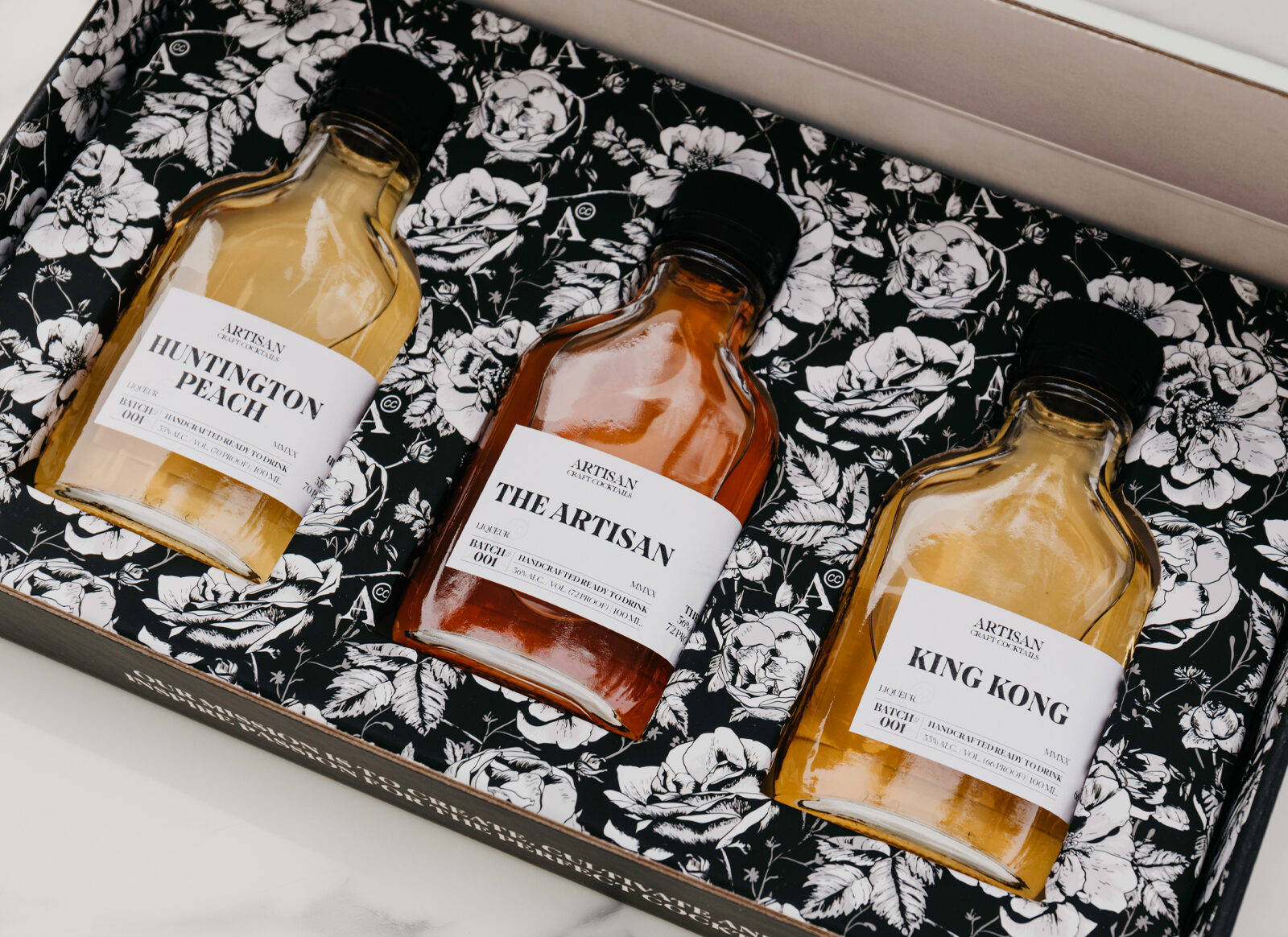 Three is often associated with splendid things. Three wishes. Three acts. Three cocktails. This gift box includes a delectable trinity of craft cocktails: The Artisan, a version of the classic Manhattan, the sweet Huntington Peach, and the surprising banana-flavored King Kong.
Why we love it: It's a perfect gift for coworkers you don't know super well. With three cocktail choices, they're bound to love at least one.
Price: $49.99
Where to get it: Trio Gift Box
---
Want to become a better professional in just 5 minutes?
People Also Ask These Questions About Gifts With Alcohol
Q: What is a good gift with alcohol?
A: Good gifts with alcohol include craft cocktail kits and wine tasting assortments. Find these and other alcohol gifts in this list.
Q: What are the benefits of gifts with alcohol?
A: Gifts with alcohol make ideal gifts because they're perfect for practically anyone you'll ever need to shop for, from your own mother to your new boss.
Q: What are some inexpensive gifts with alcohol?
Q: How do I choose the best gift with alcohol?
A: Choose the best gift with alcohol by reviewing all that's available and then making a choice based on your knowledge of the recipient's preferences, your budget, and your customization requirements.
Q: How much should I pay for a gift with alcohol?
A: Most gifts with alcohol cost around $30 – $60.
Q: How can I order a gift with alcohol?
A: Many alcohol gift providers will allow you to order and ship gifts directly to your recipients if permissible by both the point of origin and final destination state's regulations.