It's the little things that matter! In our increasingly hectic lives, it's important to take a break every now and then and enjoy some of life's simple pleasures.
Valentine's Day offers the perfect chance to show your staff how much you appreciate them and use this holiday as an opportunity to increase employee engagement, boost employee morale, and share some positivity. According to SurveyMonkey:
"63% of employees who are recognized are very unlikely to look for a new job."
Valentine's Day offers new and creative ways for managers, employees and coworkers to engage in fun team building activities and bond.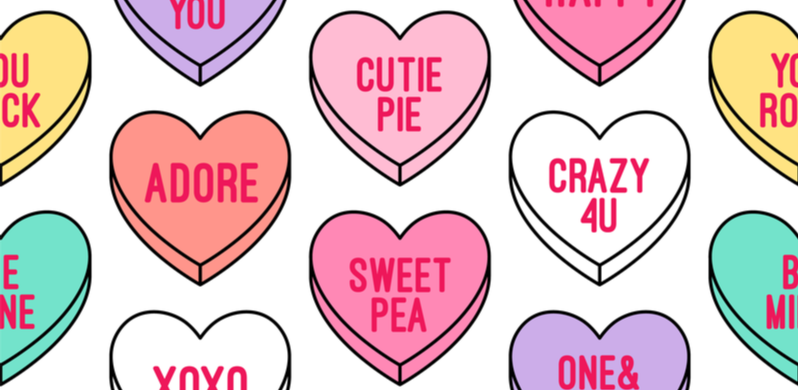 Whether it's by receiving care packages, unique swag items or being a part of virtual or in-person group experiences, staff members will feel appreciated and valued this Valentine. That's why we compiled a list of the most fun Valentine's Day gifts and ideas that will make this holiday a memorable one – all while keeping it professional.
So, let's check out the 24 best Valentine's Day ideas, gifts and activities for work in 2023!
Want to become a better professional in just 5 minutes?
Valentine's Day Ideas For Work
1. Decorate the Office
"Add a loving touch to the workplace"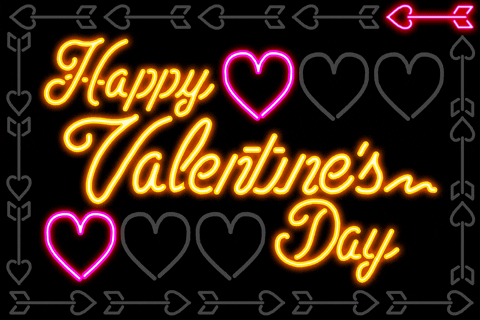 Add a loving and festive touch to the office by decorating it in a unique way! Create an atmosphere where employees can feel warm and loved this holiday. With a little creativity, you'll have the perfect Valentine setting for your office.
❤️ Why this is a good Valentine's Day idea for work: This is an easy, fun and affordable way to make employees happy, excited and more productive this Valentine's Day. Whether it's heart-shaped balloons or sweet treats placed on their desks, make this day extra special for everyone in the office.
2. Valentine's Gift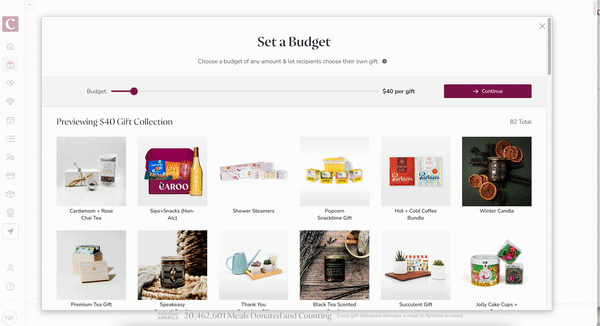 Spread some love this February by giving your employees a chance to unbox appreciation via a holiday-themed gift. The folks at Caroo offer a cool new feature called Recipient Choice where team members can log onto the gifting platform, choose the gift that fits your budget, and receive the premium item on Valentine's Day!
It not only takes away the stress of finding the right gift for multiple people, but it gives your team a chance to treat themselves.
❤️ Why this is a good Valentine's Day idea for work: It can be sent directly to team members via their email so that distributed and remote teams can still celebrate from the comfort of their own homes. Plus, opening up a little treat on February 14 will be sure to give them "heart eyes!" 😍 😍 😍
3. Play Valentine's Games & Quizzes
"For some friendly competition around the office"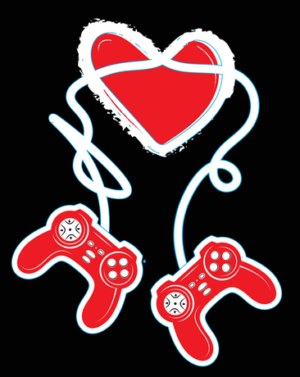 Get your employees and coworkers teamed up on some teamwork games! Play fun Valentine's Day games and take quizzes with your employees or coworkers to break the ice. Whether played in-person or remotely via Zoom, these team-bonding fun games will lighten the mood at the office.
| | |
| --- | --- |
| | Our Favorite Virtual Valentines Day Games Your Group Will Love |
| 1 | 👩‍💻  Coworker Feud |
| 2 | |
| 3 | |
| 4 | |
| 5 | |
❤️ Why this is a good Valentine's Day idea for work: From scavenger hunts to trivia quizzes, playing Valentine's games and quizzes is a surefire way for everyone in the company to get closer and bond while having a blast.
Check out this fun Valentine's Day Game Bundle that will take your celebration to the next level!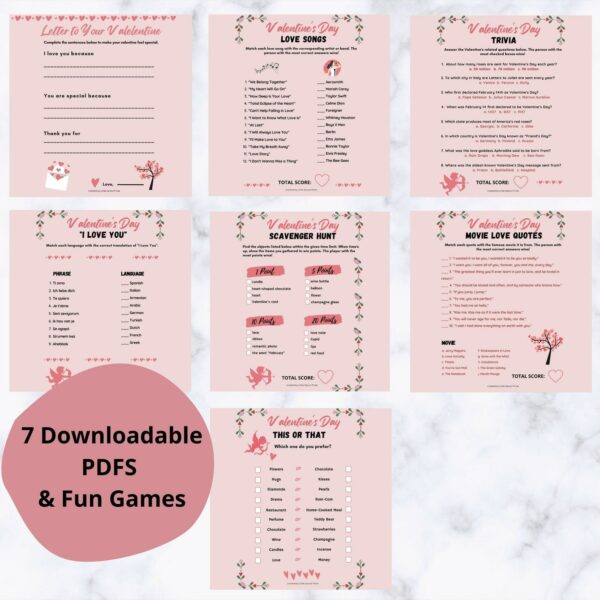 4. Throw an Office Party
"It's party time!"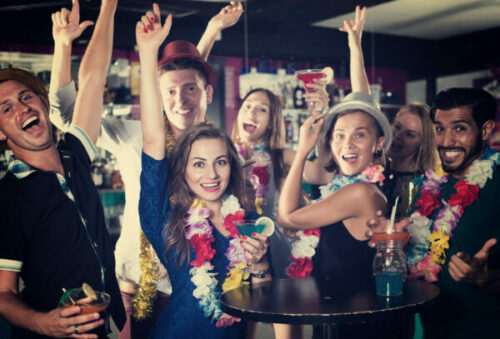 A fun and great way to celebrate Valentine's Day with your employees and coworkers is by planning an awesome office Valentine's Day party. You can provide some food, drinks, games like board games or video conferencing software where everyone can hang out together and celebrate.
❤️ Why this is a good Valentine's Day idea for work: Hosting an office party for Valentine's day brings together the entire company in one big event. Office parties provide employees with fun office activities they can do on their own or as a team, and make everyone feel more connected and energized than ever before!
5. Send appreciation emails
"You've got mail!"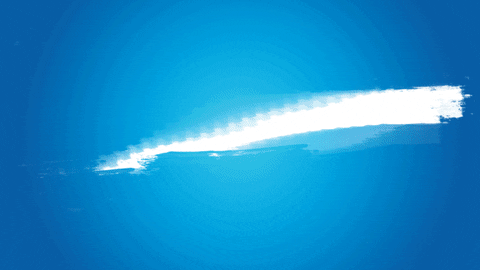 A gift basket or a Valentine's Day card is always a good idea, but what's also thoughtful is receiving an appreciation email from your boss. Send employees messages or emails in which managers express their gratitude and make their staff feel valued make your team feel recognized and this will positively reflect on their performance.
❤️ Why this is a good Valentine's Day idea for work: The most effective way of boosting morale and showing your employees you care is through employee appreciation emails. When they receive recognition for a job well done, their sense of belonging will increase which in turn boosts loyalty because people feel like partaking in something worthwhile instead of being just another number at someone else's company.
6. Watch a rom-com movie
"For the love of rom-coms!"
Break away from the usual chocolates and flowers and treat your coworkers to a heartwarming movie. From classic love stories to contemporary flicks; from "P.S: I love you" to "When Harry Met Sally," there's a great selection of perfect rom-coms. So gather your team, pop some popcorn, and get ready for a day of laughs and love.
❤️ Why this is a good Valentine's Day idea for work: Romantic comedies are sure to bring a smile to everyone'e face and warmth to their hearts. Celebrate V-day at the office by crying, laughing, and having your heart melt over a heartwarming romantic movie that'll maker the day's stress and exhaustion disappear into thin air.
Valentine's Day Activities For Work
"A timeless art"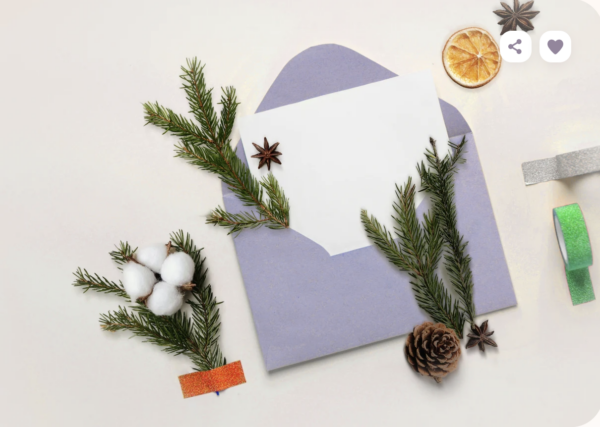 The Hand Lettering Class is a fun and easy Valentine's Day activity. Participants will learn to create beautiful pieces of work that are unique and special; an ideal Valentine's Day activity that's all about creativity and art.
❤️ Why this is a good Valentine's Day activity for work: Employees and coworker will be able to express themselves through your writing. They'll be taught how to make words come alive with color and texture so their piece stand out from the rest!
❤️ How to get started: Hand Lettering Class
"Sip and Savor"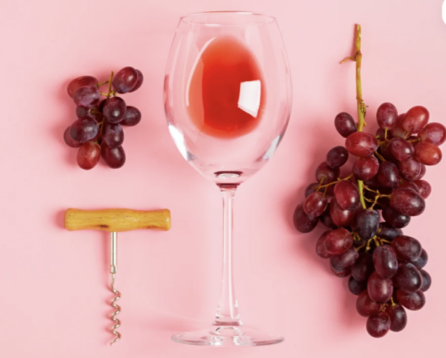 The Virtual Wine Tasting Class will teach participants the basics of tasting wine in a fun and interactive way. They'll learn about different types of wines from around the world as well as techniques for tasting them like a true expert!
❤️ Why this is a good Valentine's Day activity for work: This activity is great for team building and provides education and entertainment. Experts will walk participants through every step of this experience so that no one feels left out or confused. It doesn't matter if they consider themselves experts or novices when it comes to wine – everyone can participate and enjoy this experience equally.
❤️ How to get started: Wine Tasting Class
"Good food; Good company"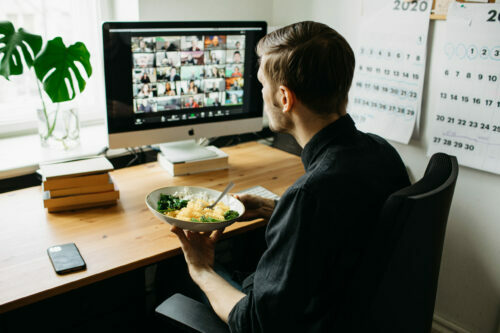 The Virtual Lunch Party is an excellent way to get your team together this Valentine, even if they're not in the same place! Employees can choose any meal they want and then hop on a call with their colleagues and coworkers for some fun time.
❤️ Why this is a good Valentine's Day activity for work: This is not just another boring conference call or meeting where everyone sits around staring at their screens. Participants will be able to see each other's smiling faces as they eat delicious food together in real time. Coworkers can also play some fun virtual activities so they can bond and celebrate friendship.
❤️ How to get started: Virtual Lunch Party
"Chocolate is always the right answer"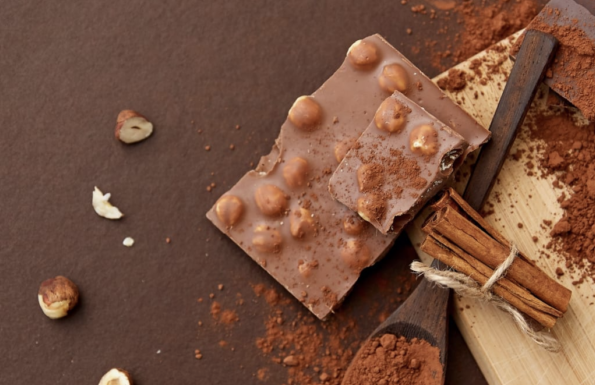 The Chocolate Tasting Class is a deliciously decadent way to spend Valentine's Day. Not only is this virtual activity going to be an extensive chocolate tasting experience, but participants will also get the chance for some serious one-on-one time with a sommelier who has expert knowledge on every type of this delicious treat.
❤️ Why this is a good Valentine's Day activity for work: Sounds like a deliciously decadent way to spend an evening! Join the chocolate sommelier for this interactive class and learn how this sweet treat has shaped history. Participants will get the chance to ask questions about all things chocolate as they explore different varieties that are sure not only to satisfy their taste and add sweetness to the holiday of love.
❤️ How to get started: Chocolate Tasting Class
"Bake like a boss"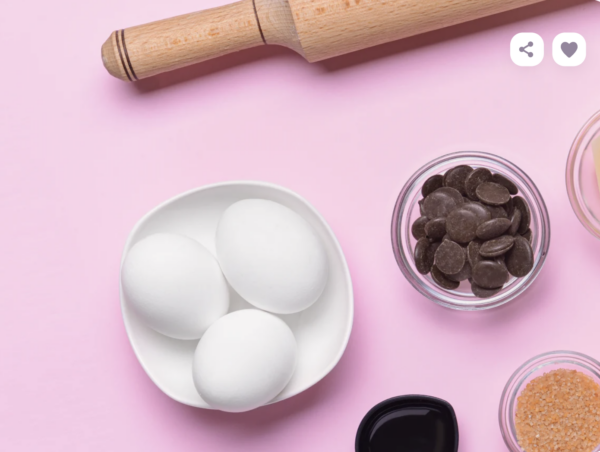 Do you want employees to engage in a unique team building activity for Valentine's Day? Then, look no further! The Cookie Baking Class will take your team for a behind-the-scenes look into the world of baking with some delicious recipes and insider tips that will make their favorite chocolate chip cookies come alive!
❤️ Why this is a good Valentine's Day activity for work: Homemade cookies are always a delicious treat, but they're even better when you make them yourself for you to indulge in or share with someone special. In this class, participants will get to put on their baking hats, learn how easy it is to create a masterpiece with a famous homemade cookie recipe, and experience what it's like being an expert baker.
❤️ How to get started: Cookie Baking Class
Valentine's Day Gifts For Work
"Experience love at first taste"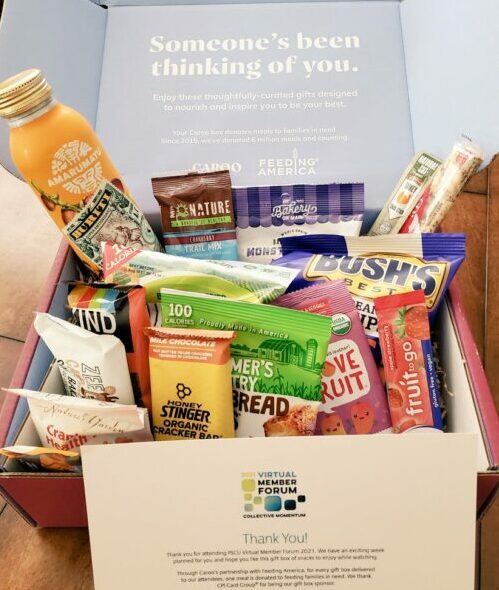 This Valentine's Day gift idea is sure to be the talk of the town! This care package will make employees feel special on Valentine's Day. It features healthy yummy treats that are great for you and still taste great!
❤️ Why this is a good Valentine's Day gift for work: There's no better way to thank your employees or coworkers than by letting their taste buds indulge with a delicious box of treats. This thoughtful gift will make employees feel they're cared about since it includes healthy, nutritious and wholesome snacks that promote well-being.
❤️ Price: Starting at $25 + Free Shipping
❤️ Where to find it: Snack Box
"Bloom with Gratitude"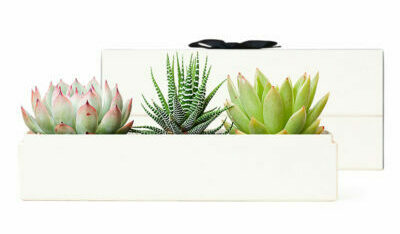 The Verdant Garden is a great gift for employees and will brighten up anyone's day at the office or at home. It includes three succulents that are sure to make the recipient smile. This Valentine's Day gift box that is customizable and an excellent choice for employees and coworkers if you want to make this holiday an unforgettable one.
❤️ Why this is a good Valentine's Day gift for work: Employees will be impressed when they receive their very own mini garden. They'll love how thoughtful this gift is when they see it on their desk every day! Plus, who doesn't want fresh plants at work? With these succulents, they'll always have something green around them to brighten up their space or home office.
❤️ ​Price: $77.47
❤️ Where to find it: Verdant Garden
"Ah, the heavenly aroma!"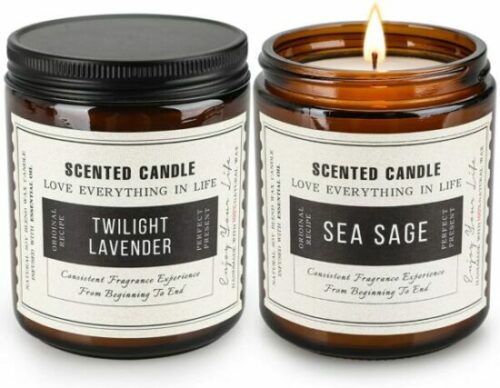 Have your employees relax with these aromatherapy Scented Candles Set. Each candle is designed to provide relief from stress, anxiety, and more. These scents are known to be calming and soothing. They're perfect for the office or home!
❤️ Why this is a good Valentine's Day gift for work: Your team will enjoy all four of the popular fragrances in this set! Lavender and sage will calm them down after a long day at work and help them relax before bedtime. These scents will refresh their mind when it feels overwhelmed with work. This set is the perfect gift for anyone who needs relaxation in their life!
​❤️ Price: $17.99
❤️ ​Where to find it: Scented Candles Set
"For the love of reading!"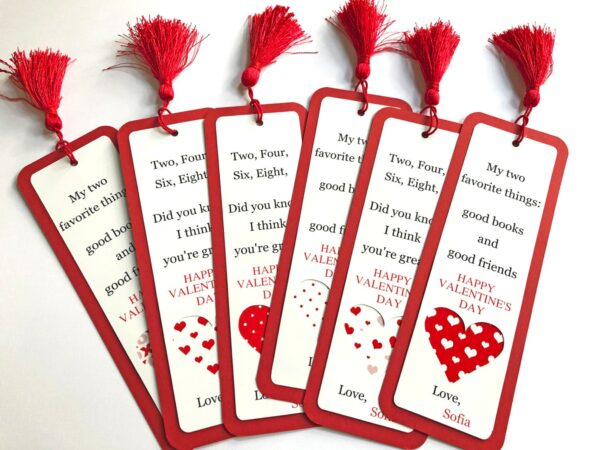 Give your favorite bookworm a thoughtful Valentine's Day gift this year with these cute Valentine Bookmarks. You can personalize it by adding a sweet message and the recipient's initials on it.
❤️ Why this is a good Valentine's Day gift for work: This unique bookmark is the perfect way to wish your colleague a Happy Valentine's Day! This bookmark is extra special because it looks like something straight out of an old library. Your employee or coworker will love this thoughtful gift that shows how much you care about them and their favorite hobby!
❤️ Price: $6+
❤️ Where to find it: ​​​​Valentine Bookmark
"For boosting 'Happiness Hormones'"
Forget about traditional goodie bags, cupcakes or gift cards! The Happy Hour Box is one of the best Valentine's Day gifts your team can receive this holiday. Whether your team is having an in-person Valentine's Day party or just celebrating it via Zoom, the Happy Hour Box is the perfect gift box to kick off any celebration in style.
❤️ Why this is a good Valentine's Day gift for work: The Happy Hour Box features icebreaker activities that are perfect for team building and employee engagement, a party horn for adding a festive spirit, a wine tumbler, a scrumptious, nutritious snacks and a cocktail kit for the perfect virtual or in-person office Happy Hour or celebration!
❤️ Price: Explore Caroo to find accurate pricing
❤️ Where to find it: Happy Hour Box
"For a cozy night in"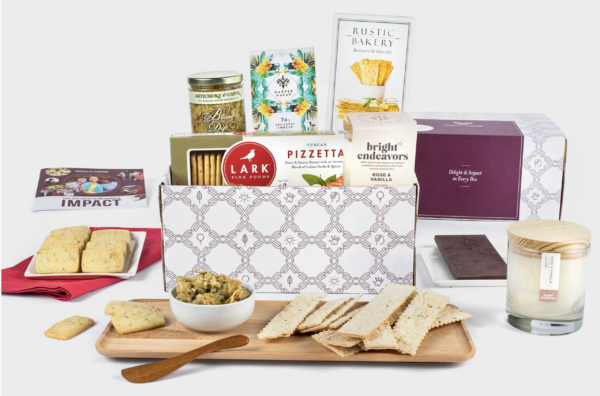 The Elevated Evening at Home sophisticated gift box is ideal for your employee or coworker who likes quality time alone in the comfort or their home or share this gift with a loved one or their significant other for a romantic Valentine's Day date night.
❤️ Why this is a good Valentine's Day gift for work: This gift is a concoction of mouthwatering treats that will take anyone to taste-bud heaven. It also features a fragrant and handcrafted soy candle for that extra touch of tranquility and luxury.
❤️ Price: $115
❤️ Where to find it: Elevated Evening at Home
"Self-care isn't selfish"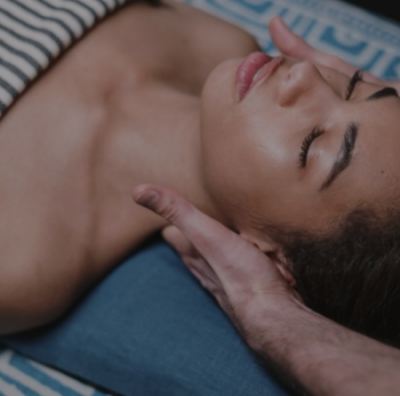 The best gifts are the ones that make people feel good. So why not give people who work with and care about a massage gift this Valentine? It's an excellent way to show them how much you care about their well-being, and it will help alleviate stress, unwind after work hours or just help them relax during their own time off!
❤️ Why this is a good Valentine's Day gift for work: A personal massage in the ultimate gift of relaxation. It reminds the recipient about the importance of self-care and prioritizing personal well-being. It's also an opportunity for them to unwind and recharge.
❤️ Price: Contact Blueboard for more details
❤️ Where to find it: Personal Massage
"It's all about appreciation!"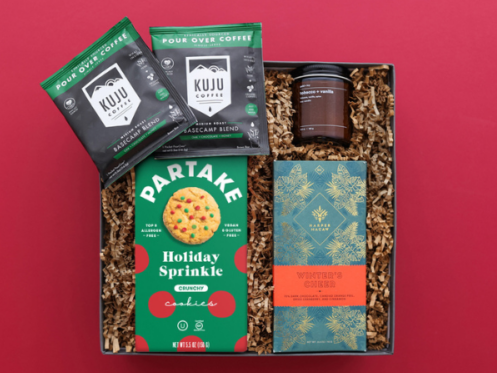 Celebrate your employees with a personalized thank you gift that will make their days more productive. This Gifts of Gratitude carefully curated gifts includes a scented candle, a succulent plant, a tea set, a journal to jot down their thoughts and much more!
❤️ Why this is a good Valentine's Day gift for work: This perfect gift ensures your employees feel valued and recognized which ultimately leads onto increased productivity levels too.
❤️ Price: Take a tour of Caroo to get personalized results
❤️ Where to find it: Gifts of Gratitude
"Time to wine down"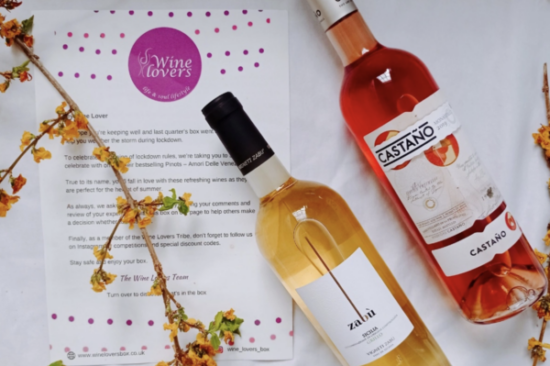 It's time for your wine lover coworkers or colleagues to rejoice! The Wine Lovers Box contains two full bottles of fine vino and tasty snacks that are sure please their palates.
❤️ Why this is a good Valentine's Day gift for work: They'll be able to relax at home or work after a long day and enjoy some quality time sipping on these amazing wines while munching on scrumptious snacks – all without having to go out and buy it themselves!
❤️ Price: $57.70/box
❤️ Where to find it: Wine Lovers Box
"Fou de vin…"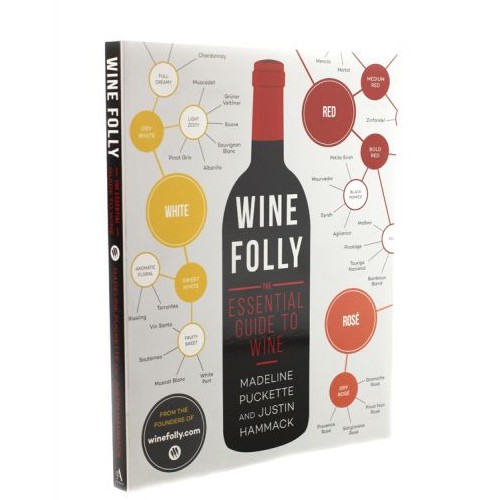 Wine Folly is the perfect book for anyone who wants to learn more about wine. It's packed with information that will help you understand what makes a great bottle of wine, how to pair it with food, and where to find good wines at affordable prices.
❤️ Why this is a good Valentine's Day gift for work: Whether you have years of experience or no knowledge at all, this book will be your go-to resource when it comes to learning everything there is know about wine. It's perfect for any wine lover!
❤️ Price: $33.03 to $50.44
❤️ Where to find it: Wine Folly
"Because you are worth it"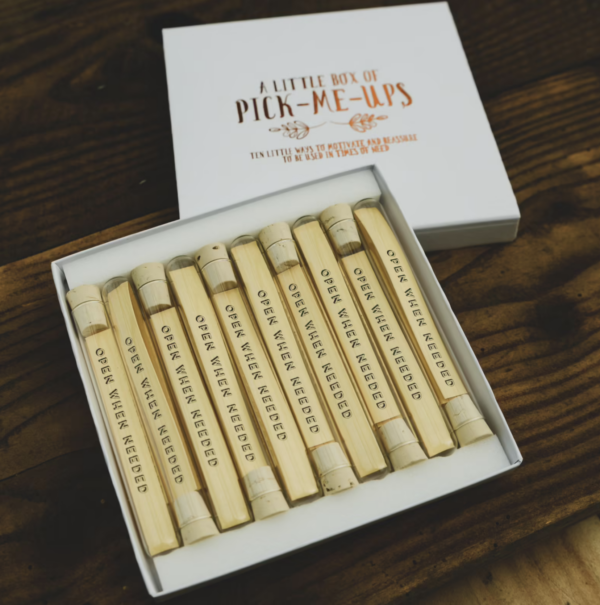 Whether you're feeling down or just want to be pointed in the right direction, the Pick Me Ups messages will help! They come with an easy-to open box that contains ten tubes of paper. Each tube provides a little motivation or "nudge" when needed the most while also being helpful around other times too.
❤️ Why this is a good Valentine's Day gift for work: This thoughtful gift will show your employees or coworkers how much their well-being and happiness matters to you. They'll feel cared about and appreciated. When life gets difficult and they're feeling down, these messages will remind them of you and the positive things in their world.
❤️ Price: $28.55
❤️ Where to find it: Pick Me Ups
"Flavorful Art"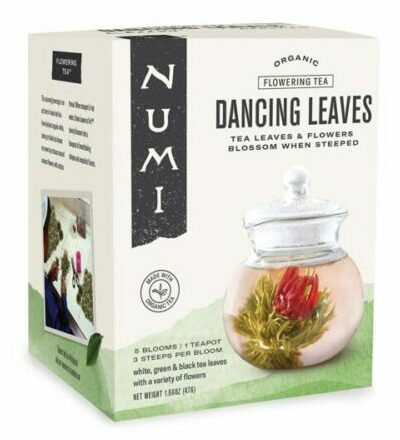 There is nothing quite like the experience of enjoying tea in its purest form, steeped to perfection. Dancing Leaves comes with a range flavors and health benefits that true tea lovers will fall in love with!
❤️ Why this is a good Valentine's Day gift for work: All that the recipient needs to do is pour hot water over their favorite blend and watch as the teas blossom into exquisite bouquets before drinking them all up. This is nothing less than a unique gift packed with flavor and health benefits.
❤️ Price: $44.99
❤️ Where to find it: Dancing Leaves
"For a unique symphony"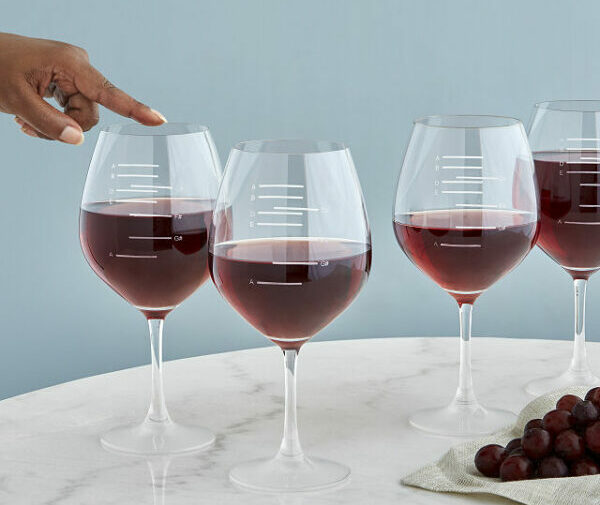 These amazing wine glasses will keep your next gathering from being a letdown. They're just the thing to fill with sparkling white wines and impress friends, family members or coworkers who are not yet familiar with what you have in store for them.
❤️ Why this is a good Valentine's Day gift for work: Employees or coworkers will adore this gift. The Musical Wine Glasses are the perfect way to keep guests entertained at any event, whether it's a dinner party or an office gathering. Each glass is specially designed to create different notes when filled with liquid. It's great fun for everyone involved—and makes sure that no one gets bored while they wait for their food!
❤️ Price: $71
❤️ Where to find it: Musical Wine Glasses
---
People Also Ask These Questions About Valentine's Day At Work
Q: What is a good Valentine's Day idea for work?
A: A good Valentine's Day idea for work is organizing fun activities with colleagues like going out to lunch or dinner, or having a party. Some people think that buying a small gift for their co-workers is a nice way to show appreciation, especially around Valentine's Day. Others may enjoy exchanging small cards or treats. Whatever you choose to do, be sure to keep things light and festive.
Q: What are the benefits of Valentine's Day activities for work?
A: The benefits of Valentine's Day activities for work are multiple. First, they can serve as team-building exercises which help coworkers know each other better and form closer bonds. Also, engaging in Valentine's Day activities can help employees feel appreciated by their bosses and colleagues. Feeling appreciated leads to a happier and more productive workforce.
Q: How do I choose a suitable Valentine's Day gift for work?
A: A suitable Valentine's Day gift for work is something that shows your appreciation for your employee's or colleague's hard work. Maybe you could get them a nice pen, a personalized mug or send them a care package.
Q: How much should I pay for a Valentine's Day gift?
 A: A good rule of thumb is to stay within the $25-35 range depending on what you're looking for. If you're just looking for a simple token of appreciation, something like a box of chocolates or a card can do the trick. However, if you're looking for something more extravagant, then you can expect to spend a bit more money.
Q: How do I keep Valentine's Day celebrations at work professional?
A: It's important to make sure that Valentine's Day celebration at work remains professional. A few tips for keeping things classy is to avoid sending love notes, keeping conversations light, friendly and respectful, and making sure the gifts that are being exchanged, if any, are appropriate.