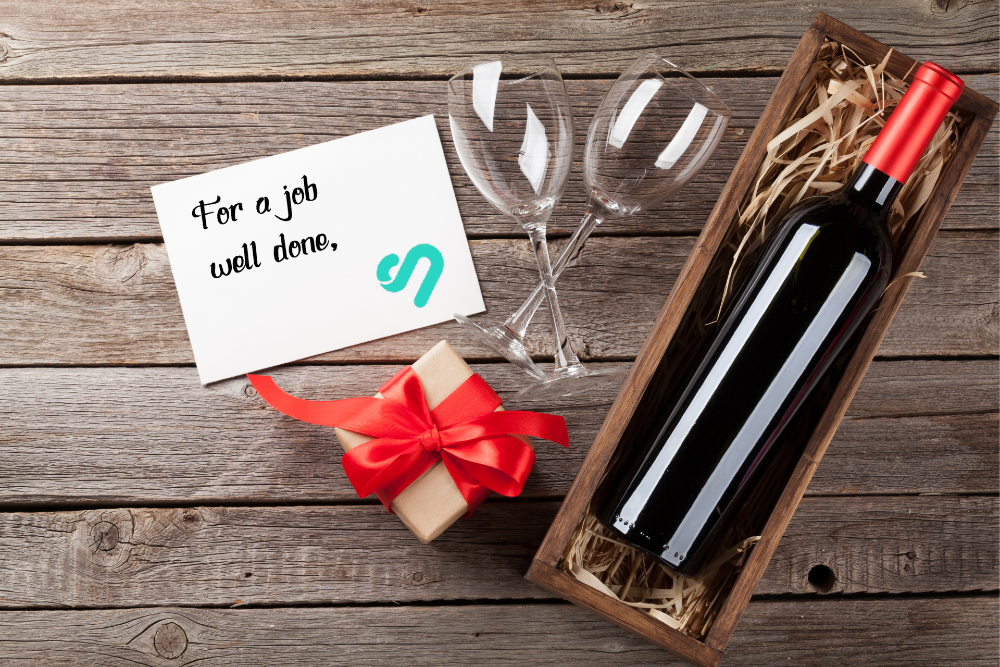 You might think it's impossible to put joy in a box and ship it across the country for the delight and enjoyment of others, but (and we hate to break it to you) you'd be wrong on this one. Why? Because of a little something called a wine gift box.
A wine gift box or basket is a ready-to-ship bundle packed with wine and/or wine accessories. (They're basically the long-distance equivalent of taking your friends and loved ones out to the local wine bar.) Wine care packages make perfect birthday gifts, gifts for employees, or even corporate gifts everyone will appreciate far more than a fruit basket.
When you send wine gift boxes or wine gift baskets, you're sending more than just the wine itself; you're providing an experience — the memories, the flavors, the buzz — of drinking that wine, and also the joy that comes along with doing so.
Pro-tip: No matter where you are in the world relative to your favorite fellow wine lovers, you can still gather everyone together to share a virtual wine tasting.
Want to become a better professional in just 5 minutes?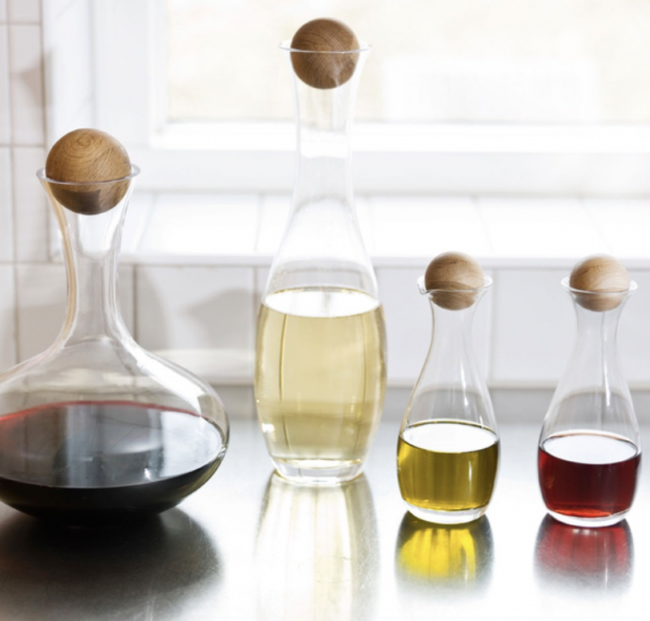 Sip back and relax with this wine gift set. Carefully curated to give the best wine and dine experience, or a relaxing night to help wine-d you down, this box may just turn your average wine drinker into a real wine lover.
What's unique about this wine box? 
If the perfect wine experience could be transformed into a gift box, this is it. The Wine Lover's Box comes with everything you need to enjoy a glass or bottle of vino: a premium decanter, pair of wine glasses, a wide selection of wines to choose from, and everything you need to open and put away a bottle.
Price: Contact to get personalized results
Get this wine care package: Wine Lovers Box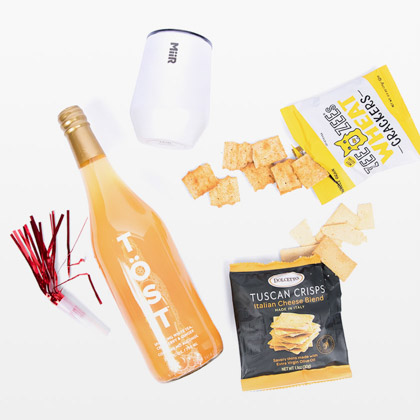 When it's time to celebrate your employees' hard work, turn to this wine gift set. It includes four delicious snacks, a non-alcoholic beverage, an insulated tumbler, fun party favors, and an anniversary activity card. 
What's unique about this wine box? 
Your employees will love snacking on healthier options, staying hydrated throughout the day, and celebrating their work anniversary with you.
Price: $55
Get this wine care package: Work Anniversary Gift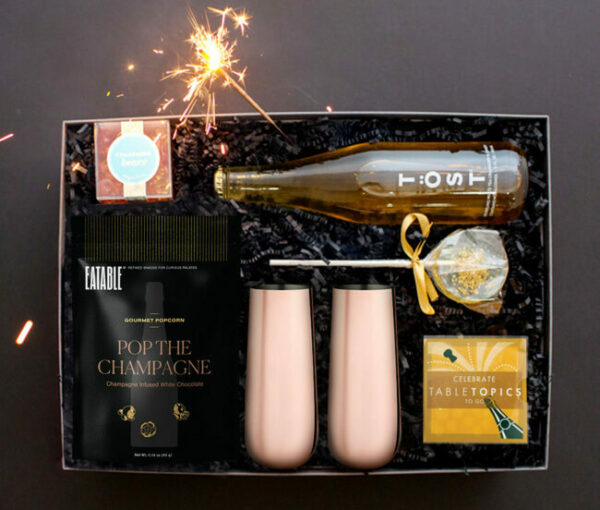 This gift set has it all – including a bottle of delicious sparkling white tea by TOST, two copper stemless champagne flutes, festive popcorn Eatable, and other fun treats.
What's unique about this wine box? 
All of these items are wonderfully packaged together in an eye-catching display, ready to be gifted. Best of all, this impressive bundle is sure to delight employees, colleagues, coworkers, and other important people in your life.
Price: $ 165
Get this wine care package: Happy Hour Celebration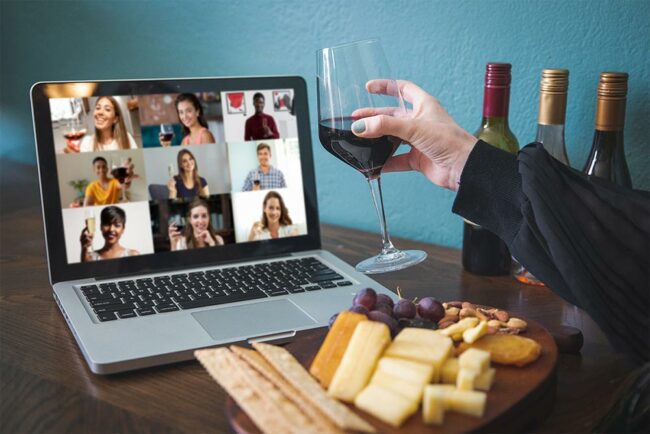 If you're looking for a fun event to go with your wine box, look no further than the Wine & Cheese Pairing Experience from Unboxed Experiences. This virtual wine tasting includes three bottles of wine and foods to pair with them, including artisan-made cheeses, sourdough crackers, dried fruit and more.
What's unique about this wine box?
It's more than just a wine box. This wine tasting experience comes with an expertly-taught wine tasting course so you and your employees learn to appraise and appreciate wine like a sommelier.
Price: $115 and up
Get this wine care package: Wine & Cheese Pairing Experience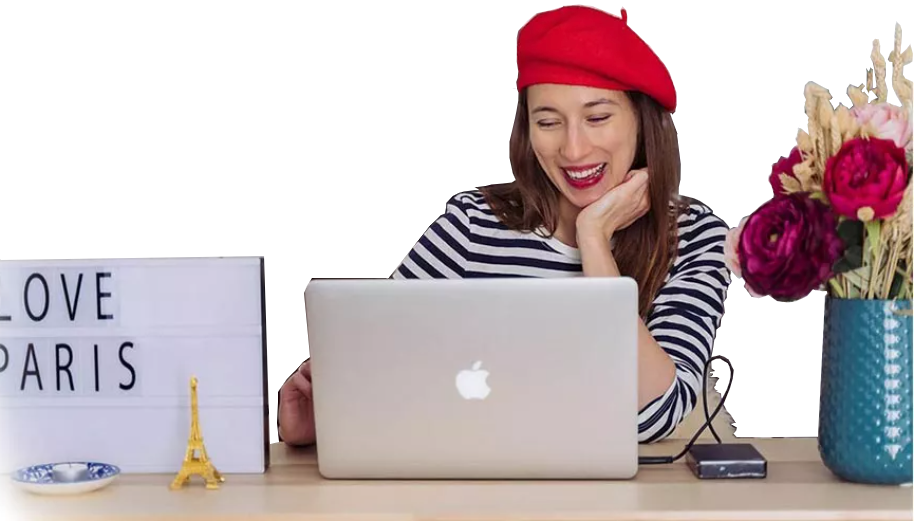 French wine. French cheese. French joie de vivre. It all comes packed in this expertly curated box to complement the virtual event portion and provide you with an authentic French flavor experience from the comfort of your own home. Enjoy delicious Vinebox French sampler wines and delectable French cheeses including, camembert and Ossau-Iraty. Just add your own white truffles and a baguette, and you've got a party to remember.
What's unique about this wine box?
You'll enjoy this tasting experience in the company of a Parisian who also happens to be your expert guide. They'll tell stories and relay fun facts and make sure you know how to taste wine and cheese in a way to make the French proud. (This isn't just fun now; it will also help you fit in with the locals when you finally get to take that big trip you've been planning.)
Price: Pricing starts at $19/person (more information available on request)
Get this wine care package: Woyago
Pro-tip: Is your group always split between wine lovers and beer lovers? No problem! Keep everyone happy by hosting a virtual beer tasting after your Parisian wine tasting.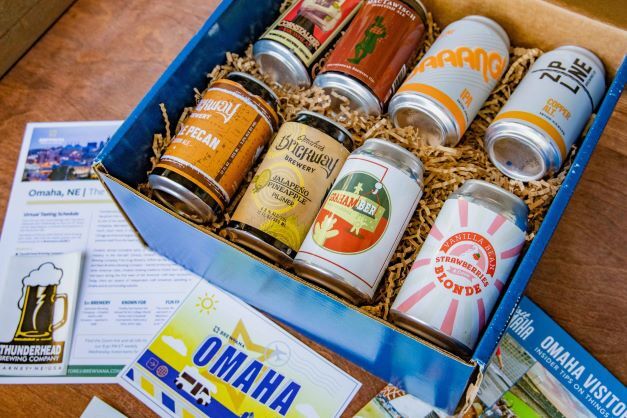 For many wine drinkers, wine really hits that next level once you develop your palate and find the varieties of wine you can really fall in love with. However, you might have a friend, family member, or colleague that prefers a hop-filled beer over a glass of cabernet.
That's where the City Brew Tours Beer Club can become the perfect gift! This beer box membership delivers 8-16 delicious craft brews from a new American craft beer scene every month so they can try a bunch of new beers without having to find a wine bottle opener or locate a wine glass!
What's unique about this wine box?
Well… it's not a wine box. This wine box alternative provides beer drinkers with a new experience that will take them across the United States (metaphorically) as they taste new beers from breweries popping up from San Diego to Boston!
Price: $69.99 per month and up
Get this wine care package: Beer Club Membership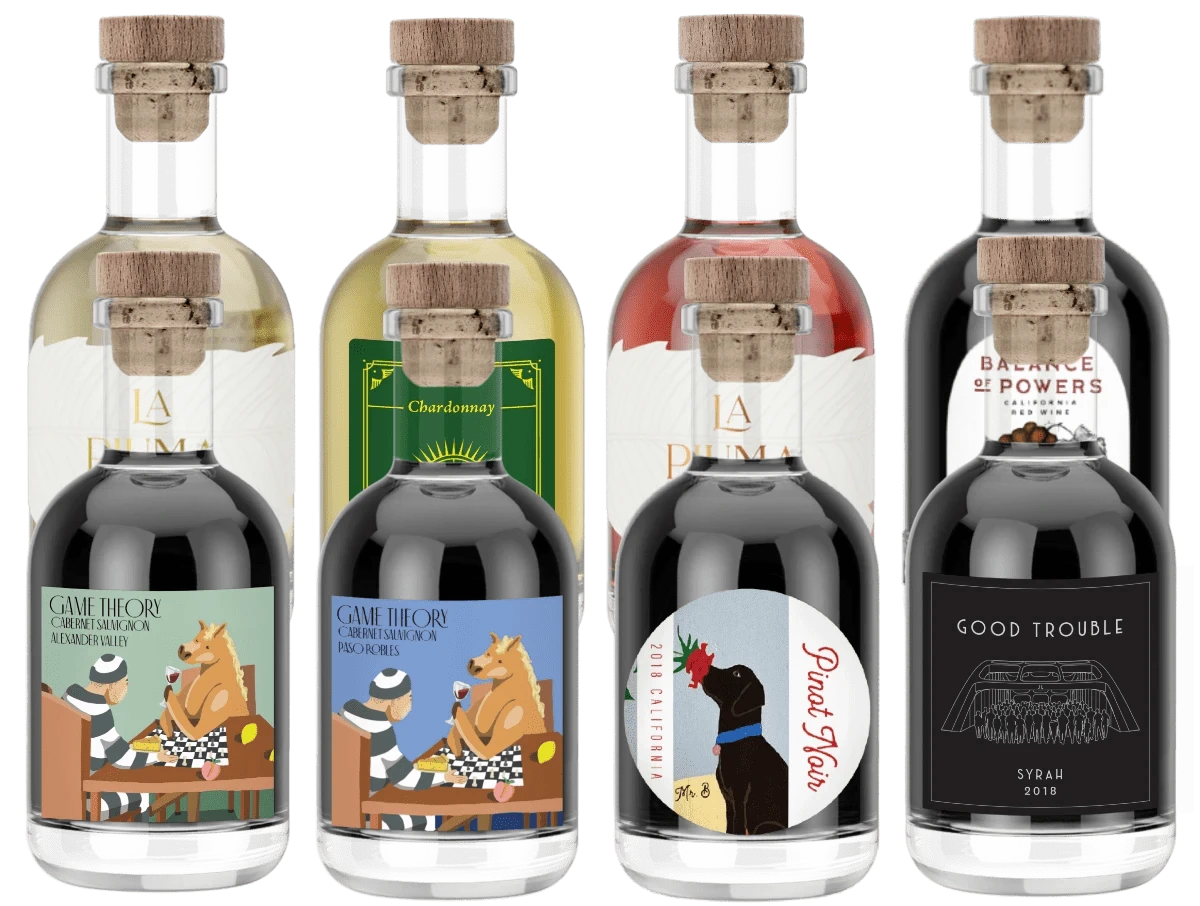 When you go to a winery, you usually get to taste the best wines they offer. With this box, you get to taste the absolute best of what several different California wineries have to offer. In Good Taste has done the legwork for you, so instead of visiting multiple wineries to build your perfect wine list, you can just open this box to taste a pre-selected assortment of scrumptious wines, including Game Theory Cabernet Sauvignon, Fortune Favors Chardonnay, and La Pluma Sauvignon Blanc.
What's unique about this wine box?
It has more variety than most other boxes. You're usually limited to offerings from one specific winery or one specific company, but with this box, you can taste a little bit of everything. You get to find your favorite wine among California's options instead of finding your favorite wine out of just one winery's offerings.
Price: $65
Get this wine care package: California Wine Mixer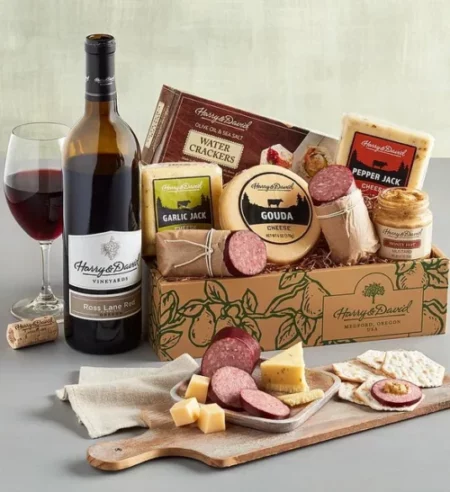 This premium wine gift box comes packed with savory delights of three delicious artisan kinds of cheese, paired with both spicy sausage and sweet honey hot mustard. The perfectly crunchy sea salt water crackers allow you to take full advantage of all these flavors. And even better, this scrumptious gift comes bundled with a bottle of red wine.
Inspired by the delectable bistro snacks we know and love, this box will turn anyone's living room or kitchen into a cozy tasting room.
What's unique about this wine box? 
It channels the essence of sampling delicious charcuterie-style snacks at a winery, but it's way more low-maintenance. Everything comes ready for you to pack up and go sip and snack anywhere your heart desires.
Price: $79.99
Get this wine care package: Deluxe Meat & Cheese with Wine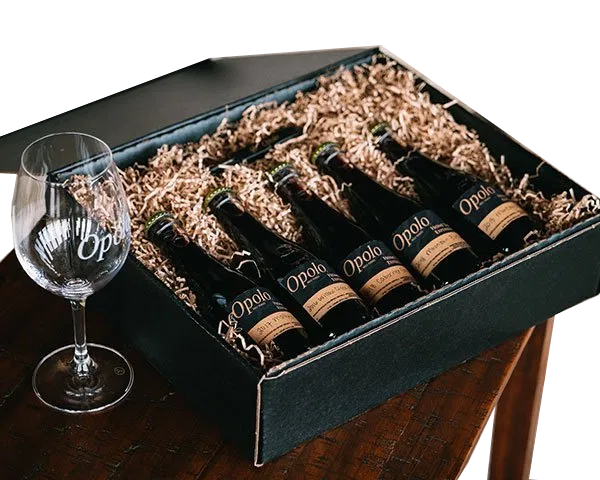 This wine tasting box allows you to enjoy the best wine and gourmet treats offered by small wineries without leaving home. Visit Priority Wine Pass to select the perfect winery from an expansive list of options from famed regions like Napa Valley and Sonoma.
Your box will feature a selection of wines and/or goodies hand-picked by the owners, experts, and employees representing that specific winery.
What's unique about this wine box? 
It gives you access to wines and gourmet food you won't be able to find anywhere else unless you're willing to jump in your car or on a plane to track down your perfect winery. Similar to how farm-fresh produce boxes and CSA shares give you access to small farms that can't supply grocery chains or ship their goods, these wine boxes give you a taste of a world of small wineries you might not be able to discover — or access — otherwise.
Price: $59+
Get this wine care package: Virtual Wine Tasting Box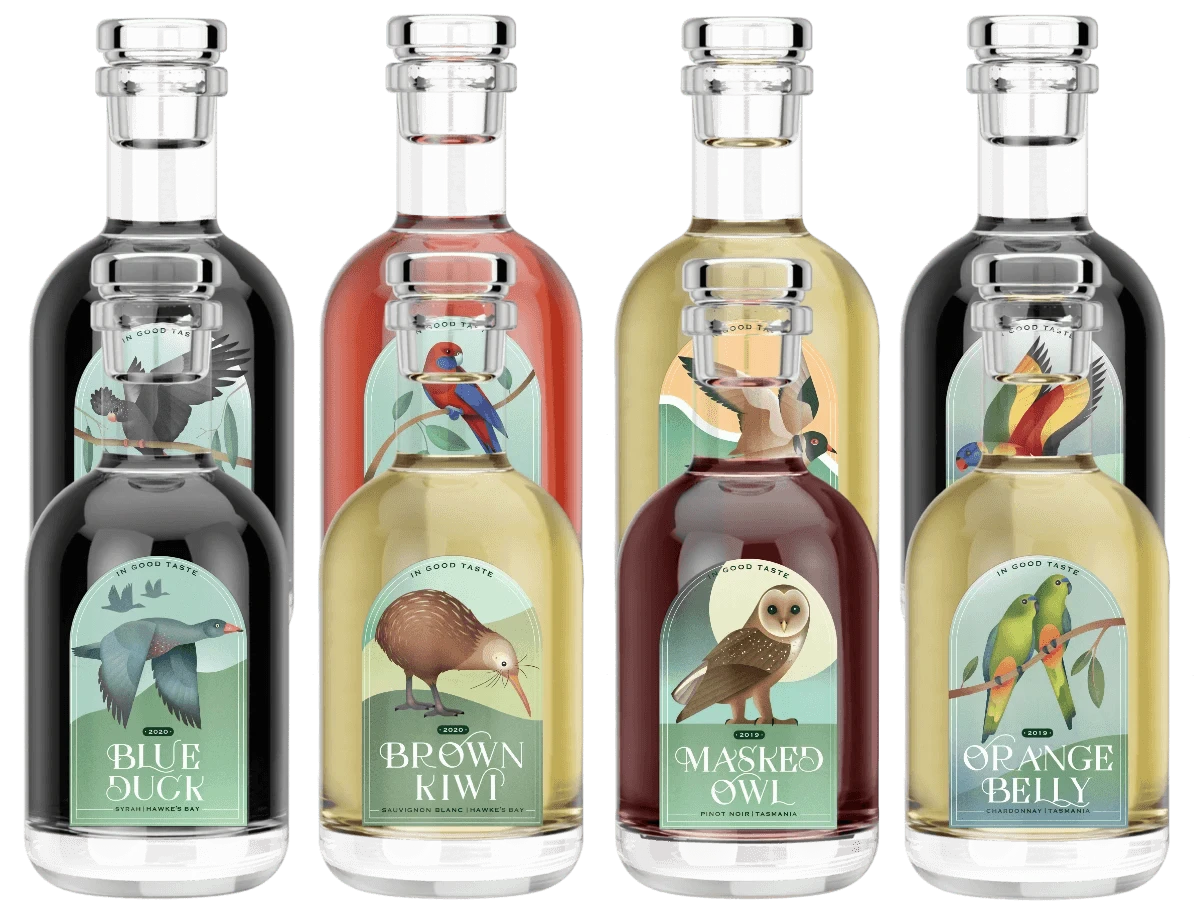 This selection puts the spotlight on the world's newest buzzworthy winemaking region: the South Pacific. Sample New Zealand's famed Sauvignon Blanc, an Australian Pinot Noir with the heady sweetness of cool-climate grapes, and an impossibly rich and spicy down-under Syrah.
What's unique about this wine box?
The flavors are surprising and pleasing for palettes accustomed to wine from the Mediterranean regions. Wines from the South Pacific, with their range of semi-arid to tropical climates, have a unique flavor and tannic profiles that give wine lovers a taste of something familiar yet decidedly fresh and exciting.
Price: $65
Get this wine care package: Wines From Down Under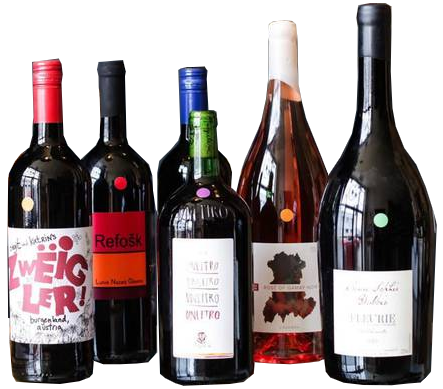 This is an international wine showcase in a box. Featuring a variety of noteworthy wines that all share one key trait: they were made by women who know their wine. You can even elevate your tasting experience by taking advantage of the included pairing notes and suggestions.
What's unique about this wine box?
It gives you the opportunity to support gender equality in the wine industry. It features wines made by women, who are traditionally underrepresented across leadership roles in the wine industry. For example, only around 10% of the 4,800 wineries in California are led by female winemakers.
Price: $30+ a month
Get this wine care package: Winovore


Just open the bottle to enjoy a premixed premium craft cocktail. Instead of sorting through a box filled with tiny bottles of essences, ingredients, liquors, and complicated instructions, you can just crack open this bottle to experience a box worth of flavor without all the hassle.
What's unique about this cocktail? 
You've probably never tried this combination of flavors at your local bar. African vanilla, rye whiskey, and banana liqueur create a potion that has the perfect sweetness and also the perfect snap. It's nuanced and layered in a way any wine connoisseur will appreciate, and it's the perfect addition to your list of favorite happy hour cocktail kits.
Price: $69.99
Get this: Artisan Craft Cocktails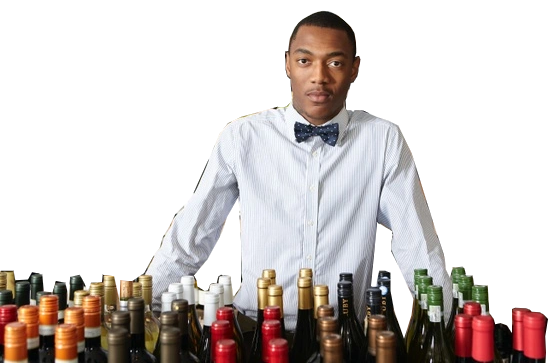 This box challenges the conventional wisdom that prompts us to think outside the box. When the box in question comes packed with wine, customized tasting notes, and even expert reviews, there's really no reason to even think about venturing outside the box.
Dive into all the flavors and wine facts this delightful box has to offer.
What's unique about this wine box?
This wine box isn't just about tasting wine. It's about building your wine prowess and confidence. As you reflect on the tasting notes and the expert reviews you read, you'll grow more confident in tasting and talking about wine as if you were a sommelier.
Price: $70+ a month
Get this wine care package: Wines By Mozel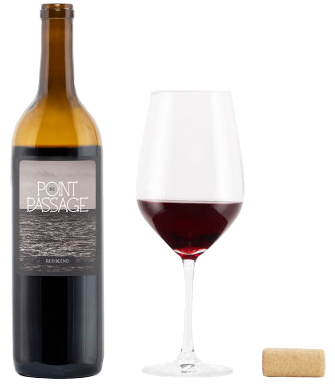 This wine subscription delivers recipients your choice of a 1-, 2-, or 3-month supply of wine, and not just any wine: wine based on your recipient's specific preferences.
Recipients can sample the wine and provide the Winc team with detailed feedback to get bottles they love even more during the next shipment.
What's unique about this wine box? 
Every wine will be hand-selected by an expert team based on the palate preferences you (or the person ultimately enjoying the box) enter. As a result, everyone is likely to get wines they don't just like, but that they absolutely love.
Price: $60+
Get this wine care package: Wine Box Subscription From Winc
Pro-tip: Plan a new virtual happy hour each time your new monthly shipment arrives.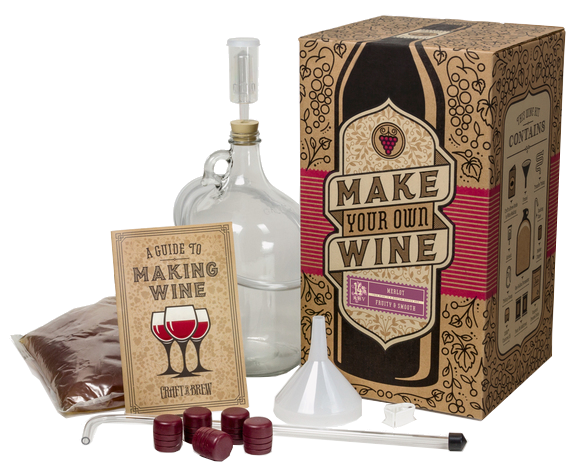 This box captures epic new levels of DIY ambition. It features all the ingredients and instructions necessary to make a home-brewed batch of Merlot.
It's perfect for exploring a new side of wine that you may never have expected to experience. It's perfect for simply developing a new appreciation for the complex and magical winemaking process. It's also a perfect gift for the coworkers who already seem to have everything else.
What's unique about this wine box?
Passively sipping on wine is relaxing and rewarding, but by rolling up your sleeves and making your own wine, you become an active participant in the wider world of your favorite beverage. Taking a peek behind the curtain will give experimenters new perspectives; they may never look at wine the same way again.
Price: $49.99
Get this wine care package: Make Your Own Wine Kit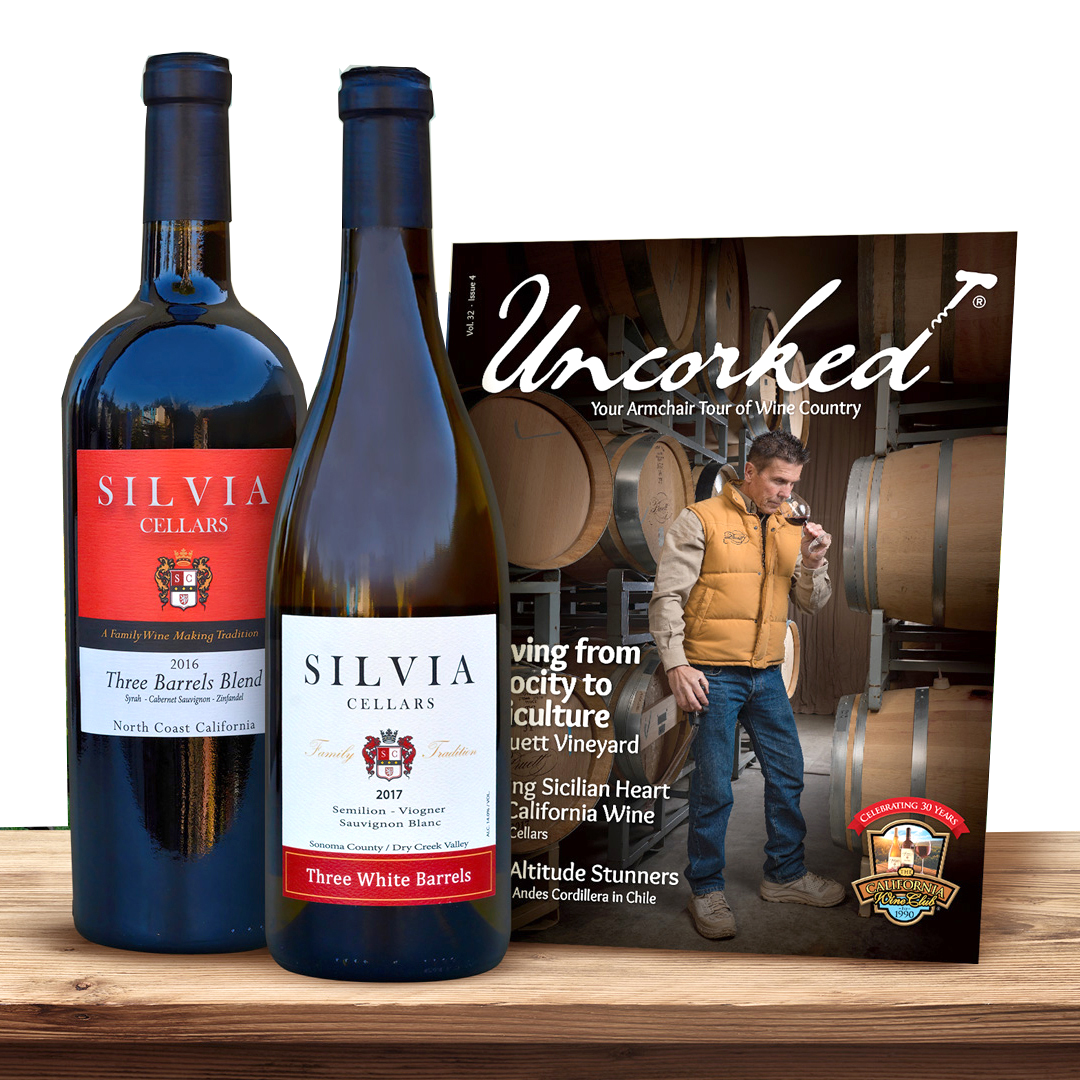 The perfect retirement gift idea, a wine club membership provides more than just wine. It provides hand-picked wine selections, discounts on select favorite bottles, and winery guides that immerse readers in the wine-making process and environment. It also provides the priceless knowledge that your next monthly shipment is never too far away.
What's unique about this wine box?
It doesn't just allow one person to share wine with another person. It also represents a deepened relationship between yourself as the drinker and the winery and winemaker. You support the winery by joining a wine club, and each exchange you share represents another step in that mutually beneficial partnership.
Price: $41.95+
Get this wine care package: CA Wine Club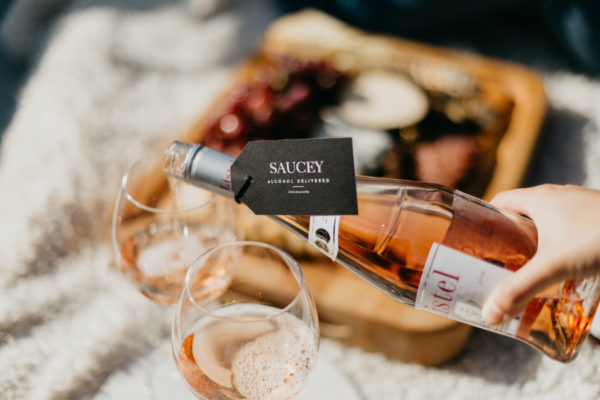 Browse Saucey's extensive selection of nationally distributed wines to build a box full of your favorite grocery-store staples plus a few new options you won't be able to resist.
Few other places allow you to handpick from such a massive selection and then also have the carefully curated wine assortment of your dreams shipped straight to your door.
What's unique about this wine box?
The variety is unmatched. One shipment can contain everything from sangria-base Bota Box to a pricey limited batch vintage that will go straight into your wine cellar.
Price: $9.99+
Get this wine care package: Wine Delivery By Saucey
Pro-tip: Use Saucey to get everything you need for your next virtual alcohol tasting. Visit just one website to get everything your guests want, even if their tastes range from sparkling wine to smoky scotch.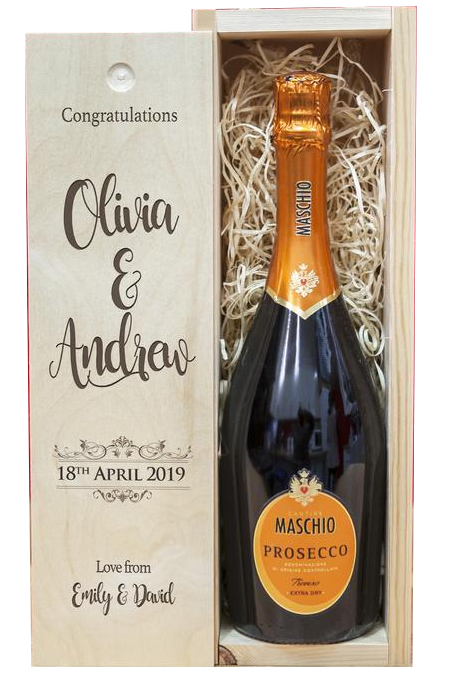 You've selected the perfect bottle of wine for your co-worker or loved one. Now don't botch the presentation! This deluxe wooden box makes the perfect vessel for any gift of fine wine you hope will have a lasting impression.
What's unique about this wine box?
Personalize the box with a 256-character message of your choice. Arriving in this epic vessel, your wine gift is practically guaranteed to make an unforgettable impression.
Price: $18.63+
Get this wine care package: Wooden Wine Box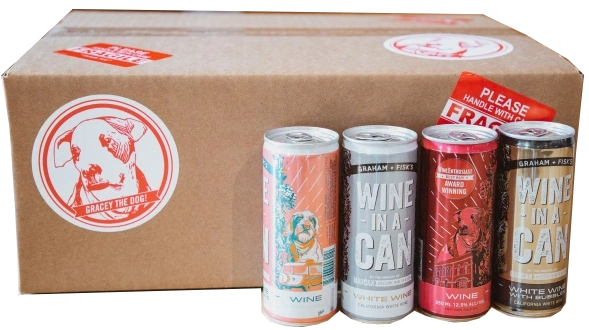 This wine gift set showcases the best concoctions to ever grace a can. Yes, we're talking about canned wines, which the world is embracing. Cans make preserving and shipping wine easy, and their portable, low-maintenance profile provides consumers with plenty of benefits as well: including adding "wine" to the list of beverages to easily offer at outdoor gatherings.
What's unique about this wine box?
It provides a sampling of the best canned wines on the market, wines placed in Wine Enthusiast's "Best Buy" category. Tasters can explore without commitment, all the delights canned wines have to offer. They can take them out on a little test run to cookouts, camping trips, picnics until they find a varietal to call their favorite.
Price: $39.99+ a month
Get this wine care package: Firehouse Can Co.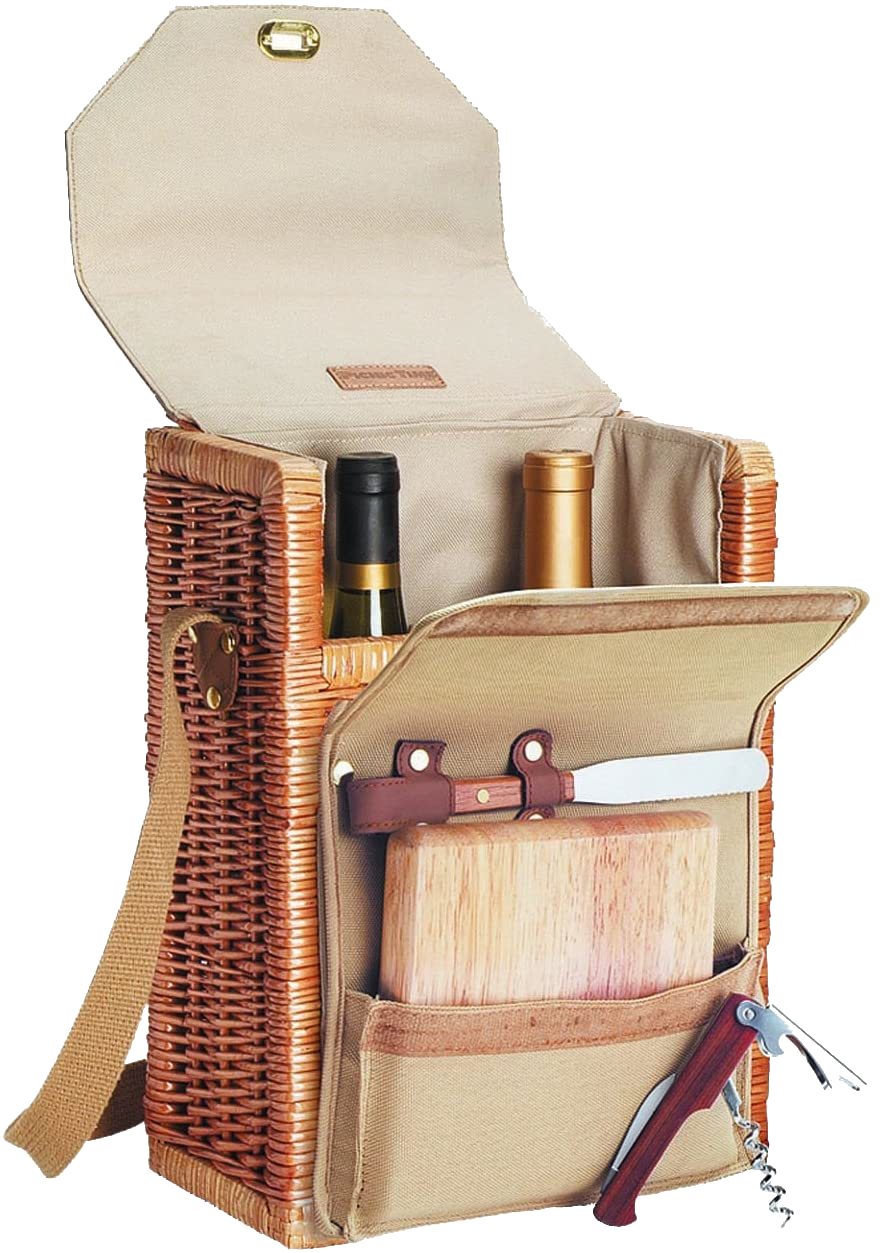 Serious hikers love their CamelBaks. Chocolate fanatics never leave home without a few squares of dark chocolate. No wine lover should live without this hybrid of a picnic basket and a tote designed to hold 2 bottles of wine, a cheese board, and accessories.
What's unique about this wine box?
Every good wine gift should enrich the recipient's wine-drinking experience, and this does that and more. It gives them the amazing power to spontaneously take any wine they want practically anywhere they want. If they've always wanted to enjoy a wine-drenched picnic atop their favorite summit, then this gift box will help them achieve it.
Price: $74.95
Get this wine care package: Wine & Cheese Basket 
Pro-tip: Bookmark this as a go-to gift, whether you need a Mother's day gift, a housewarming gift for your best friend, or a last-minute treat for your boss. Send this gift along with some wine glasses and a bottle of wine from Saucey or Drizly, and you have something anyone will love.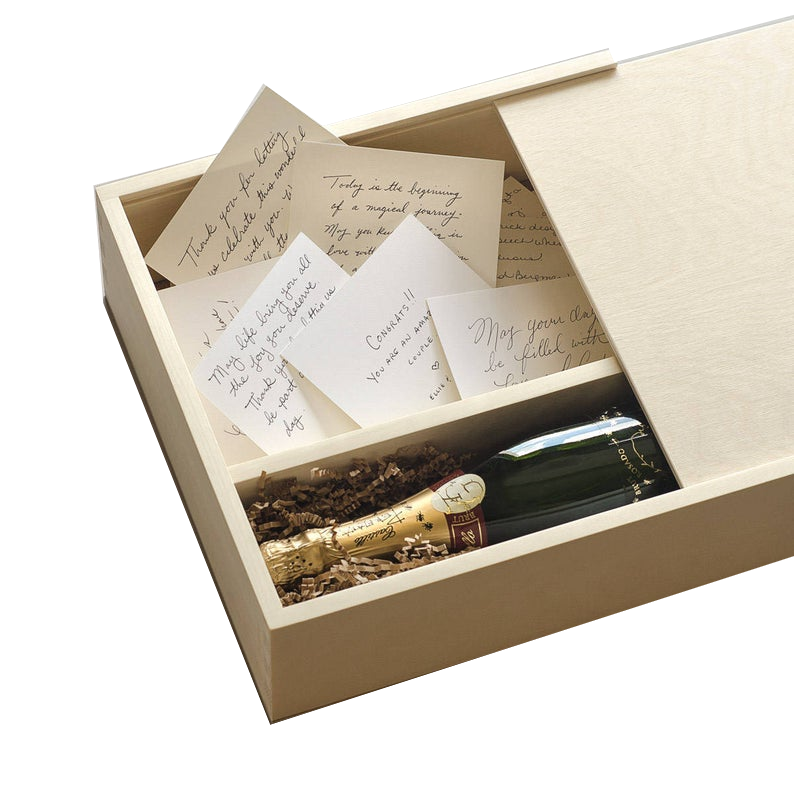 This is the penthouse apartment of wine gift boxes. It's made of Aspen and Baltic Birchwood, and it features a special compartment for snuggly displaying and presenting the perfect bottle of wine plus a large compartment for accompaniments, including personalized letters, wine tumblers, wine glasses, small gifts, and more.
What's unique about this wine box?
It's the perfect display box for your gift of wine, and it also adds something a little bit more personal. You can have the handmade wooden box personalized with 4 lines of text to commemorate special moments, feelings, or occasions or to simply say "happy birthday" or "thinking of you."
Price: $139
Get this wine care package: Wedding Wine Box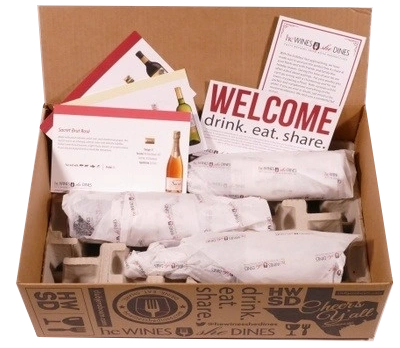 This wine club box is like being part of a wine club where you're the only member, and the winery staff cares only about what you like. Receive wines that have been hand-picked by experts to suit your precise specifications.
What's unique about this wine box?
It puts your preferences above all else. The wines are thoughtfully selected based on your input and feedback, and if you do get something you don't love, they'll let you send it back, and they'll try to find a replacement that's more to your liking.
Price: $49
Get this wine care package: Wine Club Box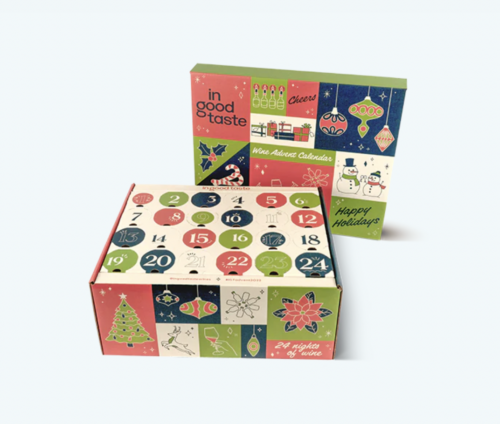 This one-of-a-kind calendar features 24 mini bottles of premium wine, sourced from all over the world. From Spain and Sicily to California and beyond, this calendar is sure to please any wine lover on your list.
What's unique about this wine box? 
Each day of the advent season, recipients simply open a new window to reveal a new bottle of wine. Explore different varieties, from refreshing Sauvignon Blanc to fruity Pinotage, and discover new favorites along the way. This is an excellent way to enjoy the holidays – by sipping and exploring their way through some of the best wines around!
Price: $124.99
Get this wine care package: Wine Advent Calendar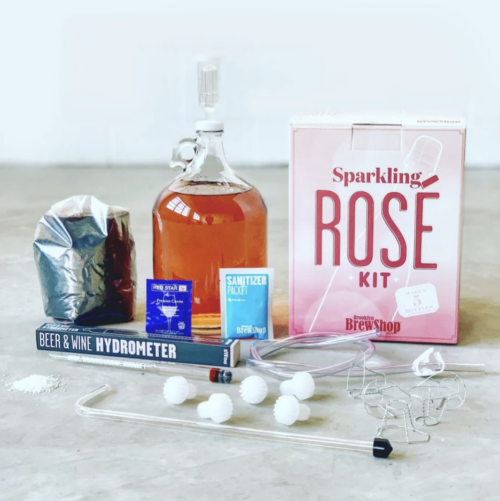 When it comes to celebrating milestones, showing appreciation, or even just bringing some sparkle to your every day, nothing beats a glass of rosé sparkling wine. This DIY kit is perfect for employees and colleagues who want to add something special to their next get-together while showcasing their creative side.
What's unique about this wine box?
It's absolutely one of a kind. This DIY gift item will make the already thoughtful gift of wine even more impactful.
Price: $80
Get this wine care package: Sparkling Rosé Kit

Now, we love wine boxes because they allow you to give wine to people you care about. Drizly allows you to do the same thing, except you don't even need the box. This alcohol courier service allows you to select the perfect wine and have it hand-delivered to your friend or even yourself.
What's unique about this wine box?
Not only will the wine be delivered, but it will also be delivered fast. Offering same-day delivery (usually under an hour), Drizly has your next last-minute surprise covered.
Price: $6.99+
Get this wine care package: Drizly Wine Delivery
Pro-tip: Hook your team up with a Drizly delivery to make your next virtual team building event an affair to remember.
Conclusion
To summarize, when you send a wine gift box, you're really sending joy in a package.
You're also participating in a time-honored tradition of wine-sharing that goes all the way back to the days of wine's youth. Archaeological evidence suggests that the brilliant idea of sharing wine across distance developed alongside wine itself.
The experts at Vinepair write:
"The jars encrusted with wine residue that were found in the tomb of King Scorpion I present early evidence of wine trading. The 300 or so jars in the tomb, which the king intended to take to the afterlife, were made out of clay from Palestine, which implies that the wine itself was imported from vineyards hundreds of miles away."
They also discuss the nuanced design of the amphora, a ceramic container lined with wax that hints at the expertise and energy that went into shipping wine during the Bronze Age. The vessels, with their ship-ready size, convenient carrying handles, and slosh-resistant bottoms, allowed early wine enthusiasts to share their favorite beverages with people who lived (by the standards of the day) on the other side of the world.
And so it seems "sharing" and "wine" have been inseparable since the beginning and likely will be forever. Immerse yourself in this age-old tradition. Connect with coworkers, friends, and loved ones by following in the footsteps of our ancient ancestors and sending them some wine. (You don't even need to fire your own liquid-tight clay pots and stack them on a ship. You can simply select one of the wine gift boxes featured in this article.)
People Also Ask These Questions About Wine Gift Boxes
Q: What is a wine gift box?
A: A wine gift box is a box or basket packed with a hand-picked selection of wines and/or wine accessories. They can usually be shipped (depending on your area's regulations), allowing senders to give friends and loved ones the joy of wine from afar. Pick something from this list of wine gift boxes to make practically anyone smile.
Q: Where can I buy a wine gift box?
A: You can buy a wine gift box from any of the online vendors featured in this list.
Q: How much should I pay for a wine gift box?
A: A wine gift box usually costs around $20 – $120. This roundup features options on every range of this pricing spectrum.
Q: When should I send a wine gift box?
A: When shouldn't you send a wine gift box? You should send a wine gift box any time you want to make someone happy, celebrate a special occasion like a wedding or a birthday, or really, any time you just want to show someone you care.
Q: Can I personalize a wine gift box?
A: Yes, you can personalize some wine gift boxes. See #1 and #13 on this list for examples.
Q: How can I send a wine gift box for work?
A: Send a wine gift box for work by finding an option you like and checking the vendor's shipping details and the regulations in your area. Then allow the expert vendor to take care of the rest. It really is that easy.
Q: What kinds of wines can be sent in a kit?
A: Practically any kind of wine, from light sparkling wines to rich reds, can be sent as part of a kit.
Q: How long does it typically take for a wine gift box to arrive?
A: A wine gift box usually takes anywhere from an hour to twenty days to arrive. For more details, check the shipping information from the wine box supplier or gifting solution that you are looking at. While they cannot guarantee an exact time, they are generally good about giving you an accurate window for you to expect your wine gift box to arrive.