People can make or break your business. A bad hire hurts your capital and your company culture, while a great hire makes your business hum.
But the truth is that it doesn't just matter who you hire — it matters how you hire them.
This is why organizations are increasingly turning to creative solutions and software that are specially designed to optimize the candidate experience and smooth out the hiring process like applicant tracking systems (ATS).
In a hurry? Take a look at some of our favorite ats software for small businesses: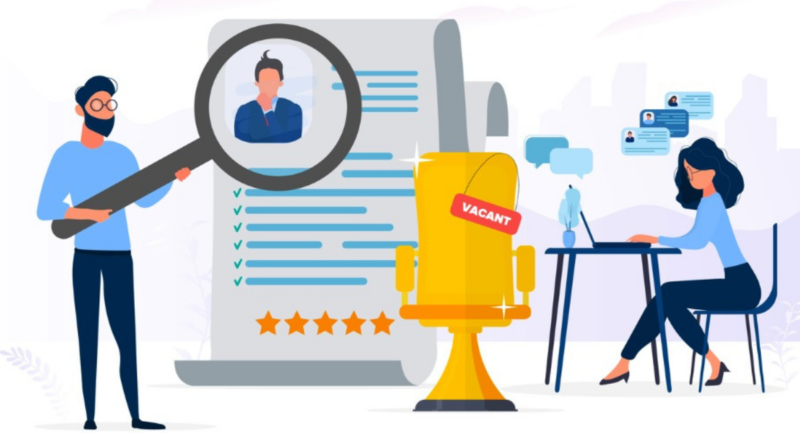 Over 80% of job seekers believe that a positive ATS experience influences their perception of the employer.
Click To Tweet
Whether you run a small business or a corporation, keeping track of applicants and making sure they have the best possible experience is key to being exceptional and staving off the competition.
To help you recruit and hire smarter, we've carefully curated a list of the top applicant tracking systems for small business owners. Keep reading to find out how each of these applicant tracking software can elevate your organization, so you can pick out the perfect one to master your hiring process.
Want to become a better professional in just 5 minutes?
Page Contents (Click To Jump)
What Is an Applicant Tracking System?
An Applicant Tracking System (ATS) is software used by businesses, hiring managers, and organizations to make the hiring process more efficient.
This hiring system helps manage job applicants by serving as a central platform. It enables recruiters and HR professionals to post job openings, screen resumes, track candidate applications, schedule interviews, communicate with candidates, and ultimately select the best candidates for available positions.
Applicant tracking systems can enhance recruitment by organizing and streamlining candidate data and interactions, facilitating collaboration among hiring teams, and improving overall recruitment efficiency.
Why Should Small Businesses Use Applicant Tracking System Software?
Applicant tracking system software can help small businesses simplify their hiring process, lessen manual administrative tasks, and enhance candidate management.
With automated features and functionality such as job postings, resume screening, and interview scheduling, ATS can help small businesses save time and resources.
This will enable them to attract and hire the most suitable candidates for their business, resulting in a more successful and efficient recruitment process.
⏰ Time Efficiency: Applicant tracking system automates tasks such as screening resumes and scheduling interviews, allowing small business owners and HR teams to save time. This helps them concentrate on the strategic aspects of the hiring process.
👨🏻‍💻 Streamlined Recruitment Process: ATS can help small businesses streamline their recruitment process by consolidating candidate data, applications, and communications. This can enhance organization and efficiency, and minimize the risk of overlooking highly qualified candidates.
✅ Improved Candidate Experience: The application process of an ATS is designed to be easy to use, and applicants can expect prompt responses and clear communication throughout. This fosters a positive experience for candidates, even if they do not end up being hired, which can benefit the reputation of the employer.
📊 Talent Pool Building: Businesses can use applicant tracking system software to create and manage a database of qualified candidates, which can be a valuable resource for future job opportunities.
✍🏻 Compliance and Reporting: An ATS assists small businesses in complying with hiring laws and regulations. It ensures that the hiring process is fair and free from discrimination. Furthermore, it generates reports easily that can be used to keep track of recruitment metrics.
List of the Top ATS for Small Business
🎖 Best small business ATS for: Simplifying human resources with award-winning solutions for everything from employee hiring to retiring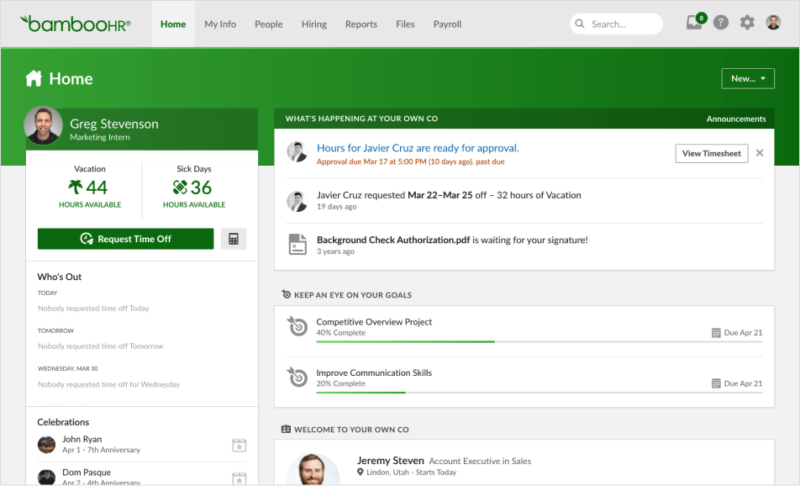 BambooHR consolidates various solutions, features, and integrations (such as CRMs, LinkedIn, and other social media platforms) into a single platform that employs a unified source of data. This eliminates the difficulties posed by fragmented systems, isolated employee data sources, and disparate workflows. As a result, time-consuming processes are minimized.
👍🏻 Why we love this small business ATS: This applicant tracking system is designed for small businesses. You can easily manage employee information and gain useful insights, search for and recruit the most suitable candidates, simplify payroll procedures, monitor working hours, and administer employee benefits. Furthermore, you can assess employee performance and experience, and connect other tools via pre-built integrations.
Top Features
► Built-in communications
BambooHR recruiting platform makes it simple to work together on hiring. It allows you to easily gather feedback from stakeholders and team members at every stage with custom permissions. There are automatic alerts and in-system messaging to avoid communication gaps, and candidate information is instantly shared across desktop and mobile devices to keep everyone updated.
► Customizable templates
BambooHR's offer letter templates are customizable and automatically filled with candidate information for different positions, job types, and requirements. Candidates can easily accept an offer using electronic signatures instead of needing to print and fax.
► Mobile hiring app
Through its hiring platform, your team can easily post jobs and review candidate applications from anywhere. Collaborators can access resumes, see candidate responses, and provide ratings and feedback whether they're at home, the beach, or in a carpool lane.
Optimize the employee experience with BambooHR!
🎖 Best small business ATS for: Making international employment easy and risk-free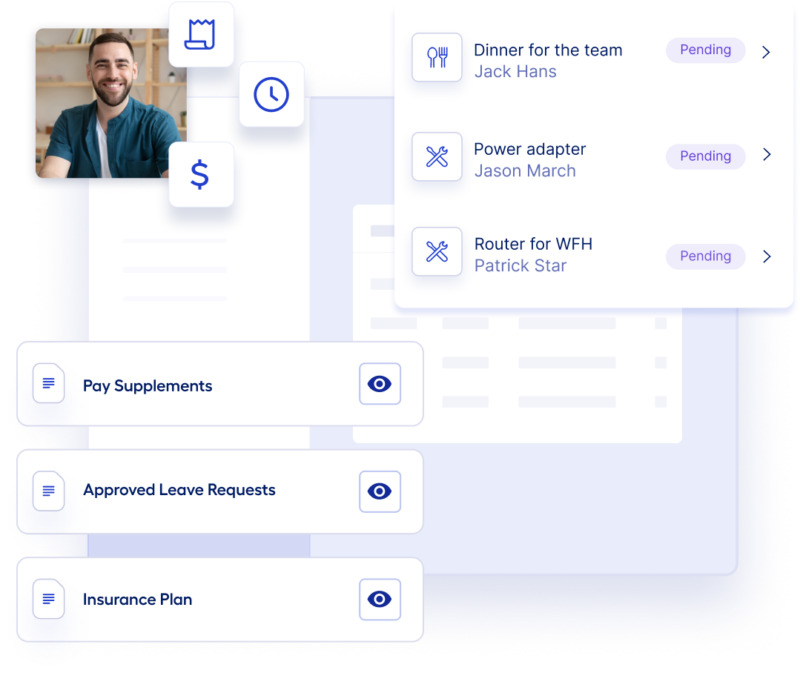 Multiplier is a platform that helps manage payroll, taxes, social contributions, and local insurance policies for global teams. As an applicant tracking system for small businesses and startups, it makes it easier to expand into new markets and grow quickly without the need to incorporate a new entity.
👍🏻 Why we love this small business ATS: Multiplier is a borderless, limitless applicant tracking software that enables risk-free, fully compliant employee contracts. We love the fact that from an employer standpoint, everything you need to do, from onboarding and paying to managing international employees can be done all through Multiplier.
Top Features
► Global benefits
Motivate and retain talent with top-class benefits that every employee will be thankful they have access to.
► Global compliance
Minimize the risks that come with global employment by ensuring your following all rules and compliance procedures necessary for international hiring.
► ESOP administration
Issue your Employee Stock Ownership Plan to international hires.
👉🏻 Put your international hiring plan into action with Multiplier!
🎖 Best small business ATS for: Bringing your hiring teams together, boosting your sourcing, and automating your hiring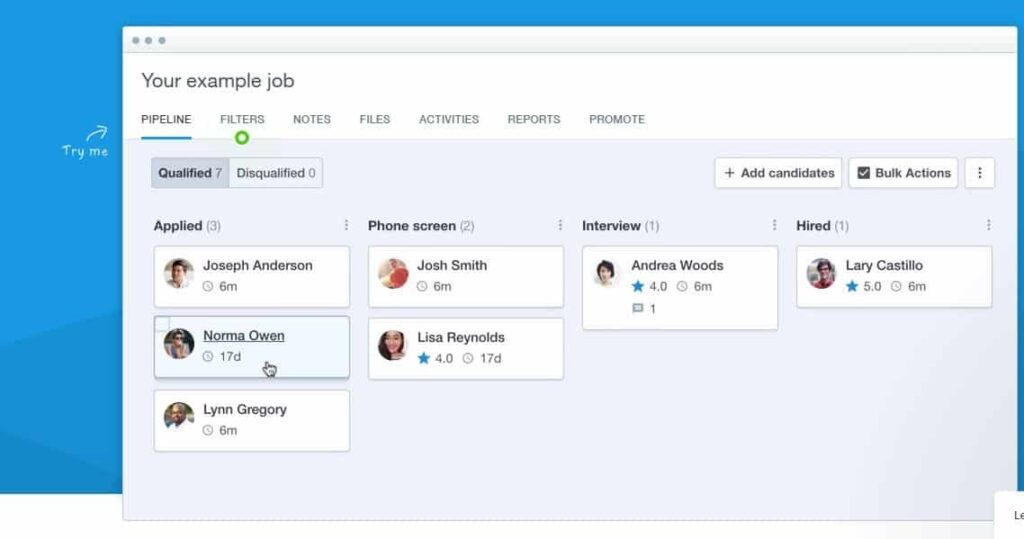 Easily build an impressive careers website in a few simple steps. With Recruiter's user-friendly career site editor, you can attract top-notch candidates without any coding skills.
👍🏻 Why we love this small business ATS: With social sharing links, sourcing tools, and referrals, turn everyone into a recruiter. You can also use smart campaigns to post to multiple job boards simultaneously.
Top Features
► Scheduler
No more hassle scheduling interviews and involving your hiring team. With our Scheduler, interview templates, notes, and mentions your recruitment will be more efficient.
► Requisition approvals
Set up a centralized system that all stakeholders can access to manage requisitions in real time.
► Integrations
Set up, process, and integrate Recruitee with your HR tech stack.
👉🏻 Automate your hiring process with Recruitee!
🎖 Best small business ATS for: Pinpointing, attracting, hiring, and onboarding top talent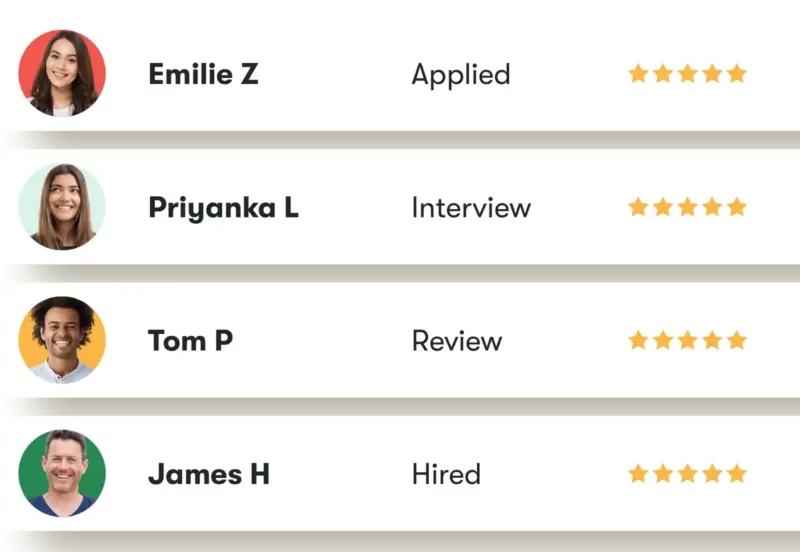 Pinpoint is an applicant tracking system that offers features such as branded careers sites and career pages, customizable templates, workflows, user-friendly reports, and streamlined hiring processes for both candidates and your team. Besides that, Pinpoint has a team of recruitment experts who can assist you in adapting to changing priorities and best practices.
👍🏻 Why we love this small business ATS: Pinpoint is a flexible tool that lets hiring teams and managers customize it to fit their preferences and work methods. It can adapt to your needs regardless of where you are in the hiring process.
Top Features
► Branded careers website
Pinpoint allows you to craft an engaging careers website that turns visitors into applicants.
► Job board marketplace
Simultaneously advertise on hundreds of the best job sites.
► Recruitment agency portal
Manage your agencies and their candidates in one central location.
👉🏻 Pinpoint your perfect candidates today!
🎖 Best small business ATS for: Developing people-first companies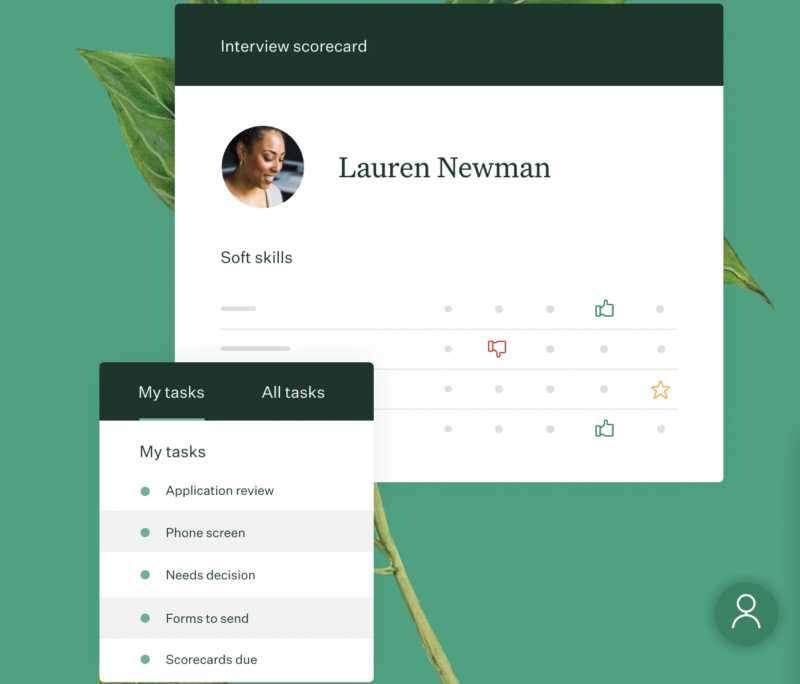 Greenhouse is an applicant tracking system and structured hiring approach designed for people-first companies. It is a hiring operating system that can help small businesses improve their hiring process and equip them with the necessary technology and support for future growth.
👍🏻 Why we love this small business ATS: Greenhouse helps you improve the hiring process for everyone, find and hire the best talent, reduce bias and improve diversity, amplify your team's efficiency and business impact, and measure, iterate, and improve your hiring process.
Top Features
► Multilingualism
To connect with teammates and talent worldwide, it's necessary to communicate effectively across language barriers, cultural differences, and work styles. Greenhouse Recruiting can now be used in six languages, making it easier to achieve this seamless connection.
► Pay standards
Standardized compensation fields can help you gain a better understanding of compensation trends and the factors that influence pay decisions in order to promote fair pay practices throughout your organization.
► Onboarding milestones
Use onboarding milestones to measure the progress of your new hires. This will provide them with structure and assurance, helping them become productive and confident teammates more quickly.
👉🏻 Build your people-first culture with Greenhouse!
🎖 Best small business ATS for: Small businesses looking for a cost-effective way to screen candidates at scale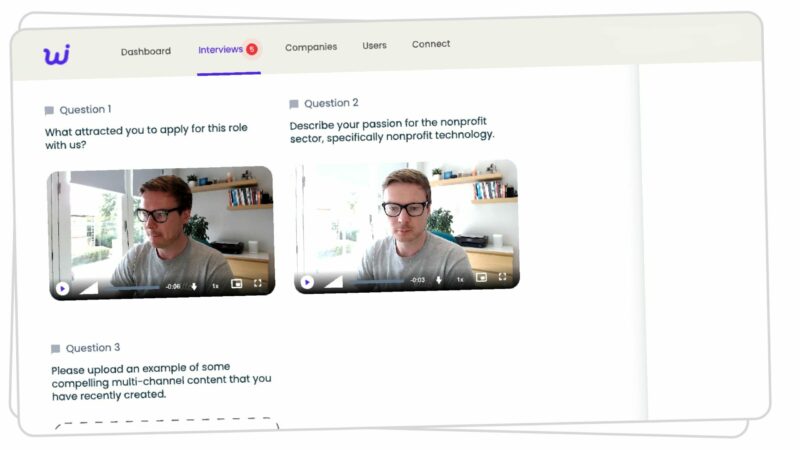 Willo is an award-winning tool that performs candidate screening and ID checks in a simple and secure way. This ATS software can make the recruitment process more engaging and enjoyable for applicants while also attracting a greater variety of talent to your company. Additionally, a remote-friendly interview process can attract candidates from all over the world, making it easier to quickly identify and shortlist top talent.
👍🏻 Why we love this small business ATS: When the interview process is straightforward, adaptable, and easy to use for candidates, it benefits both your business and the candidates. Willo prioritizes user experience and has created a smooth platform that works well for both job candidates and recruiters.
Top Features
► Virtual interviewing
Through Willo interviewing, candidates can choose to respond to your interview questions asynchronously at their convenience and according to your deadlines, using video interviewing, audio, or text formats. The interview is available 24/7, so candidates can participate at any time, day or night.
► Digital identity verification
Willo can seamlessly incorporate digital right-to-work and identity verification into your interviews and receive an authorized report verifying the candidate's identity.
► Integrations
You can connect Willo with the tools you already use effortlessly. There are over 5,000 integrations available through OpenAPI, native integrations, and Zapier.
👉🏻 Scale your hiring efforts efficiently with Willo!
🎖 Best small business ATS for: Supercharging employee performance around pivotal moments in talent development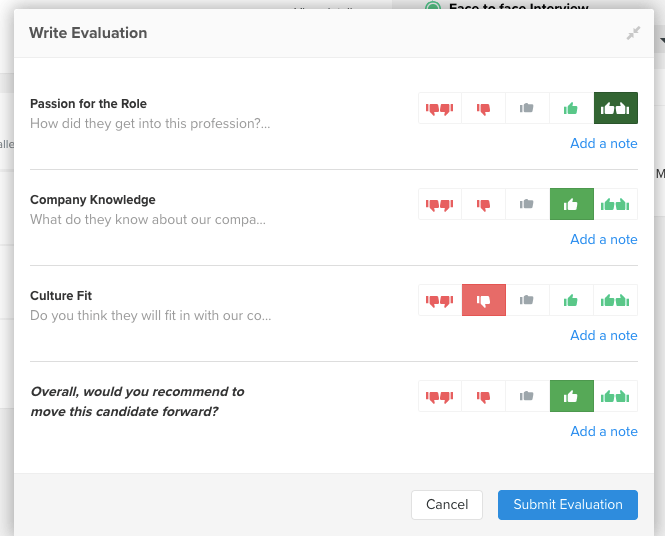 Trakstar, the dedicated platform for HR talent development, connects all stages of the employee lifecycle. With four efficient and top-notch products in one comprehensive solution, Trakstar can automate critical day-to-day tasks, maximizing your productivity and freeing up more time for impactful actions.
👍🏻 Why we love this small business ATS: This innovative software and world-class support can help you eliminate manual processes. By using Trakstar, you can make smarter decisions to attract, retain, keep up with candidate profiles, and engage your workforce.
Top Features
► Candidate experience
Improve the candidates' initial experience by making the process from viewing the job posting to receiving a job offer efficient and seamless.
► Offer management
Do you need assistance with managing the offer letter process and getting it signed for the candidate you want to hire? Trakstar can help with that and ensure they are ready for onboarding.
► Scheduling
Eliminate the scheduling process by syncing calendars and arranging meeting times with both the hiring team and candidates, so that emails back and forth are not necessary.
👉🏻 Get your applicant tracking process on track with Trakstar!
🎖 Best small business ATS for: Small businesses finding and hiring the right talent fast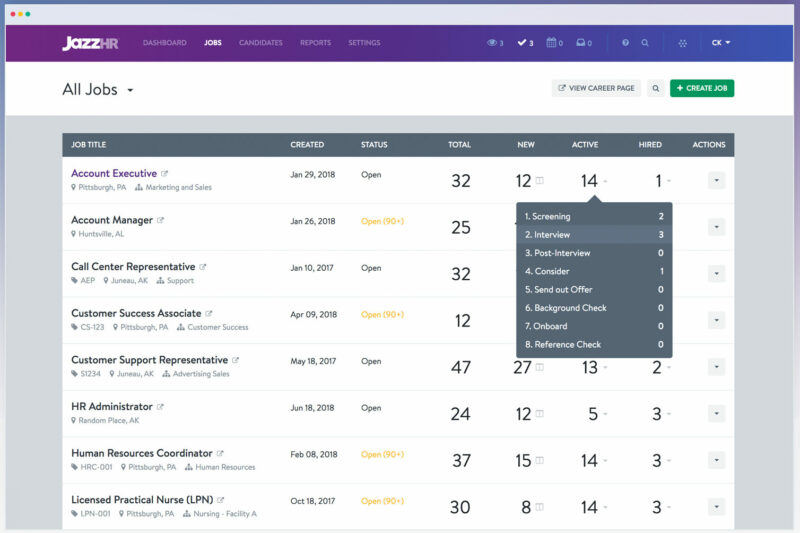 JazzHR is designed to help you simplify your complete hiring process, including sourcing candidates, building your employer brand, conducting interviews and assessments, managing compliance, generating reports, and enabling collaborative hiring.
👍🏻 Why we love this small business ATS: JazzHR has received an award for Best ATS & Recruiting Software in 2023, particularly for its user-friendliness, easy setup and administration, and quality customer support.
Top Features
► Employer branding
With JazzHR's cloud-based recruiting software, you can use custom branding options to promote your own brand. This allows you to personalize your process and create unique assets, resulting in a more consistent candidate experience.
► Candidate sourcing
JazzHR offers you a comprehensive suite of tools to help streamline your hiring process and source the best talent for your team. From candidate sourcing tools to resume builders, you will have all the solutions necessary to find and attract top candidates.
► Collaborative hiring
Improve coordination with your hiring team by using our tools to manage, rank, track, and discuss candidates together.
👉🏻 Speed up your talent search with JazzHR!
---
People Also Ask These Questions About The Best Applicant Tracking Systems For Small Business
Q: Should small businesses use an applicant tracking system?
A: Yes, using an applicant tracking system (ATS) can provide significant advantages to small businesses. With an ATS, the hiring process becomes more efficient as it automates job postings, application management, and candidate data organization, reducing the workload of small business owners and HR personnel. One can identify the best candidates quickly and enhance the overall effectiveness of the recruitment process. Additionally, an ATS can guarantee an unbiased and consistent hiring process, thereby adhering to legal requirements.
Q: What are the benefits of using an ATS for small business?
A: Small businesses benefit greatly from using an Applicant Tracking System (ATS). The ATS automates tasks such as job posting, candidate communication, and application management, thus streamlining the hiring process and saving both time and resources. On top of that, it centralizes candidate data, making it simpler to search, sort, and compare applicants, which increases the likelihood of making informed hiring decisions. Lastly, an ATS helps to avoid overlooking qualified candidates and ensures a fair and consistent recruitment process.
Q: How do I choose the right applicant tracking system for my small business?
A: If you're a small business looking for the right applicant tracking system (ATS), make sure to consider several key factors. Start by evaluating your unique hiring needs, such as the number of positions you are filling, the size of your candidate pool, and how much automation you want. Choose an ATS that has user-friendly features and can be customized to fit your hiring process. Determine if it can be integrated with your current HR software and if it meets data security and regulatory requirements.
Q: What are the challenges small business owners face when using an ATS?
A: Small business owners can face many challenges when using an ATS. For example, they may face cost concerns due to upfront expenses or ongoing subscription fees that could burden their limited budgets. Learning to use the ATS software can also be overwhelming, particularly for those who are new to it, and may require time and resources for training and adaptation. Moreover, not all ATS platforms are suitable for smaller businesses with a limited talent pool, as they may not cater to niche industries or specialized roles.
Q: How much does the average ATS cost?
A: The price of an Applicant Tracking System (ATS) can differ widely depending on the provider, features, and business size. Basic ATS solutions for small businesses can cost $50 to $100 per month. Mid-range ATS platforms with advanced features range from $100 to $500 per month, while enterprise-level systems cost $500 per month and may go up to thousands of dollars per month.