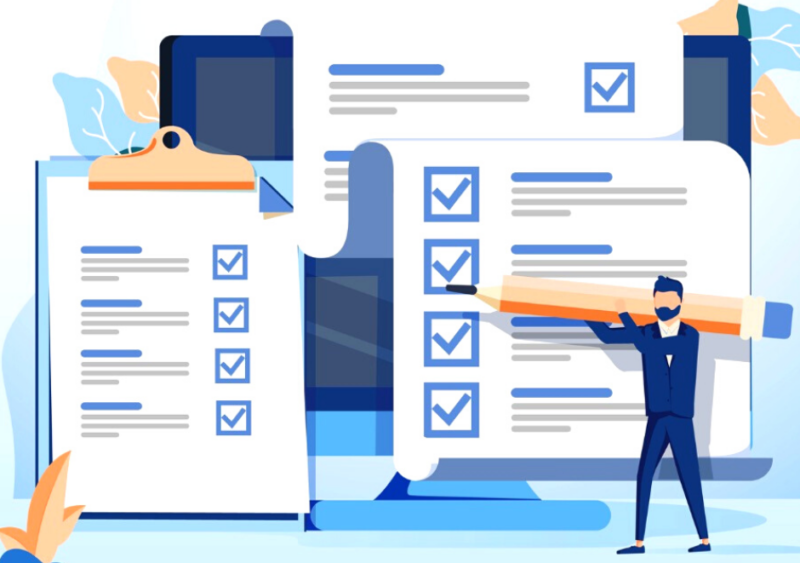 Staying competitive in the current market conditions requires you to have a productive, dependable, and adaptable workforce.
Of course, that's impossible if your top talent comes in one door and out another. Employee retention is vital for the long-term success of your company regardless of your industry.
⭐ Pro-Tip: Stay in the loop with all things HR, from retention to software tips, by subscribing to this free email newsletter thousands of HR Pros can't get enough of.
To help improve retention and create positive company cultures, HR software platforms ensure that your personnel management system is optimized and able to meet the modern demands of increasingly complex corporate environments.
In this guide, we'll give you the information you need to pick out the right HR software platform from our carefully curated selection of the best enterprise HR software platforms for large companies in 2023.
"You cannot mandate productivity; you must provide the tools to let people become their best." — Steve Jobs
Click To Tweet
Our top picks boast features ranging from payroll integration, attendance tracking, performance metrics analysis, employee recruitment assistance, and much more — all to ensure you gain the competitive advantage you need to recruit and keep the type of talent and personalities that make organizations thrive.
Your HR operations will be firing on cylinders in no time, so without further ado, let's dive into the best enterprise HR software platforms for large companies in 2023!
Want to become a better professional in just 5 minutes?
Page Contents (Click To Jump)
Best Enterprise HR Software Platforms For Large Companies
Best enterprise HR software for: Managing employees on a global scale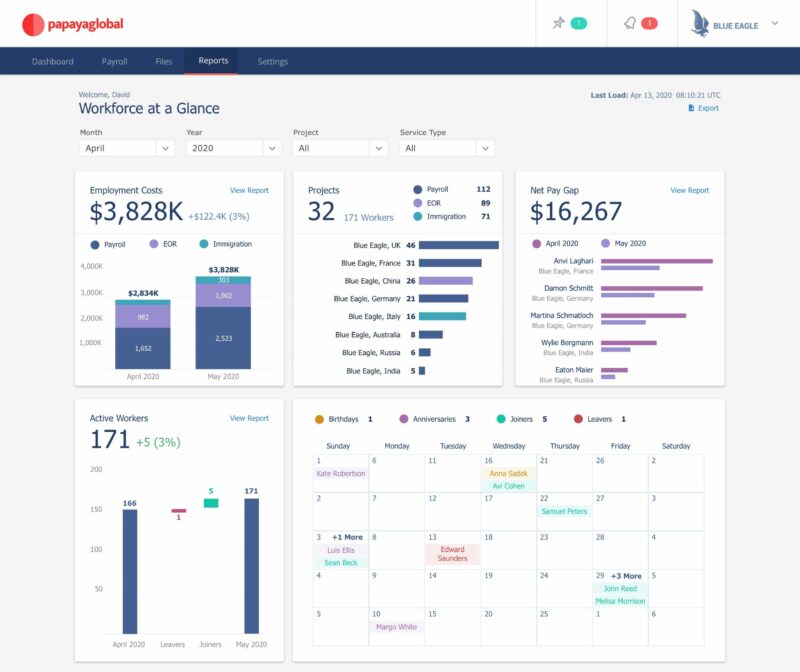 Papaya Global is an enterprise HR software platform designed to help businesses manage their global workforce. This cloud-based solution helps HR teams effectively manage international payrolls, employee onboarding and offboarding processes, international compliance laws, and more.
How Papaya Global  helps enterprise teams run Human Resources: Papaya Global simplifies the complexities of global employee management. With this platform, businesses can easily manage their payrolls and taxes and provide employees with access to exclusive benefits in any country.
🏅 Standout Features
Global Payroll: Papaya Global's global payroll feature allows businesses to manage their employee's payrolls and taxes across multiple countries at once.  This makes it easier to calculate salaries accurately, stay compliant with international laws, and settle employee payments more quickly.
Fraud & Automation: Papaya Global's fraud prevention and automation features help businesses protect their finances against potential security breaches.  This includes advanced analytics, automated payment flows, real-time compliance checks, and more.
HRIS: Papaya Global's user-friendly HRIS solution enables Human Resources teams to effectively manage all employee information in one organized hub. This powerful platform stores critical data such as records, benefits, and more, providing an efficient way for HR departments to better oversee their workers.
📌 Enterprise Companies that use Papaya Global
"Papaya's platform is essential to our global workforce management, in the same way, Salesforce is essential to our sales." – Yael Koch, VP HR, Armis
🚨 Master global employee management with Papaya Global!
Best enterprise HR software for: Managing contractors and employees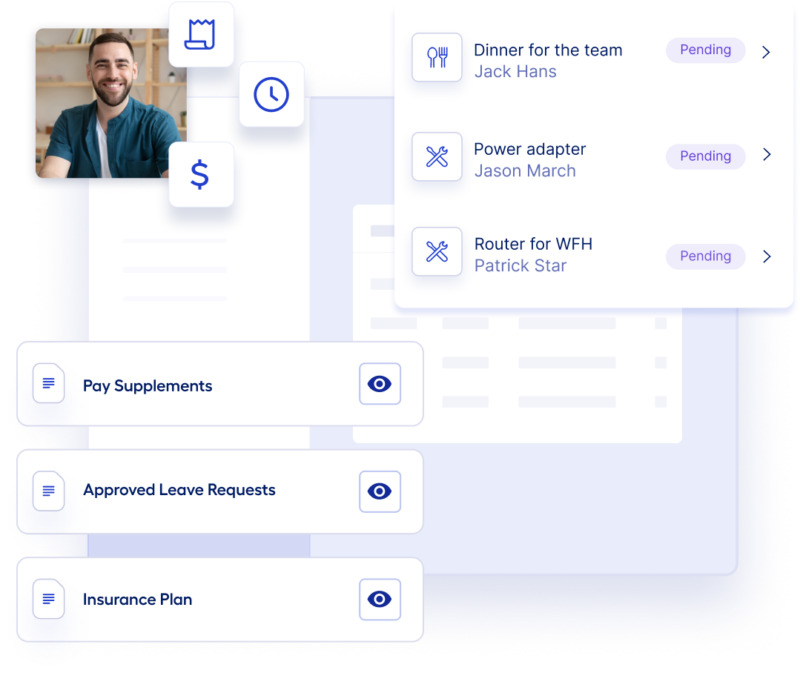 Multiplier is a renowned worldwide employment platform designed to simplify the recruitment process for international teams. By using their advanced technology, any issues regarding complying with specific regulations, contracts, payrolls, and benefits are eradicated while ensuring accurate tax payments.
How Multiplier helps enterprise teams run Human Resources: Multiplier streamlines managing remote teams effortlessly and responsibly, offering a straightforward dashboard to ensure performance aligns with applicable labor laws.
🏅 Standout Features
Hire & Onboard International Employees: Multiplier makes international hiring easy and safe with its cutting-edge technology. Their cloud-based platform allows enterprises to access hundreds of thousands of pre-screened talent from around the world.
Run Global Payroll: Multiplier provides companies with the ability to run global payroll, enabling them to pay their team members around the world easily and quickly.
Global Benefits: Multiplier's all-in-one platform provides a streamlined solution for administering benefits and keeping track of documentation.
📌  Enterprise Companies that use Multiplier
Donaldson
Rightship
Rational
"Most interactions are performed through a web-based tool which is easy to use. I like the fact that contracts are generated from the tool and sent directly to the employee for signing."
🚨 Multiply your organizational positivity with Multiplier!
Best enterprise HR software for: Optimizing your employee experience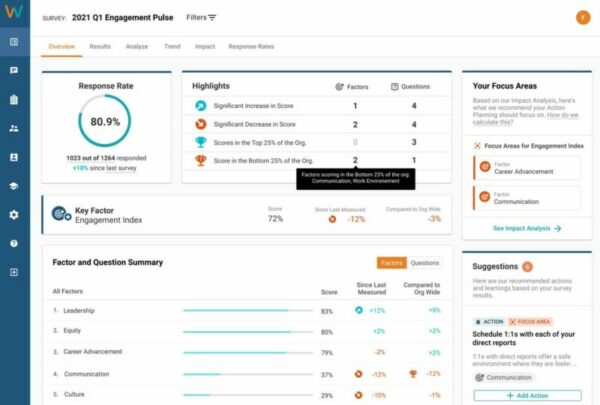 WorkTango is an advanced employee experience platform that helps huge teams amplify engagement and productivity. Features like real-time feedback, tailored surveys, ongoing check-ins, data tracking, and analytics allow enterprise groups to gain valuable insights into their employees' experiences and build a more interactive work environment. Unlock your team's full potential with WorkTango!
How WorkTango helps enterprise teams run Human Resources: With WorkTango, corporate teams can effortlessly measure employee performance and monitor engagement levels in the workplace. Additionally, they can utilize collected data to recognize opportunities for improvement.
🏅 Standout Features
Surveys & Insights: WorkTango's surveys and insights feature helps enterprise teams identify key drivers of employee engagement, enabling them to take targeted actions to improve morale
Recognition & Rewards: WorkTango's recognition and rewards feature offers businesses a range of ways to recognize, motivate and reward their employees for their contributions
Goals & Feedback: WorkTango's goals and feedback feature helps organizations set clear objectives for employees, track progress, and receive real-time feedback to support employee success.
📌 Enterprise companies that use WorkTango
Doordash
Allianz
Accruent
"As we rapidly expand across the globe, WorkTango has given Trintech a platform for us to connect with colleagues and recognize each other's outstanding contributions in real-time" – Teresa Mackintosh, CEO
🚨 Improve your employees' experience with WorkTango!
Best enterprise HR software for: Managing your workforce effectively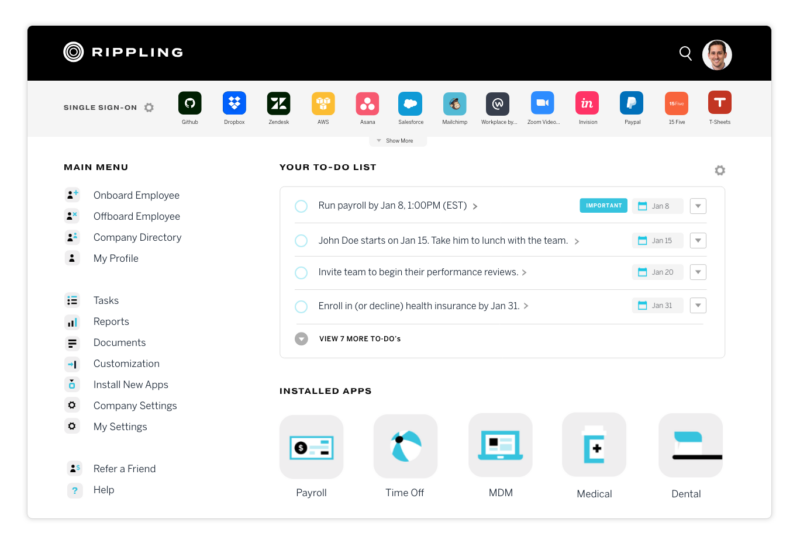 With Rippling, businesses can access the ultimate one-stop shop for all aspects of HR, IT, and Finance. Rather than relying on multiple systems to manage payrolls, expenses, benefits, and computers separately. Now enterprises have a single system that encompasses every facet of an employee's journey and optimizes it through every stage of the employee lifecycle.
How Rippling helps enterprise teams run Human Resources:  Rippling makes Human Resources a breeze by quickly automating tedious tasks and organizing processes. This platform offers HR departments one central hub to effortlessly coordinate employee data, applicant tracking, payrolls, benefits enrollment, onboarding & offboarding procedures, and other important information. With Rippling managing it all for you, the day-to-day of Human Resources becomes simpler than ever before!
🏅 Standout Features
Talent Management: Rippling's talent management software helps core HR teams better understand the performance and capabilities of their employees and address business needs.  This includes powerful analytics, automated performance reviews, and skills-based evaluations that provide valuable insights into the strengths and weaknesses of the workforce.
PEO: Rippling's PEO feature simplifies the onboarding process by eliminating paperwork and making it easier to manage employee benefits. Moreover, it equips HR teams with a centralized platform to easily manage payrolls and other employee-related data.
Learning Management: Rippling's Learning Management feature allows HR teams to track the progress of their employees' development and training.  This helps them to identify areas where employees need improvement and provides valuable insights into the effectiveness of their training programs as well as enabling employee self-service.
📌  Enterprise Companies that use Rippling
Morning Consult
Stacklet
Encamp
"With other HRIS products I've used, my question goes into no man's land. I don't hear back. Rippling's customer service is heads above other systems we've used, in terms of documentation and response time." – Kim Krueger, Operations Specialist at M9
🚨 Learn more about how to manage your team with Rippling!
Best enterprise HR software for: Managing contractors and employees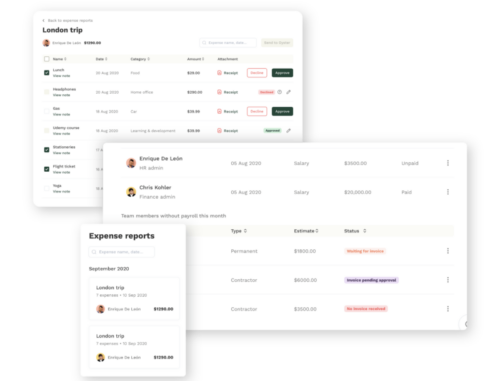 Oyster is a pioneering employment platform designed for progressive HR professionals to quickly connect with, pay for services from, develop, and take care of their remote staff. This remarkable technology offers companies the extraordinary chance to offer tremendous experiences abroad without any unnecessary cost or trouble!
How Willo helps enterprise teams run Human Resources: Oyster provides enterprises with a hassle-free way to recruit personnel from around the world and guarantee compliance in payroll operations, along with tremendous local advantages.
🏅 Standout Features
Fast Compliant Hiring: With Oyster, enterprises can be assured that all contracts with their team members abide by the applicable local labor laws; this way, companies are free to expand their international teams without any worries.
Global Employment Templates and Checklists: Oyster provides enterprise companies with access to global employment templates and checklists, making it easier for them to onboard remote team members.
Time Zone Crossover Calculator: Oyster's time zone crossover calculator helps enterprise teams manage their remote employees' shifts more efficiently.
📌  Enterprise companies that use Oyster
Chili Piper
Firstbase
Jobbatical
"We've used Oyster to hire and onboard employees in 10 different countries and we would not have been able to grow that quickly without Oyster." – Jessica Silva, Director of People, Lokalise
🚨Learn more about Oyster here!
Best enterprise HR software for: Conducting video interviews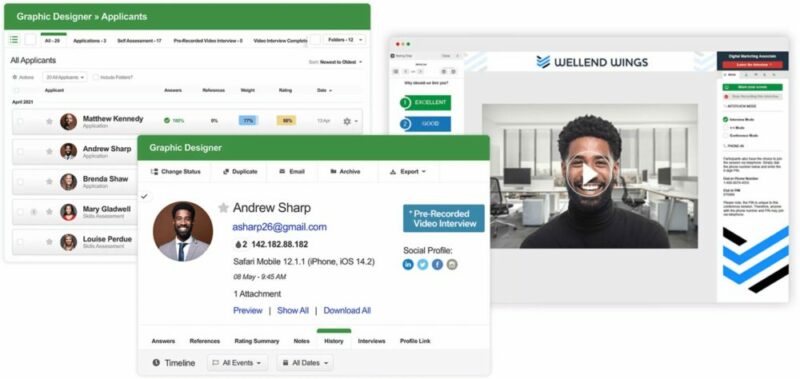 VidCruiter is a game-changing cloud-based video interviewing and HR management solution, ideal for enterprise companies who want to streamline their recruitment processes. With VidCruiter you can quickly create and manage interviews, track progress throughout the hiring cycle, and receive real-time insights into your candidates' performance – all in one convenient platform!
How VidCruiter helps enterprise teams run Human Resources: VidCruiter's structured digital interviews help increase the predictive validity of the hiring process by 65 percent, effectively eliminating bias. On top of that, VidCruiter reduces your time-to-hire by as much as 75 percent, allowing your HR pros to focus on other matters.
🏅 Standout Features
Live Video: VidCruiter's Live Video feature enables HR teams to conduct virtual interviews with candidates in real-time, making it easier to assess their skills and experience.
Automated Scheduling: VidCruiter's automated scheduling feature makes it easy for HR teams to quickly book interviews with qualified candidates. This feature saves them time and resources, allowing them to focus on more important tasks.
Analytics: VidCruiter provides comprehensive analytics that gives HR teams valuable insights into their recruitment process.  This HRMS helps them make more informed hiring decisions and track the progress of their recruitment process.
📌  Enterprise Companies that use VidCruiter
"VidCruiter has been a game-changer. It's helping our hiring decisions, and it's adding fairness to the process." -Jenna Wilson, Director of Talent, Isaac Operations
🚨 Learn more about VidCruiter here.
Best enterprise HR software for: Managing contractors smoothly and efficiently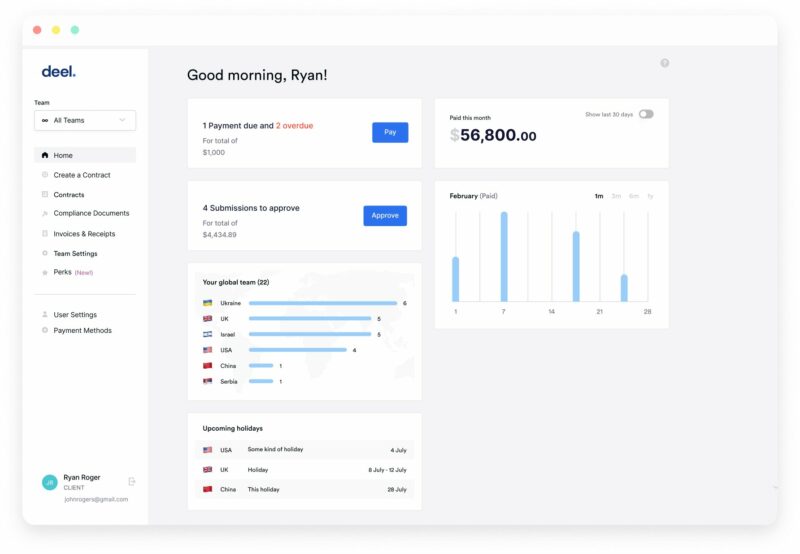 Deel is an advanced HR platform tailored for big businesses. It simplifies managing contractors and enables organizations to onboard, control, and pay global workers rapidly and with ease. Make your contractor management system smoother than ever before with Deel!
How Deel helps enterprise teams run Human Resources: Deel helps reduce onboarding times to five minutes or less, eliminate errors and duplicate work, create a consistent employee experience, and save you money on your tech stack.
🏅 Standout Features
Payroll Entry: Deel's payroll entry feature allows businesses to quickly and easily enter payroll data, reducing the time it takes to manage contractor payments.
Onboarding: Deel provides an intuitive onboarding process that makes adding new contractors easy and quickly gets them up to speed.
Employer of Record: Deel's Employer of Record service is your go-to for quickly onboarding employees in over 100 countries without any hassles or added expenses. You'll be able to save time, money, and energy with this efficient solution!
📌 Enterprise companies that use Deel
"We chose Deel mostly because of its extreme commitment to their mission and prioritization of customer success" – Teamflow
🚨 Learn more about Deel today!
Best enterprise HR software for: Conducting video interviews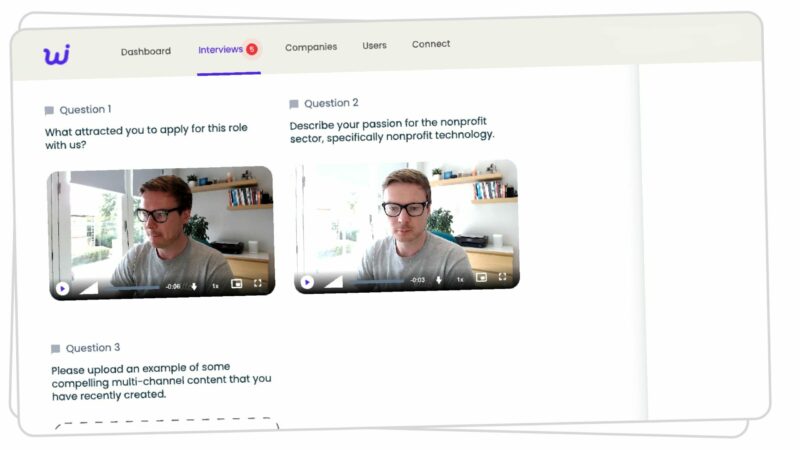 Willo is the ideal video interviewing platform for enterprise teams. It offers various features that simplify and speed up the recruitment process, from automated scheduling to AI-driven evaluations and real-time team collaboration tools – all easily accessible with a single click! With Willo, enterprises can save time while still making sure they get quality candidates on board.
How Willo helps enterprise teams run Human Resources: Willo's video interviewing software aids enterprise teams in optimizing their recruiting processes, swiftly and effortlessly recognizing the most suitable job applicants.
🏅 Standout Features
AI-Powered Assessments: Willo's AI-powered assessments help businesses quickly identify top talent by assessing candidate responses in real time.  This allows recruiters to quickly determine which job candidates are best suited for their open positions.
Automated Scheduling: Willo's automated scheduling feature helps enterprise teams save time and energy by automating the interview process and helping them quickly book interviews with top prospects.
Digital identity Verification: Willo's digital identity verification feature helps businesses protect their data by confirming the identities of job candidates before scheduling interviews.
📌 Enterprise companies that use Willo
Samsung
Seattle University
IAG
"Since using Willo, we've reduced our time-to-hire from four weeks to just one week – it's a huge time saver."
🚨 Learn more about Willo here.
What is enterprise HR software?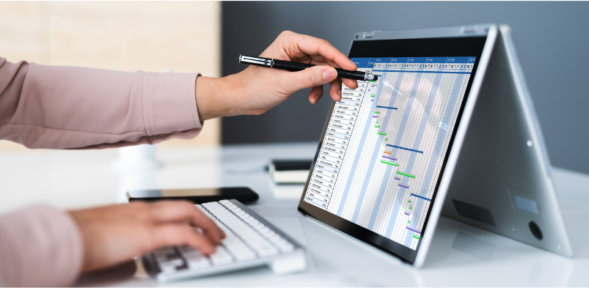 Enterprise HR software is an online platform designed to streamline and manage day-to-day human resources operations for large companies by providing a wide range of features such as onboarding tools, payroll and benefits management, employee performance tracking, and more.
These HR-friendly software solutions also help with analytics, reporting, and compliance so HR processes and strategies can be optimized without necessarily having to move mountains.
What features are most important in an enterprise HR tool?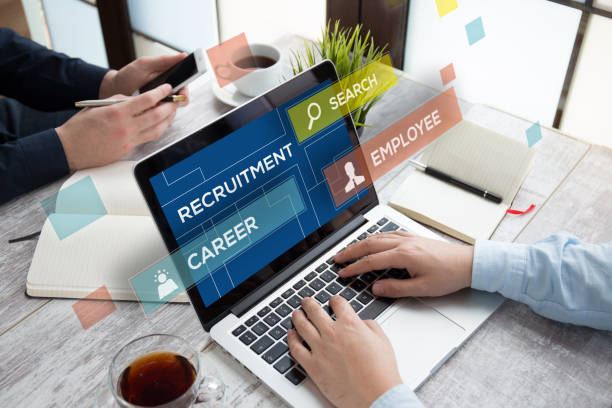 The most important features to look for in an enterprise HR tool are attendance tracking, performance metrics analysis, employee recruitment assistance, payroll integration, and reporting and analytics.
⏰ Attendance Tracking
Attendance tracking lets you follow employees' arrival and departure times as well as absenteeism and general engagement trends. For larger companies that need to manage legions of employees, this is especially useful.
📊 Performance Metrics Analysis
HR software can help you track and assess employee performance metrics and make more informed personnel management decisions.
👨🏻‍💻 Employee Recruitment Assistance
Advanced HR software platforms can help improve the recruitment process at every stage, from sourcing and screening candidates to onboarding and providing training materials for new hires.
💰 Payroll Integration
Payroll integration ensures that payroll is timely, accurate, and current, which will save your team time and energy, and your organization money.
📈 Reporting and Analytics
The best enterprise HR software platforms give you detailed reports and analytics to get you insights into whether or not your human resources strategies and processes are.
---
People Also Ask These Questions About Enterprise HR Software Platforms
Q: What are the benefits of using an enterprise HR software platform?
A: There are many benefits to using an enterprise HR software platform, including improved employee engagement, better performance tracking and analytics, cost-effective solutions for payrolls and compliance regulations, streamlined processes for onboarding and offboarding, and much more to smoothen out your HR systems.
Q: Can enterprise HR software platforms integrate with other systems?
A: Yes, the majority of enterprise HR software platforms provide robust integration with other business systems and applications. This is great news for businesses as it allows them to seamlessly move data between different platforms which in turn expedites payrolls and automates payroll systems, staff administration processes, and compliance checks.
Q: Can I customize enterprise HRIS software for my organization?
A: Not only do enterprise HRIS software solutions provide businesses with a wide range of customizable options, allowing them to configure the system to fit their particular needs and requirements, but some also offer support services that make it easier for companies to modify or update their settings whenever necessary. This ensures enterprises have an efficient way of managing their workforce without any hassle.
Q: What kinds of analytics and reporting capabilities do enterprise HR software provide?
A: Typically, HR software gives companies the ability to gather deeper insight through detailed reports on employee performance, compliance regulations, payrolls, time tracking, and much more. A few of these intuitive systems even offer predictive analytics capabilities to help keep companies ahead of any potential problems that may arise around human resources management.
Q: How do I find the security options included with an enterprise HRIS platform?
A: Enterprise HRIS platforms often offer security features to help protect businesses' data and meet international law requirements. This can include multi-factor authentication, encryption technologies, access control measures, and more. Additionally, software providers usually also have support services to assist businesses with setting up and maintaining their security.