Human Resources professionals are often the unsung heroes of the office.
When everything is running smoothly, you can bet HR has had something to do with keeping things together behind the scenes; however, when there's a problem your HR pros are usually the first ones there to put out the fire.
In a hurry? These are some of our favorite HRMS options for Human Resources teams of all sizes:

With the corporate landscape changing and the complexities of navigating new hybrid workplaces and employee types, even these seasoned problem-solvers need extra help — and that's where human resources management software platforms (HRMS Systems) can feel like a breath of fresh air.
"By 2025, the number of HR employees will reach 840,120 or a 7.56% increase from 2022." — Finances Online
With human resources management software platforms backing them up, HR professionals can get the proper support they need to optimize the hiring process, employee onboarding, internal issues, scheduling, and compliance.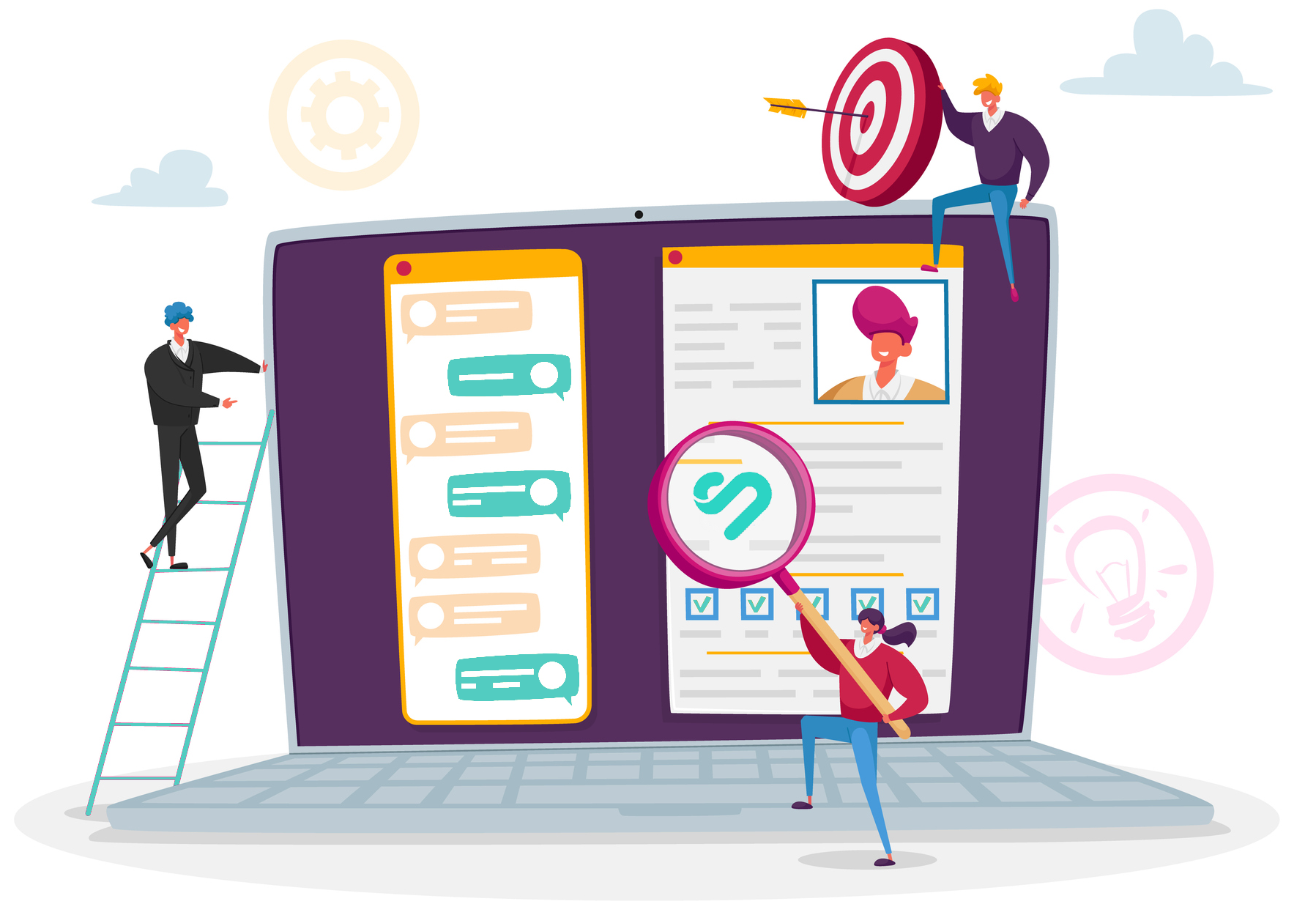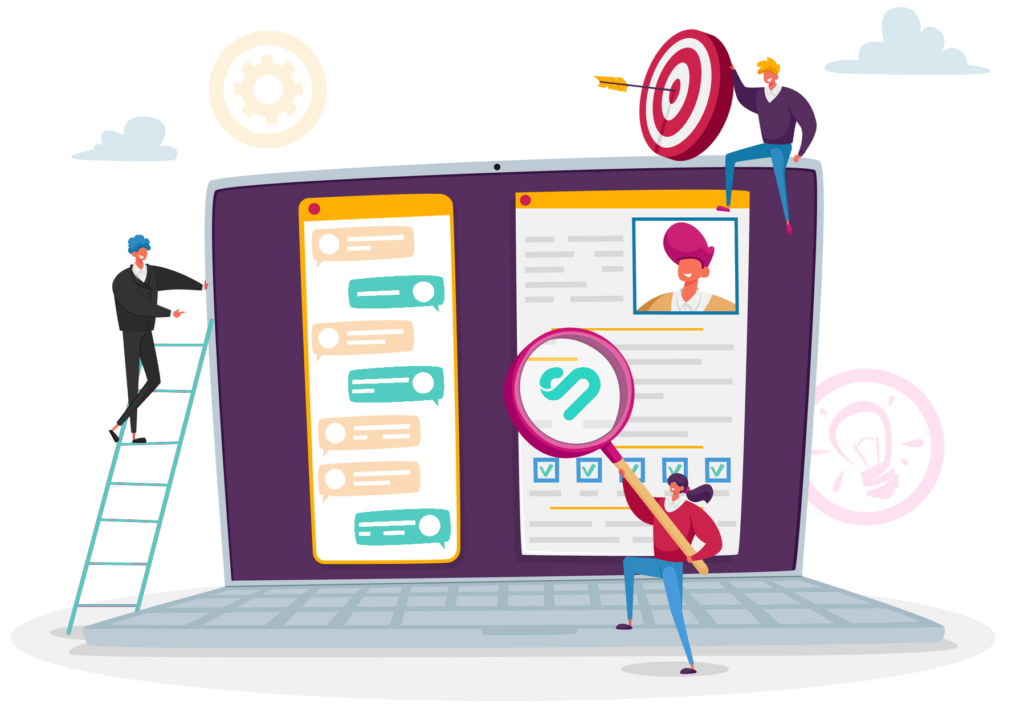 Workforce management instantly becomes, well, a lot more manageable with HRMS Systems automating and alleviating administrative tasks, document management, and other day-to-day HR responsibilities.
⭐ Pro-Tip: Consider joining a community of other growth-minded HR professionals, so you don't feel so isolated. Subscribe to Human Crapital, the free email newsletter and community that helps you avoid embarrassing, uncomfortable, and common HR mistakes.
Now, you might be wondering where to start, which is why we're glad you found this article. We've tested, re-tested, and collected honest reviews from our trusted HR experts to identify the best HR management software platforms.
So without further ado, read through this carefully curated list and pick out the right HRMS System for you and your team!
HRMS Chart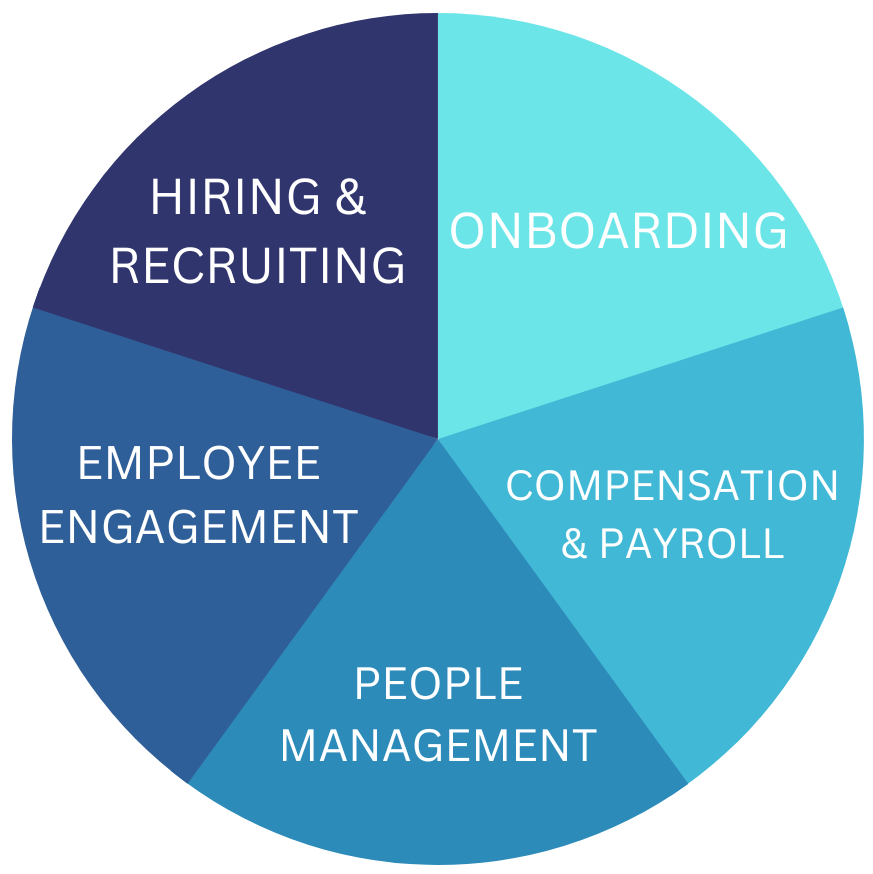 What Is Human Resource Management Software?
Human resources management software tools make it easier for HR professionals to do their job. The systems help to track employee information, including contact information, performance reviews, and training records.
They can also be used to onboard new employees and manage benefits enrollment. Many human resources management software tools even offer reporting capabilities that can help to identify trends in employee behavior, saving HR professionals a considerable amount of time and effort.
---
List Of Top-Rated Human Resource Management Systems For Teams
Best HRMS Software For: People management
BambooHR software is an HR solution designed to make HR tasks a breeze, freeing up your time to focus on what's really important: your people.
With all your data in one place and easy reporting, this system is perfect for businesses of any size. Plus, with employee self-service, you'll save even more time.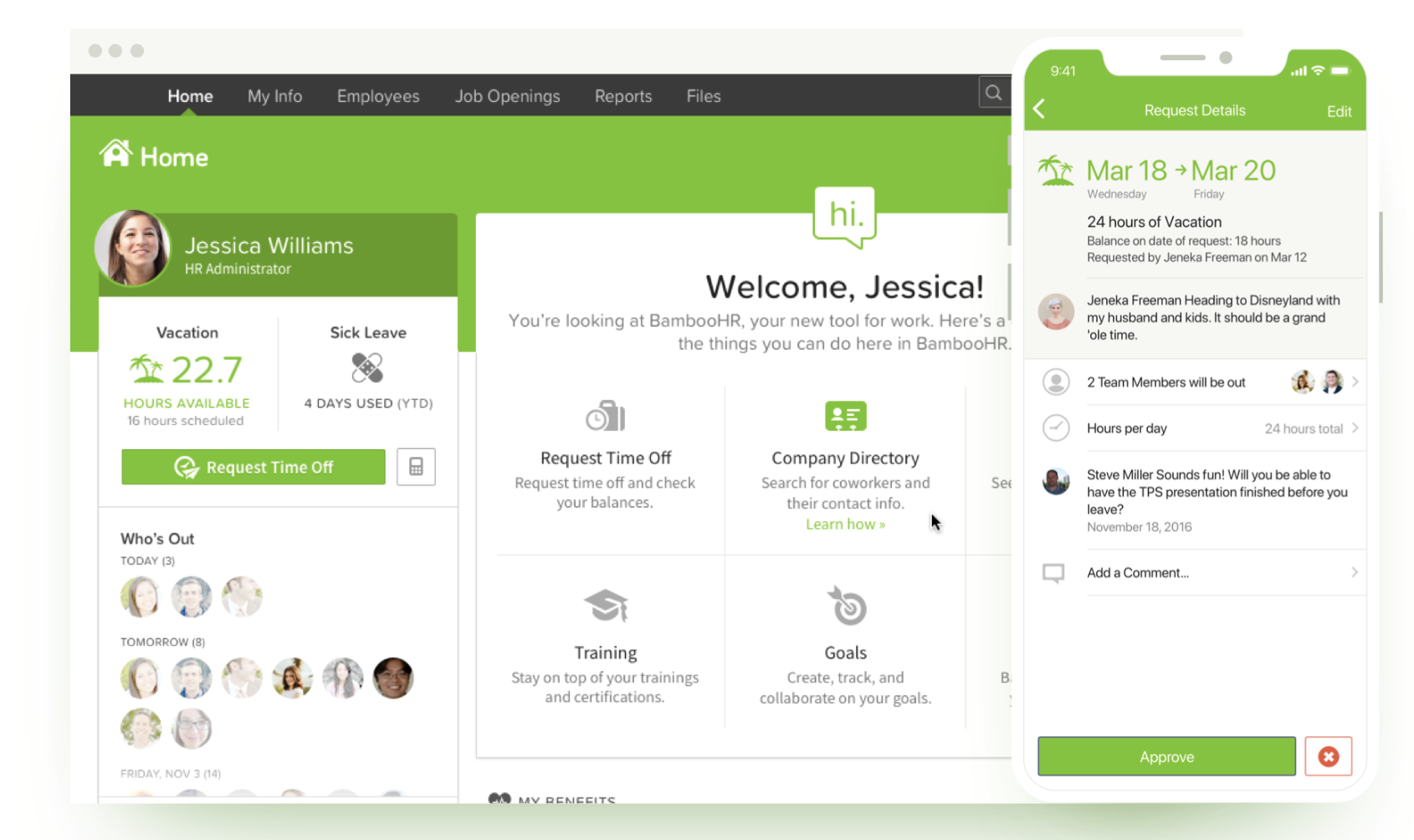 Companies that use this HR systems software:
Gravy Analytics
Civtec
CRBR
Why we love it: This HRMS tool is designed to be user-friendly and easy to navigate, so that busy HR professionals can get the information they need quickly and efficiently. BambooHR offers a variety of features that make tracking HR information easy, including the ability to track PTO accruals, employee absences, and performance reviews.
Standout features of this HR system:
➞ Employee onboarding – BambooHR boasts a customizable checklist that can be tailored to the specific needs of each organization.
➞ Job application management – BambooHR enables employers to post job openings, receive and review applications, and make decisions about who to hire.
➞ Leave tracking – BambooHR gives employees the ability to request leave, while HR can view leave balances, and generate reports.
Best HRMS Software For: Hiring & Recruiting
VidRecruiter is a video interview platform that helps recruiters engage, interview, and hire better employees. This HRMS platform is designed to empower your candidates and HR team and help you manage the entire recruitment lifecycle in one place.
Companies that use this HR systems software:
Why we love it: This powerful suite of tools enables you to screen candidates, conduct video interviews, and make better hiring decisions.
Standout features of this HR system:
➞ Structured interviews – Businesses can create a custom interview process that includes both pre-screening questions and video questions.
➞ Interview scheduling – You can create a customized interview schedule, send invitations to interviewees, and track RSVPs.
➞ Skills testing – By administering skills tests, businesses can ensure that their candidates have the necessary skills to succeed in a video interview setting and identify potential red flags that might otherwise go unnoticed.
Kick off your interviews with VidCruiter!
Best HRMS Software For: Hiring & Recruiting
monday.com is the employee management system that tracks your talent pipeline and engages employees.
It is a cloud-based software that helps organizations attract, engage, and retain employees. monday.com offers a variety of features to support HR teams, including a recruitment pipeline, onboarding process, employee well-being, and development and learning.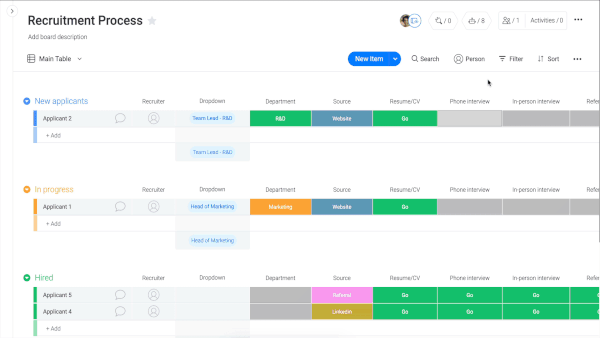 Companies that use this HR systems software:
Why we love it: The software is easy to use and offers a user-friendly interface. Additionally, it is scalable and can be customized to meet the needs of any organization.
Standout features of this HR system:
➞ Kanban – Kanban boards reduce waste and increase efficiency by making it easy to identify bottlenecks and other problems in workflows. Kanban provides greater visibility into how work is progressing, which can help to improve accountability and communication within an organization.
➞ Gantt – This feature illustrates a project schedule. Gantt charts allow project managers to see at a glance which tasks are due when, and they can track the progress of tasks over time.
➞ File sharing – With monday.com, teams can share files, collaborate on projects, and track progress in real-time.
Best HRMS software for: Global Compliance and Payroll
Papaya is a world-renowned EOR solution, setting the industry standard. This human resources management software and EOR handles all the challenging groundwork, allowing you to benefit from the best of both worlds.
That's why Papaya meticulously selects, partners with, and holds the top local experts accountable in over 160 countries. This HRMS is committed to meeting strict SLAs, ensuring that you receive exceptional service and competitive prices.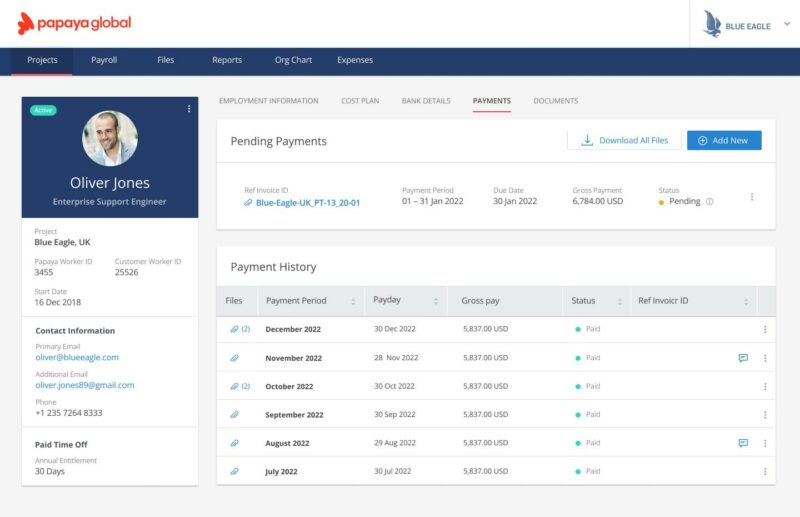 Companies that use this HR systems software:
Why we love it: Papaya's payment solution empowers users with full control and peace of mind throughout the payment process. With tailored approval chains, users can rest assured that all payments will be made promptly and efficiently.
Standout features of this HR system:
➞ Knowledge Base — Through Papaya's Global Expert Alliance, you can rely on a wealth of experience and extensive knowledge. Rest assured, your compliance questions, no matter how intricate or elaborate, will always receive the answers they deserve.
➞ Workforce Analytics — Centralize your workforce data to gain a comprehensive overview of your global employment expenditure. Gain insights into payroll partners, EoR, and contractors all in one place, allowing you to make informed decisions with ease.
➞ Time & Attendance Tracking — Papaya OS eliminates the need for a separate time and attendance application. Your employees can effortlessly report their time and attendance while adhering to the regulations of over 160 countries.
Best HRMS software for: People Management
Manage your dream team and streamline your HR processes with ClickUp. From hiring and onboarding to employee development, ClickUp's comprehensive HR management platform is designed to create the perfect system that simplifies every aspect of your organizational needs.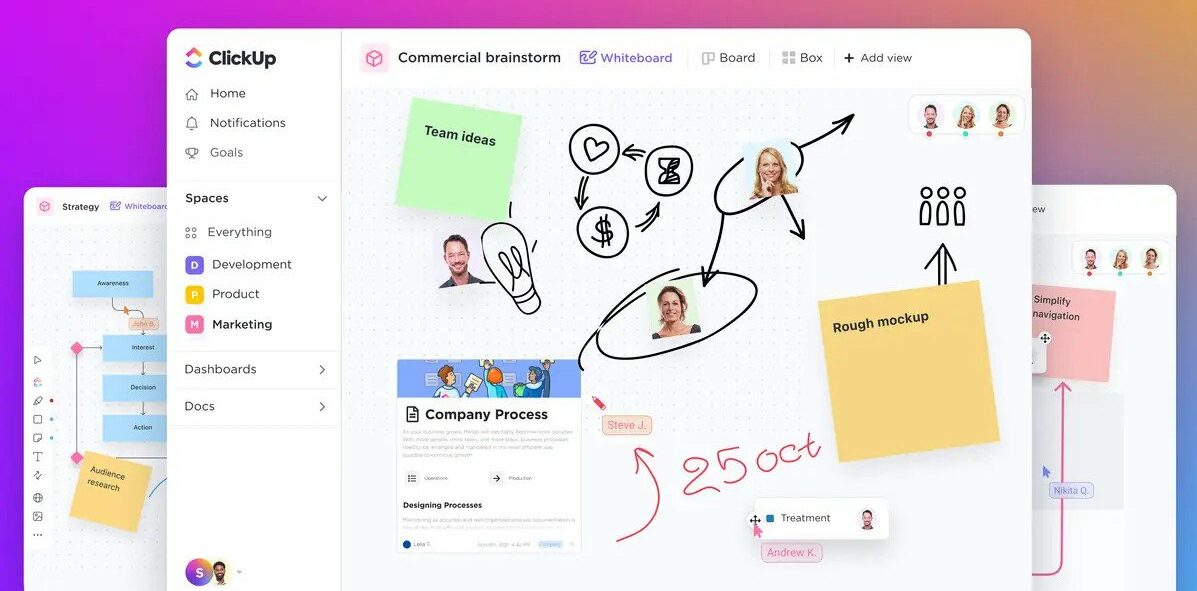 Companies that use this HR systems software:
Netflix
Spotify
Booking.com
Why we love it: ClickUp lets you monitor employee performance, engagement, and growth. With its customizable views, you can seamlessly align your workforce and create a central hub for employee information. Foster confidential communication between managers and direct reports, ensuring a harmonious and productive workplace environment.
Standout features of this HR system:
➞ Requests & Surveys — Manage polls, surveys, and requests using personalized forms. Gain valuable insights and make smarter decisions by tracking employee response data.
➞ Performance Tracking — Monitor employee performance and workload using personalized dashboards. Instantly generate reports on assigned and completed tasks, task duration, completion dates, and other relevant metrics.
➞ Schedule Management — Facilitate interviews, one-on-ones, and team meetings using a versatile calendar that seamlessly integrates with your tasks. Keep your schedule in sync with Google, Outlook, iCal, Zoom, and other platforms to ensure punctuality and stay one step ahead of your commitments.
Manage all projects with ClickUp!
Best HRMS software for: People Management
Introducing Deel, the free global-first HR platform designed to seamlessly scale with your growing business. With Deel, you can efficiently manage your entire workforce, from your direct employees to international workers and every employment arrangement in between. A leading player in the HR outsourcing space, Deel offers a full suite of HR tools for professionals to access.
Whether you're a small startup or an established company, Deel provides the tools and flexibility you need to streamline your HR processes and double-check compliance, so you can focus on driving your business forward.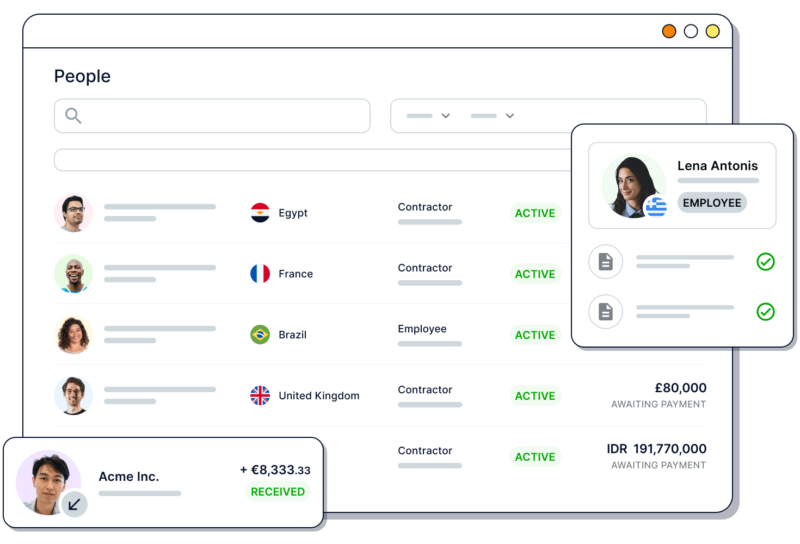 Companies that use this HR systems software:
Why we love it: Deel eases the management of global teams, covering everything from benefits and equity to working visas and equipment. With just one platform, you can get set up compliantly in just 5 minutes. Experience the simplicity and efficiency of Deel for all your team management needs.
Standout features of this HR system:
➞ Workspaces — Offering flexible working arrangements has become a major factor in attracting and retaining talent for organizations of all sizes. Keep your team's productivity up (and make them happy too) with the option to work anywhere and access hot desks, Wi-Fi, meeting rooms, and networking opportunities through Deel's partnership with WeWork.
➞ Integrations — Integrate Deel with your preferred HR platforms to minimize manual tasks, streamline workflows, and enhance efficiency, making your life significantly easier.
➞ PEO — Handle your HR admin and consolidate your tech stack by managing payroll, benefits, and HR for your US team on Deel.
Manage your organization with Deel!
Best HRMS software for: HR Management
Elevate HR management from a mere administrative function to a pivotal and strategic component of your business with ADP Workforce Now. Streamline and automate crucial tasks including employee recordkeeping, onboarding new hires, policy acknowledgment, workforce reporting, managing employee status changes, ensuring compliance, and much more.
ADP is a full-service HR management system, so you and your organization can experience a new level of efficiency and effectiveness in your HR processes.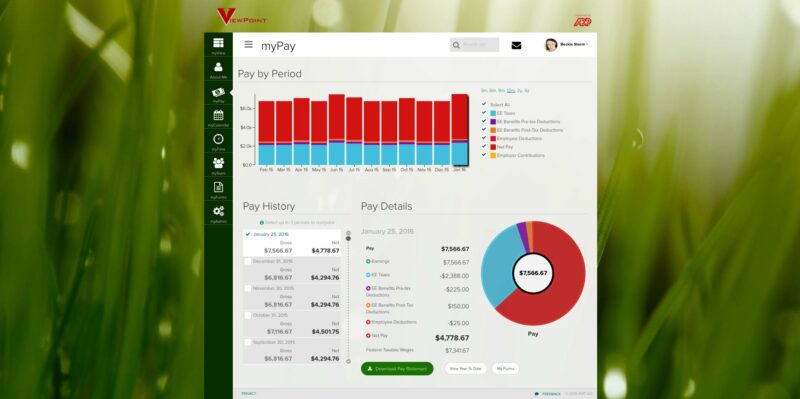 Companies that use this HR systems software:
Amazon
GEICO
Lenovo
Why we love it: Expanding globally brings a range of intricate requirements, such as managing country-specific compliance, obtaining insights into global data, and meeting data privacy and security standards, among others. ADP offers peace of mind as your trusted partner in tackling these challenges head-on.
Standout features of this HR system:
➞ Payroll — Experience the convenience of lightning-fast payroll processing that caters to your needs, both locally and globally.
➞ Time & Attendance — Effective management of schedules, working hours, and time off is paramount for ensuring accurate payroll and compliance. ADP's time and attendance solutions streamline these processes, making them more convenient and efficient.
➞ Integrations — ADP gives a space for apps to integrate with each other, as well as other leading payroll, HR, and financial systems, including the majority of ERPs.
Upgrade your HR software with ADP!
Best HRMS Software For: Employee engagement
Job satisfaction is a complex issue, and there's no one-size-fits-all solution. That's why Motivosity offers a unique suite of products that helps you address each aspect of job satisfaction, even when your employees are working remotely.
From their micro-feedback tool to their employee recognition system, they have everything you need to keep your employees engaged from every angle.
Companies that use this HR systems software:
Bosch
Fujifilm
SalesRabbit
Why we love it: Motivosity lets HR professionals focus on company culture without feeling like they are getting behind in their other responsibilities.
Standout features of this HR system:
➞ Employee rewards program – With their program, employees can earn points for completing tasks, meeting goals, and going above and beyond expectations.
➞ Rewards catalog – The Motivosity Rewards Catalog has many items to choose from. Employees can redeem points for gift cards, journals, power tools, vacations, and other rewards.
➞ Milestone tracking – With milestone tracking, you can see at a glance which goals have been met, as well as which ones are still in progress. You can also add comments and attach files to each milestone.
Motivate your team with Motivosity!
Best HRMS Software For: People management
Leapsome closes the loop between performance management, employee engagement, and learning.
With Leapsome, you can develop your people and scale your business. This people-centric HRMS tool provides a seamless experience for employees, managers, and HR professionals.
Companies that use this HR systems software:
Why we love it: Employee performance is improved through real-time feedback, continuous development, and engagement via Leapsome. Managers can track progress and identify issues early and HR professionals can measure the impact of initiatives and programs.
Standout features of this HR system:
➞ Engagement surveys – This feedback tool helps to identify trends among employees, such as why turnover is high in a particular department and other valuable insights that can help to improve the workplace and increase employee retention.
➞ Feedback & praise – Employees can praise each other for a job well done, and managers can provide constructive criticism that can help employees improve their performance.
➞ Compensation – Small businesses can set up and administer compensation plans, calculate payouts, and track employee performance.
Best HRMS Software For: Employee engagement
Rippling is an all-in-one solution for workforce management. With Rippling, you can easily manage payroll, time and attendance, benefits, compliance, and more.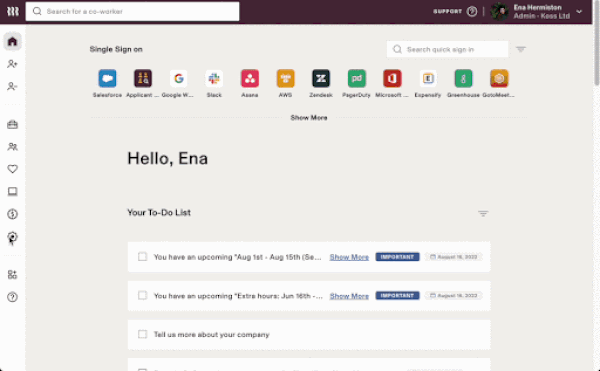 Companies that use this HR systems software:
Double Good
Superhuman
Compass Coffee
Why we love it: Because it's cloud-based, you can access it from anywhere, at any time. So if you're looking for a way to streamline your workflow and free up your time to focus on what you do best, Rippling is a solid HRMS option for you.
Standout features of this HR system:
➞ Applicant tracking – Rippling gives you the ability to post to multiple job boards with one click, so you can focus on finding the best candidates instead of fighting with your software.
➞ Data storage management – Rippling's data storage management system helps you keep track of your data. It stores data in an encrypted format so that it can be accessed by authorized users only.
➞ Time tracking – With Rippling, you can see which employees are working on which tasks, and how much time they are spending on each task.
Inspire your workforce with Rippling!
Best HRMS Software For: Employee engagement
Bob is a leading HR platform that helps businesses boost productivity, engagement, and retention. The platform offers a wide range of features that allow businesses to manage their HR processes more efficiently.
Bob also provides a complete suite of tools for employee self-service, including a performance management system, an onboarding tool, and an e-learning platform.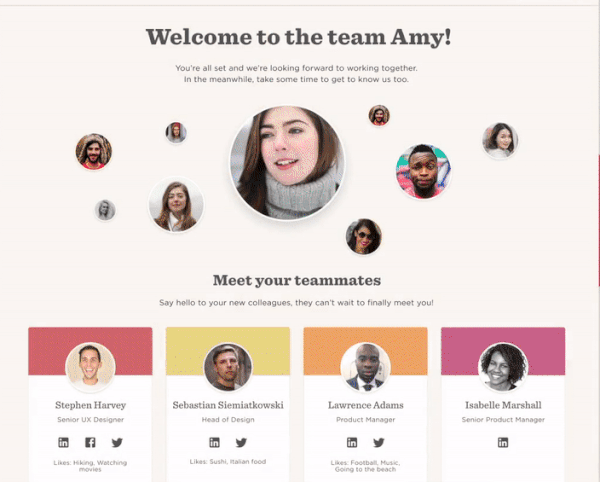 Companies that use this HR systems software:
Teamtailor
Kustomer
Smart Recruiters
Why we love it: Bob offers a comprehensive set of tools for managing employee benefits and policies. With its powerful combination of features and functionality, Bob is the ideal solution for businesses that want to streamline their HR processes, HR skills, and improve their bottom line.
Standout features of this HR system:
➞ People analytics – Bob uses data from a variety of sources, including employee surveys, performance reviews, and HR data, to create comprehensive profiles of each employee.
➞ Payroll hub – With the payroll hub, you can easily view and manage employee records, pay stubs, and tax forms. You can also process payments and generate reports with just a few clicks.
➞ Workforce planning – Bob's workforce planning solution lets you manage your team more effectively by tracking employee performance, identifying skills gaps, and planning for future needs.
Engage your employees with Bob!
Best HRMS Software For: Employee Engagement
Bambee gets you access to a dedicated HR manager, as well as a suite of tools and resources to keep your business compliant. If any complex HR issues should arise, you can rest assured that they will be handled quickly and efficiently.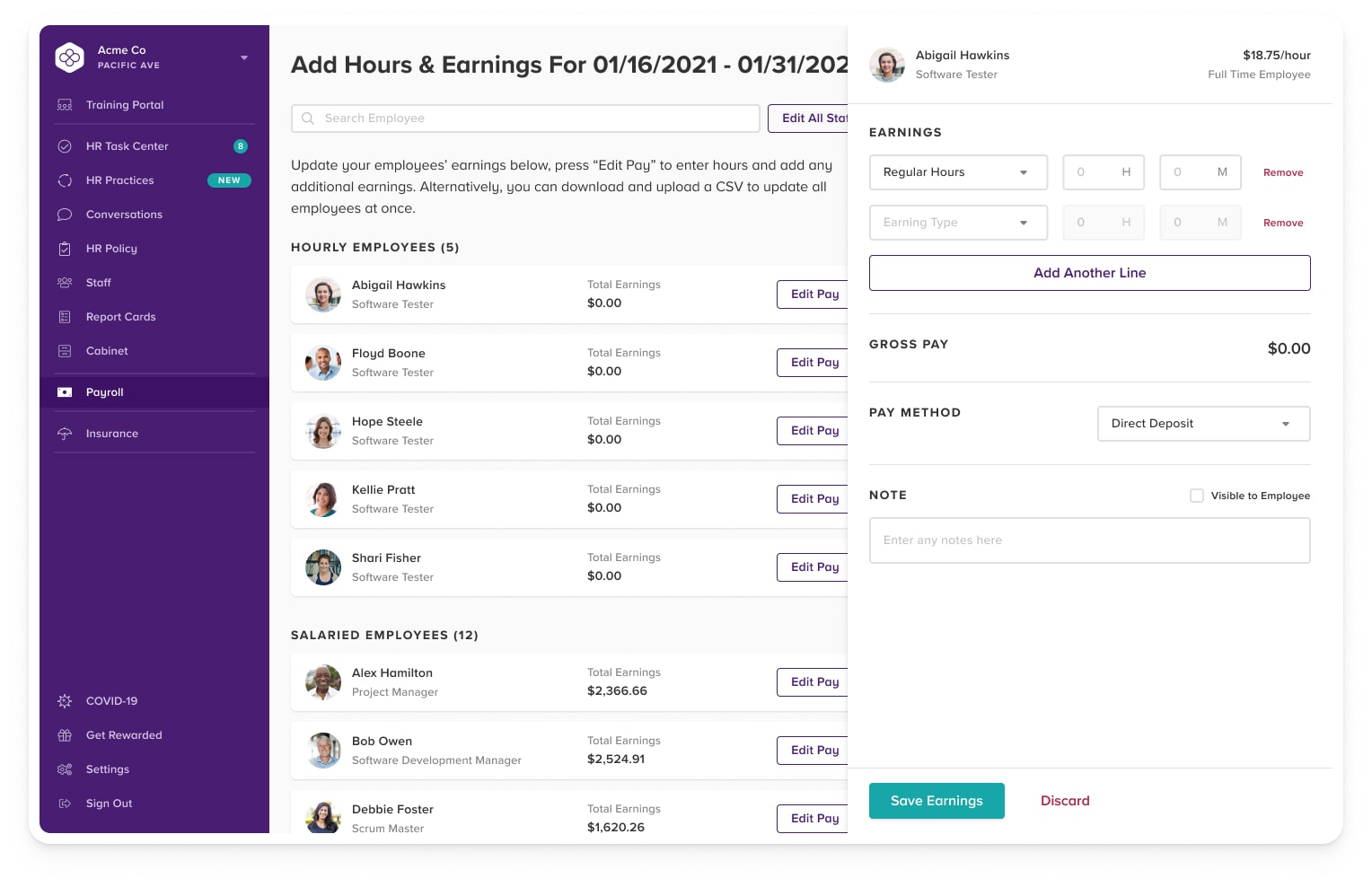 Companies that use this HR systems software:
Hoodz Cleaning
LeaseLock
Cleverly, Inc.
Why we love it: With this HR software tool for small business, Employee onboarding and training are automated so you don't have to worry about keeping track of paperwork or ensuring that everyone is up to date on company policy.
Standout features of this HR system:
➞ Feedback management – Bambee collects employee and customer feedback and uses it to help their clients improve their business.
➞ Compliance management – It provides a centralized repository for compliance information and offers a range of tools to help organizations track and manage their compliance risks.
➞ Payroll management – Bambee assists in setting up direct deposit, handling taxes, and managing employee benefits. Bambee also offers a mobile app that allows employees to view their pay stubs, request time off, and clock in and out of shifts.
Boost your engagement with Bambee!
Best HRMS Software For: Compensation & Payroll
OnPay is a payroll software that is designed to save you time and help you be more confident. OnPay makes it easy to onboard employees and pay them quickly and can help you be more productive and organized as an organization.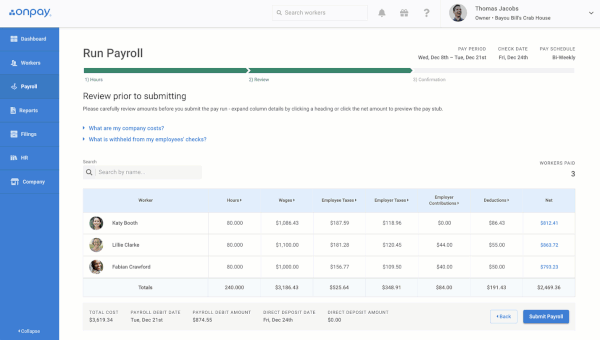 Companies that use this HR systems software:
Smart Scholars LLC
Healthy Eyes PLLC
Templar Financial Services Inc
Why we love it: OnPay integrates with QuickBooks and Xero to help keep all your finances and employee paperwork organized and in sync.
Standout features of this HR system:
➞ Payroll entry – Easily enter employee hours and pay rates, calculate taxes, and generate payroll reports.
➞ Expense reimbursement – Designed to help you keep track of your expenses and get reimbursed quickly and easily, OnPay has an integrated accounting system.
➞ Time off accrual – This office management tool allows managers to track and accrue vacation, sick, and personal days for their employees. This information is then used to generate reports that can be used to make decisions about time off policies.
Perfect your payroll process with OnPay!
Best HRMS Software For: Compensation & payroll
From engaging employee self-service to unlimited workflows, Paycor's HR software program removes the burden of processing routine tasks by hand. Your everyday processes become simplified—and that changes everything.
With Paycor, HR leaders get more time back in their day to focus on bigger priorities like employee engagement, performance management, and talent management or human capital management (HCM).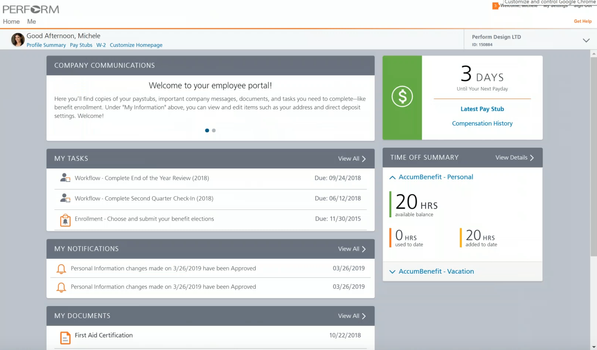 Companies that use this HR systems software:
Why we love it: The software is also designed to be highly scalable, so it can grow with your business as your needs change. With 24/7 customer support, you can always get the help you need when you need it.
Standout features of this HR system:
➞ Benefits dashboard – Paycor's Benefits Dashboard makes it easy for you to offer a competitive benefits package that meets the needs of your employees.
➞ Employee self-service – Paycor's Employee Self-Service (ESS) is a secure, online portal that gives employees 24/7 access to their payroll and HR information.
➞ Time off management  – Businesses can set up accrual rates for vacation and sick days, and they can also specify how many days an employee can carry over from one year to the next.
Automate payroll and more with Paycor!
Best HRMS software for: Hiring & Recruiting
Greenhouse serves as the ultimate hiring operating system for companies that prioritize their people. With its HRMS software and structured hiring approach, Greenhouse enables you to elevate your hiring process, ensuring measurable improvements. Equipped with the necessary technology and support, you'll be ready to conquer what lies ahead.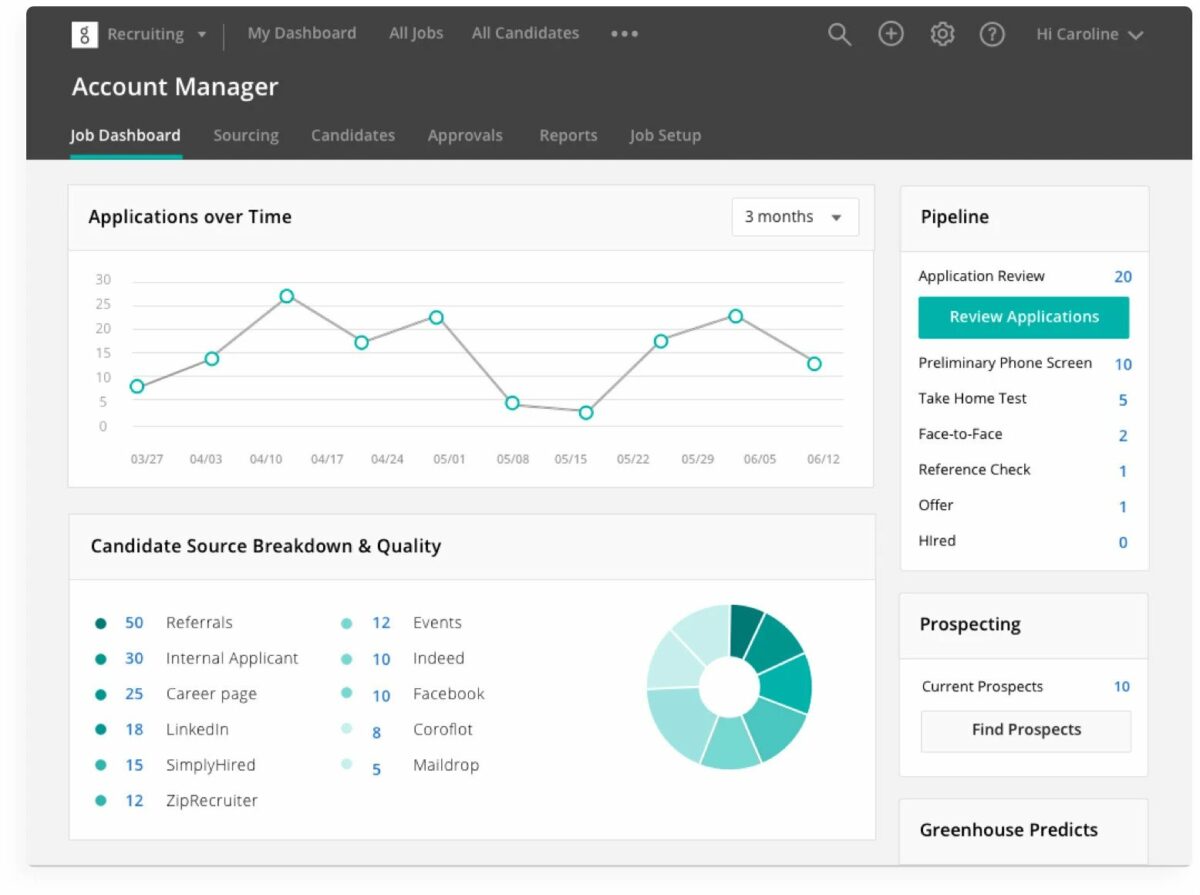 Companies that use this HR systems software:
Squarespace
HubSpot
J.D. Power
Why we love it: Greenhouse simplifies the hiring process for all parties involved by offering dashboards that highlight key information, task and reminder systems to ensure smooth progress, and a streamlined candidate review and interview flow.
Standout features of this HR system:
➞ ATS — To equip you on your quest for a holistic talent acquisition solution, Greenhouse provides a wealth of resources to empower you to take decisive action. The buyer's toolkit encompasses an RFP template, an executive one-pager, and additional assets, delivering invaluable guidance throughout the entire process.
➞ Sourcing Automation — Sourcing automation helps hiring teams to swiftly and efficiently discover, connect with, and captivate top-tier talent. This innovative addition to Greenhouse Recruiting enables hiring teams to transform promising candidates into exceptional hires with ease.
➞ Hiring Maturity — Discover the strategic prowess of your company's hiring processes and unlock your potential to ascend the Greenhouse Hiring Maturity™ curve through this comprehensive assessment.
Stress-free recruiting with Greenhouse
---
HRMS System By Category
🙋🏿‍♀️💁🏻 Hiring & Recruiting
A human resources management software platform can automate the application process, helping to keep track of applicants and making it easier for HR professionals to identify the best candidates for each position.
💻 Onboarding
HRMS Systems can organize relevant information about a new hire, create a timeline for the onboarding process, and provide a forum for dialogue between the new hire and their supervisor.
💵 Compensation & Payroll
A human resources management software platform can help to streamline the payroll process by reducing the need for manual data entry, managing employee compensation data, generating reports on compensation trends, and automating tax filings.
🤝 People Management
A human resources management software platform can also help to improve communication between managers and employees. By providing a dedicated space for communication, the platform can help to ensure that important messages are not lost in the shuffle.
👩🏽‍💻Employee Engagement
An HRMS platform can free up HR staff to focus on employee engagement and identifying and addressing problems early.
---
People Also Ask These Questions About HRMS Software
Q: What are the benefits of using a human resources management system? 
A: By using an HRMS, businesses can streamline their HR functions and improve the efficiency of their operations, reduce their administrative costs, and improve the accuracy of their employee data. An HRMS can also help businesses to better monitor and evaluate their employees' performance.
Q: Why is it important to use an HR system? 
A: It is important to use an HR system because an HR system is a tool that helps businesses manage employee data. This can include information like contact details, job titles, and salaries. Having this information in one place makes it easier for businesses to keep track of their employees. On top of that, an HR system can help businesses automate tasks like emailing payroll information, onboarding new hires, and complying with government regulations.
Q: What functions do HRMS tools support? 
A: Human resource management system (HRMS) tools support a variety of functions related to managing employee data. These can include keeping track of employee contact information, salaries and benefits, performance reviews, and attendance records. HRMS tools can also be used to create and manage employee schedules and to track time off and vacation requests. In addition, many HRMS tools offer features for tracking employee training and development.
Q: Why should I use HRMS payroll software? 
A: HRMS payroll software simplifies the payroll process by automatically calculating hours worked and withholding taxes. This way, you can be confident that your employees are being paid accurately and on time. These payroll solutions can be customized to fit the specific needs of your business.
Q: How do I get started with HR management software? 
A: When choosing an HRMS system, it's important to consider your organization's specific needs. Do you need a system that can track employee absences? Do you need a system that integrates with your existing payroll system? Answering these types of questions will help you narrow down your options and choose the right HRMS system for your organization.
Q: What features are important in an HR management system? 
A: Any good HR management system needs to have a few key features to be effective. First, it should be able to track employee information such as contact details, job titles, and salary information. This data needs to be easily accessible so that HR staff can quickly find and update records as needed. Second, the system should have a robust performance management toolkit. This will allow managers to set objectives and review progress against those objectives regularly. Third, the system should have a strong learning and development component. This will ensure that employees have access to the training and resources they need to continue growing and developing in their roles. Finally, the system should have a strong reporting function. This will allow HR staff to generate accurate reports on employee data, which can be used to make informed decisions about staffing levels, pay scales, and more.