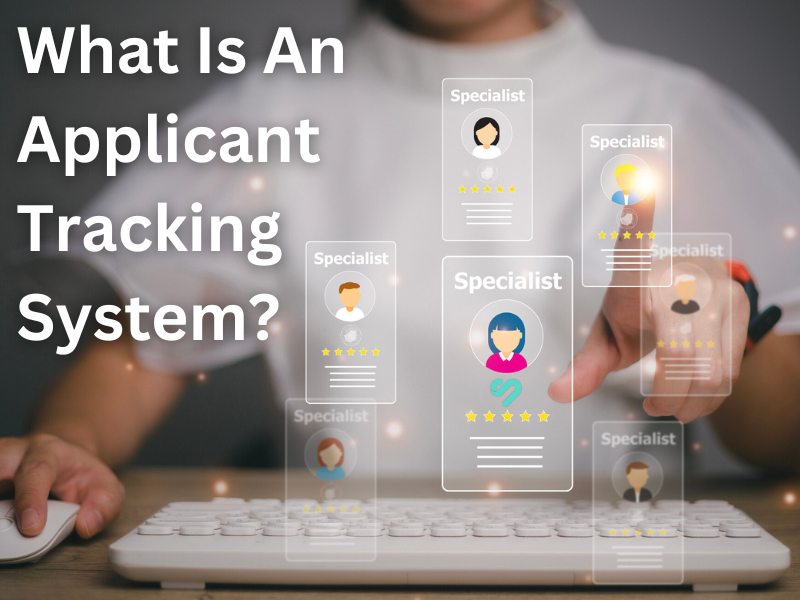 If you've ever applied for a job, you probably know that sinking feeling as if your application got sucked into a black hole.
Perhaps this stemmed from not hearing back from a prospective employer, or how impersonal the job application process can often feel.
However, there's a good chance that you found this article because you're sitting on the other side as an employer, a recruiter, or in another position that gives you the ability to influence hiring decisions. Fortunately, you can keep your potential employees in the loop and improve your job applicant experience with applicant tracking systems (ATS). Applicant tracking systems can reduce time-to-hire by 75%, according to empxtrack.com.
"94% of hiring professionals that use ATS systems report that the software has improved their hiring process." — Zippia
Click To Tweet
In this article, we're going to take a look at what an applicant tracking system is precisely and break down the best ATS options for hiring managers in 2023.
Without further ado, let's dive into this ATS guide and pick out the best applicant tracking system to elevate your hiring process and deliver talent directly to your organization!
Want to become a better professional in just 5 minutes?
What Is An Applicant Tracking System?
Applicant tracking systems (ATS) are software tools that can assist companies in handling the recruitment and hiring process. This includes monitoring job listings, examining resumes, facilitating correspondence with applicants, and in some cases, handling elements of the entire employee lifecycle.
ATS systems can be helpful for companies of all sizes by reducing time and expenses through the automation of many recruiting and hiring tasks. Additionally, these systems can enhance the process through a centralized platform for handling candidate information.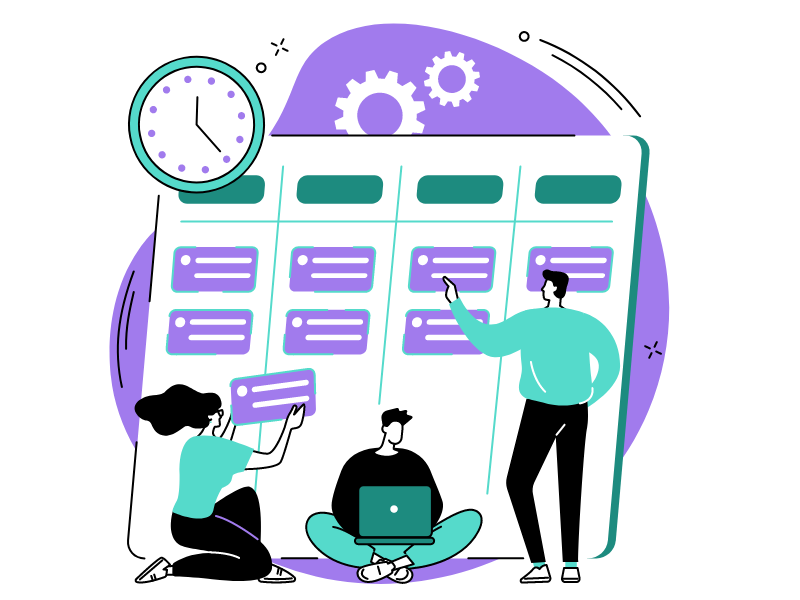 How Does An Applicant Tracking System Work?
ATS systems can automate many of the tasks involved in the recruiting and hiring process, such as posting jobs, screening resumes, and scheduling interviews. ATS systems are ultimately designed to make sure that applicants don't fall through the cracks, helping companies keep track of candidates and eventually hire the best talent available.
In a hurry? These are some of our favorite ATS software and applicant tracking systems this year:
Here Are Ten Things That Applicant Tracking Systems Do…
1) Job Posting & Job Board Management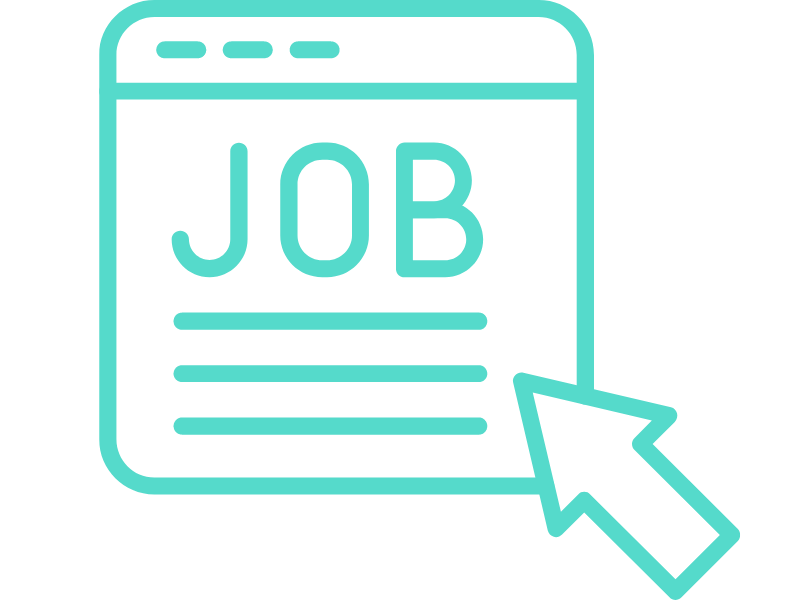 Applicant Tracking Systems (ATS) normally post job openings to multiple job boards and aggregators. Using an ATS saves time and effort in managing job postings and provides centralized control and tracking of applicants across various platforms. This ensures consistency in job descriptions and simplifies the management of candidate applications.
2) Resume Search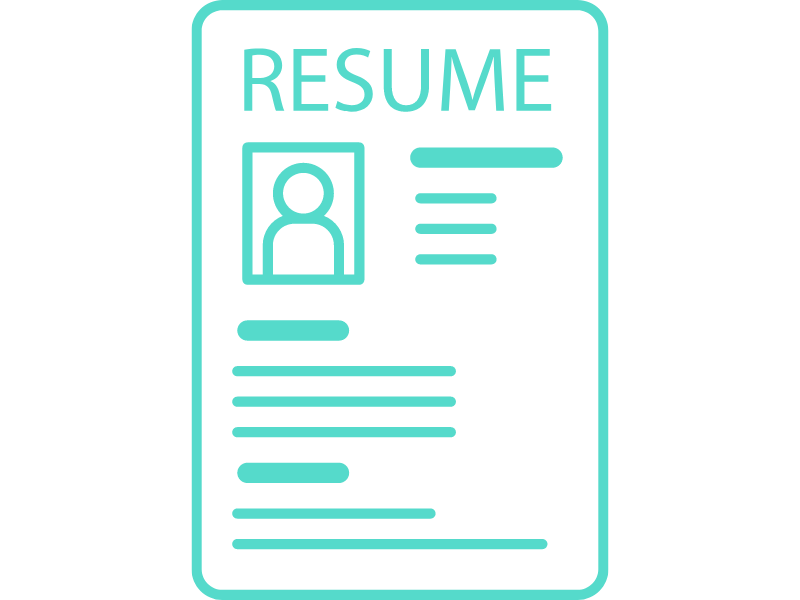 Recruiters can use an Applicant Tracking System (ATS) to search and filter through a large database of resumes with criteria such as skills, experience, or keywords. This function helps recruiters find qualified candidates and expand the talent pool quickly, saving time and making candidate sourcing efficient.
3) Candidate Sourcing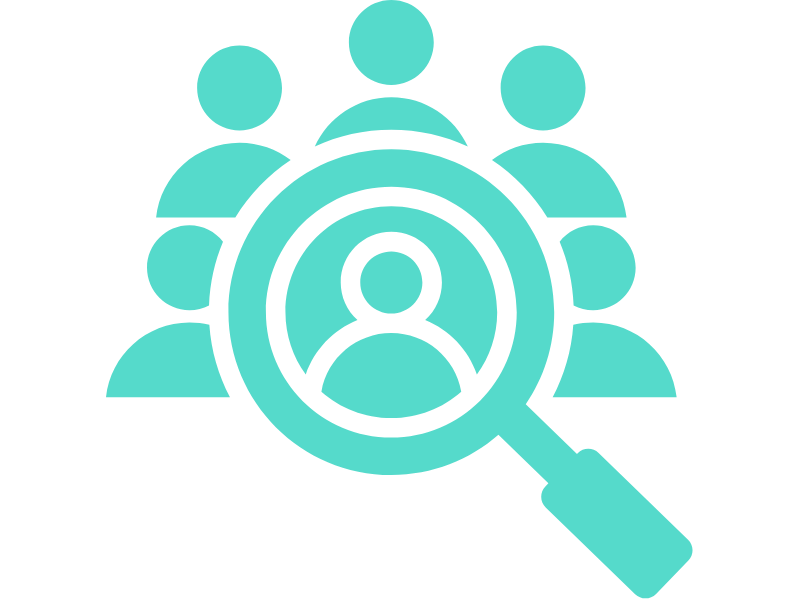 The purpose of an Applicant Tracking System (ATS) is to help recruiters find potential job candidates more easily by providing tools to search for them on different platforms, like job boards, social media sites, and career websites. An ATS makes it quicker and easier to identify and contact potential candidates, which can broaden the pool of qualified applicants and make the recruitment process practically effortless.
4) Applicant Management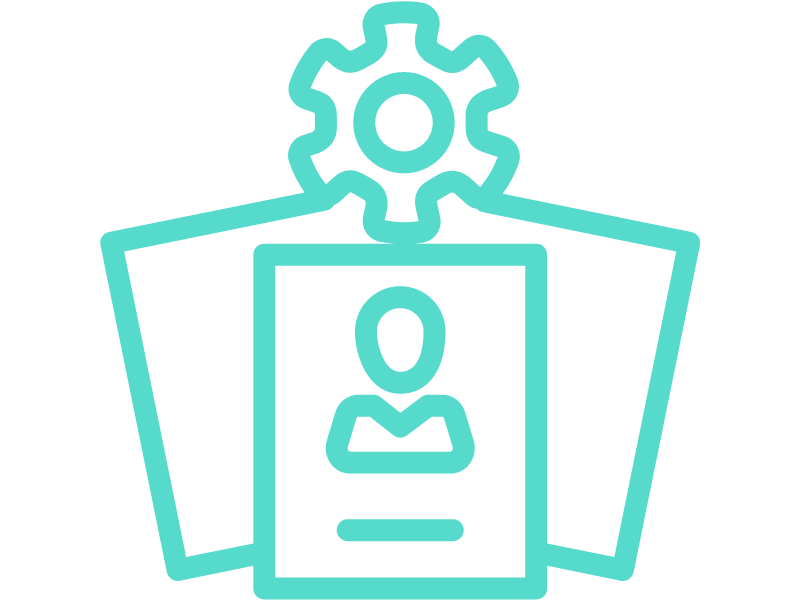 Using ATS systems can enhance the efficiency of the recruiting and hiring process by offering businesses a single platform to manage candidates. It simplifies the tracking of candidates, making it easier to choose the best fit for the company.
5) Candidate Pre-Screening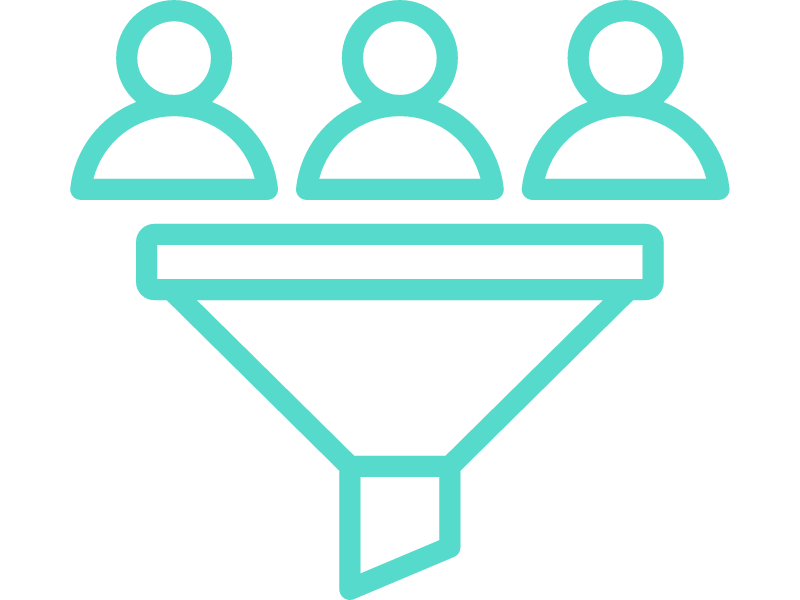 The Applicant Tracking System (ATS) streamlines the pre-screening process so that recruiters can evaluate candidate applications based on established criteria and qualifications. Quickly filtering qualified candidates helps focus the recruiters' attention on the most promising candidates for further assessment.
6) Candidate Screening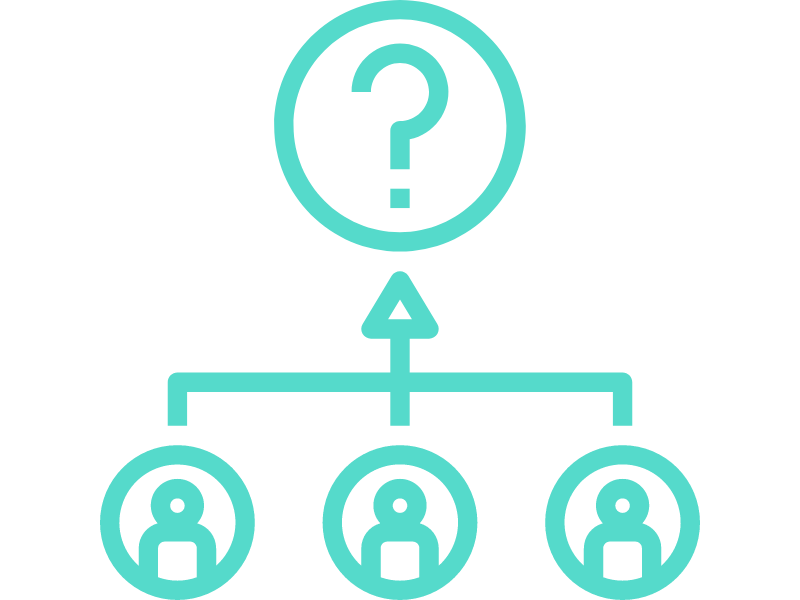 ATS systems can enhance the precision of recruiting and hiring by giving companies a uniform screening procedure. As a result, companies have a much easier time selecting the most suitable candidates for the position.
7) Interview Scheduling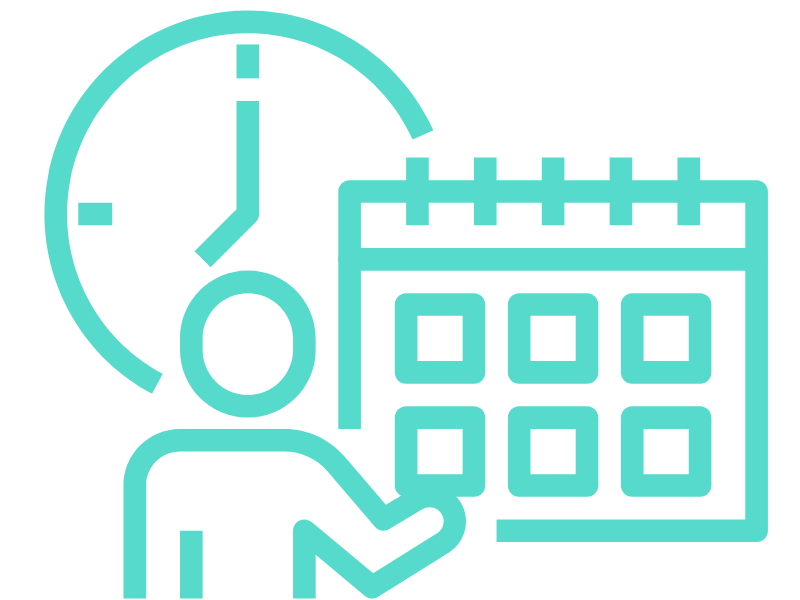 With a reliable ATS, recruiters can handle interview slots, send automated invitations, and collect candidate availability. In turn, this streamlines the coordination process, lessens scheduling conflicts, and enhances communication between recruiters and candidates, resulting in more efficient and effective interview scheduling.
8) Manage Job Offers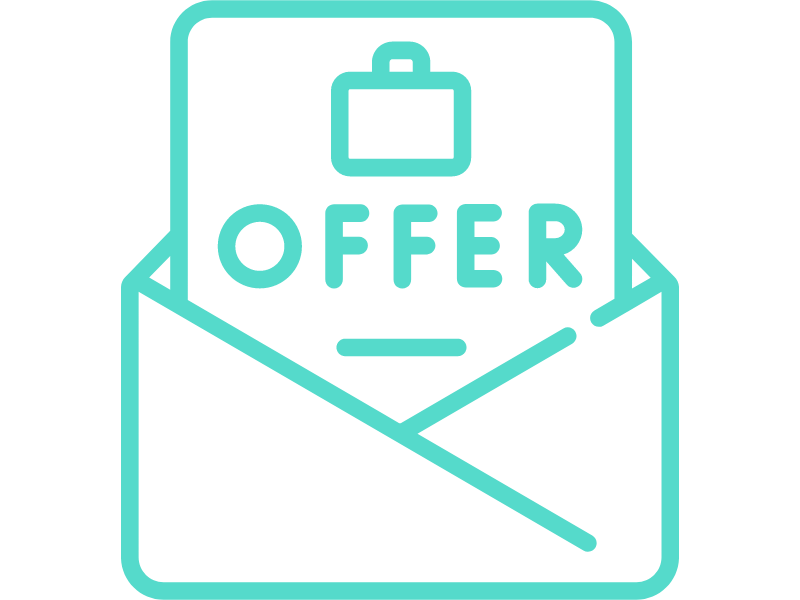 Along with a multitude of other functions, an ATS is essentially a centralized platform for creating, tracking, and managing job offers. With a few clicks, recruiters can create offer letters, monitor the status of offers, and simplify the approval process.
9) Onboarding & Training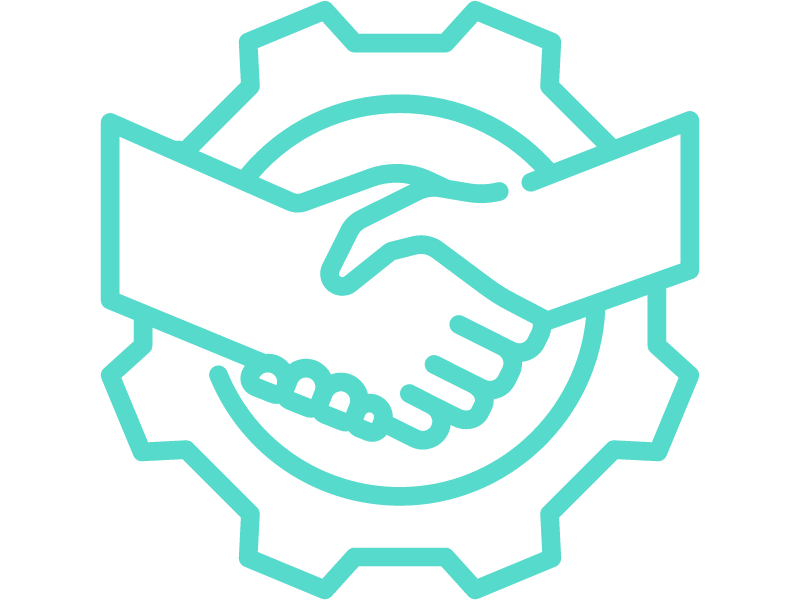 Leveraging an Applicant Tracking System (ATS) can make the onboarding and training process more efficient by automating tasks like organizing new hire information, scheduling training sessions, and sending reminders. It can also monitor employee progress and performance, which helps in meeting training milestones and assessing the impact of training programs.
10) Compliance
ATS systems can assist businesses in complying with employment laws by allowing them to monitor candidates and record the hiring process.
---
What Are The Benefits Of Using ATS Software For Recruiting?
✅ Make Better Hiring Decisions – The use of ATS systems can provide businesses with more data and metrics about candidates, which can assist in making better hiring decisions. The data collected in an ATS can aid in identifying the most suitable candidates for the job and lead to more informed hiring choices.
✅ Improve Data Security – ATS systems can enhance data security for companies by providing a means to safeguard and store candidate data.
✅ Improve Candidate Experience – One way an ATS can boost recruitment and retention of high-quality candidates is by simplifying and expediting the application process.
✅ Increase Visibility – Businesses can enhance the visibility of their job postings and attract a larger pool of candidates with the aid of an applicant tracking system.
✅ Free Up Time For Other Tasks – Another benefit of using ATS systems is that recruiters and hiring managers can use their time more efficiently by focusing on tasks such as building candidate relationships and conducting interviews.
✅ Reduce Costs – Businesses can reduce expenses related to recruiting and hiring by using ATS systems. These systems can cut costs associated with printing and distributing job postings, screening resumes manually, and scheduling interviews.
---
5 Top-rated Applicant Tracking Systems & Software Tools To Try
Best for: In-house talent acquisition and people management.
With Pinpoint, you can set yourself apart from the competition by using smart marketing tactics, modern career sites, captivating job advertisements, and a straightforward recruitment process that benefits not only your candidates but also your team. Pinpoint's own team can assist you with optimizing your recruitment advertising and improving your job descriptions, and you'll have unlimited access to their services.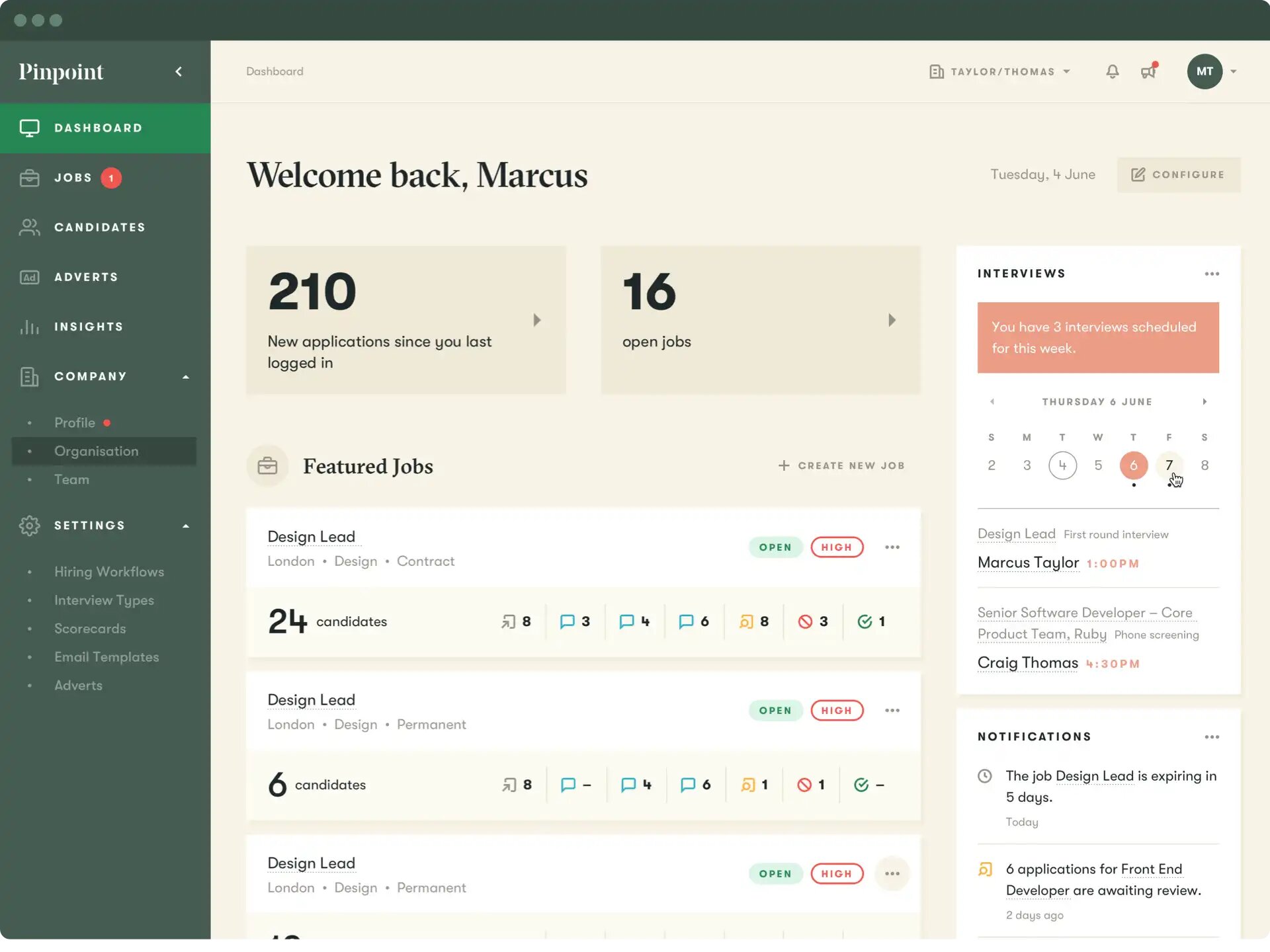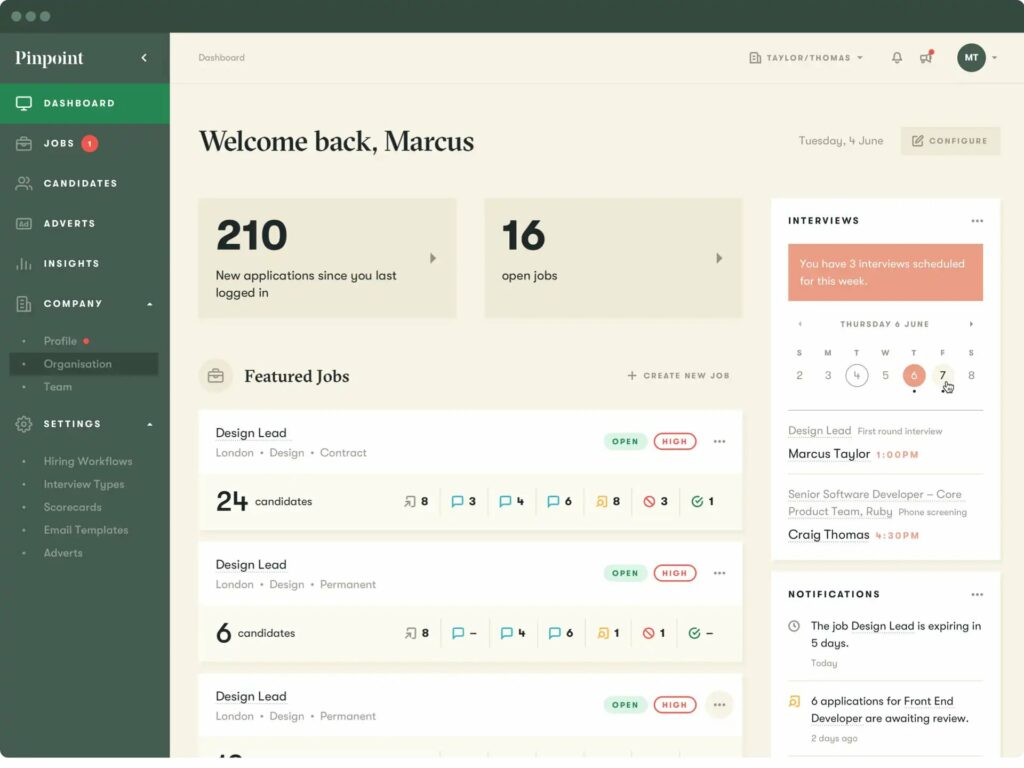 Why we love this ATS: Pinpoint is a fast and flexible talent acquisition software that helps you attract the right candidates at the right time, quickly shortlist candidates, and set your new hires up for success with personalized, highly engaging onboarding experiences.
Hit all the right notes candidates desire with Pinpoint precision!
Best for: Award-winning solutions for everything from hiring to retirement.
BambooHR is a user-friendly recruiting tracking software that helps manage employee data from one secure source. It offers various features like pre-built reports, automated workflows, and detailed analytics to make data management easier.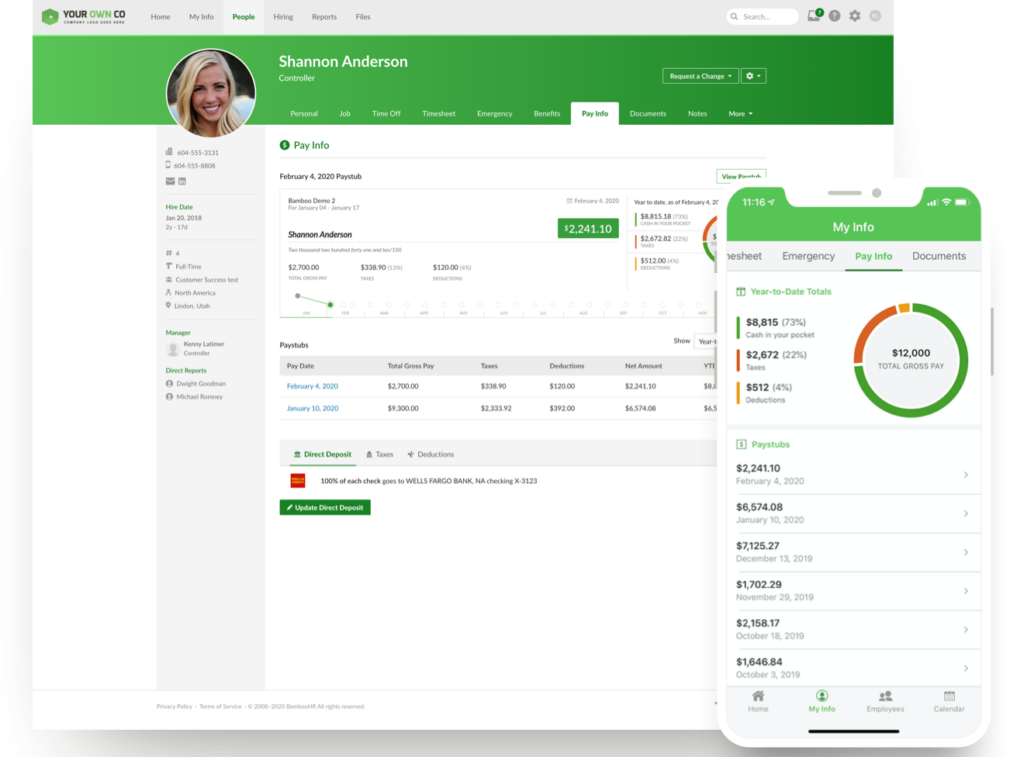 Why we love this ATS: You can use BambooHR to easily find, hire, and train top talent. By utilizing this efficient system for tracking job applicants you can enjoy a proactive approach to onboarding, create a positive experience for candidates, and provide a more effective onboarding process for new hires.
Access and virtually outsource a wide range of HR and recruiting solutions easily to support the growth of your employees and business with BambooHR!
Best for: Talent management for growing teams.
Improve the performance of your employees during important times in their professional growth with Trakstar's advanced software and exceptional support. Eliminate manual tasks and gain the ability to make informed decisions to increase the retention, engagement, and recruitment of your workforce.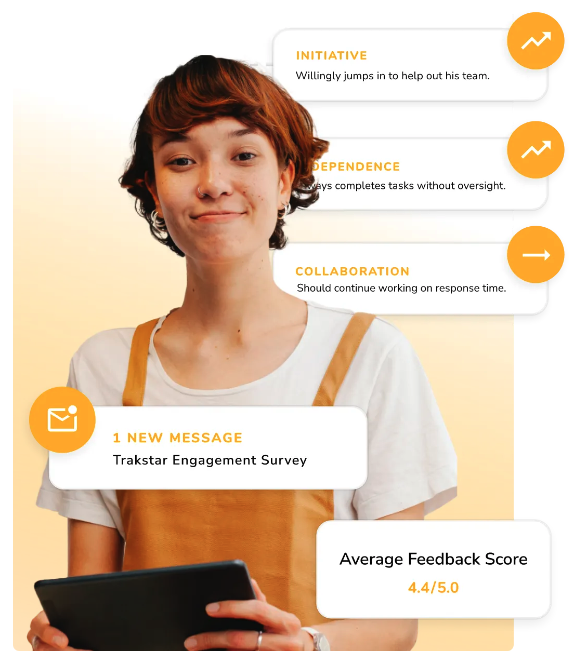 Why we love this ATS: Trakstar, the purpose-built HR talent development platform, facilitates all stages of the employee lifecycle. With its four best-in-class products integrated into a single solution, Trakstar automates your daily responsibilities and optimizes your time to make a more significant impact. Plus, it even features a robust learning management system and workforce analytics.
Use Trakstar's candidate tracking system to perfect your hiring process!
Best for: All sizes of companies at every stage of growth.
JazzHR can help you easily streamline the recruiting process through seamless candidate sourcing, employer branding, interviews and assessments, compliance and reporting, and collaborative hiring. JazzHR's job applicant tracking software is designed with the understanding that each team has its own distinct process. With this candidate tracking software, you are empowered to create a personalized solution that caters to your team's specific hiring requirements.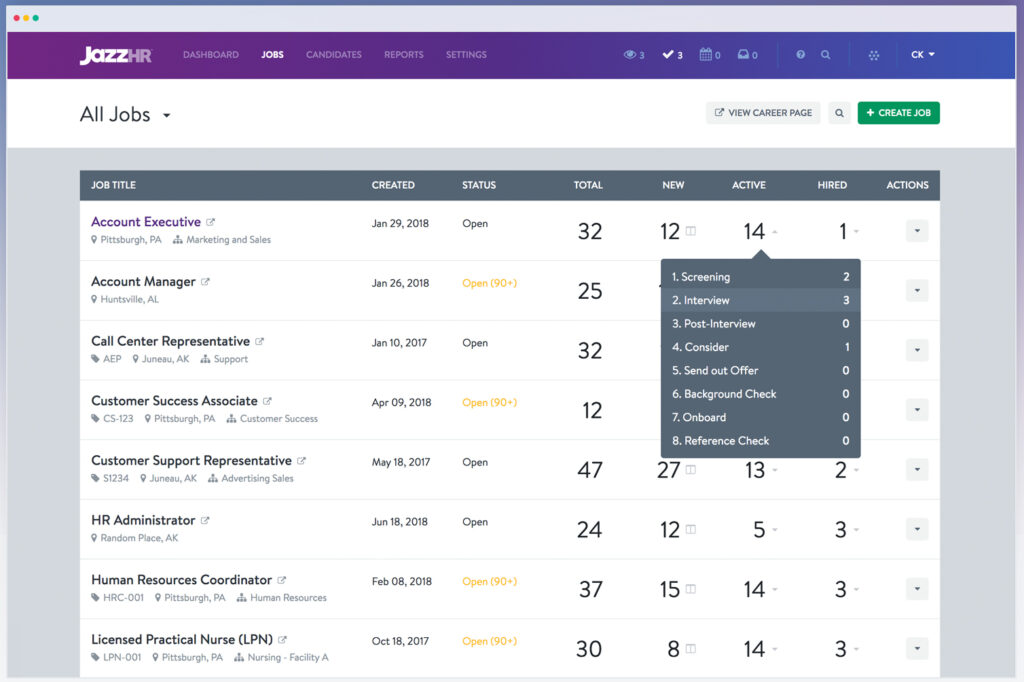 Why we love this ATS: JazzHR has been awarded the Best of 2023 title for its ATS & Recruiting Software. We credit this to the platform's exceptional ease of use, setup, and administration, as well as high-quality customer support. JazzHR has a history of being a top leader in ATS and Recruiting Software and has helped numerous customers grow their businesses.
Improve your recruitment process, accelerate hiring, and land the best talent with JazzHR!
Best for: Customizable hiring solutions for small to enterprise organizations.
Greenhouse provides a comprehensive set of resources to assist you in implementing your plans. The buyer's toolkit contains an RFP template, an executive one-pager, and other helpful materials to support you throughout the process.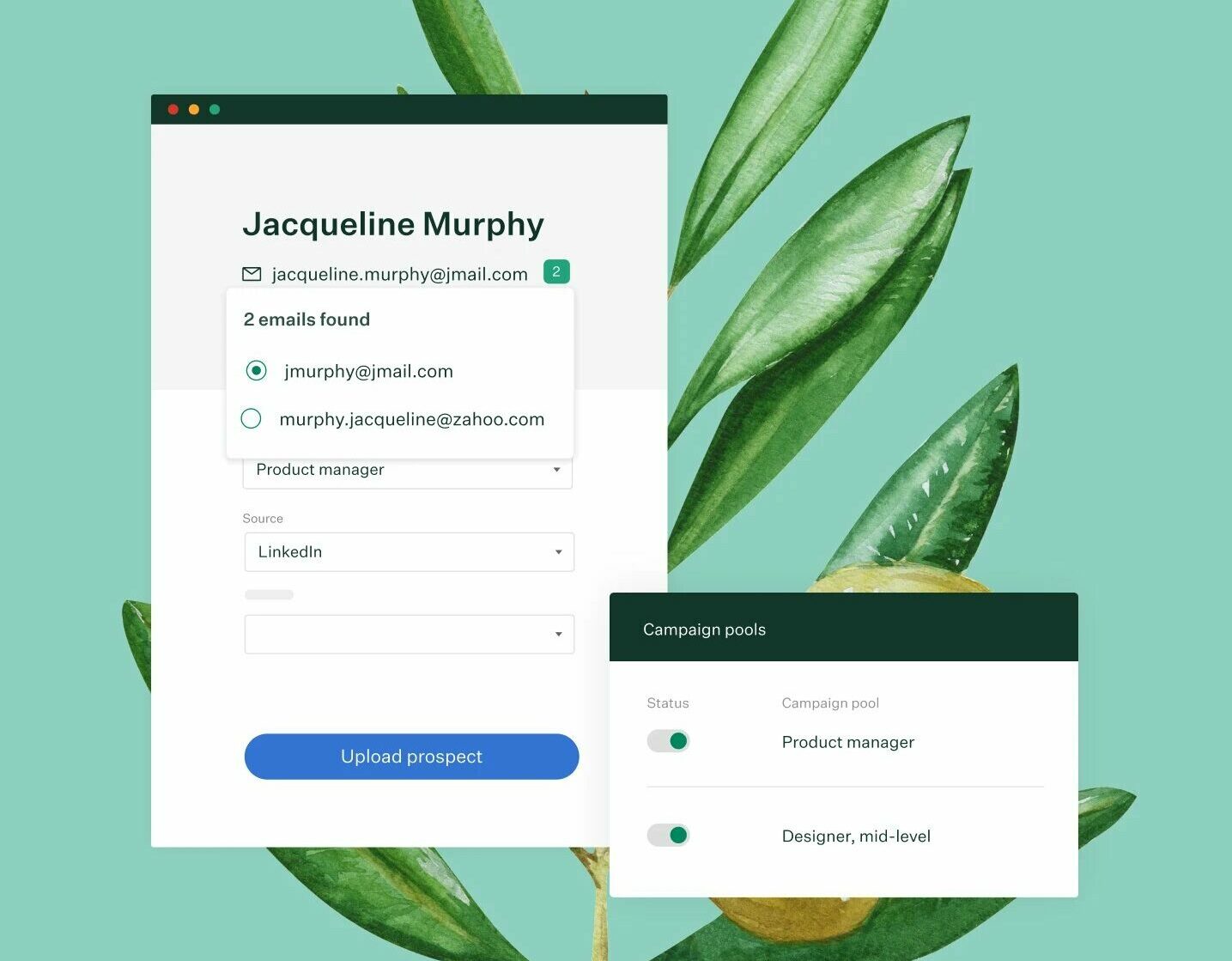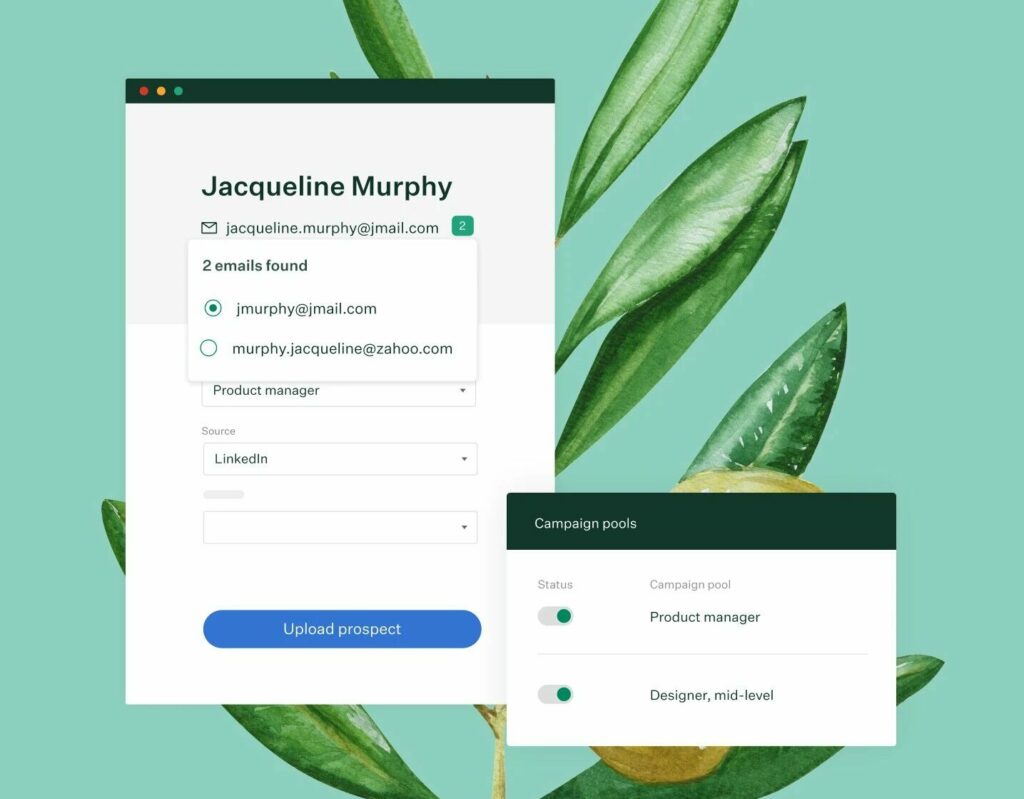 Why we love this ATS: Greenhouse helps with structured hiring, talent sourcing, candidate experience, DEI, and more.
Get started with Greenhouse, the ultimate applicant tracking system for recruiters!
---
How To Choose An Applicant Tracking System? 

1) Conduct Research 
To choose the right applicant tracking system (ATS), you need to evaluate different providers based on the features they offer, customer reviews, and other factors such as user-friendliness and integration capabilities. Make sure to consider your organization's specific needs when conducting your research, and look for a system that aligns with your recruitment goals and can improve your hiring processes. By conducting thorough research, you'll be able to make an informed decision and select the ATS that best fits your requirements.
2) Ask Other HRs Who Have Used ATS Tools 
Consult with other HR professionals who have already used and recommended ATS tools. You can do this by networking within your HR community, attending industry events and webinars, and joining online HR communities to gather insights and recommendations on trustworthy ATS providers. By taking their feedback into account, you can gain valuable insights and select an ATS that's well-suited to your organization's requirements.
3) Assess Which Aspects Of Recruiting You Need Help In 
Review your recruitment processes to identify specific pain points or tasks that could be made easier through automation or streamlining. For example, you may want assistance with candidate sourcing, resume screening, interview scheduling, or reporting. By understanding your unique needs, you can select an ATS software that offers appropriate features and functionalities to address your specific recruiting challenges, and ultimately increase efficiency.
4) Set A Budget 
Consider your financial limitations and decide how much you're able to spend on both upfront costs and ongoing fees. You should research different ATS providers and compare their pricing models, implementation fees, support charges, and any additional fees for add-on features or integrations. This will allow you to make the perfect pick to meet your recruitment needs and fit within your budget.
5) Schedule Multiple Demos 
Scheduling multiple demos to choose an applicant tracking system gives you the chance to compare features, evaluate user experience, examine customizability and scalability, test integration capabilities, and ask questions about support and training before settling on the ATS that best fits your organization's needs.
6) Test Out Via Free Trial 
Take advantage of a free trial of an applicant tracking system to gain a better understanding of the platform's capabilities and determine if it is suited to meet your specific needs prior to making a financial commitment. This allows you to experience the system in action and commit to an ATS based on firsthand experience.
7) Make A Final Decision 
Examine features, customization options, scalability, integration capabilities, user experience, support, and pricing. Also, gather feedback from key stakeholders and do a cost-benefit analysis to choose an ATS that aligns with your long-term goals.
8) Plan Training Sessions For You And Any Other Peers Who Will Be Using This ATS 
Your colleagues will be proficient in navigating and operating an ATS with a thorough training program that covers all essential functions, such as job posting, candidate management, reporting, and analytics. Include interactive sessions and hands-on exercises to make the training engaging and effective. Don't forget to provide ongoing support to ensure that everyone is comfortable using the ATS.
---
People Also Ask These Questions About ATS Systems
Q: What is an ATS system?
An ATS (Applicant Tracking System) is a software tool that automates the recruitment and hiring process for organizations. It acts as a central hub for managing job postings, resumes, and application storage, tracking candidate progress, and communication between recruiters, hiring managers, and candidates.
Q: How do ATS systems work?
ATS systems work by serving as a centralized platform that helps manage the recruitment and hiring process. They make tasks like job posting, resume analysis, candidate screening, scheduling interviews, and candidate management more efficient. These systems automate these processes, encourage collaboration among recruiters, and improve candidate management, leading to informed hiring decisions.
Q: What is the role of AI in ATS systems?
AI plays a crucial role in ATS systems by using complex algorithms and machine learning to improve different stages of the recruitment process. Its tasks include parsing and comparing resumes, automatically screening and prioritizing candidates, recognizing trends and patterns in the candidate data, and providing insights for better decision-making. ATS systems utilize AI to increase efficiency, minimize biases, and give recruiters useful analytics.
Q: What features should I look for in an ATS system?
When assessing an ATS system, make sure to focus on features such as resume parsing and candidate management that can help organize and retrieve data. It is important to find customizable screening and filtering options that can help identify the best candidates quickly. Also, check for integration capabilities, a user-friendly interface, and great customer support to ensure a smooth transition and ongoing assistance for your team.
Q: What are the benefits of using an applicant management system? 
An applicant management system, or ATS, can make the recruitment process more efficient and save recruiters time and effort. It helps manage candidates and facilitates collaboration, making screening and selection more effective. Additionally, an ATS generates data and insights that can improve hiring decisions.
Q: What are some top-rated applicant tracking systems? 
There are plenty of top-rated applicant tracking systems. The best ones are known for their comprehensive features, user-friendly interfaces, scalability, integration capabilities, and strong customer support.
Q: How do I choose the right ATS software for my company? 
If you want to find the best ATS software for your company, begin by evaluating your particular needs and requirements. Take into account factors such as the size of your organization, desired features, recruitment volume, budget, and integration needs. After that, conduct thorough research, schedule demos, and use free trials to assess multiple ATS options. Compare their functionalities, customization capabilities, user experience, scalability, and customer support to make an educated choice that suits your company's requirements and goals.
Q: Why is it important to use an ATS system? 
An ATS system is important for recruiters because it makes the recruitment process more efficient by automating tasks and saving time. It helps to centralize candidate data, encourages collaboration, allows for better candidate screening and tracking, and provides valuable insights through analytics, resulting in better hiring outcomes and a more organized recruitment workflow.
Q: What are some common ATS system integrations?
Organizations often integrate their ATS systems with HRIS, payroll software, background check services, video interviewing platforms, job boards, career sites, and email/calendar applications. These integrations facilitate smooth data exchange, efficient workflows, and improved functionality by linking the ATS system to other frequently used human resources and recruitment tools.