Are you looking to send a gift basket or gift box?
You might have heard of services out there like Edible Arrangements. Edible Arrangements offers a wide variety of fruit bouquets and gift baskets you can give your coworkers, employees, and clients.
These aptly named edible arrangements provide a quality gifting option when in doubt about what exactly to get your corporate giftee. However, Edible Arrangement alternatives have become increasingly popular as other unique options have emerged.

Why should I choose an alternative to Edible Arrangements?
Companies are looking for alternatives for many reasons, but some of the most compelling ones, include:
The ability to send larger orders to multiple locations at once
More variety of products
The ability for recipients to choose what they actually want
Sending gifts on occasions via email and a single click
Getting gifts that align with company values and tie into philanthropic causes
Having said that, let's check out the top 5 best Edible Arrangements alternatives and competitors to try in 2023!
Want to become a better professional in just 5 minutes?
List Of Best Edible Arrangements Alternatives And Competitors To Try In 2023
Page Contents (Click To Jump)

What is Caroo?
Caroo is the premier employee care hub, giving you an all-in-one solution for employee recognition and appreciation. They achieve their slogan of "modern corporate gifting made easy" through carefully curated care packages, epic office snacks, and the Caroo Concierge experience to custom fit a plan for your company. However, Caroo is perfect for more than just employee gifting with luxe gifting your VIPs and best clients will appreciate.
Our favorite Caroo products:



What is Caroo used for?
When companies aren't quite sure how to approach employee care and customer appreciation, they turn to Caroo. This end-to-end employee and customer care platform takes a snack-centric approach to workplace wellness, with options perfectly suited for remote, in-office, or hybrid work scenarios. In fact, not only is Caroo as flexible as your situation, you can even design your own gift boxes by custom curating from their menu of unique gifts and experiences.
Why is Caroo the best alternative to Edible Arrangements?
At its core, Caroo represents quality and variety — like your coworkers or employees, so instead of a one-size-fits-all solution, you get a mix of nourishment, electronics, productivity items, branded swag, wine, cocktail kits, and much more.
Notable Companies that use Caroo: 
Try it out here: Caroo

What is SnackNation?
SnackNation is an employee recognition solution built around a mission to find the most exciting, health-friendly snacking brands. Over the years SnackNation has expanded its offerings to include a range of employee appreciation gifts; however, the main focus of SnackNation has stayed on employees and giving them that feeling of enjoying snacks in the office — whether they're remote or in-person. This food-centric brand believes that providing employees with the fuel to do their best work, will also result in them being more invested than ever in their company and teams.
Our favorite SnackNation products: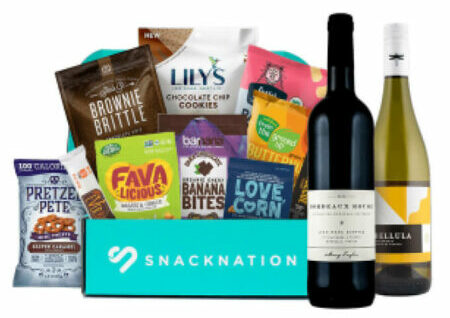 What is SnackNation used for?
SnackNation is used for boosting workplace health and wellbeing on multiple levels. Snacks are a way to touch the senses and to enhance positive feelings for employees, which helps reinforce corporate culture, while also fueling them with clean, nutritious, wholesome treats.
Why is SnackNation the best alternative to Edible Arrangements?
SnackNation offers everything from work-from-home curations, health and safety essentials, home comforts, office coffee, snack, and food delivery, and end-to-end employee care. On top of that, every care package and product can be custom branded so you get the dual benefit of employee satisfaction and free advertising.
Notable Companies that use SnackNation: 
Try it out here: SnackNation

What is Harry & David?
Harry & David is a gourmet gift delivery service with options as varied as everything from fruit wreaths to charcuterie gift baskets. Additionally, Harry & David specializes in delivering a selection of gifts for any occasion whether someone is grieving and needs sympathy or they're reached a milestone and you'd like to celebrate their big win! Lastly, this gourmet gifting company offers expedited shipping, so you can rest assured that your orders will arrive on time.
Our favorite Harry & David products: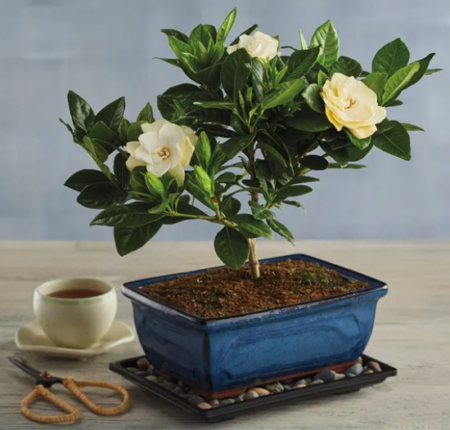 What is Harry & David used for?
Harry & David is used for finding gift baskets and other online gifts. Perhaps your employees, coworkers, or clients like chocolates and candy, or maybe they'd enjoy a wine gift basket. Either way, these corporate gifts are an ideal answer. You can also get inspired by chefs and recipes on the site and then immediately order the ingredients straight from Harry & David.
Why is Harry & David the best alternative to Edible Arrangements?
Harry & David boasts a variety of gourmet birthday gifts, fruit gifts, and any other appreciation gift you can think of — especially in the food and wine category. Because of the quality and attention to detail that goes into each gift, Harry & David's high-end offerings are an especially good choice for your most valuable customers, clients, and prospects. Exotic fresh fruit and fruit arrangements, wine, chocolate, rich desserts, baked goods — they have the perfect gift for the people you aim to please.
Notable Companies that use Harry & David: 
Aflac
Berkshire Hathaway
CVS Health
Try it out here: Harry & David
What is Gift Baskets Overseas?
Gift Baskets Overseas offers the finest selection of internationally available gift baskets in the world, delivered to the USA, Canada, the UK, the European Union, and more. On top of that, this gift basket company only uses the highest quality ingredients to create luxe corporate presents like cheese baskets, fruit baskets, sweet hampers, and other workplace-friendly surprises. Gift Baskets Overseas creates curations worthy of your highest dollar clients and prospects whose business you're looking to win.
Our favorite Gift Baskets Overseas products: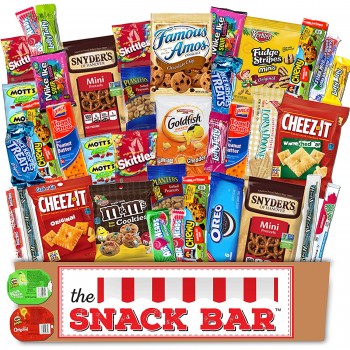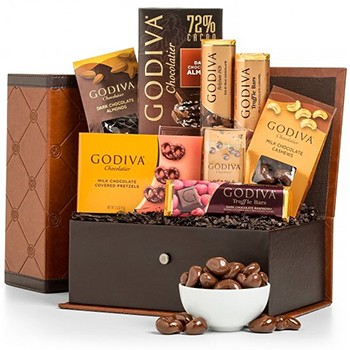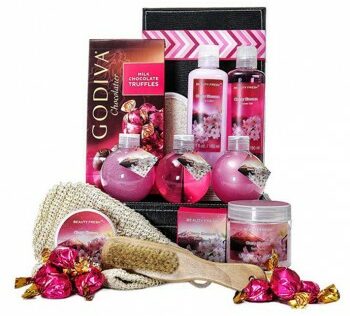 What is Gift Baskets Overseas used for?
Gift Baskets Overseas offers gifting options for every holiday and occasion. For example, this Edible Arrangements alternative has gifts specially designed for Purim, St. Patrick's Day, Mothering Sunday, Ramadan and Eid, Passover, Easter, and more. No matter how well-known or obscure the occasion is, Gift Baskets Overseas has a gift perfectly suited for it.
Why is Gift Baskets Overseas the best alternative to Edible Arrangements?
Gift Baskets Overseas has gifts for employees, alcohol-free gifts, romantic flowers, e-gift certificates, edible fruit, other edible gifts, virtual event gifts, wine baskets, and more. Plus, you can sort through gifts by occasion, corporate gifts, countries, and by gift sets.
Notable Companies that use Gift Baskets Overseas: 
Try it out here: Gift Baskets Overseas

What is Gourmet Gift Baskets?
Gourmet Gift Baskets are aptly named. This Edible Arrangement competitor set out to inspire wow moments for their customers through handcrafted baskets from major brands like Stonewall Kitchen, Ghirardelli Chocolate, Cabot Creamery, and Lindt & Sprungli. Gourmet Gift Baskets sole purpose is to help facilitate recognition and deliver gifts that make an impact.
Our favorite Gourmet Gift Baskets products: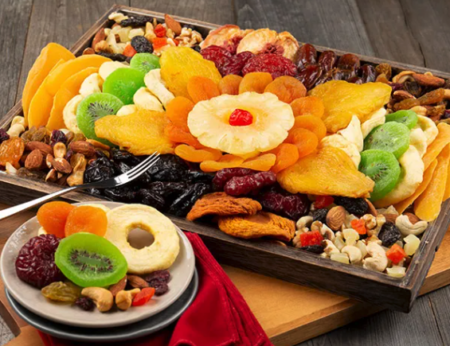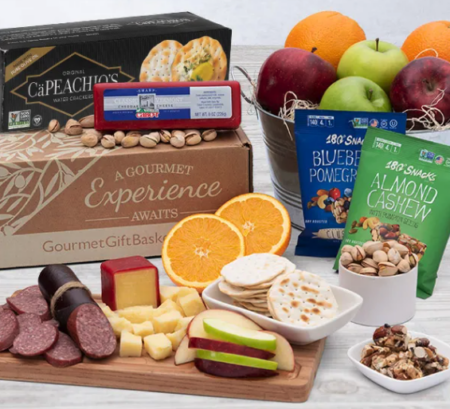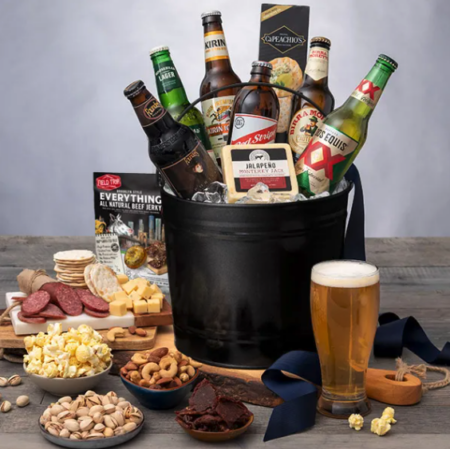 What is Gourmet Gift Baskets used for?
Gourmet Gift Baskets started off as a flower shop run by a family; however, this Edible Arrangement alternative thrives these days because it has evolved into a full-fledged gifting platform. Gift baskets and towers, Easter, birthdays, gifts of gratitude, sympathy gifts, get well gifts — they've got it. But one of the main things this competitor is known for is above-and-beyond customer service.
Why is Gourmet Gift Baskets the best alternative to Edible Arrangements?
Gourmet Gift Baskets offers gift basket ideas that are segmented down to the industry. Seriously! They have real estate gifts, gifts for people in legal services, healthcare gifts, construction gifts, insurance gifts, financial services gifts, gifts for marketers, and technology gifts.
Notable Companies that use Gourmet Gift Baskets: 
CostCo
JPMorgan Chase
Fannie Mae
Try it out here: Gourmet Gift Baskets
---
People Also Ask These Questions About Edible Arrangements Alternatives 
Q: Why would I use an edible Arrangements competitor?
A: You would normally use an Edible Arrangement competitor if you want a wider variety of options or are not looking exclusively for a food-related gifting option.
Q: What are some Edible Arrangements competitors? 
A: There are many Edible Arrangements competitors. In fact, many of the best ones operate in the employee care and recognition space.
Q: What are the benefits of using an edible Arrangements alternative? 
A: The benefits of using an Edible Arrangements alternative are that many of the competitors offer custom branded gifts and a plethora of options ranging from non-alcoholic wines to productivity gifts combined with healthy office snacks.
Q: How do I choose the best Edible Arrangement alternatives? 
A: Choosing the best Edible Arrangements alternatives is based on a combination of your specific needs and pricing. For instance, some alternatives offer better quality than others. While some of the other alternatives offer more variety within a certain niche like corporate gifts. Some common gifts offered by Edible Arrangements competitors include fruit boxes, gift cards, fresh fruit arrangements, flower arrangements, cut fruit, skewers, and smoothies.