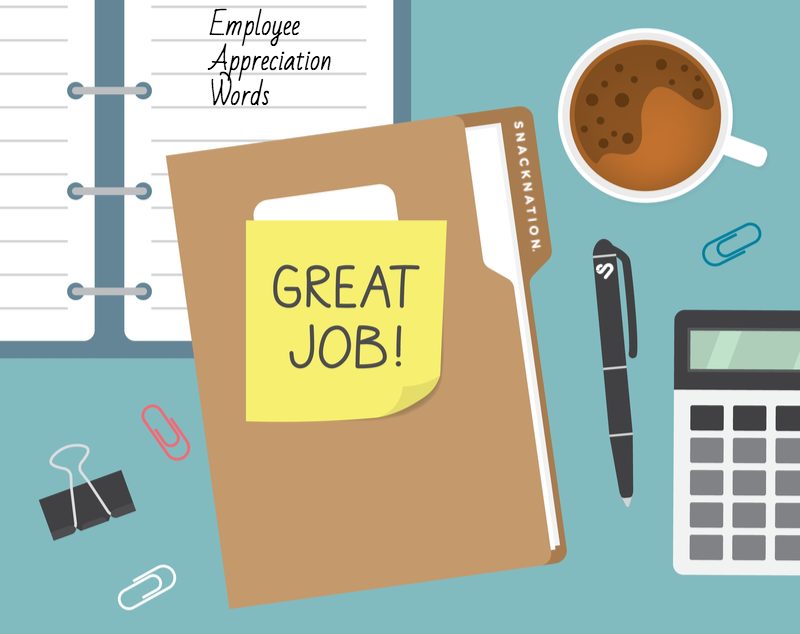 Employees are quitting their jobs at record rates for a variety of reasons, ranging from the desire for flexible work to improved mental health support.
For others, it comes down to burnout and general feelings of discouragement. Some experts even believe that many of these resignations were "pent-up" due to stress. Further proof of this is that the number of resignations were higher in industries that saw an uptick in demand during the pandemic (e.g. healthcare).
But what if a significant number of these resignations could be fixed with employee appreciation? More specifically — what if employee appreciation words could help you create a workplace people want to stay at?
"Brains, like hearts, go where they are appreciated." — Robert McNamara
Click To Tweet
In the past, the more old-school mentality about a workplace dictated that it wasn't a place for lots of praise and gratitude. But the factory-style approach has changed to be more human-centric and employee-friendly — and rightfully so!
To be a place where employees want to come and stay for significant periods of time, your workplace needs to have a strong culture of recognition and appreciation.
If set up correctly this is the best culture-building investment you can possibly make because your own employees will become your first line of recruiters. When people love their jobs, they are much more likely to proudly tell their friends, former classmates, and peers to come to join their team.
To help you build an even more positive workplace of appreciation, emotional safety, and satisfaction — which will translate to greater employee retention — check out our mini-guide on employee appreciation words.
Want to become a better professional in just 5 minutes?
Why is it Important to Show Employee Appreciation?
Employee appreciation leads to better retention, mental wellbeing, recruitment, employee engagement, productivity, and communication between coworkers. In fact, showing employee appreciation is one of the lowest cost, highest reward efforts an employer can make. And it doesn't always require grand gestures or big, bold promises. Sometimes, it's as simple as acknowledging their hard work and expressing gratitude and respect.
For additional ideas, check out these useful resource guides:
Words of Employee Appreciation Examples
Employee Appreciation Quotes for Top Performance
1. I just wanted to let you know that I see how hard you work — and the amazing results that come from your efforts. Your talent, skill, and drive do not go unnoticed. Thank you for everything you do.
2. Your performance continues to impress me. You've continued to elevate the entire team and every project you touch. Thank you for your energy and effort and the impact that you make.
3. They say hard work beats talent — fortunately for us, you possess the best of both. You are hardworking and tremendously talented. We are lucky to have you. Thanks for being here.
4. Dear (employee name), I was deeply impressed by your work on (x project). Thank you for your initiative and leadership. You are a superstar and you make this company better.
5. Your attitude and energy are contagious. Not only that, but these traits you exhibit, translate to impressive results. I appreciate everything you do. Thank you for using your time, effort, and talent here.
Employee Appreciation Quotes for Personal Achievement
6. Hey (employee name), I noticed that you did amazing work on the (x project). That takes serious dedication and skill. I am proud of you! Kudos!
7. Hey (employee name), I saw you crushed all of your project goals! Congratulations on your success. We are grateful for your skills and your hard work.
8. Your creativity, innovativeness, and drive has energized and impacted the entire team. Thank you for being a part of this company. We are thrilled to have you on board.
9. Hey (employee name), congratulations on reaching your (x) target! I know it's not easy to pull that off, but it's proof of talent, skill, perseverance, and a desire to be great — and you clearly are. Thank you for your dedication.
10. When you started this role, I knew you'd be great, but seeing you accomplish everything you've set out to do has been a pleasure to watch. Thank you for your focus and the consistent steps you've taken to succeed.
Employee Appreciation Quotes for Hitting a Team Goal
11. Our team appreciates your relentless drive, creative problem solving, and positivity. You are a dynamo; a nuclear furnace of energy.
12. You are the heart of this team. Thank you for the way you keep the beat and keep us moving. I can't wait to see how far we go together!
13. Thank you for giving yourself to the team. Your selflessness and sacrifice for your colleagues is recognized and appreciated!
14. You are the MVP. Your results speak for themselves. We appreciate your impact and the way you launch us forward with everything you are involved with.
15. Your unique abilities are critical for making this team work. You are a bright light and your leadership illuminates the path forward. Thank you for being you.
Employee Appreciation Quotes for Work Anniversaries & Milestones
16. Dear (employee name), happy anniversary! I hope you enjoy your time here as much as we enjoy having you here!
17. Hey (employee name), all the best for very special work anniversary. This company has hit the jackpot having you on board.
18. Happy anniversary! We see how much you do and have done for our company and your team. Cheers to many more years if we are lucky enough to continue to have you!
19. Hey (employee name), you have brought joy, positivity, and great results to this company for (x) years! We hope to have you for many more. Thank you for all that you do. Happy anniversary!
20. You are a gem and a pleasure to be around. Thank you for the million ways you make this company a better and more fun place to work. Happy anniversary!
Employee Appreciation Quotes for Teamwork
21. Dear (employee name), thank you for showing me how effective teamwork can be for our projects. I appreciate your execution and calmness.
22. Hey (employee name), I had a great time collaborating and learning from you on (x project). I hope to get to work with you closely once again in the future! Thank you for your teamwork!
23. Hey (employee name), thanks for helping me out today. You gave me some valuable insights on (x subject). Your knowledge is priceless. Thank you!
24. Thank you for being such an amazing teammate, (employee name). You have always been reliable, kind, timely, and exceptionally driven.
25. Dear (employee name), it was a blast collaborating with you, as always! I love your creative problem solving. I can't wait to work with you on another project!
Employee Appreciation Quotes for Workplace Attitude
26. Hey (employee name), you make an enormous difference in our department. Your vision, ingenuity, and hustle make each of us better. Thank you!
27. Your work ethic is incredible and you will continue to do great things in and out of the workplace because of your determination. Thank you for everything you do!
28. I wanted you to know how much we see what you do here to make this company better. Your work is exemplary.
29. Hey (employee name), you inspire everyone around you — especially me. Your passion for your work is contagious. Thank you for the inspiration!
30. Dear (employee name), you are proof that hard work and dedication wins. Your energy is off-the-charts and I love working with you. Thank you for being a part of this company.
Employee Appreciation Quotes for Coworkers
31. Hey (employee name), I noticed how well you handled (x client). You did a masterful job. Great work!
32. I am impressed by your results. You give your best and it shows. Thanks for inspiring all of us. Keep up the great work!
33. Hey (employee name), you are a rock star! Your work speaks for itself. Thank you for everything that you do.
34. Your work is fantastic. Thank you on behalf of the entire office!
35. I wanted to let you know that we appreciate your work, your efforts, and your outstanding results. Thank you so much!
Employee Appreciation Quotes for Managers & Bosses
36. I am proud to work for someone who is kind, forward-thinking, and knowledgable in both our industry and life. I hope to learn from you for many, many more years. It is an honor working under your leadership. Thank you!
37. You are my mentor and I appreciate the way you've helped to accelerate my knowledge along the learning curve. Thank you for your leadership and empathy-based approach.
38. Thank you for being a great boss, manager, and mentor. Your teachings and advice have been instrumental to my professional development and personal growth. Thank you.
39. You lead by example. You've never been afraid to roll your sleeves up and work right alongside us. Thank you for treating me with dignity, kindness, and ultimately, like an equal. That's the sign of a true leader. I hope to work with you for many years to come.
40. Dear (boss' name), thank you for your words of encouragement and recognition. They've meant the world to me.
Employee Appreciation Quotes for Employees Resigning
41. Some people really are irreplaceable. I count you among those people. You will be missed dearly. I hope you enjoy many more years of success, joy, and fulfillment. Thank you for giving us great memories, excellent work, and for making this company better than before you arrived.
42. Thank you for years of positivity, results, and dedication to your role. You elevated our businees, brand, and lives with your presence.
43. I know how lucky we have been to have you. Thank you for being a part of this company and I hope your next employer knows how lucky they are to have you. If not, let me know and I'll tell them!
44. All the recommendations in the world could not express how amazing of an employee you are.
45. I hope you know how much you mean to me and the team. You will not be forgotten. All the best!
Employee Appreciation Quotes for Employees Retiring
46. Thank you for all of your years of hard work, dedication, positivity, and the memories you've given to me and the company. The office will not be the same without you.
47. I will miss your jokes, energy, personality, and of course, your incredible work and brilliance. However, I am happy you will get to enjoy your time in the sun. You've earned it and deserve peace, joy — and as many naps as you'd like!
48. Thank you for lighting up the office with your humor, kindness, and enthusiasm for so many years. You will be dearly missed around here.
49. Thank you for giving so much of your time to this company. I enjoyed every minute of you being here.
50. I will always remember (x memory). Thank you for that and for the countless other special times you've given me and this company. You will always have a place here. I hope you enjoy your time in the sun!
How to Show Employee Appreciation at Work
1) Acknowledge Work Anniversaries & Milestones
Acknowledging work anniversaries and milestones is a time-tested retention strategy for letting employees know that you care. What you are really saying with this simple gesture is that they aren't a number or merely an asset, but rather, that you see them as a human being.
Real-Life Example of Employee Appreciation: ADP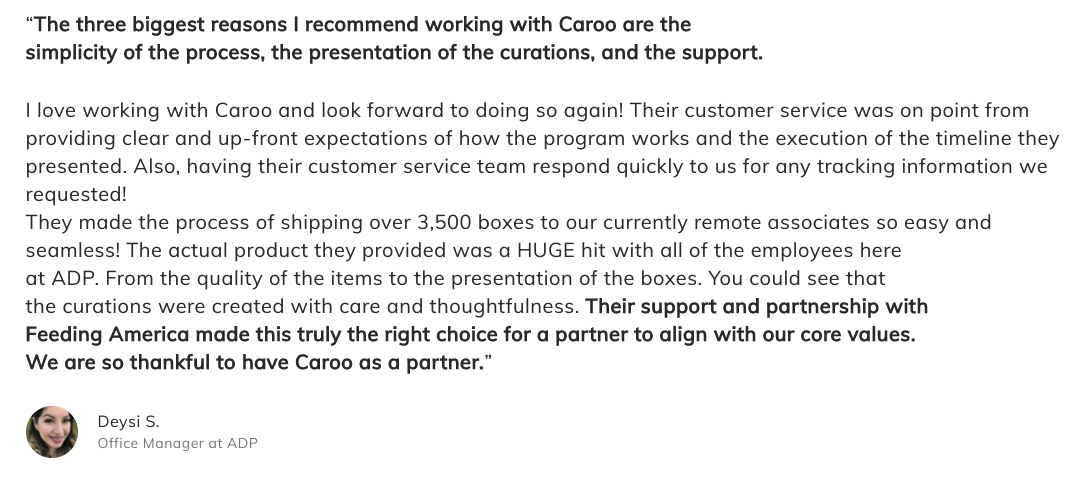 Acknowledging work anniversaries with Caroo is ideal because they send custom curated employee care packages!
2) Use A Recognition Platform
An employee recognition platform is a tool that facilitates feedback, encouragement, and of course, recognition. These platforms usually include key features like instant messaging, a feed for social recognition, and integrations that enable gifting or other forms of employee rewards.
Real-Life Example of Employee Appreciation: ZipRecruiter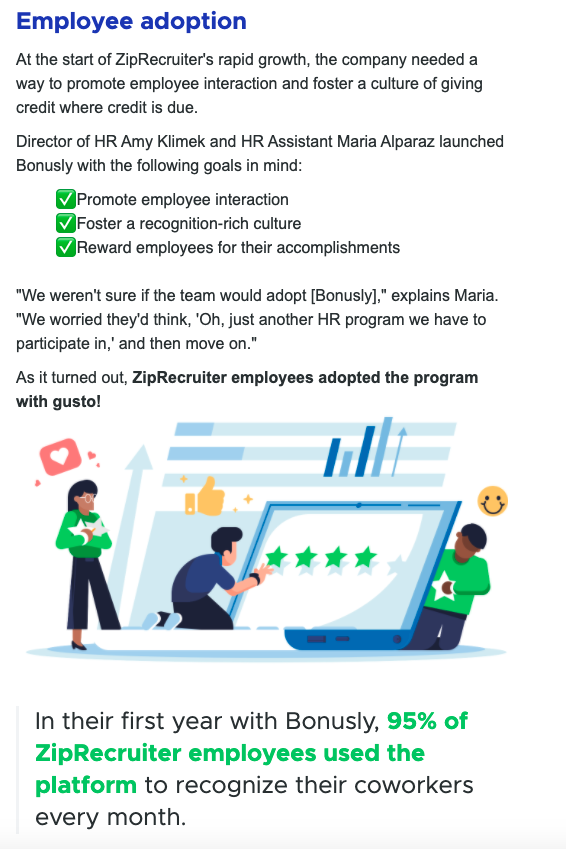 The team at ZipRecruiter decided to build employee appreciation messages into their company culture by using a recognition platform called Bonusly. This tool makes things like on-the-spot bonuses and social recognition fluid, simple, and fun!
3) Plan an Annual Retreat
Planning an annual retreat is a great way to put employees in a positive environment and a refreshing change of scenery to bond. To top it off, plan out team building activities and watch the words of encouragement flow organically!

Real-Life Example of Employee Appreciation: CodeGram
"This year's retreat allowed us to take a step back & view the bigger picture, to reconnect & rediscover our passion for the work we do. On a personal level it's left me with a clear understanding of our shared values & collective purpose – instilled a real sense of belonging within the Codegram family – feeling inspired, motivated and quite frankly damn excited for the year ahead – bring it oooon!" – Mike Earp — Head of Strategic Partnerships
The team at CodeGram uses a yearly retreat to bake employee appreication into their business. A chance for employees to relax, unwind, and bond over activities and team building.
4) Give Employees A Physical or Experiential Gift
Speaking of compliments — while recognition words and employee appreciation messages are the name of the game in this mini-guide, giving employees a physical or experiential gift can be used to further compliment the kind words.
Real-Life Example Of Employee Appreciation: Immunogen
Each quarter, ImmunoGen sends every employee an Energy Renewal opportunity (a Blueboard Ivory reward) and encourages them to choose a memorable experience that helps them invest in that quarter's featured energy quadrant (for example, Q1 2021 was dedicated to mental energy).

Since launching in March 2021, the program has become a major driver of engagement across ImmunoGen's remote world. Employees can't wait to redeem their Blueboard rewards, as measured by a best-in-class, 96% reward activation rate within the first 30 days of launch.
Set your employees up for the memory of a lifetime with Blueboard! Each vendor is carefully curated for maximum pleasure and breathtaking adventures.
5) Host A Team Happy Hour
Hosting a team happy hour, whether virtual or in-person, cultivates camaraderie, chemistry, and better communication. Plus, one of the most surefire ways to boost retention and minimize burnout is to boost peer-to-peer connectedness.
Hosting a company happy hour also gives employees a chance to blow off steam and be more of themselves. Whether you go with a non-alcoholic or an alcoholic happy hour, the good vibes will be enough to get the words of appreciation flowing.

Real-Life Example Of Employee Appreciation: Zappos
The response to virtual happy hours at Zappos has been "absolutely amazing, we've had a majority of our team attending and received a lot of positive feedback about the support and engagement that it provides on a consistent basis. We didn't want to get stuck in a loop of only having meetings and calls for business-related tasks."  — Krissee Chasseur, brand aura research and development lead Zappos
Throw a socially-lubricating virtual happy hour with a professionally-hosted or self-hosted cocktail hour:
6) Offer Treats
If a picture is worth a thousand words, a delicious treat must be worth a million. Another complementary tool in your employee appreciation arsenal is offering snacks, treats, and other goodies — especially since this is becoming one of the most desired perks out there.
Stock your break room and company kitchen with nutritious snack boxes and send your remote workers care packages! Be sure to find out snacking preferences and dietary restrictions by sending out a survey.

Real-Life Example Of Employee Appreciation: MyCorporation
"We cater lunch at least once a month, have potlucks every three weeks, host 'bagel Fridays' and always keep two large bins of trail mix and snacks in addition to the desserts and other dishes employees bring from home every week." — Dana Case, MyCorporation
Nothing says good work like offering treats with SnackNation, the premier business snack provider, so employees know you care when they receive thoughtfully curated snacks, coffee, and treats.
7) Have A Team Lunch
In the same vein as offering employees treats, hosting a team lunch saves your employees time, energy, and money they'd be spending eating out. This employee appreciation idea adds serious weight to your words of gratitude. Instead of employees having to pack a lunch or trek out of the office to refuel, you can take care of them and facilitate a little team bonding all at once!

Real-Life Example Of Employee Appreciation: Asana
 "Our skilled chefs and nutrition team thoughtfully plan every menu around meals that keep the Asana team feeling energized, nourished and working at their highest potential."
Have a team lunch with the help of virtual credit cards so employees can order food regardless if they are in the office or at home. Bond over some tasty food while chatting over Zoom or sitting around the conference room while taking a break from work talk!
8) Write A Thank You Note
Expressing gratitude is beneficial for the giver and the recipient of the kind words. People who give thanks experience greater subjective well-being and people who feel appreciated are generally healthier, happier, exercise more regularly than others, and have more positive attitudes. From an employer's perspective, one of the biggest benefits is that a culture of appreciation reduces stress and absenteeism while boosting rapport and job satisfaction.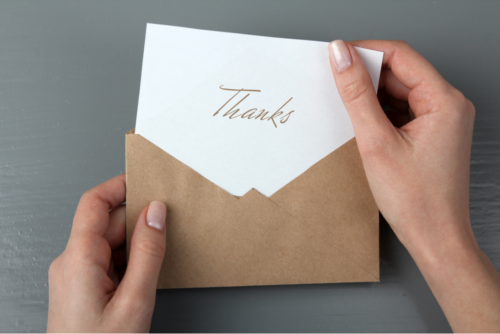 With the average worker getting bombarded by roughly 121 emails per day, a thank you note is arguably the most effective form of expression when it comes to standing out and leaving an impact. Plus, it won't end up in a spam folder!
Real-Life Example Of Employee Appreciation: Campbell's
 "Handwritten notes may seem like a waste of time," writes Conant, "but in my experience, they build goodwill and lead to higher productivity." Douglas Conant, former President & CEO of Campbell's
Head over to Etsy to find several great options for beautiful thank you notes that are sure to resonate with your employees! Check out a few of these options:
---
People Also Ask These Questions About Employee Appreciation Words
Q: How do you express gratitude to your employees?
A: You can express gratitude to your employees with words of praise for employees, staff appreciation quotes, team appreciation messages, and other verbal acknowledgements.
Q: What can I do to motivate employees with words of appreciation?
A: You can motivate employees with words of appreciation. The best words of appreciation feel personal, not generic. Put serious thought into the specific qualities you love about your employees.
Q: How often should you show employee appreciation?
A: You should show employee appreciation every day. Employee appreciation is a must when it comes to corporate culture.
Q: What are some examples of employee appreciation rewards?
A: Some examples of employee appreciation rewards include both monetary and non-monetary gifts like experiences and social recognition.